---
Text: Peter Johansson
Photos: Peter Johansson
Videos: Roberth Nordin
---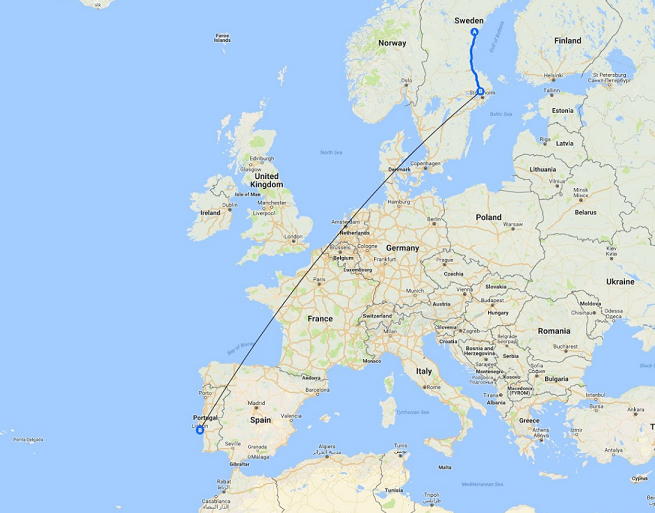 ---
Saturday 11th of April
09.20 I am once again at the train station in Sundsvall. I am once again on my way on a new trip. Christer isn't here just as on the last trip. The only difference is the fact that he will not be travelling this time. He is in the hospital. Someone who is on the way here is Roberth. He is coming from Östersund with the train which will take both of us to Arlanda airport.
10.14 I am sitting in the train next to Roberth. It isn't the place that I booked. There is hardly anyone sitting in their reserved seat. There has been some error. I hope the conductor will accept computer written tickets. The original tickets are at Christer´s place.
10.42 There were no problems with the tickets. Neither were there any problems in getting something to eat in the bistro. We are rolling on towards Arlanda.
13.34 We have checked in. We checked ourselves in at the machine and received a boarding card the size of an A4 paper each. After that we checked in our luggage at the check-in counter. We are currently sitting on a bench and….
14.34 We've just ended a great meal at our favourite place Alfredo's. We are about to gather our belongings and carry on.
16.27 We've killed some time since the last time I wrote. We've had two cups of coffee each and spent some time out in the fresh air. We've passed security. They accepted Roberth's bananas but kept his bottle of water.
16.43 Things are happening here. An aeroplane from KLM, actually the one we are about to fly with just rolled up to the gate. Some customs officials and a dog went onboard. A routine check or what? There is a man walking around near the gate asking questions. He is on his way here. Will he be asking Roberth or me?
Flying over Denmark.
17.18 We are seated on yet another plane. Today we will, as mentioned, be flying with KLM. Roberth's seat recline button is missing. There was nothing breathtaking with the customs check or with the survey that I took part of. The man just wanted to know where I came from, where I was going to and what I had done at Arlanda.
18.28 We've been eating again. This time it was a sandwich with tuna or cheese. Now we are just relaxing and waiting to land. Below us are the coastline and sea.
NETHERLANDS

19.56 We've touched down at Schiphol Airport outside of Amsterdam in the Netherlands. There were plenty of canals around as we landed.. Now we are having a coffee at Starbucks. There have been some Starbucks breaks in some countries during the last years.
20.38 We are standing in the queue by the gate waiting to board. They are talking on CNN about a ship called Maersk Alabama. It had been attacked by pirates but escaped. It has reached the harbour of Mombasa in Kenya.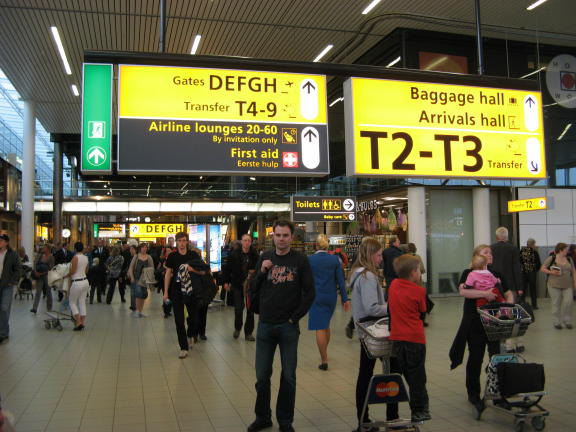 Roberth at Schiphol Airport.
20.19 We set our watches back one hour and took off for Lisbon. Several passengers have moved to new seats. We remain in our seats though and wonder what will happen and be offered before we land.
22.05 We just had filled pancakes and great coffee. The last hour has been long and boring. I want to land, get my luggage and get to our next home for some sleep.
PORTUGAL

23.12 We've landed at Portela, which is the airport in Lisbon. It felt like we flew over the rooftops of the city as we landed.
23.56 We arranged a taxi with a taxi voucher and were driven by a very nice, happy, informative gentleman to Lisbon Student House at António Augusto de Aguian 80. We are right by the metro station Parque. (http://www.lisbonstudenthouse.com) Outside of the hostel, Nadeer waited for us. He is also ever so nice. We were checked in and Nadeer gave us a 17 euro discount on the price due to the fact that Christer wasn't with us. Now it is time to sleep.
---
Sunday 12th of April
08.26 The sun is shining and we are in Portugal. It is time to go out and eat some of the breakfast that is included.
09.17 To get breakfast was easy and there wasn't much to eat but still some. It wasn't that easy to have a shower. There was hardly any pressure from the water. I am sitting on the side of my bed and writing this. We will soon head out.
09.54 It wasn't so easy to get out. At first we managed to enter another room and then as we took the right door and tried to switch on the light all we did was to manage to buzz a door bell instead. Now we've reached the Praça Marques de Pombal. We are at top of Avenida de Liberdade. Here is a statue over the prime minister who was responsible of the rebuilding of Lisbon after the earthquake of 1755.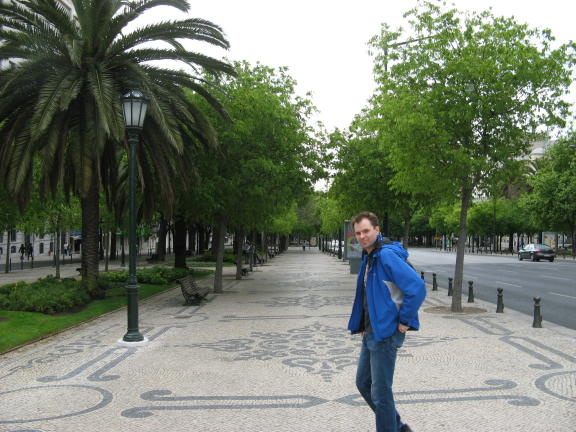 Roberth walking on Avenida de Liberdade.
10.20 We've reached the Praça dos Restaudoros. I am sitting by an obelisk. I think it is some kind of peace/victory monument.
10.36 We've ordered cappuccino and espresso at Nicola Café by the Rossio Square. It is also known as Praça de Dom Pedro IV. The pavement has a wavy pattern that makes me feel dizzy. There are plenty of people here and we were just offered to buy some sea shells from a bearded man. Our table is far from steady. Two of the legs are too short.
11.31 We've walked along the cobblestoned streets up to Castelo de São Jorge or Castle of Saint George in English. We are once again in a city with Saint George. Last year it was Tbilisi. Here we will walk around, take pictures and other stuff that tourists do. The view over Lisbon and the river Tejo is amazing, breathtaking. We can see Ponte de 25 Abril. It is a bridge that is looking suspiciously like the Golden Gate Bridge.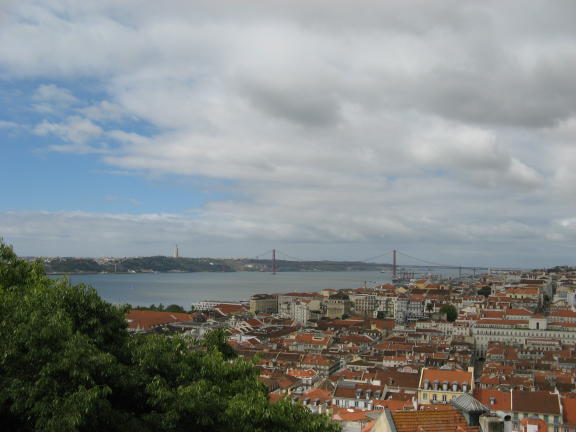 Lisbon-view towards the river Tejo.
Roberth waving from one of the walls of Castelo de São Jorge.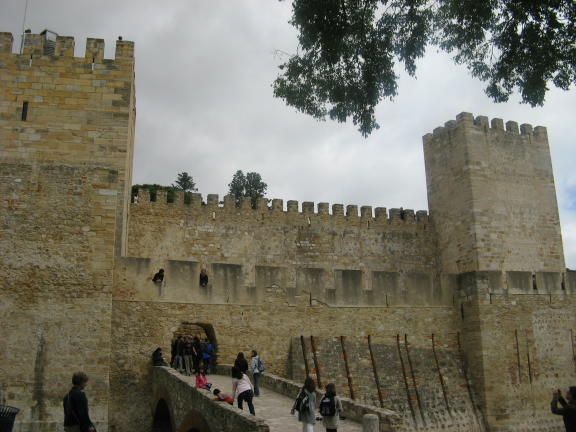 Castelo de São Jorge, Lisbon.
12.06 I am looking out from a hole in a tower room and writing this. The castle view is as mentioned fantastic and in the distance I can see the Vasco da Gama Bridge which with its 17 kilometres is the longest bridge in Europe. Down in the courtyard is a single guitarist, João Bastos. Soon we will be descending from here.
12.42 We are soon heading downtown again. We are about to have lunch at Restaurante Coisas Boas. We will be trying today's special.
13.50 It was delicious and necessary. We are now at the Praça Do Comércio and have just taken pictures of Terreiro do Paço, it is a Triumphal Arch.
Terreiro do Paço
14.34 We are at the train station Santa Apolonia. We are checking about trains and departure times to Porto. We are after all going there the day after tomorrow. We are checking this on a machine. All you have to do is type the place and date. A young man just kicked a waste basket. Out in the harbour/river outside of the station is the cruise ship Noordam from Rotterdam.
15.13 We've found a suitable train. We will be back here tomorrow to buy the tickets. After the station we took aim for and found Casa dos Bicos. It is a beautiful house that unfortunately is now veiled up. It is time for renovation. I am sitting bare feet in a small parquet just close to it.
15.38 We've been to and seen the cathedral Se Patricial. Now it is time for a bench break and I am thirsty.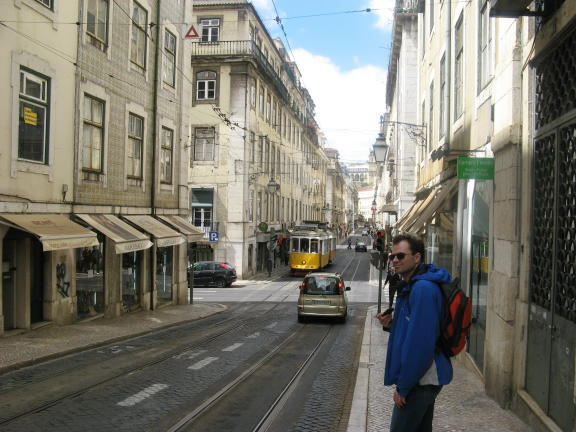 Walking in Lisbon.
16.14 The thirst was quenched and we've been taking pictures of the church Igreja da Conceição Velho, the lookout tower Elevador de Santa Justa and are now at the Praça da Figueira. My feet are getting tired. Maybe it is time to head home? Behind us are some skaters and at least one angry dog.
16.41 We've made a short stop to check the internet.
17.21 We are back home again. It is time for a powernap, siesta and similar stuff.
18.09 There is nothing wrong with a little sleep.
20.03 We took a short stroll in the neighbourhood and after a while we found the shop Mini Preço. We bought some stuff and are about to have coffee and muffins.
21.17 We had, after some ifs and buts the chance to watch the TV. We didn't quite figure out how to find the channels. Roberth was the one that solved it. We had some evening coffee and beer in front of the TV. CNN told us about a released American captain that had earlier been kidnapped from the Maersk Alabama. It is time for some more relaxation.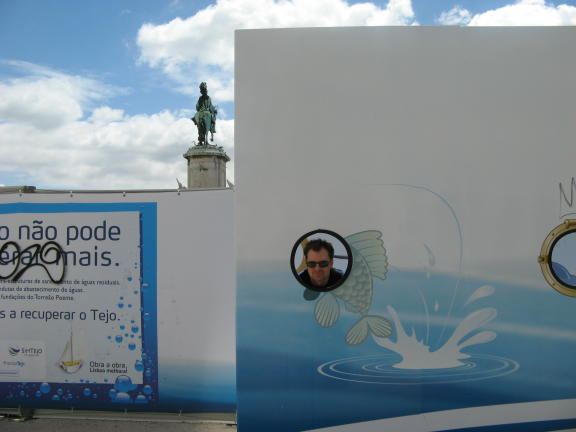 Strange fish.
---
Monday 13th of April
08.50 Some of life's necessities have been taken care of. We've slept and had breakfast with amongst other things coffee and yoghurt. I've had a shower and now it is Roberth's turn. We will put on clean clothes and head out for our last day here.
09.25 OK the most important things are done and packed. It is time for a new day.
09.50 We finally figured out how to get a metro card each. It took some time before we got it going. You enter the amount of trips you want to buy and in which zone you will travel. Out comes a plastic card that you swipe over a reader and allowed inside the metro system. Now as I've taken some metro pictures with my camera it is time to travel in a new tube. It is a new day with new places.
10.08 We switched metro train and reached the station of Cais do Sodre. Now we will go with it to the district of Belém. On the other side of Tejo is the statue of Cristo-Rei, Christ the King. It is similar to the one in Rio de Janeiro.
10.27 We are having a bench break. The stop is mostly to find out how far we have reached. Now as we know it is time to travel on.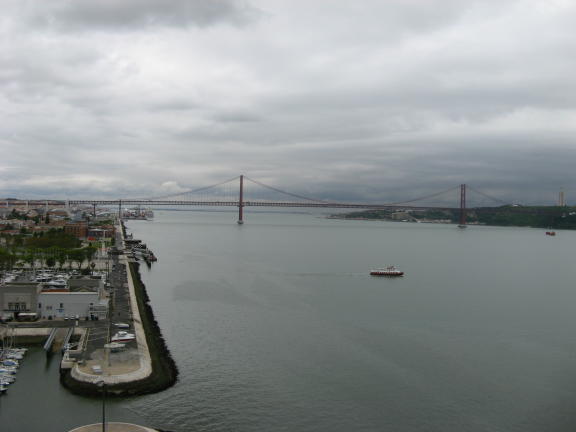 Clouds over Tejo.
10.57 We've just walked under Ponte de 25 Abril and are now having a short break, on a bench. Sirens are on the way and right now an ambulance passed by with blue lights and sirens.
11.35 We are in Belém and at Pasteis do Belém/Antiga Confeitaria de Belém. We are at Rua de Belém 84-92. Here in Lisbon the very same house can occupy several street numbers. We've seen street numbers on windows. Here at the café we will be having bica(coffee) and a local pastry. There are plenty of people here.
12.05 The pastries were beyond delicious. They become even better with icing sugar and cinnamon. It is a bit cloudy and we are sitting on a bench in front of Mosteiro dos Jerónimos. It is yet another building we are looking at that is on the UNESCO:s world heritage list. Beyond us is a park. We plan to enter the Mosteiros. Inside among other things, is the tomb of Vasco da Gamas.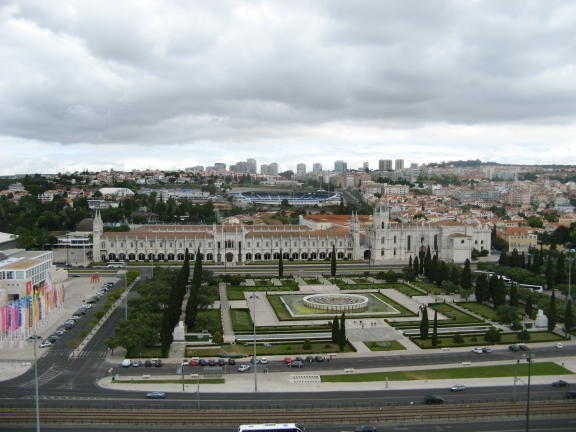 View towards Mosteiro dos Jerónimos. In the background you can see Belenenses footboll ground.
12.34 Mosteiros was closed. Now we've taken the lift up in the Padrão dos Descobrimentos. (http://en.wikipedia.org/wiki/Padr%C3%A3o_dos_Descobrimentos) It is a monument that celebrates the Portuguese who took part in the Age of the 15th and 16th centuries. We´ve got a view overlooking the city and the river.
13.08 The time has come to sit on yet another bench. In front of us is the Tower of Belém, Torre de Belém. It is a defence tower from the 14th century. It is also on the UNESCO list.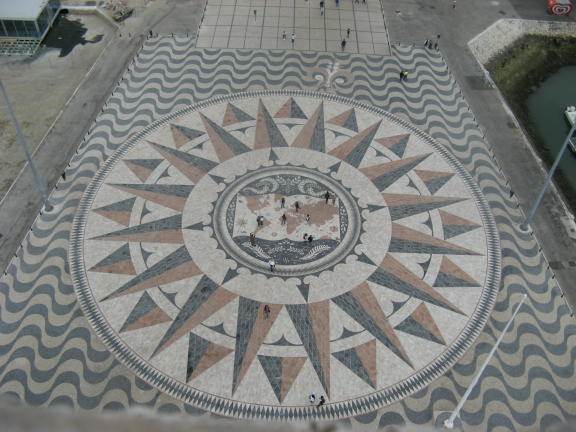 Peter looking down at people.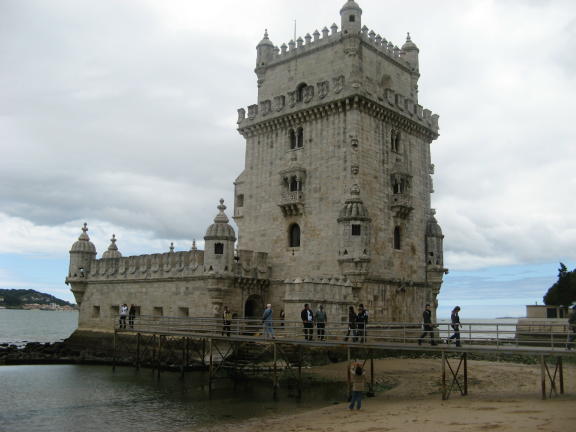 Torre de Belém.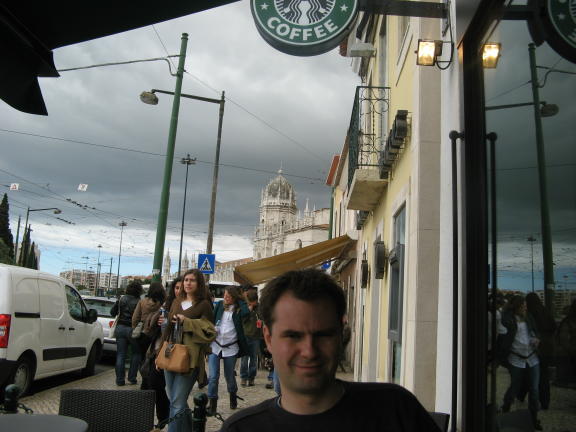 Roberth outside of Starbucks, the oasis for coffeedrinkers.
13.43 We are having afternoon coffee at yet another Starbucks. We are trying to find out how we will get home. The will to walk is weak. Maybe we will take the tram? How do we buy a ticket? Roberth is going inside Starbucks to ask.
14.05 The tram tickets can be bought in a kiosk. We didn't see any so we took the bus instead. We are going high speed towards Santa Apolonia. There we will buy a ticket for tomorrow's trip to Porto. It sure is going fast. We've already reached the bridge.
14.41 We've arranged for a ticket to Porto. I hope the trip will be as smooth as getting the ticket. Now we will try to find out how to get to our last home in Lisbon. It will be good to know as we return back from Porto on Friday.
15.20 We've gone wrong but now we know how to get there on Friday. We will see what we will do next.
15.31 We will be having dinner outside of Restaurante Maritina das Colunas.
16.41 It was mouth watering tasty. We are now surfing the internet before we return home in a slow pace.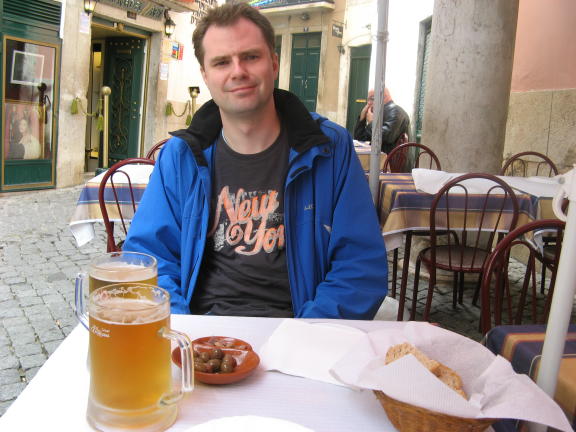 Waiting for dinner at Maritina das Colunas.
17.16 We are going from Baixa-Chiado, along the blue line, towards our station Parque. We are about to have a siesta.
17.45 We are home, in the room again. It is time to rest our torso and feet.
18.16 A little rest is all you need. Too much of it only make things worse. It is time to go out and do something again.
18.52 We have found a pharmacy on our evening stroll. There Roberth bought some nose spray to cure his flu. We just sat down at a café and are having a bica each. The coffee here in Portugal is really strong and tasty.
19.04 I am sitting on a park bench. In front of me is the park Parque Eduardo VII. I can see Praça Marques de Pombal on the other side of the park and beyond it Avenida de Liberdade. Behind me is an enormous flag flying and besides me is a bus from Germany.
20.07 We've been away for some shopping but now we are home. We will go out to the kitchen for a little while. It is time to have something to munch on before we pack and hit the sack.
21.39 We remained for a while in the kitchen. We've been speaking with a happy traveller, a young woman from Finland. We've been speaking about a lot of things. She has informed us that our host was born in Mozambique. She recommended us to travel to the south of Africa. That is something to think about.
22.03 Another day has reached its end. It is time to switch off the lights and go to sleep. Tomorrow we will be going by train.
---
VIDEOS
---
You can see 5 photos from April 11 in this photoalbum.
You can see 40 photos from April 12 in this photoalbum.
You can see 26 photos from April 13 in this photoalbum.

---
CONTINUE
---
---

---