---
Text: Peter Johansson
Photos: Peter Johansson
Videos: Roberth Nordin
---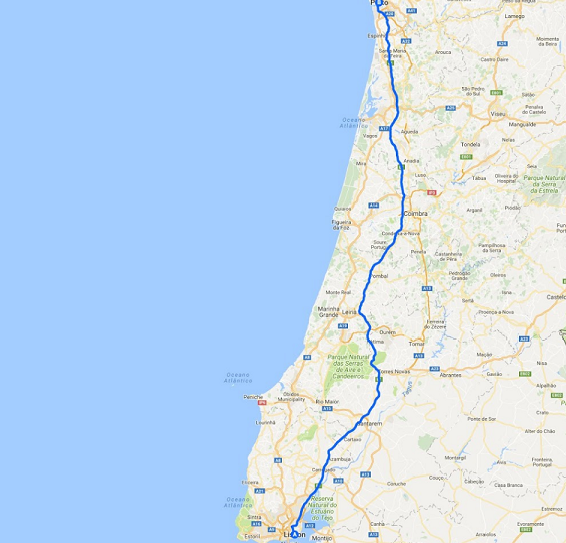 ---
Tuesday 14th of April
06.57 It is early. It is quiet. It is still Portugal and Lisbon. The time has come to travel on. We will visit a new city today.
07.44 We are about to put down our last things. It has been a great stay. There is nothing wrong with this place and our host Nadeer is just excellent. I strongly recommend this place.
08.14 Our tube cards are charged for yet another trip. We are also "charged" for a yet another trip. The time has come to leave Parque.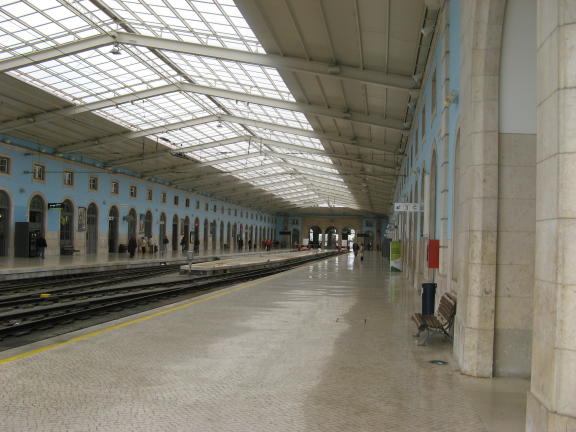 Santa Apolonia, railway station in Lisbon.
08.40 We've arrived at Santa Apolonia. Here we are waiting for the train that is supposed to arrive at track 2. The sky is grey and there is a light rain. We will head north in less than an hour.
09.01 We've sat down on some metallic chairs. We just had bico/expresso/coffee bought at Caffé Ritazza. The name is familiar. I think I had some java from this chain in earlier trips. We are reading about the place to come.
09.35 Our wagon number is 21 and our seat numbers are 114 and 116. It was a little hard to find wagon 21. It seems to be different numbers on the wagons depending on if the train travels to or from Lisbon. A man turned a sign on the wagon and suddenly there it is, right in front of us, number 21. I wonder if I can get myself some coffee.
10.03 We are leaving Vila Franca de Xira. The town has a bull fighting arena. We are a little late but who cares about that.
10.23 More passengers entered the compartment/wagon at Santarém. The area around us is green and we have seen cows and horses.
11.48 We've just left Coimbra, the city that was the capital of Portugal between 1139 and 1256. Our journey goes on through a mixed landscape. There are fields, woods and houses.
12.31 The waves from the Atlantic Ocean are rolling in on the train's left side. We are between Espinho and Porto. We have to figure out where in Porto we'll be as we get there.
12.51 We are at Porto Campanha. We are standing in a queue to buy a ticket to São Bento. That is the station in the centre of Porto not far from our next home. We haven't found any working ticket machine. OK, we just found out that we are in the wrong queue. The counter man told us to go to queue 2.
12.58 New deals. We can travel on our original ticket. We are on platform 2. We've read in the guidebook that we have to validate our tickets. I wonder where that is done. I haven't seen any machine. I better ask. OK, thanks a lot. I just got information from two ladies/girls. The ticket is checked on the train. No validation needed.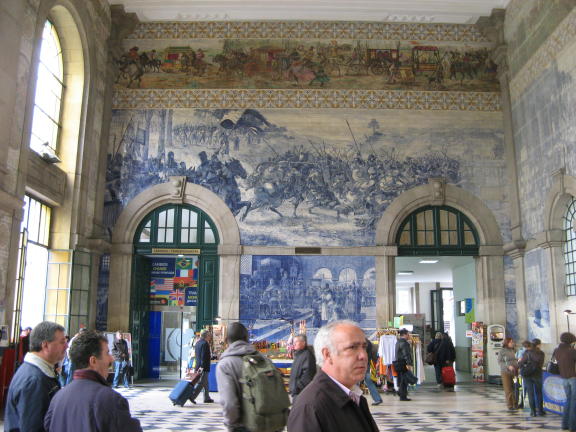 We have arrived to Porto. Photo from the station São Bento.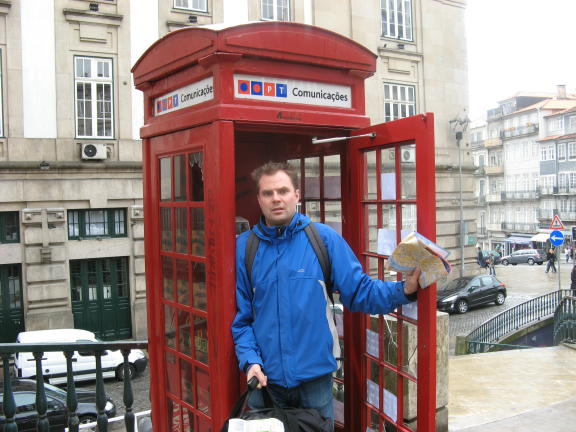 Where am I?
13.31 The girls were right. The ticket was checked and all was OK. We've been in the tourist information outside of the station of São Bento and looked up a map. They also printed the way to our next place on the map. We grabbed the map and were off towards our next place. I wonder where it can be. It is supposed to be around here. The name of the street is right but….. I wonder if we have to pay full price or?
13.52 We had walked too far. We had passed the place. We weren't allowed to check in when we got there. The reception lady was far from cheerful. She wasn't pleased for the fact that there were only two of us. The room was booked for three. It is too late to get a new room. We left our luggage and were welcome to check in again after 15.00. We are now at Café Chave d'ouro by Igreja de Sante Ildefenso. The sky isn't cheerful either, it is grey today.
14.20 We had to seek rain shelter in a book store. Now the sun is shining again and we are out to see more before we check in.
Igreja de Sante Il defenso, Porto.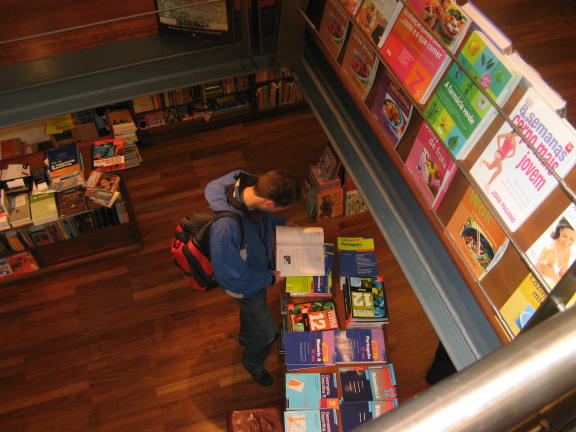 A bookstore is nice a rainy day.
15.21 We saw a little more of the city. Now we have checked in at Residencial Aviz at 451 Avenidas Rodrigues Freitas (http://www.residencialaviz.com) in Porto. The nonsmiling lady in the reception told us to pay as we check out. We are staying in room 315. The view from the room is far from breathtaking but who cares. I just got an SMS from Christer. Someone has charged $163.73 from his bank account. Is it for this place or what? I´d better check this up. Wait a minute. This is a double room. I thought she said it was too late to change.
15.32 Things have been checked. The payment was done before we checked in, so why did she say that we should pay later? I've never been through a thing like this. What is the reason? Exhausted, error, an attempt to charge us double? We owe Christer though, around $82 each. This means that we'll have no discount here.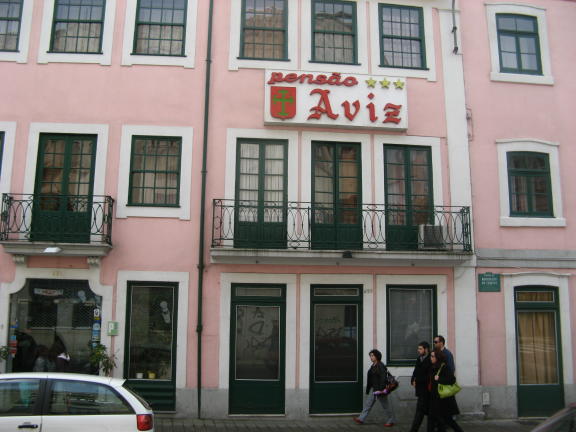 Residencial Aviz. This is what it looks like.
15.48 It is time for dinner at Snack e Churrasqueira Icarai at Rua Sá Da Bandeira 121. We just got the first course. It is meat and fish inside of some bread. We've also ordered some wine. I wonder what it will be.
16.00 Our wine is called Vinho Verde Pavao. It is a white wine. Maybe not perfect to the ribs we've ordered but still.
16.51 White wine was just fine to the ribs. The food was excellent. Now we are at the top of the avenue, Avenida dos Aliados. We are below Cámara Municipal.
Cámara Municipal (townhall) in Porto.
18.10 We stopped by an internet café before we went home. Now it is time for an afternoon nap.
19.16 We are through napping. It is time for an evening stroll.
19.58 We've seen more of the neighbourhood. Now we will have ourselves some coffee.
20.40 We are back in the room. Roberth has just filled the bathtub. There was no plug in the tub so Roberth put in the plug that we use during the summer trips. Then it is used to plug the sink to wash our clothes. I think I will be having a bath later.
21.37 A bath was just what I needed. The tub might be small but still enough for a bath. I feel clean in body and soul. Hey, wait a minute, just the body I guess. We can hear voices from the corridor and it is a Portuguese soap opera on the TV. I think it is called "Flor de Mar". I also think it is time to go to bed. Just imagine we are on vacation and there are still early nights.
---
Wednesday 15th of April
07.57 It is morning in Porto. The view from the window remains the same. It is time to have the included breakfast.
09.35 It was a simple yet hearty breakfast. We are feeling lazy. We´d better get going. It is time to see more of Porto. I hope that there will be no rain.
09.54 We headed out into the streets of Porto and soon the rain did the same. We've entered the bar Viseu no Porto. Here we will remain until the weather is more to our liking. I guess we can order some coffee if it takes some time.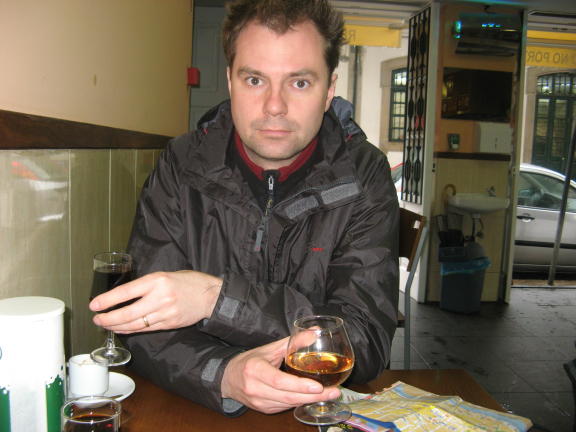 Portwine in Porto.
10.33 The coffee is finished but the rain continues. We have to fight the rain and ordered some port wine and some Portuguese liqueur. I've written some postcards. Now I just have to find some stamps.
11.23 It was tasty beverages. I wonder what the liqueur is called. We are back at the station São Bento. We've checked about train times and ticket prices for upcoming travels. Now we will go out to see more.
11.45 We've just had a short photo stop around Igreja dos Clérigos with its high steeple. It is time to walk in another direction. The raindrops are getting smaller.
12.23 We are having a cup of coffee below the cathedral and in front of Igreja de São Lourenco. We are at Fado Menor which has a wall that actually is a part of the wall/cliff the cathedral was built on. Outside the rain is thinning out.
12.55 We are down by the river of Douro. Across the river is the bridge of Ponte Luis I. Manchester United fans are walking along the river. We are at Cais dos Guindais. Things are happening here.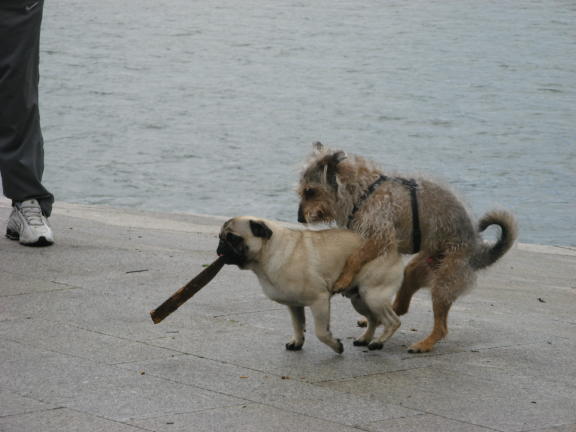 Is it a cigar?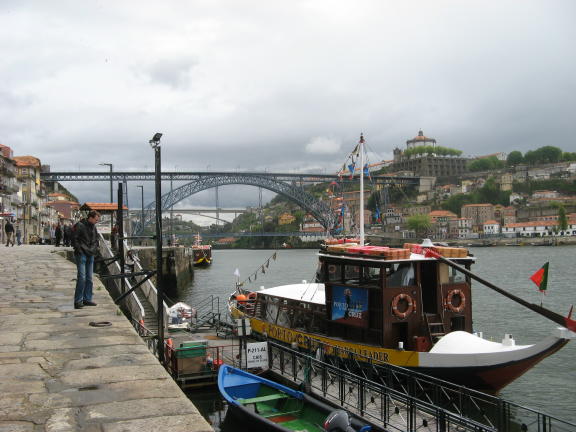 Cais da Estiva by the river Douro.
13.14 We've left the Brits and two dogs making dogs behind us. We are not hungry but a bit peckish. We've walked along Cais Ribeira and Cais da Estiva. There were a couple of boats along the last one. Cais is more or less a quay, a small port. It is sunnier now.
13.26 We are about, after looking at some souvenirs, to try some Portuguese sausage and beer at Snack Bar O Bobys at Rua Mouzinho da Silveira 70. We are far from alone here.
14.06 Great sausage and beer for 4 euro. Now we've walked along Rua do Souto and up the Travessa do Souto that is some stairs. There are some cosy alleys here. Porto is a pleasant city.
Roberth at Snack Bar O Bobys.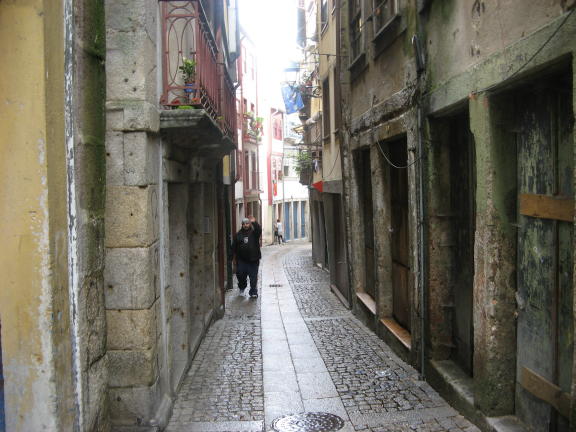 Hello, who are you?
14.26 We've sat down at an outdoor café by the Avenida dos Aliados. On one side are some shouting, toasting Brits. On the other side are some pigeons cooing. I wonder if I can go to any country in the world and not see Brits or pigeons.
15.19 We are back in room 315. Here we got clean sheets and towels. We are going for an early nap today. Porto has as mentioned a lot of beautiful things to offer. The parts that we've seen today are on that classic UNESCO list. A lonely seagull just flew by. I've managed to get some stamps for my postcards. I've been at the post office.
16.09 We just had our little sleep and will now get ourselves something to eat. We are getting used to have something in our stomachs by this time of the day
16.38 Our feet have taken us to a market place. A lady just sneezed repeatedly. Here at the market you can buy fruit, fish, vegetables and flowers. We haven't found any decent restaurant though.
17.28 I just bought some potatoes. I am going to give them to my parents. It is going to be fun to see if they will grow in a Swedish potato field. Roberth and I bought some sausage that we ate on the way here. Here by the way is Casa Alegria Emenda. We don't speak the same language as the waitress so she showed us into the kitchen to point at what pot we wanted to be served from. It wasn't easy to order wine either. I hope we will get a bottle of red wine this time. Our food is called Tripas à Moda dos Porto.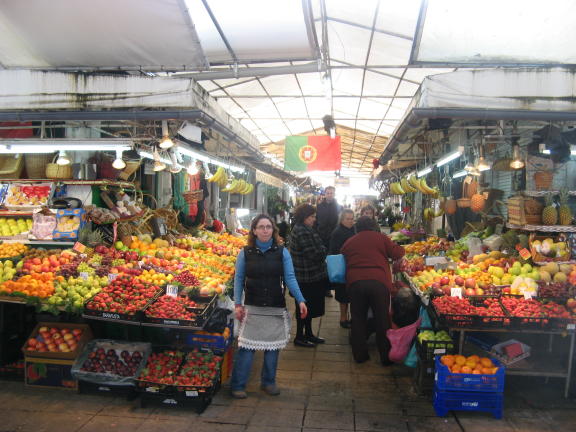 Some shopping at the market.
18.08 I guess the food was OK, not as delicious as yesterday. There were plenty of white beans and occasionally some slices of meat. Some of the meat was really fat. The wine was red and tasted great. We've left the restaurant and in the square in front of São Bento are Manchester fans singing and dancing. We've sought shelter from the rain inside the station.
18.21 We are back at the morning place, Viseu no Porto, which is just by the dinner place. This time we just will have coffee or……..
19.55 We had nothing more but coffee. Now it is time for soccer in the room. It is FC Porto versus Manchester United. It is quarterfinal in the Champions League. The game is played here in Porto but the rain and Roberth's flu made us watch it on the TV instead of being at the stadium. Cristiano Ronaldo from the Portuguese national team just gave Manchester the lead with 1-0. It was a hard kick from 30-40 metres that went straight in the upper right corner.

20.33 The first half is over.
21.45 United won the game with 1-0 and is through to the semi-final. I guess it was best we had watched the game in our room. Roberth is still coughing. Will he have to visit another pharmacy? I hope he will feel better tomorrow. We've planned for a trip to Braga.
---
VIDEOS
---
You can see 14 photos from April 14 in this photoalbum.
You can see 19 photos from April 15 in this photoalbum.

---
CONTINUE
---