---
Text: Peter Johansson
Editing: Christer Lundstedt
Photos: Christer Lundstedt, Peter Johansson
Videos: Christer Lundstedt
---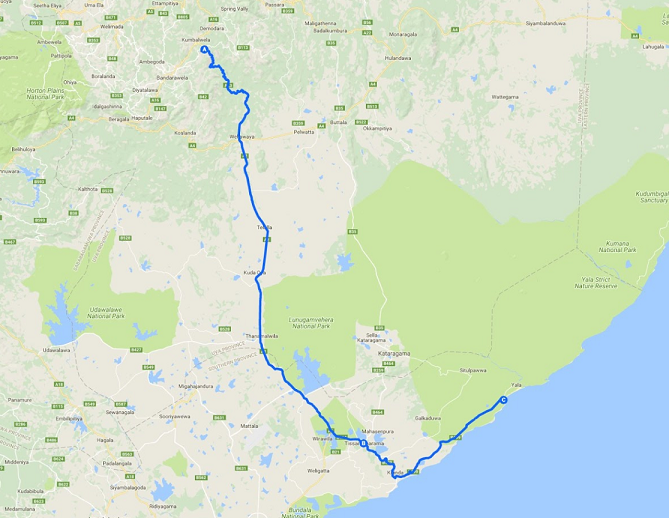 ---
Friday 13th of July
07.43 We have slept very well here at Aeon Hotel (http://aeonhoteltissa.com) in Tissamaharama. We will, strengthened by sleep, begin to take on a new day. This date, 13 July, is a date that has caused us a lot of trouble over the years. Now and then travel has been problematic, today we will not travel and hope for a day free of trouble. It does not make it any easier either that it is Friday the thirteenth today.
08.25 Something happened! None of us are able to get out on the internet. We will solve it during breakfast. Soon it's time to find out what is offered at the first meal of the day.
09.03 Since we were the only guests in the breakfast room, we received a lot of questions about our descent, possible kinship, how long we intend to stay here and our plans here. The internet continues to elude us.
10.48 Christer just went out through the door. He's going out to make a video clip about our hotel and the view from it. The internet connection is back again. Nothing unexpected that things are bothering us on the 13th of July. Soon I'll go out of the room. This is another day when we intend to get something done.
10.52 The first sensible thing to do today is to leave the room and the hotel for some errands here in town. We also intend to take a walk through the town and in the immediate area around it. A plan exists, all that remains is to see if it will be followed.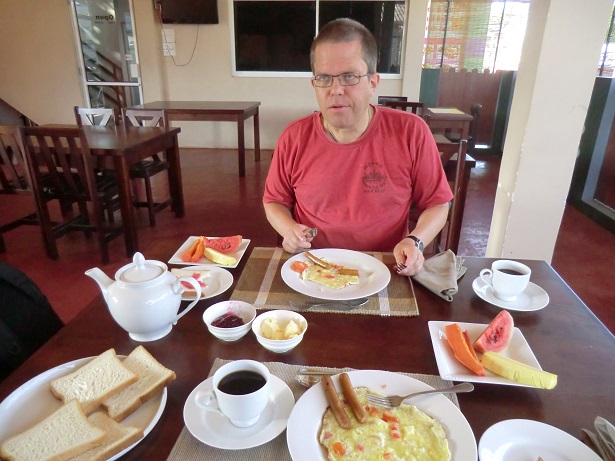 The breakfast served at Aeon Hotel.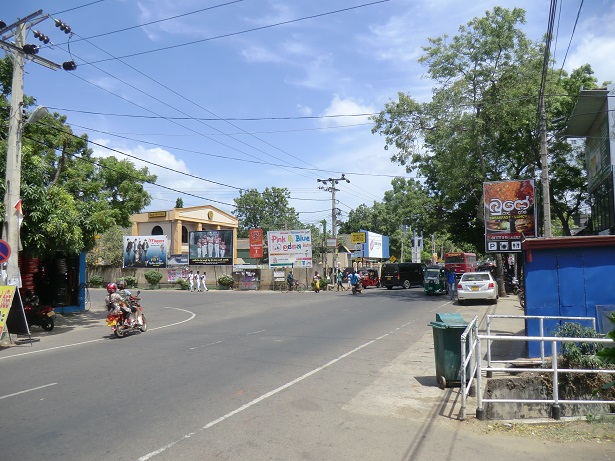 Tissamaharama.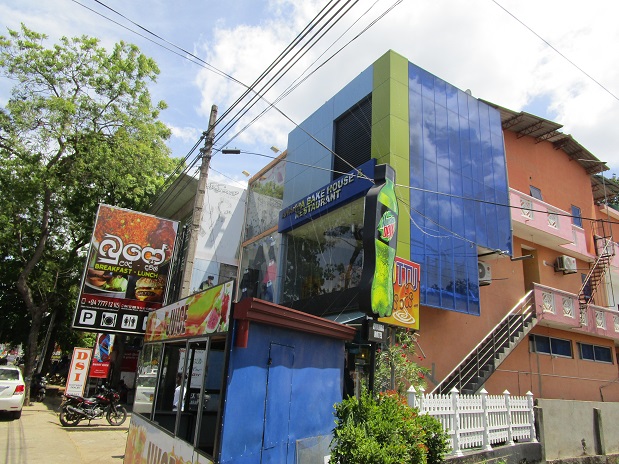 We have found a place where we can have coffee.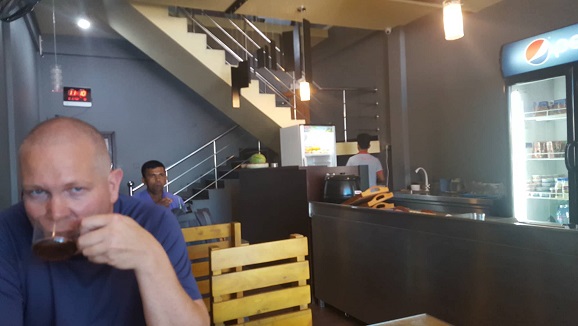 Christer is drinking his coffee at Ananda Bake House.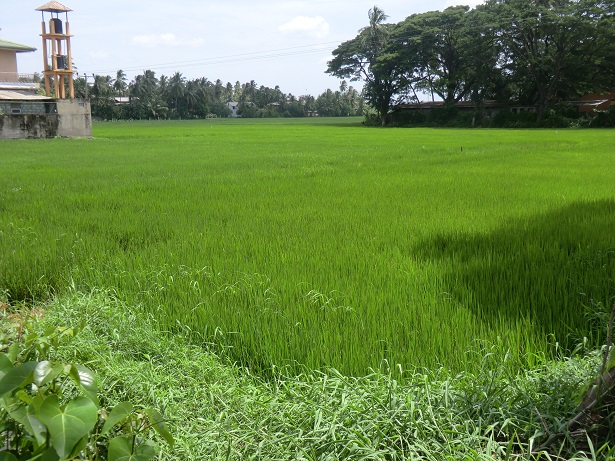 Green fields just outside town.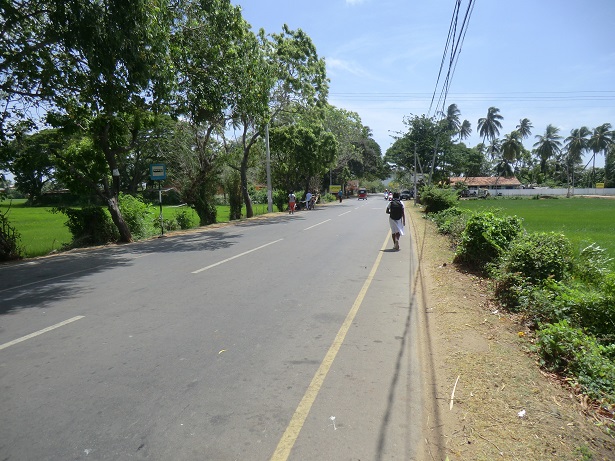 We are starting this day´s walk.
11.03 After having had success at an ATM, we will now celebrate this with having coffee. We are at Ananda Bake House almost in the heart of town.
11.30 The coffee with a small modest snack was a good start of our walking tour. Right now, I've immortalized a beautiful white stupa. It is a dome-like building that contains a relic box. The stupa is a part of the Tissamaharama Monastery Raja Maha Vihara. It was founded by King Kawan Tissa. He ruled the Kingdom of Ruhuna from 186 to 161 BC. It is also claimed that Buddha himself visited this place which was one of four monasteries that were ereced when Buddhism reached the island.
11.41 We switched from one road to another and after a while passed a portal which marks the town limits. Nearby there are also some simpler hotels and a small stream full of fish. Some people wash clothes and themselves along it.
11.52 I sit down and write this, while Christer is filming. We have arrived at the artificial lake of Lake Tissa/Tissa Wewa. A boat with an outboard engine from Suzuki is passing us. The man in the front of the boat wants to take us out on the lake. It is, as I said, an artificial lake created by King Kawan Tissa. The water was needed both for agriculture and for the monastery.
12.15 A strong wind makes the walk pleasant but it is difficult for Christer to make video clips here. The wind makes an annoying sound in the videos. We have wandered further along the lake and received even more offers of boat trips. We have even been offered to see crocodiles. Across the lake, we see some buffaloes wandering around. Hopefully we'll see enough animals on tomorrow's safari. Today we stick to the city environment.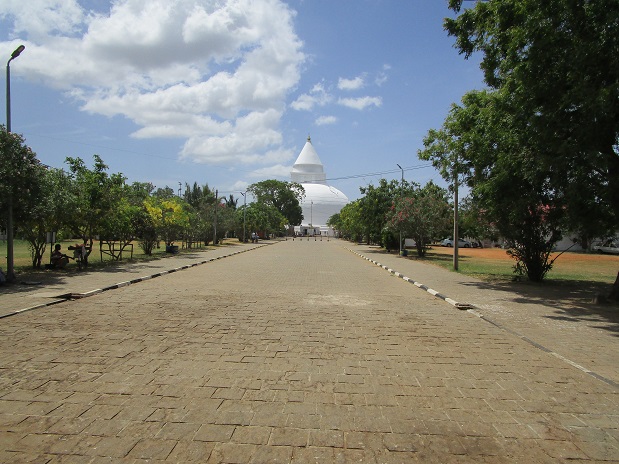 Tissamaharama Raja Maha Vihara.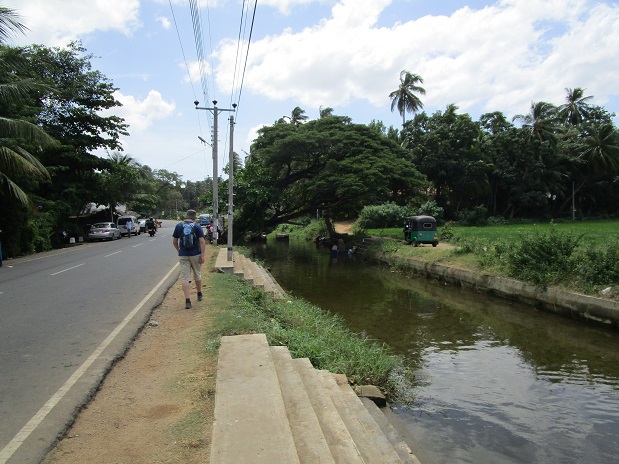 Christer is walking in the outskirts of town.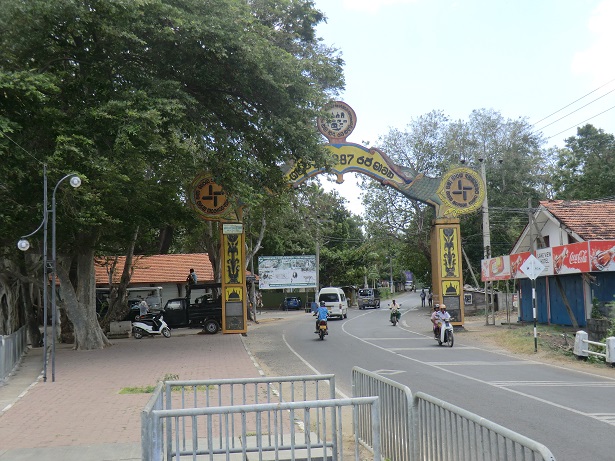 This arch is at the entrance of Tissamaharama.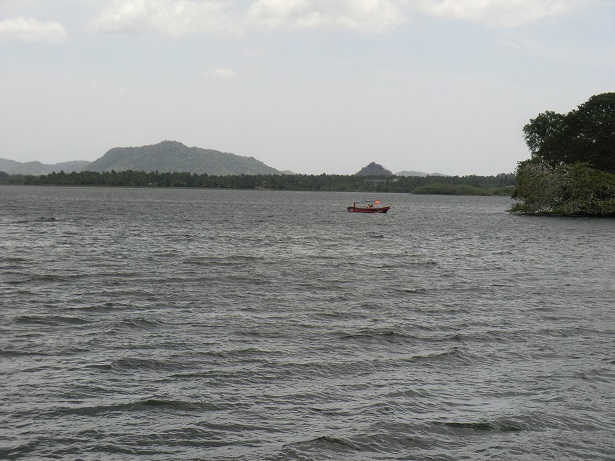 Lake Tissa/Tissa Wewa.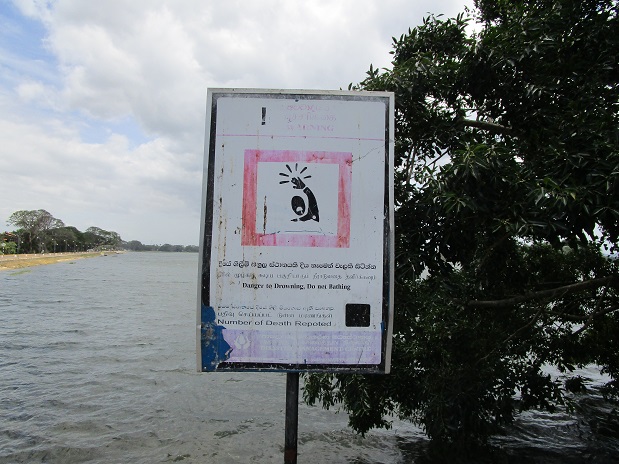 The number of people drowned has not been updated.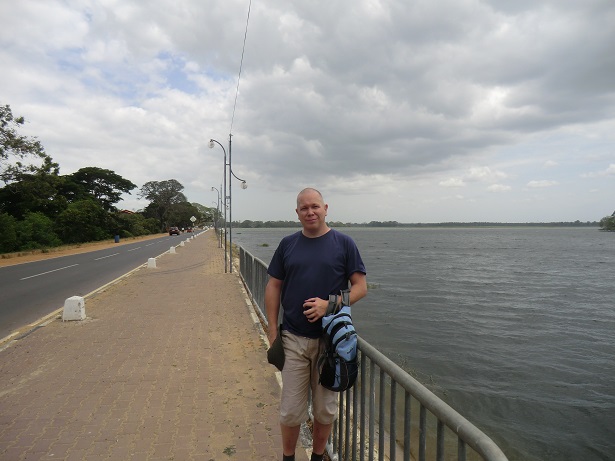 Christer at Lake Tissa.
12.49 We changed direction on our walk, took left at a crossing and have walked back towards the centre again. We are back in the centre and have stepped into the Royal Restaurant. What I look forward to the most is the juice. I need liquid!
13.20 We once again had a simple and delicious lunch. Lunch is many times just a way of filling up with energy. The culinary part we´ll come during the evening. However, Christer had to test a new juice that the waiter really recommended. It was a white juice that probably was made from the fruit "soursop" or a relative of it.
13.45 It's nice to look around, get new views and meet people and creatures. There's nothing wrong with coming home either. Unfortunately we are once again without internet here at Aeon Hotel.
15.21 The internet connection is back and I feel lazy.
16.07 Christer just said that he was heading out and then he did so. I'm going to take a KIK Cola with me and the latest book about Harry Hole and go out. I think I'd better take the room key with me. It's after all July the 13th today. Who knows what could happen?
18.04 We have read in our books. Kik Cola is drinkable but not much more. Now we will consider what we´ll do next.
18.56 Christer has found an internet website where we can book a taxi for the transport from here on Sunday. Next we'll find a restaurant for tonight's dinner.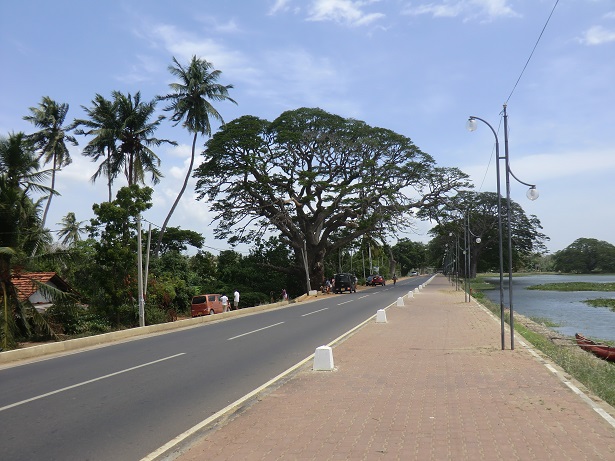 Tissamaharama Road.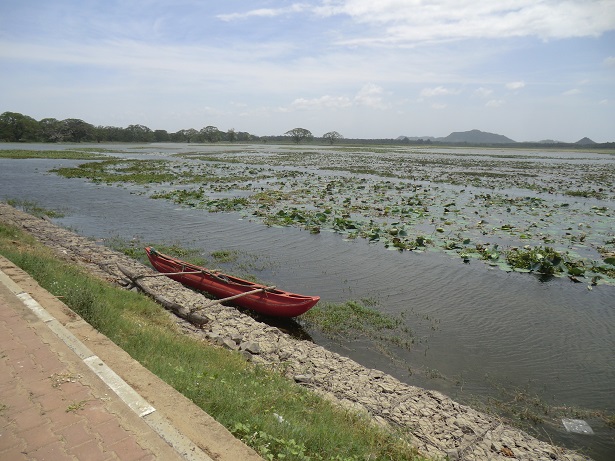 A red boat without its owner at Lake Tissa.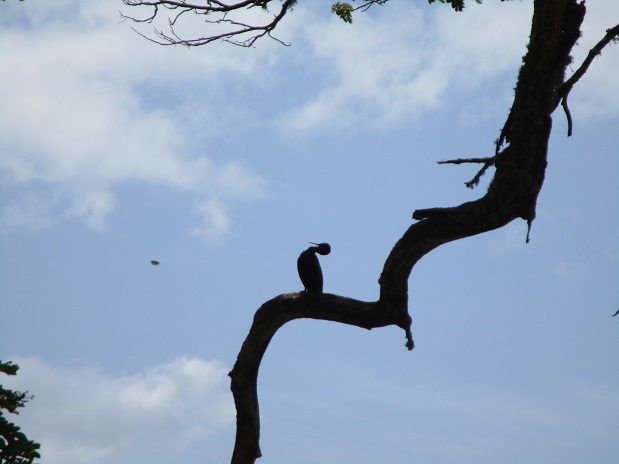 A bird is doing funny movements with its neck.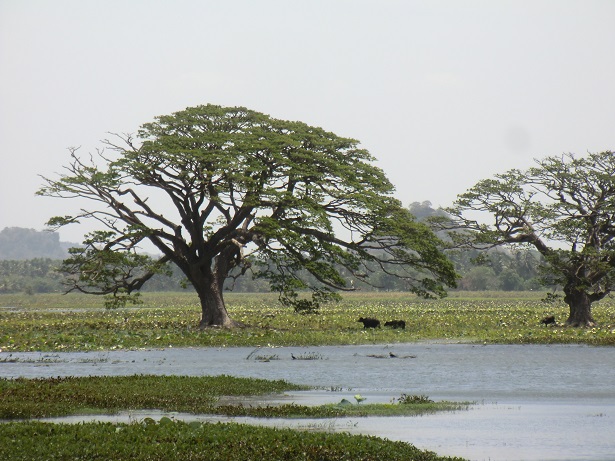 Water buffaloes should be close to water.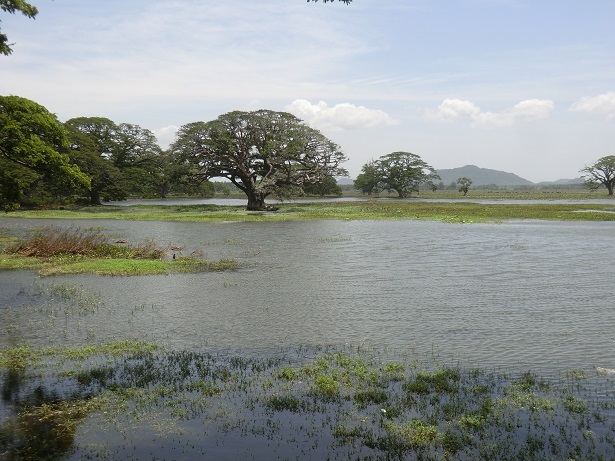 The view towards the north from Lake Tissa.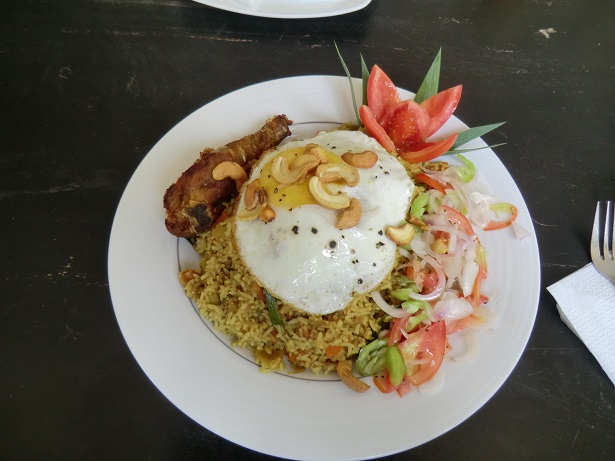 A beautiful lunch at Royal Restaurant.
19.16 We are back at The Muthu Restaurant (http://muthurestaurant.com). Partly, due to fact that the restaurant offered great food but also the limited of other restaurants within walking distance. One of the staff has noted what I wrote a review on Tripadvisor. He thanked for what I wrote there.
20.24 It was tasty tonight as well. We'll wait booking a taxi from here. It feels wrong to book one online when there are staff at reception that can assist us and know what options are available. The bitch from last night kept an eye on us tonight as we walked back.
21.46 It will be an early night this evening. This is because there will be, to say the least, an early wake up tomorrow when we are going out on our safari. We shall be ready to leave the hotel long before the sun rises.
---
Saturday 14th of July
03.50 We are now able to wake up the rooster. We have no cold water. All that we are offered is a bit of warm water. Soon we will go on a safari in the nearby Yala National Park. Kevin Anderson from South Africa is in the final in Wimbledon after 3-2 in set and 26-24 in the final set against the American John Isner.
04.30 With one of the hotel's packed breakfast bags each in the hands, we have now got into our safari jeep. It stopped outside the hotel. Some passengers are already on board, they are an English couple in their thirties.
05.10 Another passenger has been picked up, a girl who stayed in a country house far out. We think she's from China. Now our jeep has lined up with other vehicles at some buildings near the National Park. It's time to check in at Yala National Park. The trip here went fast. Safari vehicles do not like to slow down at the speed bumps on the road. Instead, everyone drove past them halfway out in the terrain.
05.22 Our driver left the other vehicles and has driven us to the entrance gates. It looks like we're the first ones here. It's getting a little brighter in the sky. We're starting to see each other here in the Jeep.
05.42 It's dull to wait. We chew a little recklessly on parts of the breakfasts in the bags.
06.00 Now, we roll into the park. It opens at 06.00. We are ready for animals. In total we are five animal viewers and in addition we have our chauffeur/guide.
06.21 We carry on in the dry landscape. So far at dawn we have seen a number of peacocks and various other birds.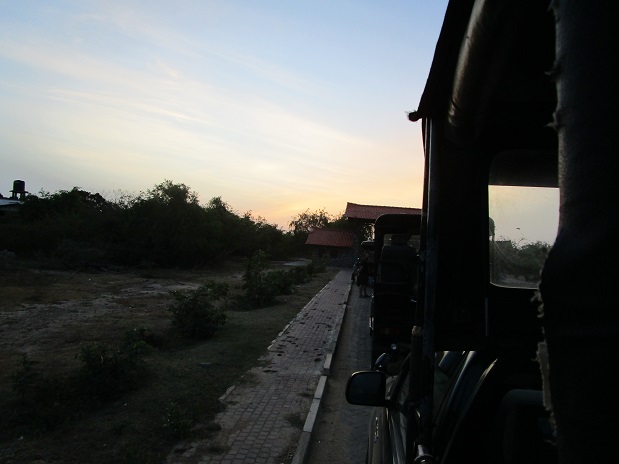 We are waiting for the park to open at 6AM.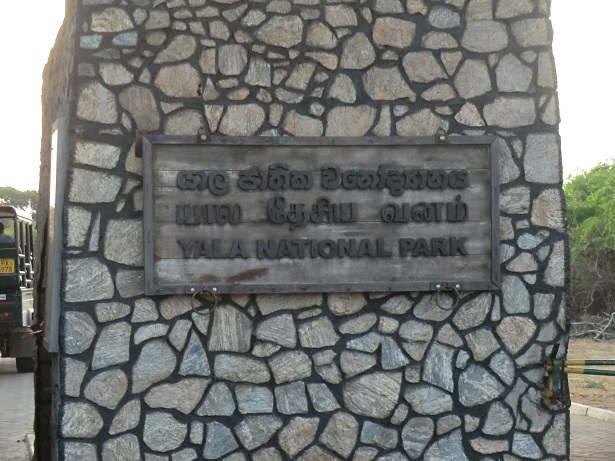 We will visit Yala National Park.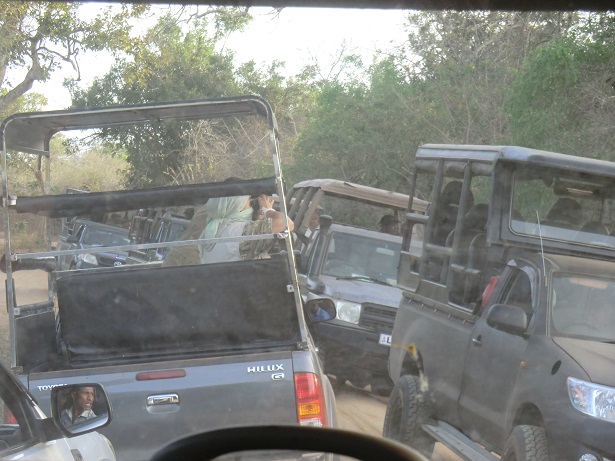 Lots of people waiting to see the leopard.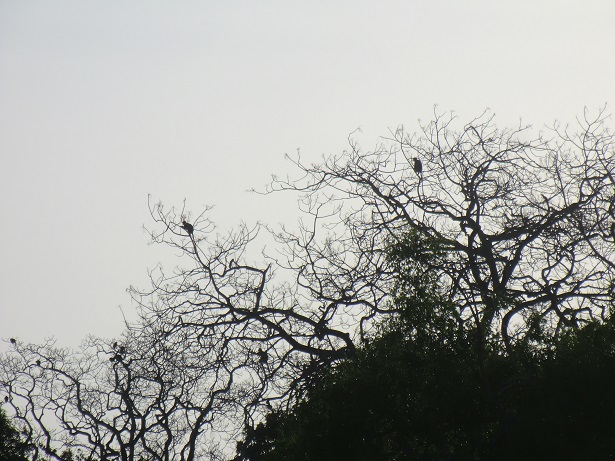 Monkeys in the trees this early morning.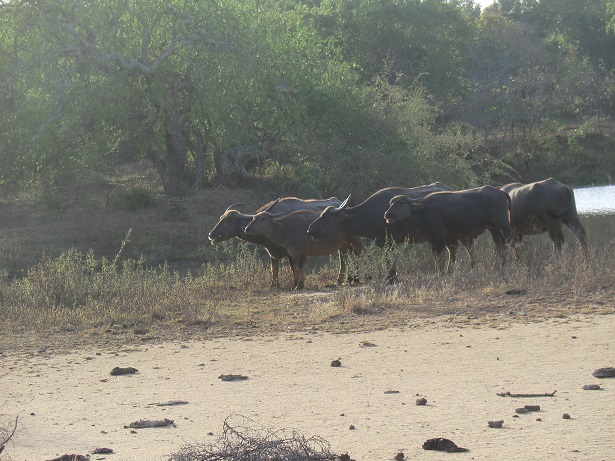 A group of buffaloes on a morning walk.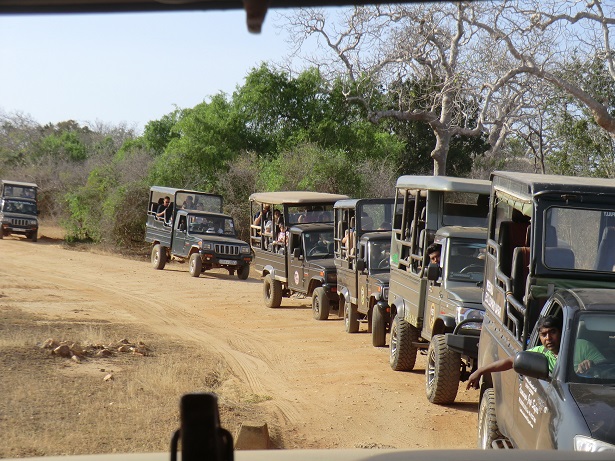 There are lots of vehicles in the national park.
06.45 After an intense bouncing on bumpy roads, we have now stopped. Several other vehicles are also located here. We have seen a tired leopard through the branches of the shrubbery and some buffaloes have walked past us. We can see monkeys sit and scout in the tree tops.

07.17 More buffaloes have been seen and also more monkeys. Now we roll/bounce on towards new sights. The hot sun has begun to warm us.

08.05 This is something new, at least for me. After years of waiting and longing, me, and even the others, get to see some crocodiles lying and resting at a water hole. The crocodiles kept a low profile on our previous safaris in Africa.

08.11 More animals are seen and spotted. We have seen wild boars and a number of species of birds.

08.23 An elephant stands proudly in the grass and gazes out over the water. We have already seen enough animals to make this excursion feel successful.

08.59 After watching langur monkeys on a cliff, we are now watching various grass eaters by some water just near the sea, which is also water. But who's watching who? Do we see the animals or is it reversed? The animals are at home ground, we're just temporary visitors in their world.

09.22 We have been offered and of course taken the opportunity to stretch our legs right by the sea. We're at Patanangala Rest House. The tsunami broke in here in 2004, killing 47 people. We see the foundations of two bungalows which were destroyed by the water. We have also observed a large lizard sitting on a tree trunk and looked at all the tourists who are here.

09.50 The safari continues. In the distance is the Elephant Rock.

09.56 Four elephants (a family?) passed across the road just after that we saw the Elephant Rock. One of the elephants passed just a meter in front of our car. It was a surprising close encounter.

10.09 We found something that looks nice. What do you wonder? Well, we observe some bathing elephants. It once again looks like a family, two large and two small elephants which stick together. One of the big ones has some kind of necklace.

10.23 Look there is a bear, a sloth bear that strolls across the road! Baloo in the Jungle Book is a sloth bear but he doesn't look like a real one does. It is much smaller and more timid than how Baloo is presented. It is hard to see them during the daytime, we have had a real success today when we have seen both leopard and sloth bear.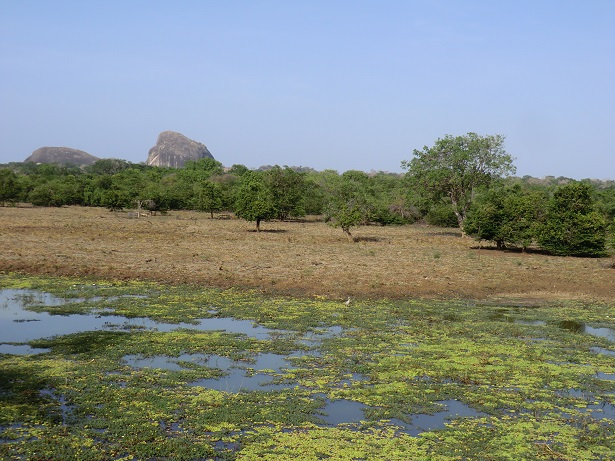 Yala National Park.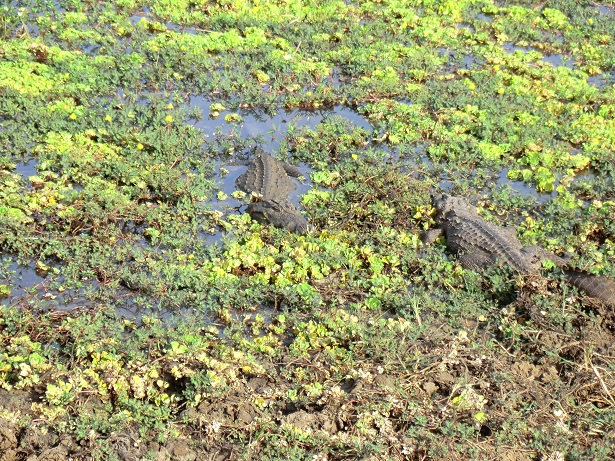 We have found some crocodiles.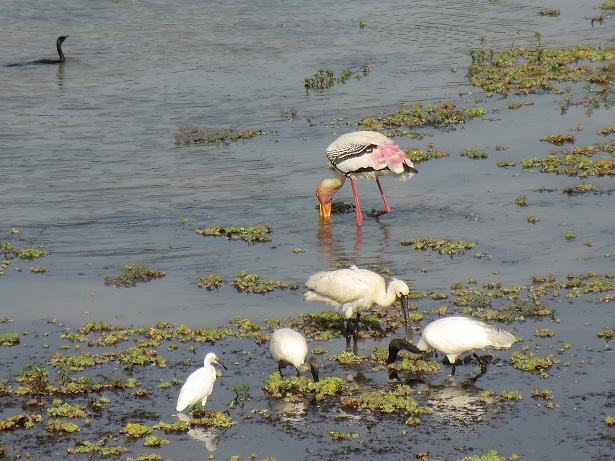 Different types of birds appreciate the water.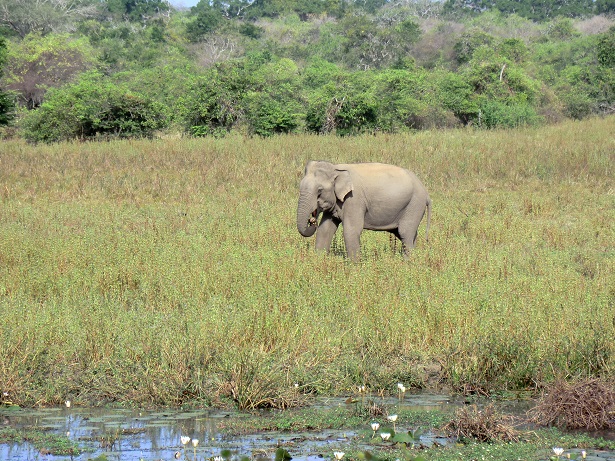 We have seen today´s first elephant.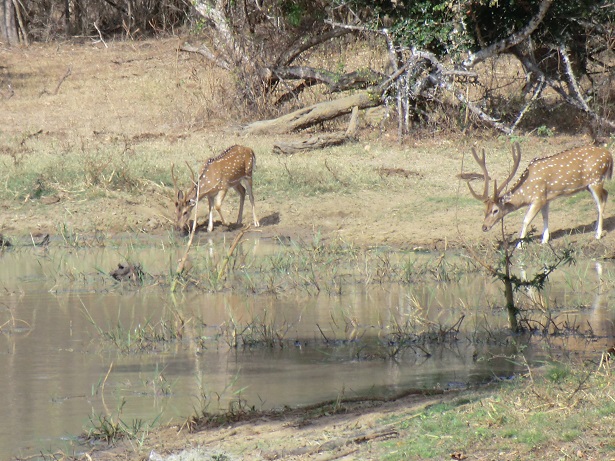 A few beautiful deer are drinking water.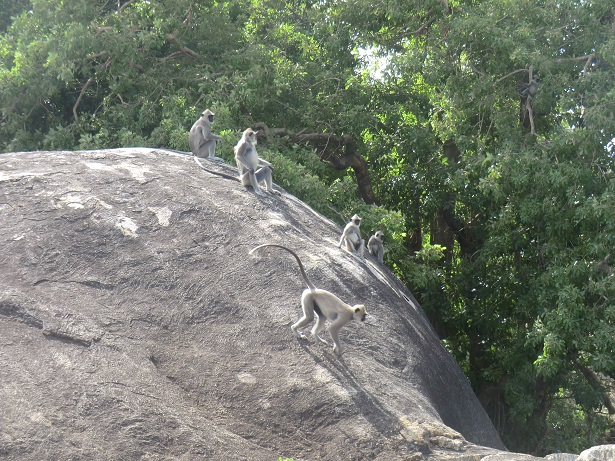 Langur monkeys on a cliff.
10.37 A wild pig has come walking since last. Now we're looking at lots of birds at another water hole. There will be so many impressions that the eyes and brains will eventually become overloaded. We've basically seen all the animals worth seeing here in Yala, a real top safari is coming to an end.
11.01 We will say goodbye to all the animals! Let's go home.
11.40 Home sweet home! We're back at the Aeon Hotel. Unfortunately, it's not cleaned in the room. The trip back went via new unknown roads and we did not really understand where we were until we suddenly parked outside our hotel. We gave a tip to the driver to show our appreciation.
12.20 We are about to leave the room for a while. We're hungry!
12.42 We asked if they could clean the room during our lunch before we left. The reply was short and simple, you guys have lunch and come back and we'll clean up. The fact that we are to be present is probably due to security, I don't think they expect us to assist in the cleaning? We are now back at the Royal Restaurant, where we lunched yesterday.
14.02 Lunch ended and we returned home. Immediately the cleaning was taken care of. The man we think is the boss cleaned. His inquisitive henchman asked us all kinds of questions. He wondered about Sweden, snow, what we were working with and a lot more. Suddenly the boss was locked out on the balcony, everything worked out fine though. Christer let him out or is it in. We are about to take a short sleep, a powernap. We need some sleep after the early morning and all the experiences today.
14.24 There was a knock on the door and Christer opened. He was told it was arranged with a taxi for us tomorrow. For 2000 rupees each we will be transported. It will be a shared car with some other gentlemen who stay here. We mentioned that we needed a ride tomorrow on an earlier occasion and now this was arranged, superbly!
16.40 We have slumbered and snoozed. After waking up, we have mostly planned. Now we will go from the room and the planning to the chairs outside and some written words. We're going to have a nice afternoon with some reading and refilling of liquids.
16.51 The reading time was interrupted. The staff showed up and we were asked to pay for tomorrow's transport.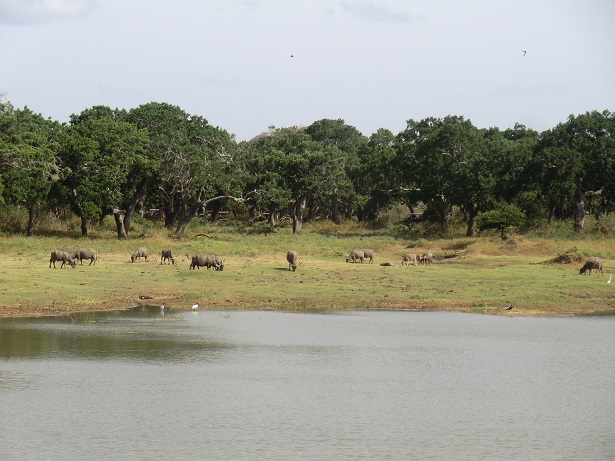 By the waterhole.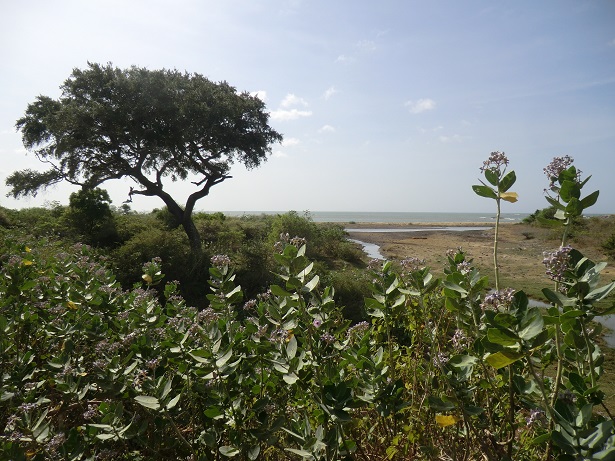 Suddenly we could see the Indian ocean.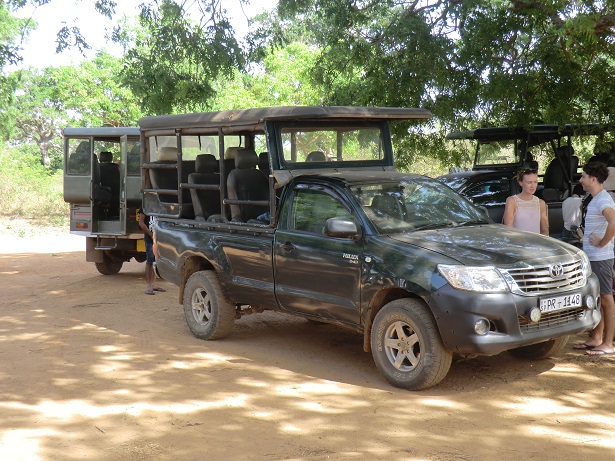 After a few hours there is a break in the half-day safari.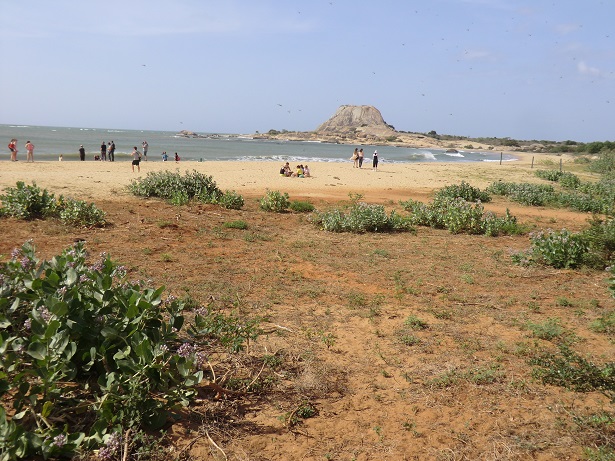 Safari tourists take a walk along a beautiful beach.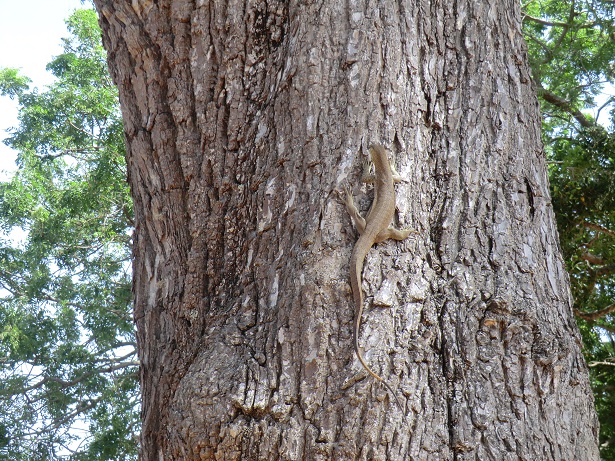 A lizard is getting attention from the tourists.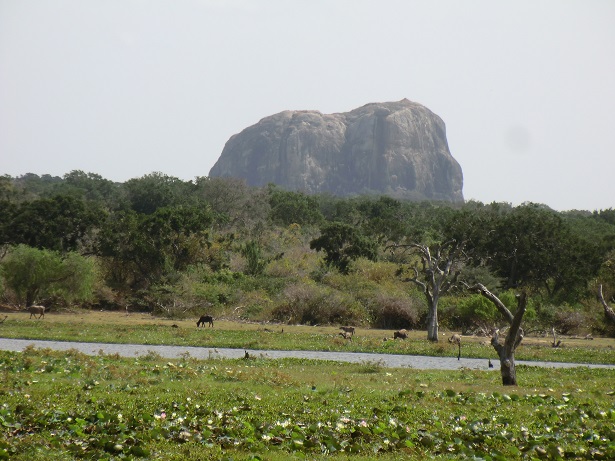 Elephant Rock.
17.56 The sky light is dimmed, veiled. It's not worth reading any more out here. Let's make plans for the evening. There's a bronze match in the World Cup this evening. We will, in addition get an answer to the question, Serbia or Spain in the Wimbledon final?
18.53 It is a fact that if we want to see the bronze match and also have dinner then we have to go out. In the semi-finals Rafael Nadal-Novak Djoković is it 2-2 set and 2-3 in the fifth set.
19.29 We are, for the third straight evening, hat trick, at The Muthu Restaurant. The battle for the bronze just started on the restaurant TV. Another guest, a British gray-haired gentleman, wondered where we are from.
19.34 Burning hot Belgium start the bronze match best. They take the lead with 1-0 through Thomas Meunier.
20.44 The minor last thing is missing for England and also for us. England needs goals and we need coffee. Partly as a conclusion to the good dinner consisting of grilled meat but also as a reason to sit here in the restaurant during the second half.
20.59 Now it is close, coffee is underway and England's chance to score was cleared at the last moment by a Belgian defender.
21.04 There is high drama in the match and the restaurant. The waiter spilled, poured or possibly just tipped two glasses of juice over a guest. The guest who was part of a larger company was not satisfied. Where's the coffee?
21.10 The disappointed customer left the restaurant and went away in a car, Belgium has just increased to 2-0 through Eden Hazard and we have re-ordered the coffee. Everything was probably forgotten due to the juice incident.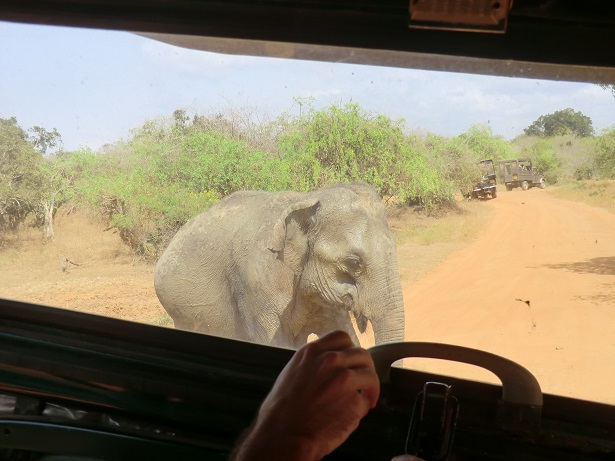 Suddenly an elephant appeared in front of our vehicle.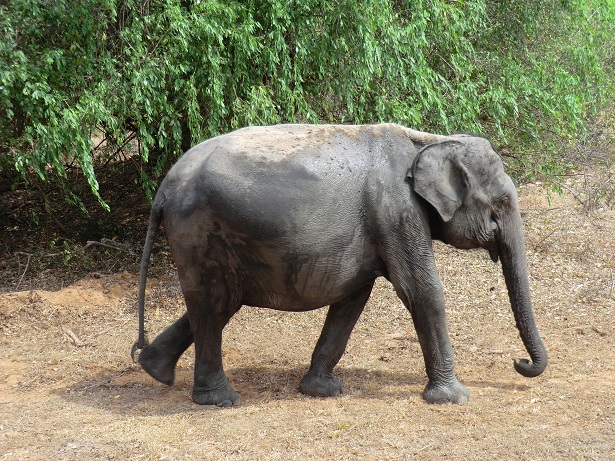 A good opportunity for elephant photos.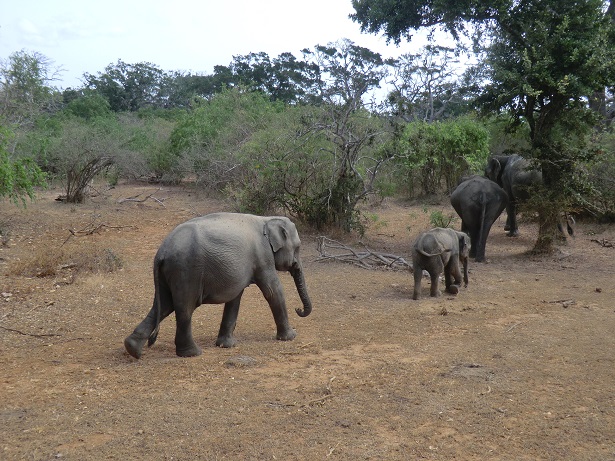 An elephant family came walking.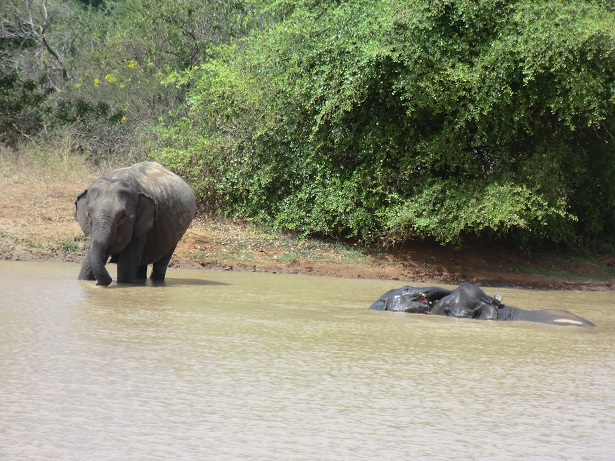 Swimming elephants on a hot day.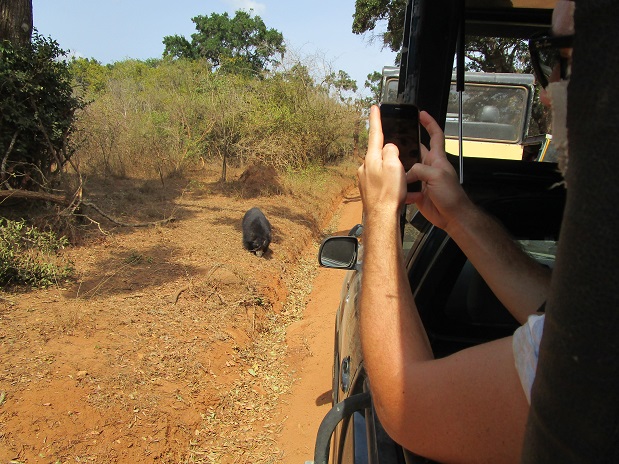 Baloo wanted to say hello.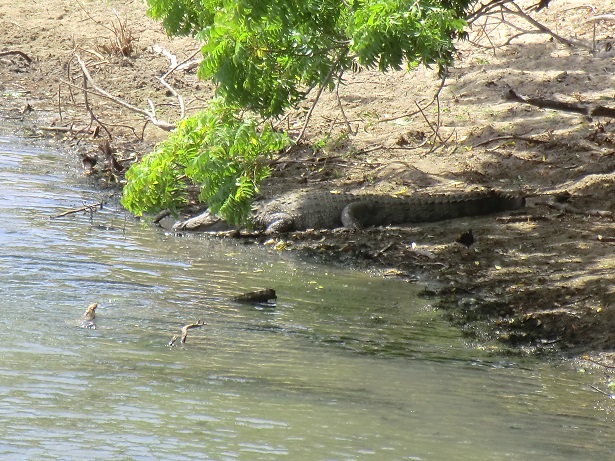 Another crocodile wanted to be a part of this travel journal.
21.37 The guest returned after a while dressed in dry clothes and is now ready to continue his evening. We had to pay 80 rupees, under a dollar each for the coffee. After we had eaten and paid, we talked for a while with the one in the staff who thanked for my Tripadvisor comment. He seems to be the owner and told us that the restaurant only existed for a few months and that they constantly learn to improve the service. On the way home, we heard something similar to Muslim prayer calling, but it's too late for that, isn't it? The female dog came to see us again tonight. Belgium took the bronze medal in the World Cup and Novak Djoković reached the final in Wimbledon after 10-8 in the final set.
23.41 Super trooper with ABBA is the latest song on the radio channel/station that offers songs from the time when the last century was old and I was not. The new champion in the prestigious Wimbledon tennis women's tournament is Angelique Kerber from Germany.
23.48 Once again it sounds like a prayer call. Do we have auditory hallucinations? What is it called for and why?
---
Sunday 15th of July
07.45 Yet another call for prayer has silenced out there. We wonder if the Buddhist Sri Lankans are as upset about this as the semi-Christian Swedes who go bananas if it is to be implemented in Sweden on some occasion. Well, today we're going to do something we haven't done in 12 years. We're going to watch a World Cup final on Asian soil. Before this becomes a reality, a trip will be made and we will move into a new home in a new city.
08.51 We were not the only guests who had breakfast, උදේ කෑම, udē kǣma, today. Besides the two of us, there are three younger men here in the dining room. Our matter of transport, our booked car will be here within an hour. It's time to get ready.
09.40 The time of waiting is here. We sit in the room and bide our time. It is not long now before we leave Tissamaharama and south Sri Lanka behind us.
10.10 We and the three other gentlemen are ready to travel north to Ella, a small town up in the mountains that is very popular among tourists, mainly backpackers. We are transported in a multi seated van, a minibus.
10.27 The journey through the countryside is harmonious. Well, I guess it's a little bumpy, but it works.
11.18 Wellawaya is the name of this place. Lanka IOC is the name of the petrol station/company. We've filled up with diesel. Next to us is a motorcycle with three on board, two adults and a small child. Everyone, even the little one, has a helmet. The kid's helmet is yellow.
11.41 The bus just swung past a beautiful waterfall. It's Ravana Falls and Ella is getting closer and closer.
12.01 We were driven all the way to the door and are now seated in the lobby of White House Ella. Our travel comrades carried on to a place further away. Now we wait for the room to be cleaned. I have, however, made a speedy visit to the room to release liquid. I was pleased with what I saw in there.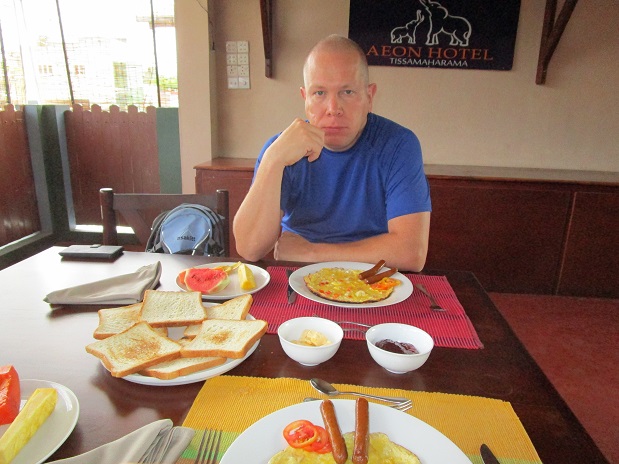 The last breakfast at Aeon Hotel.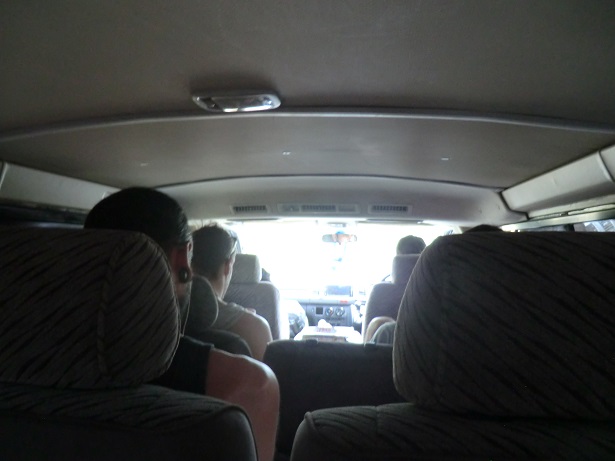 In the car going north.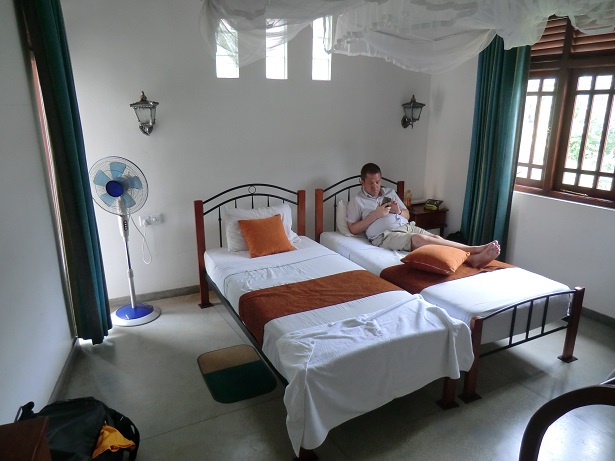 Peter in the room at White House Ella.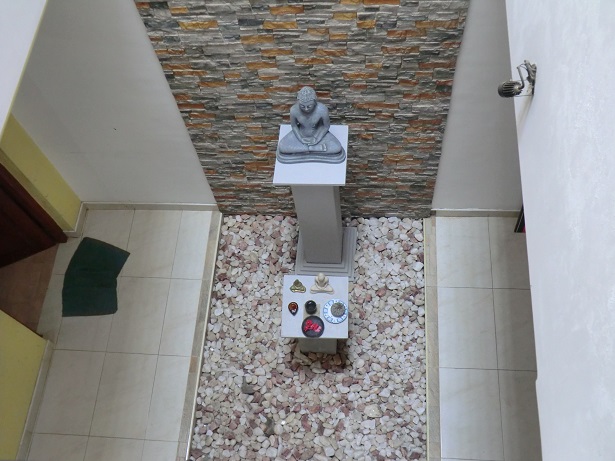 Buddha is always close in Sri Lanka.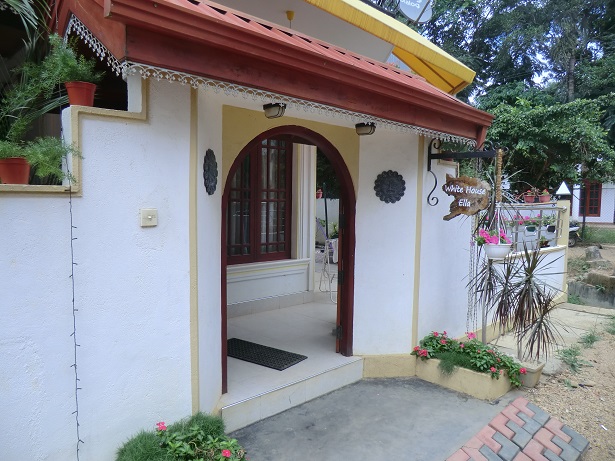 White House, Ella.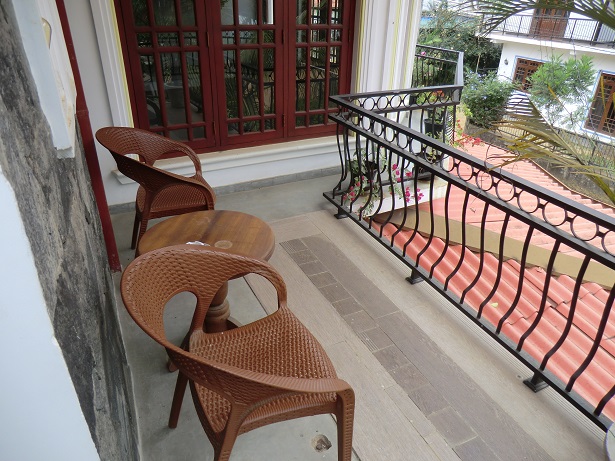 Our nice terrace.
12.36 White House Ella is a small family owned guest house that is very fresh. It is a large multi-storey villa where the family with young children live in the ground floor and the rented rooms are located higher up in the house. Room 105 has the most of what we need, a bed each, bathroom, balcony, TV, and refrigerator. We're missing AC but we will manage. We are at 1041 meters above sea level now so the sultry tropical heat does not reach us in the same way. Now, let's just get settled in before we get acquainted with Ella. TV is good, it's the World Cup final this evening. Now we don't have the hassle we had four years ago.
13.38 When Christer finally managed to get the wires to the box and TV in the right order in the sockets the TV did not start anyway. The remote needs batteries.
14.04 We've been walking down to the main street here in Ella. The lunches come from Italy and Singapore, pizza for me and a noodle dish with mixed content for Christer. We are at Dream Café (https://www.dreamcafe-ella.com). We are here together with many other pale backpackers.
14.47 Towards the end of the meal, a dog came up the stairs leading to the street level. It looked around and disappeared. Pretty soon a cat came and went down the same stairs. Was it a change in the shift work, a changing of the guards? The English couple from the safari yesterday is also here. They sit further away in the same restaurant. It is a small world.
15.22 Home, sweet home. We're back in the White House. It would have been nicer with AC. Now our TV is finally alive but it does not want to cooperate with the box that will give it a picture.
16.00 Forget the TV! Let's go out and read on our beautiful patio.
18.22 Dusk interrupted the reading and we also did not get the television set in order, now it is a crisis, what about the final? One of the staff has tried with the same poor result that we had. He called his boss and now he's on his way. We hope he doesn't come on foot because the rain falls heavily.
19.19 The key was left at the reception and we took the opportunity to order breakfast at 08.30 tomorrow. Now we are at Ceylon Tea Factory, further up the hill from our accommodation. They're going to feed us before the game starts. Will we see it in our room, elsewhere in the hotel, elsewhere in Ella or not at all? Four years ago we were in three different premises. Some guests play cards at a table.
19.58 Now we are waiting for the bill. The restaurant is classy, the food good but the portions alas so small. After payment, we hope for the final in our room.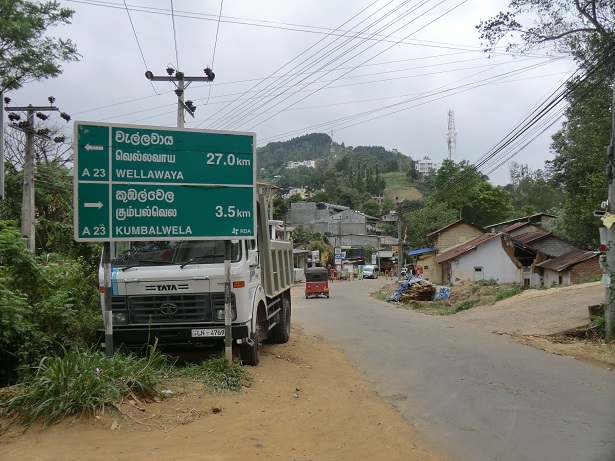 The road down to the central parts of Ella.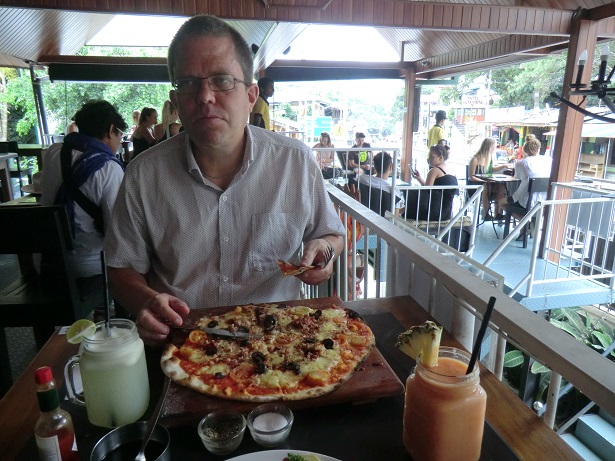 Peter is eating pizza at Dream Café. In the background we can see yesterday´s English safari friends.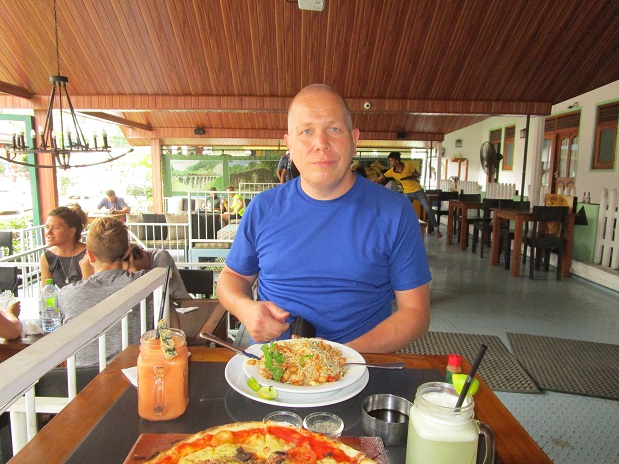 Christer is enjoying his first meal in Ella.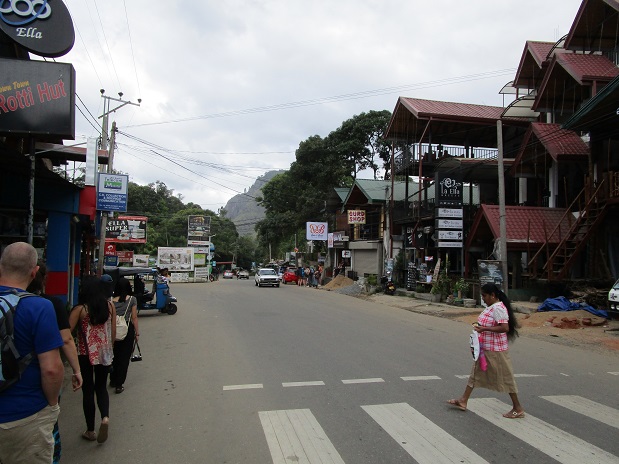 Ella.
Christer is walking towards our accomodation.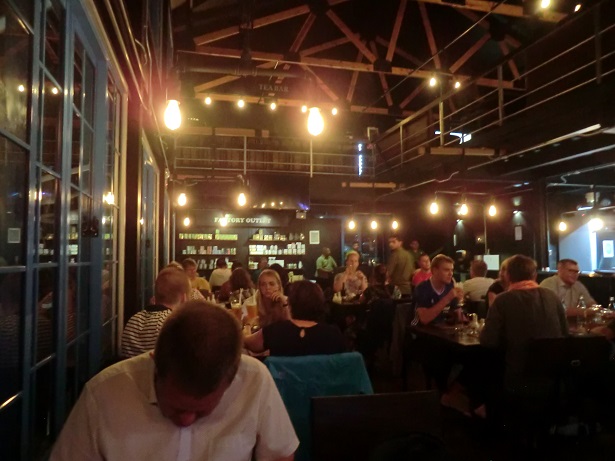 Dinner at Ceylon Tea Factory.
20.16 Our TV, box or something has died, is out of order. We have been offered to watch TV in another room, change rooms or watch TV in the lobby. We don't want to let go of our terrace or watch TV with someone else so there will be option three. We are for the fifth straight final not at home in Sweden. For the first time, we return to a continent where we have seen a final before. This time the match is between France and Croatia.
20.39 It is undulating game on the grass of Moscow. On the grass of London battles Djoković and Anderson. It is 2-0 and 4-5 in the third in the Wimbledon tennis. Will it be an evening with success for the Balkans?
20.48 Unlucky for Croatia, their first goal was a header in their own goal. France thus takes the lead. It's fun with a final with goals during ordinary time. This is the first time since 2006. Can Croatia change the score in yet another match? In Wimbledon, there is tiebreak in the third.
20.58 Ivan Perišić, who else, scores.
21.05 France has, after a VAR decision, received a penalty. But it wasn't penalty, was it?
21.08 2-1 to Les Bleus, Antoine Griezmann scored on the penalty.
21.19 Half time in football, France in the lead. In London, Djoković won the third set and thus the match. Coming from a nation starting at S has been winning in Wimbledon since 2003, Switzerland (8), Serbia (4), Spain (2) and Scotland (2). Earlier in history it has also worked for (S)weden.
21.40 Suddenly there are too many people on the pitch. Some of the audience have invaded the pitch, bad!
21.48 3-1 to France. Paul Pogba has scored. Now it is a long way to extra time IV for Croatia.
21.54 Now it became 4-1 through Kylian Mbappé. When was the last time a national team scored four goals in a World Cup final in football?
21.57 Mario Mandžukić makes 4-2 after an error from the goalkeeper; I don't think I ever have seen that many goals in a World Cup final.
22.09 I know the answer now. In 1930 and 1938 it became 4-2; in 1958 it became 5-2. So this is one of the goal richest finals ever.
22.42 France are World Champions. Just like when Portugal won the European Championships, it feels like the Champions somehow won the tournament without ever really impress. Pussy Riot has taken claim of the pitch invasion. We'll storm into bed ourselves. Tomorrow we'll see more of Ella.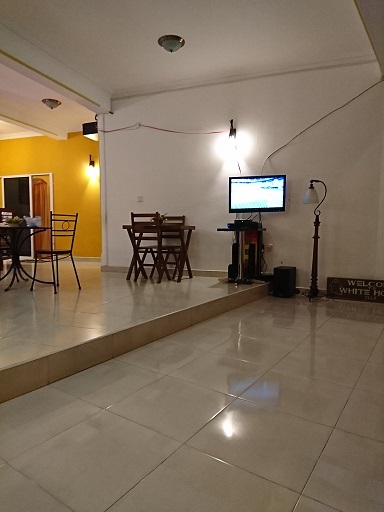 We watched the World Cup final on the host family´s TV in the reception area.
---
VIDEOS
---
You can see 54 photos from July 13 in this photoalbum.
You can see 125 photos from July 14 in this photoalbum.
You can see 24 photos from July 15 in this photoalbum.

---
---