---
Text: Peter Johansson
Editing: Christer Lundstedt
Photos: Christer Lundstedt, Peter Johansson
Videos: Christer Lundstedt
---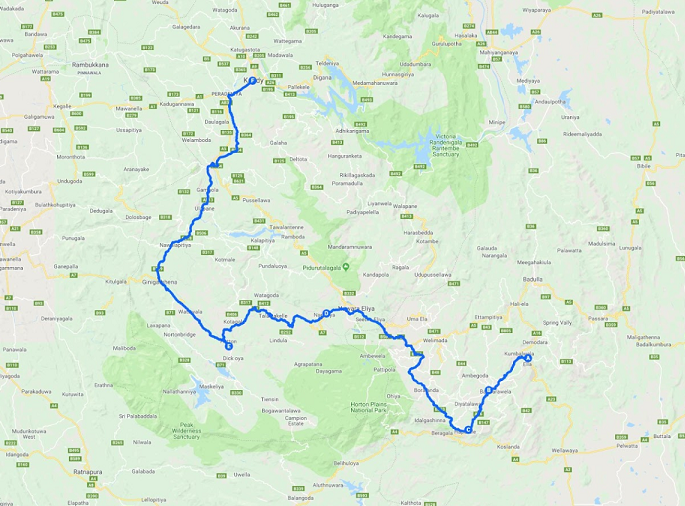 ---
Monday 16th of July

07.14 Waking up with birds singing is usually cozy. Today was an exception. A bird whined and squeaked, it sounded like rubber to glass. Lucky it was possible to go back to sleep under the mosquito net here in our room. We are since yesterday afternoon in Ella and are staying at White House.

09.06 Today we had fresh fruit and pancakes for breakfast. On my way back into the room I was AC-fooled. For a while I expected to step into a cool, chilly room. It wasn't as I expected. 09.57 Someone is shovelling somewhere outside and cheerful, not whiny, birds chirp. Today's activities will for sure begin within half an hour. Today we're going to walk around here in the town and see what it has to offer. We will also have some other things to take care of. 10.19 We suffer micro power outages from time to time. They last for a short while and then everything is as it should be again. At home in Sweden, the heat and drought continue. There is a ban on open fires and people are being asked on to use as little water as possible. 10.43 The time has come to move from word to action. We will leave our comfortable room and visit the outside world. 10.55 We are on foot heading towards the railway station to collect our pre-purchased train tickets. These will be used on Wednesday when we travel on from here. The railway station is located at the other end of Ella.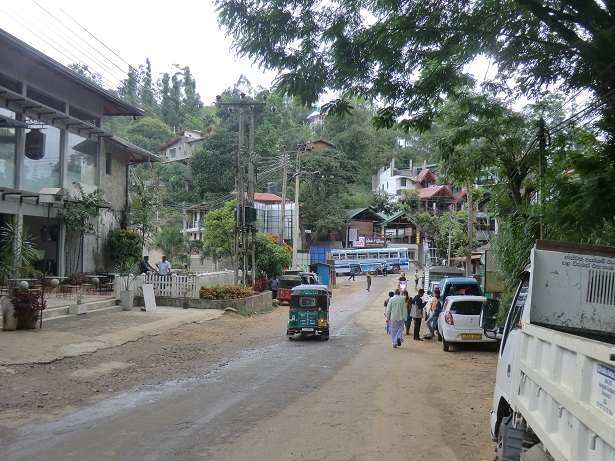 We are walking down to the main street in Ella.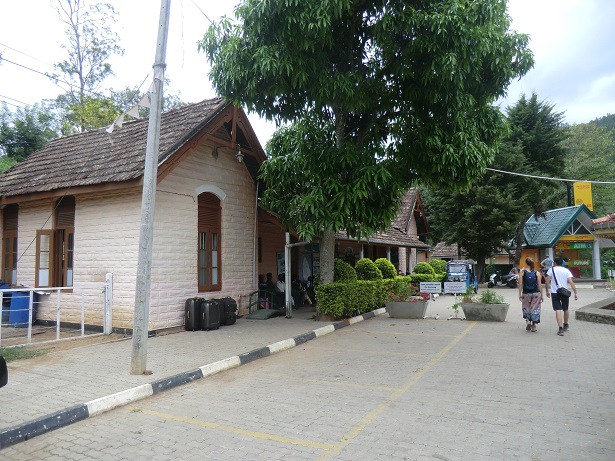 The small railway station in Ella.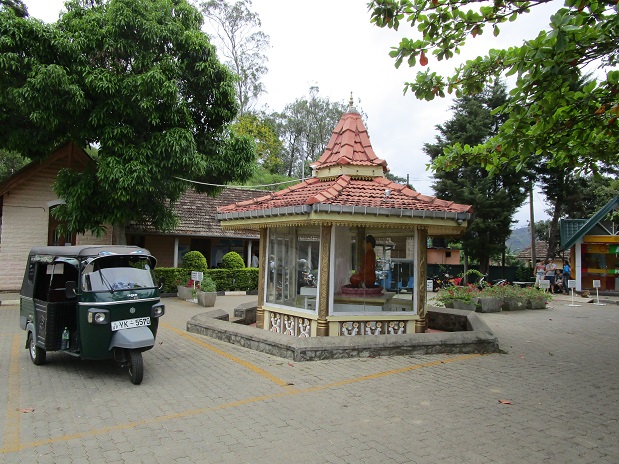 A tuk-tuk and Buddha outside the railway station.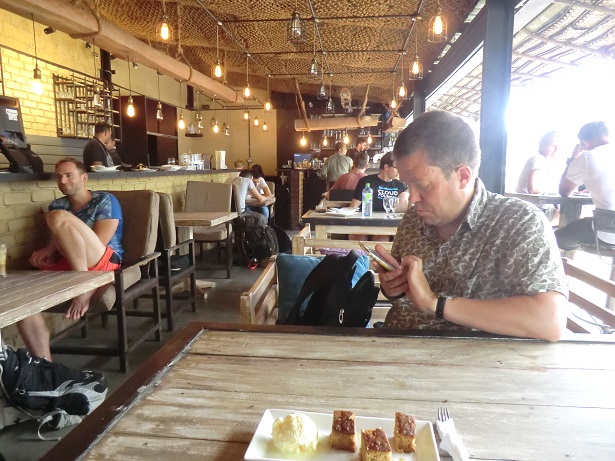 It´s time for coffee at Starbeans Café.
The road going south.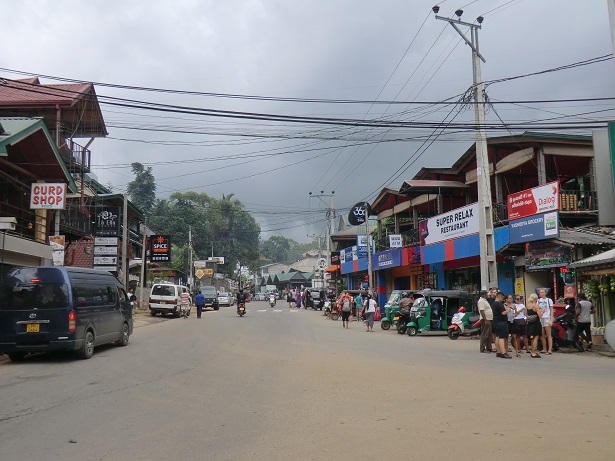 The main street in Ella.
11.10 We arrived at the railway station and stood at the counter for pre-bought tickets. There was no one there to assist us. We switched to the queue for ordinary tickets. Once at the counter, the man there referred to the counter we just left. Said and done, we returned and soon got served by the same man. Now we've got our two tickets for Kandy.

11.25 It is not too many people at Starbeans Café. We are waiting for what we have ordered. There will be coffee with various snacks. 11.49 The coffee was all but weak. It had a tasty, bitter aftertaste. Is this a coffee chain? We will, as soon as we have paid, continue to explore the beautiful Ella. 12.54 The continued exploration led to purchases of souvenirs. After that, we have moved on in our hometown. Right now we observe many tourists on the main street from above. We're at Jade Green Tea Center & Restaurant. It is time for lunch. We sit neat at tables that give us a view of what is happening below us. 14.43 We got really tasty food and some weak coffee, everything cannot be on top. Before returning home, we bought beverages in a store that sold Swedish tomato juice and cranberry juice. At least it was written in Swedish on the packages. Once home, the hostess woke up and alerted the cleaning patrol. 15.35 The cleaning patrol has done an excellent job. The room is cleaned. We now sit and read in our books on our outside terrace. 17.02 Drums and prayer calls are heard from outside. The day sneaks on. We have planned some regarding the upcoming transport.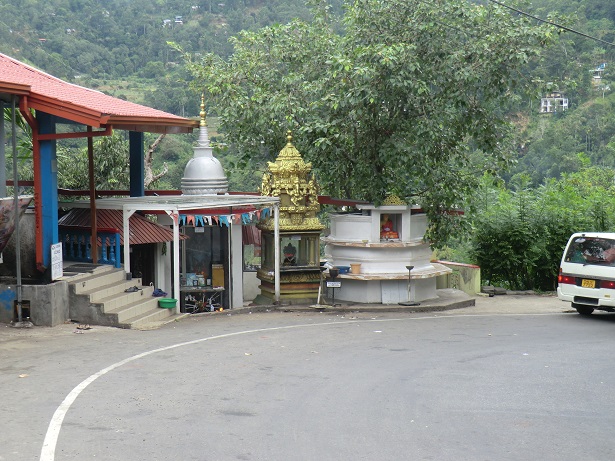 A religious bend on the road to Ella.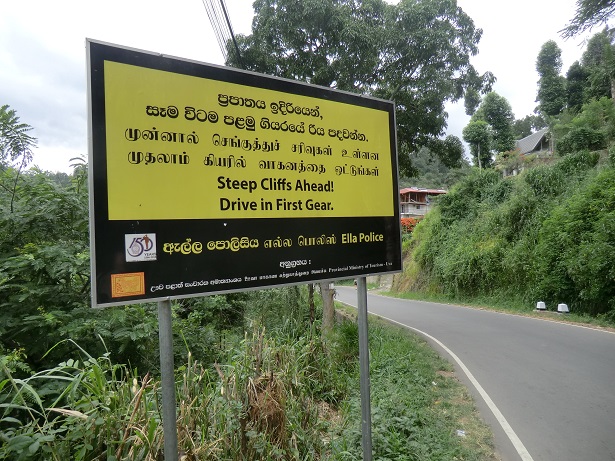 Good advice in the traffic.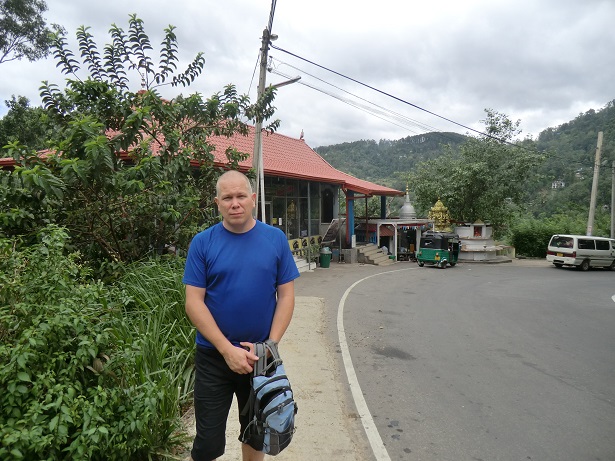 Christer is walking on the road south of Ella.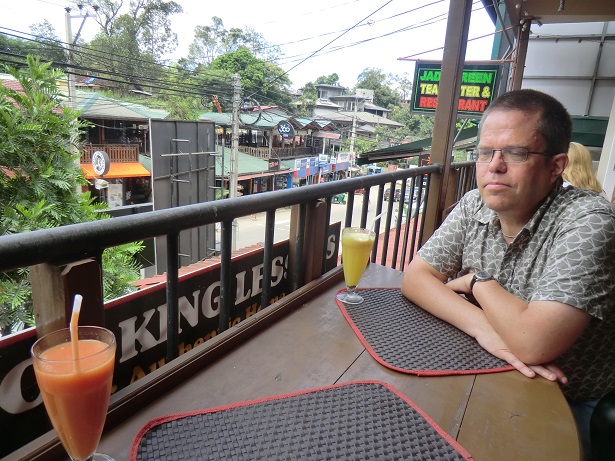 Waiting for lunch, Jade Green Restaurant.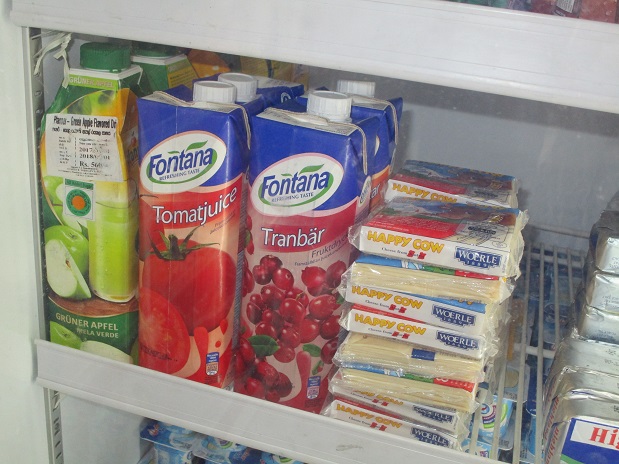 Items with Swedish text can be bought here.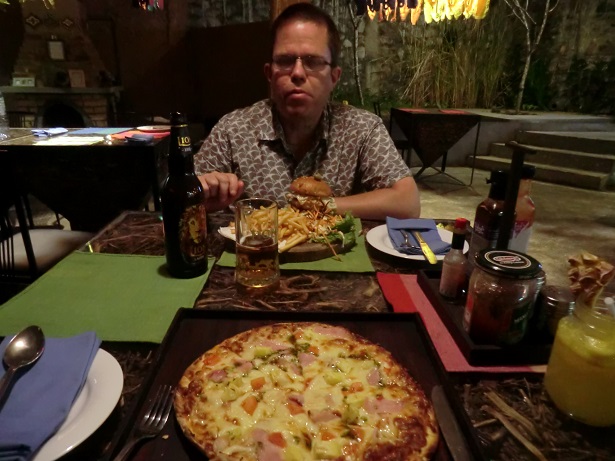 Tonight´s dinner at Café Guru.
18.33 I have dozed off here in the room. Sounds of dogs and drums enter in through the open balcony door. We also smell some smoke. Is there some connection?

19.33 It is time to put the evening's plans into action. 19.44 Café Guru unfortunately has no beef. The car that delivers this has not come. That was the information we received as we ordered our dishes. The restaurant has a lovely décor and is located along the mountain side at the southern entrance of the city. The guy I ordered from wondered if they hadn't informed me. Who are they?, someone in town, the one who greeted us or the ones who gave us the menus? Before we left White House, we saw two young children in a large playpen. It's probably just for the staff's kids, right? Is it possible for us to play there? 20.33 Great news, the food will be served within five minutes. Not many dishes have left the kitchen since we ordered. Slow cooking? 21.21 It took a few minutes more than the five said but it's all right. What we got, hamburgers and pizza, was delicious and satisfying. We feel slowed down, relaxed. Is it the lower temperatures, the calm pace or have we needed a month to just get away from the hectic pace of the school? 23.20 The quiet and slow pace continues. We're back in White House. A mosquito has been sighted in room 105. Soon it will be even calmer. We're going to sleep.
---
Tuesday 17th of July
07.45 I managed to wake up in good shape before the wake-up signal began to ring. I'm bringing my book with me out on our terrace. 09.22 The day outside the room began with a Sri Lankan breakfast, including bread and spicy stews. Here at White House you order your breakfast the evening before and can choose from three different options. We've made a switch regarding the plans for the day. The mountain excursion is moved to the afternoon and the reading of criminal literature has been transferred to the time now before lunch. We realised that it is better to hike with lunch in the stomach and no stress. 10.07 We seem to be in need of doing little or nothing, at least no more than reading and observing the neighbourhood. Sometimes we almost feel bad when we sit like this and relax during the trips. It feels dull and passive. But on the other hand, this is how many travellers do all the time on some holidays. 11.24 The reading session is paused, stopped. Do we want to go out? Are we lazy? Why does it have to be so windy today? What do we eat for lunch? The questions are several. 11.46 This morning is coming to an end. It's time to start to plan the afternoon. That's when things start to happen.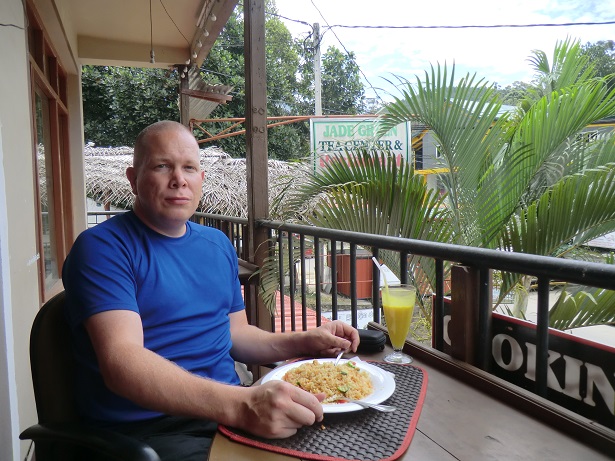 Christer is revisiting our lunch restaurant Jade Green.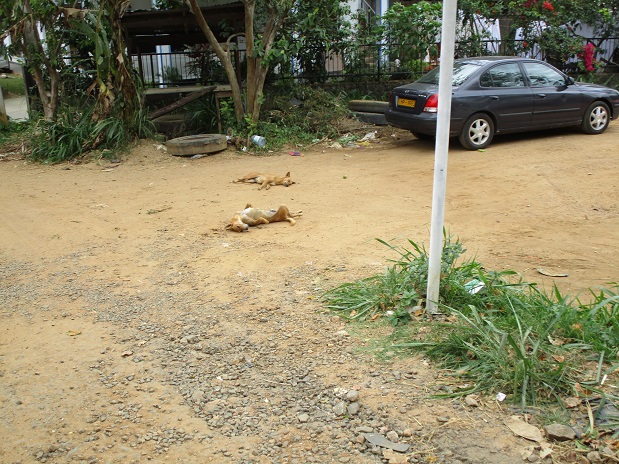 Happy dogs outside our accomodation.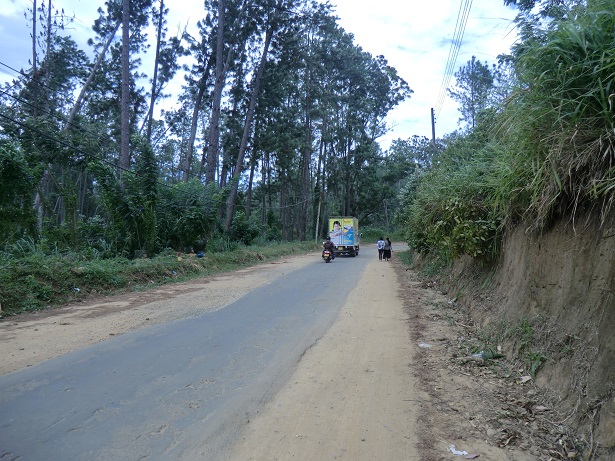 We are leaving Ella.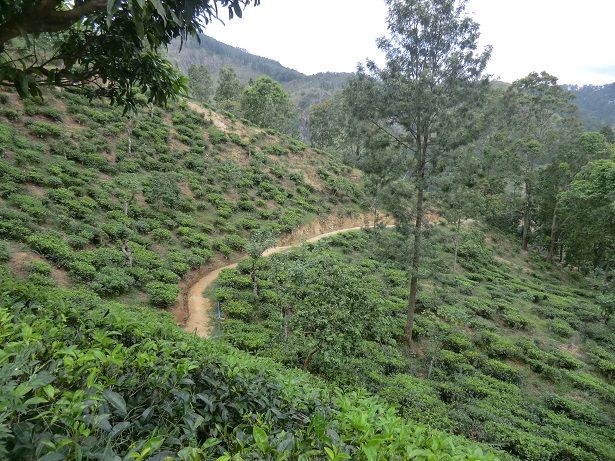 We are walking among the tea plantations.
Ella Rock.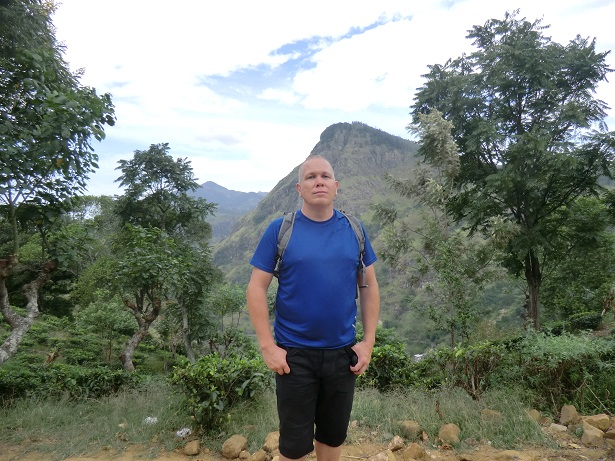 Christer is on his way to Little Adam´s Peak.
12.09 We might just have done the last ATM visit on this trip. We're not going home soon. What has happened is that we have withdrawn the Sri Lankan rupees we think we need before we leave the country. In India and in the Maldives we will probably exchange our own travel currency. Now we copy yesterday's lunch when it comes to restaurant and places. We're back at Jade Green restaurant. We were recognized and received smiles from the older ladies here.

13.16 With filled stomachs we went on to the supermarket Ella Super to shop, both for the excursion and tomorrow's long train trip. 13.48 It's now time to head for the hills! We're going to walk to the nearby Little Adam´s Peak. 13.57 We walk east from Ella and have walked along the road past various restaurants and small hotels. We have also met a lot of tourists heading into town. We will take off from the road and find a smaller path towards the mountain further ahead. 14.16 This will be a quick entrance in the journal. It creaks a lot from the unsteady bench I'm sitting on. We're heading up to Little Adam's Peak. We walk on a small dirt road. Tea is growing in the slopes around us. 14.25 After a while we were deceived by the blue dot on the map in Christer's phone. It tricked us off on the wrong takeoff route. A guy started calling for us and pointed us back on track. A skinny little woman who picked tea also began to shout. She wanted us to pay her to take a photo of her. 14.36 We walk on the right path. It seems that yet another representative of FIDO, that is, a stray dog accompanies us.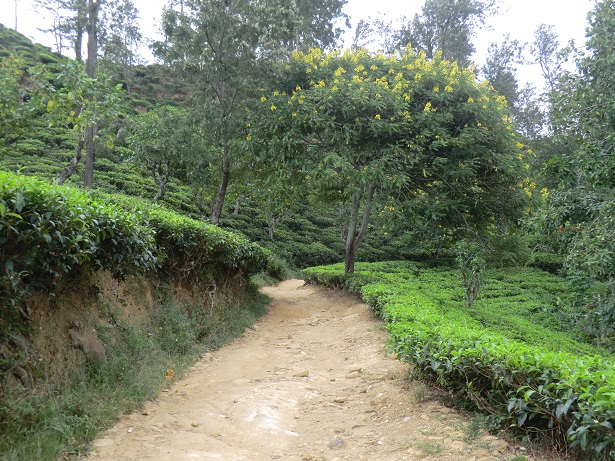 We are walking along a beautiful path.
We have wonderful views, for example towards Ella Rock.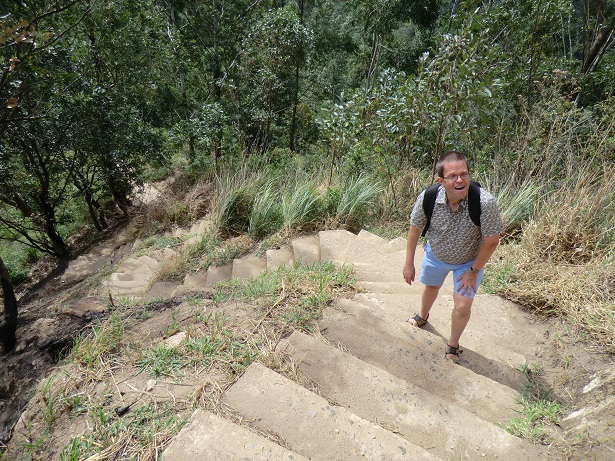 We are approaching Little Adam´s Peak.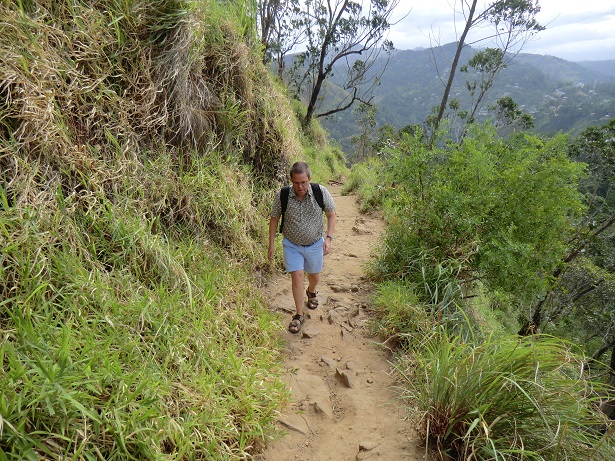 Peter is taking the last steps on the walk to the top.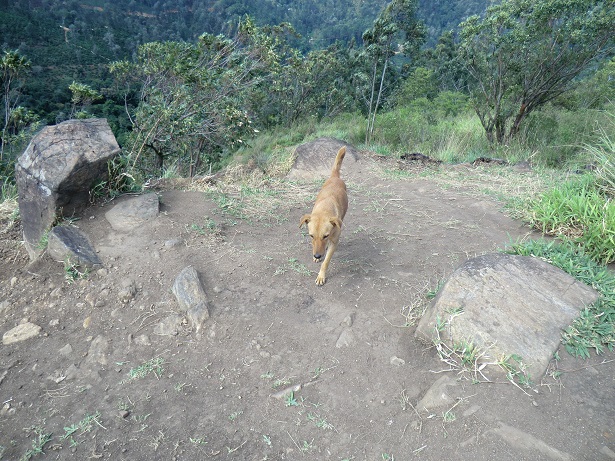 A dog followed us all the way to the top.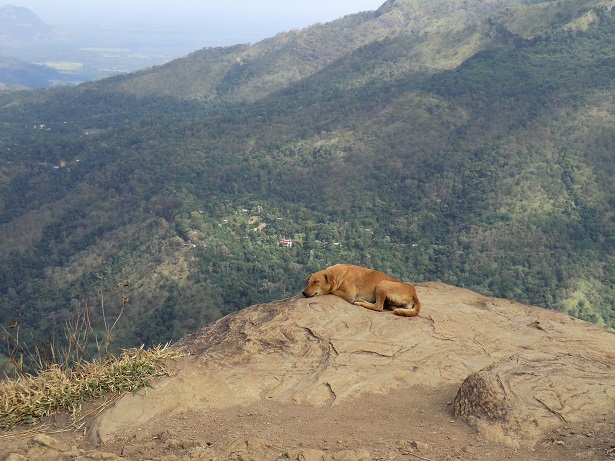 A well deserved rest.
14.58 We have finally reached the top of Little Adam´s Peak. The dog followed us all the way up. The last bit was quite steep, partly stairs and partly a path. Here are, besides us, more tourists, a few more dogs and two Buddha statues. It drained me to get up here. Now let's take it easy for a while and enjoy the views.

15.05 It was for sure worth wandering all the way up here. We're at 1141 meters above sea level. It is cool, windy and beautiful views. One can see many kilometres south across the plains of southern Sri Lanka. This is a little variation compared to the last days. 15.27 Enough with heights for now. It's time to return down. I hope it'll drain me less on the way down. We also hope to avoid the rain. The evil clouds still seem to be a bit away from us. 16.14 It was easier to go down. We stopped again at Ella Super for a few purchases before returning home. It is time for some more reading. There are some vegetarian spirit houses, small bird table similar constructions that are for the spirits in front of the neighbouring house. These are made from something from the kingdom of plants. 18.10 The twilight and the drums are back. The drums come from a cultural centre in one of the neighbouring houses. Reading is a good way to spend time. 19.34 Look out all the restaurants in Ella. We will go out for dinner tonight. There are some possible options. We'll see what it will be. 20.08 After a minor search for a suitable restaurant without too many guests and live music, we have found AK Ristoro a bit away from our home. We were first downtown but found nothing in our taste. We do not want to sit in some small shed but also do not want to wait forever for food in a crowded place with music that makes us half deaf. AK Ristoro is located on a quiet street just behind our accommodation. It offers both Asian and Italian cuisine.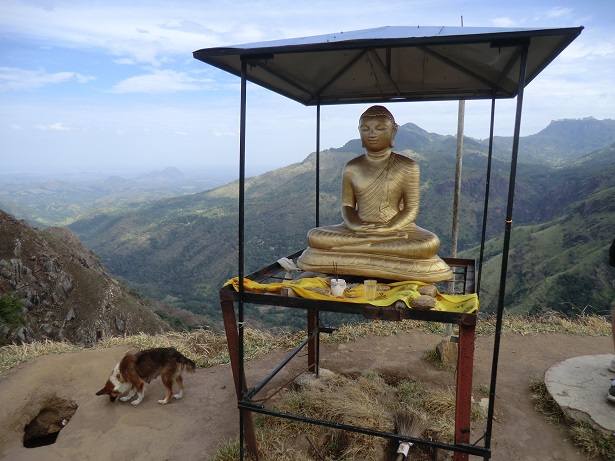 You can even find Buddha on Little Adam´s Peak.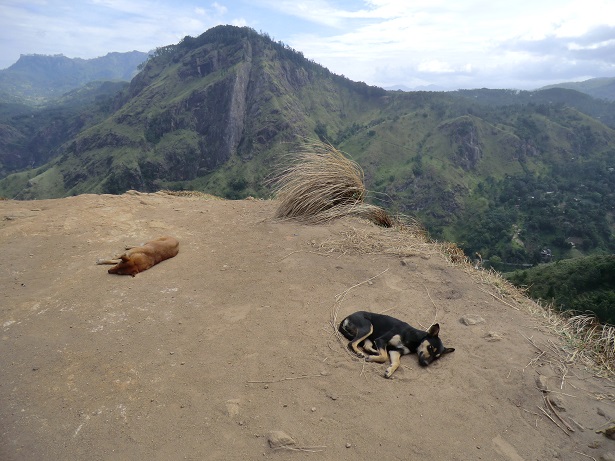 The dogs like it at the top.
We are looking down on the road we used going to Ella.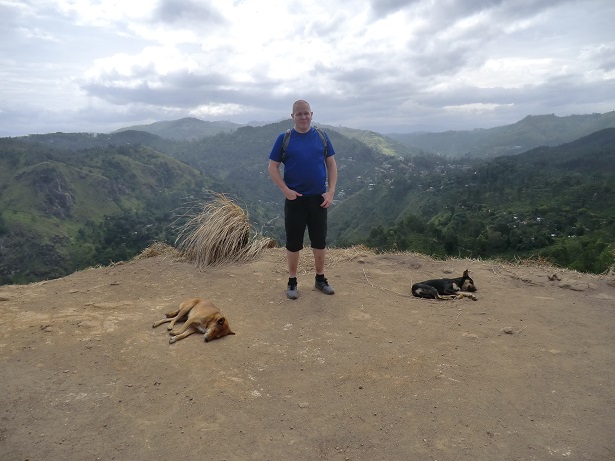 Christer and a few tired dogs.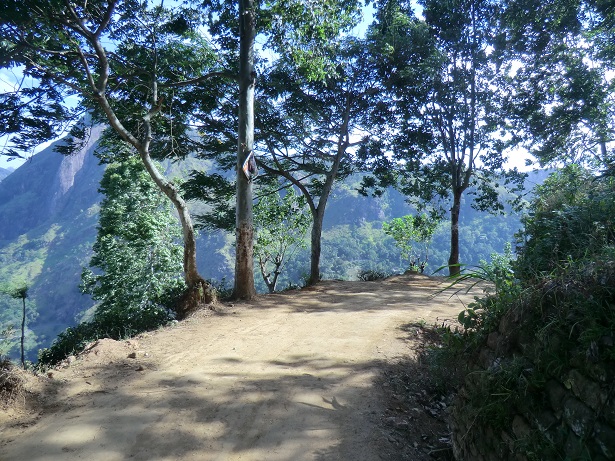 A beautiful walk back from the mountain.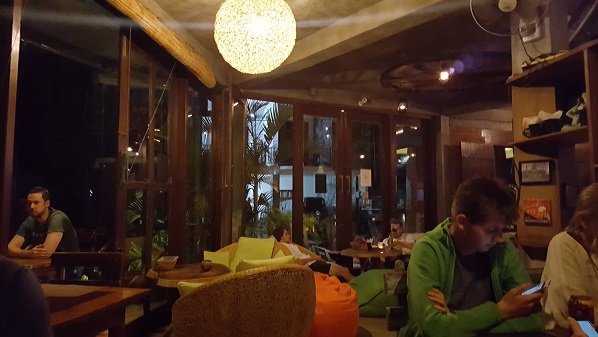 Dinner at AK Ristoro.
20.26 We have access to the internet and at the next table to us are a couple from Norway. This restaurant feels completely odd. It doesn't feel like we're sitting on a back street in a small town in Sri Lanka's mountains. This restaurant could be located anywhere in any tourist resort in Europe. The service is excellent and the entire staff thanks you for visiting them as you leave.

21.21 Upon returning to White House, breakfast was ordered from the son of the house, he is about six years old and did an excellent job. At home in Sweden it burns in the forests. There's basically no rain. Here in Ella, we're going to get ready for the train journey tomorrow. 22.19 After reading about the upcoming resort, Kandy, I have brought out two bottles of sodas from the refrigerator. Soon we will be surrounded by the darkness of the night. 23.30 Not much happens out in the dark night. It's rare with chilly evenings in the tropical zone but it's actually a little cold out there. We better just shut the door and soon wrap up our bodies for the coming sleep.
---
Wednesday 18th of July

07.45 It went well to wake up today as well. Now I hope it continues to go, if not good then at least decent today. This is the day when we will leave the pleasant Ella behind us and embark on a train journey that will offer beautiful views.

08.27 We will now that we have had time to try all three breakfast options here at White House (one each day) and also have paid for the three nights just pack our belongings and head on. 09.03 It's a little sad to leave the White House. It's felt like home there. It's also sad to leave Ella. It's market day today, plenty of interesting fruits to botanize among if we had time. We showed our tickets before we went out on the platform. Just as I sat down to write this, a dog came up to me. Is it here to say goodbye? 09.27 We just saw an elderly couple on the platform. The man looked like the Swedish biathlon coach Wolfgang Pichler and the woman like a former colleague of mine. Now we go in a first class car towards Kandy, Sri Lanka's second largest city. There have been three train trips and three different classes here in Sri Lanka. There is no big difference, apart from significantly softer seats.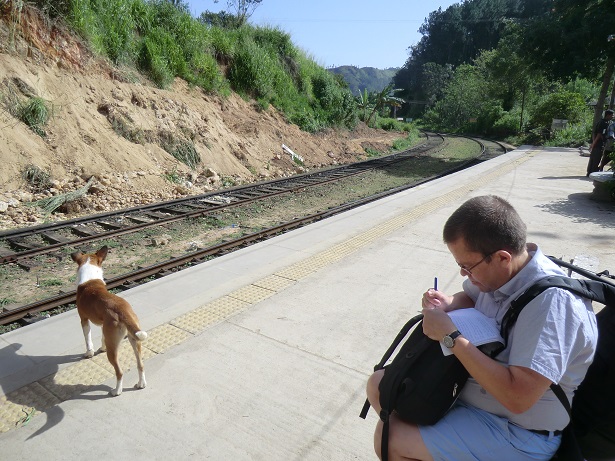 Is the dog also waiting for the train?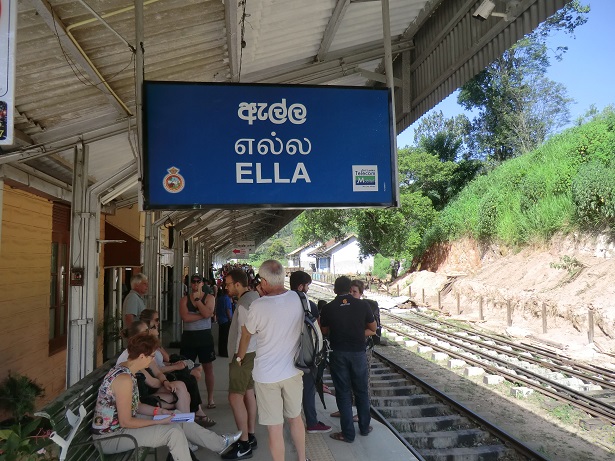 Lots of enthusiastic train travelers at Ella station.
09.53 Our train is not a high speed train, rather the opposite, but it gives us time to enjoy the views. Some of the passengers who travel in second class stand/sit in the opening doors. This is a train that you can fall off without harming yourself too badly.

10.24 There are tea plantations on the slopes along the railway. On the slopes are men and women picking tea leaves. Now we arrive at Haputale and at an altitude of 1431 meters above sea level. 11.58 We make a new stop and new passengers are in search of just their seat. Pale faces dominate here in the first class car. We are in Nanu Oya, 1623 meters above sea level. Nanu Oya is where you get off if you want to visit the nearby town of Nuwara Eliya. It is a city in the middle of the main tea district and is known for its preservation of so much from the British colonial times. We are now at higher altitude, 1613 meters above sea level. It is now time to consume what I bought yesterday. 12.32 The train has stopped near a small white stupa and a green slope. This beautiful train journey will continue for three more hours. 13.24 We have from now and then been offered to buy bread, tea and peanuts. Coffee isn't offered in these tea areas. We just left Hatton station. Hatton counts as Sri Lanka's tea capital. From here you can also walk towards the famous mountain peak Adams Peak. There's no great weather out there. It's rainy and rugged. 14.18 I have tasted the peanuts. They were tasty but I didn't buy any. Outside, the colour green dominates and the rain continues.
We are traveling with the Chinese built train Podi Menike.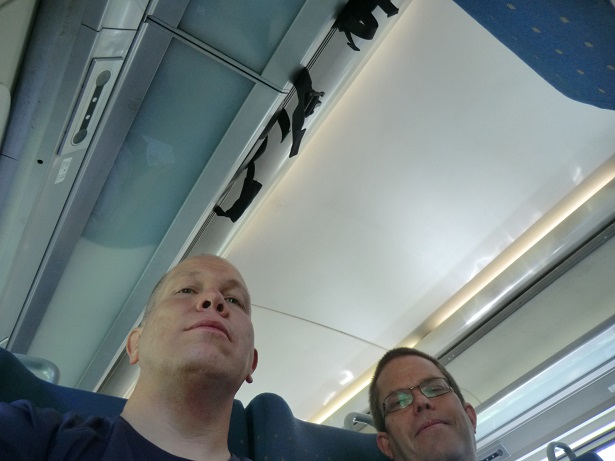 Train passengers.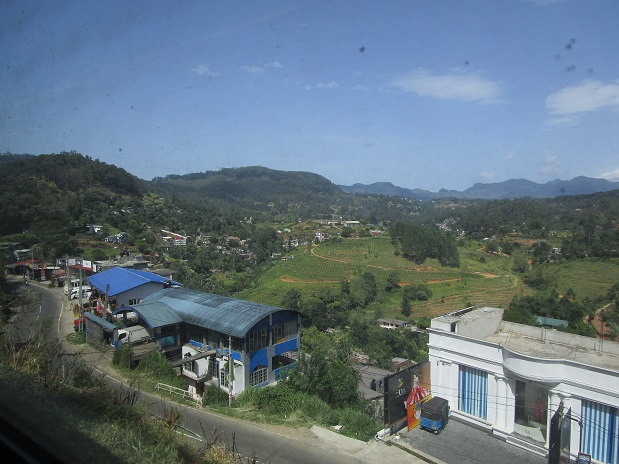 Views from the train trip.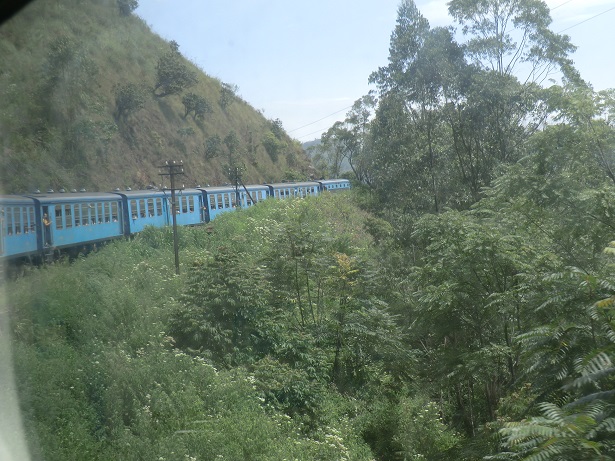 The blue train is slowly moving through the mountains.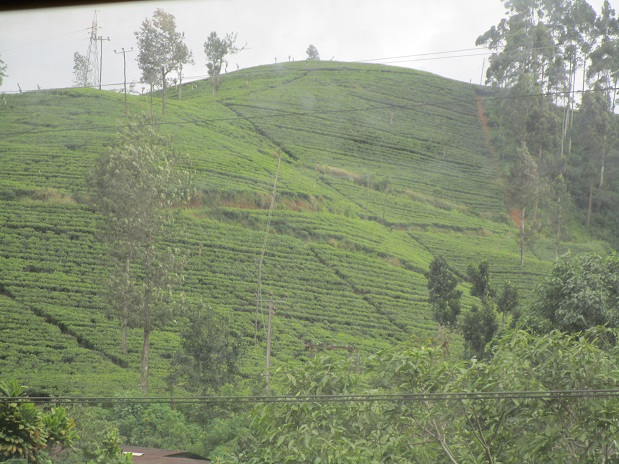 Sri Lanka is known for its tea. You can notice that here.
15.24 The long train journey is coming to an end. We just waved at some kids in a house next to the rails. Fortunately, the rain stopped when we came down from the mountains. What about nutritional input for the rest of the day?

16.00 We have arrived at Kandy station and have left the train's peaceful, quiet and cool environment. Let's walk towards the accommodation here in Kandy. 16.08 The quiet train journey has now been transformed into chaos. According to the map, it was a short and easy walk from the railway station to our pre-booked hotel. What did not appear on the map was that we were forced to pass the area where all the city buses meet and depart from. It was crowded; there were plenty of exhausts and plenty of people telling me that we're going the wrong way, away from downtown. 16.27 It was not peaceful, quiet or cool on the way to Kandy City Stay (https://www.kandycitystay.com) but now we are here. The room we pre-booked was occupied, had other guests. We're going to stay in a family room the first night. We'll change room tomorrow after breakfast. Someone just knocked on the door. It was a man who came with the welcome juices. We've ordered English breakfast for tomorrow morning. 17.51 Today we have neither performed nor delivered to any greater extent. We have been sitting down and seen beautiful views pass outside the window. Tomorrow we have a whole day to see Kandy. Next awaits some necessary matters, things that need to be done when we reach a new city. 18.13 A new city, a new hotel and a new room. What does that help when we still have to eat just like yesterday?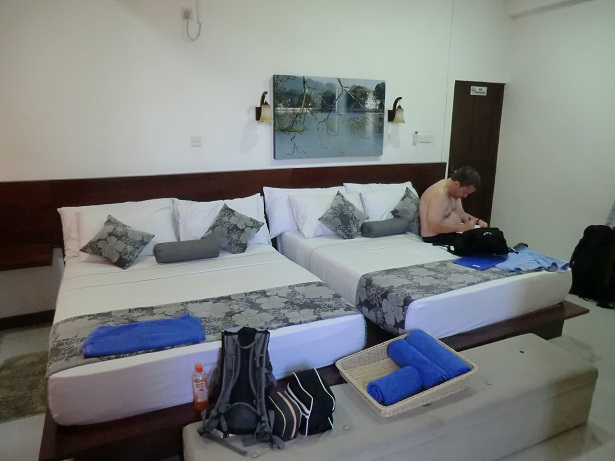 Peter in our large family room at Kandy City Stay.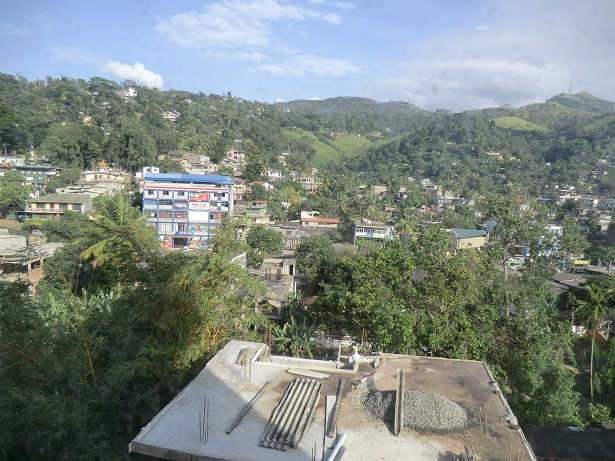 We can see parts of Kandy from our room.
19.01 We have, in lively traffic, wandered along Peradeniya Road to the restaurant Pizza Hut (https://www.pizzahut.lk). The pizzas here are expensive so I followed Christer's example and ordered pasta instead. We are in the southern outskirts of Kandy heading towards the University area and neighbouring resort Peradeniya.

20.12 Walking along unknown streets in the dark with cars, motorcycles and tuktuks heading in all directions is a challenge. Now we are finally at home to rest. Christer draws up a bubble bath for his small backpack. It starts to smell bad from all the dirt and exhaust it's been exposed to. 21.21 We have made an economic calculation for the remaining time in the country. We have been living cheaply lately and have a smaller surplus compared to the budget we made up. 22.46 Not much more will happen today. We'll explore Kandy tomorrow.
---
VIDEOS
---
You can see 33 photos from July 16 in this photoalbum.
You can see 64 photos from July 17 in this photoalbum.
You can see 28 photos from July 18 in this photoalbum.

---
---