---
Text: Peter Johansson
Editing: Christer Lundstedt
Photos: Christer Lundstedt, Peter Johansson
Videos: Christer Lundstedt
---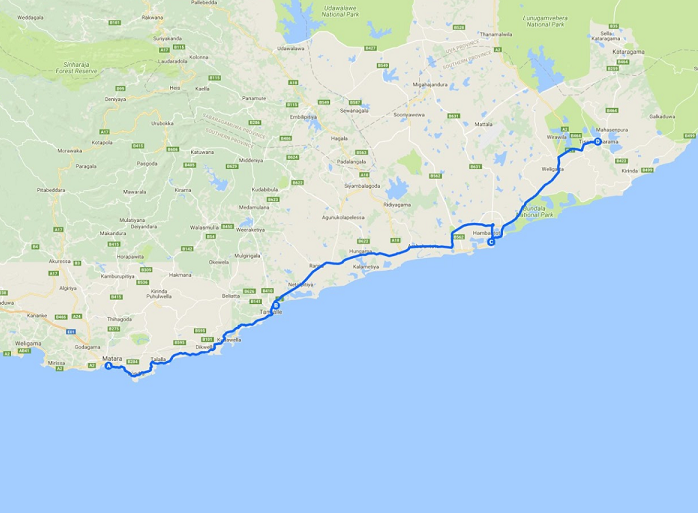 ---
Tuesday 10th of July

07.30 We have woken up in the room here at Blue Ocean in Matara. We don't know what to call this place. Is it a hotel, a guest house or just a rental room? We have been the only guests. Now another night can be filed, composted, recycled. We're going back along the river of life with rested bodies.

07.40 It suddenly knocked on the door. It was the handyman who announced that breakfast was served. Didn't we ask for breakfast at 08.30? Well, now it's as it is. Better an early breakfast than no breakfast at all. 08.10 On one of the tables in the large room outside our room, breakfast was placed under a large table cloth. We cut into what was offered and ate with good appetite. There is something positive even with this accommodation. Unfortunately, it's suffocating hot in the room where we ate. Large windows and no air conditioning create a sauna like air. 08.30 We are about to get ready to continue to visit new places here in Sri Lanka. We continue east along the south coast. 09.17 We finally managed to catch our friends in the tree on picture. The ones we refer to are the small palm squirrels that jump around in the trees outside our small balcony. Last night we had an intense rain. Today the weather seems to be more positive. 09.58 Today we will try a new way to transport us here in the country. It will, after trying taxi, tuk-tuk and train, now be bus. A major reason for this is the fact that the railway no longer continues east.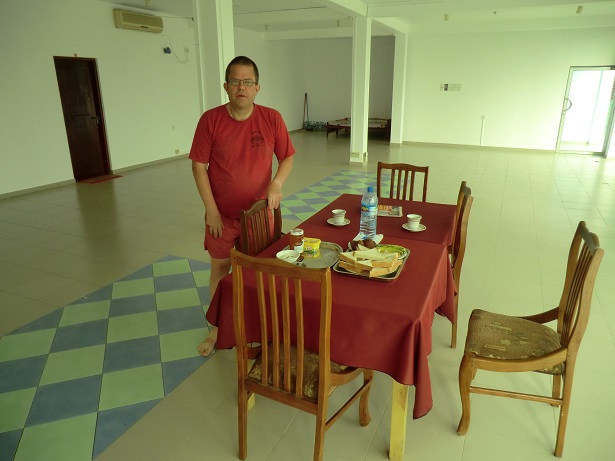 A simple breakfast in a hot room. To the right you can see the door which was so hard to open yesterday.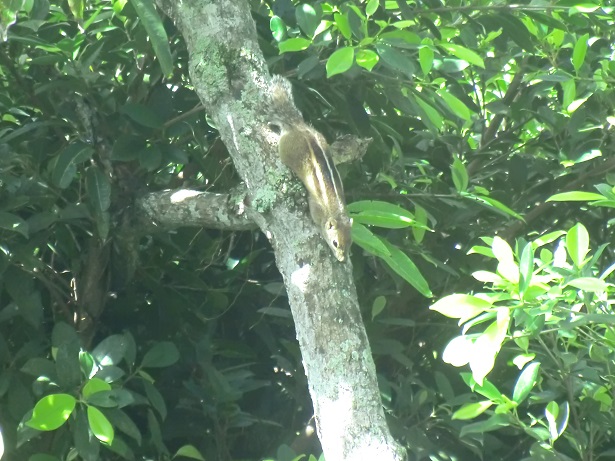 A palm squirrel in the tree outside our balcony.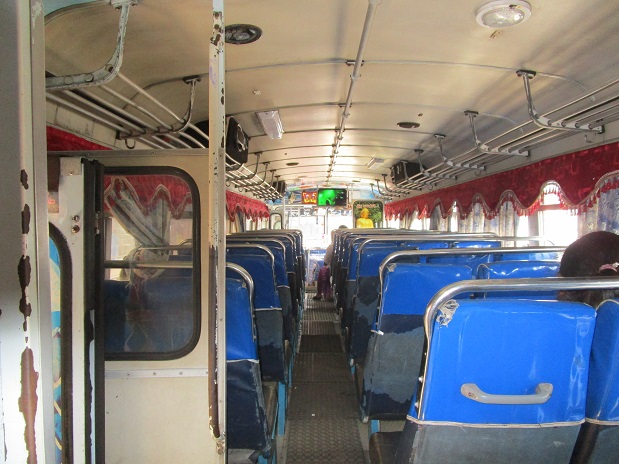 We have entered the bus to Tangalle.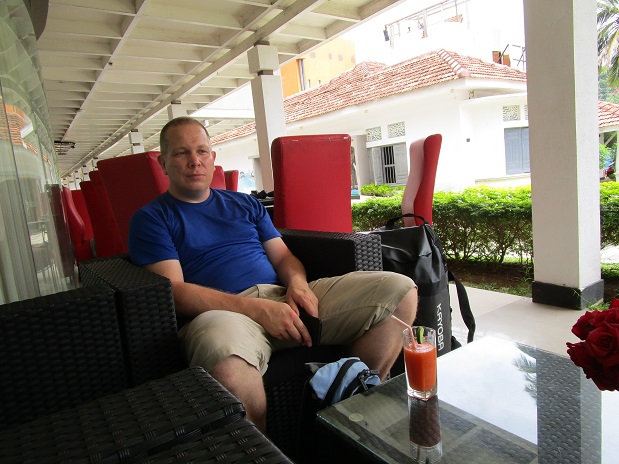 Christer is enjoying a welcome juice at Ceylon Sea Hotel.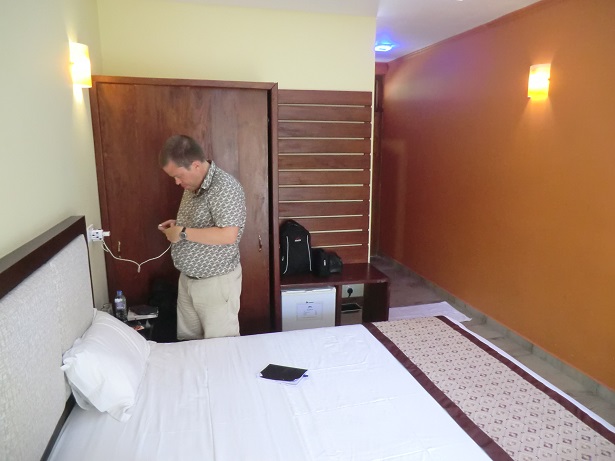 Peter has moved into room 103.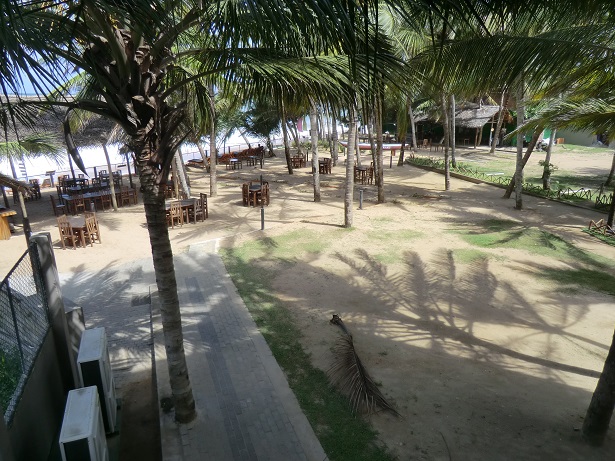 View of the hotel area.
10.28 Along the short walk from Blue Ocean to the bus station, a handful of tuk-tuk drivers asked where we were going. Once at the bus station we pretty soon found the bus to Tangalle. In here in the bus it is hot, loud music, TV and coloured flashing lights. We sit at the back and have found comfortable places.

10.41 The bus journey has begun. Unfrozen ice rolls in to the right of us. 10.46 There will be no major expenses for the transport today. The 35 km long bus journey costs 70 rupees. It's under US$ 0,50. 11.15 We have stopped in the small town of Dikwella, about halfway. What awaits us in Tangalle? Are we coming in and out of the property? At least we want comfortable beds and hearty breakfasts. This may sound banal but we need good sleep and steady energy replenishment. 12.00 We arrived at the bus terminal in Tangalle and left the bus. It was easy to find a tuk-tuk who wanted to drive us. We wonder if we will be taken to the next hotel just as fast. 12.10 There are fresh winds in the air, fish in a pond and we hear bird sounds. We sit in the lobby and wait for the welcome at Ceylon Sea hotel (http://www.ceylonseahotel.lk). This is great. There were some problems to find this place since we had booked room at Sand Bank Hotel and therefore asked to be driven there. However, such a hotel does not exist. It might be a former name or Booking.com just went for the name of the hotel restaurant. 12.33 Juice with, among other things, watermelon is delicious. This is what we got as a welcome drink. We were shown by a guy to room 103. He introduced himself and told us that he was responsible for our well-being here at the hotel. This is a clear upgrade compared to the small chaotic stay at Blue Ocean. 13.10 It is never wrong to have a room. In your own room, you can be as you wish and prefer. Imagine, once upon a time when we started travelling, we often lived in dormitories. Ceylon Sea hotel seems to be in some kind of renovation phase. There are construction workers everywhere and guests are few.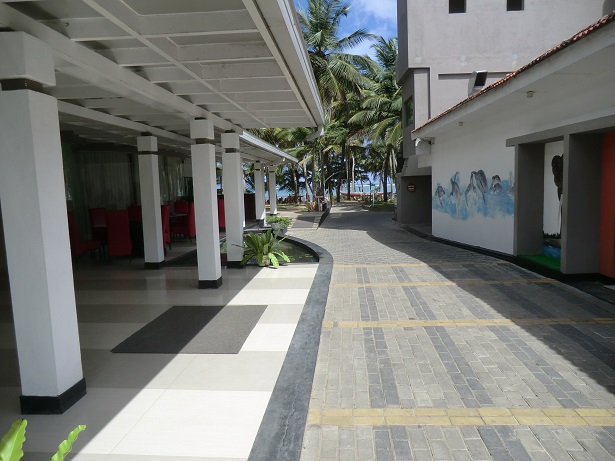 Outside the reception.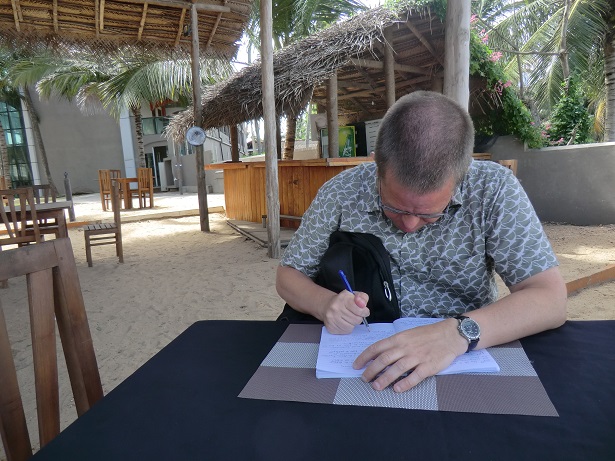 Peter is writing down his latest observations.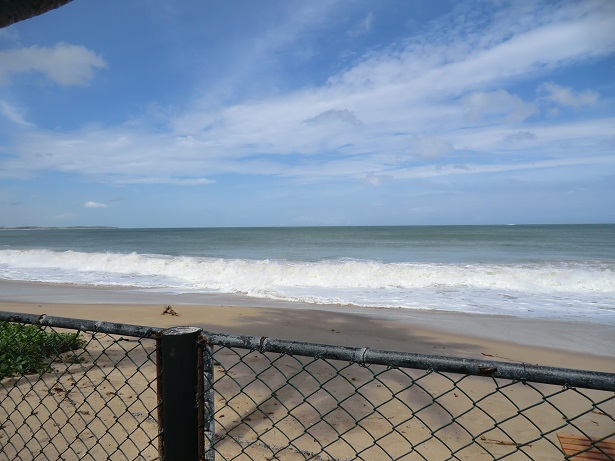 A fence between us and the Indian ocean.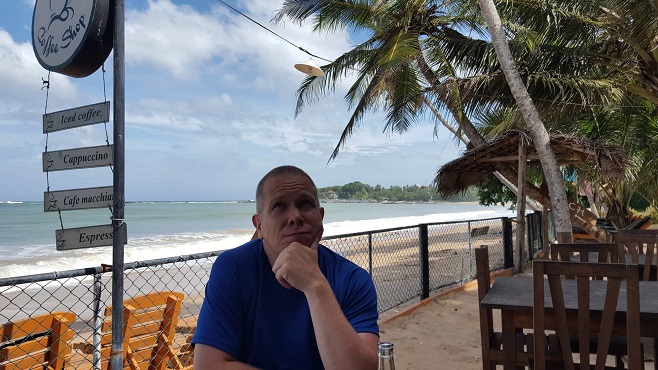 Christer is waiting for his lunch.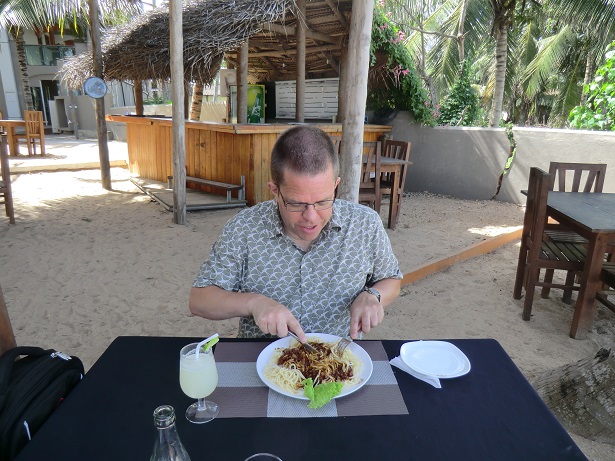 Peter is eating a pasta lunch at Ceylon Sea Hotel.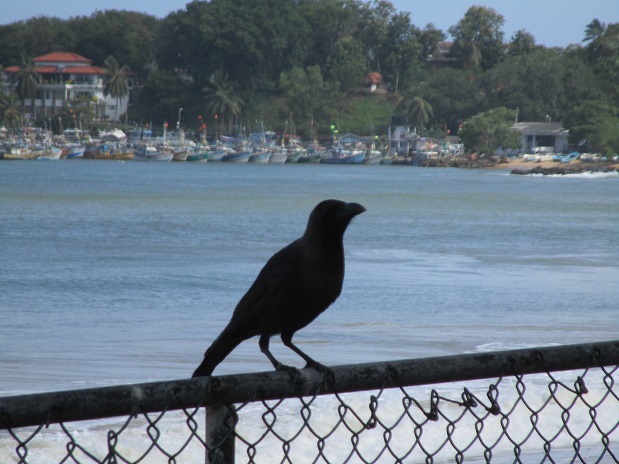 A bird and the jetty in Tangalle.
14.00 Here in our room it is cool, nice and windless. Outside it's hot, messy and windy. So why do we choose to leave the room to go out? Well, there's something outside which we don't have in here, food.

14.14 It was easy to walk down to the sea and the hotel's outdoor terrace. Are we the only guests of this hotel too? We don't see any others. There are holes in the sand on the beach. Crabs live in those holes. 15.57 After we finished the late pasta lunch we went on a little walk here in the tourist centre of Tangalle. There are several restaurants and some shops. We have bought a little of each at Gayana Supermarket. A sign on the door of a locked grocery store said Close, was it a convenience store? 16.52 Bodies and clothing have been soaked and washed. Now we're going out on our balcony for some book reading. 17.29 Our reading session had an unpleasant introduction. The balcony door blew shut. With some trouble, we managed to get it up. It would have been all but nice to be locked out on the balcony. Now we have read on in our books. 18.12 The dusk is sneaking up on us. We have continued to read in a fairly comfortable temperature. 19.37 The temperature in the room changes rapidly when we turn off our AC. It is almost cold with it turned on. Without it, the heat comes. How are we supposed to find a balance? 20.34 Our plans to find a nice dinner restaurant failed. Sure there were open restaurants but there were no guests there or any visible activity. We went home to the hotel restaurant instead and chose among the dishes. The supply is limited but we have ordered.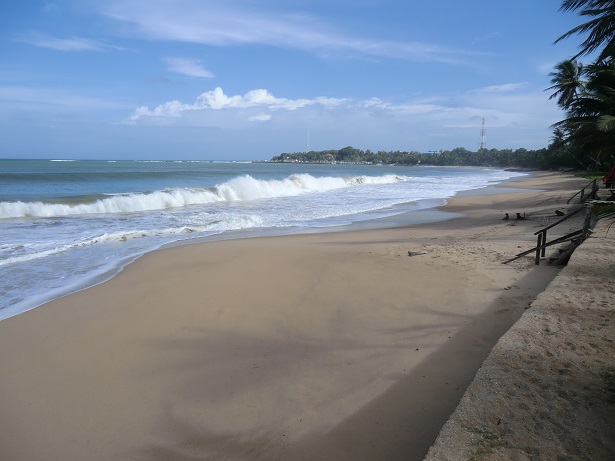 Medaketiya Beach.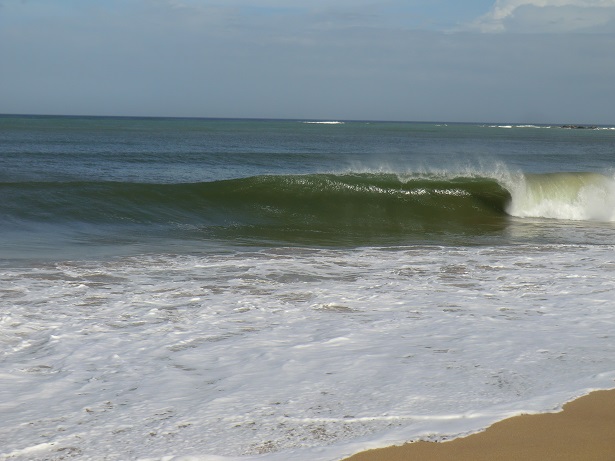 High waves means it´s a red flag at the beach.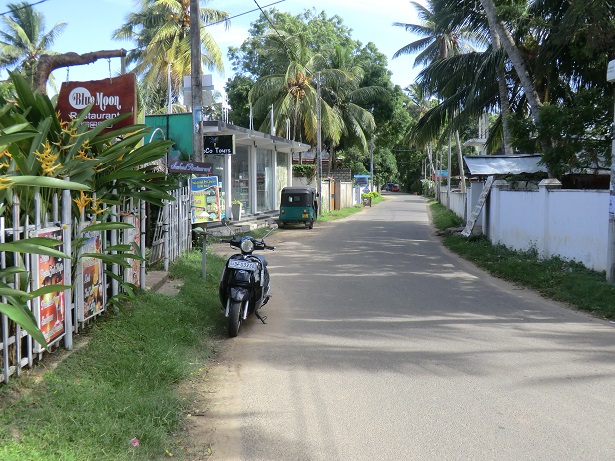 The road through the Tangalle hotel area.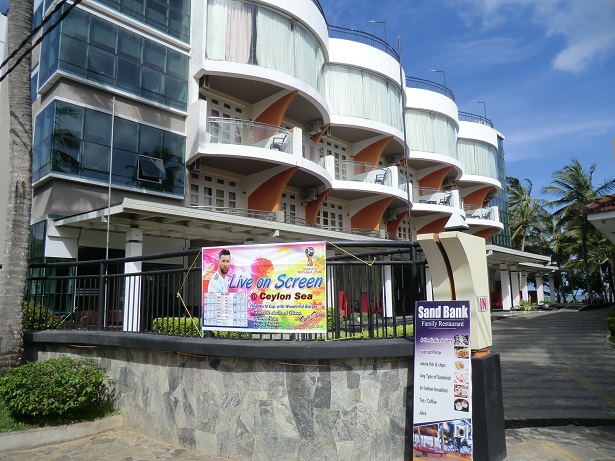 Ceylon Sea Hotel, Tangalle.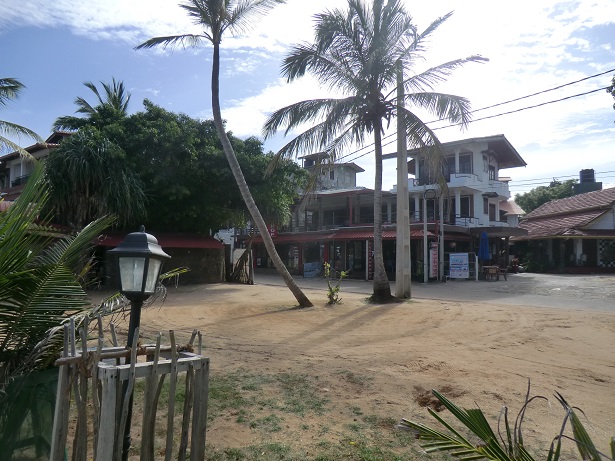 We just visited Gayana Supermarket, a small supermarket behind the palm trees.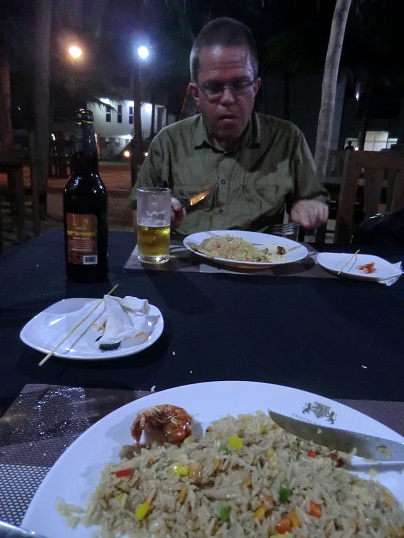 Our hotel restaurant served a dinner as well.
21.46 We're back in our room. There are 105 minutes left to the kick off in the first semi-final of the World Cup.

22.37 We relax and prepare for more football. The last time we saw a semi-final in the World Cup, we were in the Dominican Republic on the island of Hispaniola. 23.30 This year's first semi-final, the match between France and Belgium has begun. The match is played in Saint Petersburg, a city we visited about a year ago. 23.52 Belgium controls the game with a few nice chances to score.
---
Wednesday 11th of July
00.18 France took over the control but cannot put the ball into the goal. 00.38 Corners and headers have been winners before and have just been so again. France took the lead, 1-0, through defender Samuel Umtiti. 01.24 France won World Cup twenty years ago. Now they get a new opportunity. France is ready for the World Cup final. Belgium will play for the bronze medals. 08.17 The location of the AC on the wall against the bed's foot end is not good; it is freezing cold with it on or too hot with it off. These are one of our experiences after the first night here at Ceylon Sea hotel. 09.17 The waves from the Indian Ocean are struggling to get ashore. We are seated in the wooden furniture near the beach and wait for breakfast, which will be served here. We feel very spoiled. We haven't seen any other guests. Does everyone work here just for us? 10.17 I have wished, asked for a solid breakfast on this trip and if possible, a large cup of tasty coffee. I think this might have been brought to me this morning. Now, with energy and desire, I can go on an adventure. I hope Christer will join me. It just has to stop raining first. Unfortunately, the sky opened right after our breakfast and we were reminded that we are tourists during the monsoon season.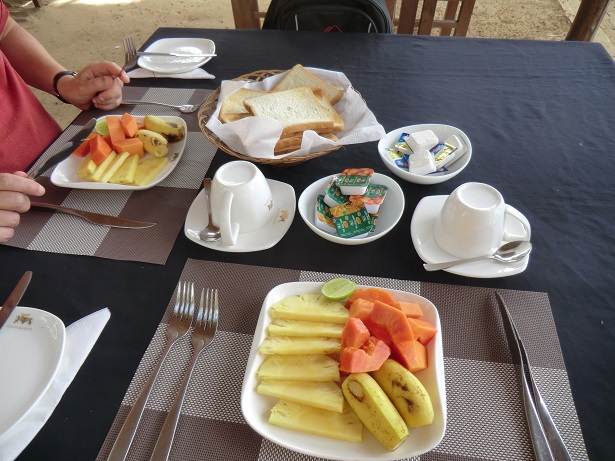 A nice breakfast is served outdoors.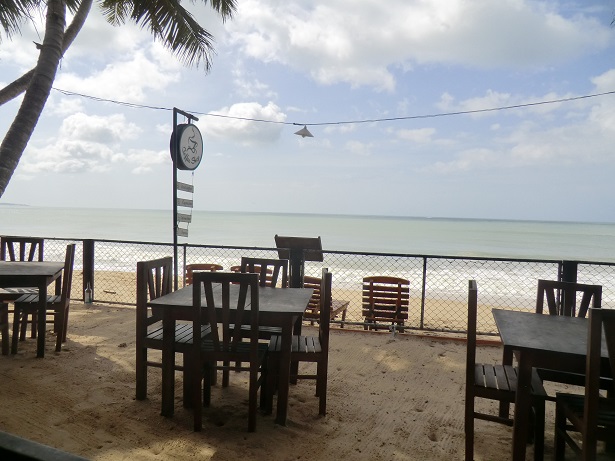 Breakfast tables with a view.
10.47 It doesn't want to stop raining. On the contrary, it increases. Maybe it will be an indoor day today? We'll read some of our books while we wait for a break in the rainfall. Fortunately, it's warm and comfortable even when it rains here in the tropics. You just need to be under some roof.

11.14 The sky is evil grey and let it rain in large quantities over our hotel. The wind and the rain made us not hear that it knocked on our door. The knocker solved it by going into the neighbouring room, out on the balcony and got our attention. He wondered if it was OK that he cleaned the room, we did not mind. It has happened before that days we set aside for beach life just rained away. We'll see if it brightens or if a visit to the beach will be postponed to the future. 12.30 The rain has finally taken a break. We're going to get out. To keep the rain away, we'll bring our umbrellas with us. We know from earlier experience that it doesn't rain then they are with and vice versa. According to the news from the homeland, rain is needed all over the country. Farmers have a shortage of crops for the animals. 13.22 The tactics work here as well. No rain has fallen on us at all. We have wandered along the road away from our hotel, heard various insects and seen a squirrel. We have passed both open and closed hotels and restaurants. We turned back when the road became too muddy and have now ordered lunch at Dilena Beach Inn. 14.19 It became a very suitable lunch both in size and in price. A Dutch woman at the next table had trouble paying. There was no change. She unsuccessfully tried to change with us but needed to solve it outside the restaurant. Now we're about to carry on. 15.15 We're back. It's time to go to the beach to see what's going on there. Neither the weather nor the waves are on our side. There will be no bath. Maybe we can sit somewhere anyway. 15.36 The ocean is certainly not inviting. It is gray, wavy and foamy. It is unfortunately common here this time of year when there are monsoon winds from the south.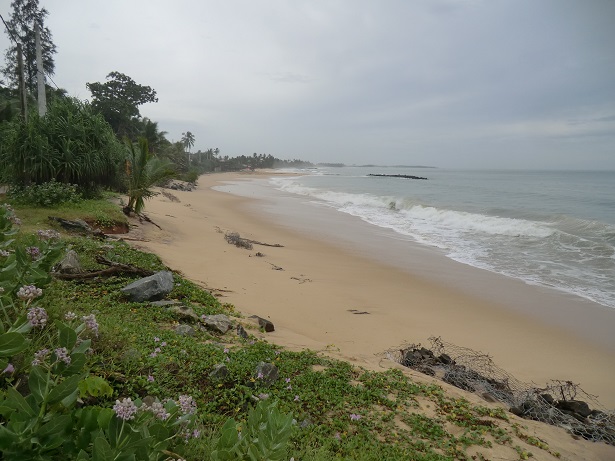 It´s cloudy and rain but the beaches are still beautiful.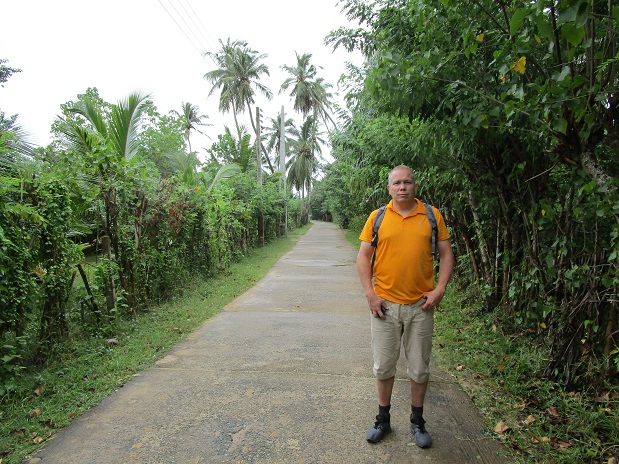 Christer on Madilla Road.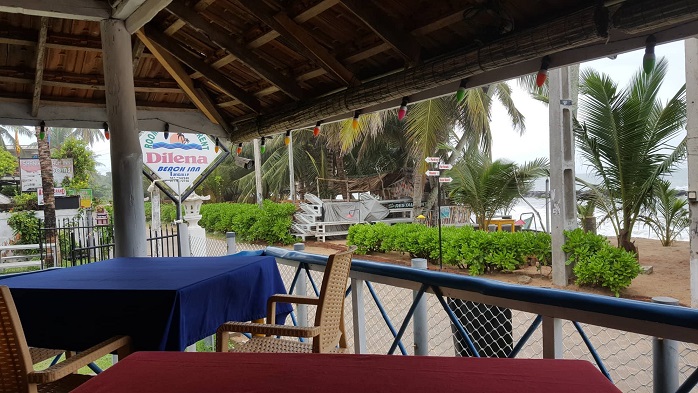 We are having lunch at Dilena Beach Inn.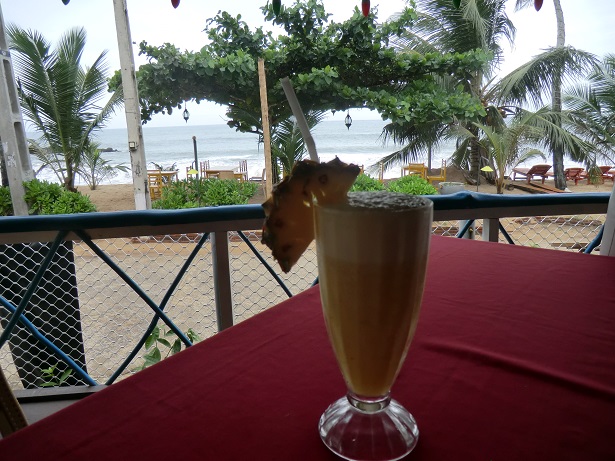 While waiting for the lunch.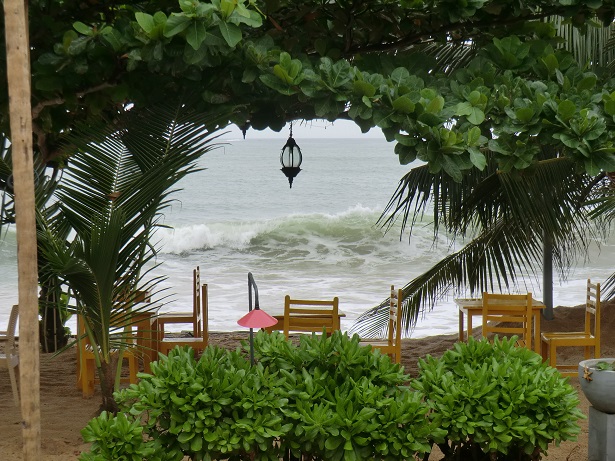 Restaurant tables near the waves.
15.55 We gave up beach stay after a while. It's not fun on the beach with overcast sky and large, cold waves. It also seems to be flagged red. We also did not find a good place to sit. The hotel furniture for beach life was also not in the best condition.

16.51 All that the beach life attracted was a coffee thirst. This may be taken care of. We have everything needed in our room, water, instant coffee, kettle and mugs. 18.11 It is always nice to sit on the balcony and read but it is difficult now in the twilight. 19.17 We are now listening to a Sri Lankan radio station that plays music from the past. A moment ago, the time was announced and then the sponsor of the time statement. The channel is called Lite FM and broadcasts on 87.6 and 87.8 mHz. 20.05 After a little wandering in a dark village with dark restaurants we finally found Little Pumpkin Cabanas. We have sat in the dark next to a small bar. The kitchen is on the other side of the road. 21.14 There was no fine dining but we were properly fed. Now we will get ready for the second semi-final of the World Cup. 22.09 The serb Novak Djokovic has reached the semi-final in Wimbledon. In the second semi-final is Kevin Anderson from South Africa. He defeated the reigning champion Roger Federer from Switzerland. 23.22 Juan Martín Del Potro won straight in Rafael Nadal´s serve and took the lead 2-1 in set. Should both of the tennis dominants be knocked out in the quarter final? Now it will be semi-final in a sport where it is good if you get the ball into the net. England meets Croatia in the semi-finals of the World Cup. 23.35 England takes the lead with a well-aimed free kick. It's Kieran Trippier that scores.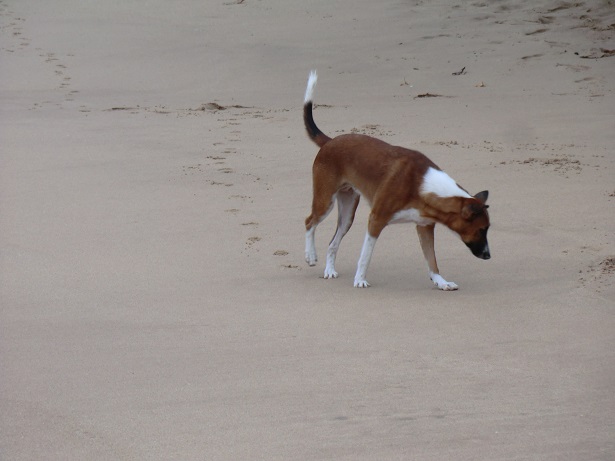 A dog leaves tracks on the wet sand.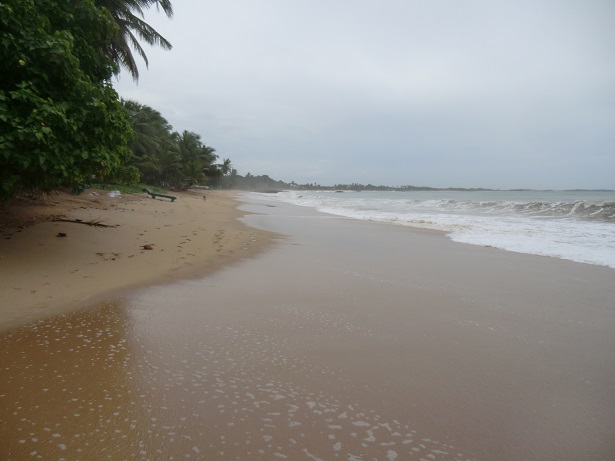 A beach walk in gloomy weather.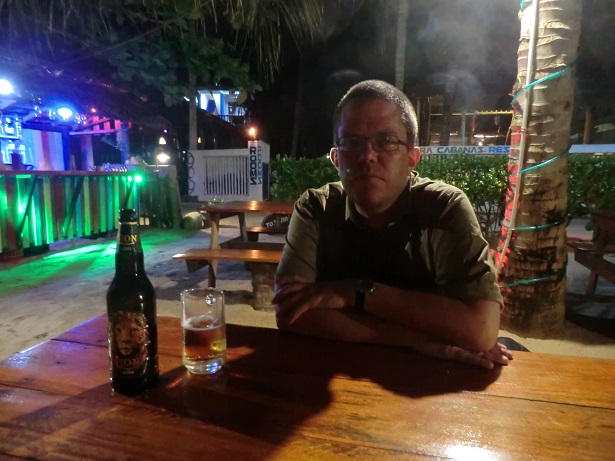 Dinner at Little Pumpkin Cabanas.
---
Thursday 12th of July

00.16 In Moscow, it is 0-1 in the match Croatia-England. In London, Rafael Nadal won the fourth set and Juan Martín Del Potro lead with 1-0 in the fifth.

00.55 A long ball was kicked into the penalty area and Ivan Perišić got one foot on it. It is now 1-1 in the World Cup semi final. 01.20 It will be another double fifteen minutes for the Croatians and the English. Rafael Nadal just took the lead in the Wimbledon tennis in London 5-4 in the fifth set. 01.45 Nadal-Djoković and Anderson-Isner, which is the line-up of this year's semi finals in the Wimbledon tennis. At the end of the first quarter, Croatia is close to take the lead in the World Cup semi final. The drought in Sweden has led to the slaughter of bovine animals and thus an excess of meat. As a result, the food stores in Sweden decided to not import foreign meat. 01.52 Croatia has turned the match. They have, with eleven minutes left, taken the lead through Mario Mandžukić. 02.07 The three English Lions get to walk home with their tails between their legs. Croatia has reached their first final, in the World Cup football that is. 08.43 England's World Cup dream was shattered. It is noticed in our room. There's gravel on the floor. Or did we bring it in from the beach yesterday? 09.08 We are once again seated at the breakfast table near the sea. A boat was rowed by and on the beach three young people went along and pulled something, a net? One of the three wondered if we could possibly give them a helping hand. We couldn't. We're waiting for our breakfast. Bodywork before breakfast, no!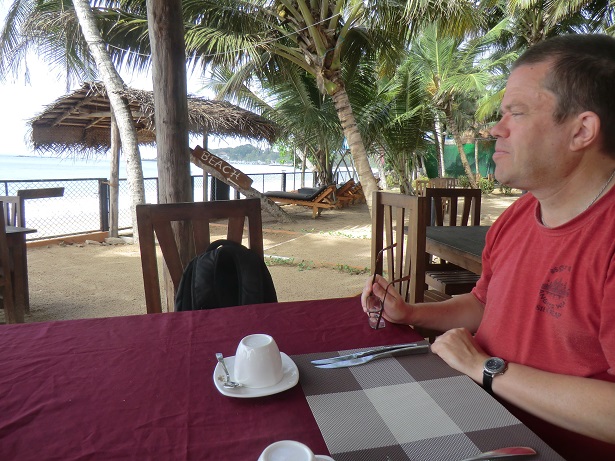 Peter is getting ready for breakfast.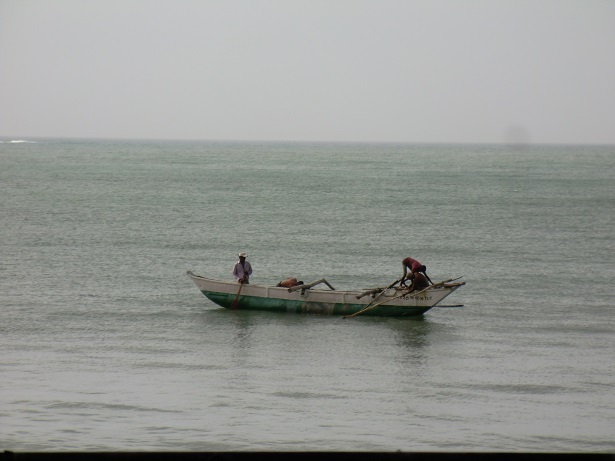 A boat came visiting.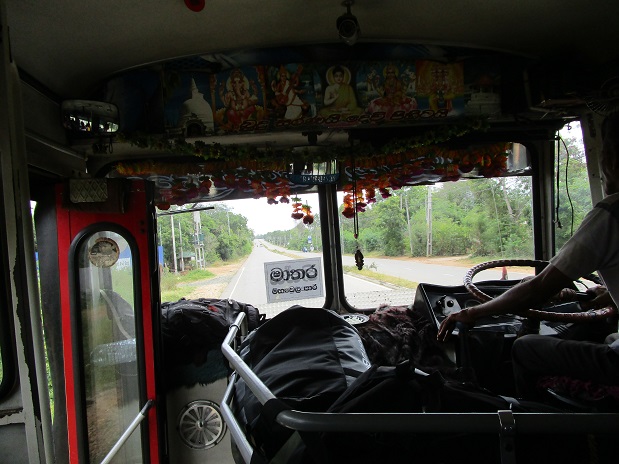 Lots of people on the bus. Our bags are safe, close to the driver.
09.42 A plate with fruit, toast and coffee. Now I'm getting ready. We have been told from the reception that buses run to the next town once every half an hour. Most of them come from Colombo. We just have to get us to bus station.

10.37 It seems that all loose objects are with us. It is time to move us in several stages. New hunting grounds, beds, and table cloths are waiting to get in contact with us. 10.48 It usually pass tuktuks all the time outside our hotel but when we need one there was no one nearby. We started going downtown. Halfway we were picked up by a nice tuk-tuk driver and for a minimal amount we went the last bit to the bus terminal. We were shown a place where our bus depart from. We had to ask to be sure. All the signs regarding the destinations of the buses are in Sinhalese. 11.00 We are on board in a red state bus. We're going to take 120 rupees each from Tangalle to Tissamaharama. 11.45 Now I finally get to sit down. The thing with standing up has trained both balance and leg muscles. 12.09 We make a stop in Hambantota by the sea. The former president Mahinda Rajapaksa 2005-2015 originates from here. It is noticed in all the things that have been made in the area during that time. Here there are; a highway, a new cricket arena, an airport that is barely used, a new port and a free trade area. It is now time for the exchange of passengers here. 13.00 We have finally got off the bus in Tissamaharama, a city that is usually shortened as "Tissa". Just before the city border, a guy was overly social and asked questions to Christer. Those usually lead to something else and sure, he was looking for more participants to fill a vehicle for a safari. We politely said no, now we will head towards the hotel which should be close to bus station. 13.42 There was some confusion at the check-in at the Aeon hotel (http://aeonhoteltissa.com). We had, according to our booking, rented a room at Avalone Hotel but something like that does not exist. Are the people at Booking.com a bit confused or they often rename the hotels here in Sri Lanka? At first the staff wondered if we had ordered lunch, we hadn't. Direct payment was wanted, preferably cash. We wondered about the safaris that the hotel offered. It was promised that information would be emailed. I was asked if I had received the email. The answer was that I needed the WiFi code to check my mail. We got two different codes but no one worked. One behind the counter took care of our cell phones and now we have connection to the internet. I checked my mail and confirmed that the safari data arrived. The first room had double bed despite promise of two single beds, there was change of room. Now we are in Room 301 but have despite booking details saying so, no TV. One of the questions regarding us at check-in was if we were twins? Through the years we have been asked if we were brothers, sisters, father and son, but this was new. I guess now all we have left is the question of whether we are grandfather and grandchild.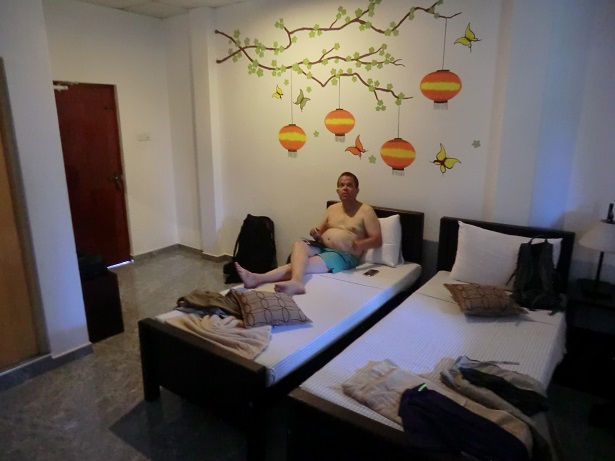 Peter in room 301.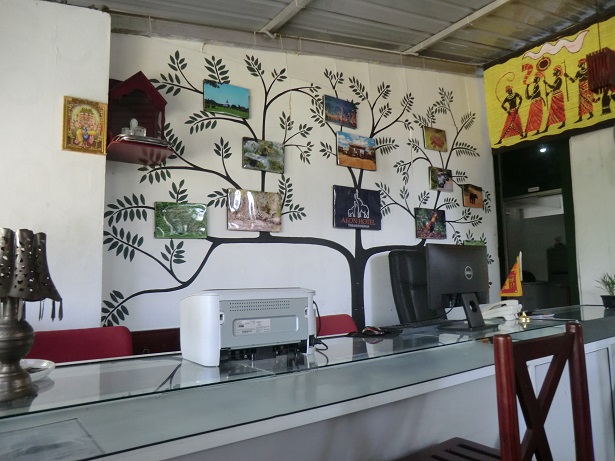 We are waiting in the reception.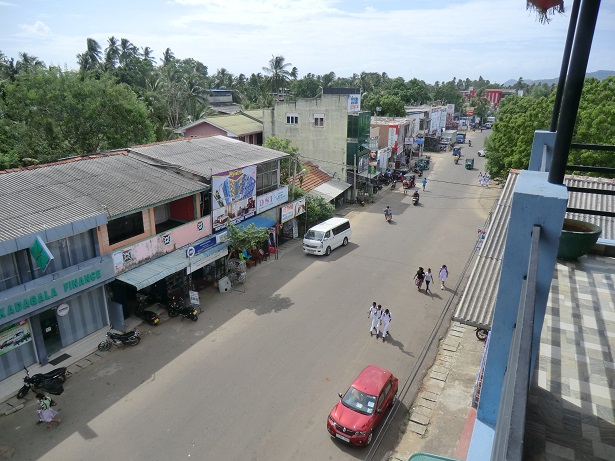 The street outside our hotel.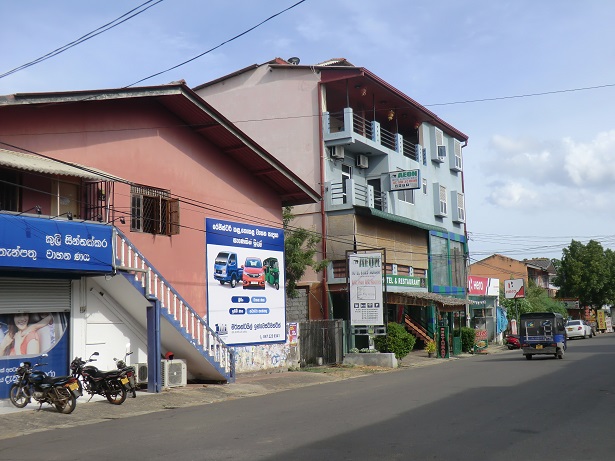 Aeon Hotel, Tissamaharama.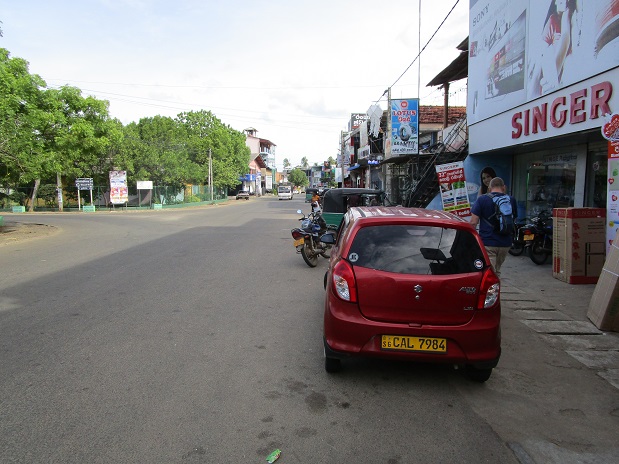 Christer is leaving our hotel to see more of Tissamaharama.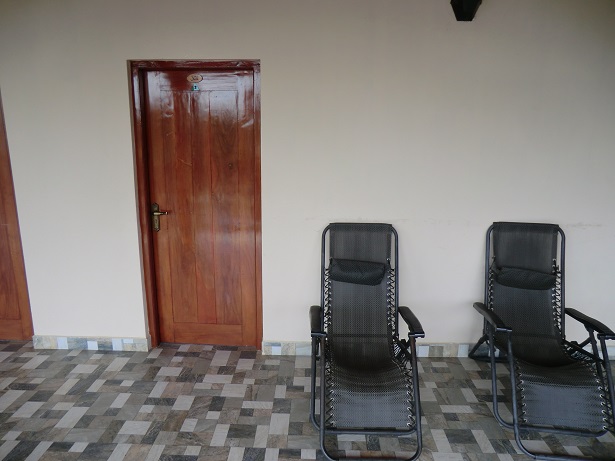 Comfortable chairs outside our room.
14.27 We're back at the front desk. The idea is that we should pay for both the room and the safari we are going to do on Saturday. It goes less well, there is no one here and the same is with the hotel restaurant. Are they off for lunch?

14.45 Things are taken care of and paid for. The staff turned up and we are debt free regarding rooms and Saturday's safari. We still haven't paid for the lunch. I have increasingly difficulties to understand what people are saying and to make them understand what I'm saying. It feels like the knowledge of English is worse the further from the capital we get. 15.47 It was appropriate lunch portions without any winning taste in the small restaurant in the ground floor of the hotel. We also bought sodas in a nearby store, including our old friend, Mirinda. We went back to the hotel and asked about the breakfast time. The answer was short, Wait a minute. Didn't they have any knowledge of that? Well, now we know where and when. 16.45 It's time to leave the room and this world. We're going out of the room and we're going to Oslo and Gotland. We sit in run down but comfortable chairs outside our room. 18.18 The literary journey ended in the land of dreams. We both fell asleep. Now it will be delicious with cottage cheese, no, with coffee! 19.54 Christer has online found and told about a restaurant that has meat dishes on their menu and their plates. We are now going out to find the truth of this. 20.15 The place exists! We have placed our orders with an employee at the Muthu Restaurant (http://muthurestaurant.com). We have, once again been asked whether we are twins. Is it language overstrain (do they mean brothers?) or do they think that Christer and I look so similar? But personally, I sometimes find it hard to tell the difference between people here. 21.28 My grill mix was delicious and Christer's chicken skewer did not seem completely wrong. We were offered a ride as we were about to leave. An offer which we turned it down. Towards the end of the walk home we got the company of a female dog. The stray dogs continue to guard us, she temporarily left her two puppies. We have launched a theory that the dogs that have "taken care" of us over the years are organized in the FIDO, Federated International Dog Organization. 21.58 Serena Williams will play in the final in Wimbledon tennis against Angelique Kerber. We're not going to play tennis. We're going to have evening coffee. 23.21 The coffee and a Riesen chocolate toffee each are finished. Christer has cut his hair and we've read some. I have also assessed and commented on the recently visited the restaurant on Tripadvisor.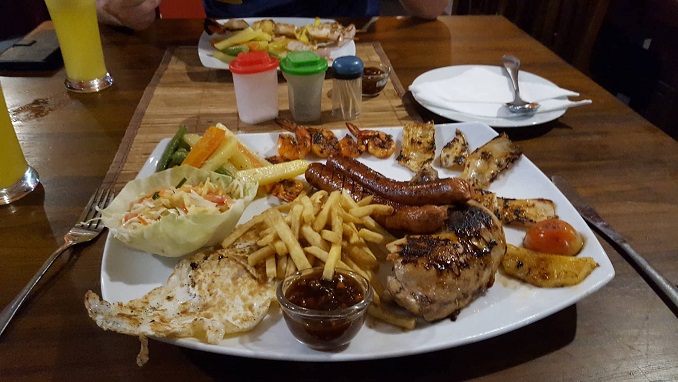 Peter´s mixed grill was not a bad choice.
---
VIDEOS
---
You can see 45 photos from July 10 in this photoalbum.
You can see 26 photos from July 11 in this photoalbum.
You can see 15 photos from July 12 in this photoalbum.

---
---