---
Text: Peter Johansson
Editing: Christer Lundstedt
Photos: Christer Lundstedt, Peter Johansson
Videos: Christer Lundstedt
---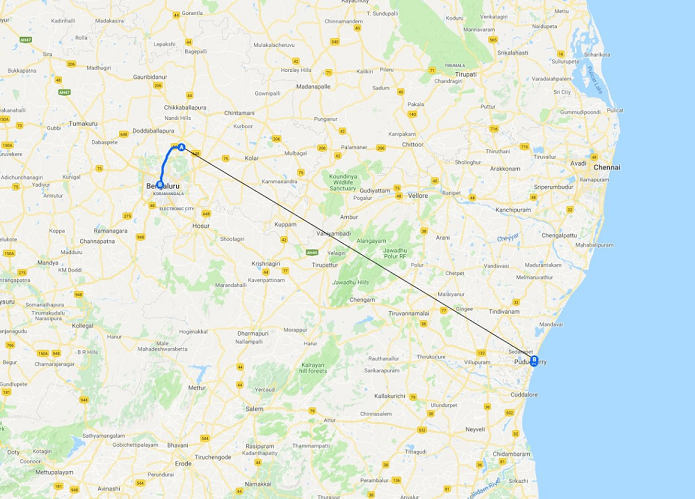 ---
Wednesday 25th of July

07.24 It went fine to sleep here at Pleasant Inn (http://www.pleasantinn.co) in the South Indian city Puducherry (Pondicherry). Now we will soon find out when and what regarding our breakfast. Yesterday at check-in we were told that we should wait for it in our room.

08.36 There was a knock on the door and I went and opened. There was a man with two green plates, one upside down on top of the other. Between these lay five spoons, four packages of marmalade, two jars of margarine and two foil packages with four slices of toast in each package. We didn't get any fruit, juice or coffee. We arranged with the coffee on our own. I think it was a bit of a too simple breakfast. We do stay at a hotel after all. 09.45 CNN reports about over 70 dead in Greece after the fires in forests and land, a collapsed dam in Laos and cheating with vaccines in China. For our own parts, it remains to see what we are doing this day. We look forward to a full day in an Indian town with traces of French culture. It feels interesting. The city that here in India urgently feels like a small town nevertheless has about 657,000 inhabitants. There's no shortage of people in this country. 10.10 We now know how to act when we leave the hotel, at least on paper. Let's hope it works on asphalt and gravel in the real world just as well. 10.27 We hung the "please clean sign" on the outer door handle before we went out of the hotel. Hopefully it will give us something. Other hopes are that our city hiking will lead us to coffee, lunch and sceneries for our photographs.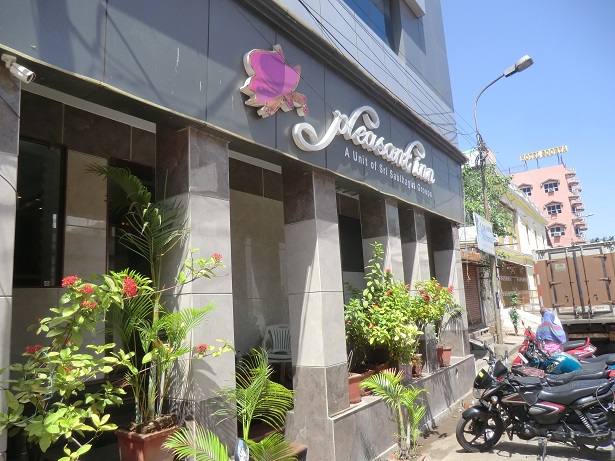 Pleasant Inn, our home in Puducherry (Pondicherry).
Immaculate Conception Cathedral, a catholic cathedral in the city.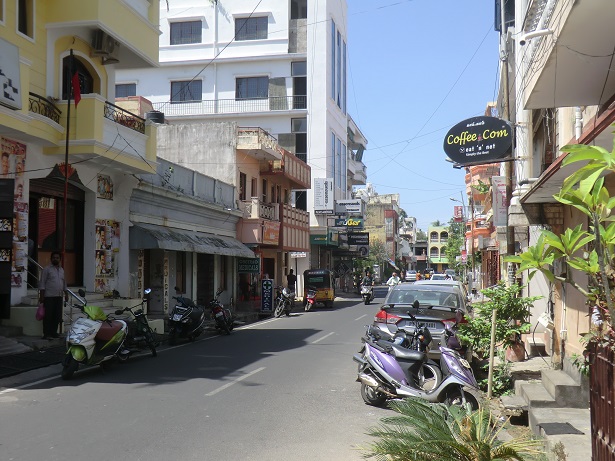 We are walking along Mission Street.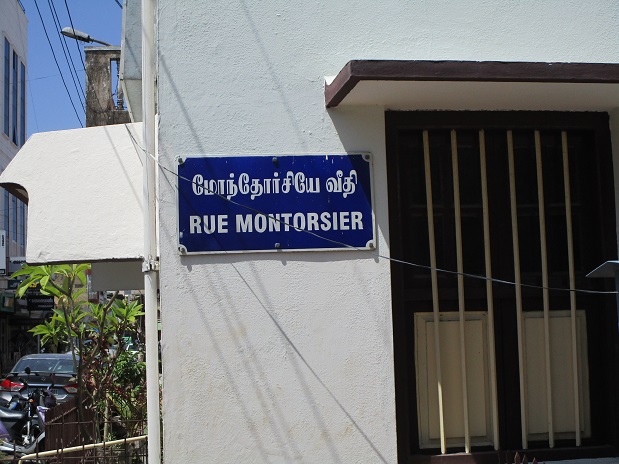 The French language can still be seen here.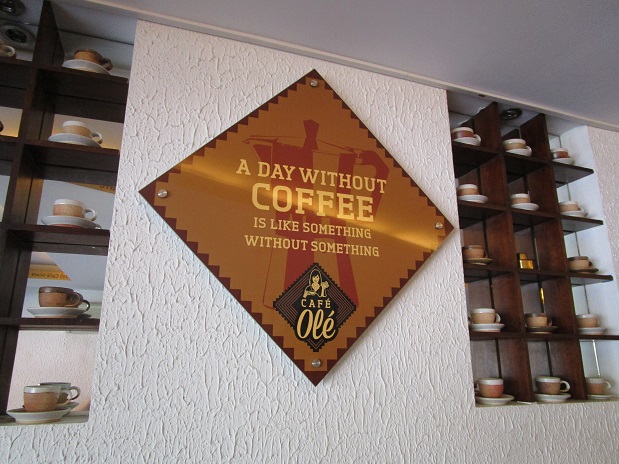 Truths about coffee at Café Olé.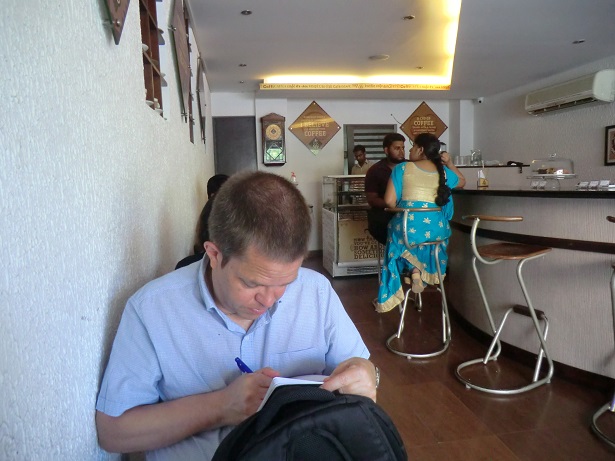 Peter is writing in his journal at Café Olé.
10.48 A warm walk in the hot weather has taken us to Café Olé on Mission Street. On our glass table, the word coffee is written in many different languages; on the walls are words of wisdom about coffee. One of the words of wisdom is, "everyone believes in something, I believe in another cup of coffee!'. I think I'll use that for myself.

11.18 This wasn't that bad. This was really good, a perfect foundation for a further tour here in the city. Now we are ready to continue to look around. 11.39 We have been walking down to the car free Goubert Avenue. Next to it runs the pedestrian road Promenade Beach. Once again, we are at something that we have only seen on maps, pictures and movies before. Behind us is now the Bay of Bengal. A curious gentleman just appeared. He seems to want to ask us something or offer something. I'm temporarily breaking this report. 11.49 The man was a coin collector, such we have met before. He had good knowledge regarding Sweden's currency but we had no coins for him. Now we have embarked on a hike along the beach promenade. A tuktuk driver absolutely wants us to ride with him. We're mostly thinking how far we can go today. The heat is tormenting and the sun is frying from a completely cloudless sky. 12.00 A new stop has been made. It really needs to be done. We do not go far on hot days. Around us we have the old lighthouse and Gandhi memorial, a statue depicting, yes guess what, Mahatma Gandhi. On the other side of the street there is a French monument that celebrates soldiers from the French possessions of India who died in the First World War 12.30 The almost cloudless sky and the heat is hard on us. The official sources say that today it is +38°C in the shade. A new shadow stop has been made. We have avoided the poor service at Le Café on the beach promenade and have instead ordered juices and crepes at cozy Café des Arts further into the city centre. The French part of the city, incidentally, is called "White Town".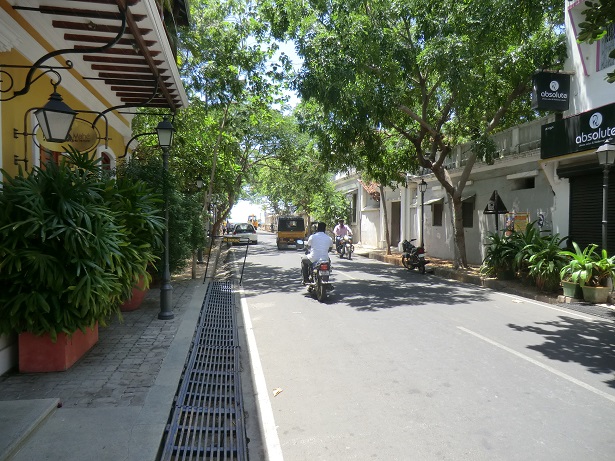 Bussy Street, Puducherry (Pondicherry).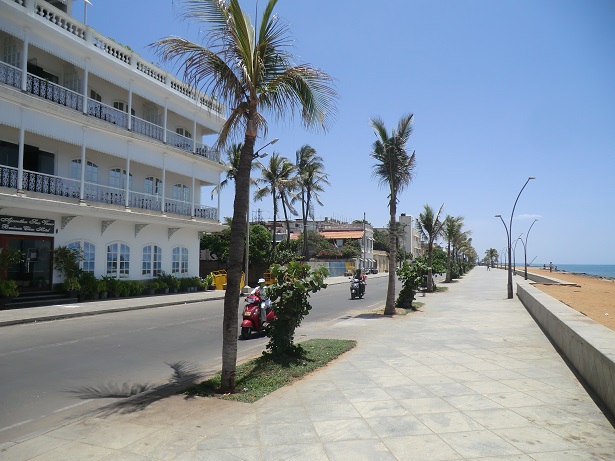 Goubert Avenue/Promenade Beach.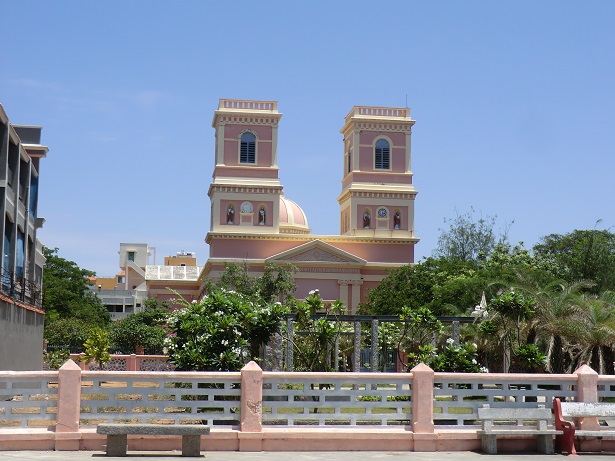 Lady Des Angels - Notre Dames Church.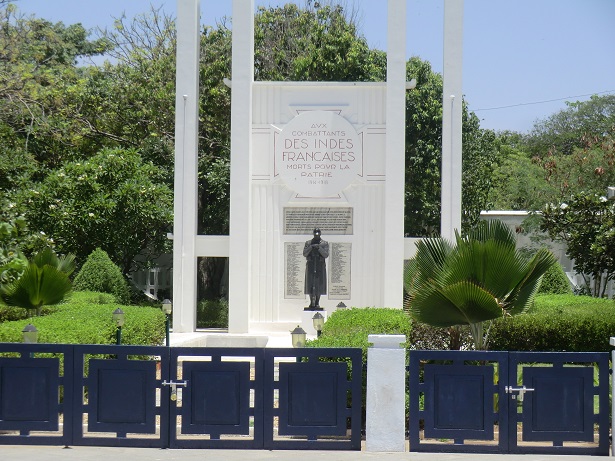 A memorial about the soldiers from French India who lost their lives in the First World War.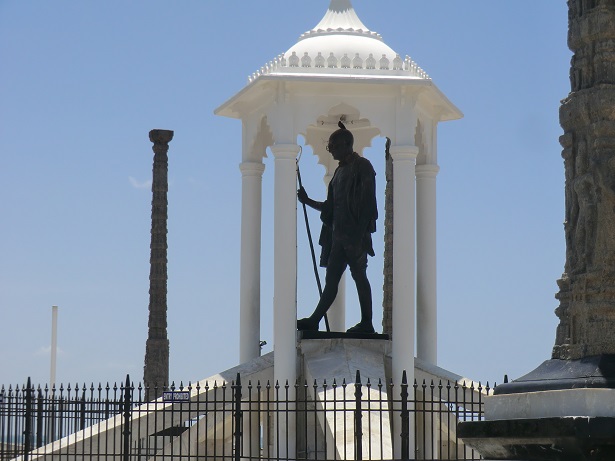 Mahatma Gandhi is standing at Place de la République.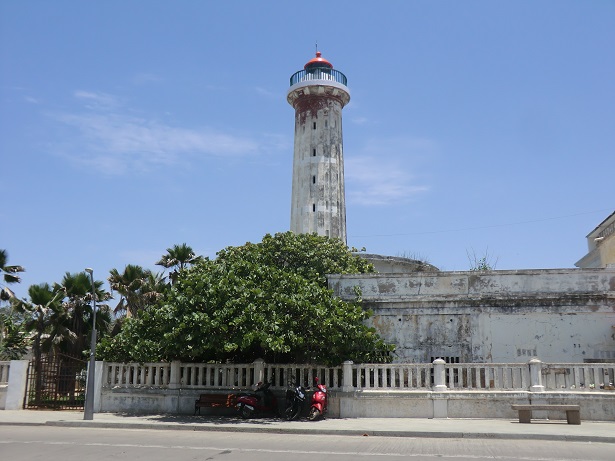 The old lighthouse from 1836.
12.56 Once again we have eaten and drunk something delicious. The interior design here is also very old-fashioned and special, part of the experience. Let's start moving home. We need a siesta on hot days like this. However, we will need to provide supplies before we reach the hotel.

13.24 The minor shop Nuts N Spices gave us what we needed. Partly we got some cool air and partly cold drinks we so well need. Now we are at home and here, unfortunately, it is still untidy. The breakfast plates with leftovers remain where we left them. I'll put them outside the door. 14.46 We stepped out our door and realized that the plates were now all of a sudden gone. At the reception, I left the key and asked for cleaning. Now we are at the restaurant The Pasta Bar Veneto, not far from Café Olé where we had coffee in the morning. Here it will be pasta and beer, a 60-centilitre Kingfisher each. The union territory Pondicherry does not apply to the alcohol laws with high taxes that prevail in the surrounding state of Tamil Nadu. 15.57 A vegetarian pasta dish is not wrong. Here at home, the room is cleaned but the AC is deaf, mute and does not listen to our will for it to start. It has been turned off by the cleaning staff. How the hell do we bring it to life? Which of all these switches brings the wind back to life? 16.27 We got life in the air conditioner but do not yet know which button/buttons do the trick. Moreover, it seems that the internet connection comes with us out but not with us home again. We'll have to go down to the front desk and ask for assistance.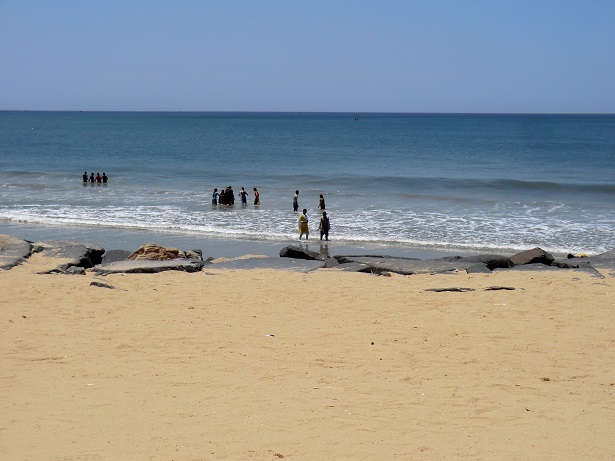 Feels good on a hot day.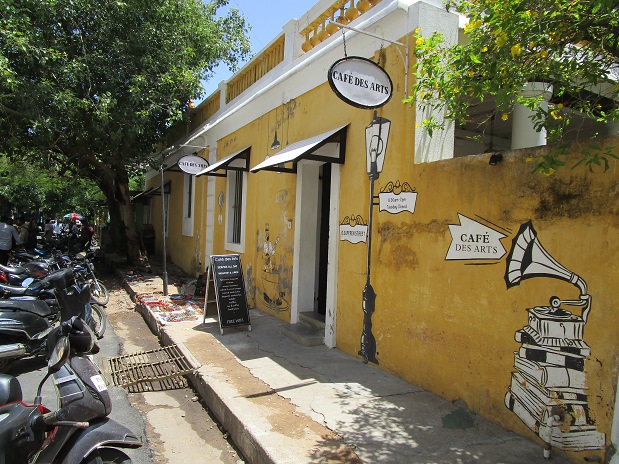 Café des Arts, a lovely oasis.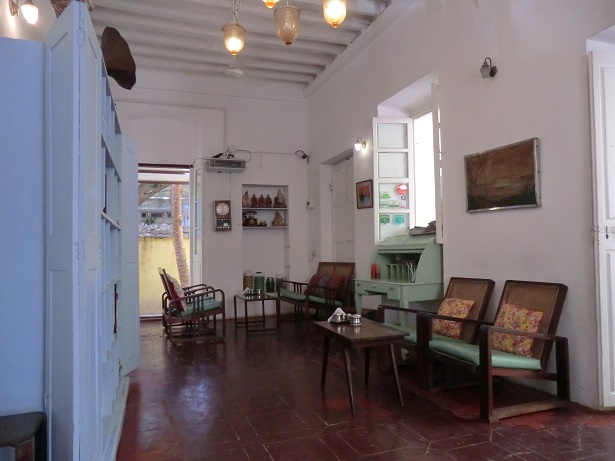 A lot of nostalgia at this café.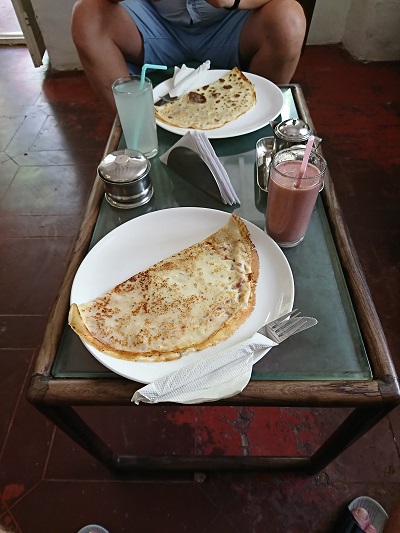 Crêpes and tasty juices at Café des Arts.
Christer and some interesting vehicles.
17.24 Christer needs rest. He's tired and has a slight fever. Has today's heat stayed in the body or is there some disease going on. We'll wait and see.

19.23 Christer continues to calm down. In the meantime, I've been down to the shop on the corner, Nilgiris. Breakfast enhancement has been purchased. We cannot live on tomorrow's journey on a breakfast as weak as the one we got this morning. 20.10 The time has come to get something in my stomach. Christer has taken some anti fever tablets and tag along for the same mission. 20.27 Café Xtasi just close to where we stay will serve us today's dinner. 21.13 It was a harsh discussion during the meal between some guests (a couple) and the staff. It may have concerned the price or something else. We got the impression that they expected some discount that was then not given. The young girl in the couple was, to say the least, stubborn. She felt like someone who was unfamiliar with not getting what she wanted. Today it has been +40°C during parts of the day. I think this is one of the warmest days we've ever experienced. Even higher temperatures have been seen before but it was not official measurements or in the shade. We ordered breakfast for tomorrow before we went up to our room. 23.31 It is now, after we have read in our books and spoke about a bit of each, time to see if we can turn off the ceiling lights without turning off the air condition. Christer is looking forward to a night's rest to bring back the energy that so quickly disappears when you get a fever. 23.41 We are once again, I do not know how it happened, surrounded by darkness and cool air.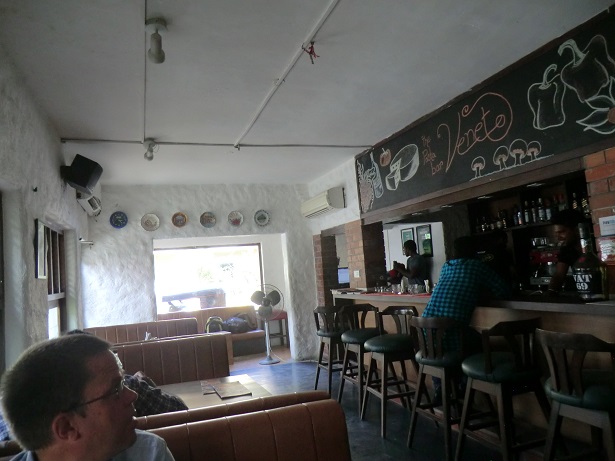 Lunch at The Pasta Bar Veneto.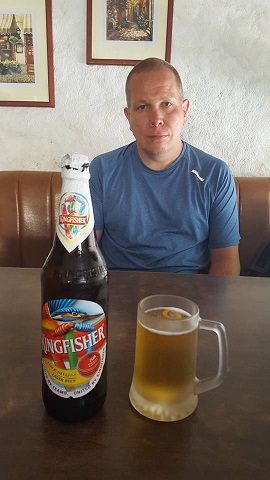 Christer and the long awaited beer.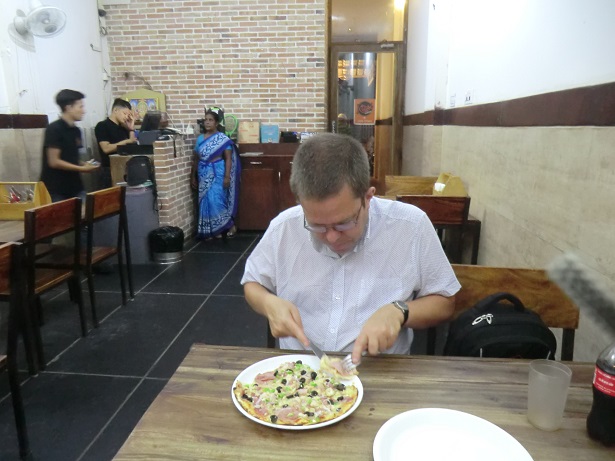 Peter is having dinner at Café Xtasi.
---
Thursday 26th of July
08.05 It is five past eight and we have not seen or heard anything about the ordered breakfast. 08.36 Suddenly the phone in the room rang. I answered and all I heard was "Für Elise" being played for thirty seconds. Then a confused voice said breakfast was ready. OK, I said, will it be brought to us in the room? No, the answer was, it's served down here. At check-in it was said that there was no dining room in the hotel. What the hell is this? 08.51 On the ground floor, Christer found the none existing dining room and we have had the breakfast we have until now not seen. It was, if possible, even weaker than yesterday, only a few dry slices of bread and some coffee. Those who chose an Indian breakfast have probably got something of a better quality. 09.11 Since the hotel on the internet promises free transportation to the airport, we went to book it at reception. The answer was, go out and take a tuk-tuk. What can you say? The hotel is ok but the service has been to say the least of mixed quality. It can also be added that the hotel site has pictures of a swimming pool that does not exist, at least not here. 10.07 It's time to start the journey towards the airport. 10.20 Goodbye rooms and hotel. You're actually not missed. We are now going in a yellow tuk-tuk to the relatively newly opened Puducherry Airport. The airport was built in 1989 but has been open and closed in several rounds when different routes were opened and closed. 10.50 Our nice driver took us safely to the airport and took a shortcut over a field the last bit. My backpack got caught in the security. I was asked if I might have a knife packed down. I confirmed that was the case. Up with the bag, look at the multi knife, X-raying backpack again before everything was clear. 11.06 Our backpacks have gone to meet other baggage. The owners of the backpacks are waiting before anything more happens here. 11.41 Now we've been waiting for a moment at the gate. It's hot in here.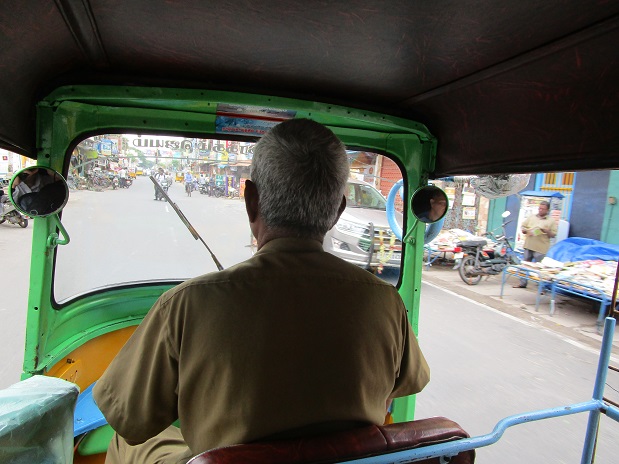 Going to the airport.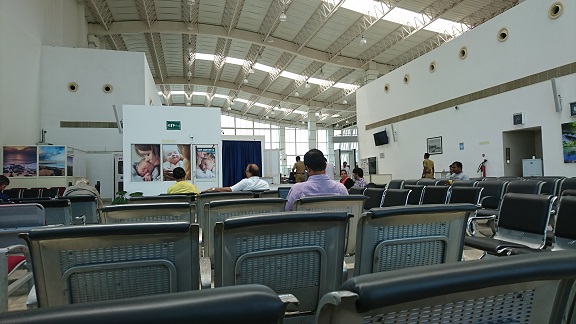 Waiting at Puducherry Airport.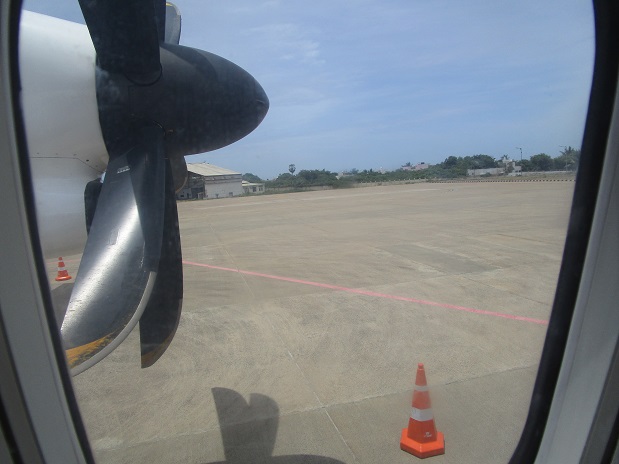 It´s time to fly again.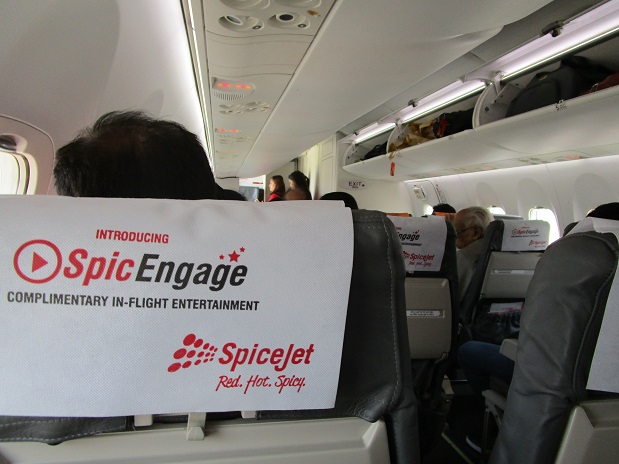 Today´s flight is with Spice Jet.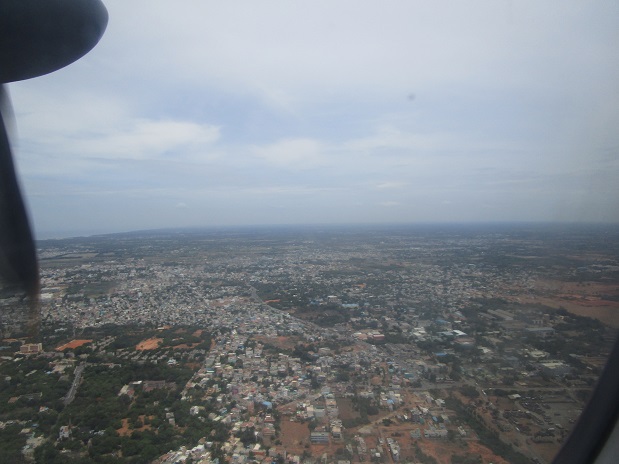 We are taking off from Puducherry Airport.
12.24 All passengers are now aboard the Spice Jet Bombardier Q400 NexGen. It's going to take us to Bangalore, or Bengaluru as the city is now officially named. We once again fly domestic on our travels. The flight time itself is under an hour. The bus option takes nine hours and goes at night. The choice of means of transport was simple.

13.30 Spice Jet´s plane has now landed at Kempegowda International Airport north of Bangalore. We have sat down in one of the company's buses for transportation from the runway to the terminal. 13.58 The airport is located forty kilometres north of Bangalore. We booked a taxi from Akbar Travels of India. I was a bit slow after the payment. I lost both the driver and Christer. At the exit, I also went the wrong way. Thank God I was picked up by the driver. It was idiotic to be slow and then aimlessly pull away. Better then to stand still. 14.37 After a journey along the highway, we have now entered the heat of the big city. The driver stops by and tries to find out where our next hotel is. He's calling someone. 15.01 He who is behind the wheel found The Rialto Hotel (http://www.rialtohotel.in), a very fine but, for us, still relatively cheap accommodation. After complaining about how much of the money his bosses take, he asked for tips to himself. He got some. We are now checked in and accommodated in room 314. Next thing will be lunch. 15.27 We went down to the hotel restaurant Peppermill happy and hungry. We got a menu with plenty of options, and then came the news that they only offer warm sandwiches at this time. Why did we get a menu? 15.58 The sandwiches eventually appeared and even a little later the papaya juices. We were asked if we wanted black or regular as we ordered coffee. Is regular what we refer to as mulatto coffee, coffee with sugar and milk? 16.15 Our train departs from here at half past ten on Saturday. Before that, we will see Bangalore, one of India's largest cities. In the big city area lives about 10,5 million people. We can't possibly see the whole city, it'll be like in Chennai a little taste of it. We also changed state. We are now in Karnataka. The language has also changed from Tamil to Kannada. However, we do not hear any difference. Right now, we're going to enjoy ourselves. The coffee we got was strong and tasty. Everything was put up in the room and paid later. 18.13 It is calm and quiet in our room. We watch the news on our TV.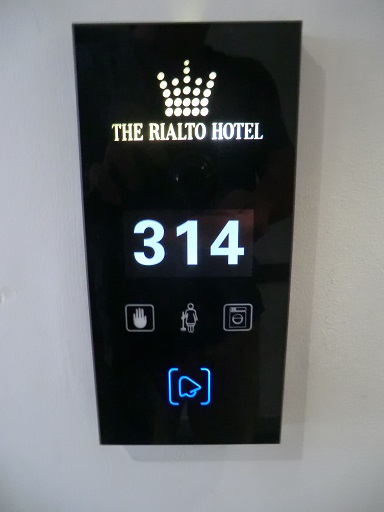 Our modern door bell.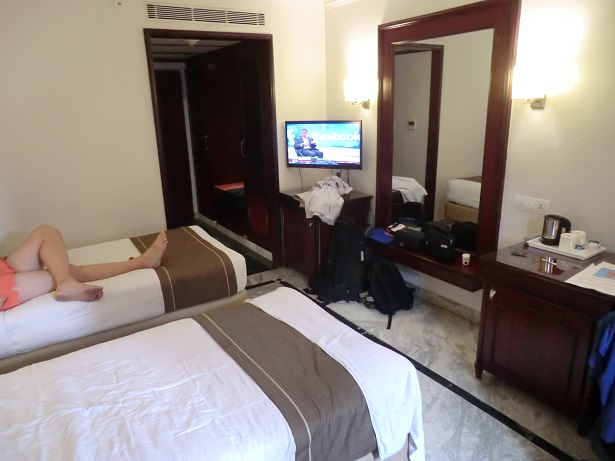 Our room at The Rialto Hotel.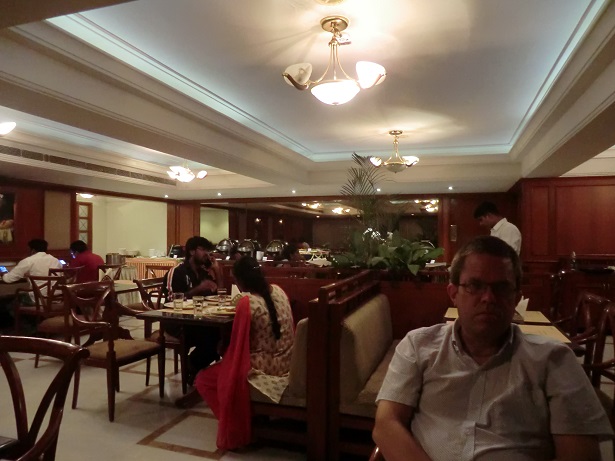 Peter is waiting for dinner.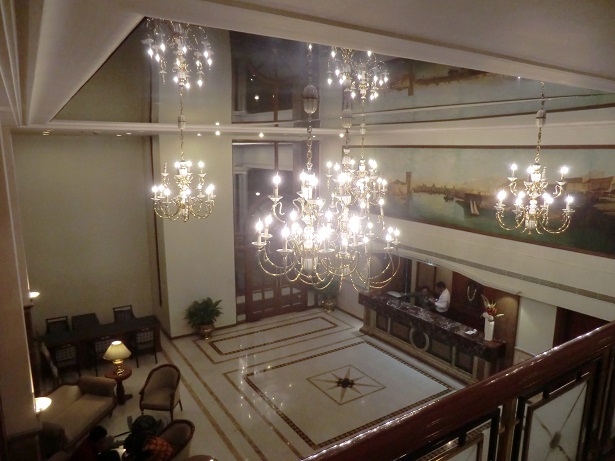 The beautiful reception area at our hotel.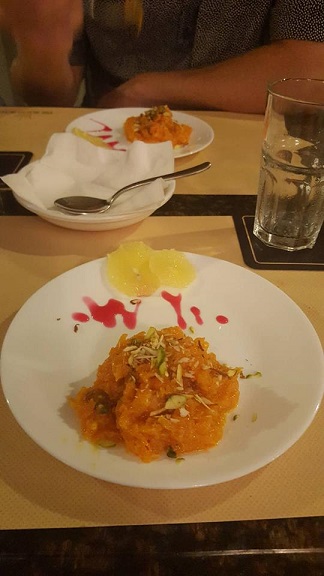 The evening´s delicious dessert, gajar halwa.
20.10 CNN reports that scientists have found an underground lake at the South Pole of Mars. That's the kind of thing you learn when you're on vacation.

20.49 Our dinners are ordered. We're back at the hotel restaurant. My dish is supposed to be spicy but I was promised a less spicy kind. 21.14 It was a good dinner but small portions. Therefore, we decided to order dessert. After some confusion for the waiter, assisted by the chef, we chose something they recommended. What's it going to be? We'll see. 21.46 What was recommended, gajar halwa, was really tasty. The dish consisted of a mixture of grated carrots, cardamom and ghee, a kind of layered butter. Now tomorrow is planned, a tomorrow when we are going to see some of this giant city. 23.30 There are now plans for tomorrow. The first mission will be to sleep. This is done to cope with the other upcoming missions.
---
Friday 27th of July

08.54 The natural exterior light looks into the gap between the curtains in our room. Today we will get to know one of India's major cities a little better. The traffic will, as usual, stop us in our explorations, but we should be able to see and experience something new.

09.37 We are back in our room after a varied buffet breakfast in the ground floor restaurant. There was little of each to choose from. One of the waiters in the restaurant is extremely service minded, on the verge of being slimy. Sometimes less is better. 10.30 Someone just rang the doorbell. Christer opened and there was a man. Did he want to clean up, fill up with water or something like that? Not at all, he wanted to write up the serial number of the TV in our room. Are they afraid we'll take it with us? 10.50 OK, it's time to take the cow by the horns and get out. What awaits us? By the way, do we dare to take the cow by the horns here in India? Cows are sacred animals. 11.15 We're on our way on foot. At this very moment, we passed a Hindu temple. On the way here we have looked at a possible dinner restaurant, taken us past a street under remodelling and navigated us through a to say the least well-traffic junction, Anand Rao Junction. 11.36 It is cooler today but plenty of traffic. We have been walking for a while in the north direction and reached the shopping mall Mantri Square Mall (http://www.mantrisquare.com). In here, we sit on a bench. On the way here, we have learned that a litre of diesel costs 69, 98 rupees, or around $1.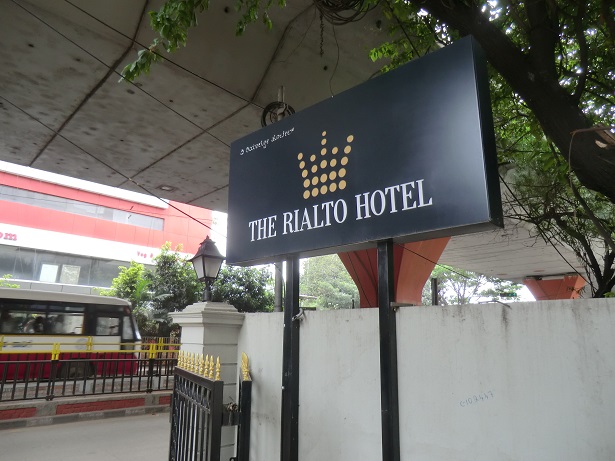 We are leaving The Rialto Hotel for a while.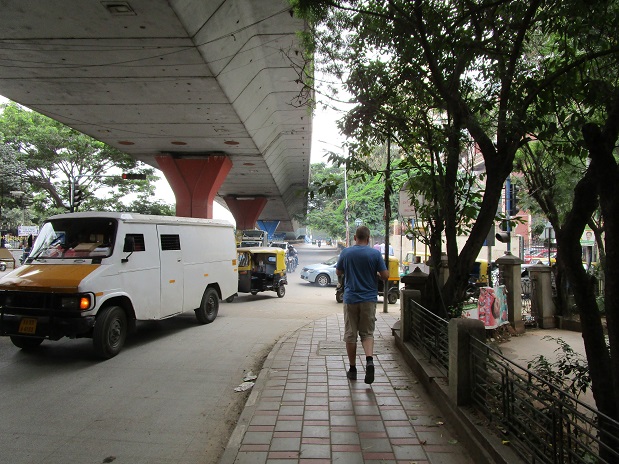 Christer at Anand Rao Junction.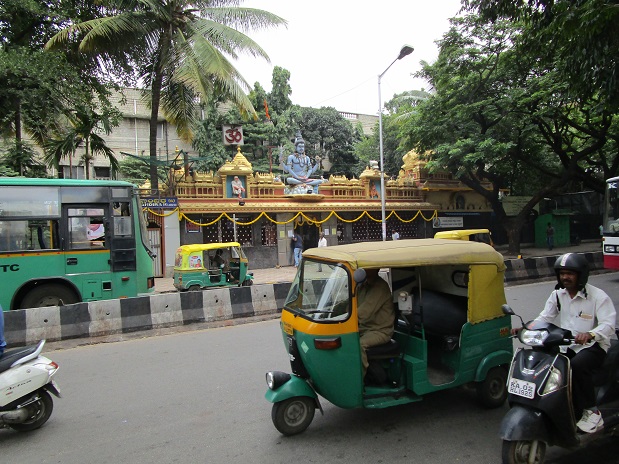 Shiva is watching the traffic.
Peter at SC Road, Bangalore.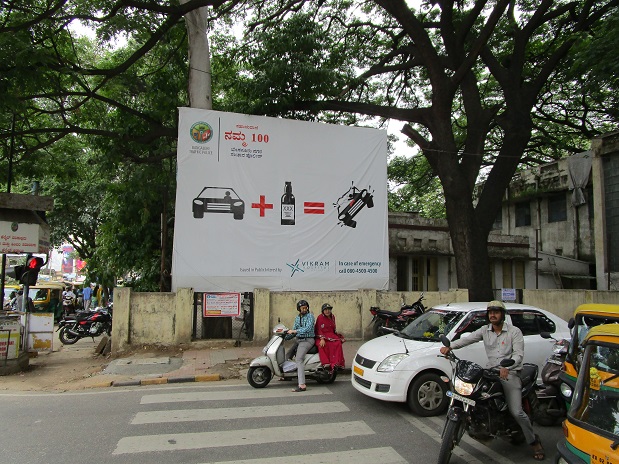 Easy instructions.
11.57 We have done a closer examination of the mall and have now taken us up on the top floor. We will have some refreshing ice tea at Tata Cha, one of several small servings here.

12.21 Ice tea was delicious. It was a long process to produce it so we had to wait a while. This is quality drink. Despite the good taste, I will still stick to hot and delicious coffee in the future. 12.42 "For the love of pizza" can be read on the menu on the round table between me and Christer. We are at the Pizza Hut, on the same floor and just a stone's throw from Tata Cha where we just drank iced tea. Now I was told that my ordered dish is out. I had to choose another dish. 13.14 Pizza Hut has now and then saved us with simple but fantastic food because we have not found any other restaurants. There have been some visits over the years. We have only on this trip been to Pizza Hut in Galle, Kandy and now here. 13.50 It's time again. We're at Starbucks Coffee for a coffee time before we head back home. Will it be this travel's last visit to this chain? Where and when will we be back at Starbucks in the future? We'll see how it develops. 14.37 We have bought drinks in a small kiosk along SC Road. Now we will take firm steps back the same way we came. 15.19 On the way home to the hotel we stopped at one of the city's countless travel agencies/ticket offices. We were waved into the office by enthusiastic staff and explained that we needed bus tickets for an upcoming trip with Kallada Travels. Here, too, there was a problem to book since we do not have Indian mobile numbers but it was solved by the travel agency's mobile number was entered instead. We now have tickets from Madurai to Kanyakumari on August 5th. Good!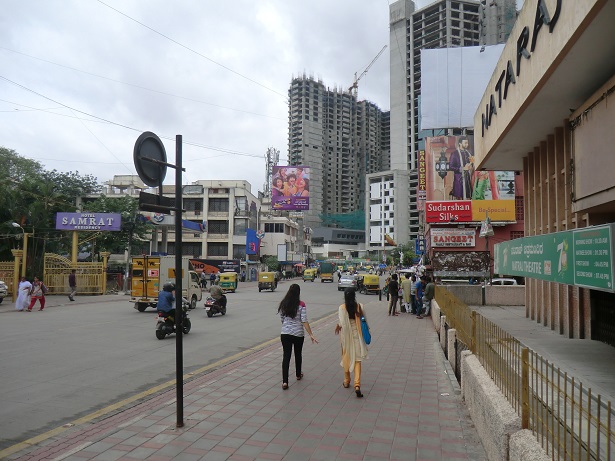 Walking towards today´s main stop, a shopping mall.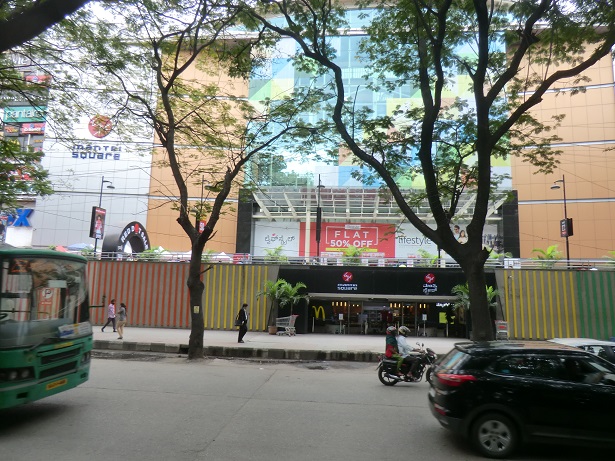 Mantri Square Mall, Bangalore.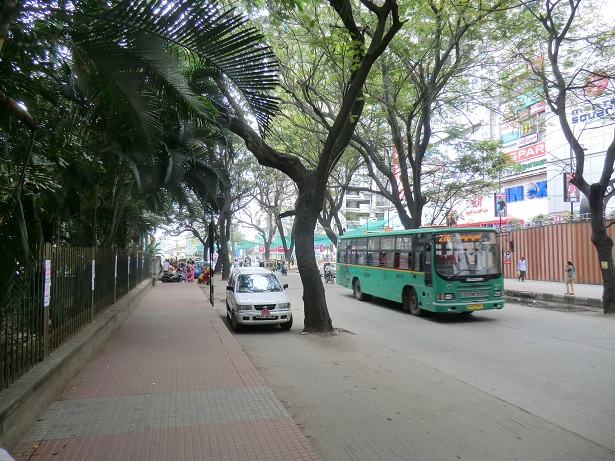 Sampige Road, Bangalore.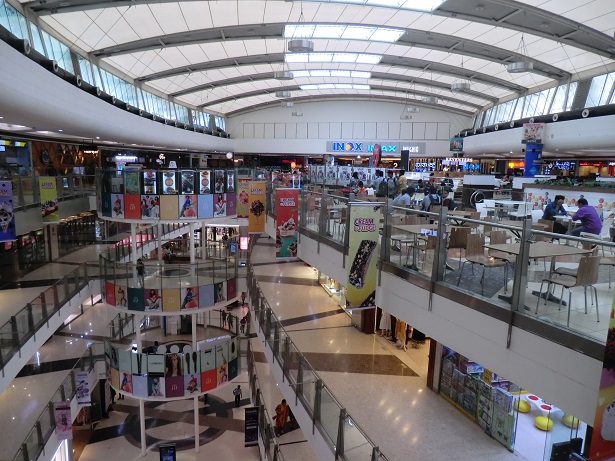 Now we are inside Mantri Square Mall.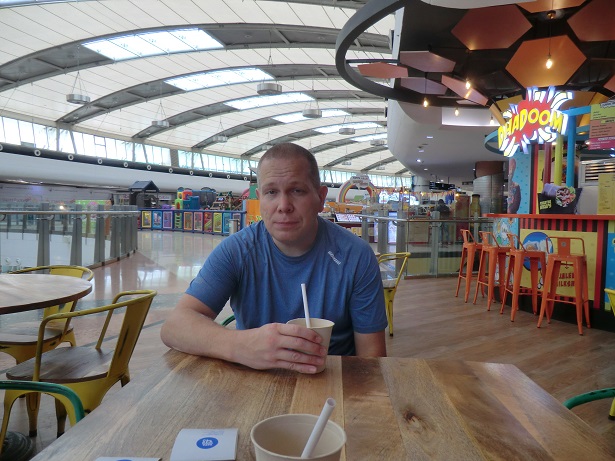 A tired Christer is enjoying some ice tea.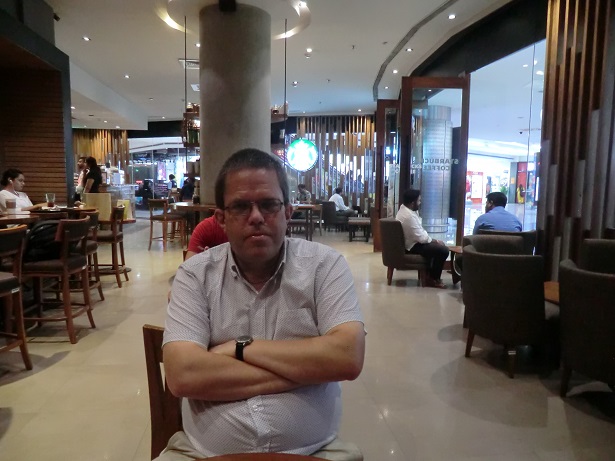 Peter has found yet another Starbucks Coffee.
16.12 There was not so much discovery of the city itself today, but we have got some sense done. Christer still feels a little tired after the fever the other day and it is also not reasonable to think that you should see a 10 million city in only one day. We mostly use Bangalore as a starting point for new goals.

17.50 We have lost the login we had yesterday and it is no chance to log in to the internet with a new code. Either we don't reach the router or our phones insist on logging in to the expired one. 18.22 We went out in the corridor one at a time. There we managed to log in with the new code but we cannot come out online inside the room. The war on WiFi networks has begun to become a tradition in recent years of travel. It rarely works completely painlessly. 18.43 We can surf out in the hallway, but it looks stupid standing there. Al-Jazeera, on our television, tells us that Imrad Khan in Pakistan needs the support of other parties to form a government. By the week, Zimbabwe goes to the presidential elections. It seems the first thing without Robert Mugabe. On the 65th anniversary of the armistice of the Korean War, the bodies of 55 American soldiers have been returned to the United States. 20.35 We had some plans to leave the hotel to have dinner, but the uncertainty about where we would eat still made us return to Peppermill here in our hotel. 22.54 That was a welcome meal, we have read about tomorrow's upcoming adventures.
An evening in the room.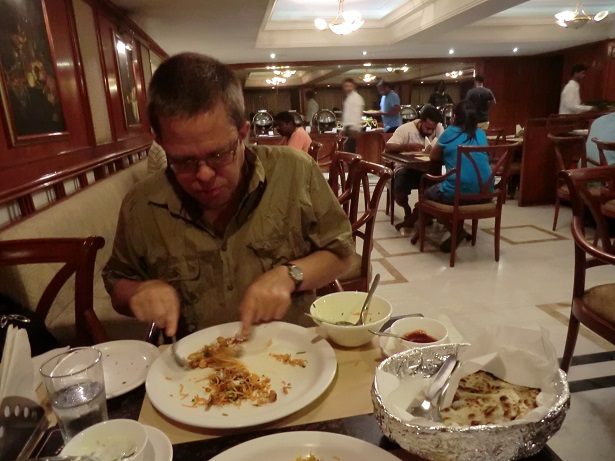 We had another dinner at Peppermill.
---
VIDEOS
---
You can see 44 photos from July 25 in this photoalbum.
You can see 14 photos from July 26 in this photoalbum.
You can see 23 photos from July 27 in this photoalbum.

---
---