---
Text: Peter Johansson
Editing: Christer Lundstedt
Photos: Christer Lundstedt, Peter Johansson
Videos: Christer Lundstedt
---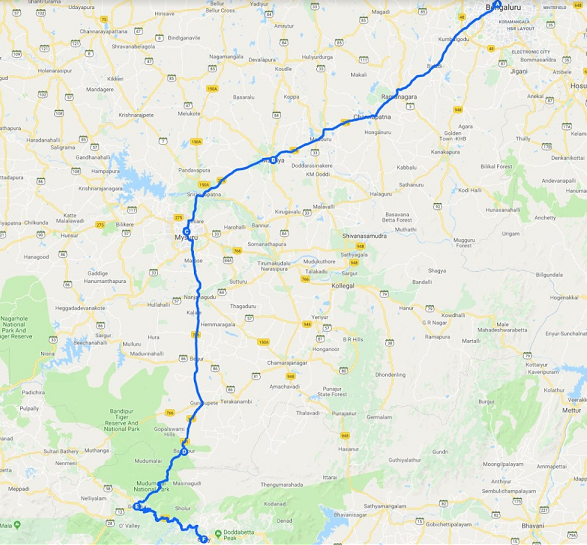 ---
Saturday 28th of July

08.10 It's another morning at the Rialto Hotel (http://www.rialtohotel.in) in Bangalore, the city which since 2006 is officially named Bengaluru. It is the name in the local language Kannada. A moment ago, we were connected to the internet. Today we are going to do something we have done in several continents before, including countries such as Peru, Mongolia, Romania and Morocco. We're going with a train.

08.46 We have returned from breakfast. It tasted delicious but was not quite satisfying. I miss something stable like sausages and bacon. This breakfast is at least better than the previous ones in Chennai and Pondicherry. 09.04 On television, it is reported about "Blood Moon", a total lunar eclipse that occurred here in South Asia yesterday. 09.24 We are now sitting in the comfortable sofas in the lobby. We are waiting for information regarding how much we owe for the food we have eaten here during our stay. How are we going to summarize our time here in Bangalore? The hotel was very good but the city is huge. We would have needed a week to have seen it for real. Now it was just a short stop before the further journey. 09.54 The costs of eating wasn't what we had calculated, they became lower. That's good news. A yellow and green tuk-tuk took us from the hotel to the railway station Bengaluru Krantivira Sangolli Rayanna Railway Station. Now we are at platform 10. A train is already on the track, is it ours?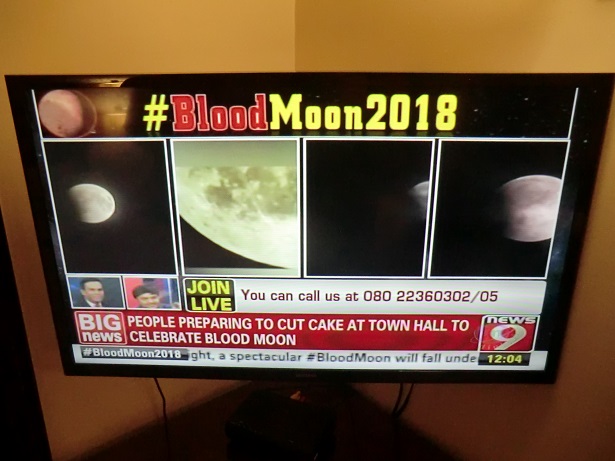 Yesterday´s Blood Moon is in the news.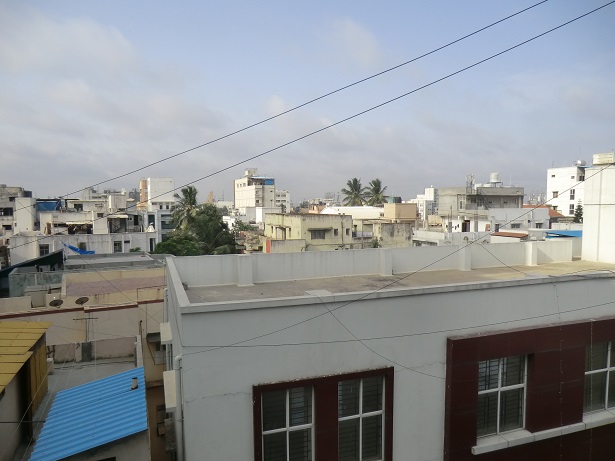 The roofs of Bangalore.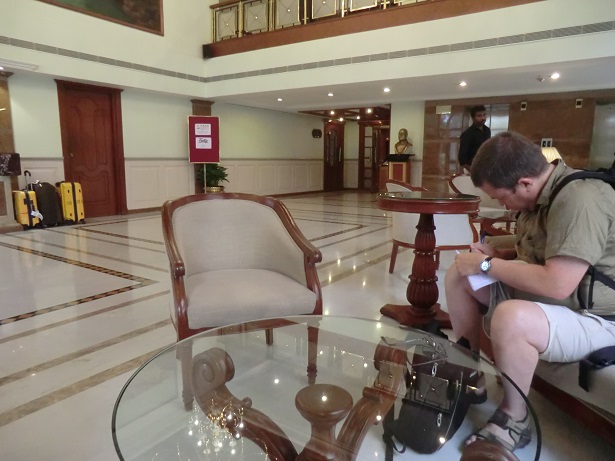 We will soon leave The Rialto Hotel.
10.01 It was the right train. Christer asked a railway employee to be on the safe side. Now we and the luggage are inside. There is little space here. We thought we would get better places than this. It's a good thing there won't be a long trip. We're going west here in the state of Karnataka. Today's destination is the city of Mysore, also called Mysuru.

10.48 India is the forty-fifth country in the world in which we go by train. In Asia, it is only seven. 11.42 Salesmen of various food and drinks go through the train set. Outside passes forest and fields. 13.24 The train is delayed and the fact that we are standing still at the moment does not make it better. There is no panic to get out. The is falling outside. 13.35 I didn't tell the truth when I wrote that we were delayed. We have actually reached Mysore and main Station Mysuru Junction at the right time. It was probably we who had access to an incorrect timetable. 14.01 We have once again traveled with a tuk-tuk or auto rickshaw as they are also called here. A short trip took us to The Quorum Hotel (http://www.thequorumhotel.in). While waiting for the room to be ready, the staff has offered us to enjoy the lunch buffet that is still being served. Our backpacks have left us. Are they in the room? Are they also in our room? 14.40 The stay here got a pleasant start. Food makes me happy most of the time. We were also lucky to have our food just before a larger tourist group arrived at the restaurant. In fact, the staff in the restaurant first thought we were part of that group.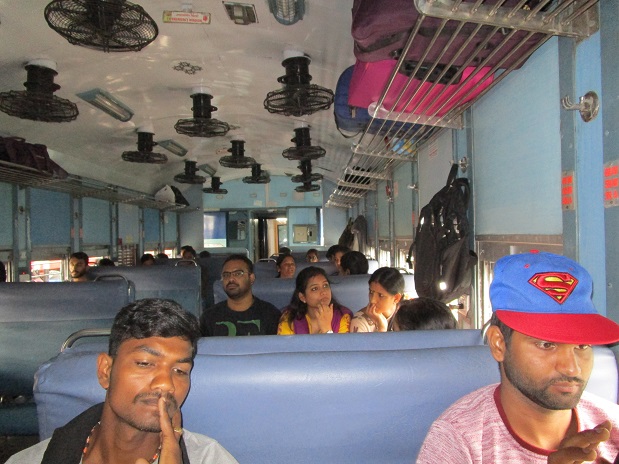 Lots of fans in our train.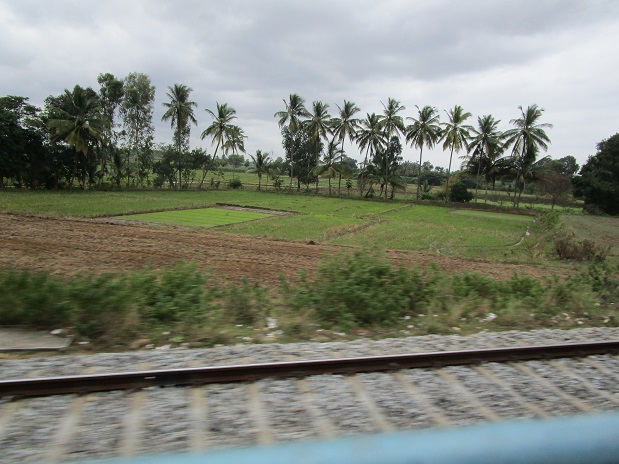 We are traveling from Bangalore to Mysore.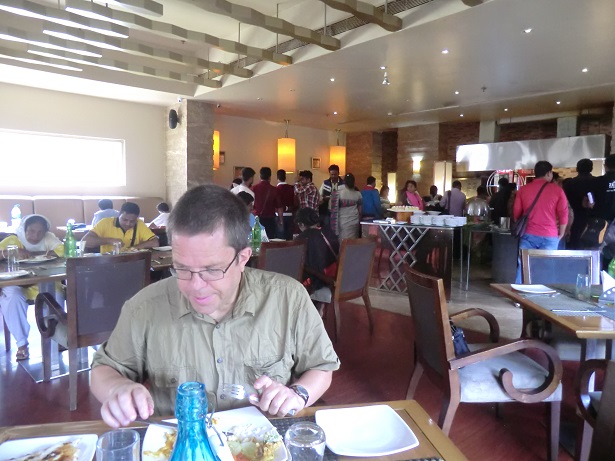 Peter is having lunch at The Quorum Hotel.
14.45 We were asked to wait for a while in the lobby. A man took us to the elevator. It got overcrowded and I had to step out. The party in there and Christer went to the 5th floor.

14.50 Everyone but Christer and the man got out. They went down to floor three and waited for me. I had to wait for the elevator return before I was taken to the right floor. Now we are in room 2023 with a bed on wheels each. The backpacks are here as well. Good! 17.39 This is the best room so far on the trip. The view of a tractor and a tired dog is not so exciting but the standard here is excellent. We should, in order to avoid getting bored of the room and to get us local knowledge, go out for a walk. 18.15 The local area did not have much to offer, just a long street without something exciting. Back at the hotel we asked about how to book bus tickets to the upcoming destination Ooty. We had the hope that the hotel could arrange it. This was however not the case. We have now in addition to the times and buses we found online, information about additional times and buses. What's the reality? 19.50 It's time to start studying another menu. This is with us in the room. Dinner is getting closer. 20.01 We sit in the hotel restaurant on the ground floor. Something that confuses us here in South India is that the waiters are shaking their heads to confirm the order. I'm used to nodding and often think that what I ordered does not exist. 20.24 Fresh vegetables, cucumbers, carrots and tomatoes have been served. Beside them is my cocktail, a gimlet. It consists of gin and sweetened lime juice. It is a tradition for me to try local drinks but this time it will be an exception. But gin and tonic is supposed to have been founded by the British here in India.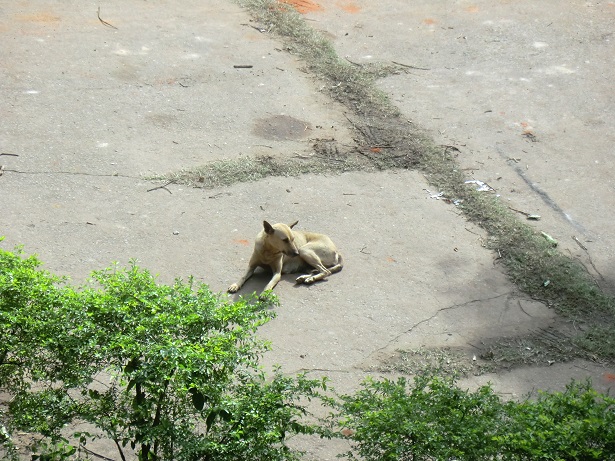 A dog is resting outside our hotel.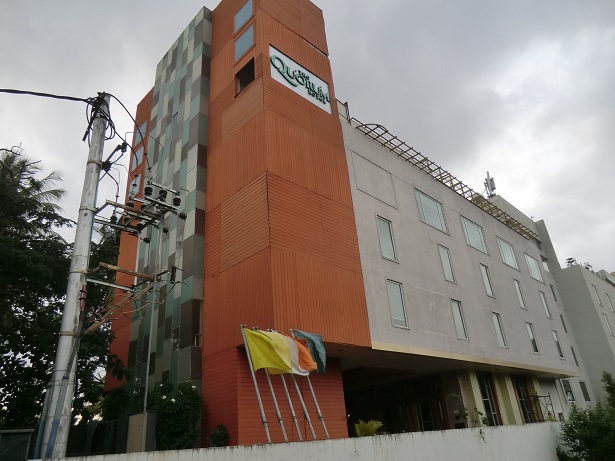 The Quorum Hotel, Mysore.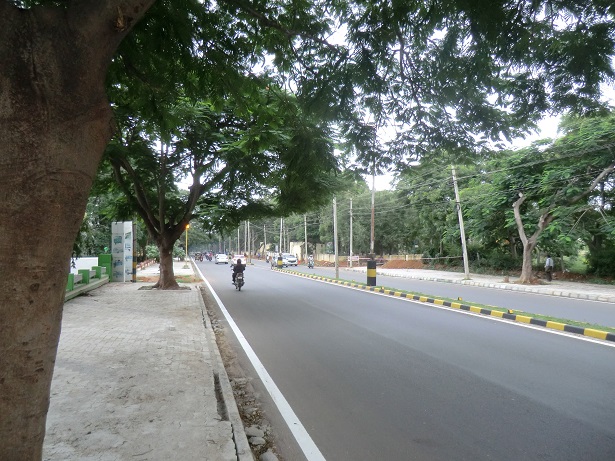 Hunsur Main Road is the street outside our accomodation.
21.10 We were served delicious meals and beverages tonight. But what is wrong with fancy hotels? Why can't I place the food on the plate on my own? The food is brought in and put on my plate. There are plenty of staff here in the restaurant but most seemed confused. Are they new at work and nervous?

22.03 We have changed our mind when it comes to accommodation in the upcoming city, Ooty. The one we booked in advance felt simple and have received lousy reviews. You can't be cheap if you want it to be good. We have booked a better hotel, smooth and free of charge. Booking.com is great! 23.05 Techno music flows through the hotel. What's the point of letting premises in the hotel for music? There are guests who want to sleep.
---
Sunday 29th of July
07.49 It's Sunday today and it seems to be cool both indoors and outdoors. 09.37 Today, mostly for change, I avoided the Indian cuisine for breakfast. I had cereals and milk, pancakes, toasts and coffee. We ate the breakfast in the same room as yesterday's lunch and dinner. 10.38 Do we really want to go out? It's so nice in the room. However, we need a change of air and what's worse, my pens are on strike. I think I'll have to buy new ones soon or the journal will end here and now. 10.44 There is a magnificent palace to see here in Mysore but also a zoo that received good reviews. It's going to be hard to cover both of them. When we found out that it is forbidden to take pictures inside Mysore Palace and also some other complicated rules, we chose to see animals today. However, we hope to have the opportunity to see and photograph the palace from the outside. 11.10 On the way to new views, we waited for the green man at JLB Road. When the green man came, we crossed the road but didn't make it all the way over before it turned red again. On the other side, there was a police who said; you are supposed to wait for a green signal before you cross. We said we did. OK, the police said, Where are you from? Sweden, was our answer. All right, have a good day. Had other nationalities been fined? 11.18 We have seen a tired cow rest and have wandered towards the centre along Vinoba Road. We'll try to find a lunch restaurant somewhere half way to the zoo where this walk will end.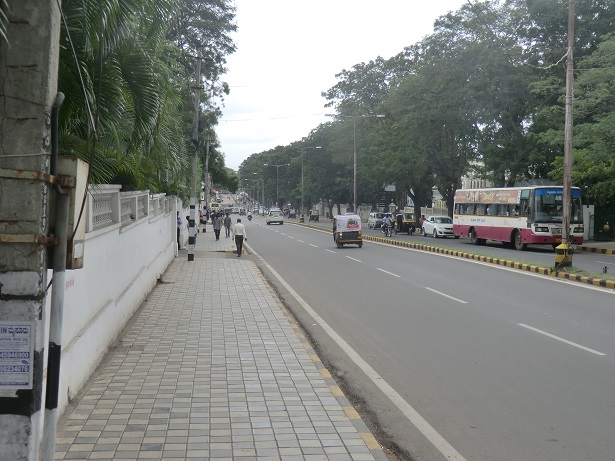 Mysore is an Indian city which is easy to walk around in.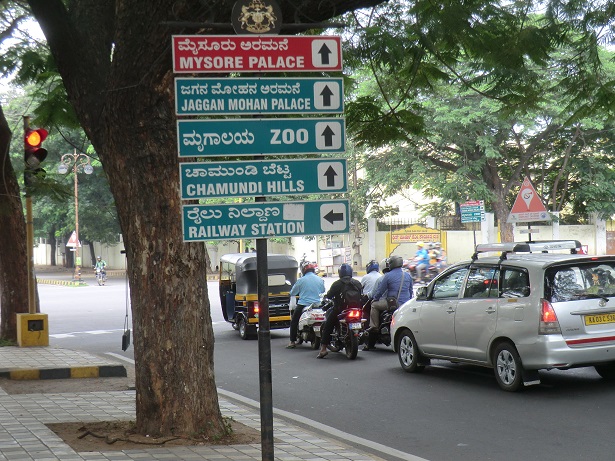 We continue straight ahead.
A cow is resting.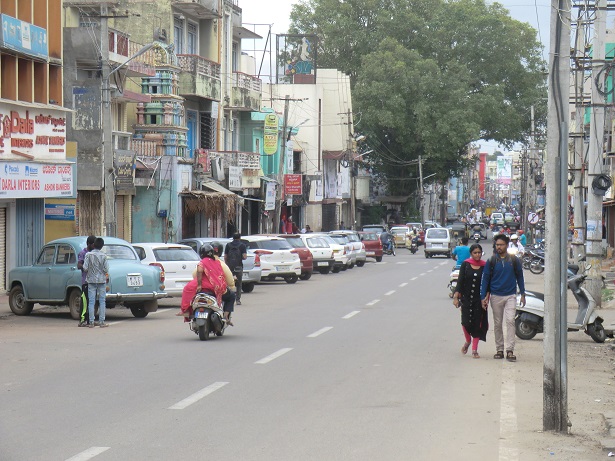 Vinoba Road, Mysore.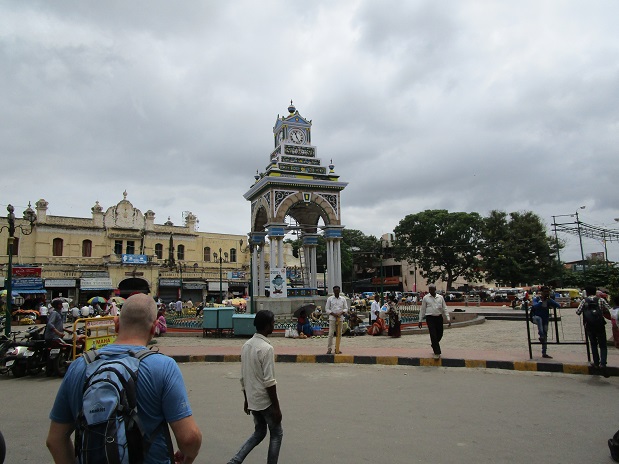 Christer has reached the end of the street.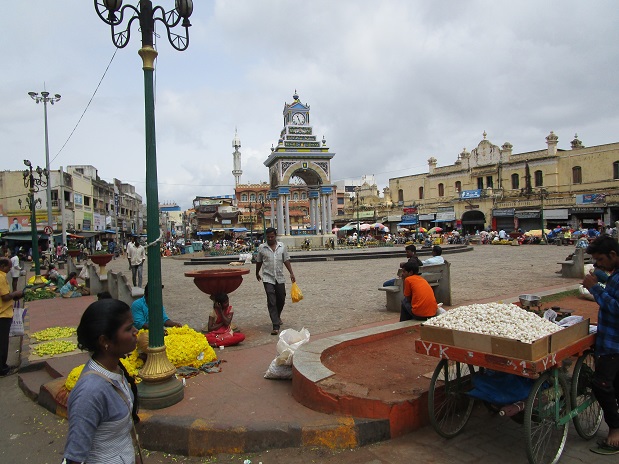 Chikka Ghadiyara, Mysore.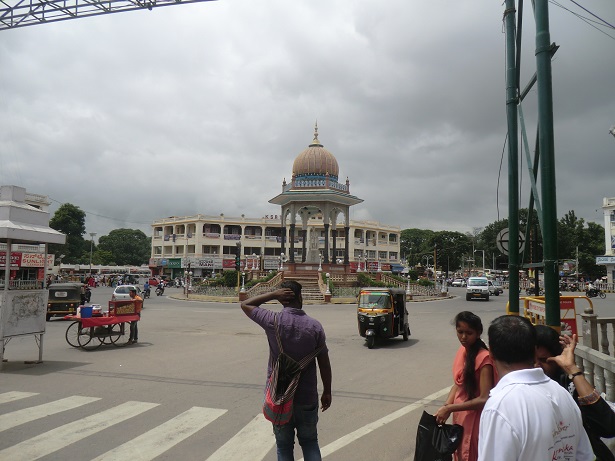 KR (Krishna Raja) Circle with the statue of Nalwadi Krishna Raja Wodeyar.
11.35 Garuda Mall, which was our first stop, is not very interesting. However, they have a man employed to manage the elevator and also a fast food restaurant, KFC. We've been in the elevator and are now on the top floor at KFC. Today's lunch will be chicken burgers. Otherwise, there is a lot that is closed here in the mall. However, it is not temporarily closed, it is mostly shops and eateries that have closed down or not opened yet.

12.31 After walking further and looking towards the city's Palace area, we now stroll along a fence towards a park. Oh, my god, there's a swastika in the fence. However, it has nothing to do with Nazism. The symbol has been used here for at least a millennia, long before Adolf was born. There is also an old clock tower next door. 12.55 Life is good! Now we've been to Mysuru Central Bus Station and have bought tickets for the bus to Ooty tomorrow. 13.05 Beverages were purchased before we were ready to leave the bus station. Who knows when we will be given the chance will be given next time? On the way out of bus station, a guy came and stopped us. He had been sent out on behalf of the old lady that sold us the tickets who accidentally gave us too much change back. Now everything is cleared and it's time to continue towards today's main attraction, the animals at the zoo. 13.16 We're not really going that far. The heat is also not so oppressive today. However, what causes problems is to pass the large crossings/roundabouts that are here in the city with vehicles coming from different directions in multiple files. We are now ready to force the last major crossing before we reach the zoo. 13.23 Some free-range cows along Lokaranjan Mahal Road are in the way of us. I think we should just keep going across the street.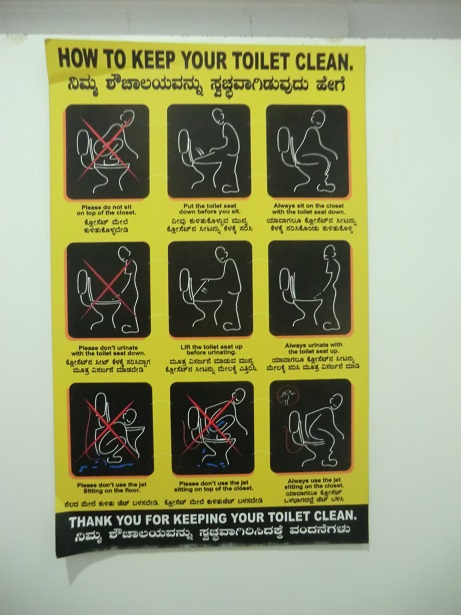 Toilet advice at Garuda Mall.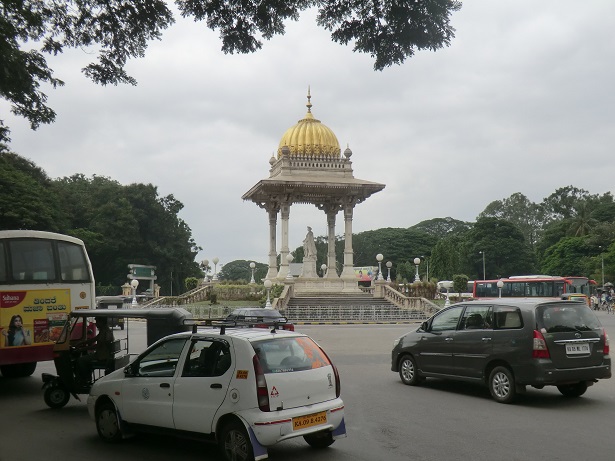 Chamaraja Circle, Mysore.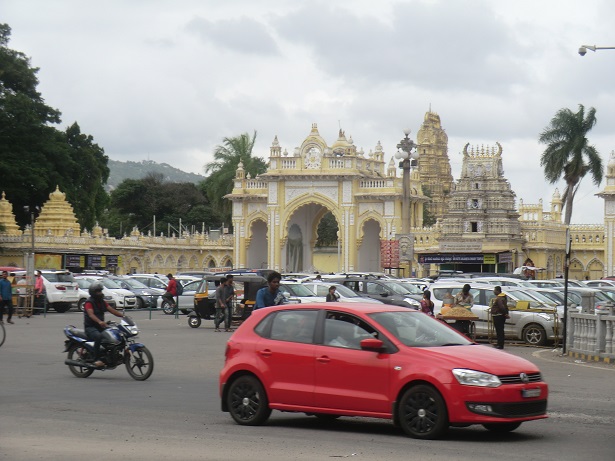 We could see parts of Mysore Palace here.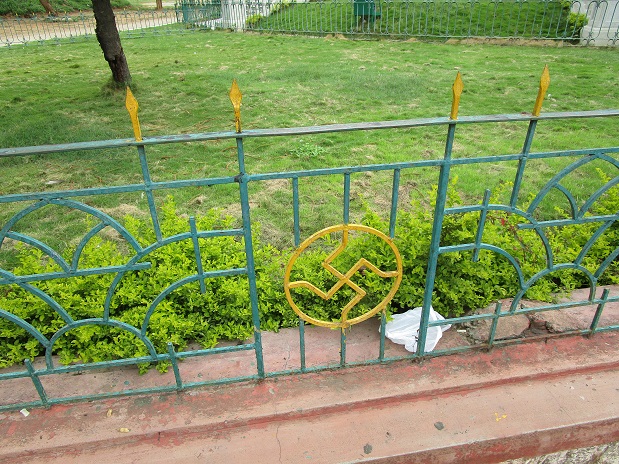 A symbol can have different meanings in different countries.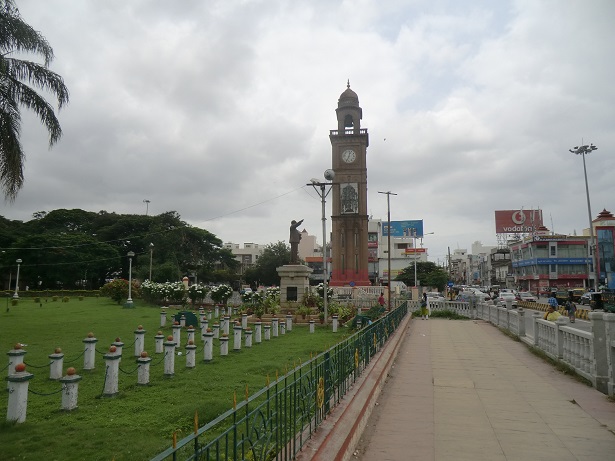 Historical clock tower at Ashoka Road.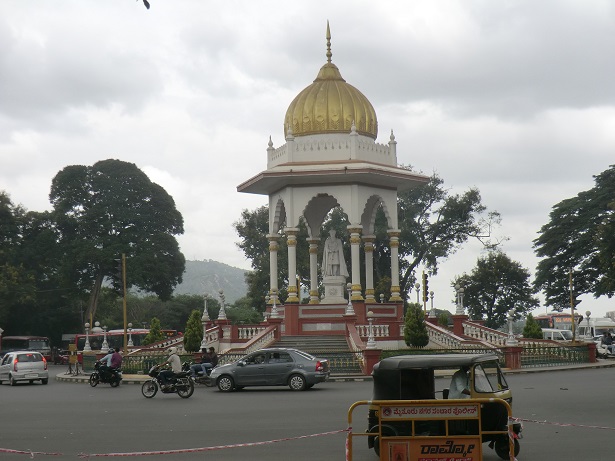 Jayachamarajendra Circle, Mysore.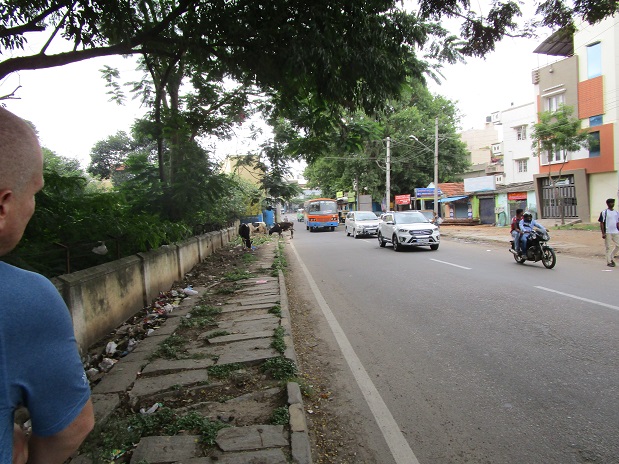 Christer is planning how to walk past these cows.
13.44 There are plenty of people at Sri Chamarajendra Zoological Gardens also called Mysore Zoo (https://mysorezoo.info). There are hopefully also animals waiting here for us.

14.12 As we visited zoos in Russia on several occasions last year, there were various warning signs on various cages. Here pictures show what can happen if you climb into the animals. These aren't kid-friendly pictures. They include injured bodies and running blood. Pedagogically, in any case, it is. The favorite picture is the one that shows a man who, after getting his arm bitten off, is taken away by a guard. 15.03 There are many species of animals here. Some that I know the names of in Swedish such as giraffe, zebra, lion and lemur. Then there are also gaur and naigir. I don't know their Swedish names. We and others take pictures of the animals. In addition, various people want to take pictures of the two of us. It seems as exotic to photograph two Swedes as to photograph exotic animals. 15.43 Satisfied at seeing all the animals and also weary tired after all the wandering today we went by tuktuk home. We were, before we stepped into our vehicle, chased by a man who wanted to sell us flutes. There was no deal. There was an extra turn with our tuk-tuk because the driver took the wrong way, went too far. we are about to, happy with the day, relax. Upon arrival at the hotel we saw a great poster of a child and the text that it was the child's birthday today. We've seen kids and a bunch of balloons. I think you have to have plenty of money to book a hotel for your birthday party.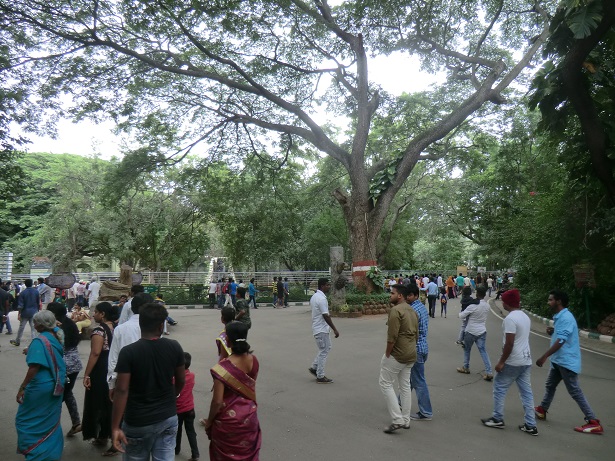 We have reached Sri Chamarajendra Zoological Gardens (Mysore Zoo).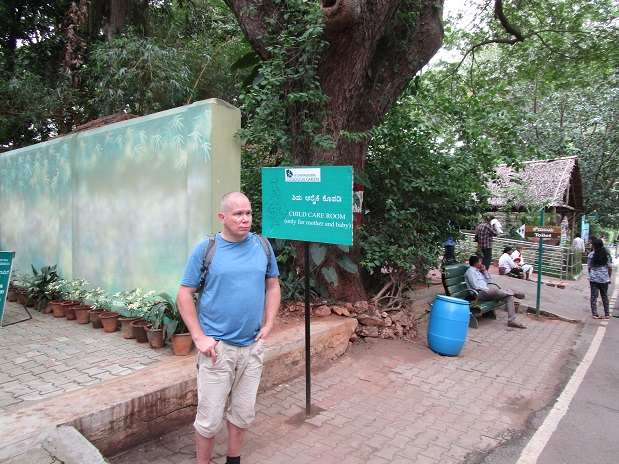 Christer is taking a break during the animal experiences.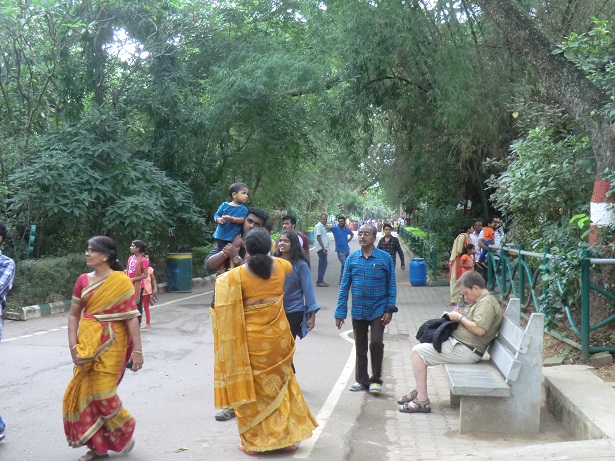 Peter is writing in his journal among the zoo visitors.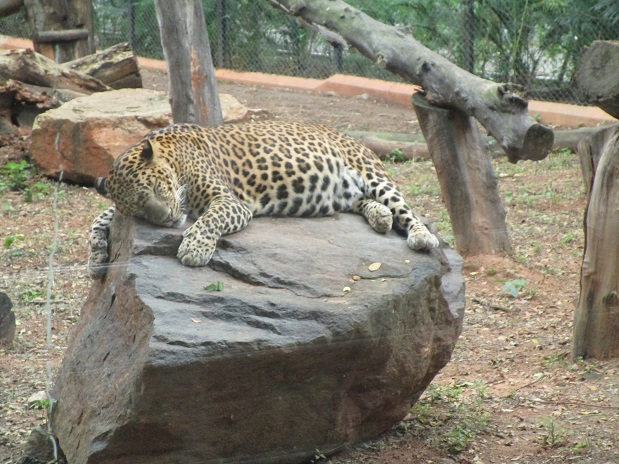 A sleeping jaguar.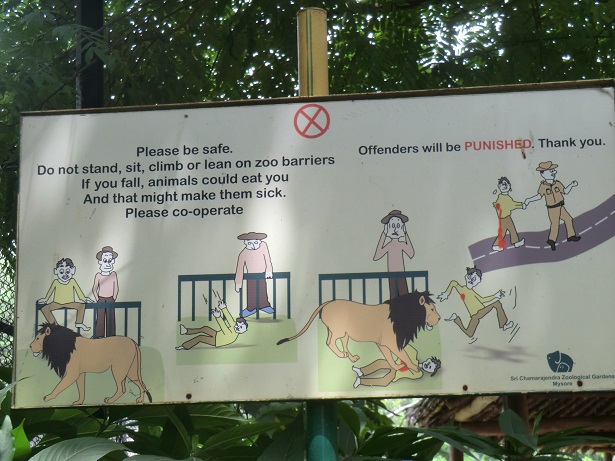 These signs at Mysore Zoo can´t be misunderstood.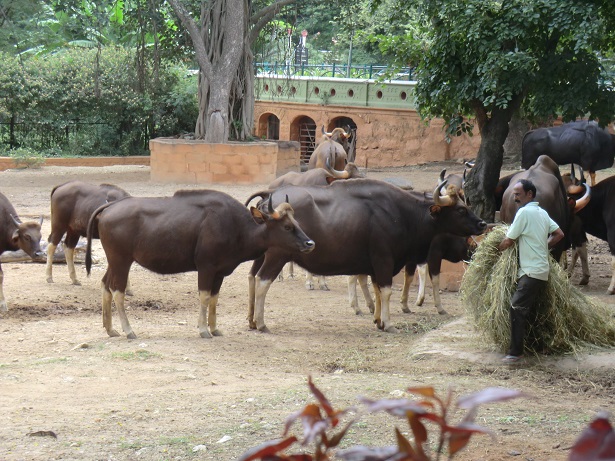 It´s time for a meal.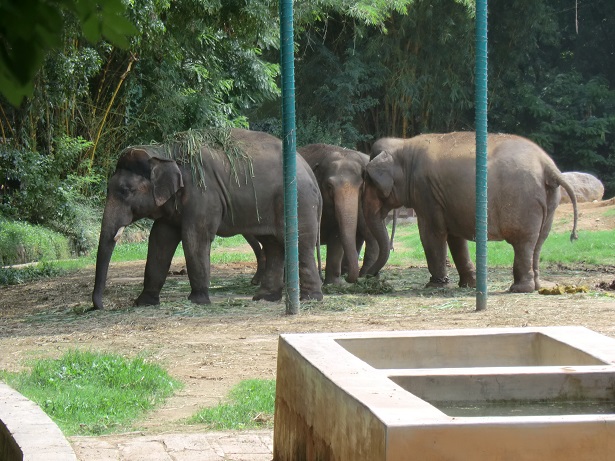 Elephants are always nice to see.
16.09 We have been up on the roof terrace, where there is a swimming pool and a beautiful view. By the pool there were plenty of children from the on-going party at the hotel. We photographed and made a movie before returning to our cleaned room.

18.03 Darkness fall outside the hotel and we mostly do nothing. This is nothing that bothers us. 19.54 The chicken burgers from the lunch KFC lunch have left the nests in our bellies. We're hungry again and it's time to stock up on more nutrition. Perhaps the chickens will be replaced with kingfishers. 20.59 There are advantages of buffet dinner. We decide for ourselves what, how much and when to put it on the plates. It became a kingfisher who got to nest in my belly, that is, Indian Kingfisher beer. 21.19 It has been a nice day here in Mysore but just like in previous cities it feels like we just had a taste. We didn't have time at all for the city's great attraction, Mysore Palace, but we focus on what we've seen, not what we've missed. It feels better that way. 22.35 Reading books is good way to relax. Now I will read until the eyelids become heavy.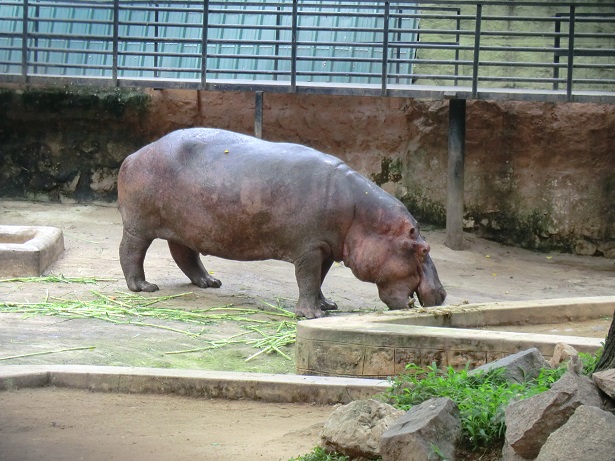 Our friends from Africa were here.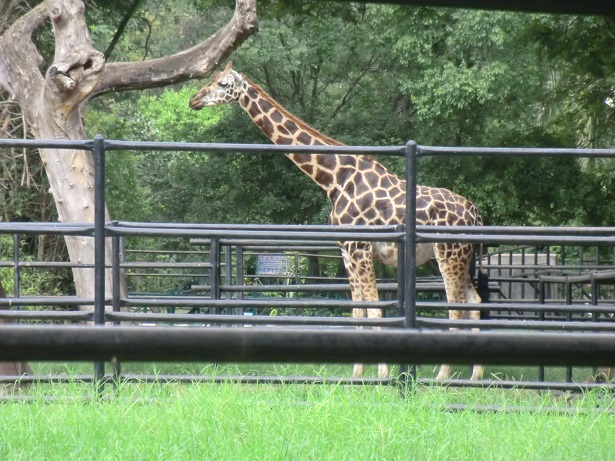 This day´s last zoo animals were the giraffes near the exit.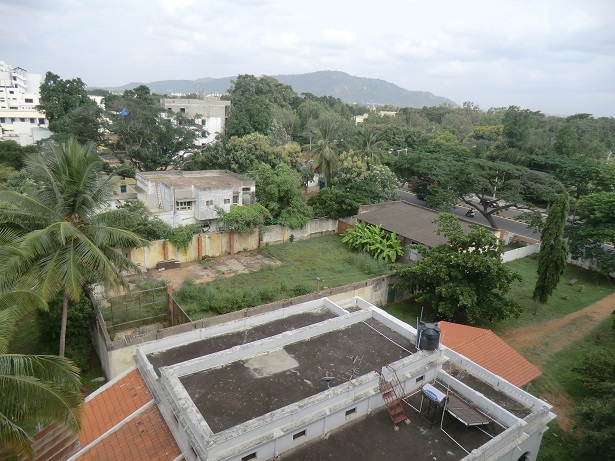 Views from the top of the hotel.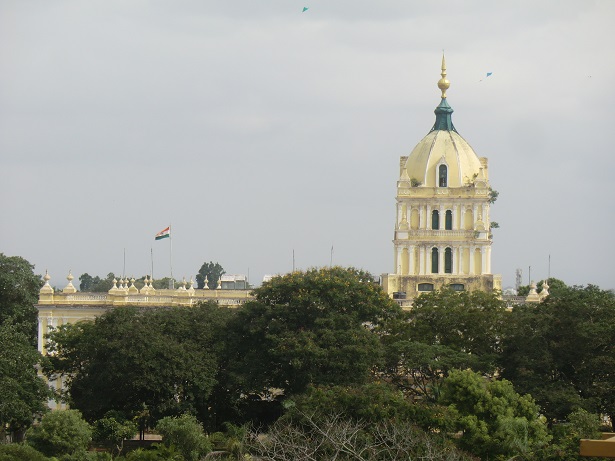 From the roof terrace we can see the DC Office (Deputy Commissioner's Office).
---
Monday 30th of July

07.17 A long journey awaits today, a fairly early journey is underway. That's why we're up earlier than usual.

08.30 Disappointment, discontent and frustration are some of the feelings that rolled over us this morning. Most of the good and satisfying from yesterday's excellent breakfast did not materialize today. This was not the start we had in mind. Do we sound spoiled? Perhaps. 09.17 We paid for the food and beverages here at The Quorum Hotel before we caught a tuk-tuk to bus station. The trip went well and the driver took a new route so we got to see some new parts of Mysore. Next awaits some waiting here at the bus station. Good thing there's seats. 09.55 It is the right platform that we are at, but where at the platform does our bus stop? There are several options. 10.17 To ask a man with lists at a table gave us the knowledge that we are at the right platform. But we already knew that. A couple that are standing not far from us are also going to Ooty today. The buses come and the buses go but no bus is ours. At least not this far. 10.31 A Volvo bus from KSRTC, Karnataka State Road Transport Corporation, rolled in and we who were waiting boarded the board. We have seats 3 and 4, at the front of the left side of the bus. From here we have a perfect view of the bus driver and the road ahead of us.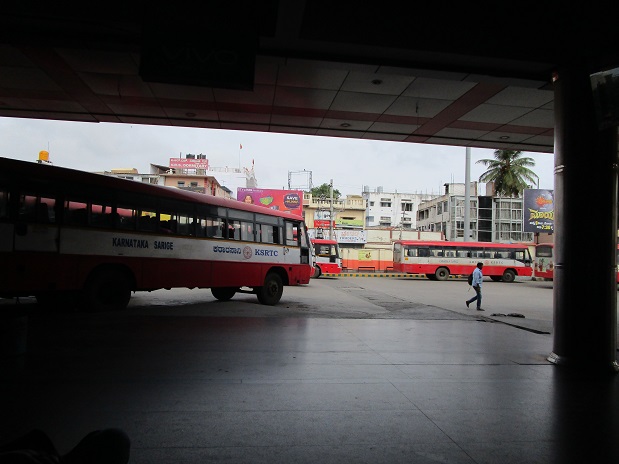 We are waiting at Mysuru Central Bus Station.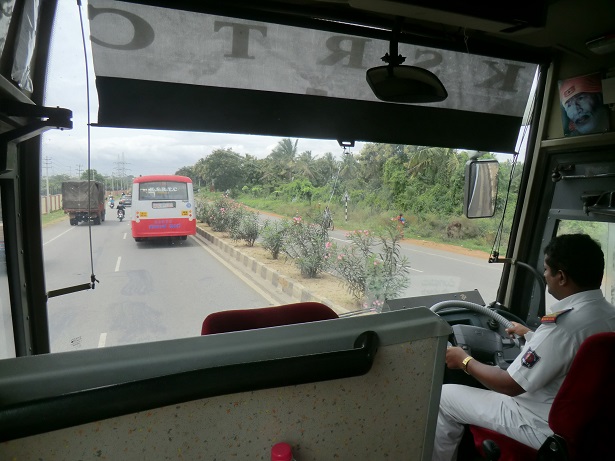 Our driver takes us out of Mysore.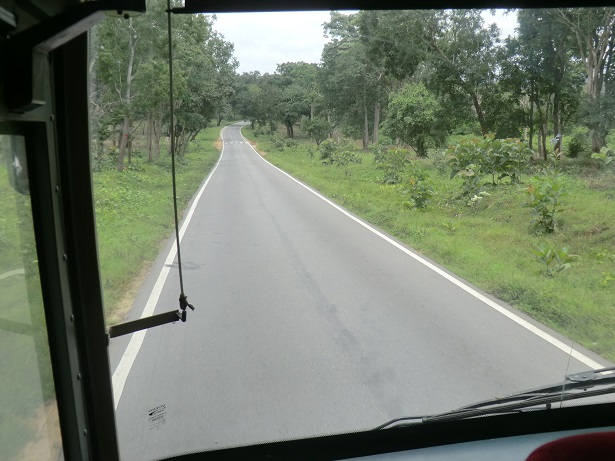 The road is getting more narrow in Bandipur Tiger Reserve & National Park.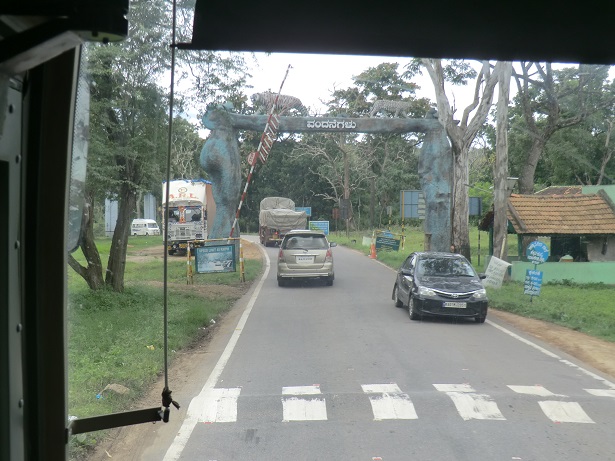 We are leaving the state of Karnataka and have reached Mudumulai National Park in Tamil Nadu state.
12.06 The road has become much narrower, crooked and steeper. We're heading up the mountains. Right now we were driving past a gray truck. A sign along the road indicates that it is the drivers who are responsible for damage to the vehicles made by elephants. Now a man just got off. In the past, this was the Wild Park of the local Maharajah. Now it is a national park, a tiger reserve called Bandipur Tiger Reserve & National Park here in the state of Karnataka. On the other side of the state border, in Tamil Nadu is Mudumalai National Park.

12.49 We have left the park after only seeing some wild animals, an elephant and monkeys from at least two species. We are now going through a village near the town of Gudalur. 13.06 The bus have stopped for a red light in Gudalur. The road remains narrow and it is getting crowded for our bus. We are heading up the Nilgiris mountains, a mountain range that has peaks of over 2000 meters above sea level. Here a lot of tea is grown and there are several resorts here that are popular because of its cool mountain air. One of these is Udhagamandalam with the nickname Ooty. That's where our bus is going. The resort was popular already in British colonial times. 14.01 We have passed more tea plantations and met small monkeys at the edge of the road. Now we have stopped for the time being. Is it a break? I want to move on, come out. We've actually been on this bus for a while now. 14.18 There will be a shorter stop at Foodies hotel and restaurant in the village of Hanumapuram. We begin to reach higher heights. It blows cool winds. Might as well take the opportunity to empty the bladder. 14.28 The driver honks and has started the bus. It's time to continue towards today's final destination.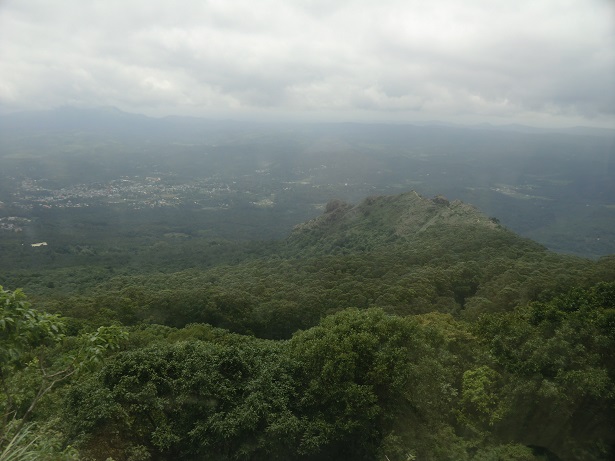 Beautiful views in the Nilgiris mountains.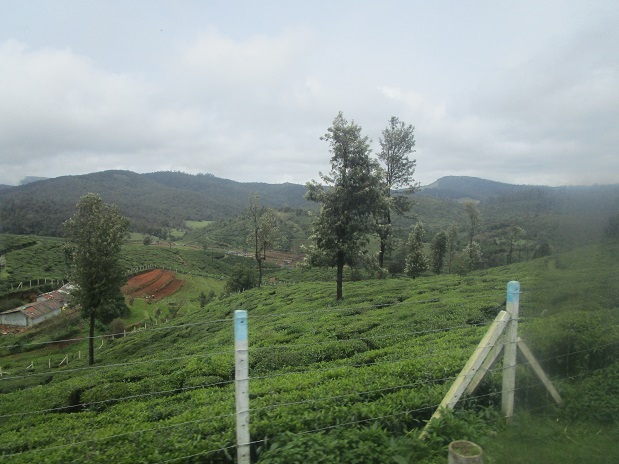 These hills are perfect for tea plantations.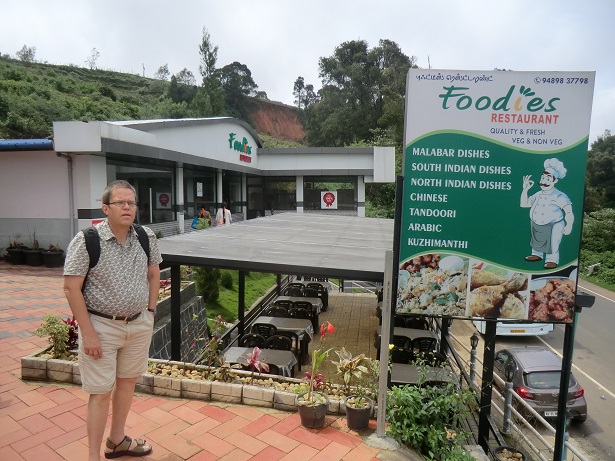 We have made a food stop at Foodies.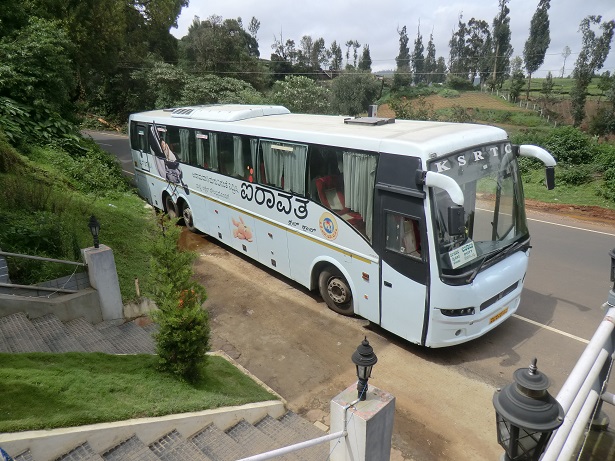 Our bus from KSRTC.
15.58 The bus drove back and forth again and again before it came to a stop at Ooty's small bus station. We were surprised that no one came and offered us transportation. It usually is so. We had to find ourselves a suitable vehicle. A young woman drove us in her auto rickshaw/tuk-tuk to the beautiful hotel Sullivan Court at a height south of the city centre. In anticipation of check-in and room we got welcome tea with the taste of ginger. We live in room 102 and have no AC but a heater. We are now 2240 meters above sea level. It is among the highest we have been in Asia and the highest we have so far slept in this continent. But I am not truly sure on this.

16.15 We are to say the least satisfied that we switched to this hotel. At home in Sweden we had booked a small hotel downtown because it was cheap. Sullivan Court is much more expensive but incredibly affordable based on what we get for the money. Here we will now enjoy for two full days. 16.35 It just rang the room door. Outside was a man who wondered if we had any laundry. Maybe we should have left him some? 17.48 There have just been some ringing in our room. It was our room phones, I think they're at least three of them. It was housekeeping wondering if everything was all right? It was confirmed by Christer. Are they out of work or is it normal with this commitment at finer hotels? 19.49 Christer has brought the TV to life. We have seen, among other things, pale skin news. We are, to keep us alive, about to dine here at the hotel.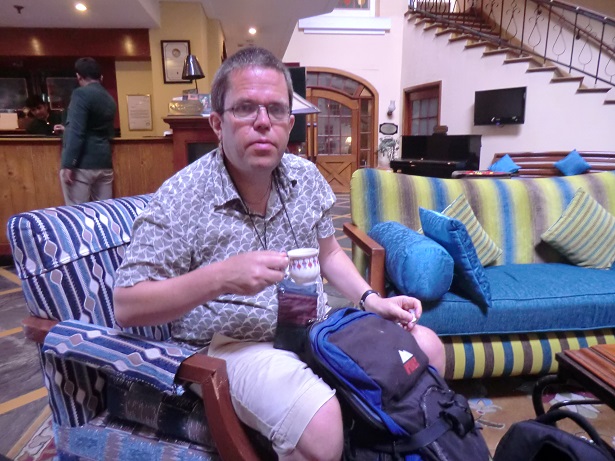 We were welcomed with tea.
The beautiful hotel Sullivan Court in Ooty.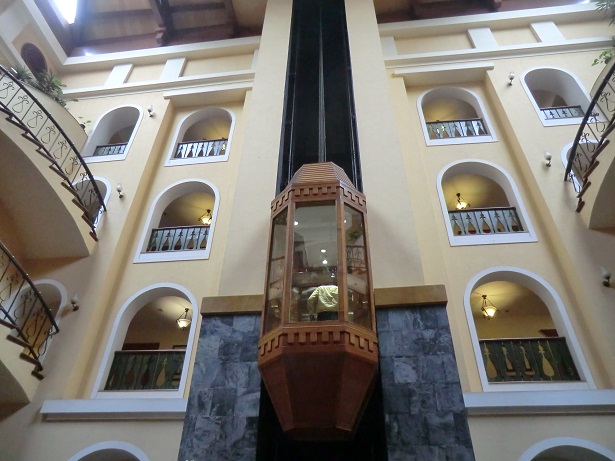 The hotel lift at Sullivan Court.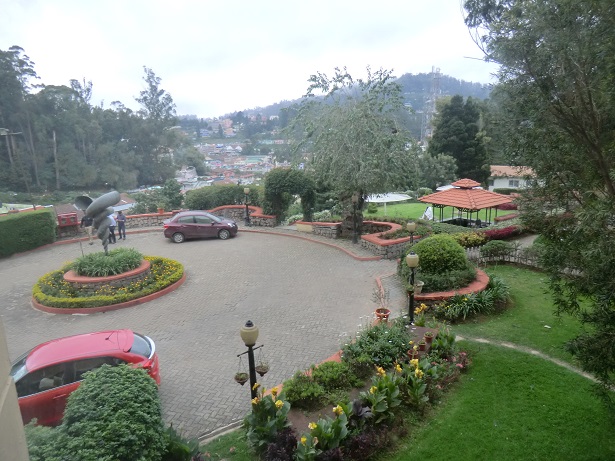 We´re looking out through our window.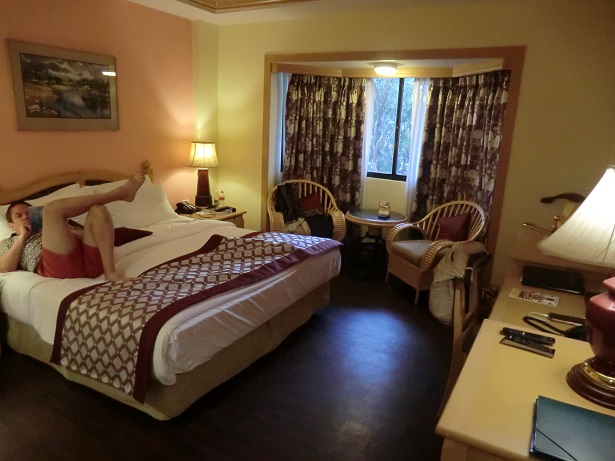 Room 102. We´ll stay three nights in this room.
20.53 We went down to the restaurant for dinner. It turned out to be a buffet this evening. It was delicious but as so often in India, a lack of meat options. On the vegetarian side, there was a wider range. The naan bread we ordered was heavenly.

21.41 We are back in the room and our "heater" does its best to bring us a decent temperature. This reminds us of the trip in Peru where we stayed in good hotels but often had ice cold rooms. That's what happens when you live at high altitude. The nights are getting really cold. 22.47 To travel is to experience. We experience a lot in our world and also in the literary one. A book is rarely a bad company. The rest of the day should be spent with a literary friend. We're going to explore Ooty tomorrow.
---
VIDEOS
---
You can see 17 photos from July 28 in this photoalbum.
You can see 72 photos from July 29 in this photoalbum.
You can see 27 photos from July 30 in this photoalbum.

---
---