---
Text: Peter Johansson
Editing: Christer Lundstedt
Photos: Christer Lundstedt, Peter Johansson
Videos: Christer Lundstedt
---
---
Sunday 1st of July
08.25 A good night's sleep here in Christer's apartment in Sundsvall will soon be followed by a long trip. I got here yesterday afternoon and we spent yesterday evening watching two really good games from the World Cup in football. France defeated Argentina 4-3 and Uruguay knocked out Portugal 2-1. All we're going to have with us is packed and Christer and I are probably ready to travel. 09.06 Are we really ready to leave? No, I don't think so. Do we have a choice? No, I don't think so. We must place our possessions on our backs and get out of here. It does not matter how many trips we have made before. We always start as a rusty beginner, before we get up to speed and get going with the routines. 10.01 We arrived, with a few minutes margin, at Sundsvall Railway station. Now it is 2 41 and 2 42 that is important the next hours. It's not high jump results, they are numbers for carriage and seats on the train south towards Stockholm. More numbers are waiting for us. 11.29 We cannot leave Söderhamn because three people refuse to get off the train. Have they been asked to step off or did they come to realise how boring it is in Söderhamn? Who knows? Now they seem to have stepped off the train anyway because we're rolling again. None of the drama was visible from our window. We just saw an empty platform.
Peter is walking through Sundsvall. This journey has started.
13.16 The train we're travelling with has stopped at Arlanda airport. For the second year in a row, we remain onboard and continue to Stockholm instead.

14.09 We are in the capital. Instead of staying at some simple non affordable hostel, we have found a real hotel room at a reasonable price. First Hotel Kungsbron (https://firsthotelkungsbron.se), opposite the City Terminal, will be our first home during this trip. Here we stay in the windowless room 214. An enthusiastic girl checked us in and informed us about a lot of things. 14.19 We want to go out and feel the big city pulse. There's more to see and do. Now we're going to have coffee and then buy some US dollars. Then there are two matches in the World Cup in the afternoon and evening. 14.40 We are thinking about our currency reserve during this summer's trip. We need to get dollars. Do we withdraw from the ATM at the City Terminal? Then what kind of denominations do we get and how much can we withdraw? In anticipation of the announcement and decision, we have a coffee and sandwich at Dagnys (https://www.dagnys.eu), a nice cafe inside the railway station. 15.06 Most for preventive purposes Christer is inside Dressmann clothes store and look for a pair of shorts. The newly bought ones he put on this morning are not quite comfortable. 15.39 There was a purchase of shorts. We also managed to buy US dollars at Forex and some snacks to enjoy during the upcoming football match between Spain and Russia.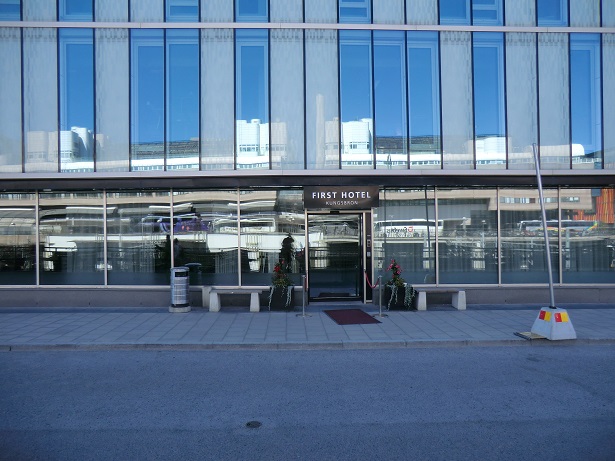 The first night will be spent at First Hotel Kungsbron.
This is what room 214 looks like.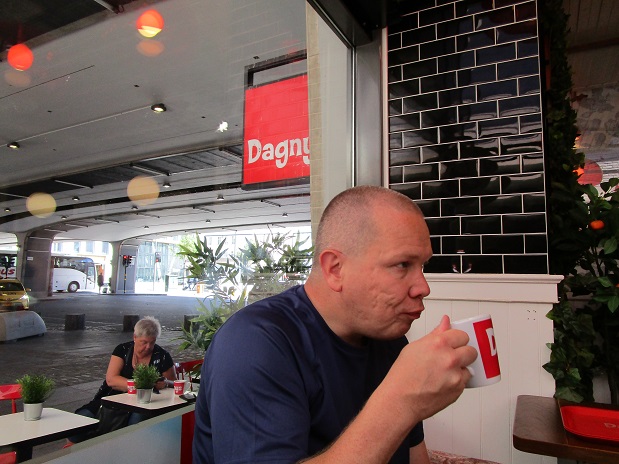 Christer is having coffee at Dagnys.
16.14 Today's first World Cup game is underway. A Russian own goal in the eleventh minute gives Spain the lead by 1-0.

16.41 Now the teams have one goal each. Russia got a penalty that was thundered into the net. The scorer is Artem Dzyuba. 18.00 This year's World Cup has received its first extra time. The game is boring. 18.14 Not a single goal during the extra time. We might be out of food if there's no goal soon. We want to have dinner before the next game begins. 18.32 Spain or Russia? That's the question. Everything is decided now on penalties. 18.42 Russia is through to the quarterfinals. Another of the favourites, Spain, is out of this year's tournament. The Russian goalkeeper Igor Akinfeyev saved two of the penalties. 19.09 120 minutes of football and nine penalties consumes some the energy even though we were not on the field and played. We will now have dinner at Stockholm Pizza (http://www.stockholmpizza.org) on Scheelegatan 15. We have walked to Kungsholmen for this meal. We have ordered Mezza Luna (crescent), an interesting shaped pizza. 19.57 Pleased, satisfied and back in the hotel room we listen to the Danish players sing their country's national anthem. As soon as they finish singing, they will take on Croatia this evening's second game.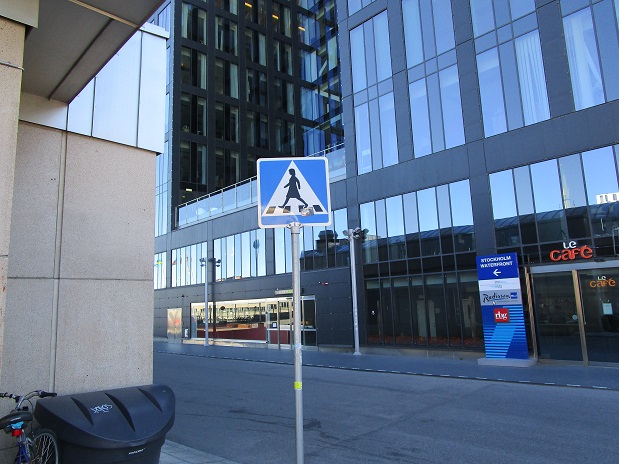 Can we cross here? We don´t wear a dress.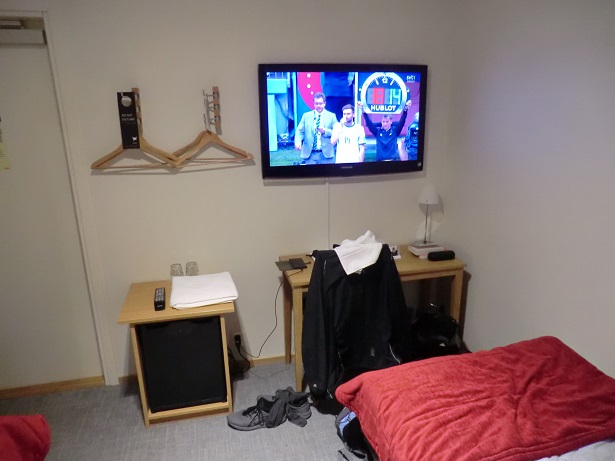 We are watching this evening´s first World Cup game.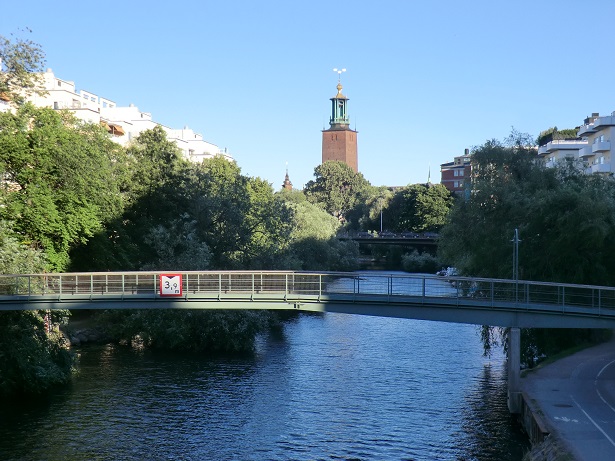 Stockholm City Hall on a summer evening.
20.02 The match has barely started when Denmark lead 1-0, Mathias Jørgensen, the Danish defender scores.

20.05 A quick reply from Croatia. Now it is 1-1 after a goal by Mario Mandžukić. Two goals after 3.37 is a new World Cup record. How many goals will there be in this game? 20.49 The scoring has been put on halt. Now it's half time and still 1-1. 21.54 No more goals have been scored during regular match time. It will be a new extra time. 22.27 Luka Modrić shot a poor penalty that Kasper Schmeichel pinched, saved. Croatia misses a great opportunity to decide. 22.34 How many more penalties will Schmeichel save? His father Peter Schmeichel is in the stands and is supporting the son. It is time for us to look at today's second penalty kick decider. 22.47 Two saved penalties were not enough. Kasper Schmeichel's Croatian colleague Danijel Subašić saved three. A total of five rescued penalties is a World Cup record as well! 23.09 Enough of football and TV watching. It is time to sleep.
---
Monday 2nd of July

07.00 A new day and a new week have begun. Holidays, travel and early mornings belong together. In two hours we will travel by bus towards Oslo.

07.48 Breakfast at a window table is a good start on a day when we will travel to the west. We sit in the restaurant First Taverna where the hotel breakfast is served. There are plenty of Finnish tourists here at the hotel. Lopez Obrador won the presidential election in Mexico. That's what I had time to pick up from the news this far today. 08.36 Journey snacks for the bus trip was purchased at 7 Eleven. We are once again waiting for a bus from Flixbus. It's the same German company that transported us in France around New Year. 09.04 There are more and more nationalities on the German-registered bus that will take us to Norway. One of the co-passengers, an Asian man, is bringing a bicycle with several bags. A larger group of Italian speaking Swiss are also on board. 10.30 A bus trip along E18 has taken us back to Västerås. Last time we were here in the city was in June 2009 and then I drove us here with my car. 11.49 The bus just passed the water tower "the mushroom" on its way into Örebro. Here, various passengers have been replaced. It was a lot of road works in central Örebro. Is the city being rebuilt?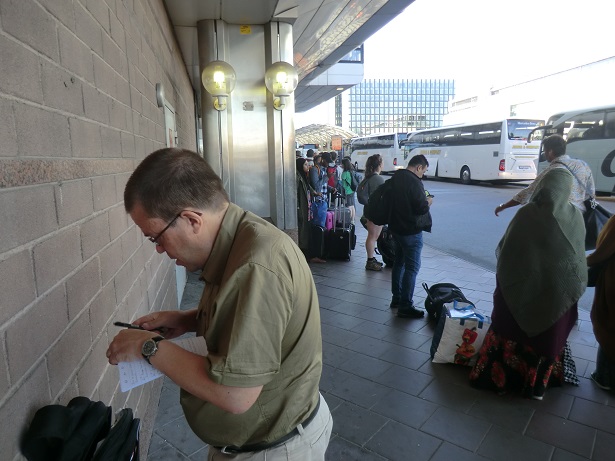 Waiting for the bus to arrive.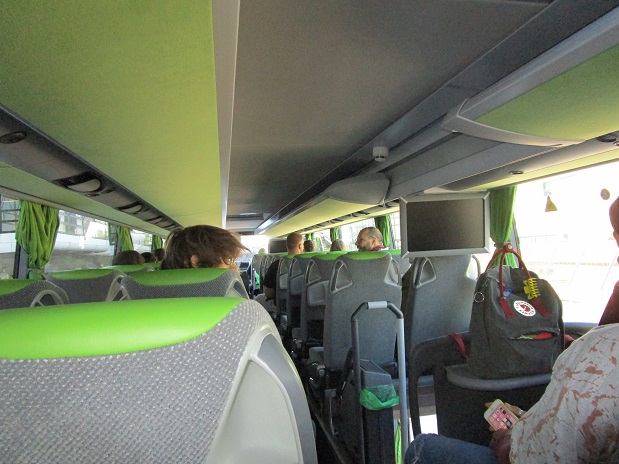 Inside the green Flixbus we are heading west.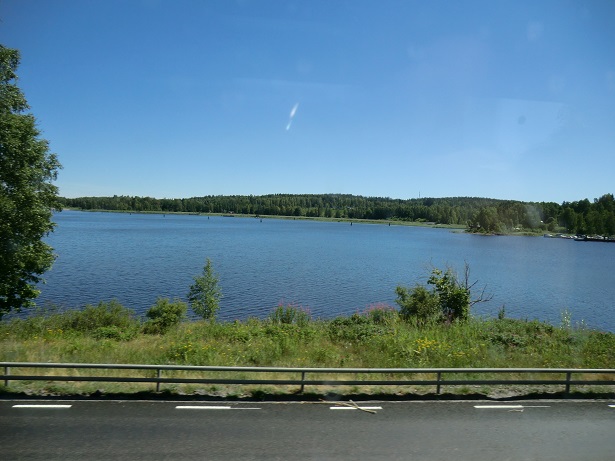 We are traveling through the beautiful Värmland.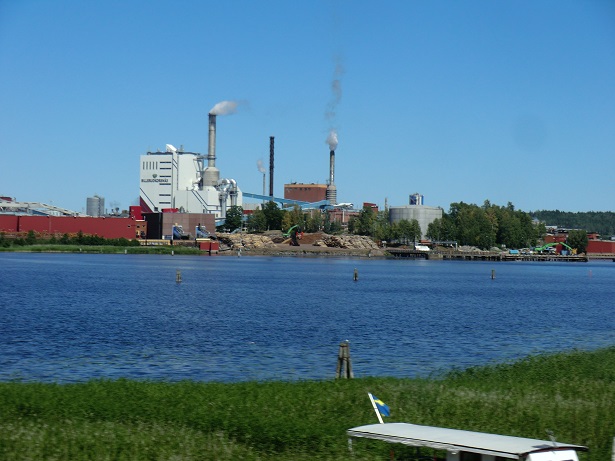 Gruvön paper industry in Grums.
12.32 The bus driver just said, "Ladies and Gentlemen, bus station Karlskoga!" Here at the bus station is bus 333. It goes to Nora, we're not going there.

12.43 The bus has made a short stop at bus stop R in Kristinehamn. It is not every day we visit small towns in the region Värmland. 13.23 It's time for a new stop in a new city in Värmland. We've arrived in Karlstad. We just saw Klarälven river. Karlstad is associated with sunshine and it really shines this hot summer day. 13.45 We just saw an industry hotel located by a large lake. What is an industry hotel? The lake is Sweden's largest lake, Vänern. The thing about big lakes continues to be a theme on our trips. In the past, we have seen the world's largest, South America's largest, Africa's largest and the world's deepest lake. 14.46 It has now become time to leave and Årjäng behind us. It is not often we are in a destination beginning with the Swedish letter Å on our trips. The biggest drama here was if the bus would leave before the Polish boy on the seat in front of us had finished peeing behind the bus station. 14.59 In the small community of Töcksfors, they seem to live from cross-border trade. There are not much people here but there are McDonalds, Burger King and a shopping centre. It's not bad for a community of 1210 people.

NORWAY
15.10 We passed the border after a short stop. 91 kilometres of Norwegian road until we reach Oslo. The nature remains beautiful.

15.45 Forestry and agriculture still dominate the landscape we travel through. We travel through Østfold county. The road is still E18 and it is 37 kilometres before we reach Oslo. 16.15 We have travelled along the fjord of Oslo and seen all the amazing places where those who live in Oslo can go on an excursion or pass their free time. There are lovely islands, bays and places for boats everywhere. 16.37 We left the bus at the Bus Terminal Grønland. Now we will find the direction towards our home here in Oslo. This is the 46th capital of Europe in which I write a travel journal. 17.04 We stay in room 422 at Anker Hostel (https://ankerhostel.no), a hostel part of Anker Hotel. The woman who checked us in was from Sweden. We've apparently missed booking a room that has a TV but such things happen. We probably were so obsessed with finding a place here in the city that we could afford so that we forgot about such details. Our room has four beds and a kitchenette. We'll try to follow the World Cup in another way. Today's first game is already underway, Brazil is playing against Mexico.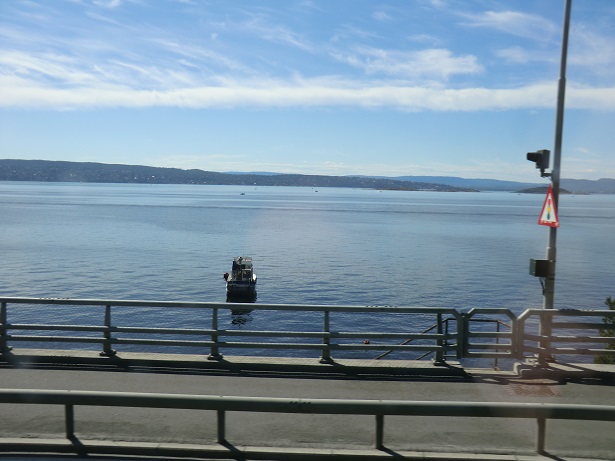 We are slowly approaching Oslo from the south.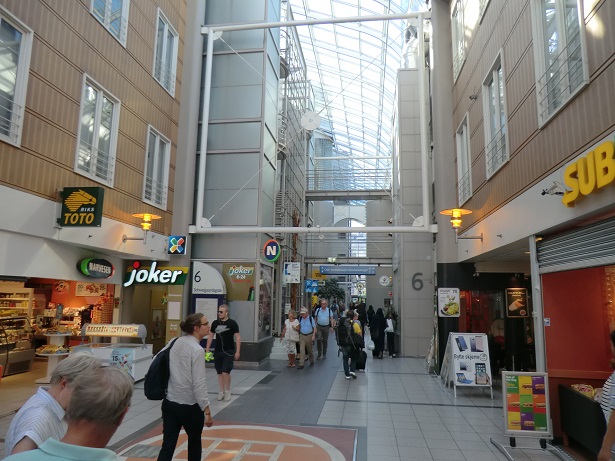 We have arrived to Norway´s capital and its bus terminal.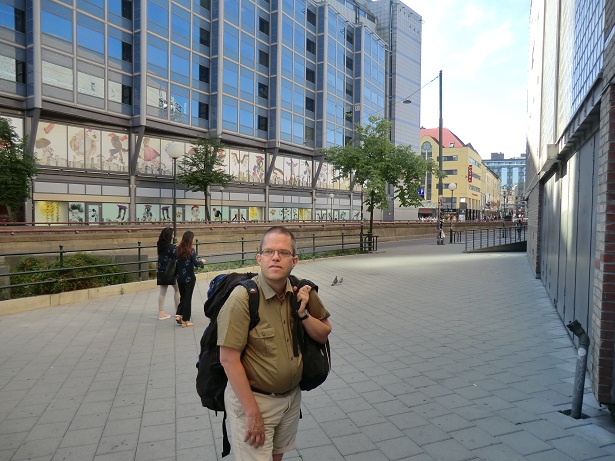 Peter has just arrived to Oslo.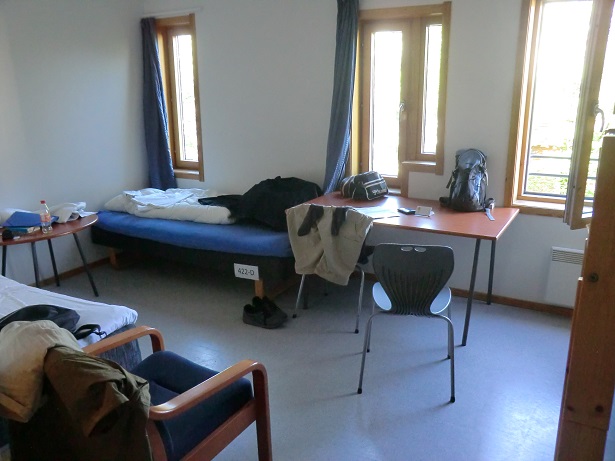 Our private hostel room.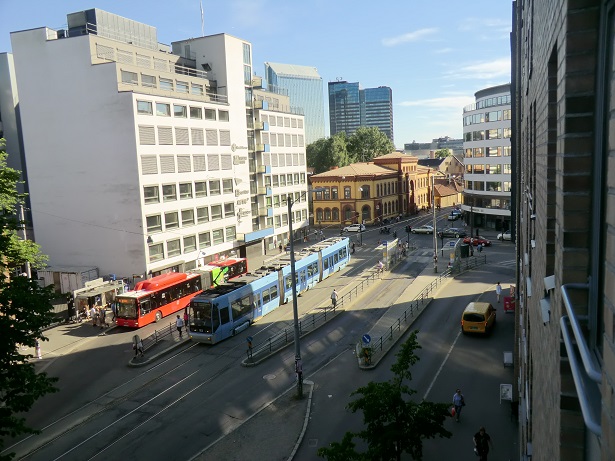 Looking down on the trams on Storgata.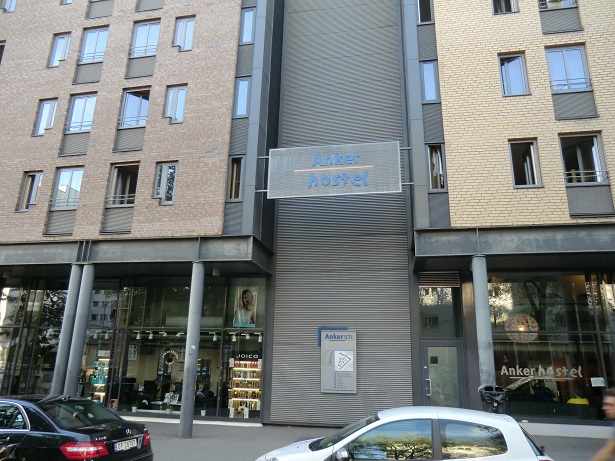 Anker Hostel, Oslo.
18.42 Brazil remains in the World Cup. In the game we could not see, Mexico was defeated by 2-0. Soon we will pass some time before the next game. It remains to be seen if we can watch it.

19.20 It is warm and sunny in Oslo, a nice evening. It has previously been +29°C today. We are having a bench break by the nearby river Akerselva. Oslo is the first capital city on O that we visited. We will probably visit the others that exist, Ottawa in Canada and Ouagadougou in Burkina Faso on other occasions. When we temporarily stopped to discuss where to go next, a smoking Swedish woman appeared and wondered if we were lost and needed help. Here you have to walk with distinctive steps and firm gaze. 19.50 Monday's dinner will be at the Kurdish Arbil Restaurant located in the same building as Anker Hostel. 20.58 It was tasty and welcome. Coal grilled food with good seasoning is never wrong. After dinner, we went to COOP and purchased some simple breakfasts for our two mornings here in Oslo. The prices at the restaurant were high yet acceptable. The price of the goods inside the COOP was almost ridiculously high. Not much could be bought. 21.13 World Cup is being followed over the internet this evening. Japan sensationally leads 2-0 against Belgium in yet another World Cup knockout game. 21.33 The match goes against a turnaround. It is now 2-2.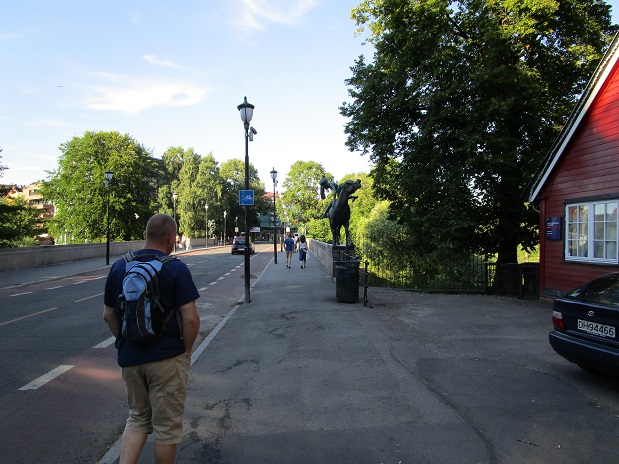 Christer is walking towards Ankerbrua bridge.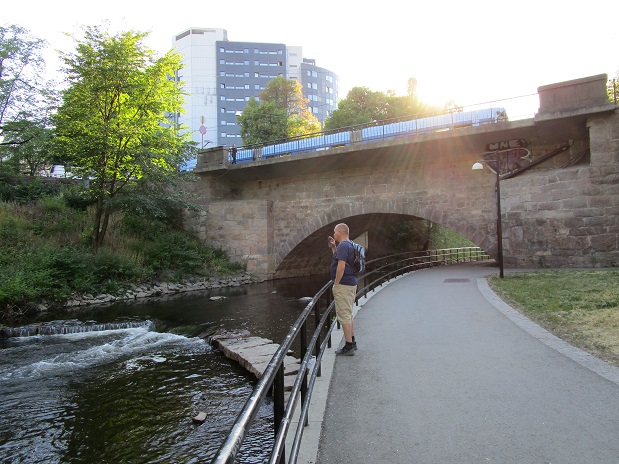 Creating a video clip by Akerselva.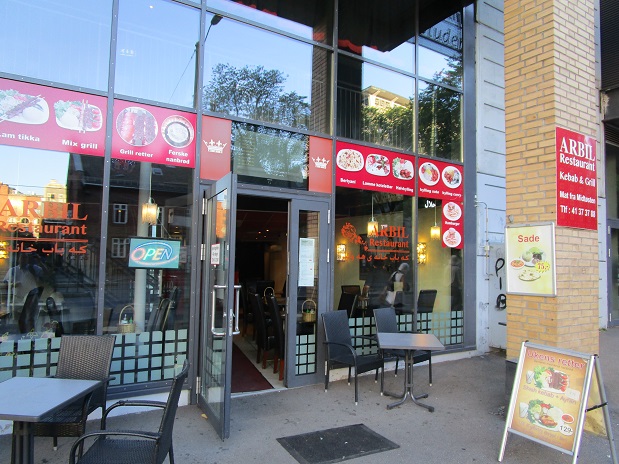 This evening´s dinner restaurant, Arbil Restaurant.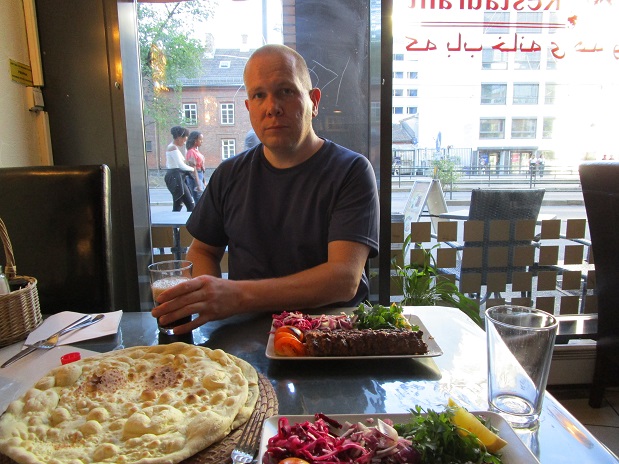 Christer is enjoying delicious food.
21.54 Tactical changes from Belgium's at the end of the game brought them victory before full time. It is the first 0-2 comeback in a World Cup since 1970. Belgian heroes are Jan Vertonghen, Marouane Fellaini and Nacer Chadli. Sorry for Japan but at the same time fun that Belgium remains because they can perform so much better than this.

23.14 We are setting up the plans for the coming days. It is far from cool in Oslo this evening. Add to that that the WiFi connection is weak, poor. Tomorrow we will try to see as much of Oslo as possible and at the same time find some way to see the matches Sweden vs Switzerland and England vs Colombia from the World Cup. We'll see how it goes.
---
Tuesday 3rd of July

08.09 The traffic in Oslo was already awake when we woke up this Tuesday. This day will be spent in Oslo. It is, incidentally, the 40th in Europe and a total of the 87th capital of the world which we have been sleeping in during the trips we have made over the years.

09.15 As breakfast is not included here at Anker Hostel, we have here in the room consumed some of what we bought at COOP yesterday. 09.59 It's tough today. We're unable to get things going. Are we unfamiliar with how to act? 10.18 Now we are finally on the move. We have passed the weird area between our accommodation and the railway station. Here along the Storgata, it is many drug addicts and other odd people. We are on our way to Oslo Sentralstasjon for today's first errands. 10.37 Now we have obtained information about where and how to buy the ticket to Flytoget (airport train) that we are going with tomorrow. In addition, a Kånken backpack has been seen. It is a tradition to spot this backpack which originates from my home area. Here at Oslo S there are besides trains a lot of shops, cafes and restaurants. 10.52 It is not much stamina in our steps. This is often common in the beginning of our long trips. We have right now searched shadow next to Oslo Domkirke (Cathedral). Next to the church is Oslo's historic centre, Stortorvet. In modern Oslo, however, it is a rather insignificant small square with a statue of the Danish-Norwegian King Christian IV. 11.35 It is an important tradition to visit a Starbucks Coffee. Now we're at another one. We found one inside Oslo Sentralstasjon after being inside the wrong mall and looking for another one a while ago.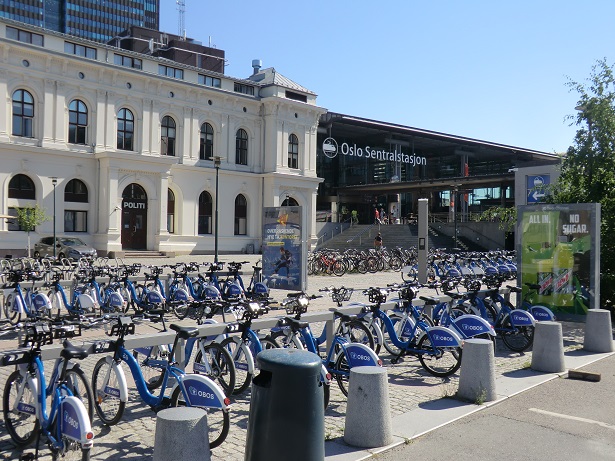 Oslo Sentralstasjon.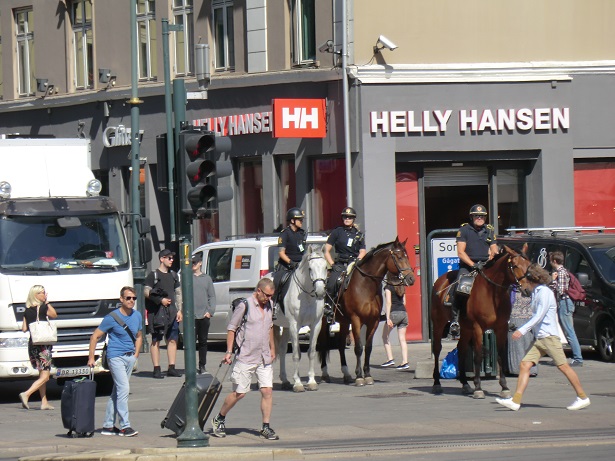 Police horses in Oslo.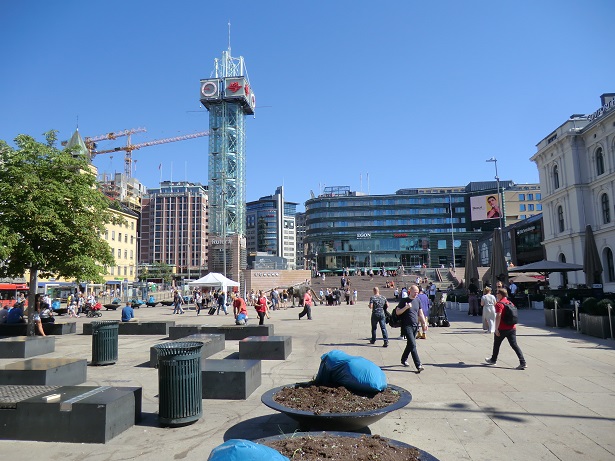 Jernbanetorget, Oslo.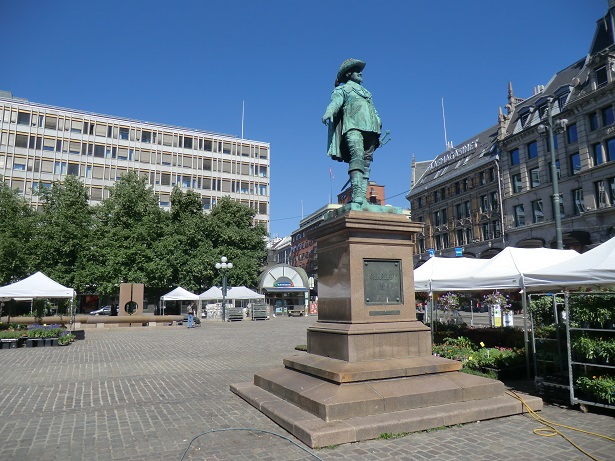 King Christian IV is looking at Stortorvet.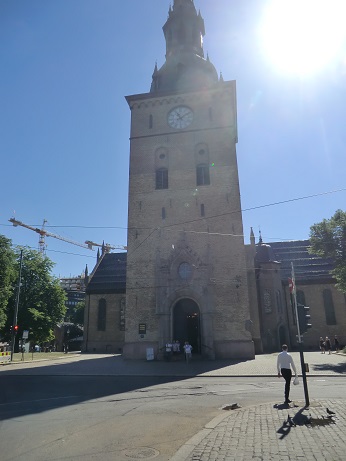 Oslo Domkirke.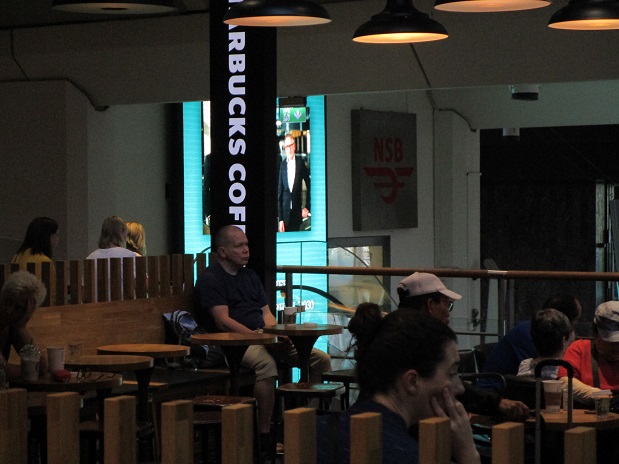 A man and his coffee.
12.20 Coffee strengthens both body and soul. The coffee here at Starbucks was also one of few things so far with similar price as in Sweden. Now we will wander along the street Karl Johan to see more of the Norwegian capital.

12.31 We are far from alone walking along Karl Johans Gate, the main street of Oslo, and are now in the square/park, Eidsvolls plass. In front of us is a small tent, it call on to support the rights of the Uighur people in China. To the right of us is the Parliament of Norway. On our left side we see a bus from City Sightseeing and further afield the Royal Palace is visible. It's warm and plenty of people. We get no Oslo feeling or Norway feeling, this feels more like Southern Europe. The warm weather is probably a contributing cause for it. It is +31°C here today. 12.54 We have made a detour from Karl Johans Gate and now sit in front of the City Hall. We have also enjoyed sodas and ice cream in the heat. It is in the banquet hall of the City Hall that the Nobel Peace Prize is awarded. Alfred Nobel might have been a Swede but stated in his will that the Peace Price should be awarded in Norway, who were in a union with Sweden at that time. We are at Rådhusplassen and now look out over Oslo Fjord. Miscellaneous boats slide around in the water. It is both tourist boats and regular ferry traffic. To the right of us is the Nobel Peace Centre. 13.20 We have reached the cozy park Studenterlunden. On one side of it there is the university, and on the other there is the National Theater. Here there are plenty of people and beautiful flowers. 13.34 Now we are next to the Royal Castle. There are a lot of people moving here. We might just as well get used to crowds. It's not going to be any less of it in Asia. 13.41 We sit below Karl Johan and look out at Karl Johan. The first is the union king Karl XIV Johan on horseback. The other one's the street we walked along on the way here. 13.47 It is hot in the area where the back changes its name. The stone surfaces are warm today. We can't sit here. Now let's find a suitable way back home.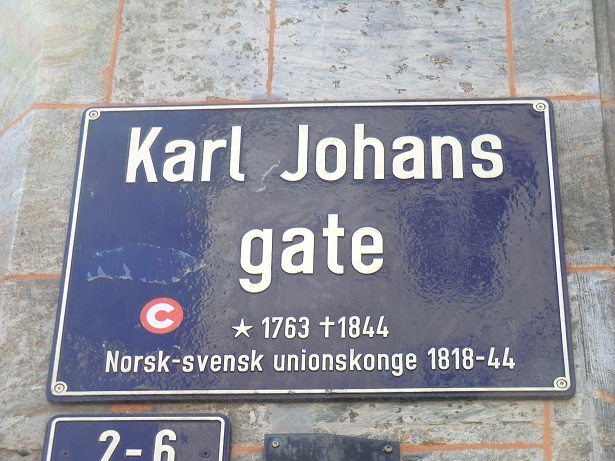 Facts on the street signs in Oslo.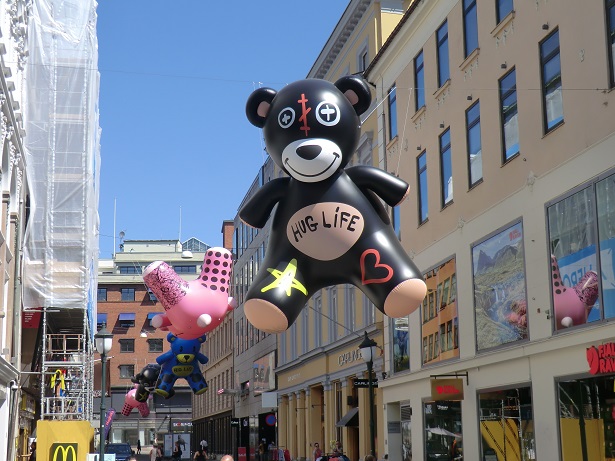 The art exhibition Hug Life with its bears.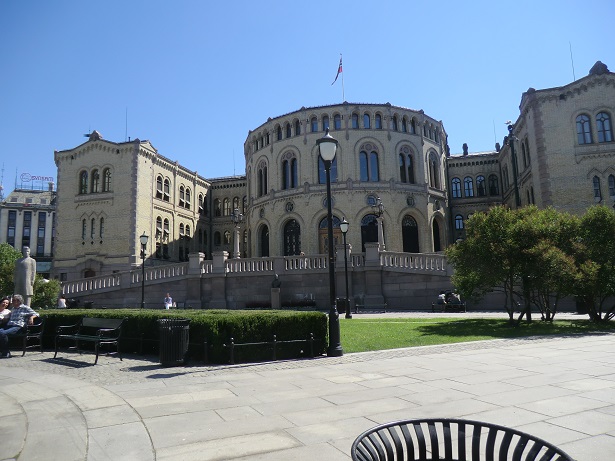 Stortinget, the parliament in Norway.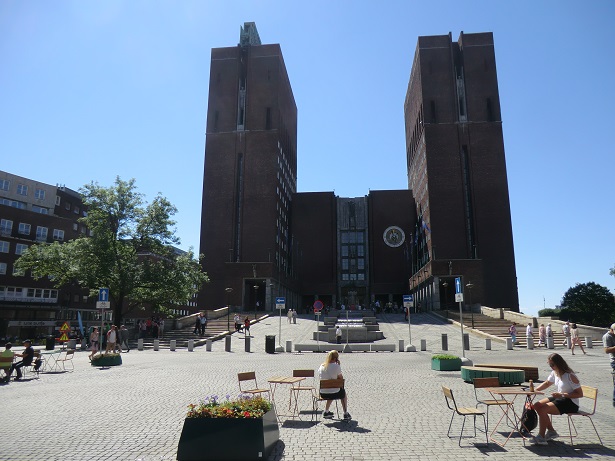 Oslo City Hall.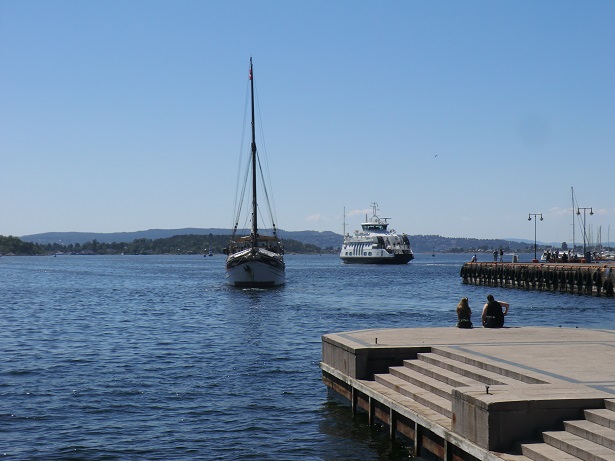 Boat traffic in Pipervika, a part of the Oslo fjord.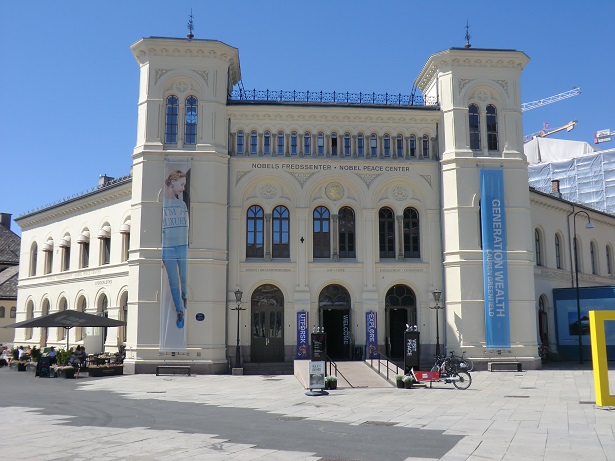 Nobel Peace Center.
14.34 On the way home, we discovered new parts of the city when we sought a shortcut home. We met a young girl who happily informed us that every day 140 000 Norwegians drive drunk. It was a campaign for breath alcohol ignition interlock device in passenger cars. When it came to light that we were residents in Sweden, we became less interesting. She wanted people to sign on a list. Swedes are not interesting on such a list. Because there are that many Swedes that live and work here in Oslo, many believe that we live here even though we speak Swedish. Now we are going to have lunch at Mardin Restaurant, a restaurant similar to yesterday's dinner restaurant.

15.30 We were served a lot of very tasty food. The dishes were similar to the ones of last night. However, the card reader was nationalist and accepted only Norwegian payment cards. I went away to 7-Eleven and their Mini Bank, an ATM to withdraw money. Now we are at home in our room at Anker Hostel and are preparing for a new World Cup game. 15.56 Soon the World Cup game between Sweden and Switzerland will begin. We will, if all goes well, watch the Norwegian transmission on our mobile phones. 16.33 Sure it worked! Former Norwegian national coach Egil "Drillo" Olsen is expert commentator but the match is tenacious and boring now in the first half. 16.59 No lack of opportunities but total absence of goals so far. We can watch the game on the phones. There are some problems, but it works. 17.25 Emil Forsberg's hit a Swiss foot and later into the goal. 1-0 to Sweden! 17.58 Adieu Switzerland! Sweden has made it to the quarterfinals. The result was better than the entertainment. It's hot in the room. 18.24 We will, while waiting for the next game, England against Colombia, make a small evening tour. 18.52 After various problems and misprints, I finally managed to buy a ticket for our journey with the local train/metro. Let's go on the tube in another city and country. However, subway/metro is a dubious concept because large parts of the trip actually take place above ground.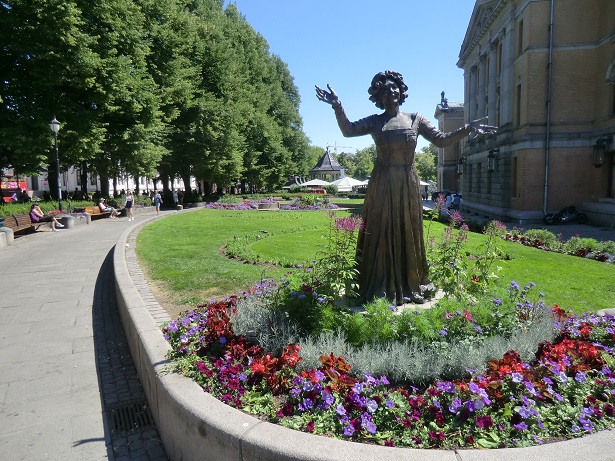 The actress Wenche Foss is standing outside Nationaltheatret.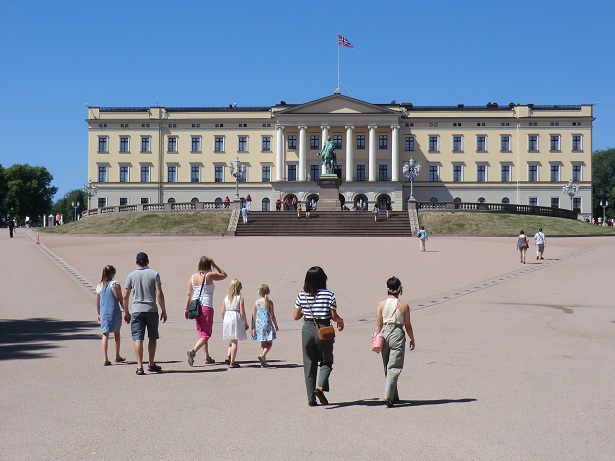 Det Kongelige Slott (The Royal Castle), Oslo.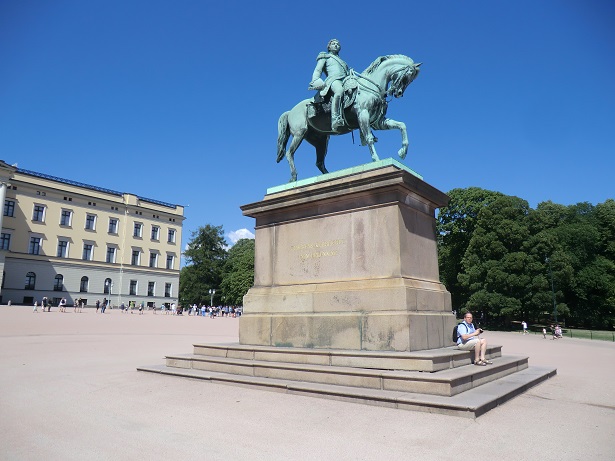 Peter together with the Swedish-Norwegian king Karl XIV Johan.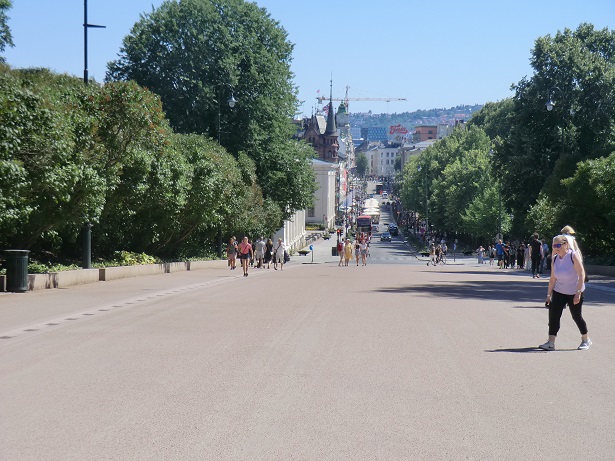 View of Karl Johans Gate.
Youngstorget, Oslo.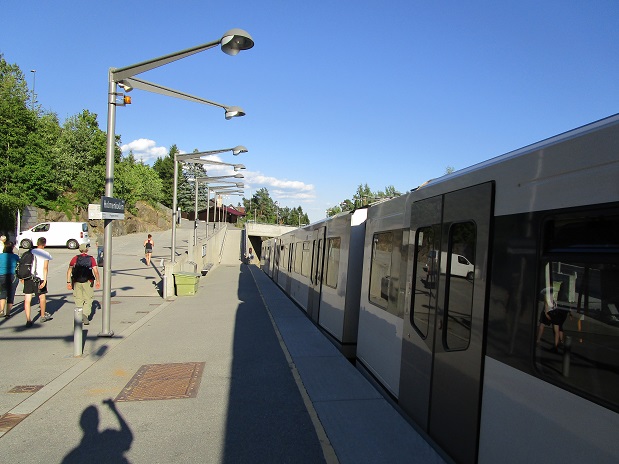 We have stopped at Holmenkollen station.
19.18 We have been on the train for a while and headed out to the station Holmenkollen. Here we will get off.

19.31 We've been walking a bit steep uphill. Behind us is now the Holmenkollen Ski Jumping hill. We are at classic winter sports ground, at the Skiing Stadium in Holmenkollen. A bit away we see Gratishaugen where you could previously stand and watch for free at the ski races here. 20.11 Thank you and goodbye Holmenkollen! Now we know what you look like without snow. As in the past, we will probably watch some winter sports events from here on TV upcoming winter season. We're going back to the train. The World Cup game between England and Colombia has already begun. 20.52 I wonder if it is possible to eat something here at the railway station. A dinner needs to be eaten sooner or later. 21.30 It is 1-0 to England in the match against Colombia. We're going home without getting us anything to eat. Our plan to combine dinner with football viewing somewhere at the station was not able to realize. The only place that showed the game was a pub full of people. 21.45 There will be dinner at Burger King on Torggata in the home quarter instead. We went to so many other places that had closed or were about to close. 22.01 Tasty, well... filling, yes, and in the World Cup game, Colombia has scored in the end of the match. 22.26 The score remain 1-1 a bit into the second extratime quarter. We are back at Anker Hostel and stand, sit in the lobby and watch TV along with many others.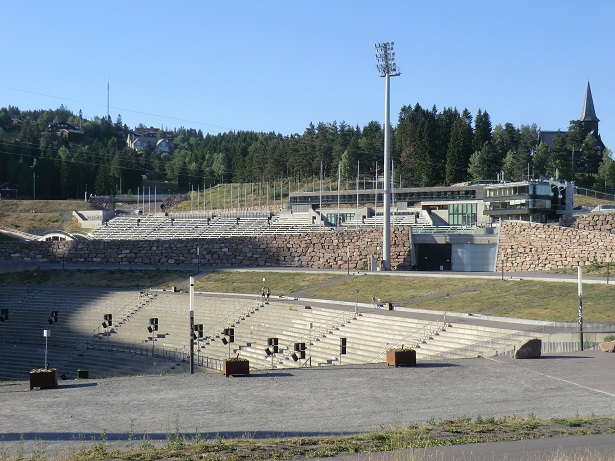 Holmenkollen national skiing arena (Holmenkollen Nasjonalanlegg).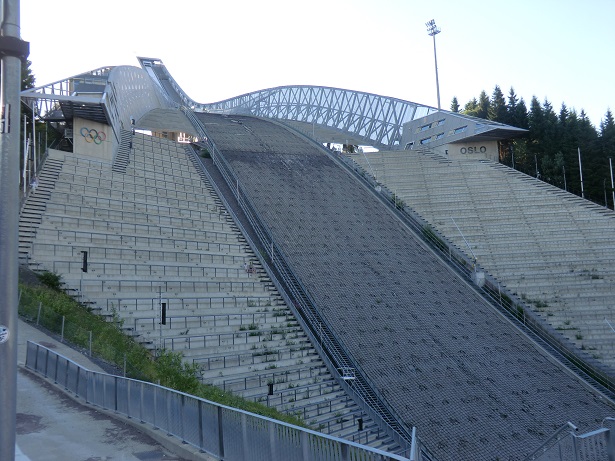 Holmenkollbakken.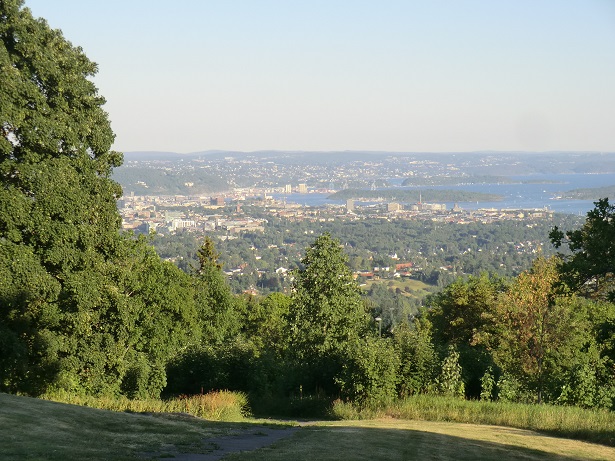 There are fantastic views from the Holmenkollen area.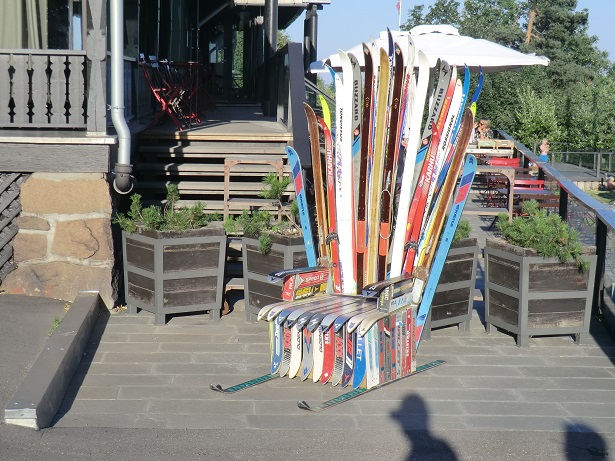 Skis outside Holmenkollen Restaurant.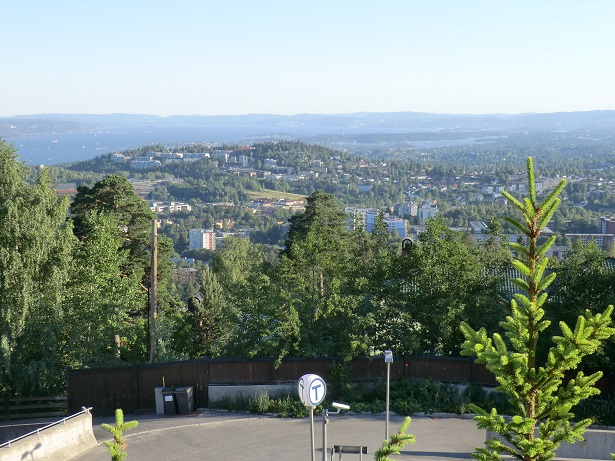 Back at Holmenkollen station.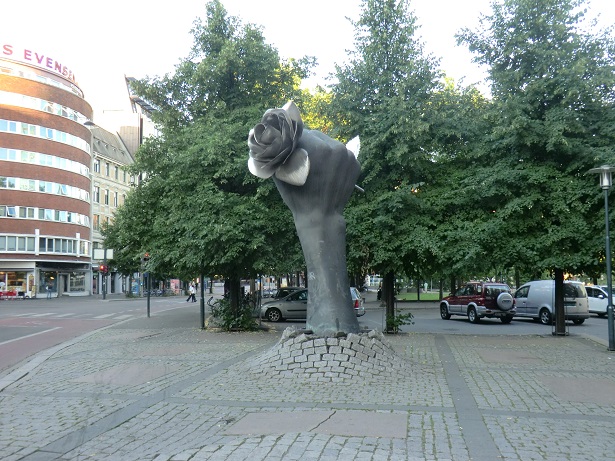 Neve og Rose (Fist and Rose) sculpture at Lilletorget, Oslo.
22.40 There will be penalty kicks that will decide even this match. It's England's Achilles heel, isn't it?

22.49 It is now 3-2 to Colombia after three rounds of penalties. The tension is felt in the air. 22.53 Colombia's penalty shooter Uribe hits the bar and England make it 3-3 through Trippier. One more round. Who will Sweden meet? 22.57 There was no more goal for Colombia but well for England. Carlos Bacca missed Colombia's final penalty but Eric Dier scored. England is now facing Sweden in the quarterfinals on Saturday. It is still stuffy and warm in the room. We hope that the upcoming rooms of Sri Lanka have AC.
---
VIDEOS
---
You can see 13 photos from July 1 in this photoalbum.
You can see 39 photos from July 2 in this photoalbum.
You can see 105 photos from July 3 in this photoalbum.

---
---