---
Text: Peter Johansson
Editing: Christer Lundstedt
Photos: Christer Lundstedt, Peter Johansson
Videos: Christer Lundstedt
---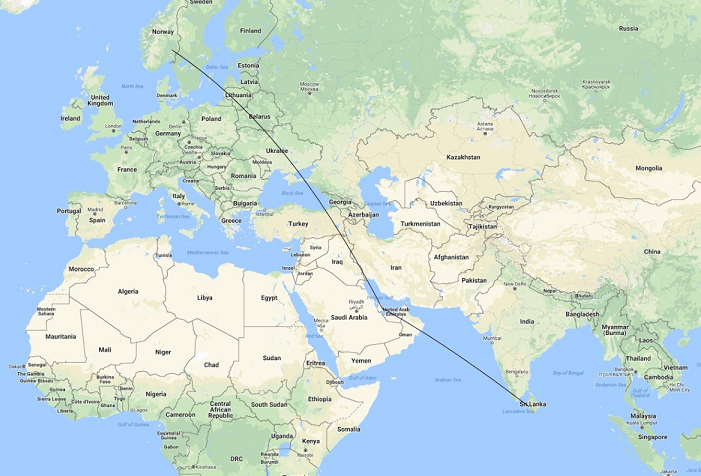 ---
Wednesday 4th of July

08.34 It's morning again in the Norwegian capital. We are about to leave the city, the country and even this continent. This visit to Oslo was an extra bonus. It was cheaper to fly from Oslo compared to Arlanda but due to the prices here, it is probably doubtful whether we made a profit from flying from here. One thing is sure and that is that we have made our first visit to Oslo.

08.58 Here at Anker Hostel (https://ankerhostel.no) we´ve had the last European sleep in for a while. According to the plan, the next horizontal sleeping piece of furniture will be a bed in Sri Lanka. Before we reach it, there will be a lot of travelling on various means of transport. 09.24 Sirens can be heard from outside. We have just finished our purchased breakfasts here in the room. Yoghurt on the bedside might be classic and charming but I want more than that for breakfast. 10.24 Now all our stuff is, if all has gone as planned, packed. We will, if it continues to be as planned, we´ll also unpack the belongings when we arrive tomorrow morning. If we don't get them, the backpacks have gone somewhere else. It's happened before. 10.42 Soon the long journey to the next destination begins. Our first step will be to check out from Anker Hostel.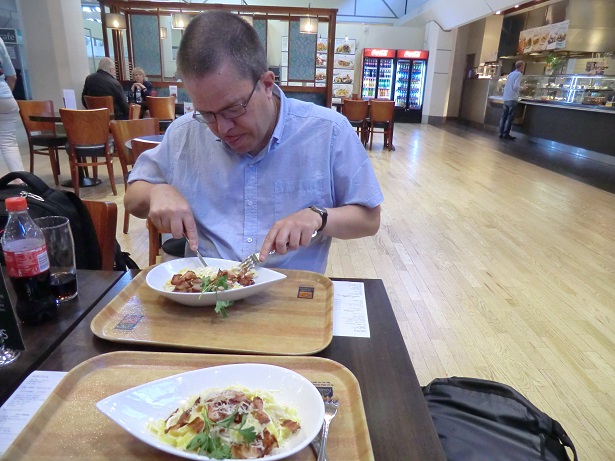 Peter is having lunch at Café Opus.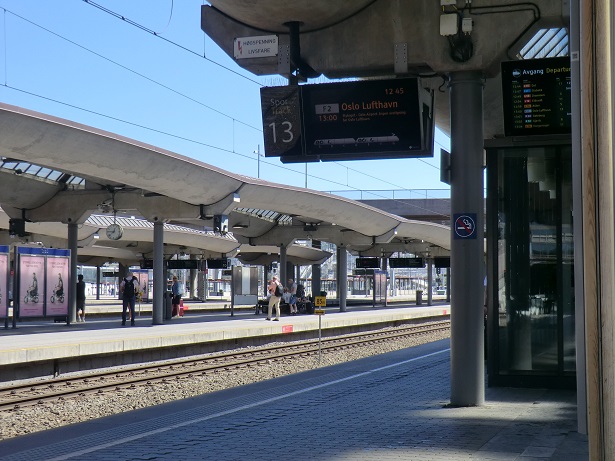 It´s time to take a train to Oslo Lufthavn, Gardermoen Airport.
Flytoget takes us to the airport.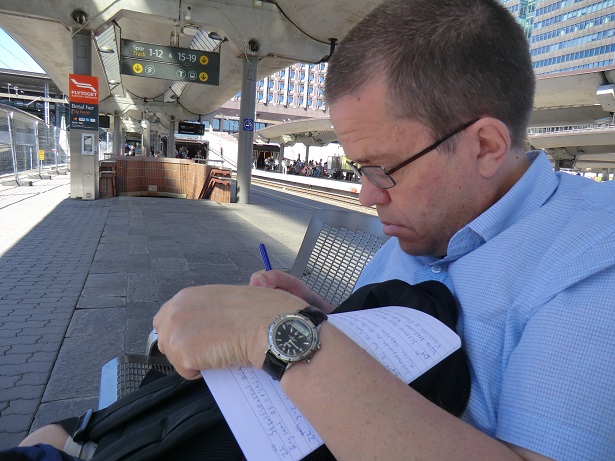 Peter is writing down a few notes before departure.
11.05 A warm walk has taken us to Oslo Sentralstasjon. Now we will cool down before the next step.

12.06 Today's lunch will be Pasta Carbonara at Café Opus, a restaurant opposite Starbucks here at the railway station. We are waiting for the coasters we received while ordering to buzz. This indicates that we can fetch the food. 12.45 Pasta is rarely wrong and was not today either. Now we have bought our train tickets that cost 190 NOK per person. We will, with the help of Flytoget once again get to Gardermoen Airport 35 km north of the capital. We have, however, on previous occasions gone there by air. 13.01 We are on board Flytoget (flight train). Now everything is getting closer. But some places are moving away. 13.24 We have just stopped in Lillestrøm, a town not too far from Oslo. 13.42 We're here at Gardermoen. Now the fun begins. We are in the queue for check-in. One of the staff just said that the maximum weight for hand luggage is 7 kilograms. 14.12 We were referred to check-in at Business Class. There they also wanted to see the ticket out from Sri Lanka. Some countries want to know that you should actually go home as well. We will fly economy despite our check-in at the Business Class counter. Now we treat ourselves a coffee each at Starbucks.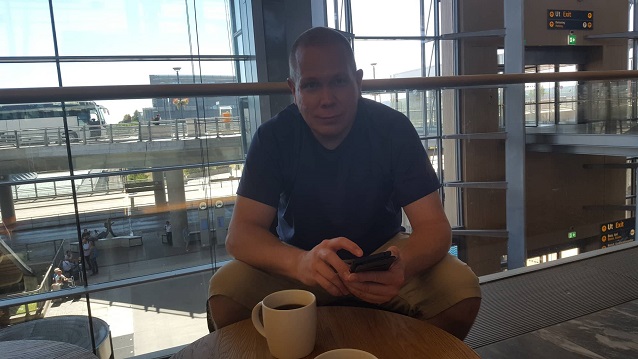 Christer is drinking Starbucks coffee. Who knows when the next opportunity comes?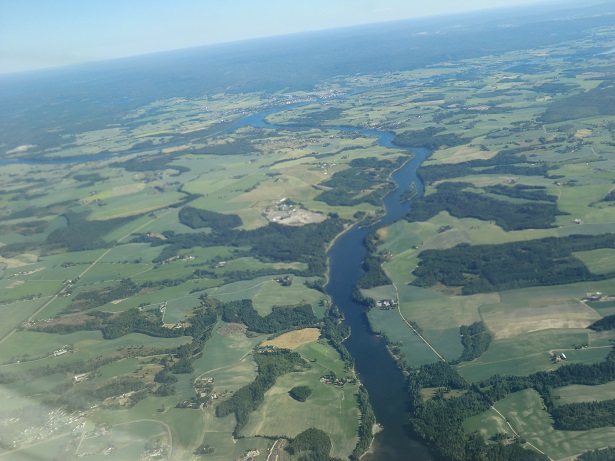 We are flying over Norway´s longest river, Glomma.
15.01 There was no problem at security or at the passport check. Now we wait to go to the gate.

15.31 Gate F18 will be our portal to the world. Soon we'll board. 15.40 We are finally seated. Here we will remain until other things happen. We sit almost at the back of the plane and are going with one of Qatar Airways top modern Dreamliners. 17.09 The Dreamliner took off and the food menu we just got in our hands seems promising.

CHANGING TIME ZONE

20.11 Unfortunately, the chicken curry had run, or flown, out, this is what happens when you sit in the back of the plane and get food last. But what we got was tasty. Now I have switched to Doha time. We are currently up at 39,000 feet/11,887 meters in height and there are still 3 hours and 39 minutes before we reach Qatar Airways home base in Doha. It will be a short stop in Doha.

23.23 My ears are hurting. We have been up at 41 001 feet/12,497 meters but now we are heading down. Once down there will be a short stop before we depart again.
---
Thursday 5th of July
00.05 The plane has come to a complete stop. It's time to get out of it. We've landed here in Doha before but that was at the old airport. Now we are at the newly built Hamad International Airport. It opened on the 27th of May 2014. The old airport, Doha International Airport, remains open but is now only used by private chartered planes, Air Force and helicopters.
QATAR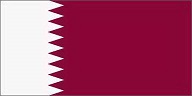 01.05 We departed and had a long bus trip to the terminal. The airport here is really big. Once at the airport, we went pretty straight to the next gate. There was not much time to see something of all the new. Perhaps we will have more time for this during the trip home in August. Then we'll, hopefully, be more alert. Our bodies say its night now.

CHANGING TIME ZONE 04.35 We are now aboard the next plane and have moved to a new time zone. From now on, it's Sri Lankan time. This is a new time zone for us, 3½ hours before Swedish daylight saving time. 07.17 We had some sleep, a minor meal and later completed the entry cards to Sri Lanka. I hope I did everything right. 09.15 The plane is approaching the Bandaranaike International Airport. Once down, a number of missions are waiting for us.

SRI LANKA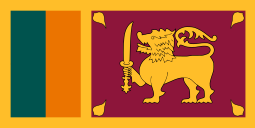 10.32 We landed at Bandaranaike International Airport, an airport located near the tourist resort of Negombo but quite far north of the capital Colombo. The passport police let us in and the luggage arrived. Entering the country and being together with our luggage is always a good start to a trip. Customs let us through and we withdrew money from an ATM. When this was done, a gentleman claimed that I forgot my VISA-card in the ATM, a claim which was false. It was just a trick for us to start talking to him. He had a taxi ride to offer. All that remains is our driver. We have earlier contacted our hotel in Colombo and asked for a pick-up. Christer has also received an email with a reminder of this.

10.47 No driver has picked us up. It is not the first and hardly the last time this happens despite the fact that we have been promised transport. A man who works for some tourist company called our hotel and claimed he was working on their behalf. The hotel told him that no car was sent because we did not pay in advance. We have not received such information. Christer just got a reminder by email that we would not forget that a driver would wait for us here. The caller arranged with a taxi that we got into and now it's going to be refuelled. The price will still be the same as we had expected but it is always unnecessary with a mess. 11.10 It was LSD on the diesel pumps. The main thing is that it is not the hallucinogenic drug. The litre price is 120 Sri Lanka Rupees or $ 0.73 crowns. LSD means Lanka Super Diesel. Now we move on to the country's capital Colombo. This will be the 105th capital we visit on the trips. The journey is fast as we use the highway. We ride in a comfortable mini bus with good leg space and comfortable temperature. 11.47 The traffic got crowded just as we left the toll-covered highway. We have now reached the central parts of Colombo and things are moving slowly. Sometimes we don't move at all. We're in no hurry. We'll get there when we get there.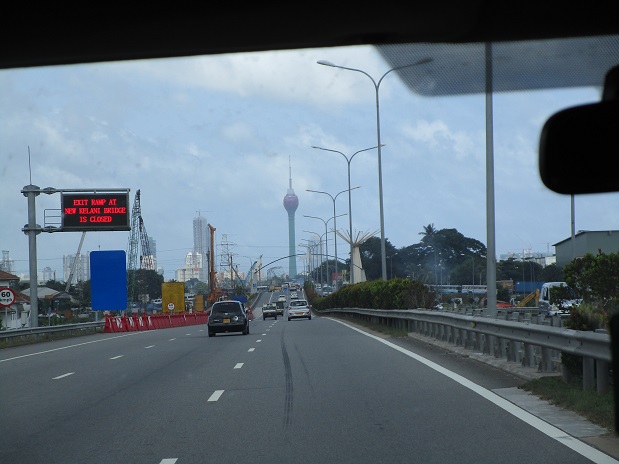 We are heading for Colombo with the Lotus Tower.
12.15 Our first home here in Sri Lanka is Hotel Nippon Colombo (http://hotelnippon.com-colombo.com) on Kumaran Ratnam Road. We stay in room 227. Now we will wash off the dust and sweat. The taxi driver knew about the World Cup. In addition, he claimed that he knew two people from Sweden. That is more than I know from Sri Lanka.

13.13 Young children and old people sometimes need to sleep. We're neither, but we're going to sleep anyway. Airplane sleep rarely keeps good quality. That's why we need more rest. 14.35 It was nice to sleep but we still lack energy. Maybe we need to eat? 15.12 The elevator brought us down to the ground floor. Now we eat from the lunch buffet, it's tasty and spicy. However, we came down at the end of the lunch so the range is not so amazing. The restaurant here in the hotel is called The Bamboo Room. 16.16 The fruit salad in the end of the lunch calmed down the heat from the curry. Flying is great, but it wears us down. We are about to relax in the room. Not much constructive have been done today. We have arrived which is essential but also via the internet booked seats on a round tour bus tomorrow afternoon. Now we are waiting for the confirmation of this. In addition, we have realized that the TV here in the room probably does not show the World Cup. At least we can't find the channel that is showing the matches.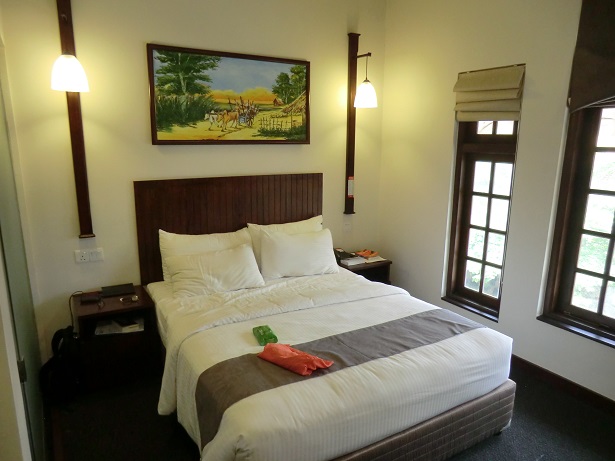 We wanted two beds but got one.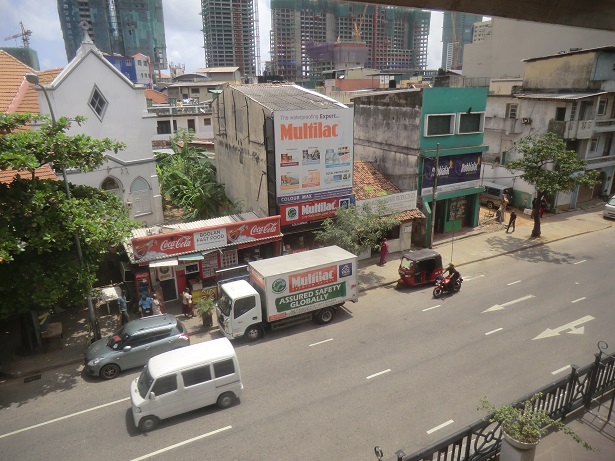 The hot world outside the hotel.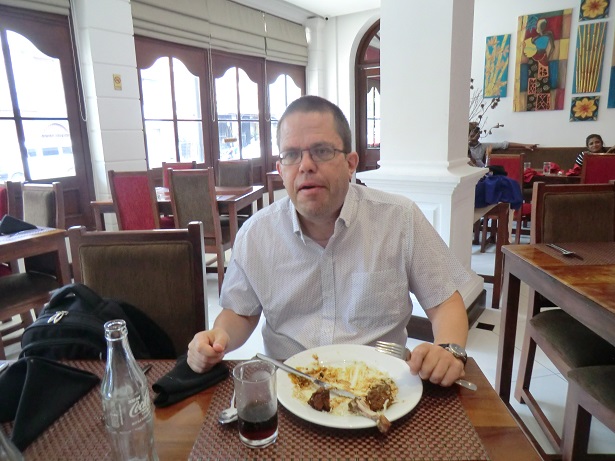 Peter is having a lunch buffet.
18.10 We cannot remain here and gather dust. Some purchases must be made. We must leave the cool room and go out into the heat.

19.25 More dust was collected but we got things together and wandered out into the evening life of Colombo. We live in a part of the city called Slave Island but walked down to the sea. We were hardly alone. We found the German restaurant, The Bavarian (http://www.bavarian.lk). Here we are waiting for dinner and a beer each. Unfortunately, the prices are quite high but we want to treat ourselves to a hearty dinner. 20.17 We are consuming the large portions. I eat sausages and Christer has ordered a Cordon Bleu. It was a non-Asian start to the dinners here in the country but this was exactly what we needed tonight. 21.16 We walked towards the hotel after dinner. The idea was to buy sodas. Not a single kiosk was found, only holes in the walls for miscellaneous serving. Finally, the sodas were purchased at the hotel bar, The Cabinet. We bought two bottles of soda each and had to explain several times that we did not want to get the bottles opened. At the time of purchase, I was dizzy and paid for Christer's bottles before I even ordered my own. The money was taken back and Christer paid for it himself. Thankfully, I remembered to buy something for myself. In the bar there was a TV that showed football. Then there is hope to see the upcoming matches after all.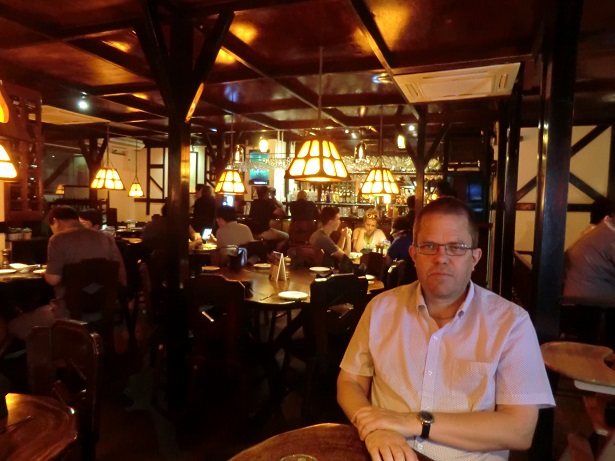 Peter is visiting The Bavarian.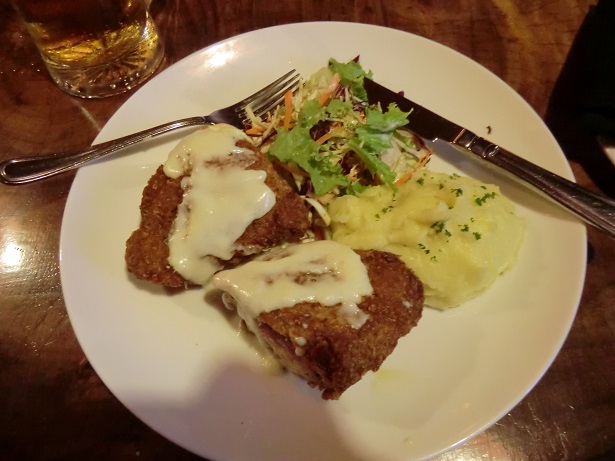 Expensive but delicious German dinner.
---
Friday 6th of July

08.21 It is morning again. I just called the phone number 0777 77 25 95 and confirmed that we intend to go with the sightseeing tour bus this afternoon. Our Colombo sleep has been good. This is the 88th capital we´ve slept in during our travels.

09.34 Our breakfasts have been consumed. A Strongbox from Damro will guard our valuables. This is actually the first time we rely on a security cabinet. We're about to go shopping. Our small backpacks are seldom welcome to grocery stores. This is the reason why we will leave them at home during our walk. 10.36 We have been at the supermarket Keells Super. We found beverages of different flavours and size. I have also invested in an upcoming travel diary. The cashier, Nirmala, was interested in our origins and what we did in the city. It went fine to open the safe when we came home again and our valuables were there. 11.18 We have been thinking about what to do before we walk towards this afternoon's bus tour. It takes a while to walk there and we also need lunch. Hm when do we do what? 11.50 We start the long journey towards the bus with a visit to the café "The Kafé" adjacent to our hotel. We ordered Kerala coffee. Wonder what it is? 12.13 We each got a cup of mulatto coffee, that is, coffee with milk. If this is right or not, I will know that when I ordered my next cup of Kerala coffee. We suspect we got a latte each. We will keep looking for a place where we can have our lunch.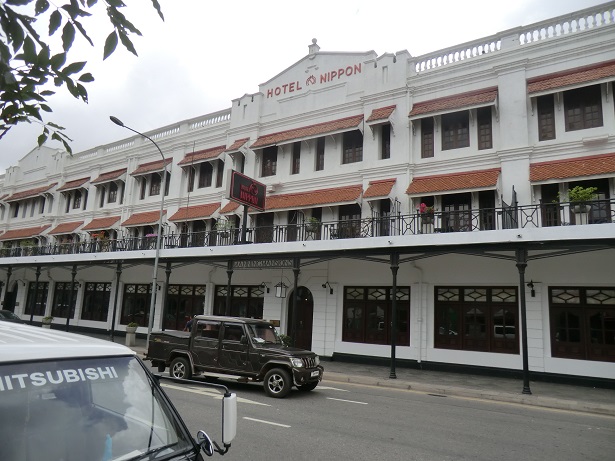 Hotel Nippon Colombo.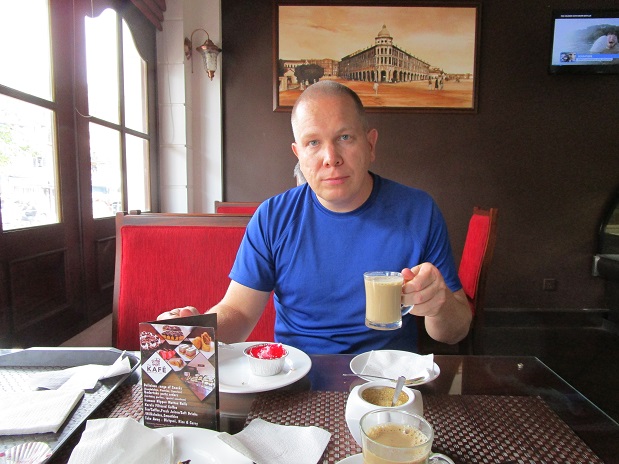 Christer is visiting "The Kafé - Kerala Street Eats".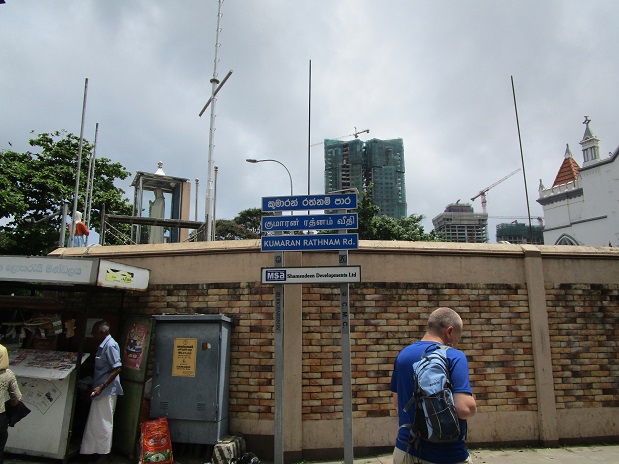 Christer is walking through the humid heat of Colombo.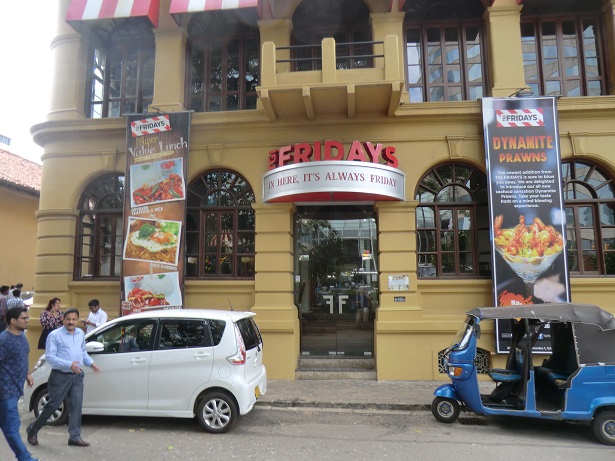 T.G.I Fridays, today´s lunch place.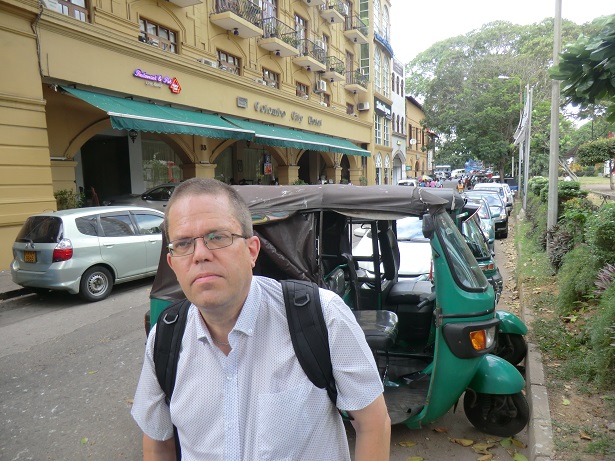 The vehicles behind Peter are called both tuk-tuk and three-wheeler.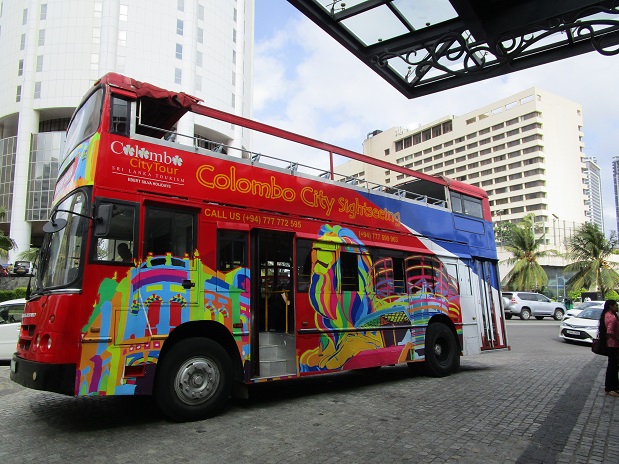 The red sightseeing bus finally appeared.
12.36 Online searches have produced results. It was Kerala coffee that was served and there are several suitable candidates for serving us lunch. They're all in the same block, Colombo Fort. Soon the hike will begin towards lunch and later the bus. We have a distance to cover.

12.42 Street signs here in Colombo have three different alphabets, three different languages. They are written in English as well as the country's two main languages, Sinhalese and Tamil. If this continues, it will be easy to find the right way. 12.56 It is a challenge to walk in Asian cities. Crossing the street is often an adventure in itself. We have left Slave Island behind us, passed the Buddhist stupa at Sri Sambuddhaloka Maha Viharaya and reached the city centre, the Fort district. A man has started talking to us and wants us to visit a Buddhist ceremony that apparently is conducted only today. 13.07 The man began to protest because we did not go the way he wanted. We would then miss both shopping and that Buddhist ceremony according to him. He also claimed he worked at the nearby Hilton Colombo Hotel. True or not, we have left nagging old men before. Even this man gave up. 13.14 We have walked around a bit among the streets here in Fort without having made any decision on where to eat. Let's try a new direction. 13.23 Now we are by the bar on TGIF, Thank God its Friday's. Lunch is ordered. These chairs at the bar are the only free seats available. 14.35 The food was ok but more expensive than expected. Have we chosen expensive restaurants like this initially, is it because we are in the capital or are Sri Lanka more expensive than we thought? It'll turn out. For coolness, time consuming, coffee and something more, we are now at Café 64, a café part of the Luxury Hotel Galadari. Half an hour remains before the tour begins. So far, I'm not impressed by the coffee in the country. Is it the beans, the cooking, the water, or maybe even me? Well, what do I know? 15.00 We are at the five star luxury hotel, The Kingsbury. It is here by the hotel that we will be picked up by the round tour bus. We stand/sit here and look at people passing by.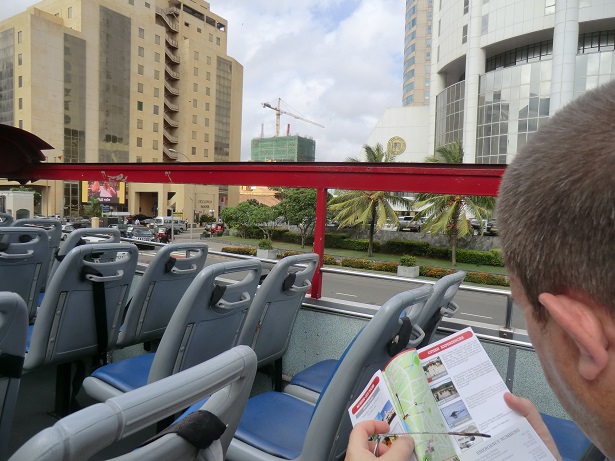 Peter is preparing for a Colombo bus tour.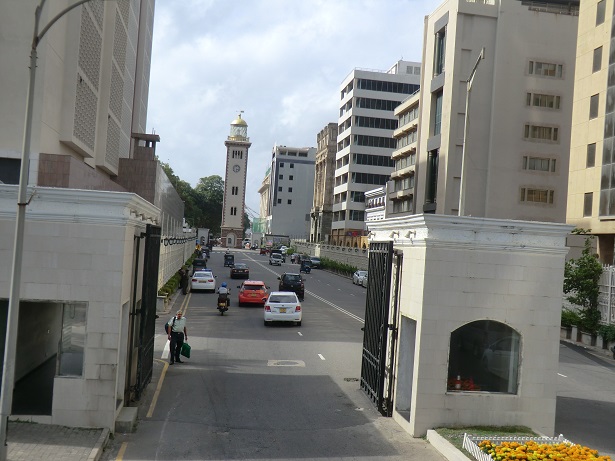 Lighthouse Clock Tower can be seen at the end of this street.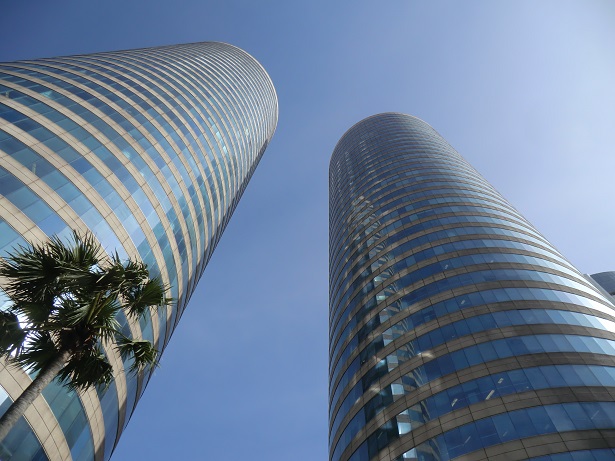 World Trade Center, Colombo.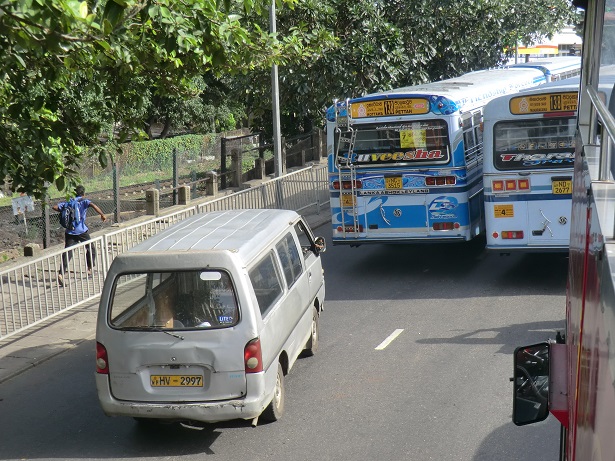 Not much space between the buses.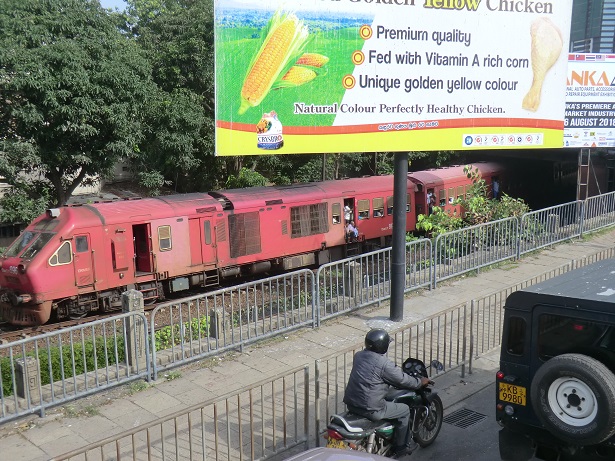 A suburban train is passing by.
A Buddhist stupa in the middle of the intense traffic.
15.17 Once again we are on board a bus called City Sightseeing. This one, however, is not from the same company we used to have, but it is red, has the same name and is similar to previous buses we have travelled with. Here it is Ebert Silva Holidays that arranges the tour. Besides the two of us, there are only three Indian tourists on board. For 3925 rupees, US$25, we are about to depart.

15.48 Our guide who first talked some football with us informs us about everything we see where we sit on the top level on the bus. He regretted that Sweden had been eliminated from the World Cup. Once again, Switzerland and Sweden have been mixed up. There were many excuses when he realized his mistake and good luck in advance to the match against England on Saturday. 16.00 There is much to see here in the city. We first went around a few laps in Fort and got to see the port area and old British colonial buildings. Right now we see a Hindu temple (Sivasubramania Swami Kovil) near our hotel. 16.10 We move around and get plenty of information. The guide is excellent but there is a lot of information to digest. Now there is a break at a Buddhist temple, Gangaramaya (http://gangaramaya.com). We have left our shoes at the entrance and also the elderly man in the company, he has some difficulty walking. 16.52 It has been a worthwhile visit, very informative and useful for us who teach about Buddhism sometimes. The temple is partly a museum and has received donated items from various Buddhist countries and cultures. We have seen, among other things, a 2300-year-old tree. It was planted from a shot of the tree under which Siddharta Gautama/Buddha sat. We have even seen what is said to be the world's smallest Buddha statue. 17.26 After the temple visit, we got to see a long list of other important buildings, cricket stadiums and parks. This trip is worth every rupee. Without this bus, we wouldn't have seen much of the city. 17.56 The tour is now over. The last bit was familiar; we passed yesterday's dinner restaurant the Bavarian. Now we're on our way home on foot. We walk along the sea. The area is called Galle Face. Here there are plenty of people in motion. 18.00 I was just offered to be part of a commercial for coffee. It was a little unexpected. We wanted to go home and I turned it down. 18.36 We are back home in our hotel room again. It's good to be in a cool room. Let's take turns taking a shower. 19.28 What is this? All of a sudden we have an Indian channel showing World Cup football. What about dinner? It's a match between France and Uruguay on the way.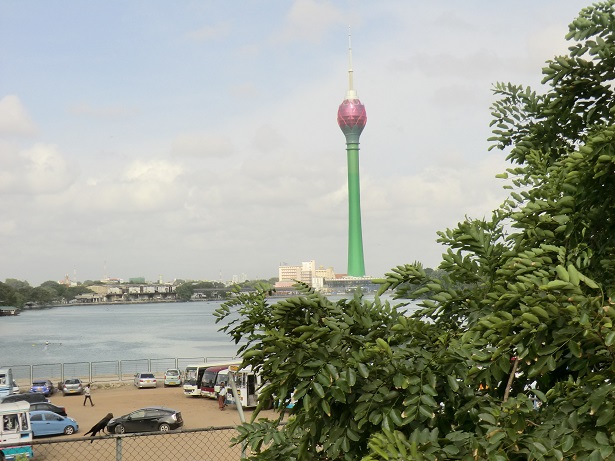 The 350 meters high Lotus Tower was finished this year.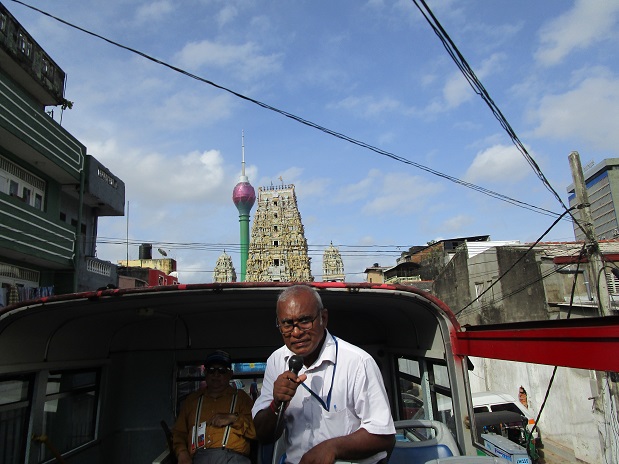 Our excellent guide is teaching us about Colombo.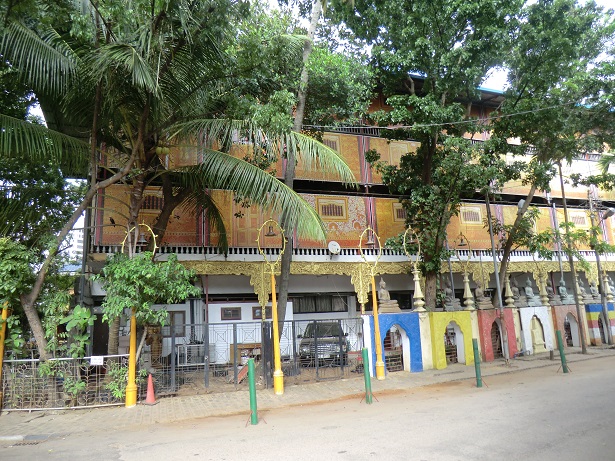 The Buddhist temple Gangaramaya.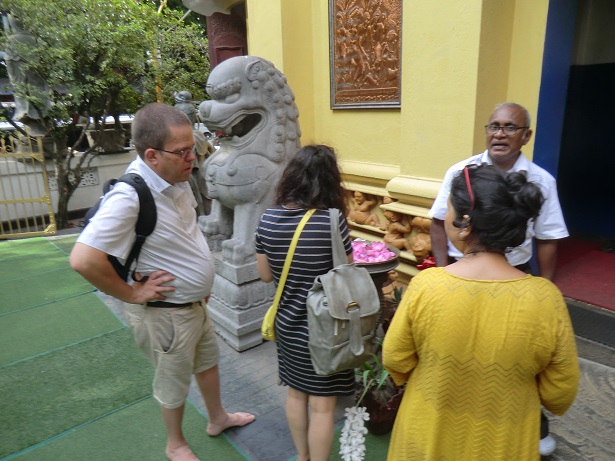 Peter is learning more about Buddhism.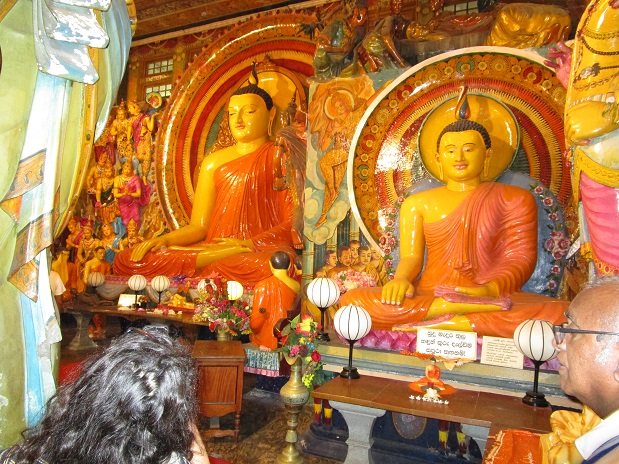 Buddha statues in Gangaramaya.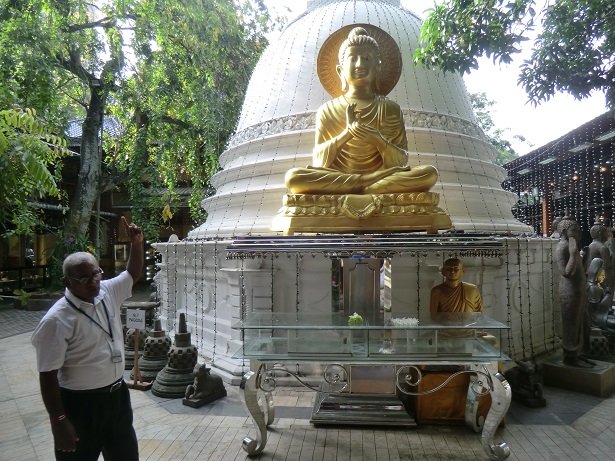 The temple guiding continues.
19.54 We have in joy of having the World Cup in the room begun to watch the first quarter finals. The food will have to wait. No big chances yet in the game. We'll keep watching the game.

20.10 France makes 1-0 through Raphaël Varane. We are wondering if we will have time to eat. 20.15 Now we will have dinner. We eat at the hotel restaurant The Bamboo Room. We hope to finish eating before the second half is over. 20.30 Everything is now ordered. We hope we finish our meal before the game ends. 21.07 France has increased to 2-0 through Antoine Griezmann. We are also pleased with our dishes. 21.23 Uruguay has finished playing in this tournament. France has two games left; next game will be against a B team. We'll see what it will be. 22.17 We refill with liquids. Some have been lost during the day. Colombo has a warm and humid climate to say the least. 23.23 Which B team will meet France, Belgium or Brazil? Soon we will get the answer to this. The second quarter-finals is about to be played. 23.44 The Brazilian midfielder Fernandinho scored on a corner. Sorry for him, it's an own goal. Soon there will be another 24 hours here in Colombo. In Kazan, Russia where the match is played, it's Friday for a while longer.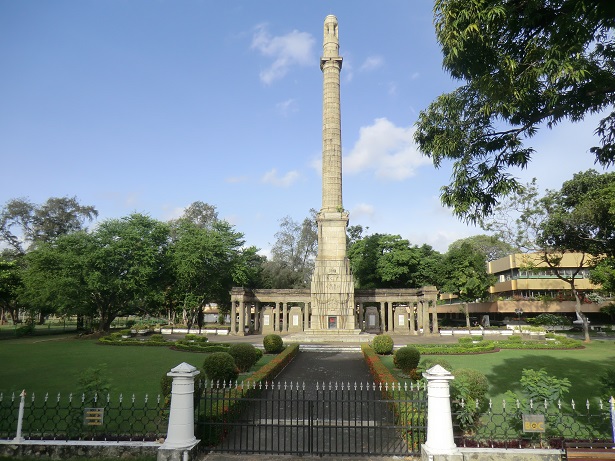 A victory monument from the world wars.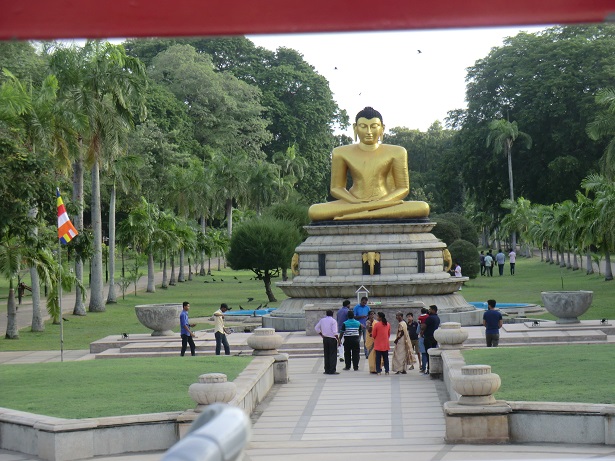 A statue of Buddha in the Viharamaha Devi Park.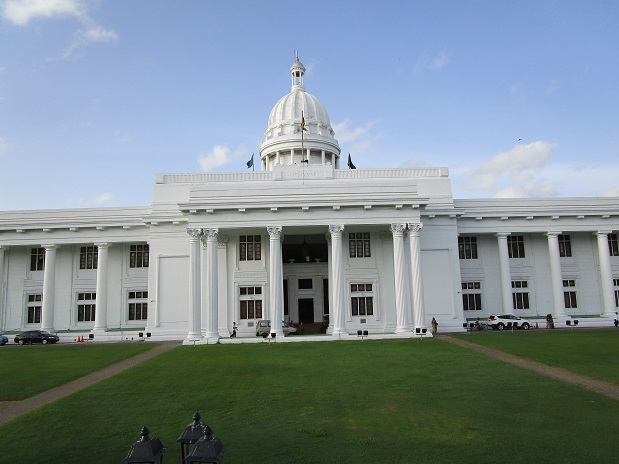 The Colombo Municipal Council.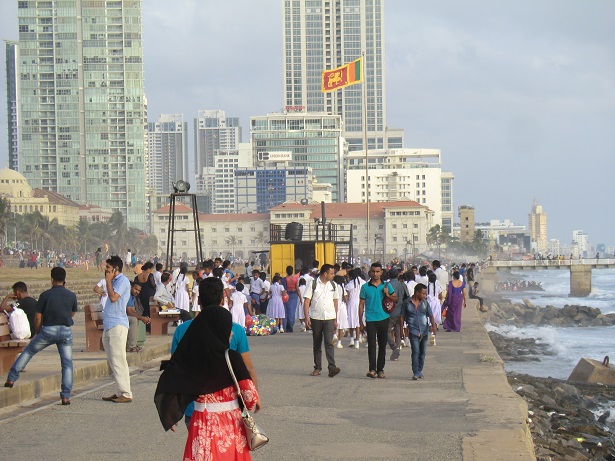 Galle Face Beach.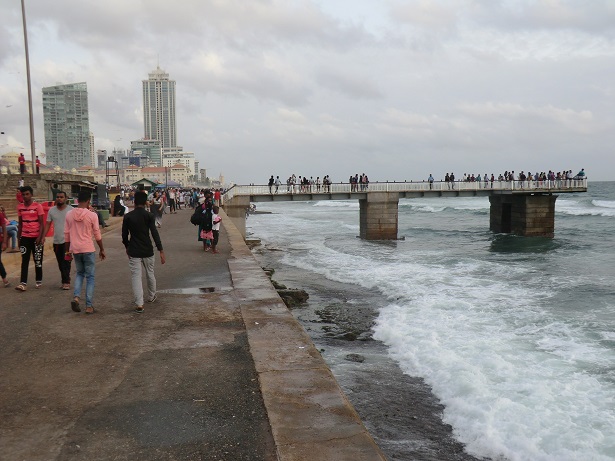 People gather along the sea to enjoy the cool breeze from the Indian Ocean.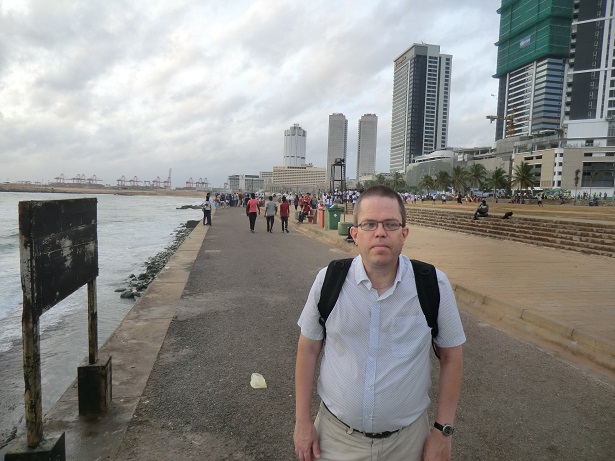 Peter just said no to participate in a coffee commercial.
---
VIDEOS
---
You can see 10 photos from July 4 in this photoalbum.
You can see 13 photos from July 5 in this photoalbum.
You can see 116 photos from July 6 in this photoalbum.

---
---