---
Text: Peter Johansson
Editing: Christer Lundstedt
Photos: Christer Lundstedt, Peter Johansson
Videos: Christer Lundstedt
---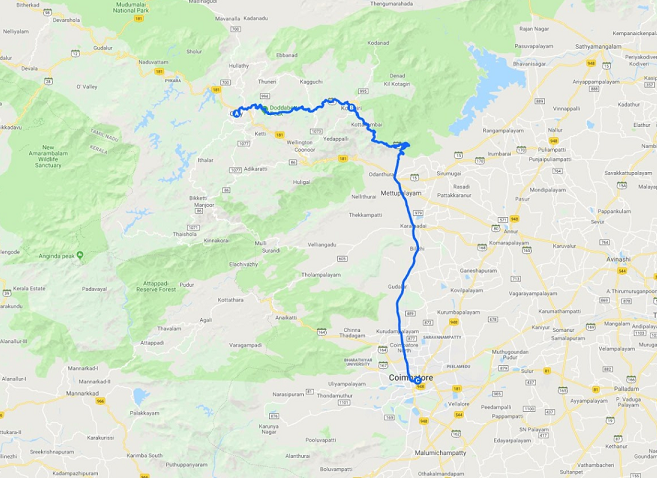 ---
Tuesday 31st of July

08.14 It is morning in Ooty and at our hotel Sulivan Court. This seems to be this trip´s, well maybe even the best accommodation of all time for our part. Thank God that we switched to this. We have a good room, nice beds and a prima shower. A decisive factor remain to be tested, the breakfast. We'll go there soon.

09.43 Now the breakfast is tested and it has been to your liking. Soon we will prepare for and plan the coming day here in Udagamandalam, the town which is better known as Ooty. It is also significantly more easy to pronounce. 10.46 We are very pleased with the hotel. We are about to walk around in Ooty and see if the town pleases us too. It is not so hot here at the high altitude but the sun is still strong. Will a jacket be needed or not, that's the question. We might as well bring them with us. 10.57 It's top class here at our hotel. There are plenty of gentlemen, dressed in uniforms, who bow and open the doors when we go out. 11.09 There is a smooth breeze today. We've been walking down to more central parts of Ooty. 11.35 After some walking, we have now found Willy's Coffee Pub. I might leave two of my books here. It is always good to share experiences but also to share books you have read. 11.52 The owner gratefully accepted the books and then put them in his small library. We got coffee and pastries here, not as a thank you for the books but because we ordered and paid. It's quiet and peaceful in here. Two gentlemen play chess. Christer and I are sitting by the open door to the balcony.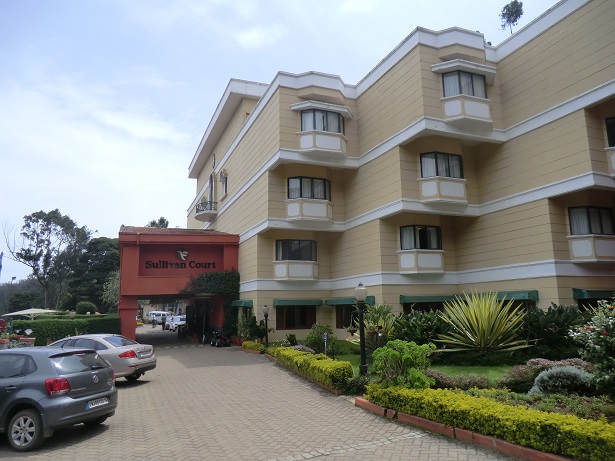 Sullivan Court. Here is where we are staying.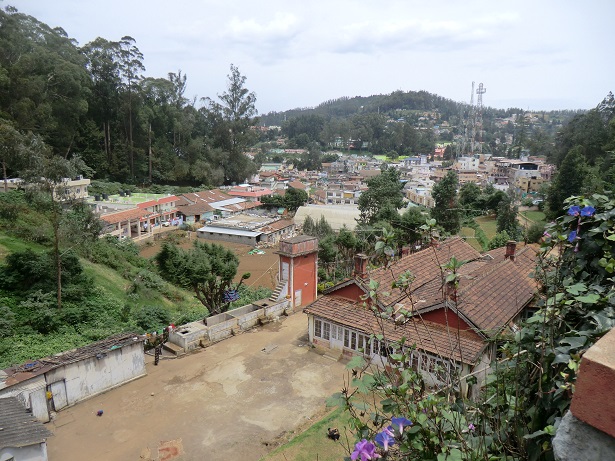 A view of Ooty town.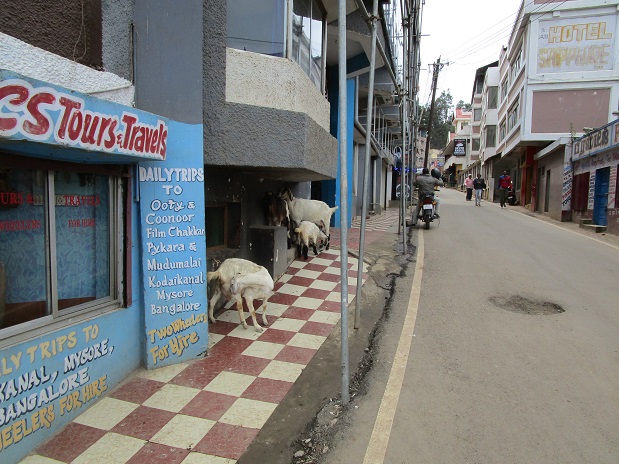 Some inhabitants out walking.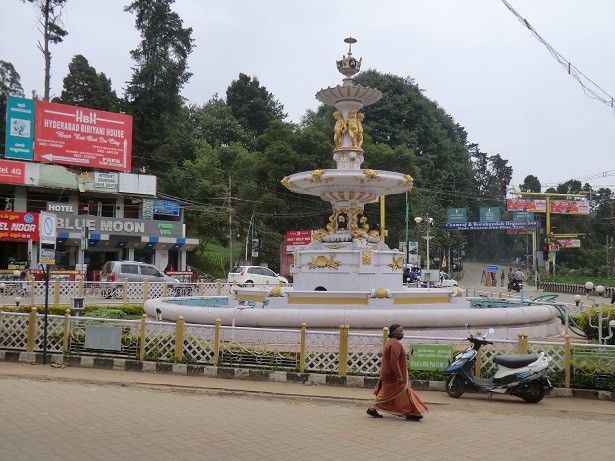 Adams Fountain.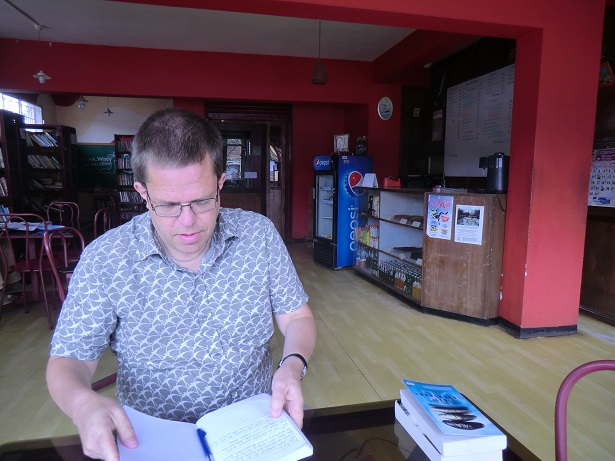 Peter has written down some notes.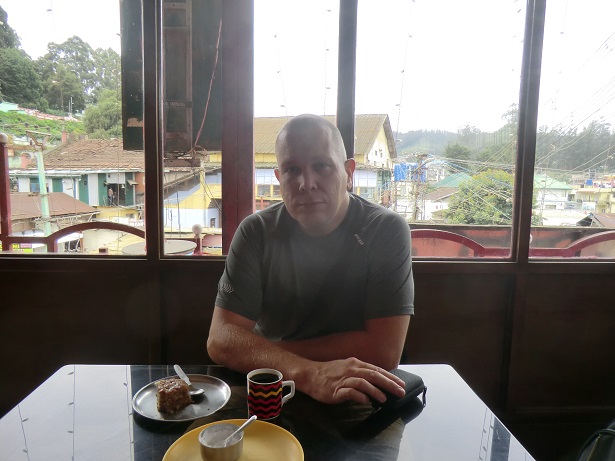 Christer at Willy´s Coffee Pub.
12.10 Christer was called back when we were leaving the cafe. He had left his jacket hanging on the chair. It's easy to do that, we're not used to having jackets here in India. I then went into a small shop in the ground floor to the cafe to buy new pens. I managed to ask for pencils. Everything worked out though and now I have two new pens.

12.31 After passing some Hindu temples and then reaching the bus station we will now wander up a hill. 12.50 It's hard to walk up a long hill. Am I untrained or is it the high altitude? The planned lunch restaurant, Place To Bee, has unfortunately closed on Tuesdays. It feels sad because it has received great reviews. It has happened before that our plans and closed restaurants, places and other has collided. 13.08 Not all restaurants have closed. We're at Hyderabad Biryani House. Now we have ordered the food that we can call lunch. 13.48 It was delicious with the appropriate amount and suitable seasoning. Now we have begun the walk home. Miscellaneous words of wisdom are preserved on a wall alongside the road. How about "Thousands have lived without love, not one without water"? 14.36 We took another road and went downhill on the way home. We made a stop in the centre for the purchase of beverages. The man in the store became very committed when we chose to purchase from him. Instead of loose coins in change, we got caramels. Now we're back in the room again. Soon I'll copy Christer's plan and shower. 16.11 Own time in a lovely room is not so bad. Sometimes it's nice to just exist.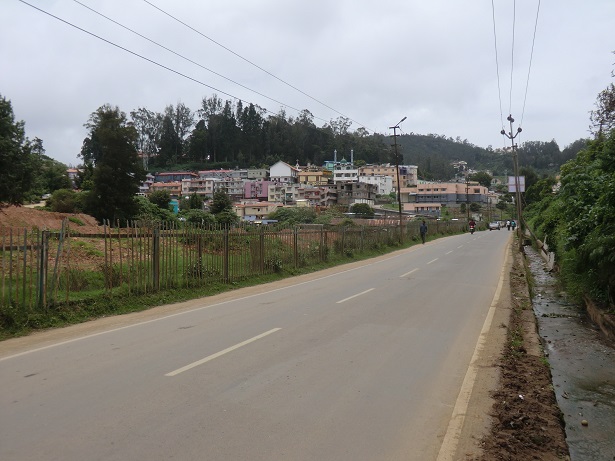 On a walk through Ooty town.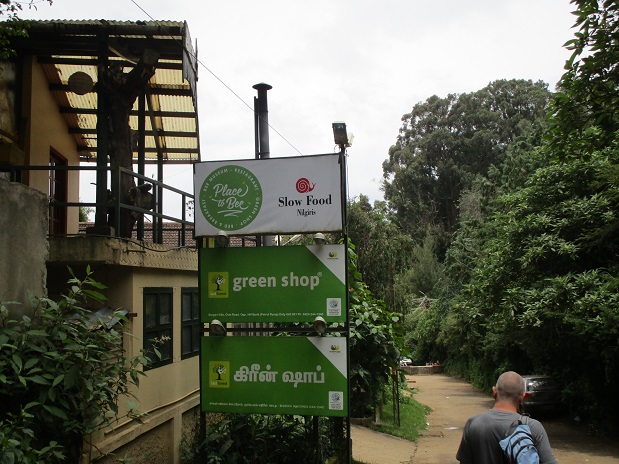 Christer is arriving at a closed restaurant.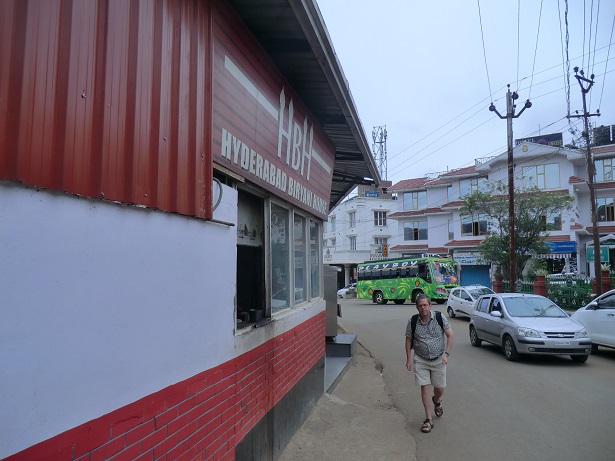 Peter is leaving this day´s lunch restaurant, Hyderabad Biryani House.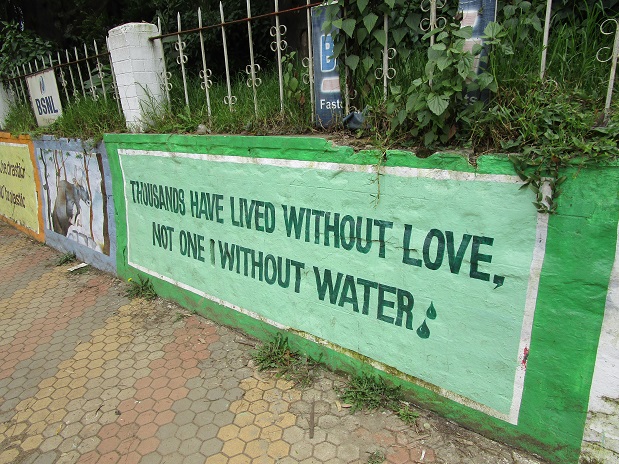 Words of wisdom along the road.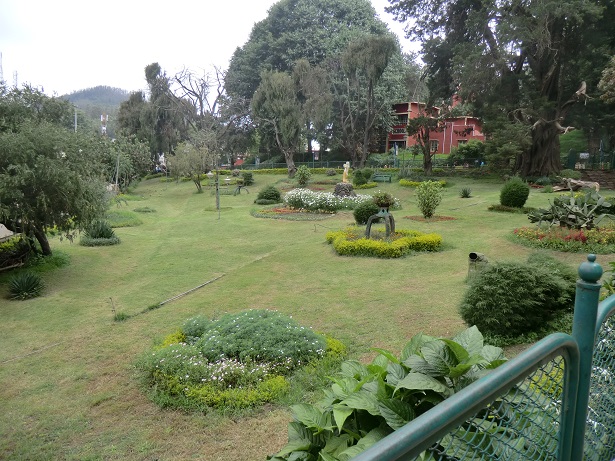 Pleasant Park, Ooty.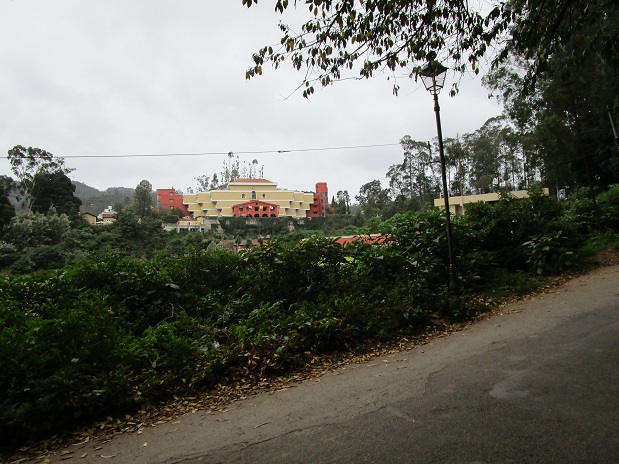 We can see our hotel again!
17.26 One of the pens I purchased today has made its debut. I have also just started the heater standing on our floor. There is no heat in the room and the cold comes quickly when it gets dark. The pen does a good job. We hope that our source of heat also does a good job.

19.59 The heater can be trusted. I didn't believe it was going to get cold in a room in India. We have had enough of that in South Africa and Peru during previous trips. Now it is time for dinner buffet. What awaits us this evening? 20.17 There is birthday party at the hotel. This theme seems to accompany us, the birthday of a child and the celebration of it. It's not a buffet tonight either. We have instead ordered from the distributed menu. 21.19 Pasta with chicken and minced lamb was a nice variation as dinner. Now we will let the food sink down before the day and the month ends. Tomorrow we have another day here. We must fill it with a appropriate content.
---
Wednesday 1st of August
08.17 We remain at high altitude and cool temperatures in Udagamandalam (Ooty) in the state of Tamil Nadu. The surrounding land remain stable around us. We've entered the last month of the trip. It's August. We will be home in two weeks if everything goes as planned. 09.09 A breakfast is a good start to a day in this month as well. A day which hopefully is filled with adventure. 09.31 Everything is ready for another day here in Ooty. All we need is to find one or possibly several plans for the day. It is also always good to have a backup plan. We should not have such great demands on ourselves during our stay here. When the trip was planned, the days here were supposed to be relaxing, a cool place to take it easy before the end of the trip. 10.34 The plan that follows is to first acquire various information at the reception. We want to know about the cost of transportation from here tomorrow as well as the possibility of exchanging our remaining US dollars. Next, we will learn more about the town in which we stay. We'll see what we can do and not. 11.01 The reception has informed us that it is not possible to exchange our dollars, at least not at the moment, and that a taxi to the next destination costs 4500 rupees. We have now walked to the nearby Government Rose Garden (http://www.ootygardens.org).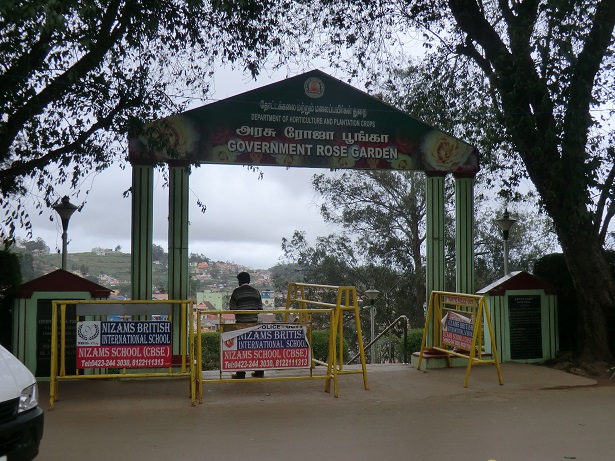 The entrance to Ooty Government Rose Garden.
We are looking out over all the beautiful roses.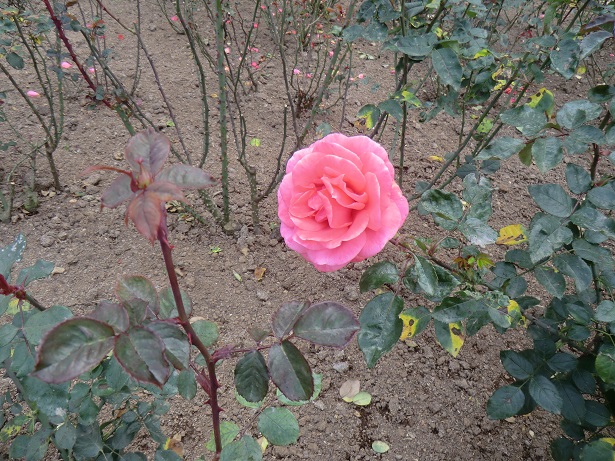 A beautiful rose brightens up a cloudy day.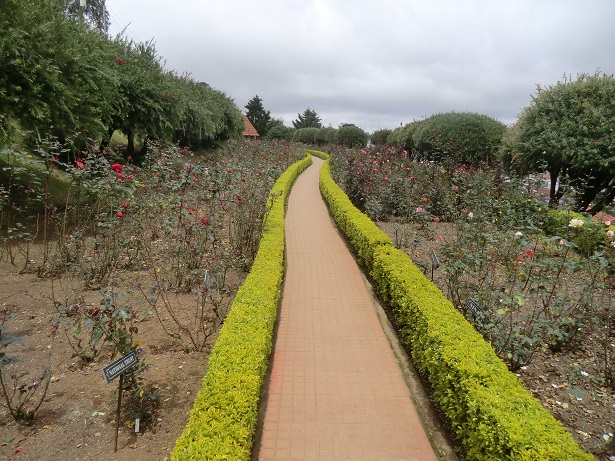 A path through the rose garden.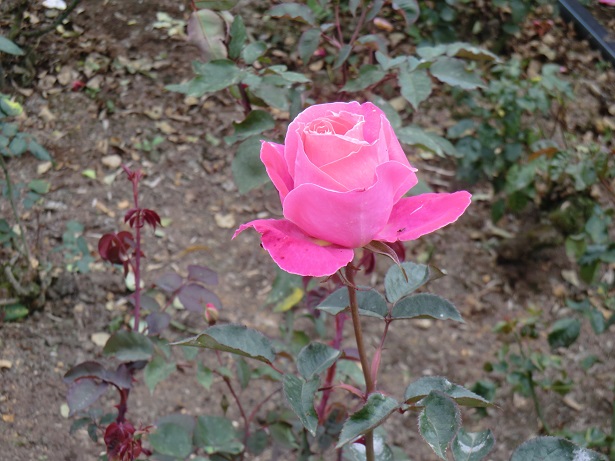 One of 20 000 roses.
11.23 I have never before seen so many different varieties and colours when it comes to roses. We're not sure if it's off season or high season here but we've seen roses so we'll be fine for a while. According to information, about 20,000 rose bushes have been planted here spanning about 3000 different kinds. We will remain seated on this bench until we rose, oops rise. We shall also plan what we do the rest of the day. Drizzle and sun have a duel right now. We'll see who wins.

11.57 It is truly both magnificent and beautiful here. It is certainly even more beautiful when everything is in full bloom. It looks a little sparse in the flower beds. 12.11 Time to say goodbye the roses. Our visit is flower, no over. Before we leave the garden, we have photographed the view down towards Ooty city. Strangely enough, the name is the height we are on is Elk Hill. Are there elks in India? 12.45 A new coffee chain is found, visited and ordered at. It's called Café Coffee Day (https://www.cafecoffeeday.com). How many different coffee chains have we actually visited over the years we travelled around the world? Yet again, statistics can be made. Our café is on the way to the Botanical Gardens. We had plans to visit it but right now we feel that we spent enough time today as botanists. I think we'll fill the afternoon with other things instead. 13.28 The coffee and the small pastries made us hungry. Therefore, we went up the hill to Shinkows Chinese Restaurant (http://www.shinkowschineserestaurant.com), a Chinese restaurant that apparently has existed here for many, many years. 14.04 We once again got what we wanted, good food in suitable portions. Our shrunken travel stomachs do not have as much space as at home.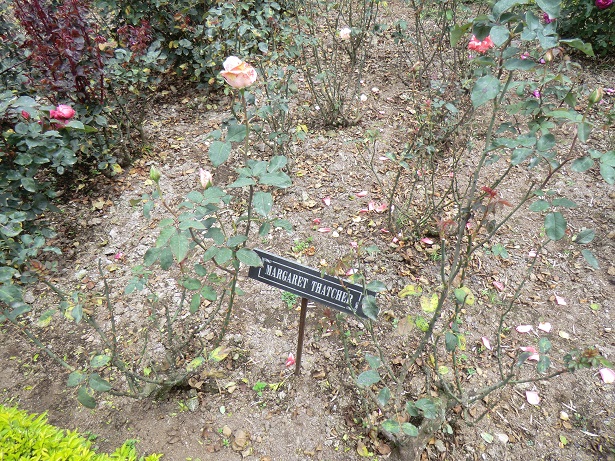 Mrs Thatcher is here as well.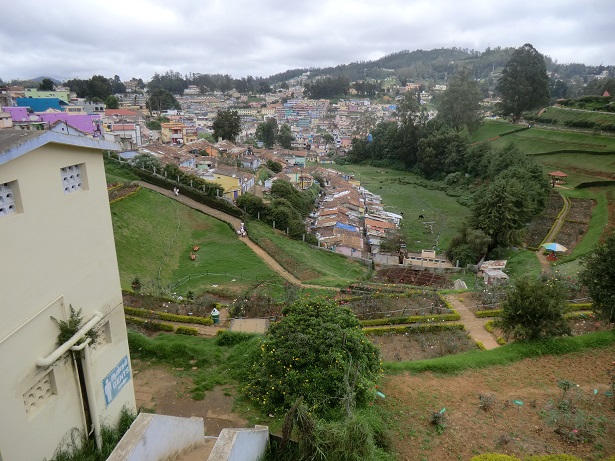 The town starts beyond the roses.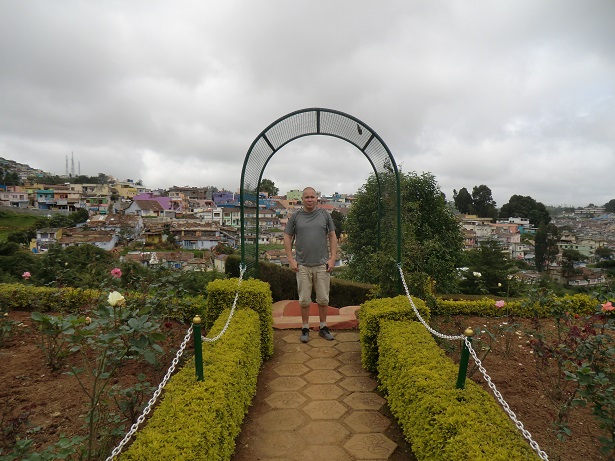 Christer inside a rose garden gate.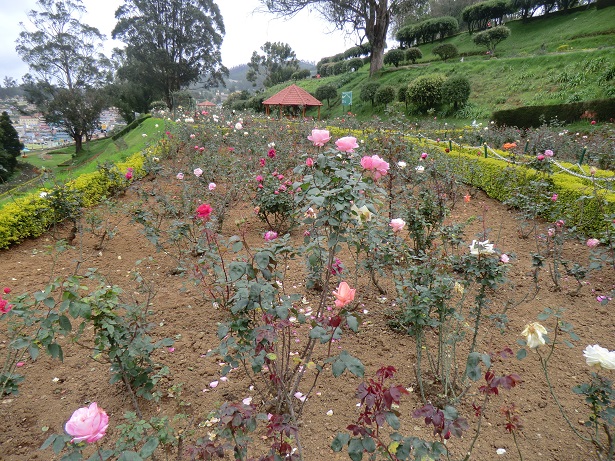 Roses come in many colours.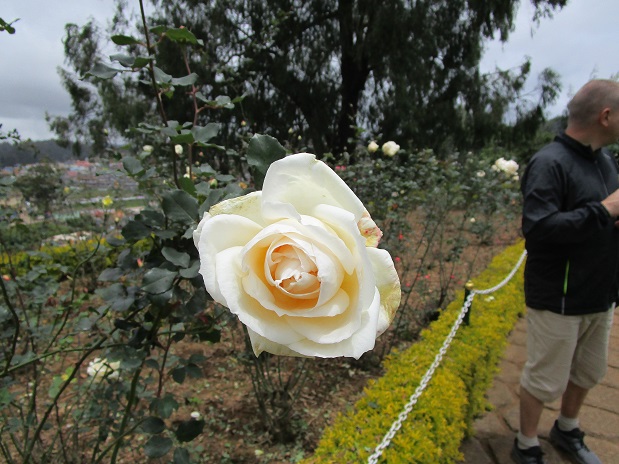 A white rose and Christer.
14.13 We found a second Cafe Coffee Day not far from the lunch restaurant. Here it will be a cup of coffee. We're almost alone in the room. Haven't the coffee culture made it here in the area. Maybe it's tea that matters.

15.06 The coffee gave us the energy we needed to get home to Sullivan Court. Once home, we have arranged transport for the trip tomorrow and left our dollars for exchange. They need to arrange more rupees so we wait until it's settled. 15.21 We have received the money so now the wait is over. Now we're just waiting for the room to be cleaned before we step in. 15.41 Our room have a pleasant scent. Have they perfumed extra? Now we will clean both bodies and clothes. We hope everything will dry before we change places tomorrow. 18.10 Someone rang the door. Again, it was housekeeping that wondered if we needed help with something. What we need is coffee, and we can fix it ourselves. In fact, we already have. 20.03 What's for dinner today? Will it be ordered from a menu, a buffet or what? Soon we'll know.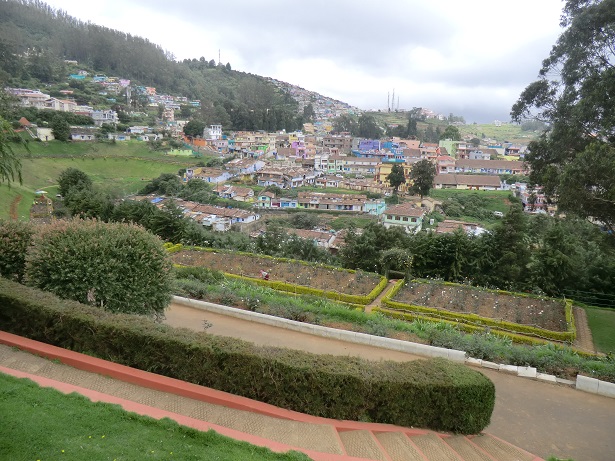 We are leaving the roses behind.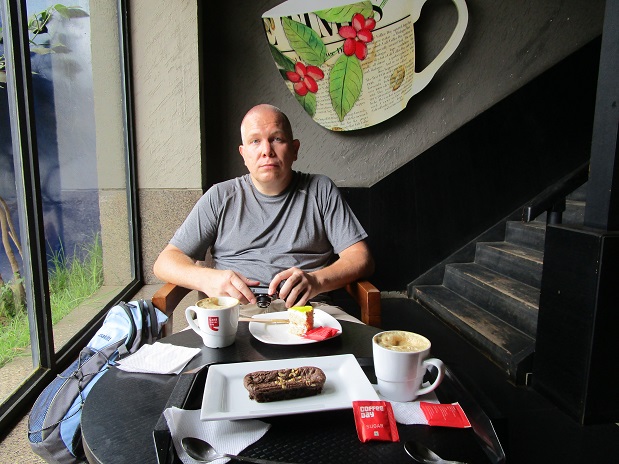 Christer is having a break at Café Coffee Day.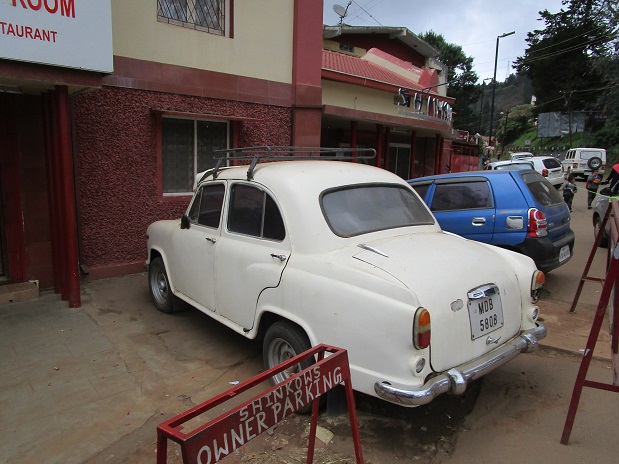 Classic car outside Shinkows Chinese Restaurant.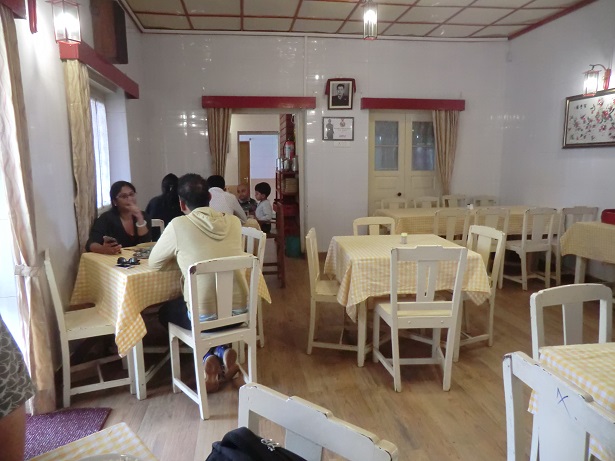 Our lunch place today.
A new dinner room tonight.
20.19 There will be a menu dinner tonight in a new room on the same floor as our room. A note on the door to the hotel restaurant referred us up one floor. Things went wrong as I placed my order. The waiter asked, it is 102 (one o two). I thought he was wondering if it would be one or two dishes. He was wondering about the room number. We got things right.

21.20 We have, once again, enjoyed tasty Indian dishes with interesting flavours. However, it was a bit of a pity that we did not have time to test the buffet one more time here. 23.17 Imagine that even this day will end with good sleep. At least we hope so. Tomorrow we will move on to lower heights and warmer weather. The forecast promises temperatures up to 40 degrees in the next week. I think we're gonna miss our cold room.
---
Thursday 2nd of August

08.59 The night has passed and the last breakfast here at Sullivan Court has been eaten. We slept well and ate well. We will soon leave our room. Before that everything, big and small, will be packed. The breakfast was moved to the same room as we were in during dinner yesterday. What has happened to the ordinary dining room?

10.00 We have paid for our stay here at the hotel and the transport to the next city, Coimbatore. We are in one of the hotel's cars, it feels a bit luxurious. The cheapest would have been to take a slow local bus from the bus station. Another option would have been to ask for a ride to the taxi people and there find a taxi to Coimbatore. Now we treated ourselves to this, a ride from hotel door to hotel door. It is more expensive of course, but saves us a lot of hassles a day where we need to use every hour wisely. It is now time to leave a sun illuminated Ooty. Why is there so often amazing weather when we leave a place? 10.21 After a moment of climbing upwards, we now head down again along serpentine roads. There are beautiful views in these mountains. 11.06 It is noticed that we are heading down. It's not just the obvious that it leans downwards. It also feels in the ears and it gets warmer outside our car. Sometimes we see one or more small monkeys on the roadside. 11.20 We just read Mettupallayam on a sign. Soon after, we went over a stream. 11.38 Our winding road began to bend even more, and through various hairpin turns, we came down to the plain and the city of Mettupallayam. We move slowly through the narrow streets of the city. Our car is far from the only one here.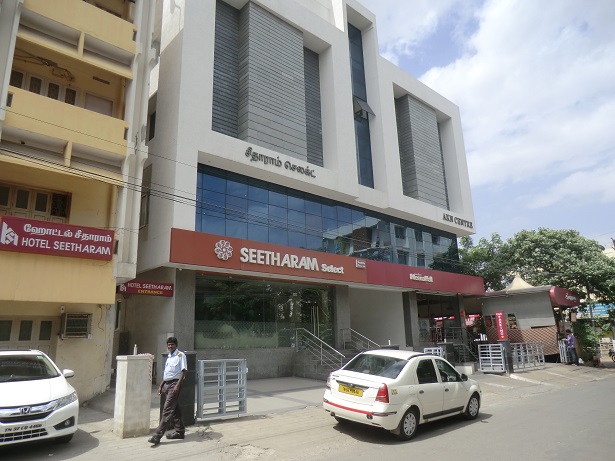 Hotel Seetharam Select, Coimbatore.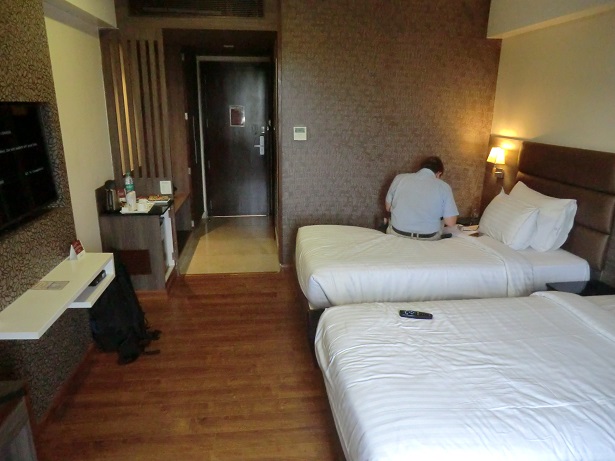 Peter inside room 605.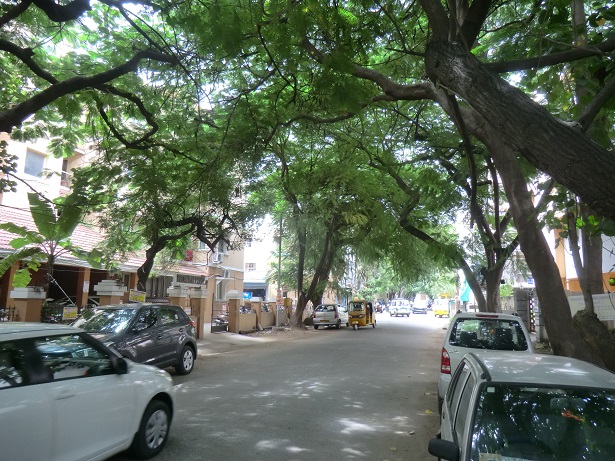 Our neighbourhood in Coimbatore.
12.46 Our driver found a smart alternative route that saved time, the road straightened out and we eventually arrived to the big city of Coimbatore. Here we have checked in at Hotel Seetharam Select (http://www.seetharamselect.com) and room 605.

13.21 After some fuss, we got life in the TV here in the room. The only WiFi code we got was short-lived. We need to look for some facts online. Maybe it's just as good to stop at the reception counter and ask for new codes. 13.44 We have been told that at the moment there are problems with the internet. In anticipation of the internet and because I'm hungry, we'll have lunch at the adjacent vegetarian restaurant Shree Anandhaas (http://anandhaas.com). The thing that I ordered the same dish as Christer confused the waiter. He began to wonder if we would have fried eggs. This is where we're going to have our breakfast tomorrow. 14.23 It was delicious. There is still no working internet at the hotel. Maybe it was a mistake not to ask for the code to the restaurant's WiFi? 14.34 The phone in the room rang and now we have received codes to the once again functioning network. Let's check out which bus we're taking from here tomorrow. 15.13 It's time to walk out and arrange with tickets for the next bus. 15.40 It's hot again, at all not as cool as up in Ooty. We have made a long walk and are finally arriving at the bus company Essaar´s small office to purchase tickets. On the way here, a young lady on a motorbike wanted to help us. Did we look so confused?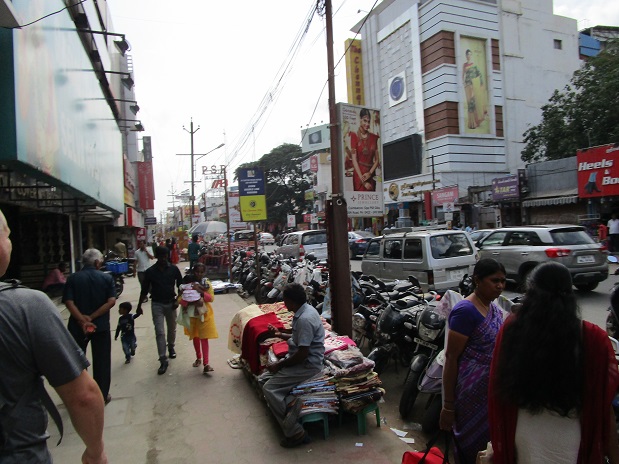 A walk along Cross Cut Road.
A sweaty Christer is trying to buy bus tickets from Essaar.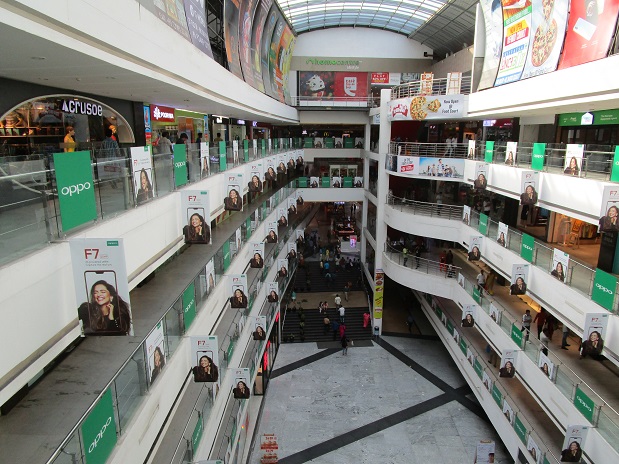 We have arrived at the shopping mall Brookefields.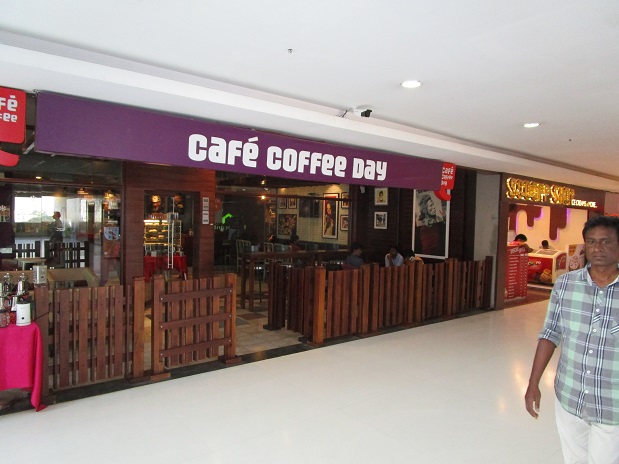 Café Coffee Day, our new coffee oasis.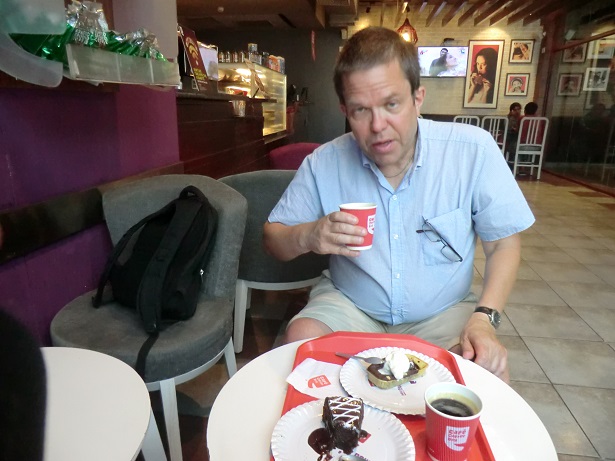 Peter is enjoying his coffee at Brookefields mall.
15.50 We're moving away from the office. They didn't have the tickets we wanted. This despite Christer have seen it online. They offered tickets on a night bus, but that option does not work for us. They had no knowledge of the bus on day time that Christer found information about. You shouldn't always trust the internet. Sometimes it's wrong.

16.31 Something goes well anyway, hooray! We are at Café Coffee Day on the top floor of the shopping mall Brookefields (http://www.brookefields.com). Here comes the coffee. Outside the mall two small girls, sisters?, wanted to sell the smilies. They were stubborn, despite our no. Their mother filled in, and she nagged as well. 17.04 I'm sitting on a bench downstairs from the ground floor. For company, I have the two small backpacks. Christer's on his way down another flight of stairs. He's going to shop at Spar, a chain we are used to shop at. We will switch places when he's done. I, too, need to shop. 17.57 Both then Christer and I would pay for what we bought the cashier wanted to know our phone numbers. Things went well without us sharing the numbers. When I was shopping, Christer met a young man who wanted to sit down and ask him about Sweden and our trip in India. However, the conversation was interrupted. The man's stressed girlfriend/wife came and picked him up. Here at home in the hotel room the hunt for bus tickets continues. 18.14 We will, most likely, visit a bus office tomorrow morning and get the tickets there. As we mentioned earlier, the only chance to book online is that you have an Indian mobile number, intricately for sure! 20.17 We will soon leave room 605 for a while.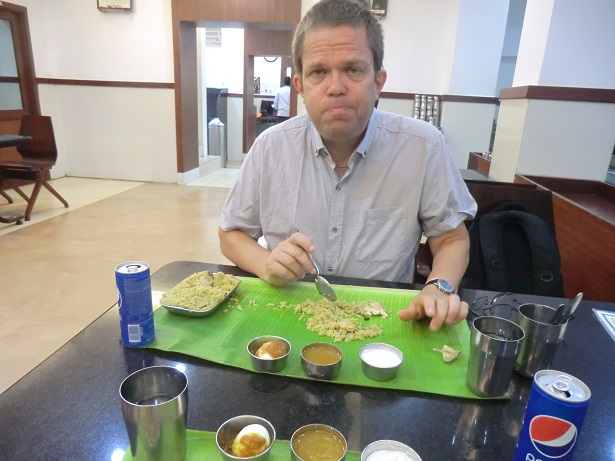 Peter is having dinner at Hotel Junior Kuppanna.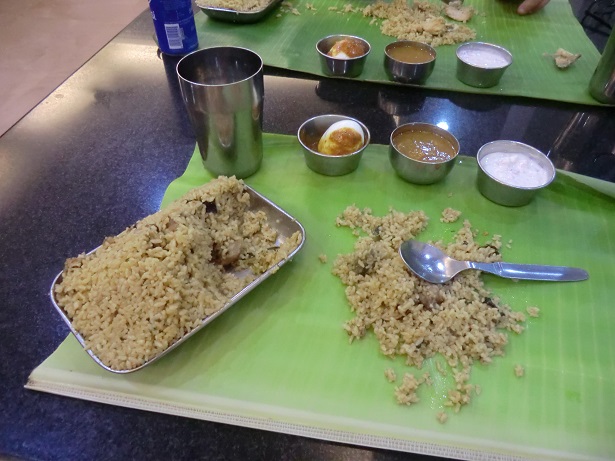 Chicken Biryani on banana leaves.
20.37 Things are fast and smooth here at the restaurant hotel Junior Kuppanna (http://www.hoteljuniorkuppanna.com). We had hardly ordered as the food was delivered. Everything should be eaten on a banana leaf. Somewhat confusing, restaurants are often called "hotels" here. That was also the case in Sri Lanka.

21.05 It was really good food, not at all strong but still I reacted with coughing as if it was as spicy as any. Afterwards, I tried mint-tasting coarse grains, really tasty! 22.27 We are back at the hotel, it rang on the door and I went and opened. There was one in the staff. In his hand he had a bottle of Sprite. That's what he said, Sprite! He stepped into the room, opened the refrigerator and shook his head. I said We didn't order any Sprite. He apologized and left. 23.50 Christer struggles to find transport opportunities in the coming days. The problem is that the connection is weak. In addition, if you want to book some kind of tickets or check train times then you have to have an Indian mobile number. Have we heard that before?
---
VIDEOS
---
You can see 25 photos from July 31 in this photoalbum.
You can see 45 photos from August 1 in this photoalbum.
You can see 18 photos from August 2 in this photoalbum.

---
---