---
Text: Peter Johansson
Editing: Christer Lundstedt
Photos: Christer Lundstedt, Peter Johansson
Videos: Christer Lundstedt
---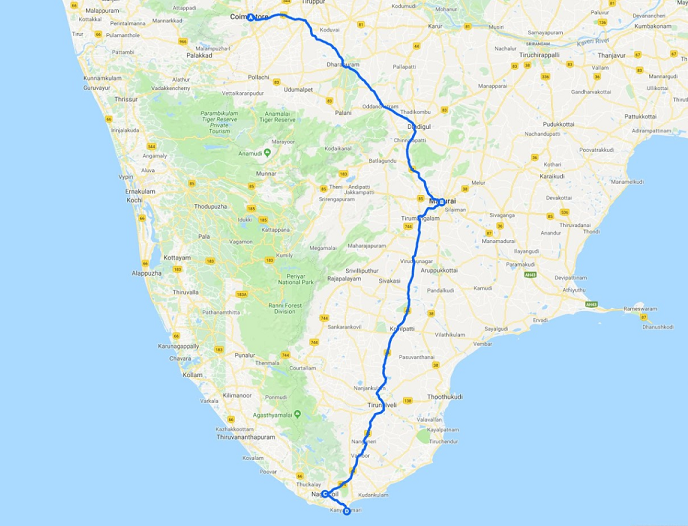 ---
Friday 3rd of August

08.05 This third day of August begins here in the south Indian city of Coimbatore and here at the Hotel Seetharam Select (http://www.seetharamselect.com). There are, according to an internet page, currently seats on a bus that can take us on from here and to where we want. We will, within the next hour, hopefully reduce the number of seats by visiting a ticket office and getting hold of tickets.

08.50 With our breakfast tickets in our pocket, we walked past the breakfast restaurant and instead went out in the crowd here in the city. After various difficult passages across heavy busy streets, we brought us to Parveen Travels office on VKK Menon road. Let's see if we can get some tickets from here. 09.16 It went well to buy bus tickets. I'm happy this is done. The bus leaves with us around 17.00 this afternoon. It felt like it was a longer way home to the hotel. Now we have handed over our breakfast ticket. We are at the vegetarian restaurant, Shree Anandhaas where we also had lunch yesterday. 09.51 We immediately got white plastic trays with different small compartments. In the trays lay various vegetarian dishes. After that, bread and sweet mulatto coffee (coffee with milk) were served. Once at home in the hotel we have found out whether we may keep the room a little longer than to the regular time. We have been offered to keep the room until 14.00. We are thinking about the offer here in our room. 09.59 We have accepted the offer and said that 14.00 is fine. After check-out, we will then have lunch before departure.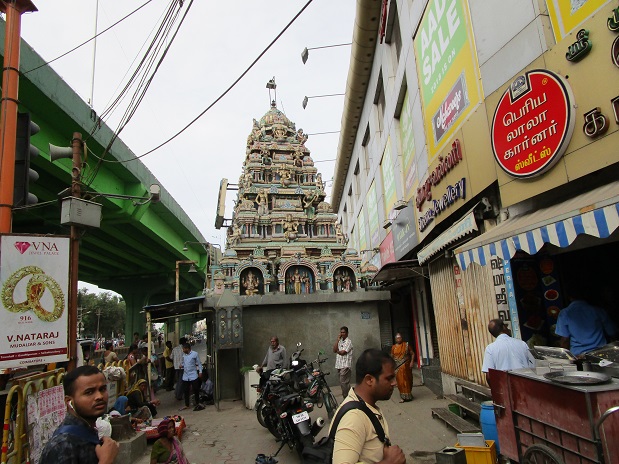 There is always place for a hindu temple.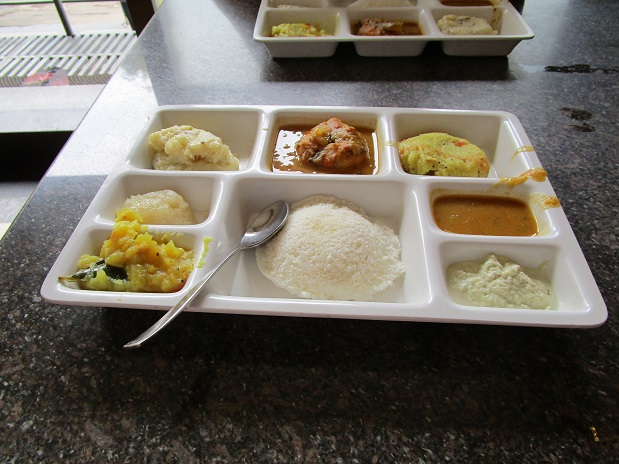 Breakfast at Shree Anandhaas.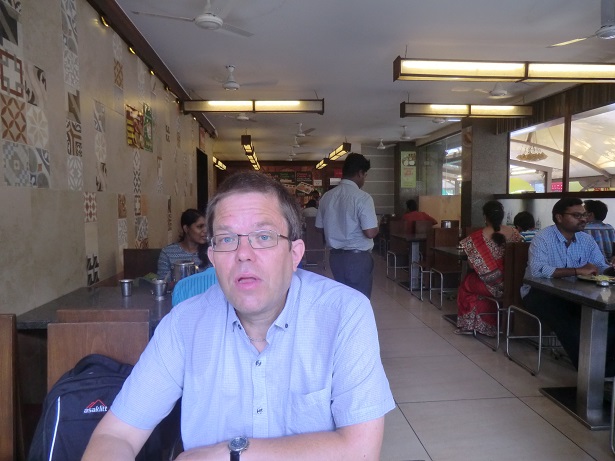 Peter is eating another South Indian breakfast.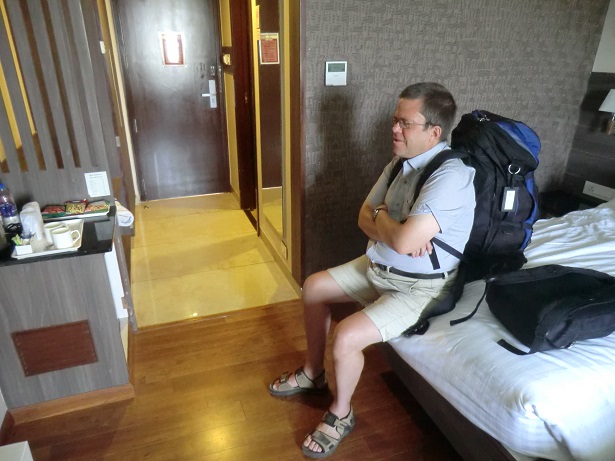 Ready to check out.
11.37 Our waiting takes time. Time is slower than usual, but there's not much we can do about it. We need to be in the room for a while. To aimlessly wander around in the heat and traffic for hours without hotel rooms to cool down in is not recommended.

13.07 The most exciting thing that has happened during our wait is that hygiene techniques have been inside the room and turned back. I don't think they'd have gotten the information that we're still here. In addition, we have thought out various plans for the time until our departure. 13.27 We will leave the room, check out and let the backpacks stay at the reception for a few hours. 14.05 After a short walk, we have returned to the shopping mall Brookefields and Café Coffee Day on the top floor. Here in the mall we will prepare for the upcoming bus trip. Let's start with coffee. 14.50 The idea of having lunch here in the mall has been scrapped. It feels stressful, and we don't know how long it takes to get food. There are long queues and lots of people at most of the restaurants here. We'll have to solve it differently. 15.11 This feels smoother and more secure. We're back at yesterday's dinner, restaurant, Hotel Junior Kuppanna (http://www.hoteljuniorkuppanna.com). Here, we know that it is good food and fast service. I hope I can eat today without any inconvenience. Yesterday I coughed myself through the meal. 16.03 We thought we could have a dessert and ordered in a halwa each. All in all, the lunch cost 616 rupees, around $ 10. Back at the hotel we have been reunited with the backpacks. This diary has run out of pages to write on. I'll change before we go by tuktuk from here to the bus office.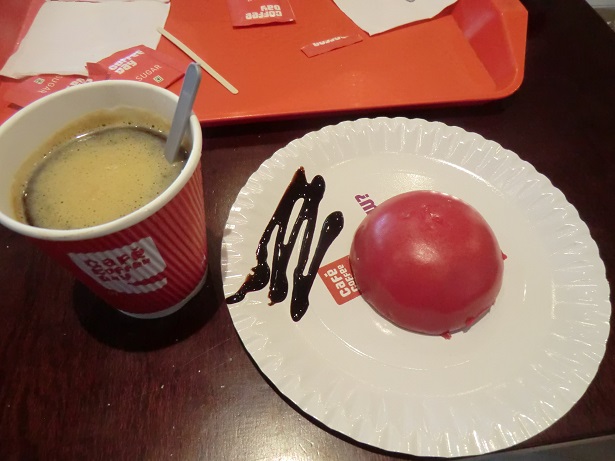 Back at Café Coffee Day.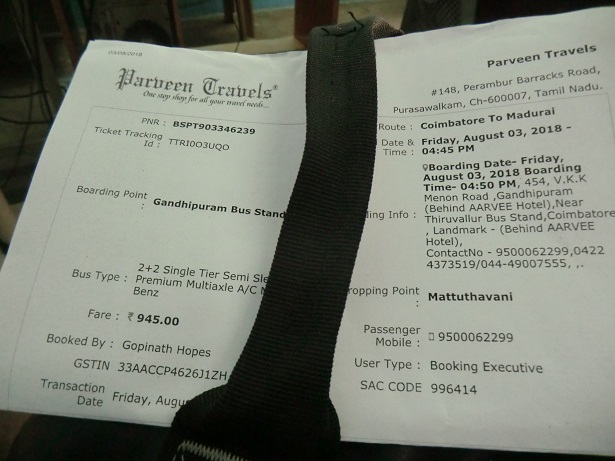 Both the bag and the bus ticket are prepared.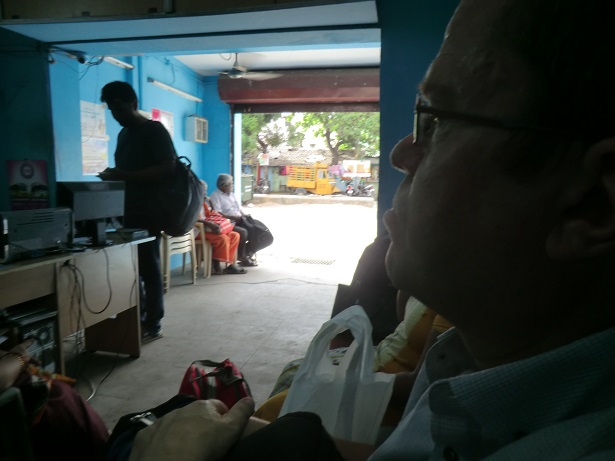 Peter is waiting inside the small Parveen Travels office.
16.20 It is the premiere of the new journal. We are back at Parveen Travels office where we earlier today were asked to appear no later than 16.50. We took a tuk-tuk here. Let's wait for an answer. When will the bus come and where does it stop?

16.54 The young woman at the office got a phone call, said something and everyone, around ten people, followed her out and away. A short walk and a wait later we stepped aboard the bus that tonight will take us south to Madurai. 18.35 The bus has passed a number of wind turbines. They were both active and passive. 19.10 We have, just outside Dharapuram, stopped for a short break. It's dark and cool out there in the Indian night. 20.47 The bus rolls through an ever more compact darkness. All forms of natural light are as blown away. Sometimes I miss the bright summer evenings we have at home. There are some summers since we were home in Sweden for some longer period this year. 21.13 It's a little unclear where we will end up with this bus. On the ticket, the destination is indicated to be Mattuthavani, a bus station on the outskirts of Madurai. It remains to be seen if it makes any other stops.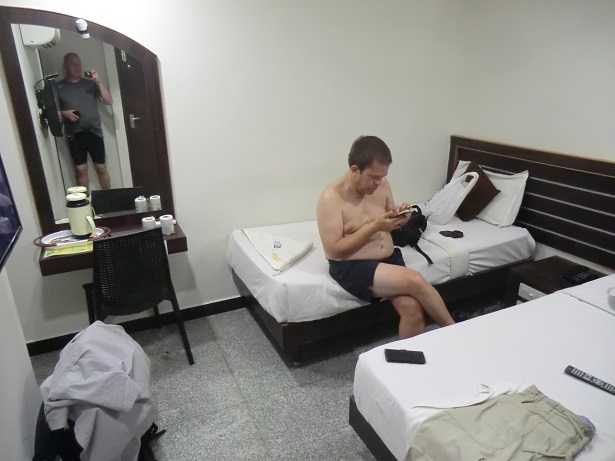 Christer is taking photos in our room at BG Residency.
21.50 The bus stopped in the centre of Madurai. Suddenly, a huge amount of passengers began to get up and wanted to get off. We're joining them. Now we're going out of this matter of transport to find another. Or does it find us first?

22.10 A tuk-tuk took us the short and well trafficked ride to our next accommodation, BG Residency (http://www.bgresidency.com). Our driver had a hard time finding and we understand that. We stay upstairs on top of a restaurant and there was a rather small sign that showed that we come right. It feels a bit simple in room 107 but we were kindly received and promised breakfast downstairs tomorrow morning. 22.36 We begin to prepare for the night here in our room. It is quite crowded here and there are various sounds from the restaurant under us and from the street outside. That's what you have to put up with when you live cheap. Now we will eat our packed travel food and then go to sleep.
---
Saturday 4th of August
08.45 Madurai woke up before us. We have slept well in our simple room here at BG Residency. It's different from the others we've had on this trip here in India. 09.06 The breakfast ticket we received is valid for 4th of July instead of 4th of August. Let's hope its okay. We will have our breakfast at the restaurant in the ground floor. It's called Sri Ariyas. It's another vegetarian restaurant. This isn't going to make us vegetarians. We rather build up a craving for meat. 09.15 There was no problem. The ticket was shown and food was served. We have as mentioned been served breakfast downstairs, just above street level. The food is eaten on banana leaves, an environmentally friendly alternative which saves on dishes. 09.47 Our breakfasts are completed. Today's other issues are about to take place. How do we get away from here? We have pre-purchased tickets with a very early bus tomorrow. That's the tickets we bought in Bangalore. Are we really going with it? In that case, where does it depart? We may be able to purchase a train ticket, but then we will not get all the way. Is this a better option anyway? In addition, there are more options. Are there any of these we should use? 10.42 This day must get started for sure. The coffee intestines/guts howl and we need to get structure regarding the transport from here. Then there is this with payment and get to know when there is staff here in case we have to leave early.
Another Indian breakfast is consumed. This time at Sri Ariyas restaurant.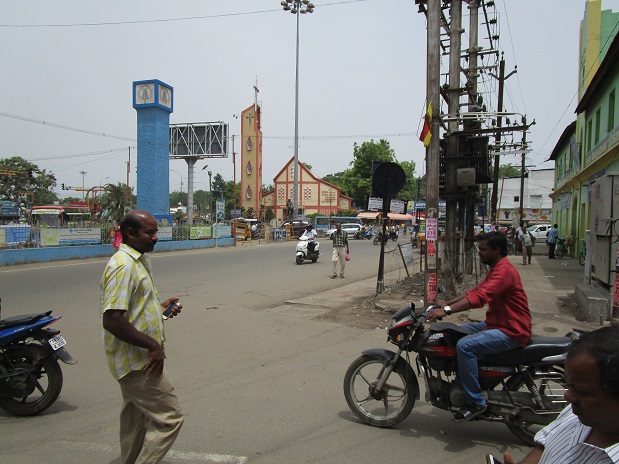 Our first walk in Madurai.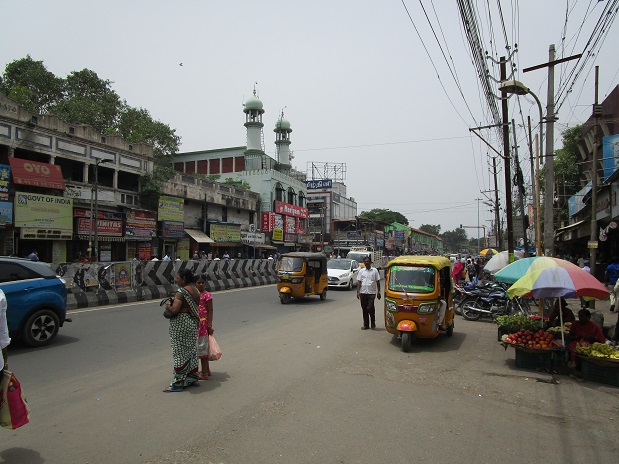 West Veli Street, Madurai.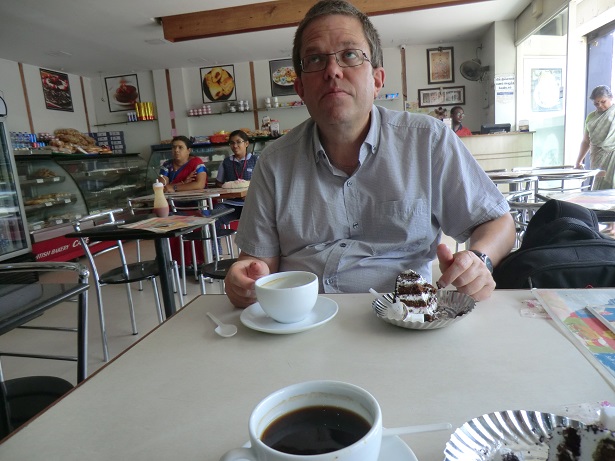 A nice stop at British Bakery Café.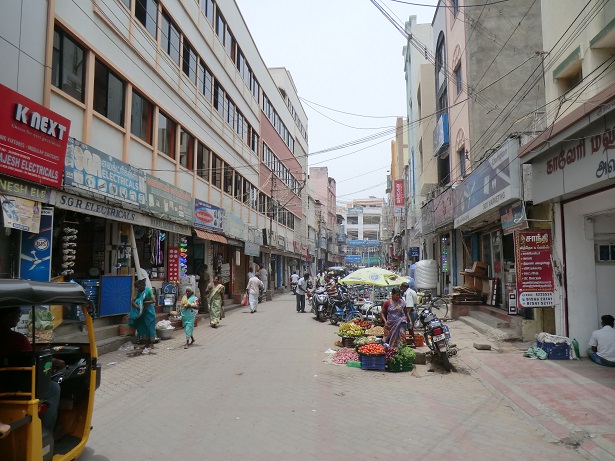 A street close to our accomodation.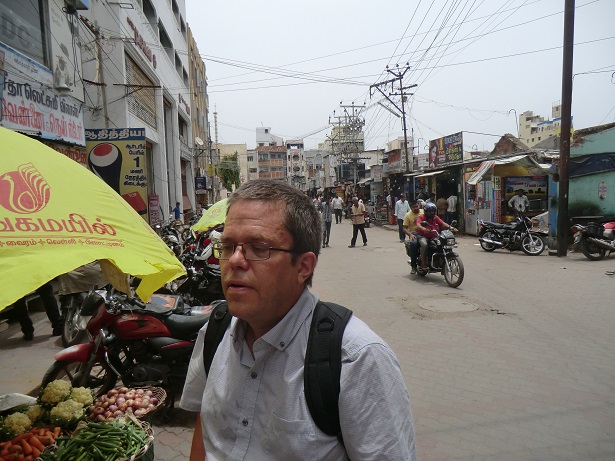 Peter in the middle of hot Madurai.
11.41 It went well to pay for the room and they have staff here 24/7. Out on the sttreets we cruised along an overpopulated sidewalk and stopped at a pedestrian crossing. Suddenly a woman began to seemingly yell at us. We didn't understand a thing. We don't know what we've done wrong, nor do we understand Tamil. As quickly as she started, she stopped and we crossed the street and continued on the other side, back in the same direction as we just walked. We are having black coffee and Black Forest Cake. This is served at the British Bakery Café. We have decided to travel with the planned bus. Why bring more hassle? However, we need to find out where it departs.

12.24 We have had good coffee and good pastries. The home walk went well, too. We crossed the heavy trafficked West Veli Street and no one yelled at us. Traffic is intense and the sidewalks are, as I said, far from empty. When we got into the room again, it smelled strongly chemically, have we really slept in this stench? After a while, we did not notice it. Did it disappear or did our noses adapt? Can it be some kind of insecticide? It seems to come from our closets. 13.25 The city sounds attract us. Or is it perhaps the hunger and the spirits of discovery that drive us out again? Anyway, out we go. First, we'll just have to find out where to go and how. 14.10 The time to leave is here. Will the chemical stench return in our noses when we return? 14.17 We are on our way to get some nice views of the city, views that should also be combined with lunch. 14.27 The restaurant Chentoor the Emperor features a rooftop terrace with beautiful views of the city's temples and plenty of free tables. Unfortunately, they're closed so there won't be any lunch here. Well, at least Christer got some good pictures over the temple area in the distance. Too bad we couldn't stay so that we could make a video clip and also enjoy the view. 14.42 At 21 Town Hall Road is Dhivya Mahal Restaurant. It's not the same views and fewer free tables but at least they have open. Our lunch will be here instead.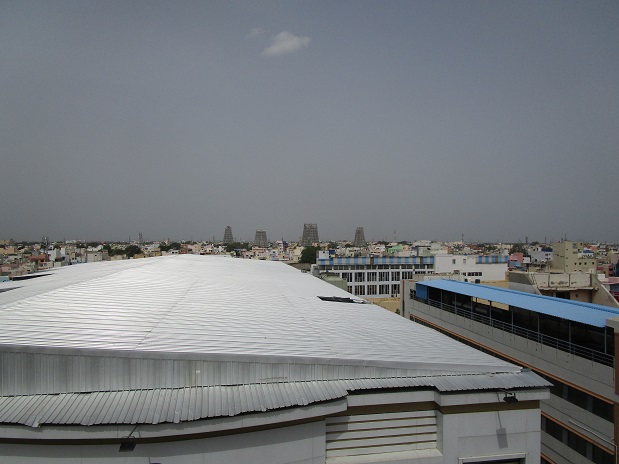 From a closed restaurant we could see the temple towers at the horizon.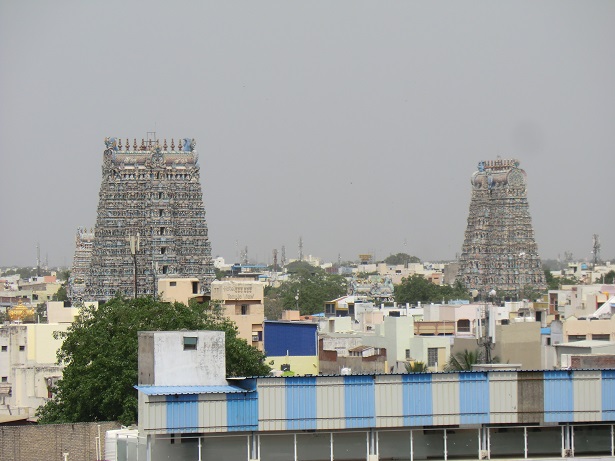 The towers at the Meenakshi Amman temple.
Peter is having spaghetti for lunch at Dhivya Mahal Restaurant.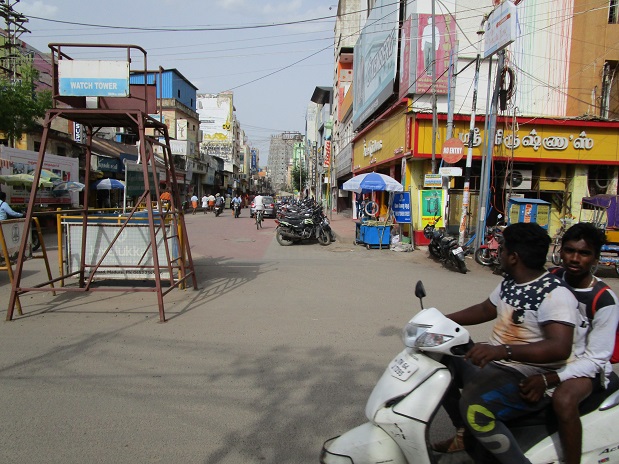 We are walking through Madurai, heading for the temple area.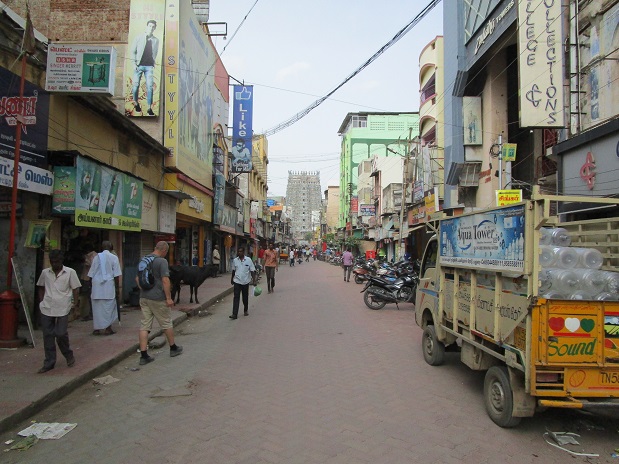 Christer is walking along West Tower Street.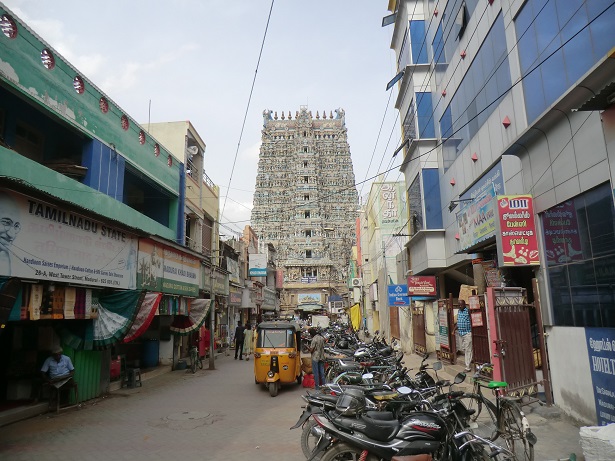 The temple towers are coming closer.
15.40 Lunch is swallowed and paid for. It was a nice restaurant. We chose pasta (spaghetti) to get some variety. We are now heading towards one of the city's towers, the West Tower, at the Hindu temple area of Meenakshi Amman. It is body temperature in the shade today, +37°C. It wears on the body.

15.48 We were soon joined by a social gentleman who started asking us things about our trip in general and then, by accident (yeah sure!!!) happened to find us again near a store he wanted to invite us in. He wondered if it was just us. I think he'd hoped we were the pre-troops of some major tourist group. We turned down his offers. 16.01 We have been mesmerised by some of the fourteen gopuras, monumental portals in the form of towers here at the temple grounds. The towers are high and full of statues of animals, people and divinity. The temple is erected to honour Meenakshi, one of the figures of the Goddess Parvati. The buildings we see now were built in 14th century and a few centuries afterwards, but the temple area has older ancestry than that. We will not go into the temples because there are so many rules and procedures to get in there. Our outfit is one of the obstacles. 16.22 After the purchase of drinks and escape from a nagging gentleman who wanted to sell postcards, we are now at home again. Here there is a problem, an emergency; the AC is out of order. It's not good news to be without air conditioning in a chemically smelling room in a city with 37-degree heat. 17.40 It took some time but now the AC lives again. 18.59 The time has come to figure out how to get to the bus tomorrow morning. Does it include a transfer from the office here in the city centre or do we get to the bus ourselves? In addition to this, we will also dine somewhere. Outside the street, an infernal drumming can be heard. 19.30 It is diabolical with people on the go, some are musicians in a tent on the street, hence the drumming. We got, in our pursuit of Kallada Travels office at bus station Periyar, help of a toothless man. He showed us where the office was. Now we know that we can get on the bus here at the office tomorrow. The man without fangs will receive 10 rupees of us as a thank you for the help.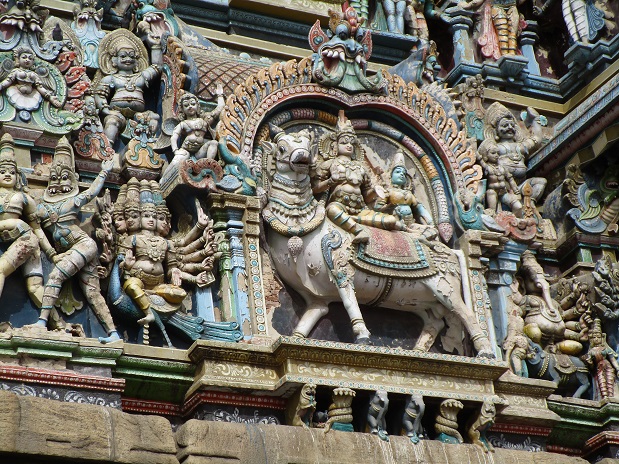 Beautiful details on the towers of the Meenakshi Amman temple.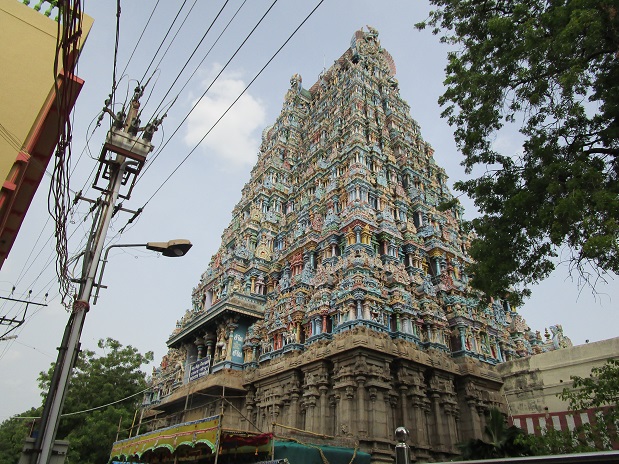 One of south Indias most famous attractions are here in Madurai.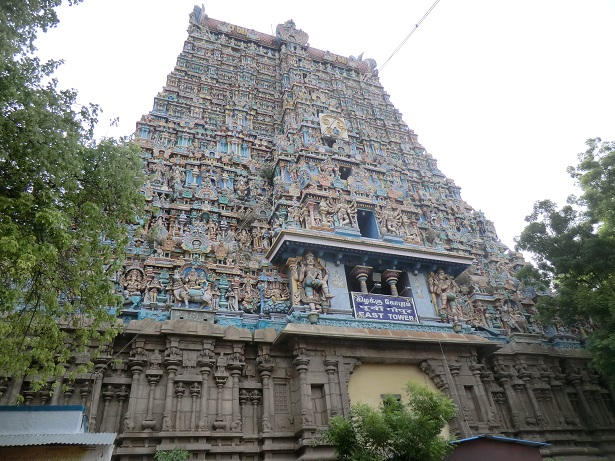 East Tower.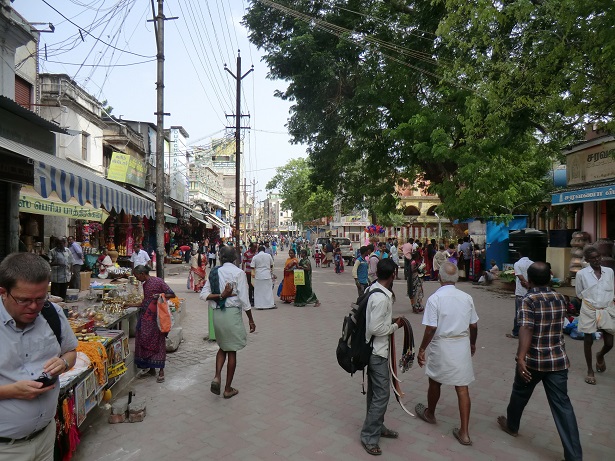 Peter has been taking photos of the temple. Now time to buy some soft drinks.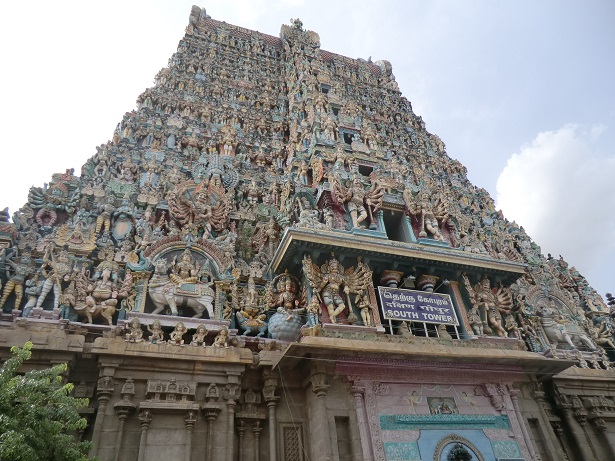 South Tower.
19.56 Mr. Toothless said that the 10 rupees he got was only enough for tea. He needed more to eat something. Instead, he got 50 rupees and he was more satisfied with that. We continued through the amount of people, sometimes we barely saw the pavement, wondering if we even walked on it or on the feet of other pedestrians. Add to that the rush hour traffic on the streets with vehicles stuck in an eternal mess. This is the city you should move to if you feel alone. Now we are finally at and inside the restaurant Taj. In here it's free of vehicles. We are very close to the lunch restaurant we visited earlier today.

20.36 Here at the restaurant we saw something as exotic as other foreign tourists. The food was perfect although if it starts to get a bit monotonous with the same Indian dishes every day. 20.55 There was not much sparser with people on their way home. Christer bought ten bananas from a man with a cart. We need to buy a breakfast for tomorrow morning when we leave the hotel early. I who did not learn to eat and appreciate the banana bought bread in a store that had a bit of each. Once again the smell in the room is far from pleasant. 22.58 Maybe we better get some sleep. It will be very early morning tomorrow.
---
Sunday 5th of August

05.22 It's Sunday and it's early and quiet in the hotel. Not much noise can be heard from the street. Will we get out from here and into the street? Is the ground floor restaurant open or closed? How do we get to the bus?

06.05 Check-out from here BG Residency went well. The crawl under a half-closed/half-open jalousie went, well not too bad. It was then unexpectedly easy to go to Kallada Travels (http://www.kalladatravels.com) office at the bus station Periyar. The streets that last night were so packed with cars and people were now spooky empty. A man lies sleeping on the floor of the bus office. We sit on some plastic chairs outside and wait for him to wake up. 06.25 We got tired of waiting. The man slept on with his eyes open even though Christer had been in and talked to him with a loud voice. I shook one of the man's legs and he woke up. In silence, he folded the blanket he slept on. He went and sat behind a desk, said "take a seat" and fell asleep again, this time sitting up. We hope the bus gets here. 06.35 The man woke up again and announced that we should continue to wait. 07.16 Suddenly the man got up and said, come! We went with him out of the office and into a mini bus from Ark Travel and Tours. In the mini bus was another sleeping man. Is this a temporary transport, a connection? At least the man's awake. That's promising. 07.28 The small bus has started. We're heading for somewhere. 07.43 Today somewhere seems to be at a restaurant, Highway Restaurant, right next to the southbound highway. Are we waiting for our bus? 07.50 Our bus from Kallada Travels came and stopped. We were unable to load the backpacks into the luggage compartment. There was, among other things, a scooter. We brought our luggage into the bus instead. It went well because of all the seats were not occupied. This is a bus that started in Hyderabad, driven all night and will eventually take us to Nagercoil near the south tip of India. 09.44 After crossing a river with bathing people, we have stopped in Tirunelveli. It is cool and comfortable in the bus. Let's move on.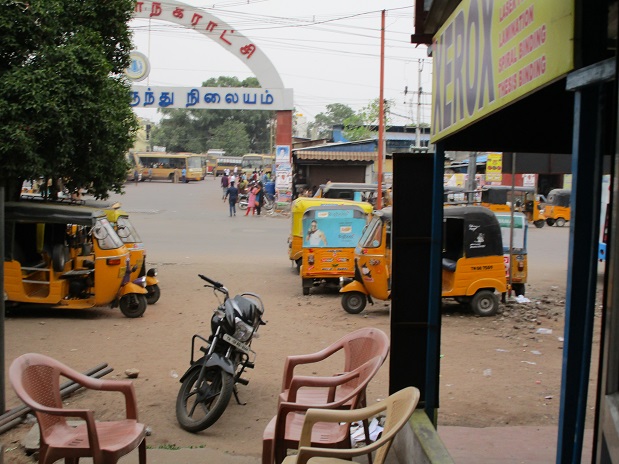 The daylight is here and we are still waiting.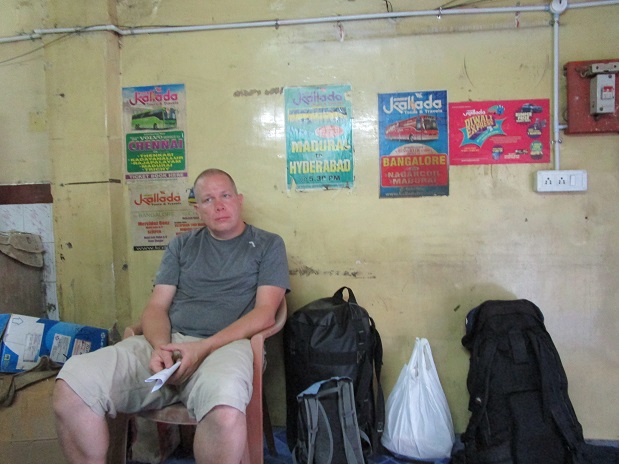 A bored Christer is spending Sunday morning in the Kallada Travels office.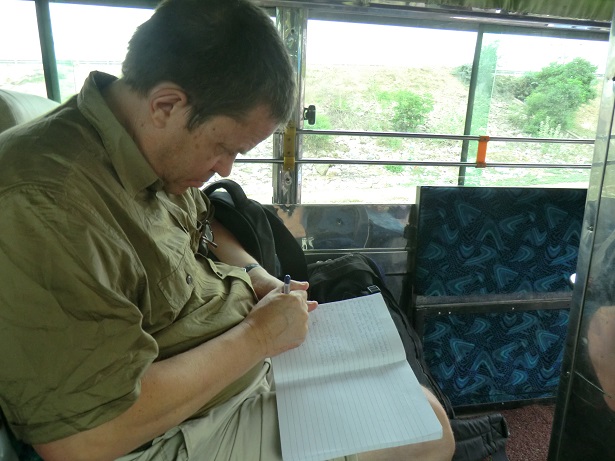 Peter inside a smal bus going to an unknown destination (hopefully another bus).
Landscape outside Nagercoil.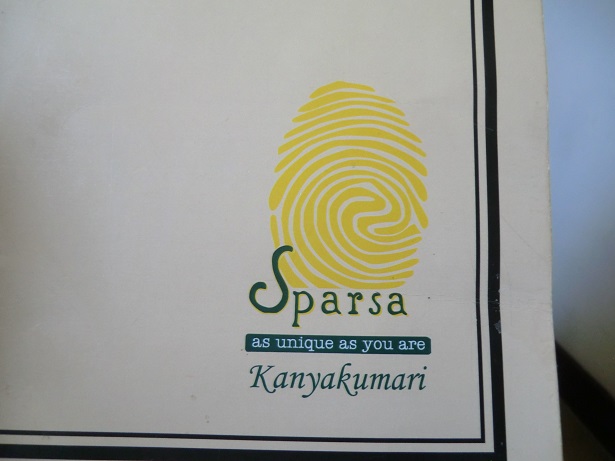 We will stay at Sparsa Resort.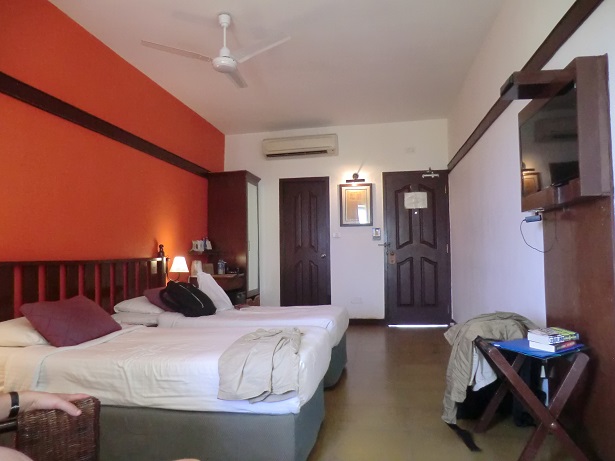 This time our room is much larger.
10.40 The bus journey is coming to an end. Will the bus stop at our final destination as it says on the ticket to or just in Nagercoil which is the end station? Either way, we have lots of wind turbines around us right now.

11.02 The bus didn't stop in our upcoming home town. We have instead changed vehicles at a petrol station in Nagercoil. At the moment we are sitting in a taxi waiting for us to proceed to Kanyakumari, a village called Cape Comorin in English. 11.39 We have reached Kanyakumari and negotiated with the driver to drive us all the way to the hotel. He first claimed that he had driven us to Kallada's bus stop in the city but he probably just stopped at any house. There are problems to find the right way. Christer shows on his cell phone which route to drive, but we're still going another way. In addition, the man wants 100 rupees in extra charge for this little turn. 12.06 Our taxi driver first drove us to a hotel with a name that was wrong both in name and position. In the end, he found to the Sparsa Resort (http://sparsaresorts.com/kanya/) here in Kanyakumari. We are checked and shall stay in room 207. The transport cost rose to 200 rupees. Drive to the wrong place and earn more money. It's also a business idea. At check-in, we each received a seashell necklace. We've reached the south tip of India. Outside the tip three seas meet the Bay of Bengal, the Indian Ocean and the Arabian Sea. 12.24 There was a knock on the door just as we were going to make coffee in our room. On the other side of the door, there was this guy. I thought at first he introduced himself when he said, Clearance! I think he just wanted to bring the dishes or something like that out of the room. At least now we've got coffee. 13.54 Time flies. According to weather reports, it is now +44°C in Córdoba, Spain. Our memories from there are mostly about cold rain. We are now on our way out of the room to have lunch. 14.13 It went fine to find the restaurant. A private event was going on there and we were referred to the ground floor pub. We have ordered our lunch here in the Lands End Bar.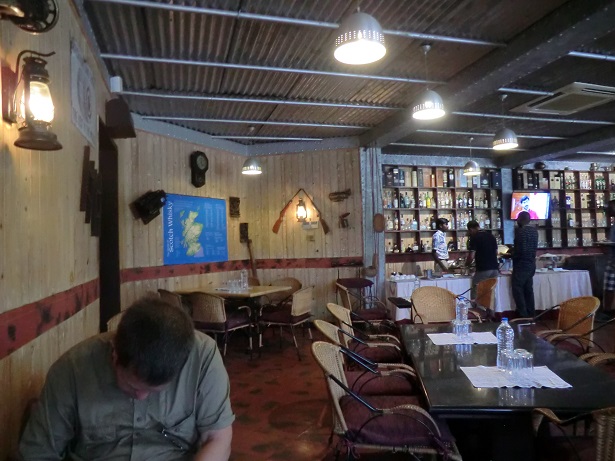 It´s time to have lunch at Land´s End bar.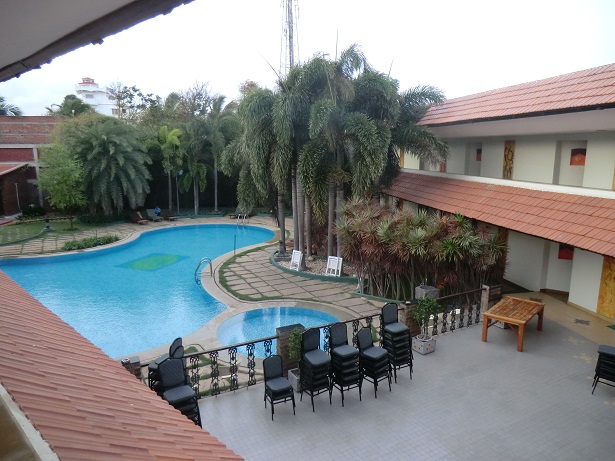 This nice pool is closed according to a sign here.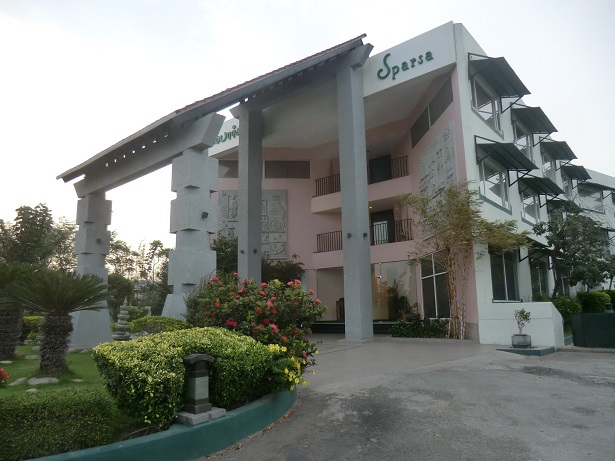 Sparsa Resort, Kanyakumari.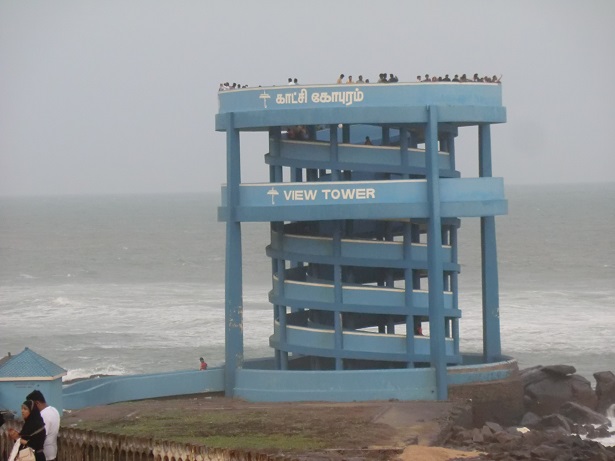 Viewing tower along the sea in Kanyakumari.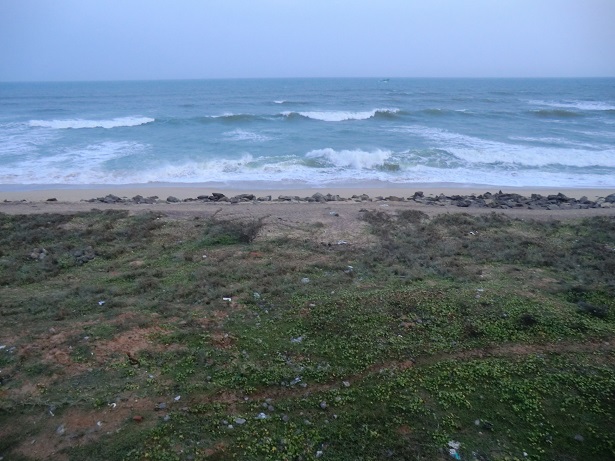 Three seas meet here.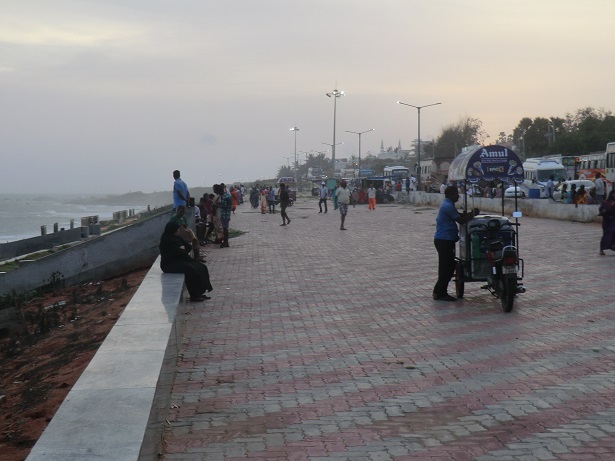 The seafront close to our hotel.
15.10 That lunch was exactly what we needed. A larger group came to eat a lunch buffet during our meal. It seems to be a mix of Indians and assorted visitors from somewhere in Africa. They're all wearing the same kind of sweaters and they seem to have wind power in common. Now we will prepare for the evening. It's been a long day today.

17.44 An early morning and 36 days of travel have left their marks. We're just taking it easy. We can treat ourselves to that this afternoon. 18.11 The time has come to go out and get something sensible done. We have plans to make a classic on our travels. 18.30 The idea we should, as usual, catch the descending sun has gone awry. Haze and clouds cover the spectacle. The air is additionally moist and salty. We'll see if there's anything else to do around here. 18.57 There wasn't much to offer out there. It was windy along the junky beach promenade and no shops or restaurants in the immediate area either. We've gone back inside. 20.19 We need to replenish with energy. We first need food, then beverages and later sleep. 21.54 Food and beverages have been consumed in the hotel's restaurant. We finished the festive meal with fruit salad and ice cream. It was really good. 23.30 Bedtime, its bedtime! Do we manage to turn off all the lights? Our days in India are running out. There's only three days left before we move on to the next nation. Tomorrow we will see more of this place, as far south as you can get on the Indian mainland.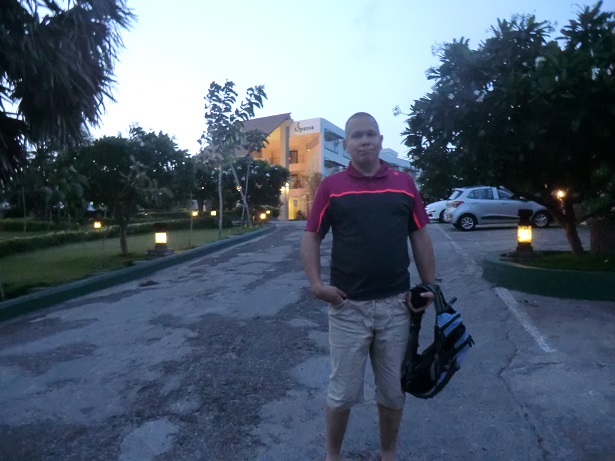 Christer during the last minutes of daylight.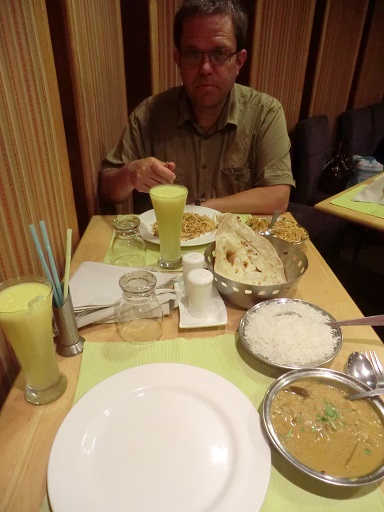 Dinner in the hotel restaurant.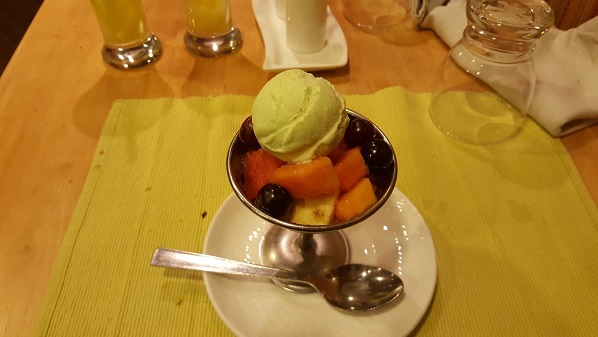 This was the dessert after our dinner.
---
VIDEOS
---
You can see 12 photos from August 3 in this photoalbum.
You can see 36 photos from August 4 in this photoalbum.
You can see 28 photos from August 5 in this photoalbum.

---
---