---
Text: Peter Johansson
Editing: Christer Lundstedt
Photos: Christer Lundstedt, Peter Johansson
Videos: Christer Lundstedt
---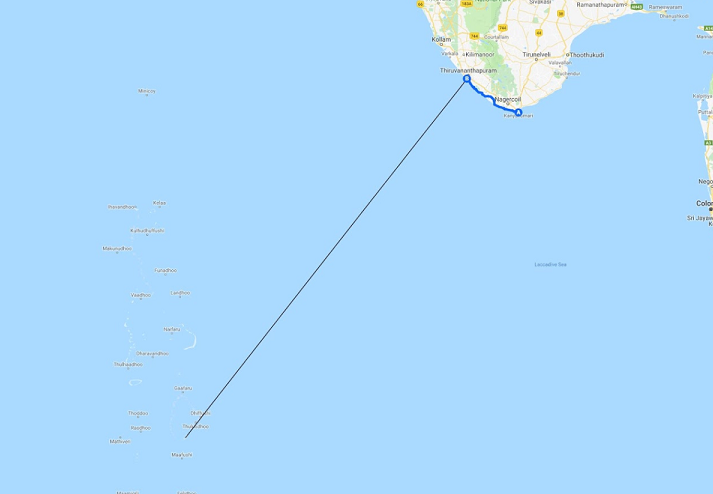 ---
Monday 6th of August

06.20 A knock on the door woke us up today. I went, very sleepy, and opened. There was a gentleman with a tray with a thermos. The man looked at me and said coffee! Usually I don't say no to coffee but there are limits. We will go back to sleep here in the room at Sparsa Resort (http://sparsaresorts.com/kanya/) in Kanyakumari.

08.24 I have woken up and have for a while wondered if the guest and the coffee met at all earlier this morning. The coffee was probably for a completely different room than ours, or have I ordered coffee in my sleep? We feel rested and ready to see more of this locality today. 09.43 We had barely returned from breakfast when there was another knock on the door. It was the cleaning crew this time. We took the key with us and went out to explore the hotel area. We found the pool and unfortunately also a sign that said it is closed. Is it for the time being or permanent? At least there's a guard by it. 10.52 We begin to get structure in this day. Soon we will go out for a walk in another Indian town. 11.26 Our walk started along Beach Road. We have walked a bit away from town and will try to get up on the main road Kovalam Road via an uphill. 11.38 Look, up there, a church! It's called Siluvai Nagar. We will after a few photos have been taken walk up to the main road before we walk back into the city centre.
Sea views outside Sparsa Resort.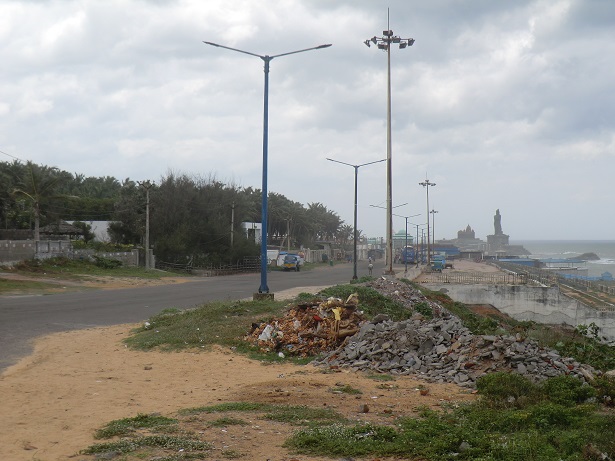 Beach Road, Kanyakumari.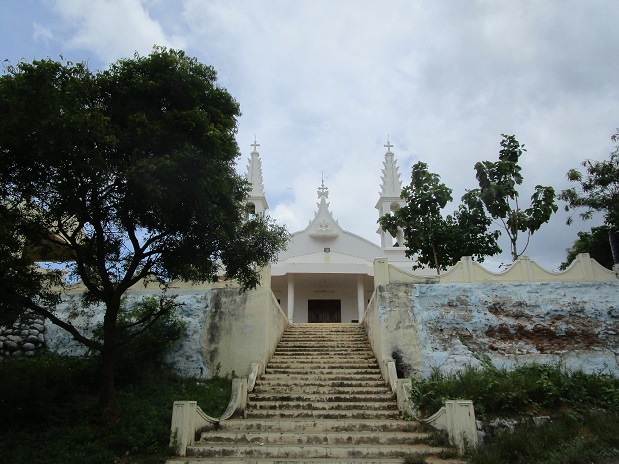 Siluvai Nagar church.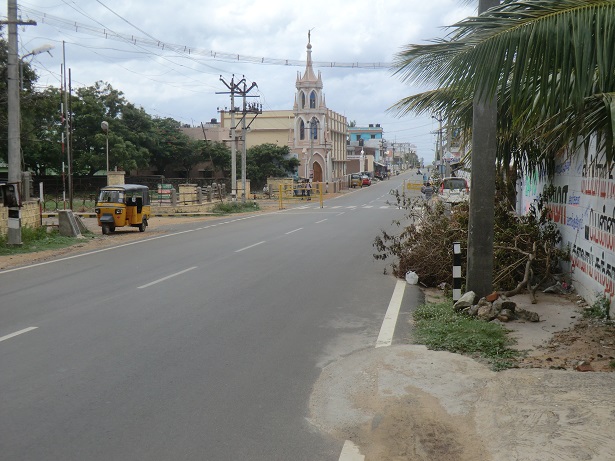 Kovalam Road takes us to the center.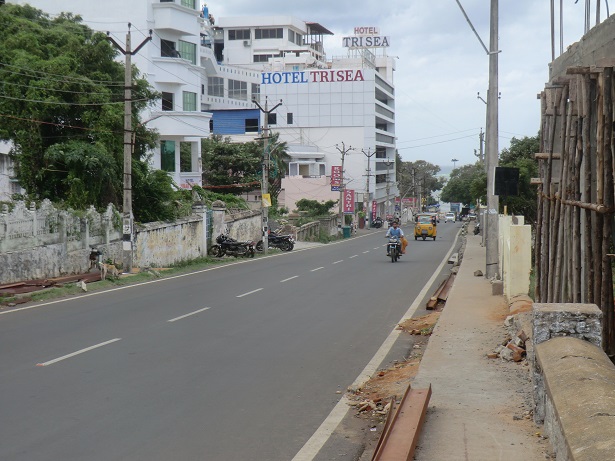 We are reaching the end of a long road.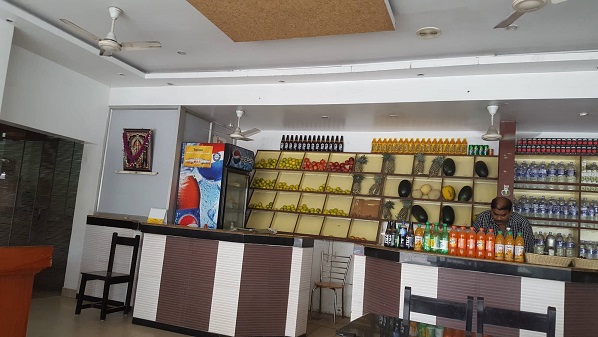 Fruits and drinks at Triveni Café.
11.54 We are walking further along Kovalam Road where we arrived with the taxi yesterday. Right now we are at the Hindu temple of Sri Maayamma.

12.04 It's not hot today but the sweat is still running. We'll have to blame the humidity for that. We have now reached the small town centre and made a stop for fruit salad and black coffee inside the pleasant Triveni Café. 12.41 On our continued walk we passed outside a hotel. A gentleman came out from it and offered us rooms. Is it common that people spontaneously book a room when they walk without bags around town? Now we sit down for lunch at Hotel Sangam (http://hotelsangam.net.in). Beverages for later were bought at the Italian Bake Shop before we got here. 13.19 It was good food and efficient service. We have continued on our town walk and have just immortalized the Gandhi Memorial Mandapam. It is a temple built in the place where the urn with Mahatma Gandhi's ashes stood for a while. We have also seen a lot of other interesting things here. The mother goddess Bharat Mata stands and holds the Indian flag down by the sea and a 40-metre statue of Tamil poet Valluvar stands a little further away. 13.41 A quiet walk along Beach Road took us home. Even the dog representatives from FIDO had a low profile. When the breeze disappeared, the sweat flowed again. The pool at the hotel remains closed, at least the sign's still there. 14.31 If we cannot enjoy life at and in the pool then we should at least enjoy it in the garden below the hotel. We bring books and beverages with us.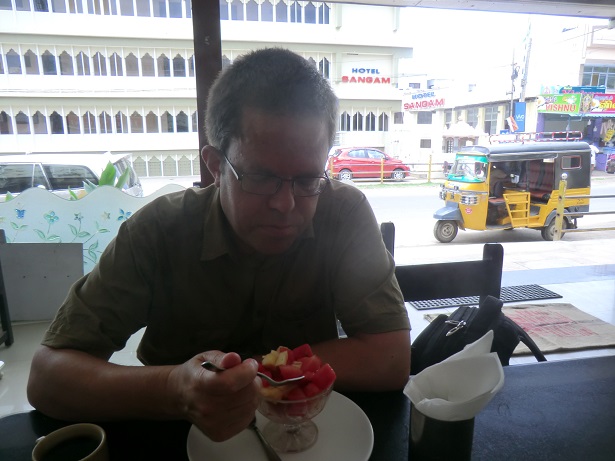 Peter is having fruit salad and coffee at Triveni Café.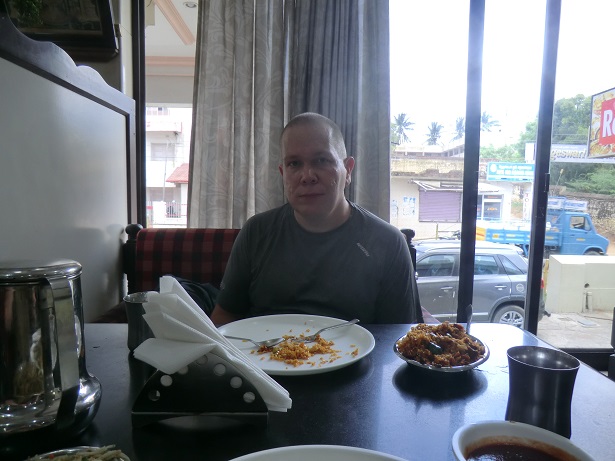 Christer is having lunch at the restaurant inside Hotel Sangam.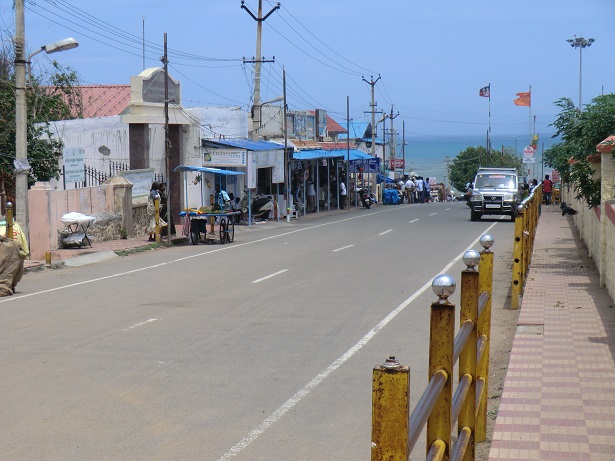 The start of Beach Road.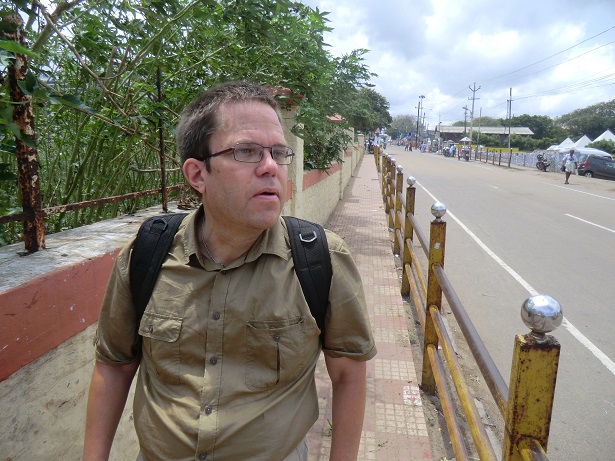 Peter is exploring Kanyakumari.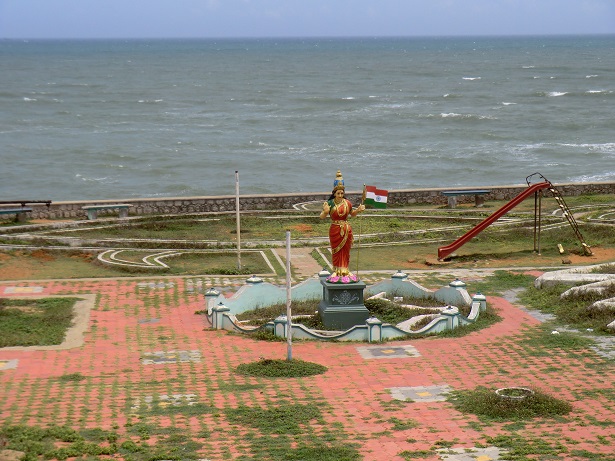 Bharat Mata, the mother goddess representing India.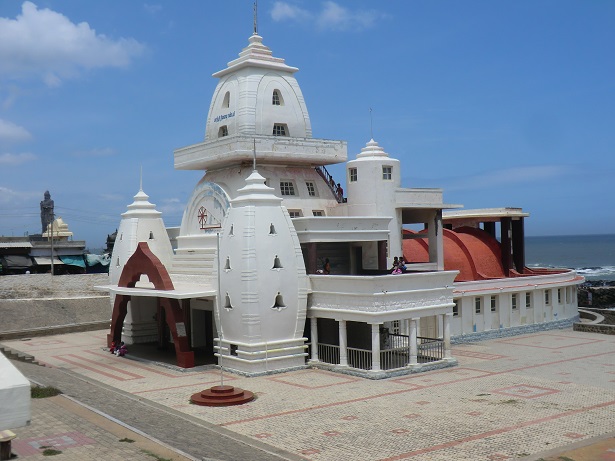 Mahatma Gandhi Mandapam.
14.58 Vacation is to sometimes do mostly nothing. Our current effort extends to reading in our books out in the hotel garden. Around us the small palm squirrels are skipping around. It is a pleasant wind and the only negative thing is a disgusting smell that probably comes from a ditch outside the hotel wall.

16.23 The time flies when you focus on entertaining literature. But now we'll have to do other things for a while. 16.34 A stop was made in the reception on the way into the room and we booked a car for the trip to the last Indian accommodation tomorrow. There are buses and some occasional trains but our upcoming hotel is far from both bus station and railway station. 18.06 A new attempt to capture the sun's plunge into the sea is about to be made. I wonder which of the seas it actually goes down in. 18.30 There has been some walking for a while along West End Beach Road and we are now looking to the geographical southern tip of the Indian mainland. Here at Sunset Point there is a saint statue on one of the rocks. It is called Mysterious Mother Mary. Evil clouds gather above us as well as on the horizon. Bye sunset! Now I think it's mostly about avoiding rain on us. 18.53 Just as we got home the rain began to fall.
The 40 meters high statue of the tamil poet Valluvar was erected here in 2000.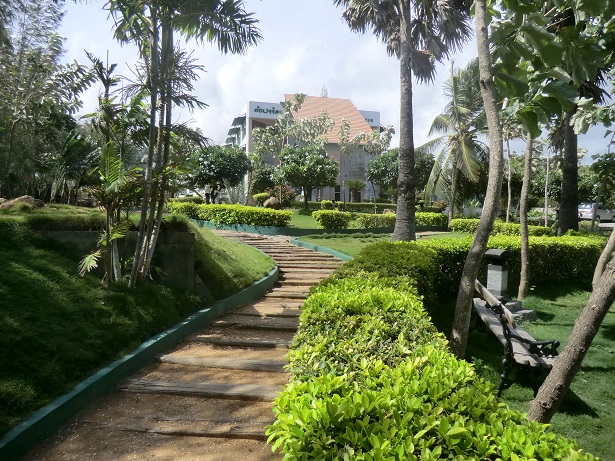 The park/garden in front of our hotel.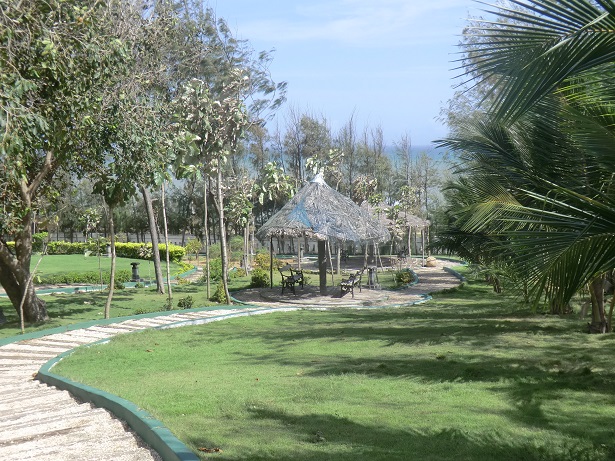 We are reading in our books in a pleasant environment.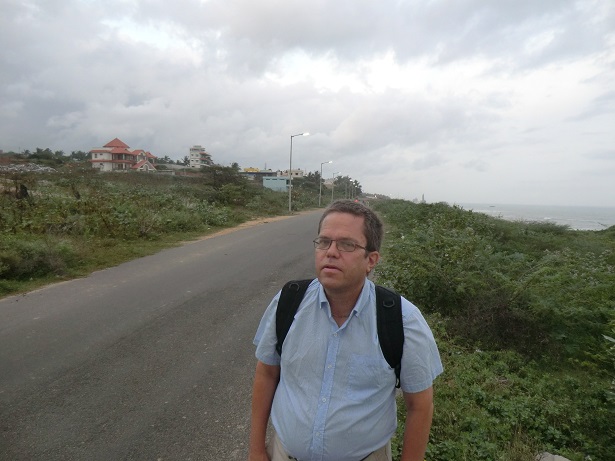 Peter on West End Beach Road.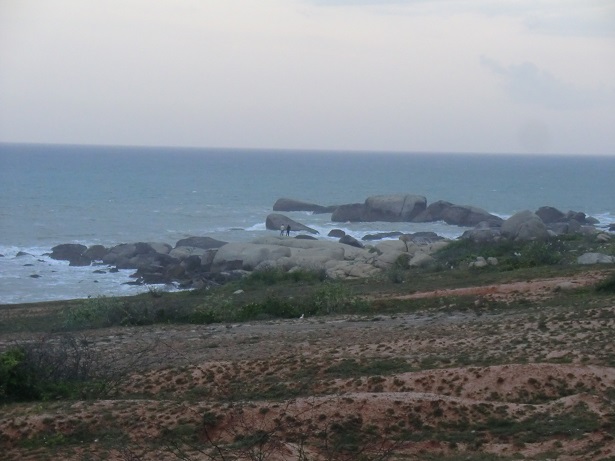 The most southern point of India is at these cliffs.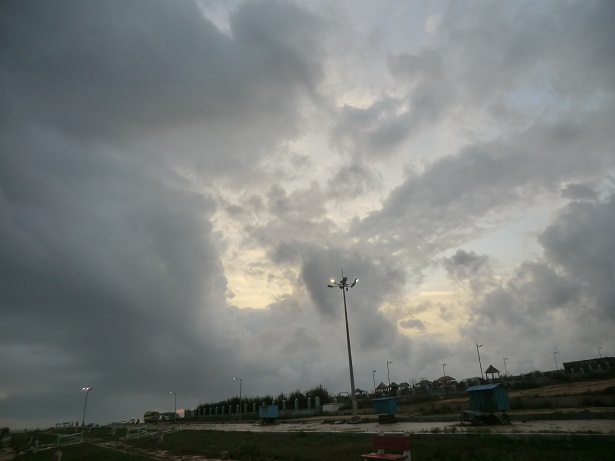 Ugly clouds are arriving.
19.12 There are some guests here at the hotel who defies the ban on swimming in the pool or are we too law-abiding? After all, we only looked at the sign and did not ask the staff about it all. Well, in a few days we will be able to swim. Then it will also be in the sea instead of in chlorinated water in a pool.

20.42 The dinner table calls again. What will it be tonight? 21.54 The answer to the question I asked a little more than an hour ago is Chicken Tikka Masala and shrimps with garlic, chilli and noodles. I finished it all with a dessert, a carrot halwa. At a long table, a company sits and sings songs in Spanish. The mood is good!
---
Tuesday 7th of August
08.24 We have woken up. The sound of children is heard from outside. They seem happy. Wait, now one of the kids is screaming. Enough about children. A little later today it will be the last trip between Indian cities for this time. First we will eat the first meal of the day. 09.10 Something odd happened during breakfast. We had just taken what we wanted from the buffet and sat down by our table. Then suddenly one of the waiters came with a cup of coffee to me. But he didn't have a cup for Christer. No one came later either. Does my coffee thirst start to be well known around the world? Now we will start to get ready for departure from the Sparsa Resort. 10.01 We left the key to the room and seven 50 rupees banknotes at the reception. In return I received a receipt for the stay here and for the trip we just started. In the vehicle, Tamil music is played. We are currently rolling out of Kanyakumari on our journey west. 10.55 A sign just said Karungal. We travel slowly, honking, through the town. We're on our way. We are still in the state of Tamil Nadu but will shortly cross the border to Kerala. 11.15 The road is narrow and there is little space. We're slowly driving forward. 11.36 Our driver is enthusiastic and wants to stop and show us various places along the way. He even suggested stopping so that we could make a boat trip along the canals here on the coast. We politely declined. We are mostly interested in arriving at our hotel.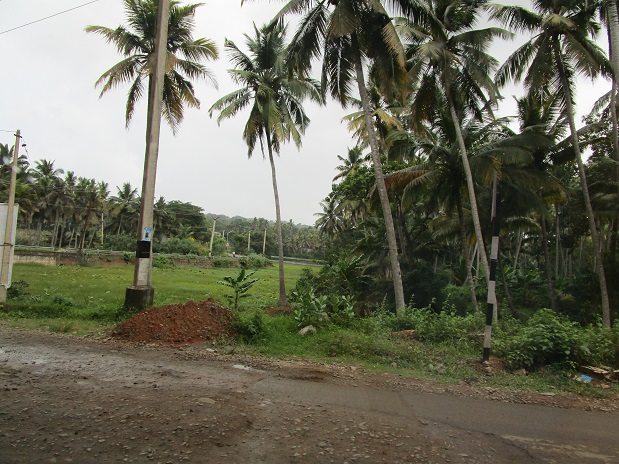 We are going from Tamil Nadu to Kerala today.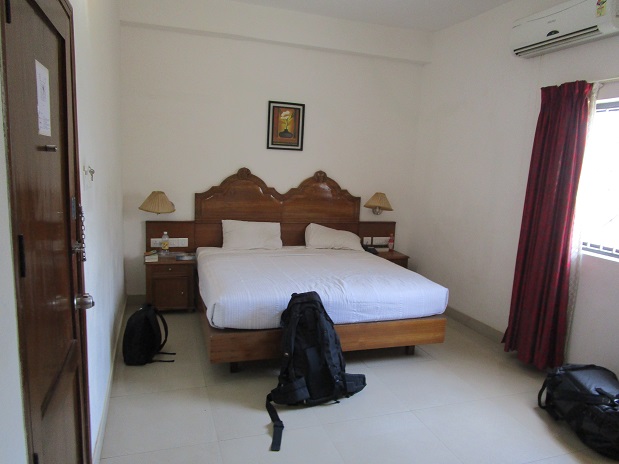 Our room at the hotel Pallava Rajadhani.
12.25 We will soon reach Thiruvananthapuram, a city also known as Trivandrum. It is the largest city here in southern Kerala. We have during the last part before the city travelled along a large road construction. This will be a big road here in the future.

12.56 After a lot of paper work, two papers with a lot of data each, we have finally checked into room 203 at the hotel Pallava Rajadhani (http://rajadhanihotels.com/hoteldetail/pallava-rajadhani-9) in Thiruvananthapuram. There is no WiFi connection here and a bottle of water costs money. At least the room is cheap and will do for one night. 13.27 I have been away and asked, tried to clarify what applies for the breakfast here. I didn't get much wiser from the answer. But breakfast can possibly be served in an adjacent building. 14.07 Rap music is heard from Café Mannam. This is where we will eat our lunch. It was not easy to get to the restaurant, due to the large road construction here in the area. 14.48 We finished the tasty lunch and crossed the busy road. Then we went into the shopping mall Mall Of Travancore. It's a newly built but classic mall. In fact, it opened as recently as in March of this year. In here there's a lot to explore. 15.18 Café Coffee Day (will it be the trip's last visit?) will serve us coffee. We sit in a small room to the left of the main entrance to the mall. Christer is waiting for his change. The man at the counter is waiting for more guests, this so that he can eventually give change. The question is will there be more guests as long as we sit here? 15.24 Other guests have now finally visited the café. But the man at the checkout is just standing there. Has he forgotten what he promised? 15.35 We finally got up and went to the counter. Christer finally got his change. Now Christer is the guardian of the small backpacks. I'm going into the grocery store Hymart and shopping.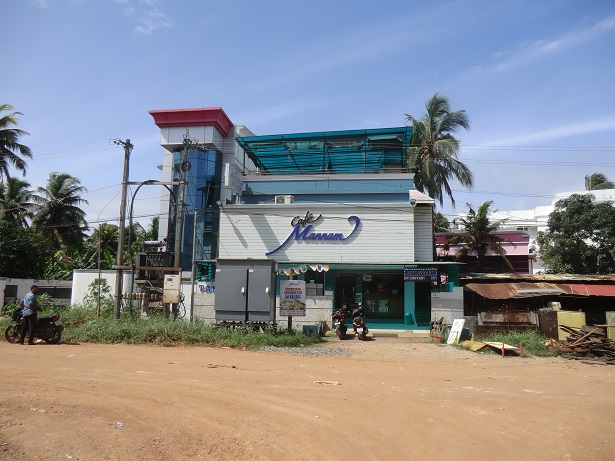 Café Mannam, here we´ll have lunch!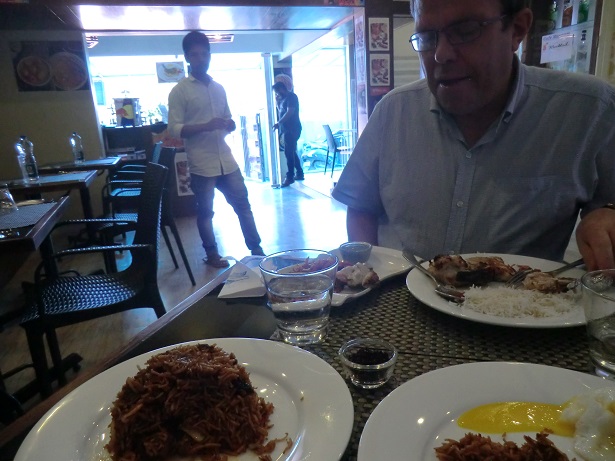 Nasi Goreng and other tasty things at Café Mannam.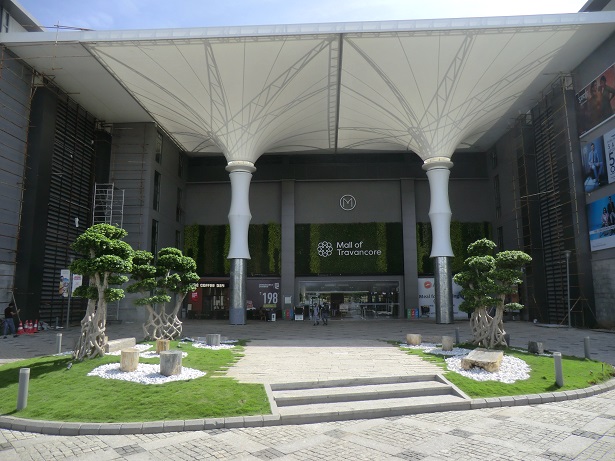 Mall of Travancore, a five months old shopping mall.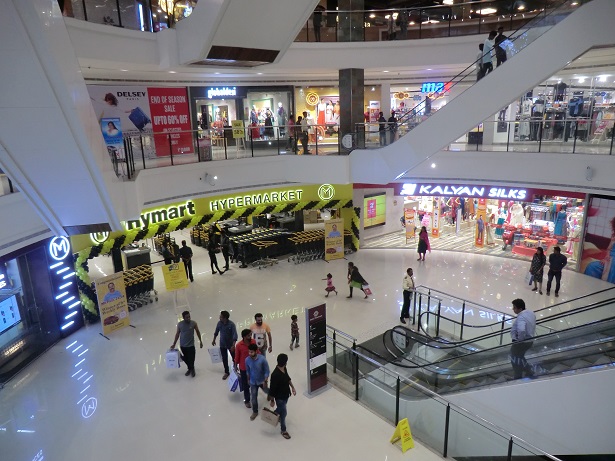 Cool shopping malls are nice in a tropical climate.
16.38 It takes its little time to shop. However, I got what I was looking for. Now we're back in room 203 again. Christer met the Tamil Mahin while he was waiting for me. He asked about our trip and thought it was nice that we spent so much time in Tamil Nadu, India's Tamil state.

18.23 Not much constructively has been done since last. But we've done so much in the weeks as backpackers. Why should more be done? We have at least studied the hotel restaurant's activities through our room windows. We don't really make sense of how it works. They carry food between several different buildings and some sit in small stalls and eat out in the garden. 20.22 Another room's menu has given us a certain amount of knowledge about what we wish to dine this evening. Soon we will go out and see what reality offers as well. 20.37 The last Indian dinner order is made. At least we hope it's the last one. Otherwise, something has gone very wrong tomorrow. Despite weeks in southern India, I have not completely reconciled myself with the small main twist that is made as a confirmatory when ordering food. In my eyes, is it rather a gesture that means "I don't know if we have it'. 21.32 The last dinner was a little disappointing. It was lime juice with strange taste, Christer's main dish was slightly spiced and mine was cool. The only dessert which was offered was vanilla ice cream. 23.14 Electronic gadgets and we continue to disagree. TV, AC, WiFi, power switch and we do not match.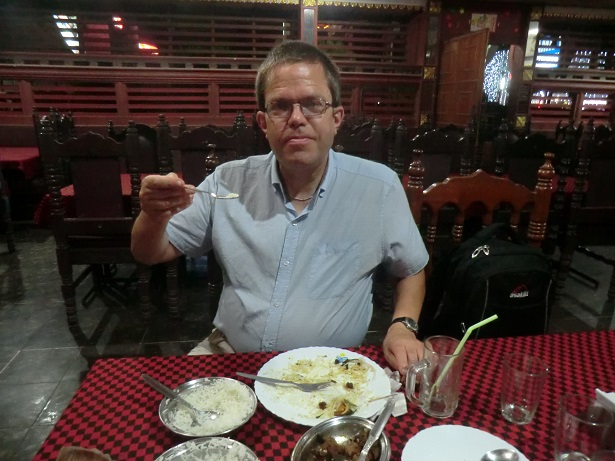 Peter is happy during a dinner which wasn´t the best.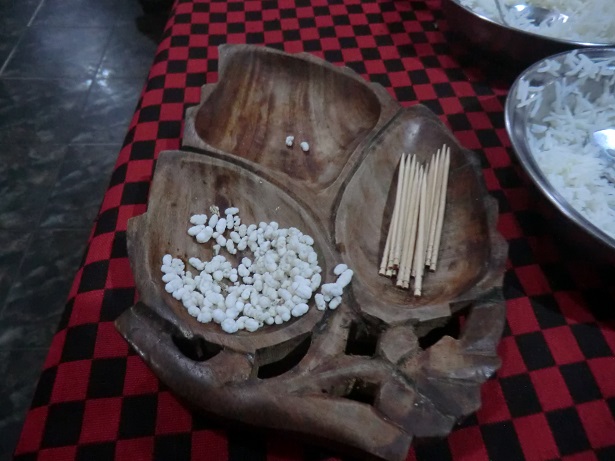 You receive this after finishing a meal.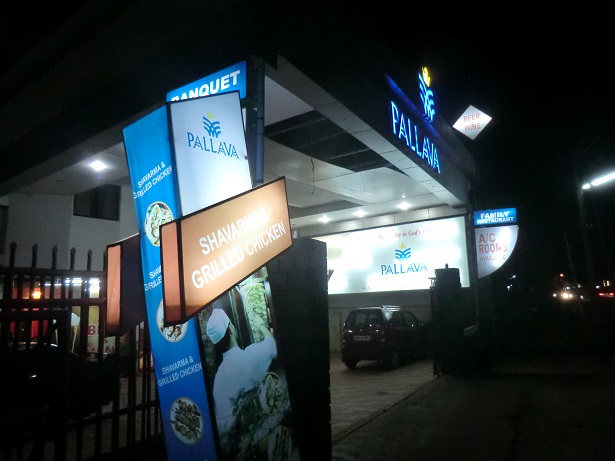 We are entering the main hotel building after our dinner.
---
Wednesday 8th of August

08.17 This is the morning that starts the day when we will again fly. It's today we're leaving India. When do we return? There are, to say the least, much left to be seen in this giant country.

08.51 We speculate about the breakfast. We didn't get any clear answers when we asked about it yesterday. What is served? Where is it served? Is it served at all? Soon we'll find out. 09.34 Now, we have the answers. We were with moderate enthusiasm referred to the same local as where yesterday's dinner was served. It was served dosa, Indian bread with sauces, omelette and mulatto coffee (coffee with milk). We booked a transport to the airport before going up to the room. We chose this hotel because it is so close to the airport. It will be a short journey. If the climate were different, we would actually have been able to walk to the airport. It isn't that far away. 10.27 What is it about waiting? We do not feel completely at peace with it, although we have done it so many times 11.35 BBC News reports that former British minister for foreign affairs Boris Johnson is being asked to take back the statements that women in niqab and burqa look like bank robbers and mailboxes. 11.50 The time has come to leave the room, the key and the hotel. 12.06 A heavy rain started just as we sat in the taxi. We just got in the car before the sky opened up. Now we are at the airport, Trivandrum International Airport. It is time to prepare the backpacks for the flight.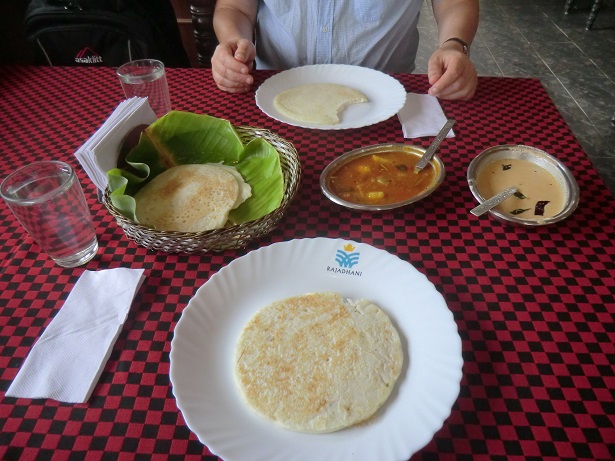 A not so good dinner was followed by a small breakfast.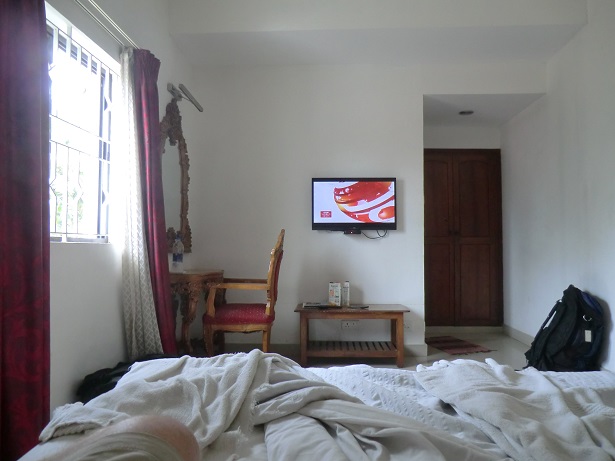 A few hours wait in our room. BBC is entertaining us.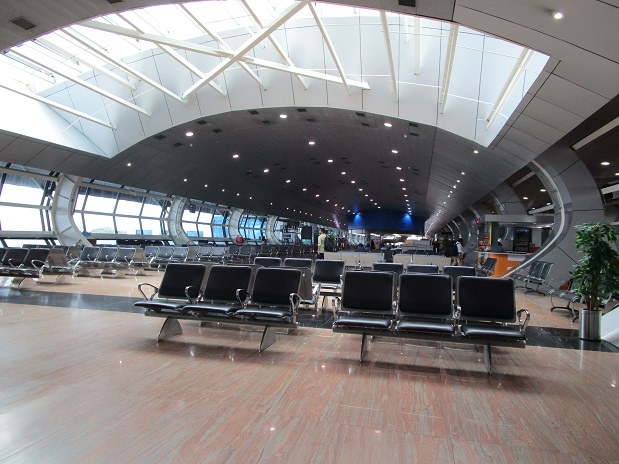 Trivandrum International Airport.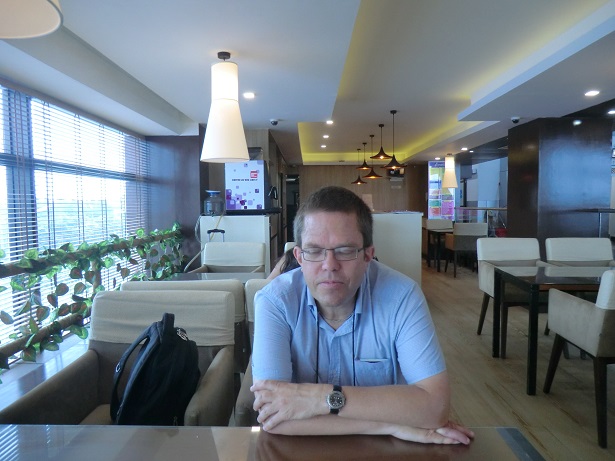 A light meal at Pinnacle.
12.58 There has been some malfunctioning since the last time. Both backpacks got stuck to the X-ray machine. We had to unpack and show the contents. In Christer's case, there were some batteries caused the problems. In my case, I really don't know. Nor was it possible to register my Star Alliance bonus card. It was just trouble for the check-ins. We are now, after coffee and cake at Skyber Café, at least ready for security and passport control.

13.47 Things went well at passport and security control. The man there gave me a blue plastic shovel, not such you have in the sandbox. It was taken back when I got the box with my possessions. We'll have a coffee at Pinnacle. We'll have chicken sandwiches and sodas. 14.22 The last Indian rupees were spent on sweets with apple and orange flavour. Now we're at gate 1. The people here are waiting for take-off. CHANGING TIME ZONE 14.25 We set our watches to Maldivian time, back half an hour. When our boarding cards were to be scanned, the reader began to beep as well as blink red. Pretty soon the news came. We were not allowed to sit in our assigned places but would move forward. 15.26 Today we are flying with Air India. We've been in the air for a while. Some beautiful little islands, atolls are visible in the water below us. The stay in the Maldives is approaching.

THE MALDIVES

15.35 We have just landed at The Maldives and on Velana International Airport. The airport is located on a largely artificial island near the capital Male. People unbutton and get up despite calls to stay in the seats.

16.27 Now we are stamped in the country and have also picked up the luggage. We first tried to look for some kind of taxi but realized after a while that such business does not exist here. You can either take a ferry to the capital or get picked up by your hotel by boat or by car if you stay here on the same island as the airport. Christer called our hotel and they're sending a car. The call was made from the information desk and here we will also be picked up. The Maldives is the 81st country we are at an airport in. 16.36 We would actually have met our Indonesian friend Patricia here. She would have travelled with us a few days here in the Maldives. Other things came up so we have rescheduled our rooms to only apply to two guests. We hope everyone has registered this fact.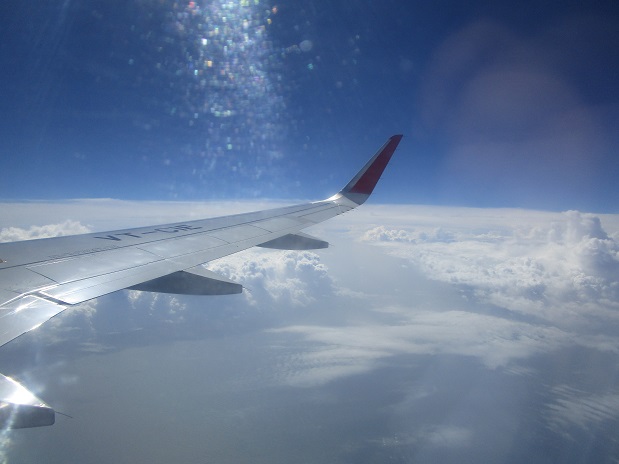 Air India will take us from India to the Maldives.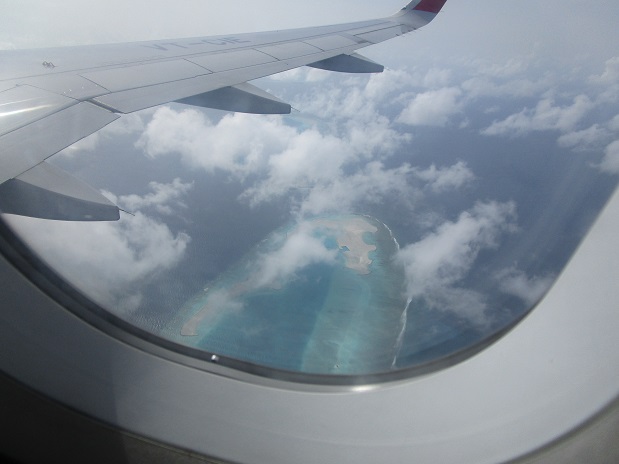 We can see the first of the islands in the Maldives.
16.57 It took some time to get picked up but now we are on our way in another country. For me, the 120th country I am in. We go by car along a road from the airport into Hulhumale, the small town located on the same island as the airport. The island is artificial and together with neighbouring island Hulhulé created for an international airport and other things. Our driver pointed out the homes where lots of Chinese people live. They are here to build a bridge from the airport into the capital Male.

17.27 We have a home again, Vilu Rest Hotel (http://www.vilurest.com). Just like last time, we stay in room 203. The breakfast, which is not really included, will be served without any cost. They'll also take us to the ferry tomorrow. We were received by a nice young woman who informed us about everything and then some more. 18.03 The time has come to start collecting information about our new locality and our new country. It's getting dark outside. 19.15 A little wiser and hungrier we will now venture out into the city pulse. 19.40 There is a strange atmosphere here on this artificial island. It is well arranged with straight streets. The Indian restaurant Bombay Darbar serves us our first atoll dinner. We sit and make financial calculations. The question is, are we capable of counting right on basically empty stomachs? 21.04 That was really good. Christer who ordered delicious seasoned Biriyani with beef so tender that it almost melted in the mouth. It might have been one of the most delicious meals ever. It is high grades. We have been at various restaurants over the years. Ever so pleased we will now enjoy room coffee here in our hotel room. On the way home, we even went down to the sea and listened to the tropical waves in the darkness. 22.46 We are so slowly beginning to get structure on the stay here in the country. Now the question is, what about the economy?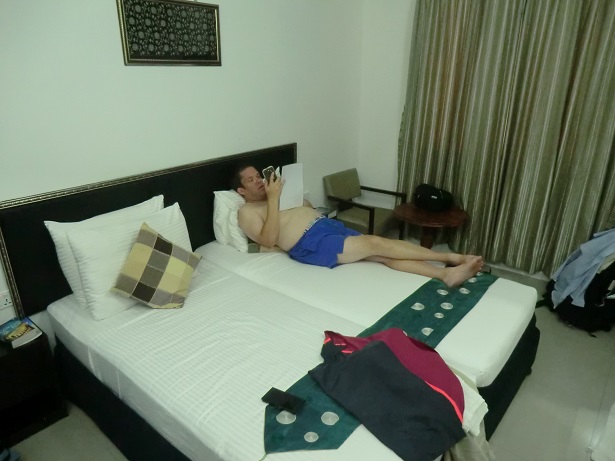 Peter is getting online in a new country.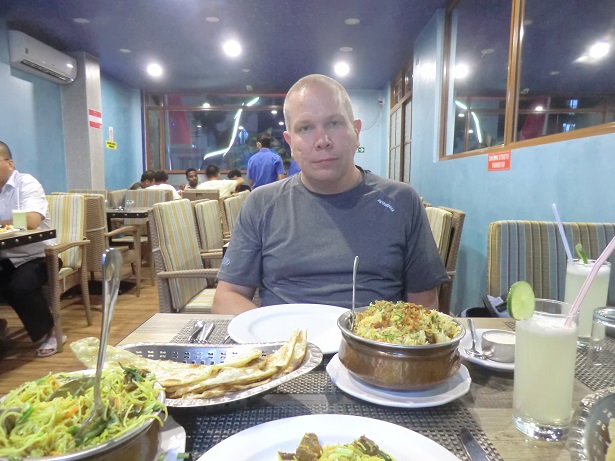 Christer is enjoying one of his best meals ever.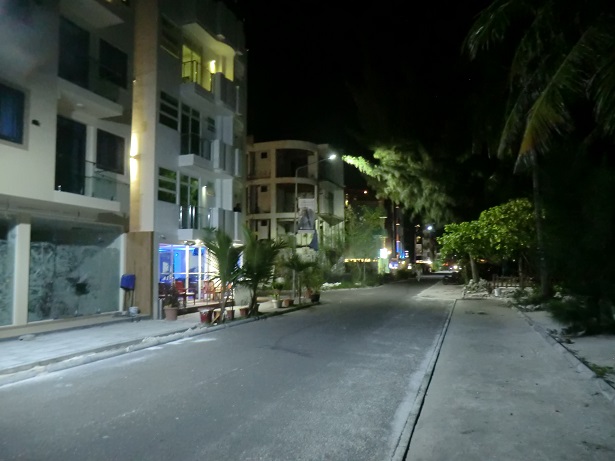 The street outside our hotel.
---
VIDEOS
---
You can see 42 photos from August 6 in this photoalbum.
You can see 16 photos from August 7 in this photoalbum.
You can see 18 photos from August 8 in this photoalbum.

---
---