---
Text: Peter Johansson
Editing: Christer Lundstedt
Photos: Christer Lundstedt, Peter Johansson
Videos: Christer Lundstedt
---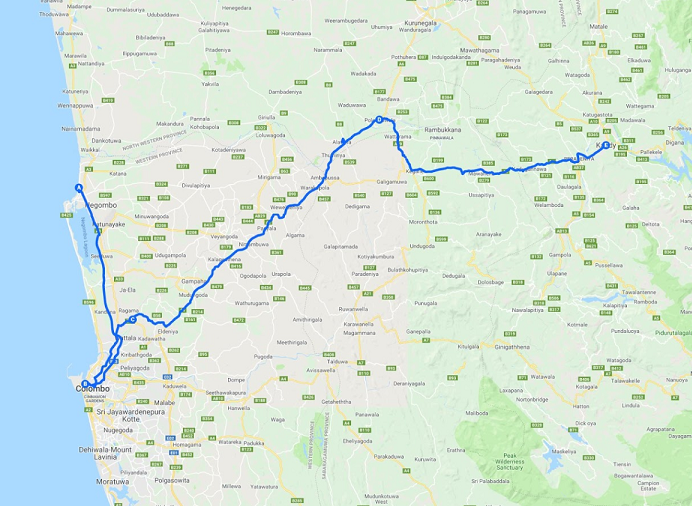 ---
Thursday 19th of July

07.14 I have slept in a divinely comfortable bed and had a truly refreshing shower this morning here at Kandy City Stay (http://www.kandycitystay.com) in Kandy. Due to some trouble here at the hotel we ended up in a large family room the first night. The downside is that we have to change rooms after breakfast. However, the advantage has been a large room with these amazing beds. Today it will only be a brief regrouping with us changing rooms. This has only happened in a few hotels over the years. Some examples include room changes in hotels in Jordan, Nicaragua, El Salvador and Haiti.

08.30 We have walked out and sit down in the dining room right outside our door. Here are some items prepared in the form of a buffet, but we have ordered a full English breakfast. Is it self service after all? 08.54 There was no English breakfast. Instead, it was cereal, milk, toast, marmalade, margarine, coffee and omelette. Everything was arranged by a gentleman who appeared after a while. The question is whether there was some misunderstanding or whether English and continental breakfast is the same thing here. Now we have been asked to initiate operation relocation from the old to the new room. Sirens are heard from outside and they made a dog howl. During breakfast we got to see some orange dressed Buddhist monks in the world outside. They were standing outside a house on the slope above our hotel. 09.44 I have now been down at the reception and received information. Now everything is ready. We are now leaving room 102 on the fourth floor. We're going to room 503 on the second floor. 09.51 We went down to the second floor and stepped into room 503. There we exchanged keys with one in the service staff. It is time to pick up our stuff before today's activities take place.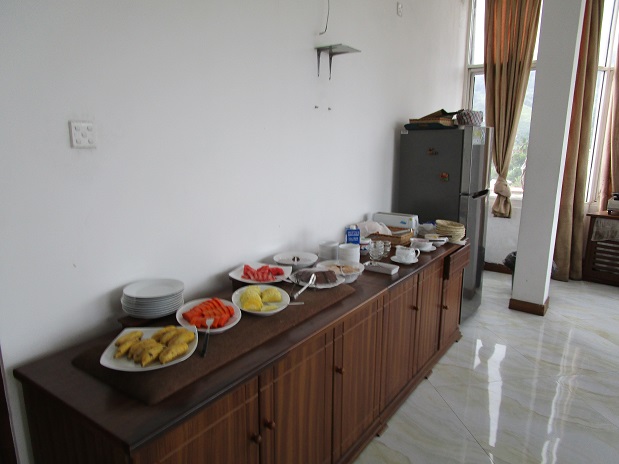 The breakfast is waiting at Kandy City Stay.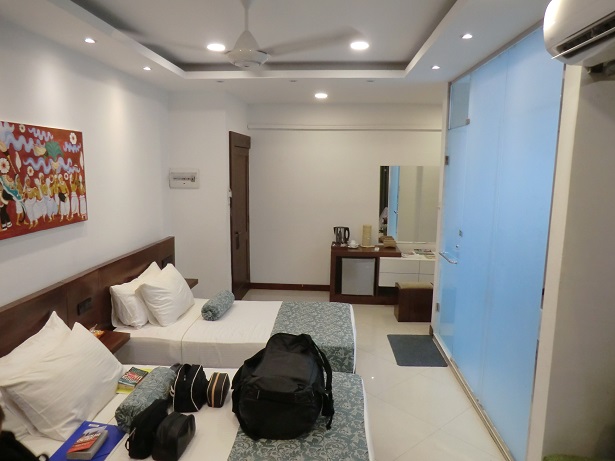 We have moved to a new room.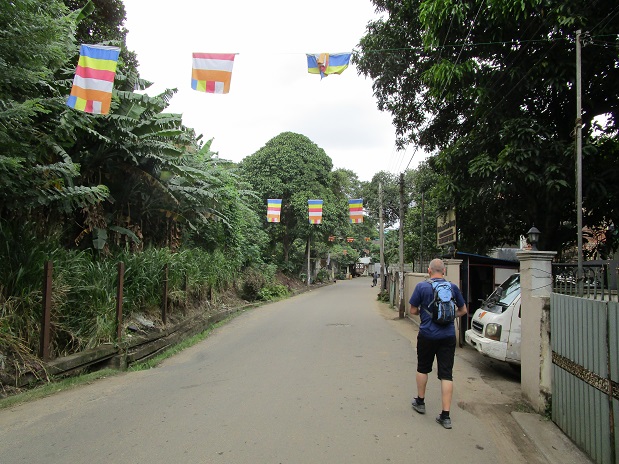 Christer is taking a shortcut to the city center.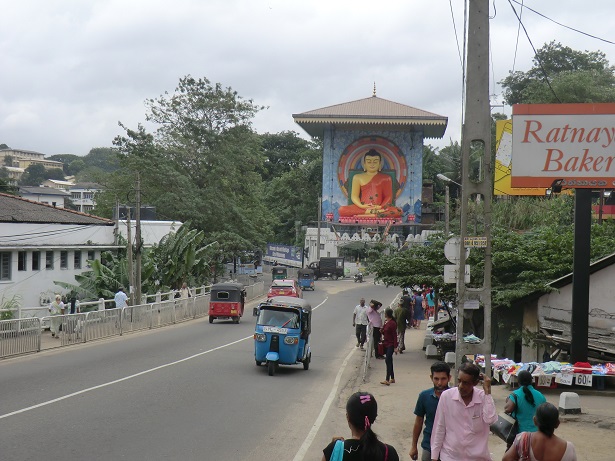 The Sri Sambuddhaloka Samadhi temple with a very visible Buddha.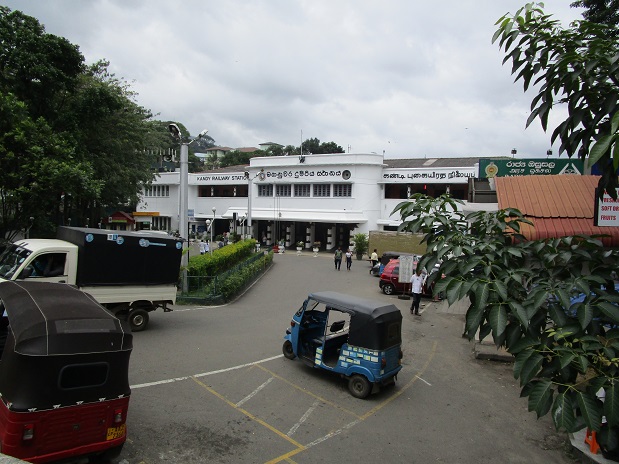 Kandy Railway Station.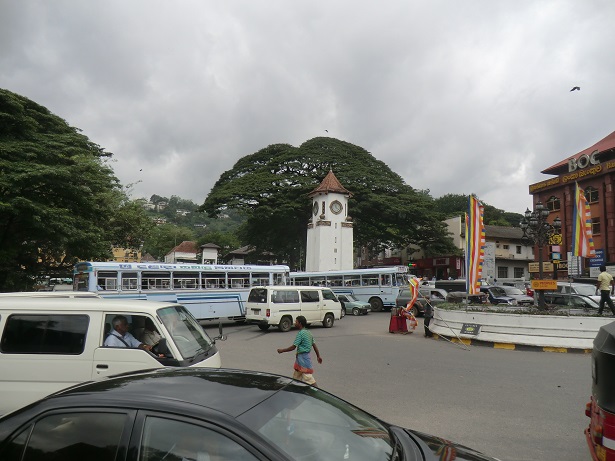 Kandy Clock Tower.
10.28 There is not much left to do now that I have written a note to show at the ticket counter at the railway station. 10.47 We're on our way. No stress, that will make us sweat. 10.52 We have found a shortcut that goes over the railroad track. By taking it, we don't have to wander through the bus chaos where we passed last evening. It might be a little longer stretch but it might be worth it. 11.04 We looked for a place where the buses to Negombo are allegedly departing from. We did not find any sign of this and stick to the the original plan with train tomorrow. 11.10 On the way to the railway station we saw a large Buddha statue at a crossroad. It is located at the Temple of Sri Sambuddhaloka Samadhi. My hand written note confused the guy in the ticket booth. Writing 20/7 instead of 20th of July was far from smart. He said something about a derailed train and referred us to counter 1 instead. At that counter, a was lady talking in a cell phone despite the sign that banned it. We didn't get tickets to the train we had in mind tomorrow. Instead, we got tickets to a later one. The train that had derailed and made it necessary to depart from another station concerned today's departures. Everything will be as usual tomorrow. 11.20 We have walked towards the city centre. As so often in Asia, there is neither a shortage of people nor vehicles. We've seen the small Kandy Clock Tower and a small park area. 11.33 A short stop has been made. We need to get away from the chaos. There are too many people and too many cars. We have ordered Coffee Americano without cream and crepes. This will be at the pleasant Ceylon Tea Cabin.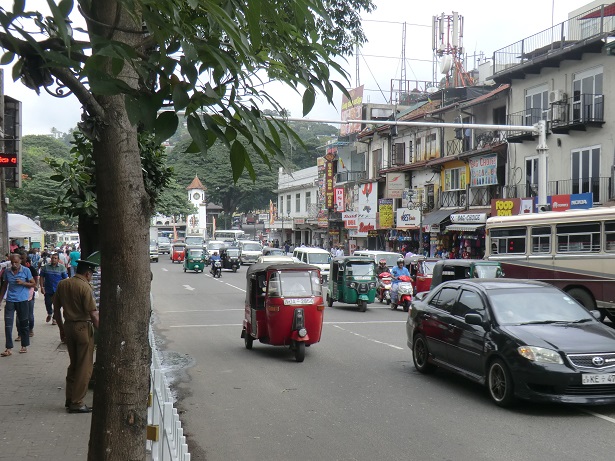 Sri Dalada Veediya street in Kandy.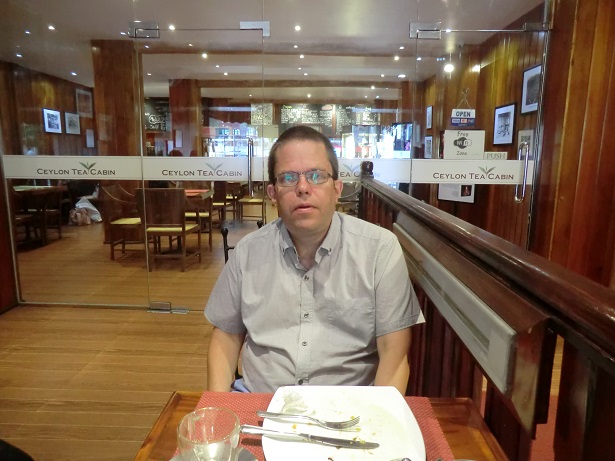 Peter is having a break at Ceylon Tea Cabin.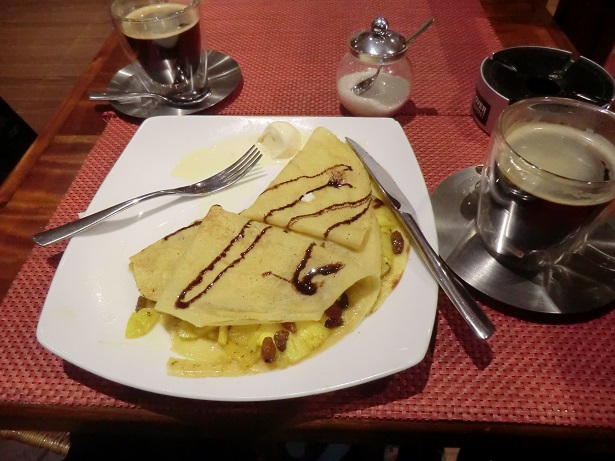 Crêpes with pineapple and nuts.
Downtown Kandy.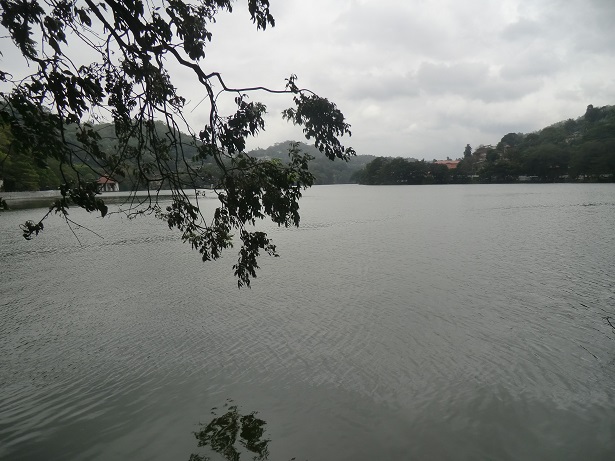 We have arrived at Kandy Lake.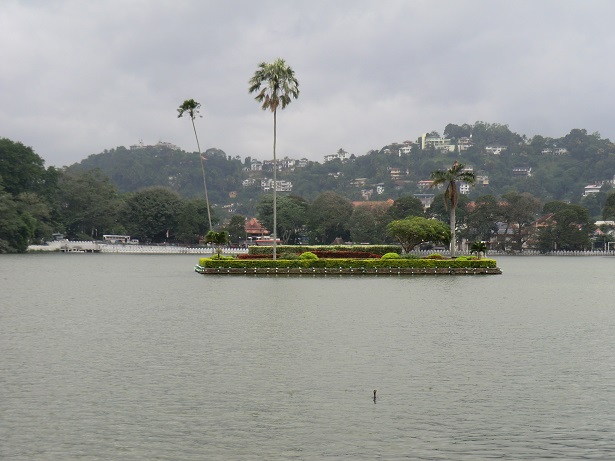 Diyathilaka Mandapaya, an island in the middle of the lake.
12.20 We walk around another one of the country's artificial lakes, Kandy Lake. The lake was created in 1807 by king Sri Vikrama Rajasinha. He was the last king before the British took over. It's raining and it´s windy. The first drops came just as we reached the lake. This weather is difficult for our umbrellas. After all, umbrellas are made for a quiet rain without wind, but how often is it so?

12.37 Our situation in the rain is noticed by the city's tuktuk drivers who constantly stop and nag at us. They offer tours of the city, shelter from the rain and everything else possible. We are not attracted by this and are continuing steadily forward. 13.22 We have made our way around the whole lake, a walk of 3 kilometres. The walk around the lake allowed us to see ducks, a turtle, two large lizards, monitor lizards? and a temple where one of Buddha's teeth is kept in a box. Wonder how many of his teeth are in different boxes around the Buddhist world? Temple of the Sacred Tooth Relic (http://www.sridaladamaligawa.lk) is the city's great goal for tourists but does not attract us. Now we wait for lunch at the Empire Café (https://www.empirecafekandy.com). 13.48 It is good service and plenty of foreign tourists here at the Empire Café. Let's go back home. 14.29 The rain came, fell and left, again and again during the walk back home. Here at Kandy City Stay, we wanted clarity on when the check-out is tomorrow. The answer was, well what do you want, 10.00 maybe? According to the booking papers it is 11.00 that apply, but we didn't get the pre booked room either. 15.44 After pouring a tube with instant coffee each down into hot water, we are ready to do almost nothing for a while.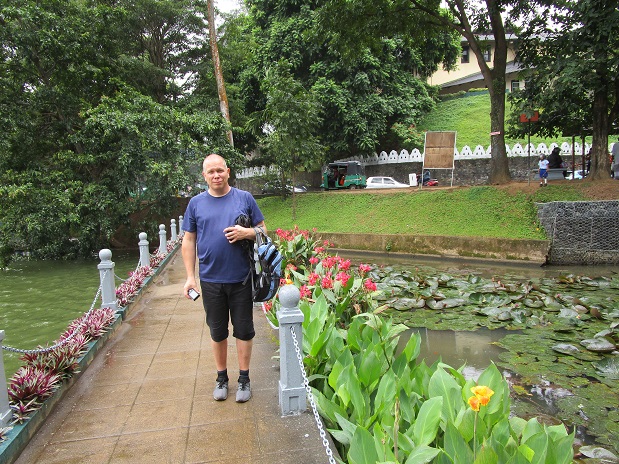 Christer has reached the halfway point on our walk around Kandy Lake.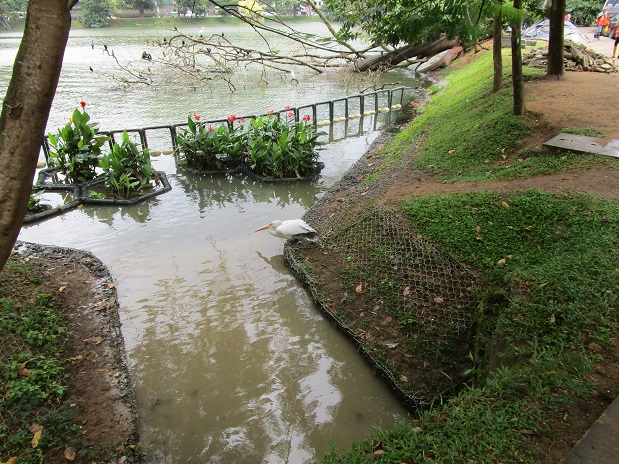 Birds at Kandy Lake.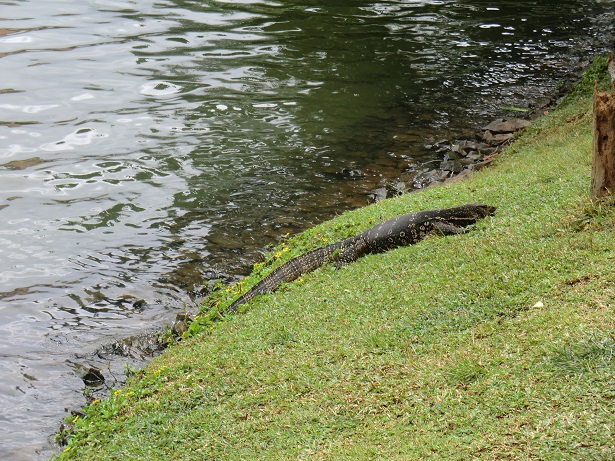 A big lizard is resting.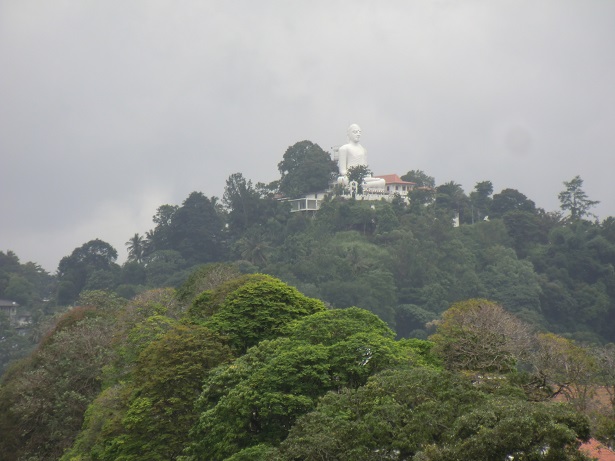 Buddha is watching over the holy city Kandy.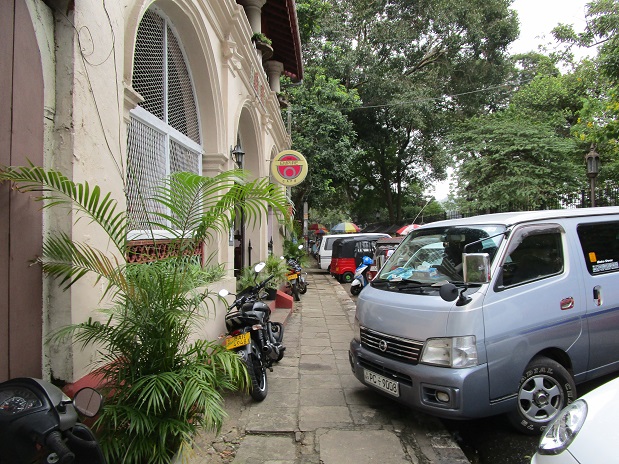 Empire Café, Kandy.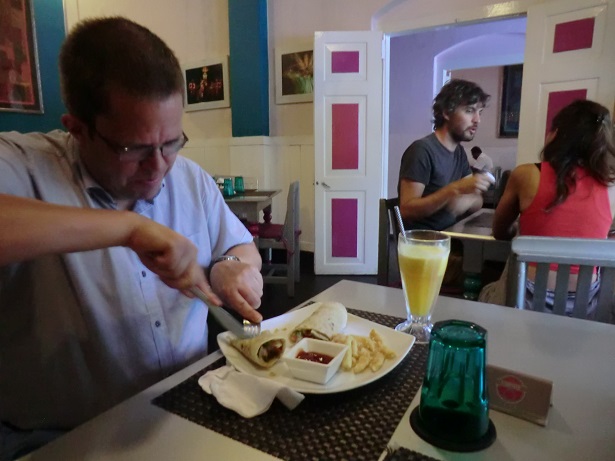 Peter is attacking his lunch.
17.12 We have a quiet late siesta in our room. I've just washed up the clothes I've been wearing today in our washbasin.

18.32 It has again become time to get something sensible done. There are things to sort out with the reception staff. In addition, dinner should also be arranged with on this day. We'll probably be looking for food along the same street as last night. 19.05 We first walked past the front desk and ordered breakfast for tomorrow morning; we will try local food this time and also learned when we actually should check out. Now we have walked along Peradeniya Road to a KFC in another country. 20.27 It went fast to finish the fast food. We guided ourselves home in the dark. Here we have started to set up strategies and plans for the day that follows this one. 22.28 Pleasant, peaceful music flows from Christer's travel radio. Yet another day of travel is coming to an end.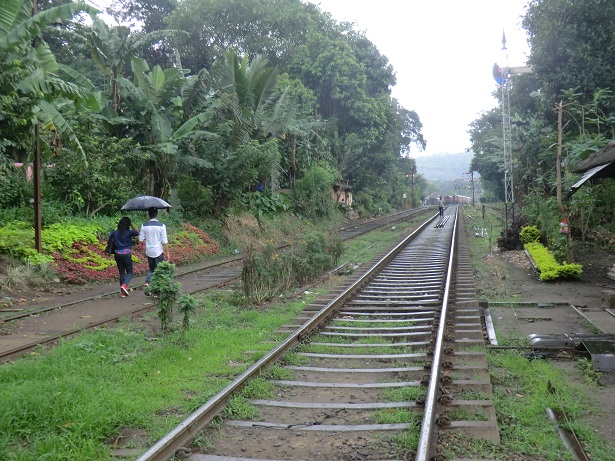 The rain is falling and we cross the railway for a quicker way home.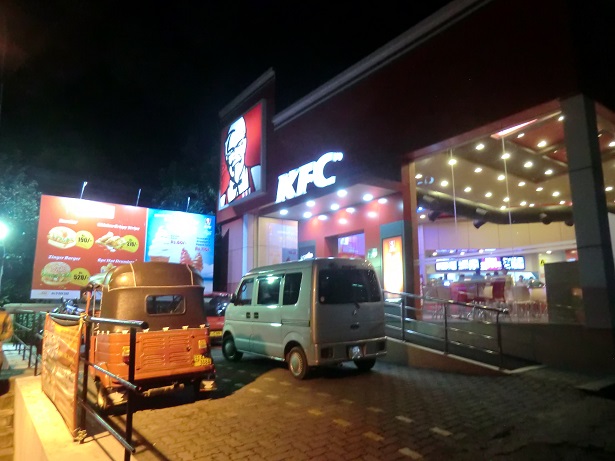 A simple dinner at KFC tonight.
---
Friday 20th of July
07.16 A train, though it's probably just a locomotive, is honking on the rails outside our hotel. A week passes quickly. A week ago, it was the thirteenth of July. But we've have done a lot since last Friday. 07.57 We are about to take the elevator up to the fourth floor and breakfast. It will be interesting to see what will be served today. 08.16 The man responsible for breakfast has said Good morning, asked what we ordered and arranged with the coffee water. Now he stands on the balcony, waiting for something or someone. What has happened with our order? Is it brought here from somewhere outside? 08.22 A man with two bags with some content appeared. Well, he probably came by the elevator. The breakfast man has now set forth thin noodles, pieces of chicken and various spice blends. The dish we ordered is called String hoppers and is rice flour that is pressed into noodles and then steamed. 08.40 We have once again tried something new as it comes to food. This can be ordered again. A little spicy, but tasty. 09.27 This morning, we mostly want to do as little as possible. It's just stupid to wear us out and / or sweat our clothes before we depart. 10.39 We are for yet another year surprised at various Swedish comments on Facebook. There are those who seriously believe that there are connections between those seeking asylum and the fires raging in the forests of Sweden. Some thinkers come up with claims like "everyone knows who start the fires, but no one dares to say it". Nothing is said what the purpose is.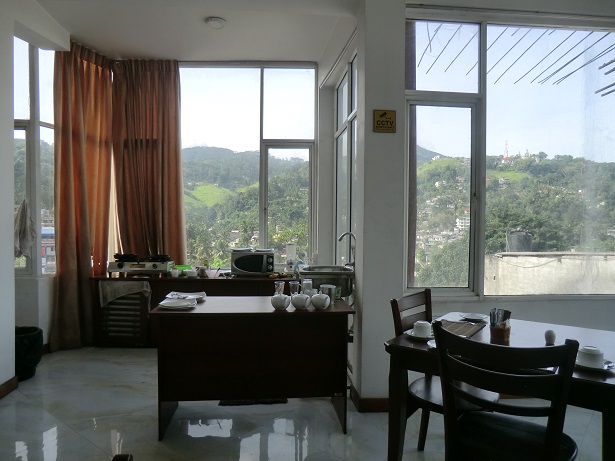 Breakfast with a view.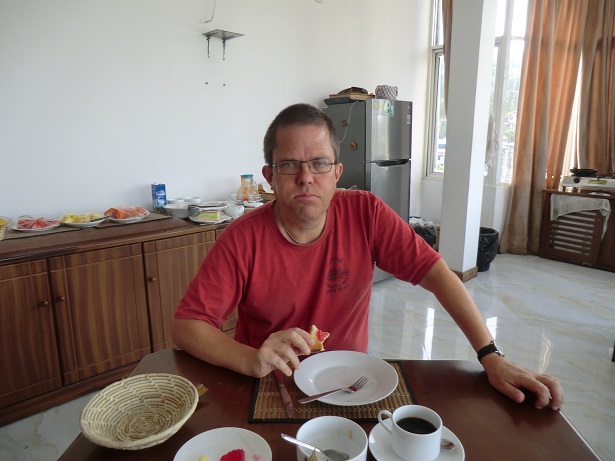 Peter is finishing a Sri Lankan breakfast at Kandy City Stay.
It is time to move on.
11.03 As a last action, we check if the local train from Colombo really departs later this afternoon. It's called 3422 and departs at 16.30. First, however, we must get out of here and to Colombo.

11.25 It just went well to leave our luggage at the reception for a while. Now we have returned to KFC. Lunch will, as soon as it is served, be eaten. 11.40 People come and go. Here at KFC, a whole horde of preschool children has appeared. The mood is on top. Here you can get balloons. Within an hour, our journey to the sea will begin from the railway station. 11.56 We are back at the hotel again. We just need to find a tuktuk that can transport us out of here. 12.07 It went well to find a transport to Kandy Railway Station. We awoke a driver who had parked near the hotel. Music from violins and sounds from crows can be heard at track number 2. Here on the platform there are various toilets for tourists, local people, monks and disabled people. 12.49 A train rolled into track 2 and we went there. It turned out that it is not our means of transport. We have to keep waiting. 12.55 Our train to Colombo is unfortunately delayed; it is expected in about twenty minutes. 13.19 Yet no train in sight. Now it will be tough, if not impossible to catch the planned commuter train from Colombo and to the next town. We'll see how the day unfolds. 13.38 Pooh, at last! The train has finally arrived. The doors to our wagon were locked. Just jump into one further ahead and walk through that wagon to our places. 13.56 We have been standing still for the last five minutes. We're at Peradeniya Junction. It's getting hot on board. I wonder why we're not driving. We might be out of order in the schedule because the train was delayed.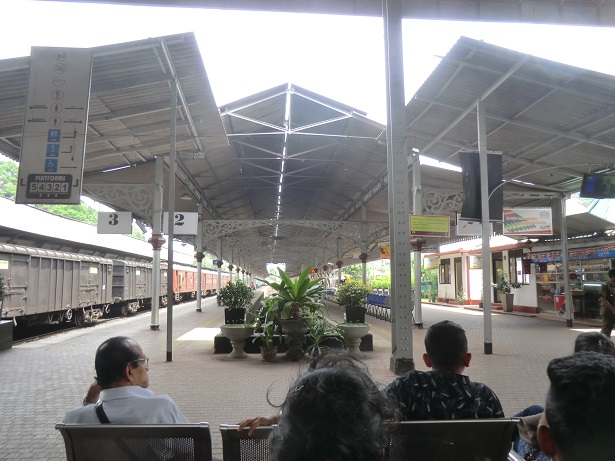 waiting at Kandy Railway Station.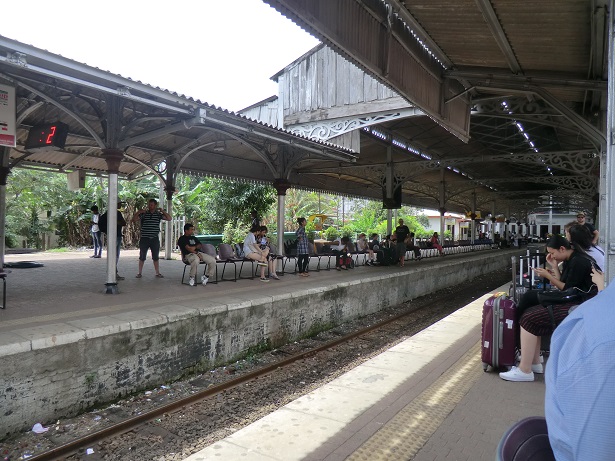 No train can be seen.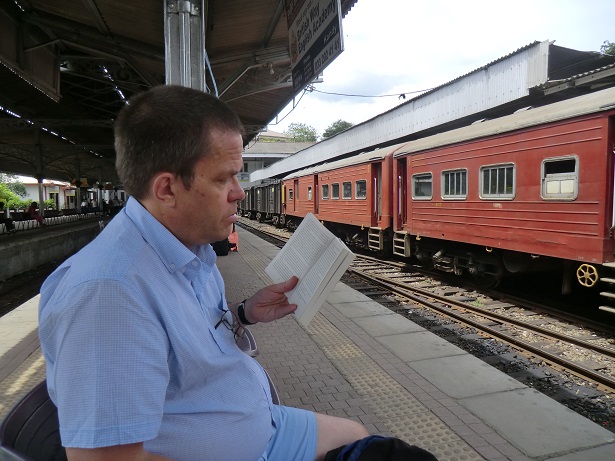 A book instead of a train.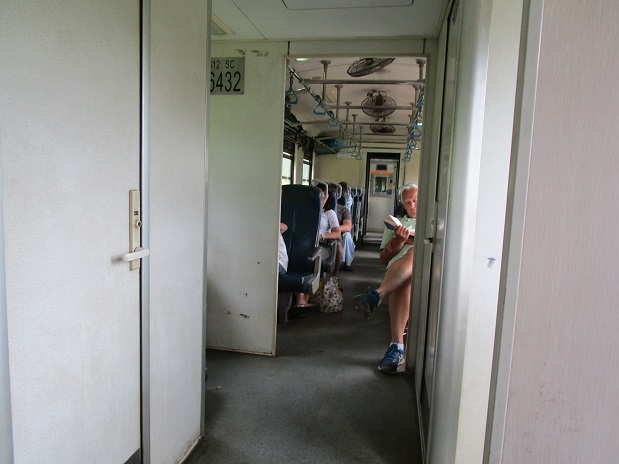 Finally we are on the train to Colombo.
14.01 The train set is moving again, unfortunately it is backwards. We're heading back the way we came from, yippee!

14.09 We are once again moving in the right direction. We're moving into another rail. 15.43 We have slowly travelled through a beautiful landscape and seen forests, some mountains and countryside. We are about to stop at another station. Unfortunately, it is not Colombo Fort but instead Veyangoda. Voices are heard from the speakers. 16.50 We are at the almost last station on this train trip, Colombo Maradana. Here we have stood still for at least 15 minutes. Why don't we get started? We've probably met the train we were going to take from Colombo Fort. It looked packed to say the least. 17.02 Hey, we are on the move. We just stood still for 40 minutes one station from the final destination. We just ask why. 17.10 The station is Colombo Fort, we are back here again. How are we going to do to find the commuter train to Negombo? 17.15 Never mind the commuter train, we'll catch a tuktuk instead. Christer was caught by a man who offered transport and asked where we were going. By saying Negombo, Christer believed that the man would lose interest. After all, it is 40 kilometres to get there. Instead, Christer was told what the price would be and the man told him to not accept a higher price than he said. We came out of the station and all of a sudden our newfound friend pretended that he hadn't said anything about the price. He asked us what we were prepared to pay and then told this to a tuktuk driver. We accepted it. 17.45 We are currently driving slalom through rush hour traffic out of Colombo. Now we have made a stop to refuel at an IOC petrol station. 18.50 Our transport is near the airport. This is where we landed just over two weeks ago. This is, to say the least, a long journey with the tuktuk. We've been sitting here for an hour and a half by now.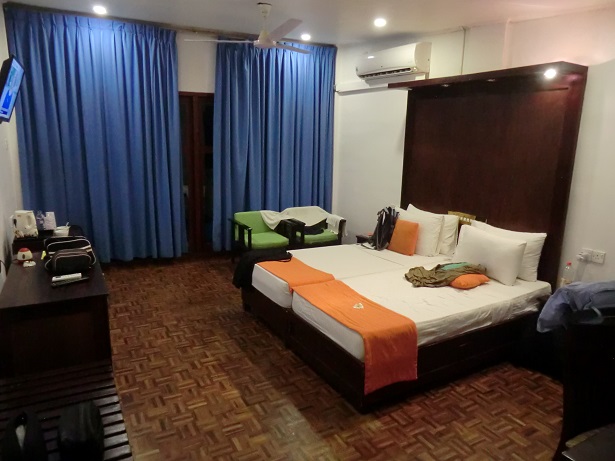 Our room at Golden Star Beach Hotel.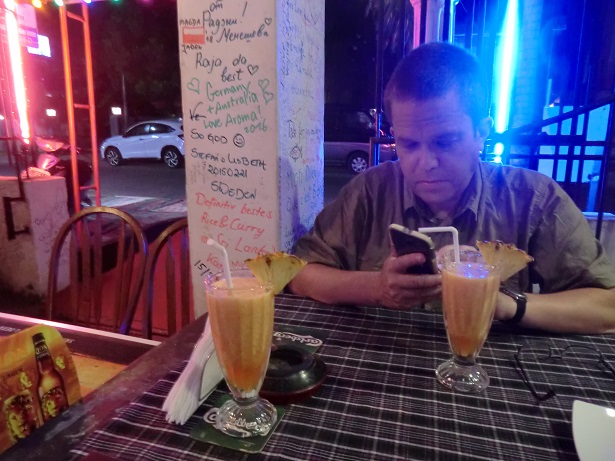 Dinner at Aroma Restaurant. Swedish names on the wall.
19.25 After a 40 kilometre long tuktuk trip, our by far longest so far, we have arrived at Golden Star Beach hotel (http://www.goldenstarbeachhotel.com) and room number 24 in the tourist resort Negombo. The driver who did not seem so familiar in the city wanted Christer to show him the way. It was partly solved by Christer's phone and partly by the driver asking people along the way. We received mango juice and WiFi code upon check-in at the hotel. Now we will refresh ourselves internally with coffee and externally through the shower and change of clothes.

20.32 Our missions are completed. The next mission will be to check when and where breakfast is served, have dinner and make some purchases. The table almanac here says on March 2018. Hasn't anyone lived in this room since? 20.58 Now we know how it works with breakfast. We have also familiarized ourselves a little with the surrounding area. Now we are at the restaurant Aroma. The first dishes I ordered from the menu did not exist. That happens from time to time. 21.40 This is indeed a day of waiting. We haven't seen our dinners. It's been a while since we ordered. At least we've had something to drink. On the pillar next to us, various guests have written greetings. Stefan and Lisbeth from Sweden ate here on the 21st of February 2015. I wonder what we did then. 22.31 What a disappointment it was despite the restaurant received nice reviews online. It was jumbled and absent staff, it took almost an hour to get the food we ordered and Christer's Cordon Bleu was just an ordinary fried chicken. I'll never go there again.
---
Saturday 21st of July

08.20 We have almost finished sleeping in Sri Lanka. There are no major plans today. We shall mostly do things which are typical for a vacation resort. The truth is that we haven't chosen to go to Negombo for any reason other than that it's a good base for the flight out of the country tomorrow Sunday. The international airport is located just outside the city border.

09.11 Buffet breakfast is wonderful. We have more to choose from than we can actually eat here at the Golden Star Beach hotel. 09.48 The great buffet was topped with a pill each of OptiBac probiotics. Its medicine we got from our Indonesian friend Patricia. They will prevent digestive problems that may possibly occur in India. From tomorrow we'll be there. 10.27 The roughness remains after yesterday's intense journey here. We need something to bring us out of our room. 11.03 Our room has been cleaned and now we are ready to wander off towards new goals and perhaps an old acquaintance. Upon exit we were told that the restaurant does not offer buffet dinner tonight, something we had been looking forward to. We have seen information from Swedish travel agencies here at the hotel. Some Swedes have probably had their vacation here. 11.17 It is blue sky, humid and warm. The sun is merciless in these latitudes when there are no protective clouds in the way. The sweat was pushed out of our bodies during the walk along the main street Porutota Road. When we left our home street Lewis Place and turned into this, we saw a small statue of jumping dolphins. Nearby there was also the huge Spa Ceylon Resort which more resembles a government building than a hotel.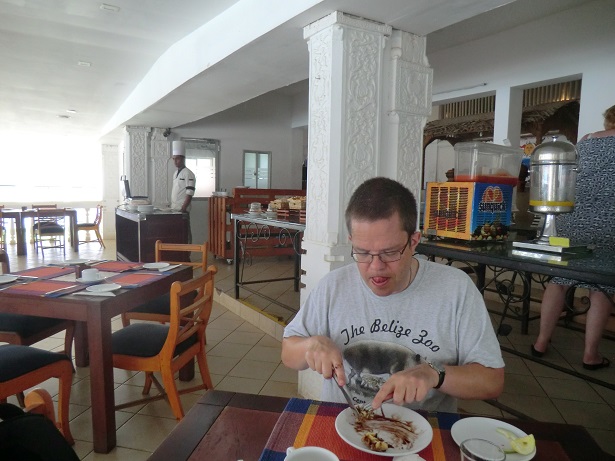 Peter at the breakfast buffet, Golden Star Beach Hotel.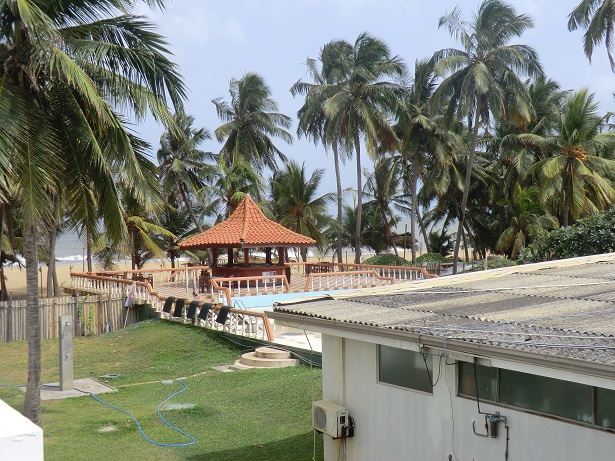 Balcony view of the hotel area.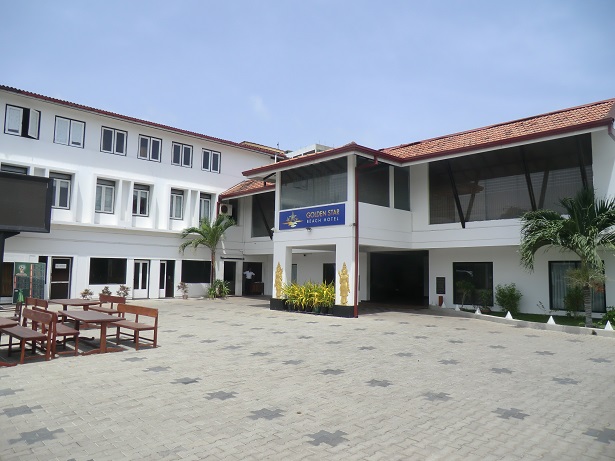 Golden Star Beach Hotel, Negombo.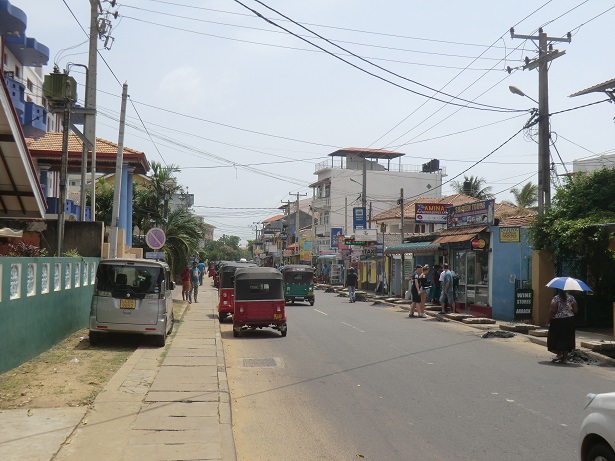 Lewis Place, Negombo.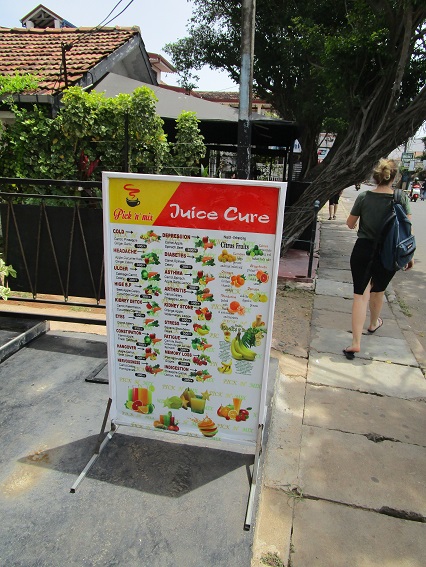 Juice can cure everything.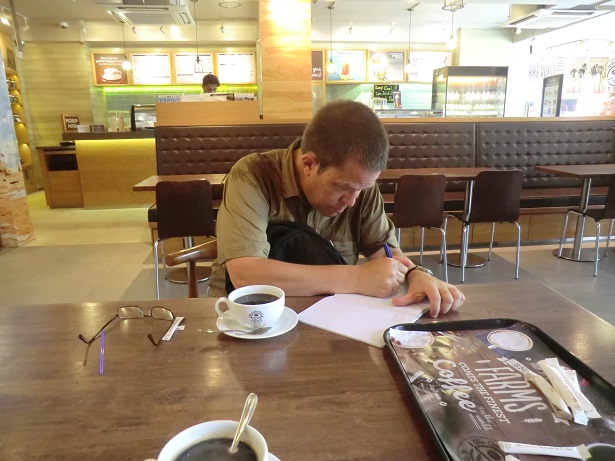 Peter is writing down some notes at The Coffee Bean & Tea Leaf.
11.46 We got a cool reception from our old friend. I thank for that. It's hot today. We have visited a branch of the Coffee Bean & Tea Leaf, a chain for coffee that we have visited before in some countries.

12.50 We bought beverages and detergents at Cargills Food City Express just outside the coffee place before we slowly went home. We have also withdrawn a little more money because our budget burst when it became tuktuk instead of local train yesterday afternoon. Now as we are back in our room, sweat and road dust have washed off. We will now cool down, if there is any point in it. It's lunchtime in an hour. 13.55 To keep what was promised, we must now leave the room again. 14.09 Carefree fishes swim around in the clean water of the aquarium. What are they thinking about? We and the fishes are at Edwin Restaurant, a restaurant we chose primarily for the lovely green environment around the tables. Besides the fishes and the staff, we're alone here. 14.58 It was fast service, tasty, beautifully served food and at an appropriate distance from the hotel. We have only positive things to say about Edwin. Now let's cool off before we take a dip in the hotel pool. 15.21 It's time to go from bed to pool. 15.28 Between 2010 and 2016 a swimming pool dip was common sometime during the summer trips. Last year there was nothing of it, not even bathing in a sea. After all, it was because we travelled inland along the railway in Siberia. Now it's almost time for pool bath again. It is flagged red, banning bathing down by the sea. 16.10 It is refreshing to swim and also relaxing to lie on a sun bed and dry. I might soon return to the pool. By the shore, large waves roll in.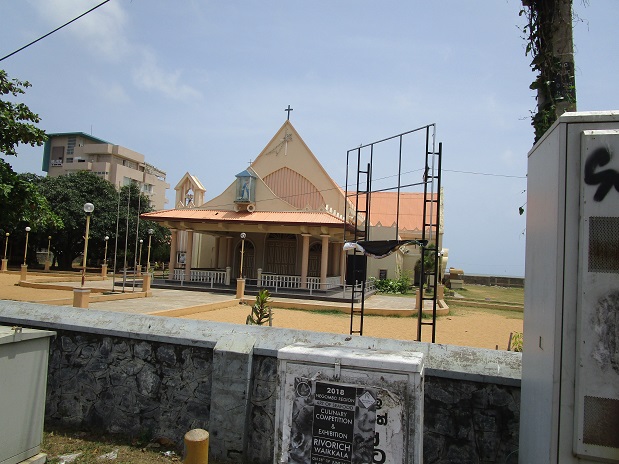 Holy Rosary Church, Negombo.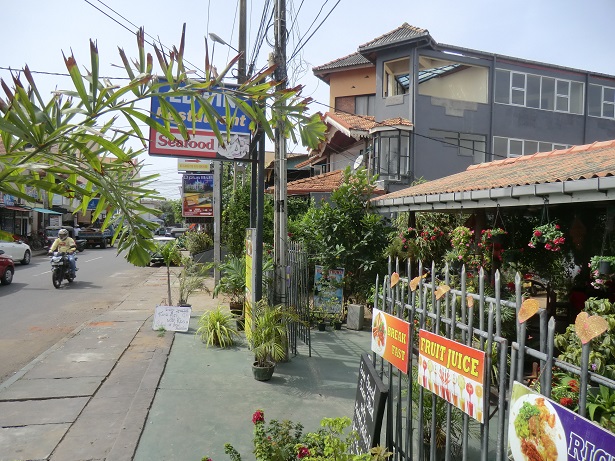 Edwin Restaurant is the name on the hidden sign.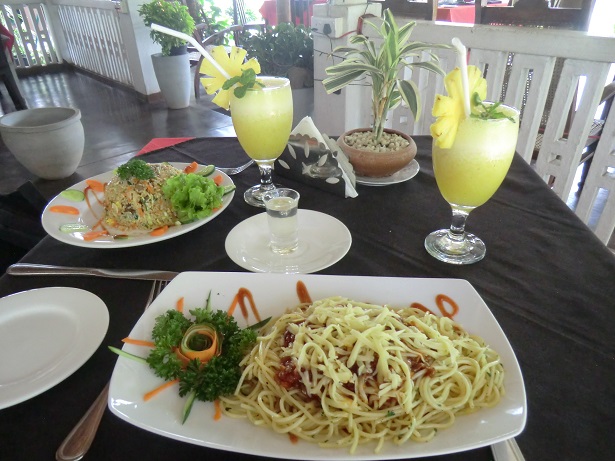 The beautiful lunch at Edwin Restaurant.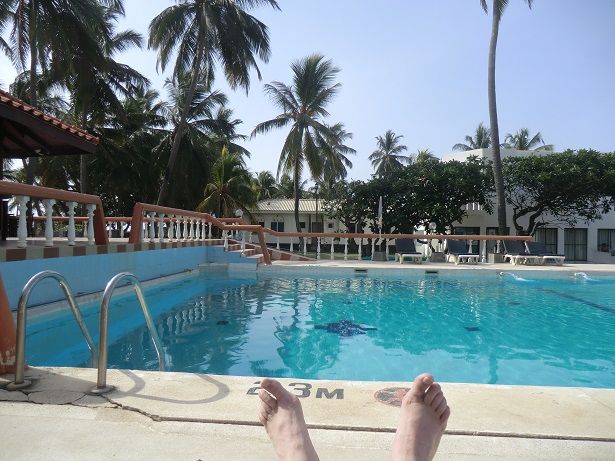 Afternoon by the swimming pool.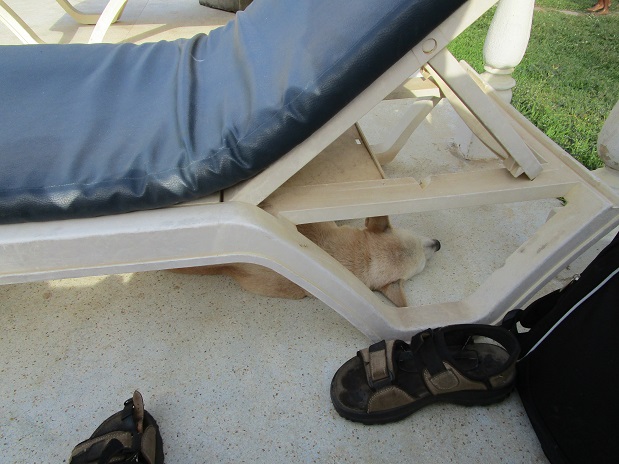 Dog company once again.
News from Sweden on our TV.
16.29 A dog has gone to bed under the sun bed next to mine. We seem to be dog magnets or is it possibly a representative from FIDO?

16.47 We have just met American director Kreista Grace. She started talking to us after commenting on the newly mentioned dog. She is looking for filming locations in Sri Lanka for the film Lilies return, with among others Ben Kingsley. The film is expected to premiere in November 2019 and is a love story between two people and God. Now it remains to be seen whether there will be any film. Next year we know. 18.01 Back in the room we see on the TV that the channel Al-Jazeera reports about the heat and fires in Sweden. 18.12 The time has come to visit the beach now that the sunset is approaching. 18.48 The descending sun we intended to take classic photos of kept hidden behind a cloud curtain. However, we did see something else classic on the beach, newlywed, which was photographed. 20.01 We have again on a trip watched and tried to understand cricket. There's a lot of that sport on television in this country. We have realized that much that you get points for runs, overs and wickets. But what it is remains riddles. Every time you think you understand, it turns out that you probably haven't done so after all.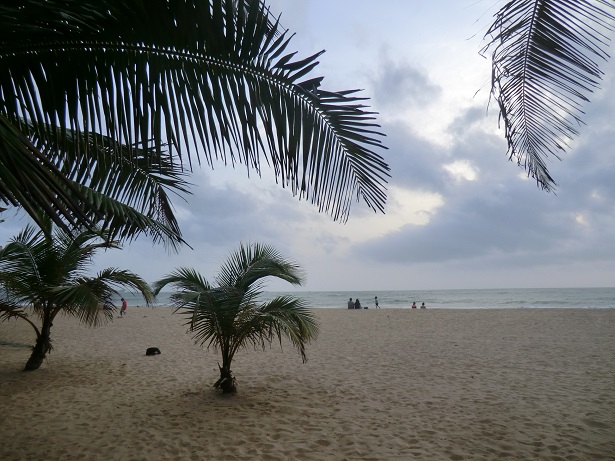 The beach next to our hotel.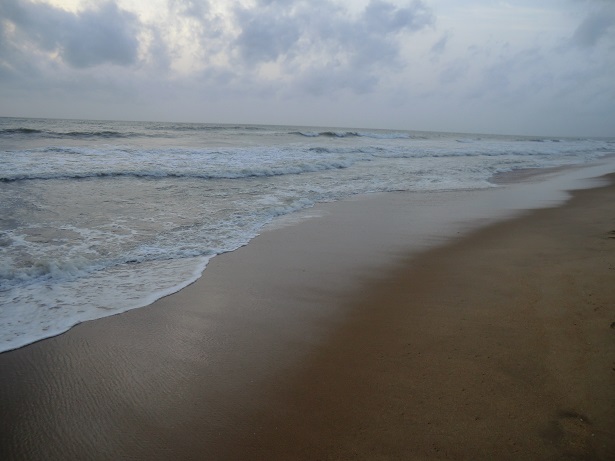 The waves from the Indian ocean comes rolling in.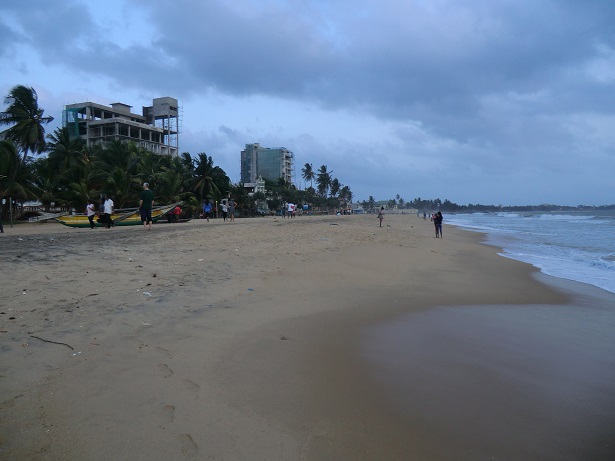 Cloudy weather just before sunset.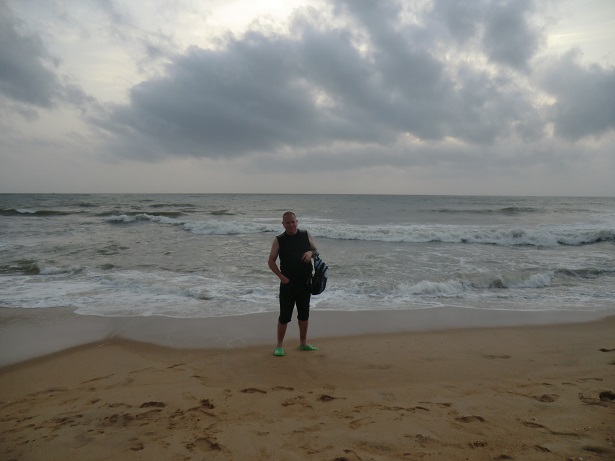 Christer where the beach ends and sea starts.
20.10 We are about to go down and order something delicious to eat. It has become time for dinner. Tonight we stay here at the hotel and try the restaurant here,

20.20 The expected order from menus turned out to be a buffet. Someone misunderstood someone earlier today when we asked about this. Can the plans have been changed as the hotel received more guests during the day? Who knows? Let's eat. 21.05 It was great food and a tasty dessert. Now we're back in our room again. It's time to read about the next country and city. The internet connection in this room is not good. You have to stand on the balcony and hang over the railing to get a good WiFi signal. We must have a firm grip on the phones. 22.48 Al-Jazeera has once again reported from Sweden and the fires. Prime Minister Stefan Löfven has spoken and also the dairy farmer Jacob Gustawson and a citizen called Irene Christensson.
---
VIDEOS
---
You can see 53 photos from July 19 in this photoalbum.
You can see 17 photos from July 20 in this photoalbum.
You can see 54 photos from July 21 in this photoalbum.

---
---