---
Text: Peter Johansson
Editing: Christer Lundstedt
Photos: Christer Lundstedt, Peter Johansson
Videos: Christer Lundstedt
---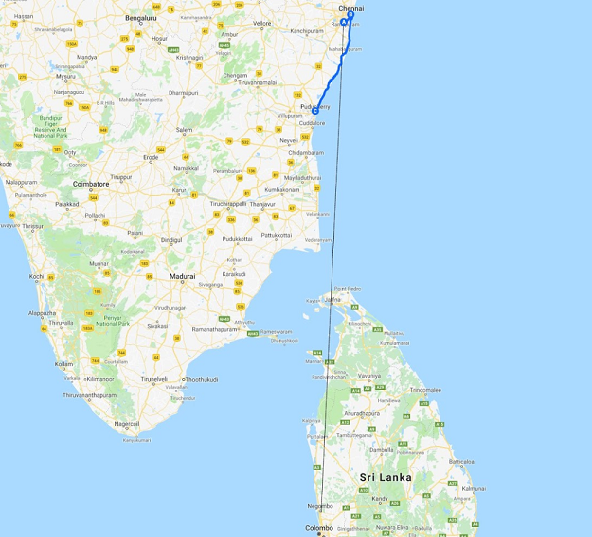 ---
Sunday 22nd of July

08.14 It is Sunday morning here at the Golden Star Beach Hotel (http://www.goldenstarbeachhotel.com) in Negombo, Sri Lanka. Today, the hot water had a long way to go before it got to the shower. We hear sounds from aircrafts, a small mark of what will come later today.

09.42 After a last Sri Lankan breakfast buffet, we will now begin the process that at the end of the day will take us to India and Chennai. 10.37 Why does time usually go so slowly on the days when we just wait? Is it that time goes faster when you have fun and to wait is not at all that fun? It might be so. 11.39 The last few hours have been spent here in the room and on our terrace. A chronicler in a Swedish newspaper believes that it is rude and impolite to make phone calls. Instead, you should send SMS or use social media. It's supposed to be book a time for a possible call. At first it was wrong to spontaneously visit each other. Now it's wrong to spontaneously call. Then what? Will it be wrong to say Good Morning to a colleague, talk to someone else without first sending an SMS? The most modern country in the world has struck again. Sometimes it's good that there's a few weeks left before we go there again. 11.50 Check-out time from the room is approaching. It's time to learn about transportation to the airport, check out and go for a lunch. Is it perhaps best if I send a text message first?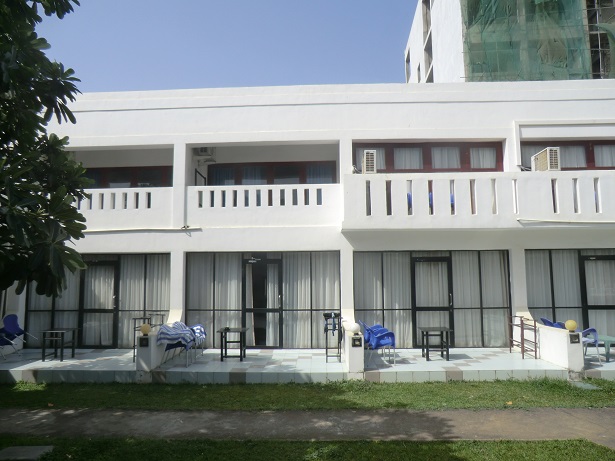 Our room is on the second floor of this building.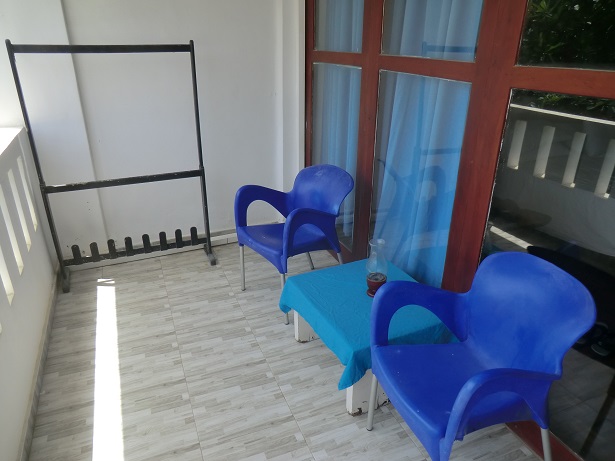 Chairs on our balcony.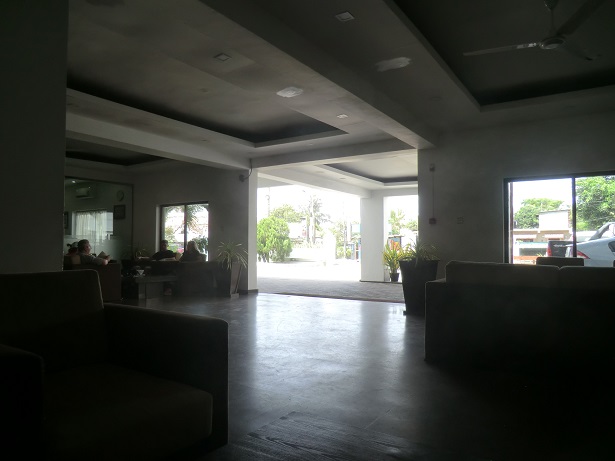 We are waiting in a dark huge lobby.
12.15 Talk about a confused check out! First we were told that the room we would pay for was already paid for. All that was not paid was yesterday's dinner buffet. I paid it and asked for confirmation that we paid, around 23,000 rupees for two nights. The confirmation stated that we paid 56 000 rupees and that the guest's name is Dražen Malic. We questioned this and the check-in note was shown. But I said I'm not Dražen Malic from Croatia, I'm Peter Johansson from Sweden. The first solution was to replace Dražen's name with mine at the confirmation. We did not agree to this, do it again, and make it right! I paid the right amount and was told that airport transfer costs 3000 rupees. The explanation for the mess was that there was no order on the folders, one folder per room. Now we can finally go and have our lunch.

12.28 We're back at the Edwin restaurant. We were greeted happily welcome back and have just ordered our food. 13.47 The owner talked happily with us and wanted us to grade the restaurant at Tripadvisor. It should be done and I also recommend Edwin on this forum despite the limited number of readers. I've given coins to a collection box. Remaining banknotes will be used to pay the transport. 13.55 Airport taxi is ordered and paid for. Now we wait in a big dark lobby. 14.16 There is a further wait. Cars have driven away with other guests/passengers but we are left without transport. I hope all will go well. We want to avoid stress today when we've had so much time.
Christer in the car going to the airport.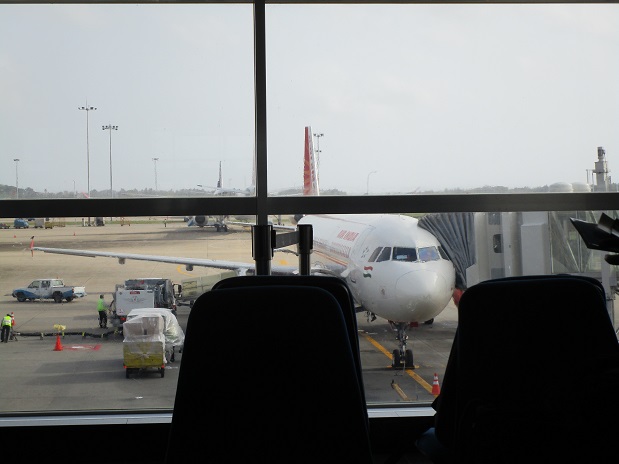 The plane from Air India is waiting for us.
14.24 Finally some things are starting to happen. A small Suzuki car is our transport. On second thought, the little car is probably not a real taxi. Probably someone is helping the hotel and driving us in their private car. The main thing is that the car gets us to the airport.

15.34 It took two security checks, a time-consuming check-in with paperwork and then a quick check of the passports before we now sit with coffee and wait at Bandaranaike International Airport. We leave the country in the same place as where we arrived seventeen days ago. 16.01 After another security check and check of our visas to India, we are now arriving at the gate. It's not simple as it comes to security at this airport. 16.48 After a careful look in our backpacks, especially carefully in Christer's, we have finally boarded the Air India Airbus A321 from Colombo to Chennai. 17.43 After a while a light meal was served, chanting songs were also heard from further back in the cabin. The food consisted of bread, spicy vegetarian mixture and something white and sweet, not sugar. If the vegetarian was spicy, then the coffee was weak. It was no problem to see the bottom in a half filled cup. It also accompanied some kind of snacks. The woman in the seat left of Christer enlightened us that it was tamarind. 17.53 The approach to Chennai has begun. We're on our way back to the mainland.

INDIA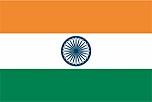 18.50 After landing we have brought ourselves past the passport control with photography and fingerprint registration. We have also exchanged money and collected the luggage. Everything has gone really smoothly so far.

19.02 We had somewhat prejudiced expected a chaos with tough taxi drivers but everything was quiet and calm. No one wanted to talk to us. Instead we went to a booth where a man without shoes and socks sat and took up taxi orders. Now we are in taxi on our way to another hotel in another country. Little curio, this could be the one hundred country we are in on our summer trips. Chennai and India, here we come! 19.44 We are thus in Chennai, a city formerly called Madras. It is the capital of the state of Tamil Nadu. It is India's fourth largest city and in the entire metropolitan area lives about 10 million inhabitants. Driving and navigating in this city would have given me heart defects, stomach ulcers and much more from the doctor's book. We've seen lots of vehicles, a crash-damaged police car and three girls on a scooter, each with a cell phone. One of them took a selfie in the middle of the journey. 20.01 We are in room 306 at Hotel Chennai Gate (http://www.hotelchennaigate.com), a hotel located opposite the Beautiful Railway Station Egmore. The man who showed us here to the room is off to get us a towel. Towels tend to elude us on the trips. 20.45 Now we've had enough. We're hungry. In addition, we still miss a towel and even toilet paper. At least we have a little shower by the toilet.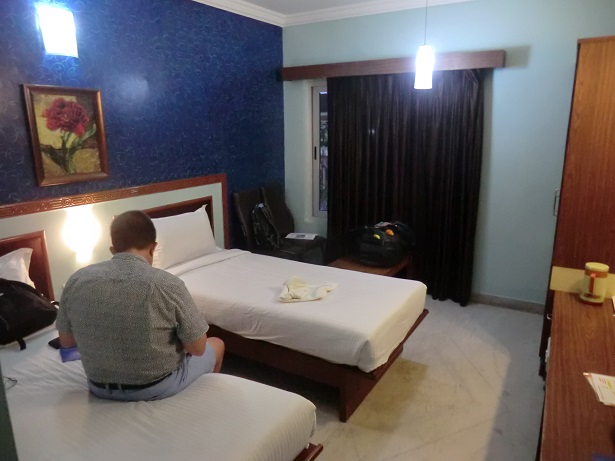 Peter in room 306.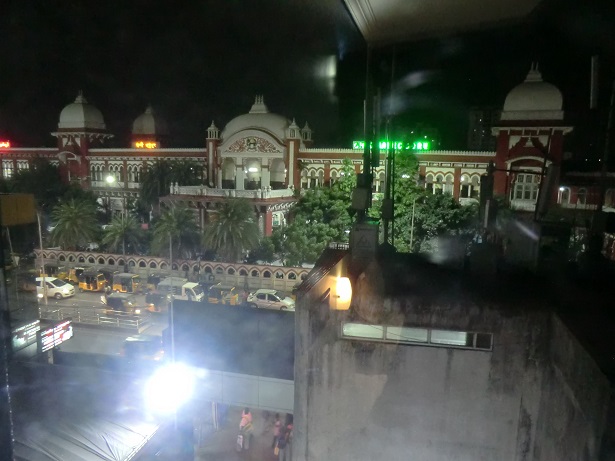 Outside the window we can see Egmore Station.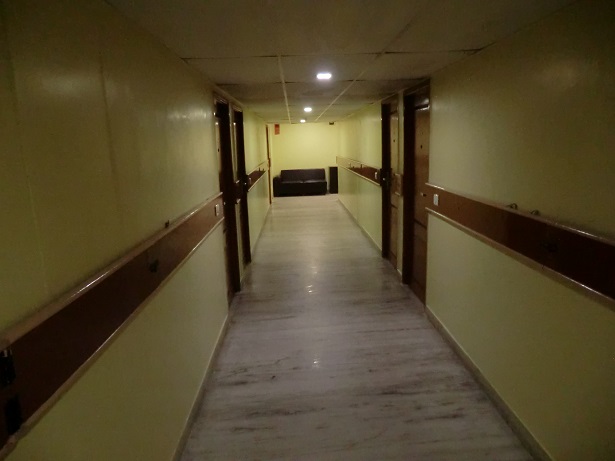 Our dull hotel corridor.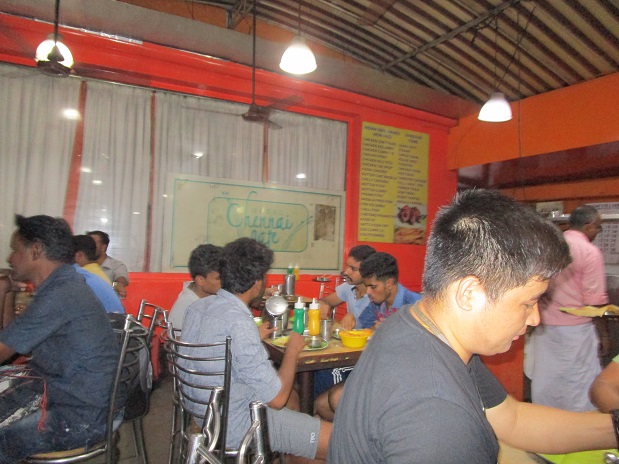 Dinner at Kaaraikudi restaurant.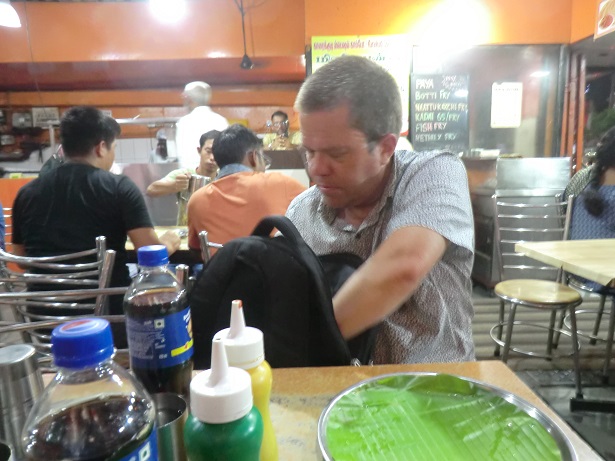 Peter is eating on banana leaves.
21.01 Outside the entrance to the hotel, we found a small shop where we bought much needed beverages. On the other side of the entrance we found the restaurant Kaaraikudi Non-Veg Restaurant. Non-veg are the definition of a restaurant serving meat. Many restaurants here in Hindu India are completely vegetarian. Noodles and lamb were out so we ordered noodles and chicken. We had to pay in advance upon ordering a Pepsi each. We think the man went away and bought the soda, maybe in the store we were just in?

21.27 This really became an intense and genuine introduction to India. After all, this restaurant was not the most fancy. People enter from the street and a stressed man runs around asking people what they want. At the entrance is a guy using a wok frantically at a huge flame of fire. For around 150 rupees, around US$2,50 per person, we got grilled pieces of chicken, noodles and Pepsi. We once again asked about towel and toilet paper at reception when we returned to the hotel. 22.59 The towel came pretty fast. We haven't seen any toilet paper. Maybe we should have had our own. After all, it is a rather unusual product in this country where toilet hygiene is taken care of in other ways.
---
Monday 23rd of July
08.04 It is morning in the South Indian city of Chennai, the city that previously (until 1996) was known as Madras. We have slept our first night in India and here at Hotel Chennai Gate. Today we will see if we get a toilet paper roll. In addition, we will make a city hike. 08.53 It's almost time for breakfast. It's supposed to be a South Indian breakfast served in the restaurant outside the hotel entrance. The restaurant is called Hot Chips. 09.23 We had an interesting breakfast. On a plastic tray we received various side dishes of varying texture, colour and amount of spice. To this we were served bread and finally some coffee. 09.47 Annoyance and misery! Of the two upcoming buses we planned to book tickets for today it looks as if only one is able to book. Time to think again. Indian bus companies in most cases have very good booking websites on the internet but there is one small thing that makes it awkward for us. If you do not have an Indian mobile number then you cannot book tickets on these pages. It is impractical and frustrating to say the least.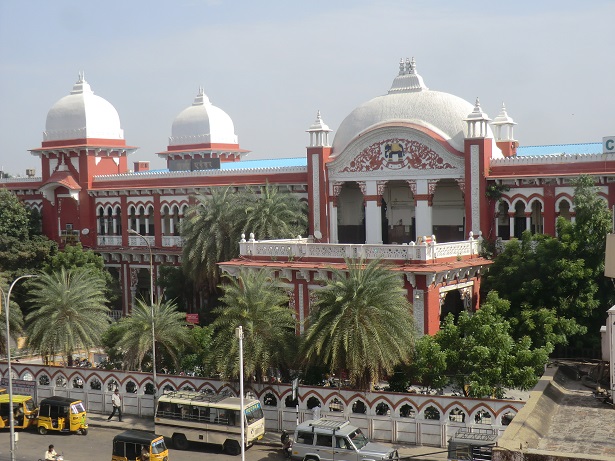 Egmore Station in daylight.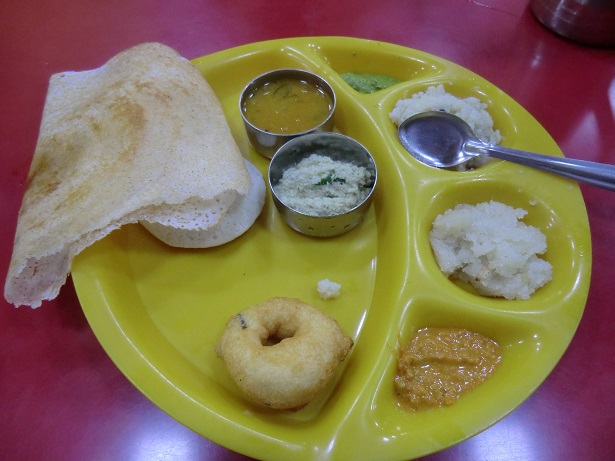 The breakfast tray at Hot Chips.
Peter is eating a South Indian breakfast.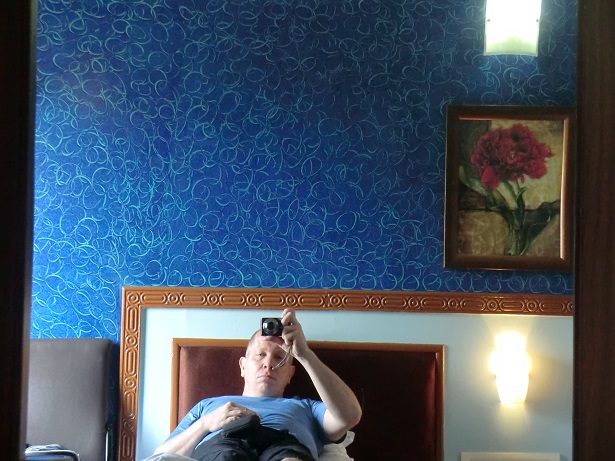 A mirror selfie in the room.
10.28 The time has come for us to go out into the heart beat and heat of the big city. We feel some hesitation, not just because of the intense traffic and the amount of people. According to the weather forecast, it should be +36° today.

10.37 We have first located the place where we will find our bus from here tomorrow. We also tried to find another ticket office nearby to buy tickets we need later. It didn't go very well. We found nothing where it should be located according to Google Maps. 10.46 We have walked along Pantheon Road and seen traces of the Christian religion. Among other things, we have seen a church and a huge Jesus. 10.55 Rajarathinam Stadium was passed. It works well to walk here in Chennai but it still seems likely that we arrange some kind of transport when we are going home again. 11.05 There are plenty of vehicles and high temperatures today. We're currently standing on a bridge over an overgrown stream, the Cooum River. 11.30 We are inside the shopping mall Express Avenue Mall (https://www.expressavenue.in). How great it is to be here! It's so nice to leave the traffic and the heat behind us for a while. Let's calm down, cool off and see what's in here. 11.54 I wonder if we have experienced what we have just done some time before. A squash player from New Zealand just walked past us in here in the mall. There is a junior world championship in the city and some matches appear to be played in here later today. Right now it's some form of warm up. We are now at Starbucks Coffee. It is a tradition on the trips to visit this chain.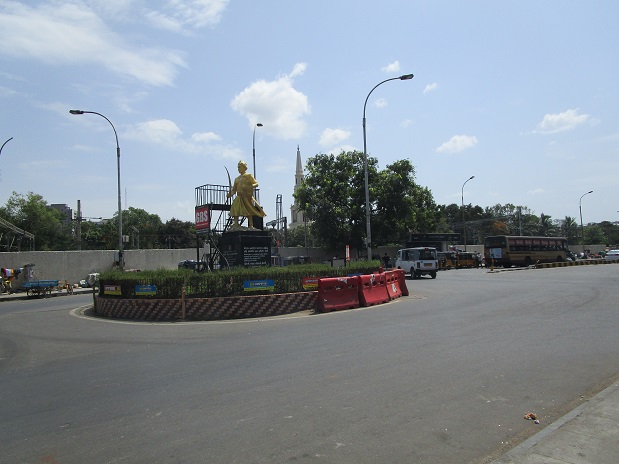 A golden statue along Gandhi Irwin Road.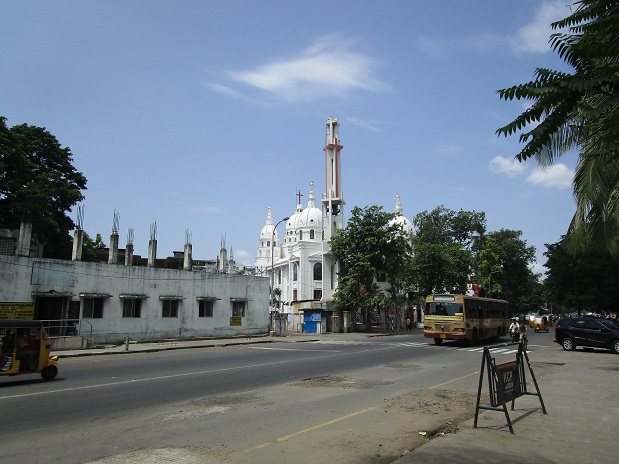 Sacred Heart Church, Chennai.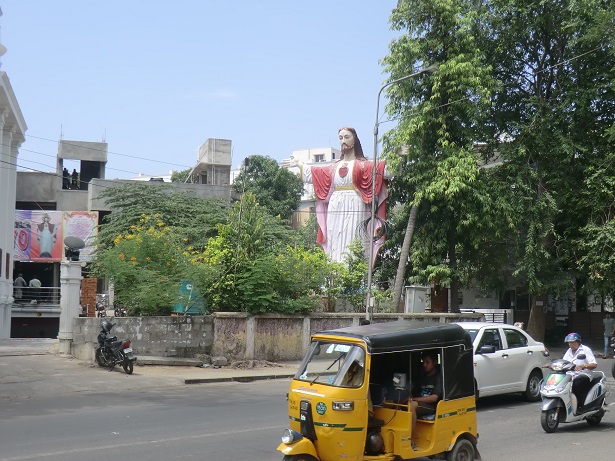 Jesus was seen along Pantheon Road.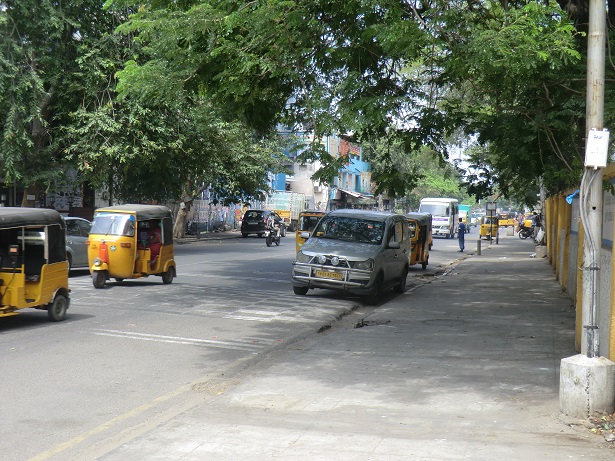 Walking through Chennai.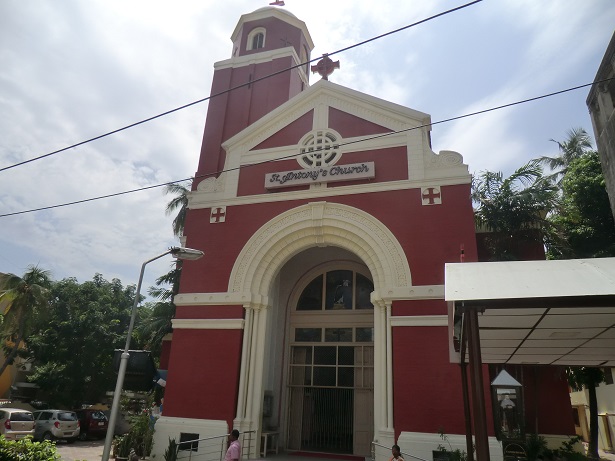 Saint Antony´s Church, Chennai.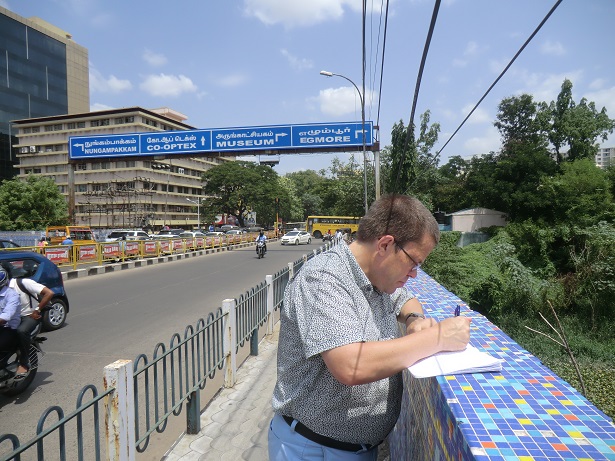 Peter is writing in his journal on the bridge over Cooum River.
12.15 We have wandered through the entire mall and discovered what is available to buy and do here. We have examined restaurants and need to take a decision soon.

12.54 A lady named Turner wonders who need a heart if it can be broken. It's music being played. It's Tina Turner singing "What's Love Got to do with it". It is cool at the restaurant Chilis and just now we ordered today's lunch. 13.31 The theme of the food was American/Mexican. It was satisfying and delicious. Now we will look around more here in the mall. 13.50 Now that Christer has found the entrance to the Big Bazaar store in the lower floor, he has walked inside to buy something for himself and me. I'll join the little backpacks outside. 14.10 It will be tuktuk/auto rickshaw home to the hotel. We are too lazy to walk the same long way back. A contributing reason was also that Christer had a large bag of goods to carry around. The price of the trip was guaranteed too high but still cheap. We took one of the vehicles lined up outside The Express Avenue Mall. 14.35 We have shared the purchased groceries. The most expensive was a four pack toilet paper. We have asked to keep the room longer tomorrow because we are going by bus in the evening. Then it turned out that the room is already ours until 20.00. Apparently, the check-in time and check-out time are the same. If you're paid for 24 hours, you can to stay exactly 24 hours. 15.03 There was a knock on the door and we got a roll of toilet paper. It's typical it finally came after we bought our own. 16.11 The time is ever so slow being squeezed to death. It's nice to do a little after an intense day out in the city.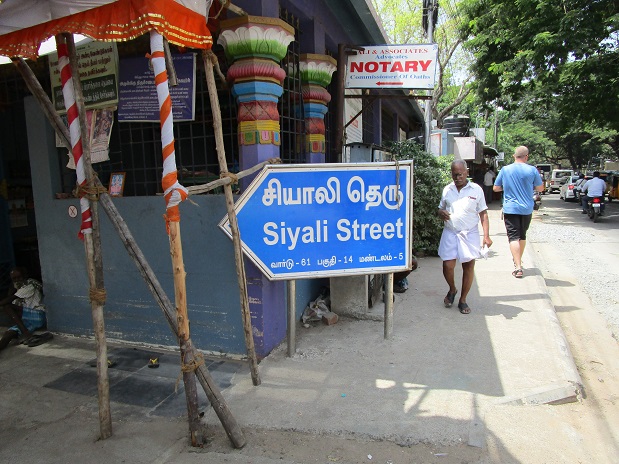 Christer is walking away from Siyali Street.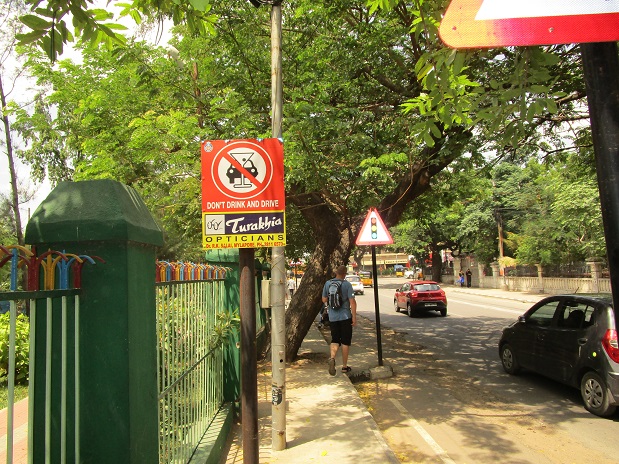 Christer is approaching Express Avenue Mall.
Squash players in Express Avenue Mall.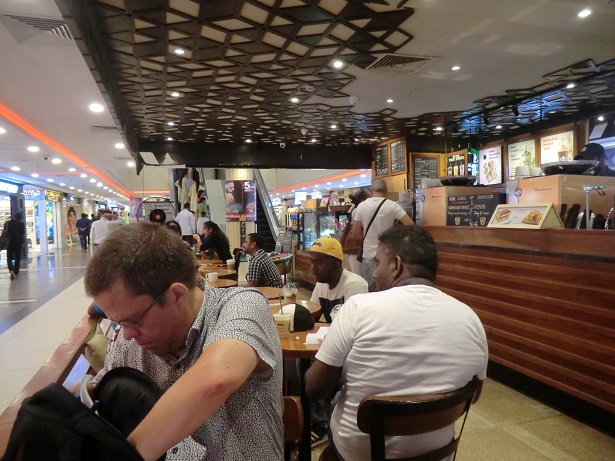 A break at Starbucks Coffee.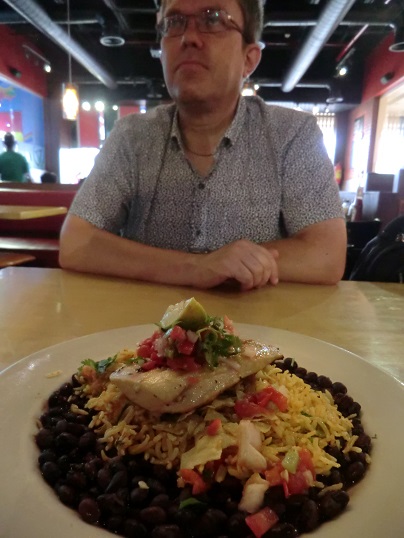 Christer has received his lunch at the restaurant Chili´s. Peter is still waiting.
17.04 It is time to go out again to get further certainty about future goals.

17.37 Now we know that there is a restaurant suitable for dinner. We possibly might know where the bus we're going with tomorrow stops. Well, at least we found the office at Kenneth Lane where the ticket says it's leaving from. We know nothing more about the purchase of upcoming bus tickets. We found no office this time either but well a street full of black market moneychangers and later a few beggars. 19.31 It's raining, pouring down out there. We're going to eat soon. 20.10 We quickly and smoothly went to the restaurant Madras Malabar Kitchen on Kennet Lane, the street a bit away from our hotel. The rain stays away for now. 21.11 Two hearty servings of Biriyani (rice and meat) and each 60 centiliters soda for around 3 dollars. That's not a bad price. The service was also excellent. We're back home again. 22.07 BBC World's weather mentions continuing fires in Sweden. We have also found a local Tamil channel where men and women are presented for an upcoming marriage. The future spouse is presented with photo, income, profession, age and time of birth. It's important with astrology here in India. 23.07 We read in our books but it is difficult to read if you can't focus on the text. It's kind of moving all the time. It's just as good to say good night.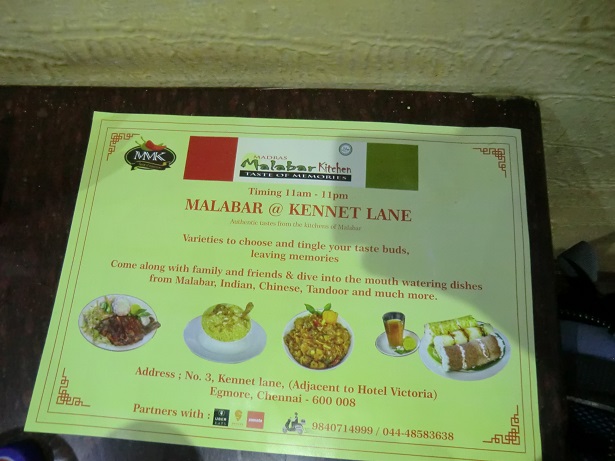 Tonight´s dinner restaurant.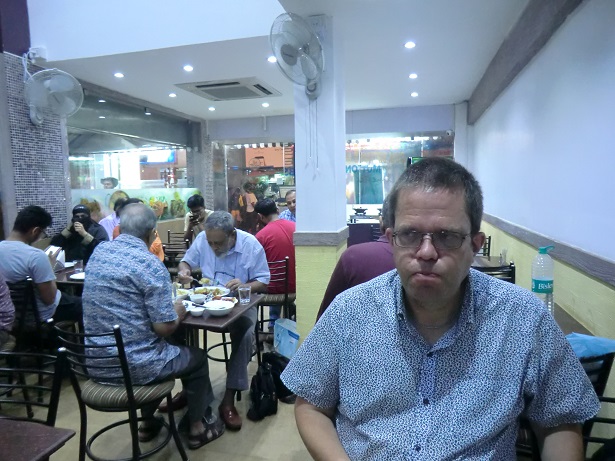 Peter is dining at Madras Malabar Kitchen.
---
Tuesday 24th of July

08.22 The morning activities began with picking up a copy of the newspaper The Hindu from the floor. It sometimes happens on the trips that a newspaper is included in the rent of the room. But why didn't we get one yesterday?

08.53 Today it will be a day of waiting. We're going to get a bus out of here tonight. We have had some loose ideas about how to fill the day with various activities but we hesitate and cannot really come to the decision. 09.16 Another day, another visit to Hot Chips for breakfast. There we once again were served a Mini Tiffin consisting of sweet, idly, vadai, pongal, mini masala dosa. The fact that we know this is because there's a sign here in the restaurant. We're not experts on Indian food. Now we wait for the coffee. 09.53 We spoke with an older gentleman at the neighbouring table at the end of breakfast. He was curious about where we come from and he told us that we are currently sitting in a "pure vegetarian restaurant". 11.17 We should get started and get things done, but out there it is still full of people and is hysterically hot. Here in the room it is sparse and cool. It makes us hesitate to take the final step out. 12.15 We got to get things going. It's time to get certainty.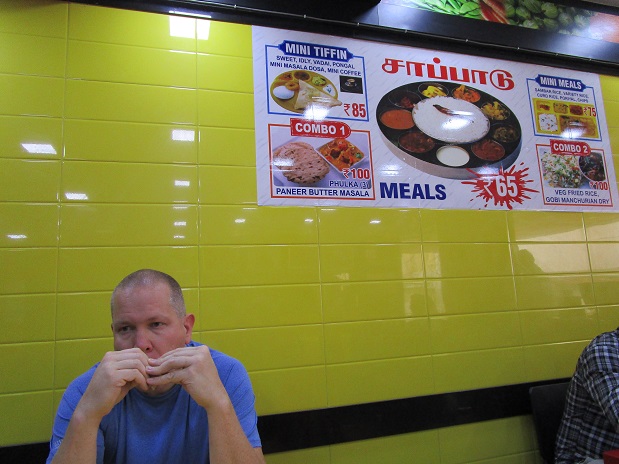 Christer is eating his breakfast at Hot Chips Restaurant.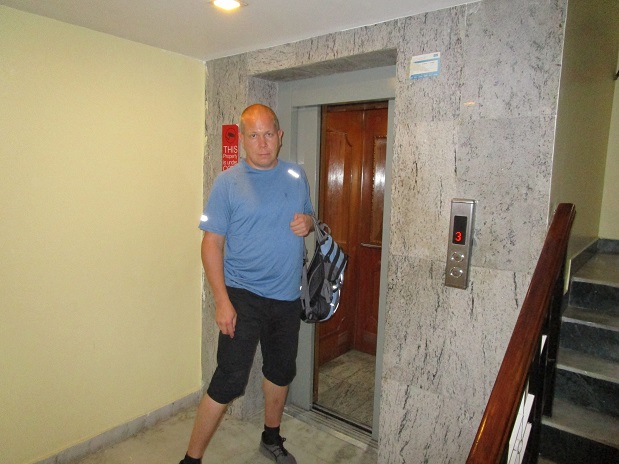 Christer in front of the elevator at Hotel Chennai Gate.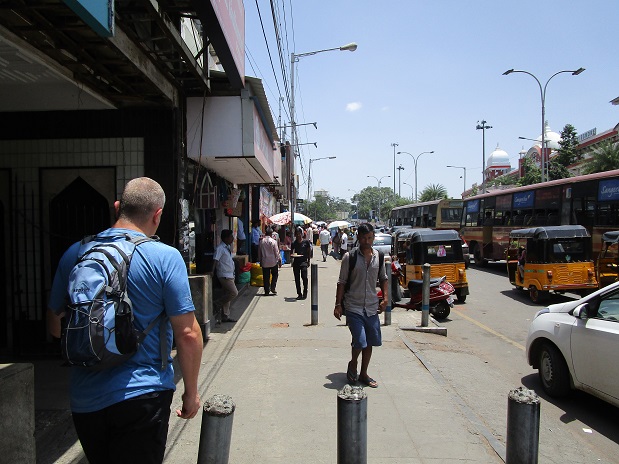 On the way back to the hotel.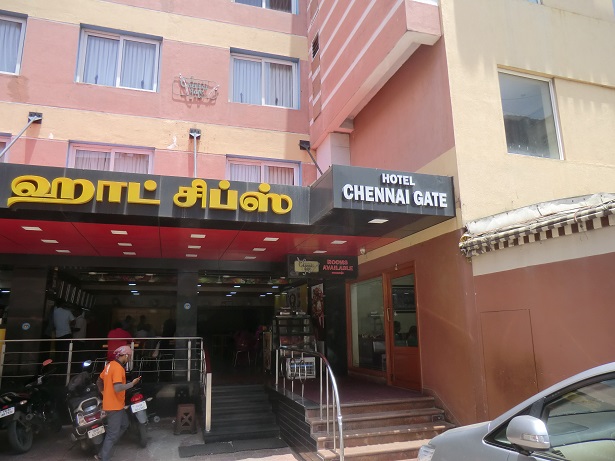 Hotel Chennai Gate.
12.41 It's so hot today as well. Now we have been down to the bus office Parveen Travels and asked about the departure time of the bus. It was corrected to 16.00. That's when we're supposed to be at the office.

14.17 Indian music reaches us and other food guests here at Madras Malabar Kitchen. We're back at the same restaurant we visited last evening. Firstly, it is because we want to avoid the hassle and hunting of restaurant. It is also because we are back as satisfied guests. We had barely had we sat down as we got a Mirinda and a Pepsi, the same kind of sodas we ordered yesterday. There is nothing wrong with the memory of the staff here. 14.57 This is it, in an hour we'll be down by the bus. Today, it is mostly a long wait. 15.56 We are after check-out now at the bus office. We're waiting for the bus. Parveen Travels/Parveen Holidays offers besides bus travel also flight tickets, hotel reservations, cruises and more. Something in an offer makes me wonder, it says mice. 16.11 We have been picked up and are heading for the big bus station. The big bus couldn't make it into tight Kenneth Lane. We were piloted by the staff out to the larger Gandhi Irwin Road and embarked there instead. 16.40 After travelling through the traffic of Chennai for a while, we arrived at New Parveen Terminal just west of the city centre. The AC was turned off in the bus. We are now in the waiting room where we are waiting for the departure of the bus from here at 17.30.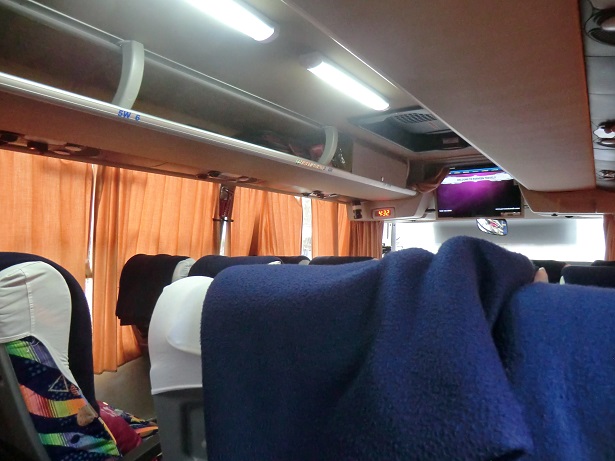 We have entered the bus from Parveen Travels.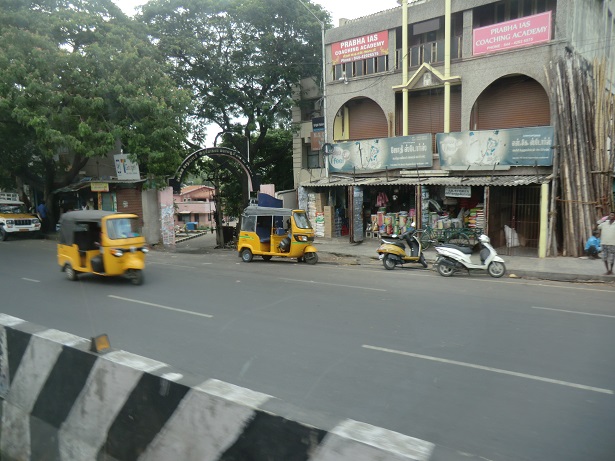 We are leaving Chennai.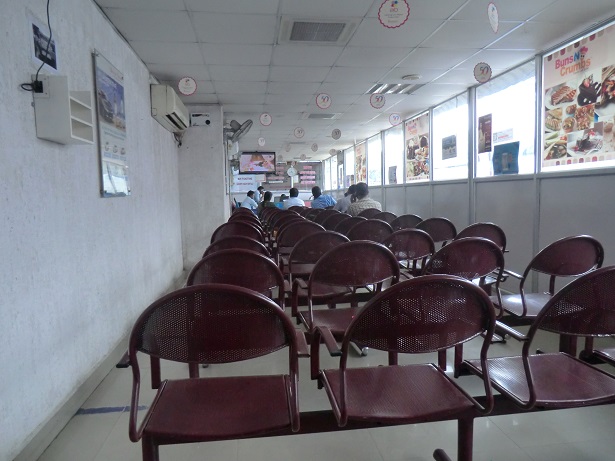 After a day filled with waiting we will wait even more.
17.19 The AC in the bus just got started again. We're back on board. In the waiting room we talked for a while with a guy who was going to travel to Kerala in south west India. He thought we should also visit that part of the country. The bus we ride with continues to Kochi (Cochin) in Kerala after we have departed.

18.47 Twilight sweeps the surrounding area. We are on our way out of the giant city of Chennai. Here and there, we have seen free range cows. Now we stop at a toll. 19.23 The bus has made a shorter stop at Motel Mamalla by the highway in Mahabalipuram. Here you can visit the toilet or have a meal if you have time. 20.50 The Indian darkness surrounds the bus. I'm for sure sitting well, but soon I'm getting bored of this. 21.17 Things are looking better. We are out of the bus and inside a tuktuk in Puducherry (Pondicherry). This city and the neighbouring are was formerly until 1954 a French colony until 1954. Today it is a union territory, thus not part of the surrounding state of Tamil Nadu. 22.01 It was not the easiest thing to check in at the hotel Pleasant Inn (http://www.pleasantinn.co). Both passports were scanned, we both had to fill in a check-in note, both of us were photographed, something new for us, at least at check-in and both were also had to leave our visas for scanning. In room 3110, our highest room number ever, there was only one double bed. The staff have arranged with a single bed as a supplement. Breakfast is served here in the room in the morning. The hotel apparently has no dining room. 23.02 CNN has shown President Donald Trump speaking before Veterans in Kansas City. He's been talking about everything his administration has done. Most of it is certainly the best and greatest ever made in the United States. 23.51 You must have a master's degree in electronics to turn off light in the room. There are over ten switches. Plus, one of them turns off the AC. The weirdest thing is that it seems to vary. Now we have some clue how it works and it's actually dark in the room. There are a few buttons, switches which we will never touch again.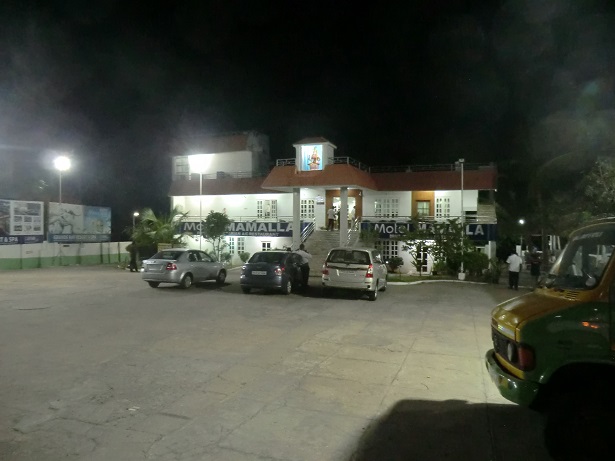 We have stopped for a break at Motel Mamalla.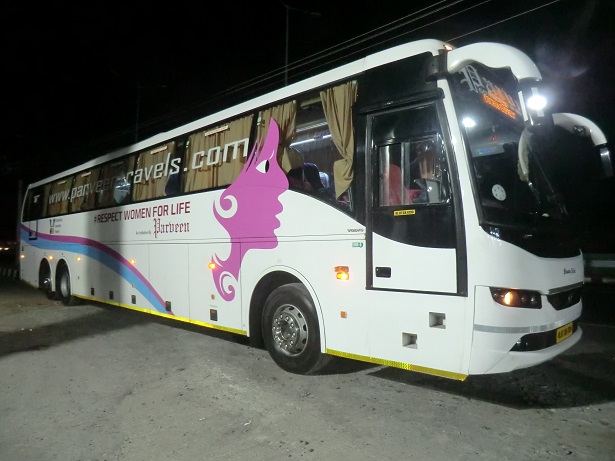 This evening´s bus from Parveen Travels.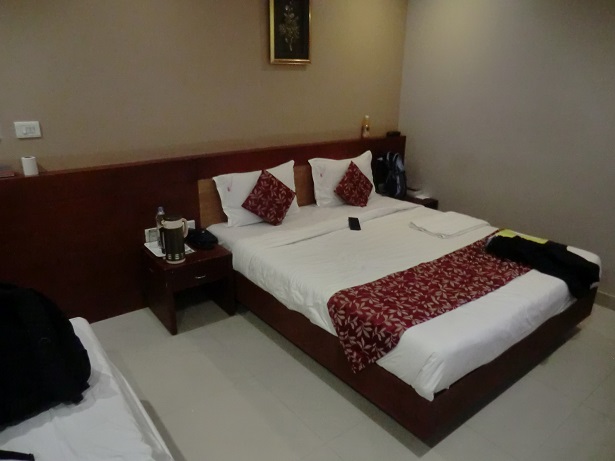 We are finally in room rum 3110 at Pleasant Inn.
---
VIDEOS
---
You can see 17 photos from July 22 in this photoalbum.
You can see 22 photos from July 23 in this photoalbum.
You can see 13 photos from July 24 in this photoalbum.

---
---