---
Text: Peter Johansson
Editing: Christer Lundstedt
Photos: Christer Lundstedt, Peter Johansson
Videos: Christer Lundstedt
---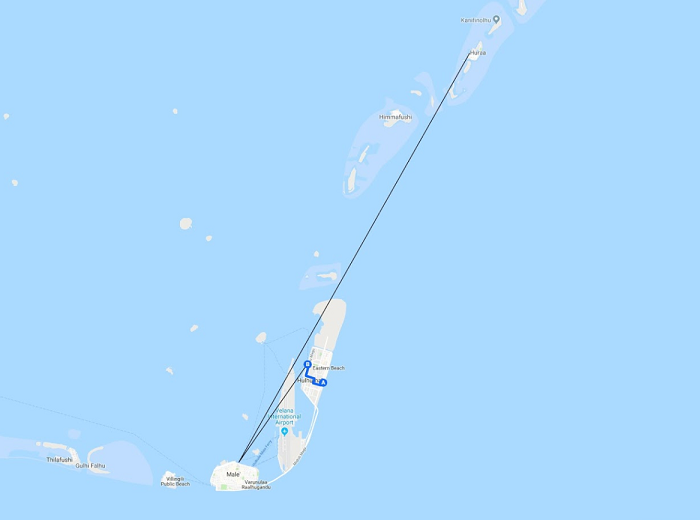 ---
Thursday 9th of August

07.39 We have this morning woken up well-rested at Vilu Rest Hotel (http://www.vilurest.com). We find ourselves at the artificial island of Hulhumale just outside the capital Male. We have now, there might be some miscalculation though, slept in one hundred different countries in the summer trips we´ve made. It pings from the elevator. Is someone going up or down? At least we're going down soon. We are about to find out what kind of breakfast we get here in the Maldives.

08.35 There were some Chinese guests that also had breakfast. The breakfast itself was of good class, noodles, sausages, bread and coffee. Christer has during the meal, via the phone, been told that the next accommodation has booked places on the speedboat that departs from Male 11.45. My shirt got a red stain on it. The fight against the stain has been done but it has not been entirely successful. 08.51 A modest knock was heard and on the other side of the door stood an equally modest man and wondered if we were ready for departure. Christer announced that this was so. A short but pleasant stay at Vilu Rest is coming to an end. 09.05 The transport is paid for and we have gone and sat down in the car. We'll get a ride to the ferry that goes from this island to the capital Male. 09.17 We have arrived to Hulhumale Ferry Terminal. It is time for another means of transport this journey. Here you can choose your ferry, an ordinary slow or an air-conditioned faster. We treat ourselves to the more expensive option.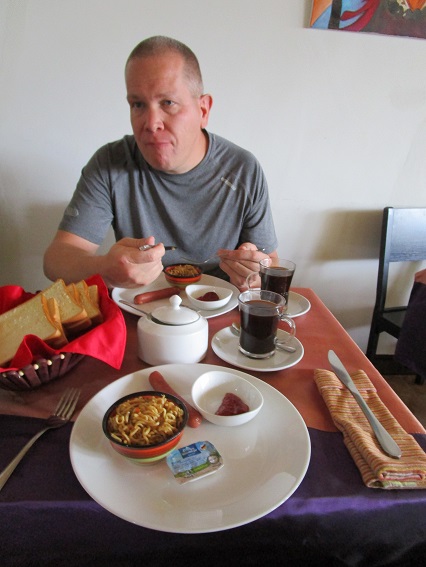 Christer is having breakfast at Vilu Rest.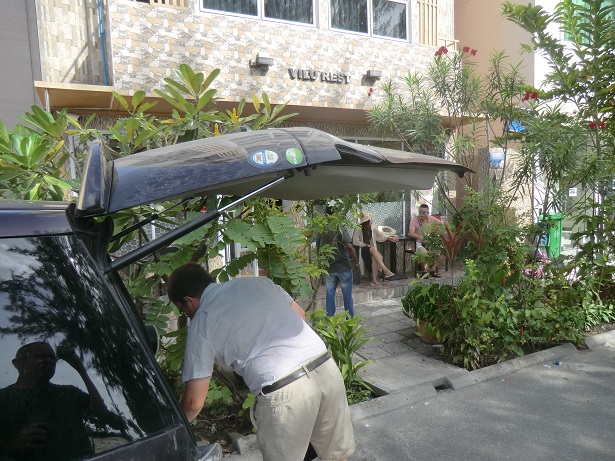 Peter puts the luggage in the car. We´ll soon leave the hotel.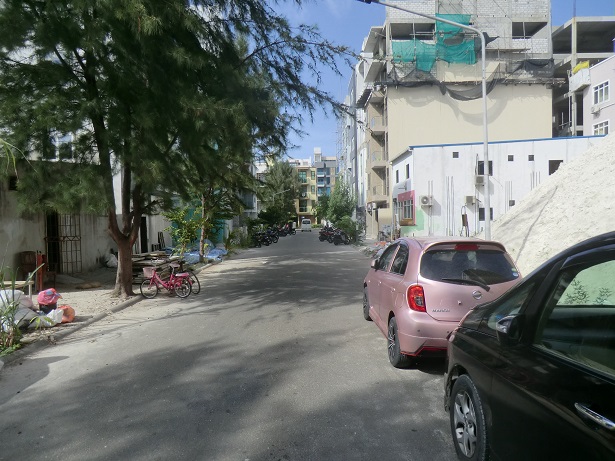 The street outside our hotel is called Lansimoo Magu.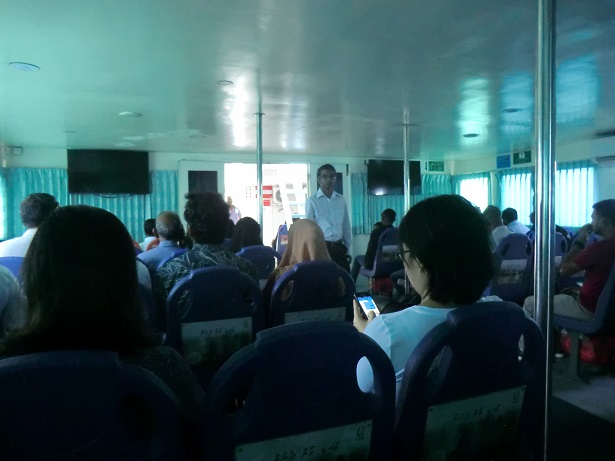 We are sitting down on the ferry to Male.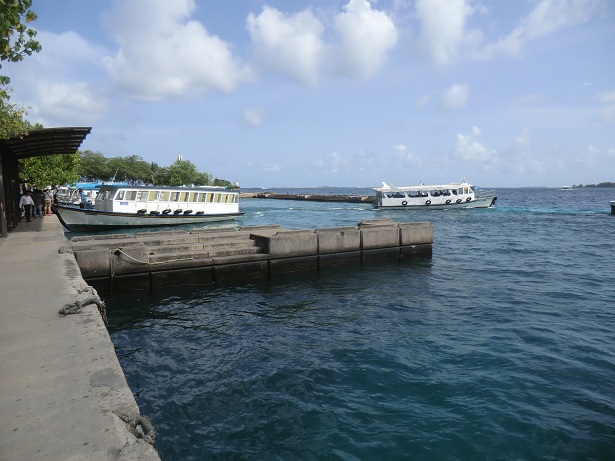 The jetty in Male. From here boats are departing to numerous islands.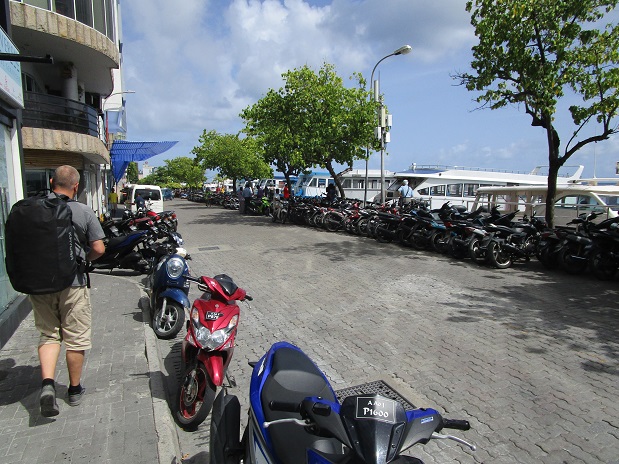 Christer is walking into the capital of the Maldives.
09.40 The short boat/ferry ride is over. We have reached the port here in Male, the capital of the Maldives. On this small island, every square meter is well exploited. Let's see what happens here.

09.56 As I said, it is densely populated and well built in Male. The streets are narrow and cramped. There are more motorcycles than cars on the go. Once again, I sit in a capital and write letters. We are now at Jen's Kitchen on the Go, a crowded little café belonging to Hotel Jen. We have placed ourselves and the belongings along a window sill. 10.31 Great coffee makes me happy and pleased. However, we notice that the price level here is quite different from Sri Lanka and India, much more expensive. Now we have an hour before the next boat departs. We are currently resting in the semi shadow at Jumhooree Maidhaan. In English it will be Republic Square. 11.24 It is a pleasant wind from the sea here at the edge of the dock. Christer is checking to see if we're by the right speedboat. 11.27 We have embarked on the next boat transport for 150 local cash, rufiyaa. That's about US$10. We're going with a company called Anax. The boat is called Legion IV. Now we're about to leave Male. A guy with a bicycle tire just stepped on board. 11.52 We read Glovis Madrid Singapore, on a large boat that we just passed on the journey to our third Maldivian island. 12.01 The sea foams around us. We got quite a pace today. Our speedboat lives up to its name. 12.08 Our boat has reached the island of Himmafushi. The next stop will be the island we're going to, Huraa.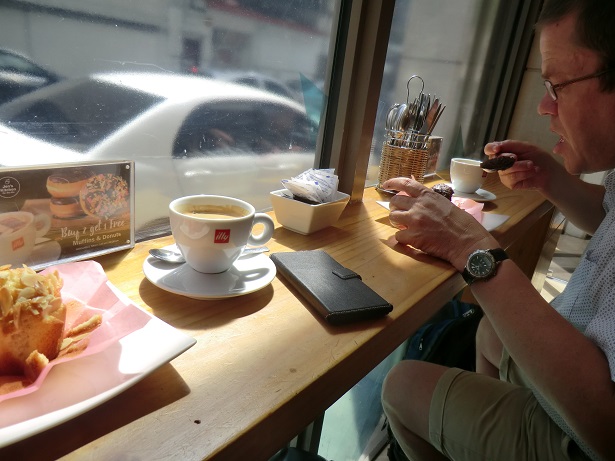 Coffee stop at Jen´s Kitchen.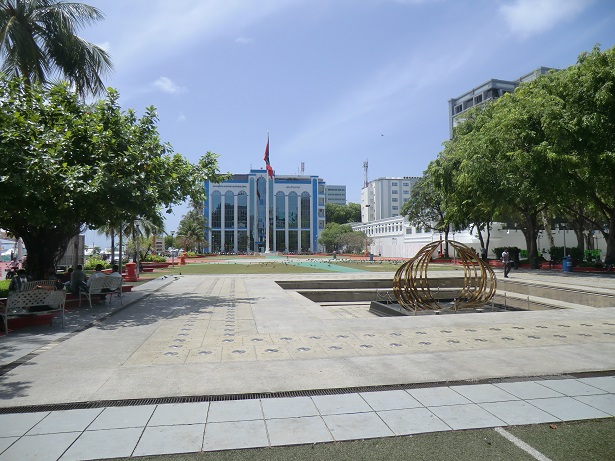 Jumhooree Maidhaan, Male.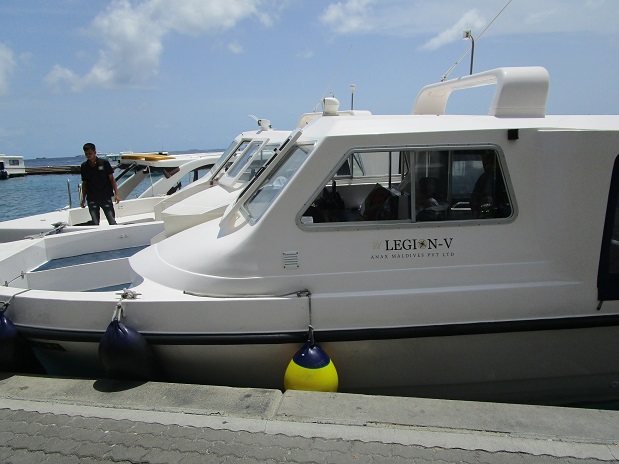 It´s time for a speedboat trip.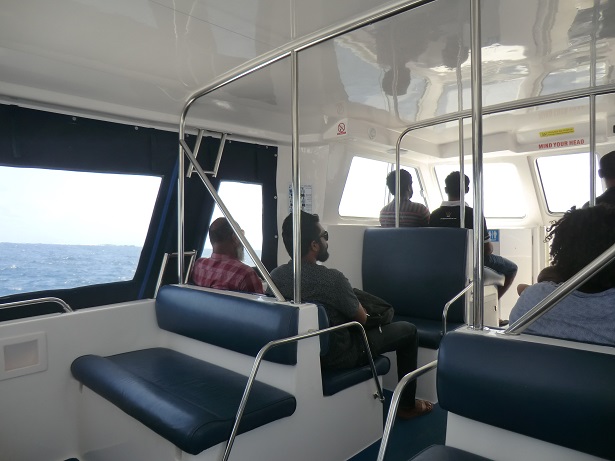 ANAX Ferry Service takes us to Huraa island.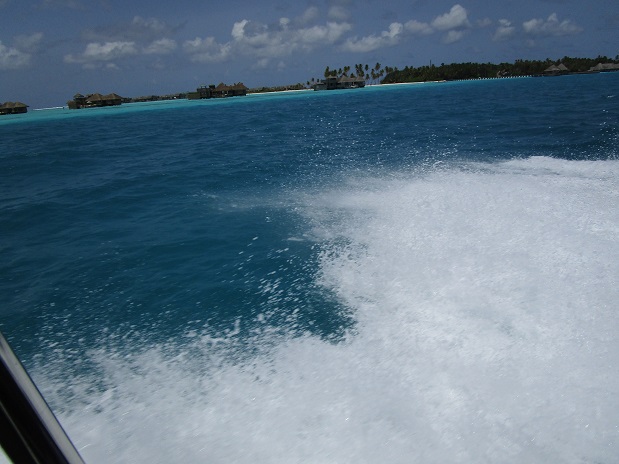 Beautiful islands behind the waves.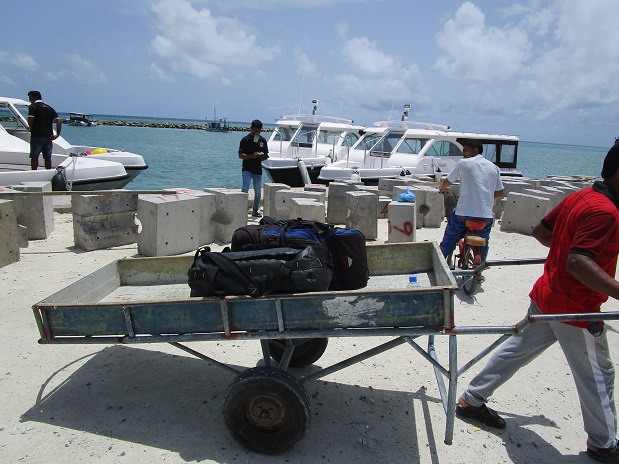 A nice welcome at Huraa island. We don´t have to carry our bags.
12.28 The speedboat docked at the wharf on Huraa island and our backpacks and we came ashore. The backpacks were put on a cart. The two of us and a guy from the next home walked while another man pulled the cart. Now we sit in the outdoor front desk at the Sunrise Huraa (https://thesunrisehuraa.com). We have each got a wet cooling towel and a coconut with mouth-watering contents and a straw. This feels like a lovely place.

12.49 Room 102, Araairu, Huraa, is our new home, Hurray! Now we're entering one of the last accommodations this time. We have been asked to order the meals well in advance. They will be cooked in the kitchen here at Sunrise Huraa by a chef who gets here in good time before the time we selected for the meal. They serve breakfast, lunch and dinner. There is a small menu with different dishes to choose from. 14.14 Our lunch was a yummy dish with pasta (penne), cream sauce and chicken. Now we have a quiet and peaceful island to explore. This will be the perfect end to this summer's journey. The Sunrise Huraa is run by a man named Sameer and his son. They also have a man who helps with cooking. In addition to being a cook, he was the one who pulled the baggage cart upon arrival. 15.20 It's really hot on our island. We have been walking around, seen part of the island and also bought beverages and ice creams. Between the buildings in the village, the air stood still and the sweat rushed out of us. By the beach, however, there were some nice winds that made it more pleasant. 17.49 After some rest, we will now go out again. 18.11 An airplane passes above us. We are at the port on the west coast of the island and await the upcoming sunset.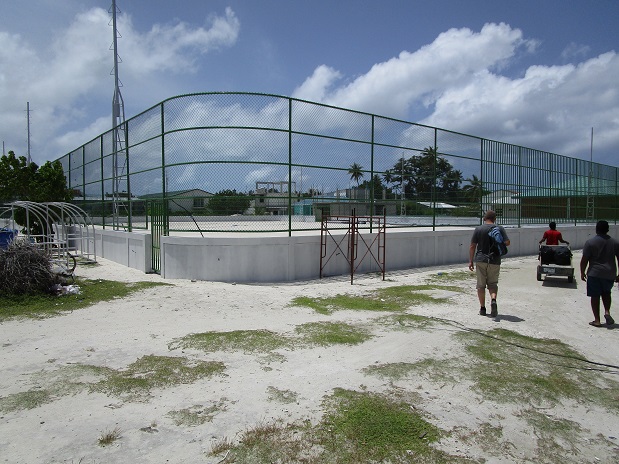 We are walking towards our new home. It actually looks like they have a ice skating rink here.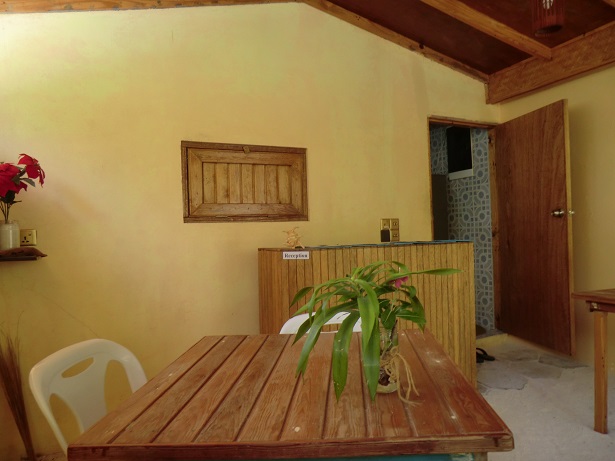 The small reception desk at The Sunrise Huraa.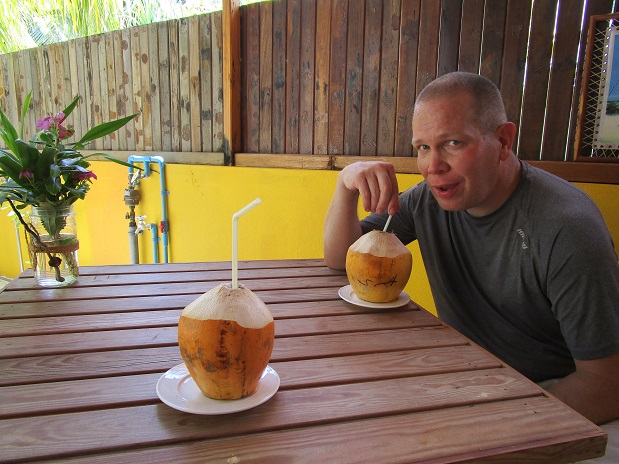 Christer is enjoying the welcome drink.
The Sunrise Huraa.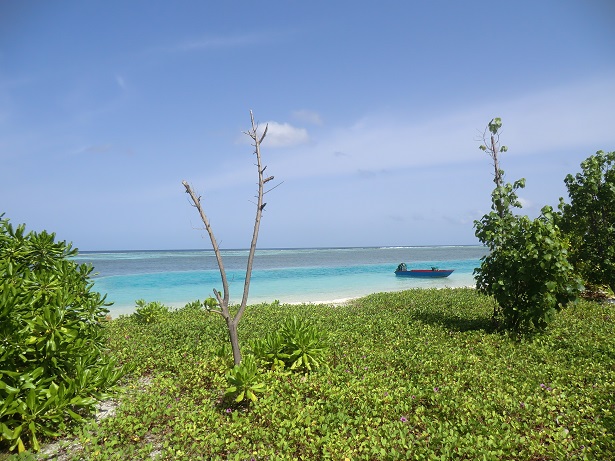 The eastern coast of Huraa island.
Streets without cars at Huraa.
18.45 We have seen the by far most beautiful sunset on this trip. The glowing sun slowly descended at the horizon, a fantastic spectacle. We did our best to photograph it all. Upon returning, we ordered dinner for later tonight.

19.51 My newly washed shirt has dried in the bathroom. The smell in there is odd to say the least. It actually reminds me of saffron buns. The room is absolutely fantastic, hotel standard. It is impressive to be able to get this in a village on a small island. In addition to TV, good beds and everything else that belongs to a room, there is various information here to read about, for example, common fish species in the seas here. 20.17 The hunger creeps inside of us. It is time for dinner. 20.50 We got new, warm, wet towels before the food. The dinner was good and we also got information about various excursions in a folder. After dinner, we studied the sky down by the beach. It's great to stand in tropical darkness, watch the stars and at the same time hear the sea but not be able to see any of it. 22.12 On the television, they seem to be talking about an upcoming presidential election here in the country. It is informed that it is important to register before the elections. 23.14 We have two lovely full days here at Huraa to look forward to. It feels wonderful. Tomorrow we'll start by exploring what's on the island. On Saturday, there will probably be some kind of excursion.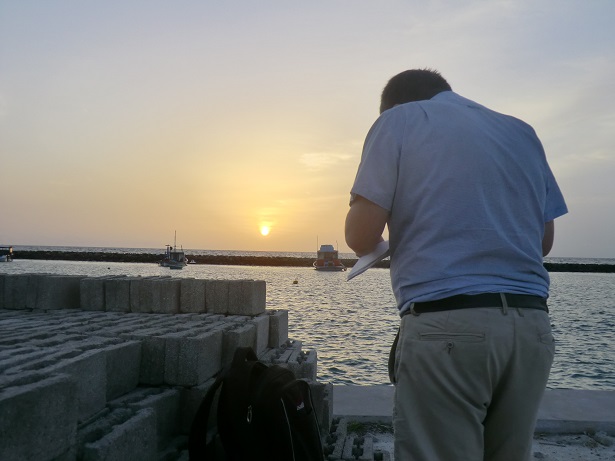 Peter is waiting for the sunset.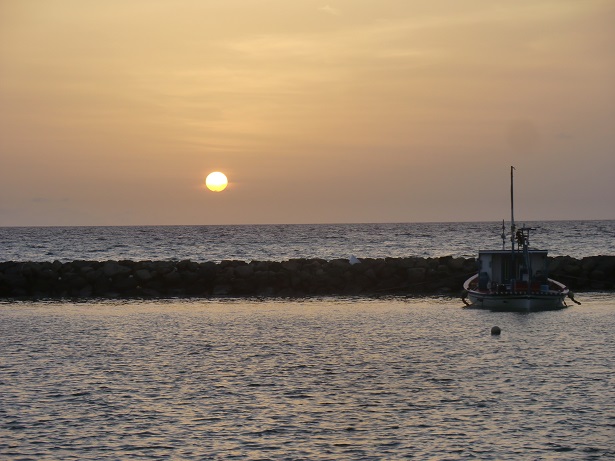 The sun is soon going to bed.
Slowly the sun sinks behind the horizon.
Dinner time at The Sunrise Huraa.
---
Friday 10th of August
08.07 Our room is lacking space but the sleep was great. Today's activities are loosely planned. We will stay on Huraa all day. After the end of the day, we should have knowledge about everything that is offered on this small island. 08.57 Today, just now, we have enjoyed a delicious, Maldivian, breakfast. It was rice mixed with tuna to Christer and with carrot for me who am allergic to fish, bread and a Maldivian pancake each. To drink then, well we were served water, orange juice and of course, coffee. It was a great start of the day. 10.20 An internet check has taught us that all cafés on the island are closed or about to close. Friday is a special day in Islam. Something else that it is sparsely with is dogs. These animals are banned in the country. We will, despite the absence of representatives from FIDO, go out to look around here on the island. 10.37 It is breathtakingly beautiful down by the sea, along the shore. It's like taken from postcards, tourist brochures. The sea has an amazing colour and the sun's rays are warm. 10.55 We have looked at the small neighbouring island of Kuda Huraa where there are only hotels. It seems to be a different price level there. We have also seen some colourful fish down in the amazing turquoise waters. 11.10 The walk around the island tares on us older gentlemen. We have seen a tennis court and now rest on a low wall that surrounds the island's football field. We are looking for a beach, a special beach designed for guests/tourists. We had been promised to be guided there in the afternoon but we were curious and want to find it ourselves.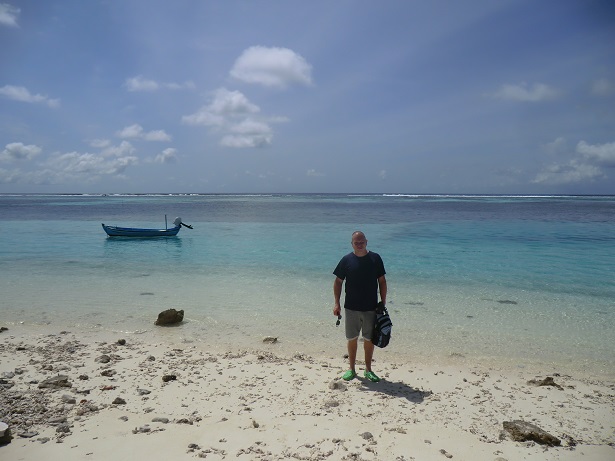 Christer on the beach nearby.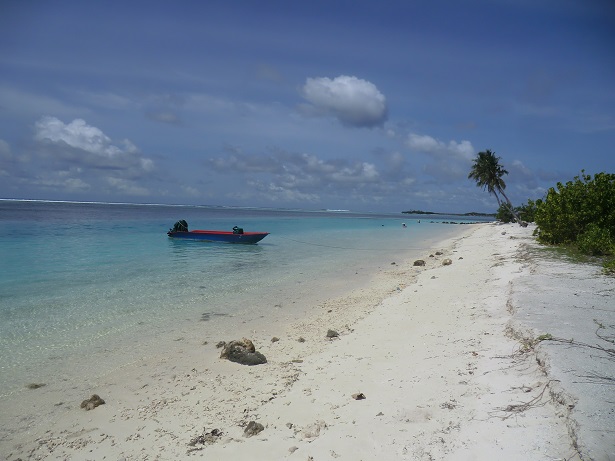 The beach on eastern Huraa.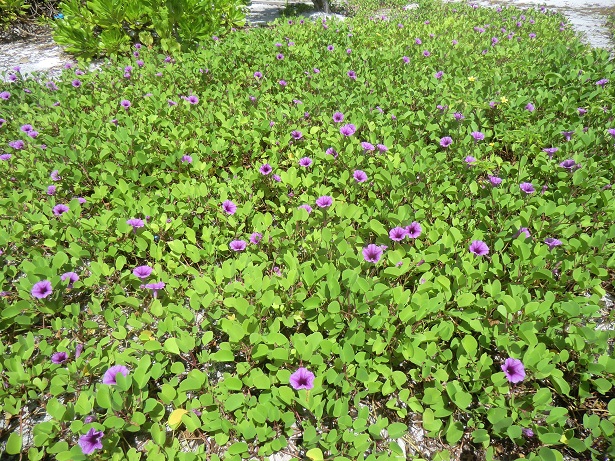 Beautiful flowers on the beach.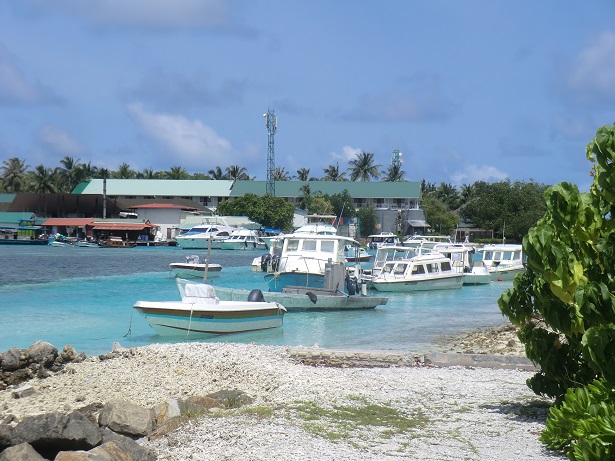 Jetty on southern Huraa.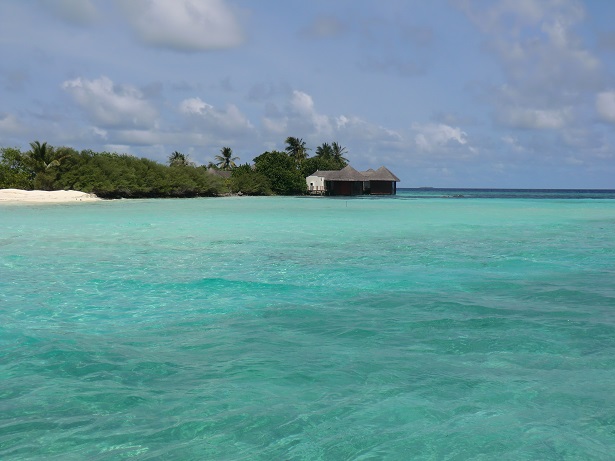 The water has an amazing colour.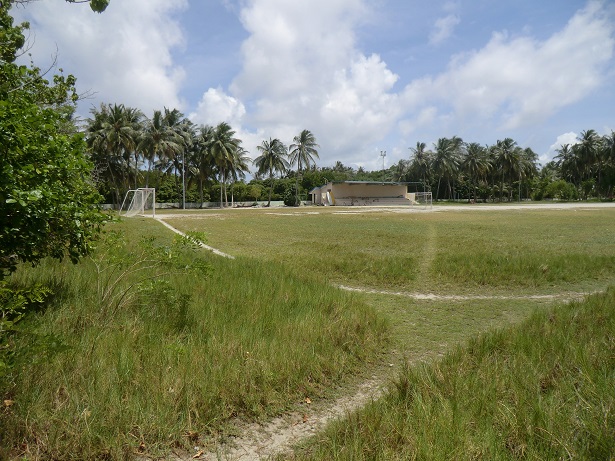 Huraa has its own football stadium.
11.34 We wandered around the football field but did not find the right way to the beach. Suddenly Christer noticed some people that came out of a shrubbery. We returned to where we were at the last note. Surely there was a small opening between the trees. There was also a sign with the text "Guest Beach-Private Area". Now we are under a palm tree on the beach.

12.27 We left the beach for the moment. However, we intend to return. Now we are at home at the Sunrise Huraa in a cleaned room. I think we're the only ones on this property. Not even the staffs are here. Have they left to pick up guests? It was about this time we arrived with the boat yesterday. 13.22 Not a sign of other people yet. It's time for our lunch in less than 30 minutes . 13.50 The man in the kitchen appeared in time and we will soon be served. This is a nice way of living. 14.22 This was yet another great lunch. For my part, it was chicken burger and for Christer, Caranx Lugubris, jackfish. It was. according to Christer, one of the best fish meals he had eaten. Now let's grease our pale upper bodies before we go back to the beach again. 14.40 Finally there will be some time on the beach and also in the sea. There are no red flags or high waves here as it was on the shores of Sri Lanka. 15.25 It is a challenge to swim, even to stand in the water. The waves and currents stirred us around. The coral reef is a bit out and it blocks the great waves. That's why it's still pretty quiet where we go swimming. 16.15 The sandy beach is full of activities. It is among other things swimming Chinese guests here and small hermit crabs are running around with seashells on their backs. 16.53 A number of small and half-sized crayfish with and without shell and also crabs of larger size were left alone on the beach. We will fetch our belongings and walk back home. 18.00 The time has come to visit the sunset and later perhaps make some purchases.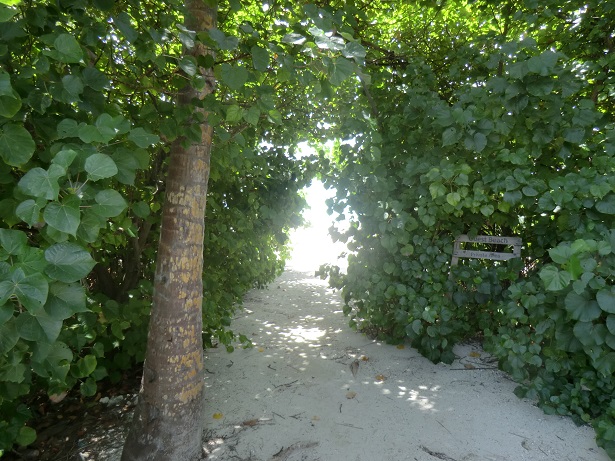 The entrance to the beach.
Huraa Guest Beach.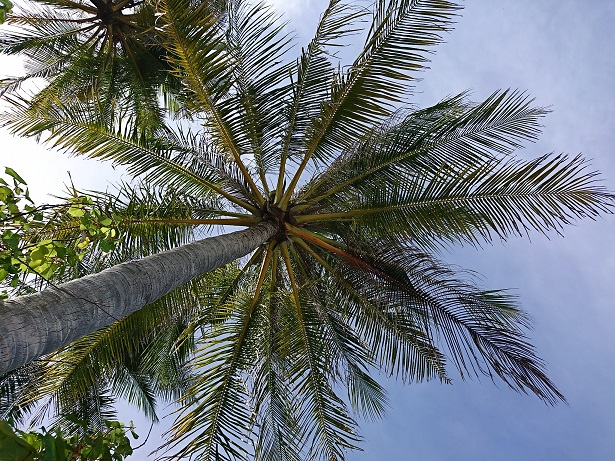 Under a coconut tree.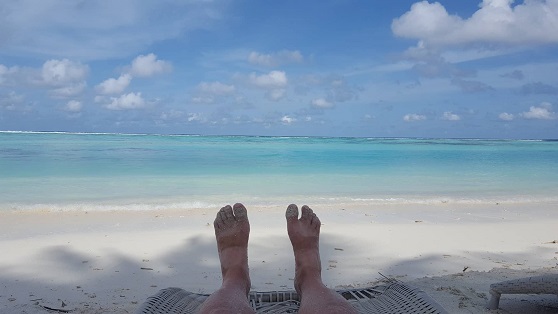 Peter´s feet and a beautiful beach.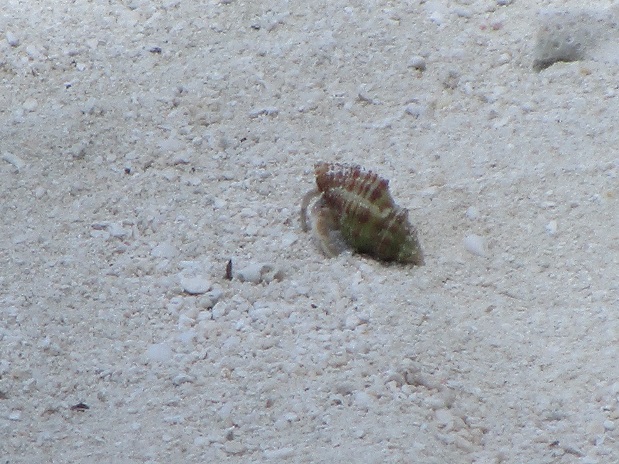 One of the inhabitants on the beach.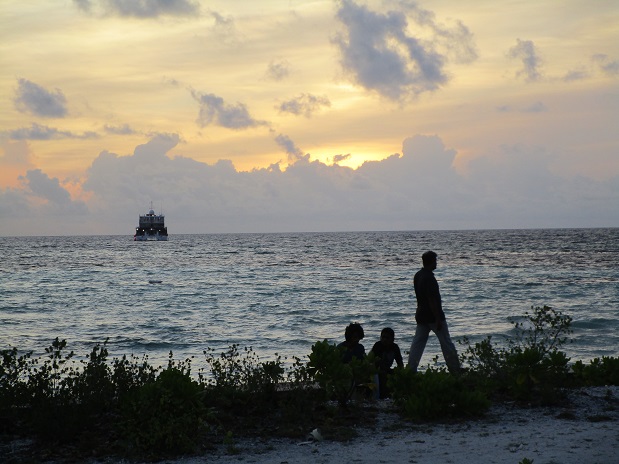 Figures at the sunset.
18.34 The sun sets behind a cloud. Not much to look at or take photos of. We'll have to rejoice at the amazing sunset of yesterday instead. The keepers of the small shops on this island were eager to have us as their customers. The only one we visited was a small grocery store. They wanted to sell us fresh coconuts but we settled for sodas and snacks.

19.54 We are, to say the least, lazy after resting in our cool room for a while. Now we have to gather strength and get together to have dinner. 20.41 Now the lazy ones have got a little done after all. We have, in addition to eating tonight's dinner, ordered breakfast, booked an excursion with snorkelling and also arranged with tickets to the boat that will take us back to Male on Sunday. There were different types of snorkelling adventures to choose from but we who are beginners chose the shortest at "house reef", the coral reef that is closest to the island. 23.02 We watch TV and try, without any major success, to understand an Indian thriller series. It is subtitled in English and is about something occult. One explanation why we do not understand is the fact that we missed the previous parts. I think the show's called Nazar. There is also a warning that the TV channel advises viewers not to engage themselves in occult activities.
---
Saturday 11th of August

07.57 It is actually starting to feel OK to soon travel home. There is a certain amount of stay away from home that you can handle, at least when you travel as we do, but I'm not fed up with adventure.

08.50 Today's breakfast was of the more classic kind. We got milk, cereal, pineapple juice, toast, margarine, marmalade and pieces of fruit. Let's get ready for the snorkel trip. The journal cannot be brought with us to the sea. Unfortunately, it will be difficult to photograph too. Partly because the exciting happens under the water and partly because we will be busy with swimming and snorkelling. 09.25 We have tried to find suitable equipment that fits both faces and feet. We have also visited the captain who will drive us out to the reef. 11.20 This snorkelling thing is awesome. We first walked to the jetty where we arrived the day before yesterday. From there we went by motorboat out to the reef. We who are unaccustomed to such activities were of course surprised when the boat stopped in the middle of the sea and we were told that we were there. The time has come to put on cyclops, fins and life jackets. Swedes with fins sounds like a match. Just like Finns in suede shoes. Then it was just to slide down into the water. Just popping around in this giant aquarium was one of the trip's greatest experiences. We could, since we were at the edge of the reef, both study the life among the corals at any depth but also look down into the depths outside the reef. Some of the sea creatures which we saw were; Oriental sweet lips, surgical fish, butterfly fish of various kinds, sea cucumbers and unicorn fish. Honestly, we probably saw several hundred different species of colourful fish in large shoals, an amazing experience. We want to do this again. 12.57 Our time in the sea has made us hungry. It's a good thing we ordered lunch at 13.00. We do not regret that we took the chance and snorkelled, it is almost sad that we do not have time to do it again.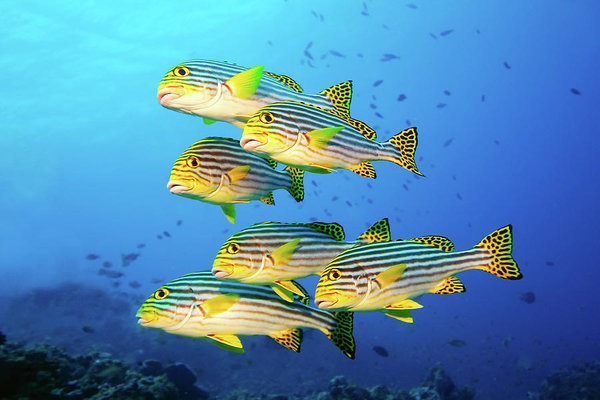 One of many fish species we could identify was Oriental Sweetlips (this is not our photo).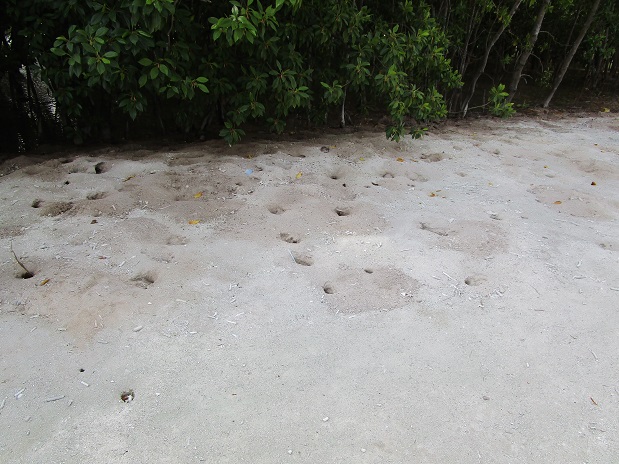 Crabs hiding in the sand.
14.15 The simple but delicious lunch was Pasta Bolognese and then we treated ourselves some room coffee. Let's go swimming. Who knows when next time we can lie on a tropical beach?

14.45 Both gentlemen have taken a back position on the beach after the plunge into the sea. The waves are rolling in. Christer, who has developed a new fish interest, has just hunted some fish that have entered the lagoon. They are gray with red and blue spots. The species is unknown. 16.36 There was a second swim and more fish before we dried our bodies and went home. Now this room feels like something we've had for a long time. Past destinations feel far away. 17.57 Snorkelling has aroused our interest in wildlife below the surface. The animal which impressed us the most is the sea cucumber. They lie on the bottom and breathe through their anus. When they have sex, they simply release sperm and eggs into the water so that they can unite. In the case of strong irritation, they send out the insides. Their food consists of mud from which they collect nutrients. 18.46 We will to make time pass, now take an evening walk on our little island. 19.10 The walk was rewarding. We made our way into the village's main square, visited a shop and have bought something to consume this evening.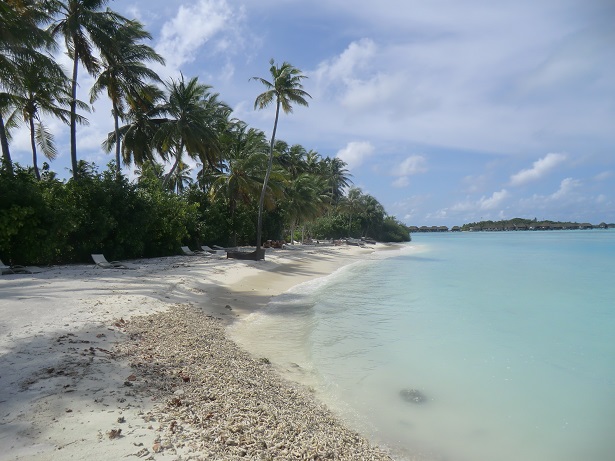 Huraa Guest Beach from another perspective.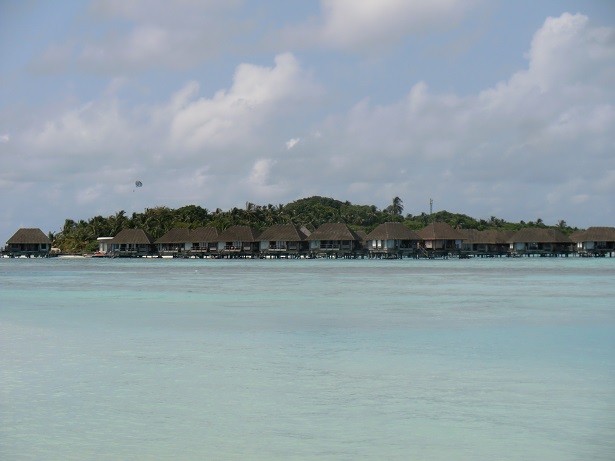 Kanifinolhu is the name of this neighbouring island with very expensive accomodation.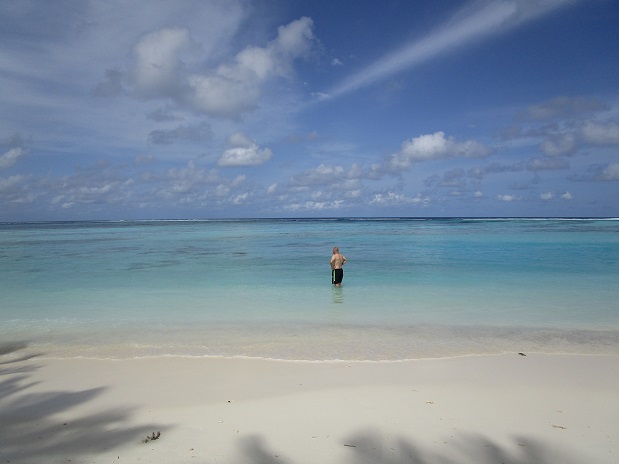 Christer is looking for fish.
19.57 Now we're going out of the room again. The last dinner here at the Sunrise Huraa is waiting for us.

21.11 After dinner we went to the beach for some star watching. After that, we went away with the owner's son to another house to pay for the stay here with cards and for the food and snorkelling with cash. 22.21 As this journey is coming to an end, we are looking for possible destinations around New Year. Things could have been going better. The options we can imagine cost a lot and/or it takes a lot of time to fly. But it's mostly the time of stopover that's long. We'll see where we´ll end up. 23.22 Tomorrow, we'll start the journey home. It will take place in several stages. Now there will be some reading in our books before we close our eyes. Will we see colourful fish when we close them?
---
VIDEOS
---
You can see 73 photos from August 9 in this photoalbum.
You can see 50 photos from August 10 in this photoalbum.
You can see 11 photos from August 11 in this photoalbum.

---
---