---
Text: Peter Johansson
Editing: Christer Lundstedt
Photos: Christer Lundstedt, Peter Johansson
Videos: Christer Lundstedt
---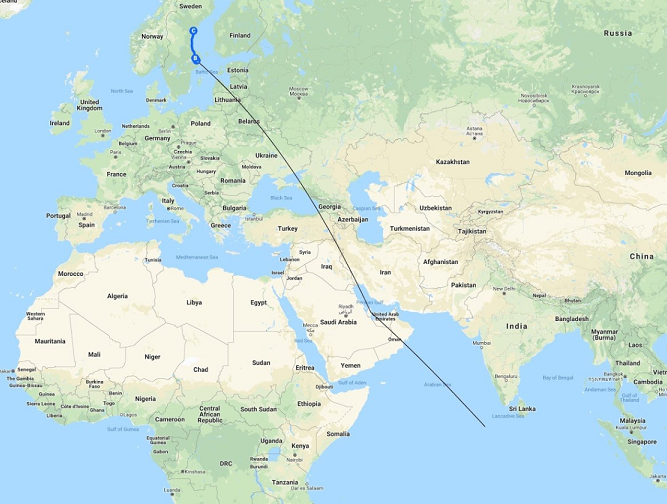 ---
Sunday 12th of August

08.43 The last morning on our Maldivian island, Huraa is here. Is it today that the real journey home begins? We will leave this peaceful island and our perfect accommodation Sunrise Huraa (https://thesunrisehuraa.com). The first stop on the trip back home will be the capital, Male, before we fly home to Sweden tomorrow.

10.08 We met and greeted some other guests during the breakfast. Let's get ready for our departure. It will be a last walk on the island before that. Hopefully we can find a place that serves coffee as well. 10.51 There were plenty of local souvenirs in a small shop that was open. Some of them will come home with us. Some will be given away and others are kept. Now we are at E-Café, a small café/restaurant that was closed the last time we walked past here. 11.40 Black coffee and three pancakes with Nutella, it's delicious. The nice waiter also offered to photograph us at our table. Thanks for the food and thanks for the help with the photo! 11.43 Christer has made a video clip to document this island one last time on the way back to our room. 12.05 Now the door to our room 102 has been locked for the last time by one of us. We are now waiting for the promised transportation of luggage to the boat harbour.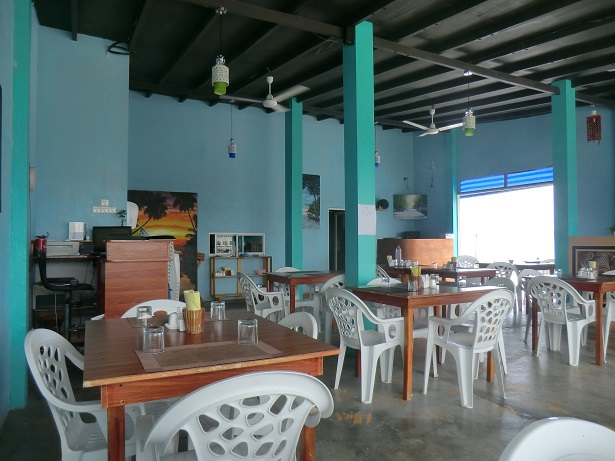 E-Café, Huraa.
A delicious meal.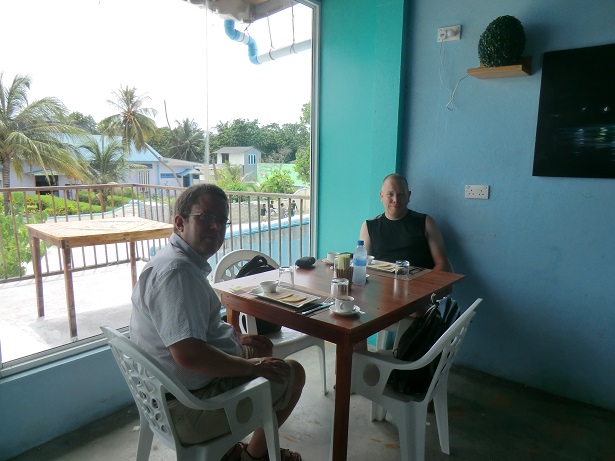 The two travelers at E-Café.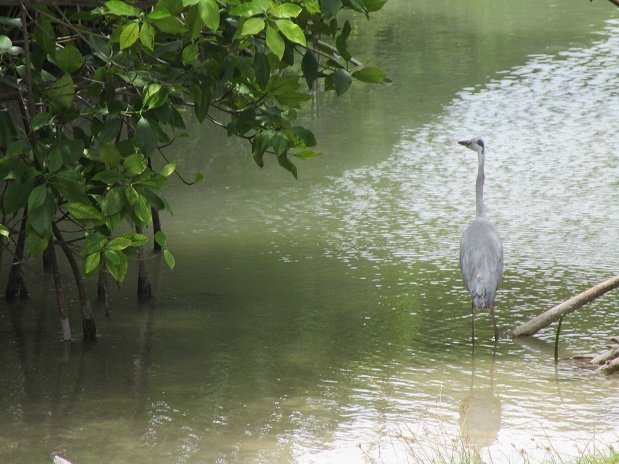 A bird is visiting Huraa.
12.18 Our nice hosts joined us to the port. Our luggage has also been pulled using the trolley. We rest on a bench in the shade. We've been talking to the owner of Sunrise Huraa and his son. We managed to talk about the influx of tourists here, possible threats from rising sea level and other. We also promised to leave reviews and recommendations about this place.

12.31 Our hosts have waved goodbye to us. For our part, we have boarded the ANAX speedboat back to Male. Now the engines are starting up. 12.46 After a short stop at another island, Himmafushi, we´re now almost ready to go further. 13.34 The speedboat arrived in Male and we have reached the hotel Off Day Inn (https://www.offdaymaldives.com). It is extremely crowded here in the capital and it was with some difficulties that we managed to make our way to the right street. Here at the reception we have discussed if we have booked one or two rooms. As long as Patricia was involved, there were two rooms. However, this was cancelled in June. It seems that it was not noted by the gentlemen behind the counter. 13.44 Everything seems to have been solved, we just have to pay for one room and now we are in inside room 422. 14.54 We went out to get food and change of air. This we hope to get at Oxygen Café, a small restaurant located quite close to the large bridge construction from Male to the airport. 15.30 We have since lunch clocked the time to walk from the hotel to ferry port. The route we tried included some bottlenecks, tight parts. For convenience, we should find a more flexible alternative to the walk tomorrow morning.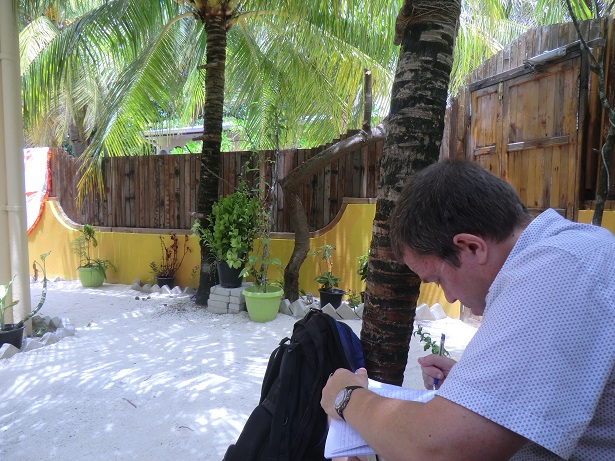 Peter is writing down some words before leaving The Sunrise Huraa.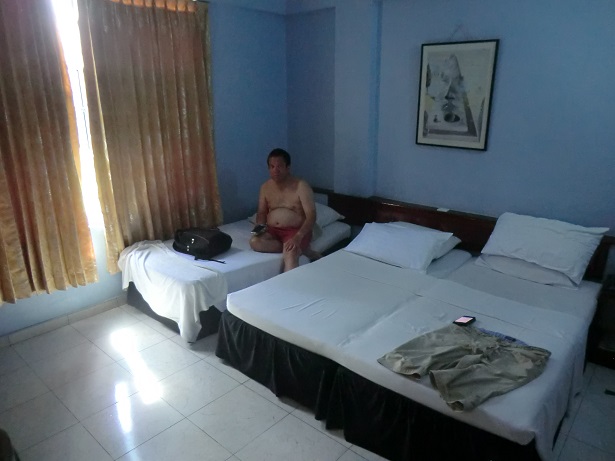 Peter in the room at Off Day Inn.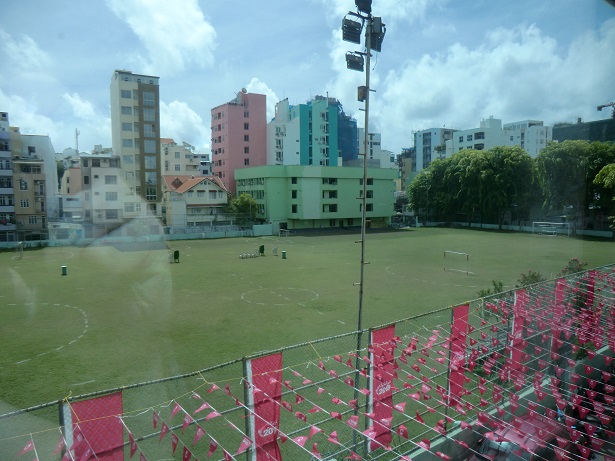 Views towards a football field.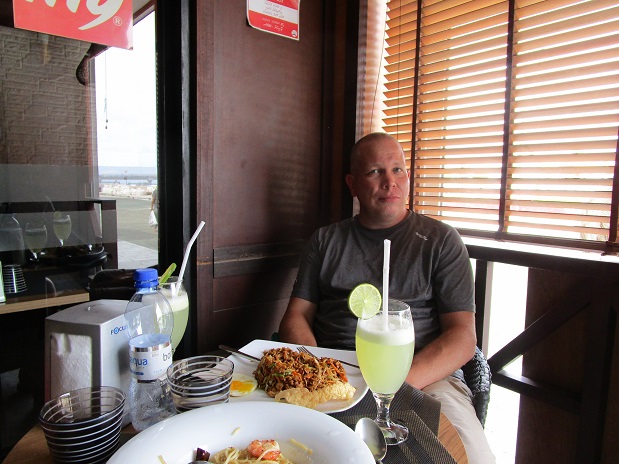 Christer is having lunch at Oxygen Café.
16.23 After seeing a closed grocery store near the hotel, finding a small shop where we bought beverages, seen that the store near the hotel has opened again and arriving home, we will now rest in the room for a while. It's really crowded here in Male, some streets barely have a sidewalk. If you get out of a store, you're almost right in front of a car on the next step.

19.06 We are lazy and slow but at all not as lazy and slow as the hotel's internet connection. It takes an awful lot of time to get to a website. Now we leave the connection, the room and the hotel. We're going to go for the last dinner here in the Maldives and arrange with the last breakfast tomorrow. 19.52 The restaurant Pizza Mia is a bit away from our home. On the way here we have checked how we most conveniently walk tomorrow morning, where ferry tickets are sold and where the ferry to the airport goes. A litre of diesel here costs 10,80 ruffiya or US$ 0,60. 20.45 We both had a great pizza. Everything ended with coffee served in a kind of glass we seem to recall that we drank from before. Well, not those glasses but similar. Like a coffee cup enclosed in a drinking glass. The coffee was from Dalmayr. 21.24 On the way back to the hotel we passed the national stadium of football. We cannot claim that it was noticed that much, completely built into the city landscape. Before entering the hotel, we bought some food for tomorrow morning. We need to check out before breakfast is served. 22.39 The last Asian evening, night is here. It's time to sleep in the fourth capital for this time. With Male we have a total of 89 capitals outside Sweden that we slept in.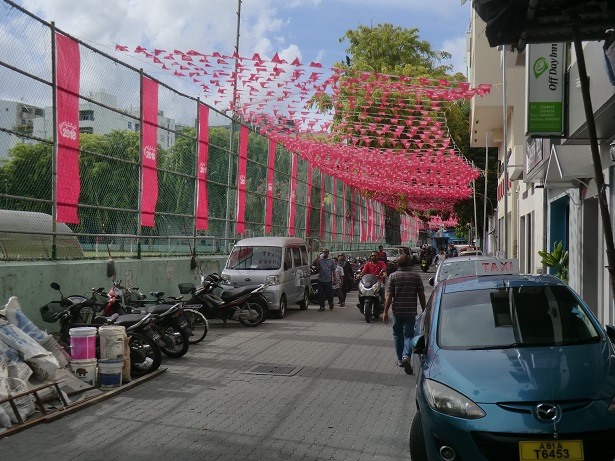 The street outside the hotel, filled with election propaganda.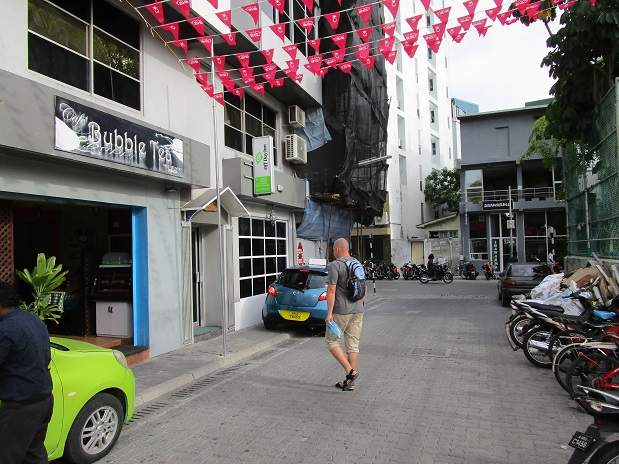 Christer is on his way to our hotel, Off Day Inn.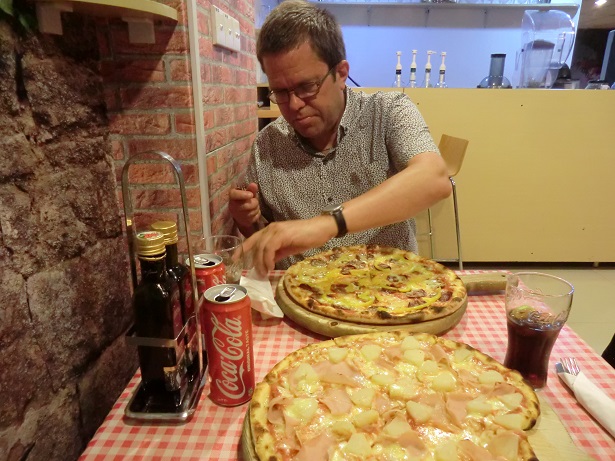 Peter is enjoying the dinner at Pizza Mia.
---
Monday 13th of August
06.12 The dawn brightens more and more. There was no sleep in morning this Monday morning. Let's hope there's one tomorrow instead. Wednesday, there will definitely be no one. Then it is supposed that we should be back at our workplaces again. 06.55 We have soon packed everything down for the last time this trip. The backpacks should now be carried to the ferry terminal, carried along a hopefully smooth path. 07.21 The problems avoided us on the way to the ferry. We took a little longer route with more space. The shortest route involves narrow streets and some climbing over small motorcycles. 07.42 The ferry trip from Male to Velana International Airport is easy. From the ferry to the check-in counters it is also not very far. An airport completely without hectic taxi drivers feels liberating in some way. 07.55 I was able to close the zipper on the section which covers the back of the backpack without any problems. There was no waiting and no problem in the security check or upon check-in. How many different airports have we been at over the years?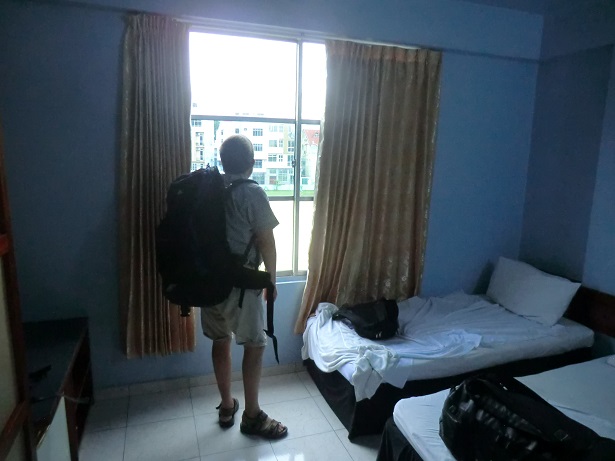 Peter is ready for departure.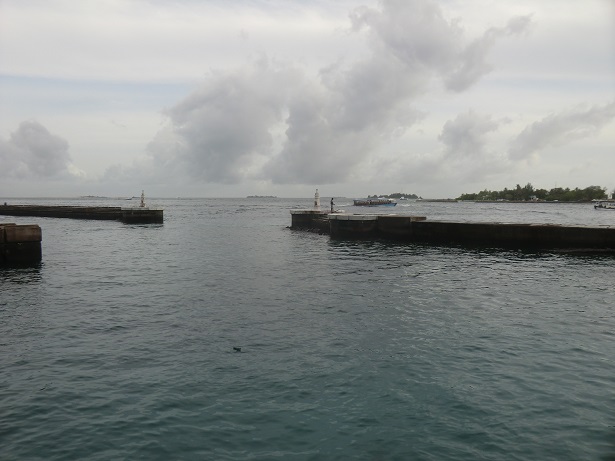 Waiting for the airport ferry.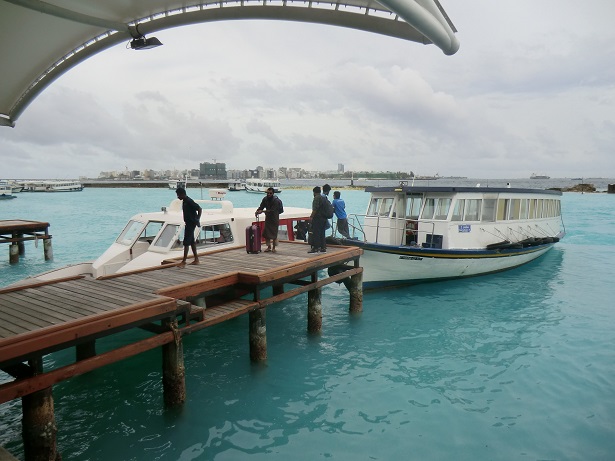 A ferry has reached Male.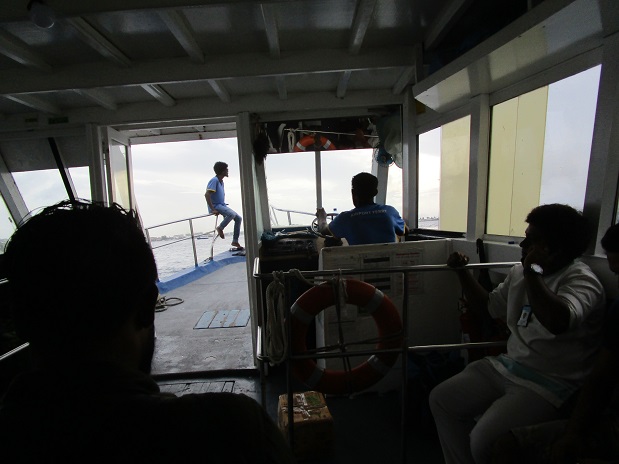 Heading for the airport from the water.
08.37 We have now been checked out of another nation. Another Kånken backpack is spotted. We are about to figure out how to spend the last money in this country.

09.03 All the money but three banknotes was handed over at the café counter. We're at Gloria Jean's Coffees. It is a chain we visited in Cyprus and indirectly also in Kazakhstan. In the European Championships in athletics, Armand Duplantis has taken gold in pole vault. His best jump was 6,05. A Kenyan woman who competes for Israel has taken gold at 10 000 meters earlier this week. 09.20 The prices for coffee, sweets and snacks were, to say the least, high. It is almost so that the muffins at the airport in Zürich got competition for the most expensive airport coffee and pastry we experienced. Well, the money was supposed to end and they did. 09.54 Airbus A 350-900 and Qatar Airways will take us to Doha in Qatar. We have been greeted welcome aboard. It feels good. 10.03 The time has come to sum up the Maldives as a destination. If you think it should look like in the tourist brochures then you can definitely find this but then you have to pay accordingly to it. There are islands completely adapted to tourism with luxury hotels and private beaches. Very few can travel that way. Nowadays, however, there are a lot of simpler options on the inhabited islands. It is not prices like elsewhere in Asia but clearly it is realistic to travel here and live well on your own without it costing a fortune.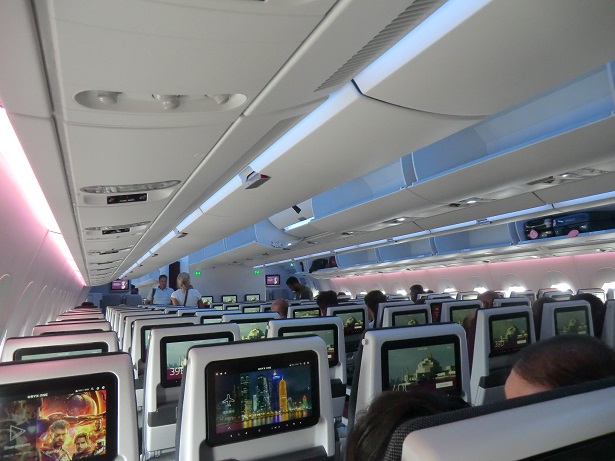 In the seats on today´s first plane.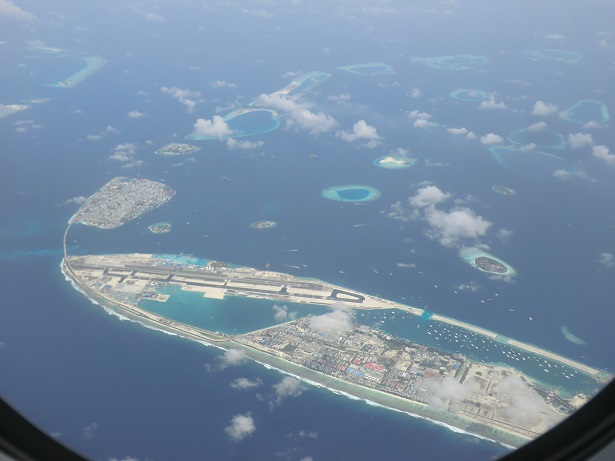 Good bye Male!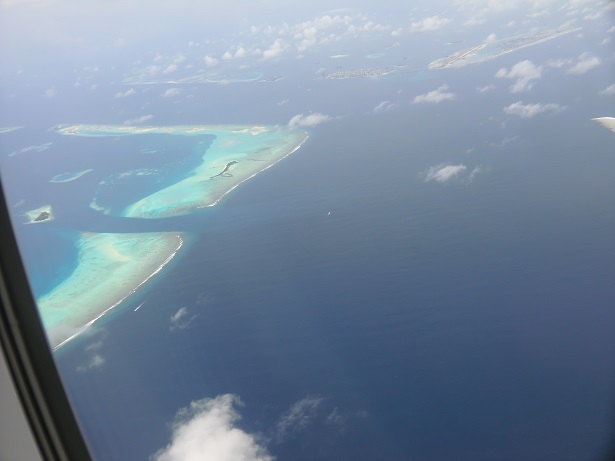 We are leaving the beautiful islands behind us.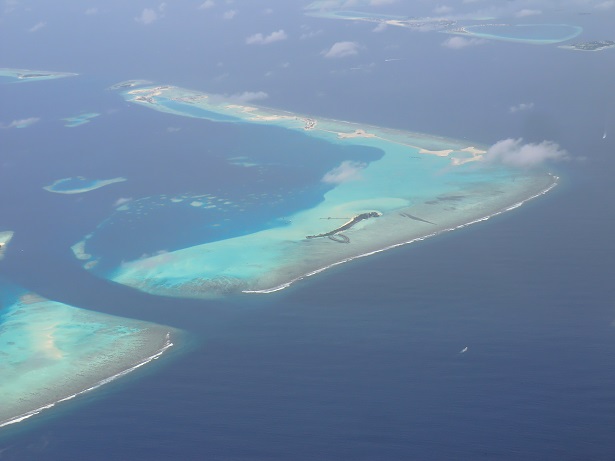 The tourist island Enboodhoofinolhu south of Male.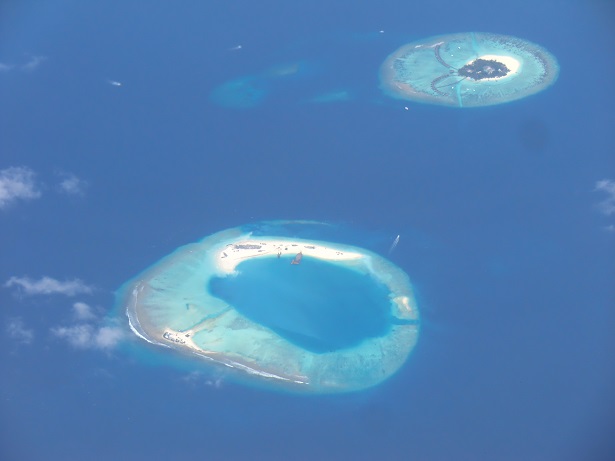 Wonderful islands seen from the sky.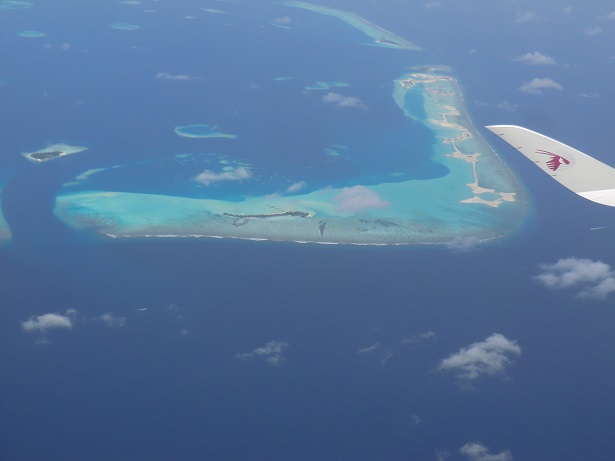 Qatar Airways takes us from the Maldives.
10.58 We are now 8058 meters above sea level. Christer has window space and has taken some amazing pictures of the country we just left. We've only seen the capital, the airport and our little island, Huraa. There are plenty of lovely islands left to experience and visit. After all, it is under the water that the real sights are located.

CHANGING TIME ZONE 10.54 I have set my watch to Qatar time. Since the last note, we´ve been eating and drinking tasty on board. The stopover in Doha is getting closer.

QATAR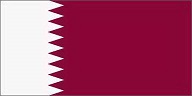 14.07 We are now having a stopover at Hamad International Airport in Doha, Qatar. It's also coffee break at Soho Coffee. With my order of coffe I got a tray and a bag of potato chips. Christer didn't get this. I probably got a benefit for older people. On the other hand, Christer is also not so fond of potato chips.

14.39 Suddenly there are Swedes around us, one who with less good English speakss to a woman in Thailand and others who speak only Swedish. 15.21 Once again, there are many who want to fly. It would have been sad to be alone with the staff though. CHANGING TIME ZONE 16.19 We are on board today's second flight, this time from Doha to Stockholm Arlanda. I've switched to Swedish time. We just enjoyed a good meal. At Qatar Airways, they serve among the best GT, gin and Tonic that I've ever drunk. We are now somewhere over Kirkuk in northern Iraq.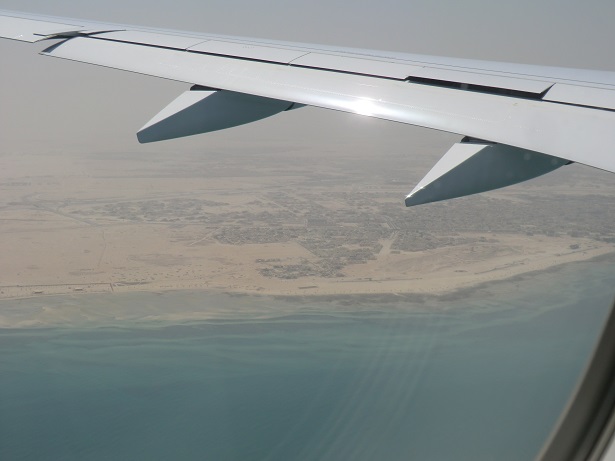 We are soon arriving at Hamad International Airport in Qatar.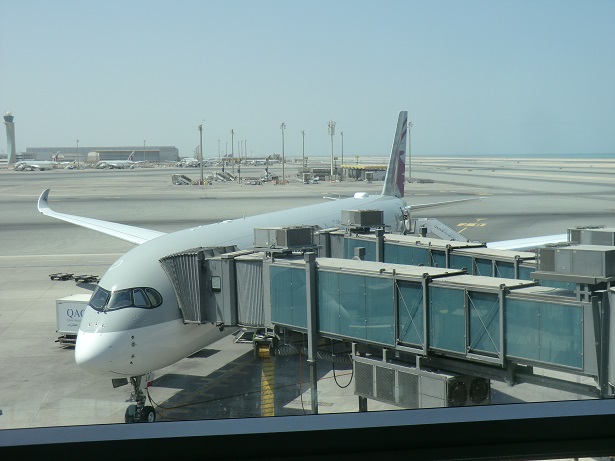 A short stop in the Qatar heat.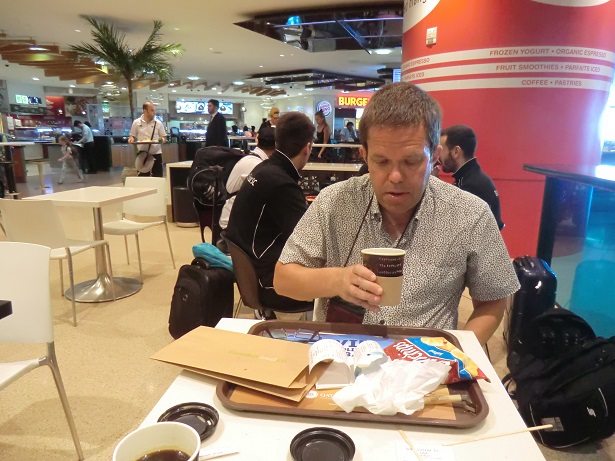 Peter is having a coffee stop at Soho Coffee.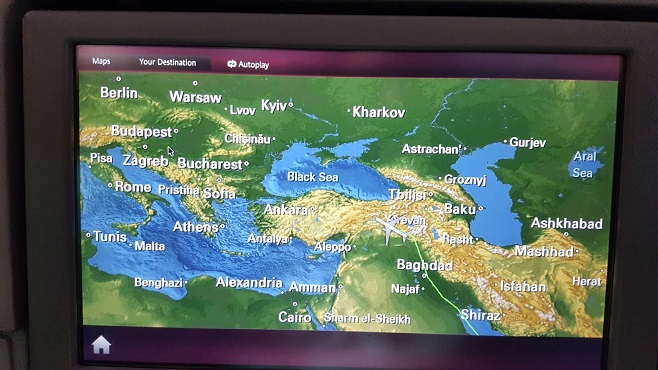 We are moving north.
17.32 The dinner was ended with coffee and Camus VSOP Elegance, cognac. Now I enjoy Deep Purple's latest/final album Infinite. 3 hours and 9 minutes remains of the flight. Soon we will be back on Swedish soil. We hope our luggage is with us too.

19.33 A little more than an hour remains. I'm getting sick of being on the move.

SWEDEN

20.45 The plane has finally landed on Arlanda airport. Now we're going out, will show our passports, pick up the luggage, eat something and take the bus to Uppsala.

21.49 It took some time to get the luggage but in the end it came. Plans have changed. We go to Uppsala before we eat something. 22.37 Our last stop will be at Hostel Centralstation Uppsala and room 105. Here there is a bunk bed and not so much more. Now we're going out to get some food, a late dinner. The home trip is currently paused. Upon check-in we received bed linen and bath towels at an additional cost. 22.42 It's a great turnaround to walk in an almost deserted Uppsala in 13-degrees evening temperature. Last night we were in the densely populated Male with oppressive tropical heat and lots of people everywhere. 23.08 The hamburger chain MAX in Central Uppsala arranged with evening meals. Let's go home and make the beds and then sleep.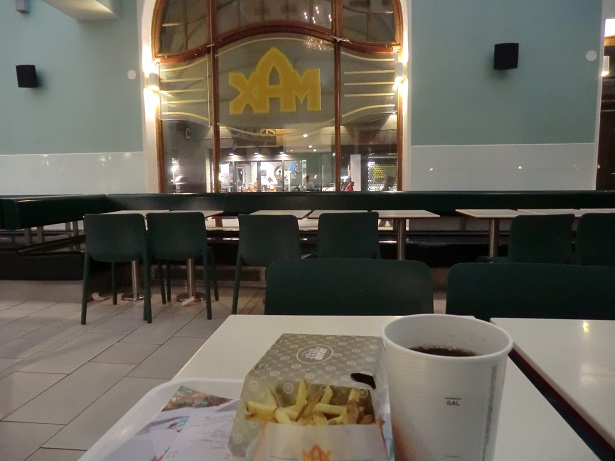 A late dinner at MAX.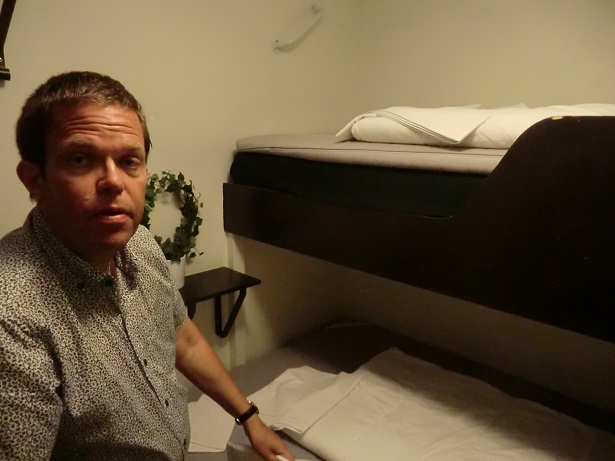 Peter in our small room at Vandrarhem Centralstation Uppsala.
---
Tuesday 14th of August

09.08 It's nice to sleep. The news covers suspected organized car fires during the night in Gothenburg, Stockholm and Uppsala. Over 80 cars have burned. This may be the 1095th day that I write in a travel journal, it's actually three whole years.

09.27 It will be really delicious with a classic European breakfast buffet after all Asian alternatives during the summer. We'll pay for the feast, but it's worth it. Now it will be yogurt, cheese sandwiches, coffee, juice and other delicious things. 10.19 The breakfasts are swallowed and our possessions have been packed. Now we can go home. 10.36 The thing about benches that people can sit on while waiting for the train, it is of less importance here in Uppsala. After I´ve sneezed twice, I will continue to write this. It will be a short train journey today due to track works further north. 11.03 The long journey home that was paused yesterday is activated again. We're on the train going north. 11.50 We have switched from train to bus in Gävle. Let's keep going north. Roger's driving. He just reminds us of the seatbelts. Track works temporarily stops the journey. When we booked earlier this year it was said bus from Gävle to Sundsvall. That's also what the tickets say. However, this bus from Lönn Buss runs only to Söderhamn. Then what? If there's a train, where do we sit?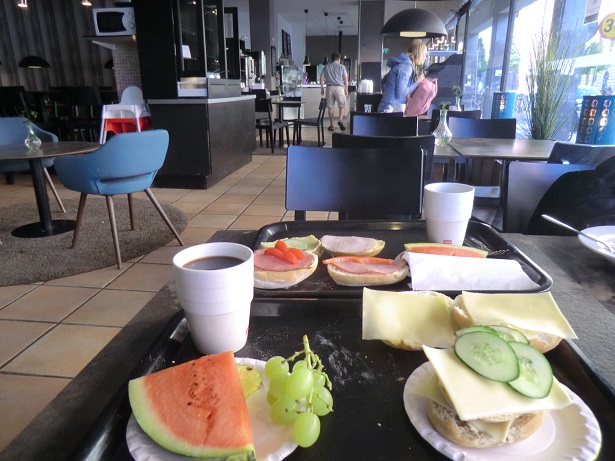 Very delicious breakfast!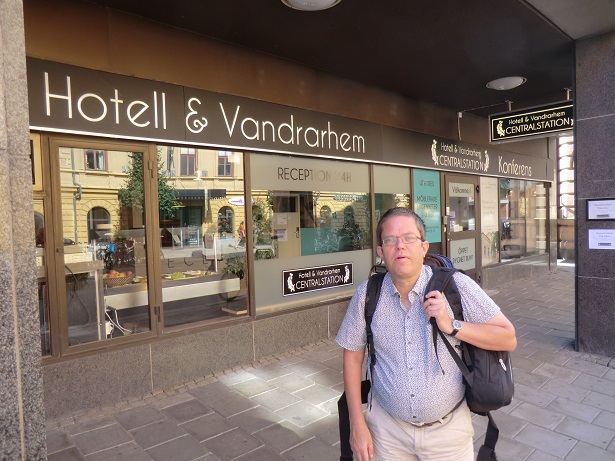 Peter outside this trip´s last accomodation.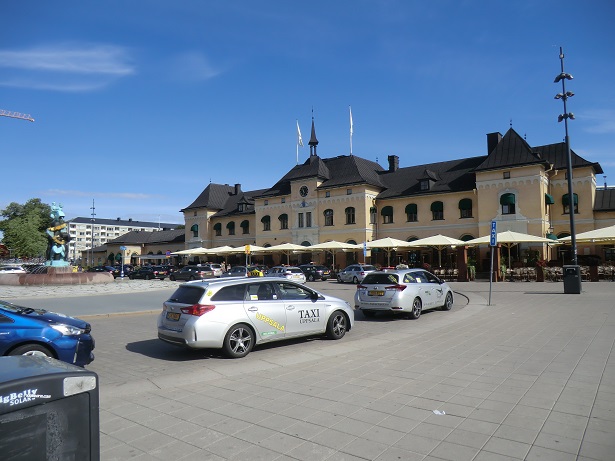 Uppsala railway station.
12.56 The whole bus load of passengers got off in Söderhamn. Now we're by track three. When's the train coming? Heading out in early July we also stood still for a while in Söderhamn.

13.09 The train is not coming at all. The train has already left. The question is why it left without us. Apparently, bus/buses are called for. It's good to be back in order. Here the trains run according to schedule. The presence of passengers is secondary. 13.21 One of the co-passengers has contacted, most likely SJ, a Swedish railway company. There's a bus on the way here. According to an appropriation at the travel centre, they have reduced timetables for trains and buses. If you want to know the times, you have to download the app. Why do people to read on papers when there are apps? Will I make it to Sundsvall before my train leaves? It is a longer stop in Söderhamn this time. 13.35 The bus is back. It's standing where we got off. We stand at the stop of connecting buses. Why doesn't it drive here? 13.47 The bus drove up. Once again, Roger was behind the wheel. He's going back to Gävle. It also applies to the second bus from Lönn Buss. New information, another bus will probably be here at 14.05.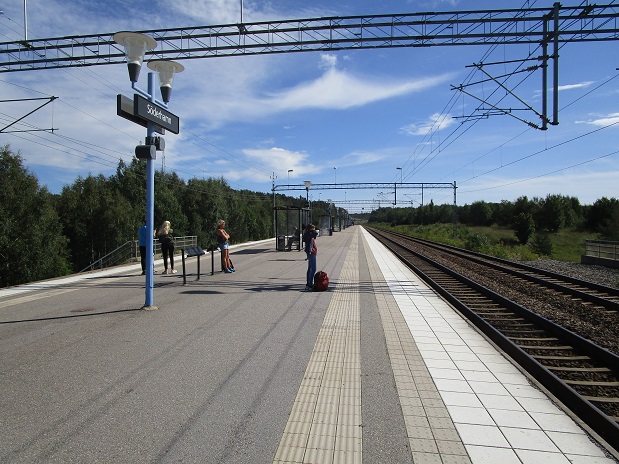 Waiting for a train that never comes.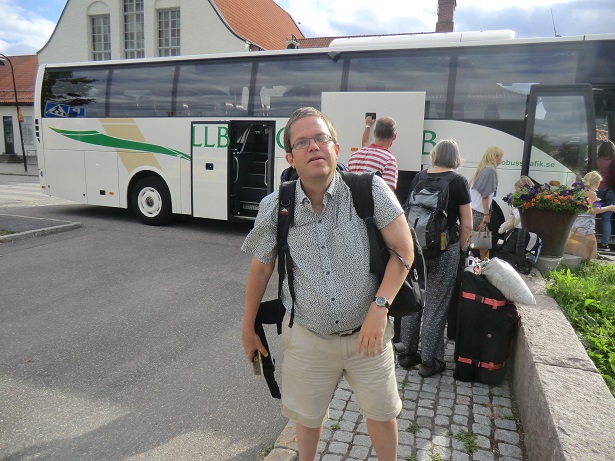 Peter has reached Sundsvall. One journey remains.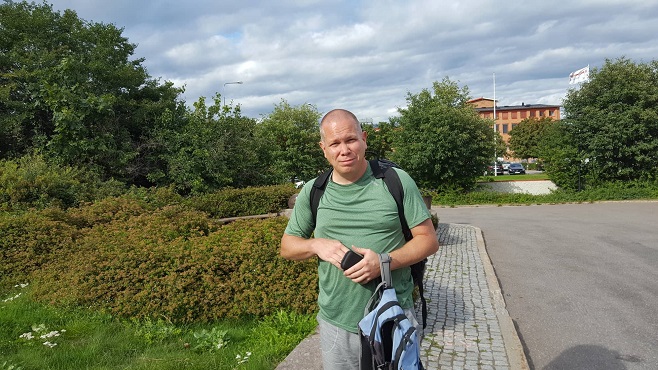 Christer is home in Sundsvall again.
14.15 It is possible that a bus came at 14.05. At least it didn't come here.

14.25 A bus from Hällbo Buss in Bollnäs will take us further north. The train I have a ticket for will have left Sundsvall before we get there. I hope to make it to the train at 16.40 instead. 16.24 We are in Sundsvall. Christer's on his way home to wash clothes. I can just wait and hope to catch the train. 16.55 It went smoothly to step aboard and I was approved by the ticket inspector. During the trip to Örnsköldsvik I will try to sum up everything we experienced for 45 days. Um, no, I can't. It's just too much. The travel journal will end here.
---
VIDEOS
---
You can see 24 photos from August 12 in this photoalbum.
You can see 40 photos from August 13 in this photoalbum.
You can see 15 photos from August 14 in this photoalbum.

---