---
Text: Peter Johansson
Editing: Christer Lundstedt
Photos: Christer Lundstedt, Peter Johansson
Videos: Christer Lundstedt
---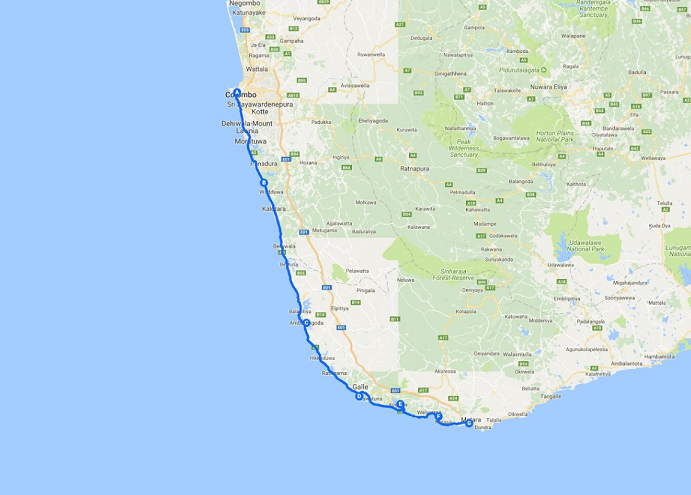 ---
Saturday 7th of July
00.02 A new day has begun. We are awake in our room at Hotel Nippon Colombo (https://www.hotelnippon.lk) and continue to watch the football match between Brazil and Belgium. It is one of the quarterfinals of the World Cup. A ball just went into the net behind Brazil's keeper. It is now 2-0 to Belgium. The scorer is Kevin De Bruyne.
01.04 Brazil get one goasl back, 1-2 via Renato Augusto.
01.23 The pressure in the last minutes was in vain for the yellow dressed. Belgium are through to the semi finals, the last time they were there was in 1986 and then they met Argentina.
08.04 It is splashing from the bathroom. It's morning again, a morning that's the beginning of a day when we're going to regroup to a new place.
08.50 The traffic below our hotel windows is calmer this morning. Where are our possessions now? They're going to be packed.
09.22 We will soon leave Hotel Nippon. There will be a transport to the railway station Colombo Fort. When we planned the trip, we thought it was a short distance there. It is certainly so, but factors such as tropical heat and dense traffic are not what you think about on a map at home in Sweden. We have previously thought a lot about whether we should go by bus or train today. The advantage of the bus is that we get seats. The downside is that they depart far from our hotel, in the outskirts of Colombo. The advantage of trains is that we live near the railway station and the train journey is described as an experience with many beautiful views. The disadvantage of trains is that they sometimes get very full with people and the train we are going to take also has no seats that can be reserved.
09.30 Two European gentlemen and their belongings just fit in a Sri Lankan tuk-tuk. It's crowded, but it's possible. Another driver was eager to get me over to his vehicle but we were stubborn and wanted to ride in the same. It is not for economic reasons. We don't want to lose contact.
09.58 We are at platform 5 here at the railway station Colombo Fort. Tickets were purchased in haste at the entrance to the station area. We forgot to mention that we want to go in second class. Therefore, we have received tickets in third class for about 60 cent per person. Second class tickets cost around $1. When I was off to the toilet and emptied the system, Christer talked to a retired Sri Lankan man who used to drive a bus for the Swedish travel company Vingresor. He thought that it was the wrong time of year to swim right now because the waves are high.
On our way to the railway station.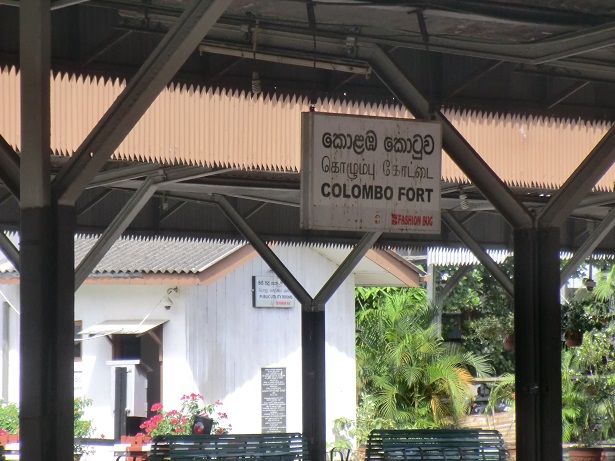 Our trip starts at Colombo Fort station.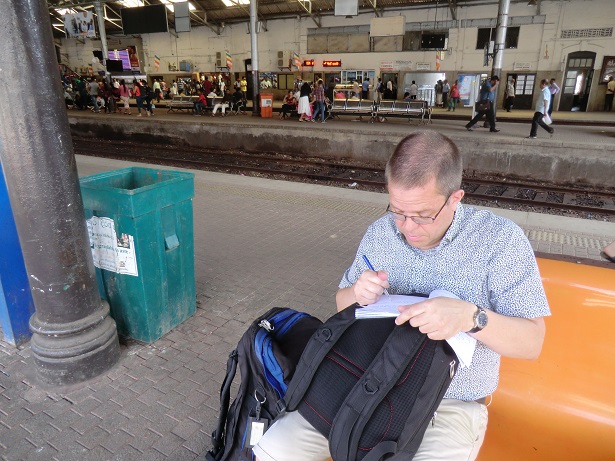 Peter is writing in his journal before the train arrives.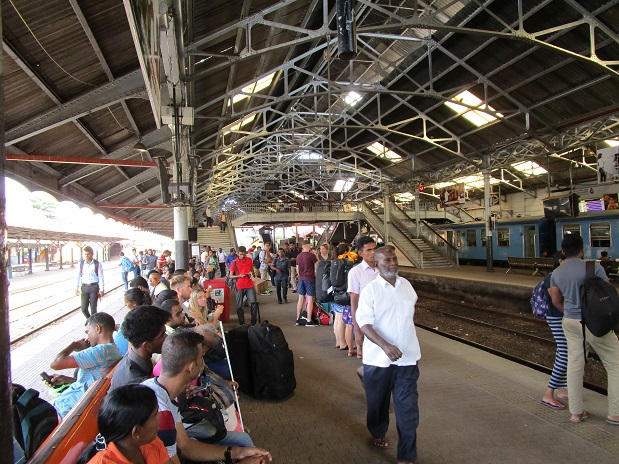 The passengers are gathering. The train is soon here.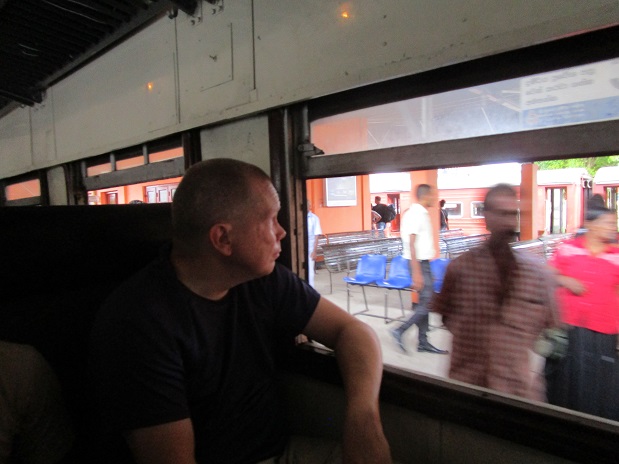 Has Christer seen a ghost?
10.16 Trains here in Sri Lanka have no signs telling where they go. It's about going to the right platform and hope it's the right train that pops up there. The man Christer talked to is going with the same train as us and he's still waiting, just like we do.
10.35 We and many others are now on board the train south to Galle. This is the 44th country we go by train in, it's the sixth in Asia. We actually got hold of seats but it is not much space for legs or behinds.
11.35 The train with all aboard goes over a river. Some of the passengers have a white string around the right wrist. This is something that I recognize from the journey through Thailand ten years ago. I seem to remember that it had something to do with spiritual support during the trip. We're going in third class, something I've never done before. Both the tuk-tuk and train journey cost 100 rupees, around 60 cent.
12.10 It was along this route that a Matara Express train was swept away by tsunami on the 26th of December 2004. It was a tragic event in which they did not manage to stop the train in time. The staff at the station Ambalangoda did not hear the phone signals because they worked out on the rails with a train. When the tsunami wave struck, the village of Peraliya was destroyed as well as the train that passed there at the time. Around 2000 people died in the event.
12.58 The train journey is over. We just got off the train at the railway station in Galle. Now it's time to go back into a tuk-tuk. An enthusiastic gentleman has caught us.
13.09 The driver of the tuk-tuk didn't just have a ride to offer. He offered trips with guided tours and other things. We weren't interested. It's cool in the lobby here at the Hasara Hotel. We are currently enjoying pineapple juice that we been served.
13.48 We have entered room 59. There's a TV in the room, but I can't bring it to life. Christer thinks we need a remote control.
14.11 To get information about breakfast, make the TV work and also have lunch, we will now leave room 59 for a while.
14.26 One problem might be solved. We have at least ordered our lunch in the restaurant of the hotel.
15.05 The lunches were cheap and tasty, just what we wanted and needed. In addition, we know more about the breakfast and a remote control is heading up to our room. I'm not in an excellent condition. It actually wears on the body to take the stairs up two floors to our room.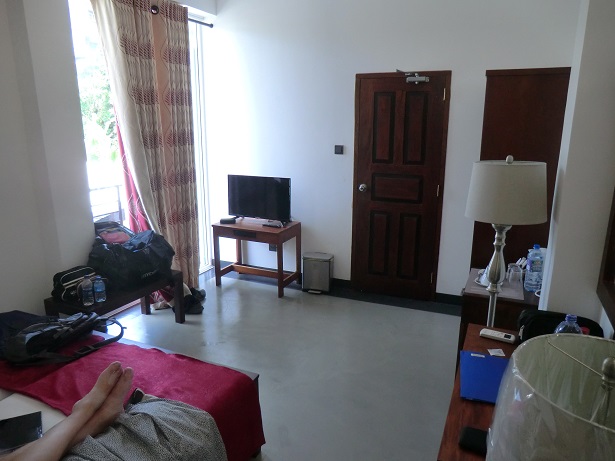 Room 59 at Hasara Hotel/Guest House.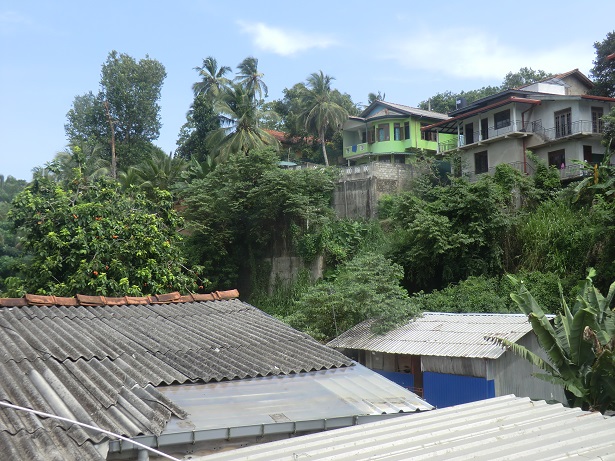 Our closest neighbours.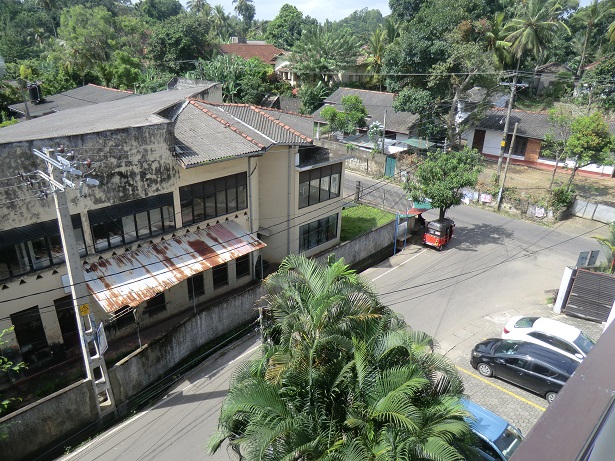 A tuk-tuk is waiting by a tree outside the hotel.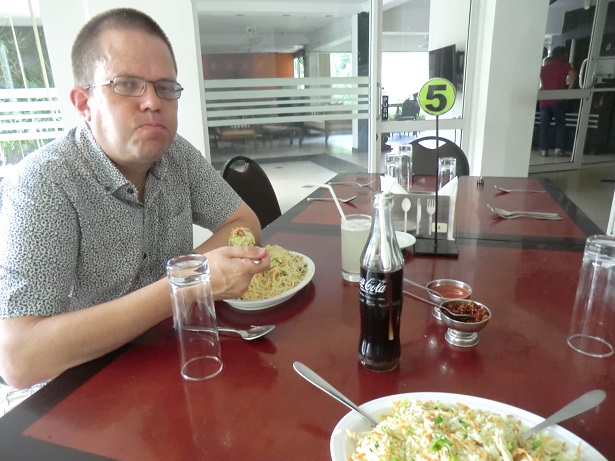 Noodles in the mouth, noodles on the plate.
A nice afternoon with our books.
16.06 It is quite possible that a remote control is needed to bring life into our TV. Since we have not received one yet, we do not know it with certainty. We need to make it work for tonight's World Cup football.
17.30 The reading time in the chairs outside from the room has made me tired. Is it the journey, the heat, my age, or what that has made me tired?
18.20 There is a humming sound from somewhere outside. What's that sound? Could it be a water pump?
19.01 We have on our own fetched a remote control for our television apparatus in the reception. In addition, we have heard about when the kitchen closes tonight, it closes at 22.00. We are, with this information ready to see the third World Cup quarterfinals, Sweden against England.
19.32 The match has started calmly. This time it is commented in English. Earlier this summer we have heard World Cup comments in Swedish, Norwegian and Hindi.
20.00 A corner kick from Ashley Young reaches the head of Harry Maguire and the ball goes into the net, 1-0 to England. It's a pity for Sweden but good for the match. One goal usually spices up the game.
20.45 New header, Dele Alli, new goal and 2-0. Sweden's chances are fading.
21.27 It's, just like tonight, over for the yellow ones. For our part, it's time for a late hotel dinner before the restaurant closes.
22.14 It has been said before and is still true, a pasta dish is never wrong. We also enjoyed great beers of Lion brand to the food. Now we have an hour to drink some coffee, plan tomorrow and other things.
23.31 Hot water from the water heater and instant coffee has given us a cup of coffee each. Now five will be four, England will have an opponent. Croatia will meet Russia in the last of the quarterfinals.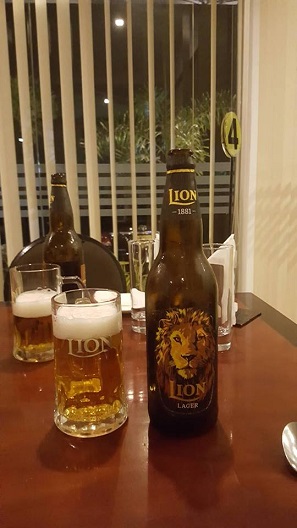 Lion beers with tonight´s dinner.
It´s time for another late football game.
---
Sunday 8th of July
00.03 The quarterfinal just got its first goal. It is now 1-0 to Russia. The scorer was Denis Cheryshev.
00.11 The time is telling the score, from 0-0 the score has gone to 1-1. Croatia has scored through Andrej Kramaric.
00.37 Second half is up and running. Will there be a goal and a winner before it's over?
01.18 Croatian goalkeeper Danijel Subašić seems to be hurt. The team has made their three substitutes during the regular time and is not allowed to exchange more. But if they reach the extension, it is possible with a fourth substitute.
01.25 There were no more goals. Now follow at least two quarters before the two of us can sleep.
01.42 Croatia has made the fourth substitute, but not the goalkeeper. In addition, they have scored 2-1 through the defender Domagoj Vida.
02.00 Russia's "Brazilian" Mário Fernandes has made sure that it is a draw again. It's an eventful and great match.
02.07 The battle on who will face England rages on. Next are some penalties.
02.21 Russia's time in World Cup is over. Croatia has reached the semi-final. The last time they were in the semi-final was 1998. Then there was a loss to France. Now it's finally time for us to get some sleep. A long football evening and night is over.
08.53 It has been a quiet and peaceful awakening today. There is by no means any stress. Soon breakfast awaits.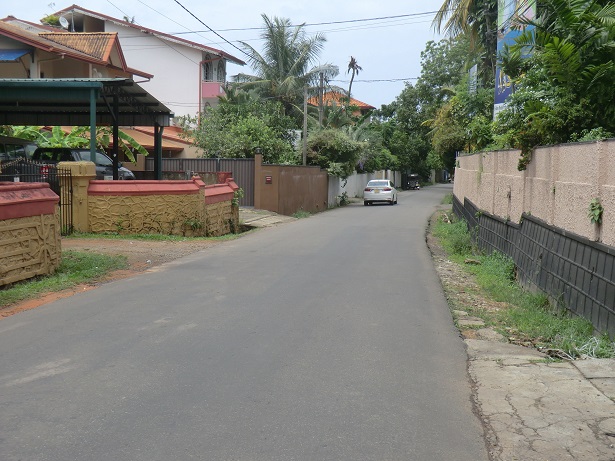 We are walking along Richmond Hill Road.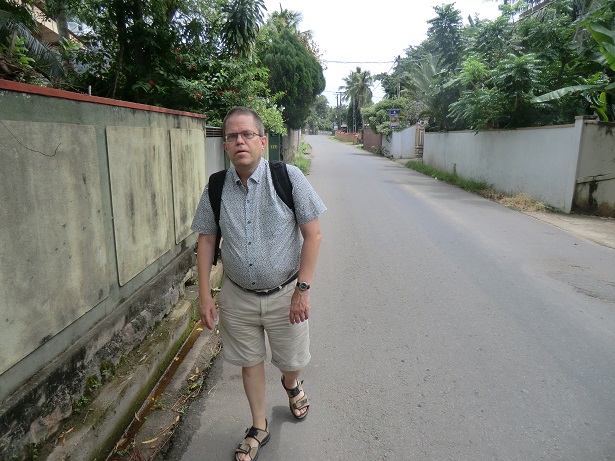 Sunday walk to the city centre.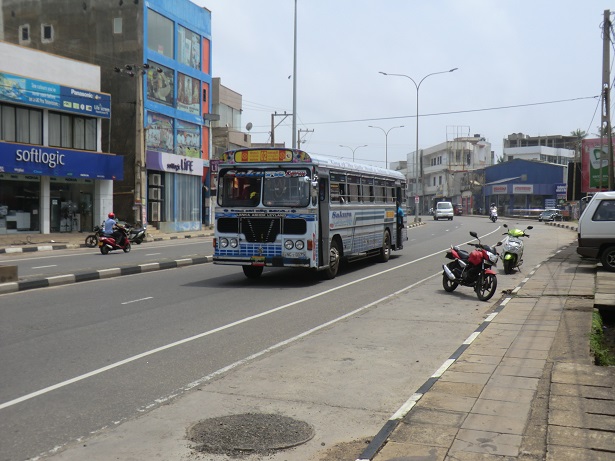 A local bus arriving in Galle.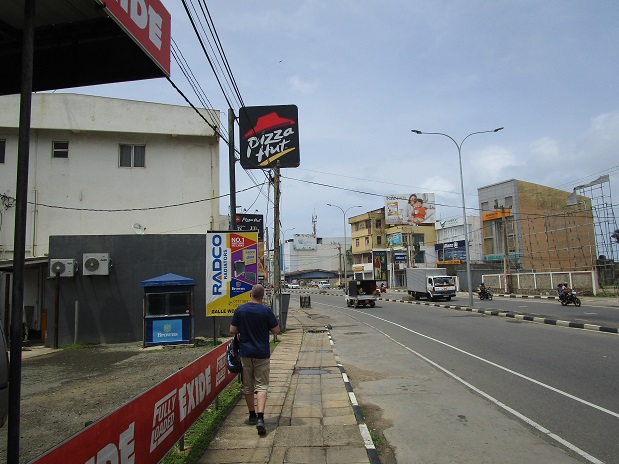 Christer is walking towards the lunch at Pizza Hut.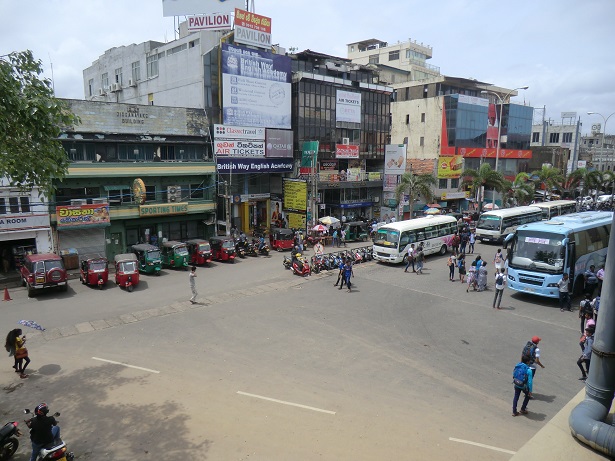 The bus station Galle Central.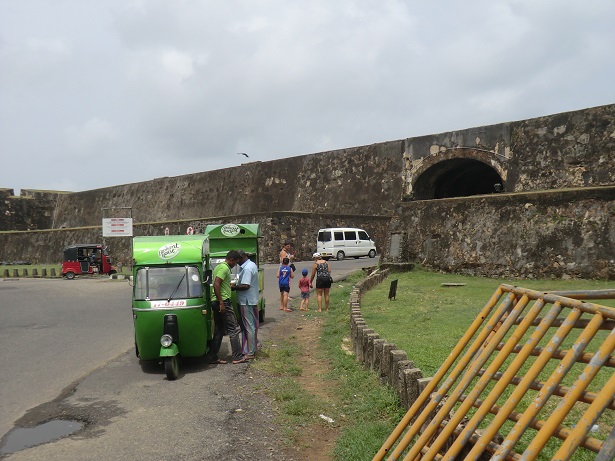 The gate to Galle Dutch Fort.
09.44 An all but still rain fell during breakfast. It's calmed down now. We're going out for a walk as soon as the rain stops. It is a reasonable distance down to the central parts of Galle.
10.50 I don't know if it's the football watching, the heat or what that has made me out of strength. Sure, it's good to collect power but at some point the collected must be used.
11.18 The umbrellas will join us on the promenade in case it would start to rain. They have remained in the room too many times as the rain has surprised us.
11.55 Today's lunch should be served and consumed at Pizza Hut down by the main road. We've been walking here from the hotel. The walk has gone along Richmond Hill Road.
12.49 After the much-needed lunch, we´ve been looking for an ATM. All we've managed to see are different temples.
13.01 Finally we found a working ATM. The first was not willing to serve us, but the one at the railway station gave us new rupees. We were also recognized by yesterday's tuk-tuk driver who was outside the station in search of new customers. Even a man from the hotel where we stay appeared and claimed that he recognized us. We first thought it was a bluff but he actually mentioned the right hotel.
13.23 The wind blows nice from the Indian Ocean. We are by the Aurora Bastion, a part of the fortification wall around the Old Town of Galle Fort which throughout history was owned by Portuguese, Dutch and British. Next to us, we have the building that once was the Dutch hospital. The wet wipes has freshened us up. On my way here I have once again seen a Kånken backpack. It hung on the back of a young lady, a tourist.
We have reached the colonial Galle Fort.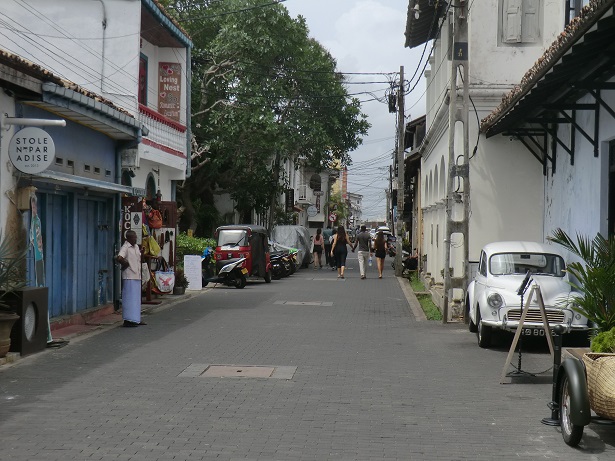 Pedlar Street, Galle.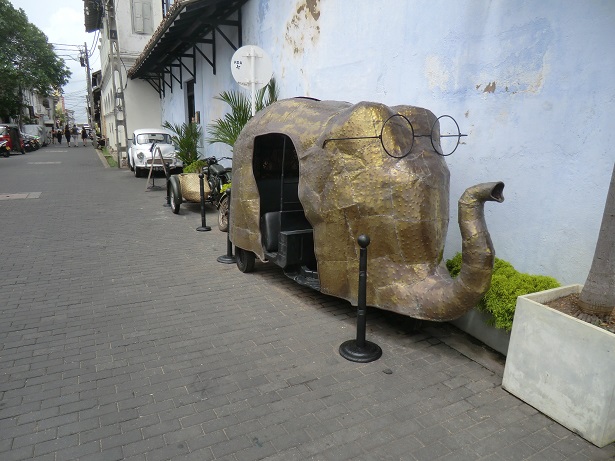 Interesting vehicle.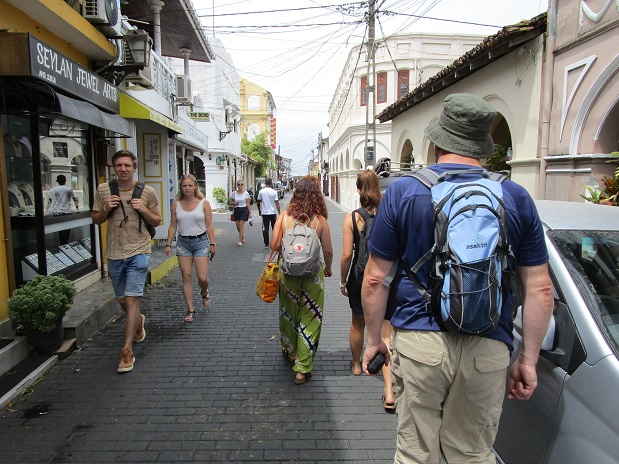 Christer is walking behind a Swedish Kånken-backpack.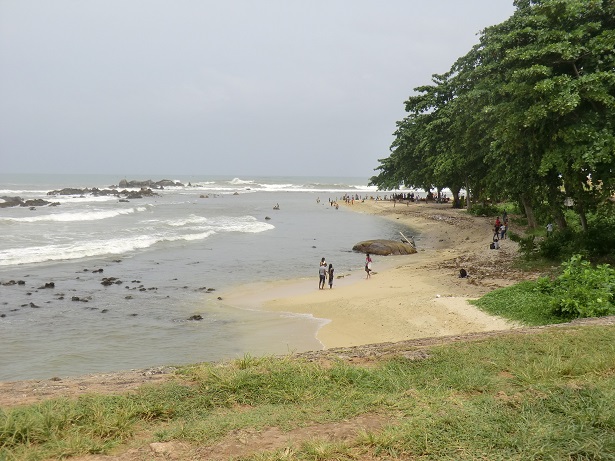 Lighthouse Beach, Galle.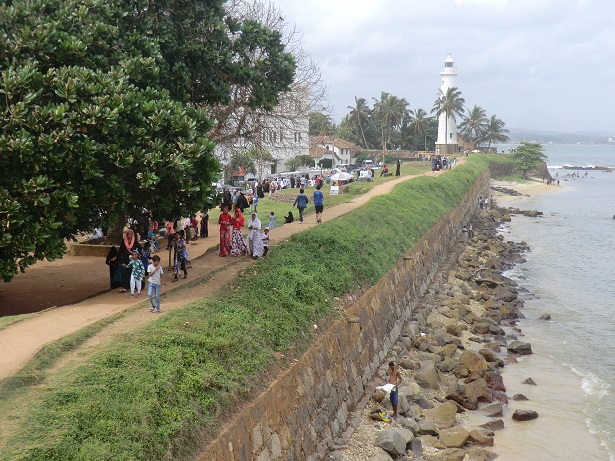 We have left the Galle Lighthouse behind us.
13.51 Some gentlemen swim in the sea below us. We'll take a missing bench break. Around us are a white lighthouse from 1938, Galle Lighthouse, and a mosque from 1904, Galle Fort Meeran Jumma Masjid.
14.04 After a stop at Flag Rock, we will now continue the walk through Galle Fort. Daredevils usually jump from this cliff into the sea.
14.31 We need afternoon coffee. The cozy Anura's Café & Restaurant has received our orders.
15.07 Coffee, real coffee, lime juice and banana toast was what we ordered. Here like a number of other cafes we have been at, artwork hangs and are being sold.
16.09 We bought with us two litres of Orange Crush drink each before the walk home. We bought these from an elderly lady with a machete in her hand. She used this weapon to open coconuts. Now that we are back home, it will be nice to take a shower and to wash the day's clothes.
17.10 It is time to bring something to drink and something to read. We're going to spend a while in the chairs outside. It's good to unwind with a good book.
17.47 We're back in the room again. The warm and humid air has made us tired.
18.27 Now it's time for me to hand over the shower and washbasin to Christer. I have used these to shower as well as wash my clothes.
19.15 We must never be completely happy. There's no water anymore and the plug in the washbasin was messing with us, it didn't want to come up and let the water out. Christer's freshly washed clothes aren't rinsed. We have however with some luck removed the plug.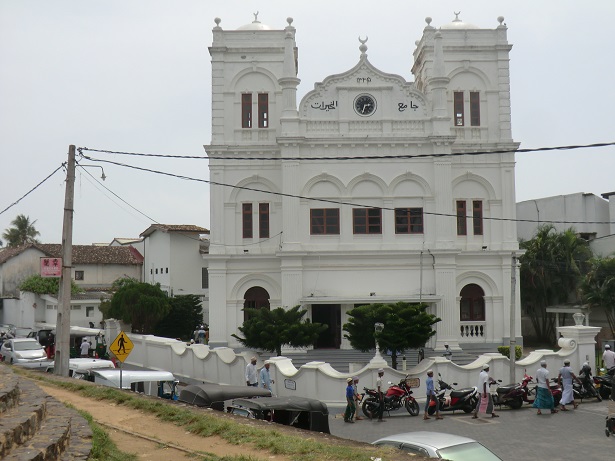 The mosque Meeran Jumma Masjid.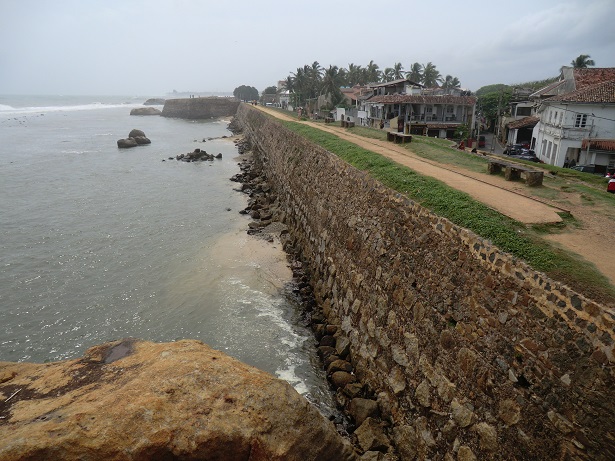 You can walk on the wall around Galle Fort.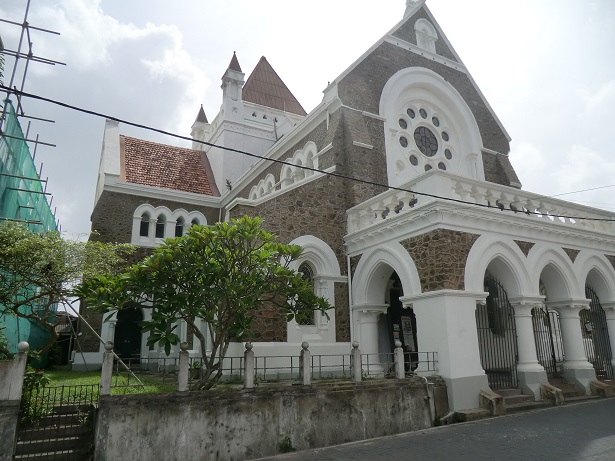 All Saints Church, Galle.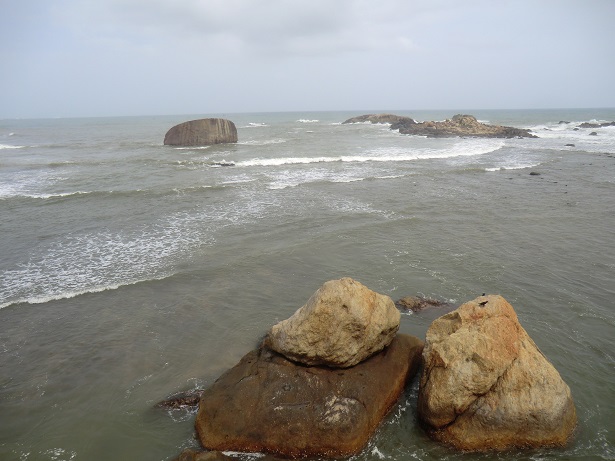 There is just water in this direction, all the way to Antarctica.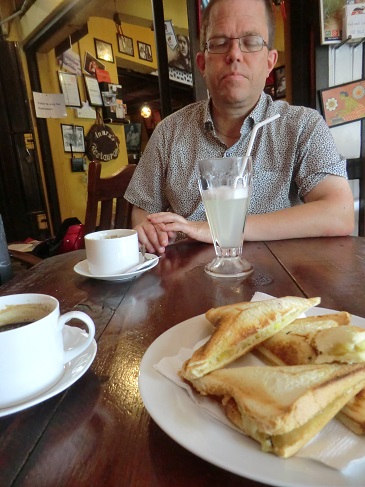 Peter is looking focused during the visit at Anura´s Café & Restaurant.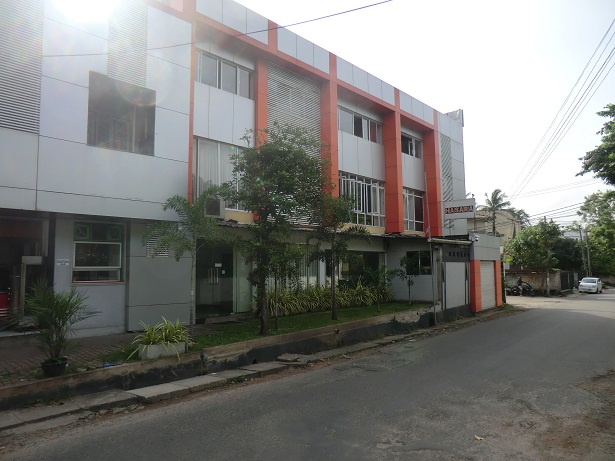 This is where we´re staying. Hasara is the name of our home.
19.25 I have been to the reception and informed about the lack of water. They seemed almost surprised. A man was alerted. I was asked to wait five minutes. Christer has pointed out that the pump sound we heard last night has been quiet today. Has the whole water system been shut down?
19.31 Guests can't shower if the water tank is empty. There is once again a humming sound and the tank is about to be filled.
20.45 Sometimes friends are good to have when to write a diary. My phone is on charge and the wristwatch is still in the room. It's a good thing Christer know the time. Now we have ordered tonight's dinner. We have earlier made up a strategy for later, that is tomorrow.
21.46 We are back in our room. Once again the bathroom has running water and a problem free wash basin. Tonight there's no football to cover. The semi finals are played on Tuesday and Wednesday. It will be a quiet and pleasant evening.
---
Monday 9th of July
08.05 Good morning! Another glorious day will receive us with open arms. It's also a new week. Today we will continue along the tracks that took us to Galle. We're going back on a train. We will get to Matara where the railway here on the south coast ends.
09.42 We have just found out that we should check out already at 11.00 and not 12.00 as we thought. We have therefore changed our plans. There will be no lunch here at the hotel before departure, a departure that will be at 11.05.
10.27 There was a more or less trouble-free check-out and we went by tuktuk from the hotel down to the railway station here in Galle. The tuktuk was found by the tree outside the hotel entrance. There is almost always someone waiting there. Even the ticket purchases for the train went well. Now we hope that the wait, the boarding and the trip to Matara will go just as well.
11.09 The departure time of the train has passed. We're going on a train coming from Colombo. We remain in the comfortable platform chairs. Is the train late or have we missed something?
11.20 A train rolled in, not on the tracks and rails as we intended but certainly it must be right. We have boarded it.
11.40 Now a train came in on the" right" track. According to a co-passenger on this train, the newly arrived train goes to our next city, Matara. Our train does the same so we remain seated.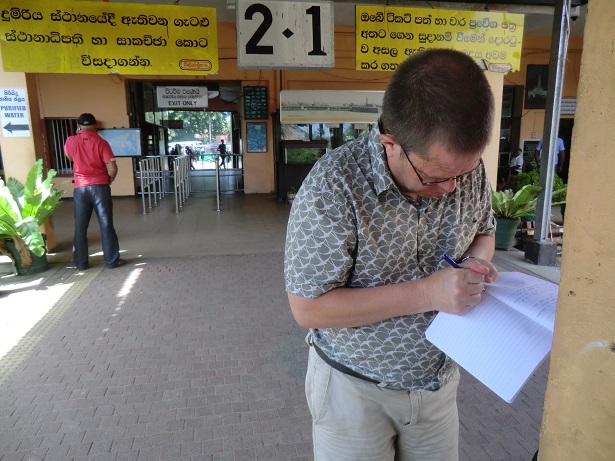 Peter at Galle railway station.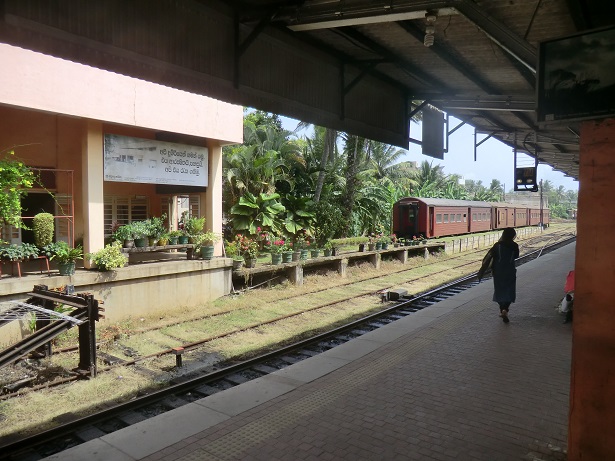 The train is coming soon.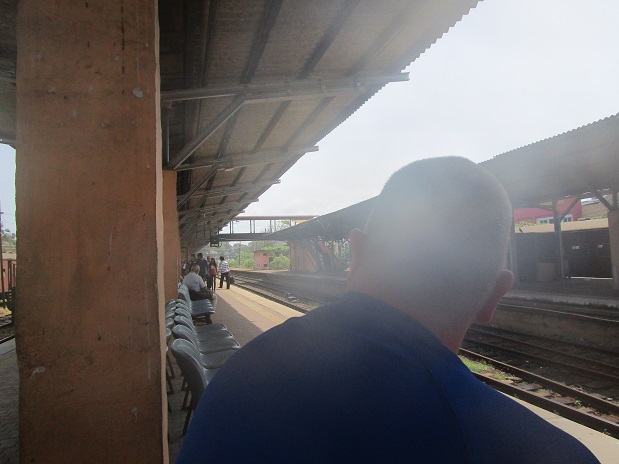 Christer is waiting for a delayed train.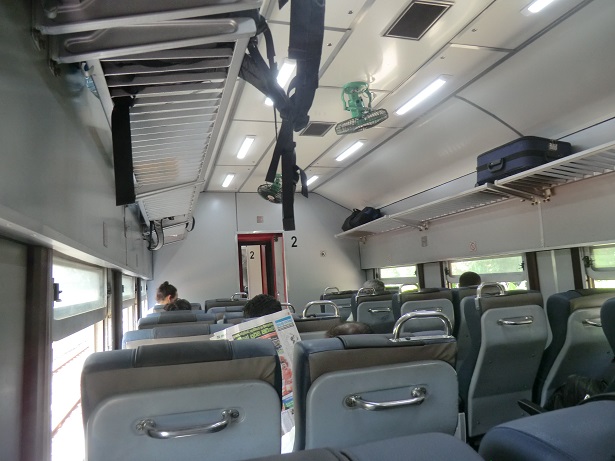 On the train from Galle to Matara.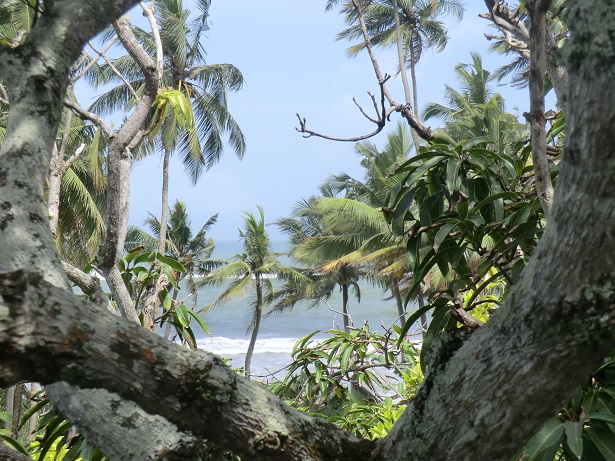 A room with a sea view, or?
11.49 We are on our way on for us unfamiliar rails. That's a good sign. Then we're not going back to Colombo. It's perfect having Google Maps with its blue dot on times like this. It's easy to see where we are and that we go in the right direction.
12.15 To the sound of a muslim prayer call, we leave another station on the route Galle-Matara. Most of the people on Sri Lanka are Buddhists but there are also the Tamil people who are Hindus and some Christians and Muslims here and there.
12.35 When the train stopped in Matara, we quickly switched vehicles to a tuk-tuk. Now it carries off through the traffic of a new city.
12.50 It was easy to go to our booked accommodation Blue Ocean Matara. Our tuk-tuk driver needed to stop and ask about the road a few times but we arrived quite instantly. It took a while until we found a person who wondered if it was a booking from Booking.com? We answered yes and he led us through two locked doors, one outside and one into a house. We went up two stairs and then it stopped. Our entrant won't get past the next door. It looks like the lock is broken.
13.08 A man in a white shirt and tie, the owner, the boss?, came by and tried to force the lock / door. He didn't get the door to open. The first man, handyman disappeared and came back with a hammer and two chisels. With joined forces, they broke into the common space of the rooms on this floor. It was easier to get the door to room 9, our room. We paid for us and the owner took a photo of my Russian visa from last year, some kind of registration. The TV is covered with some plastic. I think it hasn't been used before. We also ordered breakfast at 08.30 tomorrow morning.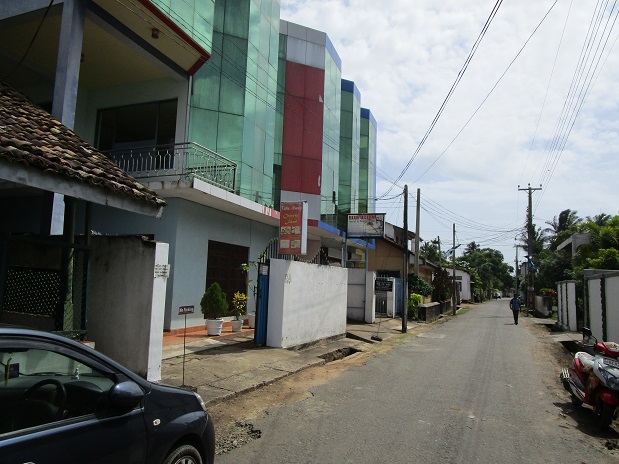 We have arrived to Blue Ocean Matara.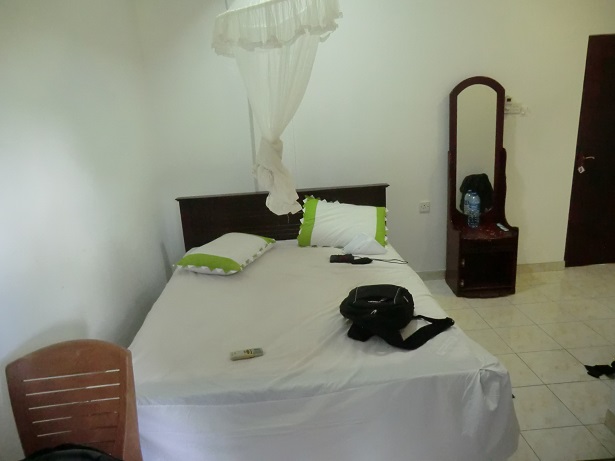 We have moved into room 9.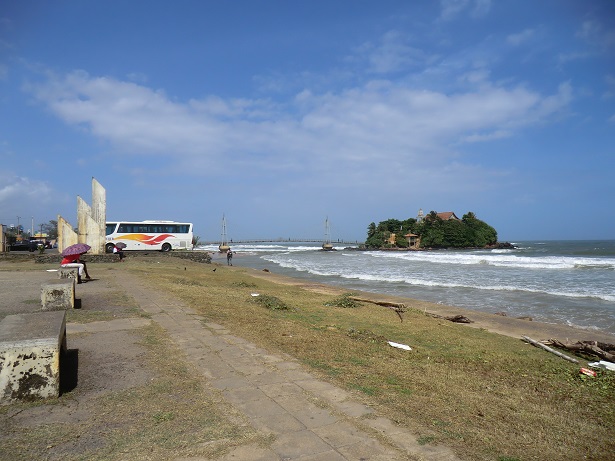 Matara Beach and the island Paravi Duwa.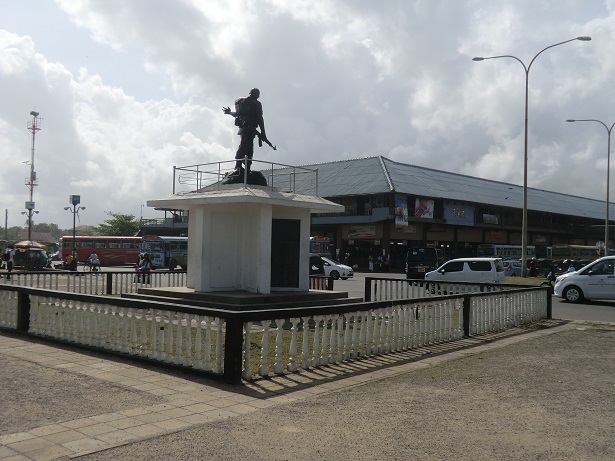 A statue of a soldier in Matara.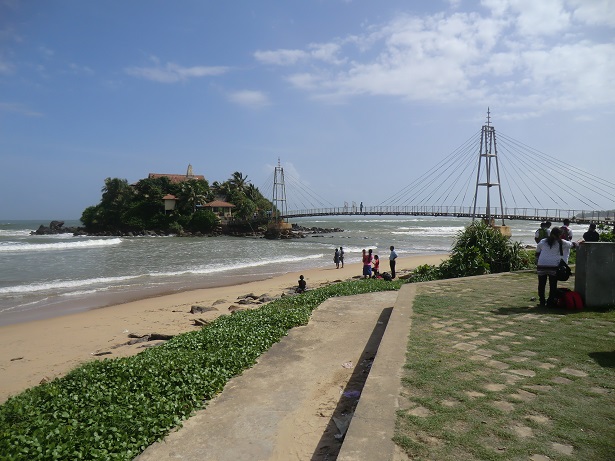 The bridge to the Paravi Duwa temple.
13.48 The handyman who greeted us before has been here with remotes. The TV started fine but he didn't get a single channel to work. He left us with the channel free TV. We have discovered that the bed is made with only bed sheets. How to solve this? We might as well go out on the town and get something done.
14.09 Now, Satan, The Devil, Beelzebub and the rest of the inhabitants of Hell are loose. We can't get out. The front door is locked with padlock. It was thoughtful to lock the door so that no unauthorized person gets in and bothers us. The downside is that we can't get out either. We have to go up the stairs again and back to the room. We need to get in touch with someone who can let us out.
14.21 I went back to the room, looked up the right phone number and called the handyman. I said the door was locked, it had to be opened. The reply I got was, is it the TV? No, key, let us out, I answered! I went down again and we were released. Just as quickly the door was locked again. How we get in again, we wondered. The city is that way he said and pointed. He's hard to understand to say the least. No, how do we get back in? He pointed towards the city again. Now he pointed to a button that we are going to use. Is this Hotel California? You can check out any time you like, but you can never leave!
14.34 We walked down to the sea and enjoyed the sun on a bench for a while. A bit from us there is a small island (Paravi Duwa) where there goes a bridge. It's a Buddhist temple on the island.
14.55 The small backpacks and I are seated in the sea breeze waiting for Christer who is buying goods for evening and other things inside the grocery store Cargills Food City. It's beautiful down here by the sea.
15.04 During my waiting, a dog has joined the company. Another dog who wanted to be with immediately got scolded by my newfound friend. I continue to attract dogs on our travels.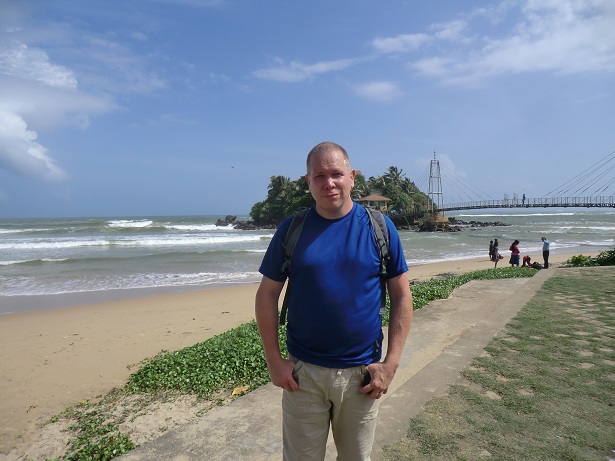 Christer at Matara Beach.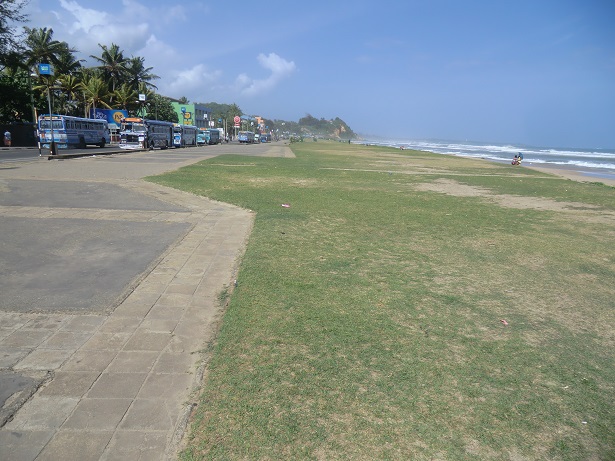 Beach Park, Matara.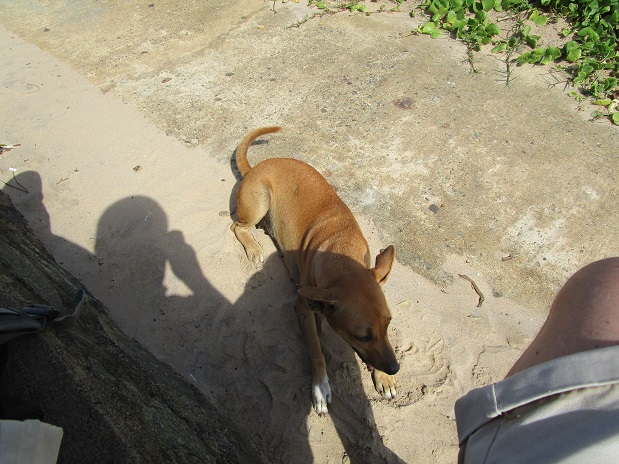 A dog came visiting.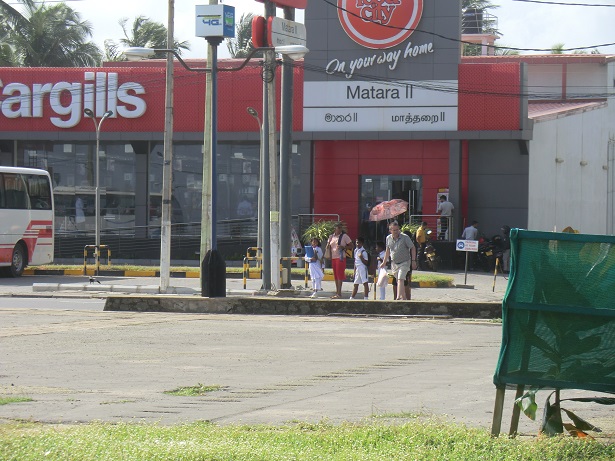 Peter is crossing the road outside Cargills Food City.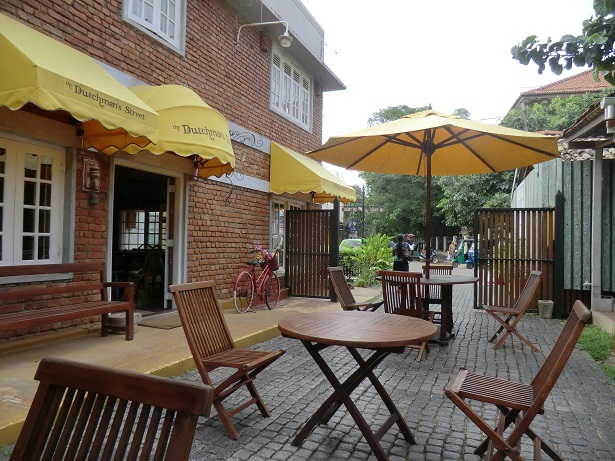 Early dinner at the restaurant Dutchman´s Street.
15.44 I went shopping a little in the same store before we walked back. Matara is a nice little town but it doesn't take that much time to see what is worth seeing. Now we are at Dutchmans Street (http://thedutchmansstreet.com), a restaurant very close to where we live. Here we have ordered food and drink, an early dinner. The first plan was to shop, go home and then after rest have dinner. Honestly, I don't trust that we'll come out again if we go in. Better do all the errands now.
17.06 The service was great and it is a lovely environment by our outdoor table. The parasol over our table also protected against a drizzle that quickly passed by. After careful and short consideration, we even ordered a dessert. We were also visited by a woman who advertised a salon in the same house as the restaurant. Massage and various healthy treatments were offered. On returning home, we rang the bell and Manuel² came directly from the shower with a towel about the hips. We got into the house. In our room, Christer has lifted down the curtain and pulled out the TV cord. He wants to charge his mobile and the curtain rod blocked the socket. Now it will be balcony reading. Well, we will read books on the balcony, not read a balcony.
18.16 A hefty rain shower and a bunch of palm squirrels came along during the reading time. We have even seen a man who came and blew smoke in the shrubbery down below; did he kill mosquitoes and other nasty insects? Christer's going to try the shower. I continue to read from the book Black Dawn of the couple Cilla and Rolf Börjlind.
19.41 Some news from the world now. Britain's foreign minister, Boris Johnson, resigns in protest against the Brexit negotiations. In addition, Ethiopia and Eritrea have reached peace. We have internet connection in our simple abode. Actually, most things work well here at Blue Ocean but getting locked up is a decent minus in the overall review.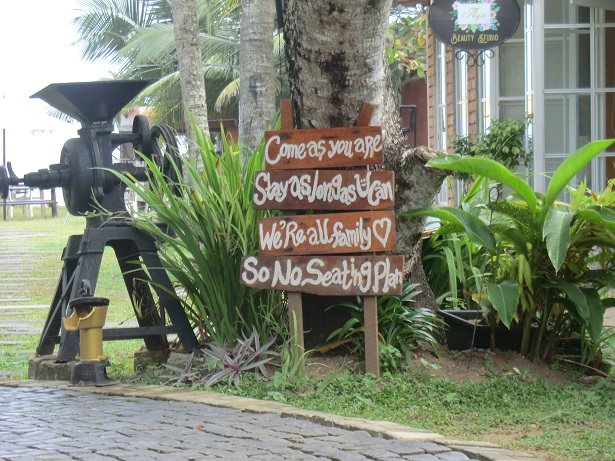 Nice sign at Dutchman´s Street restaurant.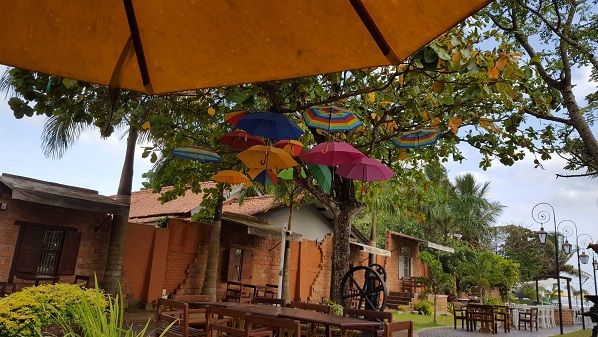 The rain is coming but the umbrellas are in the tree.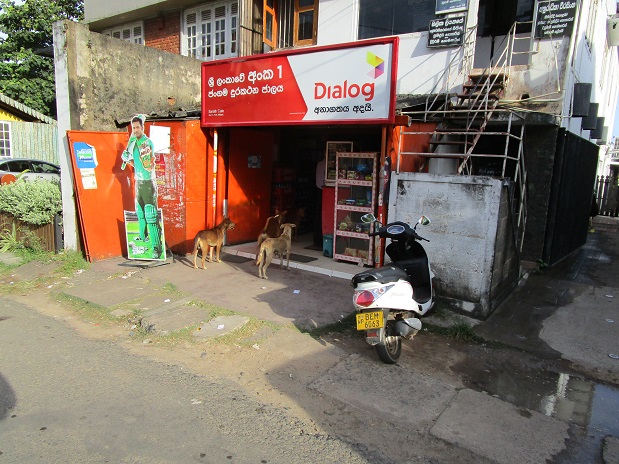 Only dogs as customers?
Christer is heading home.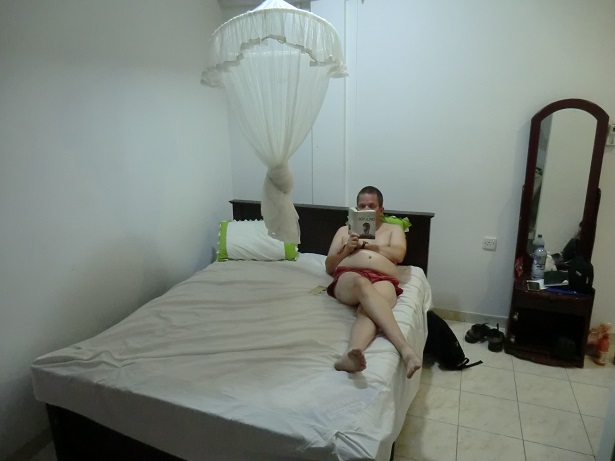 Peter is reading under the mosquito net.
20.36 The rain comes and goes in the night's lukewarm darkness. It's calm and quiet here in room 9.
22.10 Small talk and miscellaneous book reading will soon be relieved by an evening meal on our balcony. We bought a little something in the store before because our dinner was so early. We bought fruit, cookies and some other small and tasty.
23.50 The night is closing in. What new surprises will this accommodation bring us? What will happen tomorrow? The main thing is that we get out and can travel on.
---
VIDEOS
---
You can see 19 photos from July 7 in this photoalbum.
You can see 76 photos from July 8 in this photoalbum.
You can see 44 photos from July 9 in this photoalbum.

---
---