---
Text: Peter Johansson
Editing: Christer Lundstedt
Photos: Christer Lundstedt, Peter Johansson
Videos: Christer Lundstedt
---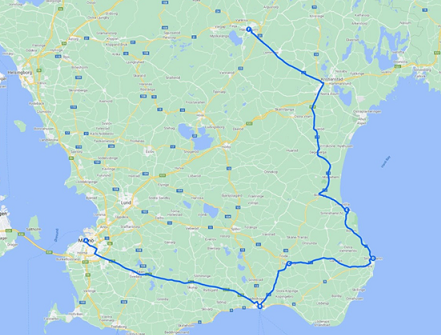 Province: Skåne
Municipalities: Malmö, Svedala, Skurup, Ystad, Tomelilla, Simrishamn, Kristianstad, Hässleholm
---
Tuesday 6th of April
07.30 Another morning is here. Our Easter holiday will for sure begin today. The days before were the Easter weekend. It may be the last morning here at Elite Hotel Savoy in Malmö but not the last one on the trip or last day with me writing a journal. 08.53 We've enjoyed the last hotel breakfast here at Hotel Savoy. Easter weekend is over and it was very quiet in the breakfast dining room. Outside, the weather remains gray and autumn like. I guess we've to wait for spring. 09.07 With online purchased train tickets we are now ready to travel further with Skånetrafiken's regionala train, Pågatågen. However, it will not be right now but within an hour. 09.42 We're waiting on a platform bench again. There is a balloon ban here on the platform. We've both seen and read this on signs. Wonder why it is forbidden? We are underground at Malmö Central Station. 10.02 A man with a face mask or whatever it is called, just left his packed bag without mouth guard on the bench next to us. After that, he left without the bag. 10.07 The man with the face mask returned to his bag. He brought it with him as he boarded the train, a train that we also boarded. Today's first train will take us to Ystad, a city that we visited during our summer Sweden trip. 10.27 A mother said to her child that we've arrived in Svedala. They got ready to get off the train. The small child found joy in that fact and now the two have stepped off our train. Svedala is sometimes used as a nickname for Sweden. However, it is unclear how this has arisen.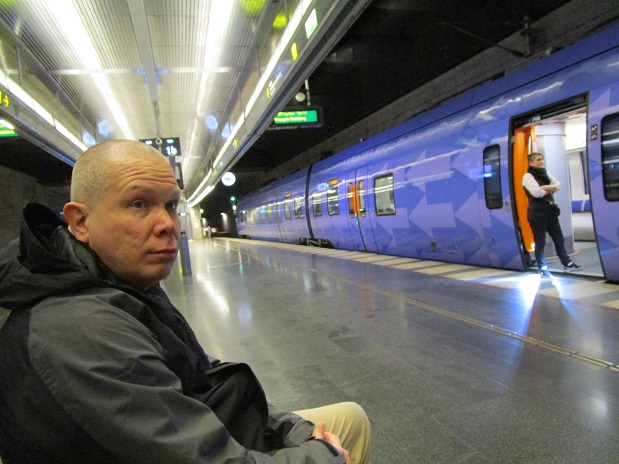 Christer is waiting for our train in the underground at Malmö C.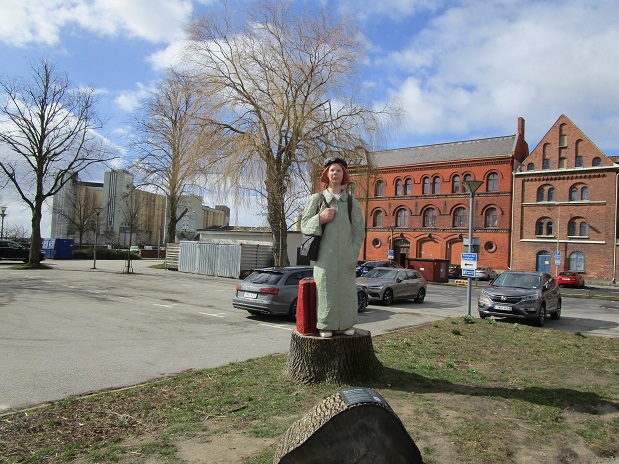 The sculpture "The Traveler" in Ystad is created from a tree trunk.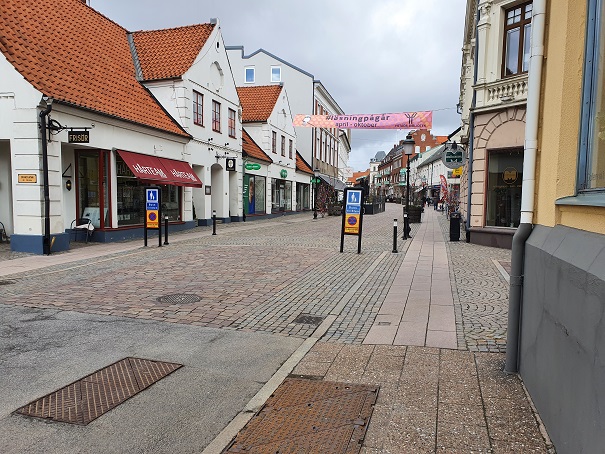 Hamngatan, Ystad.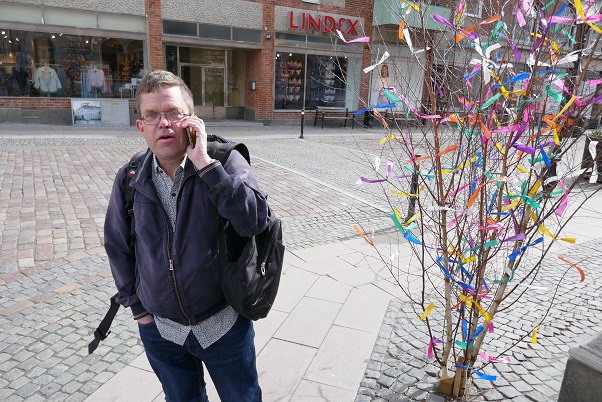 Peter gets a phonecall from home.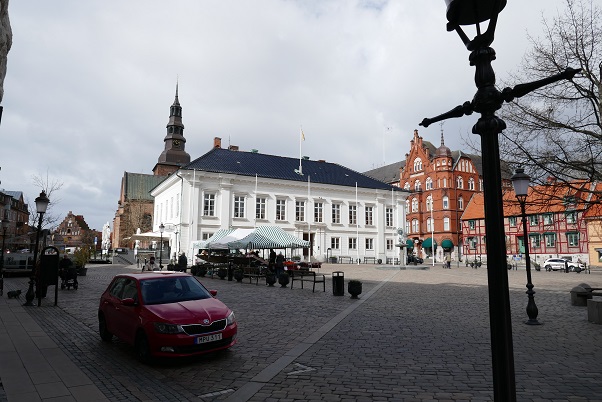 Stortorget in Ystad.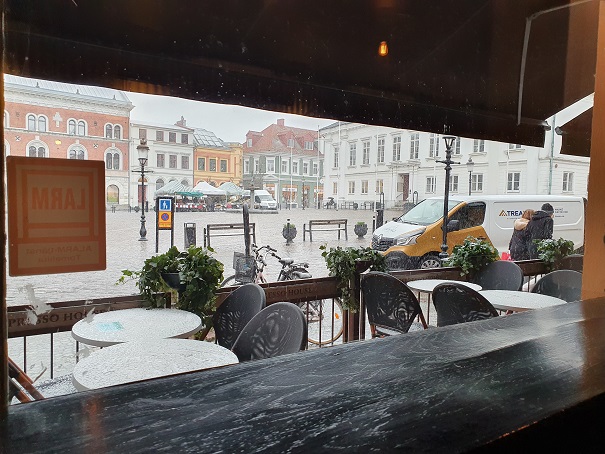 We hide inside Espresso House and escape the hailstorm.
10.38 We've made a short stop in Skurup. The railway has gone through an agrarian and slightly hilly landscape. An important question now is whether there are any lockers where we are going. If this is not the case, do we need to carry our luggage around during our stay in Ystad?

11.16 There were no storage facilities at the station here in Ystad. The station house is additionally converted to a hostel. However, here is the wooden statue Resenären (The Traveler), a lady with luggage carved from a former tree trunk. Now Christer and I have sat us down next to Maria church at Stortorget and it hails on us again. We came here to Skåne for sun and spring weather but no sign of that. 11.37 To avoid the hail that falls on us and to have coffee we are now at Espresso House here at Stortorget. It's actually one of the Espresso House-places that we missed last summer. Now we will plan a little more about the rest of the day. The weather has messed things up for us. 12.10 When I buy my ticket via Skånetrafiken's app, I should not activate the ticket directly when buying. Then it is valid only for an hour. It got to buy another one. Out there it's snowing. It only gets worse weather-wise this day. 12.25 It was not just Espresso House we missed here in Ystad last summer. Now we are at the monastery garden behind the monastery here in the city. It was certainly more beautiful and more snow free this summer but then we were just on the other side of the monastery 12.44 We are waiting in the snow with our newly activated train tickets. 12.56 Our train from Pågatågen is called Rutger Macklean, named after a man from history. Soon we'll move on to Tomelilla. It will be a journey of 13 minutes. It is short distances and travel times here in Skåne.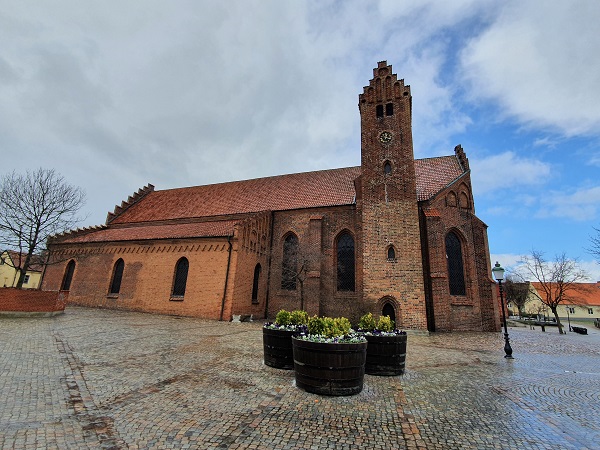 The monastery in Ystad.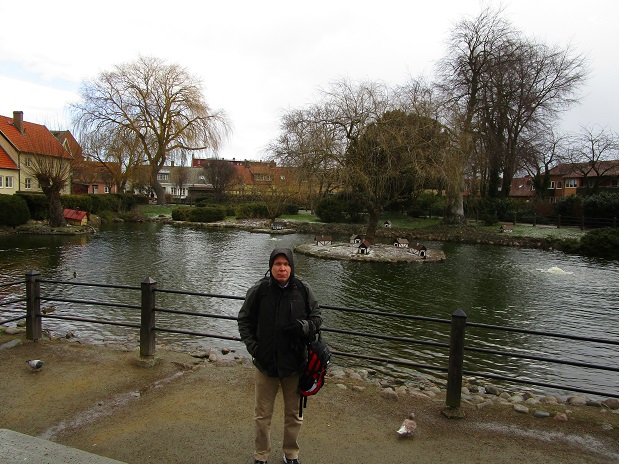 Christer at Klosterdammen, Ystad.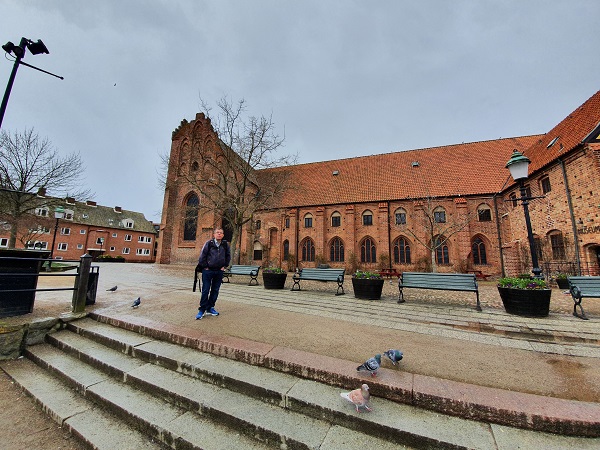 Peter visits the monastery in Ystad during a new season.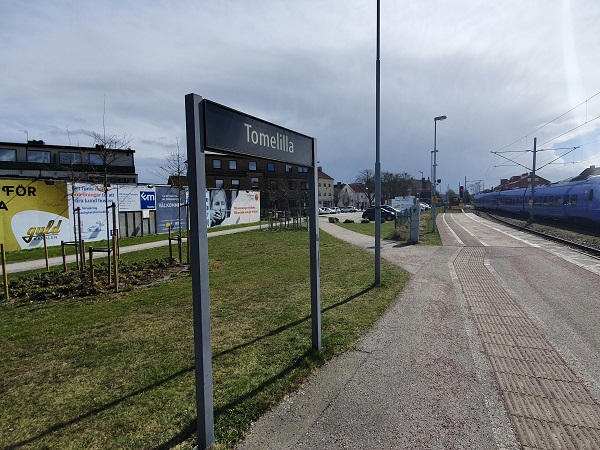 We have arrived in Tomelilla.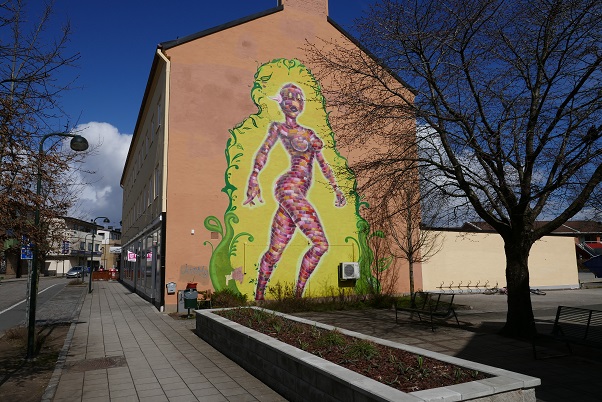 Art on the walls in Tomelilla.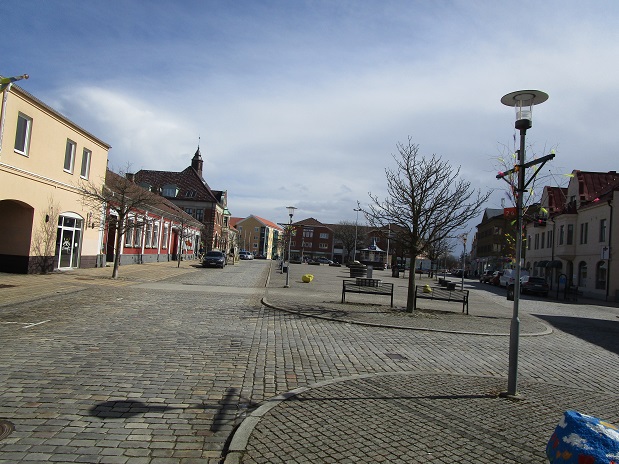 Torget, Tomelilla.
13.20 Without a ticket control, we have reached Tomelilla, an urban area with 7 171 inhabitants. Now we are at the square with the little creative name Torget (The Square). It is also called Tomelilla Torg. Tomelilla's pretty cozy. I think we should be here for a while anyway.

13.33 Today's lunch will be at Pizzeria Roma. I'm not having a pizza. Instead, I chose skewers. 13.54 Some middle school children hang here at the pizzeria and seem to have it as a youth centre. Despite this nuisance, it was a nice and tasty lunch. 14.05 We skipped coffee and instead went and looked at the small and Covid-closed Hasse & Tage Museum (https://www.hasseotagemuseet.se). Hasse and Tage are of course Hasse Alfredson and Tage Danielsson, Sweden's perhaps most classic comedians. It is marketed as "the world's smallest Film Museum and the world's largest Hasse & Tage museum". On the outside of the museum is a statue of Folke Lindh as a camouflaged German soldier from the movie The adventures of Picasso. 14.12 It was a short visit by the museum. We didn't want to miss our next train. Then we'd have to find something to do for yet another hour in Tomelilla. Now we're in the Kim Wall carriage ready to move on. The train and we got in exactly at the same time to the platform. 14.44 The train left us at the station in Simrishamn, a station that we urgently left. Right now we pass a pedestrian crossing adapted for those who wear a skirt, anyway if you are to believe the sign. Simrishamn is the main town of Österlen region in south-eastern Skåne and today has 6 844 inhabitants. The municipality has the third highest average age in Sweden. 15.05 Near the port of Simrishamn is Hotel Svea (https://hotellsvea.se). In hotel Svea is room 304. We are now in room 304. We have booked breakfast for tomorrow and we have received a breakfast ticket each. Over the years it has become a number of breakfast tickets in different shapes and colours. 16.30 We are thinking and planning about the coming evening. Corona restrictions with closed restaurants after 20.00 keep messing things up for us. Another problem is the moody weather. Pouring rain and hail comes and goes. What are we going to do? First, at least we'll wait for a break in the falling frozen water.
Peter has had lunch at Pizzeria Roma.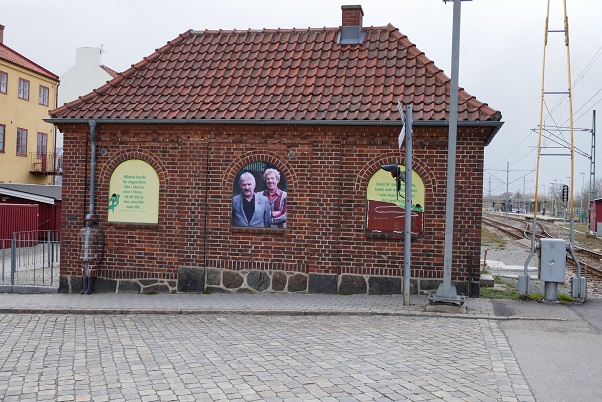 The Hasse & Tage museum in Tomelilla.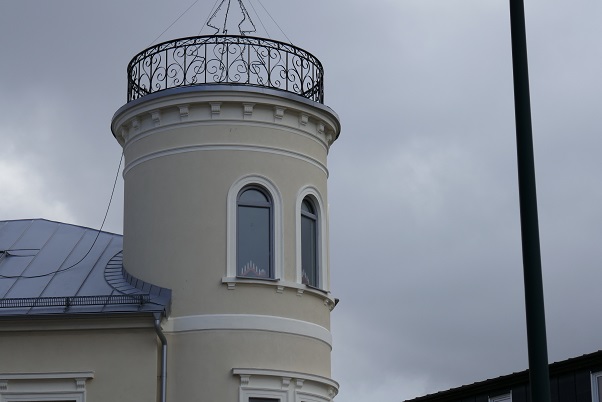 Christmas tree on the roof and Advent candlestick in the window. It's still Christmas in Tomelilla.
The rails don´t continue any longer run so the train has stopped in Simrishamn.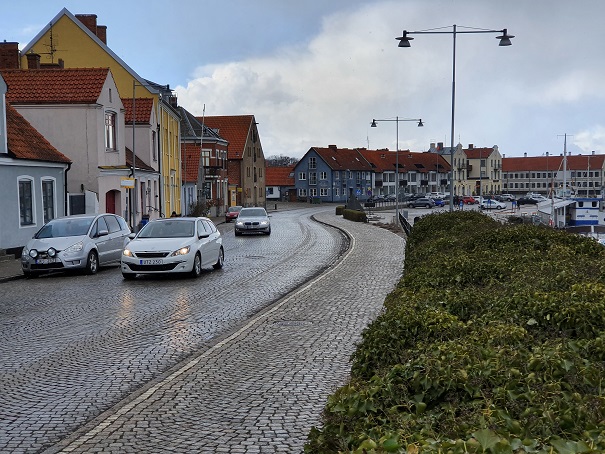 In rough weather we walk along Hamngatan.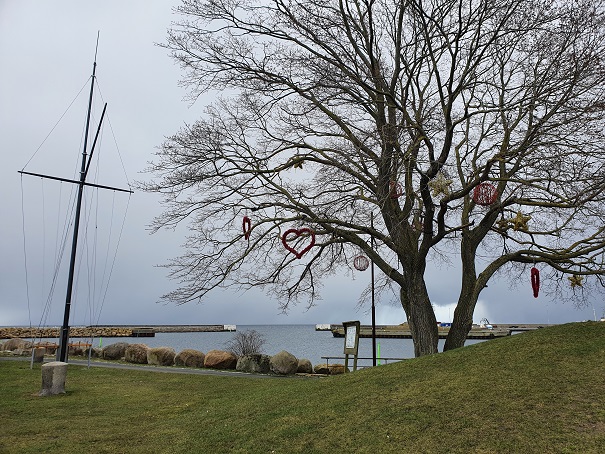 Decorated tree by the sea in Simrishamn.
17.34 The weather deity continues to display that middle, ugly finger. Now Christer announces that it is improving. It feels like we should go out now no matter what the weather is.

17.55 After having immortalized the old Saint Nicolai Church on picture and video we now move on towards some kind of food. There is a planned restaurant with some reserve options. 18.15 The Chinese restaurant Bamboo is closed on Tuesday. Who closes on a Tuesday? We are instead in Brunnsparken and here there is no food, at least not for us who seek human food. 18.46 Restaurant & Pizzeria Cimbris is the name of the eatery that will give us each half-litre Staropramen beer on tap with accompanying meals. Here it is dim lighting and slightly murky wall colours. We hope for good food and service even though internet is filled with negative reviews about Cimbris. 19.10 My phone just rang. The caller was none other than our good friend from our university years, John Olsson. He knew we were on the move and wondered about how we got around. Would we possibly pass where he was? I announced that this unfortunately would probably not be the case. Now the food is here. Looks good. 20.04 I couldn't resist rounding off the good meal with an espresso. It was a good meal, but also a mischievous servant. He joked, unsuccessfully, with some children. Before returning home we bought something for the evening at COOP Stora Rådmansgatan. There are no goals after the first period in the first game between HV 71 and Brynäs. The match series concerns who should remain in the top Ice Hockey League, SHL. 20.26 From the world of sport comes good news for us. Östersund-Hudiksvall in ice hockey finished 3-2. Björklöven lead 3-0 over Karlskoga after two periods. The biggest cheer for tonight, however, is the e-mail to Christer that announces that we´ll get back money from last summer's Corona-stopped flight to Brazil. It is worth celebrating. 20.47 Despite several minutes of play with both one and two players more, Brynäs failed to score. With both teams at full strength, they just scored 1-0 instead.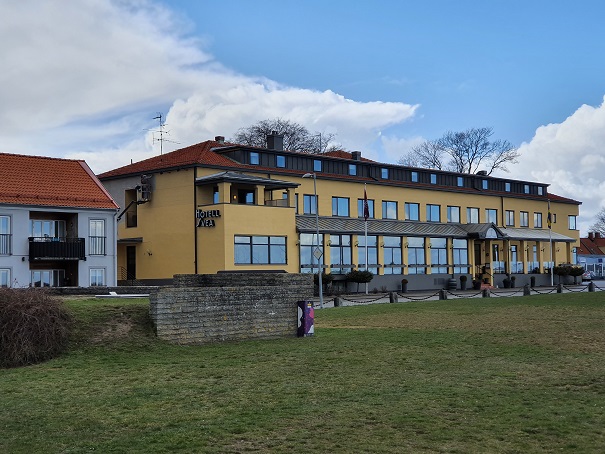 Hotell Svea, Simrishamn.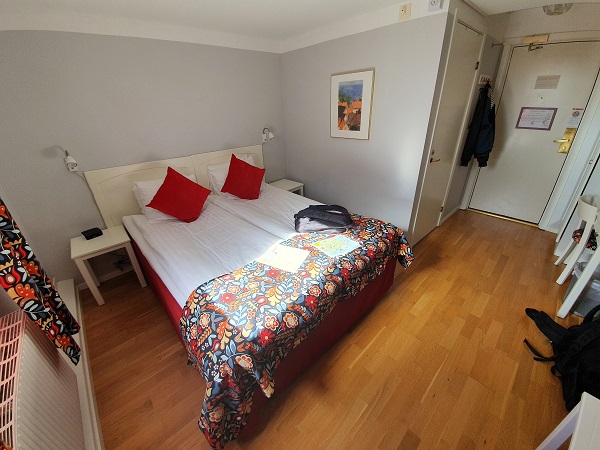 We are staying in room 304.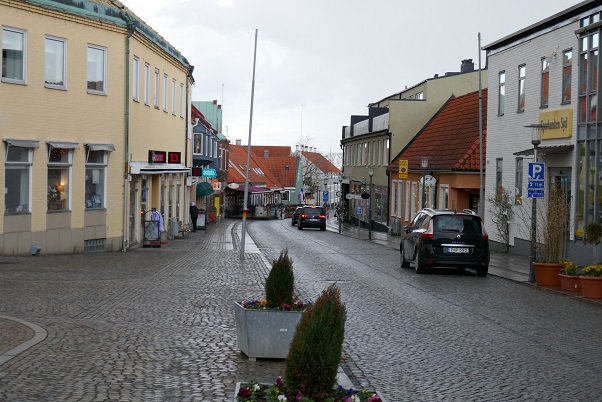 Storgatan, Simrishamn.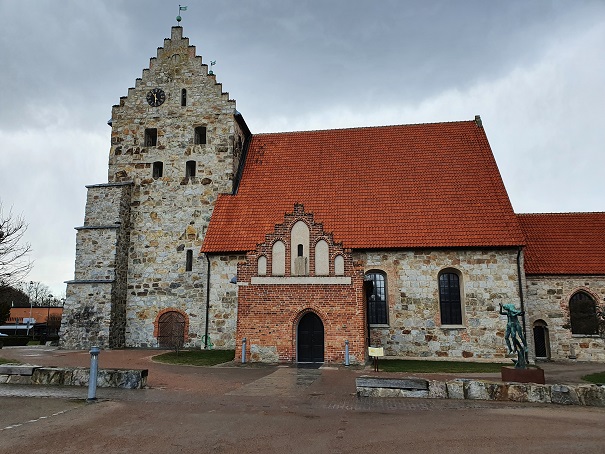 Saint Nicolai church in Simrishamn.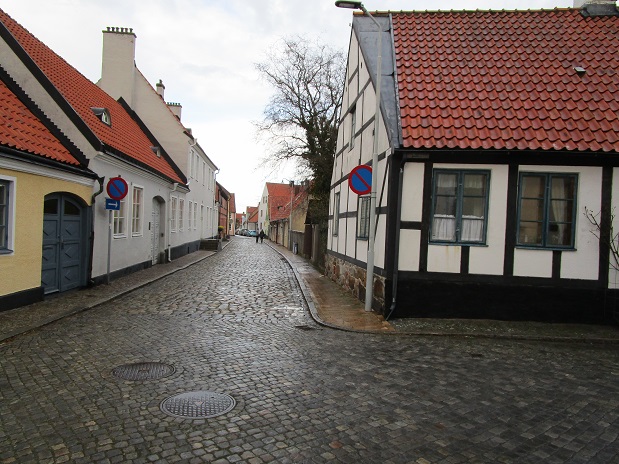 Stora Rådmansgatan, Simrishamn.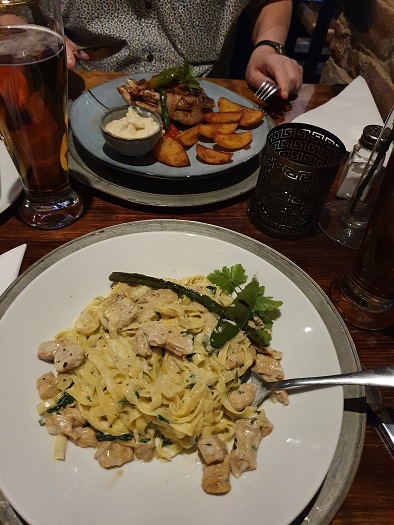 This evening´s dinners at Cimbris.
21.30 Our quiet evening in Simrishamn continues. In ice hockey, HV 71 has scored against Brynäs and Björklöven has won their match with 5-2.

22.40 After 19 minutes and 14 seconds in the fourth period, Brynäs scores. The goal was reviewed by the judges for a long time before the decision came. The goal net was seemingly out of position when the puck went in. But now I do not know the rules in detail. It is possible that they have judged correctly. 23.19 Another day on the move is coming to an end. The trip so far has been both up and down. The goal to see more interesting places in Skåne has been achieved and it is especially nice to fill in the gaps that arose during the summer trip here. On the minus side we have the weather. It's been insanely bad this far. Cold, rain and sometimes hail and snow have kept our feelings at a proper distance.
---
Wednesday 7th of April

08.38 It's morning in our room here at Hotel Svea. On TV they are talking about the vaccinations regarding the corona virus. As for the ice hockey yesterday and Brynäs goal, it was assessed that the puck left the blade before the goal net was moved. In addition, there was a player from HV 71 that moved the net.

09.50 Our breakfast was varied both in variety and also events. Two elderly couples near our table discussed what was offered where they usually lived. There was discussion about heating, parking, waste sorting and other things. They also compared how bad their neighbours were at waste sorting. Towards the end of breakfast Christer realized that the coffee was basically out. Now we have arranged with bus tickets for the first stage of the day. In addition, we have heard Östen Warnerbring sing about the author Fritiof Nilsson Piraten in Kivikspolka, a song from 1974. 10.37 It is sun and windy at Simrishamn station today. A train is rolling in and soon our bus will do the same. We are basically the only ones waiting for transport. 10.52 When boarding on bus 3 Christer helped a lady with a walker to get into the bus. Now we are on our way again to another place, another café, another meal and other things. 11.16 At the bus stop Kivik Square we stepped off. How long are we staying here in Kivik? What are we doing in Kivik? Why isn't our bus moving on? All right, it's leaving. Last summer we just drove through Kivik just after our anticlimax with the National Park Stenshuvud which we were not allowed to visit (too much people on site). 11.31 The first stop here in Kivik is done. We are at a statue of the author Fritiof Nilsson Piraten. Some kind soul has wrapped a scarf around the Pirate's neck. In a metal book next to the statue are the names of those who contributed to the statue. One of the contributors was Östen Warnerbring. Once again The Pirate, once again Östen Warnerbring, on this Skåne journey.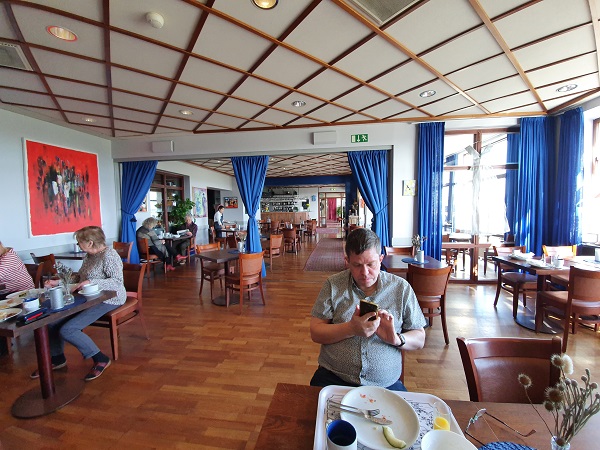 Breakfast at Hotell Svea.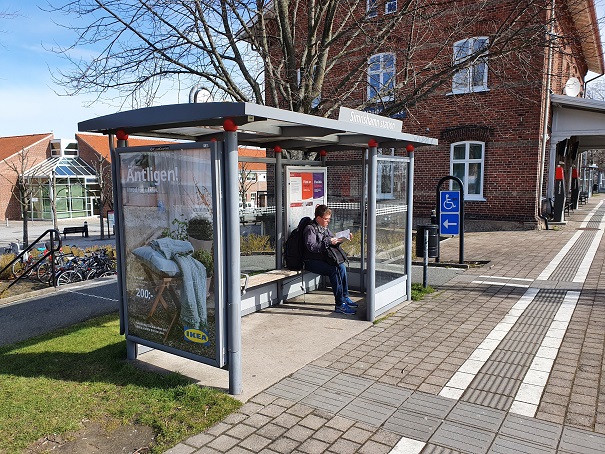 Peter is waiting for the bus in Simrishamn.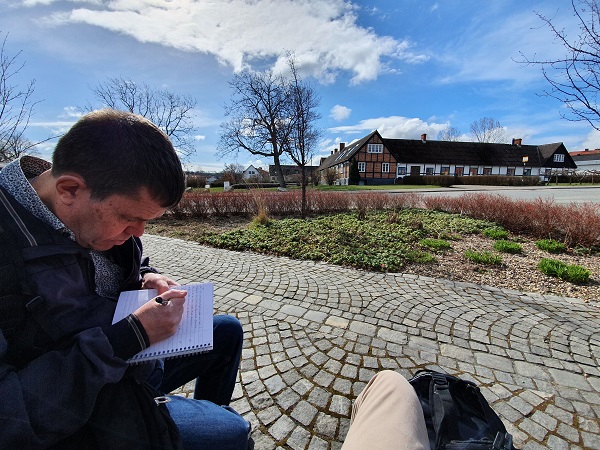 Peter takes notes on arrival in Kivik.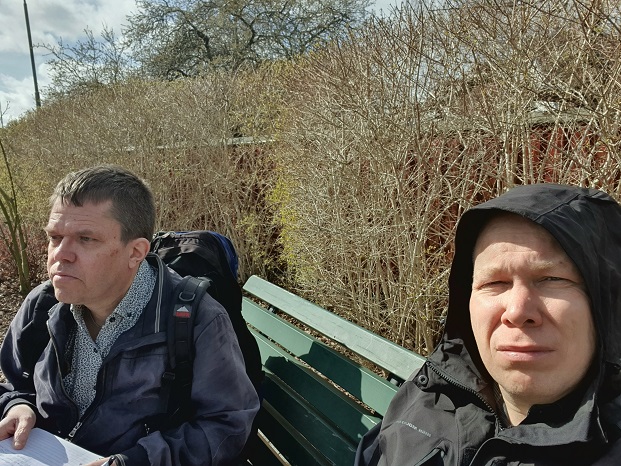 Two travelers on a bench in Kivik.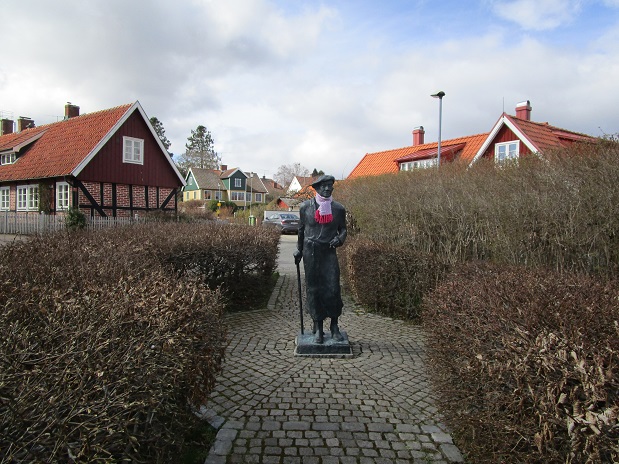 Fritiof Nilsson "The Pirate" with his scarf.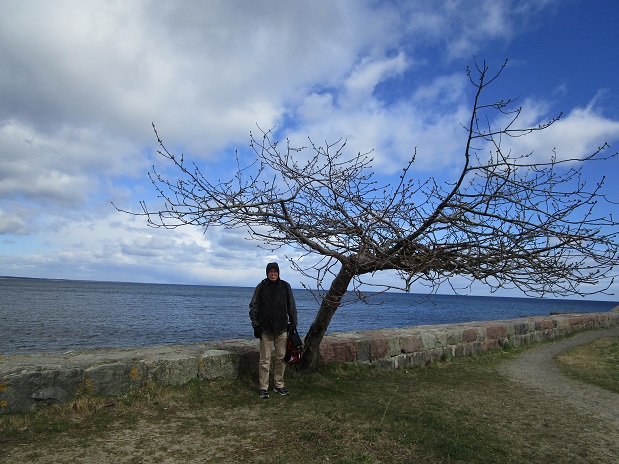 Christer by a windswept tree.
11.48 We walk around in cozy little Kivik, a small town with 883 inhabitants here on Österlen. The resort is famous for the company Kiviks Musteri. They refine fruit, among other things, into apple must, juices, cider, jelly and soups. The products are found in every Swedish grocery store.

12.00 We once again look out over the sea. Down here in the harbour area is the fish and seafood restaurant Buhres på Kivik with its fish smokehouse. We are thinking about what else there is to see and do here in Kivik. Maybe it's time to travel further pretty soon. 12.16 A small and painted figure in the form of a dog with the text No makes it clear that here you must not walk the dog here. We are heading back up to the bus stop Kivik Square. 12.27 At Kiviks Café and Bakery (https://www.kivikscafe.com) we will enjoy cheese-and ham baguette with coffee. It is a nice cafe with a varied interior. The baguette is a real work of art, really beautifully created. It's good, too. 13.18 So the two of us are once again on a bus with number 3 on. We're heading north to the next bus exchange city. 13.27 We once more pass the scenic Brösarp hills in North Österlen. There are less people here now compared to last summer. One common thing, however, is the fact that we are not stopping here today either. 14.25 We are for a while back in Kristianstad, one of all the cities we visited this summer. Here we have had time to photograph the magnificent Holy Trinity Church, activated the train ticket and entered the train towards Hässleholm.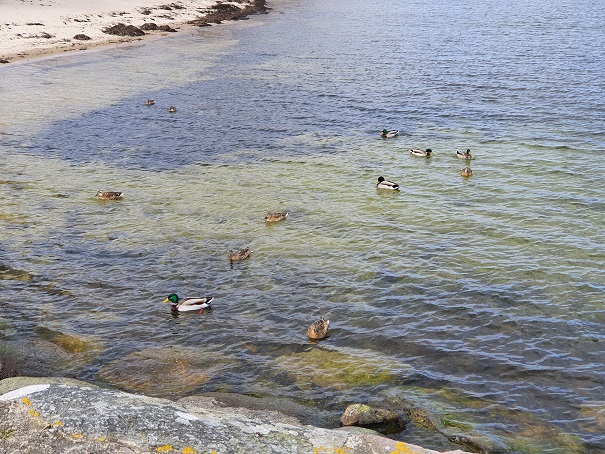 Swimming although the water is cold.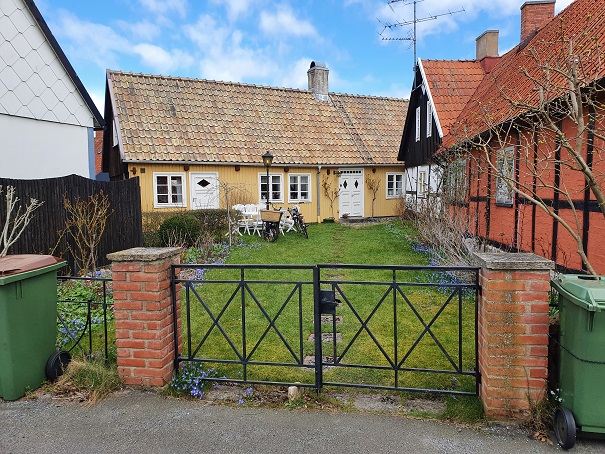 Cozy small houses in Kivik.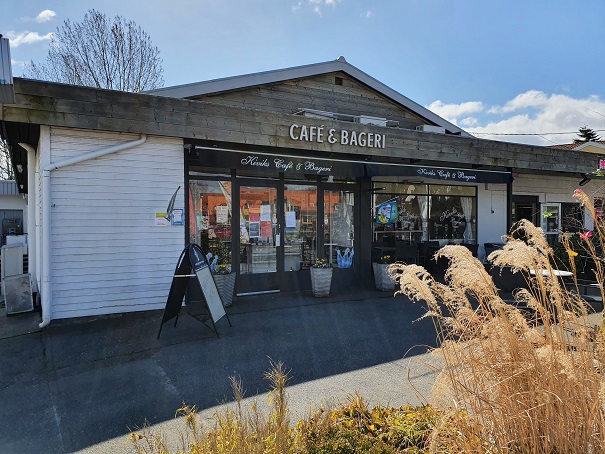 Kiviks Café & Bageri opposite the bus stop.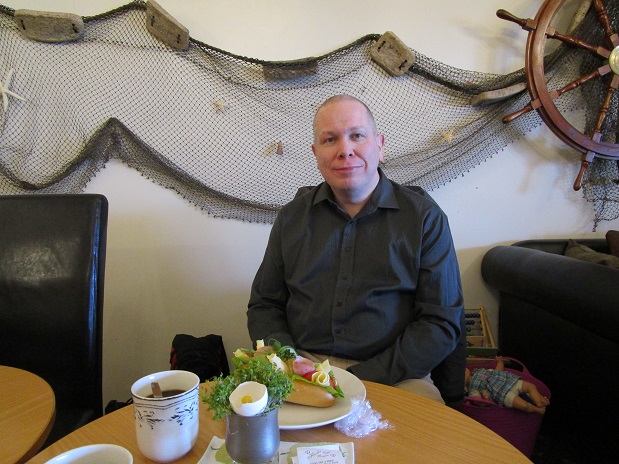 Christer is visiting Kiviks Café.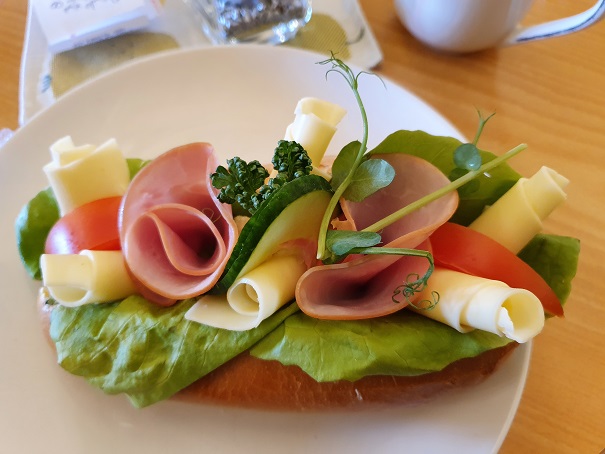 A beautiful baguette at Kiviks Café.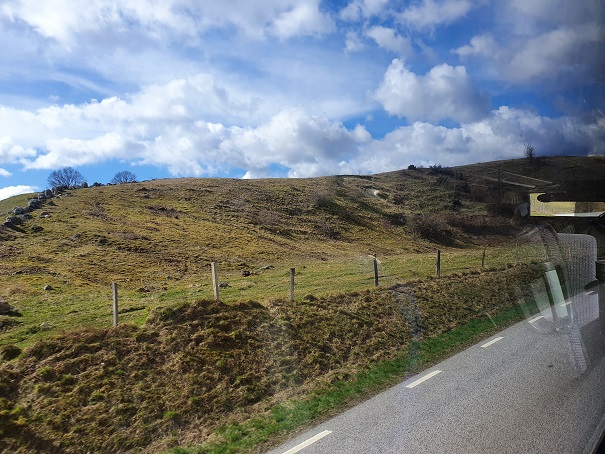 Brösarp's hills are passed.
15.12 Another short train journey in Skåne is over. We are now in Hässleholm, one of the few cities in Skåne we have not visited before.

15.21 Today's room number is 307. We stay at/in Hotell City in Hässleholm (https://www.hotelcity.se). We will not be in the room for so long. There are enticements out there. The one that checked us in was a dashing and nice woman. She informed us that we should enter through the back door in the evening. We even got a number code that opens the door. It is, no, I cannot write it down. The hotel is interesting. Some of the hotel's doors are apartment doors to apartments that existed here before. 16.13 It is time to go out to get acquainted with and also document the small town of Hässleholm. When we leave our hotel room, we'll take a different route than when we got here. We want to know how to find our way back later tonight. 16.30 We begin everything with a visit to Espresso House. Now it will be coffee and some more. Hässleholm in northern Skåne is one of the Swedish cities that have emerged through a railway knot. Hässleholm developed rapidly as a railway junction. When Hässleholm became a city in 1914, it was one of Sweden's smallest cities. Today there are 19,435 inhabitants. 17.13 We drank our coffee and swallowed what we had chewed on. Slowly we found our way up the Första Avenyn towards the City Church. According to Christer, he has made 26 video clips so far during our trip. That's pretty good. 17.22 We've sat down outside the church and enjoyed the sun that shines on us for the first time on our journey. 17.39 A walk through Hembygdsparken beyond the church is the Local History Museum, the Snapphanen statue, some ponds and a bunch of mallard ducks. In the park there are among others. 11 buildings owned by Västra Göinges local community association.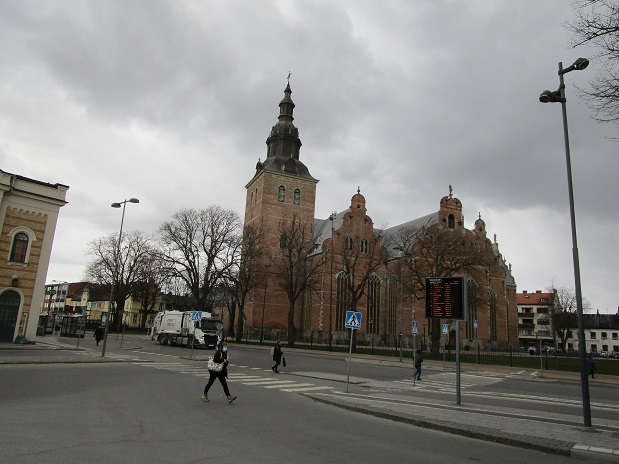 We stay a few minutes in Kristianstad. Bus is changed to train.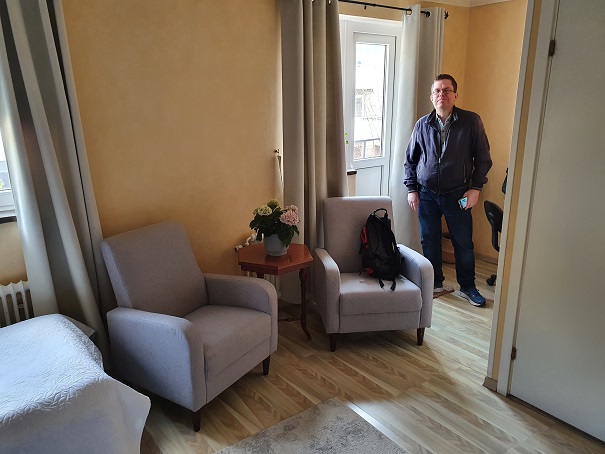 Peter in the room at Hotell City.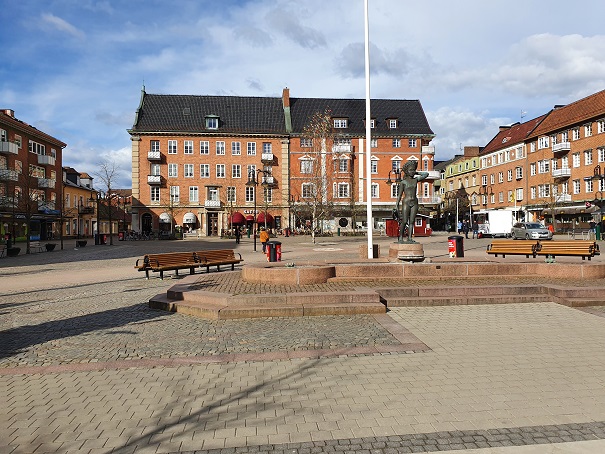 Stortorget, Hässleholm.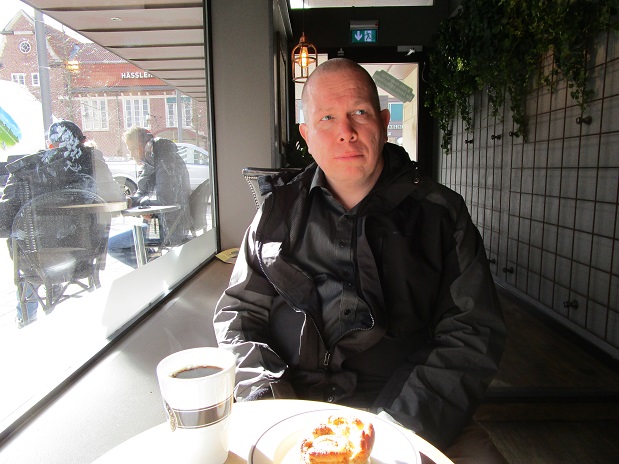 Christer at Espresso House in Hässleholm.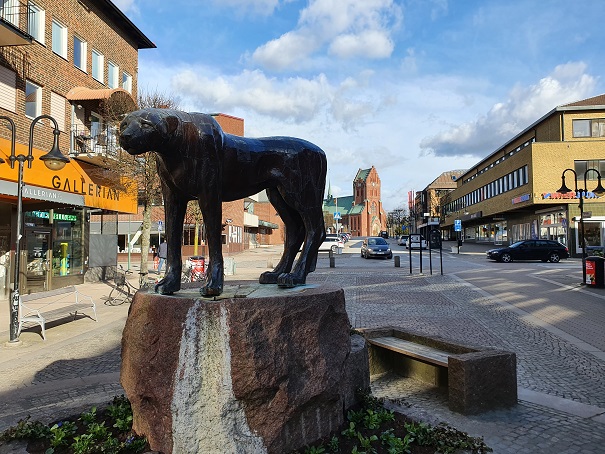 A cheetah male looks out over Första Avenyn.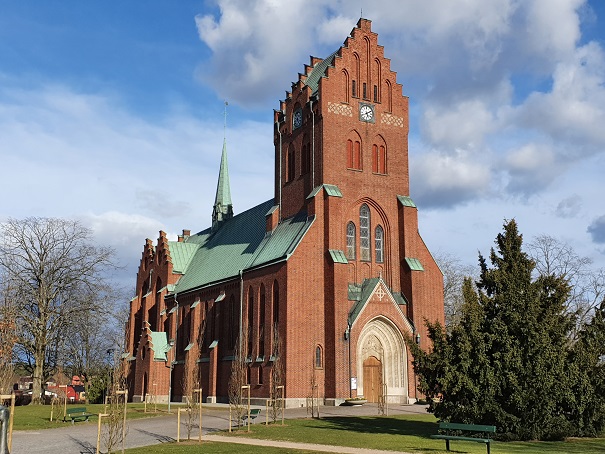 Hässleholm church.
17.52 We left Hembygdsparken behind us and have now walked towards more central parts of the city. Eventually, this walk is supposed to end with a dinner.

18.01 Hässleholms Technical School is lying unashamedly not far from here. More close to it is a small skate park. Right here where we are is the City Park. It's not the most glorious city park we've seen but a park is always a park. 18.22 Another of Sweden's ugly municipal houses/town halls has been seen and Christer has spoken with his father on the phone. Next it will be dinner. 18.40 Beef cheek and pork side are the dishes we have chosen to order for dinner. Budvar beer on tap and Bavaria on can are the beers. This has been ordered at the city's Bishops Arms on Första Avenyn near Stortorget. It is various beers and dishes. Who chose the winner? Our waiter is English speaking. Is that the only language he knows or do they want to keep a British image here at the pub? 19.38 Regarding the beer, Christer won. As for the food it was probably a draw. Both parts were satisfied. Now we will soon continue the evening. 20.34 Before we went home we made a purchase visit to ICA Kvantum supermarket. On the way home we passed the Turban roundabout and the Turban Hall. The latter is a bowling alley. Now we're wondering if we will find the way to breakfast tomorrow. It is not entirely certain which way we will take from our room. It is a bit odd with these apartment doors. Which door goes to the hotel entrance and which door goes into an ordinary apartment? It's a matter of taking the right one. 21.54 Västervik has defeated Timrå with 4-1 in one of many qualifying games up to the top Ice Hockey League SHL. In a snowy Munich, Paris Saint Germain (PSG) leads against Bayern Munich by 2-1 after the first half. The latter match concerns the Champions League in football.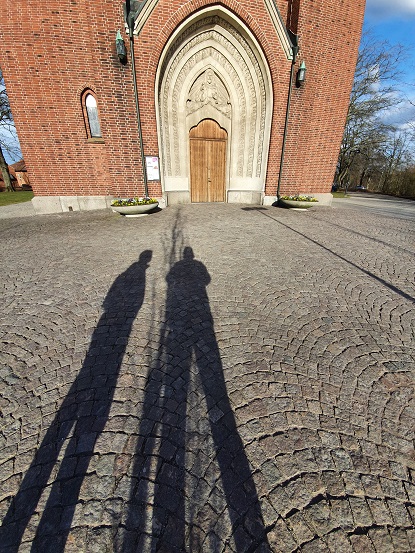 Two tall gentlemen outside Hässleholm's church.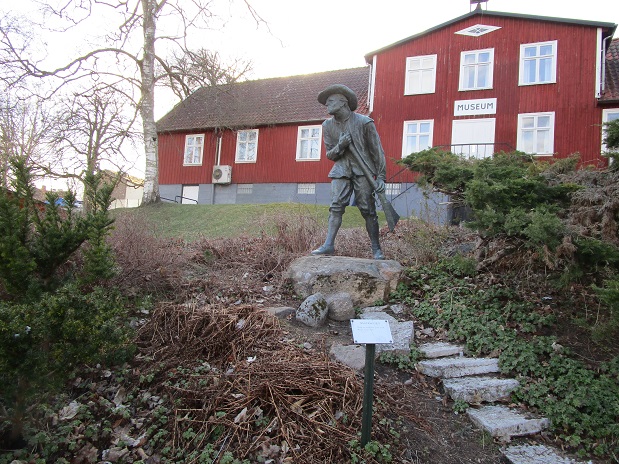 A snapphane (freedom fighter) outside the local history association's museum.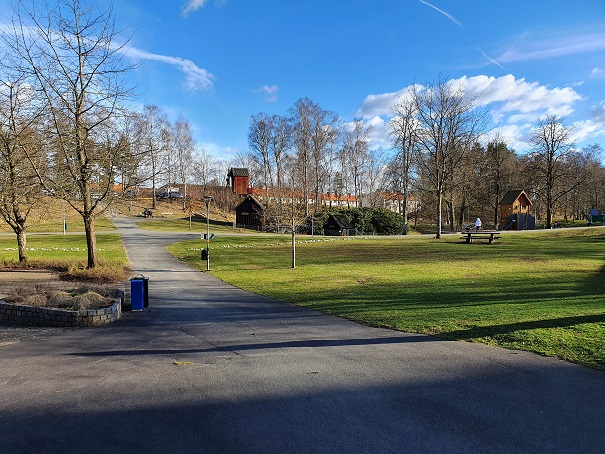 Hembygdsparken, Hässleholm.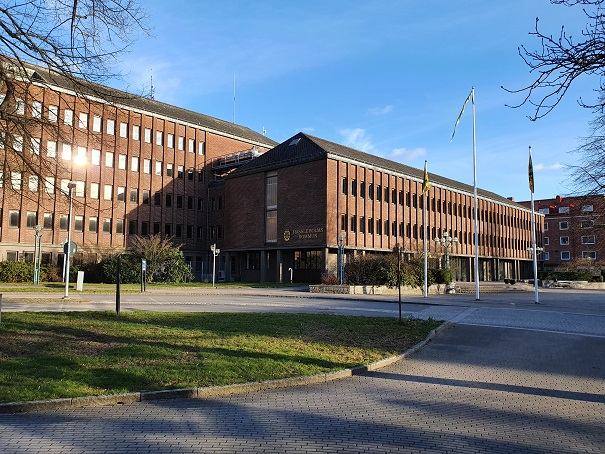 The town hall in Hässleholm.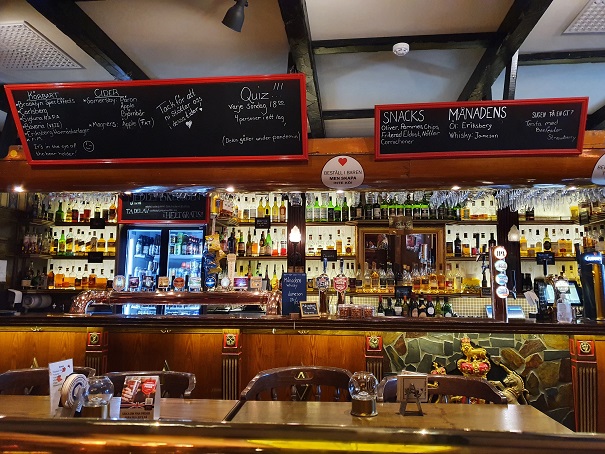 The bar at Bishops Arms, Hässleholm.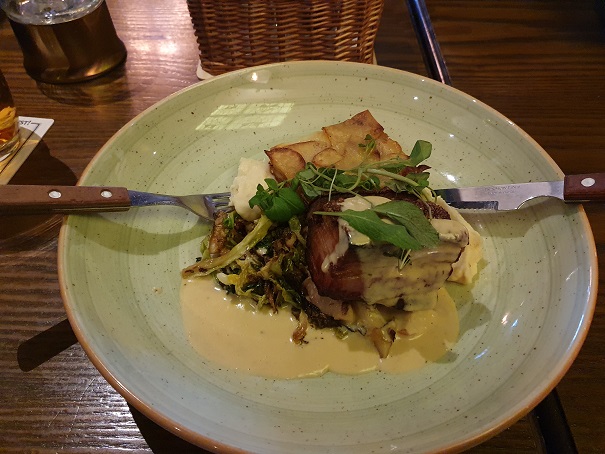 Christer's dinner at Bishops Arms, Crispy pork side.
22.20 Bayern Munich has equalized to 2-2 in the Champions League match that we half hearted follow on our TV. On the balcony, our beers stand on cooling.

22.29 Paris Saint Germain has with one goal regained the lead in the match. Now we are thinking about changing tomorrow's travel route a little. It will be the same end goal but a different path. The original plan via Perstorp and Klippan doesn't feel so exciting. 23.14 It became a French victory in the Champions League and further advancement for PSG. They're ready for the semi finals. Now I brought in our evening beers, People's Bulldog IPA. The tradition of evening beer is one of our oldest travel traditions and well worth preserving. When the opportunity is given it can also be balcony beer but then it should be warmer than tonight. 23.44 The day is coming to an end, a day that began in Simrishamn in Österlen and ended here in Hässleholm. The city is perhaps not so exciting but certainly quite OK to live in with realistic commuting distance to Lund, Helsingborg and Malmö. Now we've seen it. Tomorrow we´ll see more of Skåne.
---
VIDEOS
---
You can see 101 photos from April 6 in this photoalbum.
You can see 71 photos from April 7 in this photoalbum.

---