---
Text: Peter Johansson
Editing: Christer Lundstedt
Photos: Christer Lundstedt, Peter Johansson
Videos: Christer Lundstedt
---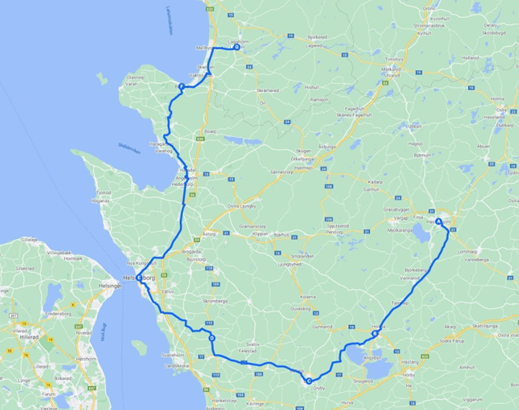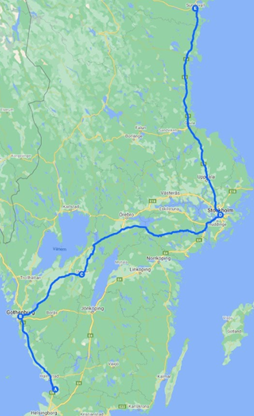 Provinces: Skåne, Halland
Municipalities: Hässleholm, Höör, Eslöv, Helsingborg, Båstad, Laholm
---
Thursday 8th of April
07.10 Sometimes we have to wake up earlier than usual. This is such a moment. This happens here at Hotell City (https://www.hotelcity.se) in Hässleholm. Today's questions concern arriving and finding. How was it now when we went from the reception to the room? We must soon go in the reverse direction without accidentally entering into someone's apartment. If we can't make it, we have to solve this with breakfast in a different way. 09.08 It was as we thought. We found our way to the breakfast. The breakfasts also found its way down into our stomachs. After returning to room 307, we have talked about what to do in Höör. Within an hour, we'll go there by train. The previous plans to go to Helsingborg via Klippan have been modified and changed. 09.56 We've said thank you and paid for our stay at the small and unique Hotell City. Let's move towards the first train of the day. 10.08 I tried to activate my ticket close to the railway station here in Hässleholm. It didn't go that well. I couldn't find it on the phone. Did I fail at the time of purchase? Didn't I find it? I was unnecessarily stressed. Solution, smart or not, was to buy a new ticket. The question is whether I really bought someone the first time? 10.25 Charlotte Weibull is the name of our blue and purple train. It is this train that will take us three stations further south. 10.51 We are here, we are in Höör, the place that used to be called Hör but when the post office stamped här(here), for the local mail, the letters sometimes were sent to Hör, hence the name/spelling change. In the middle of the square Nya Torg that we are at stands a flower and an outdoor candle. Is it connected with the recent murder? 18-year-old Elin Klinteberg was murdered here in Höör in late March. 11.10 We are at yet another bench in yet another park. This park area is called Enebacken. Here there is a small pond where some birds swim around. We are mostly here in Höör for a shorter stop, to get the opportunity to document yet another Skåne town. Höör has a population of 12,802.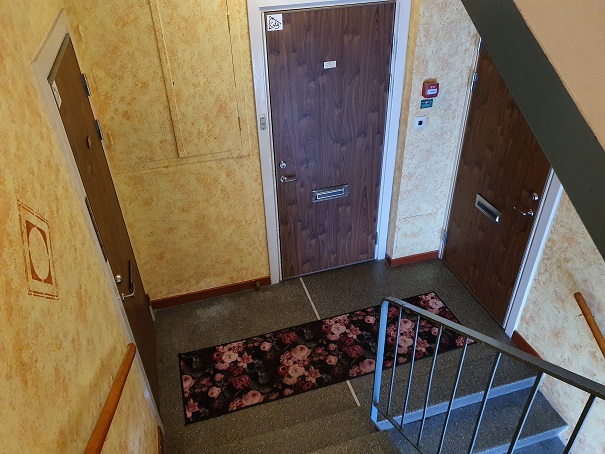 Which door belongs to the hotel?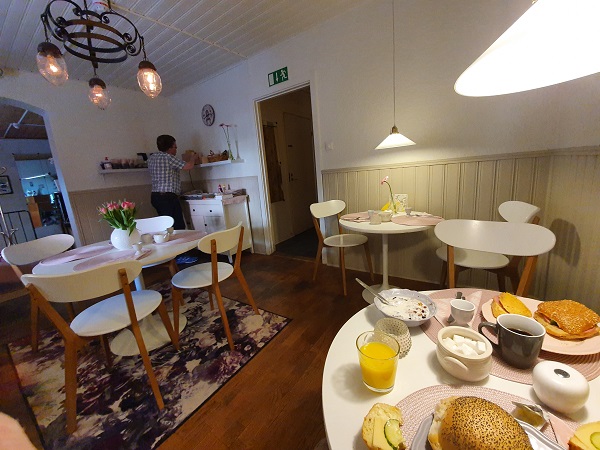 Peter is exploring the breakfast items at Hotell City.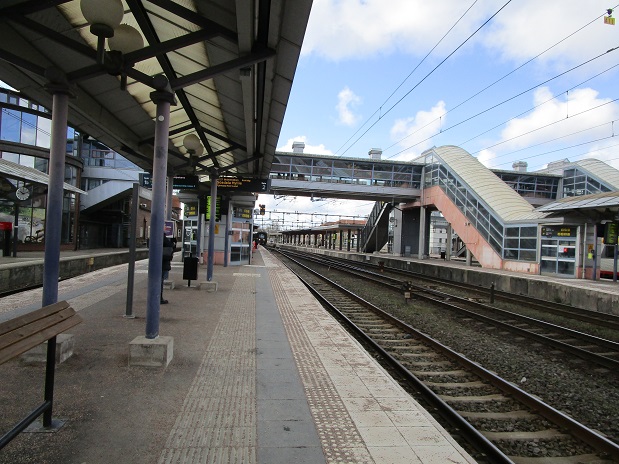 On the platform in Hässleholm.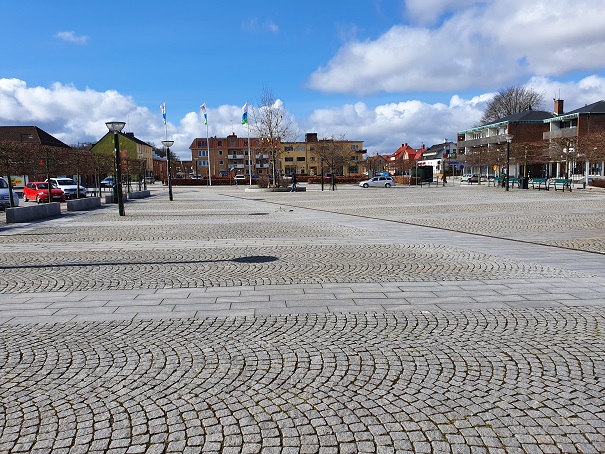 Nya Torg, Höör.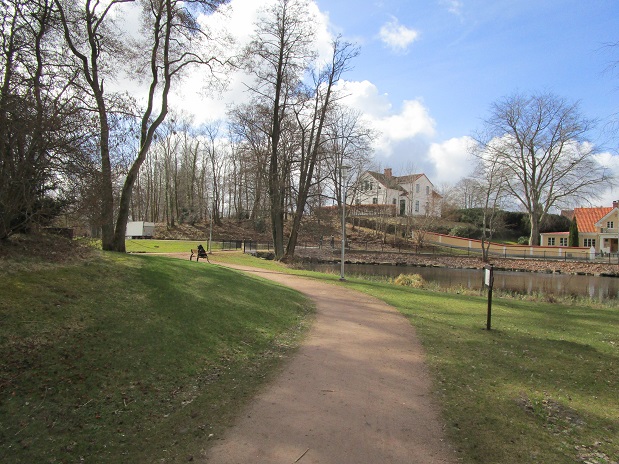 Enebacken, a park in Höör.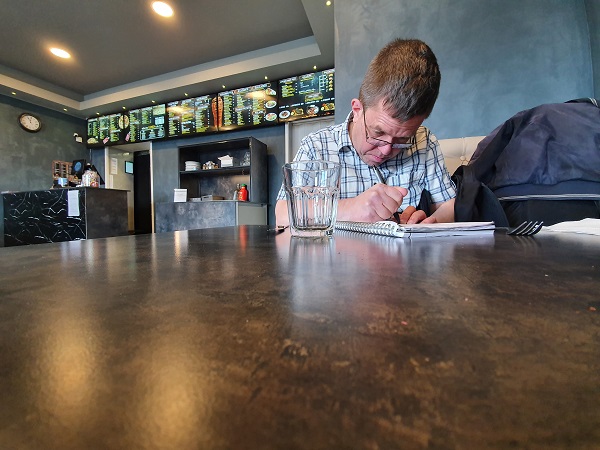 Peter has got an interesting head shape in this perspective.
11.54 Today's first purchased meal will be today's lunch offer. We have chosen a pizza each at Pizzeria Viking (https://hoor.pizzeriavikingen.se). There is something familiar with the name and even the sign. We have not been here before but maybe at another Pizzeria Viking with similar sign. This one is right next to the railway station.

12.20 We have listened to a local man that constantly talked to one of the staff. The man had been called "The black hole" by his sister in his younger days. He could eat a pizza every day without gaining weight. What his mother and younger brother together ate in a month, he ate in two weeks. All this information was given in the first place to the pizza baker and in the second to us. Now we will travel on with the train Östen Warnerbring. Östen is back again. Speaking of again, last summer we were at Pizzeria Viking in Lund. However, the connection between vikings and pizza is doubtful. 12.46 It goes fast between the resorts and stops on our Skåne tour. We had barely got off in Eslöv before we stepped into Espresso House on Stora Torg. Here I got my triple espresso and Christer half of a big brewed coffee. He will get the second half as soon as more coffee is brewed. 13.16 Christer got the rest of the coffee. The question is whether we will see more of Eslöv before we travel further within half an hour. Eslöv is one of the cities that compete to be the ugliest and most boring in Sweden. It's not that bad, though, but rather anonymous. Eslöv is home to the food company Felix and the antiseptic Salubrin. Today, 19,783 inhabitants live here. 13.49 There was a short city walk to and from the church here in Eslöv. Now we will go by train again, now towards Helsingborg. This train is called the Eel King. Eel King is a kind of honorary title that has mainly been used in Skåne. Perhaps the most famous eel kings were Sven Wilhelm Nilsson, who founded AB eel export in Åhus in 1921, and his son Henning Wilhelm Nilsson, who took over the company in 1938. Both became known far outside their home town Åhus as Eel Kings. Others have been appointed as eel King/eel Queen at competitions. A tradition at eel parties is to catch a live eel in a barrel with your bare hands. Whoever does it the fastest wins and is appointed eel king. There are also other types of competitions where the winner is appointed eel king. 13.59 The train is currently in Teckomatorp in Svalöv municipality. I seem to remember from childhood that there was some toxic scandal in Teckomatorp.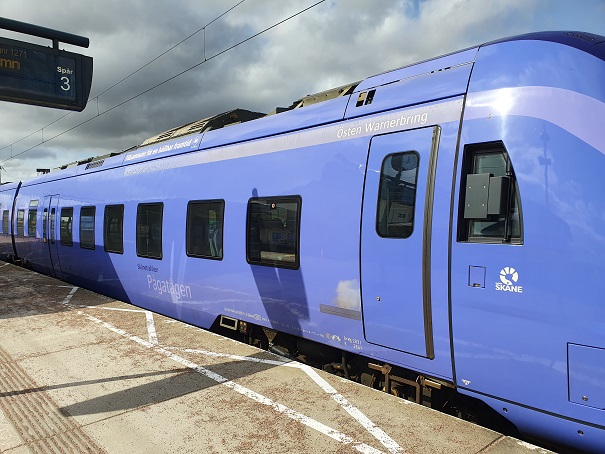 The Östen Warnerbring train takes us from Höör to Eslöv.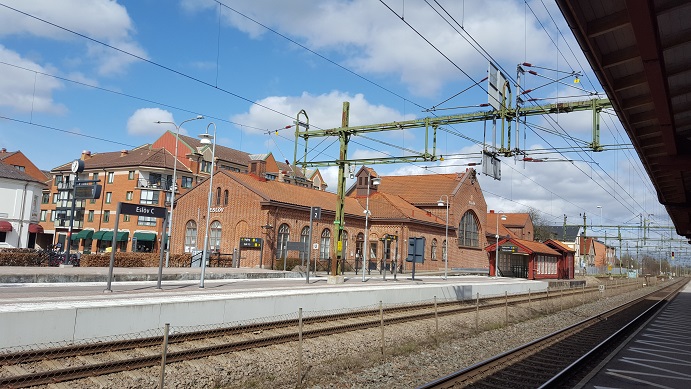 We have already reached Eslöv.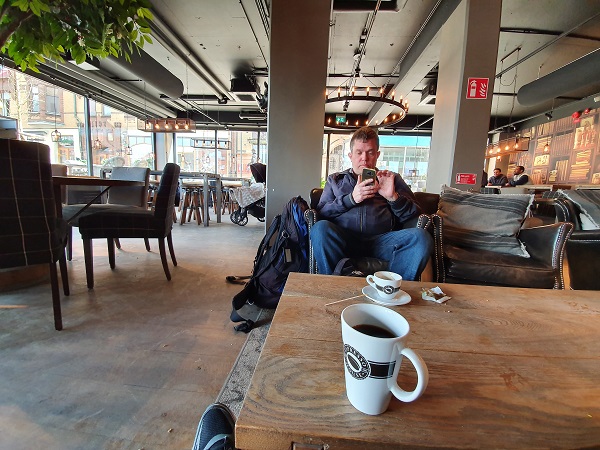 Peter is visiting Espresso House in Eslöv.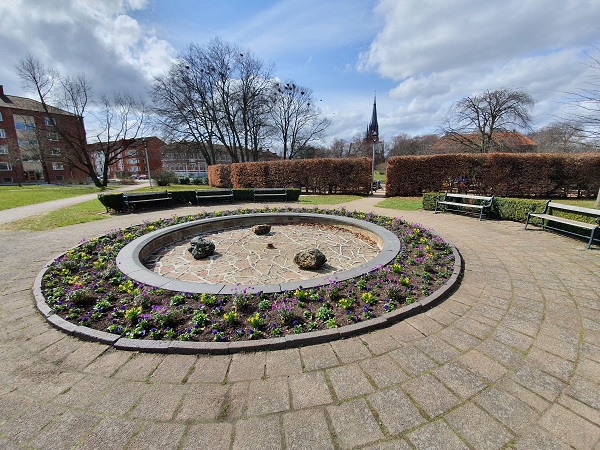 Eslöv's City Park in front of Eslöv's church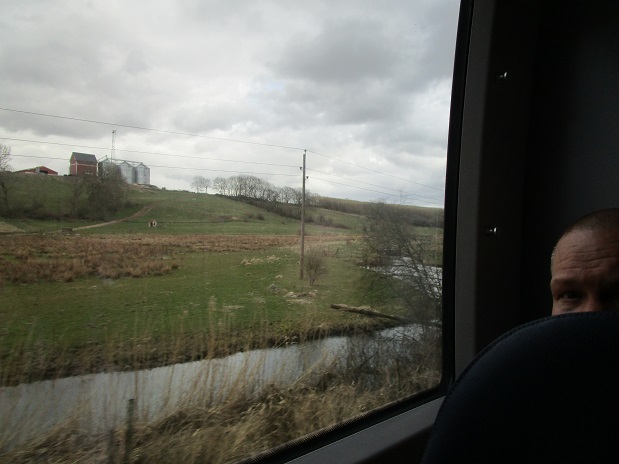 Christer behind the train seat.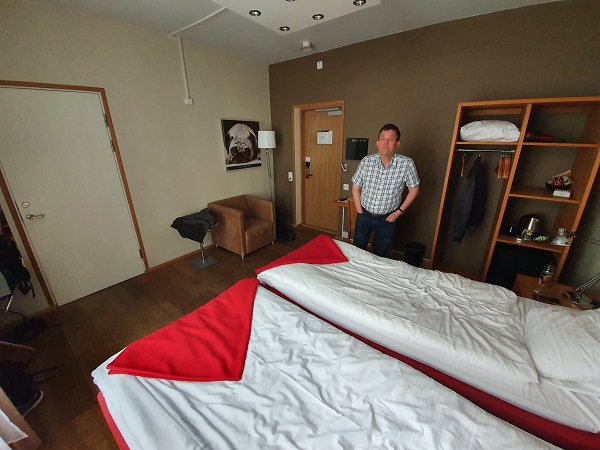 Peter in room 210 at Hotell Stadsparken.
14.28 We have returned to Helsingborg, a city we visited this summer. Soon we have the opportunity to see even more of it.

14.47 We have checked in at Hotel Stadsparken (https://hotellstadsparken.se) here in Helsingborg. It is the same city but a different accommodation than last summer. Today's room number is 210. Evening meals and breakfast is included in the price. I wonder what we'll do next. 16.26 We are far from in the mood to go out. We're not in the mood to stay in the room either. What are we going to do? Where are we going? We had time to see and do some during the last visit to the city and the weather does not attract any major adventures either. 17.04 Our feet took us past St Mary's church, further to the upper part of Stortorget at the terrace stairs leading up to the Tower/Fortress Kronan. We continued past Jacob Hansen's beautiful half-timbered house. Now we are at the Tycho Brahe Square. Where do we go next? 17.13 Now we sit by Saint Jörgen's place. There is not much energy in us at the moment. Is it all travelling that made us like this? Is the fact that we have already seen much of the city as well as that it is already solved with the dinner that makes us passive? Is it the weather? Who knows? Sankt Jörgen is the Saint George that we encountered in the past during the trips. Meetings have taken place in Lisbon, Tbilisi and Sofia and certainly more places that I do not remember at the moment. 17.40 The place we stand at is called Gröningen, actually something we missed last summer. Among other things, there is a restaurant decorated railway wagon and three enthusiasts who are going to swim. Wow, that was a quick dip. They were faster from the water than to it. 17.48 We have once again looked at Denmark and Christer has tried to film despite the harsh wind here at Öresund. Let's go back to the centre.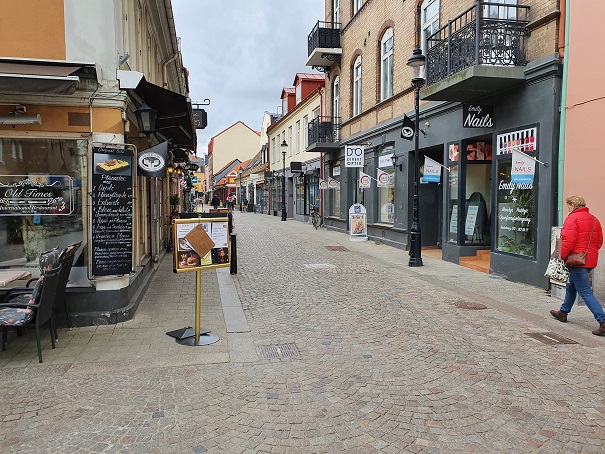 Bruksgatan, Helsingborg.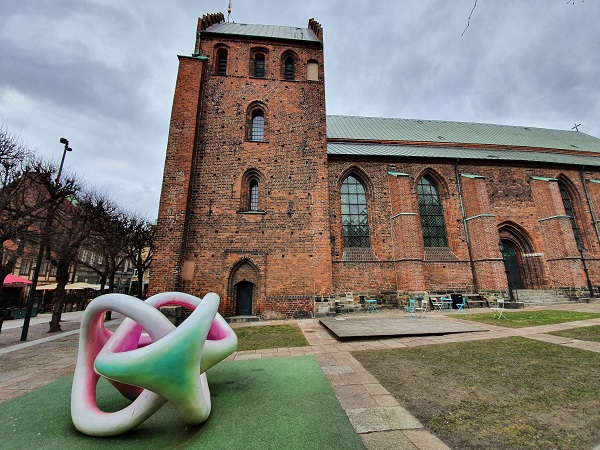 Public art in front of Sankta Maria (Saint Mary) church.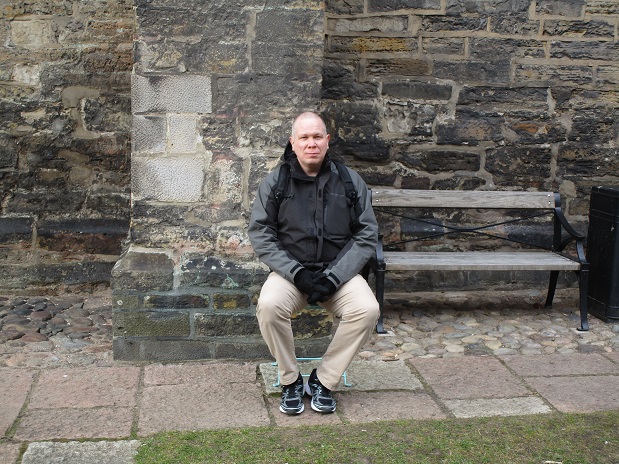 Christer has found a chair.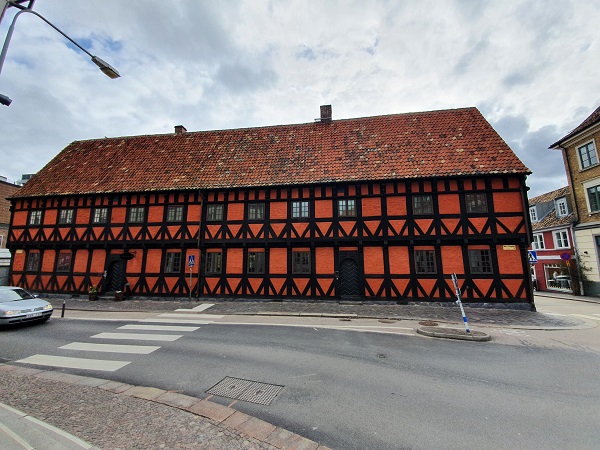 Jacob Hansen´s house, Helsingborg.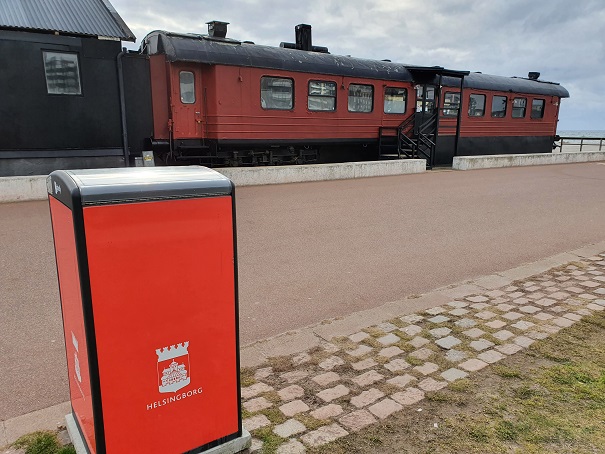 In this railway carriage you can find Mölle Expressen Restaurant.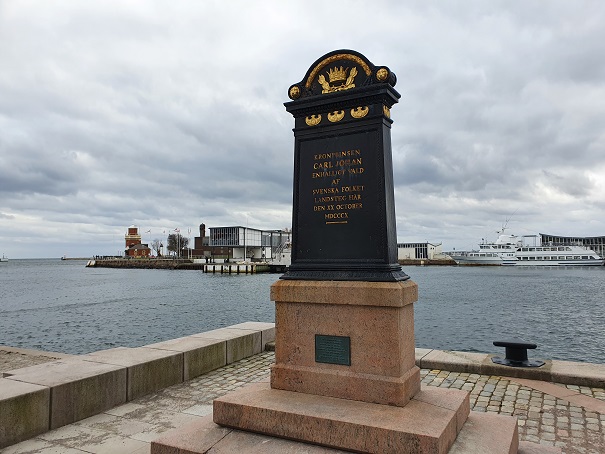 The memorial to the arrival of the first Bernadotte (royal family) to Sweden.
18.10 Just now we once again saw the tugboat Svitzer Valand flagged/registered in Tórshavn, Faroe Islands. It was here last summer as well. On the way home, we now make a stop at the Town Hall. The statue of Magnus Stenbock that was hidden this summer has now been uncovered. Earlier we also saw the memorial of the arrival to Sweden by the first in the royal family Bernadotte. It was the Crown Prince Karl Johan, also known as Jean Baptiste Bernadotte.

18.23 We are back in the hotel room again. We just need to get some heat in the bodies before we go to dinner. It smelled great in the lobby. 19.30 We were met by a young woman just as we got to the restaurant. We told her we wanted to have dinner. It turned out that she, like us, was a guest. However, she knew the procedures for dinner. It was self-picking of skewers, vegetable rice, bread and vegetables. The ones that wanted, and I was one of them, were offered dessert, grapes and blue cheese. Not bad at all. The only negative was the lack of beverages 20.27 The supermarket Hemköp in the district Söder has been visited by us. Now tomorrow will be planned before we eat of what we bought. 22.04 Karlskoga has defeated Björklöven with 2-1 after over time and leads with 2-1 in matches in the long fight to play ice hockey in SHL next year. Manchester United leads over Granada 1-0 in the Europa League. 22.58 Manchester United won, after a penalty in the final minute, with 2-0. Christer has received the promised money from last year's trips that did not happen. Half the money is mine. What are we going to do with the money now that they're finally here? 23.26 It is time to sum up the day and test how good the beds are to sleep in.
One of the ferries going to Helsingør.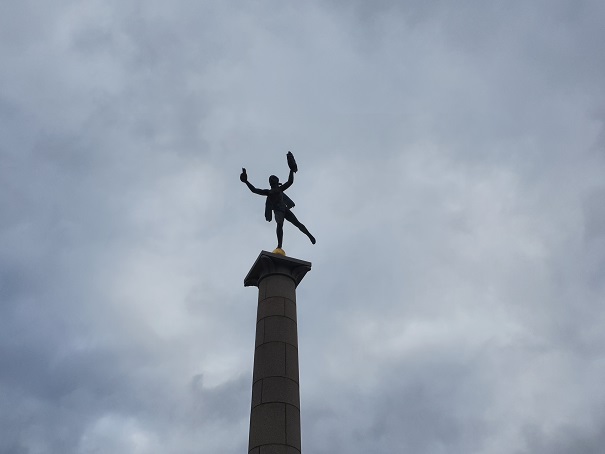 The goddess of navigation in the port of Helsingborg.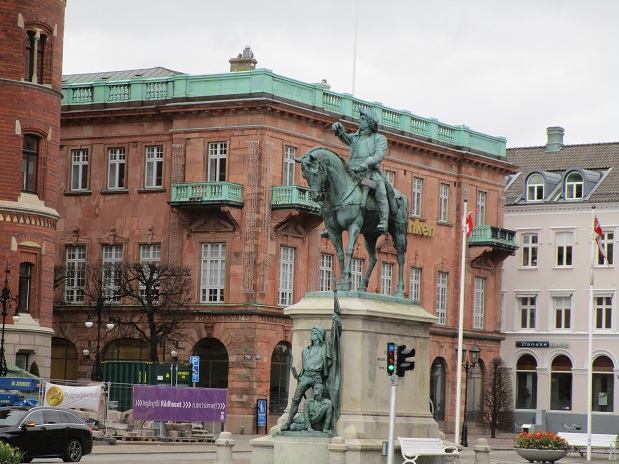 Magnus Stenbock outside Helsingborg City Hall.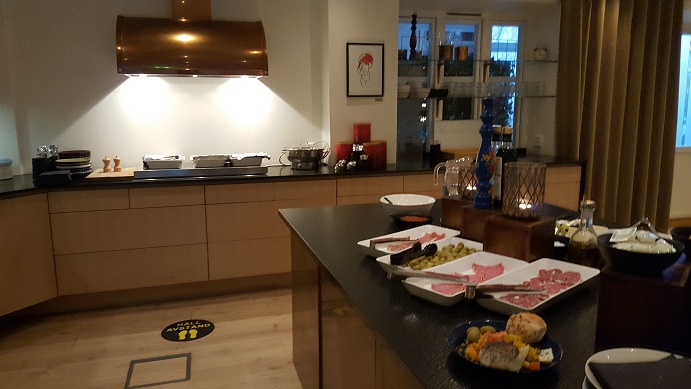 The dinner is waiting for us.
Our evening walk ended here.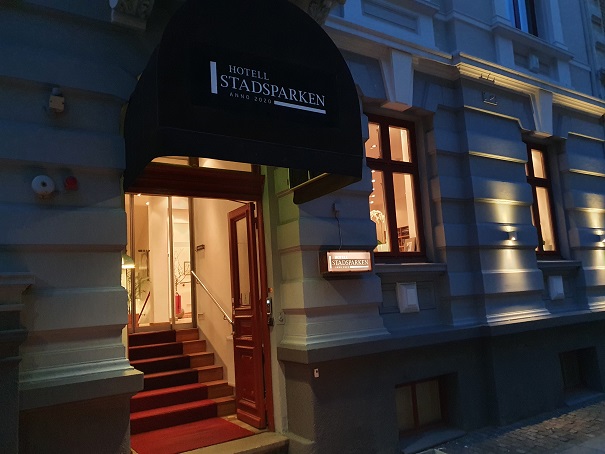 The entrance to Hotell Stadsparken.
---
Friday 9th of April

08.11 Our night at Hotell Stadsparken is over. Here are some facts. Our time in Skåne is almost over. The journey home will soon begin. It's also raining today.

09.33 The thing about having breakfast went just fine. The thing about avoiding coughing in Corona times went less well for me. I have to think about this and behave. 10.17 It's raining and I'm not directly in the mood to go out into the wet to go to the railway station. However, there are few other options. Our time at this hotel is soon over and a new place will be seen today. 10.40 In the mood or not, now we are at Helsingborg railway station, Helsingborg Central. Now it will be a minor wait. We are safe from the rain here on the rails, but not the cold. Why did I bring a raincoat on the trip if I keep it in my backpack? We have asked ourselves the same question many times over the years about umbrellas. 10.49 We are on board the warm train Öresund Express with destination Båstad. Well, the train goes further than that, but that's where we're going to get off. Last summer, the large number of people and cars there made us simply to go through and past Båstad. It was almost impossible to find anywhere to set the car. The whole of Båstad was just a single traffic jam. 11.18 We have stopped in Ängelholm, another Skåne town that we visited last summer. Then it was significantly greener and warmer here. 11.33 We have left the train at Båstad station. We are far (4 kilometres) outside the centre so now we are waiting for a bus from here to start. The bus trip is included in the ticket price. Right now it says on the bus that it is not in traffic. Soon it will change, we hope.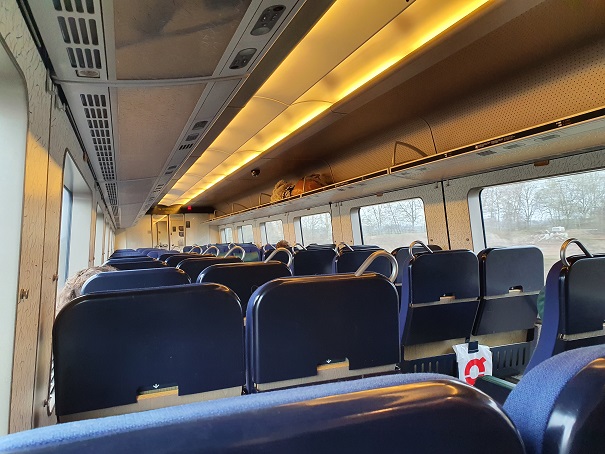 With Öresundståg on the way to Båstad.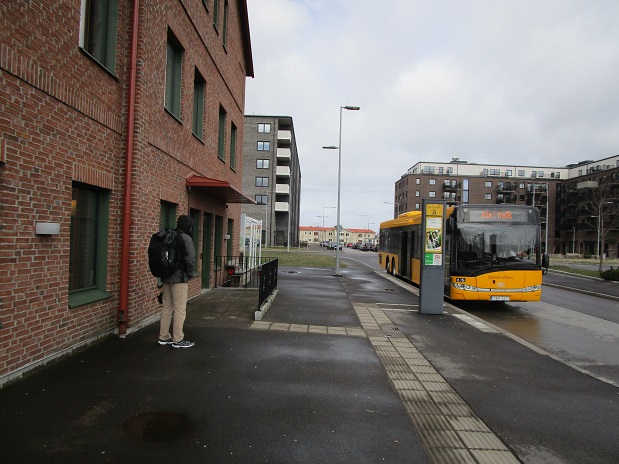 Christer is waiting for the bus to Båstad to start.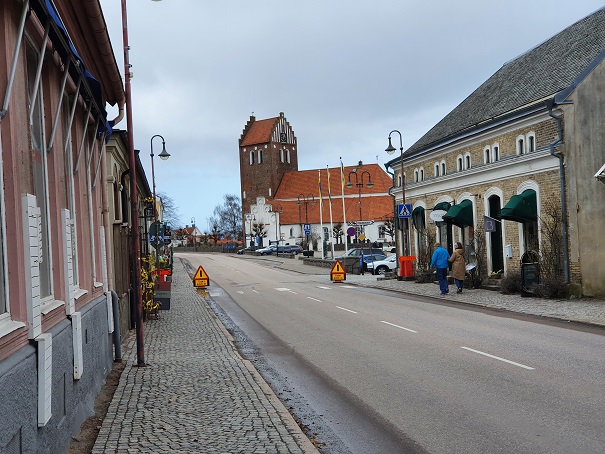 Båstad.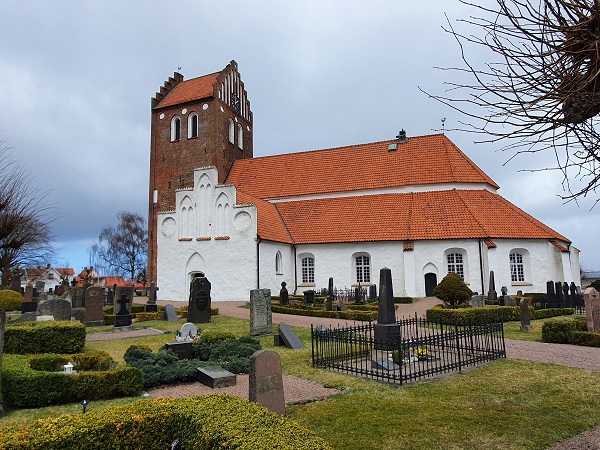 Maria church, Båstad.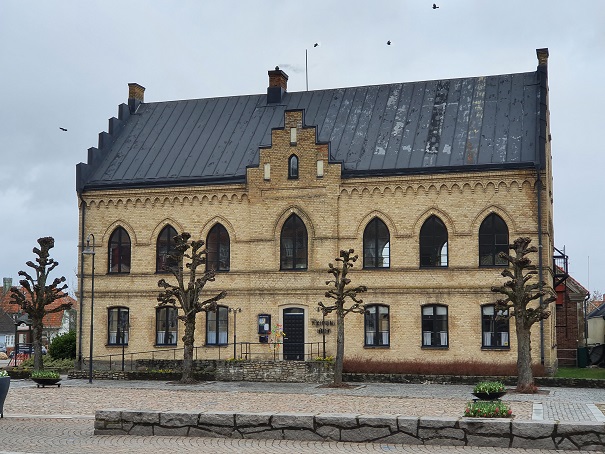 Båstad has a beautiful parish house.
A statue of the opera singer Birgit Nilsson (1918-2005).
11.39 There has been a little drama outside the bus. A blonde lady passing by dropped one of her papers. The driver noticed this and told her about it. The lady picked up her paper and thanked for the help. Let's go into Båstad.

12.15 The bus had to go on without us at the bus station. We didn't really know where we should get off so chose to do this. Now we have walked along Köpmansgatan towards a square by Maria Church. This street was busier this summer. A short distance away is the Swedish Tennis Museum and down by the sea are the classic tennis courts that made Båstad so famous in the tennis world. Båstad is the largest resort on the Bjäre Peninsula in north western Skåne and is also located at Hallandsåsen. It has a population of 5,699. 12.34 We got a crave for coffee after having photographed the square and church. We turned back along Köpmansgatan and found the minimal bakery/café Bakeriet (http://www.bakeriet.se). Here we have ordered and received coffee and cinnamon buns with cardamom. There is only room for guests at a single table here. We were lucky it was free. 12.58 We have returned to the area where we were before the cafe visit. Now we stand next to the blue-coloured statue of opera singer Birgit Nilsson. She has been standing here since 2013. It's far from the most beautiful statue I've ever seen. Birgit was born in Western Karup a bit outside Båstad. She became a court singer in 1954 and received the corresponding title in Austria in 1968 and then also in Bavaria in 1970. She became a member of the Royal Academy of music in 1960 and received the name of Professor in 1998. 13.13 After leaving the court singer behind us, we now look out over one of the tennis courts here in Båstad. Laholm Bay's blue waters are also close to us. Båstad tennis Stadium is the largest outdoor tennis facility in the Nordic region. The center court seats about 6,000 spectators, all seating. Stands are available around three additional courses. The Swedish Open is held during tennis week since 1948 and also a youth tournament. 13.18 The time has come to slowly return up to the bus station. Unfortunately, the weather is improving, unfortunately because we are about to leave. Is the weather as good where we're going? 13.28 We have strolled a bit on the beach here in Båstad. It is located just below the tennis courts. However, it is too cold for a swim.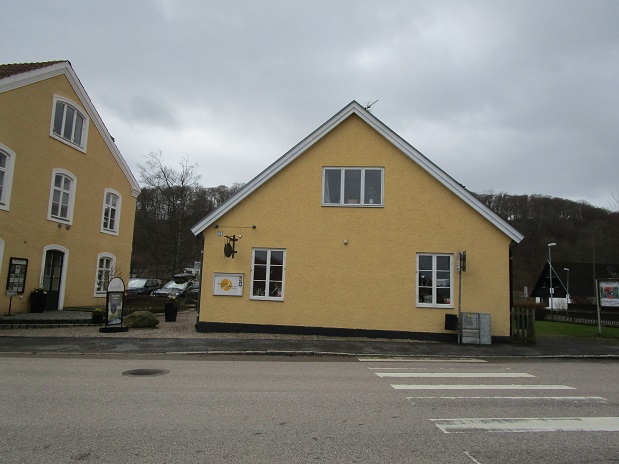 The swedish tennis museum in Båstad.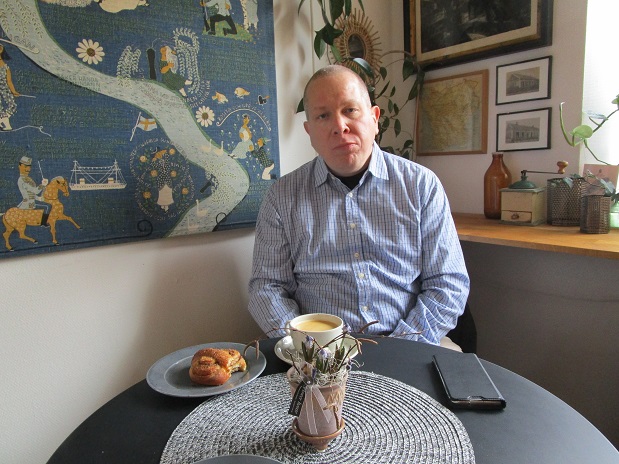 Christer is having a coffee break at Bakeriet.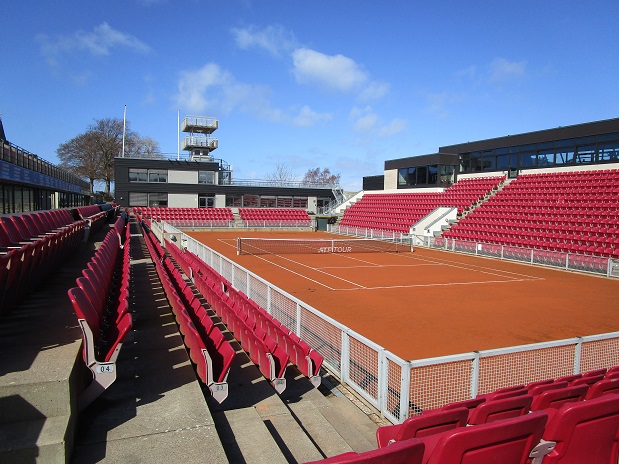 The center court at Båstad's tennis stadium.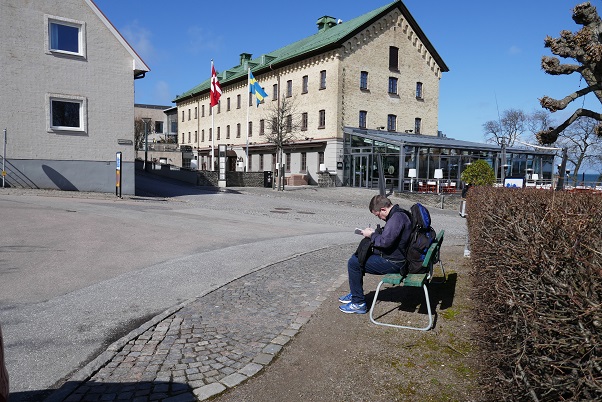 Peter notes the latest news outside Hotel Skansen.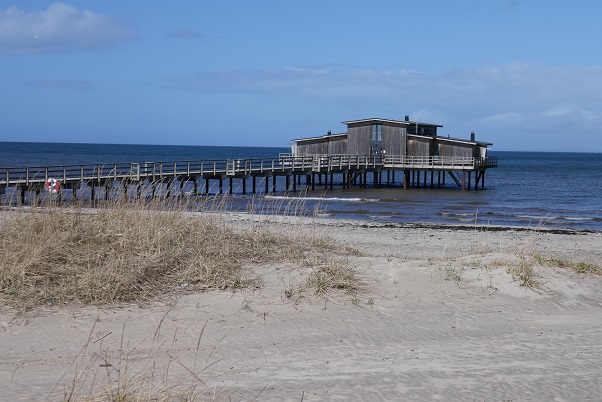 The open-air bath in Båstad.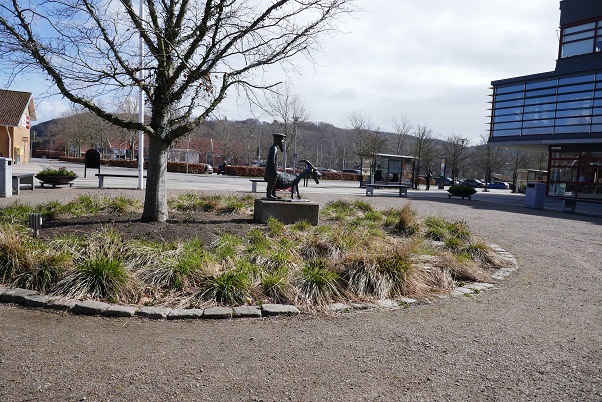 The old man with the goat.
13.47 We are seated in front and next to a school, Akademi Båstad Gymnasium. Before us there is a statue of a man and a goat. It used to be outside a bank along Köpmansgatan but has now been moved here instead. The artist Allan Runefelt has made the sculpture. The old man with the goat is by far his most famous sculptures and is found in several copies in the country. It is said that Runefelt during a trip in France discovered that old men and goats are really very reminiscent of each other and thus were inspired to this sculpture. We are now waiting for the bus to take us back to the railway station.

13.55 We just got the news that Prince Philip of Great Britain is dead. Besides that, we're still waiting for the bus to come. 14.05 The yellow bus 501 with destination Båstad station is now here. It will soon leave Båstad. It feels good to have been here. This summer it became the most look but don't touch. 14.24 Now we are back at Båstad's new railway station. It will be a short but important journey. The sun shines and the wind it does what it's best at, blows. 14.36 We are again on board an Öresund train. Some others on board talk about taking the wrong train. 14.42 Now we are about to head towards central Laholm. We are going to walk from the railway station which is a bit outside the Laholm. It is important to know the walking time because we are going to go back the same distance tomorrow. In Båstad we went by bus from the station but now we are in Halland and we cannot download another app for bus travel in Halland since we will head on tomorrow morning. 15.20 There was no short distance to travel on foot but more boring than exhausting. We have made a short stop at the beautiful Saint Gertrude Chapel. It is good to walk and now we are close to the centre and the goal.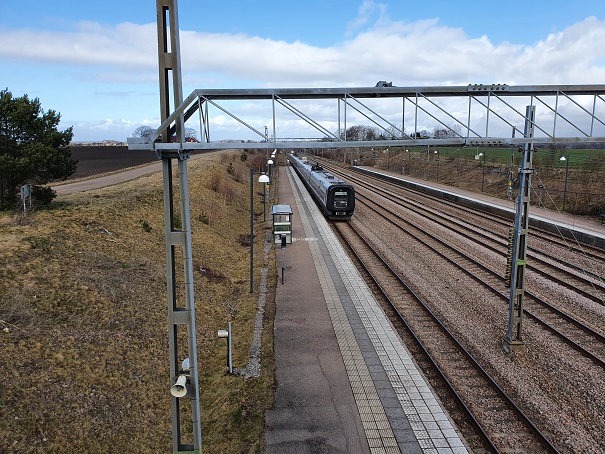 We have just got off the train in Laholm.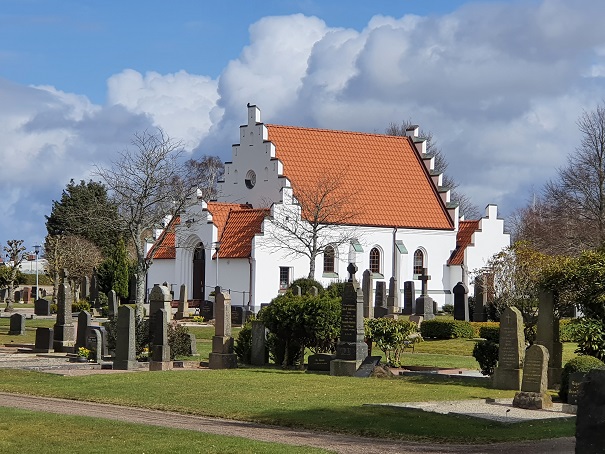 Saint Gertrude's funeral chapel in Laholm.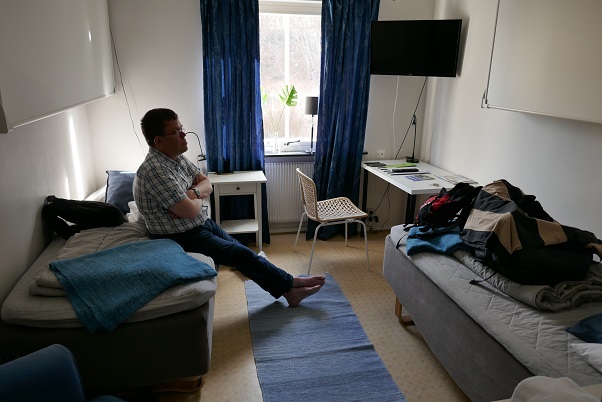 Peter has moved into a new room.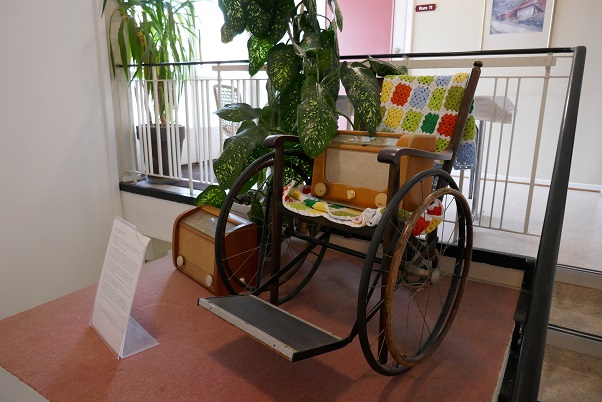 Decorations at Laholm Hostel.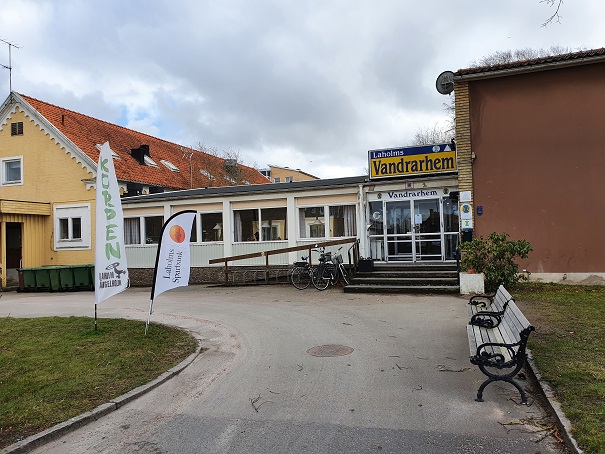 Laholms vandrarhem (Laholm Hostel).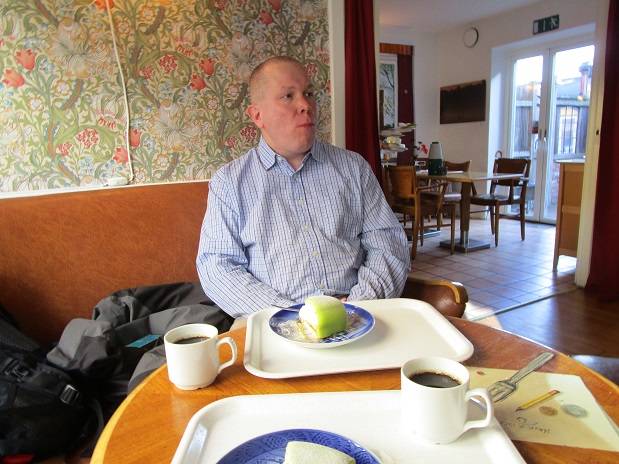 Christer is visiting Conditori Cecil again.
15.37 This summer we saw it when we were out walking here in town. Now we are here. What I'm referring to is Laholm Hostel (https://www.laholmsvandrarhem.se). It took around 45 minutes to walk here from the railway station. The last room is number 13. Hope it doesn't bring any bad luck. This hostel has been a workhouse and retirement home in the past. It is not the first hostel we stayed at that has such a history.

16.45 Now we will go out to have coffee and also check if there is any bus ticket machine. We don't want to download an app for a measly trip. We are also not very eager to go 45 minutes tomorrow morning. 17.08 We have not found any ticket machine at the bus station. Either we fix that app anyway or we´ll simply walk. It will be up to the weather to control and decide. Now we have returned to the café Conditori Cecil (https://conditoricecil.se). Last summer we had pancakes here, now it will be coffee and cake. One of the guests here asked a larger party if they had had a birthday party and got the answer, No we had a funeral. The mood quickly subsided. 17.40 We are now at a small monument where it says "in 1921-1922 this road was rebuilt as emergency aid work by southern Sweden's state workers". We sit on a bench near Laholm Power Station owned and operated by Statkraft. 17.57 We have since last time seen an active power plant dam in the river Lagan from 1932. Now we are at the remains of the fortress Lagaholm from the 1300´s. It is Lagaholm that has given its name to the town that today is called Laholm. 18.46 The two of us have returned to the centre and have visited ICA Supermarket Torghallen at Stortorget. We had some thoughts about what to cook for dinner but we did not find what we intended. I don't know how long we stayed in the store before we found a sensible solution. We'll cook dinner in the hostel. Then we can eat whenever we want and we have a good kitchen all to ourselves on our floor. 19.12 After some serious thinking we have most likely found out how to cook our dinner. 20.45 Hey, now we have to get started preparing the dinners. The time is flying and I guess we'll need time to do something after eating too. 22.43 We managed to fix a tasty meal. Dinner was eaten in the common TV room. Another of the good kind is that both Brynäs and Timrå won their ice hockey matches tonight. In addition, it goes well in curling for Sweden against Japan. Soon the day and even this Easter trip will be rounded off. We'll first sleep one night in room 13.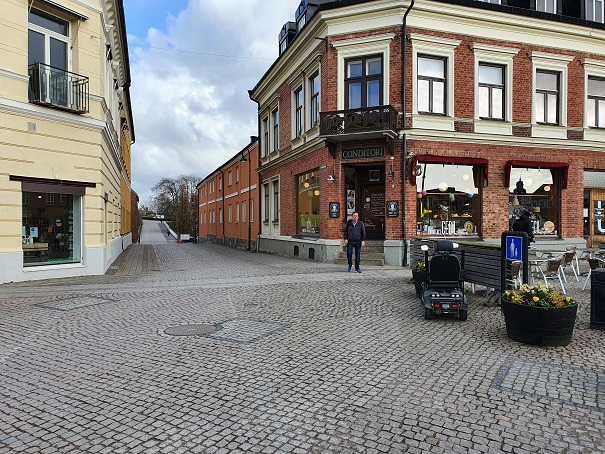 Peter is leaving Conditori Cecil.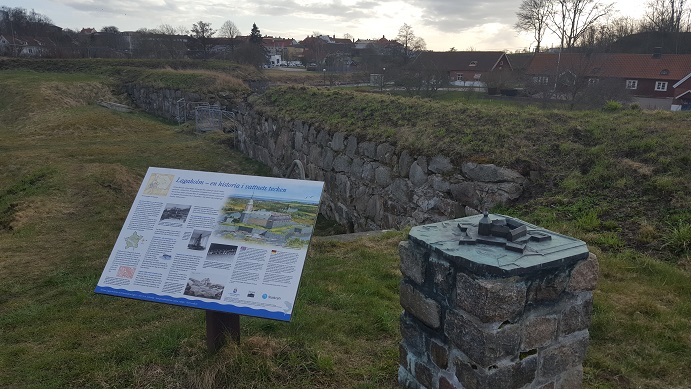 Lagaholm as a model and ruin.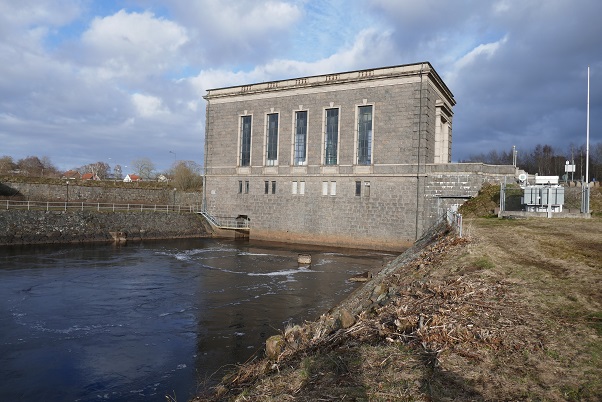 Laholm power station.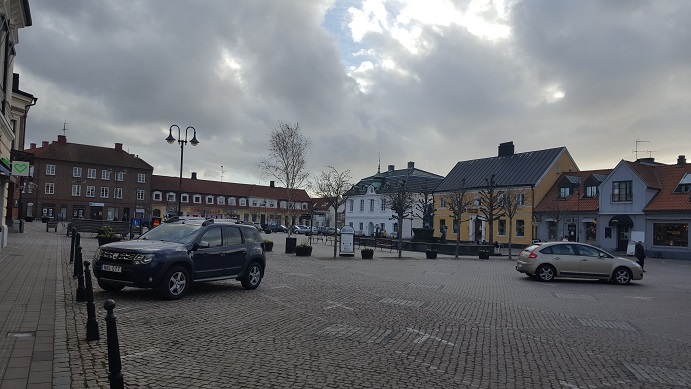 Stortorget at dusk.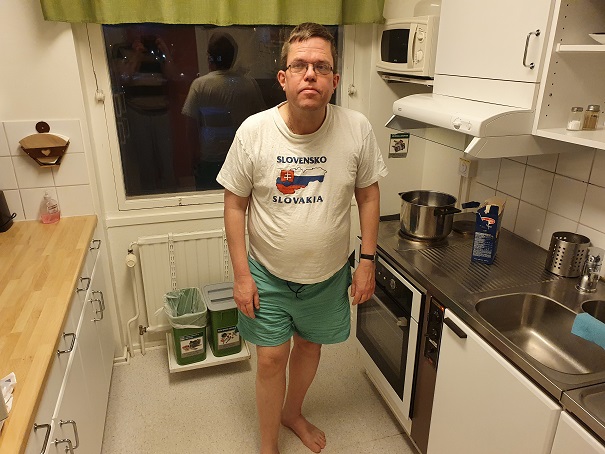 Time for dinner preparations in a T-shirt from the interrail era.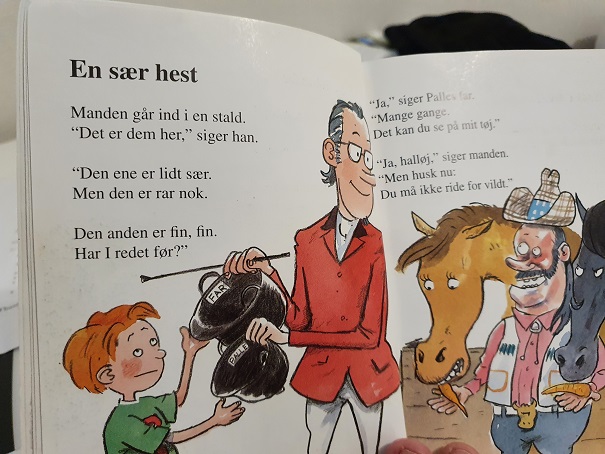 Christer has found Danish children's literature at the hostel.
---
Saturday 10th of April

07.20 It is the fifth straight morning for us at a new accommodation. It's Saturday morning in Room 13 here at Laholm Hostel. I've just been showering. As soon as Christer does the same, there will be breakfast in the room, a classic bedside breakfast. There are few guests here at the hostel. There are some on the floor below us but on this floor we have probably been alone.

08.12 The trip's, first, last and only bedside breakfast is completed. Now let's clean up our room. You have to do that when you spend the night in a hostel. 08.46 We are now about to say goodbye to the room and the currently unmanned hostel. Now we're going to walk away from you to move on to our homes. At the reception where we left the key, we saw information and advertising for the books that the town's great son, the author and tennis expert Björn Hellberg has written. Christer has read most of these. 09.11 Walking is going fine today as well. We keep schedule by a wide margin and we have the weather on our side. Why is the weather often at its best when we are going home? 09.30 It is empty and quiet on the platform here at Laholm station. Well, Christer and I are here of course and we hear cars and birds. 09.44 The train (Öresund train) came in and we stepped on board. It is not the right carriage or seats we sit at but we had not had time to get to the right carriage and seats because the train made such a short stop. We also don't want to go through the train carriage after carriage to find the right seats. Hopefully we can stay where we are now. 10.15 Now we roll out of the railway station in Falkenberg. It's yet another of all the cities we saw this summer during our car trip.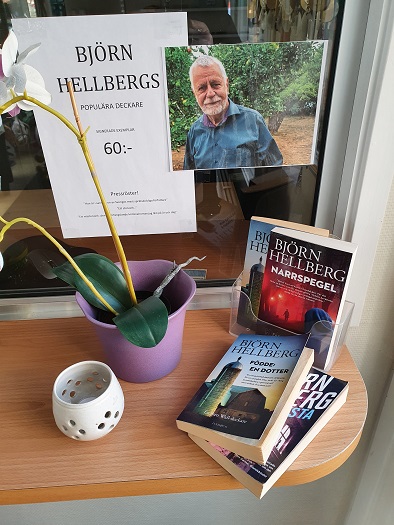 Björn Hellberg's books are displayed at Laholm Hostel.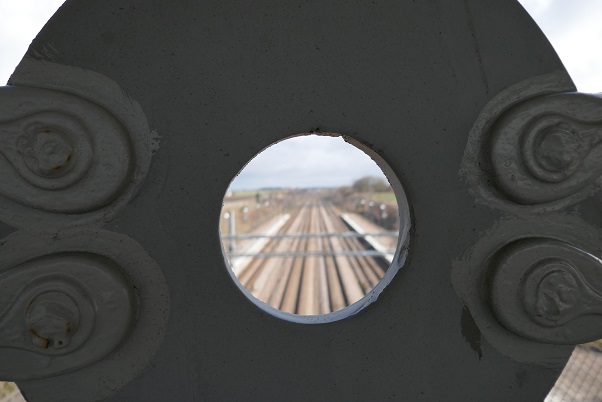 Our upcoming mode of travel.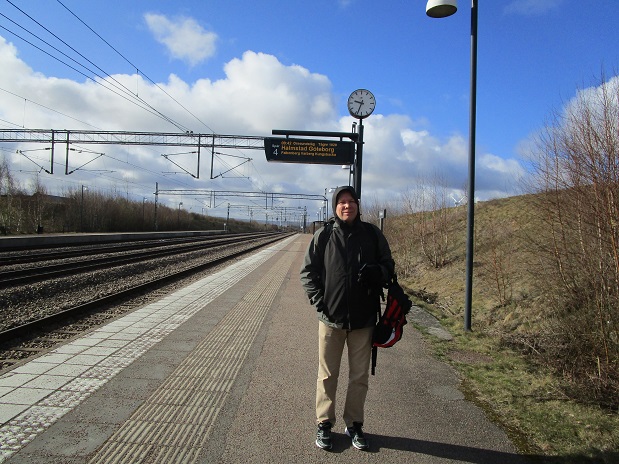 Christer is waiting for the train to Göteborg (Gothenburg).
10.57 Soon we and the train will stop in Kungsbacka. Now it is close to the next station we´ll visit today. What do we have time for there? What should we do during the hour when we stay in Göteborg (Gothenburg)?

11.21 Christer has left the train here in Göteborg (Gothenburg) and I am a step behind him. The time has come to figure out what we do before boarding the second train of the day. 11.33 We sit pretty well here at one of several Espresso House cafés at Göteborg Central. It will be some coffee, the usual varieties, brewed black for Christer and triple espresso for me. The sun shines through the glass roof and spring winds blow in through the sliding door. We are for the first time in diary context in Göteborg (Gothenburg). However, we have been here before and have visited our friend John during an autumn weekend. 12.18 The coffee was welcome and good. Our short time in Göteborg (Gothenburg) is over for this time. Just as we boarded, my phone sounded. It was my train ticket for the trip to Örnsköldsvik tomorrow that came. Soon we will go to Stockholm. 12.58 Soon we have the chance to get off in Herrljunga, actually a place we missed last summer. What did we miss? They have pizzerias and a liquor store but no Espresso House. Most people who step on and off here live in other places in Västergötland province but the rails happen to pass just in this place. 13.44 While I was nibbling at a chocolate bar and sipping a soda, the train rolled through Töreboda.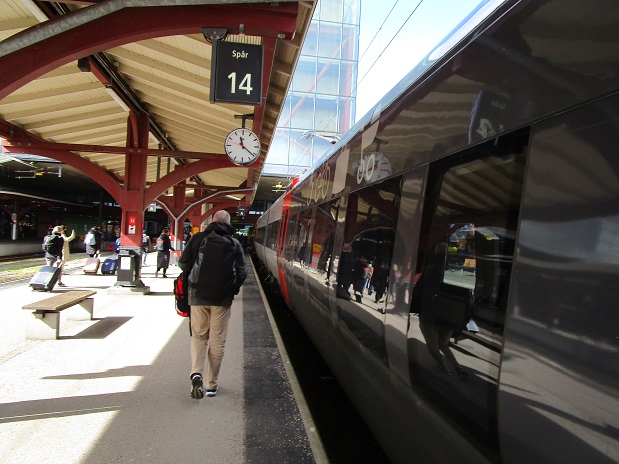 Christer has got off the train in Göteborg (Gothenburg).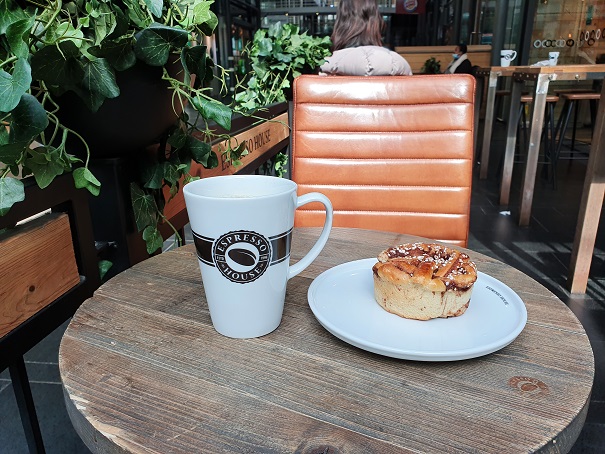 Coffee and a bun at Espresso House.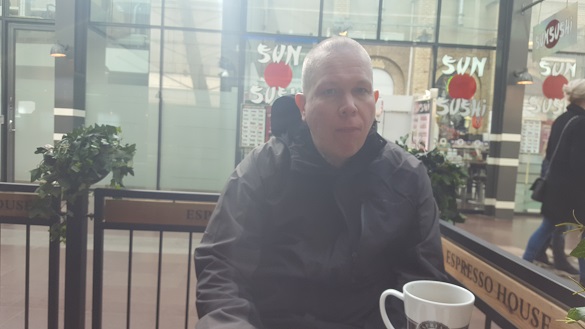 Christer is making a very short visit in Göteborg (Gothenburg).
14.31 From Katrineholm there are several different options for those who want to travel further. You can even stay here. However, we will continue with this train for a while.

15.38 We make a short stop at Stockholm Central. People and pigeons pass by us. Outside the swing doors is the statue of Nils Ericson. He is behind the aqueduct in Håverud and Trollhätte canal that we saw last summer. Most likely, we'll buy some abdominal filling soon. 16.12 Sodas, ham- and cheese baguettes and a little more will fill our bellies during the last train trip. Here on board the train, we've both been looking for seat belts. There's been too much bus ride lately. 19.36 Now we are somewhere between Hudiksvall and Sundsvall. It's not without me getting tired of going by train. It has become a few miles rails today. 20.01 We are finally at Sundsvall railway station. It is the fourth Swedish station that we stand and walk on during the same day. It's probably been a while since we last managed to do that. Now soon this Easter journey is completed. 20.35 Now it will be no more. The spring we encountered in the south is still on its way here. Now I'm going to spend the night at Christer's place and tomorrow I'm going home. Christer is already home. This trip will not be remembered as one of the more exotic we have done but it has been nice to go away for a while and also good to see more of Skåne, especially what we had intended to see but did not have time this summer.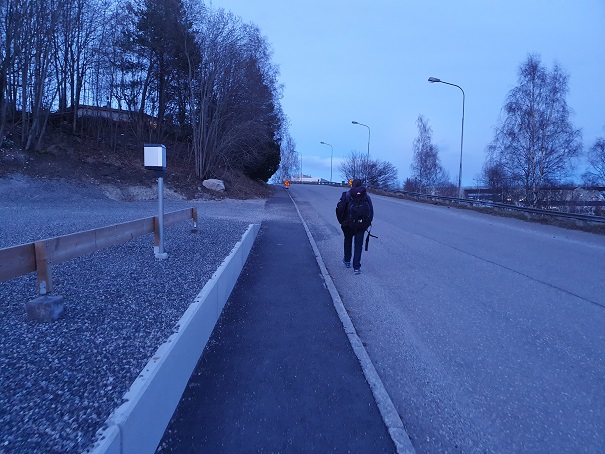 Peter takes the last step of this trip.
---
VIDEOS
---
You can see 57 photos from April 8 in this photoalbum.
You can see 89 photos from April 9 in this photoalbum.
You can see 18 photos from April 10 in this photoalbum.

---