---
Text: Peter Johansson
Editing: Christer Lundstedt
Photos: Christer Lundstedt, Peter Johansson
Videos: Christer Lundstedt
---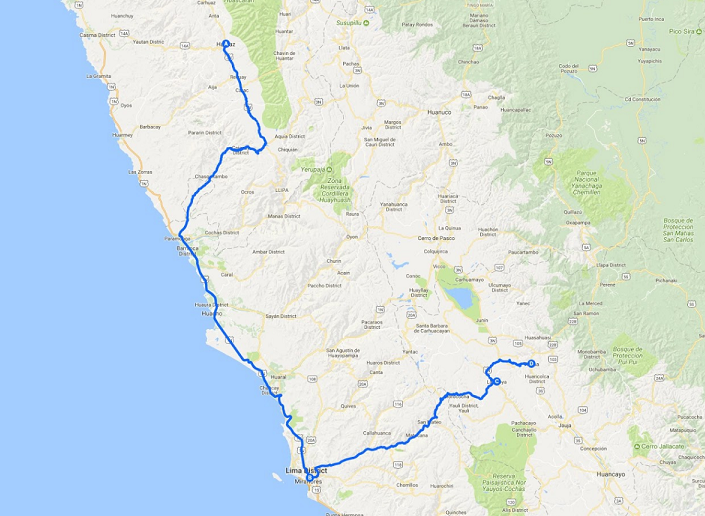 ---
Sunday 12th of July
07.54 Once again, we have been awaken by the sound of a mobile phone. It is finally time for us to leave Huaraz. Today we'll travel towards the capital here in Peru.
08.53 I'm sitting by the breakfast table here at Hotel Galaxia and have just been drinking my coffee. Around a dozen guests left the hotel in different taxis during our breakfast. Right now it seems that two men are preparing for mountaineering. Our plans for the day feels somewhat modest in comparison.
09.27 CNN look more closely at Greece's economic situation. What happens to countries such as Italy, Portugal and Spain if Greece is excluded from the euro zone? In the Wimbledon tennis final Novak Djokovic won the first set 7-6 and lead the second one with 4-3 against Roger Federer. Now CNN switched to review the nuclear agreement with Iran instead.
09.42 On the inside of the toilet door in our room are instructions about what one can and can't do. You should sit with your butt and not feet against the toilet seat. Use hand and not foot then flushing. What has only existed in our minds will now become reality. It is time to return to the bus company Cruz del Sur's office to initiate our journey south towards Lima.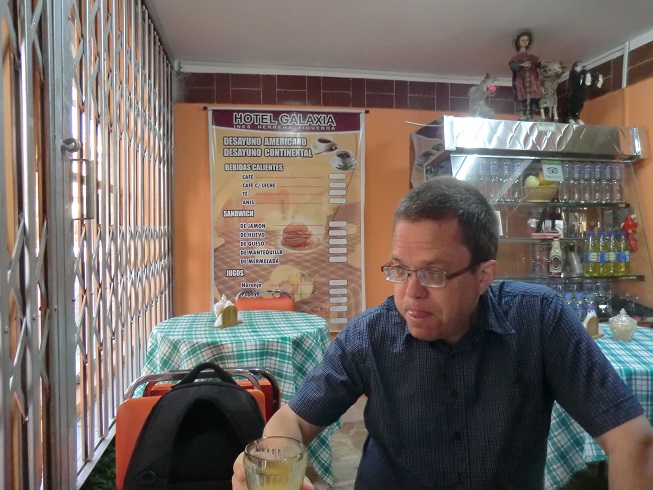 Peter starts his day with a Hotel Galaxia breakfast.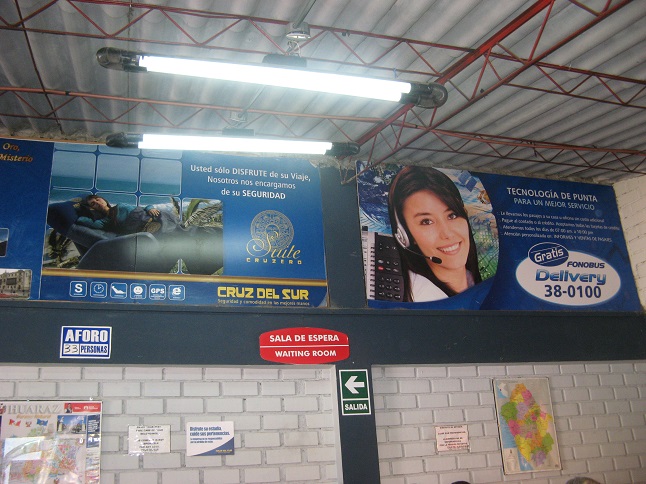 Cruz del Sur is one of Peru´s best bus companies.
10.22 We had a smooth and short walk through the city centre to the bus terminal. On the way we passed a small group of people. They sang and played, and carried a large red cross. In Wimbledon, Roger Federer won the second set 7-6. Novak Djokovic lead the third 3-2.
10.48 We have finally sat down in the bus. A Swiss tourist just boarded. It is, just as before, ticket control and metal detector check before the passengers are allowed to board the bus.
11.06 Before departure one in the staff walks around and films the passengers while he mentioned the seat numbers. Outside the bus is another parade going on.
12.04 We've been on the road for a while in the majestic scenery. Views and sceneries are spreading around the bus. The surrounding area is dry and hilly. There is not a single sign of houses or buildings, just some electricity wires.
12.47 The road we travel on winds down towards a valley. The slopes are scattered with rocks and boulders. It is still brown and dry. Along the roadside there is a dead cow.
13,20 The brown colour is losing its grip. Here and there are visible signs of cultivated land.
14.01 As we travel, oh a speed bump, downwards the landscape becomes greener, richer in trees and more populated and cultivated.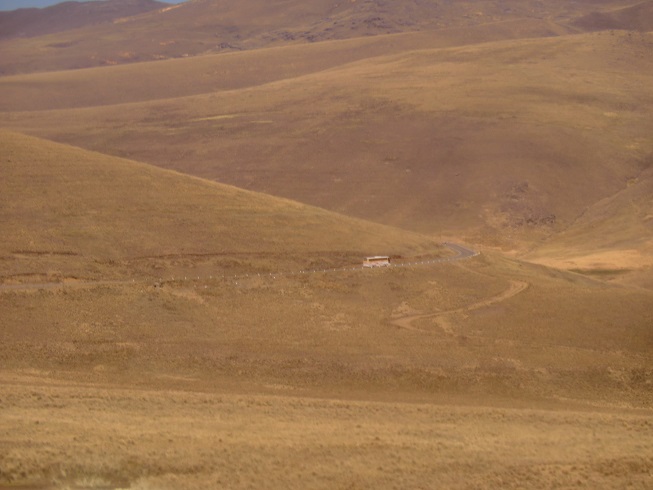 A lonely bus travels through the majestic landscape.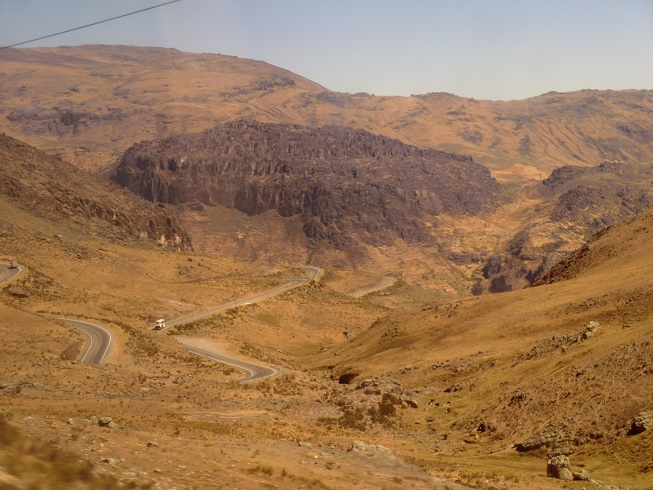 We are slowly heading towards a lower altitude.
Dry but beautiful.
15.08 Just now I saw a small tower in the middle of the dry landscape. Was it a hunting tower, watchtowers or what? We have in any case been served lunch here on the bus. Eating on airplanes is difficult, to eat on the bus is even harder. Now we continue forward on the main road Panamericana with the Pacific Ocean on our right side.
15.59 We look out over the desert along the Peruvian coast. Lima is approaching more and more. Now we pass some houses. It begins to seem attractive to arrive.
16.44 Mighty sand-colored cliffs plunge down towards the roaring sea. It plunges both above and below us. It is a very special landscape where sand dunes meet the sea and the road looks like a furrow in the sand.
17.20 Lima greets us. We are in the northern outskirts. Almost hanging on the hillside, we see some simple houses. This is no blocks for the rich.
17.55 The bus has slowly but surely penetrated into this huge city, and now stand idle inside the main bus terminus Plaza Norte. Some of the passengers have left the bus. We are remaining on the bus, does the trip continue? We hope so. Lima is an enormous city. It has, including the suburbs, 9,7 million inhabitants, more or less the same population as the whole of Sweden.
18.31 The journey is over. It took so long to get through Lima that we began to doubt whether the bus was going to the right place. We have left the bus which stopped at the terminal Javier Prado. Another bus left as we were waiting for the backpacks. This caused people to hit the bus and shouted. The bus stopped, the luggage space was opened and a man stepped out. He had been left there during unloading. Now we'll find somewhere to stay here in Lima. We have because of the changed travel schedule not booked anything here.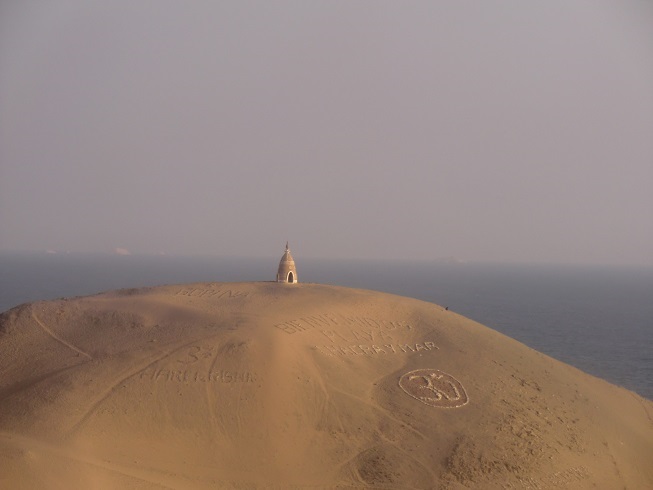 Yoga Planetario and Hare Krishna-text´s in the sand.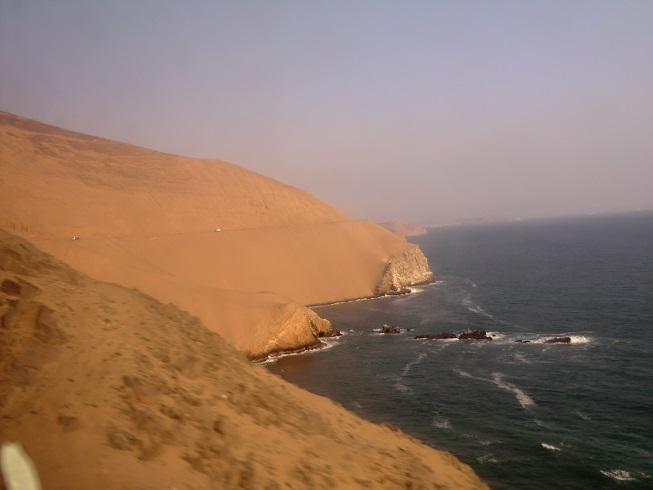 Spectacular landscape where the desert meets the Pacific Ocean.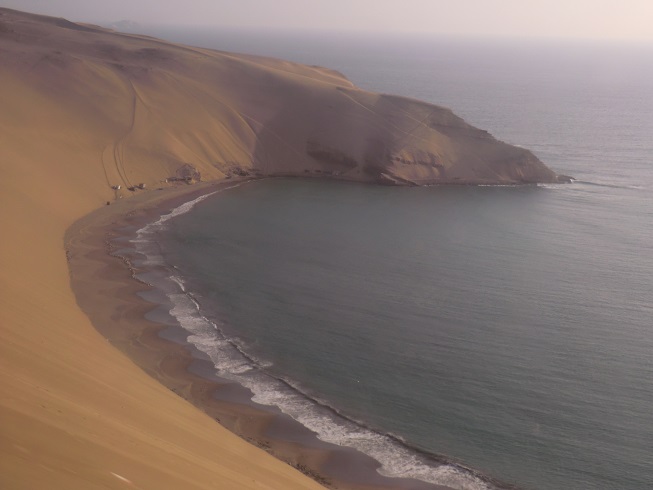 A sandy bay north of Lima.
19.21 First we went to the Hotel Sagitarius, it looked half empty and looked too simple so we turned around. The next attempt was made on the more elegant Hotel Bilbao but they claimed that they had no room for us. A black security guard gave us a helping hand and pointed out the direction to another hotel some blocks away. We ignored it and decided to return to the more nearby Sagitarius. Now we stay there in room 414. The man at reception was more or less toothless so it was hard to understand him. We learned during the hotel hunt, that one gallon of diesel costs 9,79 sol, therefore a liter costs 2,58 sol or US$ 0,85. We are about to go out to buy a bus ticket and to have dinner next.
20.27 Transportes Junín. the bus company we intend to go with tomorrow apparently only drive at night and it was not easy to find a restaurant either. Finally we found the Chinese restaurant Sun Fa. How do we solve it with bus tickets, the devil only knows. We have also seen a bus bound for São Paulo, Brazil. A trip of around 5000 km, depending on how you choose to drive. That´s a long journey!
21:18 We just returned home. Before we went up to our floor, we stood at the elevator on the ground floor and checked the internet. The Wi-Fi connection worked just right there by the elevator door. In the Wimbledon tennis final Novak Djokovic won 3-1. In the case of transport tomorrow, we have three options:
1. Wait for the night bus at 21.00 or 22.30. In both cases the arrival will be during the night.
2. Go to another city, sleep there and go on. Disadvantage, we come to a city, we shall visit later.
3. Try to find and leave from another bus terminal. Disadvantage, we do not know if it will be so much better.

On the floor we have found a half eaten cookie and in the bathroom we found a blue striped shirt and a pair of underpants. Good hotel. It includes free things.
22.59 Right now we are considering option 2. We sleep in, eat breakfast, buy tickets and return to the room to wait. CNN announces that they will now monitor the situation in Greece, Iran's nuclear program and the fact that a drug lord, Joaquin "El Chapo" Guzmán, has escaped from a Mexican prison.
23:33 The room continues to surprise. Under Christer's pillows in the bed we found a telephone. Why was it not on the floor or on a table?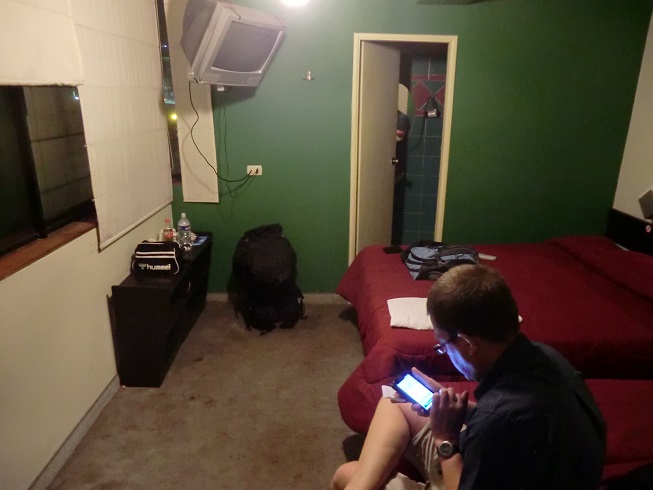 Peter in our room at Hotel Sagitarius.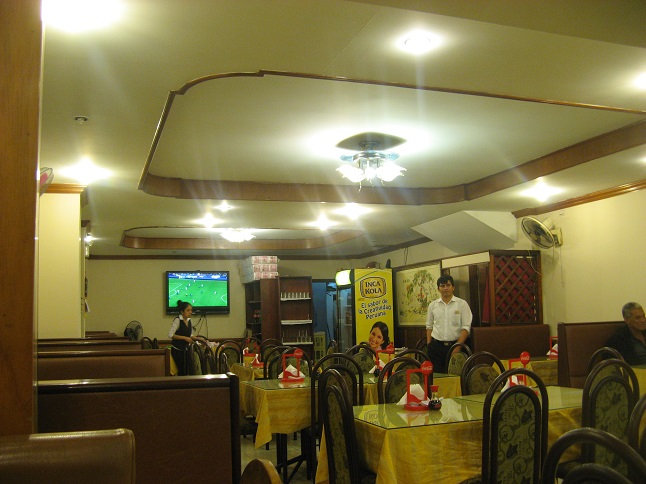 Finally we found a real restaurant. Sun Fa is its name.
---
Monday 13th of July
07.47 Mist or is it possibly fog covers the sky this morning. We have not yet changed the plans when it comes to travel alternative. The issue is rather whether we dare to travel somewhere. This date have had a tendency to offer less pleasant surprises. The shower here is good but the height seems to be set for the old lady at the hotel in Huaraz.
08.24 Greece has been approved. The discussions on Iran's nuclear program continues. All this, as usual, we find out via CNN.
09.32 A slight improvement appeared at the breakfast. Christer may have found a bus company that can take us to where we first thought. Now we'll go out hunting for Gemini's office.
09.54 Gemini is going to Tarma at 08:00 and 22:00 None of these times suits us. One time has already passed and the other is not better than the times we found already yesterday. We went instead to the Cruz del Sur's office and was told that they go to Huancayo at 22.30. What is the fascination with night buses! What the hell are we going to do now?
10.39 We checked with another company but they did not go to where we want. We went back to Transportes Junín where we tried last night. They had a night bus to Huancayo, no thanks! It all ended with us going with the bus 22.30 to Tarma. The man who sold the tickets had a sign saying seguridad. My mind was blank when he asked me about my age. How old am I? I figured it out eventually. Now we think and plan how the day will be organized. One thing is already clear. Christer has arranged so that we can keep the room until tonight. We guess they are overjoyed to have any guests at all.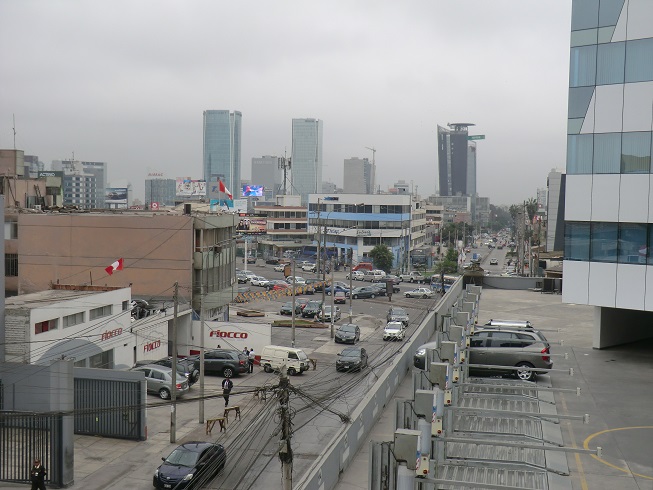 This is what our neighbourhood looks like in daylight.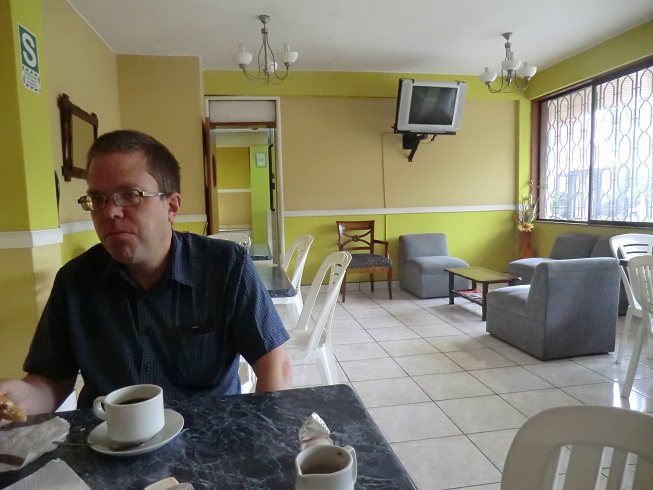 Hotel Sagitarius serves a small breakfast.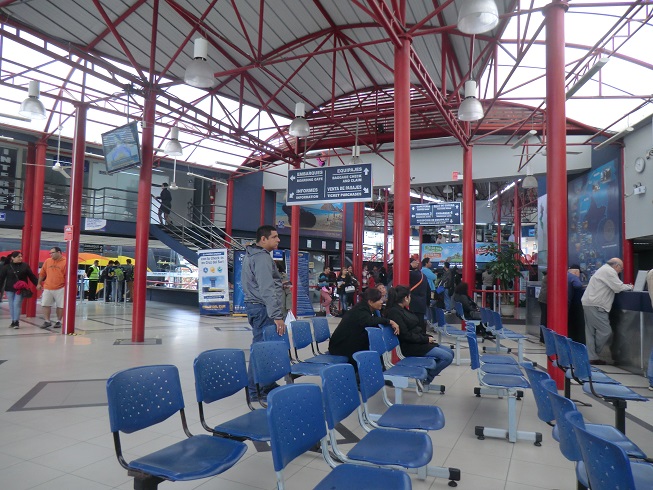 The bus ticket search is going on, here at Cruz del Sur´s bus terminal Javier Prado.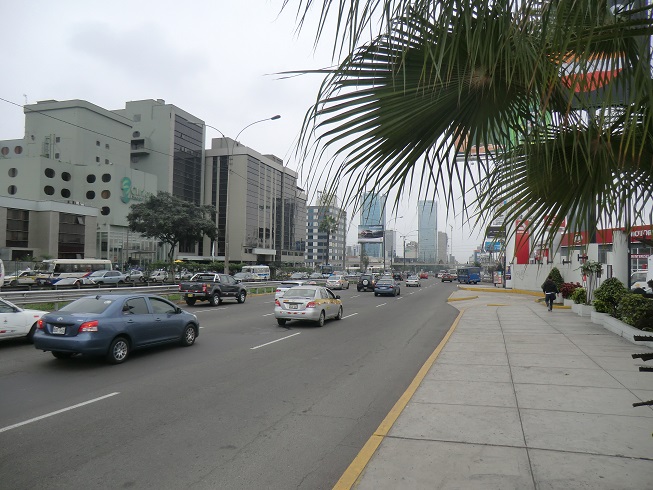 Avenida Javier Prado, Lima.
11.55 Here we are, mostly looking at the ceiling or out through the window. This is not among the most fun we can have. We have in any case seen a soft drink wagon in front of the hotel. A motorcycle with a cart on wheels at the front have come to the hotel.
12.14 Just to be in the room makes us lazy and hungry. It's time to get out and do something. During the morning and the latest hours, we´ve heard a number of car alarms launch. How many react and act on an alarms when it happens so often?
12.45 Today's lunch offer at the small Italian restaurant La Focaccia made us sit down. There will be soup for starter and spaghetti as a main course.
13.51 The lunch ended, and we strolled around to see if we could find some cozy cafe. Much was seen, among other things a bus that just rolled out of a bus terminal. The bus's destination was Huancayo, the place we desperately looked for buses to. This company was basically next door to the first company we checked this morning. We have been walking in the immediate area that does not offer any attractions, mostly private homes and a school here and there. Now we are back in the room to relax.
15.03 We do not get much done today. We are not located in the most central areas of Lima. These will be seen later on the trip so it's stupid to do it now. What are we going to do then?
16.50 Rest and some quiet time was good. But we cannot just lie here and gather dust. It's time to go out again.
A soft drink vendor arrived to the hotel.
Christer is waiting for this day´s cheap Italian lunch.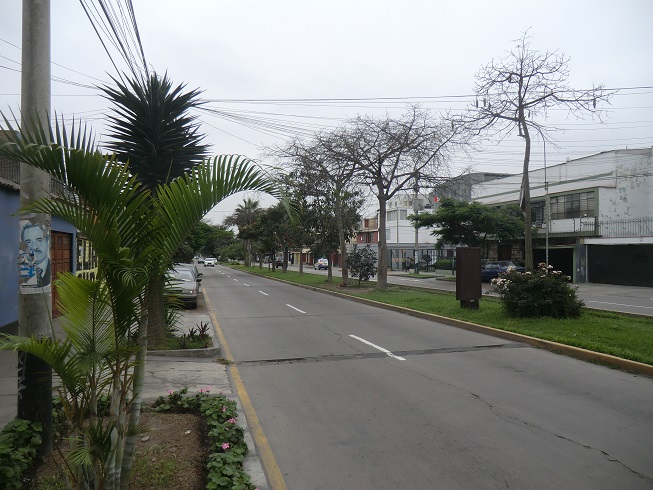 The neighbourhood Santa Catalina in the district La Victoria in the city of Lima. Yes, that´s where we had our afternoon walk.
When you care about security you don´t lock your door, you lock your street.
17.20 On our small trek/walk we looked for a café. We saw doors that were behind iron gates. Even the streets into the area we walked around was cut off with gates. It was certainly a "gated community". Towards the end of the walk, I recalled that I had seen a cafe sign when we were on the Cruz del Sur terminal earlier today.
17.36 My memory was correct and now we are having coffee and cake here at the bus terminal. Outside the window is a window cleaner with a safety harness.
18.19 We are back home in our hotel. It's time to take it easy for a while before we go out for dinner and the purchase of food for the journey.
20.23 For the second evening in a row we had our dinner at Sun Fa. No sooner had we sat down as we got the menu. No sooner had we got them as we were expected to order. No sooner had we ordered as they served the entree. Before I eaten my starter my main course was served. Here things move fast!
21.10 Now things are mostly packed again. Now we only wait before we check out from the hotel and goes to the bus terminal.
21.59 We just sat down at the Transportes Junín terminal. Within half an hour we will depart from Lima, but we will, as I told before return on the last days of the trip. We are not finished with this city by a long shot. It was more or less a misfortune that we ended up here now, namely Christer's sick days.
22.43 Once again we roll off to new places and adventure. Once there, we actually got two booked hotels to choose from. One booked well in advance and one that was booked when we had to change plans. Below the bus is a motorcycle courier from a pharmacy.
23.17 We slowly drive out from Lima street by street. There are many traffic lights, streets and neighbourhoods to be crossed.
23.28 We have been somewhere in Lima's northern outskirts to fill up with more passengers. Now we are looking forward to leave the city to travel to higher altitudes.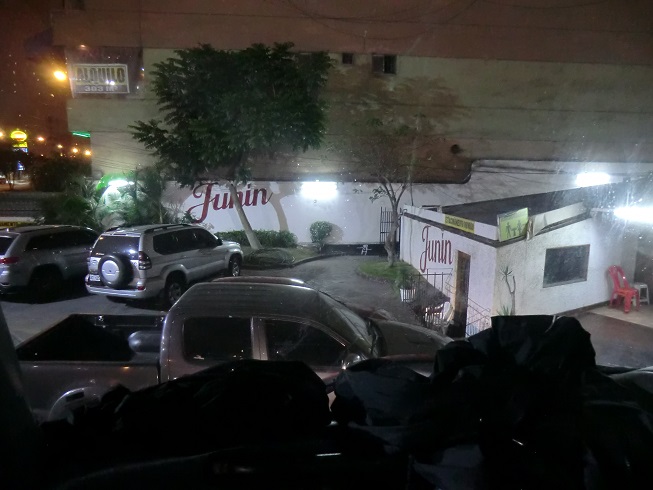 We have placed ourselves on the front seats on the second floor.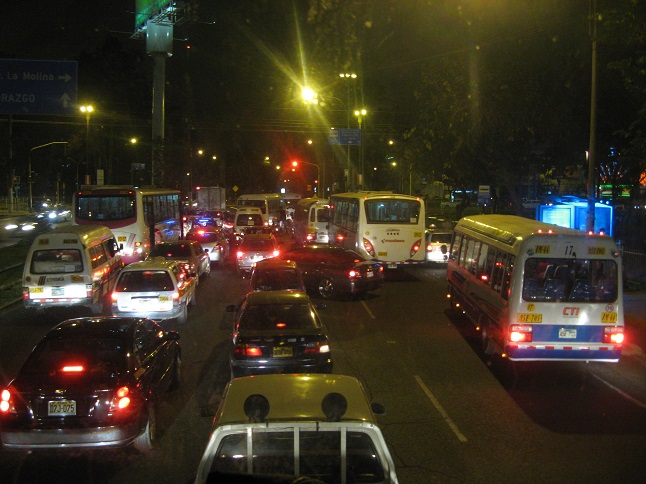 Interesting traffic in late evening Lima.
---
Tuesday 14th of July
00.35 The journey continues through the Peruvian night. We drive on the road Carretera Central through the Andes east of Lima. Our bus and other vehicles are standing still. We are in some sort of control. The man on the other side of the aisle is deeply asleep and snore loudly. He fell asleep almost immediately after he had sat down. A sign outside says Unidad de peaje Corcona.
01.54 We are passing through San Mateo. High rock walls surround us and has surrounded us.
03.50 We have begun to realize that this bus trip will take a lot of time, a lot longer than we had anticipated. We keep a speed of about 40 km/h. The road is bumpy and there are many buses on the road. It has now sloped downwards for a while. It is, in the best case, 30 kilometres to go, at least 30 km left to something. By looking at the poles of the roadside you can see the distance remaining to the nearest city.
04.20 Well, things are seldom as fun as they seem. It is more than 30 kilometres left. We are instead arrived in La Oroya, South America metallurgical capital and one of the places in the world with the greatest environmental problems. This is not a tourist destination and we glide quietly through the sleeping city. From here, it remains now 57 kilometres until it's time to get off. We are now 3745 meters above sea level. The bus continues.
05.17 It's a powerful experience to sit at the front of the bus and gaze through a panoramic window looking out over the landscape here in the Andes. There are stars in the sky and frost on the ground. We are at about 4300 meters above sea level.
05.45 We have finally arrived in Tarma, a city described as a forgotten "gem" in the Andes. Now we will place the backpacks on our backs and head towards our next home. We aim at the accommodation we booked first. We are indeed scheduled to appear this date, but we are here way too early.
06.11 We walked through Tarma which was empty of people and freezing cold. After a while, we passed the taxi people at a roundabout and they offered us a ride to Lima, which we just left and Cerro de Pasco, which we originally supposed to arrive from later today. There was no thank you so much and continued walking. We went to the Hotel Los Portales (http://www.losportaleshoteles.com.pe/hotel/tarma/). We passed some barking guard dogs and reached the main building's reception. The first announcement was that the check-in starts at 12:00, would that lead to more couch sleeping? The second announcement was that we will check in now. While the rooster crows, we will now go to sleep in room 218. We need to sleep in a real bed before we are ready to see this city.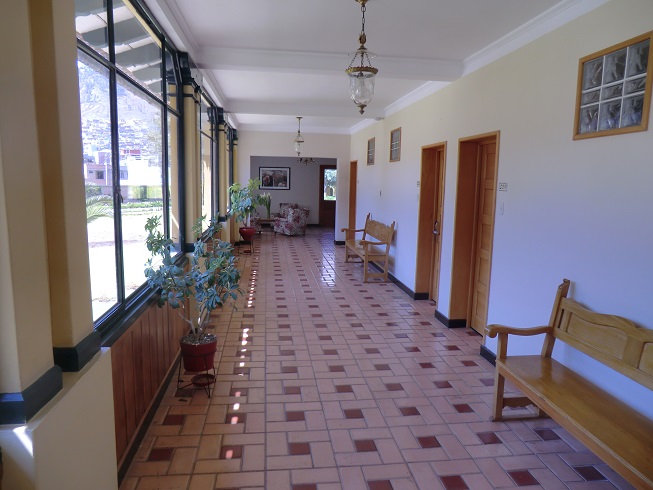 Outside our room.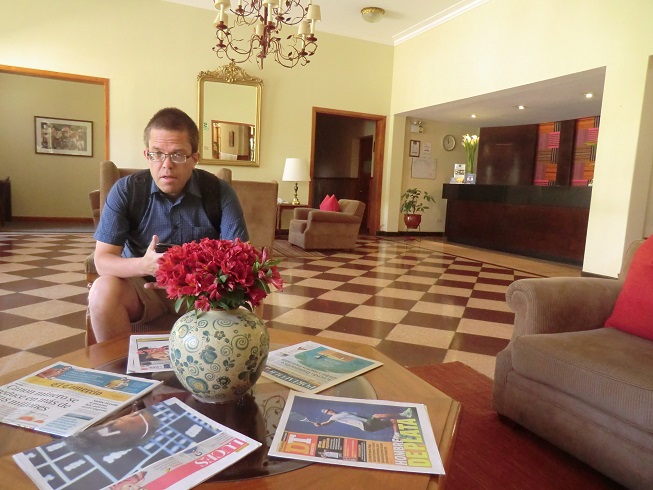 Peter is waiting outside the hotel reception.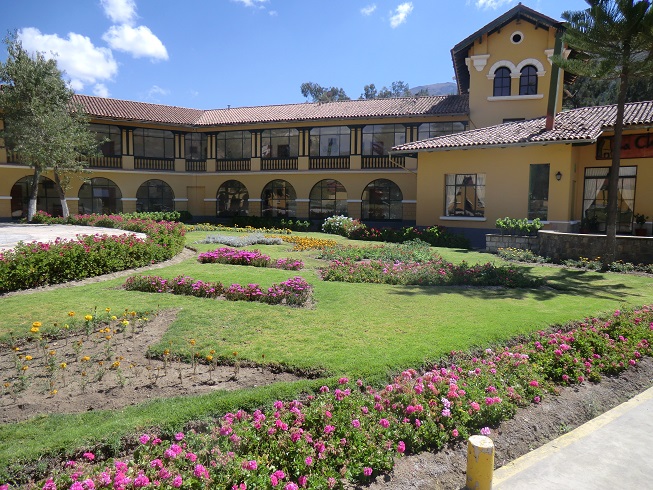 Hotel LP (Los Portales), Tarma.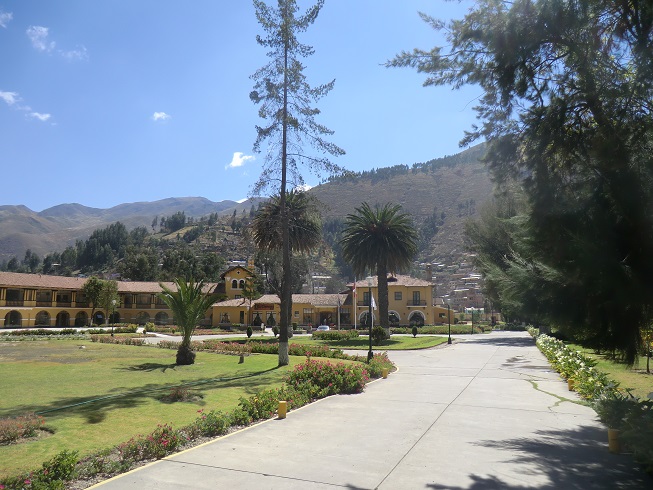 Our hotel feels like a manor with its big garden.
11.26 After sleeping and showering, we now feel ready to leave both room and hotel. We will remain in the town and country though.
12.22 We had not walked far before we sat inside the restaurant Daylo on Avenida Castilla. We just ordered lunch. I was confused and grumpy when ordering. It was close that I just ordered coffee and sandwiches instead of hot, cooked food. Night trips and sleep in strange hours can of course create strange behaviour.
13.20 The confusion and bad mood is gone. The reason for the problems is fundamentally obvious. There was too much blood in the caffeine system in my body. Now we take a bench break on a long bench. It is positioned on a side street called Boulevard. It is simply a small square, promenade with portals at the ends.
14.30 We went home after purchasing drinks from an old lady in a little shop. Now it is time to rest and relax. The night bus doesn't give you the sleep you need. The main plan is to wait until tomorrow to discover the rest of this town.
16.04 It has not happened so much since the last note. In the world an agreement regarding Iran's nuclear power has been reached.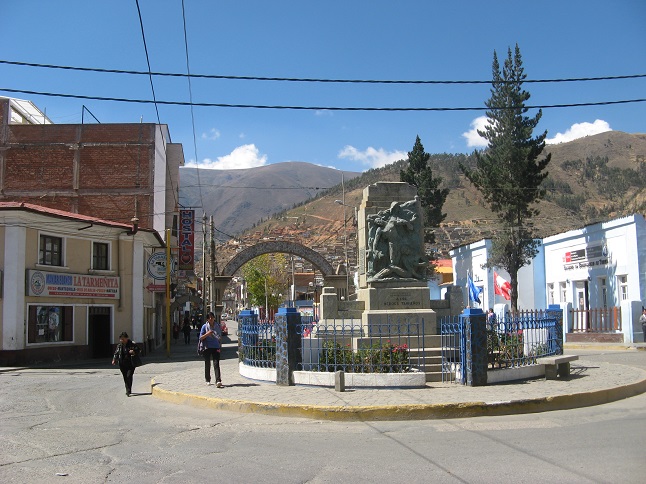 At this roundabout the taxi drivers wait day and night.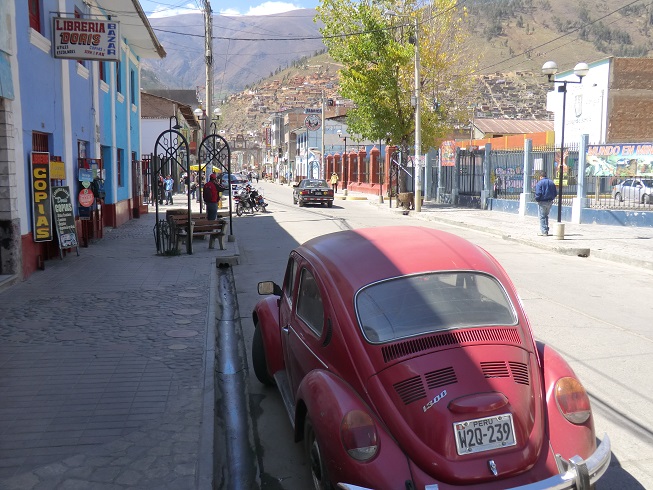 Avenida Castilla, Tarma.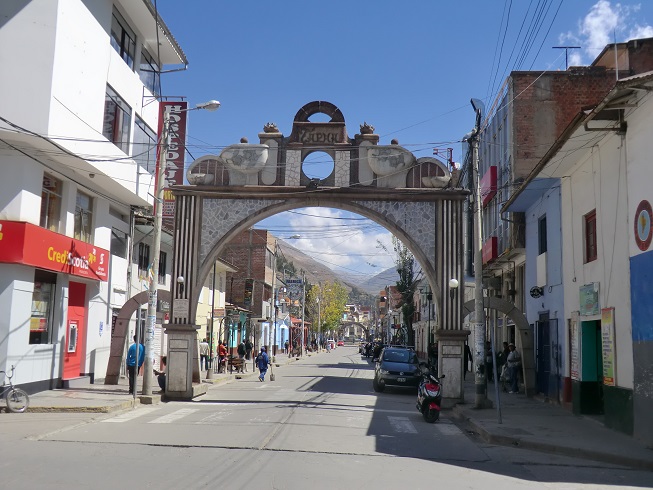 Beautiful portal in central Tarma.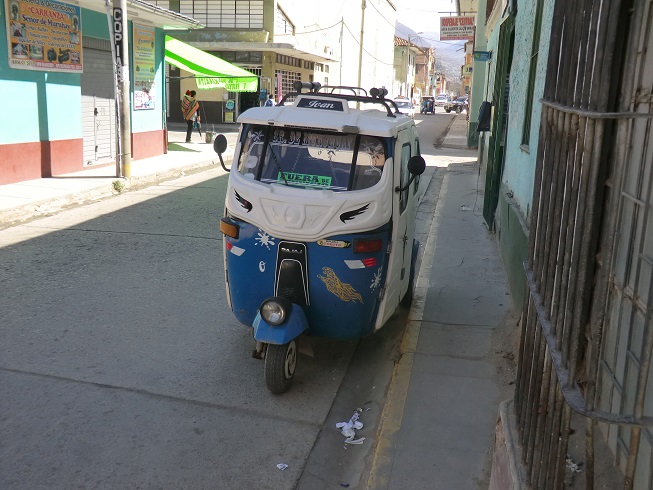 The whole town is filled with these small mototaxis.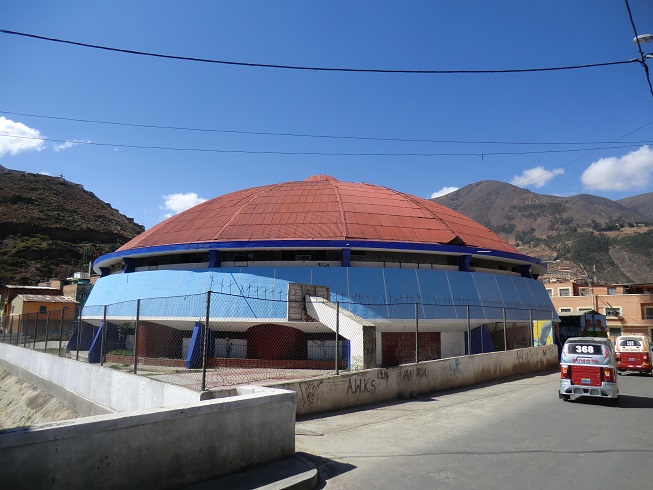 This building is called Coliseo.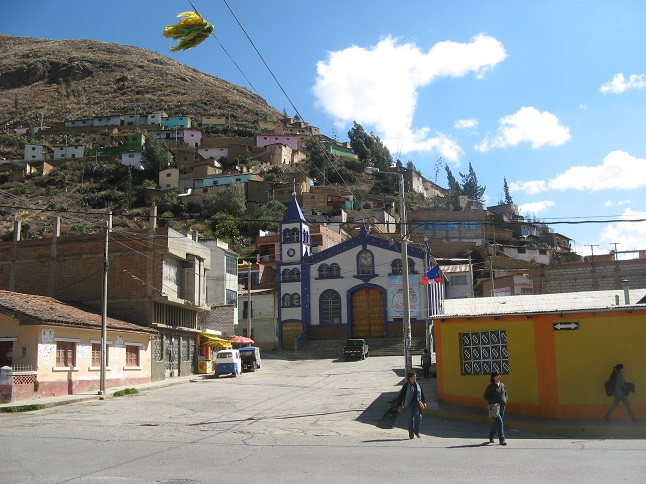 Capilla del Señor de los Milagros, Tarma.
16.15 The door bell just rang in our room. I did not even know we had a door bell. It was one of the cleaning staff who came to us with a bathroom floor towel. Soon, we will leave the room for a while.
16.53 We are sitting in the chairs that we really sink down deep within, we read in some of the detective novels we brought with us. We have thus made it out of the room and found some chairs for all who stay here.
17.57 We have now come back to our room. The darkness is arriving. There is no direct plans for the evening.
18.43 Now we start rambling. We're talking about what kind of weather we can expect. Will there be snow, rain, cold or trombones? Is it lack of sleep, food and/or coffee which trigger this? We should soon reflect on where we should eat the evening meal.
Relaxing in the afternoon at Hotel Los Portales.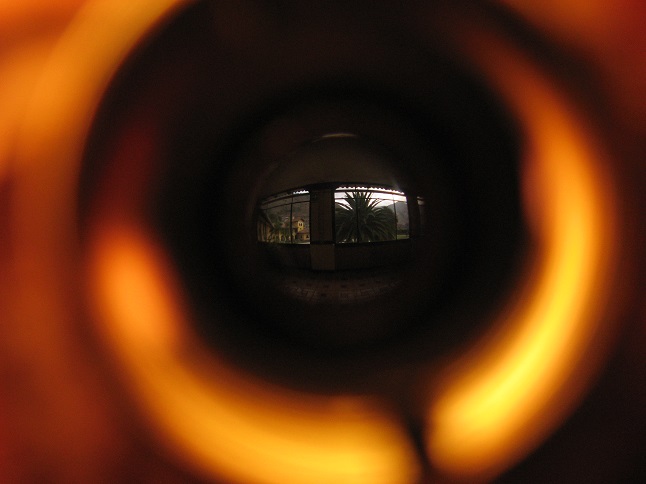 The world outside our door.
19.12 We have walked into town again. We have tried to find the restaurant El Che Parrillas which our guidebook recommended. Unfortunately, it only exist as a chapter in the town's history. It cannot be found in reality. It seems it has closed, or moved. This evening it will instead be a royal dinner. It will be consumed at the El Rey, The King.
19.37 We sit upstairs in a spacious restaurant. A eager waiter took our orders on meat dishes. He also brought us sauces of various kinds.
20.22 It had started to rain when it was time to go home. We hid under a roof during the worst rain before we went back home. We stopped on the way home and Christer bought juice and homemade muffins from an elderly lady who wanted to chat about the weather.
21.53 During the day, there have been news that the space probe New Horizons has reached the dwarf planet Pluto. The probe started its journey on January the 19th 2006.
23.24 It is wonderful to travel and discover new stuff but now all I want is a good night's uninterrupted sleep.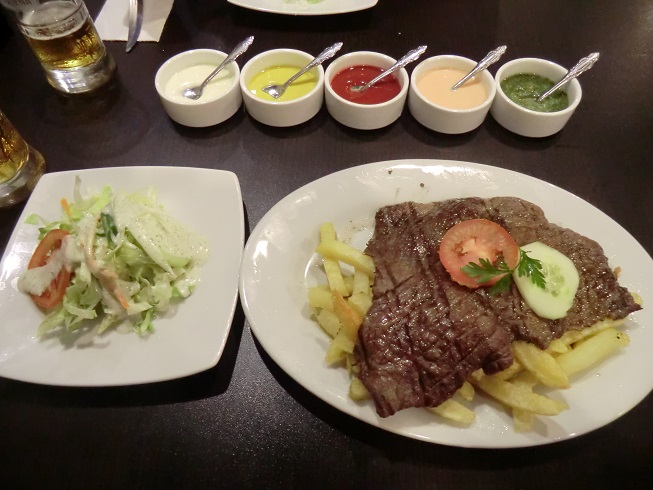 Many different sauces on this dinner table.
---
Wednesday 15th of July
07.44 I was awakened by the phone alarm. Pretty soon I heard someone who spoke Spanish. It is certainly quite common here in Peru. The unusual thing was that there was someone talking in our room. Christer's portable radio had started in the morning.
09.07 The buffet breakfast is probably among the best things available in the morning for a backpacker. There is a good chance to lay a solid foundation for a day in a foreign country.
10.48 After a solid breakfast and a little planning, we are now ready to take a walk in Tarma town. The city has about 42 000 inhabitants and is located at 3053 meters above sea level. The province is called Junín.
11.09 We are back out in the sunshine and the fresh air. We pass some familiar stops on the way to the centre. First, there's the barking dogs at the entrance to the hotel. Then there is the taxi drivers at the roundabout, continuing to shout at us that they offer transportation to many places including Lima. On the platform of a car, we saw a heap of sand and on the heap was a dog and had a great time.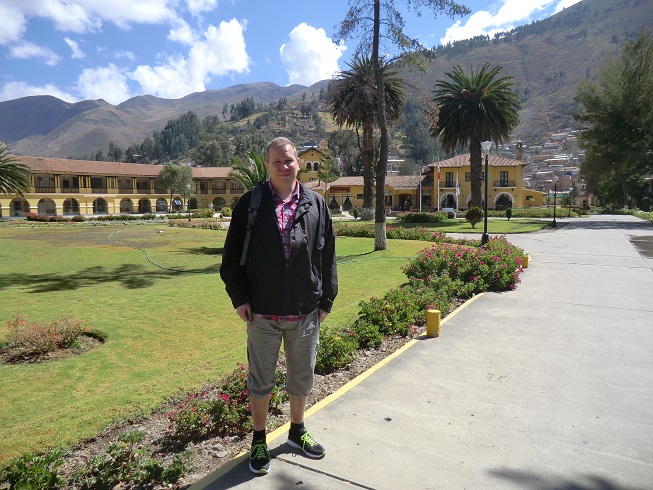 Christer ans the hotel Los Portales.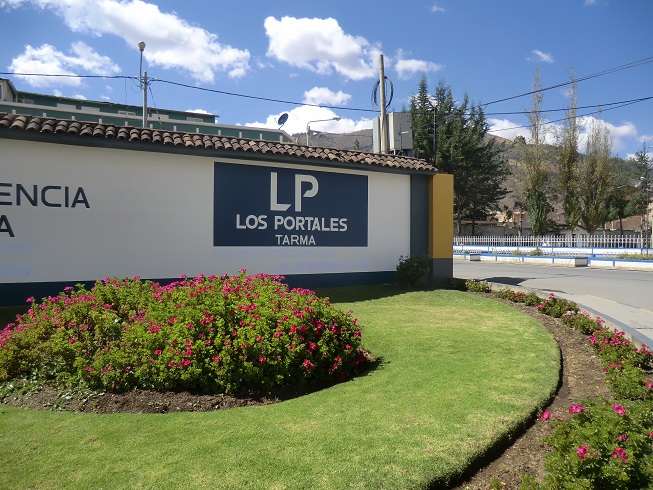 The best hotel in town.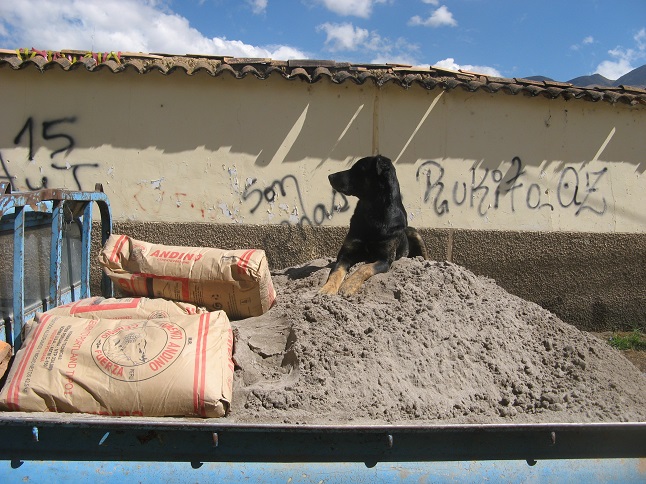 A lazy dog is watching people work hard.
11.46 Our walk through Tarma continued and we were greeted good morning by a female street sweeper and an elderly gentleman. In a small store, Christer has bought a packet of coffee as a gift for his father. The coffee is grown organically in the valleys east of Tarma. I have bought marmalade. My purchase is also a gift. Now we are sitting with the sun on our backs on the city square, the Plaza de Armas. Some men are polishing and refurbishing the fountain. Everything is done by hand.
12.36 We took some photos and continued to walk in Tarma centre. After a little while, we returned to a bench in the square. It's nice to have days when you do not do much more than to exist. Some activities are going on, on the square. A girl with a band, ribbon that says Tarma is in the process of being photographed and a drone is hovering around her and above her. It is probably the "Miss Tarma" herself who is here.
13.09 After having filmed and strolled around we´re now ready to eat lunch at Zeng, a chifa which is a Peru-influenced Chinese restaurant. We sat by the window and are being fried by the hot sun. The cold night switches into a scorching sun during daytime. That is what it´s like in the Andes.
13.51 We arrived back to the room door of the hotel but we did not get inside. Our key cards did not work anymore. A cleaner was kind enough to let us in . Now we just have to remember to recharge the card. We also need to reload ourselves.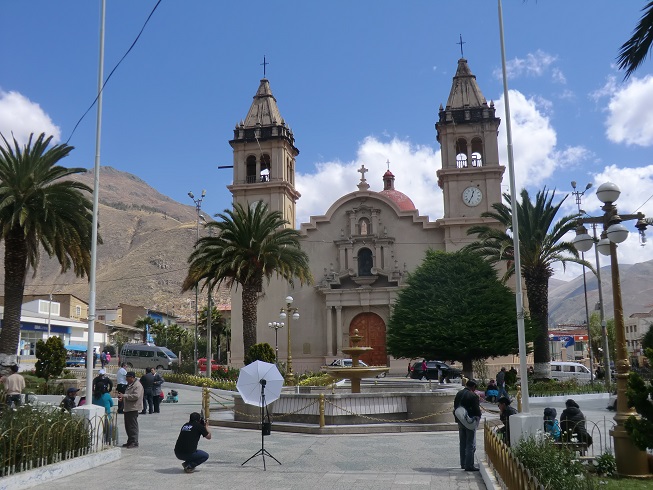 Catedral de Santa Ana, Tarma.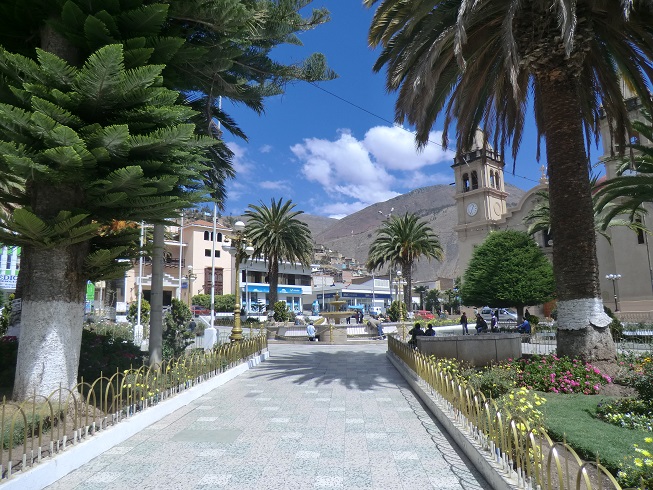 Plaza de Armas.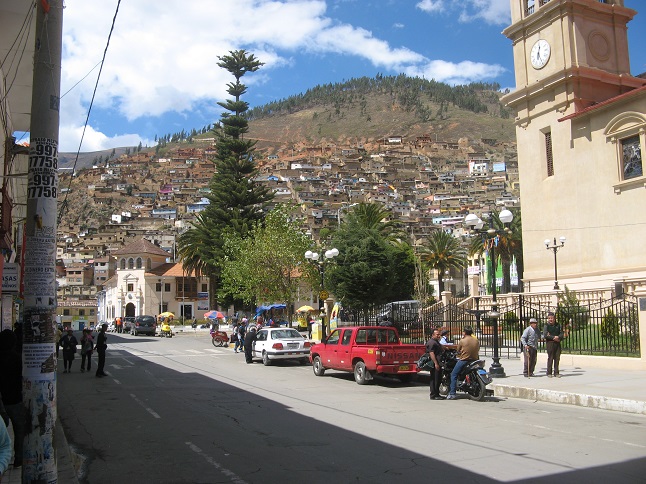 Some people in Tarma live on the hills surrounding the town.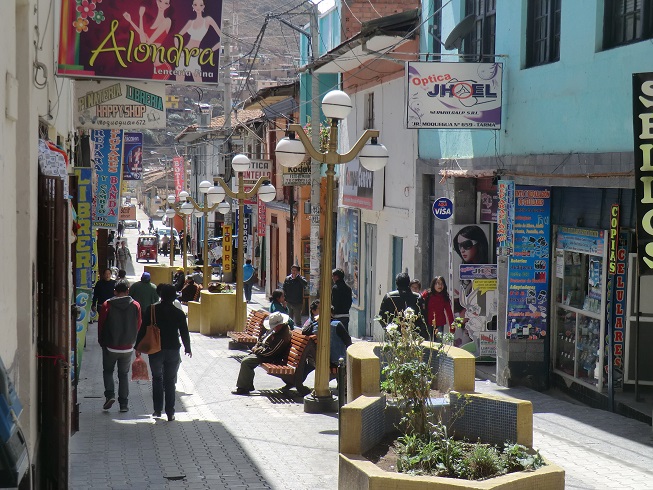 Jirón Moquegua, a busy street in central Tarma.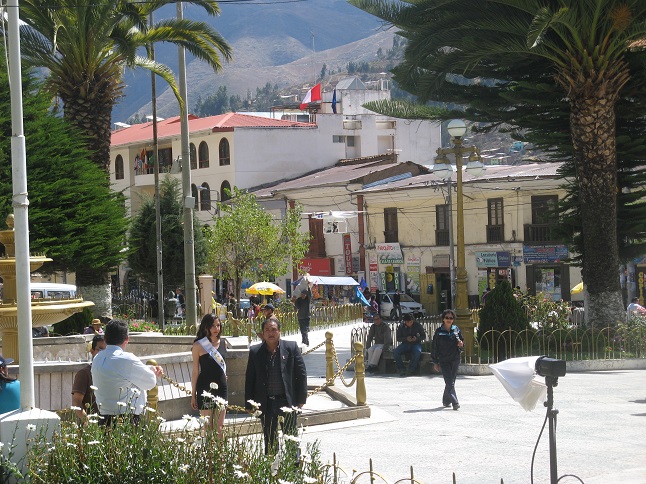 Miss Tarma is being photographed.
15.20 We are now charged and ready. We can now enter the room and we will take it easy for a while. Next is a literary feast out of the extremely comfortable armchairs.
16.30 Time flies when you are travelling off into the world of books. I firmly believe that I will travel a little more in the literary country.
17.07 Now we have finished reading for today. We have also made plans regarding tomorrow when our journey towards the south continues. We think we know where the buses depart from and approximately how often.
18.12 Tarma is nice place but no café culture is to be found. Buon Pranzo is however the simple café-like place we found and which will supply us with coffee and sandwiches. It is located back from the street we usually walk along the street known as both Jirón Lima and Avenida Castilla.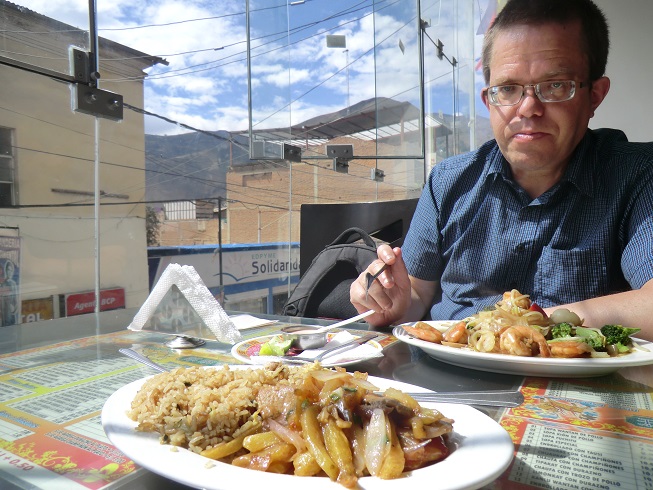 Peter is having lunch at Chifa Zeng.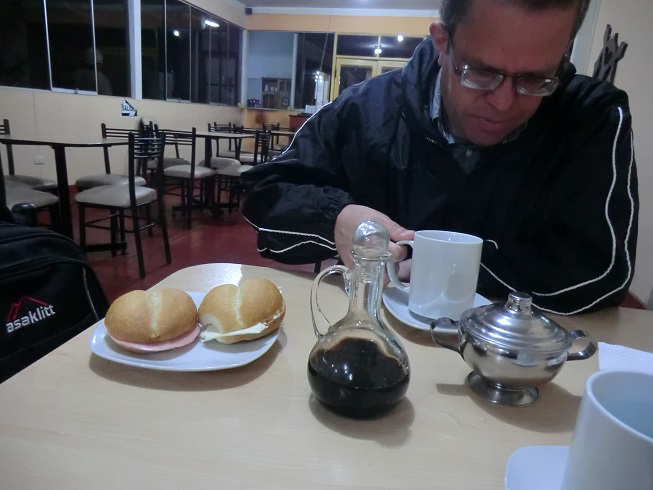 Coffee and sandwiches at simple but cheap Buon Pranzo.
19.05 It was cheap coffee and simple small sandwiches. Now we are home again. It is time to think about what we do next.
20.22 We have not walked far for today's dinner. It will be served in the hotel dining room. We are not alone in having thought these thoughts. There are plenty of people here.
21.32 We were served a simply delicious potatoes gratin and absolutely wonderful meat. It was not cheap and the portions quite small but it was worth every sol we spent. At a neighbouring table there was a man in an orange jacket with the text Metso on the back. Isn´t that a Finnish company? Besides these, here's a larger group of Americans. Some well dressed elderly gentlemen seem to belong to any church groups. A certain contrast to some younger people dining wearing t-shirt and sweat pants. Next await recreation and information gathering for tomorrow's city.
22.32 We update us on the world news. The Greek Parliament has voted in favour of the lenders.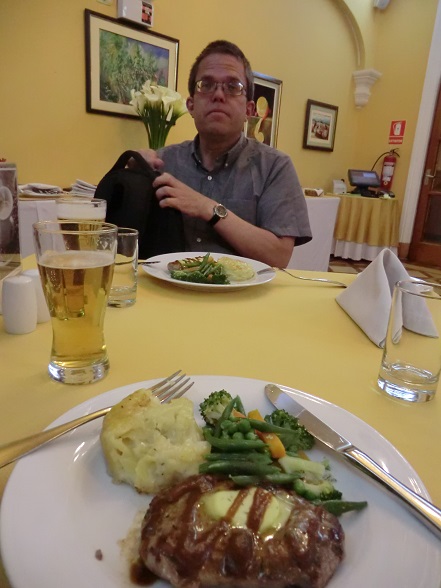 This night we had one of the most delicious meals we´ve had anywhere on our trips.
---
VIDEOS
---
You can see 31 photos from July 12 in this photoalbum.
You can see 22 photos from July 13 in this photoalbum.
You can see 33 photos from July 14 in this photoalbum.
You can see 34 photos from July 15 in this photoalbum.

---
---
---

---