---
Text: Peter Johansson
Editing: Christer Lundstedt
Photos: Christer Lundstedt, Peter Johansson
Videos: Christer Lundstedt
---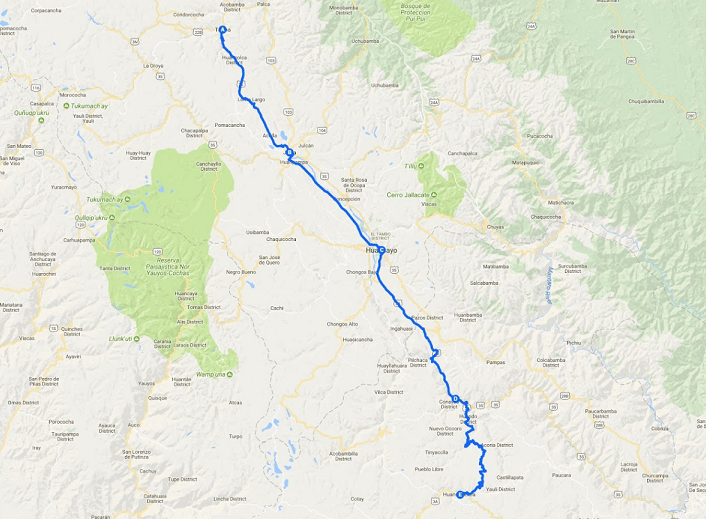 ---
Thursday 16th of July
08.09 We slept well and feel very good here in the hotel Los Portales in Tarma, Peru. But all good things have to come to an end. Today we'll travel further in this country. This time, the journey will be during daytime and the travel time is not as long as last time.
09.00 Another morning with a well-stocked buffet table for breakfast awaits us. It is one of the big advantages when staying in good hotels.
09.42 We are pleased and satisfied. Now we will make sure that our backpacks will be filled with our personal possessions before we walk from here. Tarma is a cozy town where the days pass in a quiet, comfortable pace. It is a lovely place but there is not that much to do here though.
10.31 It is now time to leave one of the best hotels during this trip. Will we stay in a better place before we are home? It would not be entirely wrong. In addition to the stunning premises, the food here is delicious. It's not cheap to stay here compared to other Peruvian hotels but by booking through the internet, we have received a far lower price than at a hostel in Stockholm.
11.13 After check-out, we walked quickly through town to Los Canarios office and bus terminal. We had read that the buses depart from here every 45 minutes. That's unfortunately not true. The next bus departs at 12.30. Why did we not come here yesterday to find out the details instead of reading in books and checking on the internet? We are opposite where we arrived on Tuesday morning by bus from Transportes Junín.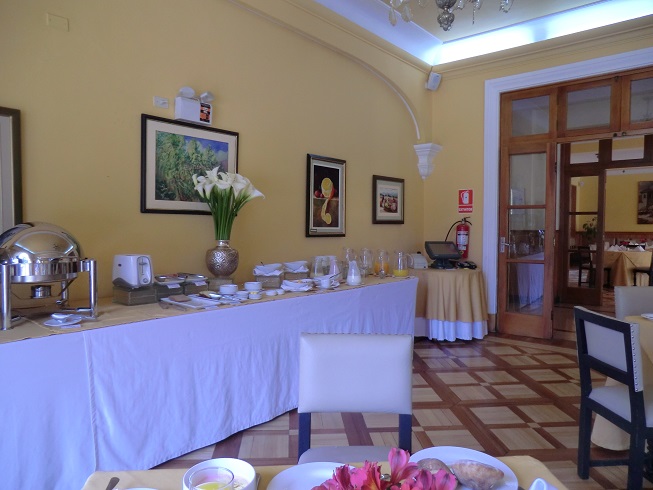 Hotel Los Portales offers a good breakfast buffet, the perfect start of the day.
We are waiting for our bus in the Los Canarios waiting room.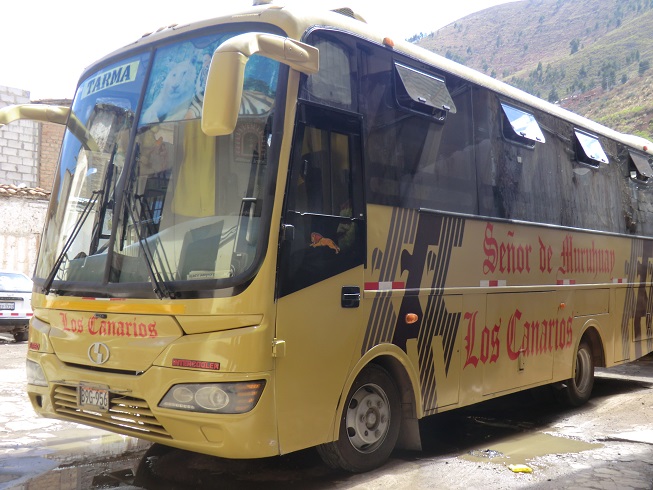 This yellow bus will take us from Tarma to Huancayo.
Bus trip at high altitude.
11.52 I have done some shopping in a small kiosk located next to the waiting room. It is always good to bring something to drink and to chew on. The chairs/seats here seems to be taken from a bus. A TV offers boring TV shows, some possible passengers are chatting at the ticket window and it is over half an hour left. The good things is that we have books with us.
12.21 After an advice from Christer we went out into the courtyard where the buses are parked. With this move we will hopefully have a better idea of what is going on out here. So far, nothing happens.
12.40 The departure time for our bus has passed but we are still sitting here and wait. What is missing? A driver maybe?
12.43 I did not even finish the recent note when the driver started the bus. Now our backpacks are loaded and we walked in and sat down. My seat feels a little wobbly.
13.10 After a stop at the main bus station in Tarma, we are slowly making our way out of the town. The tiny yellow bus seems weak. Will it really master the mountain roads? Soon we will know.
13.30 It is, for the first time at this year's summer trip, time for a classic for us. The vehicle we travel in has made a stop at a petrol station. It will be refuelled. There seems to be a need to refuel during the journey and not to do it before departure.
14.03 I underestimated our bus. It has successfully made it up the steep roads. Outside the window there are sparsely populated areas and a grassy plain spreads out. In the grass are large stones and small blocks. We have also seen vicuñas, a type of llama, graze out on the plains.
14.34 Several names of candidates in the forthcoming local elections are painted on the walls. We have particularly seen Miriam Barzola, Fredy Aquino and Fidel Castro. Is the latter a namesake of the man from Cuba or is Fidel making a comeback out on the Peruvian countryside?
14.47 The bus made a stop in Jauja. The city was actually Peru's first capital. Nowadays it seems to have a more withdrawn role and importance. It was capital between the years 1534 and 1535.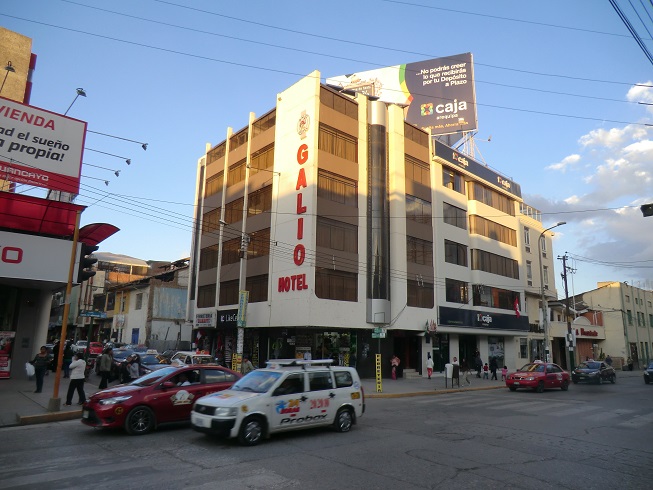 Galio Hotel, Huancayo.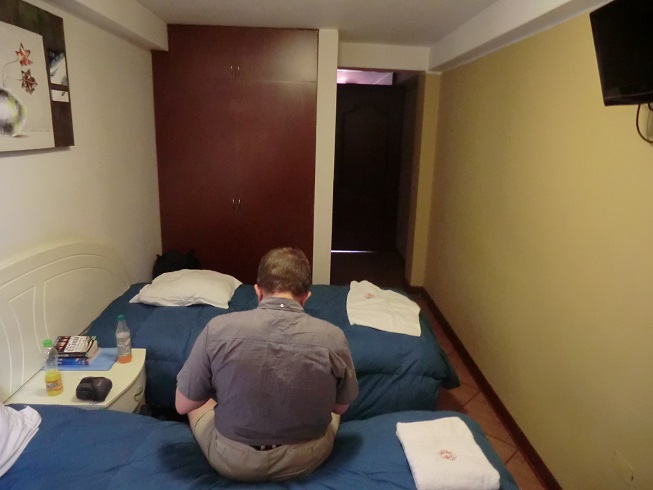 Peter inside room 301.
This café table made us think about Christmas.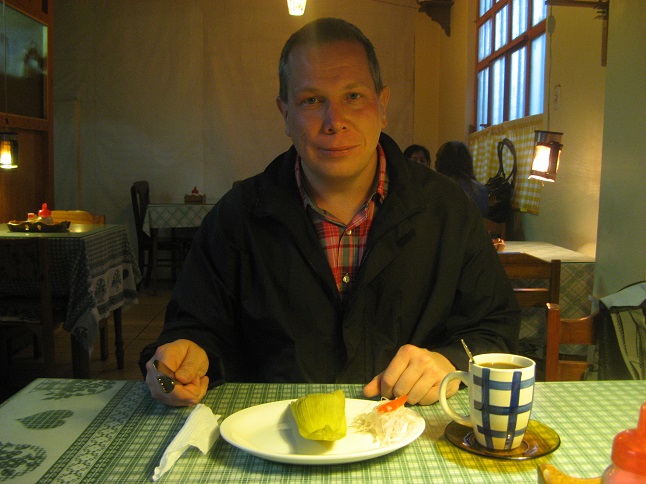 Christer is trying coffee and tamales at El café de Linda.
15.51 Our bus finally got to the big city of Huancayo which is Peru's fifth largest city. Block by block, street by street, was passed, we reached the central parts and the bus precision backed into the bus company Los Canarios small terminal. Once again, we rely on our feet to take us on from here. No taxi was waiting. It is a bit unusual.
16.38 Our little walk took us smoothly through our new home city. We found the Hotel Galio (http://www.galiohotel.com) without problems. However, it became more difficult to find the entrance but in the end it worked out well. We went upstairs to the reception, checked in and are now in room 301. Huancayo is located at 3244 meters above sea level and it feels when you are walking with a backpack.
17.20 Now as we have put down our backpacks and got to know the room we will check what's near our hotel. It's time to go out for a walk.
17.44 A small urban trekking has taught us that the sidewalks are narrow and the number of people is large in this city. We have among other things, seen two happy dogs who ate from a few bags standing at the pavement. The dogs were left behind and we went to El Café de Linda. Here I have ordered a large coffee and a bikini. In two places in here are some simple Christmas tapestries with Santas.
18.43 Bikini turned out to be four slices of white bread with cheese and ham in between. They had been placed in a toast iron. Christer once again had tamales. Now after we have bought soft drinks and searched for dining places we are back in our room again. During the walk we saw some guys who were virtually enthralled by a TV that was on the outside of a DVD shop and showed different movies.
20.26 Hunger and meat cravings prompted us to go out. We headed for the restaurant Los Conquistadores which advertised grilled meats. When we sat at a table we were asked if we wanted a quarter or a half. All that was offered here was chicken and they asked how much of the chicken we wanted. It was not what we looked for and instead we went to the meat restaurant Anticuchería Tinkuy. Here we ordered dishes with two or three kinds of meat. We also ordered a beer each.
21.23 Our food and a large beer was served and consumed. When it was all finished, they came with the second beer. We declined it. Why were we not served that beer earlier when we ordered two? It would be somehow more logical. Besides this weird service everything was good here at Tinkuy.
22.37 It is time to end the day. The room we have is good except that you have to sit close to the room door to get internet connection on the mobile phone.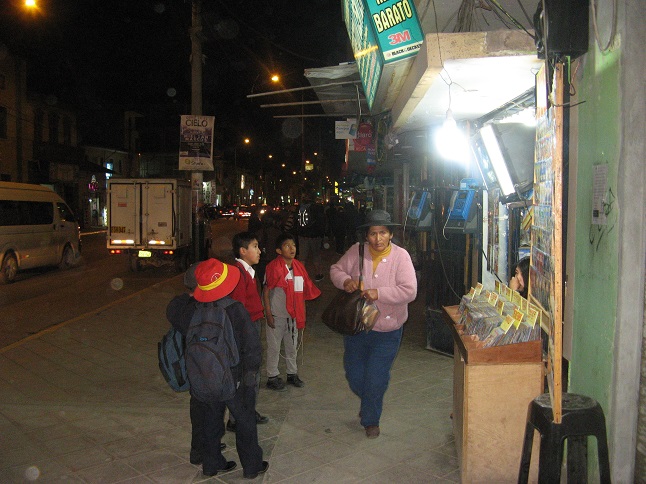 Some children watch TV with great interest.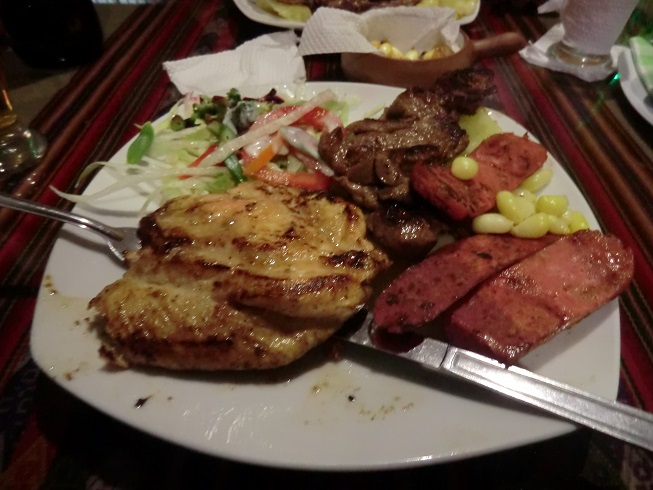 If you order "mixed grill" you can try different types of meat.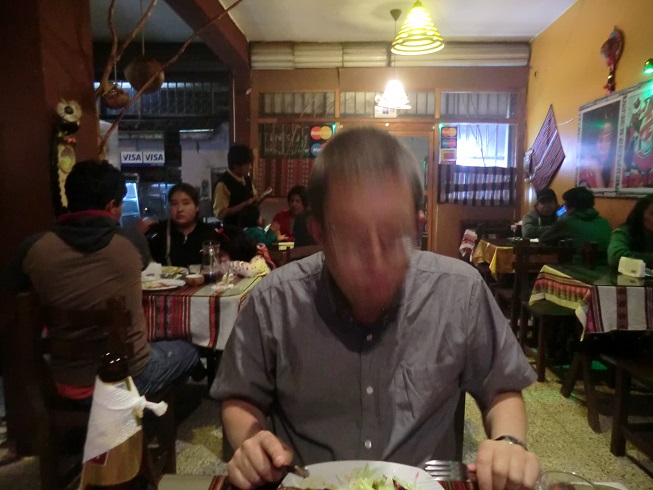 Peter probably had too much meat. He´s not looking alright.
---
Friday 17th of July
07.57 I am once again sitting on the edge of a bed. On the TV CNN talks about what they will show in the future. We have heard some of these news before. I'm wondering what this day will bring. Might it bring us fried eggs? It smells fried eggs in the shower.
08.24 There will be no breakfast for us right now. It's packed with people in the small café part here at the hotel. We sit and wait in the lobby instead.
08.58 We were just welcomed to have breakfast and had coffee, juice, bread, butter and jam. Pretty soon we were asked if we wanted eggs and I said yes. The waitress pointed at the empty bread basket and said something. I thought that she asked if it was ok to carry it away and said yes. She took the basket but was soon back with even more bread.
09.27 Strengthened by the bonus bread, we are now ready to walk out for all the tasks and errands of the day here in Huancayo. Some are essential, others just for fun.
10.19 After some searching we finally found the bus company Ticllas terminal. Here we have bought tickets for tomorrow's trip. During the purchase a gentleman tried on several occasions to sneak past us. It did not help much that the lady who sold the tickets asked him to wait. He just had to pass. We did however buy our tickets before him. Some people consider that they always have more of a hurry than others.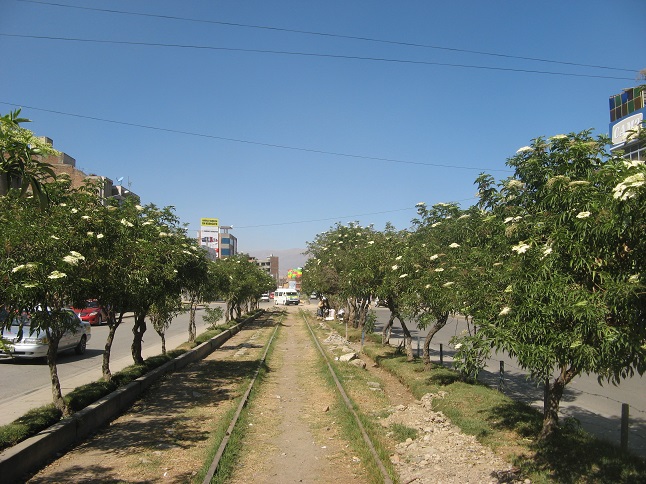 A railway in the middle of the street.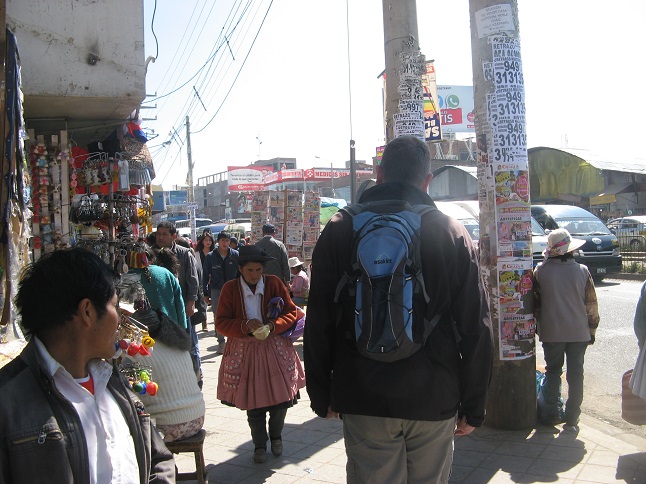 Christer is walking through the crowded streets in Huancayo.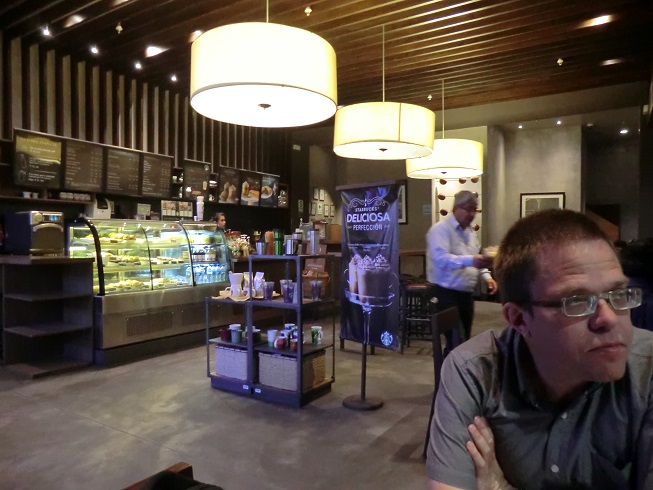 Starbucks is often a peaceful place to sit down and relax.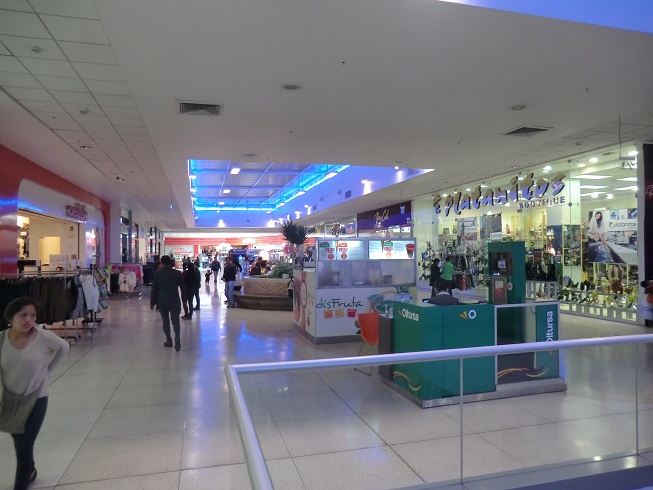 Real Plaza, Huancayo.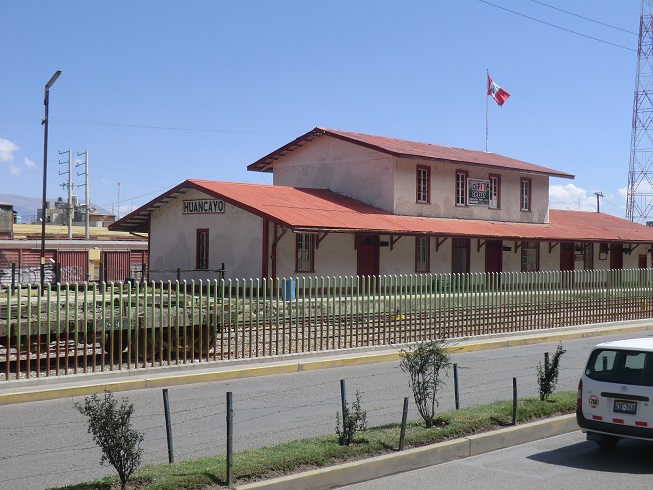 Huancayo railway station.
10.49 We were all but alone on our way between Ticllas terminal and the shopping centre Real Plaza. The street was absolutely packed with vehicles. On the sidewalk were crowds of people in motion as well as vendors and shoe shiners. It was a challenge to get around. In here in the much calmer Real Plaza, we have unsuccessfully been looking for Starbucks Coffee which is alleged to be here somewhere. Right now, we sit down to catch our breaths.
11.05 We kept on searching and were more successful. This time no names were written on the coffee mugs. Unlike the outside world it is basically empty here at the Real Plaza and Starbucks. The people of this city seem to be more interested in the market area than an expensive mall.
12.20 Today, things are not quite going as we had planned. The supermarket in the mall where we had planned to shop had huge queues. Attempts to withdraw money from most ATM:s did not go well. The maximum amount of 400 soles, around US$125 is not enough when you are on a long trip and need to pay fees for each transaction. However, it is good to sit on a bench at Plaza de la Constitución where we are now. Peru's constitution from 1839 was approved here in the city, hence the square's name.
12.50 Something else that is also going well is to eat lunch. We are now sitting in the Chinese restaurant Camino Real. We are downstairs across the street from our home, our hotel.
13.53 After lunch, we decided that 400 soles are better than no soles at all. We went to a cash machine and withdrew money. With money in our pockets (well they were not placed exactly there), we felt ready to return home. When we entered the room we found that it had been cleaned. This indeed belongs to the normal stuff going on in a hotel. The unusual this time was that the backpacks had been placed in the closet, all our things which were on the bedside tables had been put in the drawers that belong to them, my shampoo, my toothbrush and my razor had been moved to the bathroom. Christer's contact lens solution was found in a tied plastic bag in his toiletry bag and even more things had happened. Why on earth has this been done? Here we have stayed at over 300 different locations in over 100 different countries in the world and this has never happened before.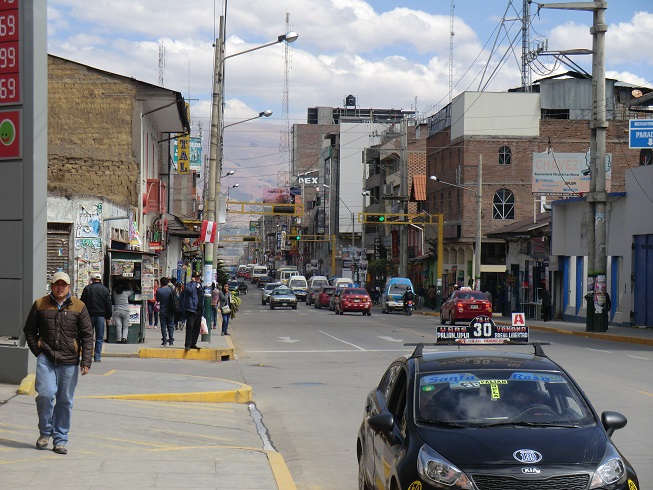 Avenida Giráldez is the street towards the city centre.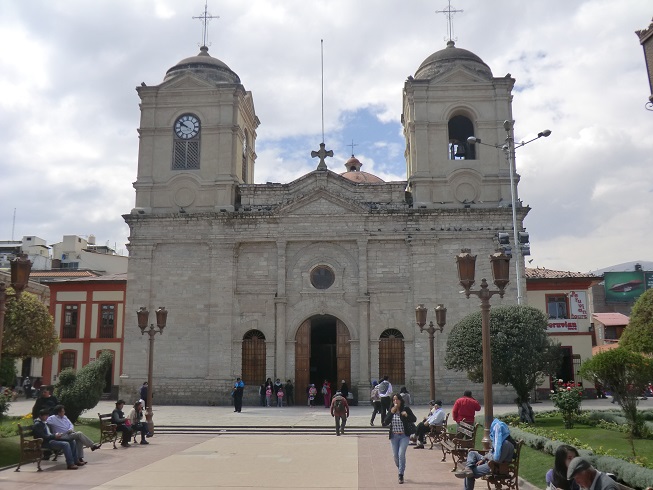 Catedral de Huancayo.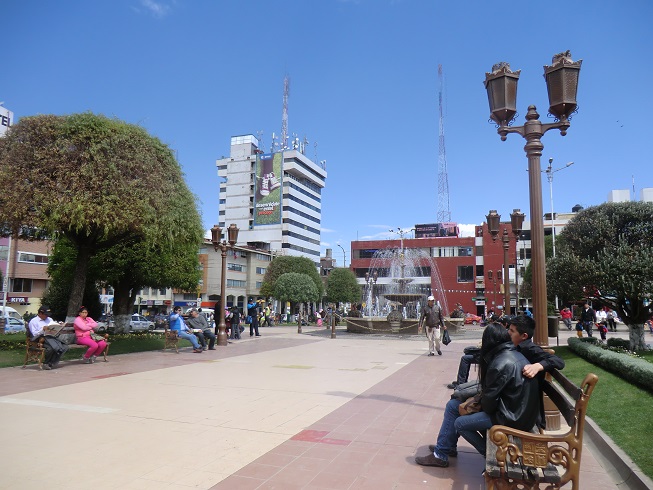 Plaza de la Constitución, the heart of the city.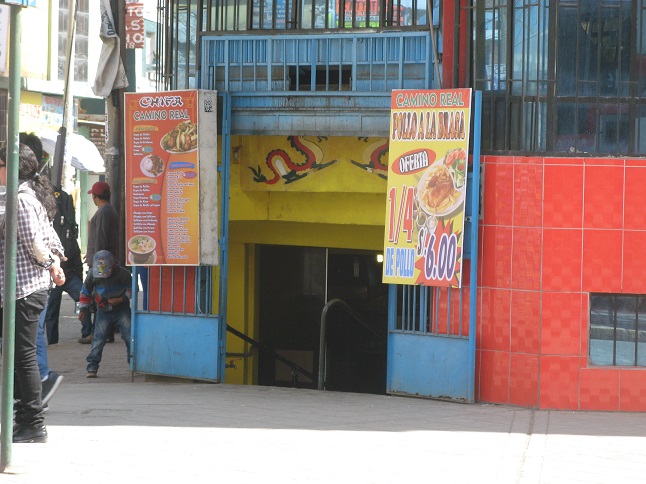 We went down in a basement to have lunch.
15.39 The gathered possessions have been spread out into the room again. We have planned the remainder of the day, read some of our books and mostly relaxed. The day has not worn on us but it is never wrong to take it easy if you can and have time for it on a holiday trip. You never know when a little extra energy is needed.
16.25 The time has come to get out of the room to get more things done.
17.43 After having sought and found a possible dinner place for the evening, bought something for tomorrow's bus trip and a football shirt for Christer, we returned to yesterday's favourite El Café de Linda. At first we almost gave up, it was closed. Then on the way back to the hotel we saw that they were about to open for the evening and we stepped in.
18.24 There you go, now we are home again. It is time for reflections on what is needed.
20.15 Well, we have become hungry. Now it's dinner at El Meson (http://pollosyparrillaselmeson.com). We were going to a completely different restaurant but this one appeared and looked just fine. Cold air blows in from the street. Here are plenty of people and waiters are running at full speed between the tables.
20.36 The evening has been "enlightened" by two Germans who sat at the table next to ours. They have opinions about the menu, the wine quality and manage to do a simple thing like eating really complicated. Some Europeans and Americans have a way of acting like they are colonial masters who will be served by their subjects.
21.19 Yummy, yummy! That is one way to summarize the dinner. My meat was served on a metal rack. The whole thing had two floors. At the bottom was a coal bed, the upper one piece of meat at around 300 grams. Alongside they served fries and salad. It was difficult to eat but it was really delicious.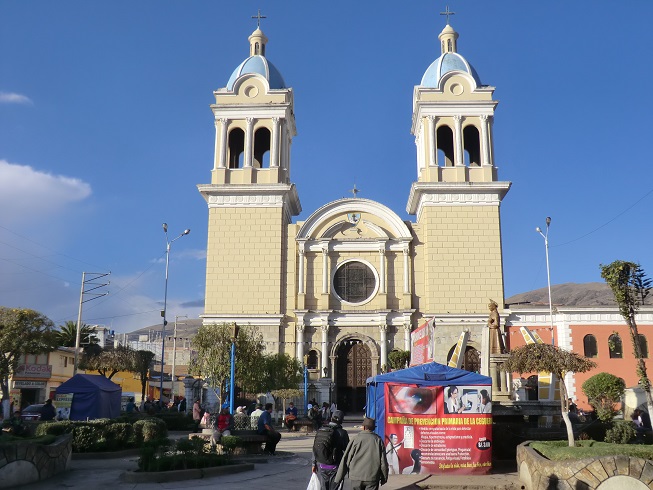 Iglesia María Inmaculada in Huancayo.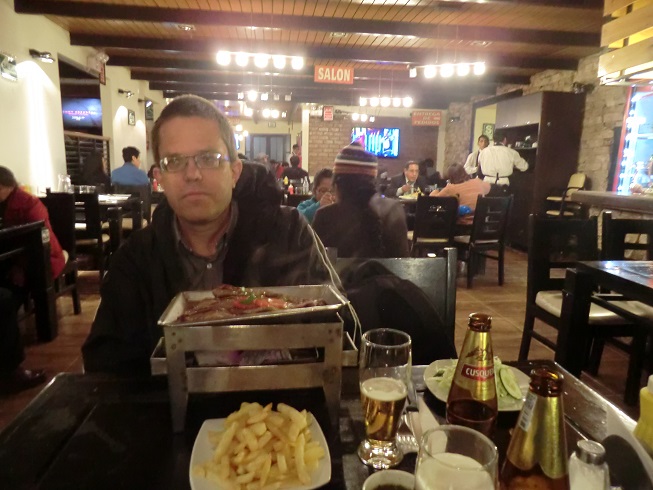 Meat feast at El Mesón.
---
Saturday 18th of July
07.27 On the blue sky thin white clouds float and a yellow sun shines. We neither float nor shine. What we do know is that today awaits a trip by bus to a new city. There we have no pre-booked hotel. We have an expensive hotel and a simple guest house as options to go to when we arrive in the afternoon.
08.17 This day should start like so many others done before. It's time for breakfast. Today it was easier to get a seat in the breakfast room.
08.57 In through the open window there is fresh air coming and the sound of a barking dog can be heard. Soon, another room is just a memory. It's time to go on. It's time to let new things happen.
09.26 We have checked out of the nice but a little cramped Galio Hotel. Now we repeat something we did yesterday, a walk to the bus terminal where we purchased our tickets.
09.52 So are we and many with us at Ticllas bus terminal. We are all are waiting for the bus. Outside there is a bus waiting. At present it is unclear where it goes and when it goes.
10.28 Finally we boarded the bus. It was the bus that was parked outside here all the time. It has taken some time to load all luggage. A gentleman had brought a lot of melons, another passenger tried squeeze in as much pineapple as possible in all available spaces. Other stuff that was loaded was a cupboard and a double bed with headboard. Moreover, a smaller amount of bags, sacks and bags. We had to patiently wait while this spectacle took place.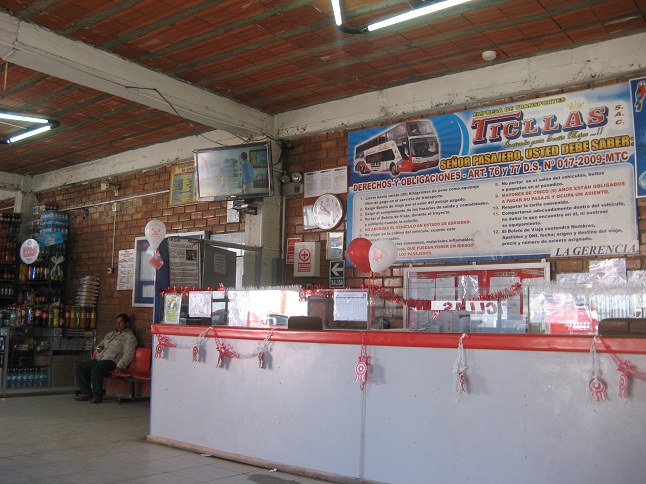 Ticllas ticket office in Huancayo.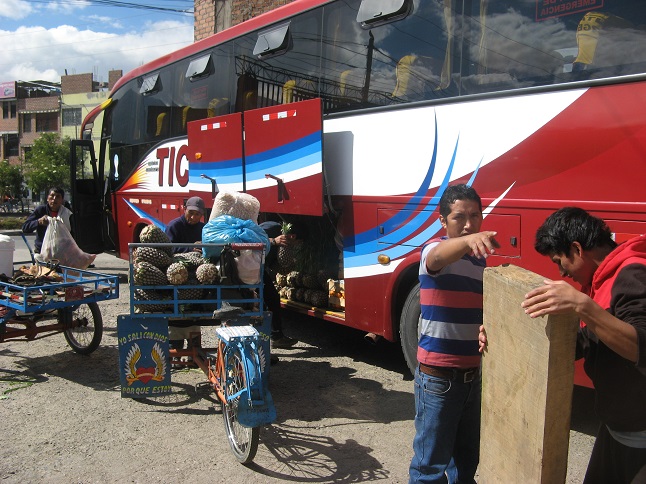 People are trying to bring as much goods as possible with them on this bus.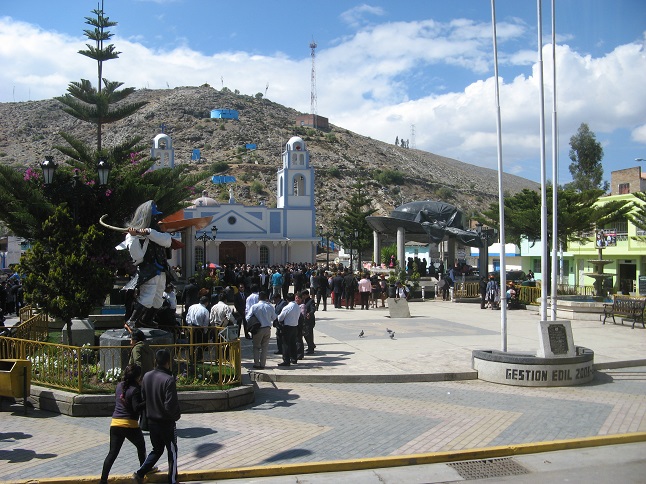 There was a wedding going on in Huayucachi.
10.51 The bus refuelled and now the journey from Huancayo continues. Just now, we encountered a wedding couple, it's nice when the tradition continues. A man on the bus is talking enthusiastically about the stress in the world, that you should eat right and drinking soft drinks can lead to diabetes. Now he talks about the heart. Every time you go with a cheaper bus company in Latin America, bus preachers, salesmen, musicians and others will jump on, do their thing and ask for money before stepping off.
10.58 The man speaks warmly about ginseng. We are wondering if anyone is listening? We are now in front of a church. We are in the small town Huayucachi. Between us and the church are a lot of people. According to the young woman to my right, it is a wedding going on. Until today, the newlyweds have been absent. Now we have in a short time seen two couples.
12.15 There are few straights on our route to the east. The road goes downwards and turns a lot. On the few straight sections there are speed bumps. The bus driver is not shy on the accelerator, we are not relaxed when the bus go along the winding roads down into the ravines and steep slopes.
12.35 We travel uphill again. Down in the valley meanders a river. We have just been in Izcuchaca, a small town deep down in a valley. We have been going over an old bridge that took us across the river Mantaro. This water system is claimed to be the beginning of the Amazon River. Here initiates the water on its long journey down from the Andes to finally reach the Amazon River and then the Atlantic Ocean.
12.52 Here in Huando there are many who want to get off or on the bus. The small community offers dogs and various stalls. In this neighbourhood many speak the language Quechua and the town's name is Wantu in this language. The road here offered stunning views of mountains, cliffs and canyons. We are right now at 3562 meters above sea level.
13.24 We are now looking out over an cultivated valley. The small terrace cultivation spreads out like a patchwork.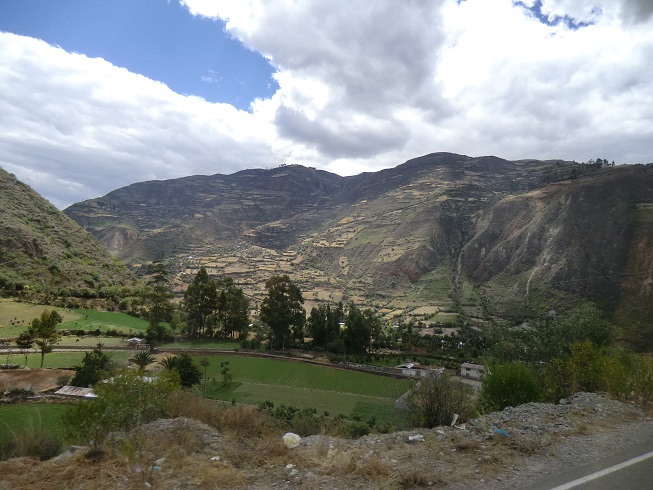 Bus trips in the Andes always offer marvellous views.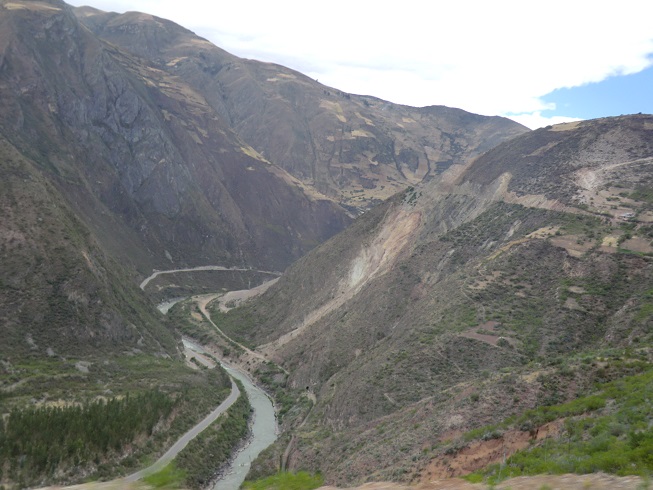 The river Mantaro near Izcuchaca.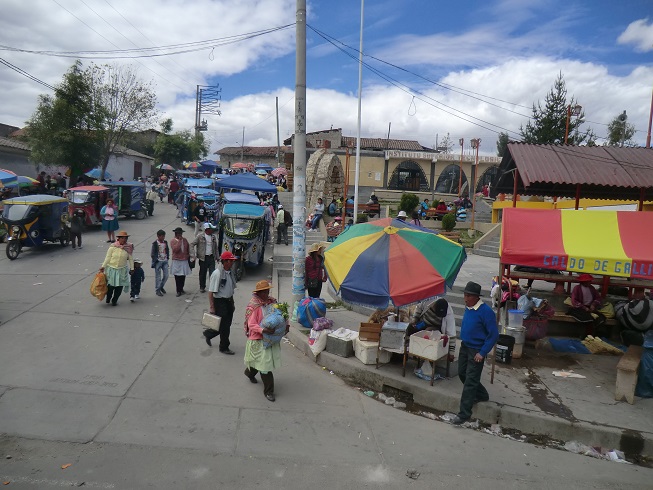 We have just stopped in Huando.
14.27 We just drove across a small bridge at the bottom of one of the many valleys. I think it is tough today. It is psychologically difficult to travel on winding roads along the mountain sides. The distance a bird is flying in no time takes forever by bus. It feels like we have been on our way considerably longer than the four hours we actually have been on the road.
15.08 The bus finally stopped in Huancavelica, today's final destination. To be here is positive. It was less positive that we did not stop where we expected. Instead of a bus terminal in the city centre, we went to a newly opened bus station in the city's outskirts. It was, however, easy to find the Hotel Presidente (http://huancavelicaes.hotelpresidente.com.pe). We walked down a hill and navigated using a football stadium towards the centre. Here at the hotel we got a wide bed each in room 206. We share the room with beds, furniture and a stove. It's freezing in here. The city's most expensive hotels seem to have no heating.
16.02 Now that we have settled in the room, we should get to know the neighbourhood a little better. To walk around a city without heavy backpacks on our backs sharpens our senses. We have risen further height-wise. We are now at 3676 meters above sea level.
16.33 After buying bus tickets from Expreso Molina, we are now on the Plaza de Armas by the hotel. Here we have walked into a cafe, Los Portales for a late lunch or afternoon coffee. We'll see what happens.
17.33 After finishing the meal which was more coffee than food we went and bought juice in a small and cramped shop where they were about to move all products. Now we are home again and are quite pleased with the day. We've come to the right city and managed to find a room. It is not cheap, but we need a good accomodation here, important for the next journey which is with a night bus.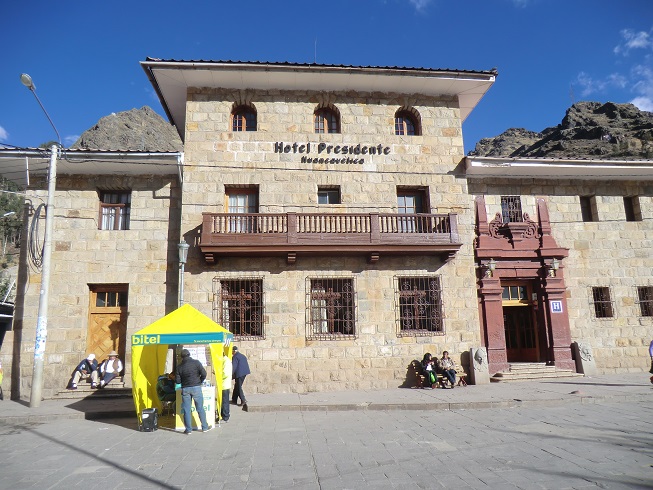 Hotel Presidente in Huancavelica.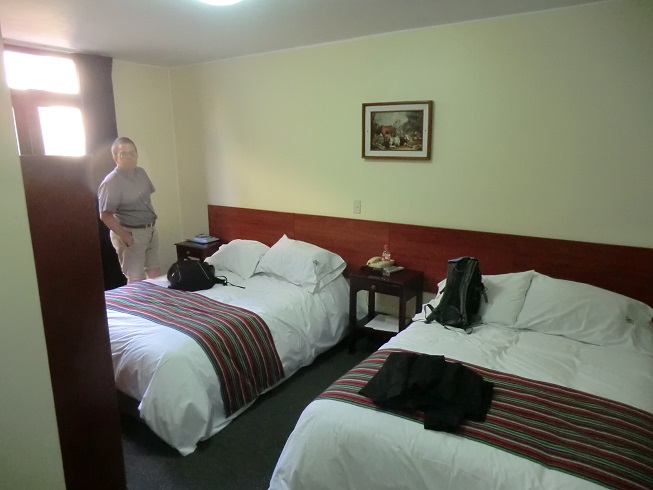 A good but very cold room.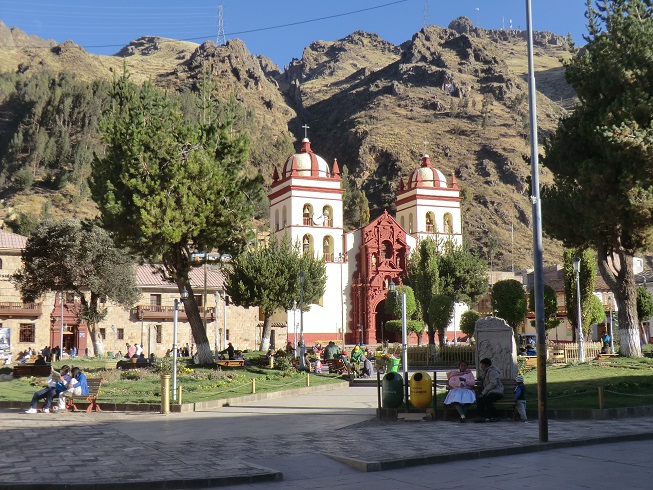 Afternoon on Plaza de Armas.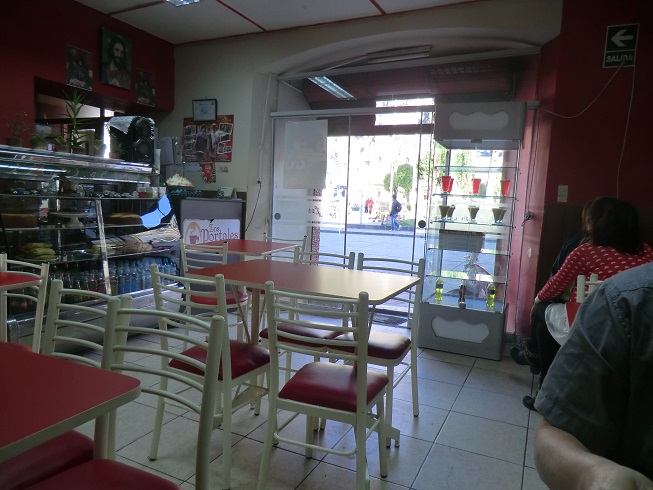 Afternoon coffee at Los Portales.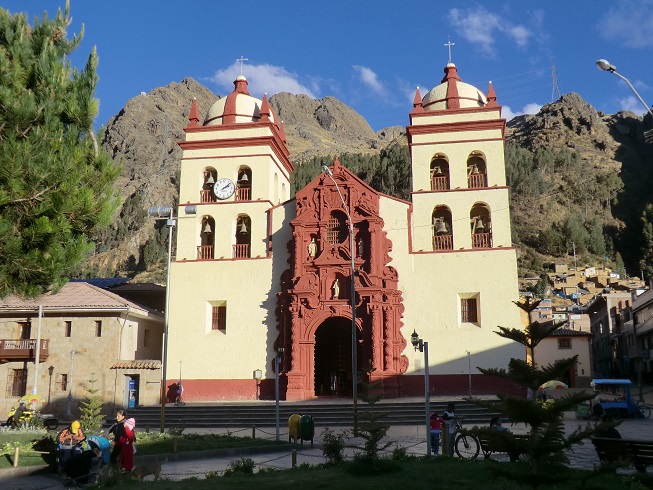 The beautiful Catedral de San Antonio in Huancavelica was built in 1673.
19.19 It is far from warm in our room. The heater will run during the night. We will soon leave the room for dinner and an evening stroll.
19.41 Tonight we will have dinner at Chifa Centro or La Plaza. There are two different names on the menus we received. It should in any case be grilled meat.
19.53 There are two restaurants with different entrances, but with the same kitchen. This explains the various menus and the names here. We are all the same in one corner of the Plaza de Armas and await our dinner.
20.43 The evening meal was similar to what I had yesterday, and at least as tasty. The meat came in on a metal rack that was warmed up from underneath. Here in the hotel room the heater has done its best to warm the cold air. It's better but still cold. Luckily the covers are thick and the beds comfortable.
22.00 Now it soon will became time for us to tuck us in separate warm and comfortable beds and ignore the cold outside.
This dinner looked very similar to yesterday´s.
---
Sunday 19th of July
07.35 We have just woken up. Yesterday we read that breakfast is served between 07.00 and 10.00. There is no panic. Now I'll have a shower. Hot water can be nice on this chilly morning.
08.05 Our room phone just rang. I answered and someone said desayuno, breakfast. I'm not that sharp in Spanish, said momentito and handed the phone to Christer. He understood what was said and told me that breakfast is served only until 08.30. Now we just have to drop everything we're doing and go down there. It was an annoying stressful start to the day.
08.18 On the way to the breakfast table the clasp of my sandal came off. I had to stop while Christer went to breakfast without having noticed that I stopped. He came alone to the restaurant and had talked to me along the way without having received a response. After some problems I also got there although I arrived through a different entrance. Now at last we sat down, and the breakfast is incoming. In addition to the two of us it is another newly awake guest waiting for breakfast. They seem to have pulled him out of bed too.
09.11 The breakfast is finished and Christer is now heading for the shower. There was no time for that earlier.
10.04 It's time to go out and walk under a clear blue sky with a bright sun. The days in the Andes mountains this time of year are sunny and beautiful but the cold night air makes it very chilly outdoors and indoors. It is often around zero degrees then. Before leaving we will ask if we can stay in the room until around 23:00 tonight when we'll leave with our bus.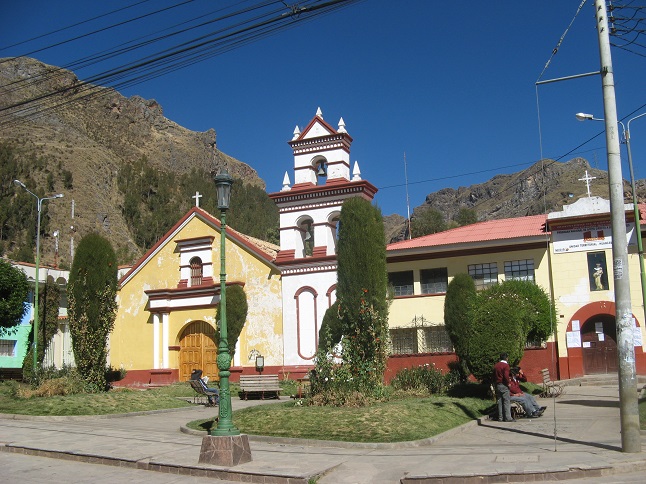 Peaceful Sunday morning at Plazuela San Juan de Dios.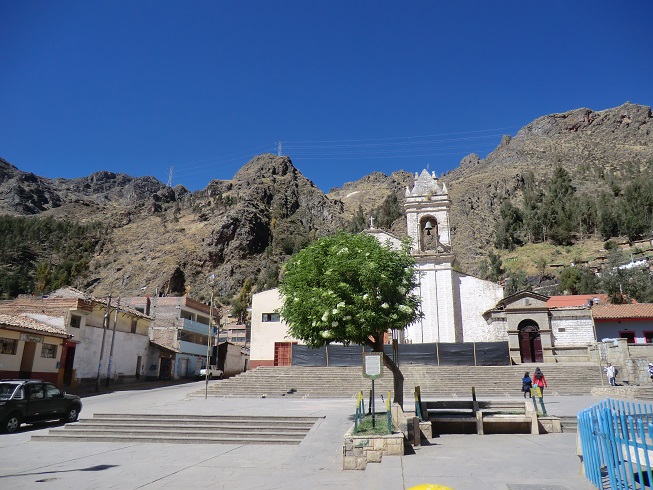 Plaza Bolognesi, Huancavelica.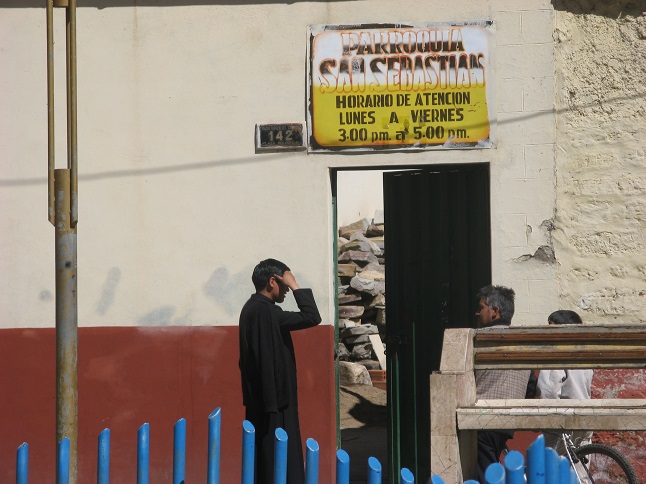 The priest is listening to something interesting.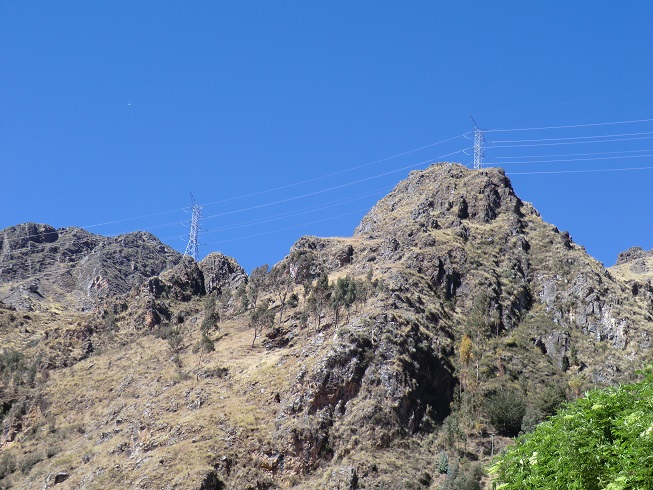 High altitude wires.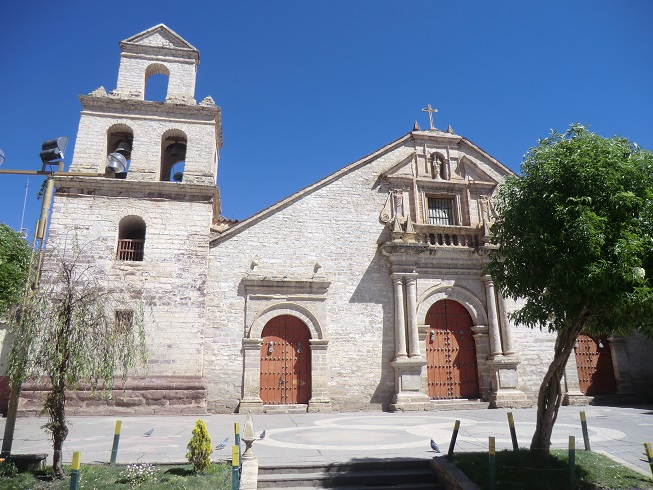 Iglesia de San Sebastian.
10.26 It was fine to keep the room here until 23:00. When we came out of the hotel and went out on the Plaza de Armas we were not alone there. The fact is that there were a lot of people on the move. There were some groups in identical costumes. We left the crowded square and went to the somewhat sparser populated and slower Plaza Bolognesi some distance away. Here we can see San Sebastian and San Francisco. They are churches.
11.19 After enjoying the peaceful atmosphere on Plaza Bolognesi, we returned back to the crowd at Plaza de Armas. Here there are speeches about education in the city and soldiers are lined. We will not remain here. There are more things than people to see in this city.
11.31 New stops have been made by some ladies selling knitted caps and much more souvenirs. It is possible that we will return here later when there are less people on the go. It's pretty crowded in our city right now.
12.02 We are back in the bustling Plaza de Armas. We have seen people strolling parading and playing music. On the sidewalks are sleeping dogs. People carry around banners from different schools and about the battle of Ayacucho in 1830. Now we are once again having a coffee break at Los Portales, just like yesterday.
12.36 We paid and returned to Plaza de Armas. Now groups stand in front of the church to take pictures. We sense, imagine it could be graduating times for certain schools, but we only speculate. There are also health professionals who pulls around a large man-made hospital bed. What do they celebrate?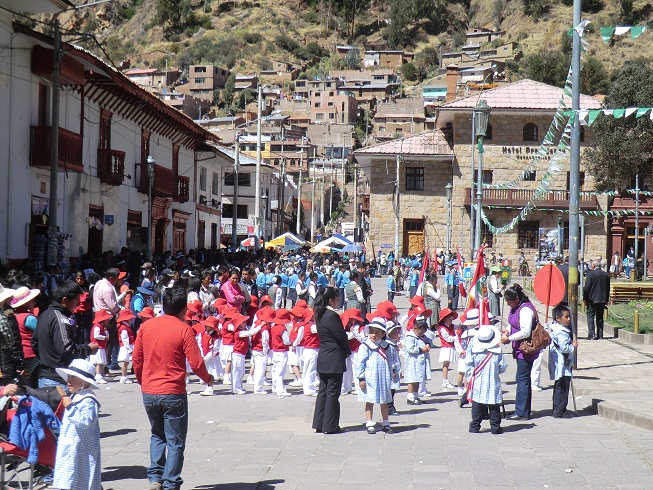 Lots of activities going on this Sunday. We are trying to understand what is going on.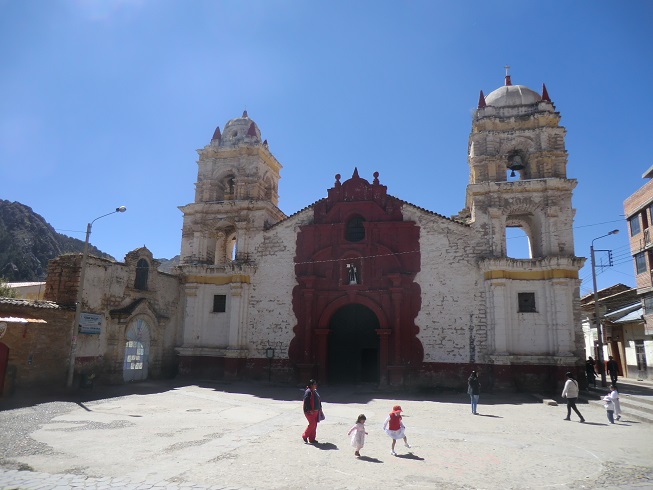 Iglesia de Santo Domingo, built in 1601.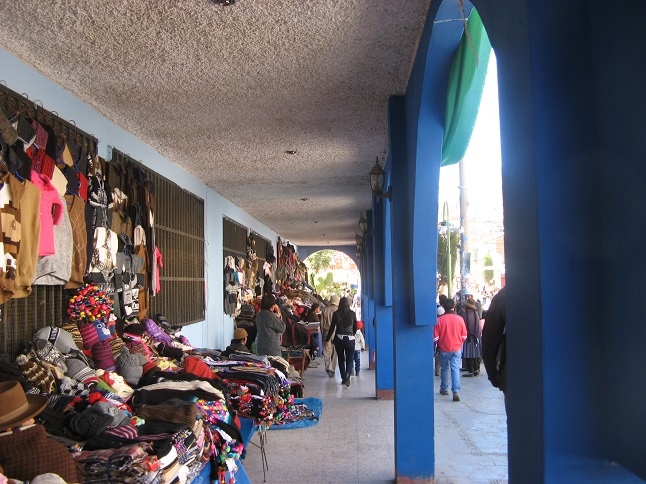 Souvenirer for sale. Christer bought one of the souvenirs seen in this photo.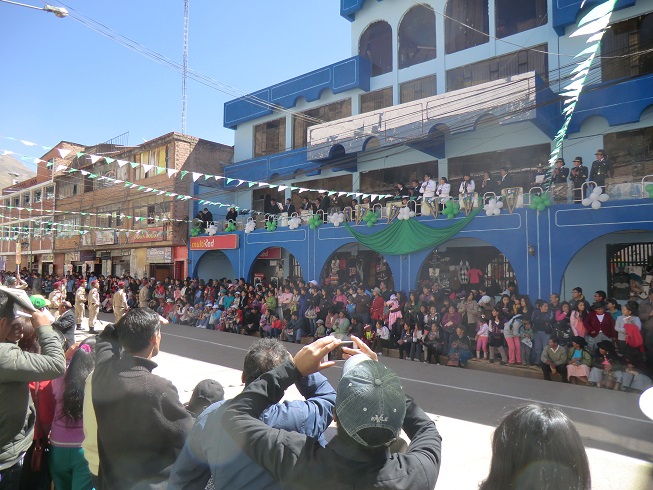 Lots of people waiting for a parade.
13.44 We made an attempt to withdraw money from an ATM in the hotel building. There would be no problem to get money. The problem was the currency. For some reason it just had US dollars. Now we are in the room again making plans for the rest of the day.
14.40 Enough with the planning. The time has come to get back into the town to get something to eat, a lunch quite simply.
15.15 Now we're at the Great Wall, La Muralla China. This is where it will be lunch. The restaurant has both Asian food and also seafood. These two different menus, two types of food at the same restaurant seems to be a continuing trend here.
16.01 It was cheap, it was necessary and it was filling. We continue to move around in the area around the city's main square, the Plaza de Armas. It is not so much for sightseeing as for killing some time.
16.29 Now we have bought bread in a bakery, bread for the upcoming night bus trip. Christer has been to the ladies and bought a cap of Inca model. It will be a gift or maybe kept for himself.
16.55 Once again we are back in our room. Ahead of us is some private time.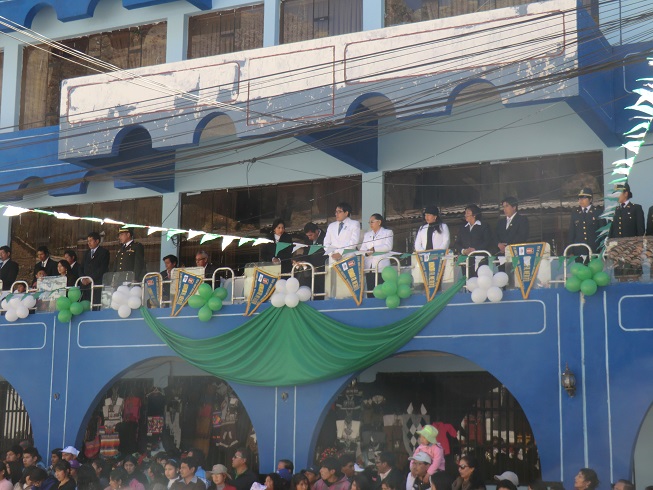 Important people in Huancavelica but unknown to us.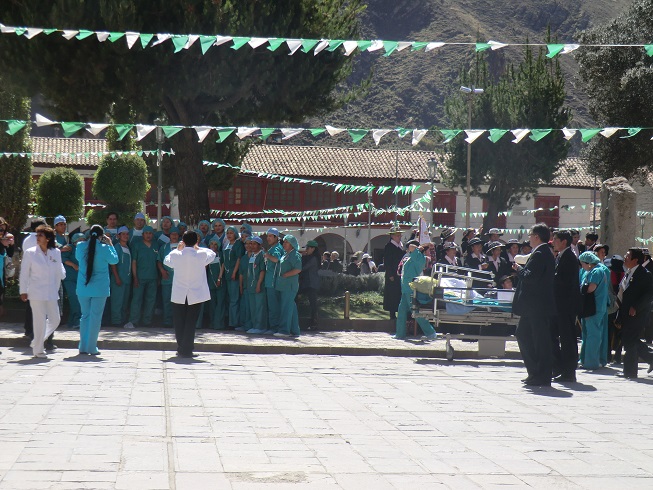 Surgeons on the run?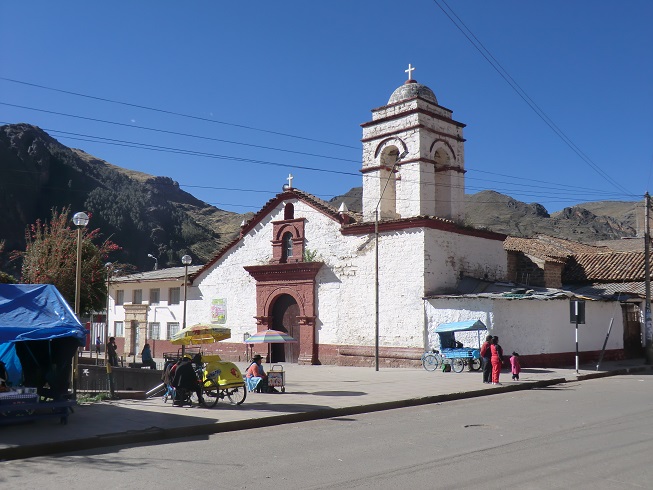 Iglesia de Santa Ana, a very old church.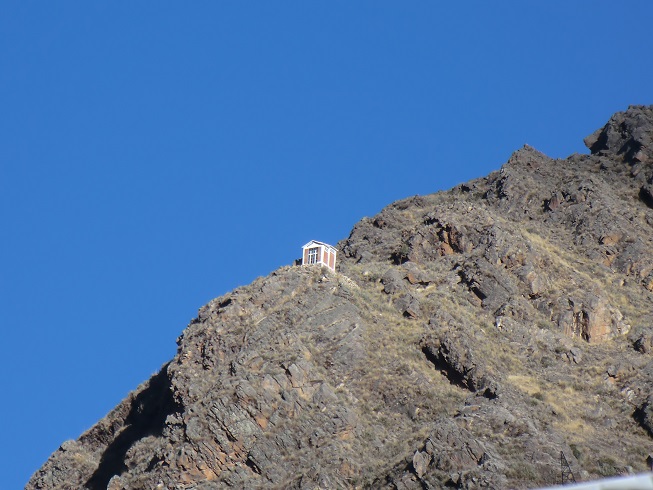 Who lives here?
18.50 Enough of private time. It is time to get out of debt, and to find somewhere to eat dinner.
20.42 It went well to pay for the room. Unfortunately we had to pay for a whole extra night because we kept the room today. Expensive hotels never give anything away. It did not went quite that well for us to find a restaurant for dinner, at least a restaurant where there was space for us. We have walked to all sorts of food places but there were queues and crowds everywhere. We simply had to return to the hotel. Here we ordered dinner at the hotel restaurant. Probably the day's festivities which made it extra people in town.
21.20 Now it's not much that remains for us here in Huancavelica. We will just get our backpacks ready for another night on a bus.
22.40 Now we and backpacks are basically ready. Now we just have to find our way to Expreso Molina´s bus office, enter it and eventually into the bus.
23.20 The room key was left and we were released. Suddenly they asked if we really had paid. The receipt that proved this was shown and we walked away. It was pretty cool during the walk through the city. Some would even call it cold. Once there, we knocked on a metal shutter and were let in through a small door. Now we are in position at the Expreso Molina's office and waiting with three other passengers to board. The bus will not start from here. We wait until it pops up.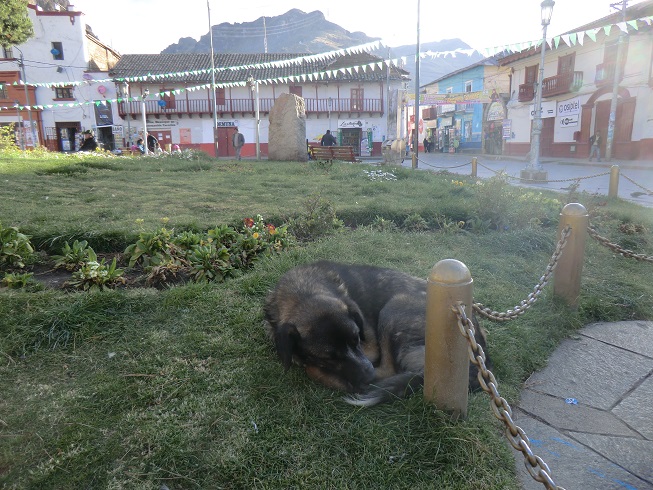 Dogs also need siesta.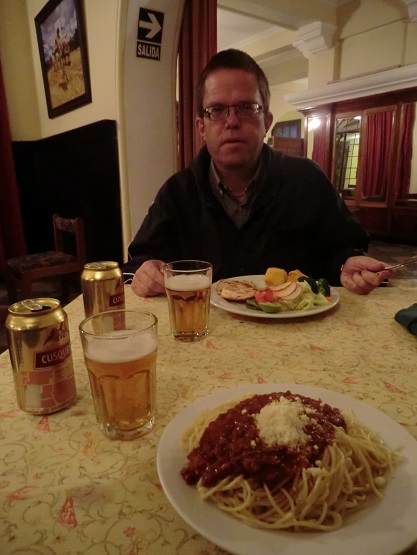 We didn´t expect a dinner at our hotel this evening.
---
VIDEOS
---
You can see 29 photos from July 16 in this photoalbum.
You can see 34 photos from July 17 in this photoalbum.
You can see 32 photos from July 18 in this photoalbum.
You can see 45 photos from July 19 in this photoalbum.

---
---
---

---