---
Text: Peter Johansson
Editing: Christer Lundstedt
Photos: Christer Lundstedt, Peter Johansson
Videos: Christer Lundstedt
---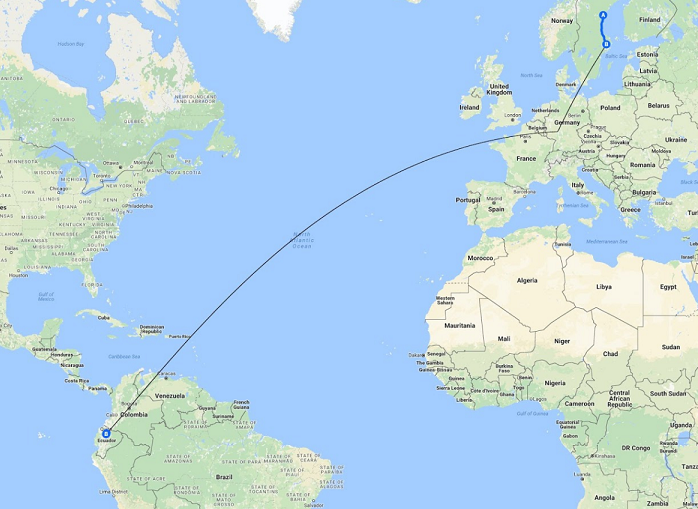 ---
Thursday 18th of June
12.11 It is today that things happen. It is election in Denmark, Ramadan begins among the world's muslims, and last but not least, another summer trip starts for Christer and me. Right now I sit on the bus going south to Sundsvall. This summer's trip is long, so we are out early this year. We are already on our way though we´ve hardly stopped working.
14.08 I arrived to a rainy Sundsvall. There was a car transport from the bus station up to Christer's apartment. His father, who just arrived to Sundsvall from Oxelösund, drove me, thanks!
14.55 Christer has brought food from the local Asian restaurant Hagawoken and we are about to have a late lunch or early dinner before we leave the apartment.
15.34 Everything is packed. We are ready. It feels good to move on when the weather is so depressing here.
16.12 There was a car trip for both of us down to the railway station. We have started our travels in many different ways, but this was actually the first time we went by car as a matter of transport during our departure. Christer's father who drove us is staying temporarily in Sundsvall before his onward travel to eastern Jämtland. Now we are on the train south towards Arlanda airport.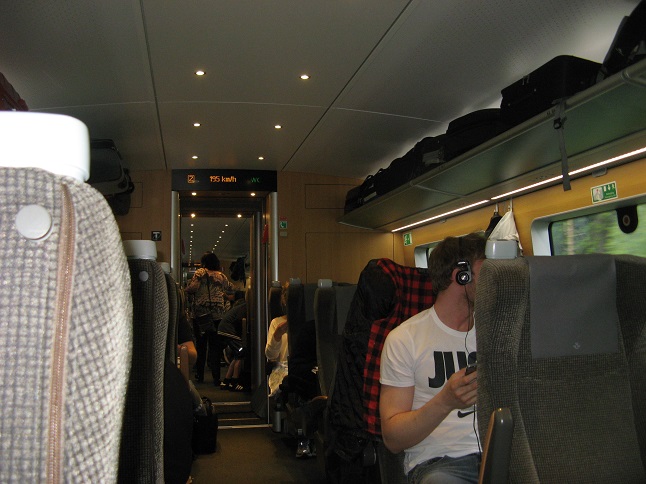 The trip has started.
19.25 We and the train have arrived at Arlanda airport where we got off. Here at the airport we have some things to do before we check in at our room at Rest and Fly. The room is available from 21.00 so there is plenty of time.
20.34 Christer has unsuccessfully been into some shops and looked for a metal box for credit cards. We then sat and talked about unimportant but interesting things for a while. Now it's time to go to our accommodation and leave the luggage.
21.21 We are sitting on a bench outside Rest and Fly (http://www.restandfly.com) and waiting to check in. When we got to the reception we just saw a queue and a "back soon sign". There are lots of people waiting. What happens?
22.09 Finally the front desk got staffed and it was easy to check in. Now the backpacks are in room 35 and we eat a late hamburger meal at MAX.
23.15 The beds are made and we are ready to sleep. All that remains now is to sleep and gather strength before tomorrow's long flight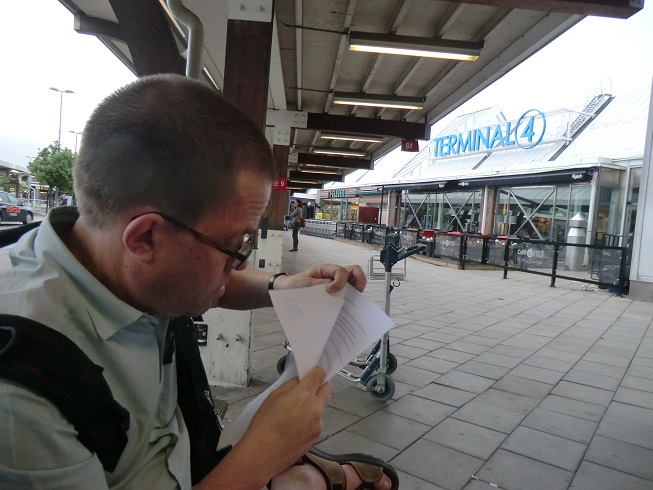 Peter is getting prepared. Soon we will check in at Rest & Fly.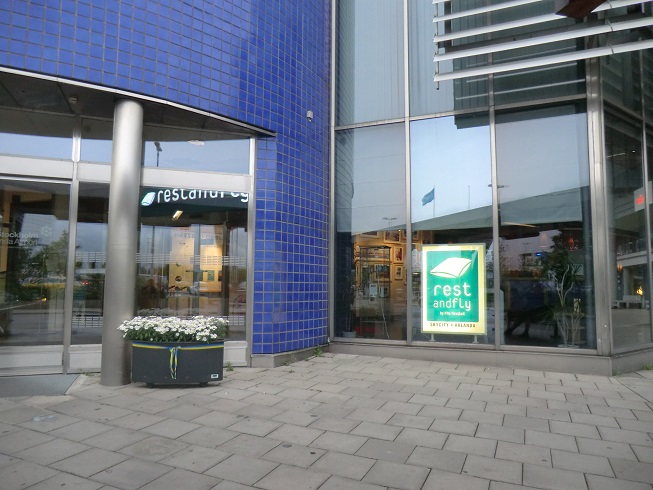 Rest and Fly, Arlanda Airport.
---
Friday 19th of June
06.17 Happy Midsummer Eve! It is early in the morning on Midsummer Eve. It's not the first time we are travelling during the Swedish midsummer holiday. It starts to become a habit. The sleep in the excellent beds has been good. Next beds are located far away in time and space. It is best to focus on the here and now.
07.14 It's time for a new trend. There will be no breakfast at 7 Eleven as usual after our Rest and Fly-night stay. It is not because we do not want to go there or that they have closed. It is what they offer that is to meager for our taste. Instead it will be breakfast at Grand Café. They offer a breakfast with coffee, sandwich and juice for about US$8,50.
07.42 It turned out to be US$2,50 extra if you wanted juice and we wanted some. The info about that was written with small letters. In Denmark, it became a conservative, liberal victory in the elections yesterday. Around in the world Ramadan continues and we will soon do the same.
09.10 We got no luggage tags at the self check-in. We went to the luggage drop with the same result, no tags. The lady there put in a new roll and the tags were printed out. Now we´ve checked in our baggage all the way and got boarding cards to Frankfurt in Germany and to Bogotá in Colombia. When we get there we need to pick up new boarding cards for the last flight to Quito in Ecuador.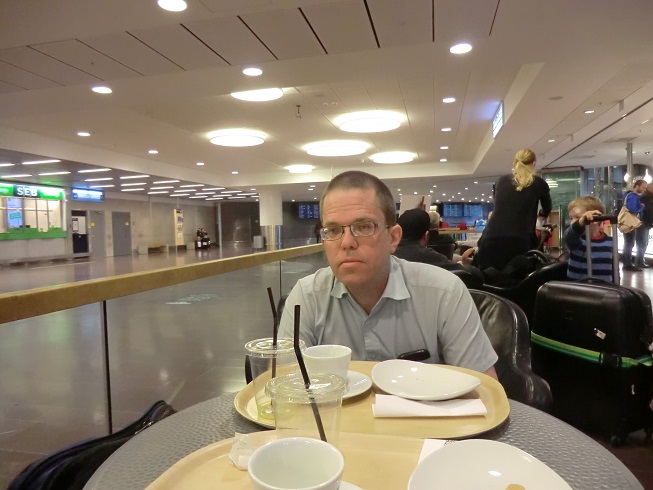 Peter has just finished his breakfast at Grand Café.
10.05 We have boarded our plane from Lufthansa and are obviously not in the same seat. We do not even have seats next to each other. Soon, we will take off towards Frankfurt. The flight will take about two hours, a warm up for what's to come.
12.13 The plane has landed in Frankfurt. The trip was undramatic and the plane arrived on time. When everything goes as planned, there is not much to write about. On the plane and even now on the shuttle bus are some martial arts girls. On the backs of their tracksuits, was the Swedish name for Sweden, Sverige. We thought for a moment about why athletes on trips so often are dressed in identical tracksuits. Do they lose each other if they don´t have similar clothes or do they want to show off in front of others? If you now want to show your origin while abroad, why do you have it written in Swedish on your clothes?
GERMANY

12.21 We've walked around here at Frankfurt Flughafen and examined what restaurants to choose between. We need a lunch before it's time to board our long flight across the Atlantic. It is not the first time we are at this airport. We passed here in both 2008 and 2009 when we were heading to Southeast Asia and South Africa.
12.46 It is now time for lunch at Hausmann's (http://www.hausmanns-frankfurt.de), one of the many restaurants anywhere in this huge airport. Right now, we sit down and examine the menu. It is soon time to order!
13.09 We were served burger (Hausmann's Burger) for me and Strozzapreti, homemade pasta for Christer. We also had some good German beer Warsteiner.
13.29 Lunch and food is good. Now we will travel with the Skyline (train) to Terminal 1. This is where our gate is and our plane is waiting for us.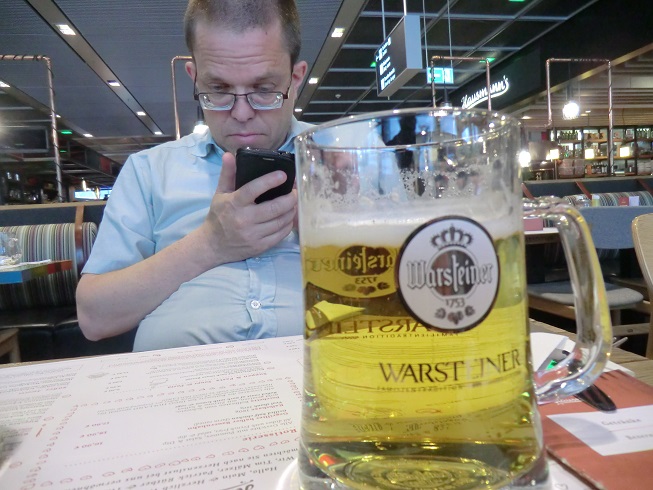 We are waiting for lunch at Restaurant Hausmann´s.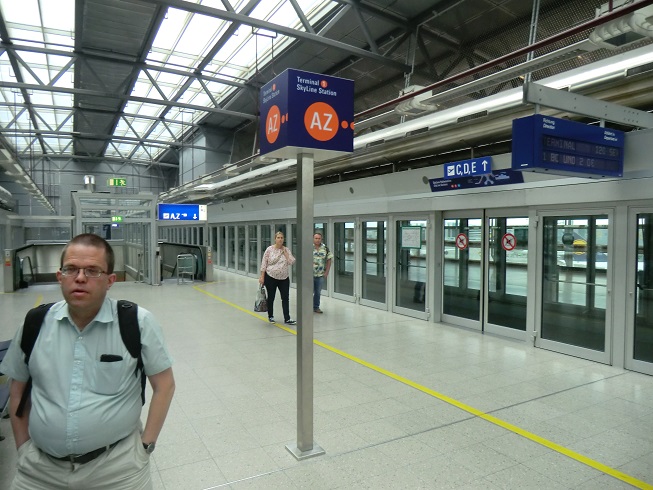 Peter is waiting at the Skyline Station. We are going fo terminal 1.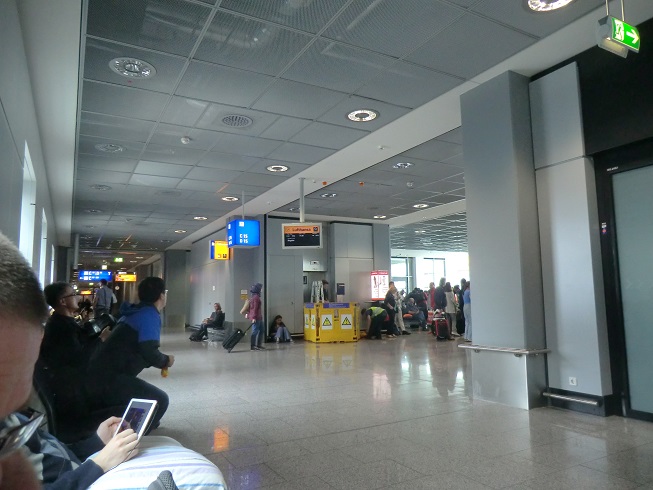 We are soon leaving Europe.
13.57 After a lot of walking we finally arrived at the gate, the gate away from Germany, European Union and Europe. As soon as we got on board the watches will be backed seven hours for the upcoming stay in western South America.
14.12 No need to rush on board. There will be plenty of time sitting on the plane. Now people start to move at the gate.
14.26 Before reversing the clock, a final note. We sit on the seats, 58 D and 58 E. It is in the center, right at the back of the plane.
CHANGING TIME ZONE
09.38 Not much has happened since the start of this flight that will take nearly a half a day. I misheard when the steward served me my gin and tonic. I thought he asked if I wanted banana when he asked me if I would like lime. A fellow passenger just came creeping through the alley and talked indistinctly. Soon the food will be served. The creeping passenger was barely one year old.
10.24 We fly west over France and are leaving Europe just south of Brittany. Now awaits the incredibly wide Atlantic. We have crossed it before and know that it takes time. We are impressed upon those who had the patience to go by boat over the past.
11.19 A man in the row in front of us has bought a Swiss-made pen for about US$500. Good choice thought the seller. Some people have too much money.
16.40 Somehow, time passes during such long flights. It takes time to finish the various meals and time flies when one is in a borderland between sleeping and being awake. Now we've reached the Caribbean with its archipelago. The end of that flight is approaching.
18.52 The flight is over. We have landed at Bogotá's airport, El Dorado. It is located at 2556 meters above sea level. It's the highest we've ever been on our travels. Now we're getting out. We have to arrange with new boarding cards. The back door is open and the fresh air and a little drizzle coming. It is, according to the German-speaking staff members, French rain (Französisch Regen) there. What does that mean? An odd detail by the way, our aircraft had toilets downstairs.
COLOMBIA

19.24 Here at El Dorado Airport in Bogotá, we have a few hours to pass before we board the plane that will take us to our final destination Quito. We have been into a shop and bought drinks and sweets and tried to find a transfer desk or office of the airline Avianca which will give us new boarding card.
19.58 We have walked to and from in the departure hall and eventually managed to arrange new boarding cards. We finally went to the staff who dealt with an earlier flight to Quito and they printed out boarding passes from the computer at the gate. It worked out but it was a lack of information about what to do to get these boarding cards. Now we are waiting, kill some time and let our beverages kill our thirsts.
21.39 After a bench break we went up one floor and ordered burgers at Burger King. Now it remains "only" the walk to our gate, boarding the plane, a flight, airport procedures, find a taxi and to check in at the hotel, find a room and then sleep.
22.40 Now we, and soon all the other passengers sit on the Avianca flight from Bogotá to Quito. I'm tired!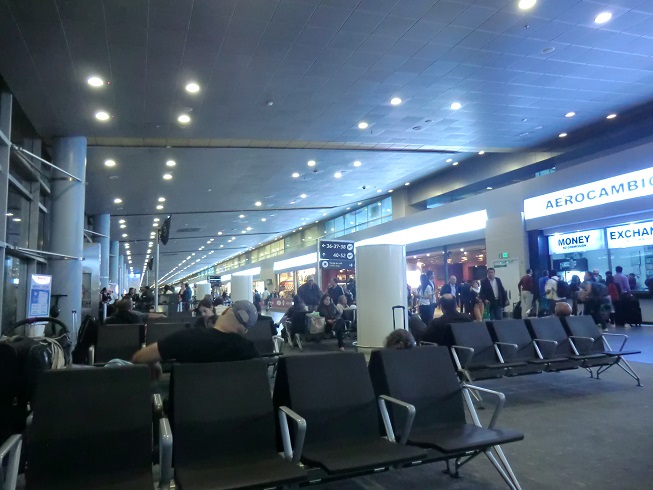 El Dorado International Airport, Bogotá.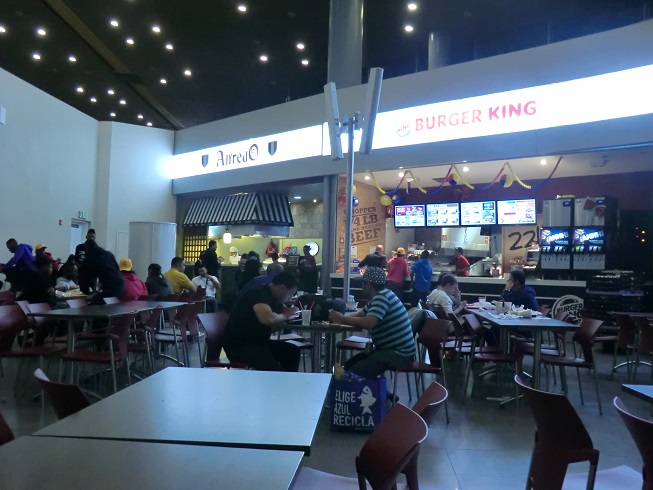 A quick meal at Burger King before the last flight this long day.
---
Saturday 20th of June
ECUADOR

00.37 It is Saturday and Midsummer Day. We have finally finished flying for this time and landed on the newly built airport Mariscal Sucre International Airport, about twenty kilometers east of Quito. We are now at about 2400 meters altitude.
01.22 Everything went smoothly at the airport. Our backpacks had flown with us all the way from Sweden and we were welcomed into the country. At the exit stood a woman with advertising for taxis to Quito at a fixed price with the company Cooperativo Aeropuerto. We accepted the offer and have started the taxi trip.
01.43 We left the airport in Quito and travelled quickly along a motorway. The silent driver suddenly became enthusiastic and began to tell us about Quito when we reached the city limits. Here it is lots of hills and valleys.
02.14 The taxi drove us to our hotel. There was a blind folded down over the hotel entrance. Our driver banged on it and a small gap in a small door was opened. The driver told the man who opened about us and the small door was opened. We said thank you and goodbye to the driver and went through the door. Now we are in room 108 at Hotel Principal (http://hotel-principal.com), in Quito, Ecuador. Right now there is not much else in mind than sleep, sleep and sleep again. When it is resolved this journey starts for real tomorrow morning.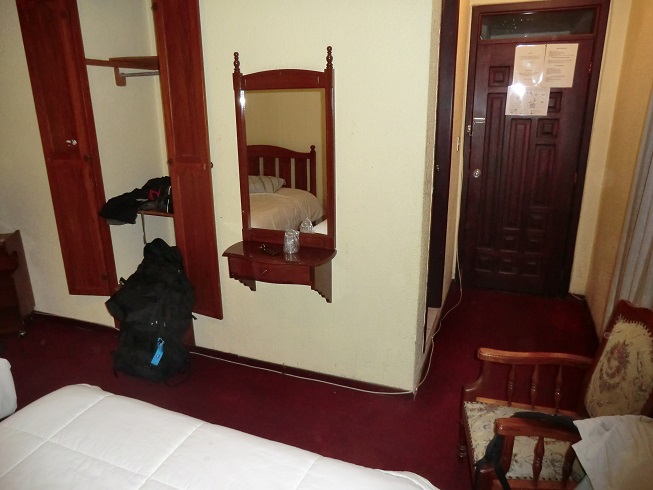 This is what our hotel room looks like.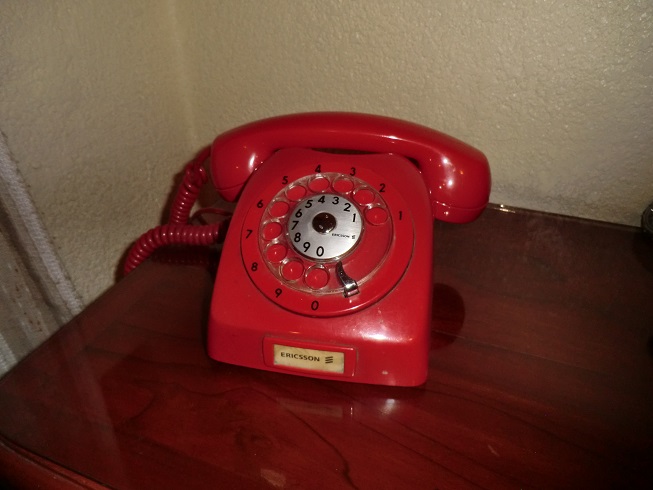 It´s not often we see these telephones anymore.
08.22 I would have slept more than this but then there would be no hotel breakfast. Outside awaits the world's highest capital city. We are namely at 2850 meters altitude. Some believe that La Paz in Bolivia has that title. But is just practically serves as the capital. The official capital is the lower situated Sucre.
09.26 The hotel breakfast was simple and rather small. The question is if it had not been worth to sleep past it?
09.58 Now it's time to step out into another city. I feel a certain tiredness. I hope that it is temporary.
11.57 We didn't get outside. We have been resting more, even slept. Now it is time for a new and more serious attempt.
12.14 Now it went better. We have for some time felt Quito on the pulse. We stepped out of the hotel and were met immediately by an impressive view towards the housecovered hills in the surroundings. It is beautiful and hills everywhere. It is a challenge to breath at this high altitude though. The walk up the hill to the Plaza Santo Domingo made it hard to catch the breath. Yesterday's insanely long flight affects us, but we certainly notice the height at some extent.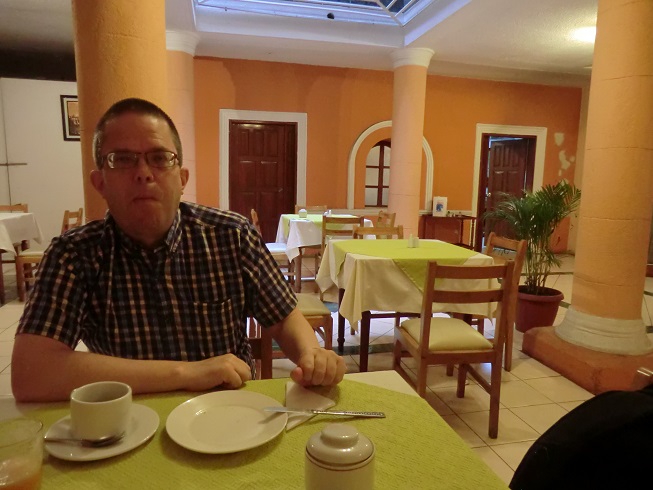 A small hotel breakfast is still a breakfast.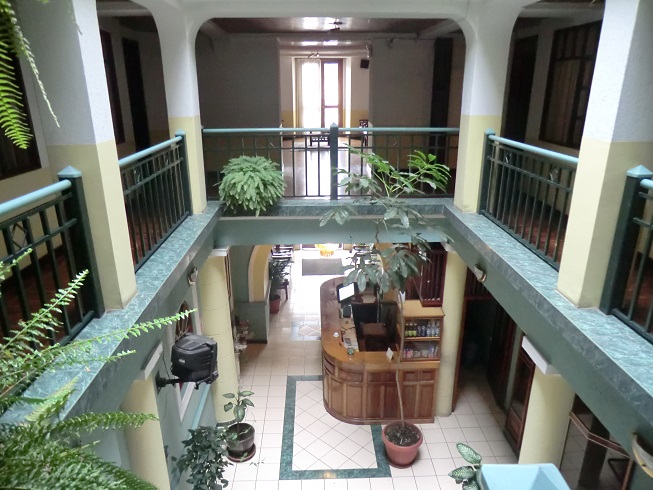 Hotel Principal seen from inside.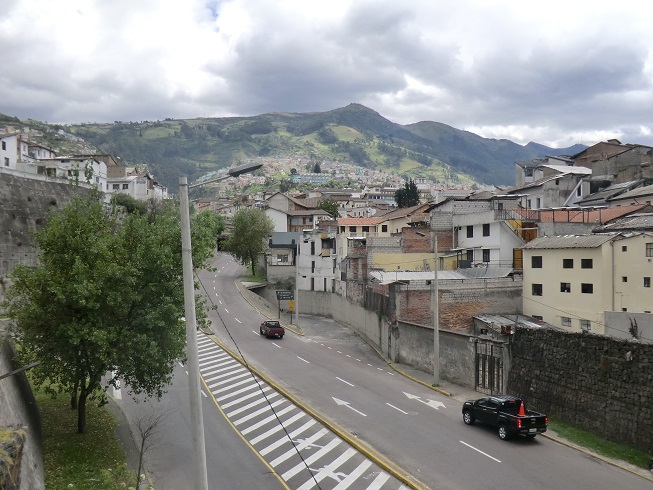 We left the hotel and saw this beautiful view.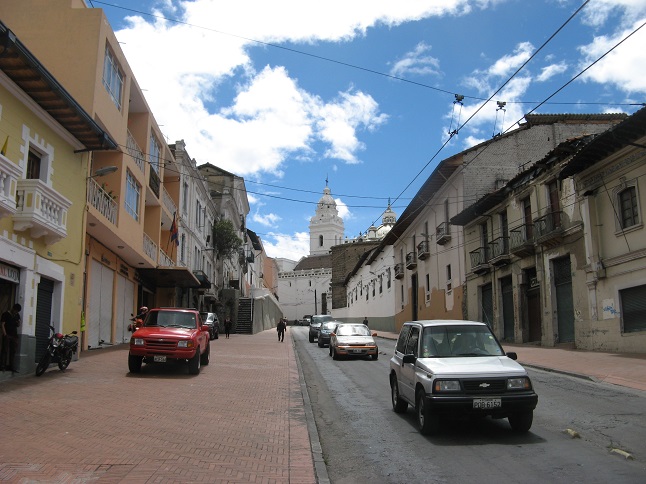 At this altitude it was a long and tiring walk uphill to Plaza Santo Domingo.
12.21 After wandering aimlessly in the area around the Plaza Santo Domingo, we have finally found a suitable restaurant. Now we will have lunch at Sherif Colonial. We are in "Old Quito" with its churches and squares. The more modern part of the city is located farther north. We might possibly be able to see that area tomorrow.
13.50 We finished our lunch at the cozy restaurant and have seen more of Quito. For example, we have seen the square and the church of Santo Domingo. Now we are having coffee at Café Niza. We were looking for a while for a bigger and better cafe but they were crammed with people or simply non-existent. This will have to do today. First, we poured some strong coffee in our cups and then filled it with hot water. It is this that is called Americano. Café Niza is a minimally cafe with only a few tables. But is all we need to have some java.
14.41 After the coffee we went to a small supermarket. Christer went shopping and I guarded the small backpacks, which again are not welcome into the stores. No sooner had I begun waiting before I was hit in the back of melted strawberry ice cream. The result was melted ice cream over the shirt, shorts and the two backpacks. A kind elderly lady offered me some tissues. Who threw the ice cream and why it was done remains a mystery. Someone may have stood on a balcony and eaten it or I got it from a passerby. Now we are back in the hotel room to remove the ice cream as well as we can.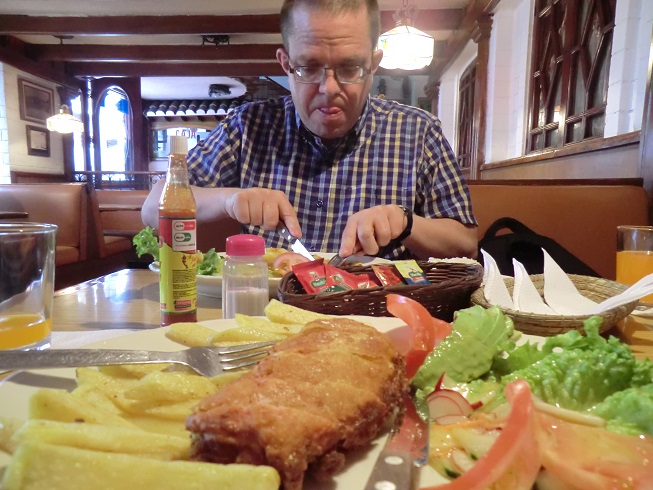 Lunch at Sherif Colonial.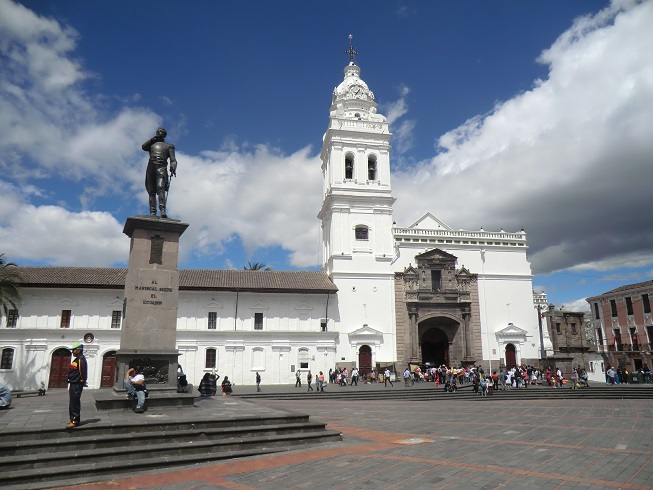 Iglesia Santo Domingo, a beautiful church with a history dating back to 1540.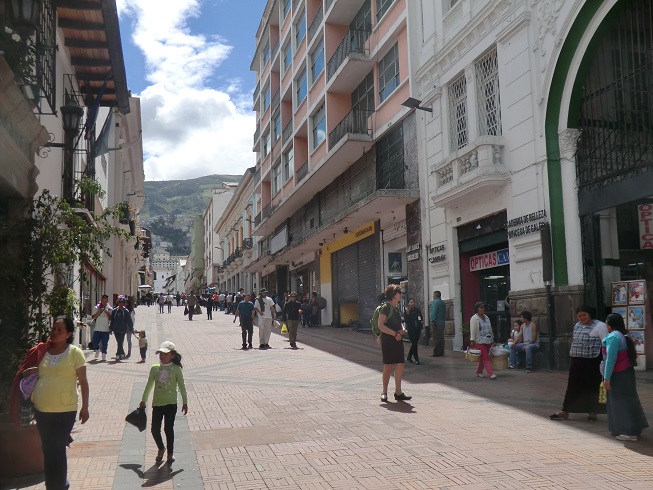 Tourists and locals on Calle Sucre.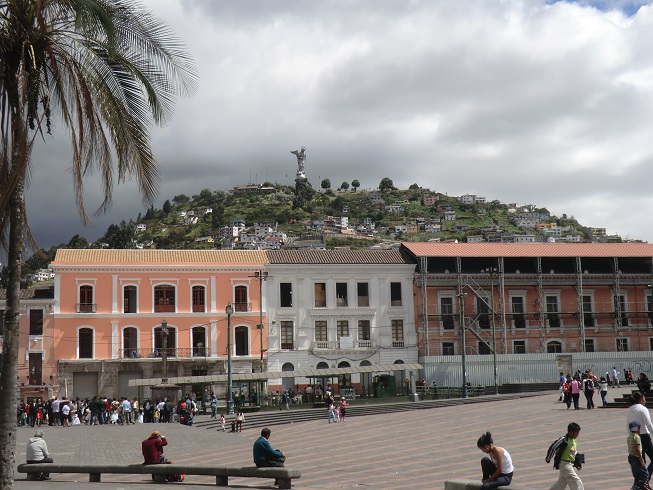 La Virgen de Quito looks out over the city. The statue is sometimes called "the only virgin in Quito".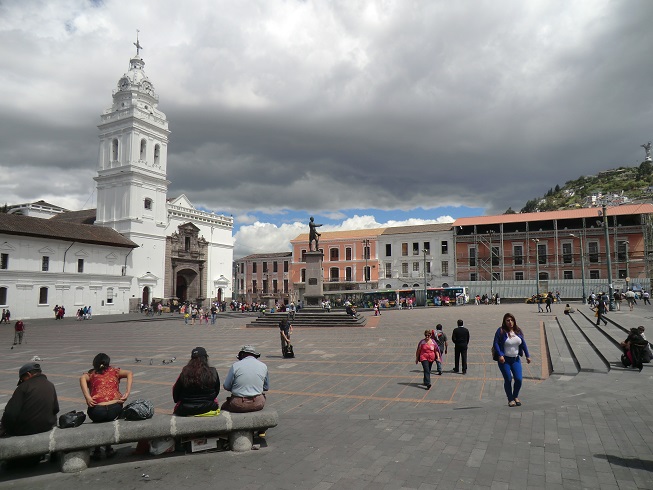 Plaza Santo Domingo, Quito.
16.19 Now we have left the room to sit in some chairs and read in our books. The light in the room could have been better. We sit overlooking the street outside the hotel. Now a police car stopped outside the hotel entrance. They do not seem to be entering here though.
17.33 The darkness is almost here. We are back in the room and thinking about tonight's and tomorrow's activities. We intend to have our dinner somewhere along the street "La Ronda", which is right next to our hotel. Along the street there are houses from the 1600´s and it has historically been known as a haunt for politicians, writers and artists. It has recently been revamped and is very popular in the evening when the bars and restaurants are running. Tomorrow we hope for a trip with a sightseeing bus. There should be one in this city.
18.53 The grip of the lethargy is strong. We will soon go out for our dinner. I really long for a good night's sleep. It takes a while before our bodies are completely adapted to a new time zone and become itself after fifteen hours in airplanes and additionally six-hour wait at the two airports.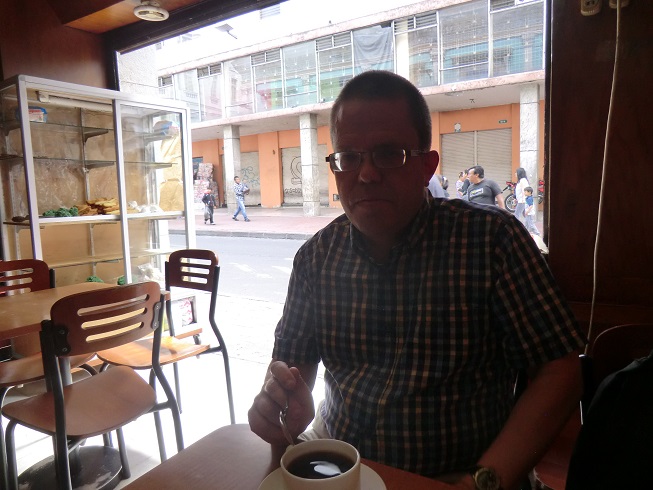 Coffee break at Café Niza.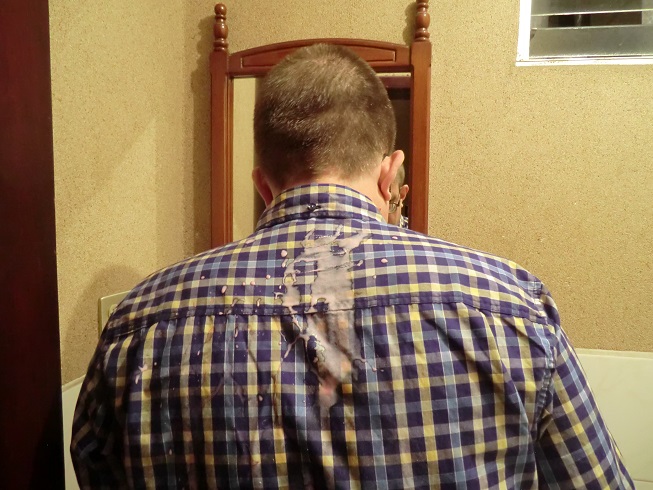 A nice city walk had a surprising and unpleasant end.
19.24 It is our first evening in Quito and we will have dinner at the restaurant La Cascada de la Ronda. It is a small, cozy restaurant with orange walls. It is one of many similar small eating places along the street La Ronda which at this time is packed with people and musicians.
20.36 It was a nice dinner, without anything unique about the food. It was, as so often in South America, grilled meat, churrasco.
21.02 After dinner, we followed the pedestrian street La Ronda and turned right from it to go back home. The idea was to buy something at the kiosk next to the hotel. It turned out to be a place where you buy things over a counter. Tell them what you want and they go inside in the store to get it. It seemed like a challenge given my lack of and Christer's poor Spanish, so we went back to La Ronda. There were the most restaurants and costumed people. A small shop was found in the end and now we are at home with the purchased beverages.
22.14 Now my bed attracts me more than a little. There is a plan for future activities. We will see if tomorrow will be according to the plans. Good Night!
Christer is having dinner at the small restaurant La Cascada de la Ronda.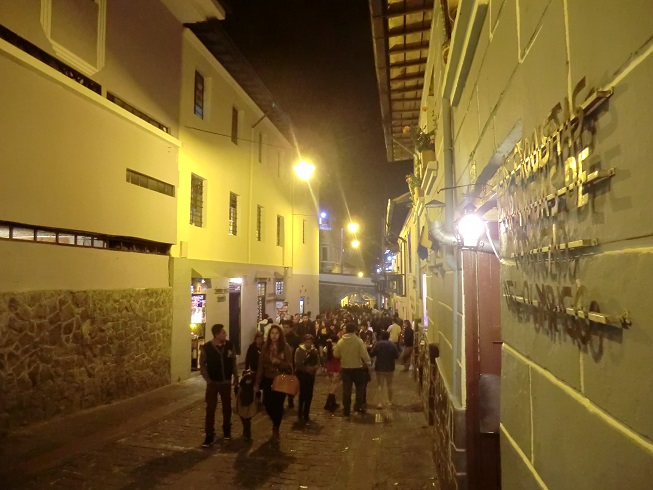 "La Ronda", a street you should visit at night.
---
Sunday 21st of June
08.58 It is nice to sleep, but it is difficult to sleep comfortably in this room. The bed is hard and there is not much circulation of the air. We have hopefully slept enough to be back in normal shape. Hotel Principal does not serve breakfast on Sundays (is the chef religious?). Therefore, we will soon head out into Quito for the first meal of the day.
09.28 We will soon leave the room. We will not just have breakfast. We have also planned to go with a sightseeing bus and reach new heights.
09.57 A waiter in leather jacket just took our orders. We have returned to the restaurant where we had our lunch yesterday, Sherif Colonial. It is time for breakfast. We have put together a nice breakfast consisting of muesli and fruit salad.
10.56 This was a good start of the day. Now we are waiting for the bus. We are at the Plaza Grande, the square where one of the bus stops are. The sun warms just enough and the birds are singing together with the car alarms and shouting vendors. Some are selling fruits and gelatin, sweet jelly simply. Something else is coca tea, coca candies and coca leaves. In Sweden we associate the coca plant primarily with cocaine but here in the Andes is said to be good for the stomach, against altitude sickness and it reappear in different contexts.
11.41 I do not know if we were in the wrong place, the street was blocked or if the bus was late and avoided our bus stop. It just didn't turn up. Something that turned up was two guys (students) who wanted to interview and film us. They asked about what we have done since we arrived here, if we thought it would be interesting to visit the president or the mayor, etc. Once again, we are part of a school project and we will miss the presentation of it. This has happened to us before, for example in Indonesia in 2013. Now there will be a brief stop at home in the hotel room. Soon, we´ll look for another stop for the sightseeing bus. Better luck this time?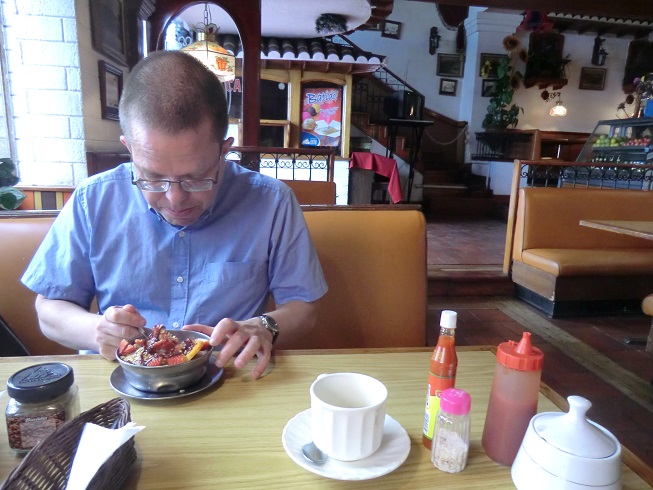 Peter is having breakfast during our second visit at Sherif Colonial.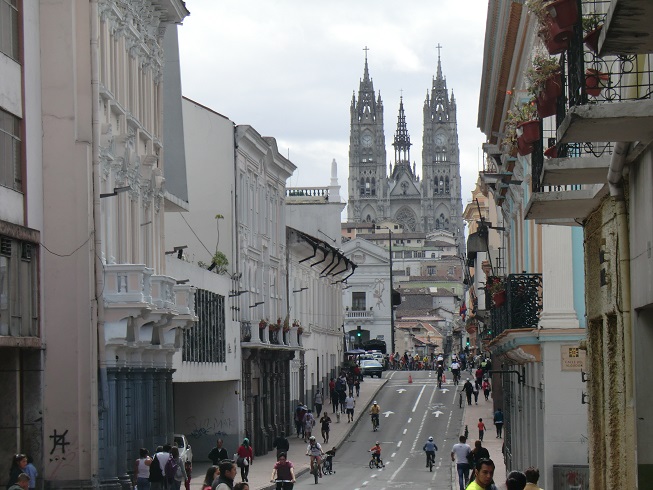 Basilica del Voto Nacional.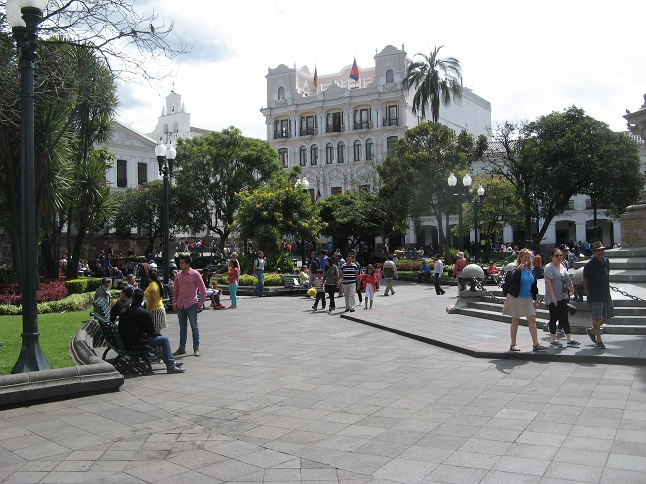 Plaza Grande, Quito.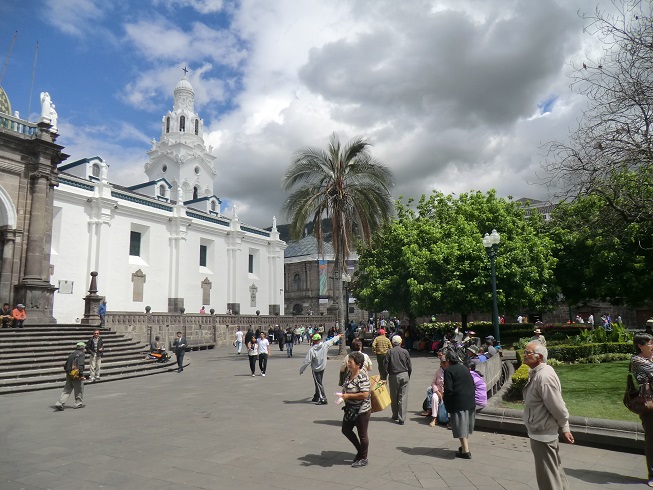 The cathedral in Quito has a famous painting where Jesus and his disciples are eating guinea pig.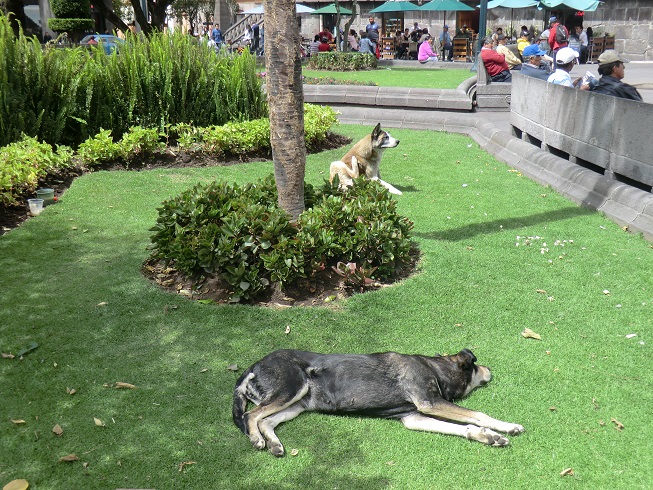 Dogs in the Plaza Grande.
12.00 The time has reached twelve. We will try again at a new bus stop, Bulevar 24 de Mayo. A lot of bikes are passing here. Are we in the wrong place, or?
12.08 We start to become pessimistic about the bus. The streets in the center seem to be closed for motorized vehicles. Cyclists keep on passing us though.
12.19 As we feared, no bus has passed. However, playing and dancing people of different age and gender have passed us. One who was praised is the priest Padre Matovelle from Cuenca. Some people are dressed in their best clothes others is some masquerade outfits. Now some children dressed in local clothes are passing. What we see can be a part of the Inti Raymi, a celebration of the winter solstice, a tradition with roots in the Inca Empire. The date is correct in all cases.
13.11 It seems tough to catch any bus. We are back at the Plaza Grande where the waiting began. We will have coffee and sandwiches at the café Dulceria Colonial. Fun facts, Quito's old city center, where we are now, where together with Krakow's ditto the first on UNESCO's World Heritage List.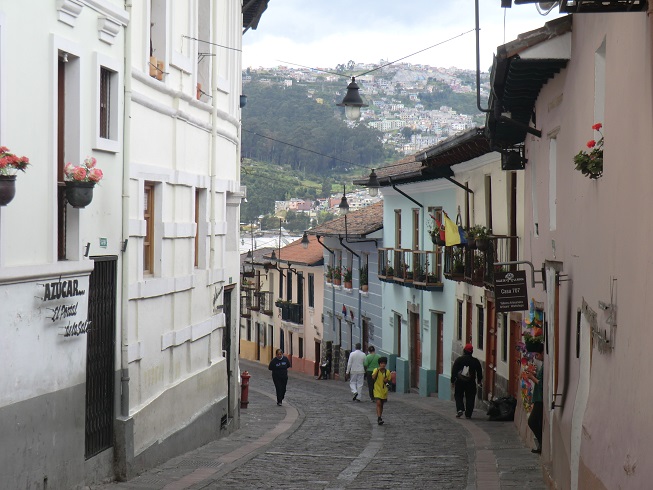 The colonial street La Ronda during daytime.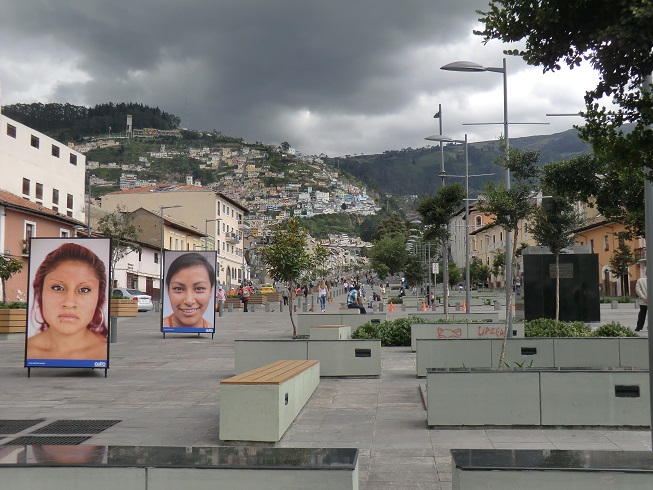 The faces of Quito.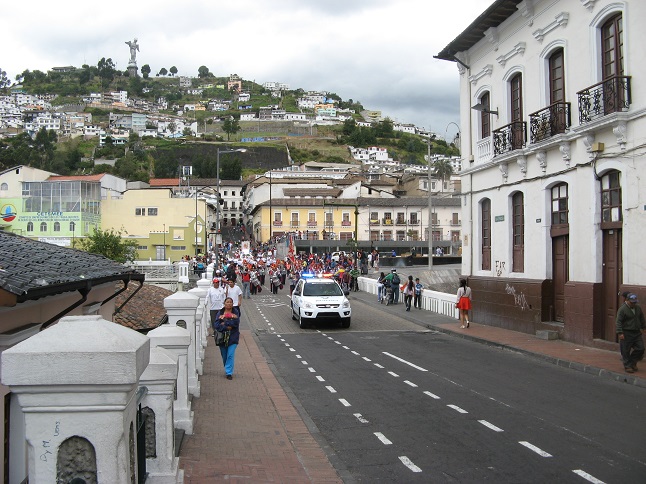 Suddenly and surprising a large parade arrived on the carfree streets.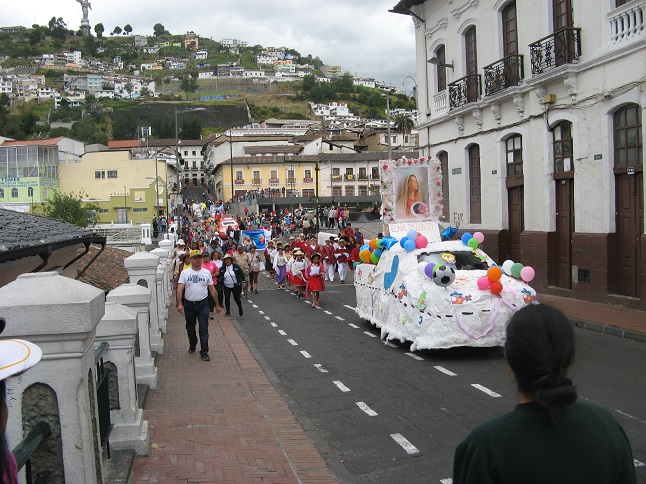 Is it a cake, a car or both?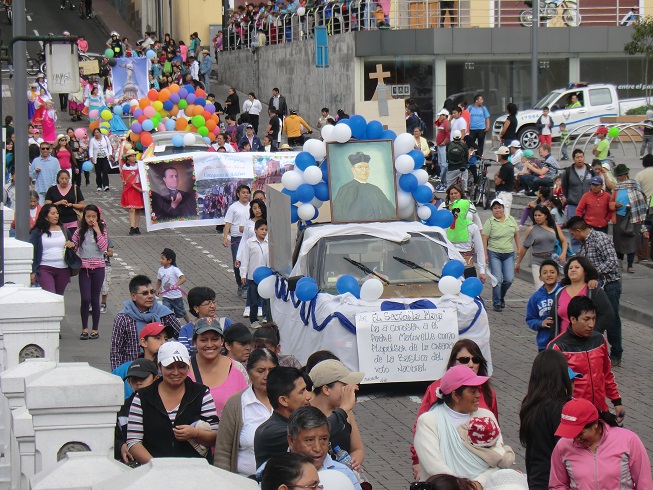 The pries Julio María Matovelle (1852-1929) is being remembered and honoured.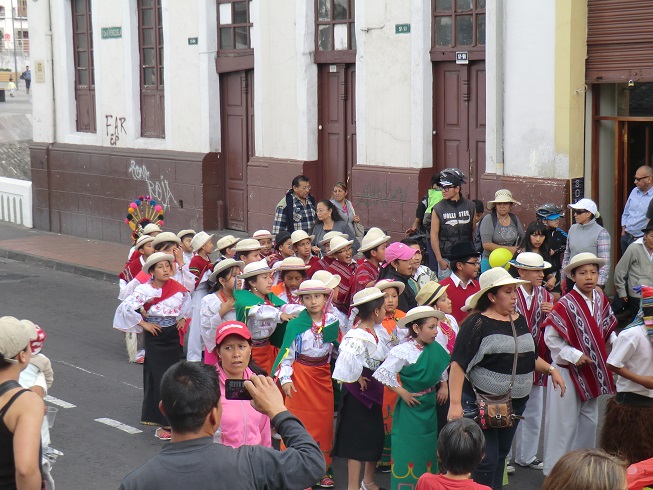 Girls/women in traditional clothes, a few of many participants in this parade.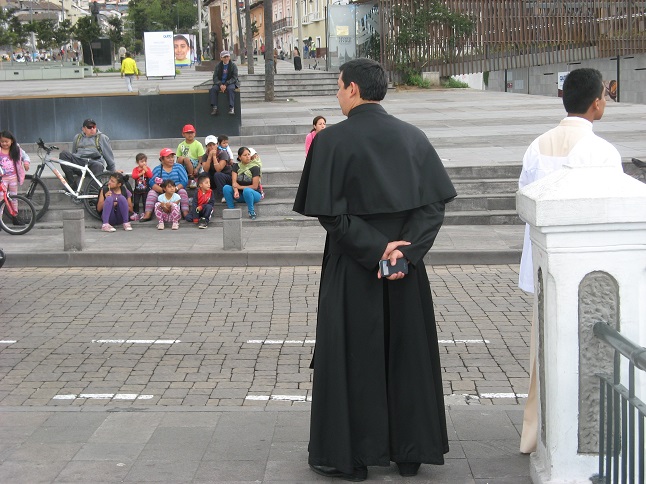 A priest is watching the parade.
13.59 The location at the Plaza Grande could not have been better. The coffee, however, was miserable, consisted mostly of water. The weak coffee was finished and we went on to the church of La Merced that we read about in our guide book. When it was completed everything was blessed except the church tower. It is said that the devil lives there and that no one has been in the tower since the sexton died in 1810. We decided not to go up in tower to look around. Some concert is going on in the square outside the church. Loud music is played.
14.23 After the church look Christer bought a football jersey of the team Barcelona (Guayaquil) to one of his nephews, Anton. We left the store as the sightseeing bus passed right in front of us, it is running after all. We do not know which alternative route it has chosen and where it stops. We do not intend to go, we'll have more coffee instead, real coffee this time. It should be consumed at Café Tianguez at the San Francisco Monastery in Plaza San Francisco.
14.41 We have ordered "grandmother's cake" and coffee. What we didn't order was entertainment from a man stands next to us. He is singing and playing. It can be nice with entertainment sometimes, but often it results that the guests can not talk to each other because of the music. It is not quite optimal when to eat or snack.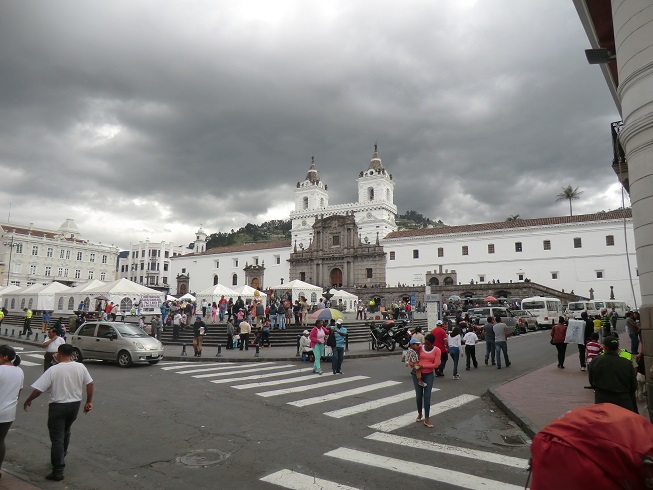 Monasterio de San Francisco at Plaza San Francisco.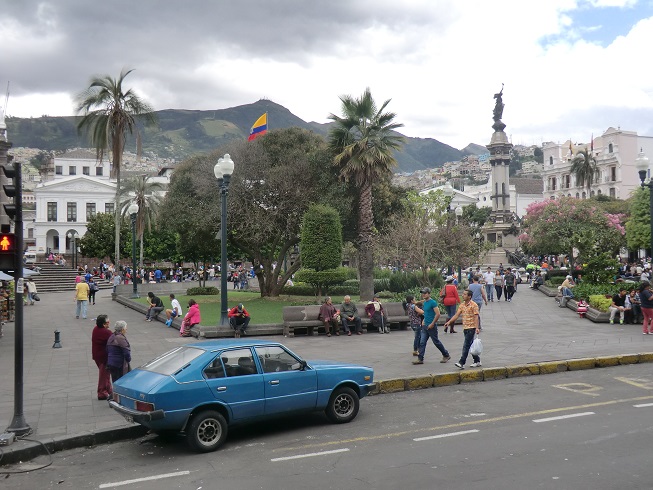 We returned to Plaza Grande. Still no sightseeing bus, just an old blue car at the bus stop.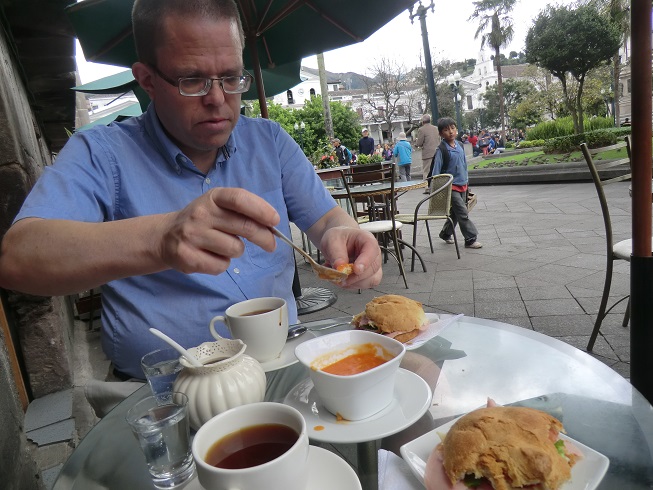 A shoeshine boy looks with envy on Peter and his sandwich.
15.09 After coffee, we came to the realization that we have probably seen most of Quito's old city center. The newer part of town is too far away for a walk. It was what we hoped to see from the bus that never came.
15.32 It is good to be home back in the room. The elusive bus showed up again on the way home, mostly to tease us. Now it's mostly calm and quiet for a while to come.
18.47 Not much has happened since we returned to the hotel. We have mostly updated us on the latest news via the Internet, read in our books and had a generally quiet time. Not so much is planned either. Our stay in Quito is approaching its end. Tomorrow we´ll carry on. We would love to stay here for some more days but we have a packed schedule.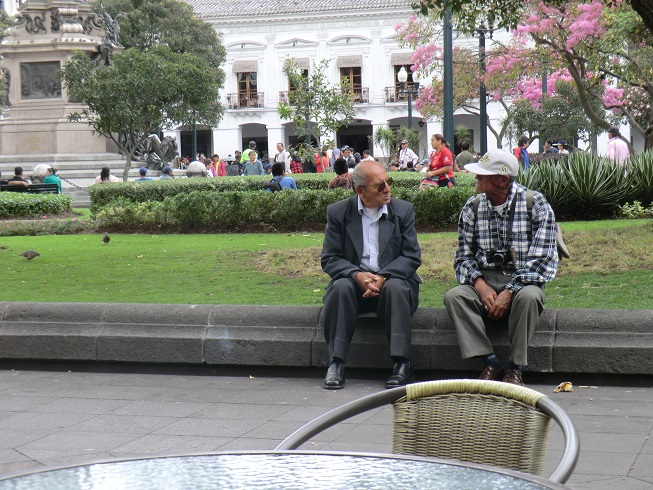 Two gentlemen are talking about something important.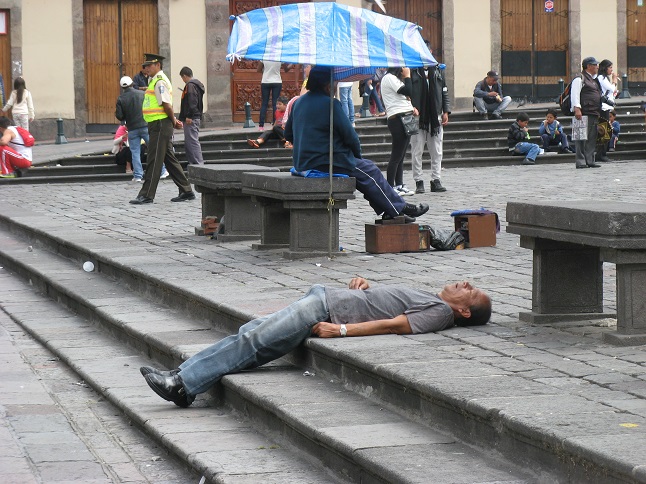 A tired man is resting on Plaza San Francisco.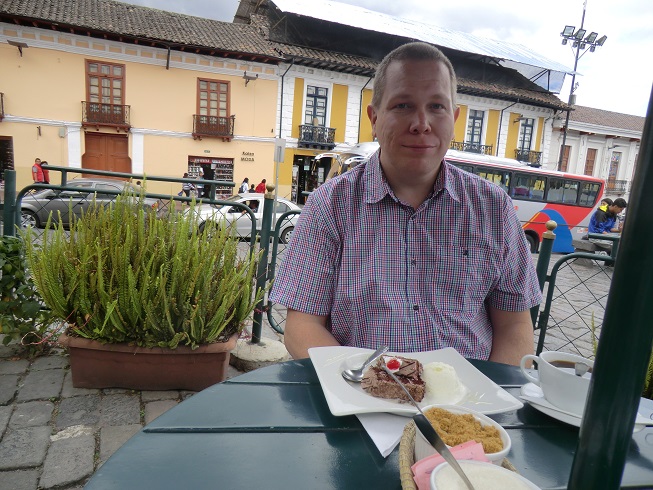 Christer is eating "Grandmother´s cake" at Café Tianguez.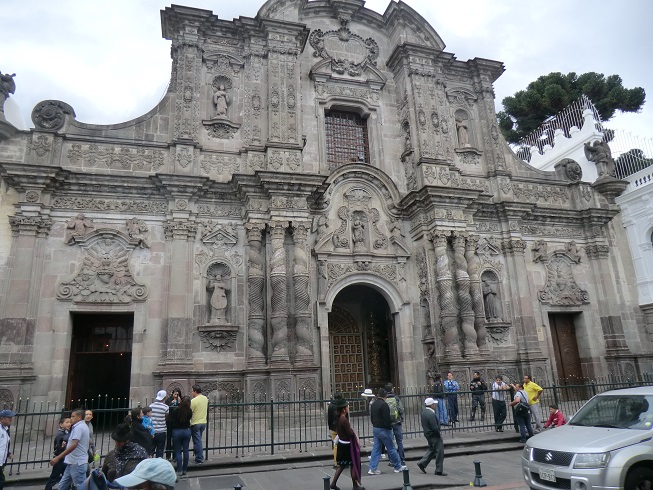 The goldfilled baroque church La Compañia de Jesús.
19.24 Añoranza is the name of tonight's meat restaurant. It is adjacent to yesterday's La Cascada de la Ronda. That one is however closed tonight. We once again visit the street La Ronda, partly because of the many restaurants here, partly because of the proximity to our hotel. It has just been made an order here. The restaurant consists of several floors connected by narrow stairs. It's not easy being staff here.
20.25 Grilled meat is the best. We are satisfied. Now we are back in our room. Now tomorrow will be planned. We should also listen to the radio. We have made an investment for the trip and bought a radio with FM, mediumwave and shortwave which also has a display that shows the frequency. Earlier appliances have been more primitive and it has been tough to find something to listen at.
22.00 On the travel radio they are playing the songs of yesteryear, Holy Diver, Sometimes When We Touch and Funky town. We feel really worn out. Is it the jet lag, high altitude or just general tiredness and lack of travel? Now the radio informed us that one in four women in this country have been subjected to sexual violence. That´s bad.
22.37 It's time for another night at Hotel Principal. Tomorrow we will continue to see more of Ecuador.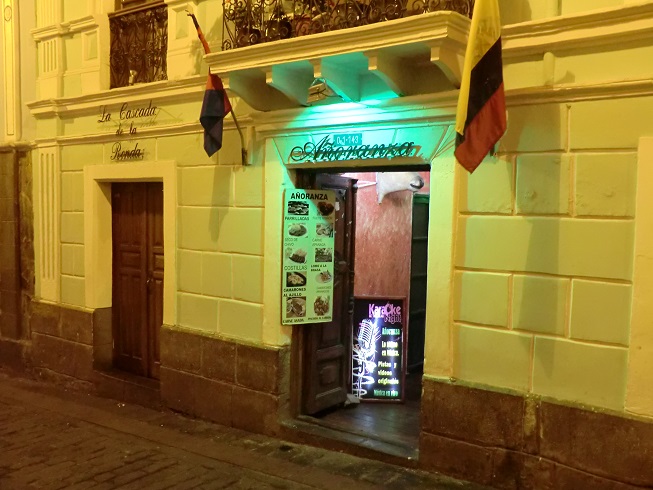 This evening´s dinner restaurant is Añoranza.
---
VIDEOS
---
You can see 5 photos from June 18 in this photoalbum.
You can see 11 photos from June 19 in this photoalbum.
You can see 46 photos from June 20 in this photoalbum.
You can see 79 photos from June 21 in this photoalbum.

---
---
---
---