---
Text: Peter Johansson
Editing: Christer Lundstedt
Photos: Christer Lundstedt, Peter Johansson
Videos: Christer Lundstedt
---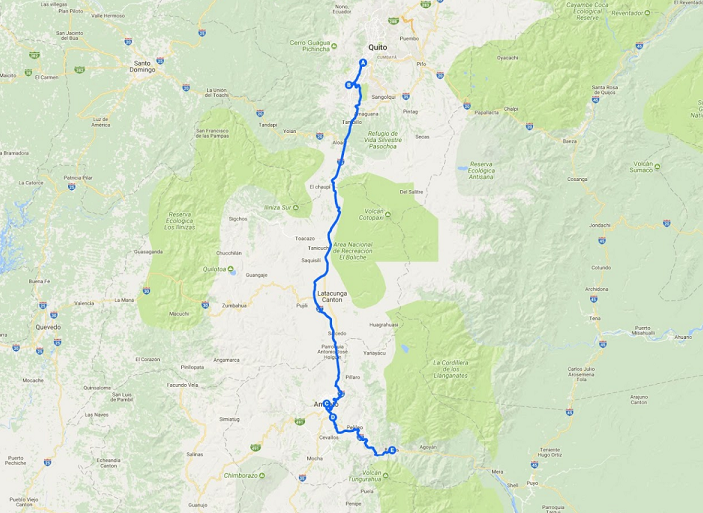 ---
Monday 22nd of June
08.27 We have come to the day when we will check out from Hotel Principal in Quito, Ecuador. Now we will take aim at a new place. Our long journey south through the Andes is about to begin.
09.08 Now, most of our stuff are in our backpacks. The only thing that remains on my bedside table is a red telephone from Ericsson, a telephone with a rotary dial, the type of phone I remember from my childhood.
08.10 The cost of the room was US$9 cheaper than anticipated and what had been told. We are not complaining. A pre-booked taxi took us to the newly built bus terminal Quitumbe in the south of Quito. We were dropped off at the side of the road outside the station and walked the short distance into the modern clean bus station. Here we bought tickets and now we will soon depart. We'll travel with the company Transportes Ambateños.
11.00 We drove around at a few local streets in southern Quito before we entered a major road. Most likely, we will travel once again on the Pan American Highway. The last time we did it was in Central America in 2011. Only vendors in special vests are allowed on board the bus. The price of diesel is US$ 1,03 per gallon, or 28,50 cents per liter. Good price!
11.14 It is quite cloudy today which is a shame in so many ways. Sun is always nicer of course and clear weather also provides better views. The volcanoes we passed had all pulled a hood of clouds over themselves today and the only thing we have seen are the signs that refer to the nature reserves around them. For example, we passed Cotopaxi, one of the world's highest active volcanoes. Cotopaxi's peak is 5897 meters above sea level.
11.45 It now remains only 21 km of this bus trip. Along the way, we have seen beautiful scenery and cows, horses, sheep, a dog and two llamas.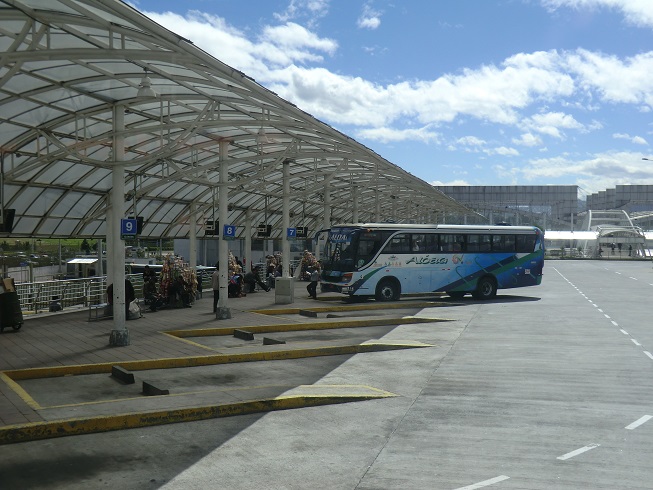 The new bus station Quitumbe in southern Quito, very easy to use.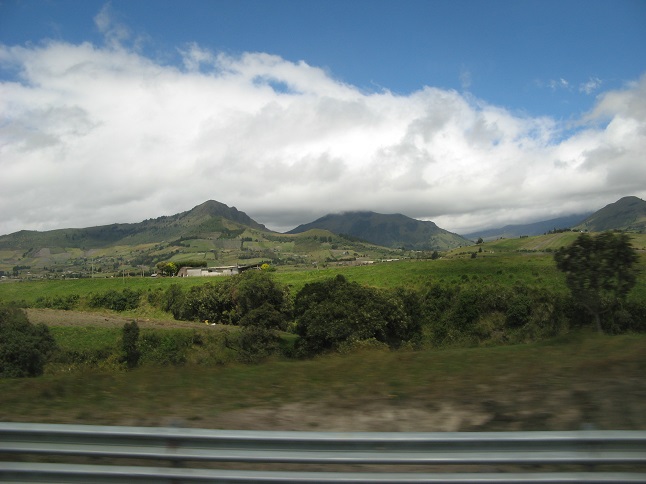 Beautiful views during the bus trip from Quito to Ambato.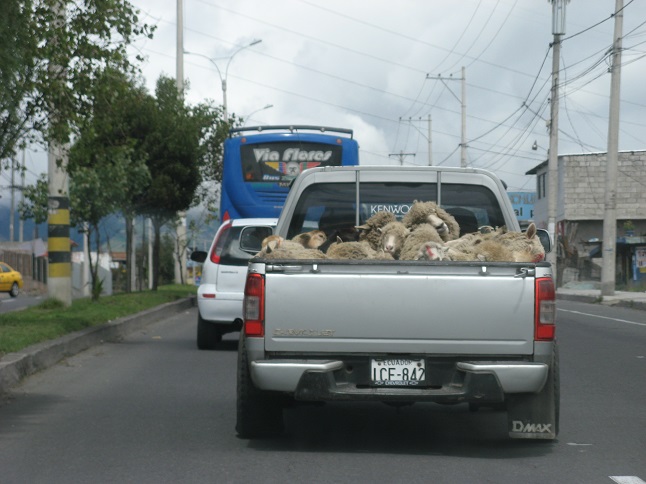 Sheep being transported through Ambato.
12.42 When we arrived to Ambato and stepped out of our bus, we were prepared for an onslaught of taxi drivers but everything was just quiet. A hot sun shone on us as we waited for a suitable taxi on the street outside the bus station. Now the meter is at US$ 2,87.
12.57 The taxi journey continued and we were for a while behind a car with sheep on the platform. The taxi took us through the center of Ambato and a few kilometers more. The meter was ticking on one dollar more before the taxi stopped at Hotel Versailles (http://versailleshotel.com.ec). Now we stay in room 205, overlooking parts of the Andes mountain range. We have to push a button if we want to go out of the room. Our hotel is located in the eastern outskirts of the city and along a major busy road.
13.31 From our panoramic windows in the room, we have observed a bunch of dogs and their activities. The hotel's neighbor seems to possess a small army of dogs.
14.35 Tasty and welcome are the words that sum up the lunch we just finished. We had some fast food, sausages and burgers with French fries. The juice which we had, felt authentic made from genuine ingredients. Everything will now be rounded off with coffee. All of this was consumed at the hotel restaurant.
15.40 After lunch we went for a walk in the neighborhood. That meant that we followed the main road outside the hotel. We had planned to investigate whether there were any interesting restaurants or grocery store nearby. We found only one pharmacy, part of a university and a small bar that served yogurt. We returned fairly quickly to the hotel and our room. Here we have cleansed our bodies and clothes.
17.00 It took some thinking before we found some channels on the room TV. Now we watch a match in the World Cup soccer for women, England versus Norway. The winner will play in the quarter finals.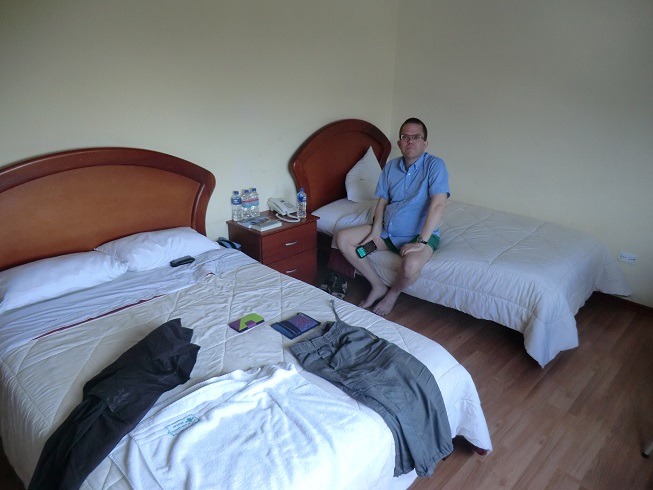 Peter inside room 205 at Hotel Versailles.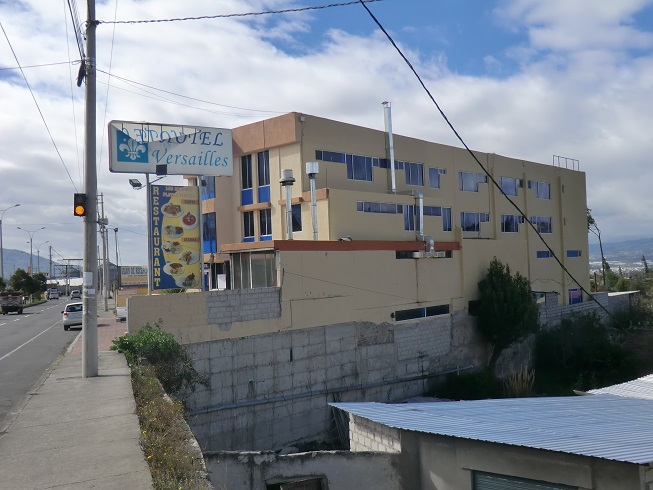 Hotel Versailles, Ambato.
Peter is having a simple lunch at our hotel restaurant.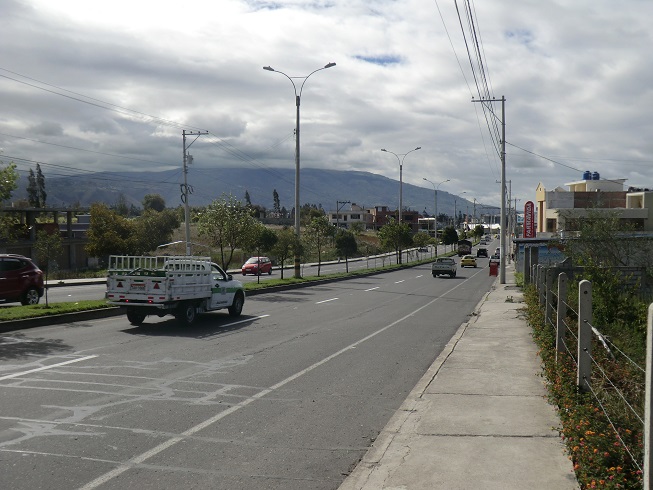 We took a walk along Avenida Bolivariana.
17.11 The Norwegian football girls are truly happy. They have just taken the lead in the match 1-0. The goal came from a corner. The scorer was Solveig Gulbrandsen.
17.17 England has just shown that they can score a goal as well. Now it's 1-1 and the English scorer was Stephanie Houghton.
17.31 Now the game has turned. It is 2-1 to England after Lucy Bronze scored.
17.55 Bye Norway! All you can do is to pack your things and go home from Canada. The World Cup tournament and our journey continue.
19.11 We went down the stairs to the hotel restaurant and now dinner is ordered.
20.04 It was a good dinner and a large beer for both of us, all at a cost of about 20 US dollars. There is nothing we can complain about. Now we will relax and plan for tomorrow. In Ambato and especially in the outskirts of the city there are not so much to see. The city was destroyed by an earthquake in 1949 and therefore has not much left of the older buildings. Approximately 5 000 people died in the massive earthquake.
21.39 Our bellies are full and we are satisfied. We have taken it easy in our room. Now we know a bit more about what the next destination has to offer. There is actually a lot. Will we cover everything interesting? Will we have the weather with us? The weather forecast promises (threatens) with rain the next three days. We can only hope that they are wrong.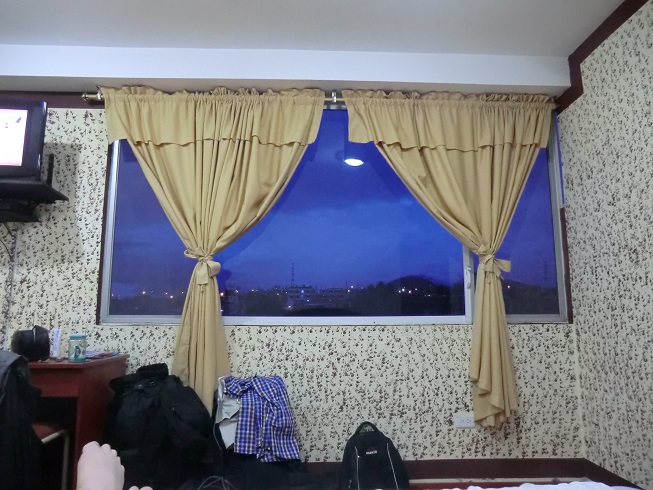 The evening darkness seen through our hotel window.
---
Tuesday 23rd of June
07.55 We have slept well in our room here at Hotel Versailles. The only thing that disturbed our sleep was a Swedish salesman who called to Christer's mobile phone in middle of the night.
08.54 It could have gone really bad at breakfast. I was about to order coffee with milk. Otherwise the breakfast was satisfactory. Our room door has no key hole, and we have no key. What we have is a thick card which is shown to a reader and "poof" the door opens. It is an electromagnetic system.
09.40 Now we planned our checkout time and departure time. We also looked when we said we'll check in at our next home. Thankfully, it seems that the two times work together.
10.15 We are considering whether we should go to the bus or whether we should let it get to us. Shall we take a taxi to the bus terminal in central Ambato and jump on the bus there, or should we go out to a bus stop by the road out here and wait for a suitable bus to stop and pick us up?
10.36 Now we´ve checked out and got good information from the front desk woman. According to her, we just need to go over to the other side of the road and wait for the next passing bus to Baños. That's what we did and still do.
10.44 A suitable bus came pretty soon and we got on it and sat down. At the front of the bus from the company El Dorado a man is talking. He shows pictures of intestines. It is unclear what message he has, but he is passionate about his mission. We missed the beginning of his information and our Spanish skills are not yet at the highest level.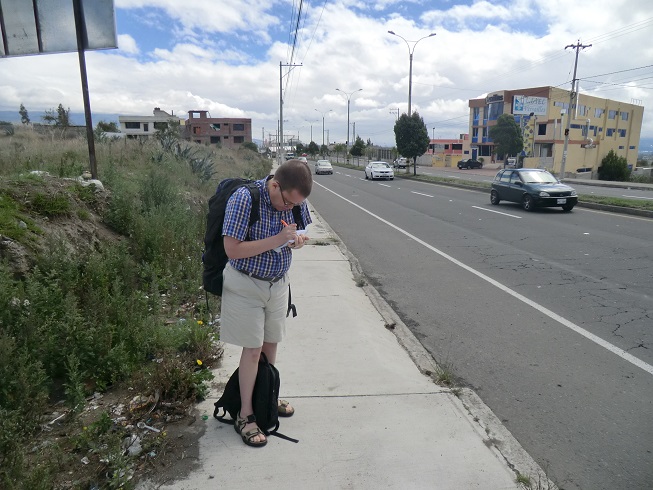 Peter is waiting for the bus.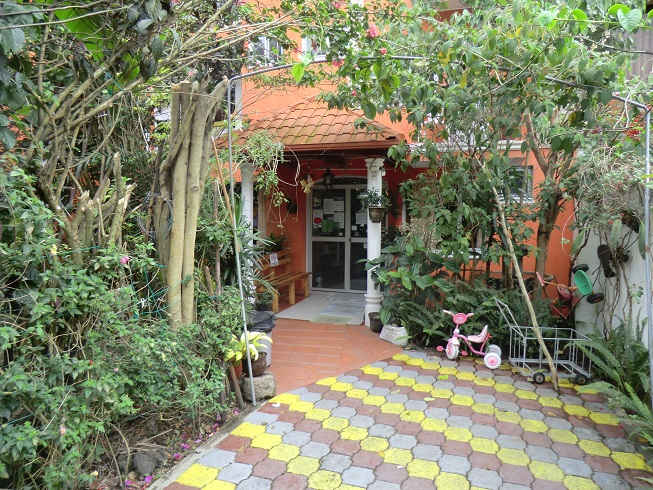 We have reached Hostel Chimenea.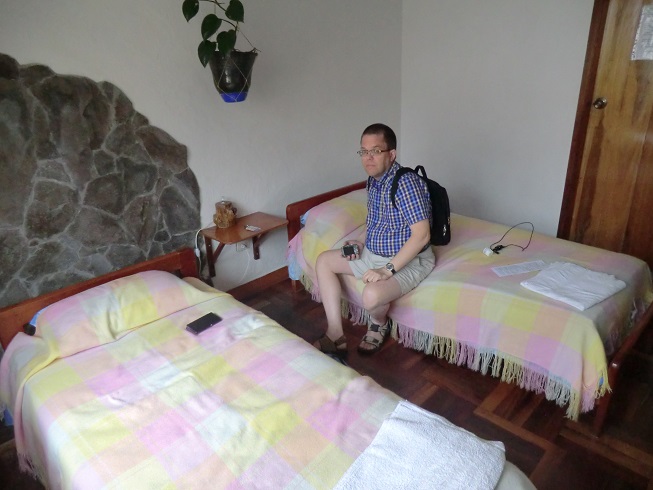 Peter is sitting inside our nice but cold room at Hostel Chimenea.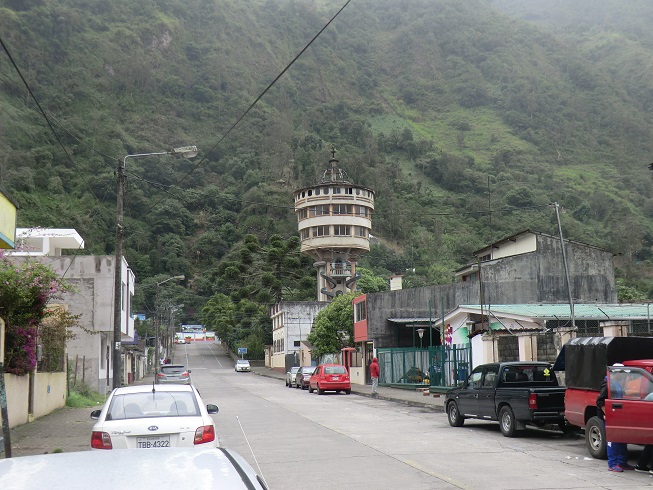 This interesting tower is close to our hostel.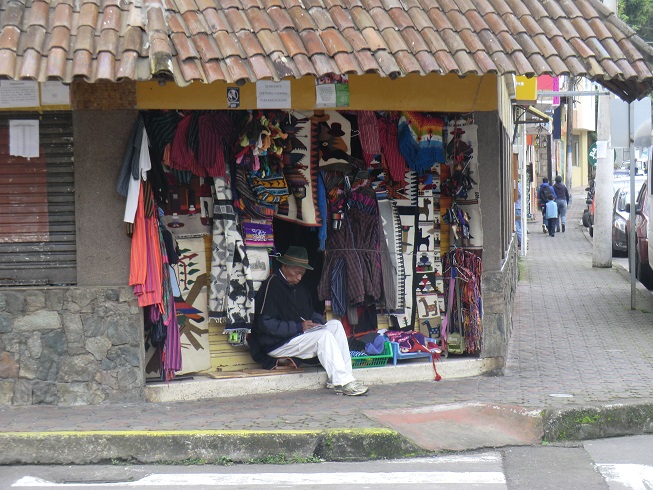 One of many sovenir shops in the tourist town Baños.
11.15 Travelling by bus is comfortable. In addition, we have fantastic views. There are hills, mountains and forest in a beautiful mix and blend. We have passed Salasaca, known for their black ponchos and gone through Pelileo, a chaotic city with a cosy pool in a park on the outskirts of the city. The journey goes steadily downhill. The road we travel along ends at the lowlands down in the rainforest about 100 kilometres east.
11.59 We arrived where we wanted and started to walk from the bus station. Our newest home town is called Baños de Agua Santa (abbreviated Baños) and is a popular tourist destination, particularly for tourists who like adventure in the form of climbing, rafting and the like. Our latest accommodation is Hostel Chimenea (http://www.hostelchimenea.com) and our room is number 12. We walked through almost the whole town on the way here. Baños seems to be a nice little place that we will certainly enjoy. We are now down to "only" 1820 meters above sea level.
12.16 We got an information note with everything we need to know about staying here, everything from meals to different types of baths one can indulge in. Baños is famous for its holy water and takes its name from the different volcanic mineral baths that are in and around the city.
12.53 We left our new home and headed out to familiarize ourselves with the town. Our main goal was to find a restaurant for lunch. Pretty soon we were joined by a dog that happily followed us everywhere. It also followed us into the Italian restaurant Pappardelle. It wasn't welcome there and the staff tried, without any success, to get it out. I looked calmly at the dog and walked toward the exit, the dog followed and left us.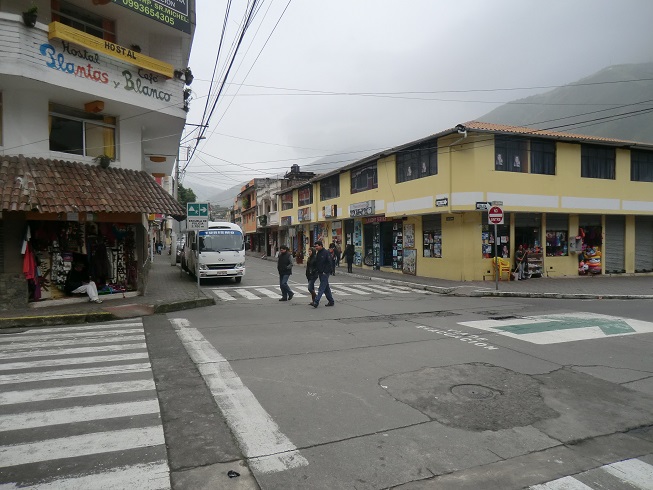 The bad weather has reached Baños.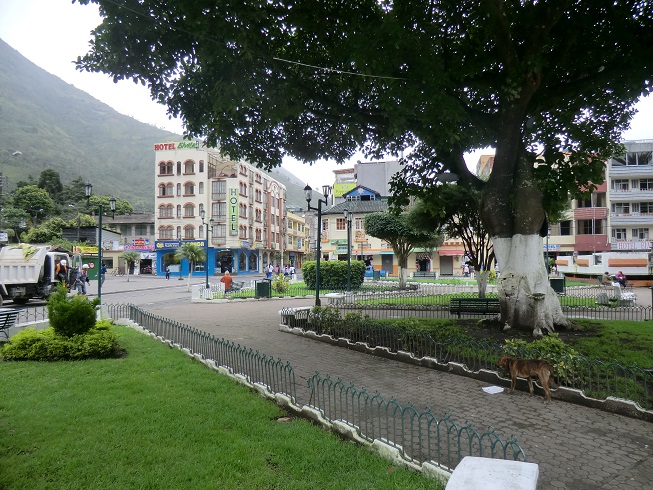 Parque la Basilica, Baños.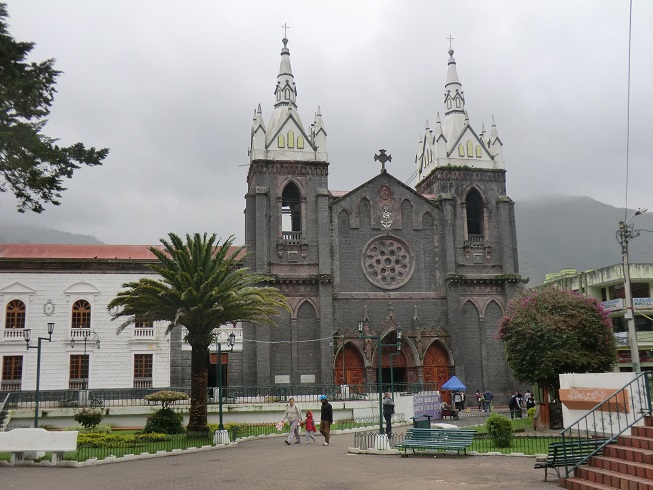 Basilica de Nuestra Señora de Agua Santa.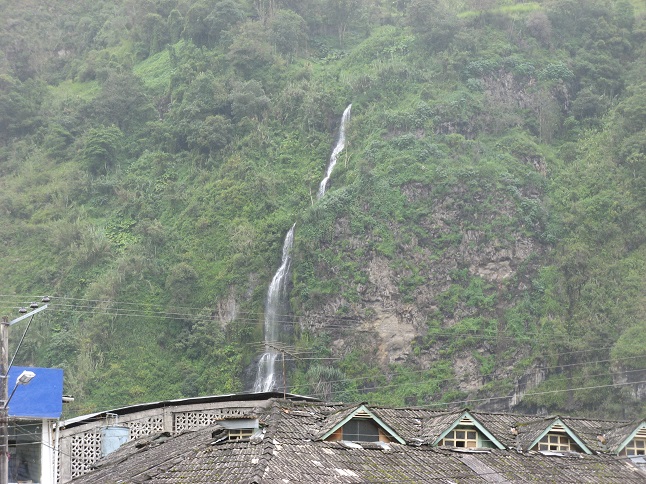 A nice waterfall can be seen beyond the roofs.
13.58 It was tasty pizzas in a pleasant environment. When paying, they wanted Christer, who paid, to write down his name, address and passport number on the bill. Now we have walked further into the increasingly rainy weather and are now in the central park in Baños. We have not seen our four-legged friend any more. Here in the pretty park are various tree species and just outside the park area is the post office, tourist information centre and the city's Town Hall.
14.48 The increasing rain in the air and our trembling coffee guts made us go to the Café Ali Cumba, located in a small wooden house not far from our accommodation. We are about to have coffee and something more. We'll see what.
15.14 We have walked inside the deserted cafe. The only living creature here besides us is a little girl aged about 10, who seems to have come home from school just now. She sits on a sofa with the school uniform on and play games on a laptop. She has given us menus and phoned for some adult who apparently is on the way.
15.35 The café owner, a Danish woman appeared and was not in a sunshine mood. She wondered where we had lunch and why we have not gone to her instead. She bragged about her food, and then served us coffee and burnt muffins. The beautiful environment here and a perfect WiFi connection made it feel right to come here though.
16.14 It is time to return to Hostel Chimenea to rest, get dry and make plans for the evening.
18.20 After a few hours in the room, including book reading and wondering, we now begin to get ready to return to the wet streets here in Baños.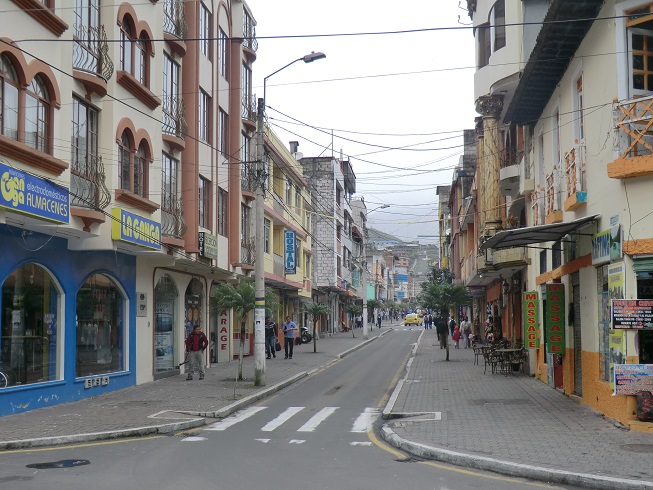 Calle Vicente Rocafuerte, Baños.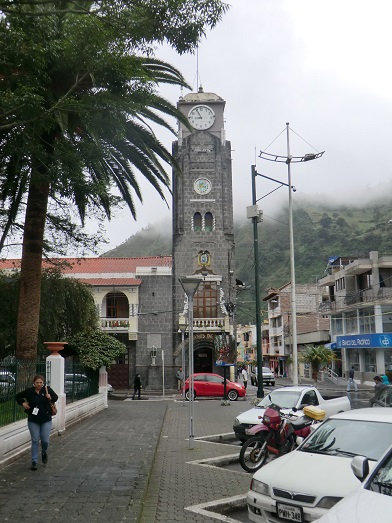 The town hall in Baños.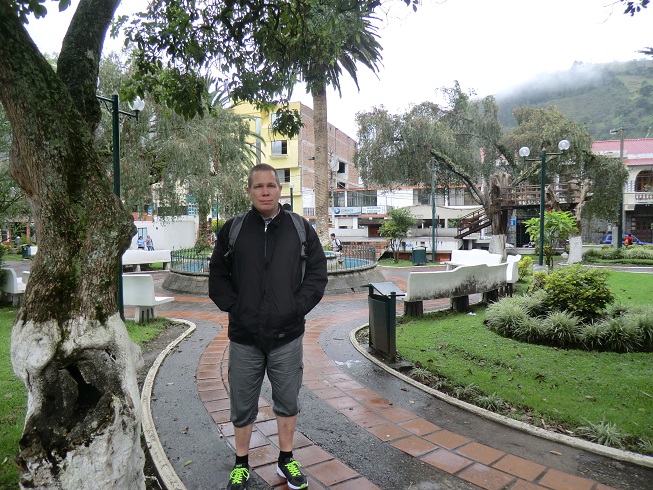 Christer is feeling cold in Parque Central.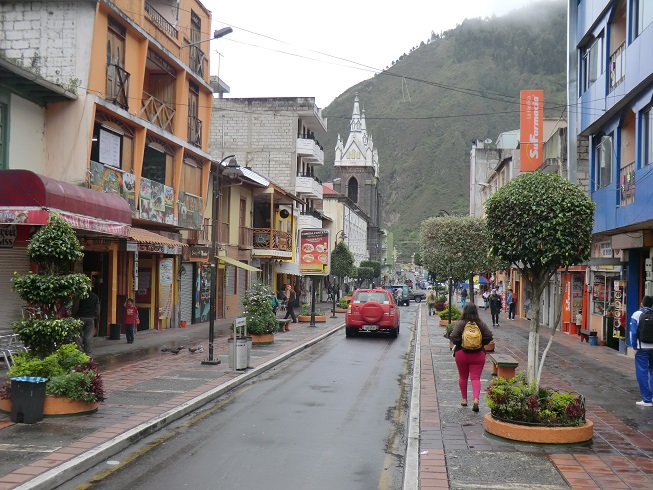 Calle Ambato, Baños.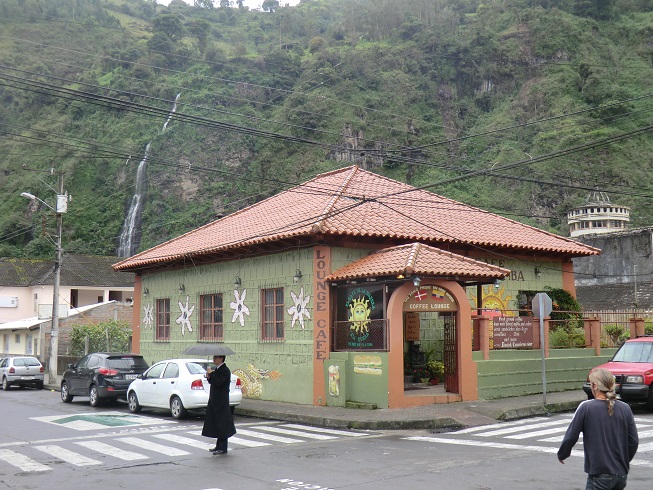 Café Ali Cumba, a Danish-Ecuadorean business.
19.02 When ordering dinner, I almost ordered a small beer. A big thank you to the waiter who pointed it out. We are at the Steak House Bambu to enjoy good meat this rainy evening.
19.58 I must admit that tonight Christer chose the best dish, lomo, grilled meat with fresh potatoes. It also included a bonus sausage. When we were about to pay something unexpected happened. The polite young waiter asked if we travelled by bus from Ambato today. He claimed that he recognized us from the bus trip here. Now we're just waiting to get the bill.
21.03 After returning to Hostel Chimenea,we have been sitting on our little balcony and listened to the cheers and whistle sounds from the nearby sports hall. It is unclear what sport they are playing. It could be basketball or indoor football. Now it is time to open a bottle.
22.37 Now, we are listening to music on the travel radio. Another evening walk towards the night.
23.09 We listen to a radio station on 960 kHz, La Voz del Santuario. They mix languorous ballads with information to citizens about what to eat. Children should eat breakfast every day at home or at school. It shall consist of for example bread, yogurt and cereal. The station also offers birthday greetings and other goodies.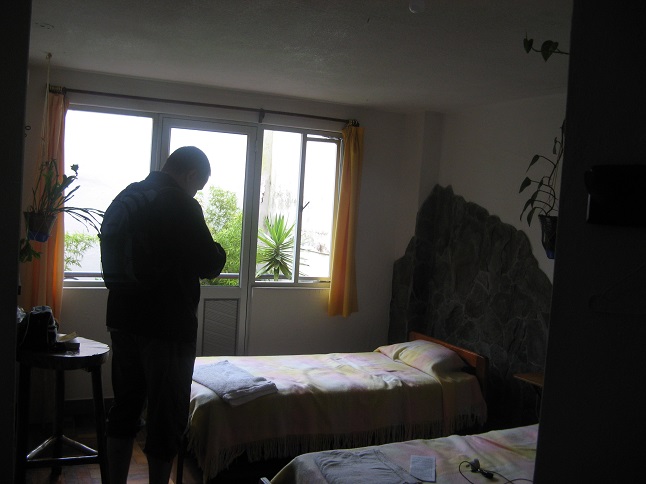 Christer has returned to our room.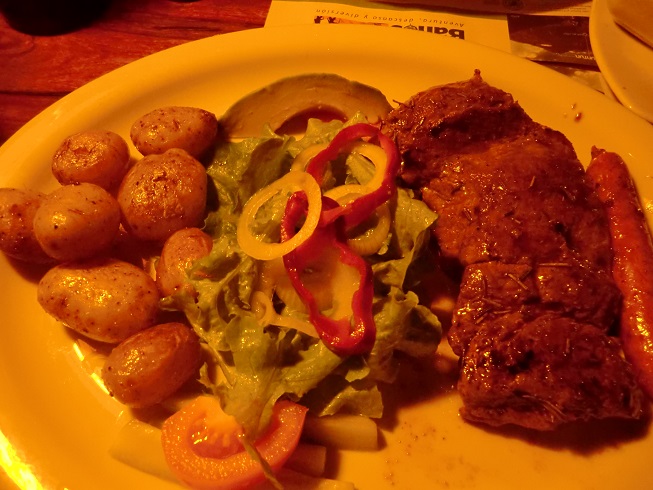 Christer´s dinner at Steak House Bambu.
---
Wednesday 24th of June
08.55 The radio station from yesterday can also be found on FM, 98.7 MHz. Its name is as mentioned, La Voz de Santuario. Soon the morning continues with other activities. Now we also know that the channel broadcasts here from Baños.
09.13 The breakfast here at Hostel Chimenea is served in the dining room on the roof terrace. It is good that there is a roof above us here because it is raining outside. We decided to order the recommended specialty, the double pancake with fruit. It was delicious and it was just perfect to start the day. The breakfast is not included in the price of our stay here. We select from a menu and the cost is added to our bill for the room.
09.55 The good breakfast up on the roof terrace was completed with less good news. It's still raining and it smells of sulfur. We hope it is temporary.
10.02 At the stairs down from our floor to the reception is a large stone as a memory of the great volcanic eruption here in July 2006 when the 5 016 meters high volcano Tungurahua became grumpy, killing five people and spread lots of ash in these parts.
11.47 We will obviously go nowhere this morning, except perhaps around inside of our accommodation. However, we can now see most of the adjacent mountain. The clouds dissipated slightly and the intense rains begin to slow down somewhat. Is better weather on the way?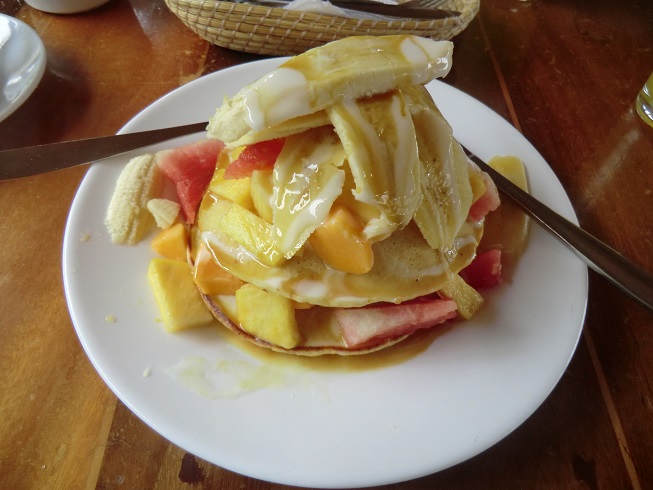 The breakfast is an attraction in itself, double pancake!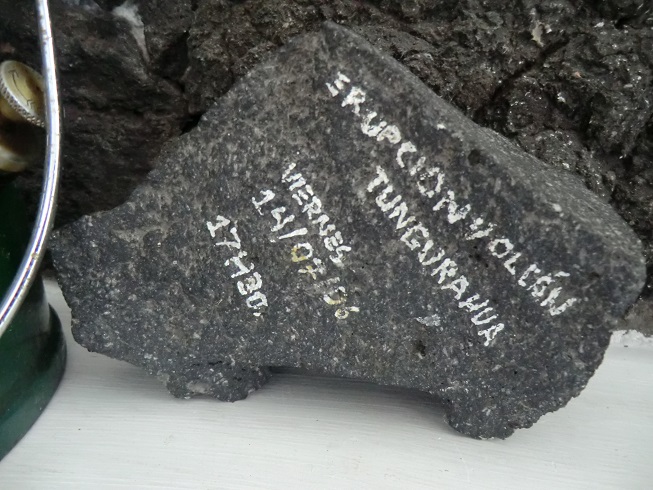 A memory from the eruption at Tungurahua in July 2006.
12.19 The rain calmed down somewhat and we went out. It's nice to get out and see some other things for a while. Now it will be a lunch at the restaurant La Cocina de Dulcelina at the Parque Central. During our walk here we saw a lady under a large umbrella. Just like the lady we saw in Cuba last year, she looked to be older than time itself. She might recall Pizarro and his friends. Our juice is made from mora, a type of blackberry that grow here in the Andes.
13.01 During lunch we were busily and happily watched the three boys in school uniforms. They looked at us through the window and ran away laughing when they were discovered. Now we will pay before the adventure continues.
13.14 The attack (attempted walk) to the city zoo, Eco Zoologico San Martín was canceled. The heavy rain, the wind and the fact that we went countercurrent in the running water put a stop to everything. Now we are instead crawled into the small The Coffee Lounge at Calle Ambato. Here comes the long-awaited coffee.
14.55 There was plenty of coffee and for Christer there was also a sandwich. Under the glass board at our table there were lots of business cards. It reminded us that we forgot to bring new cards for this journey, cards about our site, resedagboken.cc. It is just as bad with the weather as before. There is rain, rain and more rain. We are in our room again. Very soon we will head up on the terrace for some literature studies.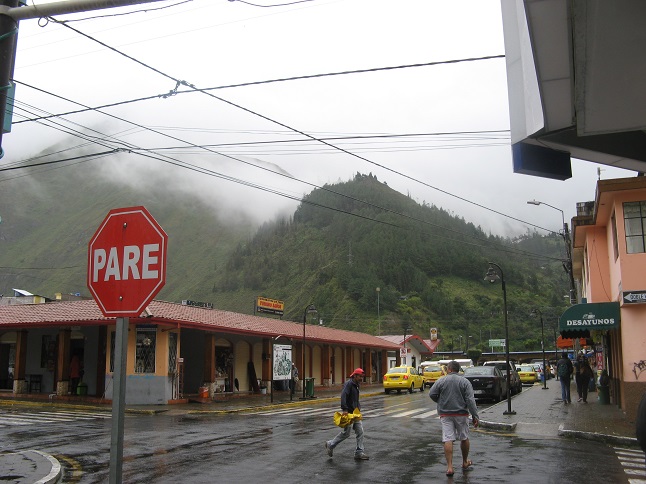 Bad weather at Baños bus station.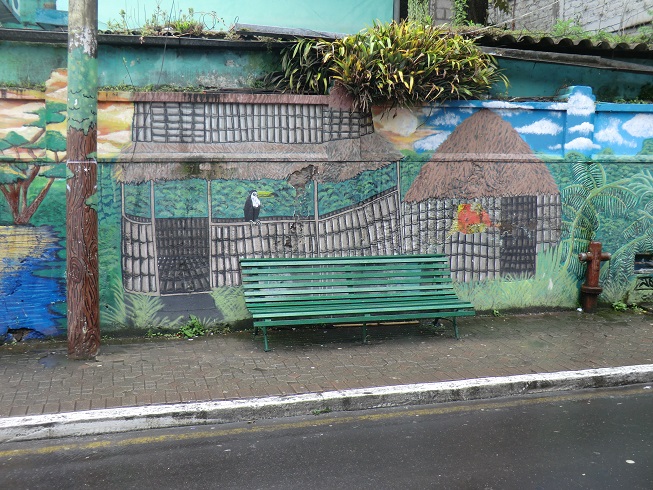 Here you can take a rest with a beautiful background.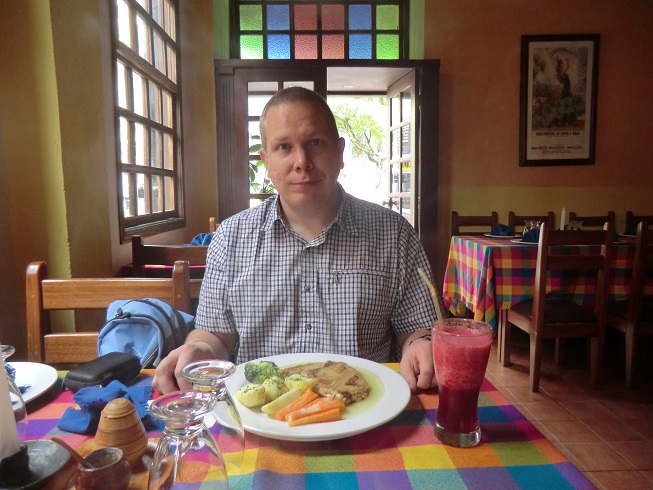 Christer is having a chicken lunch at La Cocina de Dulcelina.
16.15 We relax on the terrace. Outside it is not so relaxing. The rain just continues. We have begun to realize that the weather forecast which predicted three days of rain seems quite credible.
17.15 We have returned to our room again. It's nice to not do so much now and then, but right now it would feel good with a little more "action" than watching the falling rain. During the terrace time, we have learned that there can be a hidden Inca treasure in what is now the National Park Llanganates north of Baños. The treasure was intended as a ransom for the last Inca but after he was executed in Cajamarca (in present Peru) the treasure was hidden by his general Rumiñahui. It is, according to some sources in a cave or dumped in a lake north of us. We blame the weather that we do not try to look for it.
18.18 It has become dark today as well and in the near future we'll be out on the rain-soaked streets to find a good dinner restaurant.
19.23 We've walked around the streets of Baños. We have seen that the pub Stray Dog has opened and we have bought some essential goods at the supermarket Super Bodega opposite the Mercado Central. Now we are in the restaurant La Casa de la Abuela. With us in here is a stray dog. Now it has hidden under our table. It seems to have some experience at this. It slipped quickly under the table and is hidden there, completely silent.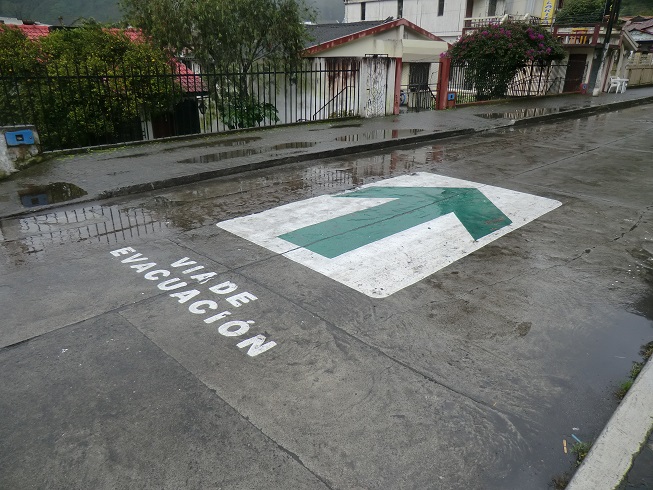 This is the direction you´ll run if a volcano erupts.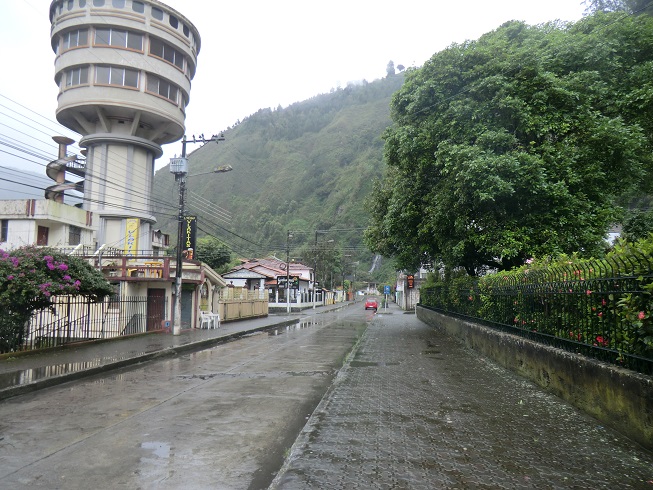 Calle Montalvo, Baños.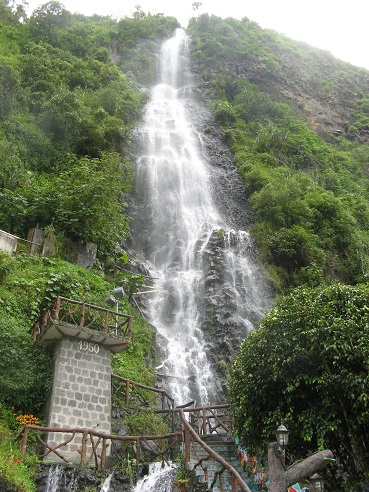 The virgin Mary once showed herself at this waterfall.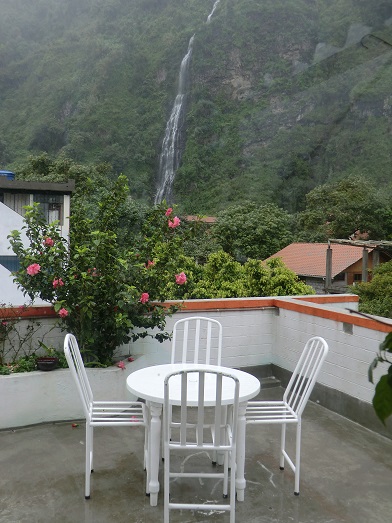 A wonderful place to sit if the weather is better.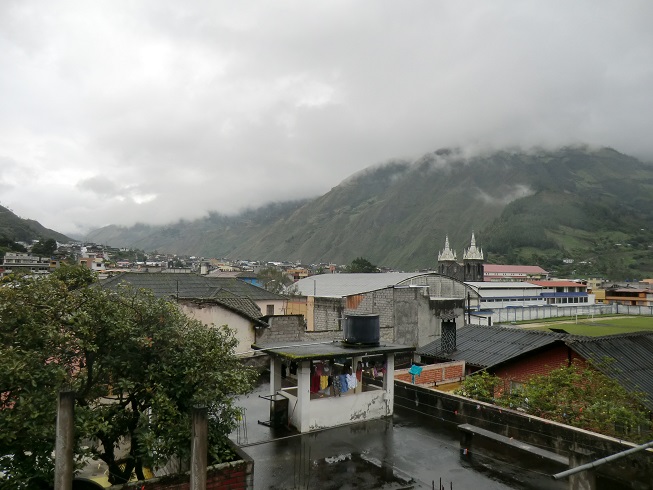 A view of Baños town.
20.19 The meal ended and we paid. When we took our backpacks the dog awoke and it accompanied us out. Outside a dog friend anxiously waited during the meal. Now we are home again, but the dog stayed with the friend.
21.05 The day ends with some bought candy, Club which is a beer and some fruits to be tested. In Spanish they are called tunas. What can they be called in English?
21.50 We heard some bangs, explosions, they keep saluting. We wonder what it is and why it is done. We're not quite sure where in the town the sound comes from.
22.36 A rainy and sadly rather boring day draws to a close. When the rain is pouring down and there is also cold there is not much to do. There is great risk of rain tomorrow as well, and we are wondering what to fill the day with. To make a new attempt to visit the zoo does not feel relevant. The animals are probably not so alert after several days of rain.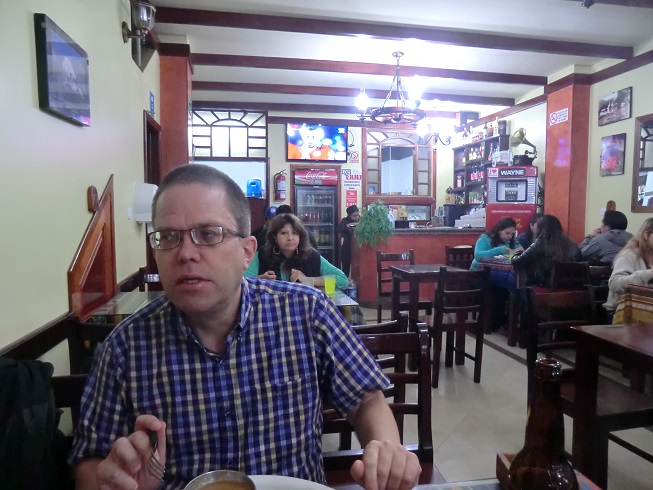 Peter is having dinner at La Casa de la Abuela. A dog is hiding under the table.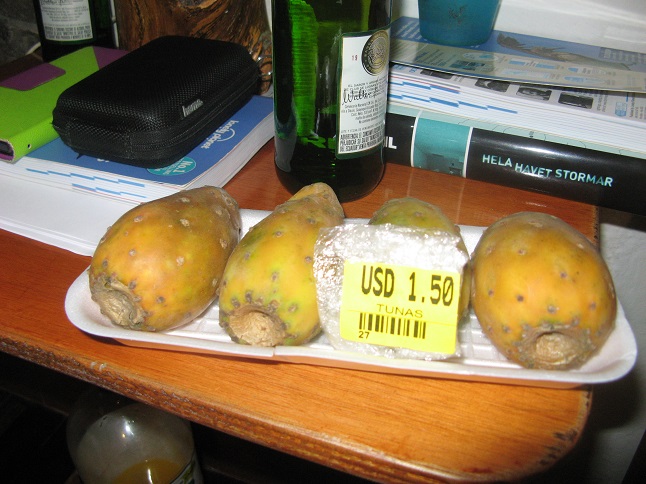 Christer has bought "tunas". Trying new fruits is a drear tradition on our trips.
---
Thursday 25th of June
08.45 Now we have removed our blankets and are ready for the new day. This unfortunately does not go for the sun. It is still hiding under a thick blanket of clouds. It rains this morning as well. We are not surprised but it still feels sad, hopeless, regarding the weather. I think we must travel further to get a big change.
09.30 The force of habit is strong. We will have double pancake with fruit for breakfast this morning too.
09.46 The double pancake gets high marks even this morning. We are sitting here in our shorts and short sleeved shirts. Other tourists in the dining room are dressed like they were going out on a mountain hike, jackets, trousers and caps.
10.30 The will to plan or do something is killed by the incessant rains. We feel bored, sad, out of pleasure. Baños is a town for outdoor tourism, and now we are forced to be mostly indoors. We have planned a dip in the pool here at Hostel Chimenea though. We will most likely make an attempt in the afternoon. Otherwise we have no major plans now.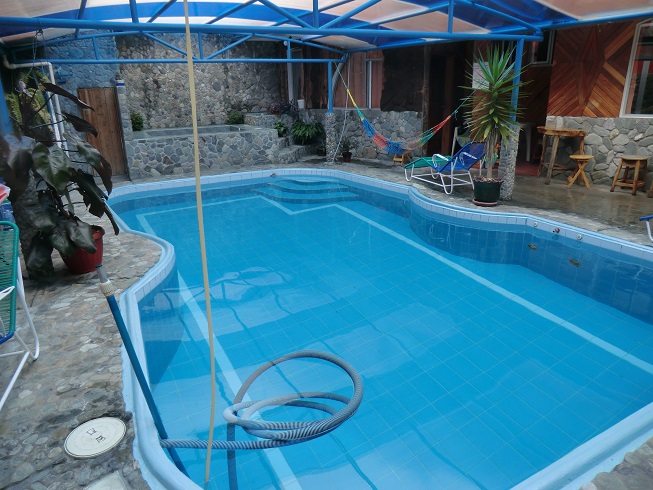 This cold swimming pool can be found at Hostel Chimenea.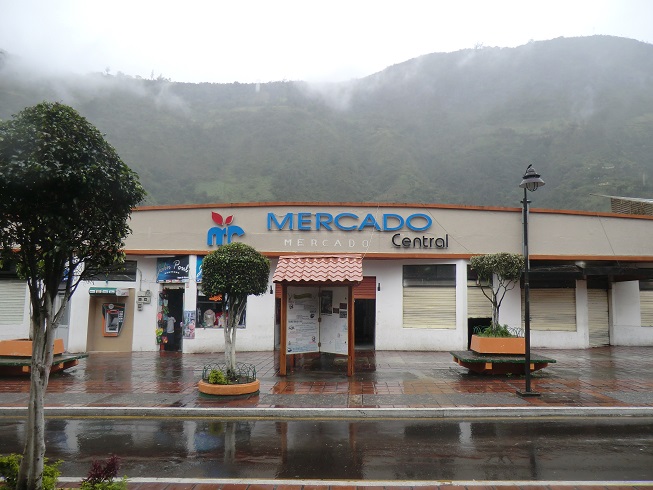 Mercado Central in central Baños.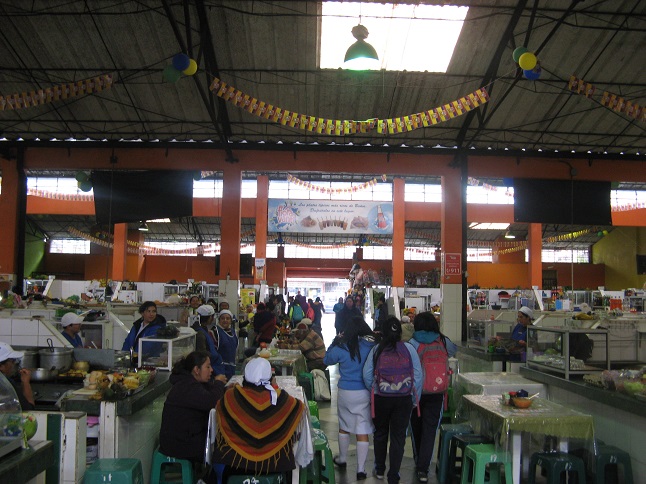 Mercado Central - indoors.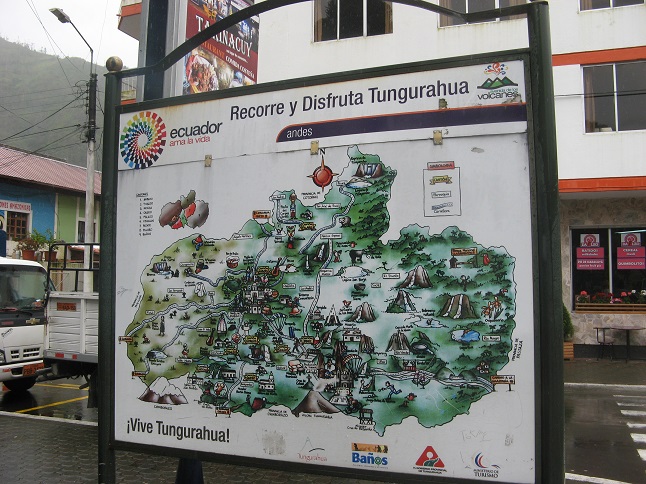 A map of the province Tungurahua.
12.25 The boredom chased us out of our room and we walked around a bit aimlessly this last full day here in Baños. Now we have walked to Casa Hood for lunch. Ray Hood is the name of the owner of this classic restaurant. Casa Hood has been around since 1993. Here is everything a tourist (backpacker) could need. They serve various kinds of food, has a small library with books in different languages and has cinema evenings for those who are in the mood for some movie.
12.47 While waiting for the food we get dry and have also received popcorns and some kind of salsa as appetizers. On the mantelpiece in the vicinity, is a small Santa Claus.
13.48 The food that finally arrived at Casa Hood was tasty and tasty is also the coffee at The Coffee Lounge. We are back here and sit at the very same table as yesterday. My espresso was served in a heaping cup. Today we have brought one of our business cards and placed it under the glass of the table. This is a nice little cafe with friendly staff and excellent internet connections (WiFi).
14.41 Towards the end of the coffee stop there came some ladies from people who fear the silence. Some American women talked and laughed loudly and virtually uninterrupted. Serenity, peace was over. Now we are at home to think about what we do in our remaining time here in Baños.
14.56 It is time for reading and some fruit here at the roof terrace. We should eat what we have left of our tunas, prickly pears in English. We need not say anything more about the weather. It's raining all the time.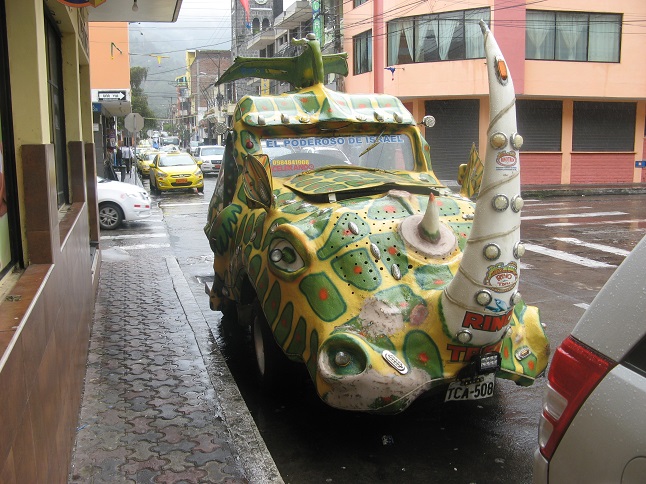 We found this interesting car downtown.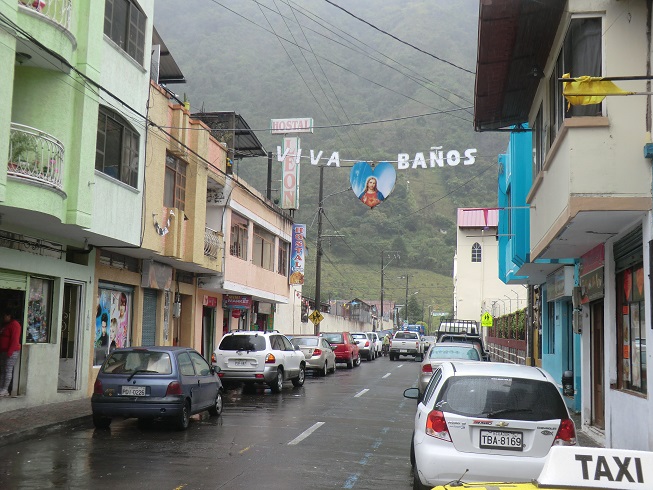 Cheery greetings about fantastic Baños didn´t help in this weather.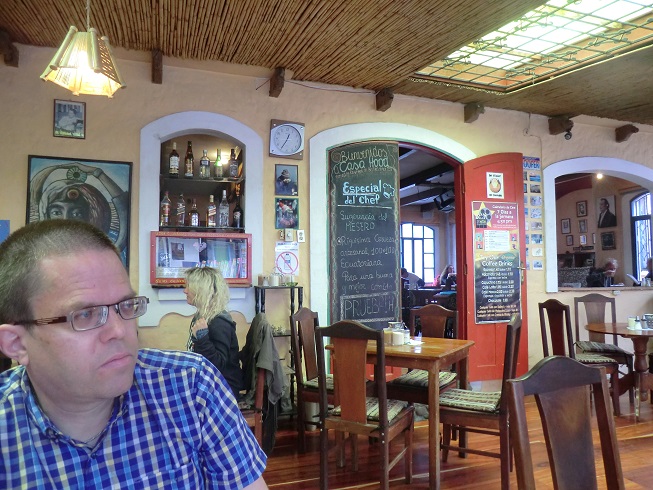 Today´s lunch will be served at Casa Hood.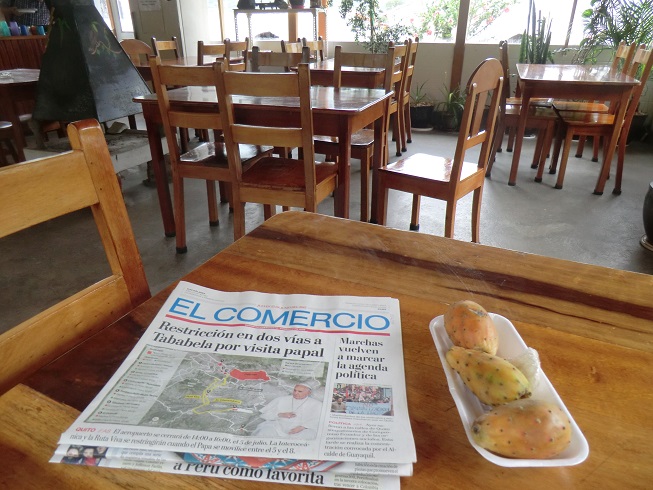 The pope´s upcoming visit in Ecuador is featured on the front page of the newspapers.
16.04 During our time on the terrace, I looked around on the internet. On Facebook, I found a post about becoming monthly donor to help refugees. You could donate US$12 or more to the UN refugee agency UNHCR. Imagine my surprise when there were lots of malicious comments below. Why would the honest working people give money to people like that? Why can´t the money go to old people in Sweden instead? I am amazed both of human stupidity and lack of empathy. We also looked a bit in the newspaper El Comercio that primarily addressed the Pope's upcoming visit to Ecuador in early July.
16.50 After the terrace stay we decided to take the long-awaited dip in the pool here at Hostel Chimenea. After having showered and dipping the feet in the pool water we decided to rethink. The pool water was cold to say the least, not in any way heated. Two disappointed men returned to the room with dry towels.
18.53 Believe it or not, it's raining outside. Here are two hungry men ready to find a good dinner restaurant. Soon these two forces will meet.
19.27 After some walking here and there, we finally sat down at the meat restaurant La Caldera for dinner. The venue is beautiful and so also the music being played. La Caldera is a grill restaurant roughly in the style of Bambu where we had dinner the first night here.
20.57 It was really good food. I hope I never get tired of good meat. My meat was served on a hot lava stone, it was a big cloud of smoke throughout the meal. Now we are home again for summarizing and planning.
22.13 Juice and some sweets have been consumed. Tomorrow's trip and the stay have been planned. The plans include traveling by bus and taxi, and maybe if we're lucky, meeting with cattle.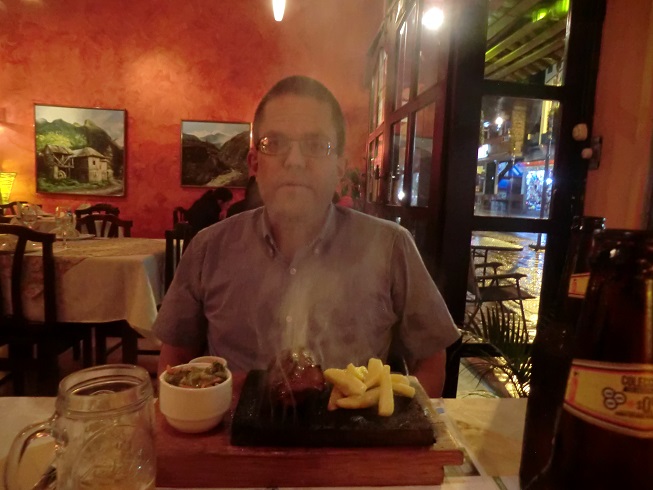 Dinner at La Caldera. Peter´s meat is served on a hot lava stone.
---
VIDEOS
---
You can see 24 photos from June 22 in this photoalbum.
You can see 60 photos from June 23 in this photoalbum.
You can see 31 photos from June 24 in this photoalbum.
You can see 19 photos from June 25 in this photoalbum.

---
---
---
---