---
Text: Peter Johansson
Editing: Christer Lundstedt
Photos: Christer Lundstedt, Peter Johansson
Videos: Christer Lundstedt
---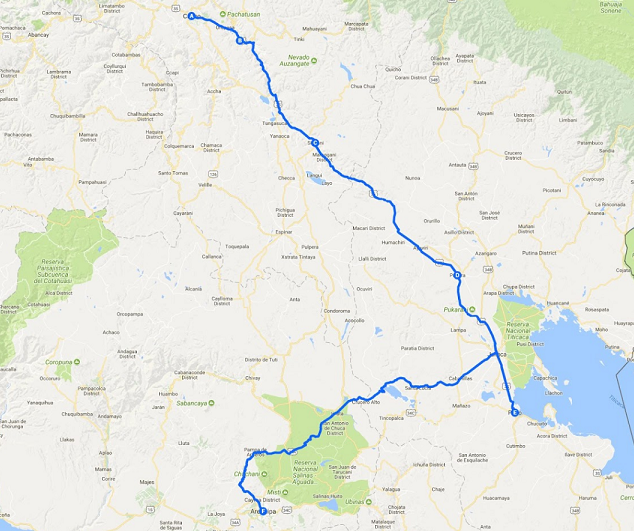 ---
Tuesday 28th of July
05.38 It is yet another early morning. It is the National Day of Peru today. We will spend it on a tourist bus. We just had breakfast in our room and now there are other things to do. This is the second year in a row that we are in a national day celebrating country. Last year it was Cuba and the 26th of July. We are still in Cusco and at Royal Inn for a little while.
06.23 The night porter let us out and we went to the Inca Express (http://www.inkaexpress.com) office. On the way we were accompanied by a merry gentleman who was talking to himself and now and then gently kicked sideways. He hurried away from us but we met him again when we reached the office. He went inside and started talking to the staff. The address of the office is fitting today, Avenida 28 Julio (28th of July Avenue).
06.29 We were among the first passengers that arrived and we have been asked to sit down until further notice. Our backpacks are on stand by. They will be taken on board when the right bus is in place. Inka Express is a bus that runs between Cuzco and Puno by Lake Titicaca. It is fully dedicated towards tourists and stops at interesting places along the way where passengers are guided. We got a feeling that it is a good package and that an interesting day awaits.
06.58 The kicking gentleman is an extra driver, possibly, he also has the responsibility for the luggage.
07.04 There are a lot of people waiting here. Two buses will make today's trip. We will go with bus 1. In addition to the two of us there are Germans, Americans, some Portuguese girls, Frenchmen, Dutch and a few Asians with unknown origin waiting in here.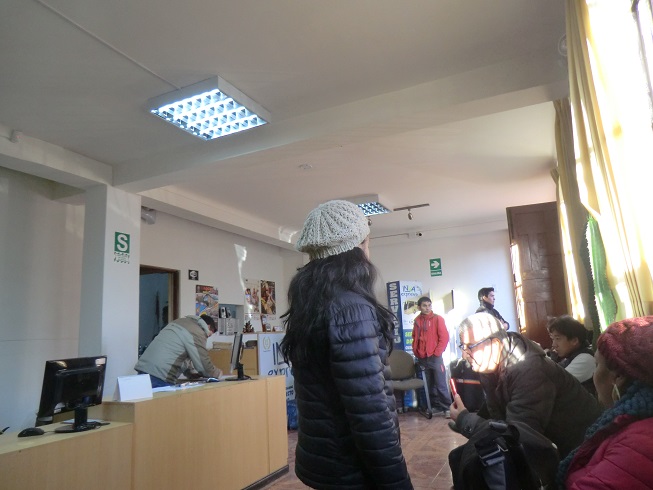 Passengers wait for the Inka Express departure.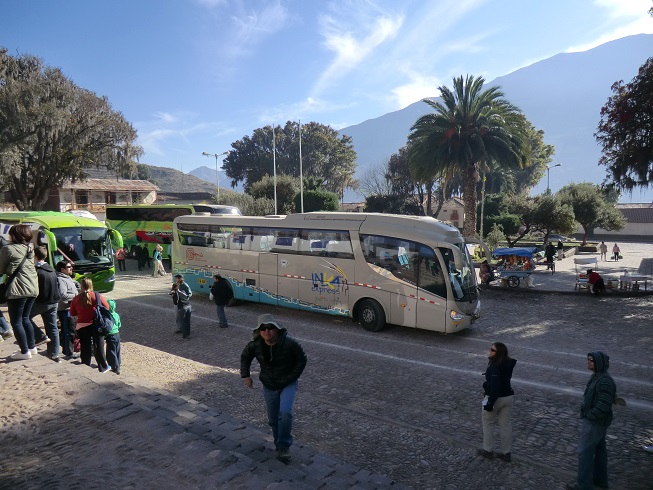 Our bus has reached Andahuaylillas and makes this trip´s first stop..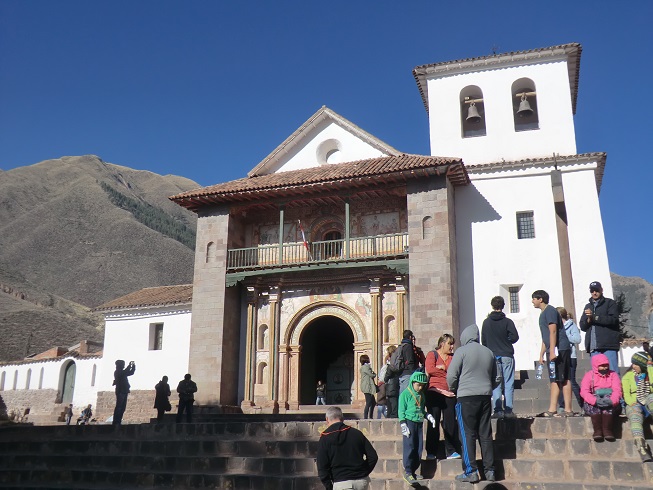 The church in Andahuaylillas, the Sistine Chapel of the Americas.
07.14 Bus 1 has finally arrived and we boarded it. Now we will just relax and enjoy the ride and what is offered today. It's nice to crawl into the bus, even if it's ice-cold this early morning.
07.48 We have quietly left Cusco city behind us. Our guide Daniel has informed us passengers that the driver´s name is Jesus, the bus attendant is called Jessica and informed about the travel time and today's scheduled stops. Now we have also paid him 40 soles each to enter the various sites along the way. This was not included in the fares and it is smooth to avoid paying here and there during the day. What is included in the price though is a buffet lunch which will be eaten in a restaurant along the way.
08.18 Because of the National Day, we will not be able to do all the stops that normally are included in this journey. The main attractions, however, are open.
08.48 The first stop was made in the village of Andahuaylillas. We have travelled 45 kilometres since Cusco. Here we have been in the unique Church of San Pedro from 1580. It claims to be America's answer to the Sistine Chapel. Everything in the church is painted with natural colours and decorated with 24 carat gold. The church has been used by the Jesuits and Dominicans. It is the oldest colonial heritage south of Cusco. Everything is built on the foundation of a Inca temple. The paintings here are impressive but unfortunately photography is prohibited here. We respect that. For those who want to see how beautiful it is here, there's always the internet.
09.02 The first stop was really worth seeing. We also received a CD and some information. It is included in the visit here. The church here has been guarded by the villagers according to a prearranged schedule, and so it has been for a long time.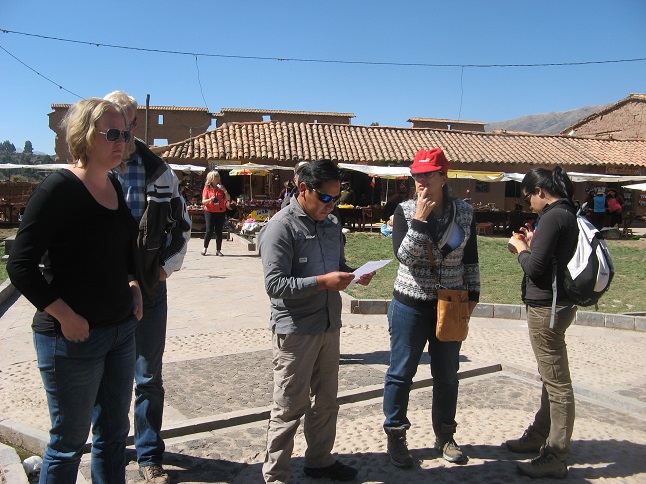 Our excellent guide Daniel explains what we will see in Raqchi.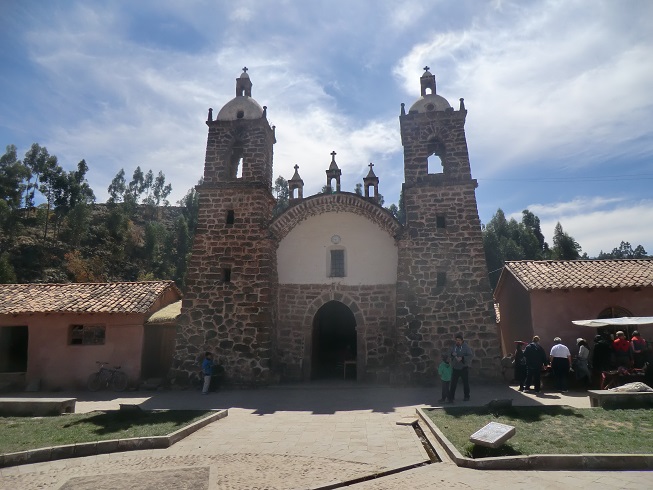 The church in Raqchi.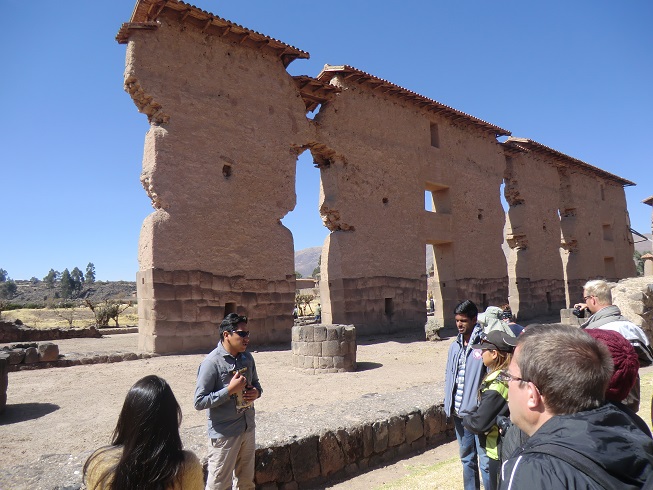 We receive information about the Viracocha temple.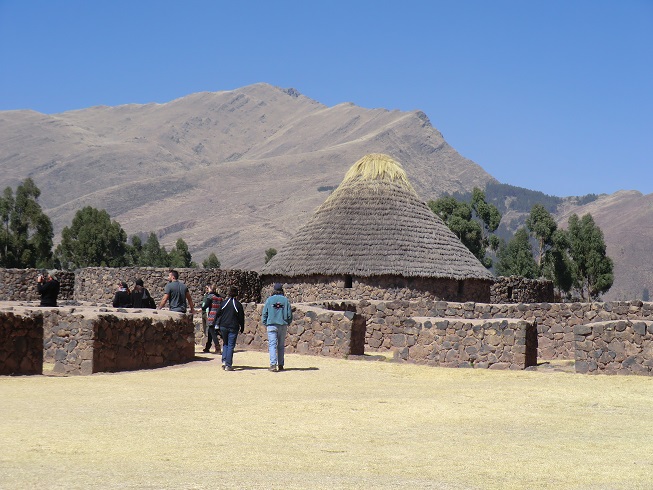 The dry landscape in Raqchi.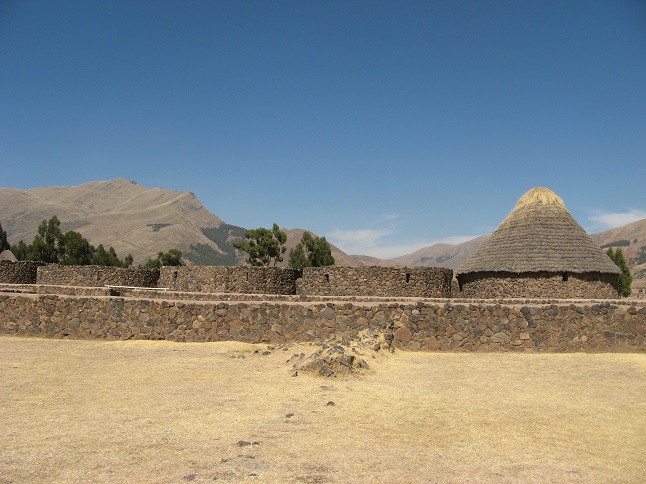 Different crops like corn and quinoa were stored in these containers.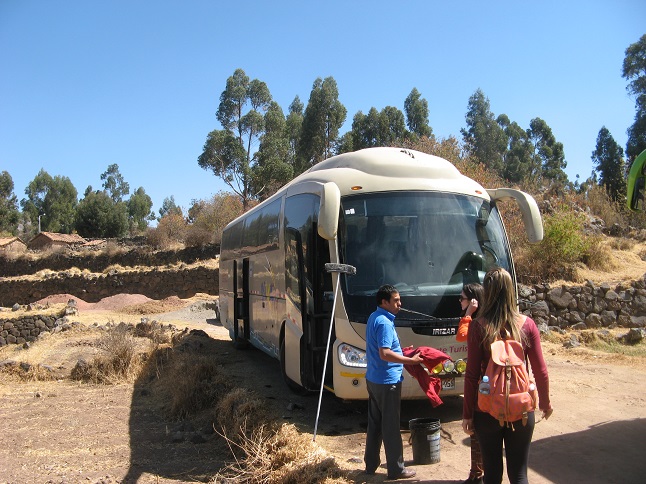 When are we leaving again?
09.24 Our journey continues. Another thing which is travelling forward between conifers and small houses is a small river. It flows gently by the side of the road.
10.10 A dry agricultural landscape with grazing cattle is spreading out next to us. It is quiet in the bus and I think some of the passengers are sleeping.
10.22 It's time for another stop. We reached the small village of Raqchi located at 3480 meters elevation, about 120 kilometres from Cusco. Here we look at interesting relics from the Inca empire.
10.50 We have been guided by Daniel and walked around here in Raqchi. The nobility of the Inca Empire at around 200 people were kept inside the seven kilometre wall. There were temples, an astrological observatory, built so that the upcoming sun at the winter and summer solstices shined in, in the gap between the walls. This was a sign of harvest. Here are other circular storage buildings where they kept different crops which were then traded for other crops with people in different climate zones.
11.03 Prior to departure we were in a small shop and bought CD:s with pan flute music. Such purchases feels like a must when we are in these areas. Now it is time for departure again.
12.43 We just had our buffet lunch. Here in the restaurant, everything was well organized. Buses in both directions stop here and there are plenty of tables and plenty of different dishes to choose from. You have to pay for the beverages. Christer bought two beers for us. The village where this meal was eaten is called Marangani and we reached it just after we passed the larger town Sicuani. During lunch, we shared the table with a timid Asian guy and a band that played traditional music from the Andes appeared on a stage.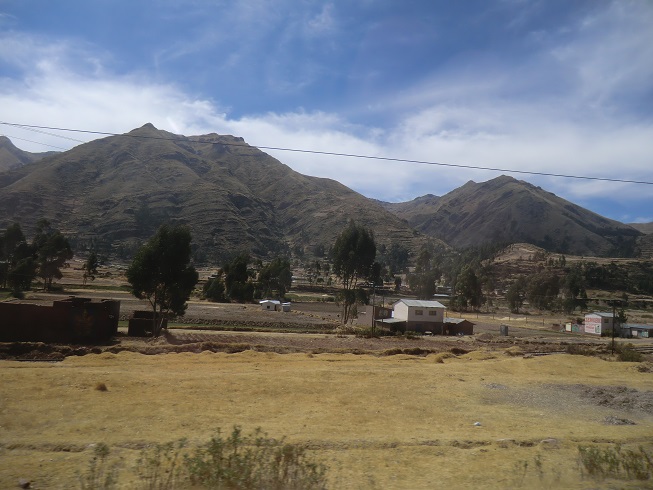 Peruvian countryside seen through the bus window.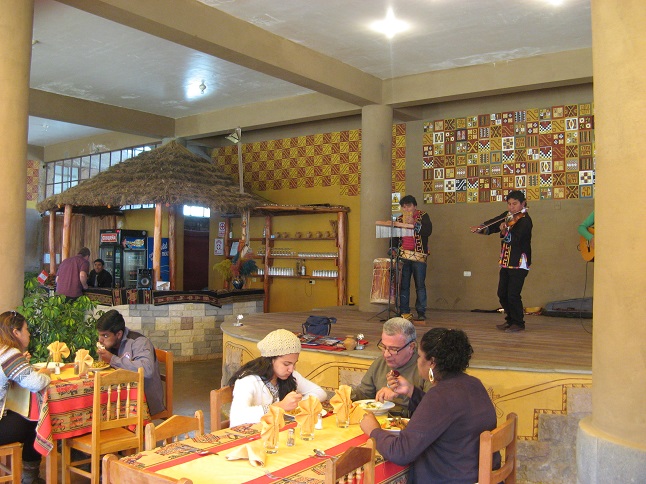 Entertainment during lunch.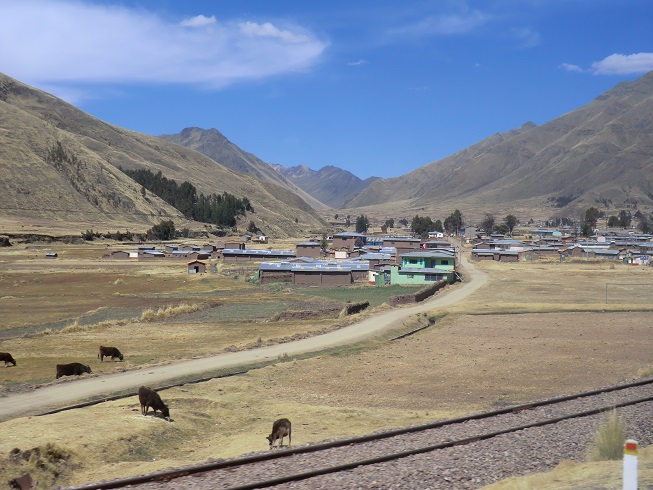 Somewhere east of Sicuani.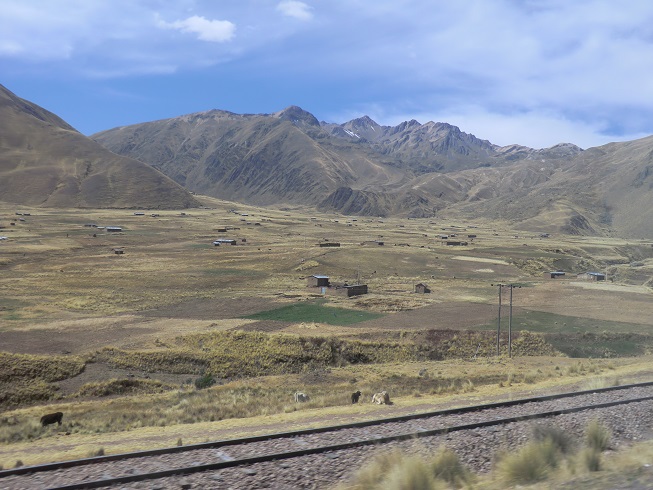 Only tough strong people can live in these areas.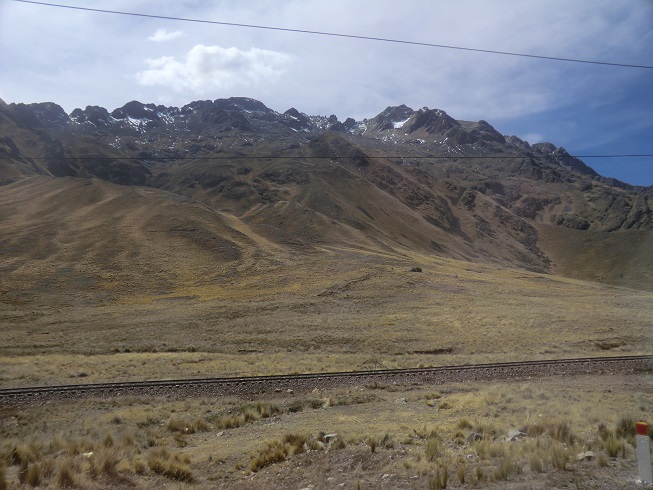 A railway and a part of the Andes.
13.24 We made another stop. We have been out of the bus in the Abra La Raya pass, 4335 meters above sea level. I've never been walking around higher than this before. The question is whether I will ever be higher. The air feels rough and dry here. There are beautiful views around us. Snow-capped mountain peaks are visible and beautiful handicrafts are sold along the road. Some girls are walking around with alpacas and want to be photographed. This is the border area between the provinces of Cusco and Puno.
13.51 The landscape may be dry, barren and treeless but there are still cattle, villages and small communities. On the outskirts of the settlements, we see graveyards. We are impressed by the people who live in small stone house on the plains that we know how freezing cold it is at night at these altitudes.
14.53 The trip has continued to new attractions. We have passed Ayaviri and it is now time for a break in the small town of Pucará. Here we will go to the museum.
15.28 In the small museum Museo Lítico Pukara, we were shown the remains of the pre-Inca cultures. We saw a statue of a frog and another statue of a person who was holding a skull. The frog was used to attract rain and there were beheadings. A long interesting day with a lot of new information starts coming to an end. This was the last stop we make. After this, it is only about a two hours of bus journey before we reach Puno.
16.24 We have reached and gone through the vast but arid city of Juliaca. There are plenty of transport options here but not much else. Our bus continues toward its final destination.
17.09 Now we can see a lake. It is not just any lake, it is Lake Titicaca which is beginning to show itself!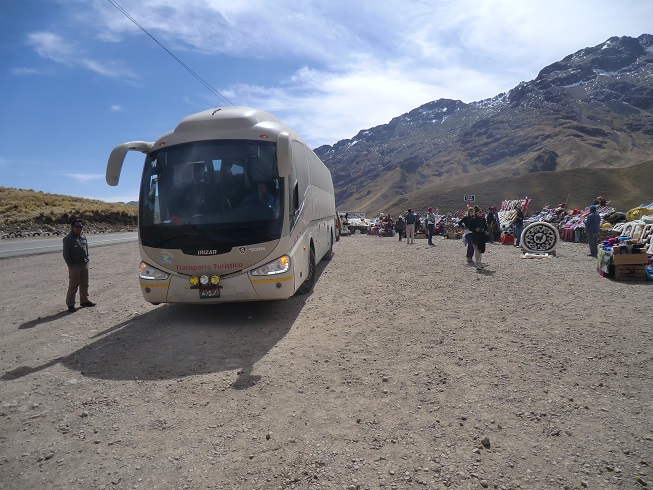 We made a stop at Abra La Raya.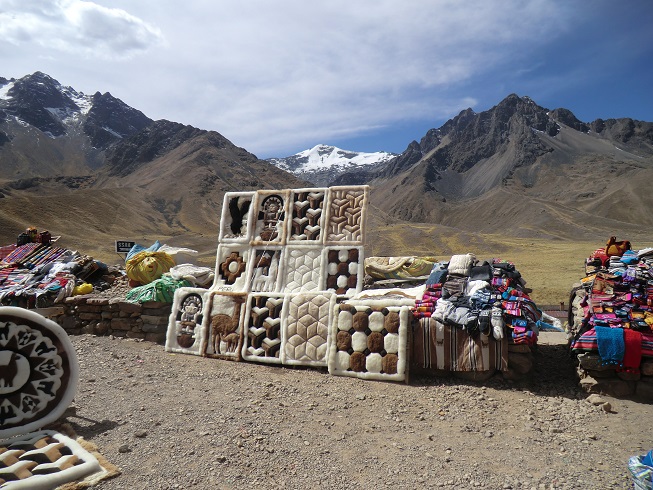 A beautiful place for souvenir shopping.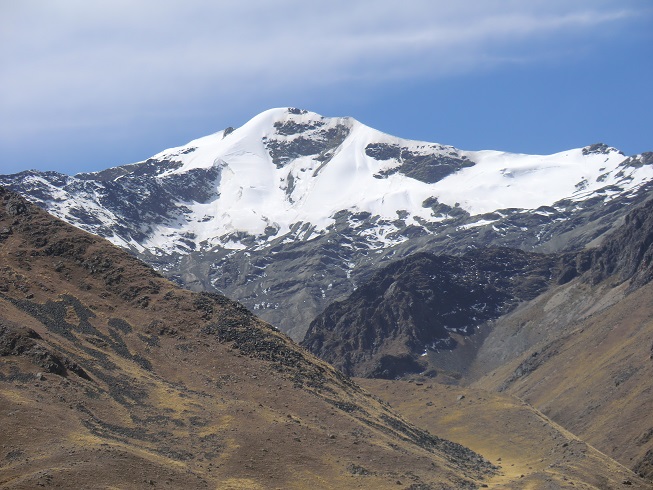 Nudo de Vilcanota, a peak which is 5240 metres above sea level.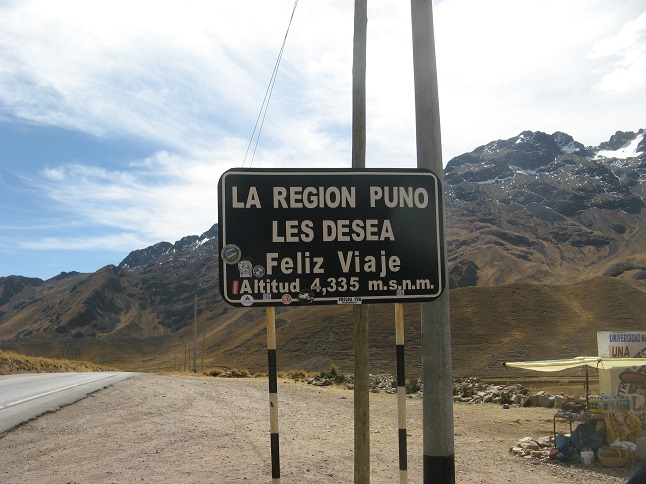 A new altitude record for us, 4335 metres above sea level.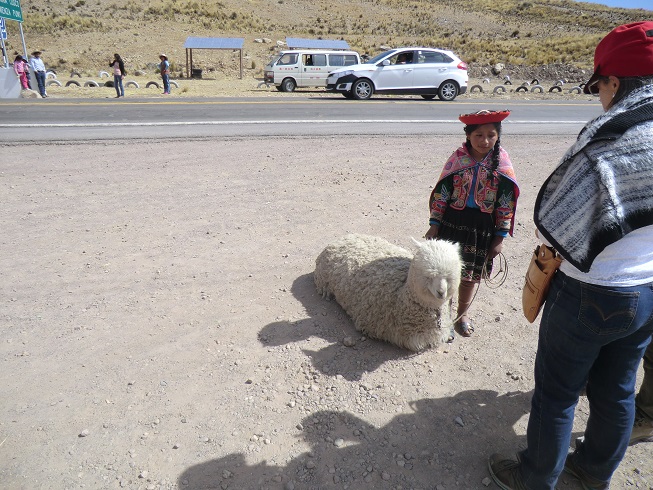 A girl and her alpaca at Abra La Raya.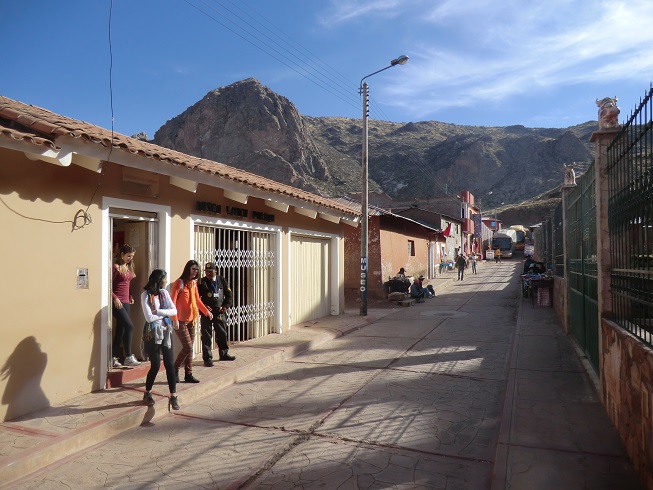 A visit to the museum in Pucará.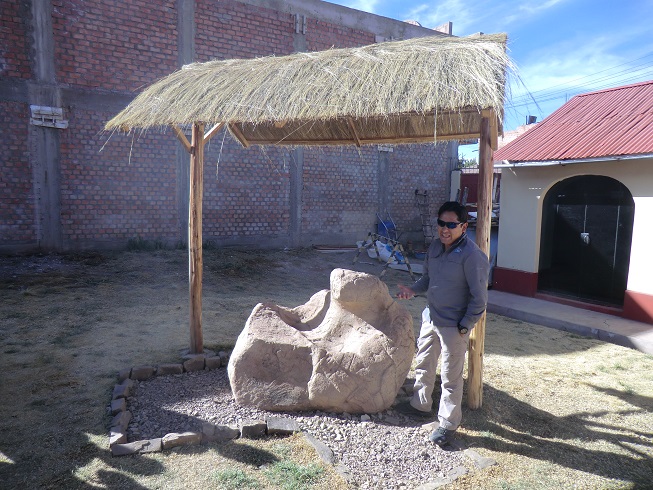 We are guided in Museo Lítico Pukara.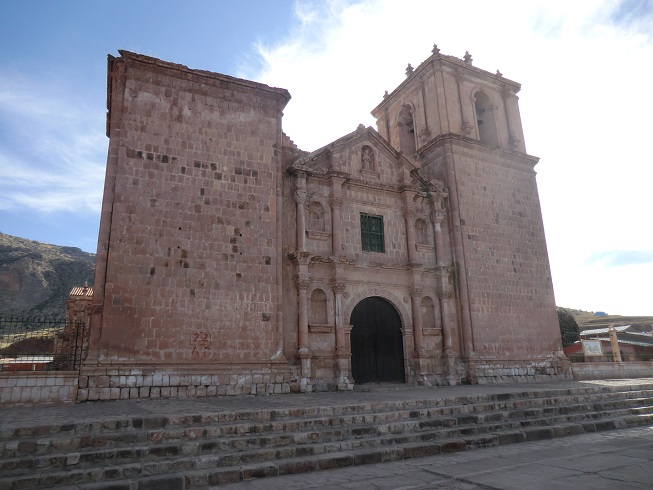 Iglesia de Pucará.
17.33 We have reached Puno, the city on the Lake Titicaca in which we´ll stay the next few days. It was a great view of the city and the lake when we approached the city limits from above. It starts to get dark. We will probably arrive to our next accomodation in the dark.
18.22 The bus drove to our great disappointment to the main bus station in Puno which is located by the lake. We had chosen a hotel located right next to the Inka Express office but it was not where the bus went. It felt unnecessary but we set out on foot to the hotel because the route was still realistic to walk. After some faulty navigation in the dark, we reached the Hotel Francis Puno (http://www.francispuno.com). Here we checked into room 211. We are, as I said in Puno by Lake Titicaca. It means a height of about 3860 meters above sea level. At check-in we were asked when we will be eating breakfast. Moreover, it was a bit difficult to get into the hotel because the door was locked. We will leave the passports tomorrow. They should be copied.
20.09 The meat restaurant La Estancia is located on the corner across the street from the hotel. This is there our dinner will be served. Some fatigue has begun. When we left the key at reception they once again asked when we intend to eat breakfast tomorrow morning.
20.44 We chose a really great restaurant. The service was excellent and the food/meat is nothing to complain about. To be truly Peruvian, we tested chicha morada to drink with the meal. This burgundy beverage competes with Inca Kola as most popular meal's drink here. It is a drink with history. It was drunk even before the Inca period. It is made from purple corn and tasted really good. The waiter looked happy when we chose to drink it.
21.50 Now we are about to be tucked in, in our freezing cold room. The day began in a hotel in Cusco and now we are here after a busy busy day.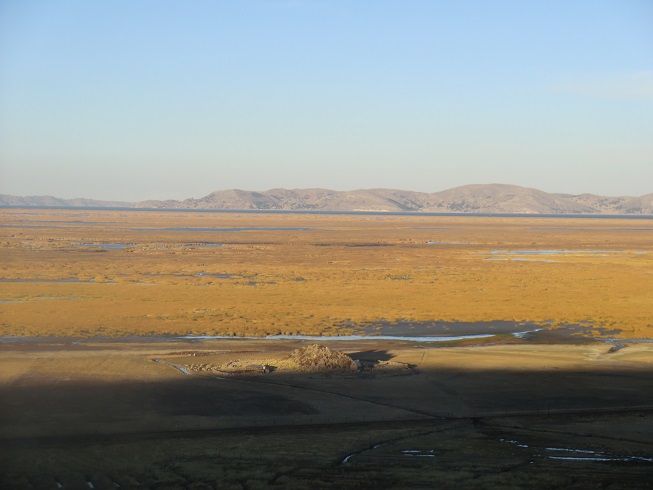 We can see Lake Titicaca for the first time.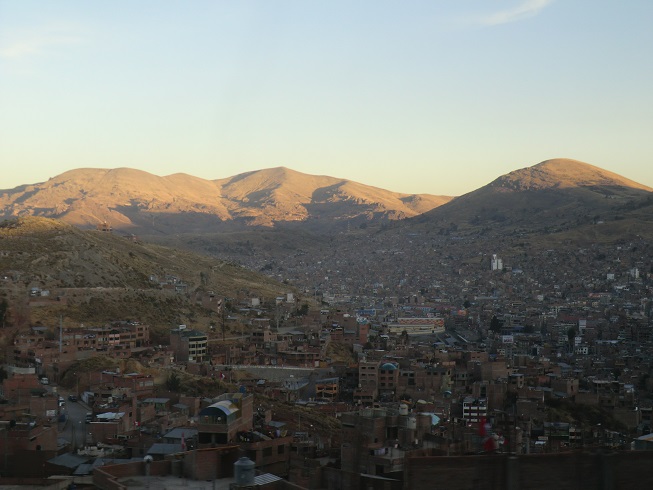 A great view of Puno from the bus.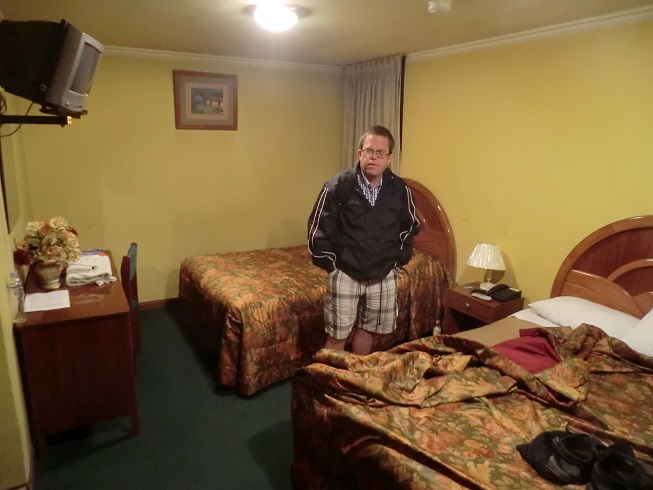 We have checked in to a new fridge, sorry, hotel room.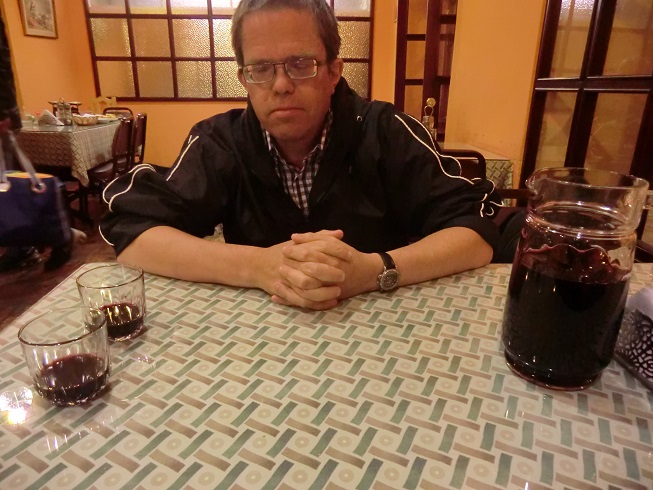 Tonight we are drinking chicha morada.
---
Wednesday 29th of July
07.30 It is a bearable temperature in the room, not more than that. It is also freezing in the shower. We must talk with the staff. We are not picky but hot water when showering should be included in a hotel of this standard.
07.48 It is not necessary to talk with the staff. There is hot water now all of a sudden. It can be time-controlled, depend on whether the sun is up, solar panels? Now we will see what's offered for breakfast.
08.37 It was cold and dark in the breakfast room. There we were served different types of tea, juice and sandwiches. Now Christer washes the sweater he washed yesterday. He is not satisfied with the result. In addition, we will plan the day. The day is dedicated to exploring the city of Puno and to buy the remaining bus tickets we needed on this trip. We will travel with the same bus company three times before we reach Lima.
10.01 It's time to go out to collect impressions of city life and get the much needed warmth from the sun. We knew it's cold at night winter time at 3860 meters altitude, but we had some hopes for indoor heating.
Peter has finished his breakfast at Hotel Francis Puno.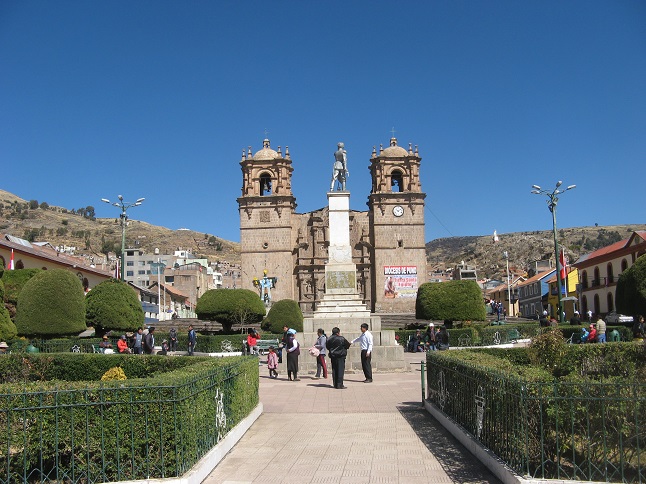 Plaza de Armas, Puno.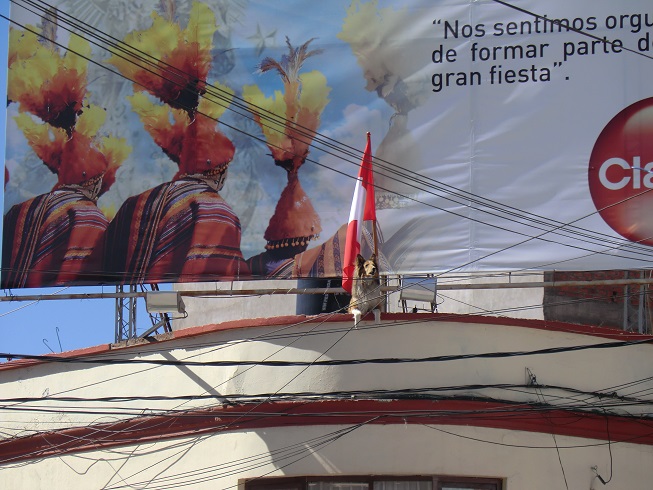 A dog looks out on the square and speaks.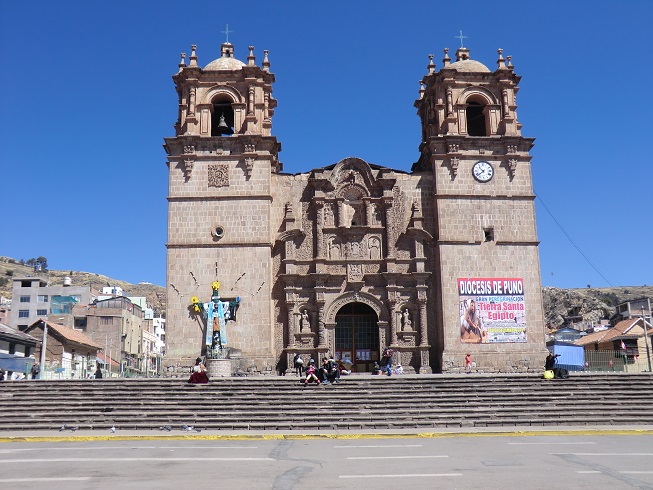 Catedral Basílica San Carlos Borromeo is the offical name of the cathedral in Puno.
10.12 We did not leave our passports for copying before we went out of the hotel. It can be done later instead. Now we are sitting on a green bench in the sun on the main square Plaza de Armas. The sun shines on our cold bodies and we feel like a cell phone which is slowly recharged. Here in the square a male choir is singing, chanting and a dog barks along. It's the National Day celebrations that continues. The dog is standing on a roof, barks and gaze out over the square as if it were a politician. We suddenly see some similarities with Donald Trump in the United States.
10.50 We have changed squares. We are now at Pino Square, or Parque Pino as it is called in Spanish. It has been named after Dr. Manuel Pino, a hero from the war against Chile in the late 1800´s. He is here too, at least in statue form. We reached the square along a flag adorned and beautiful pedestrian street, Jirón Lima.
11.29 Now it's coffee and soon triple sandwich at Pacha Mixology, a small restaurant, or rather a cafe or bar. Thereafter, our exploration in this city will continue.
12.12 They had no change for Christer's 50-sol note when it was time for payment. A lady was sent out to arrange with change. The girl in here got tired of waiting and snatched a 20-soles from a newly arrived employee's purse. We have plans for a lake tour for a few hours tomorrow. We went for the in the guide book recommended travel agency Edgard's but they could only offer multi-day tours. Instead, we went to Saidas Travels and bought a half-day ticket for 25 soles.
12.33 A parade marched in just as we returned to the Pino Square. Once again the drums and brass instruments were heard and people marched by with flags and banners. This happens from time to time in the cities we visit. We still do not really know why.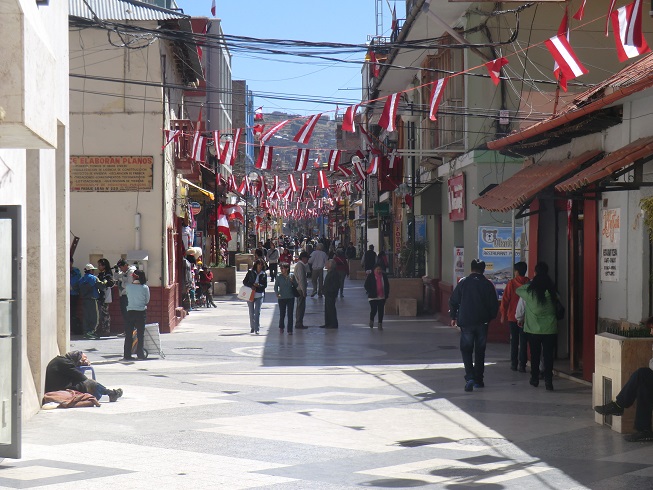 The pedestrian street Jirón Lima has lots of flags during these National Day celebrations.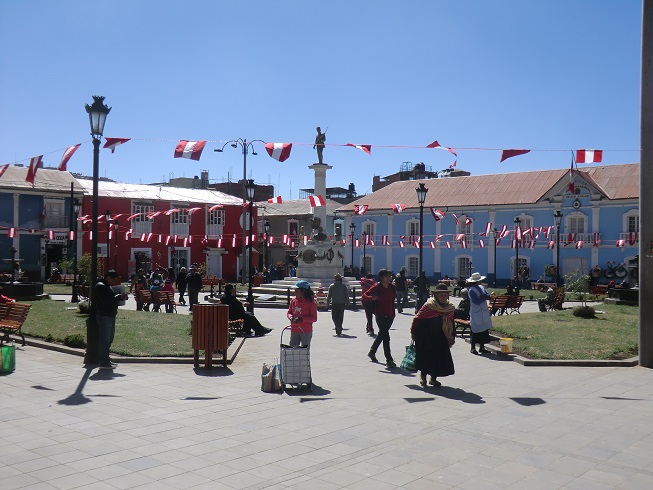 Dr Manuel Pino looks down on the square with his name.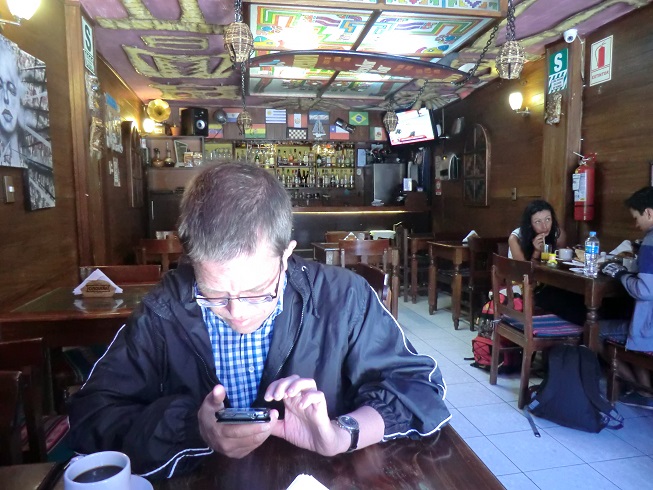 Peter is consuming coffee and use the internet at Pacha Mixology.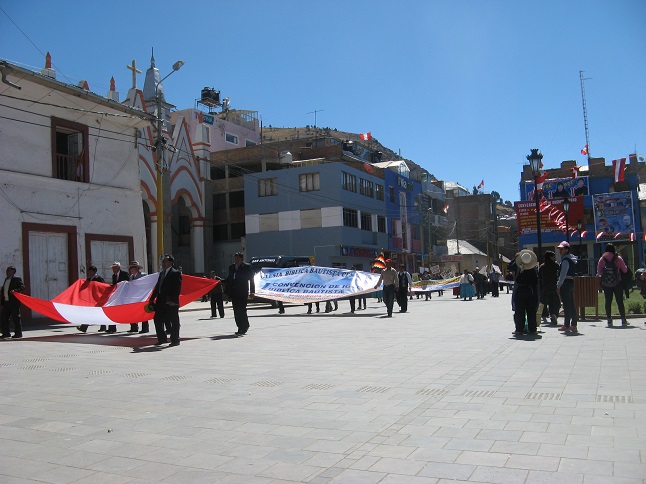 Yet another parade here in Peru.
13.25 We have been at home in the hotel room for a little while. Here it is fresh clean and the beds are set. However, it remains cold, it's the same towels and no hot water. Opposite our hotel is the restaurant Vikingos, where we should not go. We had to ring a doorbell to be let in at the hotel. That is because it is not always someone at the reception desk.
13.49 It is time for lunch. We are in the restaurant Mojsa (http://mojsarestaurant.com), beautifully situated on the second floor in a building at the Plaza de Armas. We missed getting the nice balcony seats but it will probably be fine anyway.
14.18 Both dishes were juicy and boneless, both Christer's trout and my lasagne. In the midst of the meal a large American teenage gang entered and some of the charm got lost. The restaurant seems to be run by an American woman and her Peruvian husband. It was certainly she who seemed to have an eye on things today anyway.
14.40 We rest after lunch, treating us a nice bench break here at the Plaza de Armas. We will soon walk towards the bus station for ticket purchases but do not want to end up in the middle of the rush when a larger bus departs around 15.00.
15.37 We have cruised along various streets here in Puno and reached the bus station, Terminal Terrestre. Now we have bought the last three bus tickets. It took a while to get everything ready, but it is nice to have everything arranged. Exactly on the day ten years ago we were visiting the world's lowest lake, the Dead Sea. Now we are at the highest navigable lake, Titicaca. The height difference between the two is 4234 meters. It goes down and it goes up on our travels.
15.49 On the way back to the city's more central parts we have walked along the edge of the lake. Instead of a nice nature experience, it was a meeting with a horrible stench that seems to come from a ditch between the boardwalk and the lake.
16.26 Now that we have made it back to the centre and Pino Square it is time for afternoon coffee at Mama Coca, a strange little café in reggae style.
Fruits being sold along Avenida Simon Bolívar.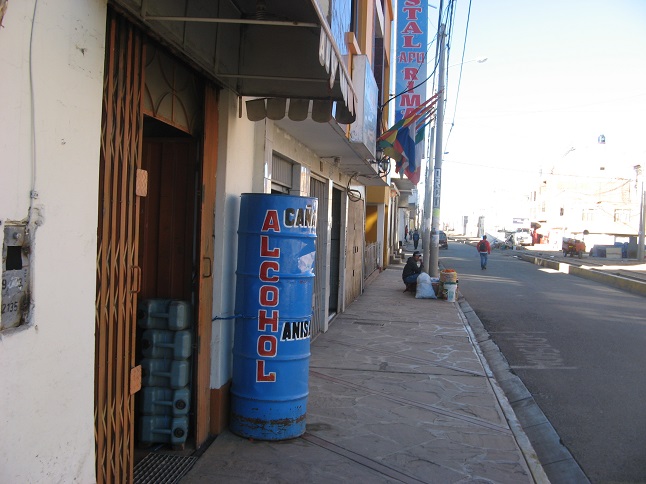 Interesting alcohol container in Puno.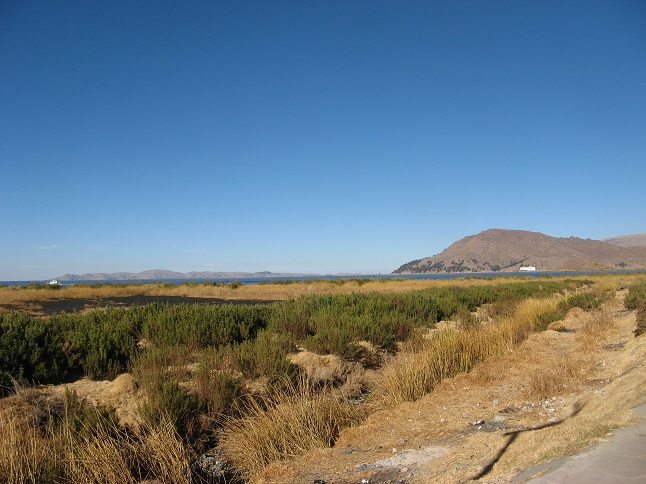 Walking along Lake Titicaca.
17.18 It was an interesting visit to the tiny cramped café. There was barely room to sit but it was a special atmosphere there. We had intended to try coca tea here but it will probably be tomorrow instead. We did not see it on the menu here. Afterwards, we have been effective. We have bought something tasty for tonight and tomorrow, bought shower gel and found a suitable dinner restaurant.
18.01 We're back at the Hotel Francis Puno and watch TV in our chilly room. According to CNN, it has emerged wreckages on the island of Reunion in the Indian Ocean. This debris may be from the missing aircraft MH 370.
20.06 We will now, after a few hours in the room, dine at the restaurant Ukuku's, the restaurant we found earlier today. It is also recommended in our guidebook.
21.05 We were satisfied again. Christer's dish was drenched in sweet applesauce, clearly odd, but was it good? It would be good if we were satisfied with the heat in the room and on the water as well. We are longing for lower altitudes and warmer climates. Here in Puno, the sun is hot but everything else is cold. Peru competes with South Africa in the competition "countries where we are freezing in July."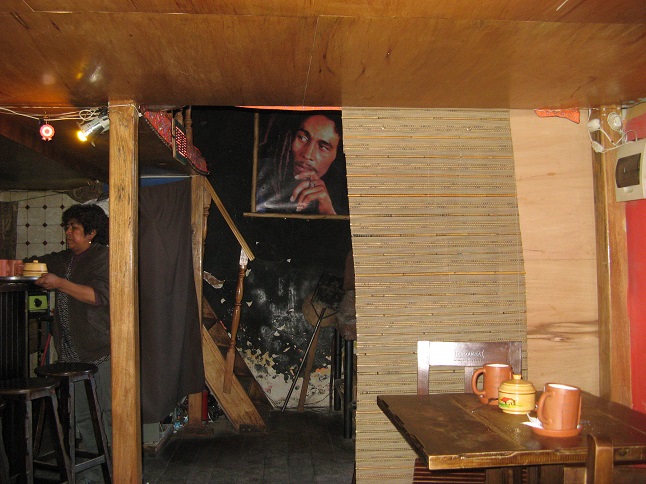 A visit to Mama Coca.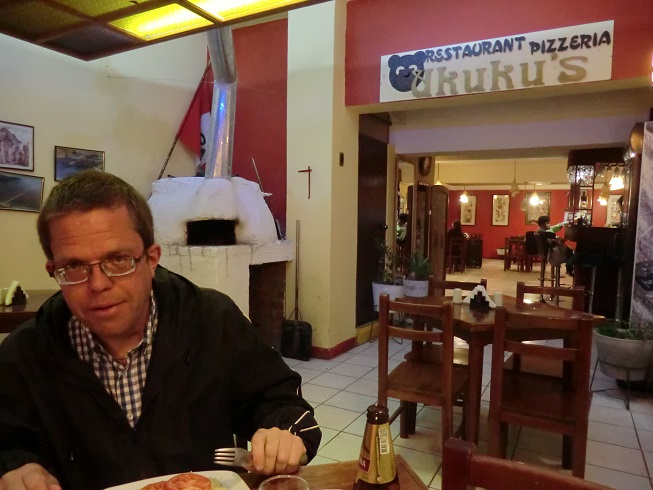 Peter is having dinner at Ukuku´s.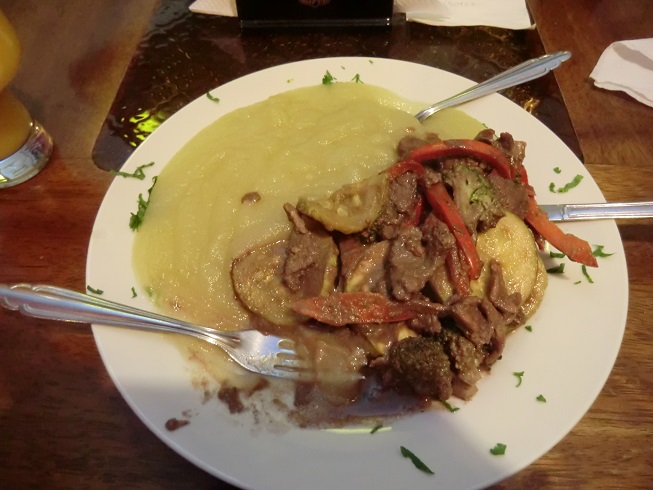 Christer´s dinner, alpaca meat with apple.
---
Thursday 30th of July
07.24 We have for almost one hour waited and hoped, waited and hoped for the shower water to get hot. There will be nothing of it. Next we hope that a breakfast is served.
08.15 There was breakfast and today I also got coffee. The hot water is here. It seems pointless to have a shower before 07.30. There is simply no hot water so early in the day. How long will it warm? Today it will be a lake trip.
08.40 We are standing outside the hotel waiting for our minibus. When we booked our trip yesterday we were told that a minibus would pick us up at our hotel. Now it's not exactly a shortage of minivans. The only question is which of those stops for us. One of the minibus lines in Puno passes just outside our hotel, we are in the midst of a cloud of exhaust and wonder if any of all the minibuses has come for us?
09.01 A man suddenly appeared at our hotel. He tried to get in but the door was locked. It turned out that he was looking for us. The minibus had stopped at another street, and he was sent to fetch us. He took us around the corner of the street to the minibus. We thought that it would stay in front of the hotel but this is, considering the traffic situation, a better idea.
09.06 We seem to have been the last passengers. A packed minibus is now moving towards the harbour where our lake tour will begin.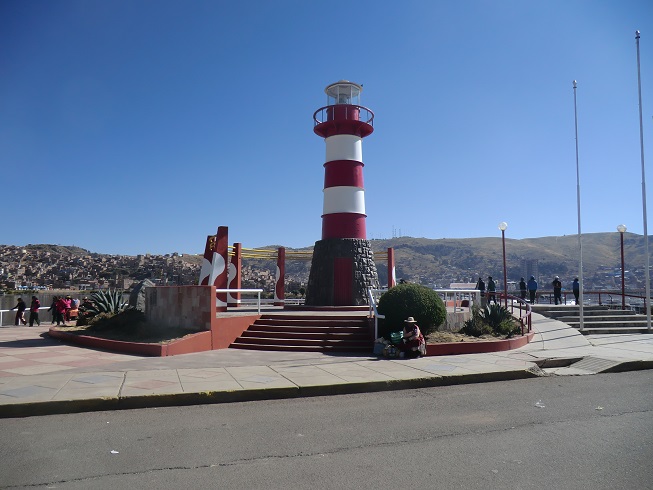 A lighthouse in Puno harbour.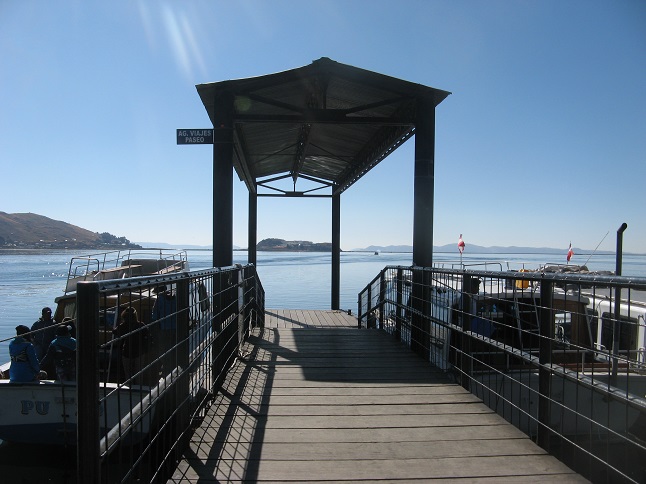 We are waiting for our boat to be ready.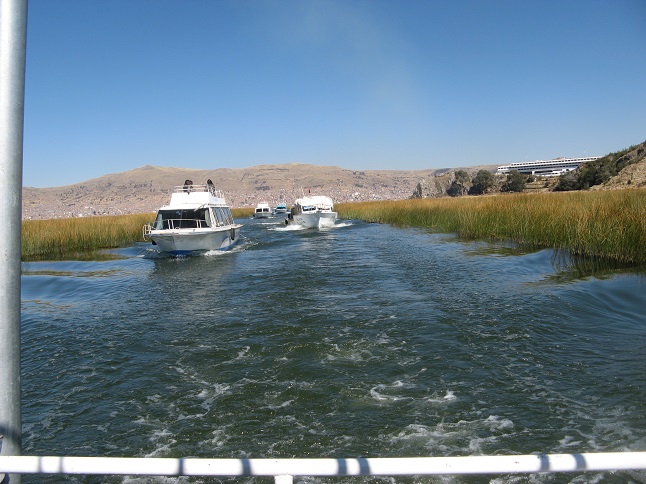 Heading out on Lake Titicaca.
09.20 So we have changed from the minibus to the boat. Soon we´ll yet again go out on a lake. Yes, as soon as the boat engine start. It hums a while and then it dies. Hooray, now everything seems to be ready. We head out on Lake Titicaca. Earlier lake trips have been made in Costa Rica, Nicaragua, Guatemala and Indonesia. More will come maybe?
09.43 We go through the reed. This reed is used by the locals to a bit of everything, houses, boats, islands and more. Our boat is called Jumbo. We are guided in Spanish and English during the boat trip and have been told what to expect in the coming hours. We'll get to visit two islands made out of reed. The first is an island with a small village, the other an island with a post office, souvenir shops and more.
09.58 Khana Uro is the name of the first island we landed on. It is an artificial island. It feels like walking on a water bed. Before disembarking, we were practicing on a greeting in the Aymara language we would use. The Uros people who live on the islands speak Aymara, a language which is otherwise common in Bolivia.
10.18 We have sat down and listened to an excellent guided tour, We got information from our tour guide and partly by the island chief and his wife. We learned how they construct the islands, fish the small fish karachi and more. One of the future fishermen, a small child, tried to catch one of the fish that lay in a bowl. In the midst of the lecture another child hit Christer in the head with a broom.
10.31 Our small group of us two Swedes, some Peruvians and some Mexicans has been divided into smaller parts and each small group has been looking inside a reed hut. The woman we followed showed us the family bed, their radio and solar cells they got electricity from. The huts are simple but cozy. There is no stress here.
10.46 After the home visit we were shown some crafts which were for sale, stunningly beautiful but also expensive and difficult to transport. Each work is unique, with images of the island's inhabitants. Now it will be more boat travel. We'll go out on the lake in a classic reed boat. There will be the luxury version, their own Mercedes Benz.
11.02 Before departure with the reed boat the island women sang a farewell song for us in different languages, an unexpected but charming farewell to Khana Uro.
11.18 A new landing has been made. We have been using the reed boat to get to the island Hanan Pacha. There are small shops and a post office here. They also have a fish farm.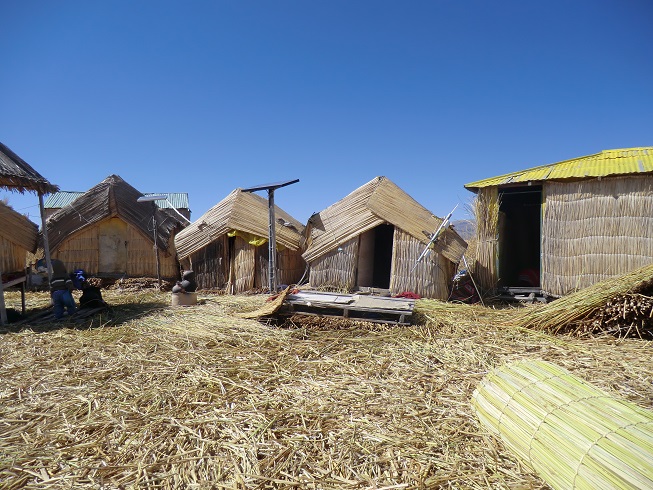 Khana Uro, a floating island.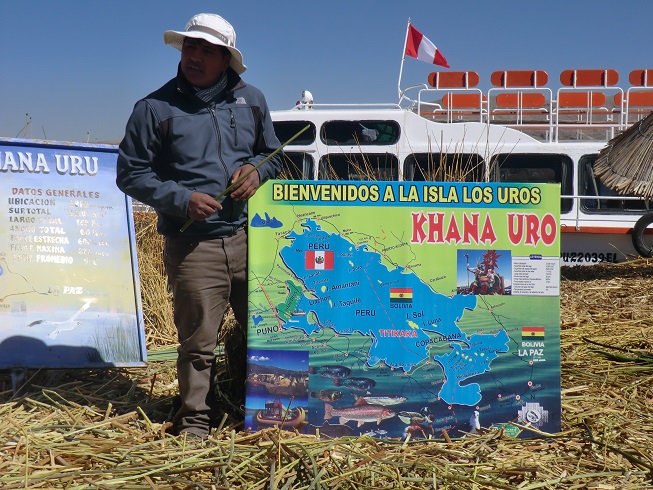 We received lots of interesting information about the Uros people and their traditions.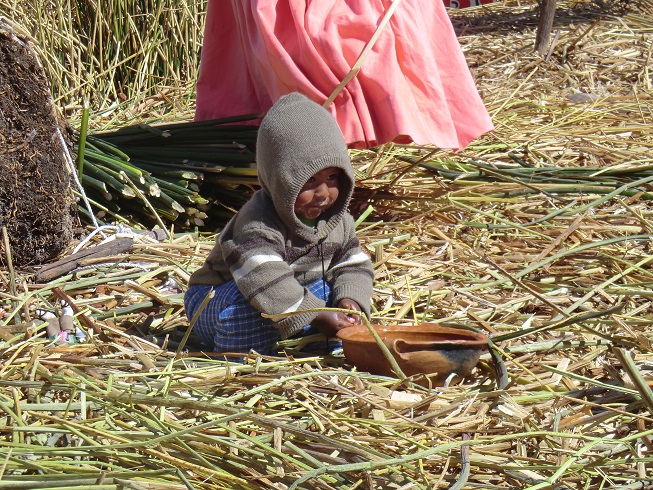 The next generation is playing with a small fish.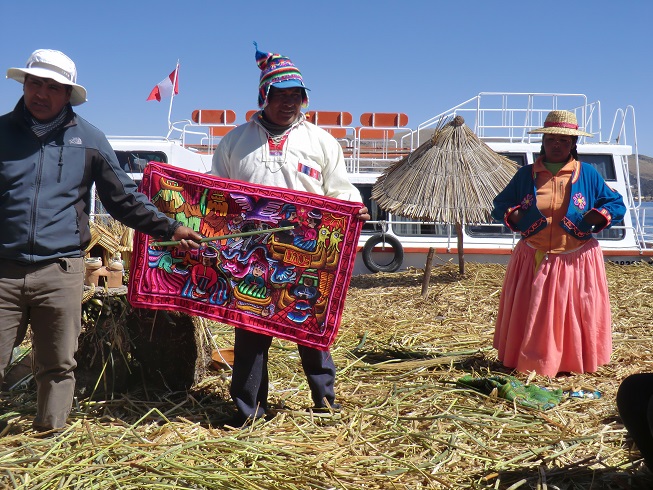 The island´s leader and his wife show us handicraft.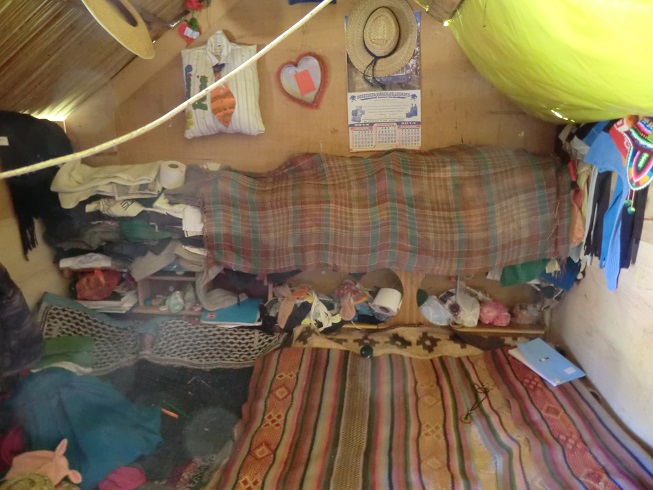 We made a short visit inside one family home here on the island.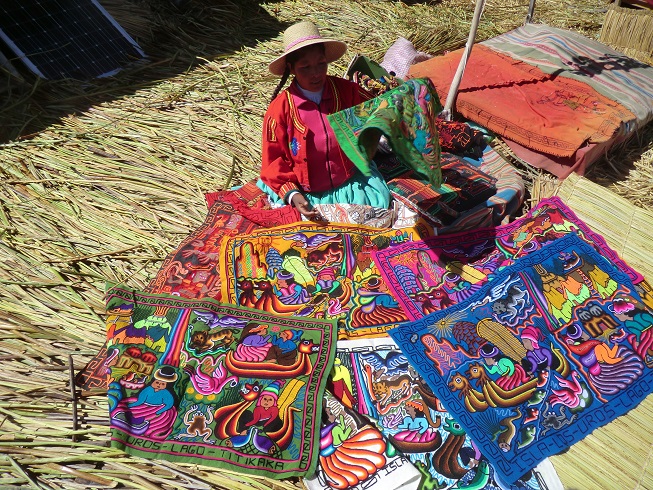 Uros souvenirs for sale.
11.42 The trip among the islands is over. Our boat Jumbo has begun to return to the starting port of Puno. The tour was above expectations. We had read that some islands would be too well-adapted tourism and tours. We are in any case completely satisfied with what we have seen and what we have learned.
12.22 We stepped ashore, a ride to the hotel was arranged for us, and now we returned home to our home and rooms. We got new towels and thank you for that. Now the nice day soon continues. Yet again the front door was locked and we had to patiently wait to be let in.
13.18 Colors is the name of the cozy restaurant that will serve lunch. It is located very close to Pacha Mixology where we were yesterday. Colors claim that their food is "fusion". So it can certainly be, the main thing is that we are satisfied.
14.40 We have seen more of Puno, including a portal, Arco Deustua, on top of an uphill climb. We try to cover everything worth seeing of what we haven't seen yet. Now we are at a major department store, Plaza Vea and Christer is in the food section and makes some shopping for us. We thought it would be a mall here but it's just a department store. The planned coffee stop must be made elsewhere.
15.19 We have returned to familiar parts of the city, namely the main street Jirón Lima. It's time for afternoon coffee at Incabar. We'll finally try coca tea. This tea is said to be good for many things, including altitude sickness. Besides tea we ordered some sort of chocolate cake and ice cream.
16.12 It was a fresh taste of coca tea. The smell reminded most of grass. It was reminiscent of other types of green tea we tested through the years. Before heading to the hotel we also purchased some hats in a souvenir shop.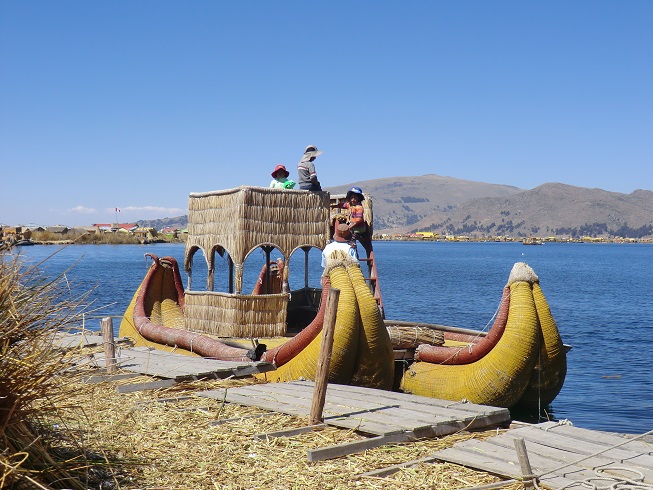 It´s time for a trip in a traditional Uros boat.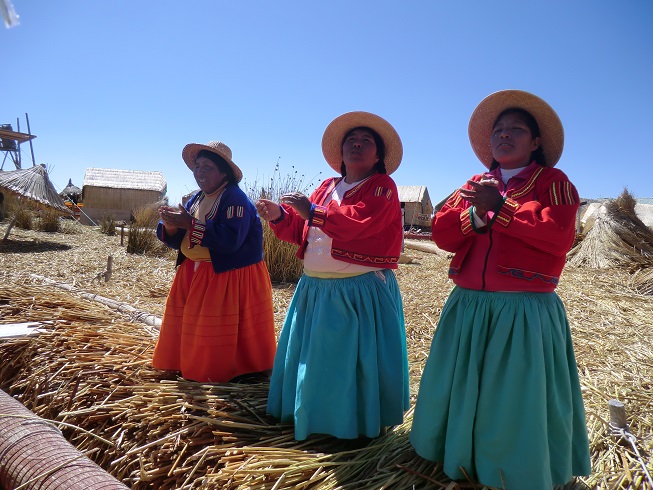 The women on Khana Uro sang a good bye-song to us.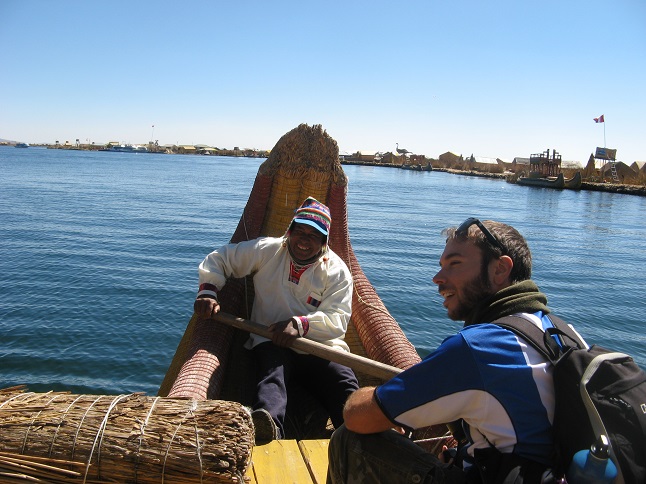 Slowly we are going to another island.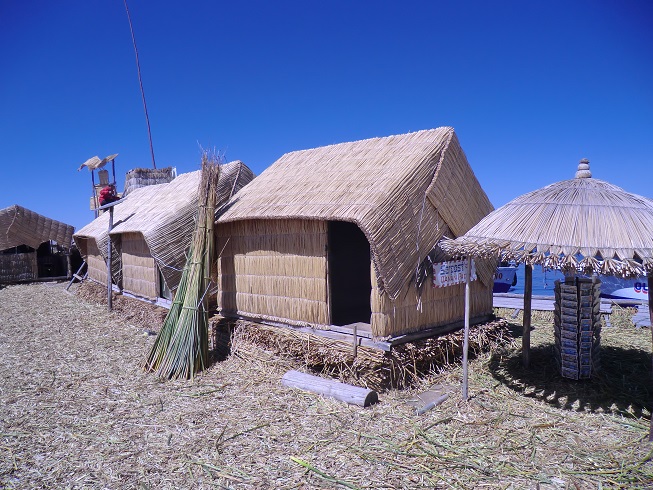 The post office on Hanan Pacha.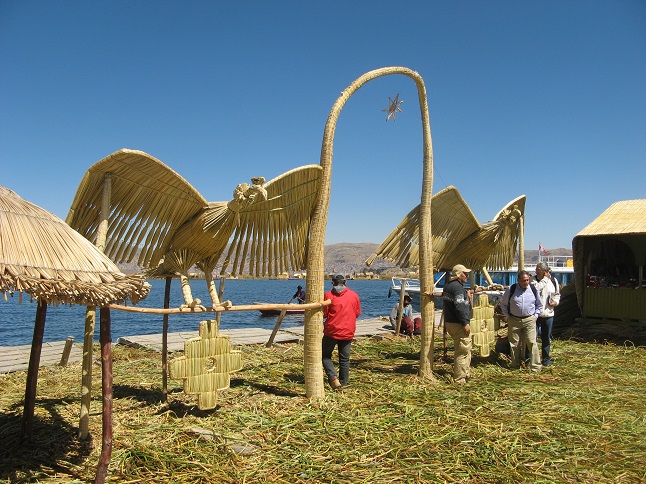 Beautiful constructions.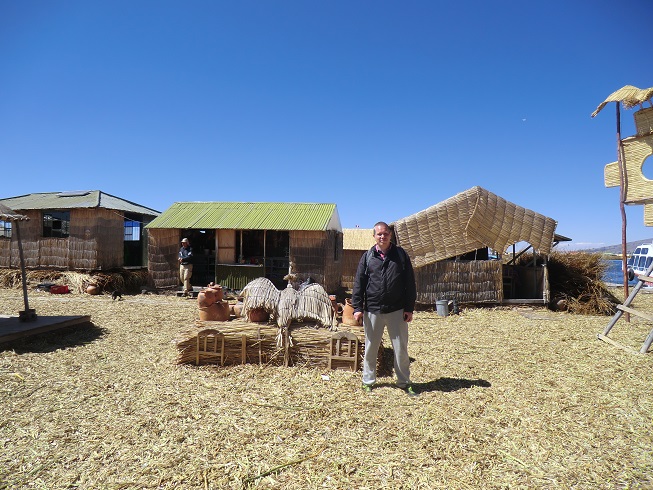 Christer stands on the floating island Hanan Pacha.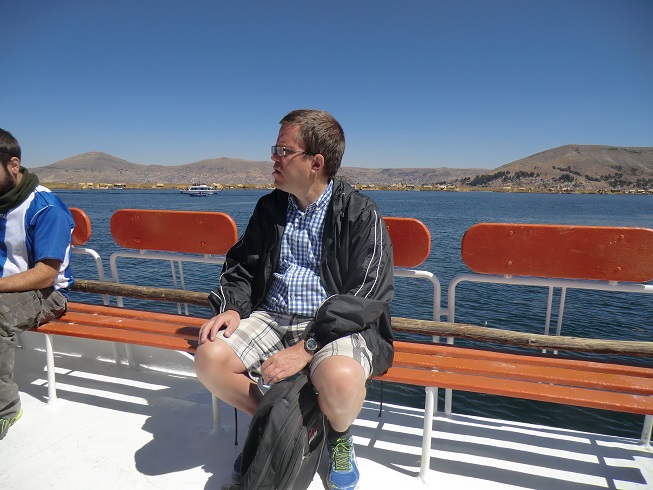 Peter is going back to Puno.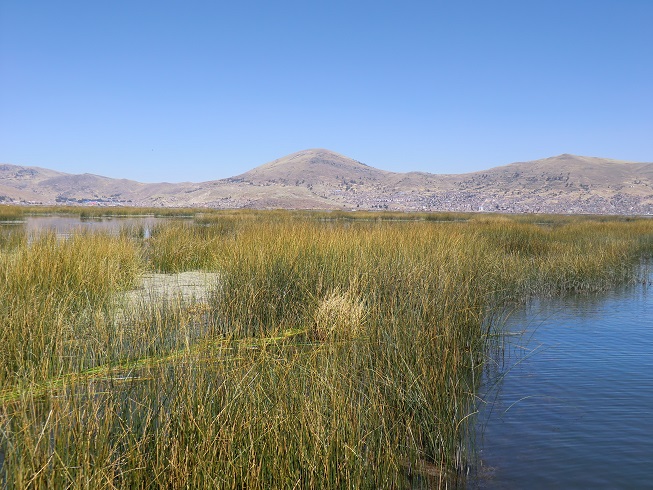 We are returning to Puno after an interesting lake tour.
19.30 We have relaxed and hardly sweated in a still chilly hotel room. Now we'll go out to maybe eat guinea pigs. We'll see what we can find.
19.57 There was a return to La Estancia. Here we ordered a Mixed grill for two people. The urge for meat became too strong. The guinea pig lost but is far from safe.
21.03 That was not at all wrong. There was plenty and tasty to say the least. We have visited this restaurant twice and been equally pleased both times. Outside the door to the hotel a man shook hands with me. He took off his cap and asked for 10 soles. He got one sol. Then he looked down at his cap, and said that something was missing. Said and done, if he doesn't like the gift I take it back. We once again had to wait to be let in. But with such men outside perhaps it is best to keep the door locked. We are now in the room to enjoy the rest of the evening, in other words, resting under the blanket to be warm.
22.04 Another day is over. Tomorrow the stay in Puno and also the month of July ends. We have never been so many days in a row in the same country that we have here in Peru. Before the trip is over, maybe we had time to become fully naturalized. Lucky that we are two of us, so that we keep the Swedish language alive.
Arco Deustua, Puno.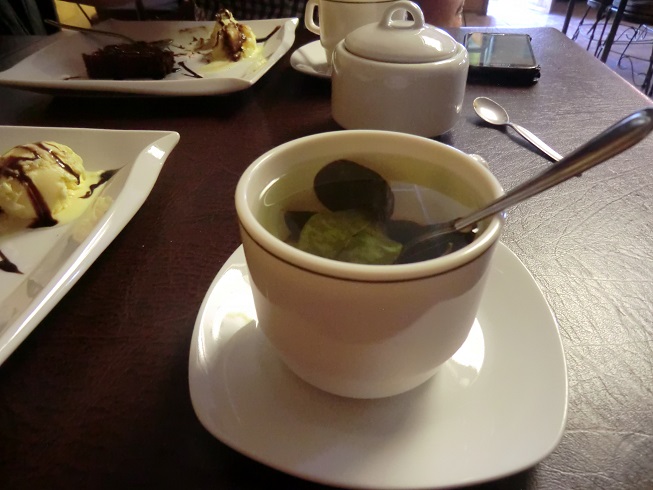 Coca tea and a dessert.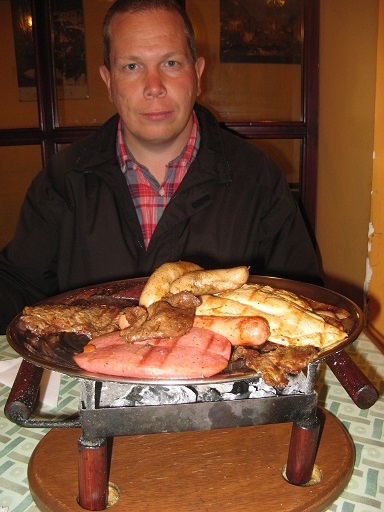 Dinner, mixed grill for two!
---
Friday 31st of July
07.37 Now I wait for the hot water. It is usually supposed to turn up at this time. Today in Kuala Lumpur it was decided that the Winter Olympics 2022 will take place in Beijing, China. It will be the first time that one city hosts both summer and winter Olympics. Beijing had the summer olympics in 2008. The other candidate was Almaty in Kazakhstan where we were earlier this year. We feel sad that they did not manage to get the honours.
08.27 The one that wait for something warm and good will get it in end. But why should we have to wait? We hope the next hotel have hot water around the clock.
10.48 Now we checked out and the backpacks have been left at the hotel. Our plans regarding a bench break in the sun stops at the plans. There are plenty of people today and the benches are occupied. We are instead back at Café Pacha Mixology for a minor snack. We wonder when we will see the next llama or alpaca. It'll be thinner once we leave the Andes behind us.
11.42 Several bands passed outside the cafe. There were drums, brass and flutes. Five llamas, four large and one small just passed us. After some bench searching we found one on Pino Square, Parque Pino. People throughout Peru celebrates the alpaca day. There are a lot of people, several stalls and exhibitions. A man is giving a speech. You can also buy various dishes with alpaca meat. It also organized various photographic competitions with alpacas as a motif. I wonder if the alpaca breeders in Sweden celebrates as well?
12.07 We are sitting on a bench in front of the baroque cathedral here in Puno. We await our hunger and keep watch against the restaurant Mojsa where we want to use any of the tables on their balcony when we'll have lunch soon.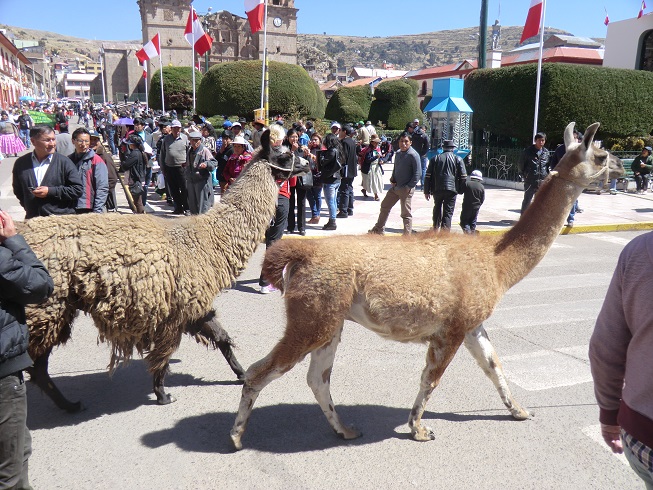 Llamas walk the streets of Puno on the Alpaca Day.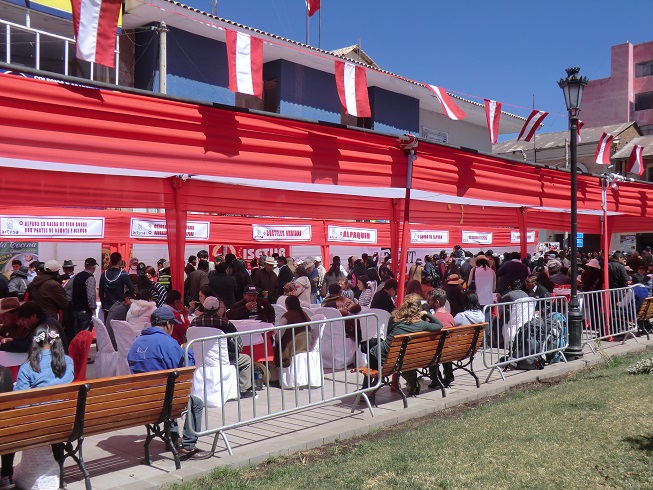 It is a festival athomsphere on Alpaca Day in Puno.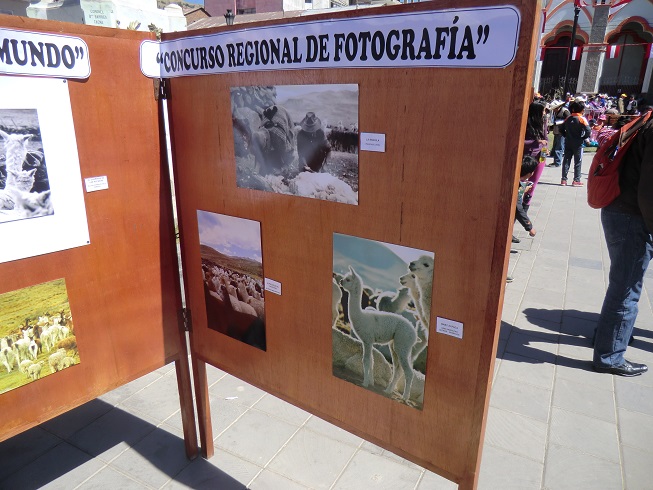 Photo competition on the alpaca theme.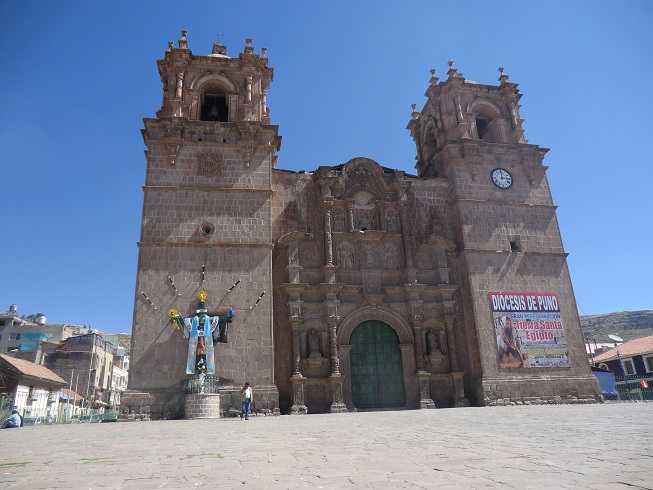 The cathedral in Puno is a baroque building from the 18th century.
12.12 We found a message from our friend Björn in Sundsvall on the internet. He mentioned that we should buy a typical Andes hat for him. An old lady walked up to Christer and asked if he wanted to buy one. Christer first said no but quickly changed to a yes and the woman who believed that God had intervened kissed the coin she got, crossed herself and looked at the sky. She thanked us politely for our contribution and walked on.
12.30 It is now time for lunch at Mojsa. The hat business made some others beat us to the balcony but we still will eat here. We had chosen the dishes beforehand, took what we had as a back up on our last visit here.
13.38 After a good lunch, we walked back to the Hotel Francis Puno and rang the bell. Now that the backpacks are fetched and we had time to fresh up it's off to the bus on foot. It's over an hour until the bus departs.
14.05 There is beeping and drilling here around us at the bus terminal. A small boy is trying to get something out of the coffee machine. As soon as we returned to normal breathing pace, we will check in our luggage at the Cruz del Sur's office.
14.55 The baggage was checked in and we sat down at gate 3. A small visit was made to the bathroom before we made an attempt to walk out the gate. It didn't go that well. We had to turn back to pay a terminal fee in a small kiosk. Now after security and ticket inspection we are aboard the Cruz del Sur bus towards Arequipa.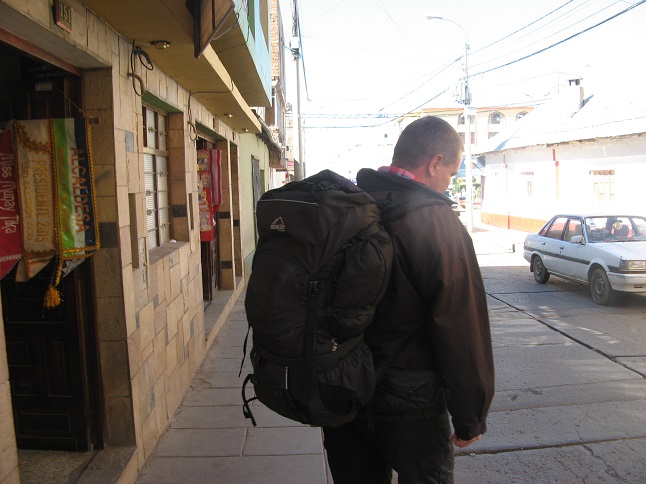 Christer is leaving Hotel Francis Puno.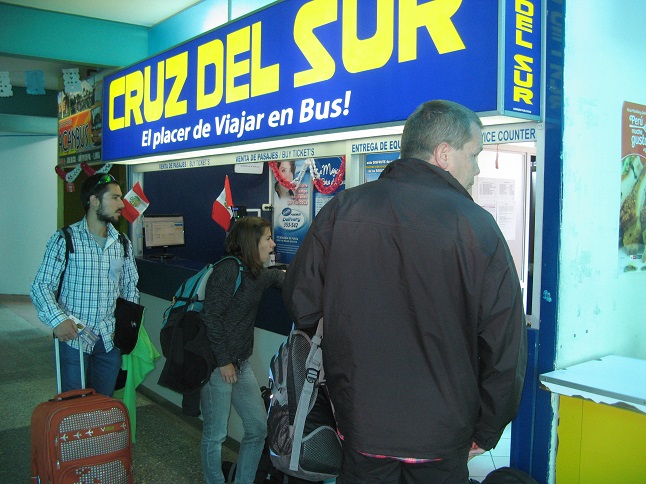 It´s time to leave our backpacks and get ready for the bus to Arequipa.
15.24 The afternoon bus trip has begun. Bye Puno and Lake Titicaca! Will we meet again?
17.07 The landscape around us feels familiar. There are mountains, a small river that flows by and dry grass.
18.32 It has been dark for some time. It is difficult to know where we are. On the horizon are visible street lights. We are still waiting for something. Christer is about to have a breakdown because of his bus seat slowly moves backwards all the time.
20.20 There is light in the bus and light to the right. We are on the way and should soon arrive in the next city.
20.46 We have for a while watched a cartoon, Pongo and the 101 Dalmatians. It is shown on the bus TV.
21.15 I'm not entirely sure it was the right city I saw. It was after all a while ago. Now we have anyway arrived in Arequipa, Peru's second largest city. Here it was chaos at the baggage claim. All luggage was pulled into a cart and then it was come and get it. We have in any case got what we want. It's time to go out and find us a taxi. Unfortunately we missed the end of the film. How did it go for Pongo?
21.52 The chaos at the baggage claim carried on in the traffic at the start. However, we had an excellent driver who found a neat way around the city centre. We came in anyway to our accommodation, La Casa de mi Abuela (http://www.lacasademiabuela.com). The name translates to grandmother's house. Here we were expected and we were checked into room 120. We have towels here but no working TV.
23.11 While waiting for the sun's return, we will take the opportunity to get some sleep. Our room is fresh and have a pleasant temperature, a welcome change.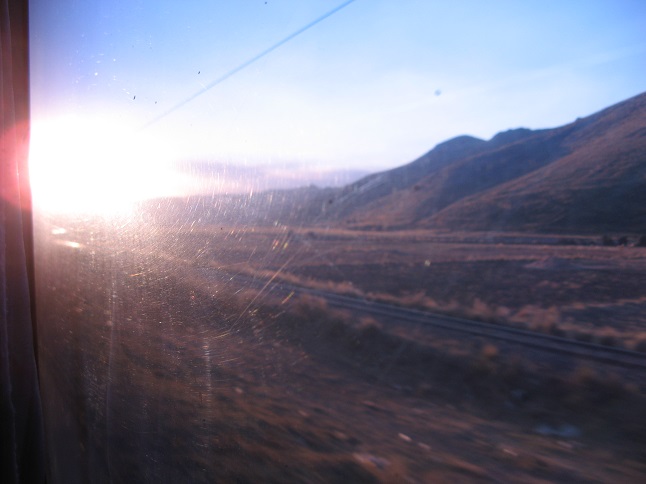 Bus trip towards the sunset.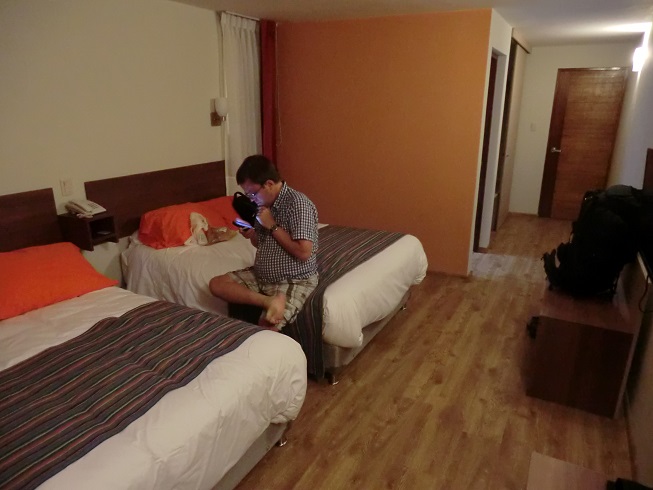 Our nice room at "La Casa de mi Abuela".
---
VIDEOS
---
You can see 105 photos from July 28 in this photoalbum.
You can see 43 photos from July 29 in this photoalbum.
You can see 106 photos from July 30 in this photoalbum.
You can see 28 photos from July 31 in this photoalbum.

---
---
---

---