---
Text: Peter Johansson
Editing: Christer Lundstedt
Photos: Christer Lundstedt, Peter Johansson
Videos: Christer Lundstedt
---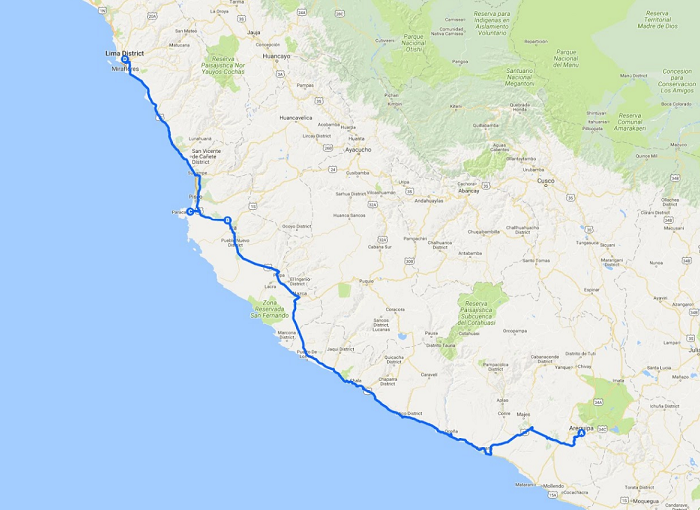 ---
Saturday 1st of August
08.31 We have slept the first night here at La Casa de mi Abuela (http://www.lacasademiabuela.com). The bed has taken good care of me. The same cannot be said about the shower. We are in Arequipa and we continue our journey through Peru this month as well. We have a feeling of having come down to low altitude again. We are certainly much lower than we have been for the past week but Arequipa at 2335 meters above sea level is higher up than anywhere in Sweden, for example.
08.53 We had intended to have breakfast. Unfortunately the same thought had struck several others of the guests here. While waiting for a vacant seat at the breakfast tables we sit on a bench that is located on the beautiful courtyard.
09.51 The breakfast was well worth the wait. There was a wide variety of tasty options. Plus we got a beautiful setting and brilliant sunshine. There are actually quite a few tables here, but many of the guests remained long after they finished their breakfast. Behaviour like that quickly leads to the lack of tables.
10.33 After a calm and quiet morning here in our fenced beautiful world, it has now become time to wander towards Arequipa's central districts. We are not too far from the city centre.
10.47 We said hello to the friendly security guard, walked out of the hotel area and began to walk along Calle Jerusalén that gently slopes down towards the centre.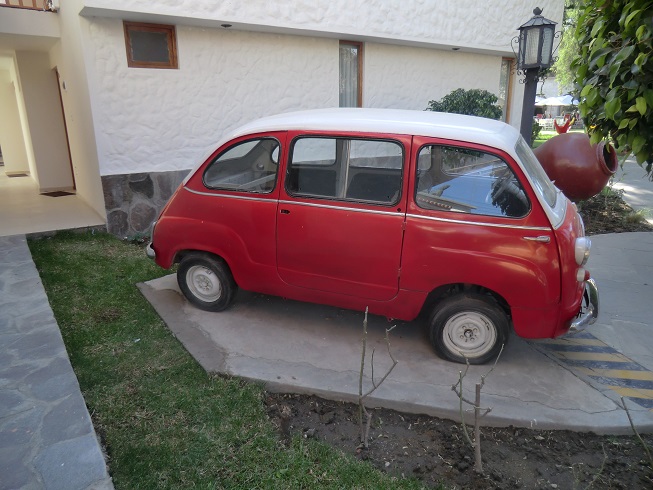 A special car is standing outside our room.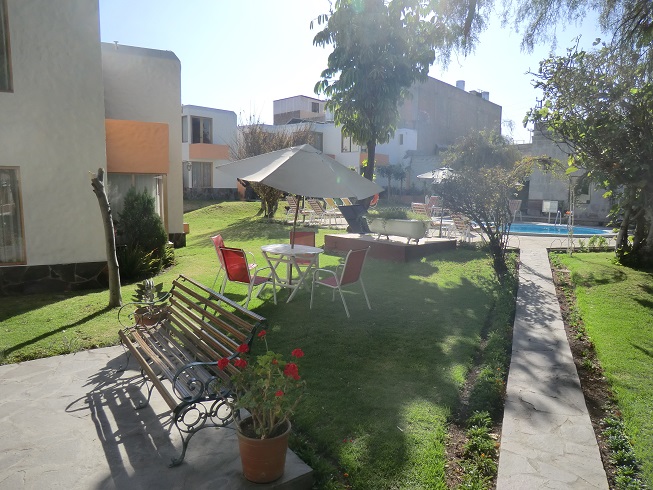 La Casa de mi Abuela, a wonderful oasis in Arequipa.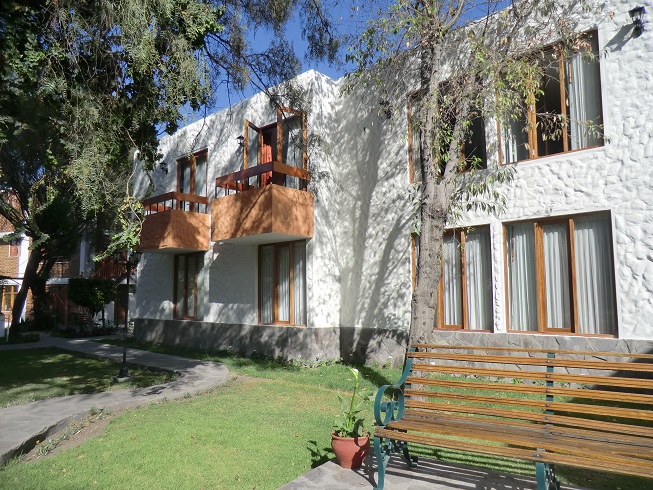 Our room is at the corner of this building.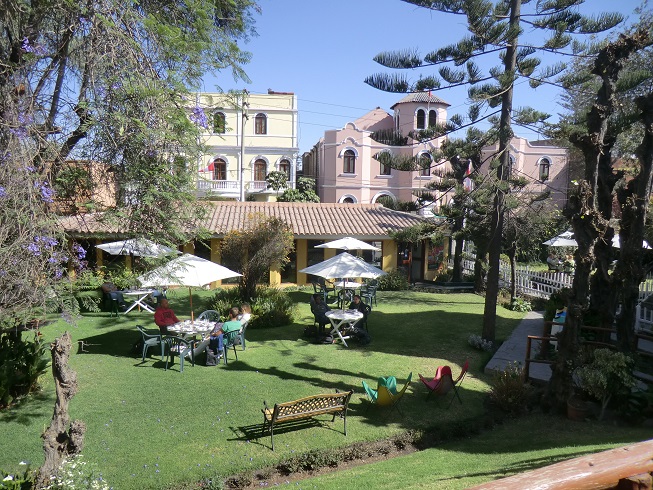 View from the breakfast table.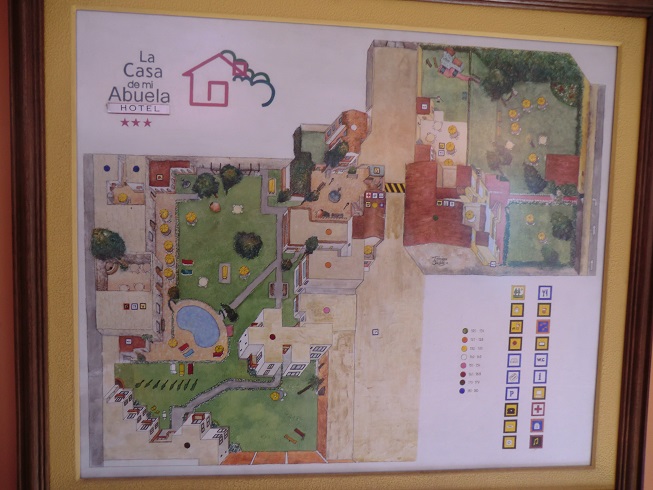 A big hotel needs a map.
11.17 We have passed a number of intersections, have turned into a pedestrian zone and finally found the heart of the city. It's time for another bench break on yet another Plaza de Armas here in Peru. Here undergoes yet another celebration. We have seen children with various North and South American flags. There is also a brass band and a drum orchestra with young ladies dressed in white here. On another part of the square a speech is held, music is played and some people are dancing.
11.29 As we sit down, people come to us as surely as the flies come to something sweet. We were interviewed by two school boys about our stay in Peru. Among other things, we were asked which countries we have seen in the world. When we mentioned that there are over one hundred countries they limited the question to countries in South America. We informed them that the number of countries is six. Then came a smiling, menu-waving young lady to us. Now a gentleman with a hat sits down beside me.
11.47 After a brief chat we said adiós to the happy gentleman and went to Starbucks Coffee at the pedestrian street Mercaderes. Now there will probably be no more Starbucks visit for us in Peru, or?
13.00 After the much needed coffee, we kept on walking here in Arequipa. We have taken photos on the surrounding snow-covered mountains/volcanoes. A flying bird is visible on one of my photos. I do not know what species it is. It looks like something big. Around Arequipa there are some mighty mountain peaks. The volcanoes Chachani (6057 meters above sea level) and Misti (5822 meters above sea level) are clearly visible behind the house facades.
13.08 Enough with beautiful views for a while. It is time to study a menu. We have sat down at the upstairs outdoor serving at the restaurant Llicllas. In this building there are countless restaurants side by side. All share the fantastic views of the Plaza de Armas.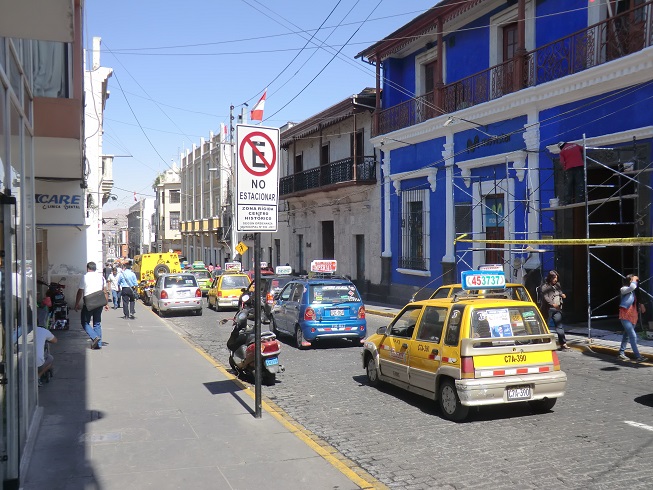 Walking towards the city centre.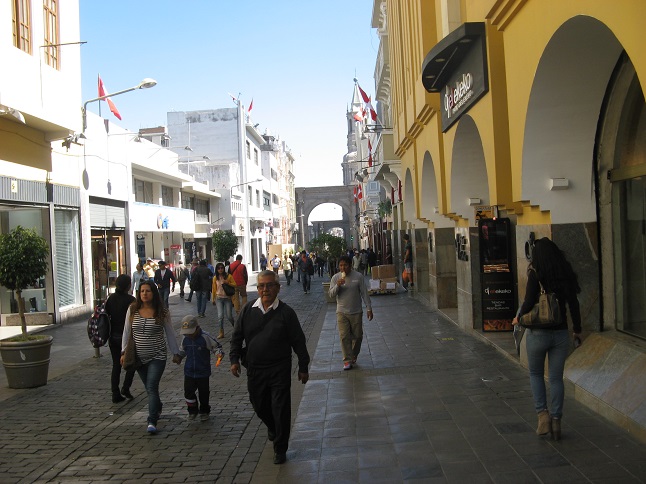 The pedestrian street Mercaderes leads to the heart of the city.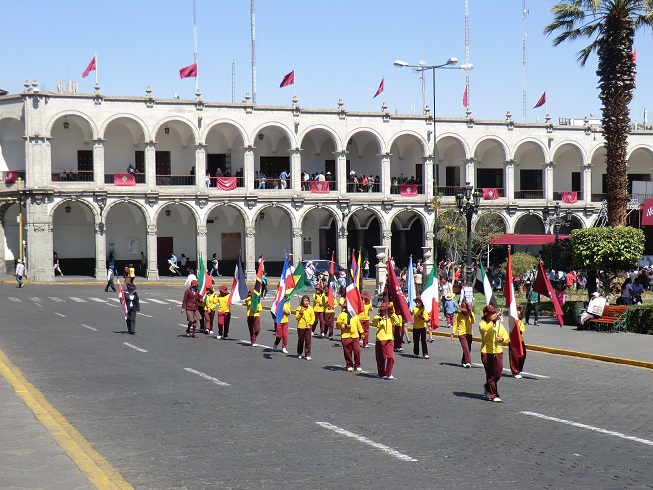 When we arrived to Plaza de Armas we discovered some sort of flag parade.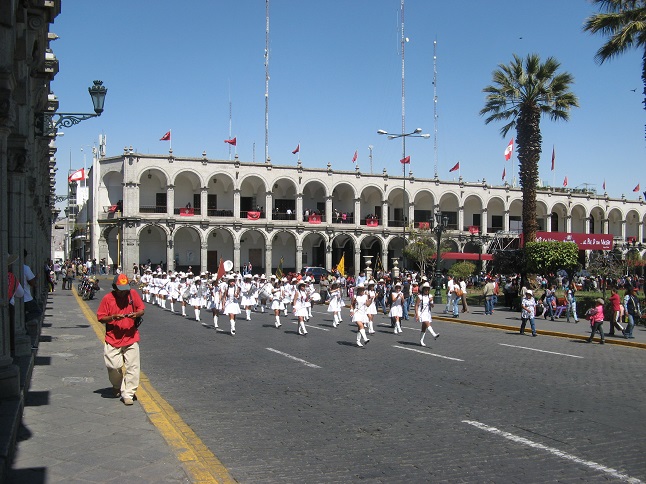 Marching girls dressed in white.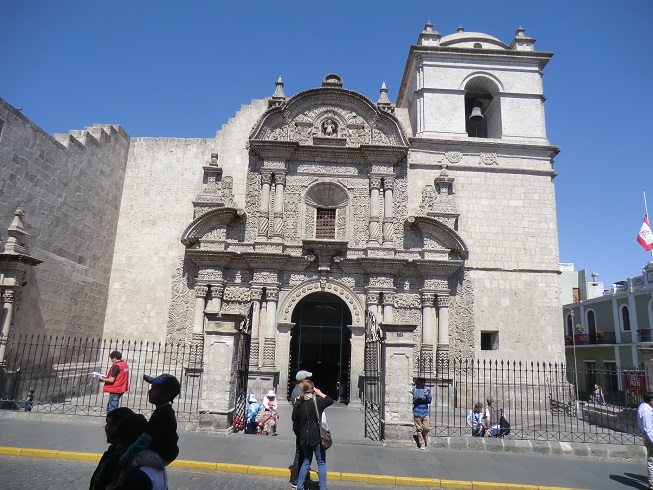 The jesuit church Iglesia de la Compañia.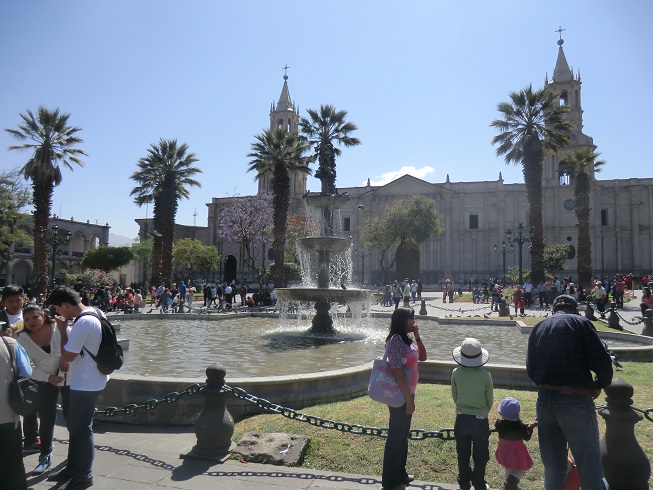 Plaza de Armas, Arequipa.
14.05 We were pleased with the lunch. Now let's get ready to walk home. We also have time tomorrow to see the city so everything does not have to be done today.
14.35 On the way home we bought soft drinks and even found a possible restaurant for tonight's dinner.
15.14 It is time for some literary time with our books by the pool here in the green interior of La Casa de mi Abuela. There will be no dip in the pool. The nights are so cold that the pool water never reaches a good temperature this time of year.
16.40 After a pleasant moment with book reading by the pool, we have been at the front desk to point out that our TV does not work. Now there's a knock on the door to our room.
16.42 OK, there is some trouble with the channels for the rooms around here. We were offered to borrow the key to an empty room with a working TV but said no thanks. There is nothing special we'll watch on TV, we just thought that most of the equipment in the room should be functional. We have not found any antenna cable to/from the TV and such is needed, right? Our room feels very new and fresh, maybe so new that everything doesn't work as it should yet.
17.31 Now we feel relaxed and ready to return out. At dusk, we will return to the city centre.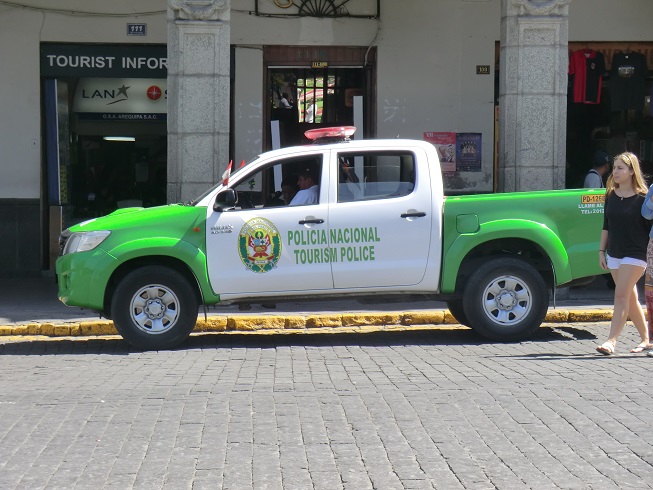 The tourist police is keeping an eye on the surroundings.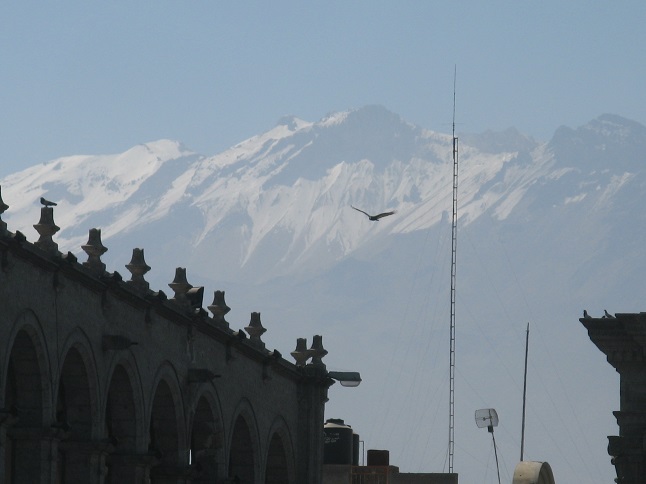 The Chachani mountains and an unknown bird.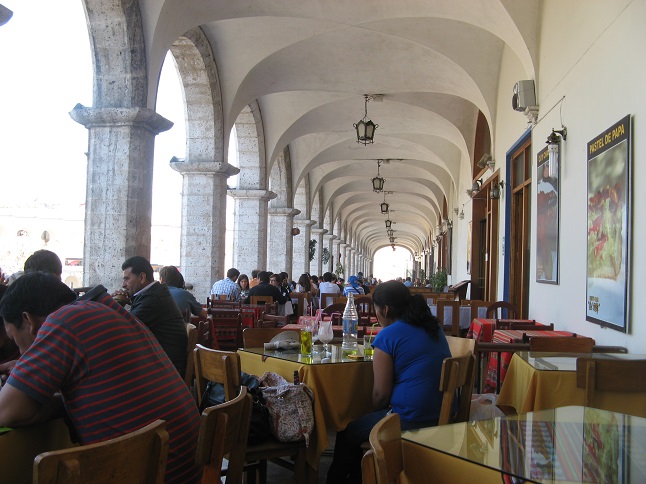 Lunch at the restaurant Llicllas.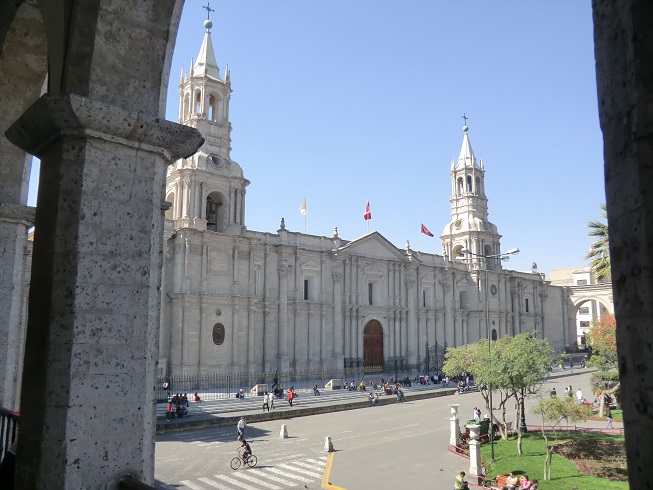 Cathedral view from the restaurant tables.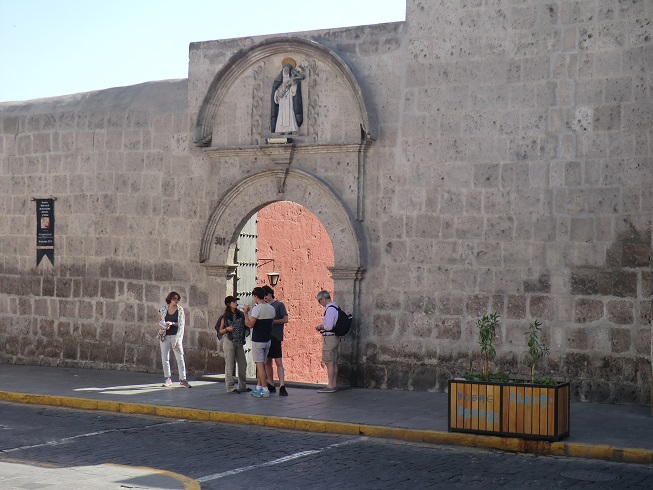 Some visitors at the Santa Catalina monastery.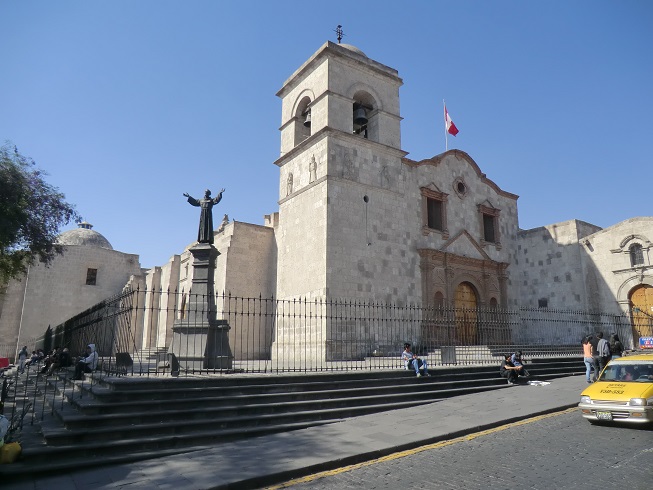 Complejo San Francisco.
18.24 It rumbles in the stomachs and we have ordered coffee and snacks at the Cafe Capriccio Gourmet (http://capriccioperu.com). We walked around a lot before we found a suitable place. Christer has also purchased a birthday gift for his nephew Fabian. It is a Peruvian football shirt, the white red national team shirt.
19.54 During coffee, we decided to eat our guinea pig meal tomorrow instead. Now it's dinner at El Ekeko. Here we ordered grilled meat. Out on the town, we have met music playing and dancing guys dressed in black. On the day there were girls in white and at night guys in black.
20.15 El Ekeko (http://www.elekeko.pe) is the name of a small mall with various shops and also at the restaurant we were sitting at. We are also testing the local beer tonight. We drink Arequipeña.
20.59 It was very good and well balanced. Now we have walked home and are doing research about tomorrow´s activities.
23.44 Tomorrow is now planned and structured. Just as we sit here and remember the trips that we´ve done, it hits us, sleep is good to have if we are to cope with our 46th travel day. Now it is sleep ahead.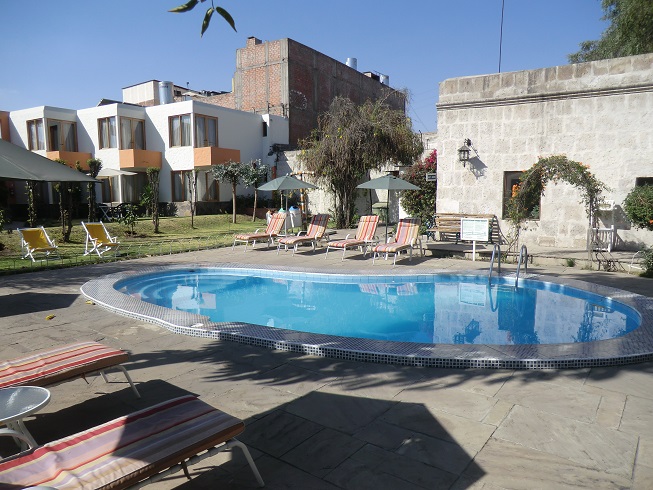 Siesta by the pool.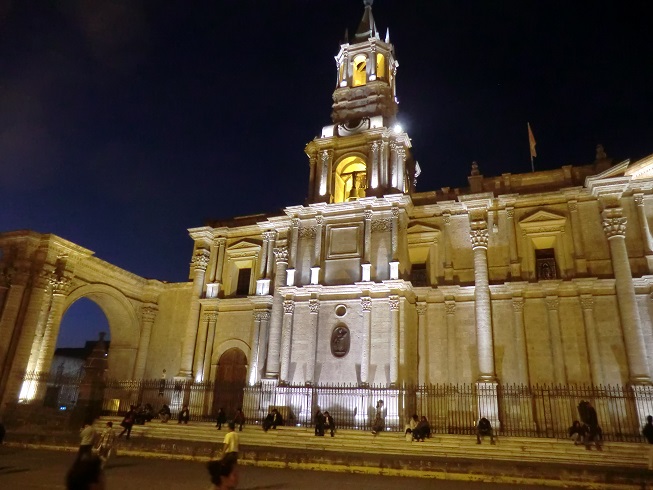 Basílica Catedral de Arequipa.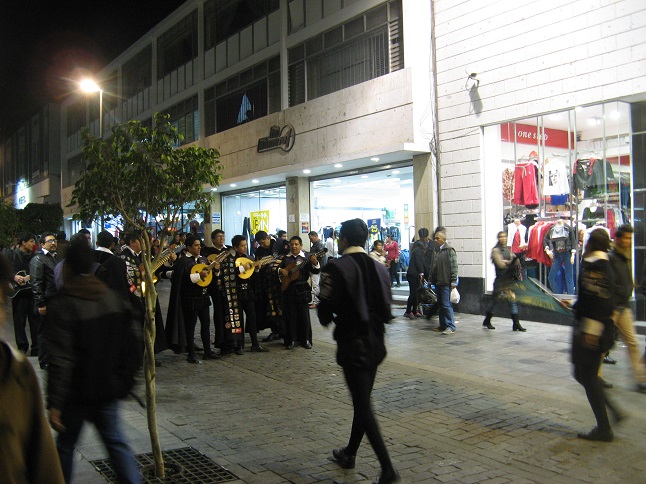 Suddenly there were songs and dances in the streets.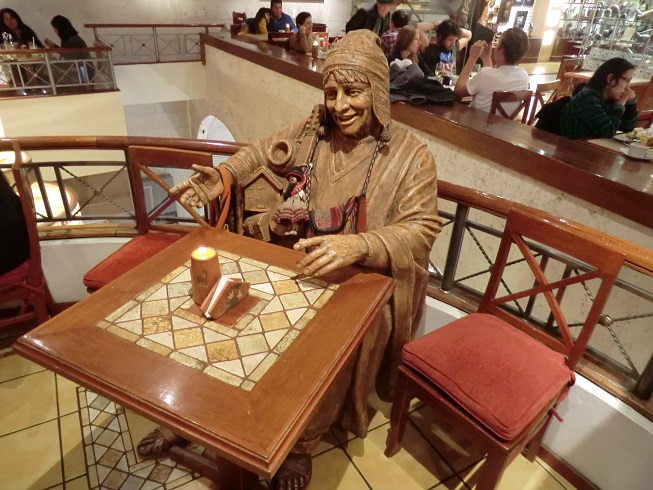 We are welcomed to the restaurant El Ekeko.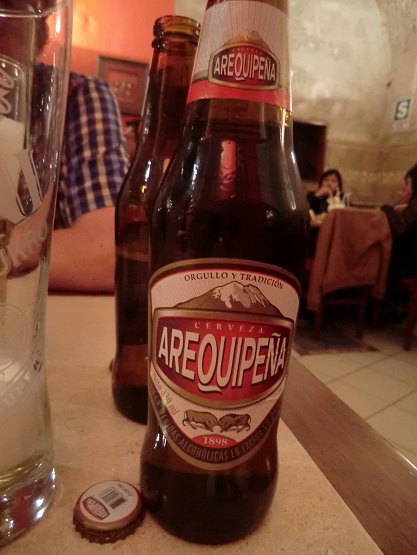 Always try the local brew!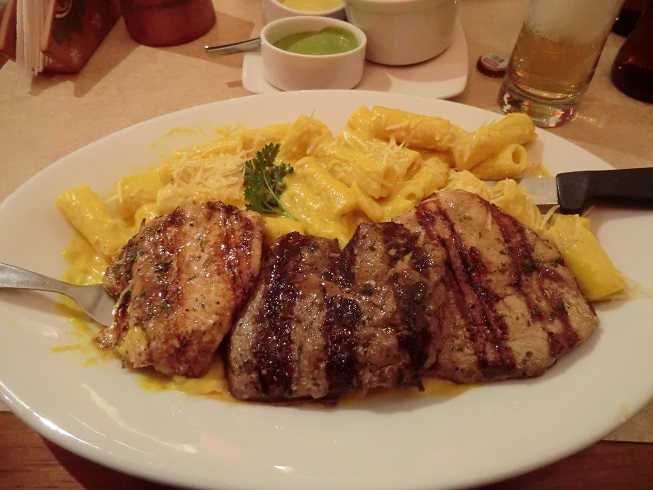 Delicious meat on the plate tonight.
---
Sunday 2nd of August
08.49 During our sleep the morning has yawned and dawned. Soon it's time for what the local language Quechua call tutamanta mikhuna. It is simply a breakfast.
09.29 Today it went much better to get a table at breakfast. It is a lovely place for the first meal. We sit outside and look down at the beautiful courtyard.
10.13 This is and has been a top accommodation. The room is good, the service excellent, the breakfast generous and the surroundings beautiful. The only bad detail is that it is not going that well to get the washed clothes to get dry. Well, you cannot have everything.
11.08 We have now paid for the room and the backpacks are in a storage room. It is adjacent to the small library here where you can buy or exchange books. We now find ourselves sitting on a bench in the Plaza San Francisco. It is a small open area outside the church Complejo San Francisco. Singing is heard from inside the church. Christer's newly washed wet shorts has dried in the sunny weather. Around us, we have some trees with purple flowers.
11.15 A day like today, a day without having a room to stay in, you have to have many activities and small stops scheduled. However, we have been told that we can be inside the hotel area as long as we need, even though we have checked out.
Peter is enjoying a Sunday breakfast at La Casa de mi Abuela.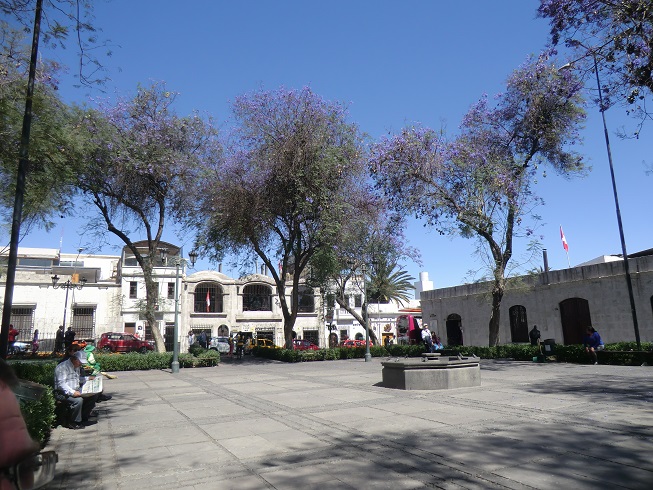 Plaza San Francisco, Arequipa.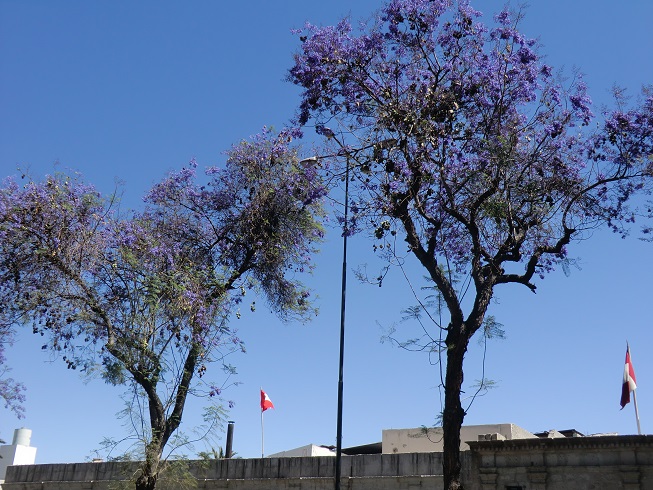 Beautiful purple trees and beautiful sunny weather.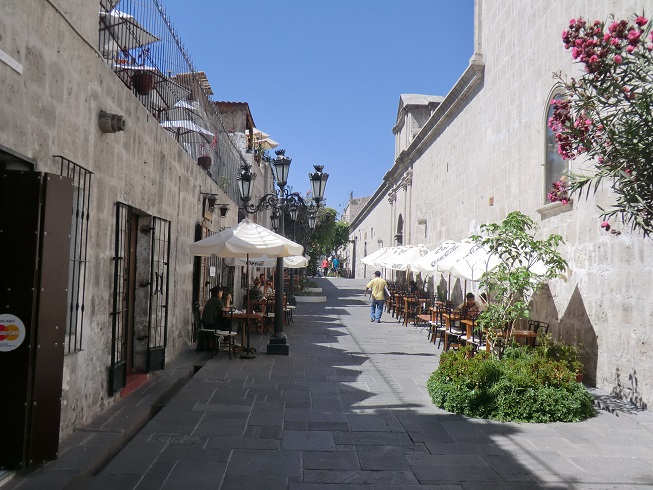 We found the pretty street Pasaje de la Catedral.
We will have coffee and sandwich at the restaurant Inkari.
11.48 It is time for coffee. We found a small street, a passage behind the Cathedral. Along this cozy street we sit outside the restaurant Inkari waiting for a cup of coffee each. Christer has also ordered a cheese and ham sandwich. The sun shines, but it is not too warm, a perfect weather.
12.35 During the coffee break, we were visited by some locals (woman and girl) who were carrying a little lamb. I got to hold it and tried to give it some coffee. The lamb owners got some coins from us before we finished the coffee break. Now we are back at the square Plaza de Armas.
13.20 We've walked around in search of views to photograph and to buy bread for the upcoming journey by bus. The views were plentiful, both common mountains and volcanoes. We concluded that there was no panic to buy bread. Now we have instead sat down at the restaurant Ary Quepay (http://www.aryquepay.com). It is once again time for lunch. We are only steps away from our accommodation. Ary Quepay means "behind the mountain" in the Aymara language and it is thought to be the origin of the name Arequipa. The mountain it is referring to is the volcano Misti that looks just as a classic volcano should do.
The festivities continue. Arequipa celebrates 475 years as a city this year.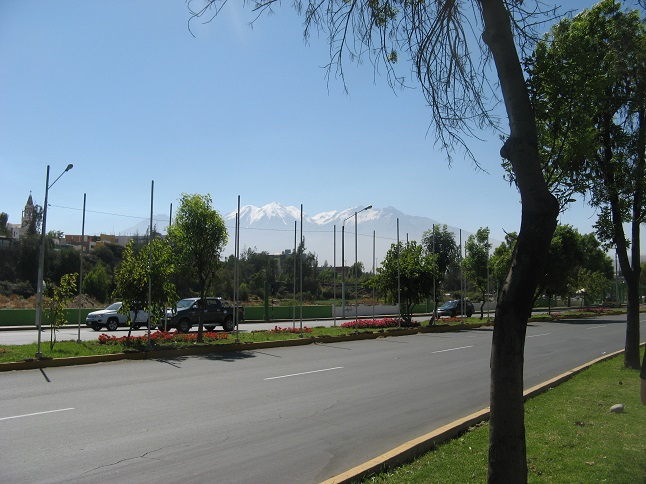 More than 6000 meters high peaks can be seen from Arequipa.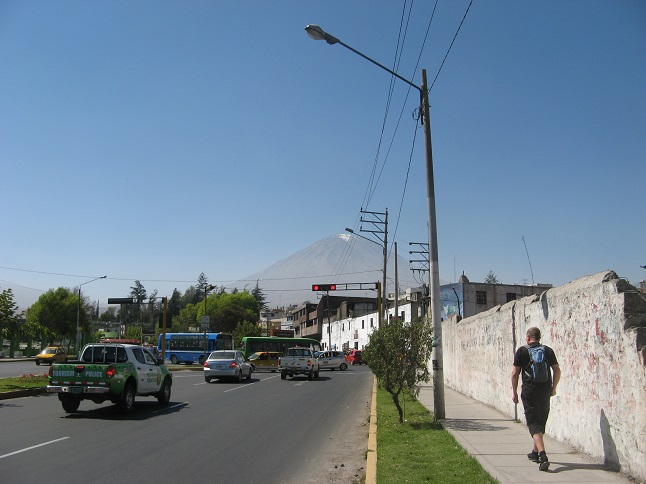 Christer and the volcano Misti.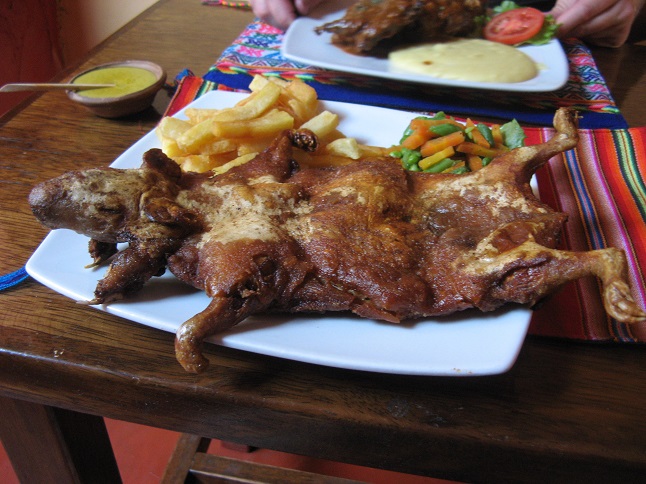 Cuy chactado, guinea pig in the Arequipa style.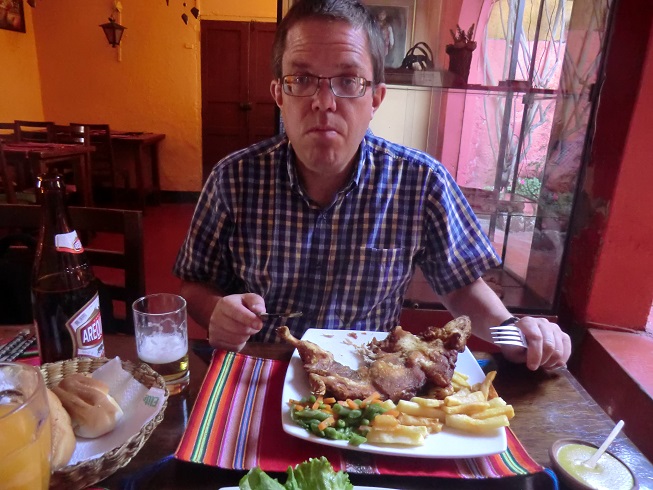 Peter is trying cuy (guinea pig), not much meat but still interesting.
14.34 The lunch is finished. A new animal has been consumed. We have tried the guinea pigs. Sure, it was tasty but it was mostly skin and bone. We ate the local version cuy chactado which means that the animal is flattened during cooking. Now we are back at the hotel and look for a sunny and pleasant place for reading our books and killing some time. I have also bought a bottle of wine to my parents that they should get when I get home. It's a thank you for taking care of my apartment during the recent weeks.
15.31 Vacation is to do what feels right at the moment. To read and just disappear off to the literary worlds is OK right now and then. In the real world, we sit in the courtyard and read. We quench our thirst with soft drinks from Aquarius.
16.56 During the reading I have made yet another attempt to take a photo of a flying hummingbird. It did not go well. It is now time to replace the pen.
17.44 We have left the hotel area and have gone out in the evening to get us some coffee. It was crowded at Starbucks. After a bit more walking we found some free places. Incidentally, I have been given a new name again, thank you Starbucks! Now my name is Richard.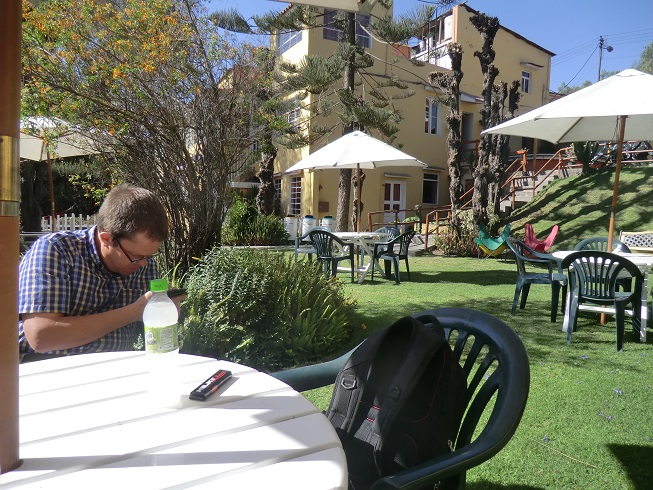 Good books and tasty soft drinks. We have a relaxing afternoon.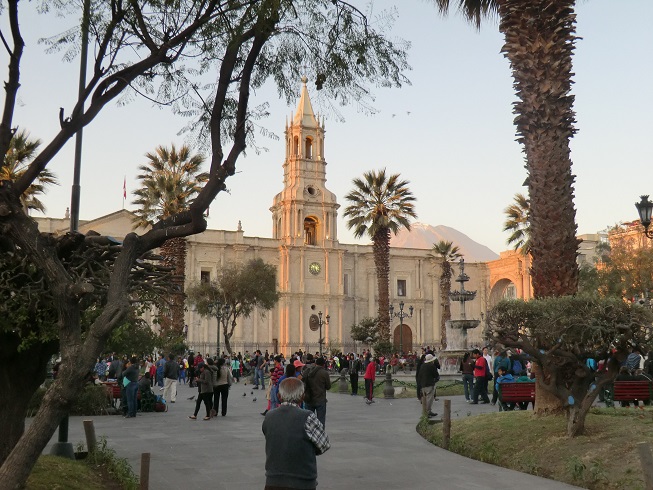 Plaza de Armas during the last hour of daylight.
19.09 La Bóveda is the name of the restaurant which can be found inside the hotel area. Here we will have dinner before we depart. It took some time to explain that we had already checked out and would pay directly in the restaurant instead of putting it on the bill of the room. A pianist sits and plays a short distance away. How long will we consider it pleasurable?
20.00 It took some time to get the change. Ahead is a toilet visit before we ask the reception to open the luggage room where our backpacks are waiting.
20.45 The luggage was retrieved and they called for a taxi. It was not the same chaos outside and inside the bus terminal at this time. Now the backpacks are checked in at Cruz del Sur and the terminal fee is paid. Things are running smoothly now.
21.22 Now things are awkward. The wine bottle I bought earlier today may not travel in my little rucksack inside the bus. It should instead go separately in the luggage department and be checked out on arrival. Alcohol must not be carried on board the buses from Cruz del Sur. Out among the buses, there were two Cruz de Sur buses. One for Lima beyond where we're going and one that goes to Nazca, the town before our destination. We were referred nevertheless to the Nazca bus. Does it go further than that? Will there be a change of buses? Did they think I would drink wine during the night? Will I get it back? There are many questions, few answers. We tried to leave the terminal through the wrong exit. Both Christer and I had our hand luggage opened. That's when they found the wine. Why were we happy that everything went so well? As always something strange and bad happens when we are pleased.
22.17 As always we sit comfortably on Cruz del Sur buses. We have left the nice big city of Arequipa behind us. A bus trip along the coast and through the desert is waiting for us this night. Sometime tomorrow morning we should have arrived.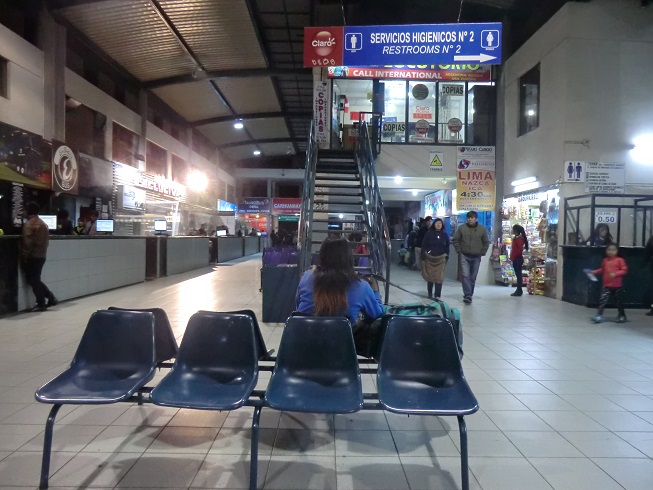 Terrapuerto, the bus terminal in Arequipa.
---
Monday 3rd of August
06.35 The bus passengers have begun to wake up. It has been a long but comfortable journey through the Peruvian night. To go with a coach in Peru feels like to fly far by aircraft. It is good but a long journey still affect the body. The bus hostess has collected the blankets from those who will get off at the next stop, Nazca. Outside the bus, we have now the sterile Nazca desert.
06.59 Most of the passengers have left us. They wanted to get off the bus here in Nazca. I would think that they are planning to watch the Nazca lines. Those are not bus tours in the city but instead some long mysterious lines in the desert, lines tied together and seen from above, they form figures. We skip this attraction on our Peru trip. One must get up in the air to see the lines fully and that will be expensive.
08.34 The desert landscape has changed. Shrubs, individual trees and grass are visible here and there. Gradually it turns into cultivated land, houses and civilization.
08.57 We have reached Ica. Ica is an agricultural centre, a city of about 245,000 inhabitants located in a cultivated area in the middle of the desert. This is also the origin of Peru's famous liquor drink, Pisco. Here in Ica we should get off and stay until tomorrow.
09.21 The backpacks are taken from the bus's interior. I also got back my wine bottle. The thing with the wine brought joy among the luggage people. Now we are in a taxi with José. He knows some Swedish and will now drive us to our hotel here in Ica.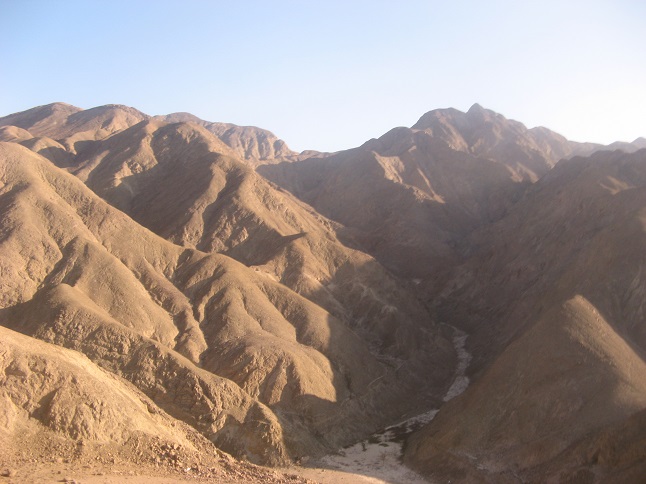 It is morning and a desert landscape can be seen through the bus window.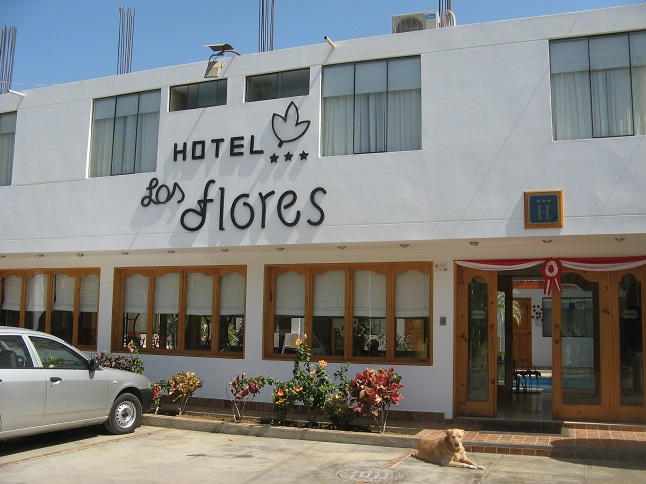 Hotel Las Flores, Ica.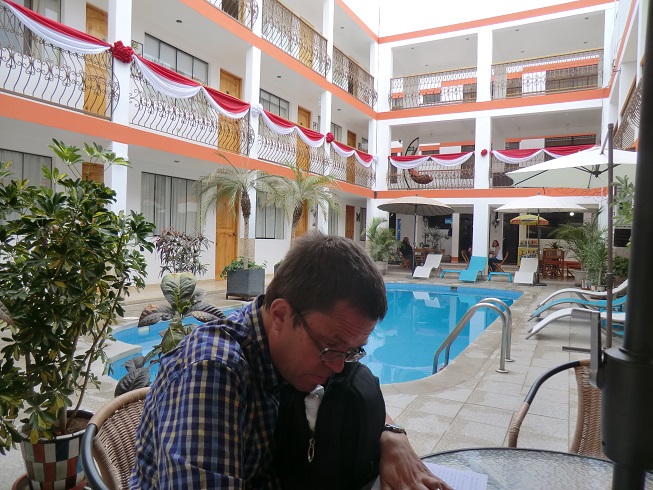 Peter is waiting by the pool. Our room is soon ready.
09.32 José, who has learned Swedish from tourists he met during the years, has driven us to Hotel Las Flores (http://www.hotellasfloresica.com.pe). Here it is OK to check in at 12.00. They want the other guests in the room to check out before we can check in. They have a certain point in their claim even if we want to enter the room and rest now. It has been a long journey, a long night. After the guests left the room it will also be cleaned. In case of earlier check-out we will, however, be allowed to enter the room earlier.
09.50 We are kindly waiting to get access to the room. The obsession with running most of the buses here in Peru at night together with the hotels which want people to check in after 12.00 is not a good combination.
10.12 We have not seen any check-out and no hygiene technicians. We have still been allowed to check into room 105. We´ve got two television channels, one with cow auctions and a channel showing the Bolivian President. We do not connect these in any way. We have not found any channel with CNN yet.
11.59 Now when we have rested and gathered us together it is time to go out for lunch and some sightseeing.
12.21 The mall is called El Quinde. The fast food chain that will serve us lunch is named Bembos. There they will serve us a Extreme Grande burger each and the man on the other side of the table is called Christer. We walked here from the hotel. The distance is not great, but some streets are difficult to cross to say the least.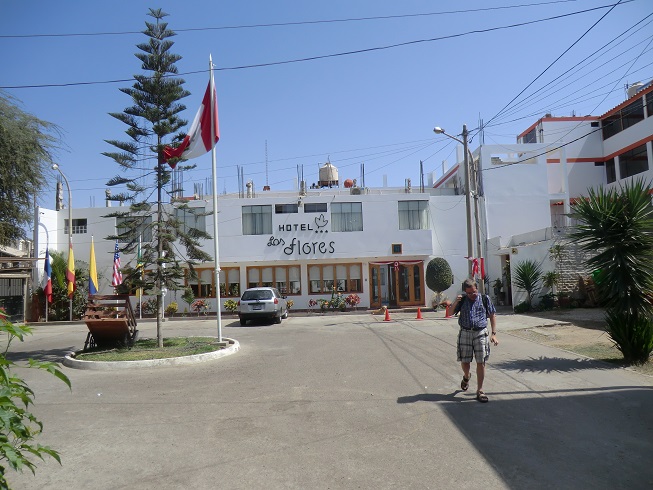 Peter leaves the hotel to see more of Ica.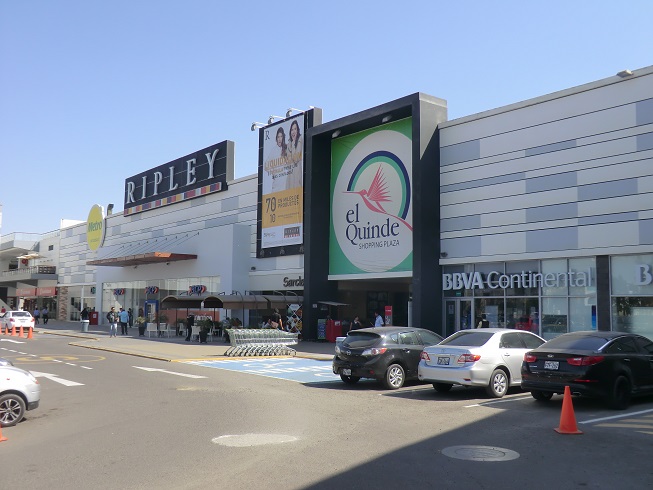 El Quinde Shopping Plaza.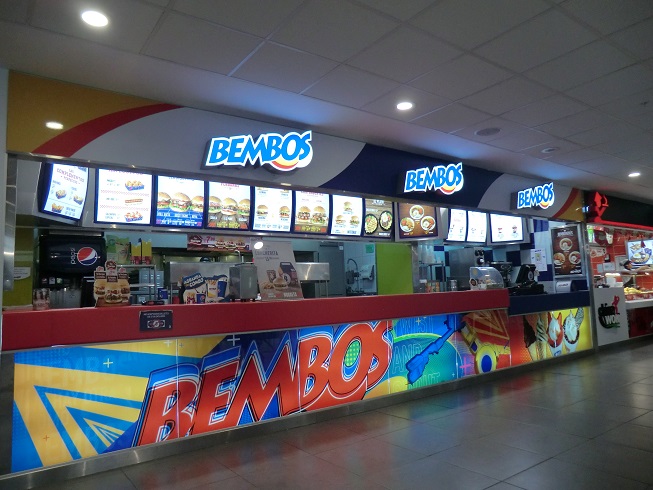 Today we are eating at Bembos.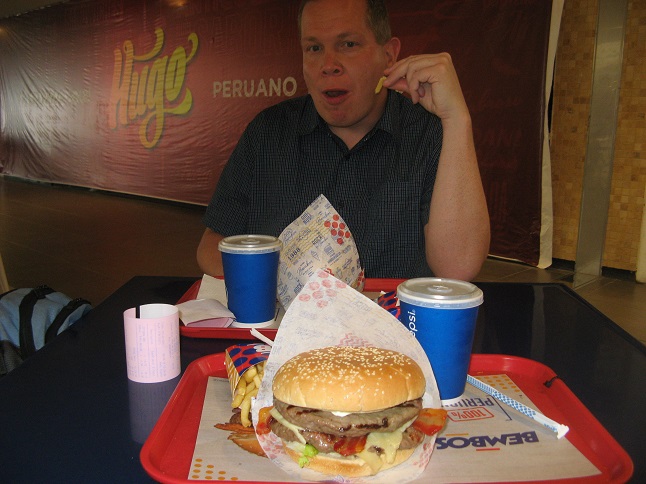 We didn´t expect it but we actually had the largest and most delicios burgers ever for lunch today.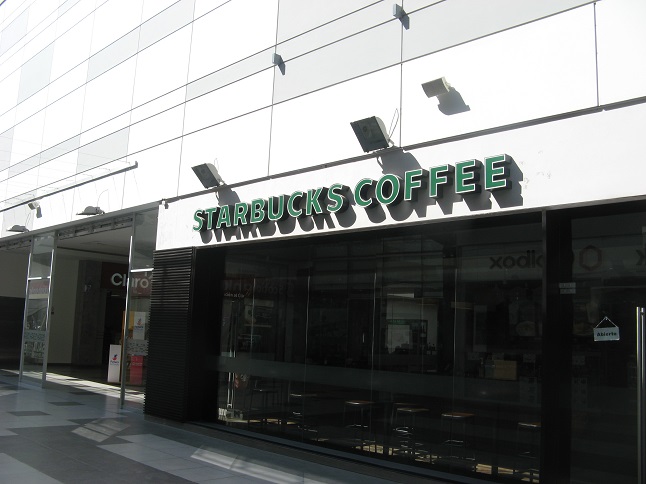 Look! We found Starbucks again.
12.49 Fast food places usually are just a temporary solution, a quick filling. That was the idea today as well. We needed a quick and easy lunch before we would see more of the city. Bembos seems to be an exception in the fast food world. They offer high quality ingredients, carefully combined for a taste treat of seldom seen. No fast food place I've been to have been in the same class. The huge burger was simply delicious. We both agreed it was the best we´ve tasted. The old Champ from Jollybee in the Philippines is now in second place.
13.16 This is the day of happy surprises. I had, despite diligent preliminary work, missed that there is a Starbucks to visit in the city. That does not matter, we found it anyway. We are looking forward to get some coffee now.
13.58 It is like you are in your own little world when you sit at Starbucks and surf the Internet for news from home. It is some surprise when you come out of the bubble. It is quiet here at Starbucks, as well as in the rest of the mall. It's Monday, people might be working or attending school.
14.37 Now we are in Ica´s centre, at the Plaza de Armas. It is time to take some photos. On the way here we once again crossed the Pan American Highway on foot. There is scorching sun today, dry desert air and traffic spewing exhaust on us. The walk here was sweaty and the air is difficult to breathe.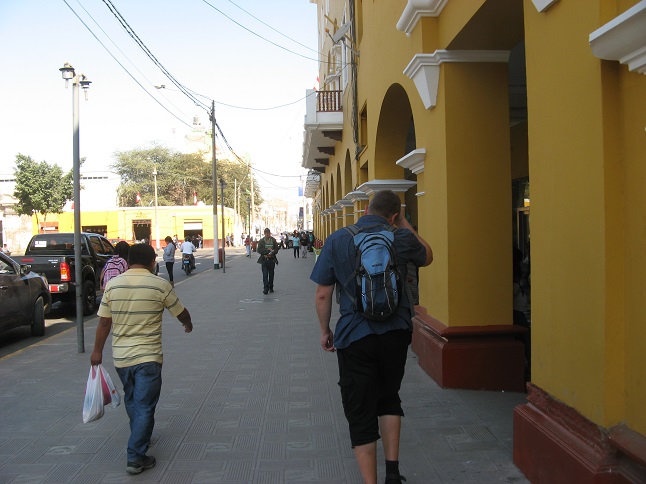 Christer is sweating in Ica.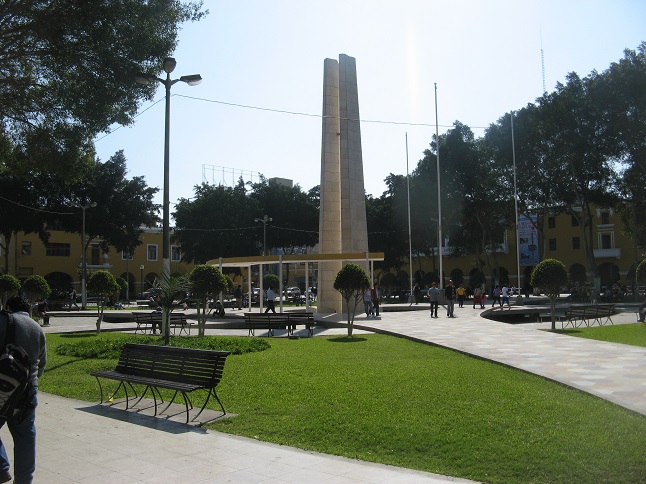 Plaza de Armas, Ica.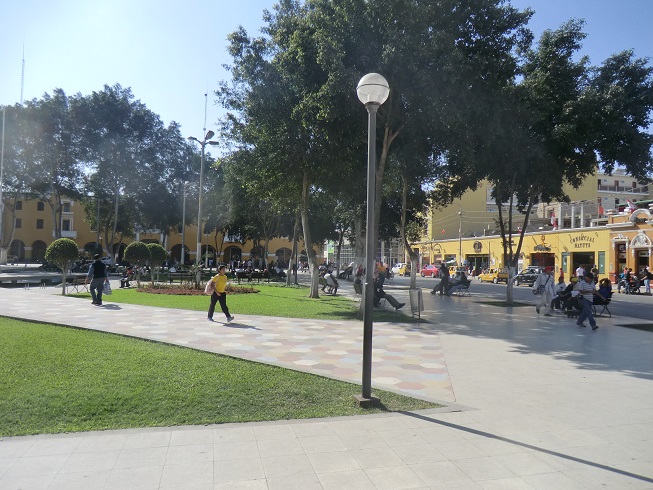 The clean square in central Ica.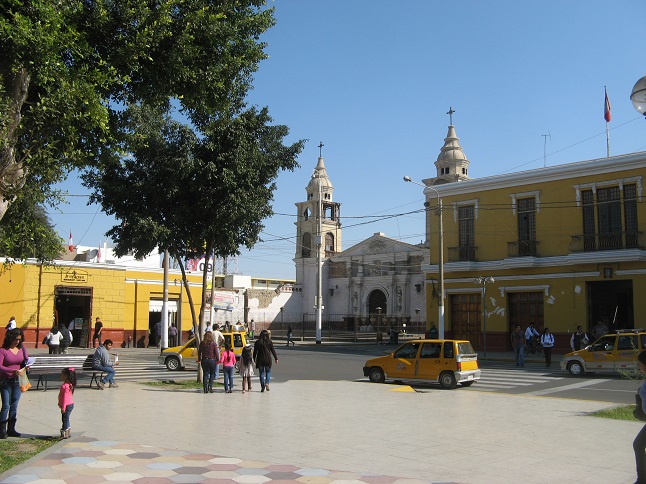 Yellow buildings, yellow cars but the sky is blue.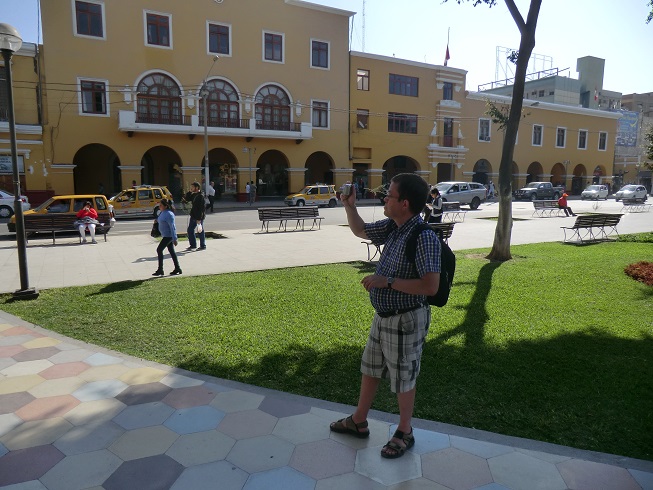 Peter is taking some Ica photos.
14.56 Beautiful buildings and mountains have been immortalized. As usual at the end of a long journey most of what we see begin to be familiar. It's as if I've already seen and written about everything we see. This becomes especially apparent when you are in the same country for many days. We have been in Peru for over a month now.
15.05 We have escaped the heat and went into a gas station and bought drinks. We have also been looking for a suitable restaurant for dinner but yet we have not found one that attracts.
15.14 We will in about two hundred meters be at home in Hotel Las Flores again so why this stop? Well, why not? It's nice to sit on a bench and contemplate for a moment. We sit in a quiet little park and enjoy the sun.
15.40 We have come home to room 105. We'll sit down by the pool to listen to soft music and read in our books.
17.17 In addition to listening to music and reading, I have also rested, dozed off a bit in the room. It is, after all, holiday and my sleep on the bus was not of high quality.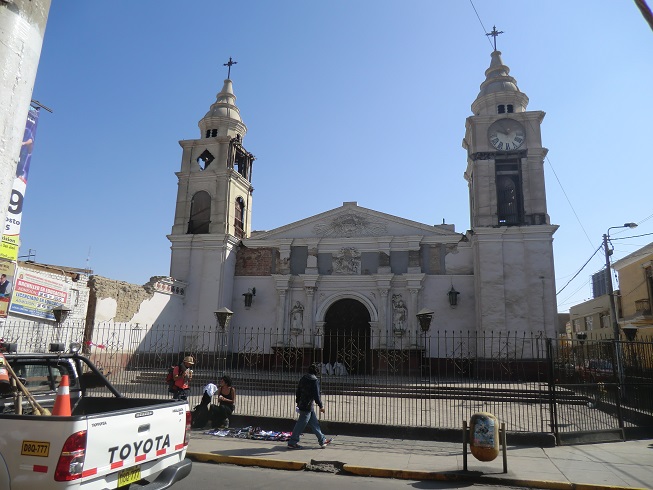 The earthquake-damaged Catedral de Ica has an official name, Iglesia de La Merced.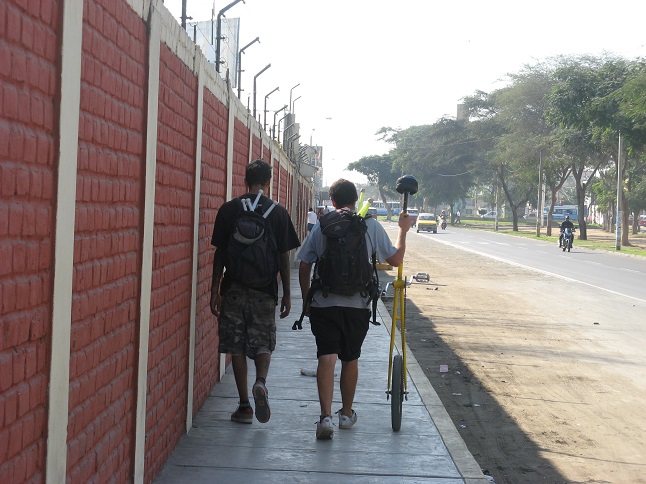 People have different hobbies.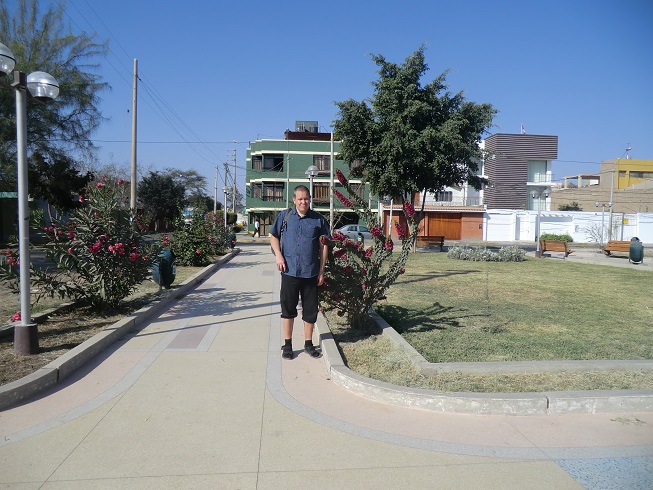 Christer in a park outside our hotel.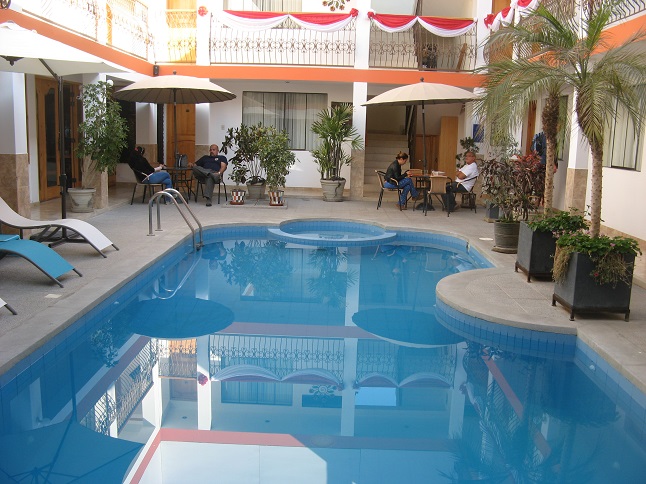 Siesta by the pool.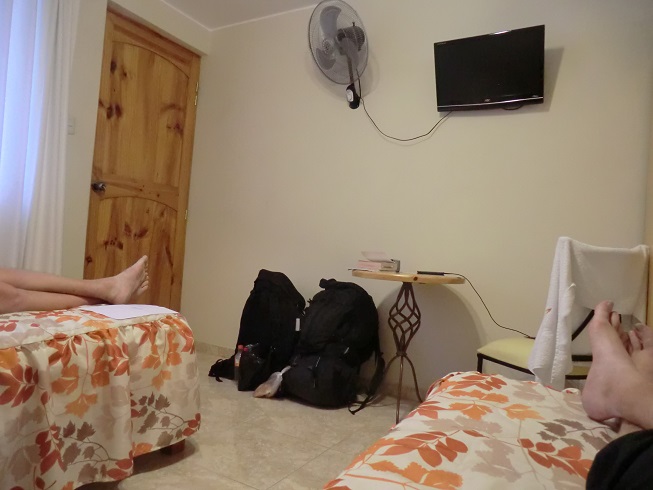 Siesta in the room.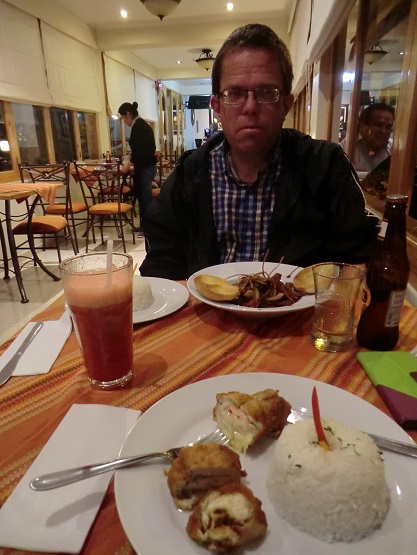 Tonight´s dinner is at the hotel.
19.54 Yet once again others have thought and acted like us well before us. It is entirely full at the four tables in the hotel's restaurant area. We had made it easy for us and planned dinner here at the hotel instead of doing a long walk and randomly look for another restaurant.
22.01 It was eventually several vacant tables and we picked one of them. Once again we were offered a tasteful dinner. Now we mostly calm down, finish off the day and finally sleep. Tomorrow is the last trip here in Peru. We will return to Lima and it will be the last stop here in Peru.
---
Tuesday 4th of August
08.22 The sleeping, which was needed, is over. Now we will prepare for the trip's last bus journey and before that we should eat some breakfast.
09.36 The breakfast is eaten. Now we will pack and prepare for our departure from here. We also looked at Facebook for a while. Again, we are horrified with some Swedish people's thinking and actions when it comes to EU migrants and beggars at home. Now the Sweden Democrats, a right wing party, has leashed a campaign at one of Stockholm's metro stations, and immediately voices raised against migrants and beggars. The party has a message to tourists saying they are sorry for the mess in Stockholm. The mess is poor people begging according to them. Moreover, how can the SL, which takes care of transport in Stockholm, and claims to fight against xenophobia and to avoid offensive acts, allow this campaign against beggars?
10.46 Lush ballads flow out from the speakers and into my ears. I miss the pan flute music. Soon we will leave another accommodation. How many resorts, hotels and rooms have we been checking out from over the years? Probably as many as we checked in at.
11.17 After a short wait, we took a taxi for 5 soles to the Cruz del Sur bus terminal. We had hoped for a small kiosk here. If it is here it must be very small. We cannot see any at all. It had been great with soft drinks and snacks during the next bus trip.
12.27 There was not much staff at the baggage drop. Nothing happened there even though we and a group of Spanish travellers stood waiting. Suddenly three buses turned up and then it all began. A gentleman was working at a furious pace with receiving and labelling the baggage. Now we are in any case on board the bus bound for Lima. Presumably, the backpacks are also onboard a bus. If things go well, they are on the same bus as we are.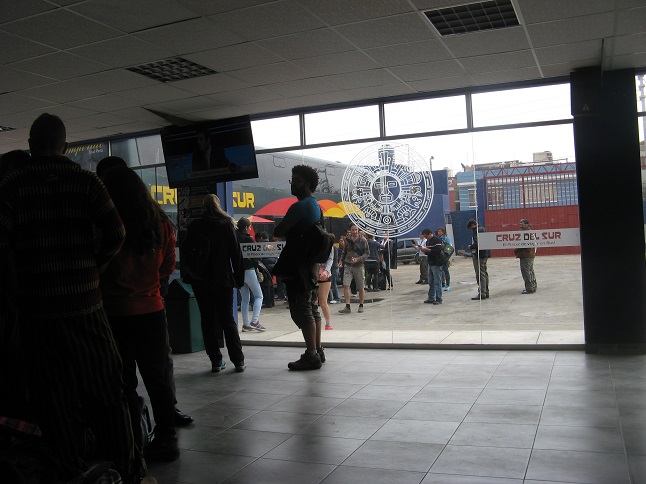 Waiting for the right bus to arrive.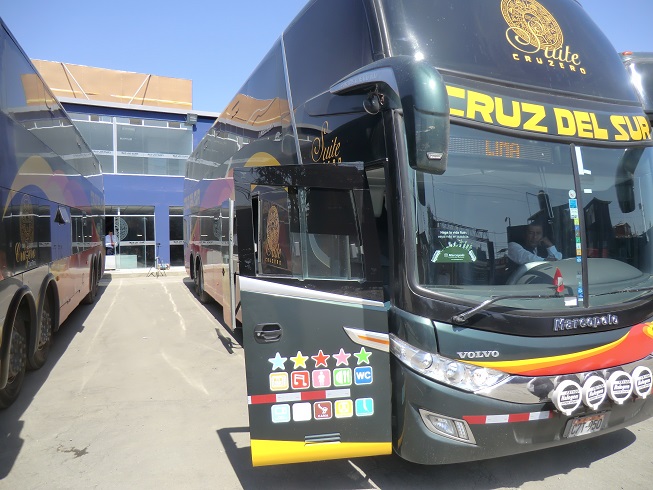 Our bus is finally here.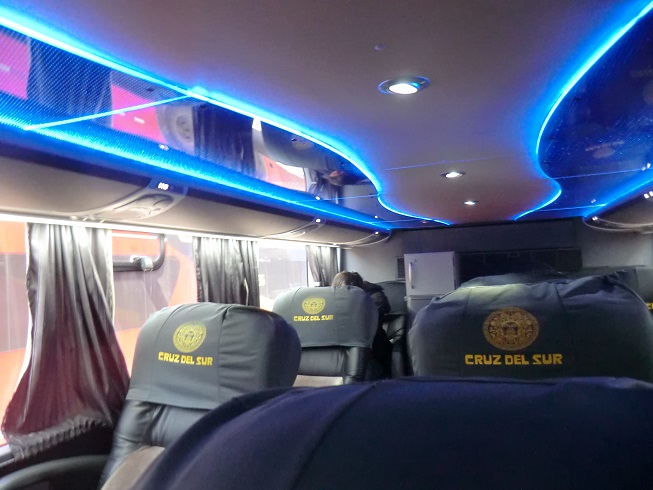 The buses from Cruz del Sur are very comfortable.
13.47 Food has been served, the bus is now in the resort of Paracas and new passengers have gone and sat down, among them, a French-speaking young couple. We have talked to the nice bus host who asked where we come from and he noted with a sigh that he probably will never have the opportunity to travel so far away.
15.08 The Pacific Ocean stretches all the way to the horizon and even far beyond. Between the road we travel along and the sea is the oncoming lane with cars, railings and sand.
16.12 Now we are beginning to approach Lima. We will return to a familiar bus terminal. We spent quite a lot of time around the terminal of Cruz del Sur terminal in about three weeks ago.
17.21 We recognized the surroundings when we reached the neighbourhoods near Javier Prado terminal. It also went well to get the luggage.
17.45 The GPS system is set up for our needs and we'll leave Cruz de Sur terminal in Lima with a taxi. Here are the taxi prices to various parts of the city posted on an information board.
18.57 It was to say the least many who wanted to go through the traffic today. For long moments, we stood completely still in traffic. After much anticipation, we came to Kamana Hotel (http://www.hotelkamana.com) and is now in room 502. We stay in the giant city of Lima's historic centre.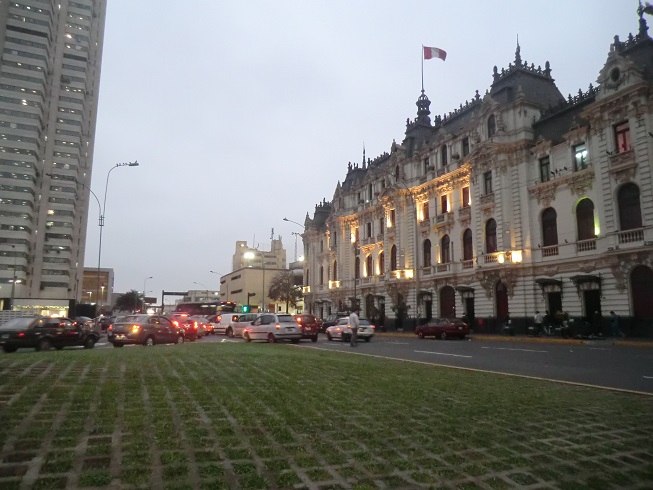 We are moving slowly through the traffic while darkness falls over Lima.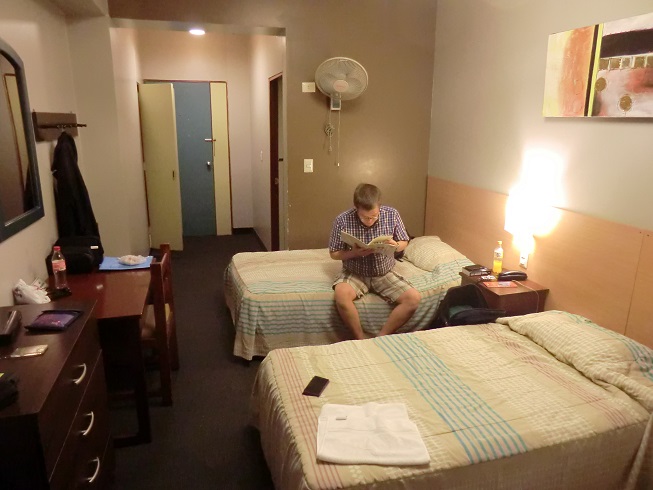 Peter has checked in at Hotel Kamaná.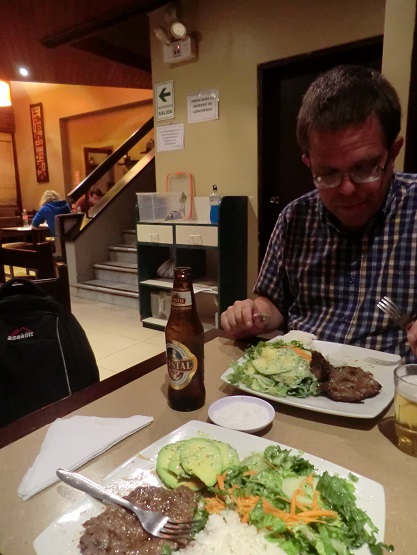 Mr Koala is the name of this evening´s dinner restaurant. Once again we eat dinner at our hotel.
20.13 Since the last note the phone has rung. A woman, Portia, wanted to speak with Olof or Ulf. It is certainly our middle names but it was OK that I answered as Peter. She wanted to immediately know if all was well, how long we had intended to stay and if our next stop on our journey. We assume that she works here.
21.45 Now it´s dinner at Mr. Koala Restaurant in the ground floor of the hotel. My meat could have been more tender but tonight was the main purpose was to find a place to eat a meal.
22.27 The day and our stay here in Peru is almost over. However, we should explore more of Lima before returning home to Sweden. We have two days to do just that. On Friday we´ll fly to our home country.
---
VIDEOS
---
You can see 86 photos from August 1 in this photoalbum.
You can see 36 photos from August 2 in this photoalbum.
You can see 31 photos from August 3 in this photoalbum.
You can see 10 photos from August 4 in this photoalbum.

---
---
---

---