---
Text: Peter Johansson
Editing: Christer Lundstedt
Photos: Christer Lundstedt, Peter Johansson
Videos: Christer Lundstedt
---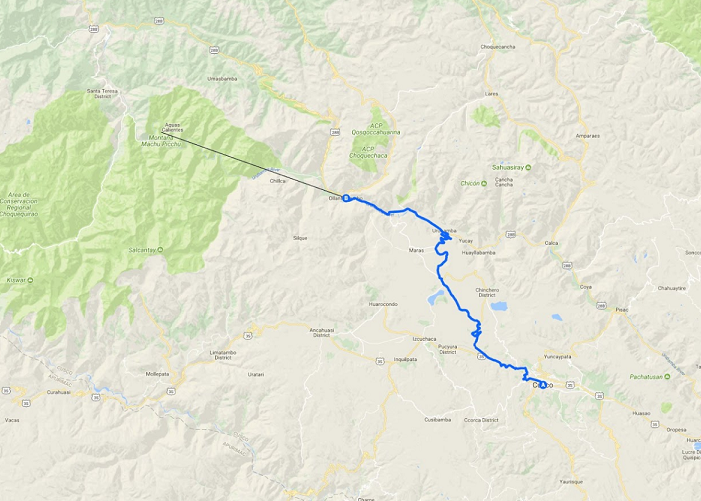 ---
Friday 24th of July
09.24 We remain here in Cusco, Peru and at Hostal Qosqo (http://www.qosqohostal.com). Today I skipped all the details of our awakening and morning meal. It is something that has happened and actually happens every day. What is about to happen is a whole day here in the big city and tourist city of Cusco. We saw some parts from the sightseeing bus yesterday but now more will be discovered and experienced. Outside someone are playing drums right now.
10.04 A short but oh so dramatic event has come to a happy ending. My toothbrush had for a moment disappeared without a trace. It turned out that it had fallen down from the table and landed behind the curtain. They keep on drumming and talking out there on the street, or is it from the square? If there is this kind of street party an ordinary Friday what should it not be on Tuesday when it is Peru's national day. Soon it is time for us to make sense of this day.
10.17 We have changed from indoors to outdoors and found that it's full activity in town. There are bands, children and adults in uniform as well as drumming and chanting. This is a good warming up to the National Day celebrations, Fiestas Patrias, which reaches its peak after the weekend.
10.40 Now we have walked and clocked the walking time to Puente Grau, the place where the minibuses to Ollantaytambo depart from. It is good to know the way and the walking time tomorrow then it has to work out. We have to get to Ollantaytambo before our train to Machu Picchu departs. It was easy to find and not too far. Are we just early risers tomorrow there will be no danger.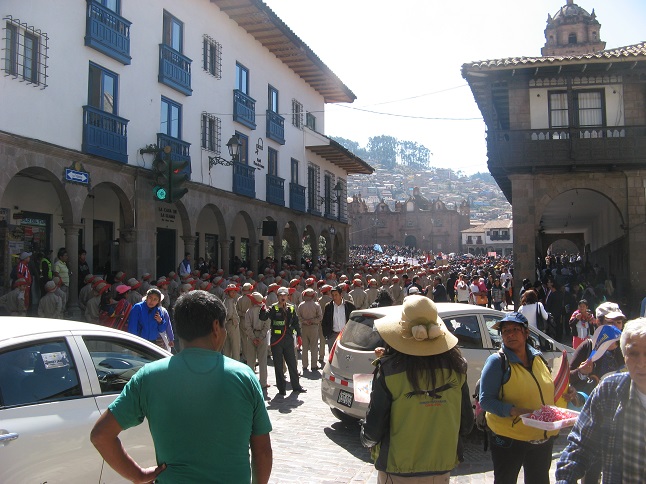 We left our accomodation and discovered a celebrating city filled with people.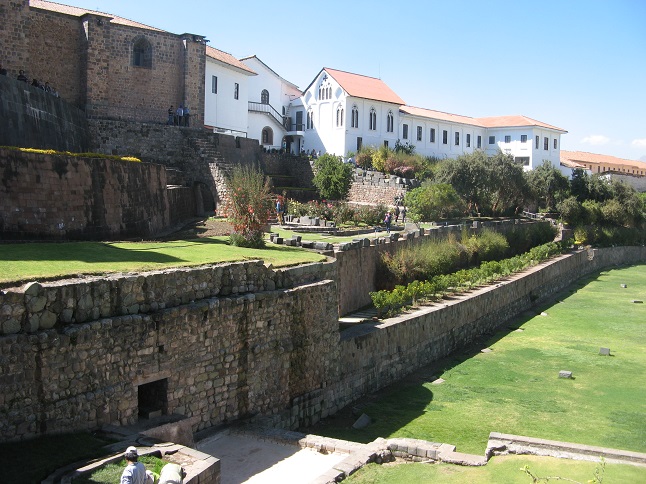 Qorikancha, it used to be a big Inca temple here.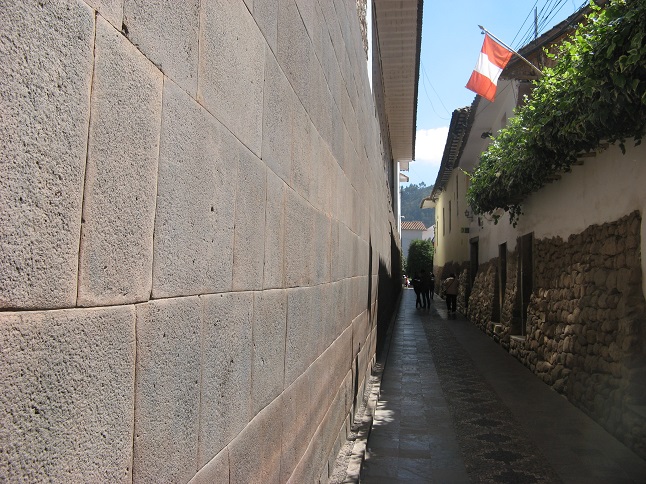 Steady walls around the old temple area, Qorikancha.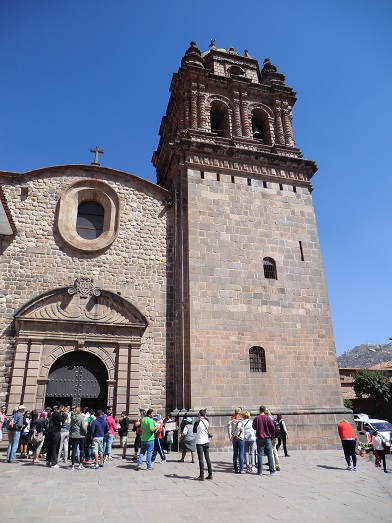 Iglesia de Santo Domingo.
11.01 It is time for us to take a much needed bench break in the shade. We sit outside of a hotel in a minimal park. Previously, we have been at the Qorikancha, the richest temple in the Inca Empire, completely covered in gold during its heydays. There was also an observatory where the priests studied the sky. However, it was admission to go in there and a film and photography ban. We said thanks but no thanks. We want to document, not only with words but also with photos and movies. Moreover, we have much more to cover. Outside of it runs the street Calle Awaqpinta with boulders that are perfectly stacked and form as a solid wall. A lot of things are sold and offered around the tourist destinations and along the streets. A saleswoman had brought two baby goats with her. Both had a small flower wreath on their heads.
11.21 We went ahead and followed the narrow street Calle Loreto with the old inca walls the same way as along Awaqpinta. It should also, at least according to our internet research, be a Starbucks here somewhere. However, it is packed with people at the end of the street. We have looked into a courtyard where different artisans and souvenir vendors roam and where we seen llamas and alpacas. Next, we intend to make a detour. We will try to reach Starbucks from a different direction.
11.49 On the main square, the Plaza de Armas there are big crowds, well-dressed people and brass and drum orchestras. Starbucks then? Well, we found it. It was reached through a courtyard and a staircase up to the second storey. This is the fourth Starbucks stop in Peru. Few countries match this. However, I am most impressed by the walls along Calle Loreto. The stones are laid with exact precision.
12.03 Starbucks is as always an oasis, a place to unwind with coffee in soft armchairs. More think like us. There are many foreigners here. Peruvians who come here are mostly teenagers who fetch a takeaway cup and then they go away just as quickly.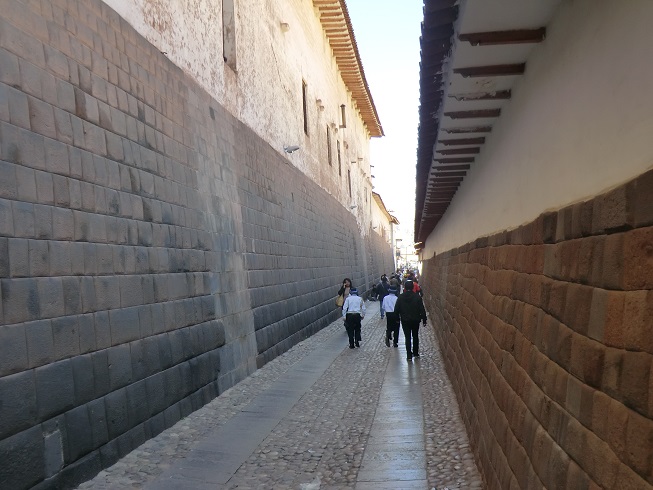 Calle Loreto, a nice narrow street between old inca walls.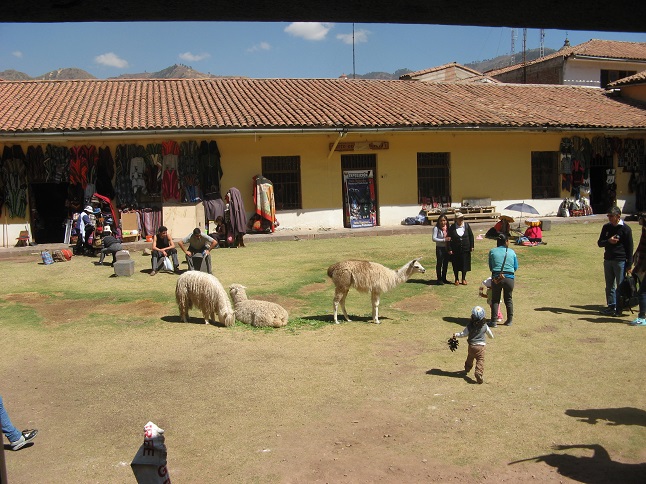 Some llamas and traditional costumes for the tourists.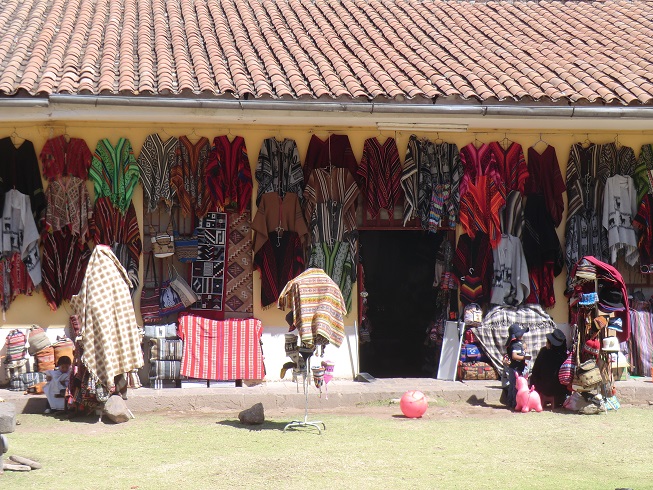 Here you can buy ponchos.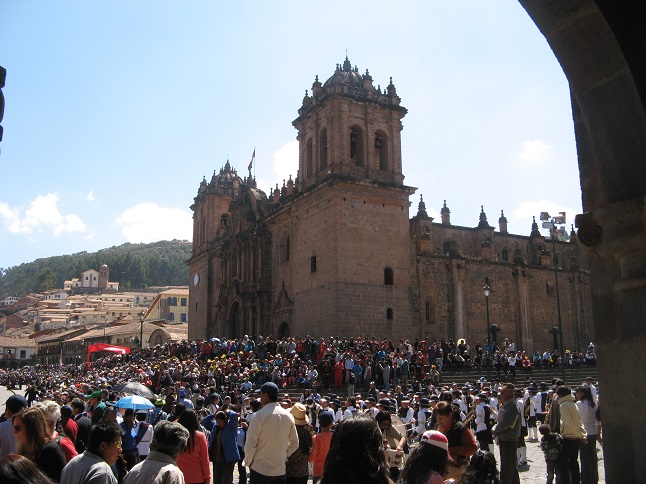 The start of the National Day celebrations in Cusco.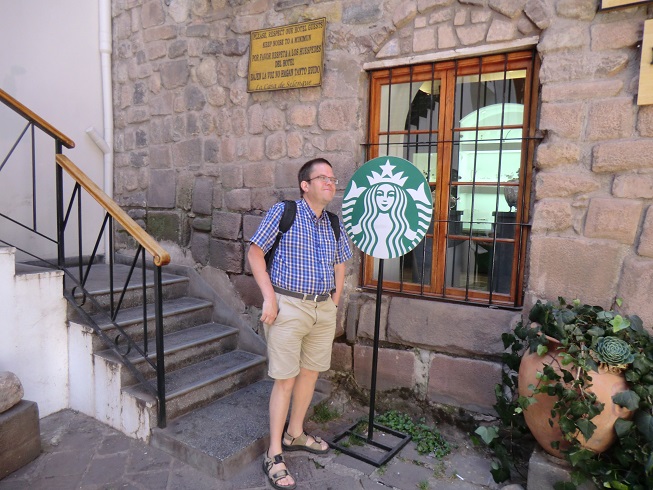 Finally Starbucks was found.
12.37 After a quiet moment and good coffee it is time to see more of Cusco. The musicians continue to play out on the streets.
13.10 We went and exchanged the US dollars we had left to Peruvian soles. I went to two different exchange offices along Avenida El Sol. The lady in the first office thought my dollars was a bit torn and stained. She didn't accept them. The next place was more understanding. Now we will visit the district of San Blas, known as a hangout for artistic types.
13.32 After the currency business we have walked along some narrow steep streets where we met people, cars and some llamas. Now we are sitting at the Plaza de San Blas. Here I bought eight stamps á 6,50 sol. The lady turned on the calculator and said she wanted 73 soles. When I tried the sum became 52 soles. We agreed on that amount.
13.48 We have bench-placed us here in the square and observe artisans, vendors and tourists. There is also a fountain that is supposed to look like a waterfall. Unfortunately, the weather has become a little worse with drizzle in the air. We aim next to find some kind of lunch. Hopefully we can find a suitable place on the walk back to the main square.
14.18 It is time for a sandwich lunch at El Café Mama Oli. We are in the square Plazoleta Nazarenas, about halfway on our walk back to the Plaza de Armas.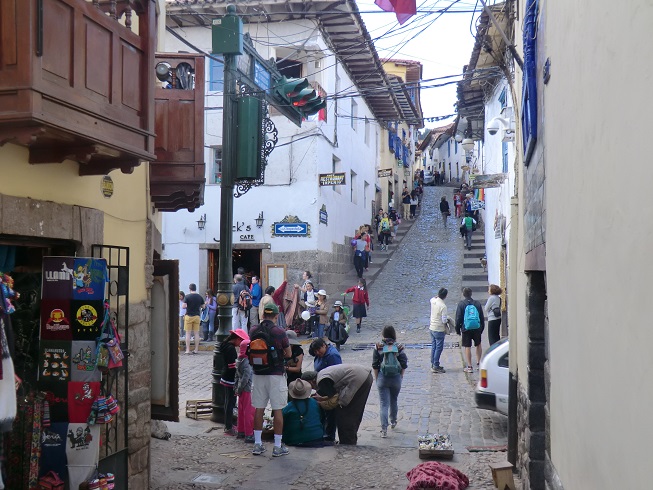 Walking uphill through San Blas.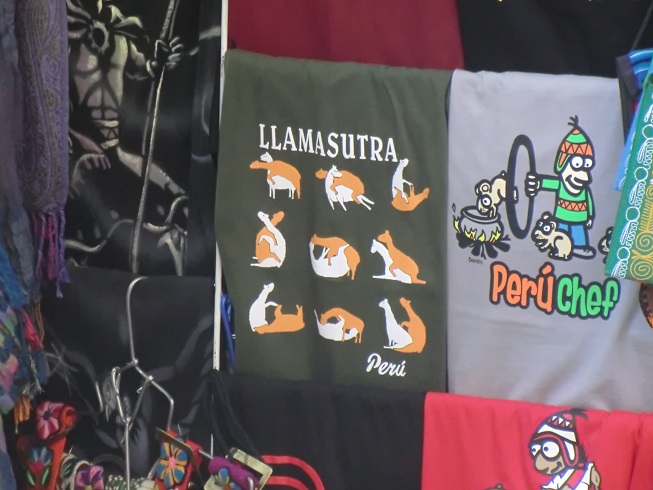 Interesting t-shirts in the souvenir shops.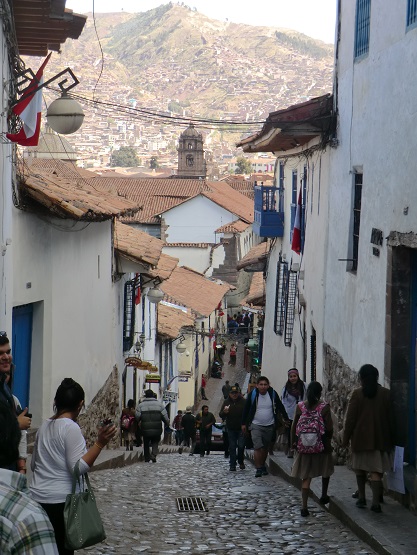 The street back to central Cusco.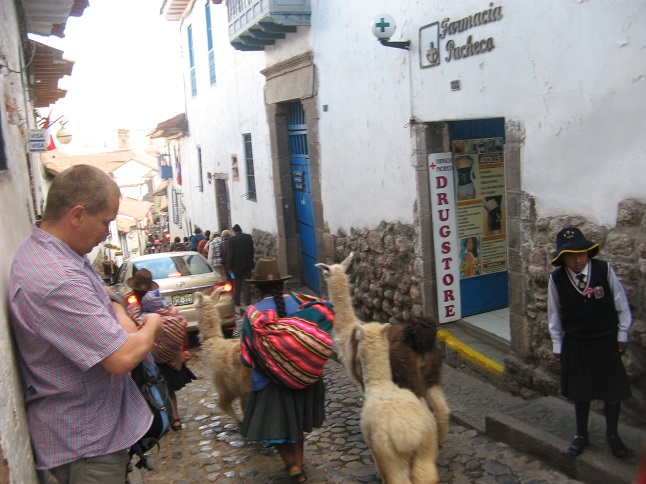 Christer is meeting some llamas.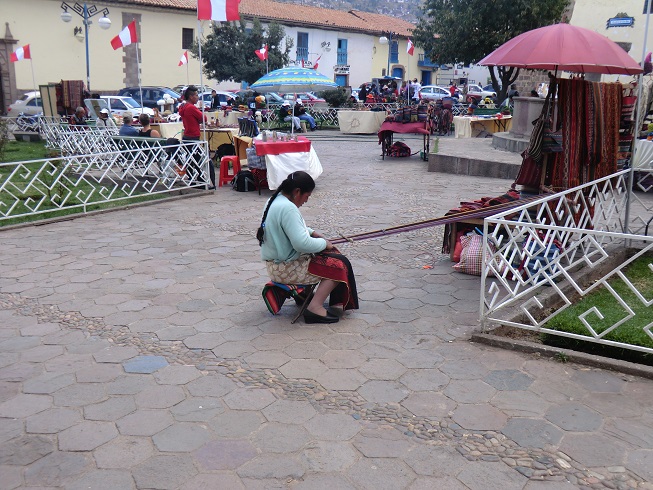 Souvenirs are brand new, made here on the spot.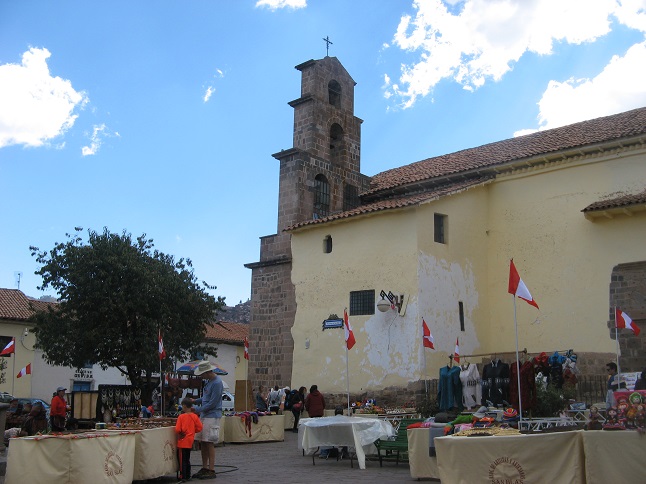 Souvenir and handicraft vendors on Plaza de San Blas.
15.06 During lunch, we wondered where all the Nordic citizens were. We had seen many tourists from different European countries during the trip but from the Nordic countries, there has been a minimal amount. In response to that someone started to speak in Norwegian behind us. Now we are back on the Plaza de Armas. Orchestras and a major part of the people has disappeared. The square is large, beautiful and majestic. It is beautifully framed by mountains. It was here that the city's founder brought down a golden staff into the ground. The sun god had said to the Inca that he would found a city around the place where this was possible to do like this in the soil. The flag of Peru and the Inca flag flies together here in the square.
15.28 We are sitting on a bench here on the Plaza de Armas and enjoy life. Here at the square are two splendid churches to admire and photograph. First, it is Cusco's cathedral which is built with stones from old Inca buildings. Its construction began in 1559. It also has the Iglesia de La Compañia de Jesus, built on top of the last Inca Huayna Cápac´s palace. The church was built by Jesuits. Here in the square, I also bought a hat from a passing guy.
15.54 We went for a small walk around the square. We saw Sweden Street, Calle Suecia, and on the way to Plaza San Francisco beyond where we stay, we were offered tour buses, massage, sunglasses and girls to name some of the things. Now we are home in our room again after an effective and exciting day.
19.11 Effective and alert, is not what we have been since last time. We have rested, talked, philosophized, planned and done other stuff here in our room. Now we have started to get hungry and intend to find a restaurant that offers dinner. Time to go out.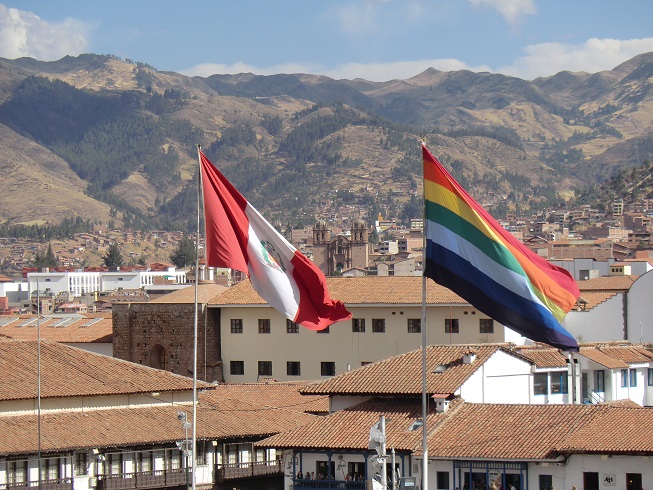 These two flags can be seen everywhere in Cusco, the Peru flag and the inca flag.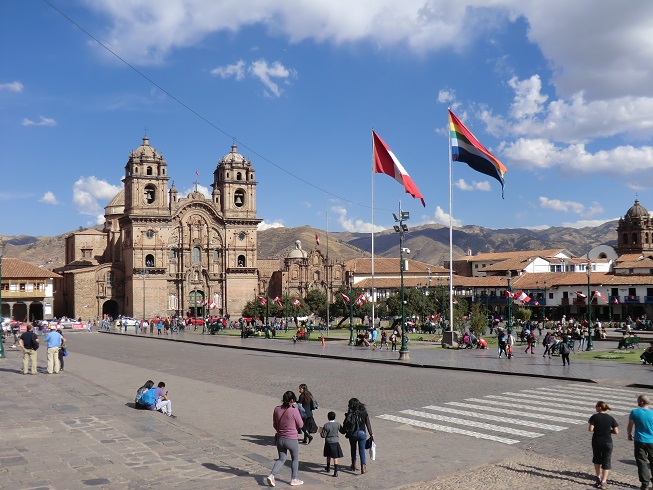 Plaza de Armas, Cusco.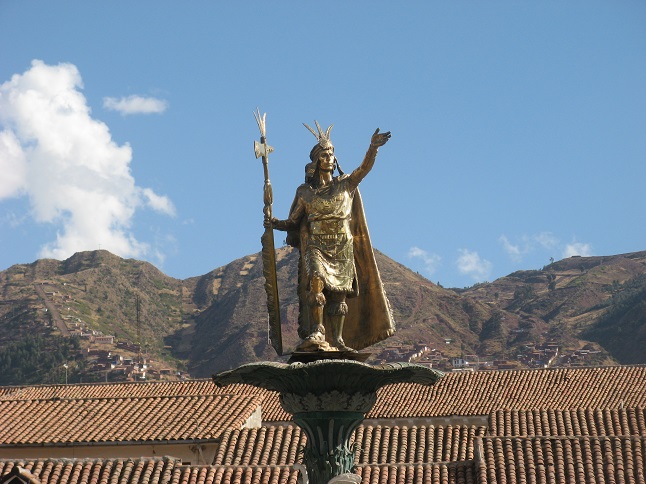 Pachakutiq, the inca ruler who built Machu Picchu.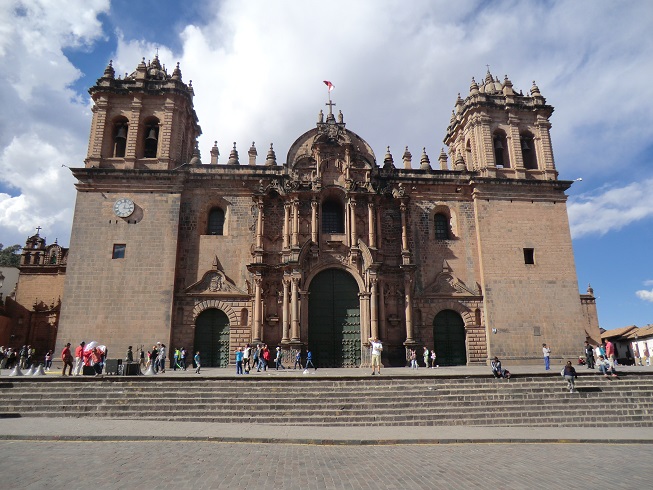 La Catedral, Cusco.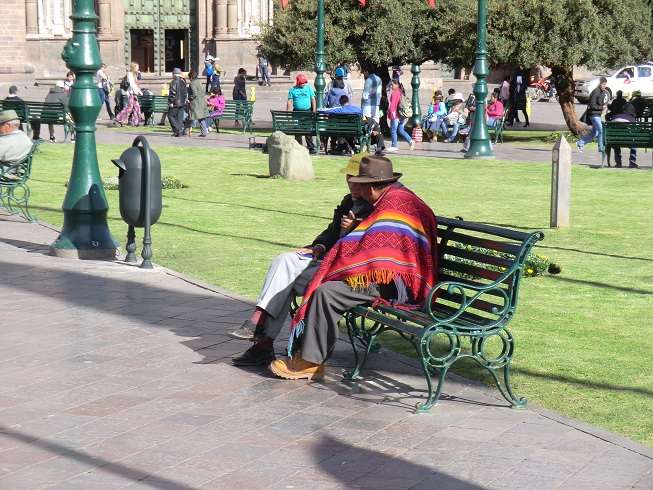 The last gossip.
19.35 Sumaqcha is the name of tonight's restaurant. It will feed our stomachs and moisten our throats. The restaurant is located on Calle Suecia, Sweden street. Here inside the restaurant it is very quiet and peaceful.
20.47 It was a good dinner and in addition we were offered Wi-Fi connection. I even tried a glass of Peruvian wine. Now I am more of a drinker than a connoisseur when it comes to wine, but I thought it was tasty. Now we are back in our room to pack our small backpacks. They should be packed with what we need in the coming days. We may not bring the big backpacks where we're going. They can't be placed on board the trains due to of lack of space. We should instead leave them at this accommodation until further notice.
22.08 Now, hopefully, all we will take with us to our Machu Picchu adventure is packed. Have we forgotten anything we need then we have money with us anyway. There will be an early morning tomorrow. It is time to prepare for sleep.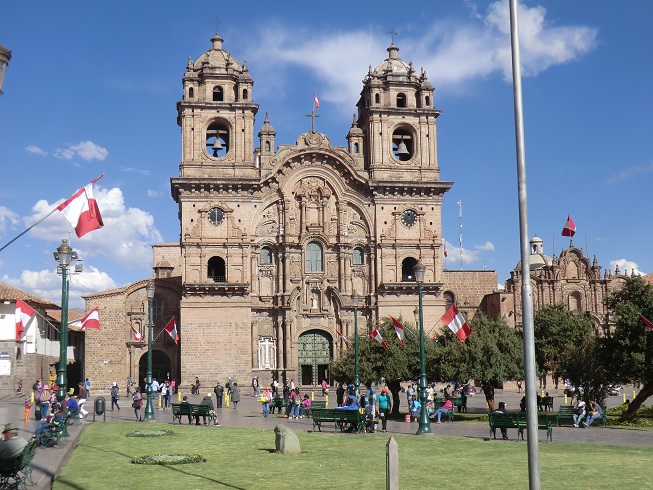 Iglesia de La Compañia de Jesús, Cusco.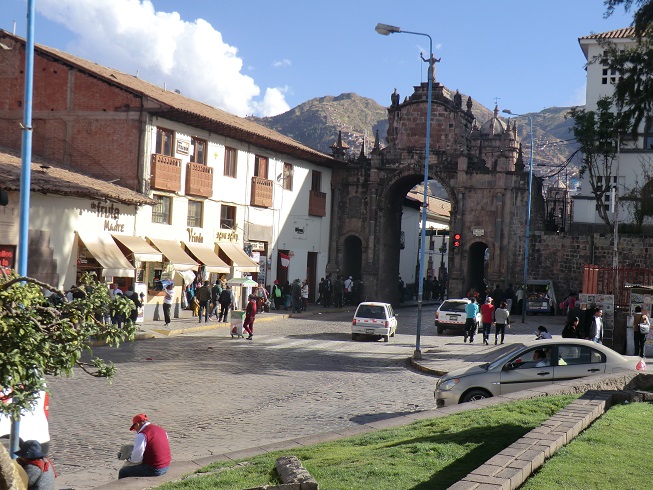 Plaza San Francisco.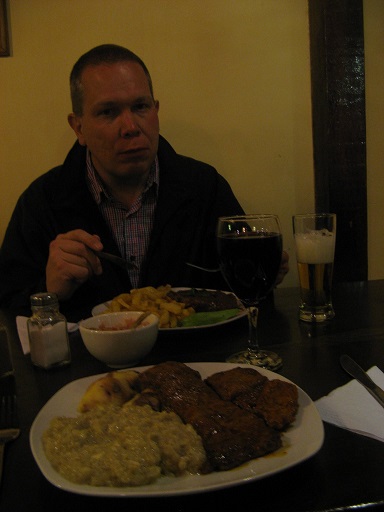 Christer is having dinner at Sumaqcha Restaurant.
---
Saturday 25th of July
05.56 Sometimes you have to be up early to get things done. This is such a morning. It will be until tomorrow before we see the result of this.
06.40 I had no hearing and brain with me during breakfast. Furthermore, I missed what Christer said. I hope that my confusion does not continue during the rest of the day. The breakfast buffet offered coca tea as we are at 3400 meters altitude, but we save the tea for later.
07.13 I'm not completely on top form yet. But it is, after all, early. I acted generally confused during the payment of the room. The cost was 368 soles. I gave 400 and the girl wondered if I could pay the exact sum. Christer described my situation so well. He thought I looked like a desperate and confused pensioner with all notes and coins. Well, it all worked out. We left the backpacks here at Hostal Qosqo and were presented with a receipt to show upon our return. Now we have walked the planned route to Puente Grau and the minibuses. We have just boarded one of them. We are departing soon. We mentioned Ollantaytambo and was shown into this vehicle. Let´s hope it goes directly without any changes.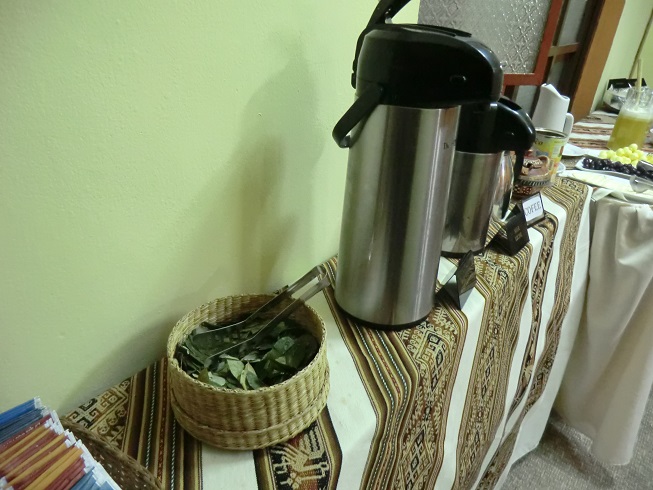 Coca tea is a common drink on the breakfast table.
08.04 After we left Cusco, there has been fog and really miserable weather. We are now in the small town of Chinchero. It was here, if you believe the Incas, that the rainbow was born. Today, like I said it´s mostly fog here though. We hope for a weather improvement. We are, after all, on the road to this summer trip's highlight.
09.13 The minibus first passed through Urubamba, continued for a while and finally stopped near the railway station in Ollantaytambo. It is from here that we will continue by train. We went to Inca Rail's office to pick up our tickets but it was closed. We came to the conclusion that coffee is nice. In the first place we were met by shaking heads and a person that said something. In Mr. Chef Andino we got the information that there is a power failure right now.
09.40 The staff of Mr. Chef Andino were great and managed arrange with some coffee and sandwiches for us, thank you! They probably have access to a gas stow.
10.11 Now we have picked up our tickets for the trip from here to Aguas Calientes, the small town also known as Machu Picchu Pueblo. The sun is shining again and the wind blows. There are people and dogs moving around.
10.24 There is no power and it is dark here in the waiting room. In 60 minutes the train will leave. There are many non-Peruvians in various stages of confusion, good to see that I'm not alone with that. They can be found here in the waiting room and out on the platform. To be released onto the platform you must pass a fence where the tickets are checked.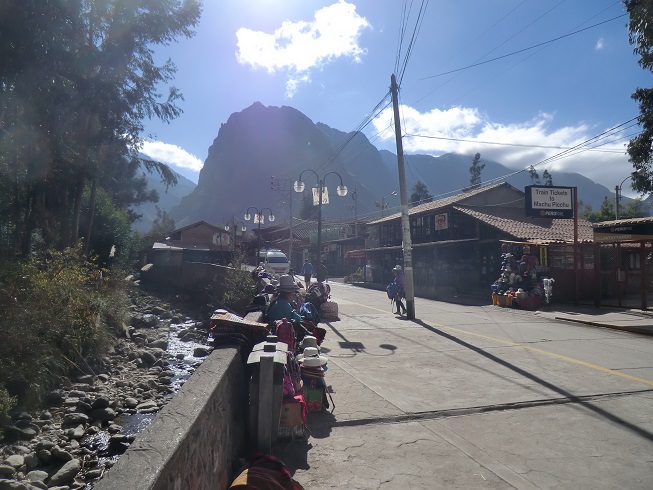 We have arrived to Ollantaytambo.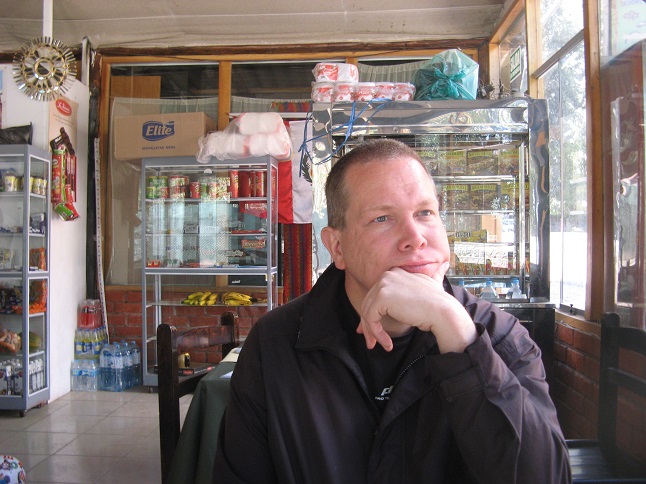 Christer is waiting for coffee and sandwich. We are at Mr Chef Andino.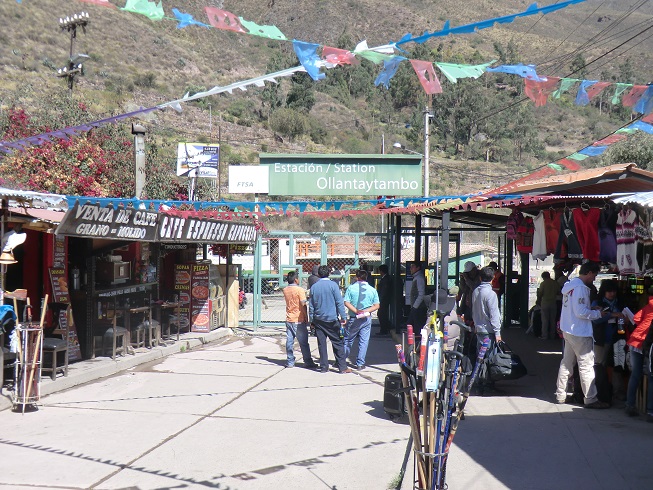 It´s time to enter the platform.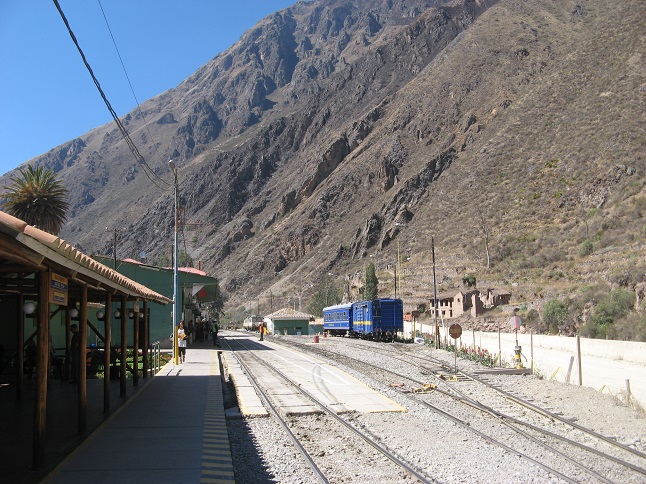 Waiting in Ollantaytambo. The train will come soon.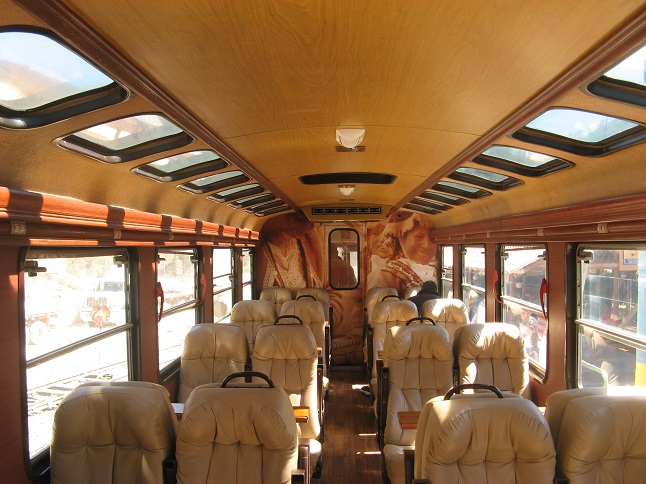 We are looking for our seats on the Inca Rail service to Aguas Calientes.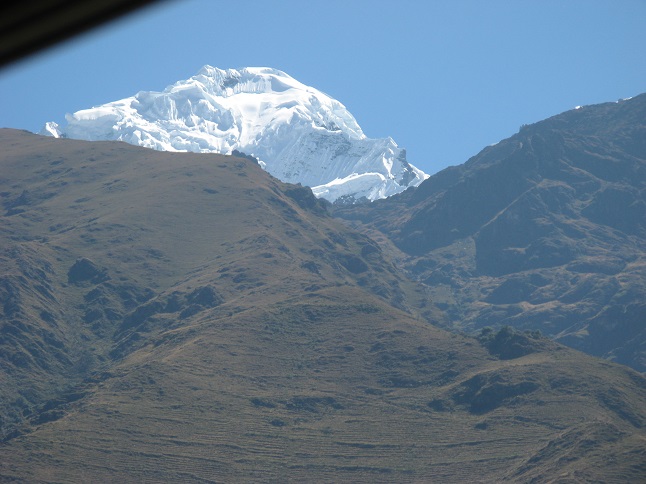 Snowy Veronica, a 5680 meter high peak is visible from our train.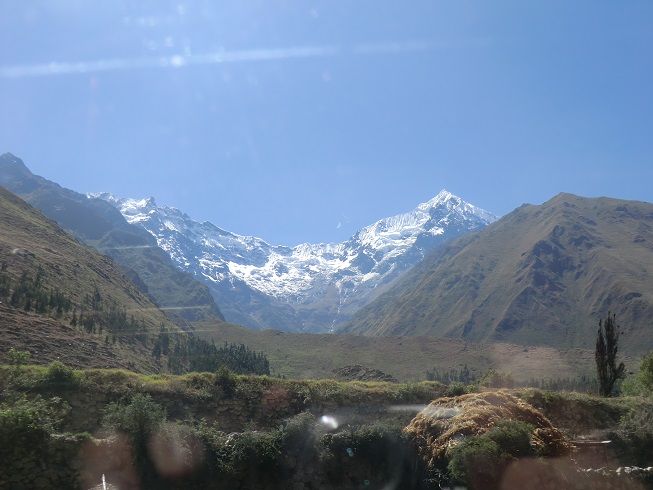 We are looking at the beautiful Andes mountains.
10.54 A bell tolls and soon the blue train from Peru Rail leaves without us. We don't mind that. Our tickets are valid for a train from Inca Rail (http://incarail.com). There are several companies competing for passengers to get to Machu Picchu. It does not affect the pricing. The trains here are the most expensive in the world if you count the price per kilometre.
10.59 Beautiful decor meets us in the carriage of the Inca Rail train, the leather seats are soft and here is also a small table. Everything is on the top except for the fact that it is noisy Danes in the cart. The leg space could have been better too.
11.18 So a new train trip has begun. I believe that this is the 37th country we travel by train in during our travels. It is certainly the first time in South America. The information about the trip was given simultaneously as the train honked. Oh, how it wobbles and lurches.
11.52 We enjoy a snack break which is included in the fare. A small menu was handed out and we had to choose between a few options. The beverages were in many cases made from local specialties, various herbs, for example. Right now we stand still and wait for an oncoming train. To the left is a small river, and beyond it is the Inca Trail. To the right of us, is a habitat for special people. What does that mean?
12.07 It is beautiful on the outside of the carriage, lush and verdant nature. Slopes in both directions. On the inside, it is a cocktail of nationalities, genders, ages, voices and others. Opposite us we have a Spanish-speaking family, father, mother with son and daughter in their late teens. They are perhaps from Spain or maybe Argentina.
12.50 Now we have arrived at today's last stop and final destination. One of the Danish speaking passengers carried a Kånken backpack. Once again, a small backpack from Fjällräven company in my home area appeared on our travels. Next we'll try to find our way to the next home. It is a warm and sunny day in Aguas Calientes, the small town filled with hotels and restaurants that totally lives on the tourism to Machu Picchu. You can get here by foot on the hiking trails or by train as we did.
13.22 We looked at our papers about the coming accomodation. It is according to the pictures located along the railway track. Said and done, we turned around and followed the track we had came along. We didn't find any accommodation. We walked along the river and found a new railway track. Along it was our small hotel, Adela's Hostal. Now we're in room 2 and soon we´ll go out and take a walk.
14.20 We've walked around a bit in this town. Aguas Calientes means "hot water". It has been named by some hot springs. The resort is also called Machu Picchu Pueblo. Close to the railway station is a huge maze with various souvenir stands, easy to get lost among. A little further away we found some restaurants. We were attracted to one of them. El Paititi will (we hope) serve us a pizza each. We have in any case ordered it.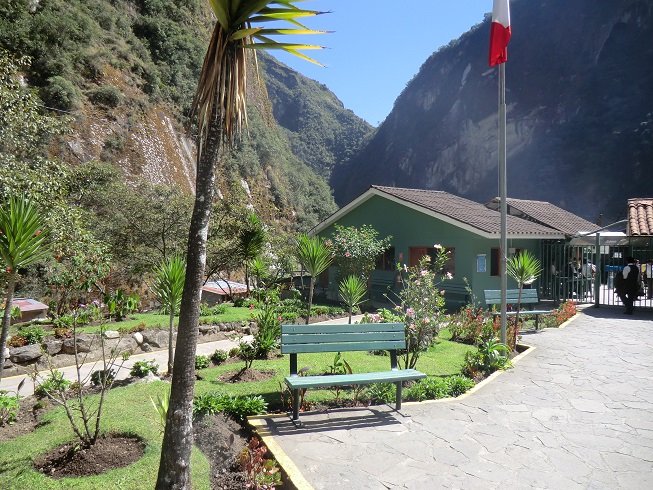 At the railway station in Aguas Calientes, a short break in the sun.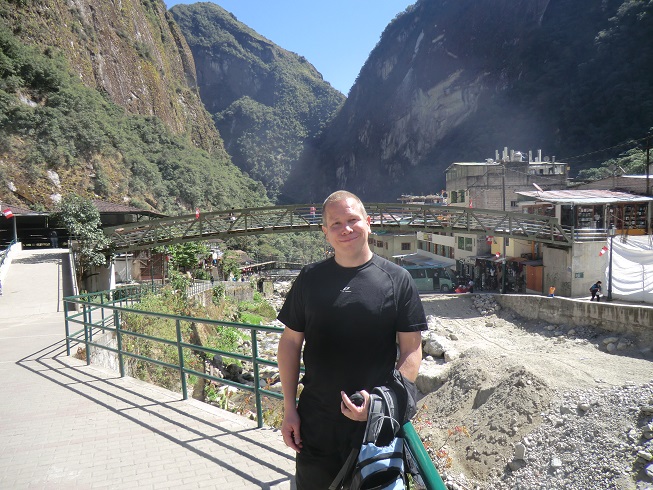 Christer in Aguas Calientes.
Adela´s. This will be our home for two nights.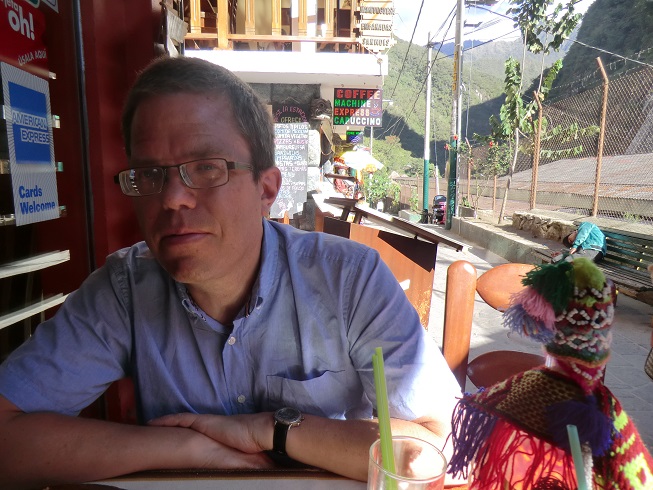 Peter is waiting for his lunch pizza.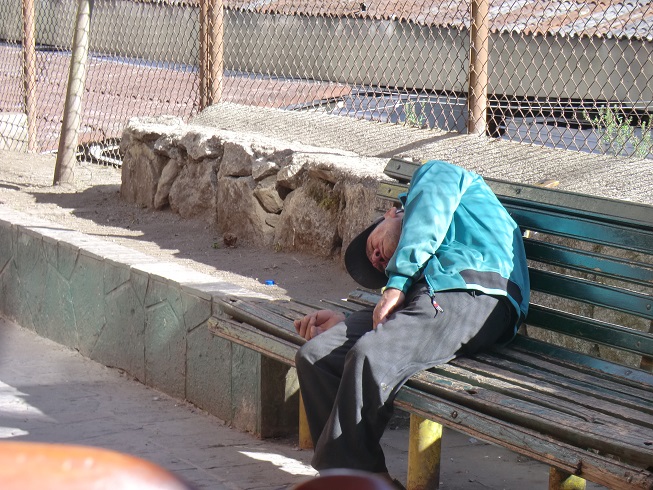 A local man is somewhere beyond sleepy.
16.03 The pizzas were definitely not good. They were dry, the dough was weird and had a strange aftertaste. Now we have walked around more in town. During the walk we photographed and Christer captured some interesting views and personalities on film. Now we have a coffee at La Payacha which lies just beyond our hotel. We sit and drink plenty of coffee next to the railway track that runs through the town and just outside of where we´ll stay.
16.41 We're back at Adela's. It is time for a small siesta. It is welcome. It was an early morning and a lot has happened today.
18.21 We have desperately tried to understand how our TV works. All we have retrieved is some kind of info channel. Are we missing some knowledge and/or a second remote control?
19.41 Now it is time to go out on the streets to arrange with dinner. After that, we return home to plan tomorrow and crack the TV, well not literally then, but crack the mystery of how it is started.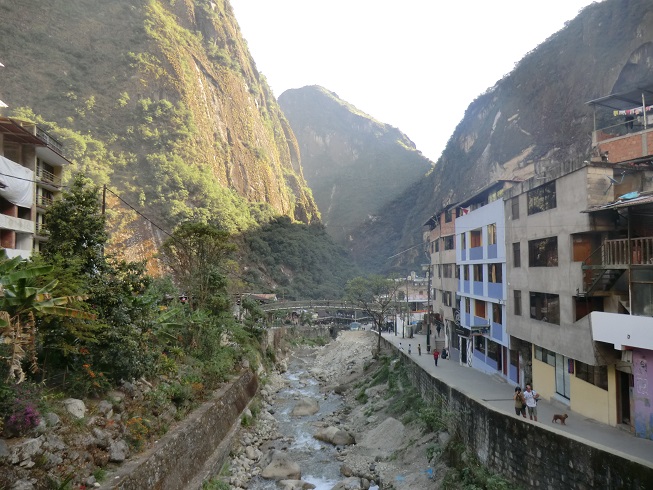 Aguas Calientes, a town made for tourism.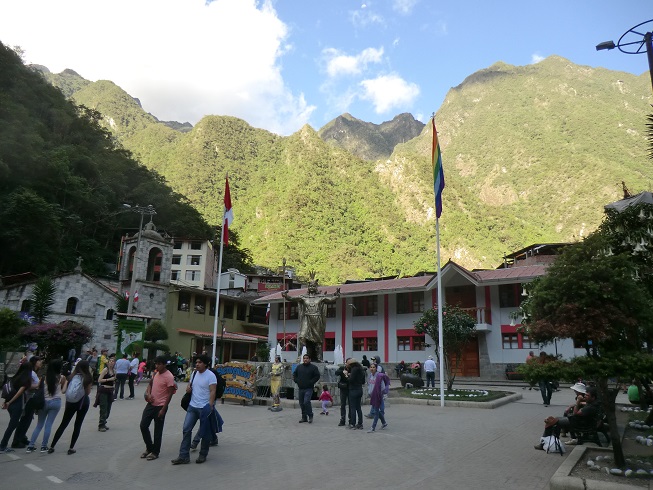 The small square in town contains a church and a small town hall.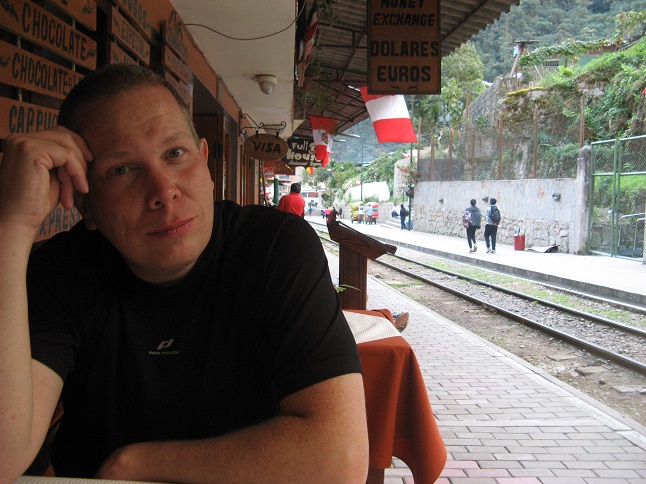 Christer is having coffee close to the railway.
20.06 Coca Qanto is tonight's dinner restaurant. There is no problem to find a restaurant in the city. There are several to choose from. The difficulty lies rather in the choice, to find one with quality, something unique, something affordable. We were attracted by a discount on entry to the place we chose tonight.
21.13 There was no discount. On the contrary, it became more expensive because the tax was added on the total amount. It is not baked into the price here in the town. Twenty-four people queued to buy the bus ticket up to Machu Picchu. We are waiting to buy ours until tomorrow morning. Back at the hotel we had help with the TV. A small button on the remote control should be moved sideways.
21.43 There are many small traditions on our travels. Some are related to sports. Some years we have followed the tennis tournament at Wimbledon, other years it has been football or the Olympics. Now we have checked the draw for the qualifiers for the World Cup football in Russia 2018. It was made today. Sweden will play against France, Netherlands, Luxembourg, Belarus and Bulgaria.
22.20 Soon it's time for me to try out a new bed. Tomorrow it's off to yet another of the places on my "bucket list".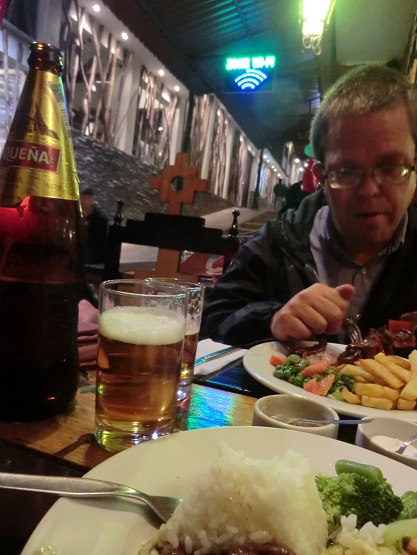 Peter is trying one of Aguas Calientes many restaurants.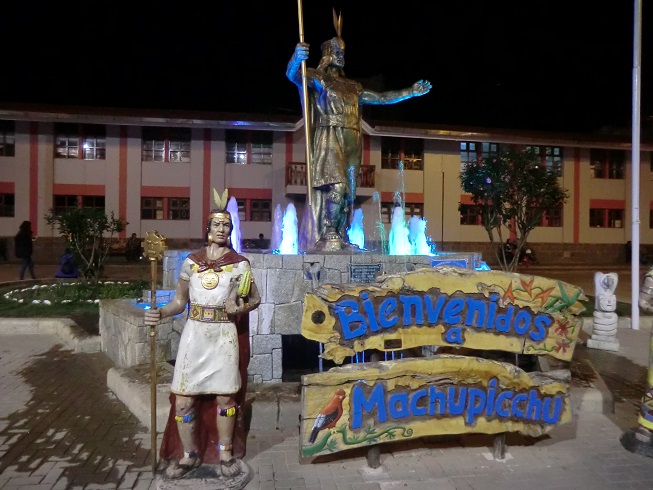 A welcome in the dark on our way home.
---
Sunday 26th of July
07.32 There was nothing wrong with the bed. The pillow in it was also good. One drawback was the train/locomotive which passed/thundered past outside our room window around 06.00 in the morning. The driver honked loud for attention. Next in line is breakfast. Then it is the start of project MP, Machu Picchu.
08.50 The breakfast was eaten in the dining room behind the reception here at Adela's. Now it is the time to set and get ready for the day's outing. The sun has risen above the high mountains around Aguas Calientes and the sky is blue. Now we just need to get out from the hotel, away to the bus, arrange with tickets and go up to the ancient Inca city of Machu Picchu located in the mountains not far from here.
09.22 We have moved the short distance to the street where the small buses to Machu Picchu departs from. The queue for the bus ticket kiosk is ever so slowly moving forward. The queuing is far from effective. The people seem to debate everything possible rather than to move forward in the queue. Some try to get discounts using student IDs, etc.
09.48 The long-awaited tickets are purchased, then followed a moment of queuing for the bus itself. Now we have embarked the comfortable cool bus. We are far from alone. There are buses driving all the time between Aguas Calientes and Machu Picchu. Nevertheless, it is therefore long queues. It is a popular tourist destination for sure.
10.25 We went on a dusty gravel road that winds its way up the mountainside. The route is in total about 8 kilometres. We have stepped out of the bus. We are having Inca Kola and a snack before we go into the area. We sit in a cafeteria with magnificent views. They really have the sense to charge the customers here, nearly US$4 for a Twix (candy bar).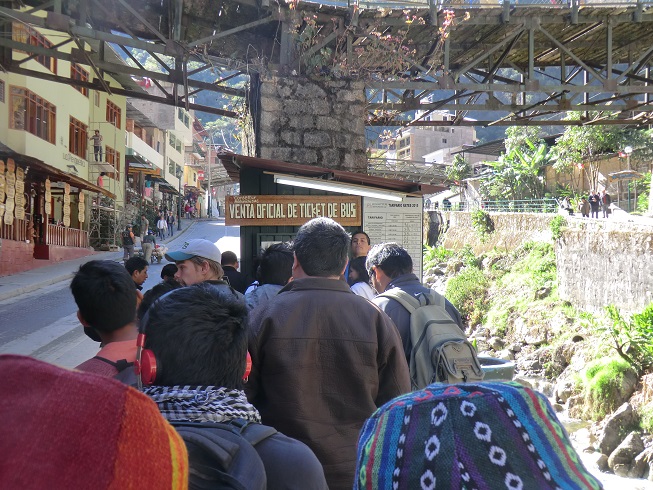 You need patience when buying your bus tickets.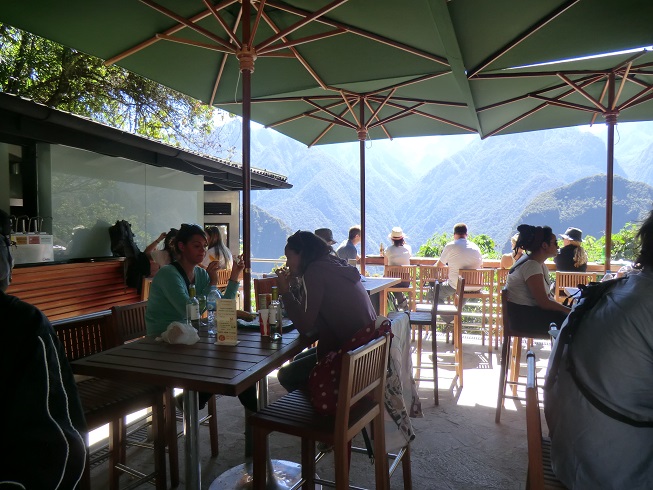 Expensive café with marvellous views.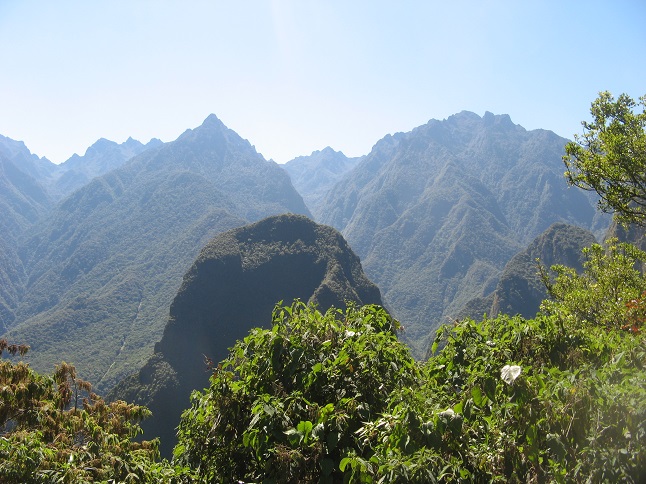 Very beautiful mountains around Machu Picchu.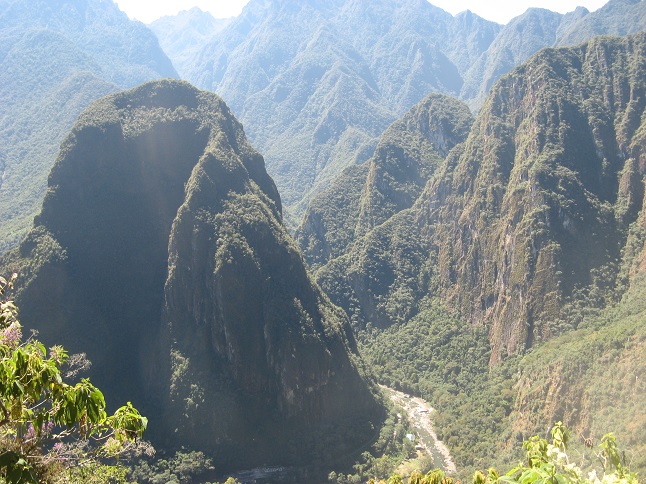 Down there somewhere is Aguas Calientes.
11.19 We went inside the area and began to go wrong. We were charmed by everything amazing there is to see here and we walked quickly toward the places where it was best views. Apparently you are supposed to follow a certain route through the area and a whistle was blown and we had to walk in another direction. Now, after having striven upward, we have the classic view of Machu Picchu and the mountains behind. This is the fourth of the world's seven new wonders that we visit.
11.28 The sun fry and there are tourists everywhere photographing, talking, being in our way and climbing around. We amused ourselves by counting confirmed nationalities here and it was a lot. We have photographed both in the ruined city, but also the stunning views offered here towards the valleys and surrounding mountain peaks.
12.00 It is time for a new stone break. There is of course no benches here, but we can sit on the rocks instead. We are now at the Holy Square. One need not to feel alone here. It feels in the leg muscles and knees after climbing up and down the stone steps and ledges.
12.18 Here in Machu Picchu one will be extremely impressed by the architecture that can be seen here. Perfect buildings constructed on this inaccessible place is really amazing. Machu Picchu was a forgotten city for hundreds of years. The town was built in 1440 and was inhabited when the Spaniards arrived. However, they were never aware of its existence. The city was rediscovered in 1911 in connection with a forest fire in the area.
12.27 Just now we saw and photographed a few llamas. They wander around freely on the juicy grass areas here in Machu Picchu. Imagine what a difference it is between llamas and lame ass. We are near the ceremonial rock. One of the llamas we just saw has followed after us and the other tourists for a while.
12.59 After seeing a suckling llama kid at Three Gates, we are now at the Temple of the Sun. There was something red on the ground below the lame cub and its mother. It looked like a pool of blood. Maybe from a newborn?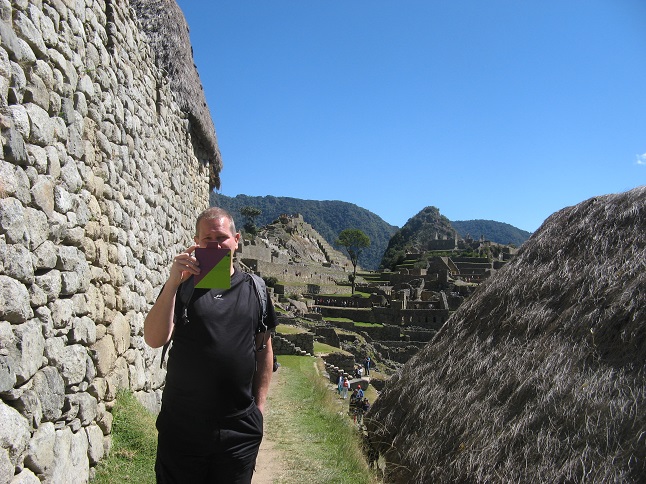 Christer is making a video clip.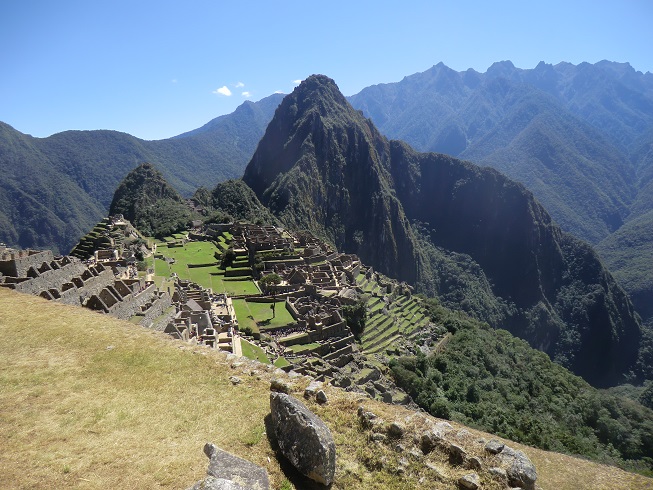 It´s a special feeling seeing this place for real.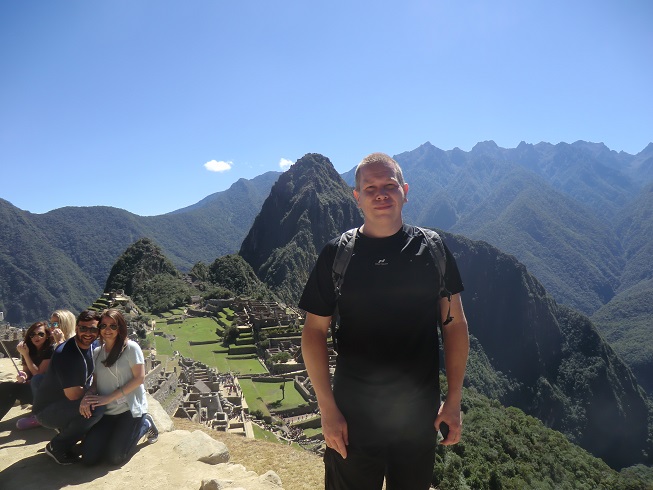 Christer in Machu Picchu.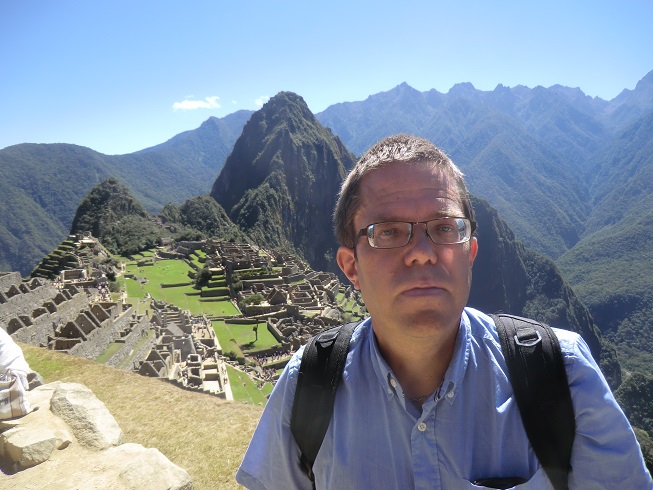 Peter is visting another wonder.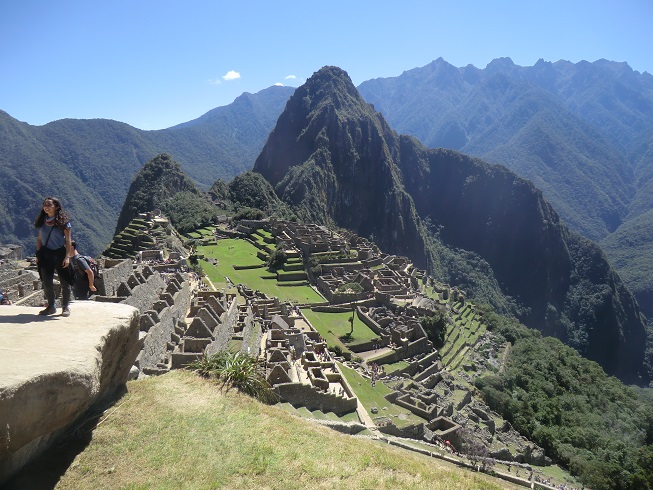 The world has been aware of this place since 1911.
13.11 It is time to leave this amazing area. I am hugely impressed by everything I have seen. This is a place you want to stay in a long time but we have been here for a few hours now and the sun is strong and the legs tough.
13.26 We have left the area behind us and now we are almost at the end of a several hundred meters long bus queue. This feels extreme, it feels hopeless. A person in the queue went and asked how long it would take to get on board a bus. The answer was not exactly upbeat. At least one hour.
13.50 We calculated and estimated. Which would take the longest time, waiting in the queue and ride the bus or walk all the way down to Aguas Calientes? Which of these two options would tear most of us physically and mentally? The result was that we twenty minutes ago started an eight kilometre walk. It will take time, it will be tough but we do not mentally manage to stand so long in a queue. Right now we only regret that we have not bought some water.
14.28 We got tired to follow the dusty, gravelly serpentine road and headed down some stairs that stretched through the woods. This meant a shortcut and gave us the shaky legs of the worse kind. Three hours inside the Machu Picchu and now this. Our leg muscles start to get enough. In one set of stairs we found a vendor selling water and snacks. She felt like a mirage, so welcome! We each bought a bottle of water from her. Other people are striding, half running past us through stone stairs and along the forest path. What do they have that I have not? We came to the conclusion that the answer is youth.
14.47 We have made it all the way down. This tore more than we had thought. Next a bench break. We have to remove all the leggy shakes. What did I write now? It should of course be shaky legs. We sit near a river. Now it's flat terrain, the distance remaining to the city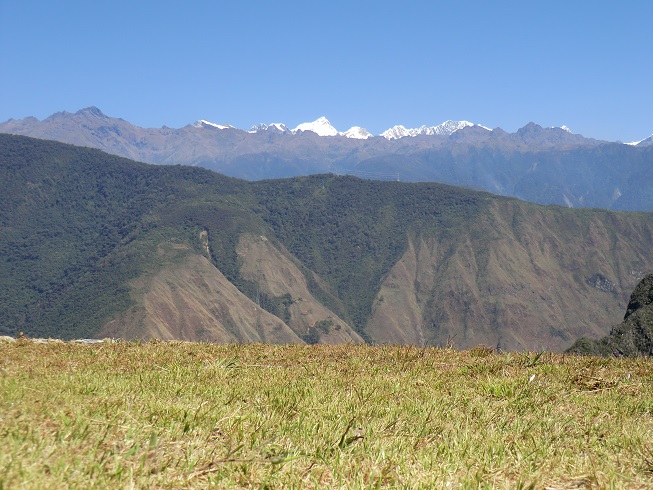 The grass of Machu Picchu and the nearby mountains.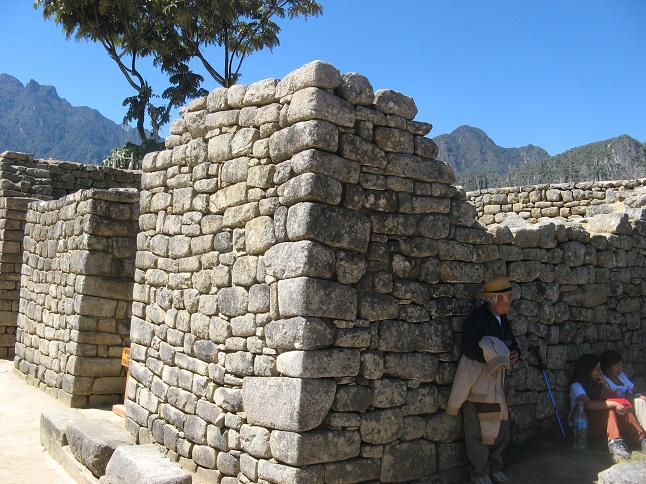 Shadow is nice!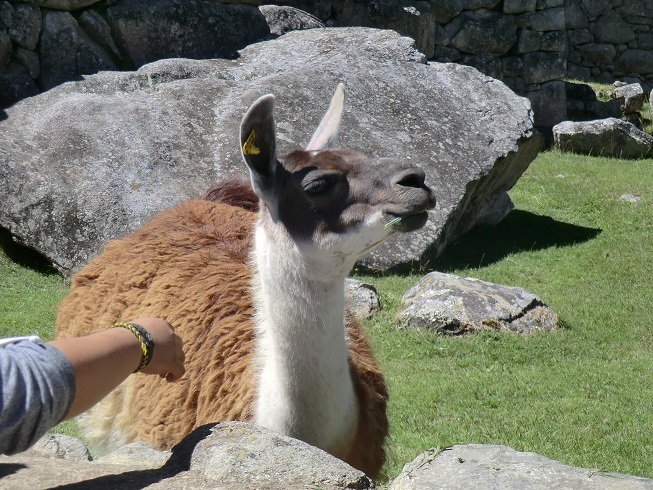 We are saying hello to a llama.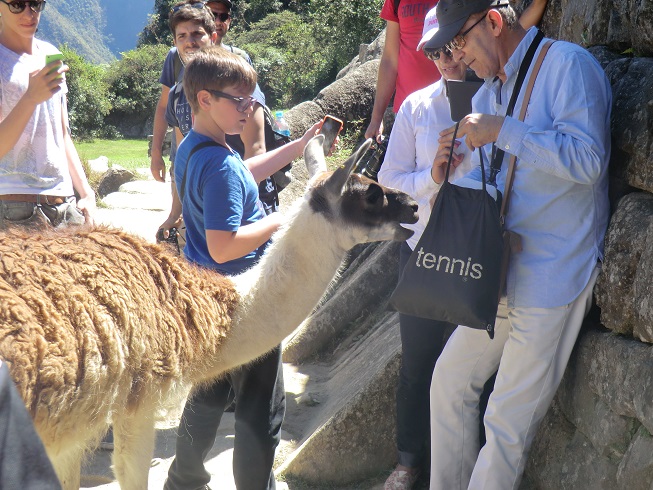 Curious animals in Machu Picchu.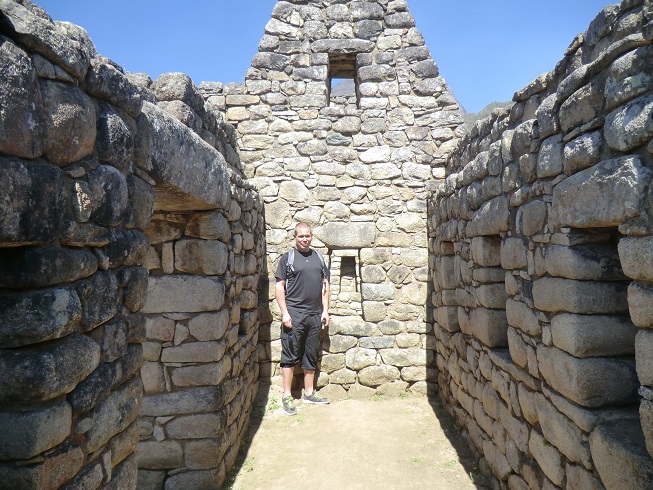 Christer is hiding in one of many ancient buildings in Machu Picchu.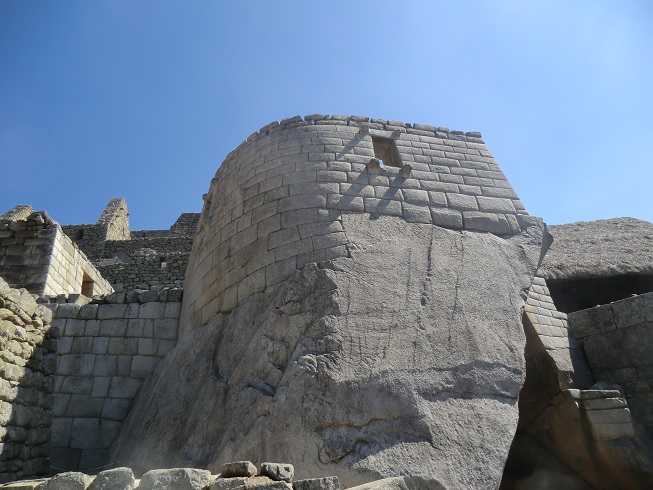 The temple of the sun, an impressive construction!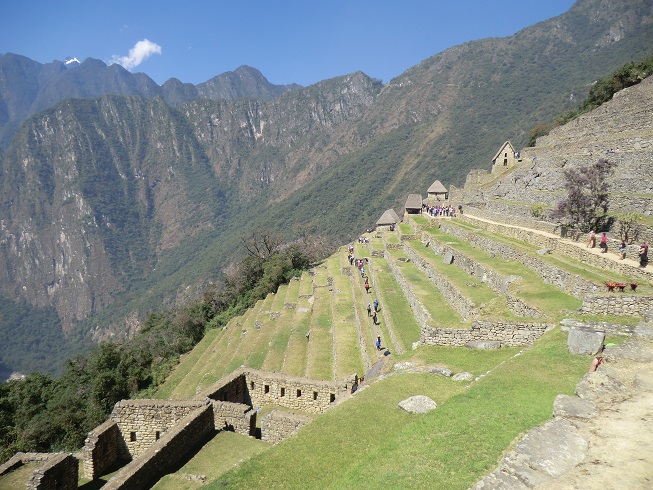 We are approaching the end of this Machu Picchu walk and visit.
15.38 When we returned to Aguas Calientes more central parts, we went to the restaurant Toto's. It took some time to get the menus but now we have received the order. I was not very creative and copied simply Christer's order in terms of both food and drink. We need pasta and it has been ordered. We are very hungry after the long walk down the mountain.
17.57 After lunch we bought a few things before returning. Here at home, we have done almost nothing. Nothing feels like a good option at the moment, considering everything that we made earlier today.
20.24 La Luna, is the moon in Spanish. La Leña is a restaurant we'll dine at. This is one of countless similar restaurants in Aguas Calientes. It was mostly the availability of a good free table that brought us here this evening.
20.54 While waiting for us to get food in the ordered, we have studied a young American guy. He needed to pay for the soft drinks he and his girlfriend had consumed. He had no soles, the amount was too small to be paid by VISA credit card, dollar was not accepted and he and the waitress did not speak the same language. Finally a man appeared and wondered if the guy spoke German. He did not. The man knew a little English and now the young man left to withdraw money. In the middle of it all he asked me what time it was.
21.43 The American was not seen again. Was there any girlfriend or did she skip the bill as well? A couple in love at the table next to ours got tired of waiting for the food, paid the drinks and left. Our food turned up at last. It was filling but nothing special. Once again, we have experienced a restaurant that has too many guests or not enough staff. The result is a forever wait for food.
22.39 It is the end of a great day, a day when we experienced Machu Picchu, this trip´s s main event. Whatever happens during the remaining days, the trip all the way here to Peru and the Andes has been worth it. This place should everyone experience.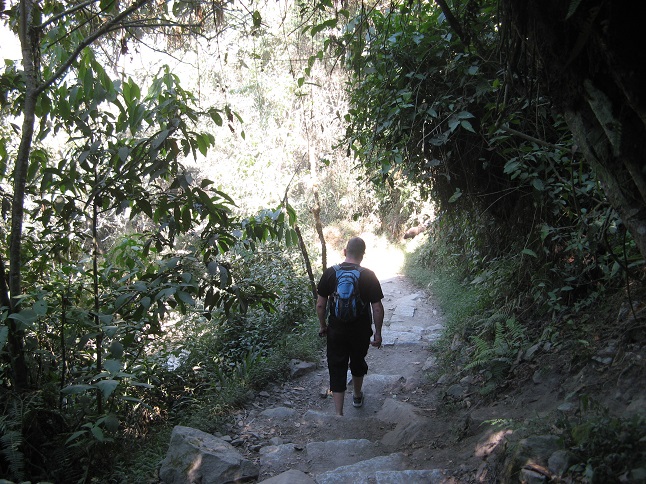 The long walk back from Machu Picchu.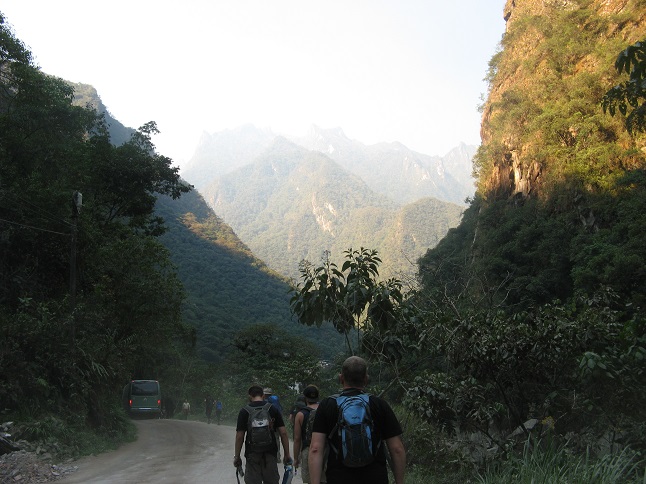 We are soon there! We and many others are approaching Aguas Calientes.
Dinner at La Leña.
---
Monday 27th of July
06.46 Our last full week in Peru has just begun. We will, before next week is over, be back home again. Below our window a man stands with a light blue flag. It says Groupa Washington on it. He's probably some sort of guide.
07.55 Upon check out from Adela's we received a small gift from the nice and helpful young woman at the counter. As we arrived at the railway station Christer asked me to hand him the rail tickets. Instead, I managed only to produce papers relating Machu Picchu. Talk about being one day after. It should actually be nice to leave the "tourist world" and return to the normal genuine Peru again.
08.27 We are once more on board a train from Inca Rail. Now we will leave Aguas Calientes and Machu Picchu behind us, but they remain in the form of pictures, videos, words and memories. Which of these will disappear anyway?
09.42 The river that runs parallel to the railway track has been for thousands of years cutting down through the terrain and rocks. What does it look like in another thousand years? Speaking of cutting and digging down we just passed just a excavator. We have been treated with some sodas and snacks, tasty but shakily to drink.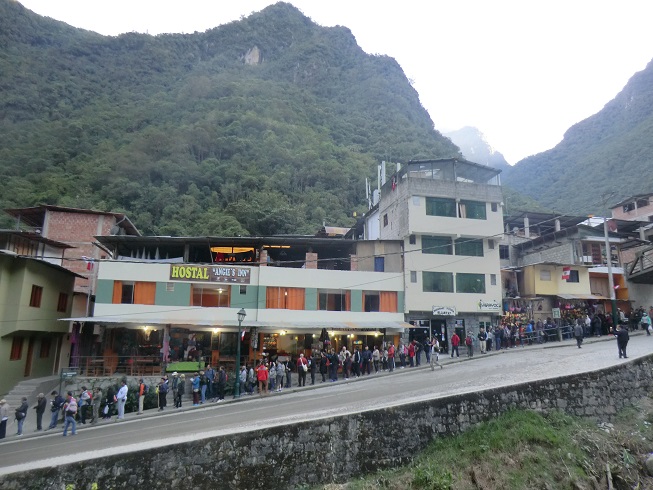 We look at all the people waiting for the bus tickets to Machu Picchu and suddenly we feel happy to leave.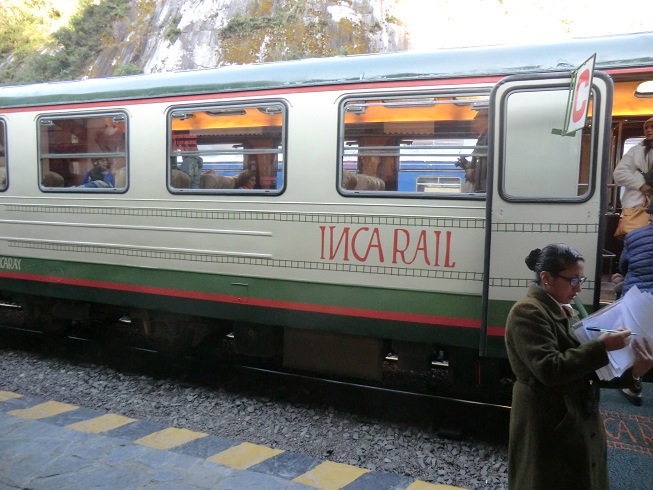 Once again time to enter the Inca Rail train.
10.25 We have arrived at Ollantaytambo. We left the train and mixed with departing passengers and made a quick stop at the station building's toilets. Now we are sitting in a minibus that will soon take us to Cusco. It was a quick and efficient loading and unloading of passengers here, from trains to cars/buses.
11.03 The trip is on the same route we did on our way here, without fog this time. We have admired the stunning views towards the mountains, valleys and plains near Urubamba.
12.26 We're back in Cusco. The bus stopped at the Plaza San Francisco. We have not been in Cusco more than two days but it was a "coming home feeling" that came over us when we got out of the minibus, paid for the trip and went on familiar streets. We have now returned to the first morning's breakfast restaurant, Café Ayllu. We will have coffee and sandwiches. Is it late breakfast, snacks or lunch. Who knows? It will be great anyway.
13.00 We have been and fetched the backpacks at the old accommodation in the city, Hostal Qosqo. They still remember us! Now we walk to the next and final accommodation here in Cusco. It is quite far to get there but it will be nice to stretch the legs. It is not so hot at such a high altitude. It is the mostly the sun which is strong.
14.37 Now we have finally arrived at Royal Inn Cusco (http://www.royalinncusco.com) and we moved ourselves into room 104 here. The hotel name sounds grand and luxurious but it is a fairly simple hotel in the outskirts of the city. We'll see what happens next now.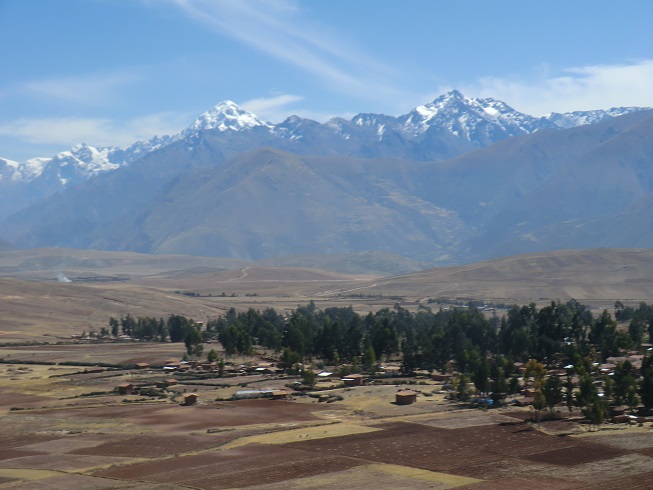 Beautiful landscape near Urubamba.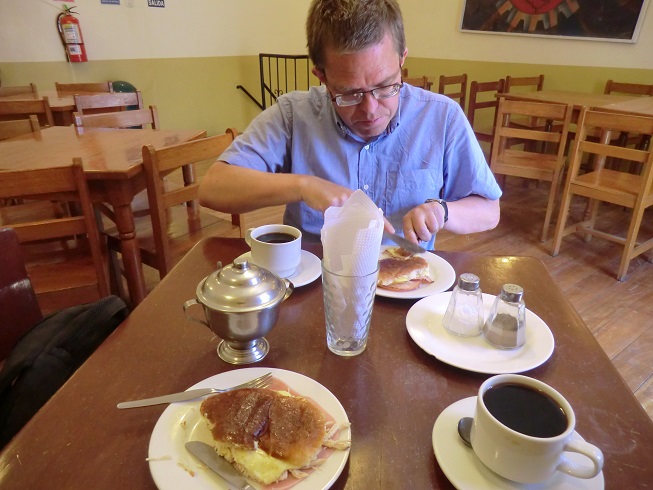 We returned to Café Ayllu.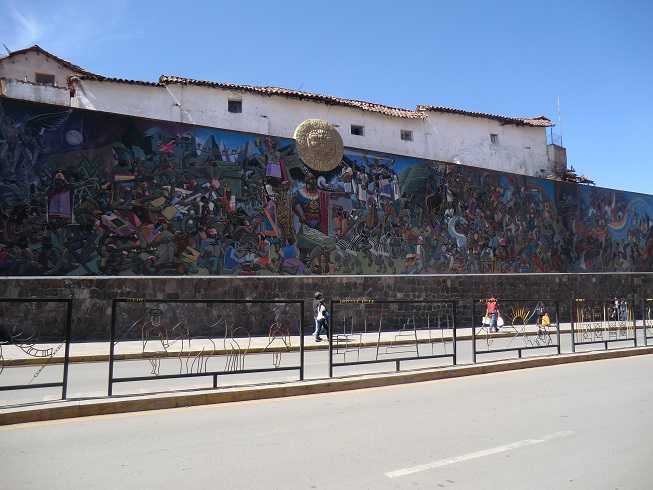 During our long walk between our Cusco hotels we saw this beautiful wall.
16.22 On the way out of the hotel we copied tomorrow's bus tickets. After that we checked the directions and walking time to stop 5, where our bus will be waiting tomorrow morning. We are now at the Chinese restaurant Pekin. I managed to sneeze at the same time as the waitress returned. She leaned forward but said nothing about my sneezing. Instead, she talked about that they had no Inca Kola and wondered if it was alright with the American version instead.
17.48 After some shopping at a grocery store in the neighbourhood, we are so comfortable in our room for a quiet moment.
20.00 We cannot lay here and doze. It is time to look up any local restaurant offering dinner.
20.14 Bosanova jazz flows in the premises. The venue in question is Il Toto Trattoria. We just ordered our dinners. We first thought that this clean room was an expensive hotel but it turned out to be a completely newly opened Italian restaurant with enthusiastic positive staff. Every customer seems to be something new and amazing for them.
21.18 It was very good food and superb staff. This is a trattoria to be recommended. Now we will tie together the day and lay the foundation for tomorrow's odyssey through southern Peru. It becomes again an early morning and again a missed hotel breakfast. Such is life and the circumstances.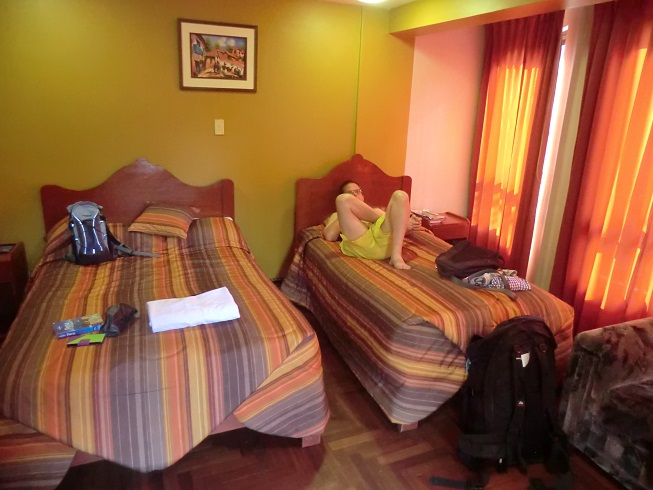 Our last room in this city, this time at Royal Inn Cusco.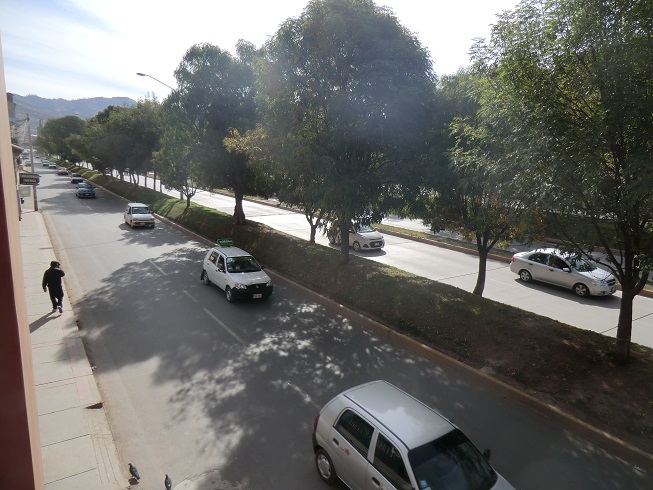 The not so glamorous world outside our window.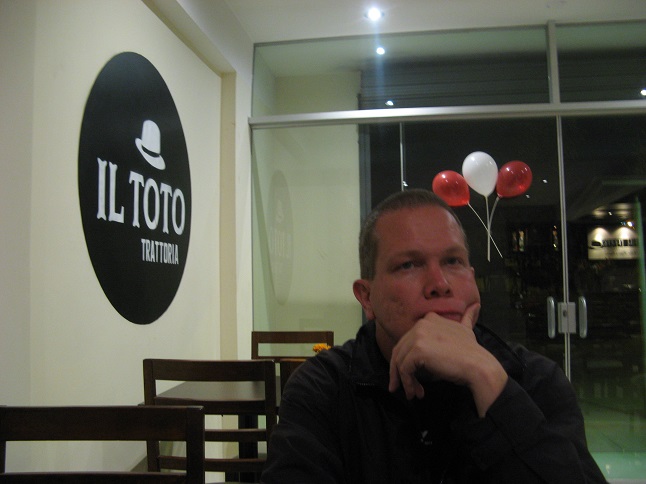 We didn´t regret visiting Il Toto.
---
VIDEOS
---
You can see 99 photos from July 24 in this photoalbum.
You can see 85 photos from July 25 in this photoalbum.
You can see 124 photos from July 26 in this photoalbum.
You can see 29 photos from July 27 in this photoalbum.

---
---
---

---