---
Text: Peter Johansson
Editing: Christer Lundstedt
Photos: Christer Lundstedt, Peter Johansson
Videos: Christer Lundstedt
---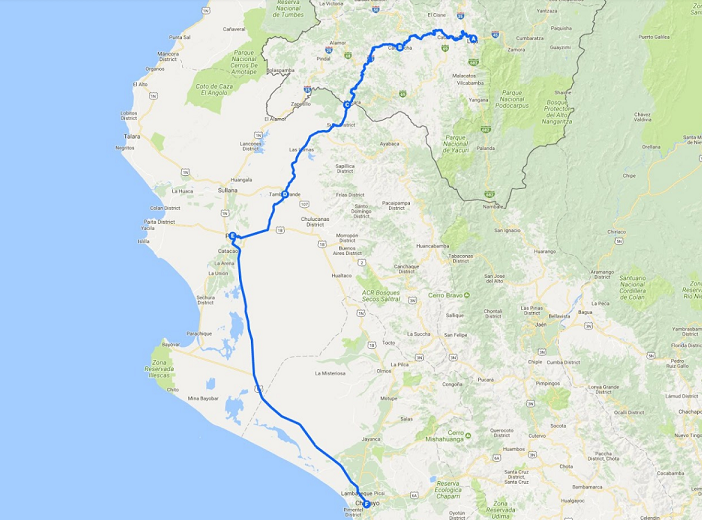 ---
Tuesday 30th of June
07.52 It's the last day of June. It is also time for an update. We have since the last update spent the night in room 312 at the Hotel Podocarpus (http://www.hotelpodocarpus.com.ec). Now it's time for a new day in Loja, Ecuador.
08.47 The night dust has been washed away from the outside of the bodies. Now it is time to stock up on the insides of bodies with food. It should be done in the hotel's breakfast restaurant.
09.53 After a light breakfast and some planning, we´re getting ready to explore our last city here in Ecuador. The breakfast was one of the worst for a long time. We were hoping for some kind of breakfast buffet, but the little we received barely got noticed in our stomachs.
10.18 We started our exploration of Loja by going to and through the nearby Parque Simon Bolivar. One purpose of this was to find some good restaurants here near the hotel. Yesterday we did not find much to choose from when it was time for dinner.
10.35 Our wandering took us to the church Iglesia de San Francisco and the statue of the town founder Alonso de Mercadillo.
10.53 The sun is shining nice and ever so welcome on us. Well not right now, we are sitting in the shade in the restaurant/café Casa Sol by the Rio Zamora that runs through the city. It is time for eleven coffee and snacks. On the way here, we have seen many people of different ages.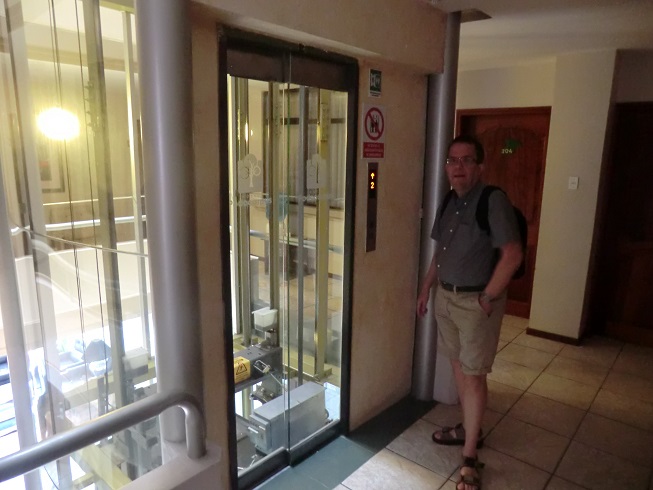 Peter is ready to leave our hotel and spend a whole day in Loja.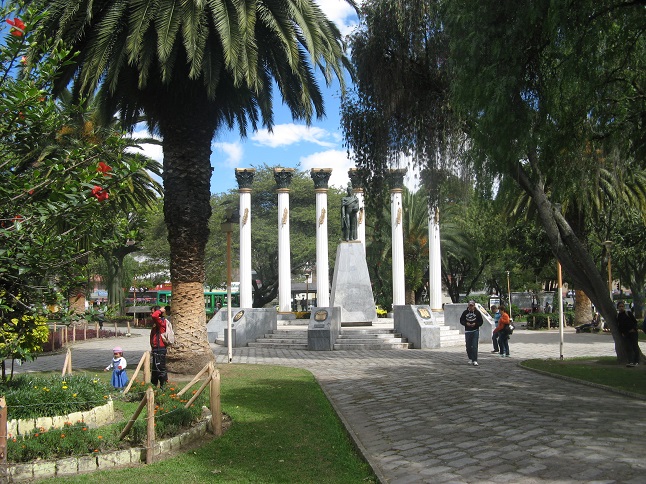 Parque Simon Bolívar is a nice park close to our hotel.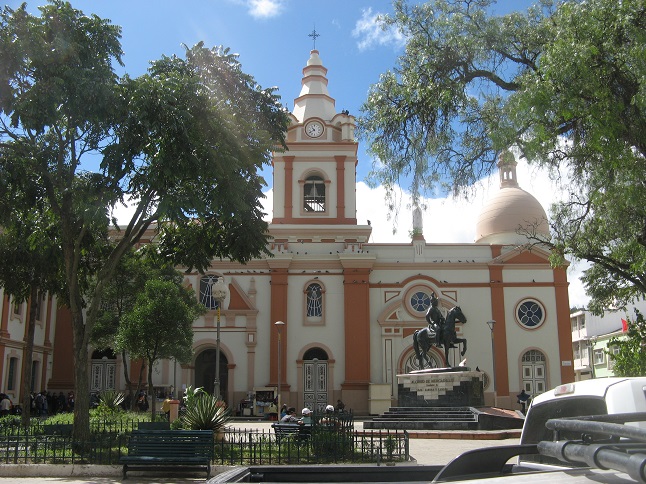 Plaza San Francisco, a small square in front of the church with the same name.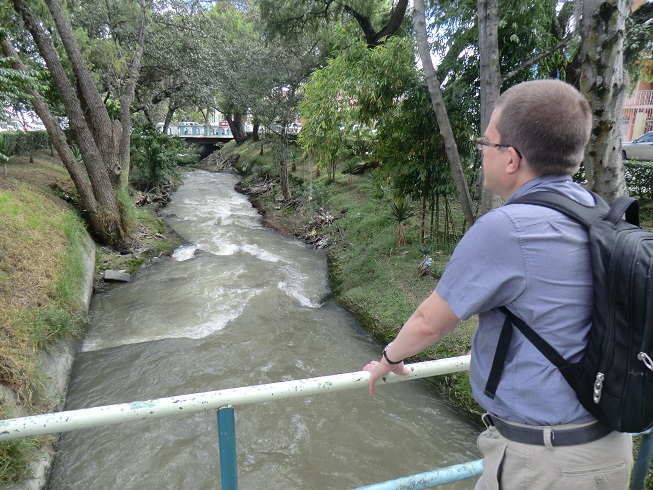 Peter looks at Rio Zamora.
11.08 We are sitting here at Casa Sol, perfectly placed overlooking a small park and the street life below. Christer has ordered tamales, chicken in a corn bread. I chose something with an interesting name but it just turned out to be some toast.
11.27 While I visited a private room Christer became witness to an interesting event here at the restaurant. A man and a woman walked between the tables here. They had brought yellow flowers which they dipped in a bucket of water. They then splat water on the tables. The purpose of the act is unclear. Some water ended up on Christer as well.
12.10 We walked further along Calle 24 de Mayo, where a number of new but closed restaurants were found. A short photo stop has now been made at/near the Plaza de la Independencia (Independence Square). It features a lovely fountain, several pillars and beautiful architecture in the form of wooden balconies. In the grass a few young people sit and have a good time. There is also the church here, Iglesia de San Sebastián.
12.39 The walk to different squares and the sightseeing continues. We have seen a pet store with puppies in the window, the small square of Plaza Santo Domingo, withdrawn money from an ATM and been looking for a suitable lunch restaurant. Right now I have a bench break while Christer walks around and documents with his camera. We have reached the main city square, Parque Central. Here we can see the cathedral and the provincial government building.
13.07 Now as the eyes has been fed with good stuff. It is time to give the stomachs something good too.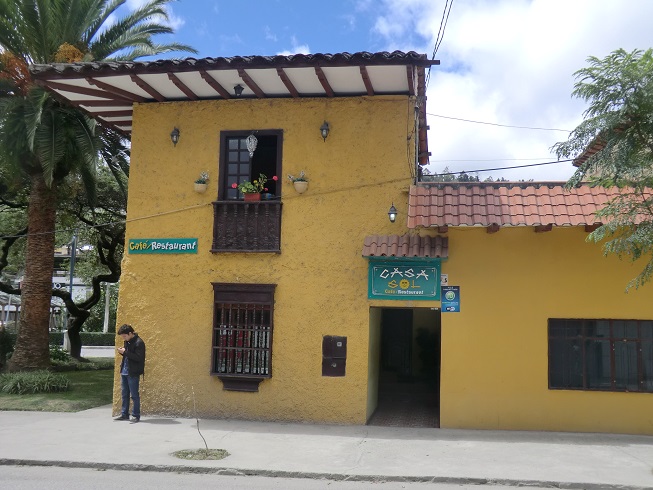 Casa Sol, Loja.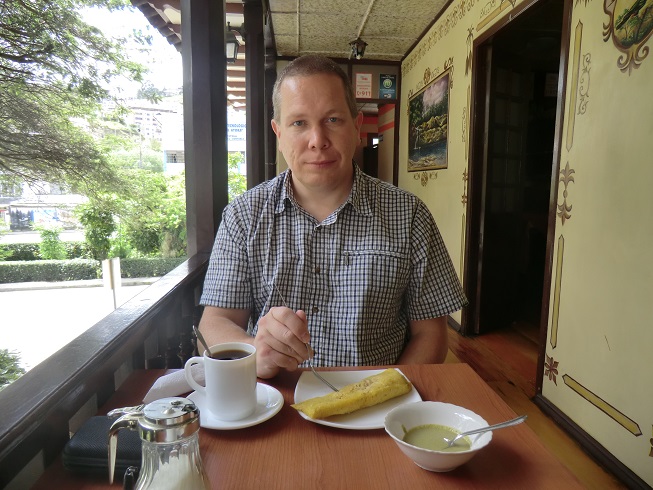 Christer is eating tamales at Casa Sol.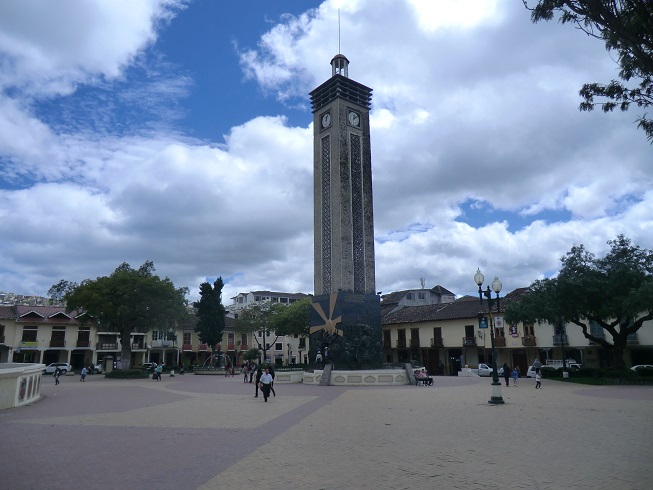 Plaza de la Independencia, Loja.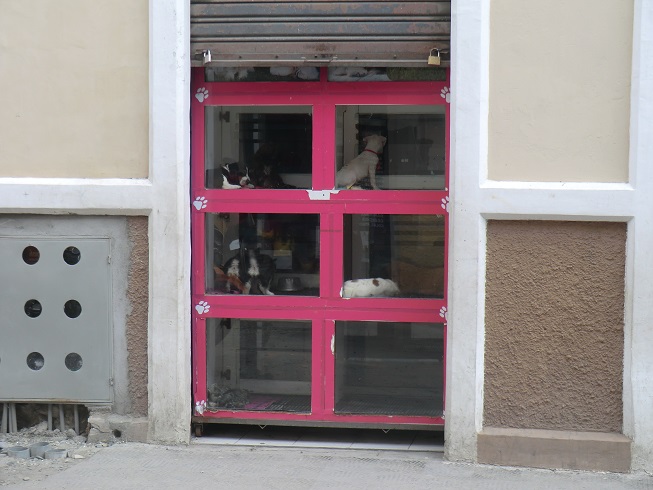 Puppies for sale in a store along Calle Bolívar.
Plaza Santo Domingo, Loja.
14.11 After a lot of wandering, walking and searching, we finally found a lunch restaurant, the Italian restaurant Pizzeria Forno di Fango (http://www.fornodifango.com) on Calle 24 de Mayo, not far from where we previously had coffee and snacks. The other options in the centre offered today's special for a cheap price, that meant something already cooked which was served on the plate. I say like my nephew Max, no, thanks a lot! I have become very tired. How can that be?
15.12 The food here at Forno di Fango was excellent but my appetite and desire to eat is at the bottom. The body does not seem to be in the mood to stock up on food.
16.05 I don't have much stamina right now. I am pleased to be back home in our room again. Here we will have a little siesta.
17.00 We have been out on the internet and updated ourselves on the latest news from home. After penalties Sweden is the European champion in football for the U-21 teams. Unfortunately I have some minor problems with my stomach. What has gotten into the body takes time to get out. The entire system is filled with gas and I do not feel good.
Peter is writing in his journal. The location is Parque Central.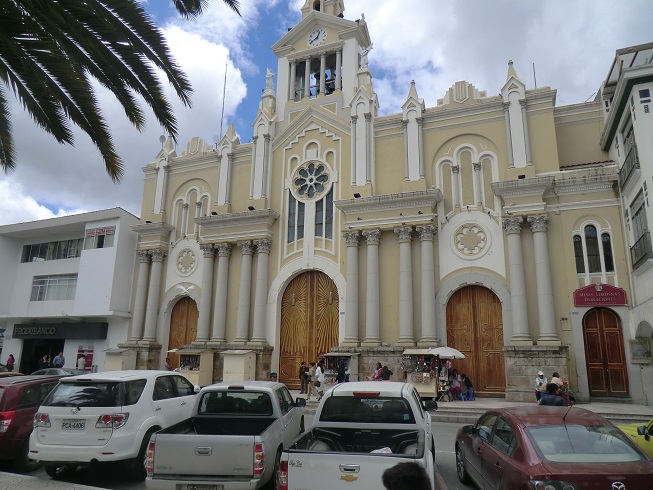 Catedral de Loja.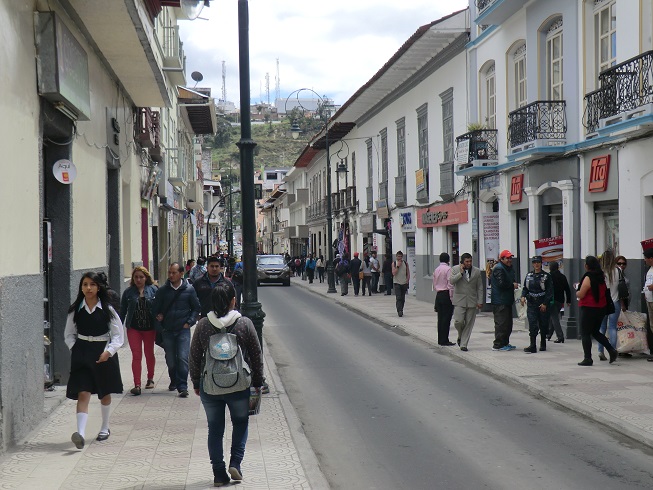 An ordinary Tuesday in Loja.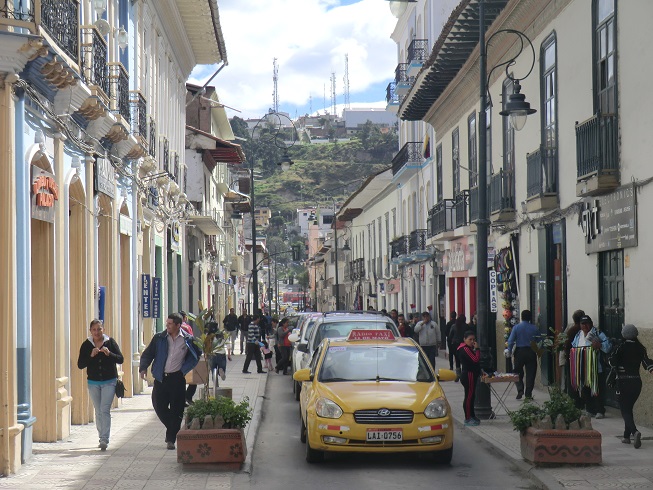 Some cities weren´t built for car traffic.
18.52 I have slept for a short while and tried to gather strength and energy. The stomach is still sore. I will try to add a large amount of water. This might flush the system. This is the first time any of us had stomach problems like this on any trip. The most common symptom when having some trouble is usually that what is eaten departs too quickly.
19.02 Research on the internet has given some hope of my health. Medicines for constipation which we read about in Swedish is reported to be sold in this country as well. Next stop, a pharmacy!
19.48 Now we have walked and accomplished important chores. Worn pants has got its final rest in bins in the centre. I have been in to a pharmacy and bought medicine for constipation, the name is Dulcolax. We have also seen a garbage truck, which as it passed us gave up a whistling sound. In addition, we ordered the evening's dinner at the restaurant Dumas. For my part, it will be crêpes. In the Copa America football Argentina is on the way to the final. They lead 4-1 over Paraguay right now.
20.22 Christer had a broken straw for his juice. The hissing sound brought out waiter to our table with a working replacement.
21.02 The match ended 6-1. A victory for the blue and white national team of Argentina. On the way home, we passed a man who reminded us of a certain Swedish journalist. The only difference was that this man had shoe polish on his face and hands. Now I have taken two Dulcolax pills. Just wait and hope. I will also sleep.
21.48 We have due to my health condition and some other factors cancelled tomorrow's planned excursion. According to the plans we had thought about visiting the National Park Podocarpus or the neighbouring city of Vilcabamba, but now it will just be a quiet day here in Loja instead. We might need such a day.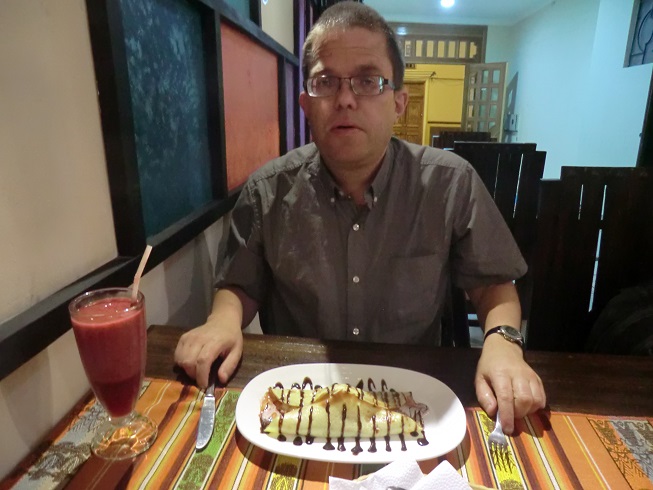 A tired Peter is having crêpes for dinner at the restaurant Dumas.
---
Wednesday 1st of July
08.55 Dulcolax is really a top medicine. The gases and everything else evil are expelled from the body. The bodily system works as it should. It is amazing that such small pills can make such a large difference. The breakfast, I am sad to say, was weak today as well. I also feel weak, but now things will turn around for the better. Today, it's a new month and the last full day for us here in Ecuador. Tomorrow we will travel to Peru.
09.52 Just now, someone from the cleaning staff knocked on the door. It is a sign. It is time for us to leave the room.
10.20 To strengthen the breakfast and the bodies, we are now close to the Parque Central. We have entered the Gina's Café de la Casa for a little more edible before we set off on today's further activities.
10.57 Now we have strengthened us with a little more food. For me it was ice cream and fruit. Christer once again went for tamales. This time it came in a more genuine way, wrapped in corn leaves. It is now time to give the bodies a little more to look at too.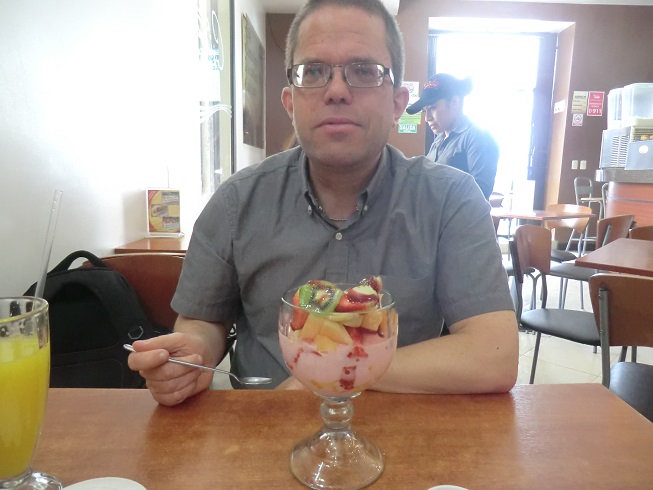 Peter is eating this day´s second breakfast at Gina´s.
11.23 We have walked for a while along Calle Sucre, then reached and entered the Ciudad de la Puerta, City Gate. It is an impressive building at the northern entrance to the centre of Loja. Here we have looked at a small archaeological exhibition to begin with.
11.40 The view from the top of the gate is not at all bad. We stayed there a long time, made a film and to photos in all directions. Below the Gate are the statues of Don Quixote and Sancho Panza. There are also murals that shows the military and national hero Sucre's success.
11.59 Before we continue today's plans, we´ll treat ourselves something tasty at Café Arte here in the City Gate. We are on the first level, upstairs but below the lookout tower. The entire building here is reminiscent of the Lego castles. A parable we also did when we were in Lisbon looking at Torre de Belém.
12.28 There is something special with coffee. I do not know if it's the coffee itself, or the opportunity to just sit down and enjoy. That makes us alert. Christer also ordered a refreshing juice. One who is not keen is an old man we have just seen. He sat and slept, leaning against a hedge. Possibly he was a worn municipal worker who have taken a sneak break. We are on the way to yesterday's coffee place, Casa Sol, where we plan to have lunch soon.
12.31 We came back to Casa Sol. Here we had planned to have a light lunch. The only thing on offer was the lunch special. We could not order from the menu as we did yesterday when we were here a little earlier. This seems to be the policy that applies to many of the restaurants in this city. The staff seems to be busy feeding all the hungry lunch guests that there is no time available to take orders from the menus. We decided to look for another restaurant instead.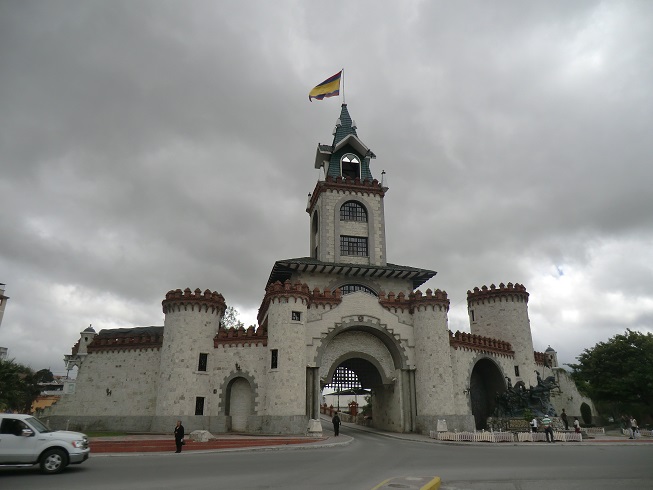 Puerta de la Ciudad, Loja.
The northern entrance to central Loja.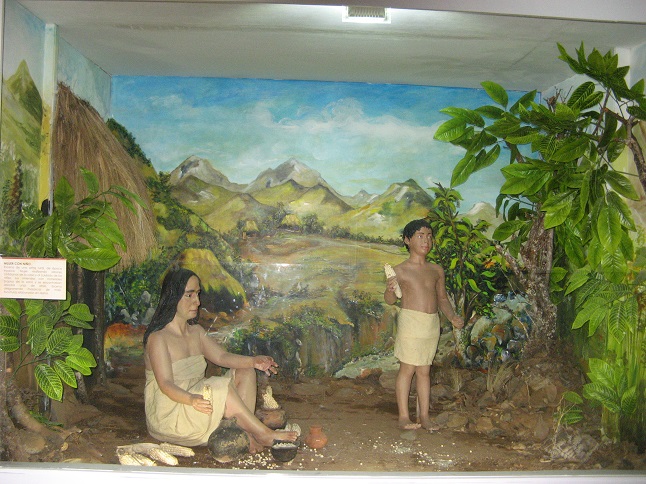 Puerta de la Ciudad has a small museum.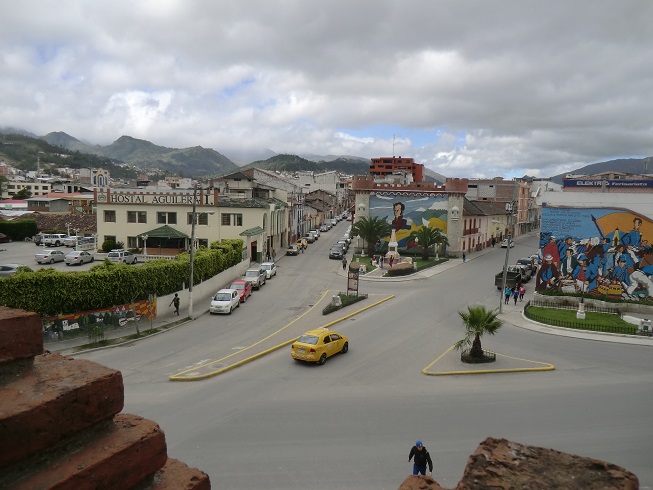 Art on walls in front of Puerta de la Ciudad.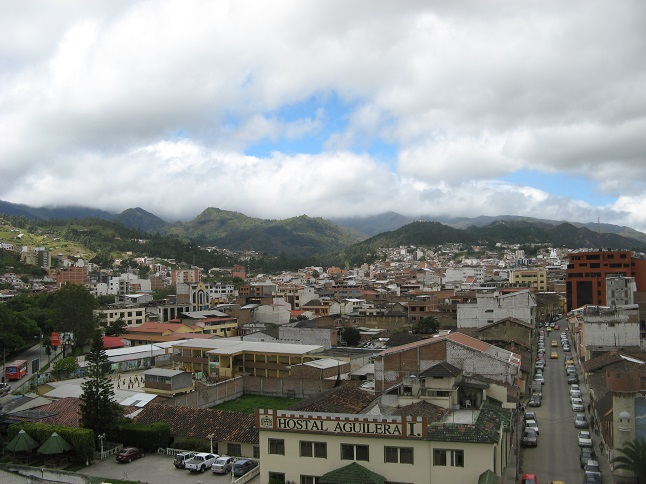 A view of Loja from the tower in Puerta de la Ciudad.
13.12 It seems hopeless to find a decent restaurant. We have walked along every street in the entire city centre, even sat down at a restaurant without finding anything but places that serve just one dish, often something we do not want to eat. We have instead gone home to the hotel to think again and plan.
14.21 New plans are forged and uploaded. Now it's time to see if they can be realized.
14.51 The first pitch has gone without a hitch. We are back at Pizzeria Forno di Fango. Why waste time looking for new eateries when we were very pleased with this place yesterday? It is time to finally get something to eat, a real lunch.
15.27 My appetite is slowly getting back. Imagine how little is needed to put you out of play. The restaurant offers good Italian food and some interesting juices to try, for example, tomate de árbol (tree tomato). Another name is tamarillo.
16.00 The lunch ended and we walked with a detour back home. We saw a funeral parade and, to our surprise, a sightseeing bus whose existence was completely unknown to us. We walked along the attractive Calle Lourdes who apparently is the city's oldest street. It is a cozy street with beautiful houses but unfortunately it also has car traffic. Now we are at home to get some rest.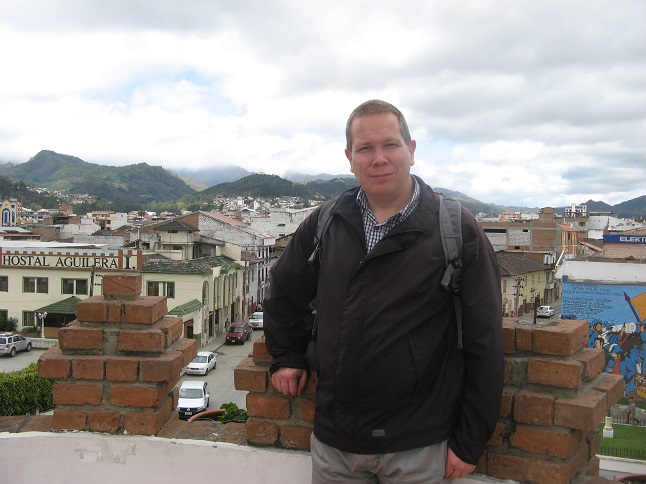 Christer has entered the Puerta de la Ciudad.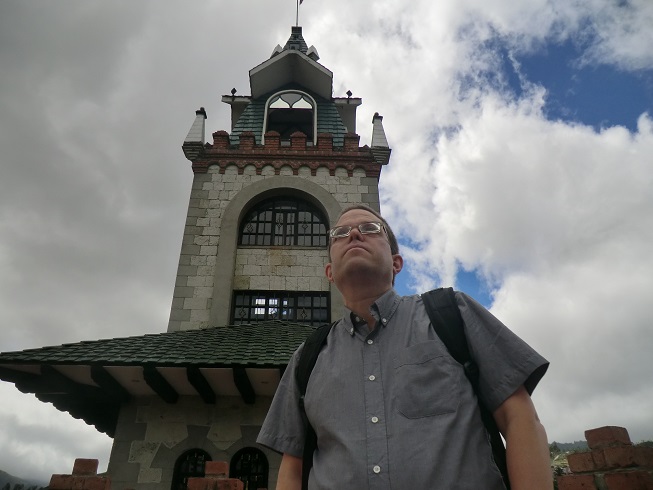 Peter and the tower we had a good view from.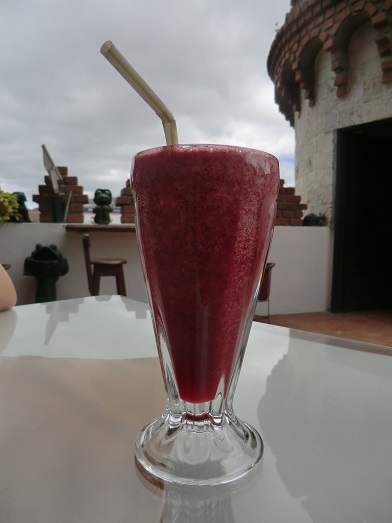 A refreshing juice at Café Arte.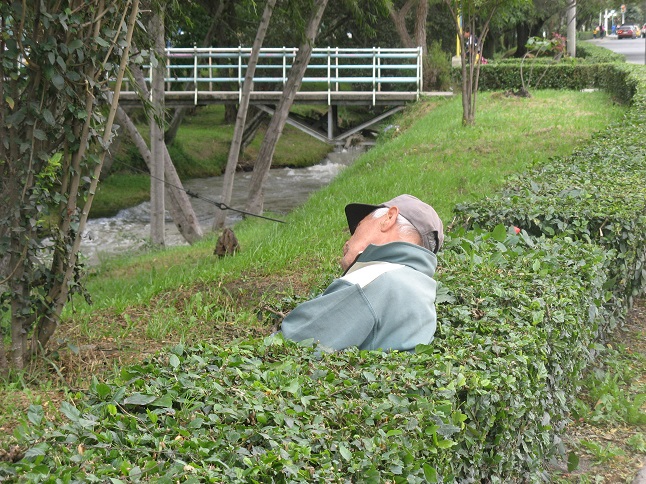 A tired man has found an alternative bed.
18.10 The rest have been broken for a while. We have been in the store Roman and resupplying for tomorrow. It smelled strongly of gasoline in some parts of the food store. Because of the backpack ban and proximity to the hotel it was easiest to scurry down individually and make our purchases.
19.10 The hunger is back in my body. Praise Dulcolax! It's fun to be back wanting to eat delicious food. Now we will soon move towards the evening meal.
19.57 It's time for dinner at the Argentinean grill restaurant El Fogón Grill. It was difficult to find . The restaurant was misplaced on the map in our guide book and it had according to internet ceased to exist. To our delight, this was wrong and we found it on another street by chance. Food is not bad. I am happy that my body wants to take care of food again.
20.43 Christer has eaten a phenomenal meat meal, a feast for the eye and the taste buds. I took it a bit easier because of the stomach. This is a restaurant that can really be recommended.
21.22 The last return is completed. Now most of our possessions will be put down in our backpacks. How many times have I packed my things in my backpack? It has been involved in all trips since 2000. Tomorrow we will leave Ecuador, a very nice country that has much to offer and is easy to travel around in. The only negative was the weather. There has been a lot of rain and clouds so far.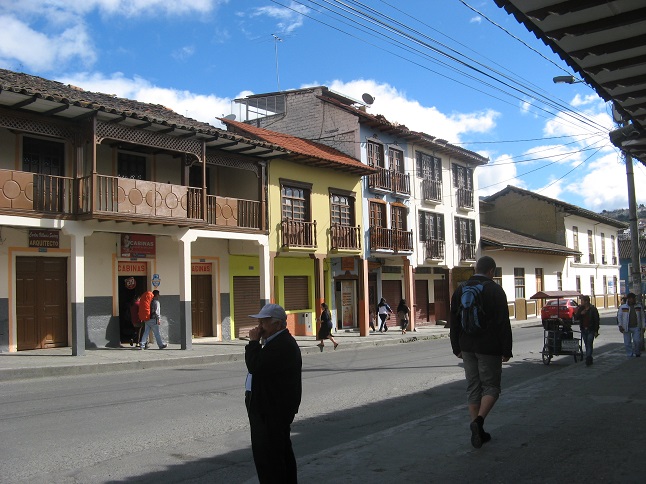 Christer is taking a walk through Loja.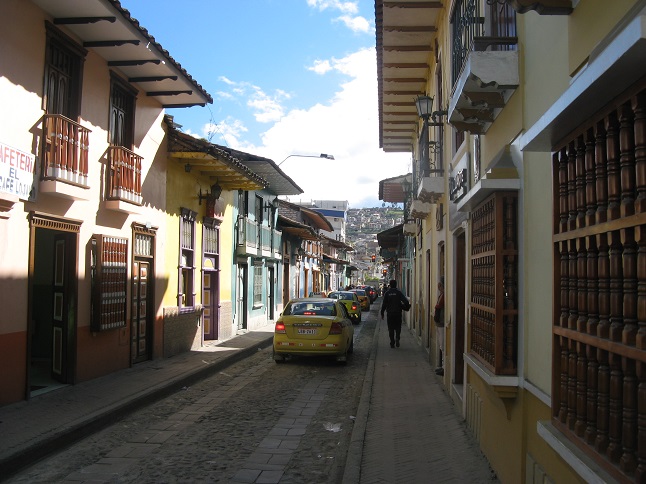 Calle Lourdes, the oldest street in Loja.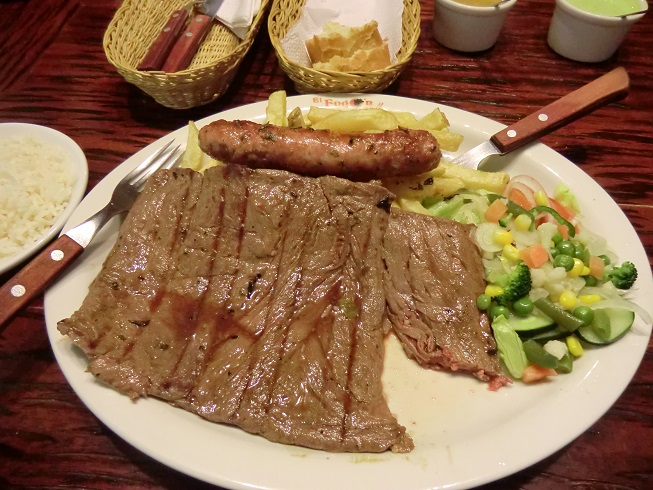 This is what you can eat at El Fogón Grill.
---
Thursday 2nd of July
05.27 We had an early breakfast today. It was so early that the hotel restaurant had not opened yet. We had a breakfast of the easier kind in the room, something that brings back memories from the early backpacking time when the first meal usually was ingested on the edge of the bed. Everything must be done early if you're going to get away in time. Our bus to Peru departs at seven o'clock.
06.24 We checked out from the hotel with its helpful staff but weak breakfast. The overall impression is still very good. Location and room standard was well above average. We took a taxi to the bus terminal north of downtown. Here we are now waiting to board.
06.37 Christer tried to visit a toilet here at the bus terminal. He first met a grumpy woman who pointed to another toilet which was locked. No good service this early morning.
06.48 We are seated on the seats behind the man by the steering wheel. It is soon time to depart
07.09 We travel through a morning tired Loja. Today's bus company is Loja Internacional, the international service from Transportes Loja. A man is trying to sell local music to us weary passengers. He plays different kinds of music on a CD player.
07.55 The bus makes its first stop of the day in Catamayo. This will be a fifteen minutes break. The sun shines and warms wonderfully. There are shouting vendors outside of the bus.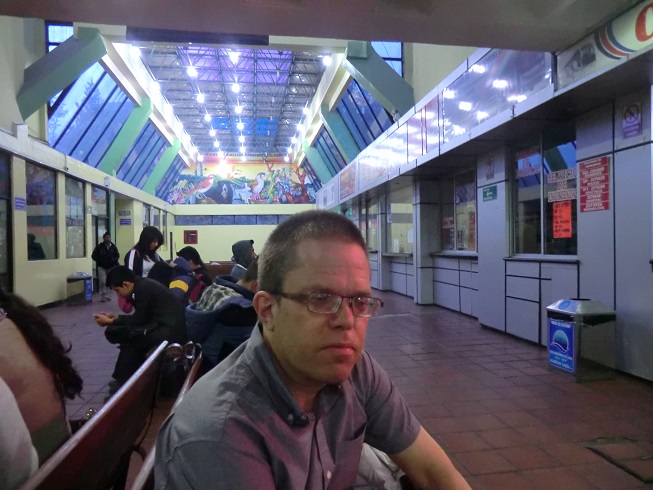 Early morning at Terminal Terrestre, Loja.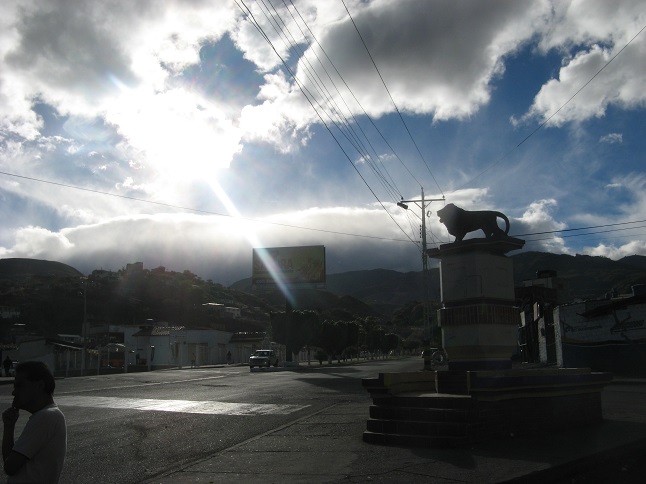 Departure at sunrise.
08.47 The road, the bus and we climb higher and higher. Windswept pine trees and some occasional cactus are lining our itinerary. The view is enchanting and the height feels in my ears. We travel towards drier areas and in the afternoon we should have reached areas that closely resembles to a desert, anyway precipitation wise.
09.42 A new stop has been made. We are in the small town Catacocha. Fresh and cool air comes in through the open bus door. Here everything is quiet. Some women try to sell food to passengers. The bus is parked in a slope.
11.00 It has now been four hours since we started. It is 47 km left to the border to Peru. The landscape becomes increasingly browner and drier.
11.34 The border comes closer and the bus is running slower on a winding road in the hilly landscape.
12.11 We are once again in a border area between two countries. Here in Macará follow the procedures and visits related to an area of this kind.
PERU

12.52 Now we are in Peru. We are currently in La Tina. It went smoothly to cross the border. We were asked about how long we intended to stay in the country before we were allowed to enter. We have received a stamped tourist card that is very important to keep track on. Hefty fines awaits if we lose the cards. On the good side is the fact that we don't have to pay VAT to hotels if we show the card when checking in. It proves that we are tourists, not residents. We are now waiting for the bus to roll on. We searched desperately for a toilet here at the border, but no such luck. We hope we will make it for a few more hours.
13.10 Just as quickly as we had come off, we stopped again at a control. A gentleman has come on board to check something, he is probably a customs official.
13.33 It is time for a new stop and a new control. In the grass / soil slope at the side of the road it is a small saint house. The saint has its own yellow staircase up to the house.
14.23 The environment becomes increasingly drier and browner. In a roundabout there is a huge a statue of a man. He has a hat on his head and a shovel in his hand. We have come to the Tambo Grande. The city is located at the border of the desert. At the roundabout, some old acquaintances vehicles move around. They are the old acquaintances from Thailand, tuktuks. Here in Peru they are called "moto taxi".
15.05 We are travelling on. The land outside the bus seems to be thirsty, in need of water.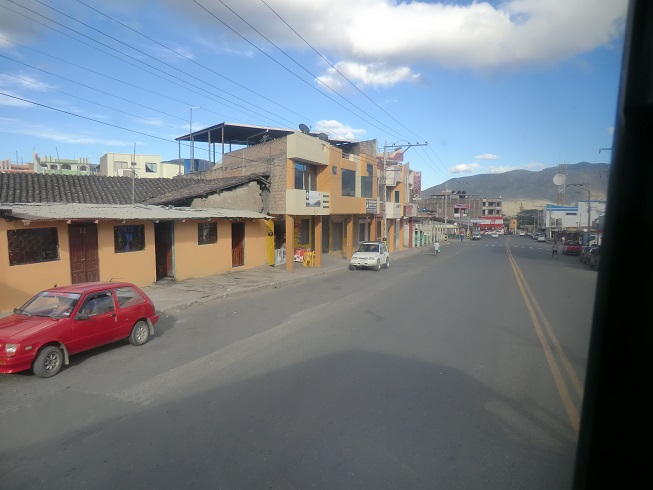 We are traveling through Catamayo.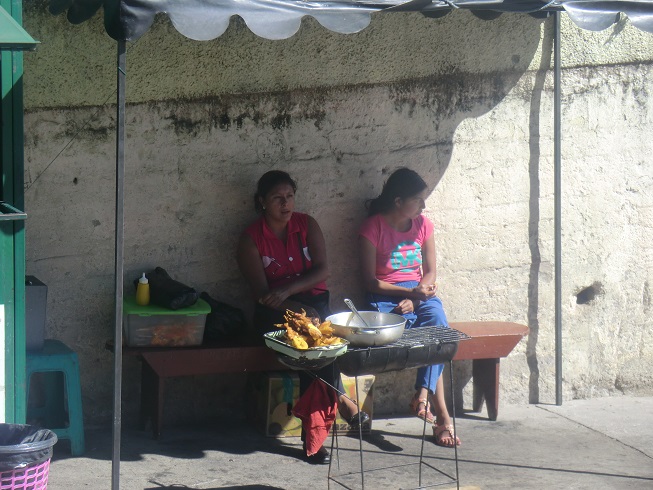 Female vendors in Catacocha.
It gets more and more dry outside our bus window.
16.15 The bus with its passengers has came to Piura, one of Peru's hottest cities. Christer followed the movement of the bus on Google Maps in his mobile phone, handy to know if you are where you think they are. The bus went on a detour but finally arrived at the bus terminal Ronco as we expected. We quickly went to the luxurious Costa del Sol (http://www.costadelsolperu.com/peru/hotels/piura) where we were checked into room 326. It actually felt good to walk after around nine hours on a bus. Now we wind down before we continue the day. The hotel we chose is clearly in a different class than we are used to during our travelling. We think we are worth it for a night anyway. This luxury also costs only about US$50 per person per night. At home, it had been four times more, at least.
17.00 The fatigue from the bus trip is gone. It is time to start thinking about how we take care for the remainder of the day.
17.45 We are revamped and perhaps even well dressed? Now, we have placed ourselves at the hotel's ground floor. We'll get a promised welcome cocktail, the Pisco Sour, a typical cocktail here in Peru.
18.41 We slowly drank the tasteful Pisco Sour before we went out from the hotel and withdraw money at the roundabout Ovalo Grau. Now we have access to the local currency which is called Nuevo Sol but usually just called Sol. He or she who wants to try Pisco sour will need 1,5 decilitre of Pisco, 1 decilitre sugar, 1 tablespoon freshly squeezed lemon juice, 1 egg white, some ice cubes and a few drops of angostura bitter. Beat/mix together Pisco, sugar, lemon and egg white. Pour into glass and drip in the angostura. This cocktail should be enjoyed quietly. This recipe is suitable for a party of four. We have now returned to our room again. Outside it is dark and there are lots of people in motion.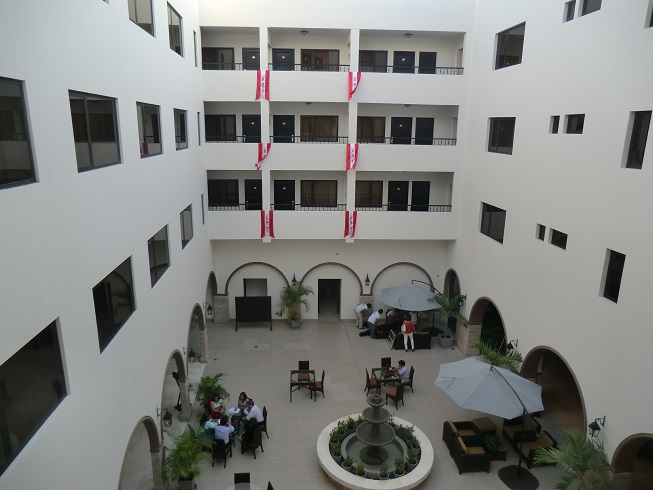 The inside of Hotel Costa del Sol in Piura.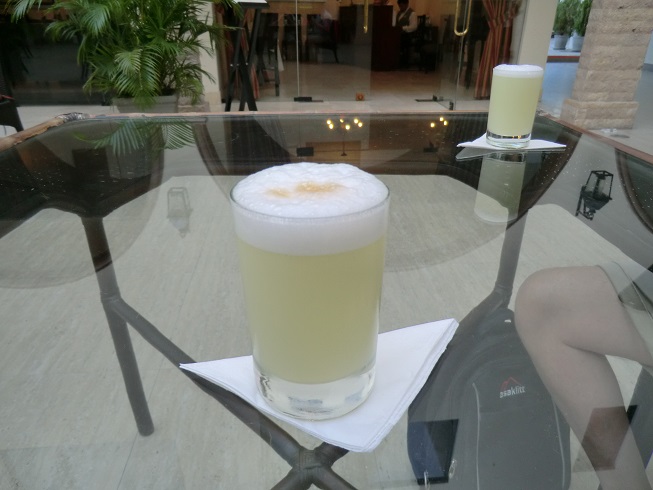 At arrival we got a free pisco sour as welcome drink. Thank you!
20.18 After a short rest in the room, we have now returned to the ground floor. It is time to have dinner at the restaurant here. Today, we have not done much walking. We have mostly been sitting in a bus or in our room.
20.25 We just heard the instrumental version of a song which I always thought was a Swedish song. At home it is often played around Christmas.
21.12 It was delicious food that was rounded off with coffee and a written evaluation of the whole concept around the meal. The service was great, so great that it almost became negative. When the waiter bows and constantly ask if everything is satisfactory, it will be more of a distraction than good service.
22.01 We did a short journey of discovery in the hotel room. We have among other things, a fridge with a mini bar.
22.40 Now we have tested the country's own soft drink Inca Kola. It has no classic cola taste. It tastes more like I first thought, foam candy. With some thinking, something like gooseberry or Swedish soft drink Trocadero. Inca Kola is extremely popular here in Peru. It's sold everywhere and is often used as a beverage together with meals. It was more popular than Coca Cola. To end this Coca Cola decided to buy Inca Kola and they are now competing with themselves in the soft drinks market. At home in the Eeuropean Union it is apparently prohibited because of questionable substances, dyes. Now it is time to turn in.

Inca Kola, the most popular soft drink in Peru.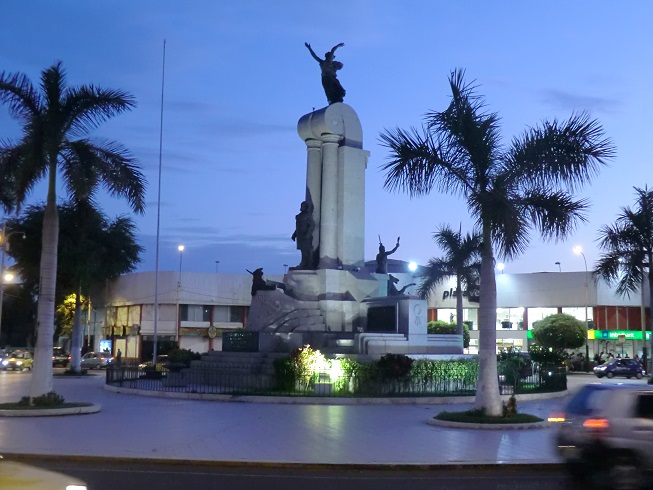 Ovalo Grau, a roundabout outside our hotel.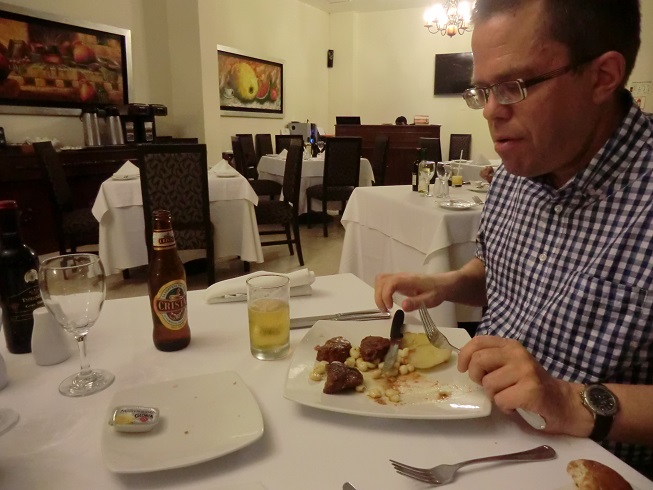 Peter is having dinner at Hotel Costa del Sol.
---
Friday 3rd of July
08.00 Now we have slept in half of the countries in South America. It will be celebrated with a buffet breakfast.
08.50 The celebration and breakfast eating is over. A small walk with important purchases is what we immediately need. During breakfast we saw two American guys. They turned out to be missionaries, Mormons. These have a tendency to pop up here and there when we travel the world.
09.54 Now we have been on a minor sightseeing walk in Piura. We have managed to buy bus tickets from the company Linea and to take some photos. The city is nice but the traffic isn't. The drivers seem to think that they come in both first and second hand. We walked to the Plaza de Armas and looked among other things at the cathedral there. The square was extremely clean and well maintained. We have had visitors in our room during the time we been out walking. Someone has been in here and made the beds, changed towels and cleaned!
10.17 It is time to enjoy another of the things that our hotel offers. We will immerse ourselves in the rooftop pool. To visit a pool is a tradition on our summer trips. We have been swimming in the pool almost every summer since 2005. The only exception was in 2009. When we got up on the roof, we got a quick guidance about the spa, gym, swimming pool from a white dressed man. We will not have enough time for more than a short visit here though.
10.24 This was both cool and refreshing. Now we will just dry before the day continues, hopefully as planned. It is really hot in the sun and from the roof we can also look out over Piura and everyday life down there.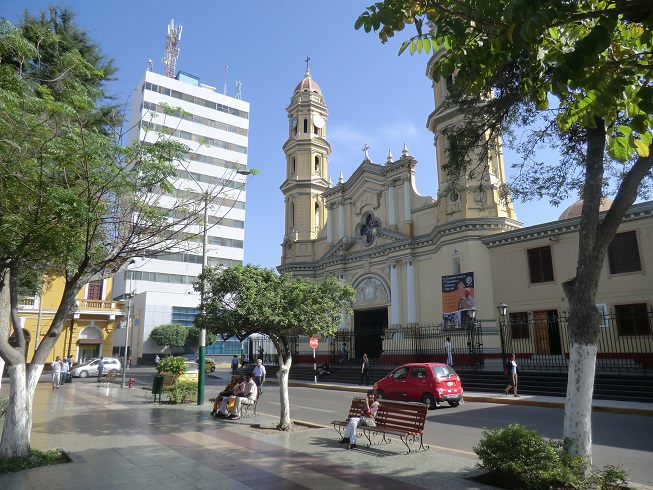 Catedral de Piura at the very clean Plaza de Armas.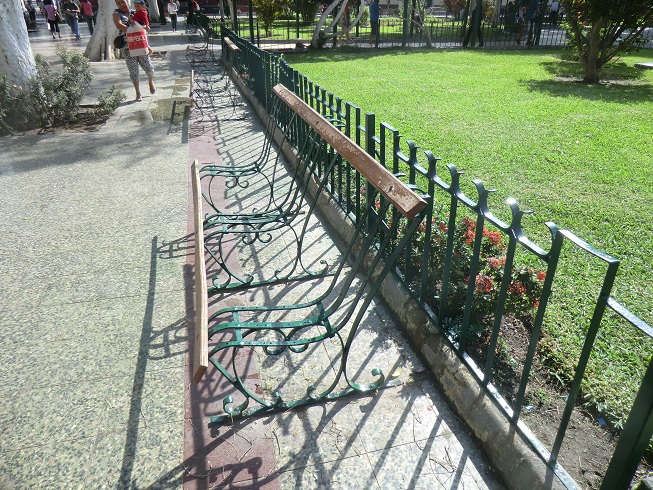 It´s hard to sit down here.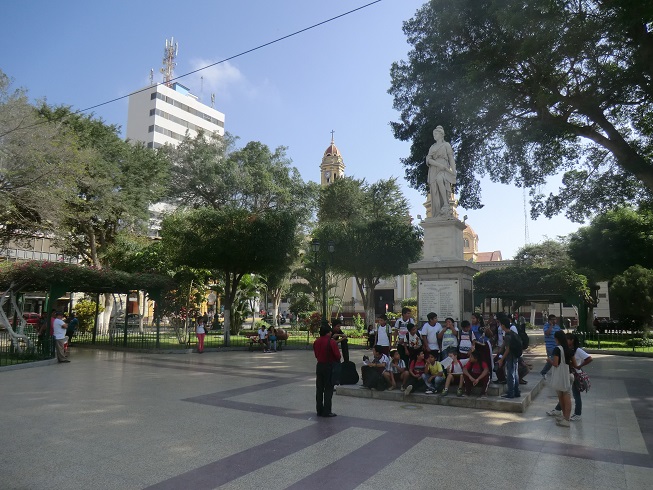 Group photo with unknown participants.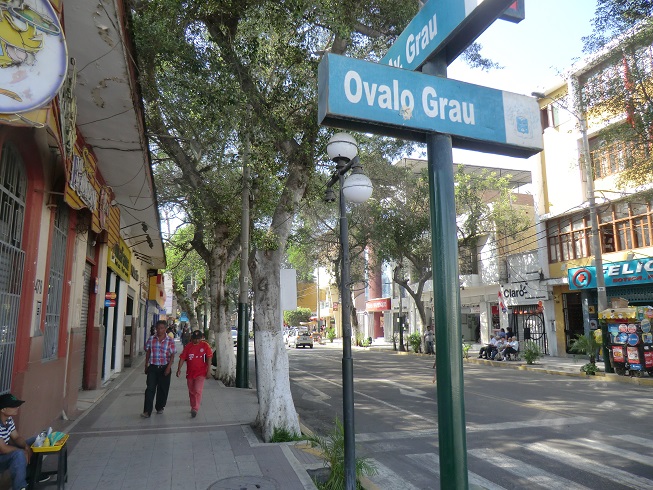 Avenida Miguel Grau, Piura.
11.03 We dried in a flash in the warming sun. Now we will start to pack before further travel. We are back in our room.
12.12 Things are moving around today. We checked out of our beautiful hotel and walked to the bus terminal. It is great that we walked the same stretch without packing when we bought the tickets this morning. We were therefore able to go the shortest possible path with our luggage.
12.26 Here in Peru, it is common that there is no central bus station. Instead, each company has its own small terminal. This is the case with Linea and in their waiting room where we now have sat down.
12.41 A small drama unfolds here on the Linea bus terminal. A young boy, about 8-10 years, appeared in the waiting room. He had brought with him a bundle of twigs with green leaves, He went through the waiting room and went out through the exit. He was stopped when he wanted to get back inside. He was not allowed to enter. He has argued with a guard, the two were separated by a hostess who mostly smiled. As soon as this was done, he started arguing with the smiling hostess. He and the twigs has been carried away and now a police officer talks to him. I suspect there is something wrong with the leaves.
13.08 Two bitter policemen came into the waiting room. They looked for a while on some of the boy's leaves before they went out again. We started queuing for the bus, but where soon sent to the baggage drop by one of the security guards. The guards have arm bandages that says SS. There is probably a different meaning than those in Germany in the 1930s. The man at the luggage place was asleep. He woke up and took care of our backpacks. We returned to the queue. There we showed our tickets and were checked by a man with a metal detector. We got on the bus and went up one floor to find our seats. We didn't not find any so we went down again and look, there they were! Unfortunately, we can hardly see anything through the window because they are covered with some kind of plastic that will prevent the sun to shine on the passengers.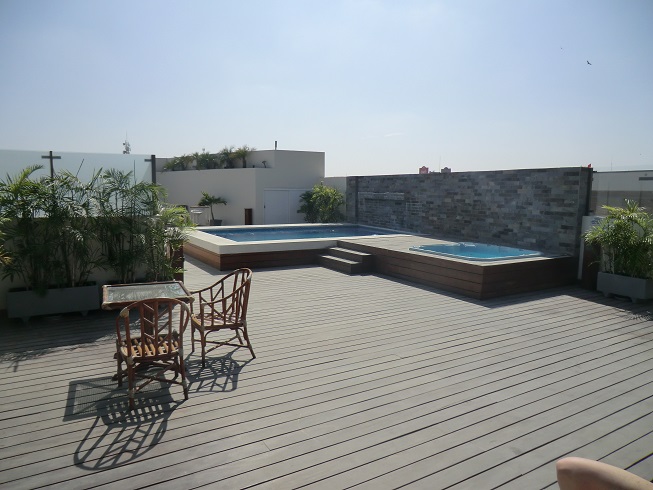 We have a swimming pool on the roof.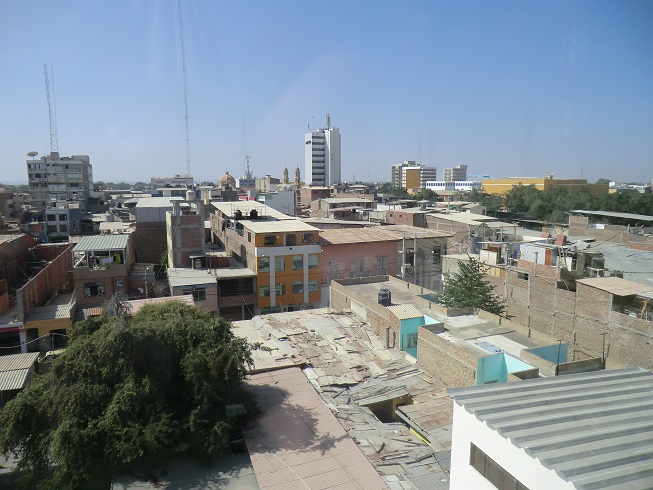 From our hotel roof we can look down on Piura.
Peter is on his way to the Linea bus terminal.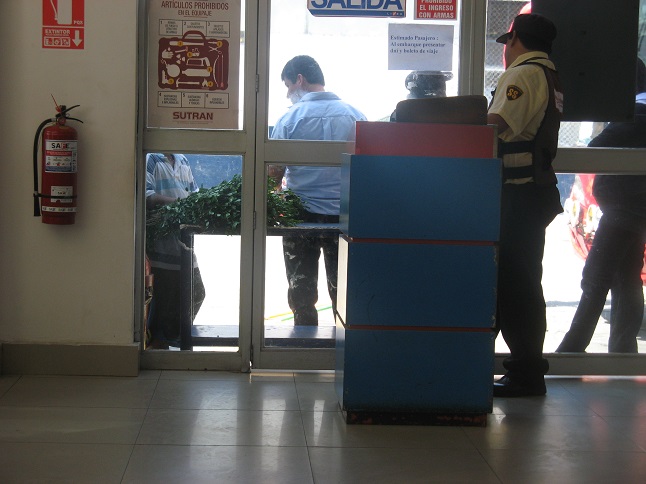 A weird boy with green leaves caused some trouble.
13.43 We head south through a desert landscape. It is not sand dunes and caravans of camels outside. It is instead a flat, dry landscape with low trees and shrubs. That's about all we can see through the window. We are, however, very comfortable in a fantastic coach.
14.43 It is becoming drier and drier out there and drier in my throat. I cannot do much about the former. The latter can be combated with some bottled water. Peru's coast is one of the driest areas in the world. The reason is the cold water current that flows off the coast.
15.22 We made a short stop in Lambayeque, a city that gave its name to the region we are in. Some passengers got off. Here are some interesting museum but not much more. We head on.
16.41 Chiclayo is the name of the city we reached and stepped out in. We are now in a lowland area, only 27 meters above sea level. Hotel Villa Rita (http://www.hotelvillaritachiclayo.com) is the name of the hotel and we checked in to room 401. Here in the room there are no less than four beds. On the bus station there was information about taxi rates and a kind taxi gentleman who drove us here for four new suns, about US$1,50. The taxi driver was an employee of the bus company Linea, very orderly. He also thought that we had chosen a very good hotel.
17.38 Now when we are settled into the room, we will do the same with the environment. We need food and we need to buy something to drink.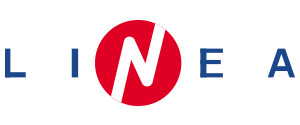 Linea is a good bus company to use when you are traveling around northwest Peru.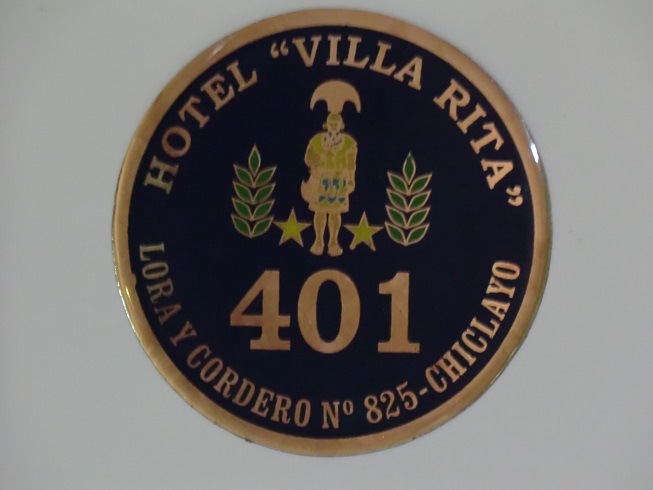 Beautiful sign on our hotel door.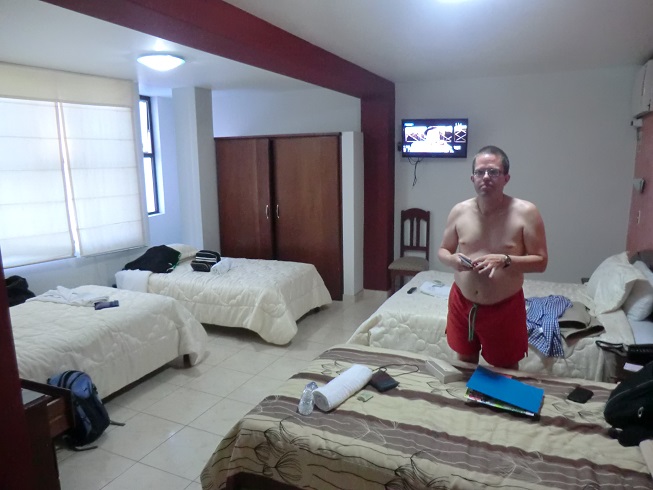 Peter inside our big room at Hotel Villa Rita.
18.21 We left the hotel, found the Avenida Balta where there were hordes of people walking along the street. Now we regrouped to the restaurant El Rancho. It is time to order the evening meal. Outside the restaurant window, cars are passing ever so slowly. The traffic situation is crowded.
19.06 The food here is very good, grilled meat at good prices. The service was fast and efficient.
19.59 On the way home, we were looking for a place that sold soft drinks. We found places that offered sports shirts, shoes, wheelchairs and leg prostheses but we were not able to find something to drink. Eventually we were, as so many times before, rescued by a late night pharmacy. There was, however, no change on my 20 sol note. I had to add Christer's bottle before it was OK to shop. Our television show the bronze match in the Copa America and Peru is in a 1-0 lead over Paraguay.
20.18 It is joy below our window and it is even more joy on TV. Peru has just scored 2-0 in the bronze match. We just heard a honking car.
20.48 Peru won and wild joy erupted on the pitch. Now we are looking at a TV program where they also celebrated fully.
22.06 We have taken it easy. The greatest effort has been done by Christer. He has trimmed his hair with the cutting machine he brought with him. However, it was not easy since he first happened to insert the battery upside down. We had to fight it for a while before it got loose and later was inserted in the correct way.
22.28 The night and needed sleep are approaching. Tomorrow we plan to see more of Chiclayo, a city with about 600,000 inhabitants.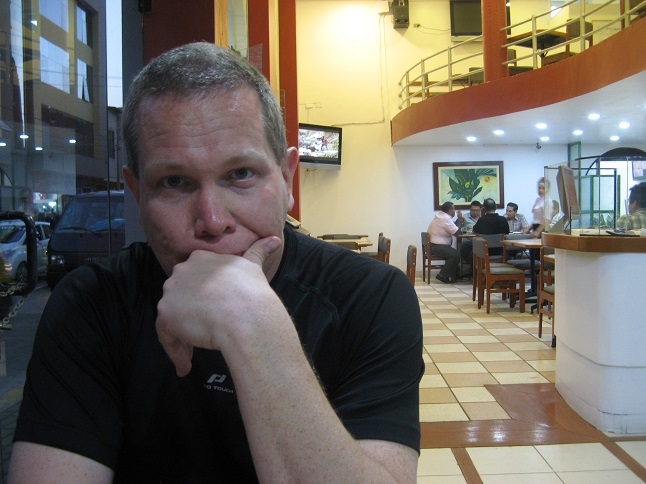 Christer is waiting for tonight´s dinner at El Rancho.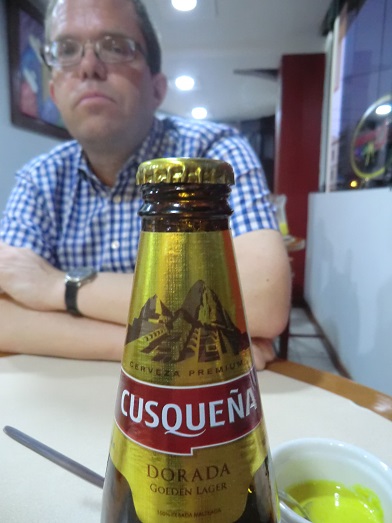 Should I drink it or not?
---
VIDEOS
---
You can see 55 photos from June 30 in this photoalbum.
You can see 50 photos from July 1 in this photoalbum.
You can see 22 photos from July 2 in this photoalbum.
You can see 31 photos from July 3 in this photoalbum.

---
---
---

---