---
Text: Peter Johansson
Editing: Christer Lundstedt
Photos: Christer Lundstedt, Peter Johansson
Videos: Christer Lundstedt
---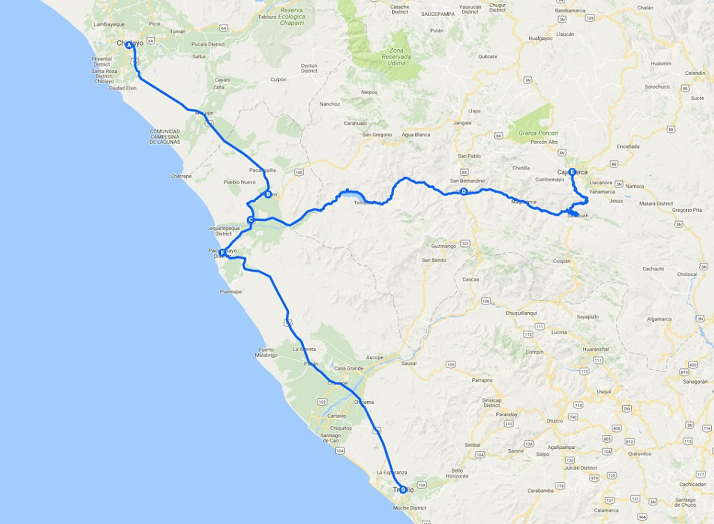 ---
Saturday 4th of July
08.25 It is a new day for us here in Chiclayo, Peru. We have slept one night in two of our four beds here at Hotel Villa Rita (http://www.hotelvillaritachiclayo.com). There are things planned for today. We will act in a slow pace. It is after all weekend. Moreover, it is holiday.
09.15 The foundation is laid. We had breakfast in the small breakfast room on the ground floor. Now, the leftovers from yesterday and this morning will be removed. We will, once these tasks are done, get familiar with our new home city which actually is Peru's fourth largest city.
09.55 What good are great plans and the offer of a beautiful city when we can't get things going. Now we must behave. It is time to leave the hotel and get something done.
10.28 We locked our door and headed out for some new adventures. A first stop was made at the nearby main square, Plaza de Armas. A lot of people are moving around and we have photographed what was worth to take pictures of. For example, we looked at the cathedral here, built in the late 1800´s. The square was actually not completed until 1916. Chiclayo is in other words, a fairly new city compared to many others here in Peru.
10.36 It continues to go according to plans for us today. We have, without problems, walked along the Calle Colón and then found the bus company Linea's terminal on Avenida Bolognesi. This is also where we arrived by bus yesterday. It was not as easy to cross the avenue with its heavy traffic though.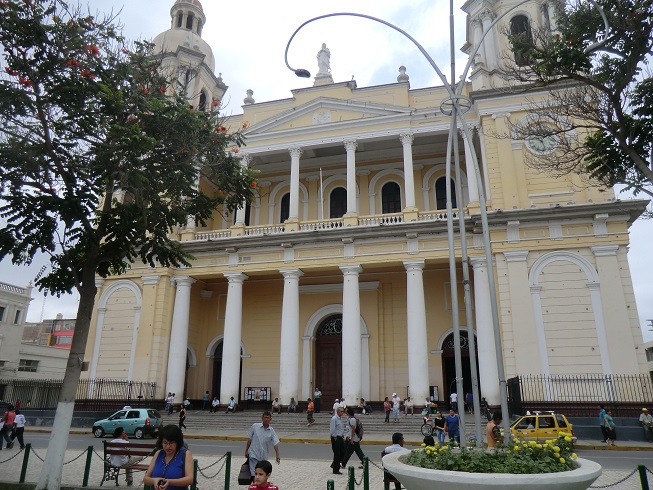 Catedral de Chiclayo, designed by Gustave Eiffel.
Plaza de Armas, Chiclayo.
10.45 It went just fine to do the things we needed. We bought bus tickets for our onward journey from here tomorrow. It is convenient to travel with the same bus company again. Now we just needed to leave the passport numbers. The rest of the information about us are already stored in the computer system. Another good thing is to buy the tickets well in advance. Then you can choose the best seats. We have chosen the seats 1 and 2 at the front of the bus's upper floor. It will be perfect.
11.11 We have searched for a new shopping mall. We have found Open Plaza, but it's not the one we're looking for. We will, after I finished writing this and we had a rest and cool down a bit, keep looking for the right one, the larger Real Plaza, which among other things, is reported to have a Starbucks Coffee.
11.35 We left Open Plaza behind us and moved on to Real Plaza which was only a little farther away. Real Plaza is not unique to Chiclayo. There are malls with the same name in eighteen locations in Peru. Here we searched for, found and entered, as usual, Starbucks Coffee. Here we have, as usual, been given new names. Christer, who for the sake of simplicity, calls himself Chris, is now known as Kres. My new name is a little unexpected, Bitcher. Incidentally, this is the 25th Starbucks country for us during the last ten years of travel.
12.18 First it was thought that we should bvuy our groceries at Plaza Vea individually. Then Christer came up with an better idea. We have not planned to buy that many products, mostly something for tomorrow's bus trip. Now I sit as a guard during Christer´s shopping. I guard our always unwelcome small backpacks. Christer is in the huge store Plaza Vea which offers food and much more.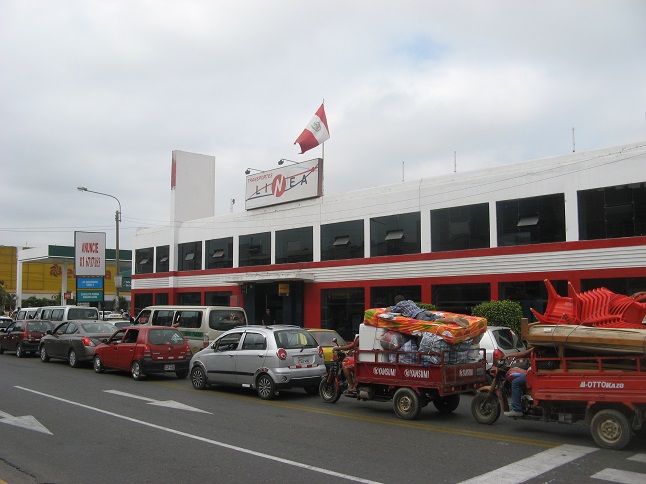 Here is where we´ll buy bus tickets.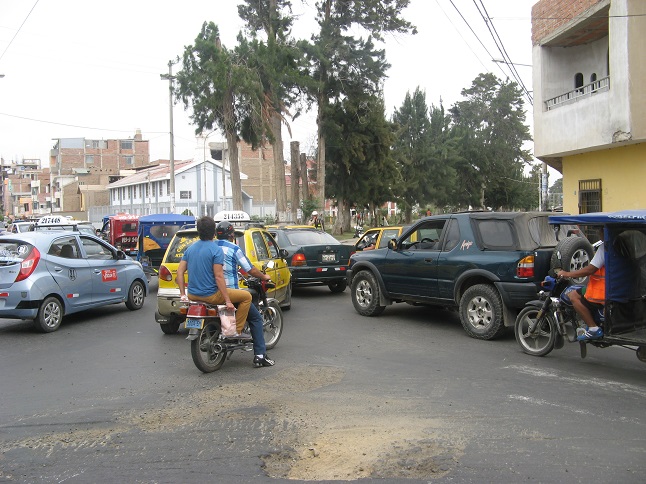 Typical traffic situation in Chiclayo
12.38 Things went both good and bad for Christer. The bread he had bought had to be left behind. It should apparently have been be paid for at a separate counter in the other end of the huge supermarket. We have, without any bread, walked towards the centre. Luckily, we found a small shop where a large bag of bread was waiting for us. It now belongs to us.
12.47 After a lot of planning and smooth navigating, we have managed to pass the chaotic intersection where we finally managed to end up on Avenida Bolognesi again. Now we walk slowly towards the centre where an upcoming lunch is scheduled. We believe we can find some restaurant alternatives along Avenida Balta.
13.16 Romanita is the name of today's lunch place. It isn't what we had planned. We searched for a popular restaurant named Romana. We thought we found it and ended up here. Romanita means "small Romana", perhaps it is the same owner of two restaurants? This is certainly crowded but cozy and there were many dishes to choose from. A man from Lima is being interviewed on the TV. He has a Swedish sounding name, Eduardo Oesterling. The interview seems to involve buses or some traffic situation.
13.52 The food here was just ok. Christer tried a dish called "lomo a la macho". We believe it was beef with seafood sauce.
14.36 We have just returned to Hotel Villa Rita again. It is time to do nothing for a while, perhaps enjoy a small siesta.
15.22 We showered and feel a bit lazy. On our TV is the final of the Copa America football, Chile vs Argentina. For the second year in a row we see Argentina in a major football final. It did not go that well for Argentina last year in the World Cup final. We'll see how it ends this time.
16.00 It has not been the most goal filled match we've seen. In fact, not a single goal has been made yet.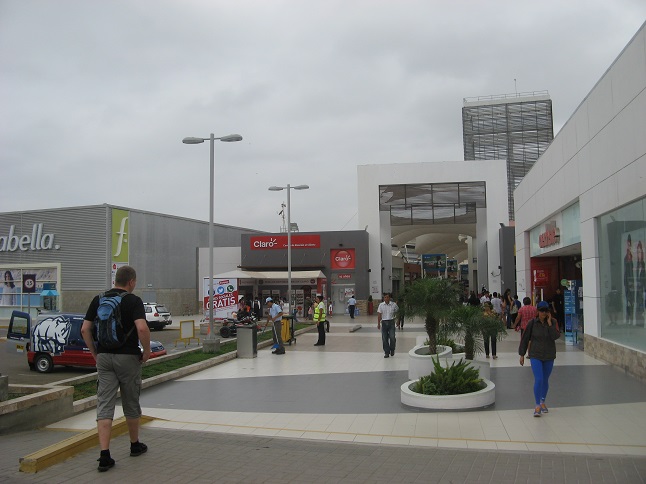 Christer is entering the wrong shopping mall.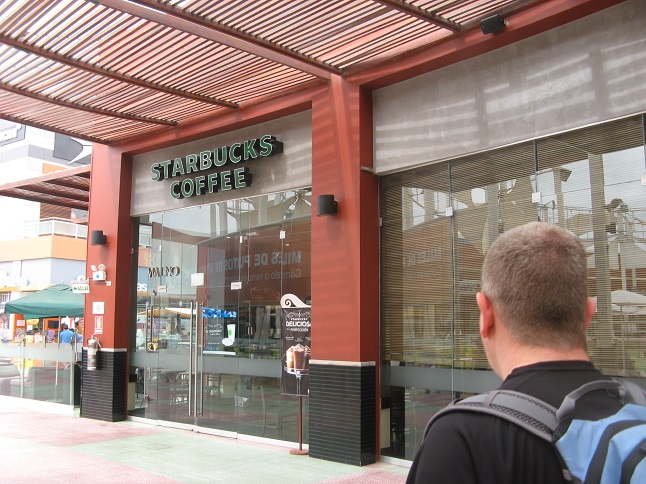 New try, better luck this time. We found Starbucks.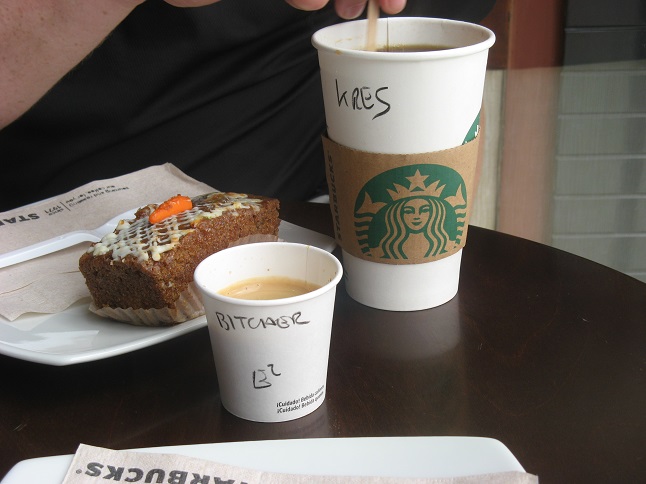 Our new Starbucks names.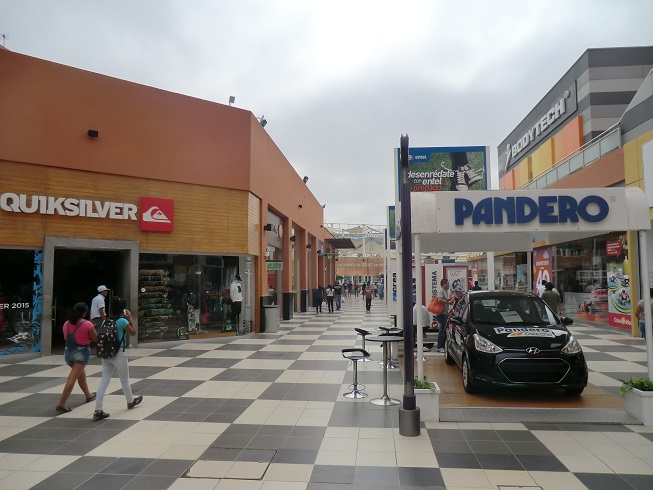 Real Plaza Shopping Mall in Chiclayo.
Avenida Bolognesi, Chiclayo.
17.04 Regular playing time is over and not a goal has been made. Ahead of us now, just as in last year's World Cup final, extra time.
17.37 Because of the lack of goals during regular time, there will be a penalty shootout to determine this year's Copa America champions.
17.49 It took only seven penalties. After these Chile led with impregnable 4-1. One Argentine goal, one ball over the crossbar and one was saved. Chile are for the first time champions in Copa America. Argentina has for the second year in a row, lost a major final.
19.16 Enough of football, TV, reading and other stuff. It's time to get reacquainted with an old friend of mine since over 46 years, namely food.
19.38 A small child is looking at fish in an aquarium, on the TV, there is a mystical entertainment program and we wait for dinner here at El Rancho. We were so pleased yesterday that we returned to the same restaurant again. Sometimes that happens.
20.53 The food and service was excellent tonight as well. Now we are not hungry anymore. Now we have come back to our room.
21.54 It is sometimes nice to do nothing. An important part of these trips is to digest the day's events and experiences in a hotel room while watching something useless on television, or discussing some irrelevant things.
23.17 We are sipping on an evening beer each and have planned for tomorrow. Then it's time to wave goodbye to Chiclayo. We will also leave the coastline and return to the Andes.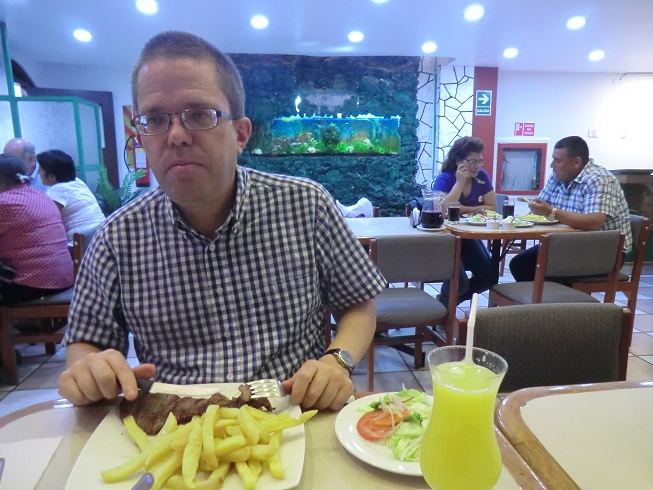 Peter is having dinner at El Rancho the second evening in a row.
---
Sunday 5th of July
07.57 This is a day full of events. Today is the Greek referendum regarding their financial future, today the prestigious cycling race Tour de France starts and we travel further through Peru.
08.46 Our breakfast room offers both good breakfast and security. The range of food and drinks is varied and the breakfast room is, according to a sign, safe during earthquakes.
09.17 With filled stomachs, we are ready to travel on. We have had a pleasant stay here at the hotel and Chiclayo is a nice city although a bit poor on attractions.
10.14 Everything was cleared with the hotel, payment, leaving the key and such things. We paid for our two nights and an expectant taxi driver was sitting in an armchair and waited for instructions from us. We left Hotel Villa Rita, to the staff and the driver's surprise, on foot. Now, we´ve walked to the Linea bus terminal. On the way here we discovered that the streets were closed off from car traffic and a military parade appeared near the Plaza de Armas.
10.45 On the second level and at the front of the bus that will take us to Cajamarca, that's where we are now sitting in seats 1 and 2. Here we get digital information about the bus speed, the outside temperature and whether it is available to use the toilet or not. Fortunately, no windows are covered with plastic film on this bus. We will be able to look out during the trip. Good!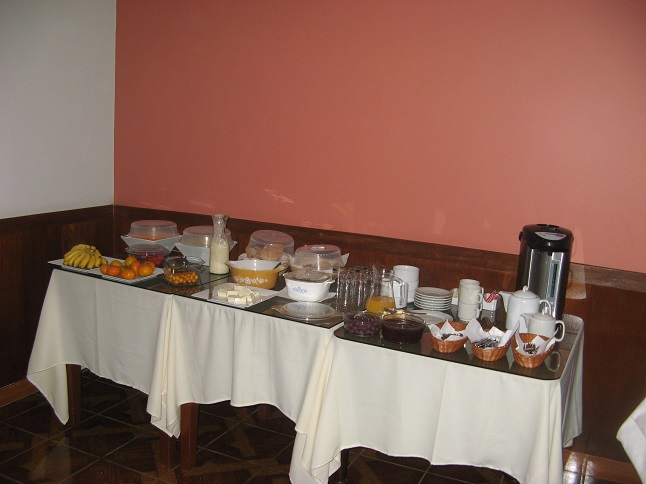 A good breakfast buffet at Hotel Villa Rita.
11.01 Our bus passed the same streets that we walked on yesterday on our way to Real Plaza. Coastal haze is covering the sky today. In winter the coast of Peru often is covered by a haze/mist called garua. The mist in these dry regions means that the air is so moist that it almost feels like light rain but visibility is often good.
11.14 We have left Chiclayo behind us and travel through the desert with a speed of 90,4 km/h. Not even a local patriot might think that these parts are beautiful. Desert and mist in close co-operation does not create a charming setting.
12.17 It is no longer as flat and dry as before. Here in the outskirts of Chepén, we have seen some greenery, trees and a small hill, mountain.
12.43 We have left the Panamericana (Pan American Highway) and Route 1 for this time. We left it in Ciudad de Dios and now travel east towards the mountains. After having traveled along a narrow road for a while, we are now in San Isidro. The bus honks as we pass a tuk-tuk (mototaxi). Three, forgive me five motorcycles overtake us. OK, now it was two more. On the back of them were young people with school bags.
13.11 We have left the flat, cultivated landscapes behind us. We continue up through the mountains. To the right there was just a dam and now we are seeing pent-up water in the reservoir Represa Gallito Ciego. There are beautiful views around us in all directions.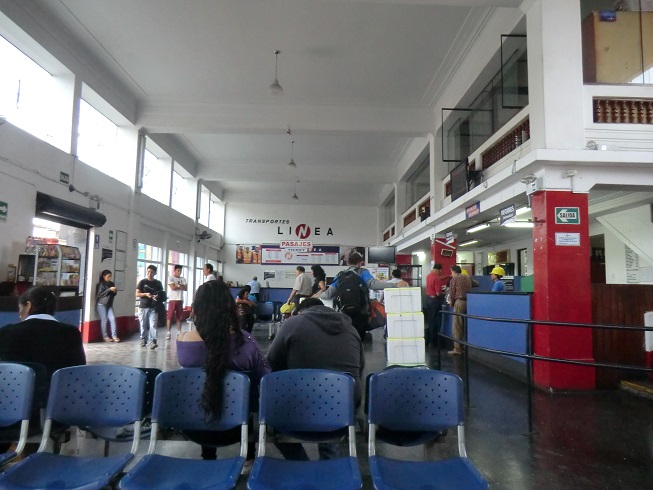 We are waiting to enter today´s bus from Linea.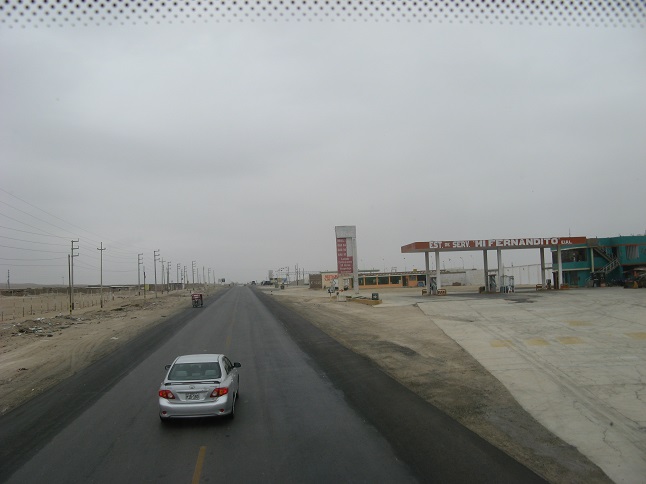 Outside Chiclayo the dry desert landscape starts.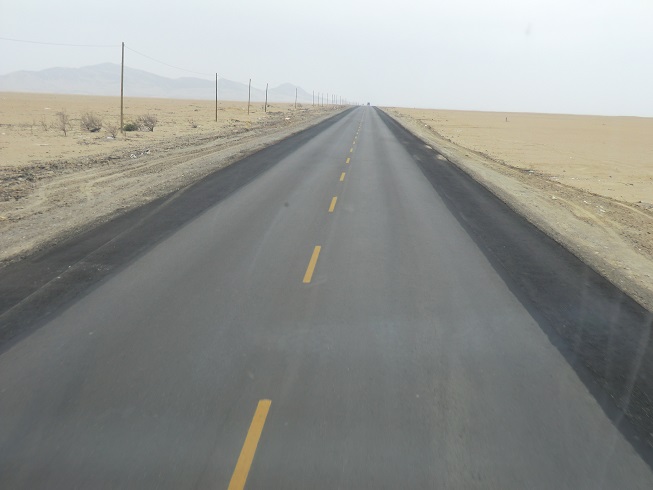 Straight road in a rather boring surrounding.
13.56 We just made a stop at the roadside restaurant Yatahual. Other coaches have chosen to do the same. Dry mountain sides with an occasional cactus are towering above us. The name of the village is the same as the restaurant. Here food is for sale and passengers have an opportunity to purchase drinks and fruit.
14.10 We emptied the bladders and I bought and ate a delicious, green apple. It is wild and beautiful here but now we will continue our journey towards greater heights. We want to arrive in reasonable time.
14.47 80 kilometres in length and about 2000 meters in altitude ramains of today´s trip. We are right now in the small town Chilete, the only town of reasonably size between the coast and Cajamarca.
15.29 The Andes show its green parts for us. Green mountains are beautiful mountains.
16.01 The bus climbs further up in the Andes. Fast is something you cannot say about the bus trip, we move on in about 35 km/h. It is difficult to drive fast on the serpentine roads and it is reassuring that the bus driver takes it easy. On roads like these you need a reliable bus company that puts safety first. Linea is such company.
16.11 Dogs and some kind of hen meet us when we roll in and stop briefly in San Juan. We are now 2225 meters above sea level.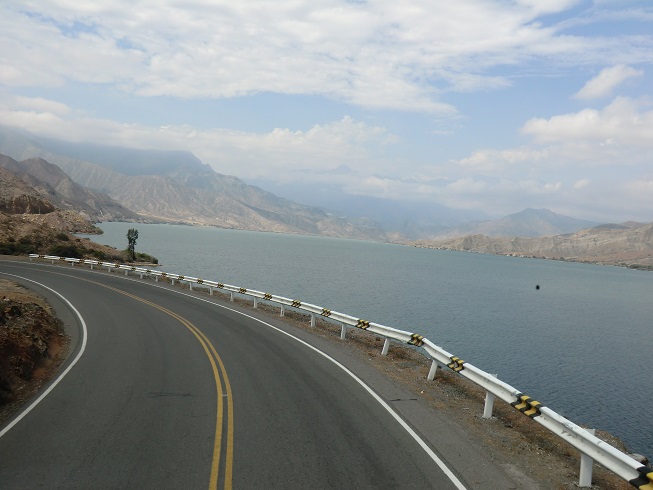 Represa Gallito Ciego, a manmade lake/reserve.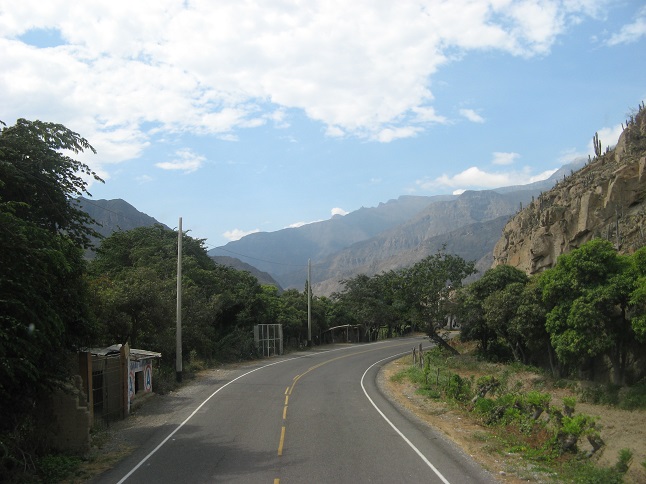 On the road to Cajamarca.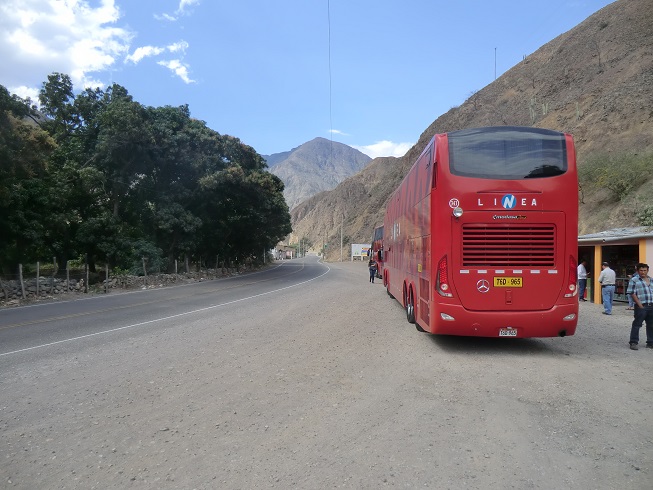 Our bus has made a stop in Yatahual. Toilets and food is available.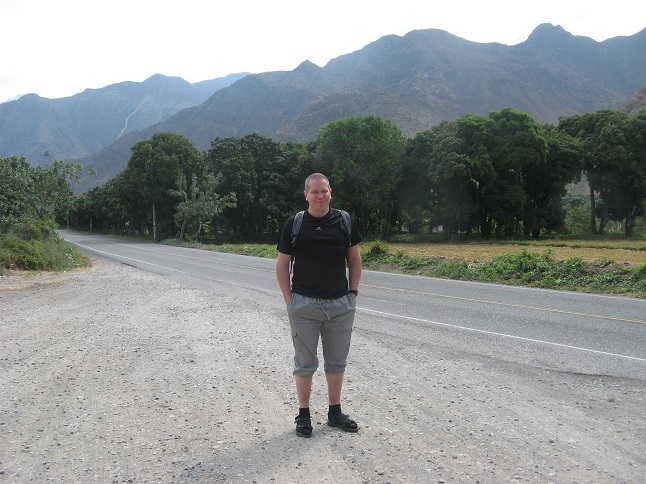 Christer is taking a short walk in Yatahual.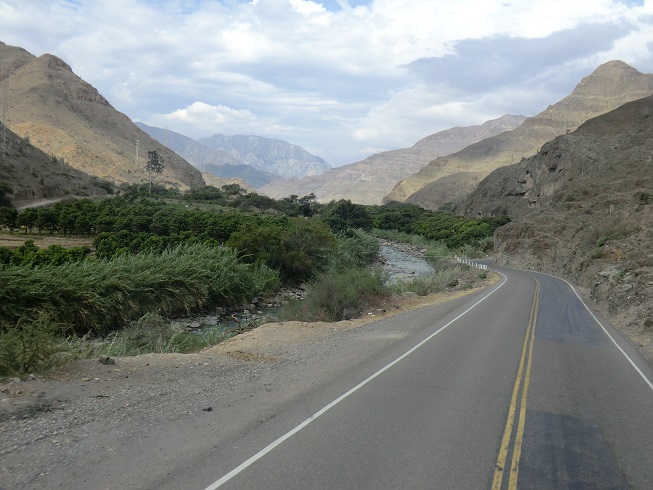 Beautiful landscapes near Chilete.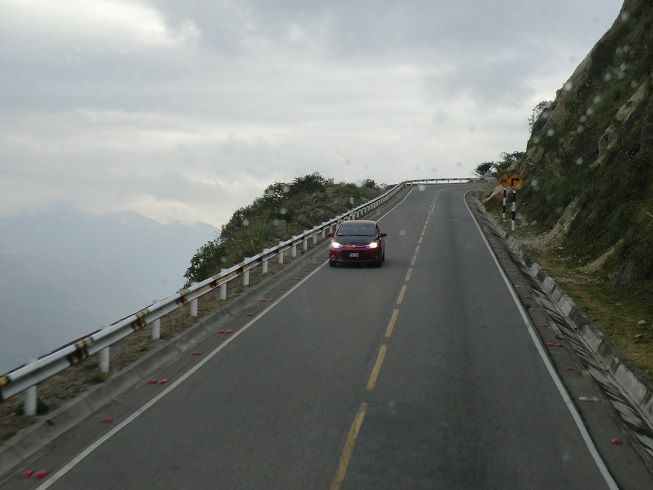 Interesting roads on high altitude.
16.53 We are overtaking another vehicle at the respectable height of 3050 meters above sea level. The final goal is close now. We can actually see it through the clouds, mist, fog.
17.55 We have come to Cajamarca, a beautiful city located in a valley between the surrounding mountains. It is quite fascinating that about 226 000 people live here given the fact how difficult it is to get here by land. We took a taxi from the Linea bus station to the hotel. A young guy drove us while he was listening to an exciting football match on the radio. This time we'll stay in the White House, Hotel Casa Blanca. The building also houses the small casino Atlantis. Well I don't know if casino is the right name, it is in any case a lot of slot machines here. The room we got is number 107. The number of beds is two. One stands in a small cozy alcove. It was so well hidden that Christer had time to point out that we indeed ordered a room with two beds before we saw it.
18.10 In the Greek referendum, the Greek people voted no for the international lenders' support package. At least according to the preliminary results.
19.30 Our room is nice but all the comfort in the world cannot do anything about the ancient human problem, hunger. It has, unfortunately, started to rain. We hope to find a reasonably nearby restaurant because of this.
20.06 This evening we will have dinner at Don Paco, a restaurant around the corner, a quick rush in the rain and we were there. Now we got the beer glasses in, good! They are still empty though, not so good!
21.01 We are home after yet another meat dinner. Parts of meat still remain between the teeth. Out on the town are people hiding from the rain. We did manage to sneak into a small shop and get hold of evening beverages.
22.07 To remove the meat from the teeth went well. We are very pleased with our accommodation, a cozy room in a colonial old building with a lovely courtyard. Over the next few hours, we shall work on eliminating the fatigue we feel. A good night's sleep is needed and bodies need to adjust to the altitude here in Cajamarca, 2750 meters above sea level.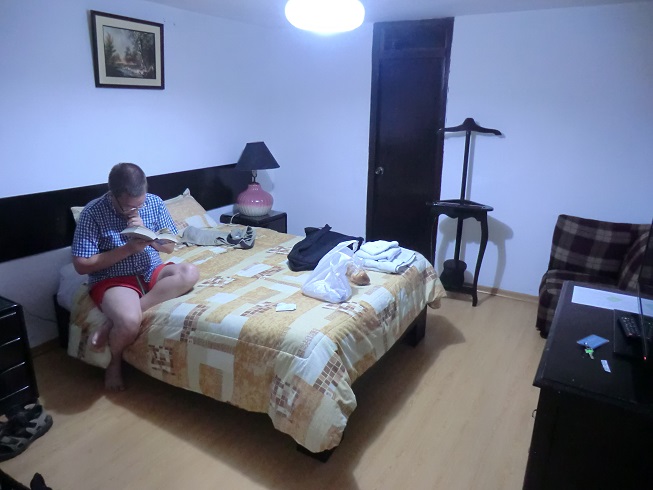 Peter in our room at Hotel Casa Blanca.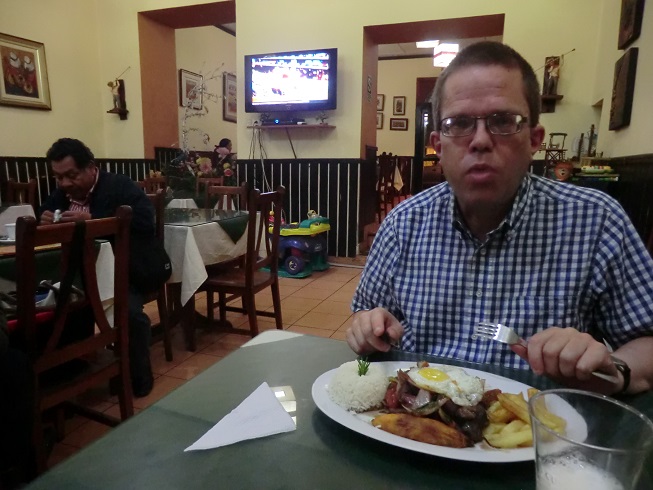 Peter is having dinner at Don Paco´s restaurant.
---
Monday 6th of July
07.44 A new week has begun. It is divine to sleep here at the Hotel Casa Blanca. The bed is good, pillows are comfortable and the air in the room has just the right temperature. I hope that the divine continues throughout the day. To begin with, we will examine the quality of the breakfast.
08.45 The bodies have been soaked and dried off. Now we will, when the clothes are in position, go out from the room to fill up with coffee and what other things the breakfast might contain.
09.04 Eating breakfast overlooking the nice courtyard is not bad. Moreover, it was a tasty breakfast that was brought to us. The kitchen is a staircase down and the waitress had to work by carrying breakfast trays up and down the stairs. The whole building breathes old, bygone times.
09.49 Now it's time to leave our room to take a closer look at this historic city.
09.57 We have stayed at various places over the years and it is easy to believe that we tested the most. This is certainly the first time that we have to walk through a casino to get to and from our room. Yesterday's rain has moved on. A clear blue sky with sun awaits us today.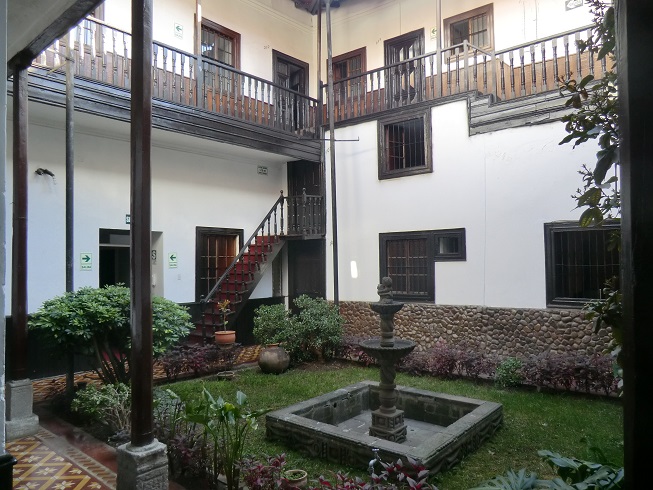 The courtyard at Hotel Casa Blanca.
We need to go through the casino Atlantis each time we go to or from our room.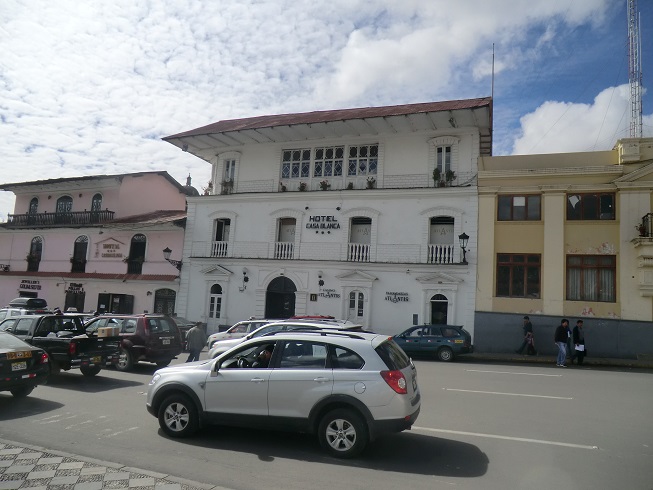 Hotel Casa Blanca, Cajamarca.
10.09 It's time for today's first bench break. In front of me is the city's cathedral, the Cathedral of Cajamarca. Its construction began in the late 1600´s and recently was completed, no rush here. It has no steeple, something that is common here because the Spanish crown demanded a tax for each built steeple. Behind me is the Plaza de Armas and a warming sun.
10.14 It is time for some history. It was in this city, Cajamarca, that the last Inca, Atahualpa was held captive by Spanish conquistadors in 1532. The demand for his release was that one room would be filled with objects of gold and two rooms would be filled with objects of silver. That meant 6 tons of gold and 12 tons of silver. The ransom money was worth, at today's prices, around US$180 million. These requirements were met. Then Atahualpa was sentenced to death, among other things, of causing his brother's death. Everything was orchestrated by the Spanish who persuaded the Inca to get baptized and therefore had the honour to be garrotted instead of burned on a stake. There were, as I said earlier in this travel journal, more gold and silver collected but that was hidden away, instead, probably somewhere in Ecuador.
10.22 We have visited the bus company Linea's ticket office here at the Plaza de Armas. Tickets are arranged for the trip from here tomorrow.
10.46 There are plenty of beautiful churches here in Cajamarca. Many are really old. Almost every street corner offers a beautiful sacred building. We have particularly seen and photographed the beautiful Iglesia de San Francisco.
11.30 It's time for another Real Plaza Mall. We are thus in a shopping mall a good distance from the centre. It required a lot of walking and map reading before we found the right path. In here, we have exchanged dollars to Peruvian Nuevo Sol, visited an ATM and sat down on a new Starbucks Coffee. Today we are called Peter and Criss, things are getting better!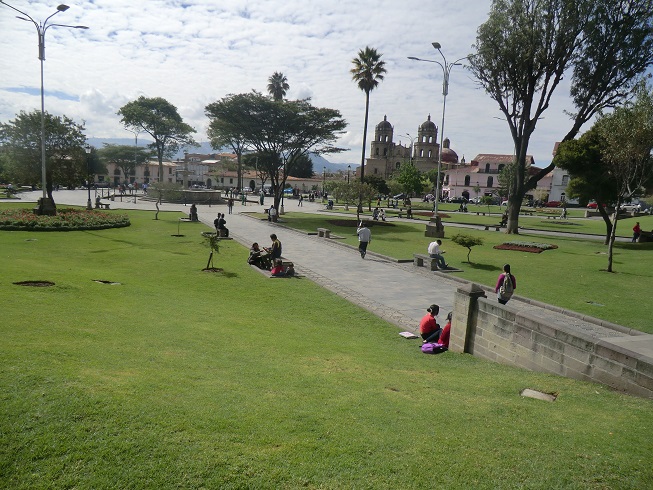 Plaza de Armas, Cajamarca.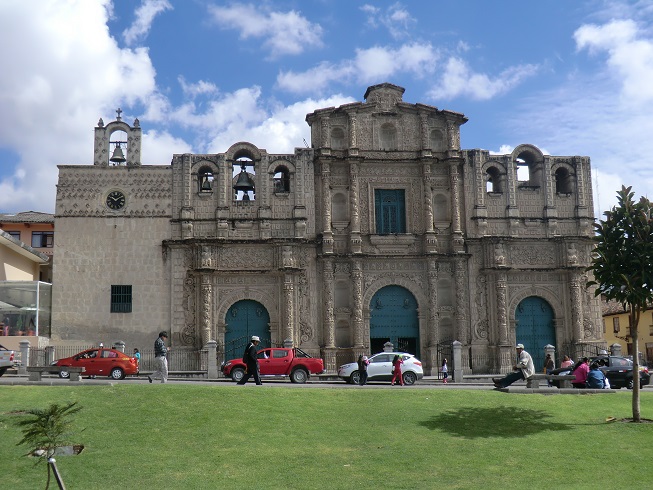 A cathedral with no steeple, Catedral de Cajamarca.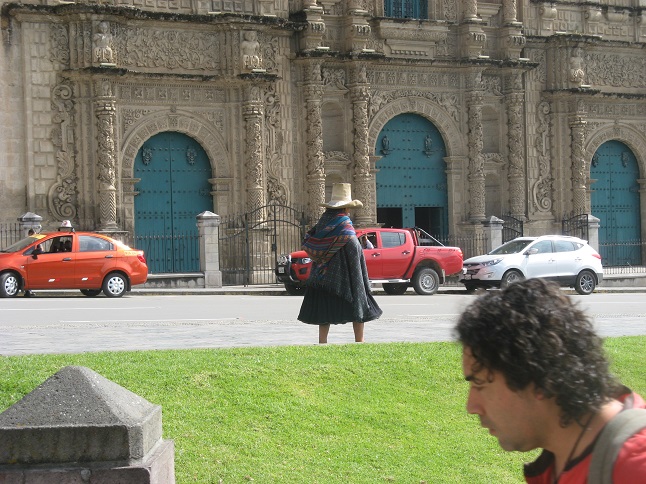 A local woman with a typical hat walks by.
Iglesia de San Francisco.
12.54 After coffee, snacks and related internet surfing we walked from the mall and out on the streets and squares of Cajamarca. Now we have made a short stop at the side of one of the streets. Atahualpa looks down towards us from its elevated location. We see the last Inca in the form of a statue in the middle of an intersection. Óvalo El Inca.
13.17 On the way home from Real Plaza, we stopped at a square, Plazuela Amalia Puga, where we made a short video clip and then also saw the only remaining building from before the Spanish arrival, El Cuarto del Rescate. It was in this small building that Atahualpa was imprisoned while waiting for the ransom would be paid. We are all but locked up in our room right now and who the heck would pay a ransom for us?
14.11 Now it's about time for a lunch. As soon as we left our temporary home, we will look for a suitable restaurant nearby.
14.49 The hunt for a lunch restaurant has so far given the crowded restaurants, closed restaurants, an open restaurant with plenty of room but they were sweeping the floor (long wait for food) and a funeral parade. Consider that we in the past often saw newly married, now we see the newly dead. It will in all cases lunch at the Chinese restaurant Hong Kong in the Plaza de Armas. The restaurant's TV shows Peru's version of "Ask the doctor", Pregúntale al doctor.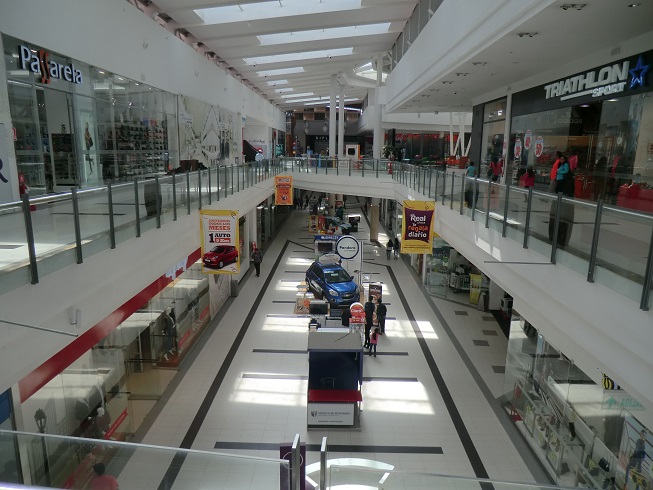 Real Plaza can be found in Cajamarca too.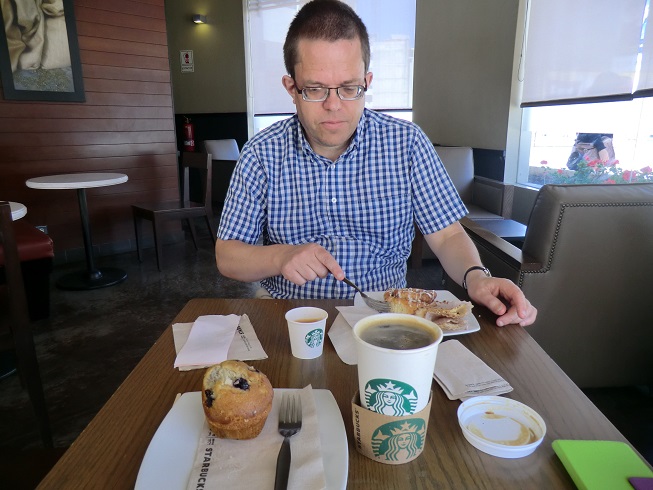 Coffee break at Starbucks.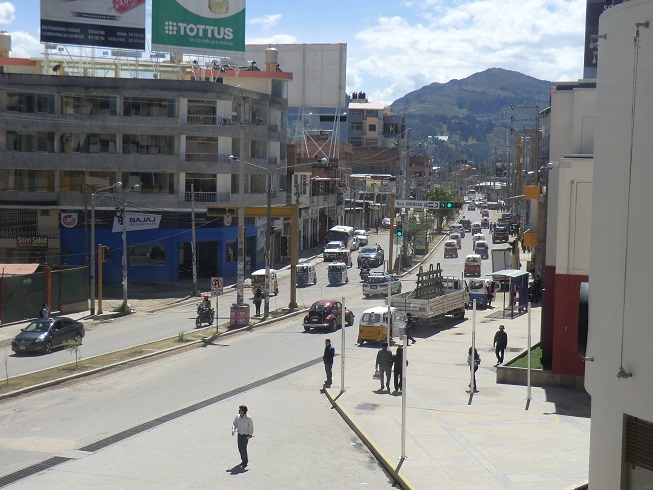 From Real Plaza we look out at the nearby streets and buildings.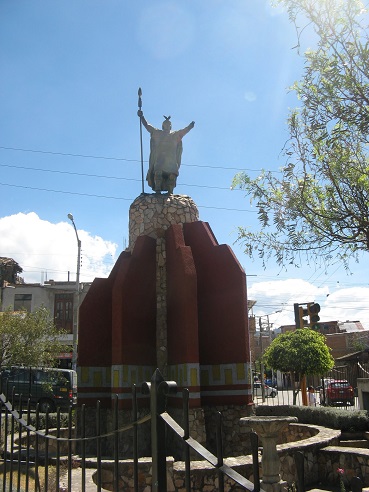 Atahualpa is standing in Óvalo El Inca.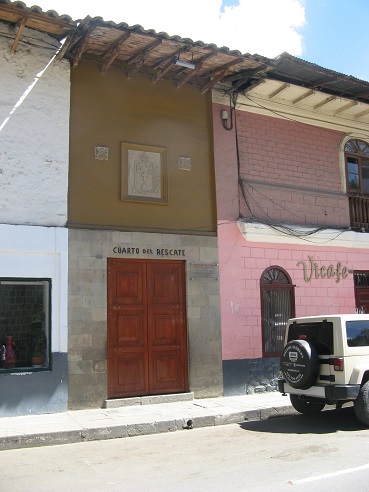 Cuarto del Rescate, where Atahualpa was held prisoner in 1532.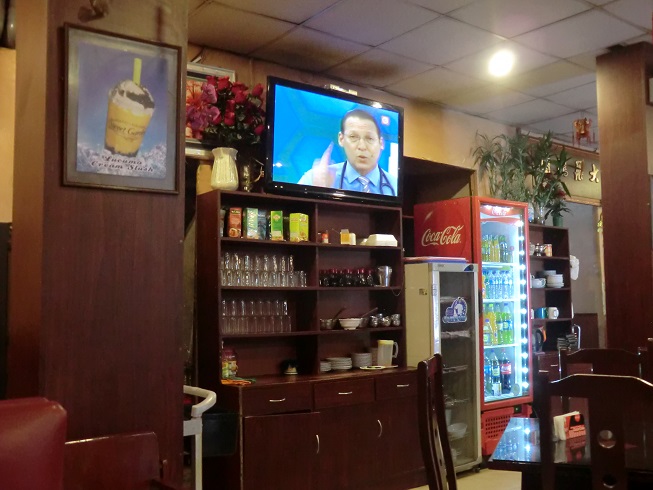 We watch "Pregúntale al doctor" while waiting for our food.
15.30 The lunch here at Chifa Hong Kong is finished and paid for. It is cheap but silly to dodge the bill, especially when prices are low. There's more to discover in our city. The next goal is to climb up to the viewpoint of Cerro Santa Apolonia to see the city from above.
15.49 We are struggling when walking up a long stone staircase. Right now we collect breath and lower our pulses. We do not have the same stamina at high altitudes as we have at sea level, it is clearly noticeable. We have to take it somewhat quieter than we normally do, move a little slower, take deeper breaths.
16.00 We are sitting down with Iglesia de Santa Apolonia's church behind us. There are worse places than this to sit on. The view of Cajamarca is wonderful. This location was used during the Inca time when the ruler wanted to look out over his troops. Somewhere Peruvian panpipe music is being played and some dogs are located in the staircase and enjoy the view and the dog life in general. There are plenty of vendors and souvenir shops here but it is liberating free from the nagging and obtrusiveness. As a tourist you can calmly look at what is available to buy.
16.37 We have bought some clothes to the respective nephews. This and the fact that we managed to get down the stairs again, we celebrate now with coffee at Café Q'illpu. To get into this, we started by trying to force some locked glass doors. A female tourist pointed and we found the right entrance. Outside lies the small square Plaza Belén and the church area El Complejo de Belén. It includes a statue of a woman with four breasts. It refers to a nearby town where it is particularly common to have many nipples.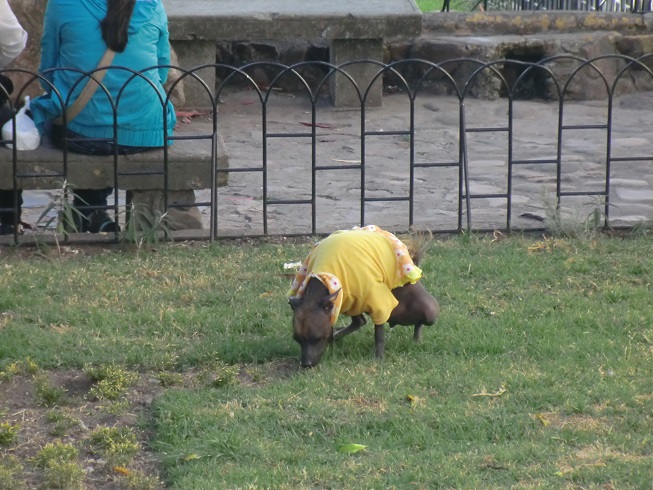 Some dress up when going to the toilet.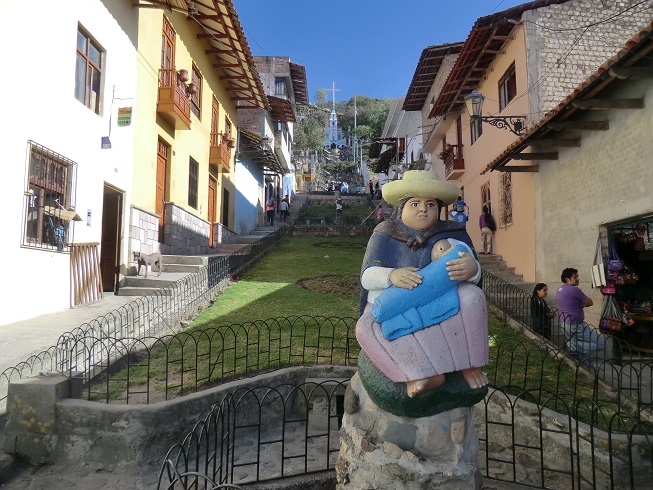 The stairs leading to Cerro Santa Apolonia.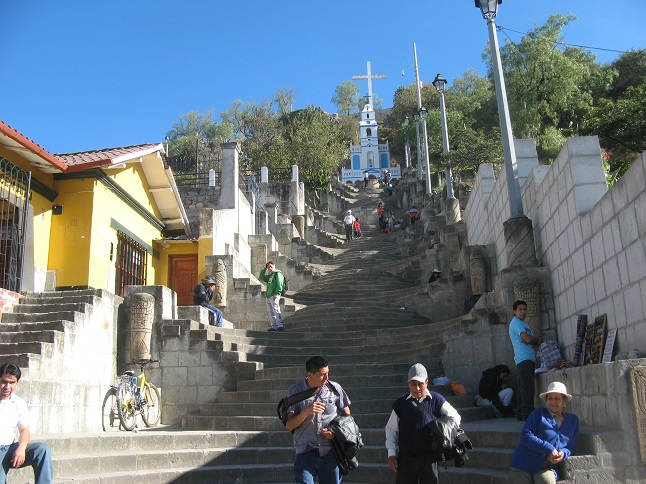 The climb is soon over.
Christer with Cajamarca in the background.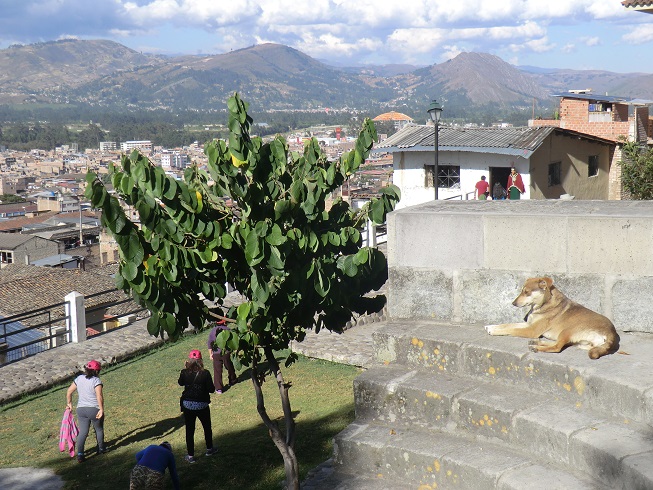 A dog is enjoying the view.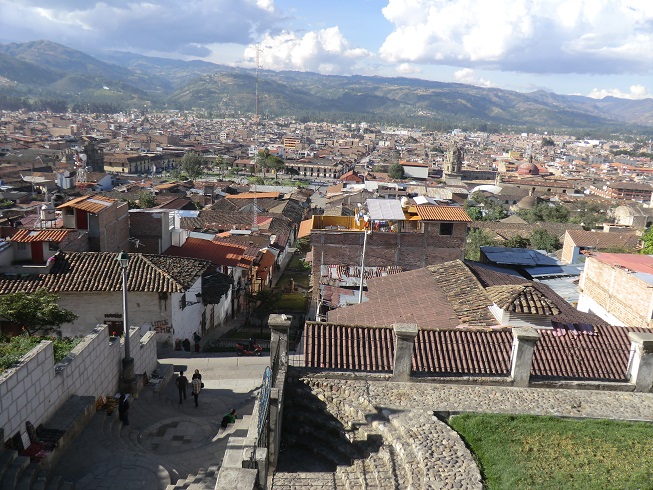 Cajamarca
17.12 Now we have come home to the White House (Casa Blanca) to rest the bodies and wash the clothes that until now has surrounded the dormant bodies.
18.38 A lot has happened today. We have had time to see much of the city which is the most attractive on the trip so far. Now we are preparing for tonight's dinner.
19.40 We felt tired after an intensive day so we rested for a while. The clothes felt dirty so we washed. We feel hungry so now we go out with a rested body and clean clothes.
20.18 The dinner hunt had a beginning that was frighteningly similar to the lunch hunt. Either it was closed where we wanted to go or was it more or less full. A band played outside the beautifully lit church Iglesia de San Francisco. Now we have finally found a restaurant. We now have a window table at the popular meat restaurant D´Cava & Parrillas. Now some backpackers passed outside the window and we got bread to our table.
21.25 The day ended as it began. It was indeed divine food. We left the restaurant overjoyed. Before we went into the hotel we saw and heard fireworks that lit up the evening sky for an unclear reason. Now we're ready for tomorrow, we think, we plan, we reflect.
22.47 We are preparing for sleep. Tomorrow we lower ourselves down to a lower altitude again.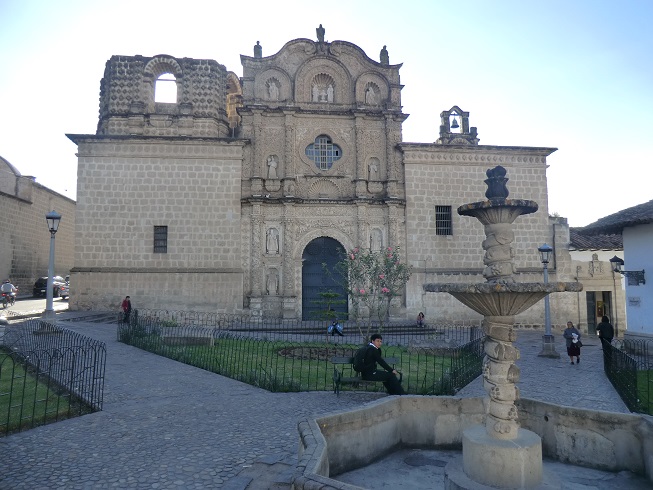 El Complejo de Belén, Cajamarca.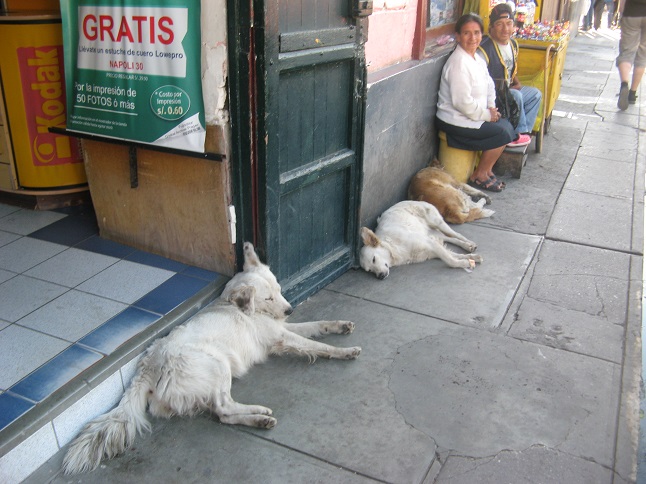 Some dogs live a good life.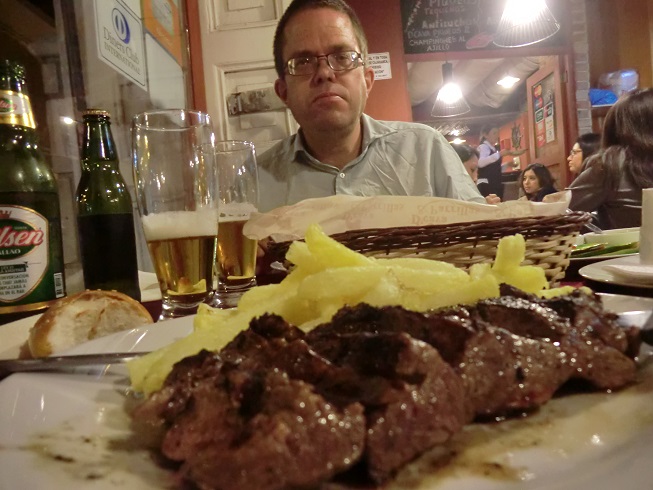 Peter is having a delicious dinner at D´Cava & Parrillas.
---
Tuesday 7th of July
08.09 Ten years have passed since we boarded a bus to leave Europr for the first time on these summer trips. Since that journey from Istanbul to Izmir in Turkey, there have been a number of trips in other parts of the world. We have managed to be in over 50 countries outside of Europe so far. Ten years goes fast when you have interesting trips to look forward to, enjoy and document.
08.52 Noises and voices are heard from outside. Here, in room 107, you only hear the sounds of packing. We pack some of the belongings before it's time for breakfast.
09.16 Yet another tasty breakfast has been enjoyed here at the Hotel Casa Blanca. Now we prepare for checkout and departure.
09.47 We have once again checked out. Now we are sitting in a lobby and await our ordered taxi. A small parade with children carrying balloons passed right outside the hotel. The police are involved and have blocked the traffic for the parade. In both Ecuador and Peru, it seems very important to occasionally wander through the streets and play music and carry signs with various messages.
10.07 The taxi arrived, we left the lobby and stepped into the vehicle. Outside the hotel ten police officers with transparent, high shields waited. I do not know why they were standing right there. We went with the taxi to Linea´s small bus terminal and have now checked in our backpacks. Here tourists have gathered, including the Hispanic speaking, but most likely European couple we saw at Café Q'illpu yesterday.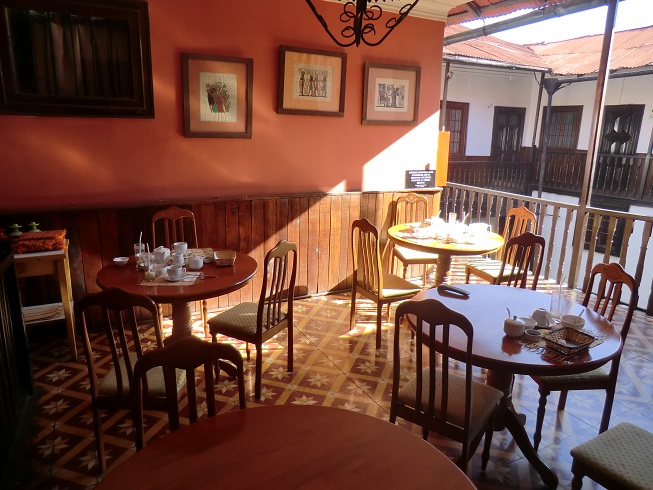 The second and last breakfast at Hotel Casa Blanca.
10.39 Someone next to me on the bus is is laughing pleasantly and catchy. Our new journey has begun. We leave Cajamarca with a bus from the company Linea. This has, as mentioned, been the best city and accommodation until now. Shortly after the bus started, something began which seem to be common on the Peruvian buses. A film was launched on TV, this time some form of action movie with screeching tires and eternal shootings. A quiet and comfortable bus trip would have been preferable.
11.02 We gaze down towards a cultivated and inhabited valley. Next to us are a few fluffy white clouds hovering.
12.02 We keep on rolling downwards. The slopes at the side of us are steep and in places cultivated, a strong effort by the locals. We have also seen people with packing on hikes up the slopes where we thought only mountain goats dared.
12.28 There has been an unexpected early food stop at Oshin´s restaurant. It's really just a large shed at the side of the road. I have bought three green apples here. Christer's plan to have small lunch with him and instead eat bananas along the way has failed. The bus did not stop at the same place as in the journey to Cajamarca. Here it is completely free from bananas.
13.07 We continue to go in the opposite direction as the trip to Cajamarca. Apples are indeed a great lunch. It both fills the stomach and takes away the thirst.
14.04 The landscape has flattened. Small mountains and greenery surround us at the moment. We travel parallel to some blue-green waters.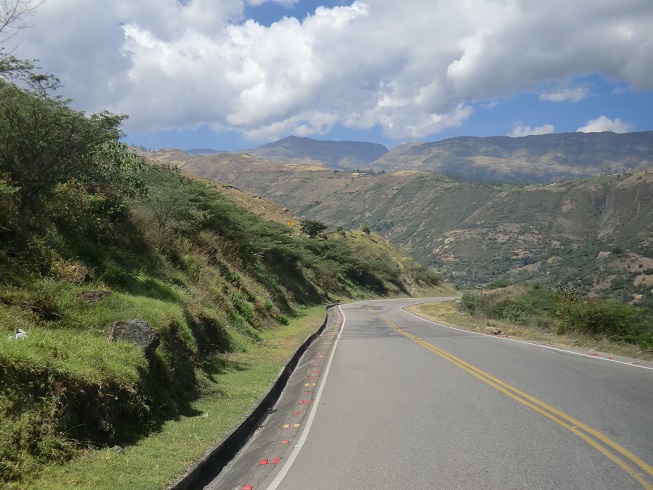 We are traveling downhill this day.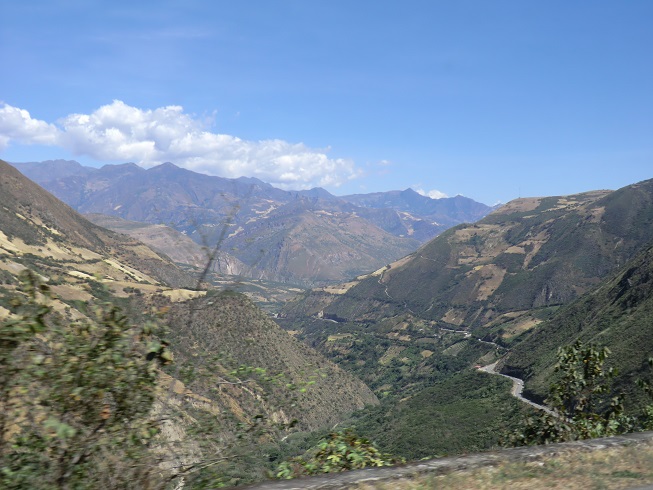 We always have beautiful views around us on bus trips in the Andes.
15.09 Outside the bus, it is now flat and dry. Inside here it is humid and hot. I am about to develop some interest in hot, cooked food and a nice and cool place to sleep. Hopefully it will eventually be offered.
15.20 After a short stop at the bus station in Pacasamayo we are now on the road again. The internal as well as external factors are the same as before. We now travel along the coast again. The journey is going south.
15.39 We have found what may be one of the worse jobs we can imagine. Here in Pacasmayo is the desert, non-existent rain and a creepy mist from the sea when it comes to climate and weather. Now if you have not had enough of sand and dust so you can always apply for a job at the cement plant Cementos Pacasmayo. Here everything is dusty, the trees, the buildings and I wonder if the workers are also covered in dust and sand, probably. At least their cars are.
16.20 Almost an hour has passed since the latest analysis and notes. On both sides of the bus extends endless fields of meters tall green plants. In the distance to the west, we can see some mountains.
16.52 Since about fifteen minutes ago we have stood completely still here on the road. Further on ahead is a police car across the road. Outside the bus, is our bus host walking around. There is no oncoming traffic either. What is going on?
17.07 An accident has probably occurred. As usual, people have left their vehicles to find out what has happened. Scores of curious people have walked past our bus. We have seen the same phenomenon in Sweden in similar situations. Why cannot they just calmly sit still and rely on the police and other to control the situation?
17.14 The oncoming traffic is running. Among the first vehicle was an ambulance with flashing blue lights and sirens. Our lane is completely stopped. However, the police car has moved slightly.
17.26 The traffic got going for us. Pretty soon, we passed over a bridge. There, with the rear end out through the railing, was the wreckage of a burned out small truck. Was this the accident that led to the stop? Most likely.
17.49 Here and there along the main road, we see have painted walls with the names of persons and/or parties who are candidates for the 2016 presidential election. Cholo, Toledo, PPK and Alan are examples of what is written.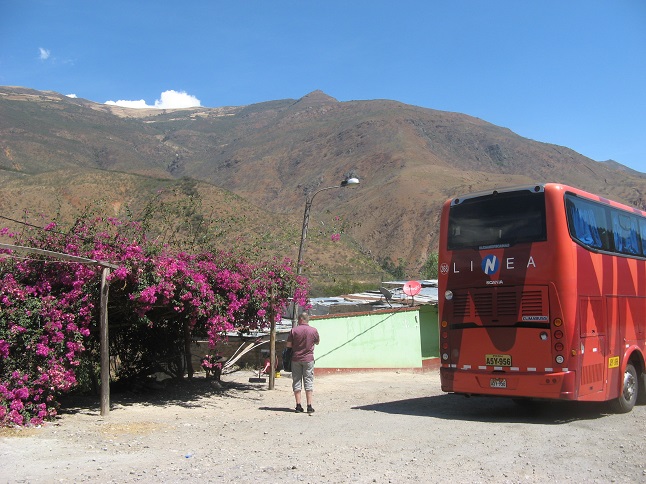 Christer has stepped out of our bus to see what this place has to offer.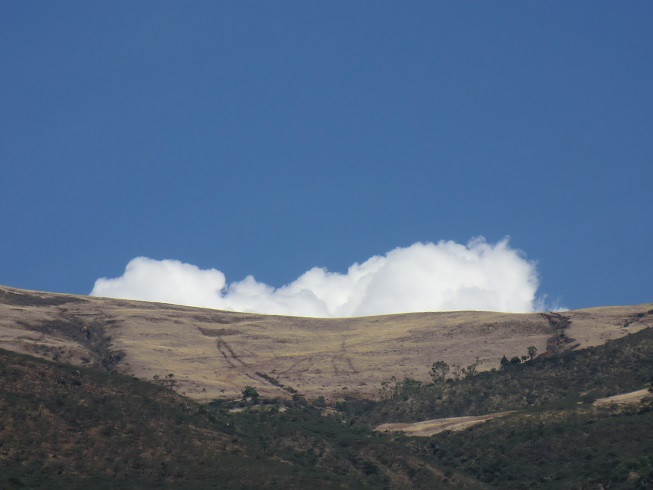 A shy cloud is hiding.
18.17 Before we arrived at today's final destination Trujillo we actually got to see the Pacific Ocean. I thought for a while that the tradition to see one of the big oceans would be broken on the summer trip. Our bus reached its destination, but did not go to the large newly built bus terminal as we expected. The journey ended in a garage for Linea buses. Now we go in a taxi from the the bus company we came here with. A fog rolls in from the sea. The fog (garua) arises in the meeting between the cold waters of the Peru current and the warmer air. It does not only bring fog to these parts. It also brings nutrient-rich water from the South Pacific, and this in turn leads to that the waters off the coast of Peru are very rich in fish.
18.31 The traffic situation here in Trujillo, Peru's third largest city, is no fun. It's packed with cars throughout the city center and our taxi is slowly moving on. This will take some time.
18.50 Our room, number 205, in Libertad Hotel (http://hotellibertad.pe/trujillo.html) is small. Here we'll stay for a little more than a day. We got a towel but no remote control for the AC. I went downstairs and managed to arrange with a second towel. It had gone better if I and the lady at the reception spoke the same language. The hotel has a lovely swimming pool indoors but it is doubtful if we will have time to use it.
19.05 Now it is time to arrange with dinner. Today we will not go far. The hotel has of course its own restaurant.
19.19 It didn't go that well to place the orders. They had no beer, but told us they could go and buy some if we wanted. They also had run out of the juice that Christer ordered. We have, however, received the remote to the restaurant's TV that is on.
19.48 Yo Spy, some variant of You got talent, continues on the TV. Some strange, burnt scent reaches us. Is it from the kitchen or from outside? No food or drink so far. What a contrast to the last hotel!
20.21 A girl from the front desk, and a guy have several times looked into the kitchen region and desperately shouted for Alexander.
21.24 We finally got our food. Unfortunately my meat was cold. The service left a lot to be desired. The waiter was more absent than present. Before we went up to the room so I asked for breakfast times, but now I have unfortunately forgotten what was said. I think it was 7 to 9. Christer was more successful. He asked for and got the AC control and Wi-Fi codes. However, the Wi-Fi only works in the lobby, not in our room
23.01 The fog we saw earlier, the garua has been described as a white powder, the belly of a whale, and other creative by different authors who have visited the Peruvian coast during winter. Trujillo has been the capital of Peru twice, this proclaimed independence in 1820 and it is named after the Spanish conquistador Francisco Pizarro's home town in Spain. We are at an important place, in other words. Tomorrow the "city of the eternal spring" waits for us.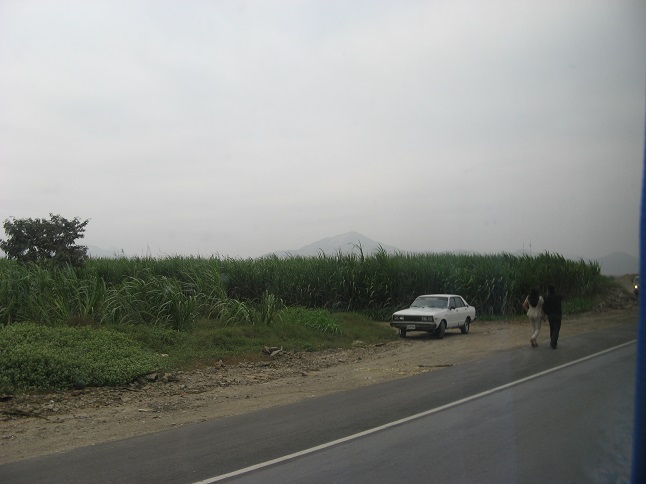 The traffic is not moving. Curious people want to find out why.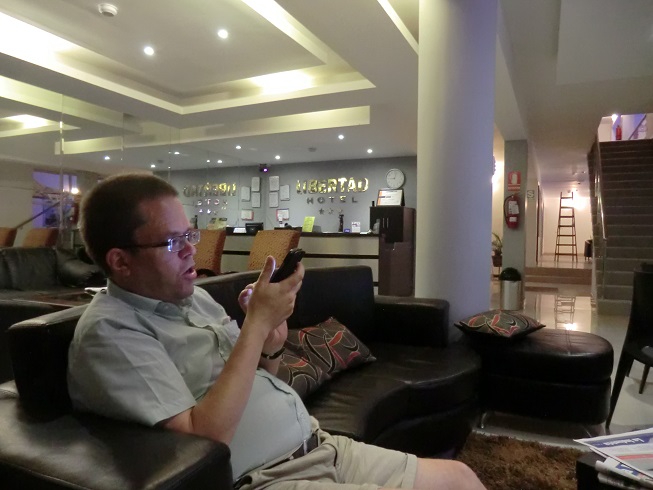 Peter is trying to access internet at Libertad Hotel.
---
VIDEOS
---
You can see 24 photos from July 4 in this photoalbum.
You can see 35 photos from July 5 in this photoalbum.
You can see 105 photos from July 6 in this photoalbum.
You can see 27 photos from July 7 in this photoalbum.

---
---
---

---