---
Text: Peter Johansson
Editing: Christer Lundstedt
Photos: Christer Lundstedt, Peter Johansson
Videos: Christer Lundstedt
---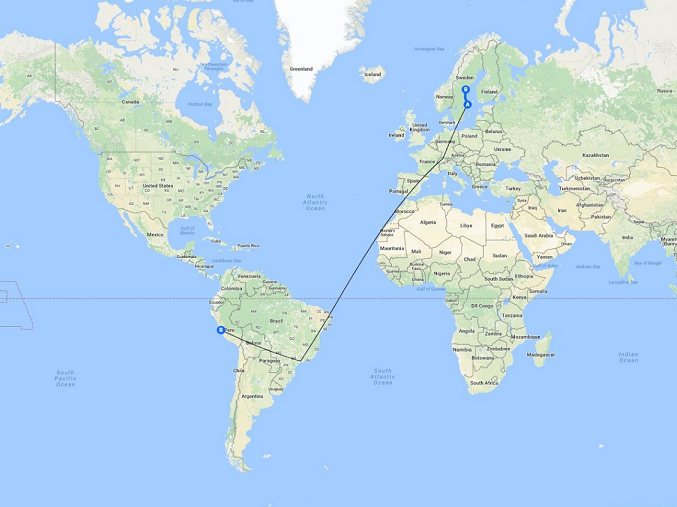 ---
Wednesday 5th of August
08.43 A dull and slow morning is turning into a day. We are in our room at Hotel Kamana (http://www.hotelkamana.com) in Lima, Peru. Before we head out, we will first add more nutrients, such as caffeine into our bodies. All this should be done when having breakfast downstairs. Yesterday we had dinner at Mr. Koala. This morning the restaurant will provide us with a breakfast.
09.41 The breakfast is eaten and we start preparing ourselves for a walk here in Lima's historic centre. The giant city of Lima is, like other big cities we visited in Latin America, haunted by rumours and stories about how dangerous it is and all the horrible crimes. All such things have some truth behind it but many times the facts has not been updated in a few decades. Here in Lima there are certain areas you should avoid. But the centre will reportedly be safe and have lots of policemen. What we have seen through the hotel window so far resembles an ordinary city. We probably do not need to hire bodyguards or buy bulletproof vests.
10.18 We have, all according to our habits, left the hotel to familiarize ourselves with our home city. It is hazy and humid outside. There is no rain. It very rarely rains in Lima. It is reported as the world's second-driest capital city. The moisture instead originates from the "garua", the haze that sweep in from the cold waters of the Pacific. It is very common in the winter so we will probably not see that much more blue sky here in Peru.
10.25 We walked a few blocks south of the hotel along the street Jirón Camana which has given the name to our hotel. We stopped at the big square, the Plaza San Martin which gets its name from the freedom hero José San Martín. Here there are plenty of exchange offices and here starts the pedestrian street Jirón de la Unión which we will walk along next.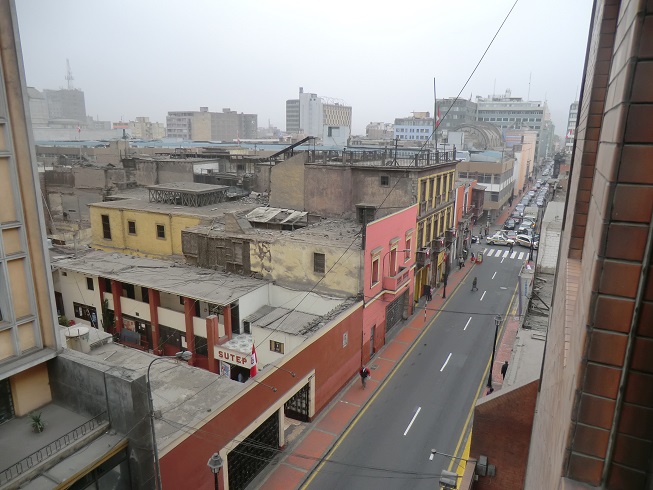 Good morning Lima!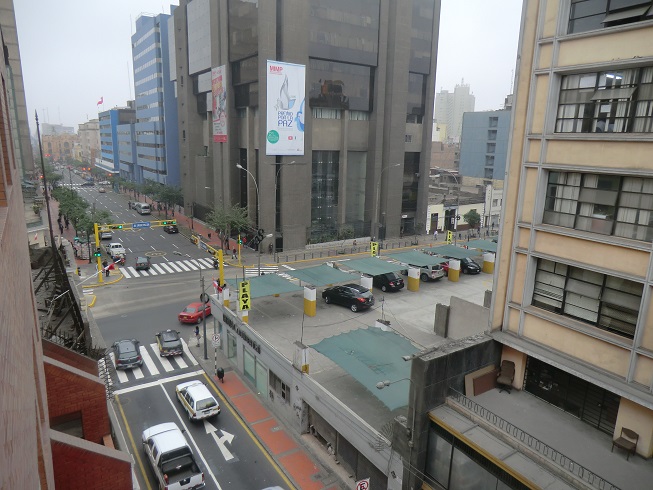 The mist from the sea is covering the city.
Plaza San Martín, Lima.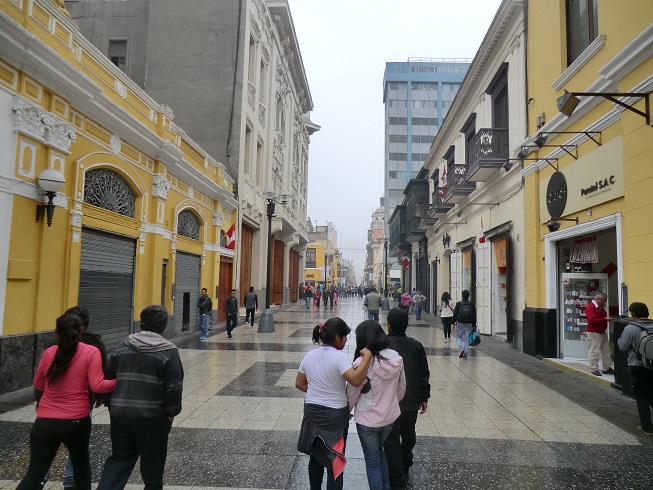 We are walking along the pedestrian street Jirón de la Unión.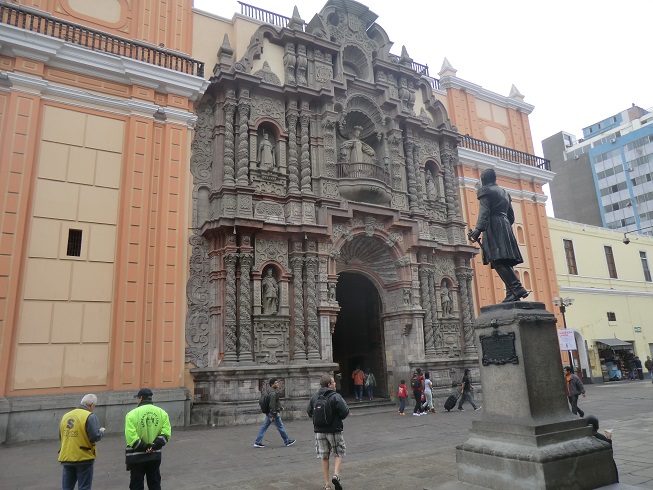 Iglesia de La Merced with its beautiful gate.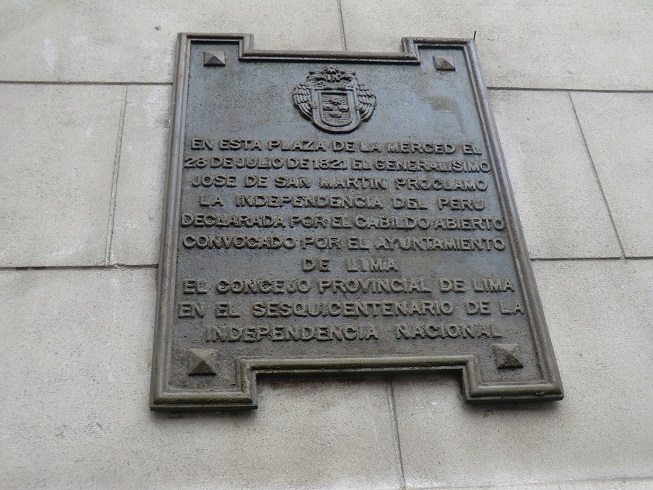 Here you can read that the independence of Peru was declared here on the 28th of July 1821.
10.43 We have stopped at the Plaza de la Merced and feel the touch of history. Here is a plaque that tells you that it was precisely at this location that Peru's independence was proclaimed in the 28th of July 1821. One who was involved was José de San Martín, an Argentine general. An important man in the freedom struggle against the Spaniards here in South America.
10.58 We have just sat down by a table at another Starbucks Coffee. I think I can say that we have never been to Starbucks in so many different cities than here in Peru. On the other hand, we have not been in the same country for so many days in a row on any other trip. Overall, we were in Indonesia more days in 2013, but that stay was interrupted in the middle with a visit to East Timor.
11.28 It's nice at Starbucks. Good coffee, comfy chairs and Internet with the Wi-Fi makes it easy to hang around for a while. We will, however, leave now. Much more remains to see and discover. We will limit ourselves to the historical area here in Lima. There is much to see in other neighbourhoods, but you cannot find time for everything.
11.53 We are now on the journey's last Plaza de Armas. The main square here in Lima is also known as the Plaza Mayor. In front of the Presidential Palace, is a brass band playing and parading. Inside the cathedral, the Cathedral of Lima, is the Spanish conqueror Francisco Pizarro in a lead coffin. Soon, it will be the changing of the guards at the palace.
12.07 This beautiful square has throughout history been used for bullfights and executions. It was also here that Pizarro founded the city in 1535. We have repeatedly been stopped by vendors who stubbornly wants us to buy maps of Peru and Lima. We declined despite the fact that we are geography teachers.
12.33 We continue to discover the area around the plaza, square. The architecture is varied. I have previously prophesied that we are becoming desensitized to everything beautiful. It feels more and more like everything has already been seen. It often coincide with the days close to the journey home. The hard drive becomes full, all the perceived need to be taken care of, processed before new impressions fit.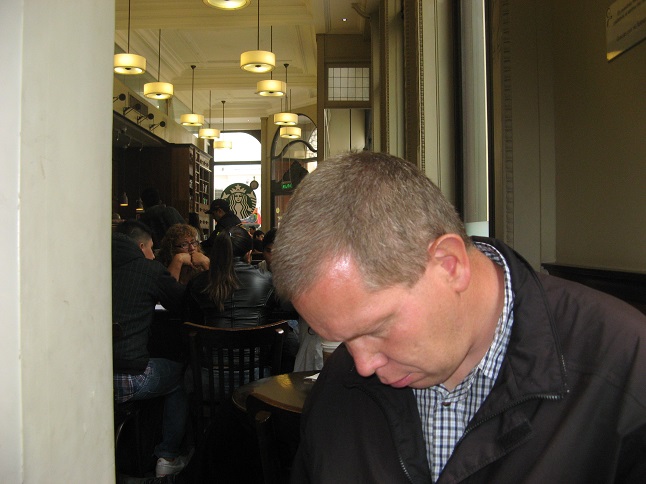 Christer is having a coffee stop at Starbucks.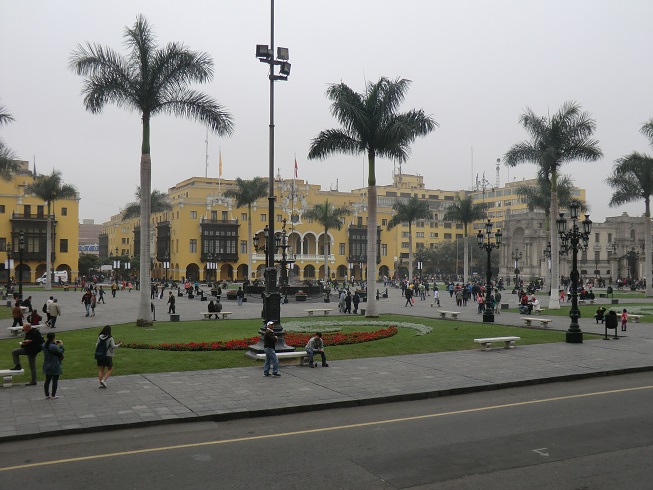 Plaza de Armas (Plaza Mayor), Lima.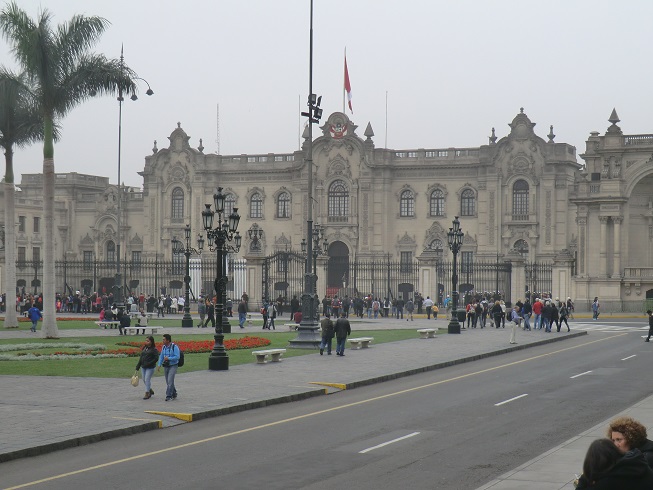 Palacio de Gobierno, the presidential palace in Peru.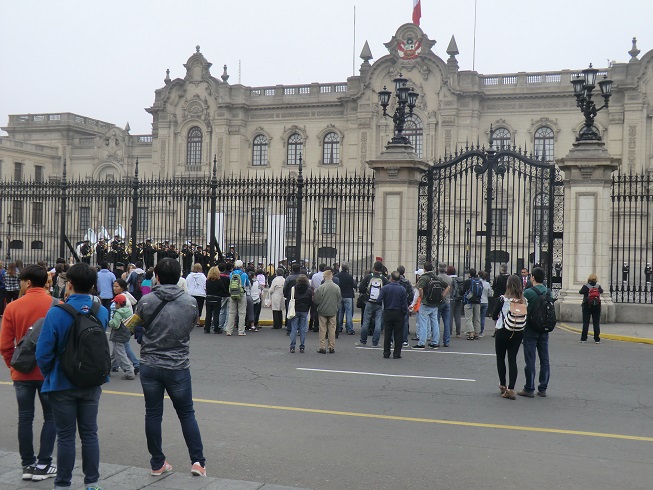 Change of guards at the palace.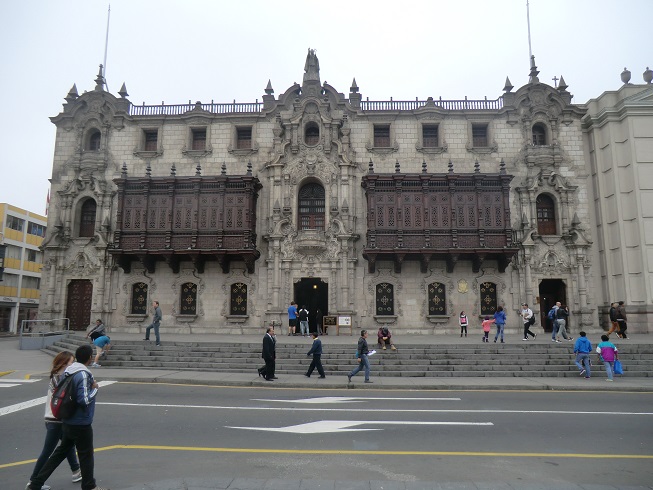 Beautiful wood balconies on the Archbishop´s Palace.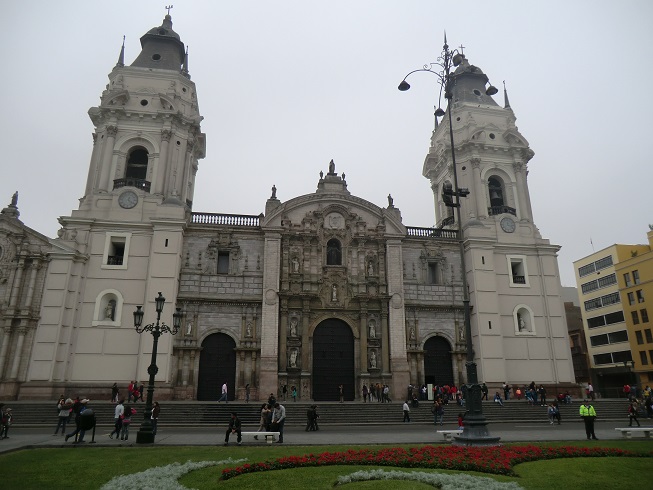 Catedral de Lima. Inside this church is the remains of Francisco Pizarro.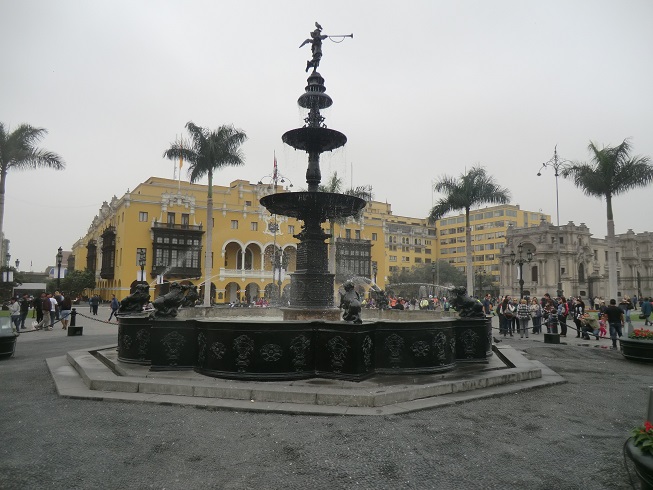 Beautiful fountain built in 1651.
12.55 We have walked from the Plaza Mayor to our hotel in search of a suitable lunch restaurant. We have, so far, not found one that feels right. The hunt continues.
13.01 At our restaurant hunt, we instead found some beautiful churches and photographed them. Along Avenida Cuzco, we also found many shops selling dental chairs and everything else you need if you want to start up a dentist's reception.
13.18 The lunch hunt must be seen as complete. Rincón Cervecero (http://www.rinconcervecero.com.pe) is the name of the lunch restaurant. It is, well what shall I write, a beer hall that also offers food. Christer just got to change his order. They are not serving it today. We are sitting in a large room with mediocre lighting. Here are wooden tables and the whole atmosphere is somewhat a reminiscent of the LIDO chain restaurants in Latvia. This was a happy surprise.
14.44 Food is good. We have here in Lima, as in other cities we've been in, seen some streets which specializes in certain activities. There are streets for exchange offices, opticians and old banknotes and coins. The best is the earlier mentioned Avenida Cuzco, the street for wheelchairs, hospital beds and dental chairs. When we tried to buy soft drinks earlier neither Christer or I could pay with our 5 soles coins. The cashier said something about "no legal", strange! In my case, it was confirmed by another customer. Now we have returned to our room. We watch TV to update us on the world. The wreckage parts found at the island of Réunion were from the missing plane MH 370th
16.15 We are thinking and planning what more we can do here in the last Peruvian city. The evening is yet unplanned.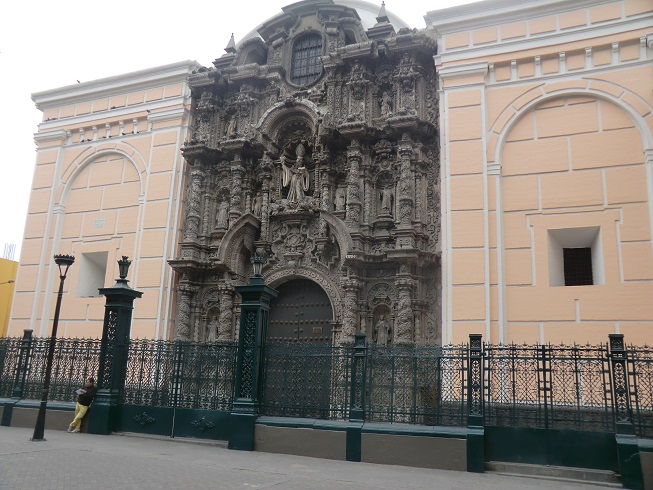 Iglesia San Agustín with its beautiful facade.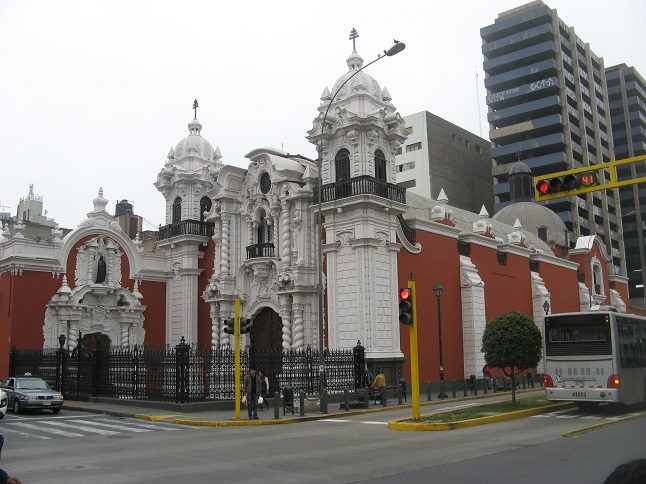 Iglesia de San Marcelo.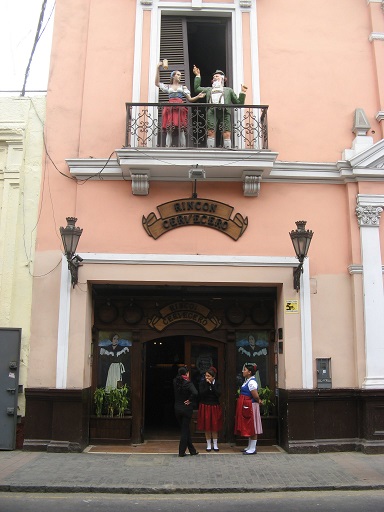 We didn´t expect finding a beer hall in Lima but it was very welcome.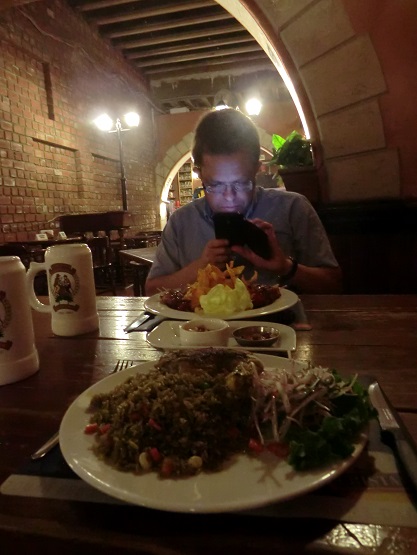 Peter is having lunch at Rincón Cervecero.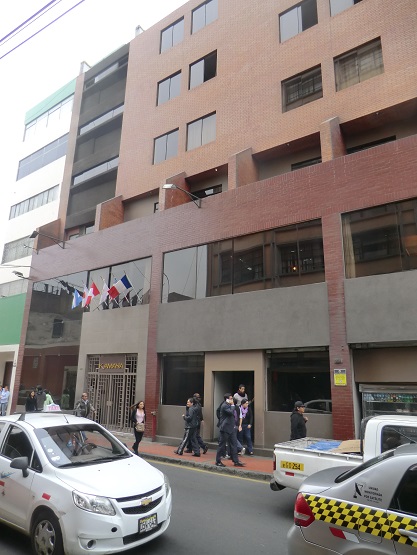 Hotel Kamaná. This is where we are staying.
18.02 Now it's enough thinking and planning in this room. It is time that it is realized, to leave the world of thought.
18.22 It has become dark in the capital. We have strolled up and down the various streets. The plans is to hopefully find some souvenirs/gifts and eventually also a good restaurant for dinner.
19.04 After searching for souvenirs (no purchase was made) and dining options (most of it was too expensive or too simple and boring) we have entered into the Chinese restaurant China House. We were simply tired of all the wandering and searching. Here, we know what we get, and it's not expensive either.
20.32 Chinese food is tasty, potato wedges are tasty. These two shall never meet in a dish. How have I come to this conclusion? Well, this was what I was served this evening. When dining in Chinese restaurants here in Peru you might get, as previously mentioned, to some extent something Peruvian. There are few dishes that are all Asian, much is some kind of mix.
22.07 We think about how we will spend our last day in Lima and Peru. It is getting closer. We'll try to cover what remain in the immediate area and the souvenir hunt that was unsuccessful tonight will resume tomorrow.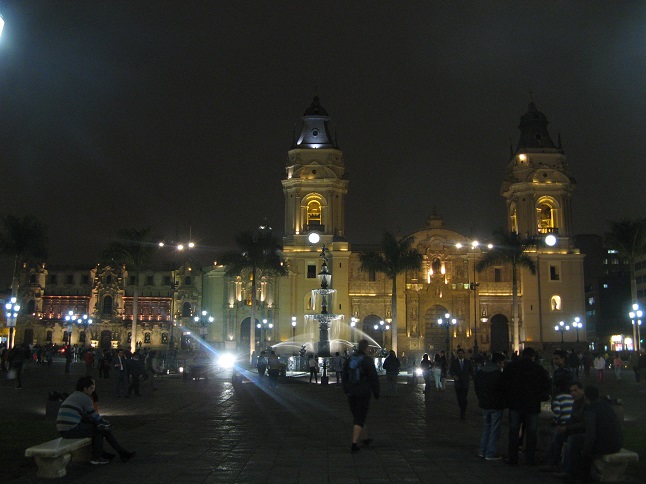 Christer takes an evening walk on Plaza Mayor (Plaza de Armas).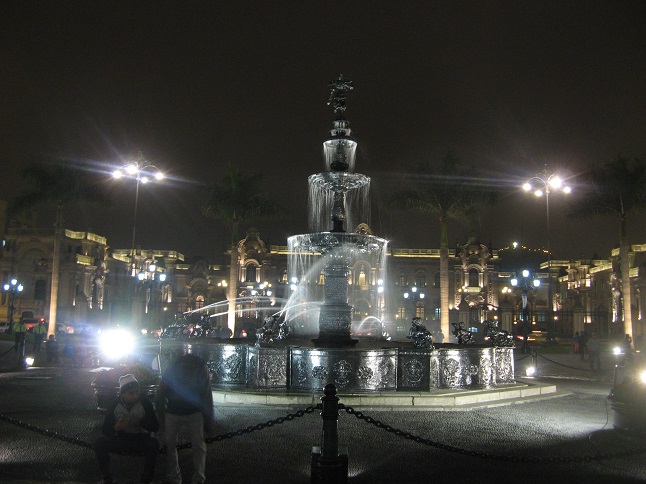 The fountain on Plaza Mayor is even more beautiful in the dark.
---
Thursday 6th of August
08.22 Today it is 70 years since the atomic bomb was dropped over Hiroshima. Today is also the last day for us in Peru this summer.
09.30 Now it is over. Now there will be no more. The last hotel breakfast is swallowed. We are wondering when and where we will eat hotel breakfast next time?
10.30 We have finally returned out on the streets of Lima. It is time to do that wasn't done yesterday. Yet we do not know what will happen but we believe that we will find out.
10.47 We have returned to the Plaza Mayor, the main square and now plan to discover the streets beyond it. We didn't go that far yesterday.
11.03 Now the train departs. It is a small round trip train for children. OK, now we also see a genuine train. It seems to be a freight train. We are in the Parque de la Muralla, a park with remains of the old city walls and also excavated houses from the 1600´s. Here in the park is also the statue of Francisco Pizarro. His popularity is not what it once was, when history is regarded with modern eyes. The people demanded that he ought to be removed from the Plaza Mayor and now he's here instead. Speaking of the Plaza Mayor, we saw riot police and dog squads there. Something seems to be going on, the question is what.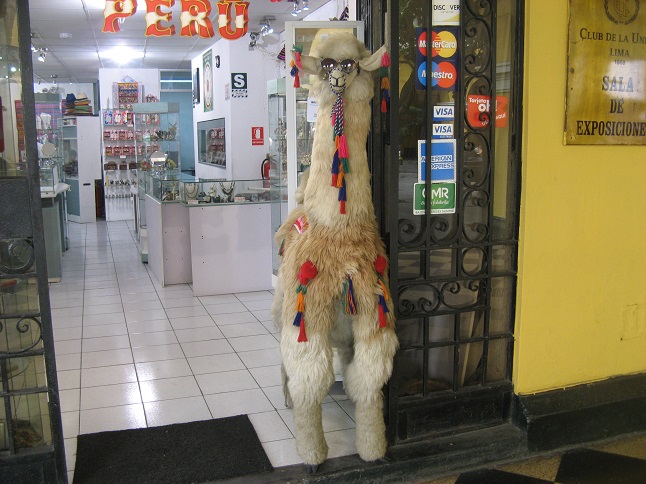 Interesting doorman.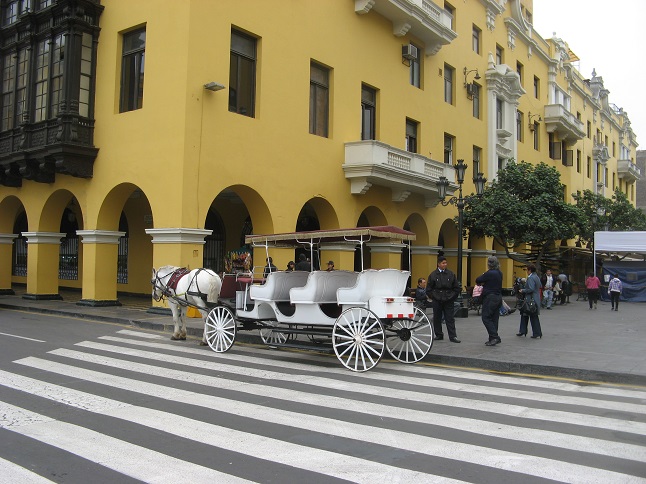 Waiting for the tourists.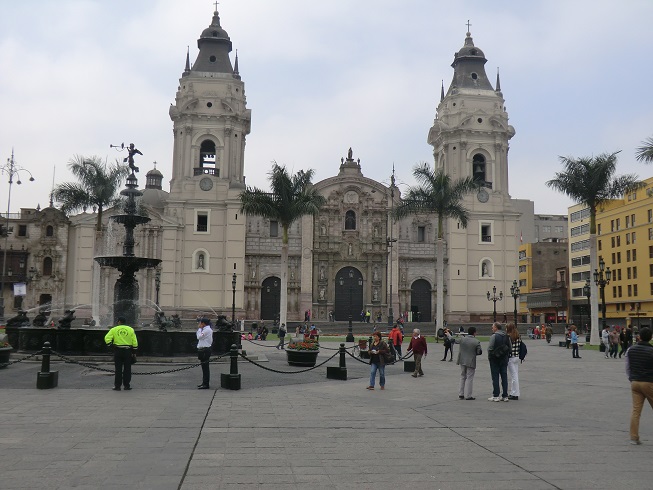 Once again we are looking at Plaza Mayor and the cathedral.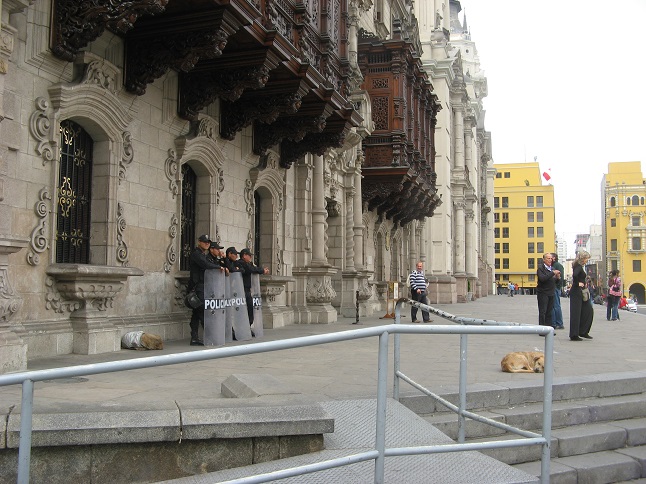 The police is waiting, we wonder why...
12.10 Even today, we had planned to eat lunch, well actually two, one each. We have found evidence that there should be two Bembos restaurants in the central parts. Our last visit to this fast-food chain gave us a positive experience. Memories of the Extrema Grande burger in Ica makes us hungry.
13.03 After an hour of hopelessly searching for Bembos we gave up. We have instead made it to PizzAmore. During the search for the two Bembos restaurants. one was without our favourite burger and additionally closed for cleaning. The other had gone up in smoke, it was simply not there.
13.39 At the order of a two-person Hawaiiana we were asked if we wanted jam or pepperoni on the pizza. They probably meant ham instead of jam. The pizza came in/out was not so great. The pineapple could be hiding as good as Bembos earlier today. We found simply no pineapple. This was of course no top lunch but Christer took the opportunity anyway to call his sister and congratulate her on her birthday while waiting for the food.
14.38 We continued our walk round the city with the aim of souvenirs and gifts. We found several shops along Jirón Ancash and Jirón Carabaya. In one store was a sweet young lady and she offered us Pisco, the spirit that is typical of Peru. She was so nice that we bought a bottle each from her. With a smile, she bundled up each bottle individually. They are now surrounded by cardboard.
15.01 Christer finished the shopping with buying a football shirt from Lima. It is a birthday gift to his nephew Anton. His birthday is in September.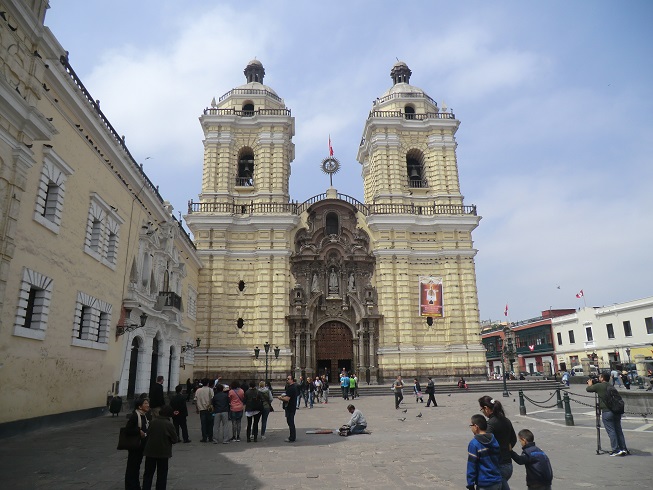 Iglesia San Francisco, Lima.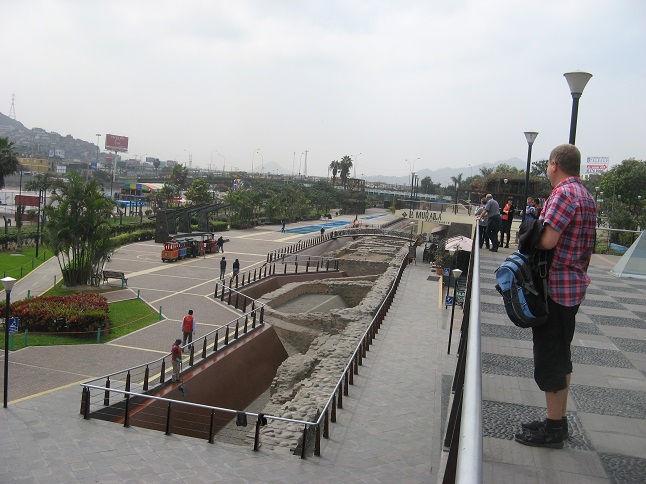 Christer is looking at Parque de la Muralla.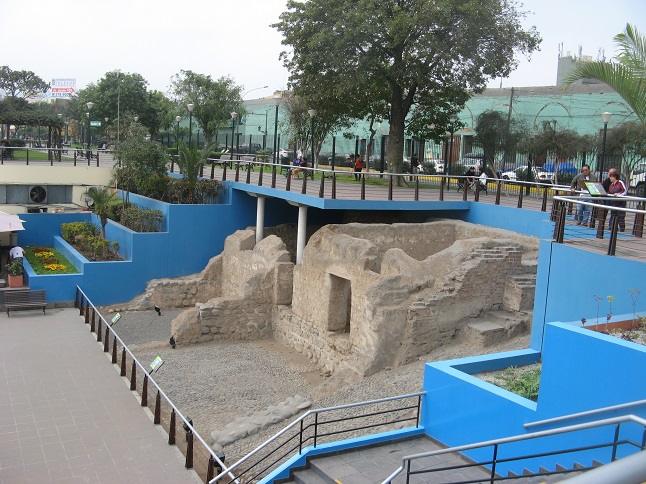 Old houses in Lima are discovered and explored.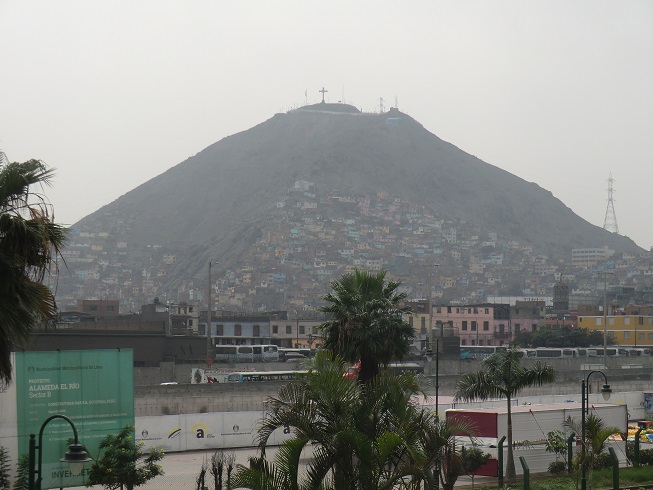 Cerro San Cristóbal, Lima.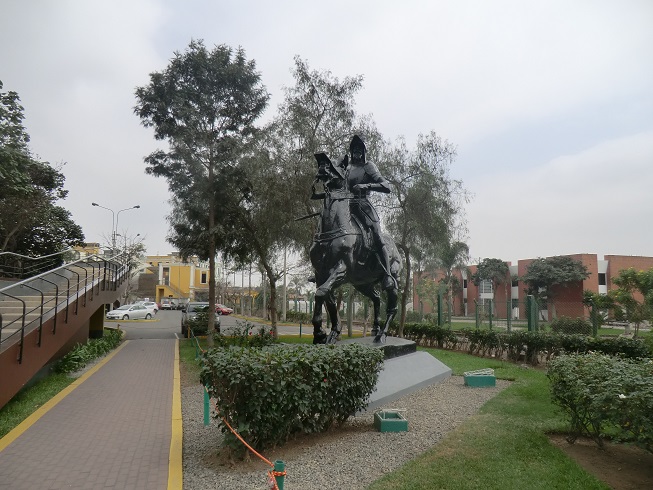 Pizarro had to move here.
16.07 The sightseeing in Lima has come to an end for now. Since the return to our room we have mostly been relaxing.
18.03 It's time to leave the room to pay for our stay here and to find a suitable restaurant.
19.05 Now we have paid for the three nights here at Hotel Kamana and for the transport to the airport early tomorrow morning. When it comes to dinner, we took a long walk to the mall Real Plaza and their Food Court. We will for the last time have an Extrema Grande at Bembos. We also hope for a last visit to a Starbucks.
19.27 It was tasty this time as well. The experience was not quite the same, perhaps because of all the stress and mess around us. Here are dozens of restaurants and a whole inland sea of people desperately seeking seats.
19.55 Now it's good to be home. We never went to Starbucks. It was crowded and we had little time. Now we will calm down before the final packing. The brains must be ready for packing or otherwise you just have to redo.
21.07 Most things are packed and ready. A light breakfast is prepared before the early departure. Once again, it's about time to wrap things up and go home.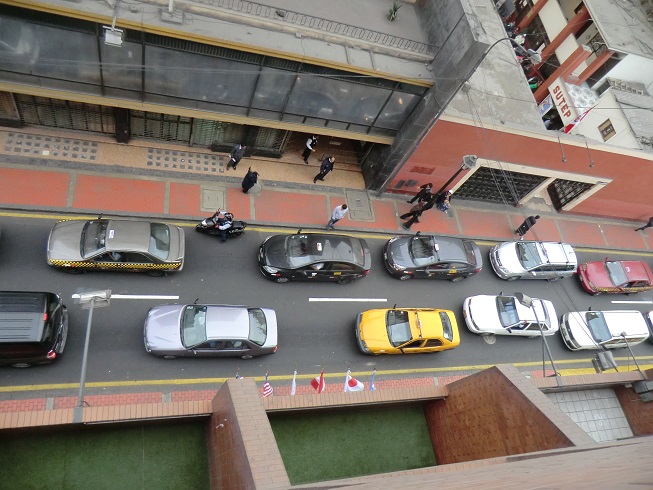 Afternoon traffic outside our hotel.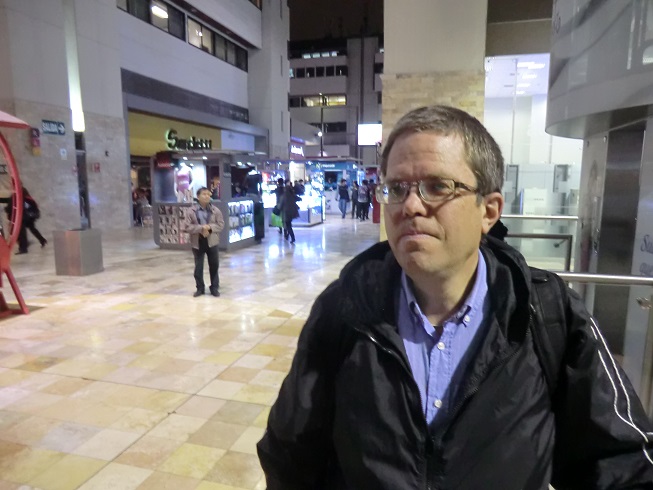 Peter has arrived at Real Plaza.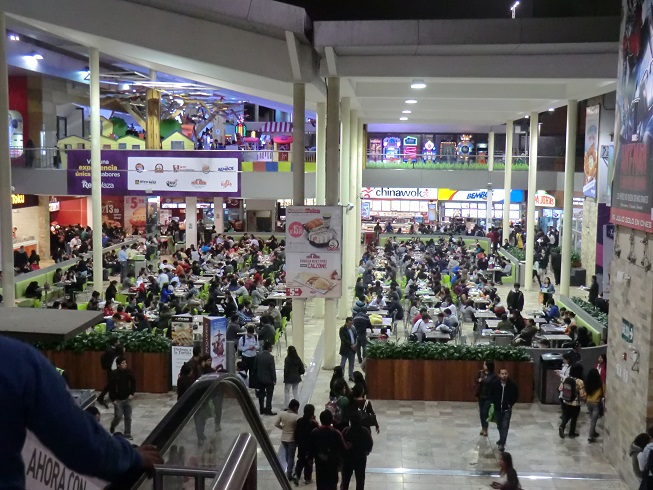 In this chaos we will look for Bembos and our favourite burger.
---
Friday 7th of August
04.53 It is very early but ever so necessary to get up at this time. Not a single piece of clothing in a backpack smells good. I ignore it. We are on our way home.
05.27 The phone in the room rang and it was announced from the reception that the ordered transport was here and ready. We went down, handed over the key to the room and went out. A man was sleeping in the minibus that was out there. The guard knocked on the window and the man woke up. Our backpacks were loaded into the trunk and we went in and sat down in the bus. The men, the guard and the former sleeper, went into the hotel. We mostly sit and wait. The question is what and who are we waiting for?
05.36 A new minibus suddenly appeared and the sleeping driver apologized many times and the two of us and the backpacks had to change vehicles. Why this move? Is driver number one too tired to drive us to the airport? Had there been some misunderstandings? Well, who knows?
05.57 Lima was relatively quiet this early and the trip to the airport went smoothly and quickly. Now we prepare for the long journey home.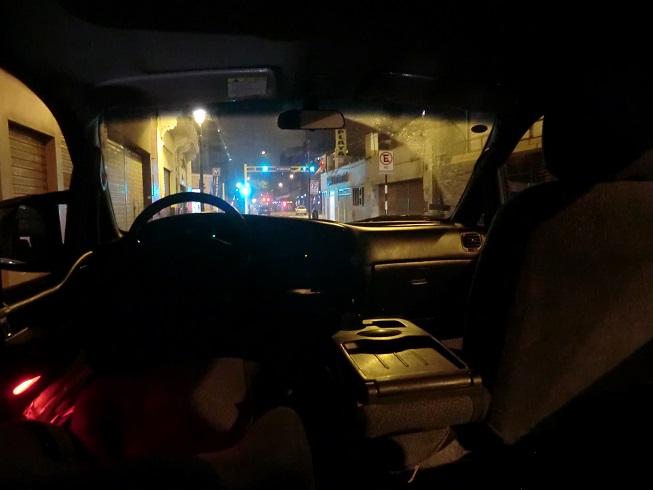 Early morning, waiting for the airport transport.
06.10 We are at the Jorge Chavez International Airport. Jorge Chavez by the way was a Peruvian aviator in the early 1900´s. He was born in Paris and worked in Europe. He died only 23 years old. Back to the present. We hear a whimpering dog. The dog is inside a plastic cage of the larger kind and on wheels. Anyone who wants can wrap their luggage at a cost of 35 soles, that is, about US$8. The whimpering dog has just begun to bark. Our trips have now taken us to airports in over 70 different countries in the world. At this airport, there is still no information on the upcoming flight. We will, according to the route and the ticket lift at 08.35. We hope that we will not experience a return journey of the same type as we had the previous year. Then there were delays and stress.
07.04 Information about the check-in desks have finally come up on the monitors. The first part of the journey will be made with the Chilean airline LAN.
07.47 Such morning! What a start to the trip. First we had to change the check-in lines twice to speed things up. Things went slowly and we had to go to the counter 48 for check-in. The ones in front of us had problems with their check-in and the staff disappeared. We were sent to the counter 49. There we were met by the news that the check-in to the São Paulo flight, our flight, was closed. The lady promised to fix things. Oh oh, now her computer froze. She wants our passports. OK, now she disappeared with our passports .
08.22 The lady and the passports returned. We got the passports and she tagged our backpacks. They are ready to travel all the way to Stockholm. We have received boarding passes which takes us to São Paulo. Once there, we will get boarding passes for the journey on to Munich. We were asked to urgently get to the gate 28. There were no major problems as we passed security and passport control. Once at the gate, there was a queue. Well, now we're on board. Although I´m already belted I was asked to do so while the plane be refuelled. We do not mind this as long as we take off and arrive on time. We have not much time for the change in São Paulo. We land at 15.35 and depart at 16.45. Lima's airport needs more runways. We seem to be late.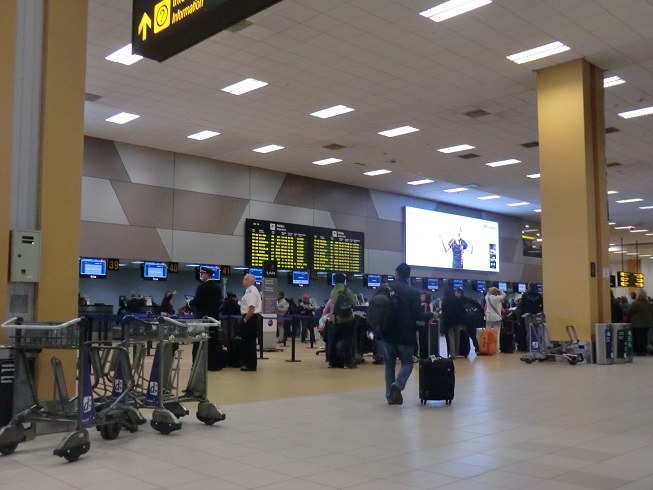 It´s time for check-in at Jorge Chávez International Airport.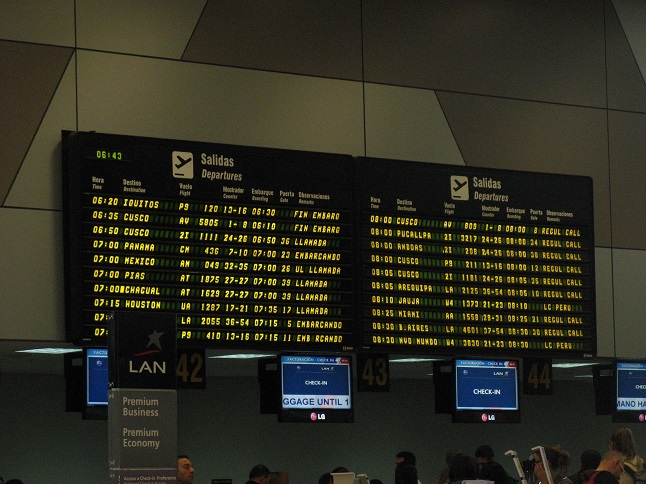 Many flights will leave Lima this morning.
09.44 We will finally, after over an hour delay, take off. Will we and backpacks really be able to change planes in São Paulo? We cannot do much about it right now so it's better to sit back for a while.
CHANGING TIME ZONE
13.58 Now we are using São Paulo time. It remains unlucky for us this morning, or at least for Christer. Omelette was served for breakfast on the plane and he is all but fond of eating eggs. The coffee he got fell and spilled all over the little table and down on his leg. The only positive of the misery is that the pants are black and the coffee stains are not visible.
14.41 We move across the South American continent and keep an eye on the watch. Will we have enough time?
15.50 We are going down. This is it! In less than an hour the plane to Munich departs. There will be a second year in a row with a stressful start to the journey home. Last year we were hit by a delayed domestic flight in Cuba and hustled like crazy between different terminals in Havana before we found the right plane home.
BRAZIL

16.12 We have landed at the Guarulhos International Airport in São Paulo, Brazil. We have been here before. The Brazil journey in 2010 began and ended here. Imagine that five years have passed since then. We are soon out of the plane. Then it will be full speed. Pulse and adrenaline is booming!
16.20 We have some Germans with us from the same flight. It's nice to have brothers of misfortune. It feels like we are all going to miss the plane or all will make it. Unfortunately we have to go through yet another security check before we are released to the gates.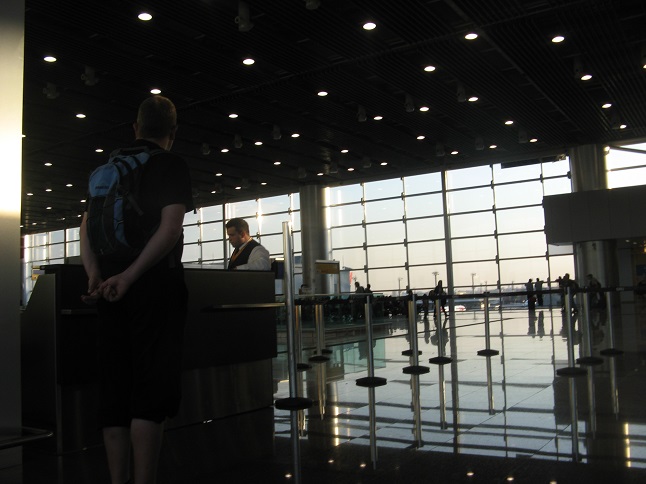 Christer is waiting for the latest flight news in São Paulo.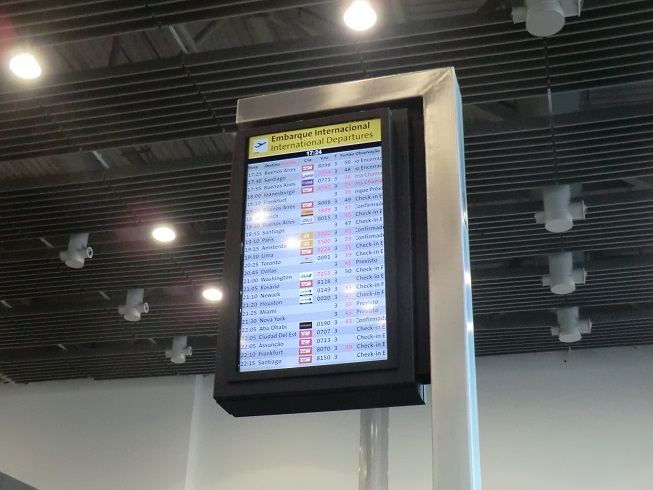 Flights leaving São Paulo. Will we be on any of them?
16.53 It was slow in the safety control. Some nervous Asians blocked it all and it took a painfully long time. We finally had to run to the gate, which of course was farthest away. I did not even have time to put on my sandals, which had been removed in control, and ran barefoot. At the gate, we were greeted by surprised faces and was told that the gate was closed. They also claimed that all passengers had already boarded. This is something that we denied.
16.59 We will not go by plane to Munich but apparently so will Christer's backpack. It has been mixed up with some another person's luggage and is now on its way to Munich. We should instead fly to Frankfurt. Right now we are being booked on the flight São Paulo - Frankfurt but also on a flight Frankfurt - Stockholm. Christer's backpack will fly with the plane Munich - Stockholm. Can we get to Arlanda before our train go from there? This was unnecessary. It is hard enough with long flights anyway.
18.16 There will be no flight with Lufthansa and no Frankfurt. Instead there will be a flight with Swiss to Zurich. My backpack will not go by plane to Frankfurt. It apparently is also on the way with Christer's backpack to Munich. Our luggage travel without a guardian. Lufthansa could not arrange a flight Frankfurt - Stockholm. It was fully booked. Therefore the solution via Zurich instead. That's a shame. The Lufthansa plane to Frankfurt had two floors and looked exciting.
18.24 The plane we'll be flying with is delayed. The crew is stuck in traffic here in São Paulo. The same thing happened last time we flew from here in 2010. How common is it? Swiss will send a bill for our ticket to Lufthansa, and they in turn will send a bill to the LAN. We have got a paper from the staff at the gate. The paper needs to be delivered when we reach Switzerland.
19.04 It is time for the day's last note. We are on board. Zurich here we come. Now when we sit comfortably and also have fantastic legroom things do not feel that bad anyway. The main thing is that we continue the journey home. Now it's just the fiddling with the backpacks that need to be resolved eventually.
---
Saturday 8th of August
CHANGING TIME ZONE
03.07 I have switched to Central European Time. We have been flying along Brazil's eastern coast and will soon fly out over the expanse of the Atlantic. On the other side of the ocean awaits Europe and a landing in Zurich at about 11.20. Next to us, some distance away, we have had a different plane with us for a while.
09.41 I has dozed off and on during the night. There could have been more of that restorative deep sleep. As mentioned before, we got really good seats. We can stretch out the legs as far as we want, no seats in front of us. This means, however, some disadvantages when we eat and no luggage on the floor allowed either.
SWITZERLAND

11.40 We have landed at Zurich Flughafen and left the airplane. Now we will just take it easy here at the airport, get in shape and walk to the next gate. We were at this airport twice last summer and we could not have guessed that we would be back here again this summer. Unfortunately, it's an expensive airport so we'll see if we´ll buy any food here or not.
11.58 A decision has been made. There will be no meal for us here in Zurich.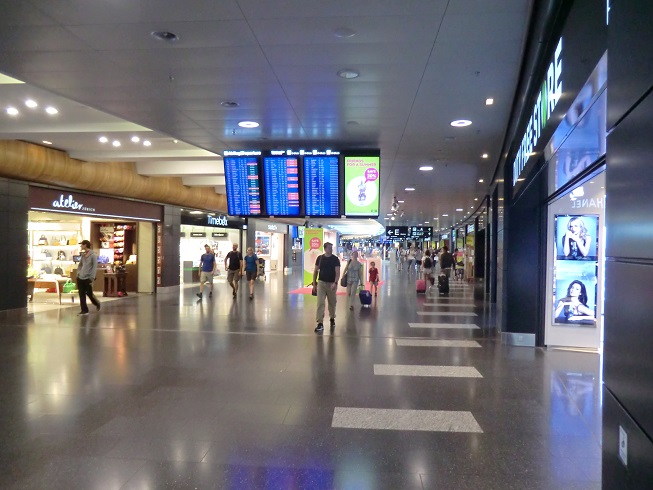 Even this summer we are walking through Zürich Flughafen.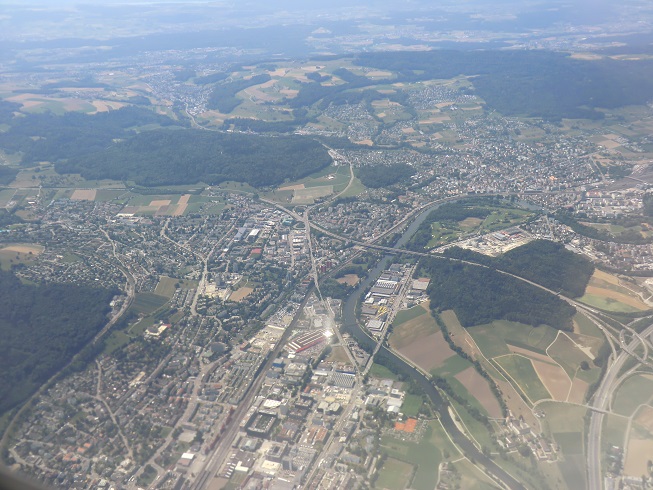 We are taking off from Switzerland.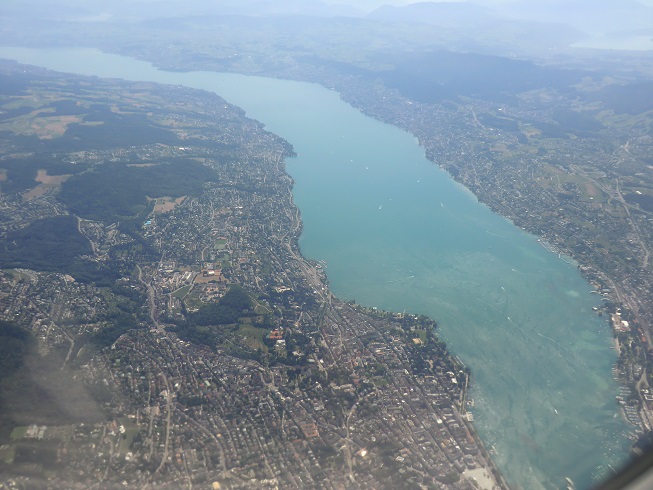 We are looking down on Lake Zürich.
12.24 We have made ourselves ready to fly again. This time it will be to Stockholm Arlanda. There, awaits, hopefully, our backpacks. If not paperwork awaits. Speaking of paper. We will leave the paper we got in São Paulo at the gate here.
12.45 The woman at the gate had just called out our names as we stepped forward and provided the requested document. We are now in place and on board the plane that will take us and a few more passengers to Stockholm. Soon we will leave Switzerland with its Alps, alp roads and alp villages. However, they do not have that many alp acas as Peru has.
14.36 An undramatic flight is approaching its end. We are really tired.
14.51 Below us is once again our homeland. It's been 50 days since we last were in Swedish airspace.
15.15 We have just flown in over Stockholm and had amazing views of the Globe, the Old Town and other things that were easy to recognize.
SWEDEN

16.25 We are back in Sweden and at Arlanda Airport. A detail remain. We also want to be reunited with our backpacks.
16.38 We left the plane and went to the room for arriving luggage. We were referred to the SAS counter and was told that our backpacks had not been delivered from Munich. We had to change a counter to be able to report the missing luggage at the company Menzios. This is because we have flown with Swiss. Once there reports were written, one to us each. Our backpacks will come with a plane which land here at around 18.00. Our luggage will be driven out to our homes when they arrive. The guy we talked to pointed out that it is illegal to just send bags without the owners on board. Still it happened. Speaking of bags, there were plenty of ownerless suitcases at the baggage belts. Have they also flown alone or are they forgotten? If we are lucky, if it can be done, our backpacks might be here before we take the train to the north at 18.40.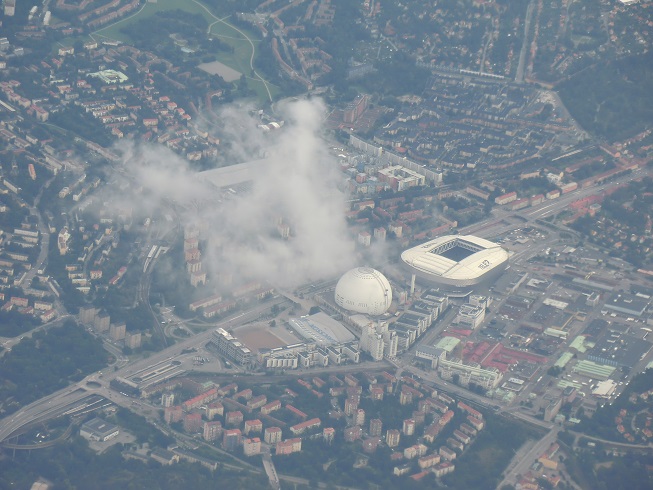 Globen and Tele2 Arena.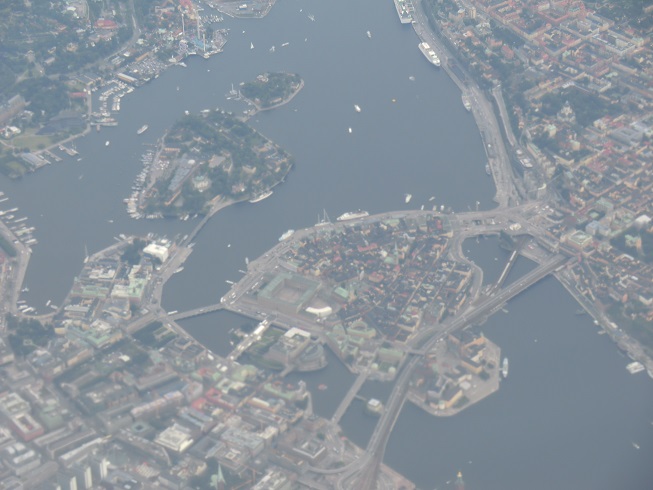 We are flying over the Old town in Stockholm.
17.14 We don't have any backpacks. But we still have stomachs and now they will be filled with pizza at Alfredo's.
17.48 Now two men are waiting and hoping. It would be so much easier to get to our backpacks home today.
18.29 We rang the bell at the baggage claim and got in contact with the company Menzios. We were let in and went to the belt 7. There, after a little wait, our missing friends arrived. Now we and the backpacks have made it to the underground platform here at the airport. The train to Sundsvall departs in ten minutes.
21.48 The starting point is approaching. Soon this trip is a part of history.
22.42 The sixteenth straight backpacker summer is over. We have covered more of South America and have also made it back. It turned out that it was more complicated to fly home than to travel along the Andes in the two countries. The travel thirst is eased but hopefully not extinguished. Now we remember and share the past and prepare for what is coming.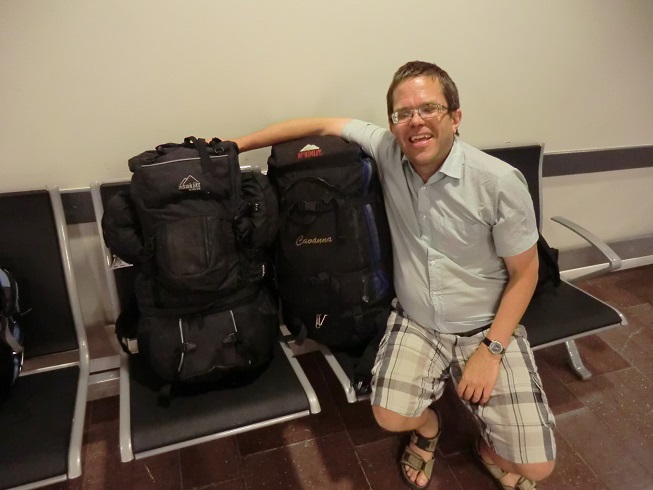 Peter is celebrating the return of the backpacks.
---
VIDEOS
---
You can see 67 photos from August 5 in this photoalbum.
You can see 37 photos from August 6 in this photoalbum.
You can see 8 photos from August 7 in this photoalbum.
You can see 11 photos from August 8 in this photoalbum.

---
---

---