---
Text: Peter Johansson
Editing: Christer Lundstedt
Photos: Christer Lundstedt, Peter Johansson
Videos: Christer Lundstedt
---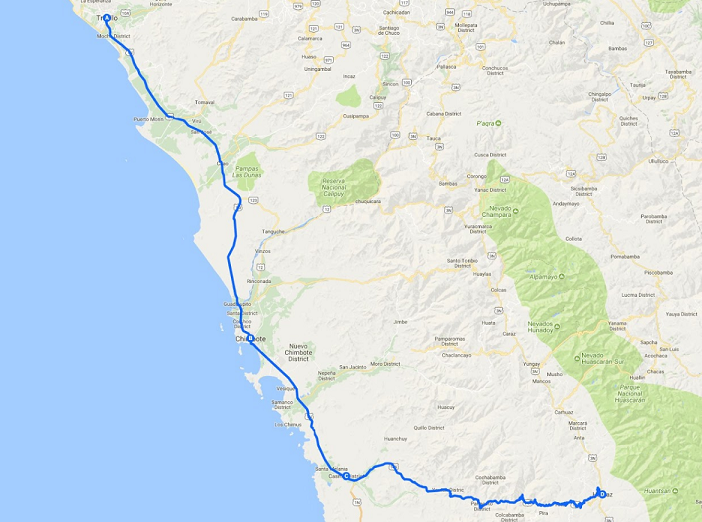 ---
Wednesday 8th of July
08.16 The night and the comfortable sleep is over. We woke up at Hotel Libertad (http://hotellibertad.pe/trujillo.html). Ahead of us is almost an entire day here in Trujillo, Peru. How the coming night and sleep will be is written in the stars. Moreover, it is far away, and much will happen before that.
09.04 The breakfast was OK. That is more than can be said about the Wi-Fi connection in this hotel. There is not much life in it. It's a pity. It would have been great to use Google Translate to obtain a phrase in Spanish. We want to inform the staff that we need to keep the room until our bus leaves this evening. We plan to leave the city by night bus. It is good to keep the room as long as possible. Christer tried to mention this at yesterday's check in but it is doubtful whether they understood us.
09.54 It is once again time to go from words to action. A lot must be done to make things work.
10.11 We first stopped in the lobby to leave the key and check if we could keep the room. There was no problem with that. We left Libertad Hotel and wandered off. Now we are standing at a crosswalk and wait for the green man. We know exactly when that will happen, The numbers are slowly counting down above the red man.
10.24 On this cloudy day, we have begun the exploration of the city by strolling along the pedestrian street Jirón Francisco Pizarro. Here are various shops and a few restaurants. We also looked at a church and some form of court building.
10.42 No sooner had we sat down for a bench break at the Plaza de Armas when a young man appeared. He spoke perfect easily understood English and offered us various round trips and excursions. It has been harder for me to understand Christer. It is not dependent on language but on the fact that my thoughts are elsewhere and I did not hear what he said. The reason might be that we are on vacation. The body as well as the mind are taking it easy. The square is said to be one of the continent's most pure and clean. This assertion is true, the stone pavement almost sparkles and the square is surrounded by the most beautiful houses. One of the beautiful buildings is the Iglesia de Compañia which we recently looked at. A person dressed in a brown robe carrying green balloons walks around and tell people to keep not only the square but the whole planet clean.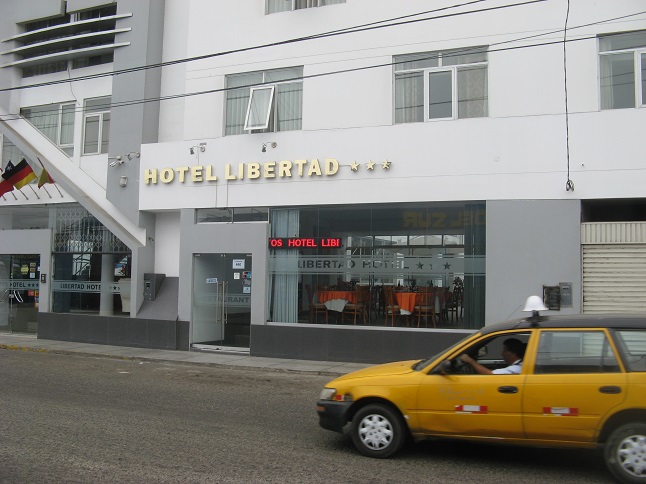 Hotel Libertad, Trujillo.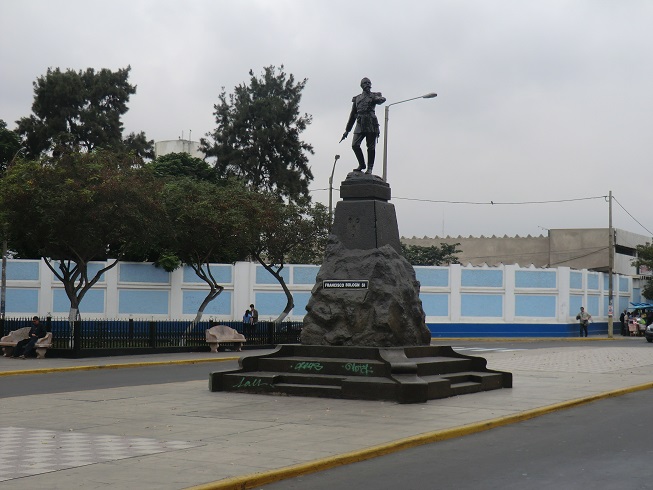 Here is a national hero in Peru, Francisco Bolognesi. Many streets are named after him.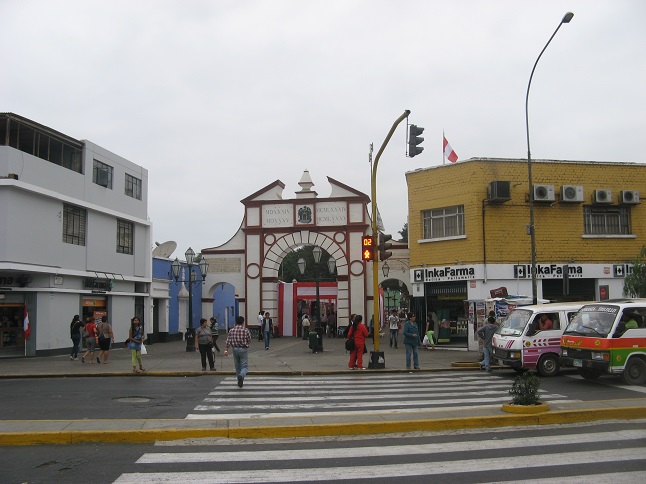 This is where Jirón Pizarro starts and where you enter Trujillo city center.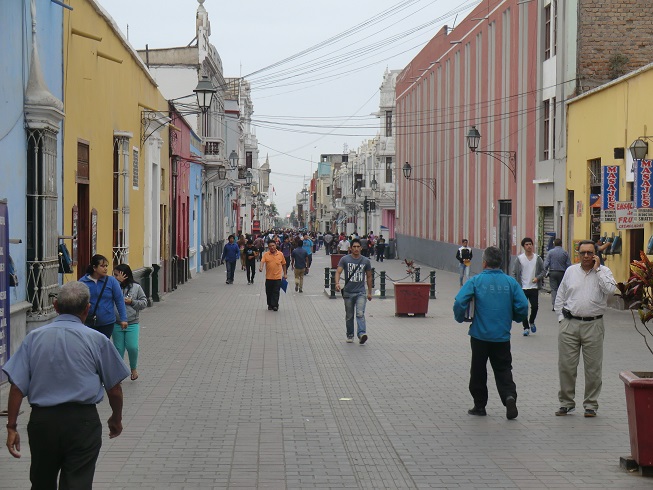 The pedestrian street Jirón Pizarro in Trujillo.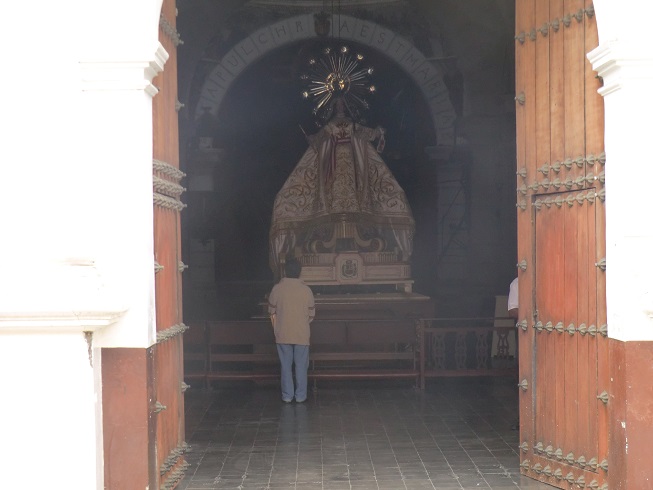 Virgin Mary has a visitor inside Iglesia de la Merced.
11.05 Here at the Plaza de Armas, we have just found a cozy café, Café La Llave. We are waiting for coffee and sandwiches. We look at the square through a window with bars and observes everything that happens there.
11.39 It felt good with coffee and sandwiches. Now we will continue our ocular inspection of Trujillo. In addition to the sights and views, we will keep our eyes open for suitable restaurants for lunch soon and dinner later this evening.
12.16 We continue our walk and our search. Just now we met a girl who cheerfully greeted Christer. Has he acquaintances in the city, or?
12.46 We walked around for a while and now we have sat down at the restaurant Café Oviedo located along the pedestrian street. No sooner had we sat down as the saluting girl came in from the street. She sat down at our place and introduced herself as Rosemarie and said that she was from the Philippines. She works for the Children of Joy (http://www.childrenofjoypediatrics.com). She asked where we were from, apparently, she does not know Christer. We told her and explained where Sweden is. She wondered first whether Sweden was in South America. She got 5 sol each from us, thanked us and left. Out in the street we now hear drums and trumpets. Is it another parade?
13.21 It was a parade with costumed youngsters who went past. They did, among other things, play the El Condor Pasa. They also carried signs that dealt with university education and the environment and nature protection. Now that we have finished our lunch, we are thinking about what we do next. Perhaps there is a tour bus that we can ride?
13.56 The city offers a sightseeing bus but what more is there to see? We do not know where the bus stop is. We have just seen it pass. We went home instead.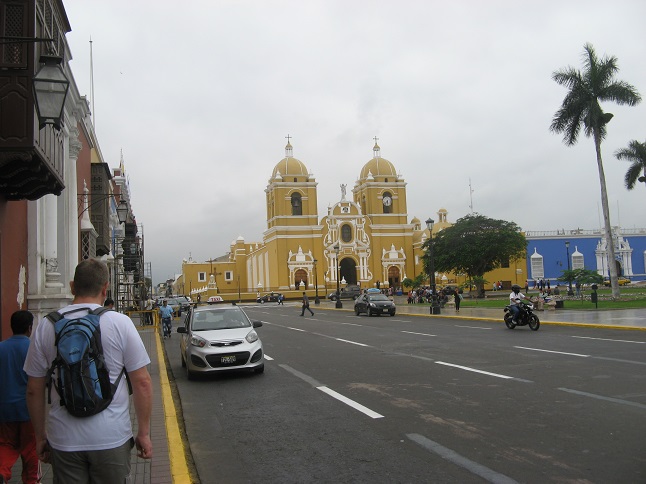 Christer is walking around the square.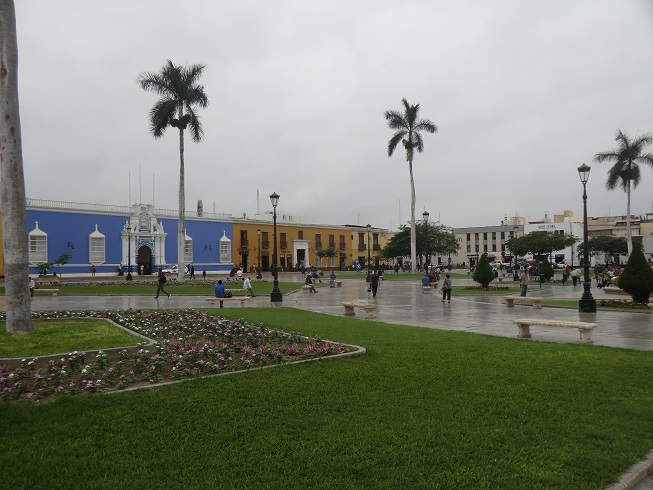 Plaza de Armas, Trujillo.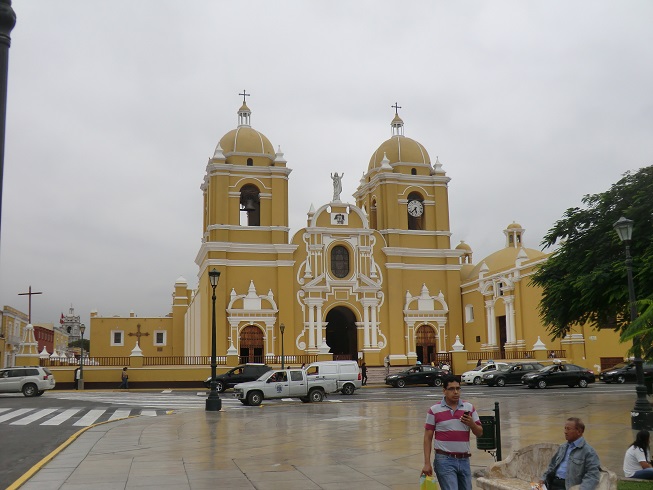 The yellow beautiful Basilica Menor Catedral.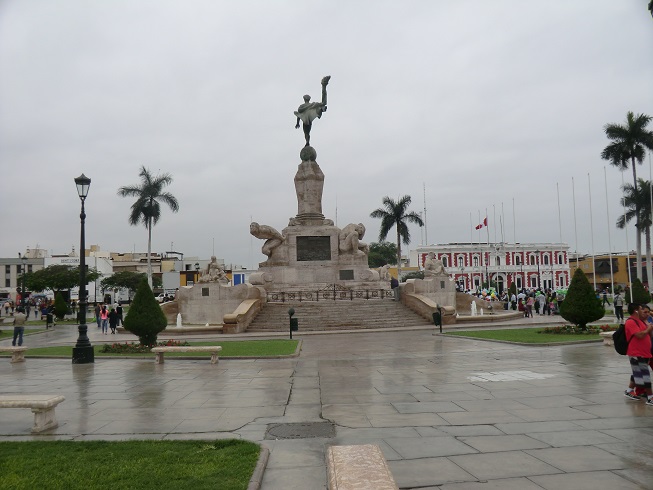 A piece of art on Plaza de Armas.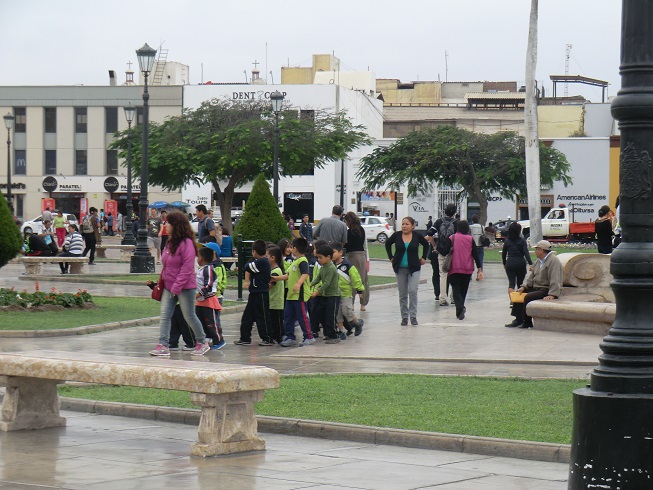 School children on an adventure.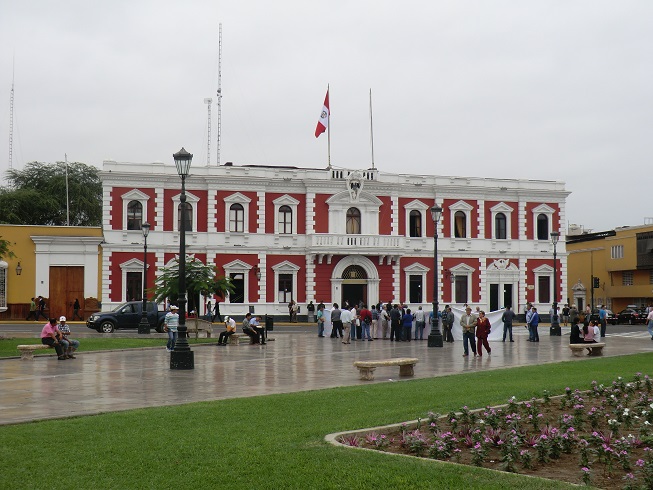 Protests in front of the city hall.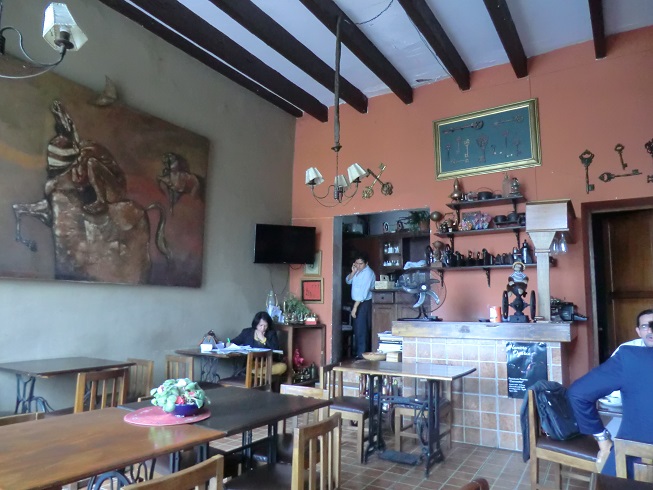 La Llave Café.
14.45 It feels great to explore a new city and get to know it better. It is wonderful to stretch out and do nothing after getting to know a city. It's impossible to take in all the many impressions.
16.03 Christer has found CNN on our TV. We watch with one eye what is offered. Christiane Amanpour interviews and discuss about the situation in Greece right now.
16.29 Pope Francis has landed and left the airplane in La Paz, Bolivia. The city is, according to the CNN reporter, situated at an altitude of 4000 km altitude. We think it sounds high. 4 km is closer to the truth.
17.06 Now enough is enough with poor Greeks and Catholic leaders. We are in the need to stock up on food before the evening and night adventures.
17.37 The last meal in Trujillo will be at Restaurante Asturias, not far from Café Oviedo where we ate lunch. The range of food is very similar to the lunch restaurant. Probably it is the same owner. Isn't Oviedo (name of the lunch restaurant) a town in Asturias in Spain? Now that we have ordered, we will check with the Wi-Fi connection. Christer just handed his phone to the waiter who would write the code but he couldn't make it. Perhaps it is because that he did not understand what was on the screen and pressed the wrong button. Now he has written down the code instead.
18.31 After a good dinner Christer went inside a grocery store. We needed nourishment for our nightly bus trip. I kept watch and saw a young boy. He is a potential future thug. First he hit me on the thigh, then he hit on a sales woman's popcorn bag, patted a gentleman on the butt and stepped on a poster that a guy sold.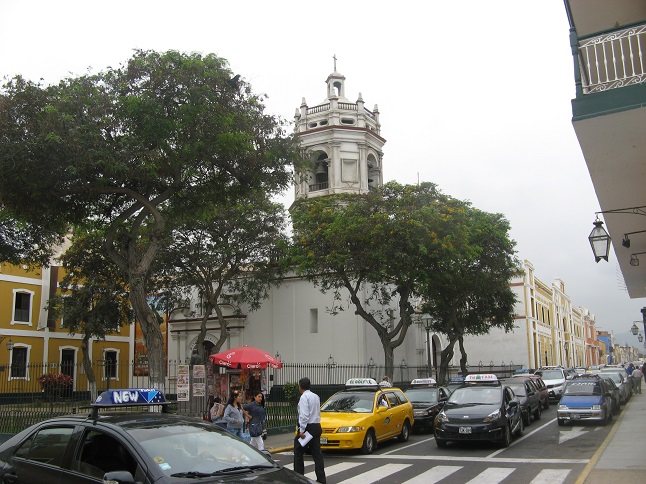 Iglesia de San Francisco, one of many churches we saw in Trujillo.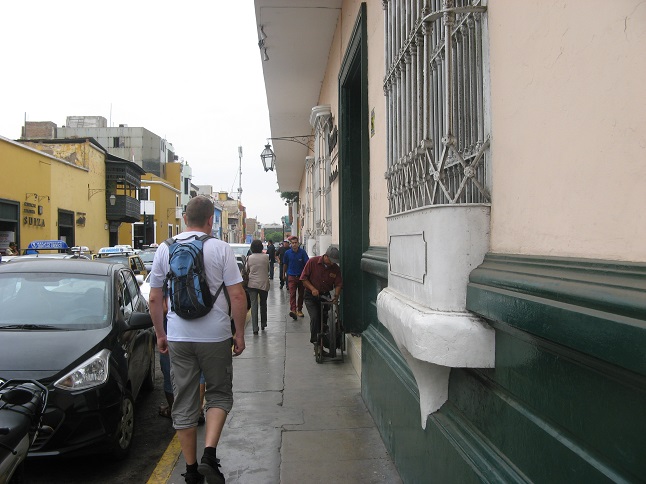 A man is sharpening his knife. Is it dangerous to walk here?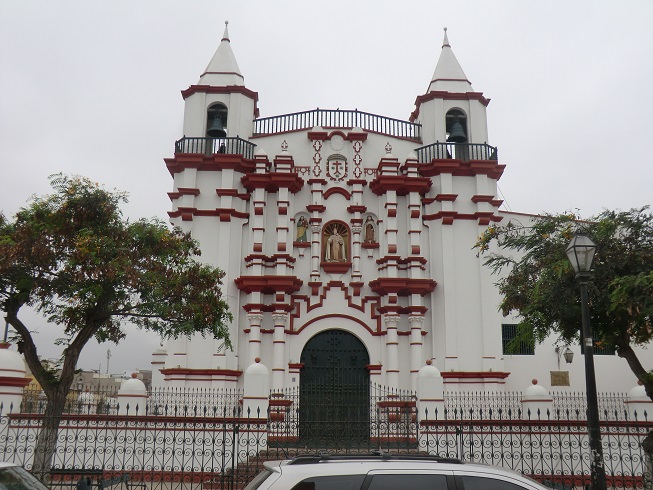 The beautiful church Iglesia del Carmen.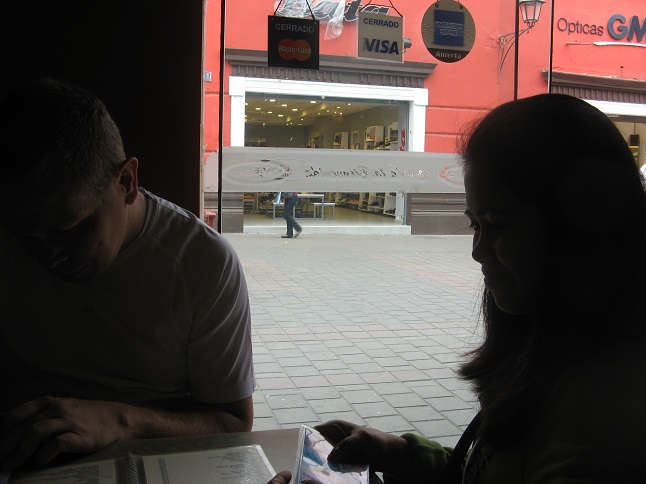 Christer is donating some money to Children of Joy.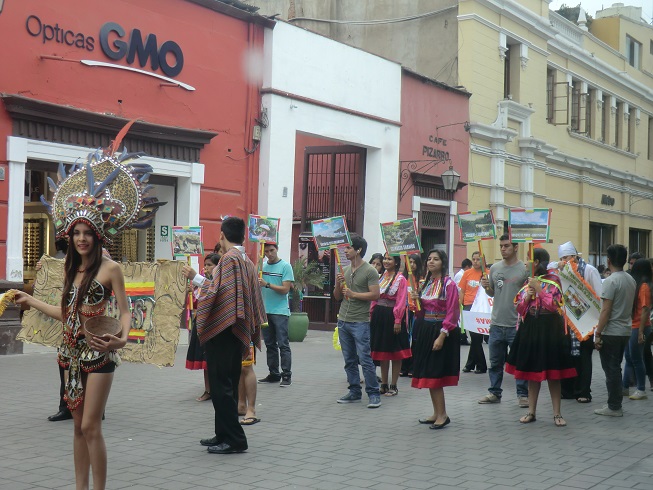 We had the opportunity to witness yet another parade.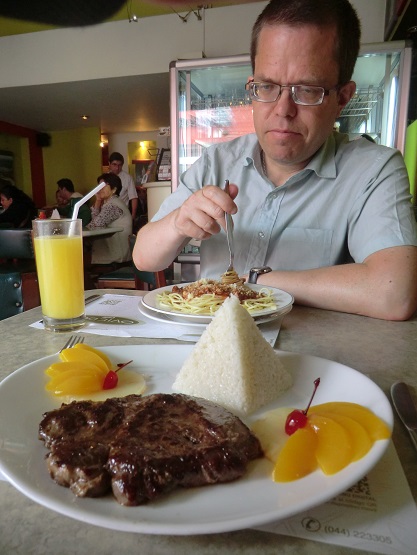 Peter is eating his lunch at Café Oviedo.
19.08 Now we are back home and are packing our things while Anderson Cooper on CNN is interviewing Donald Trump. Mr Trump, who is a candidate to become the Republican presidential candidate in the United States wants to build a high wall along the Mexican border, in order to stop illegal immigrants. He believes that the people of Mexico should pay for the construction.
20.07 Mr Trump also wants to bomb oil wells in Iraq to stop the revenue to the Islamic state (IS). Anderson Cooper pointed out that this would probably lead to objections from Baghdad. Donald countered that Iraq does not exist in practice. US stock markets, Wall Street Journal and the airline United Airlines have each experienced severe data problems during the day.
20.53 The checkout from Hotel Libertad and transport in taxi went well. The good news continued here at the large newly built bus terminal Terrapuerto on the outskirts of the city. Christer handed over a computer printout of the booking confirmation to the night bus and we got two tickets. We had booked them in advance in Sweden.
21.09 We left the baggage, the terminal fee was paid and we had to go to the VIP section of the gate. Here we sit comfortably and wait. We will soon board the bus.
21.57 Now we are on the way. I have mixed feelings and memories when it comes to night buses. Will this journey be a positive memory or? I guess we will find out.
22.33 The bus hostess has invited to tea and biscuit. There is a lot of traffic though the hour is late. We travel further in the evening darkness.
23.21 Dark and sand dunes surround us. I'll see if I´ll take a nap.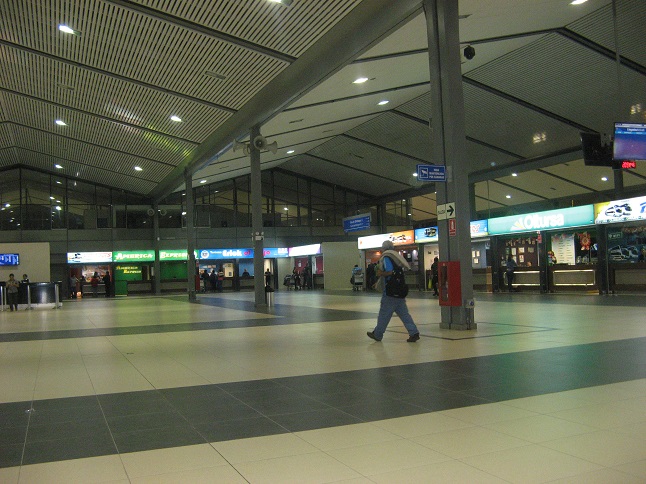 Terrapuerto, a bus terminal which reminds us of an airport.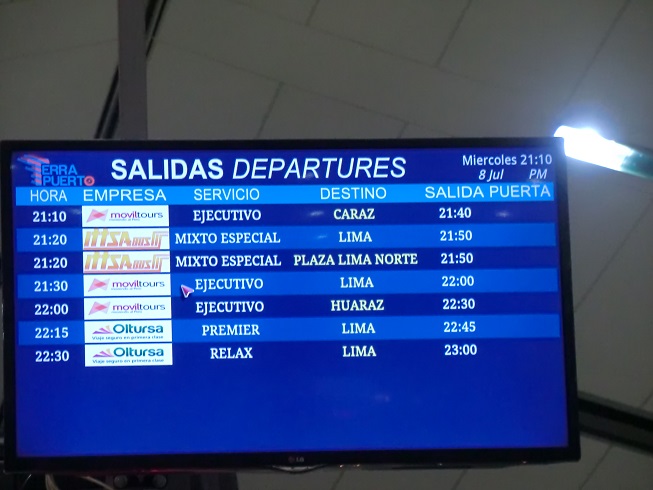 Our night bus from Movil Tours departs at 21.40.
---
Thursday 9th of July
00.12 We have driven through and made a short stop in Chimbote. We will eventually during the night leave the coast and continue the journey up to the Andes.
00.30 The only thing that lights up the darkness of the night are other vehicles along this road. It is cool inside the bus. Now I will sleep a little more.
02.38 We slide between sleep, awake and half awake. It is colder here in the bus and the windows are foggy. The bus turns and swings. We seem to travel on a very curvy road. It is unclear where exactly we are.
04.25 We travel on serpentine roads down to a city in the valley below us. Is it our destination? It feels a little early to be correct city, but what else would it be? It's hard to write beautifully in the dark on a bumpy bus and serpentine turns.
04.59 It was our city. We are in Huaraz and were greeted here by some dry, cool and fresh air. It is difficult to know whether it is cold or the altitude that makes it tough to breathe. We arrived at the Movil Tours garage in the outskirts of the city. The bus we arrived with is now travelling on. It is going to Caraz in the north. We have, with the help of a taxi, made it to the accommodation El Jacal (http://www.jacalhuaras.com). It took some time before we were let in, was the man asleep? We had notified that we would arrive at 06.00. We have been told by the man that we cannot get any room until 11.00. Now we are sitting in an orange couch and wait. We have received blankets to keep us warm. We are, for the first time in our lives without the help of a vehicle, at a height above 3000 meters. It is more precisely 3052 meters above sea level here in Huaraz.
06.56 We have between then and now rested, been half asleep and slept here on the couch. We were disturbed a few times by a Native American woman who delivered bread and four guests that checked out early. The man who checked us in have made a call. Christer overheard that he was talking about two foreigners who came early. I wonder who that might be?
07.12 Finally! We have a room, number 301. The man suggested that we should wash ourselves in the bathroom and then go and have breakfast on the roof terrace. It's really cool in our room. One can also call it ice cold. Four persons checked out during our rest. Is it their room that we have received? It has after all four beds. Something else that happened during the time we rested was the arrival of the breakfast lady.
07.29 The terrace offers fantastic views and breakfast. What more can a man want? Well, it should to take pictures of the views and eat the breakfast. It is time to get things done. There is snow on the highest peaks. We have a perfect view of the Peru's highest mountain, Huascarán which is 6768 meters high.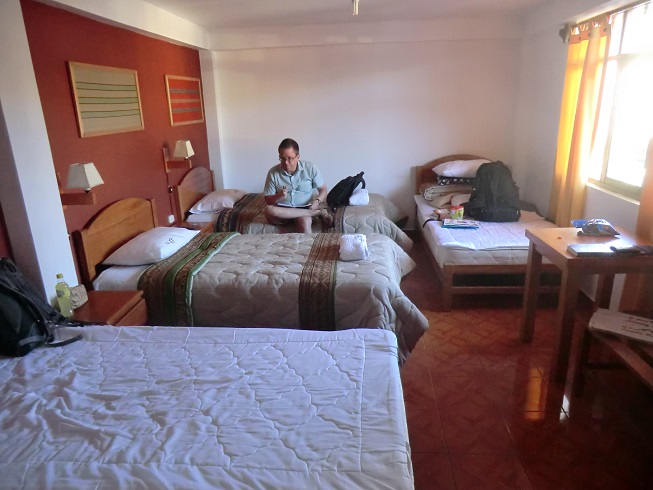 Finally we got a room at El Jacal.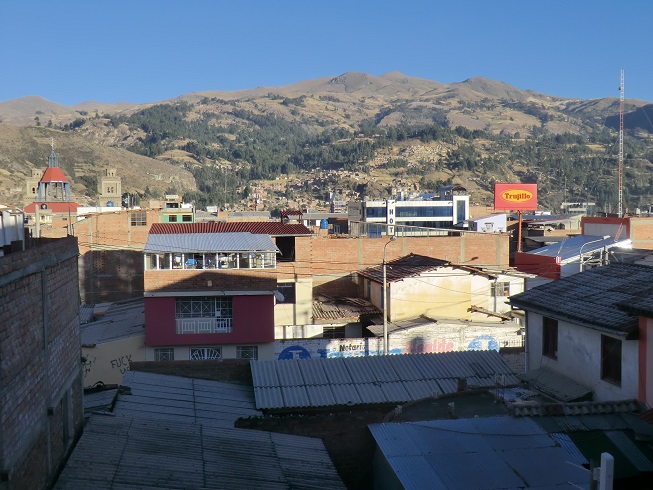 View from our room.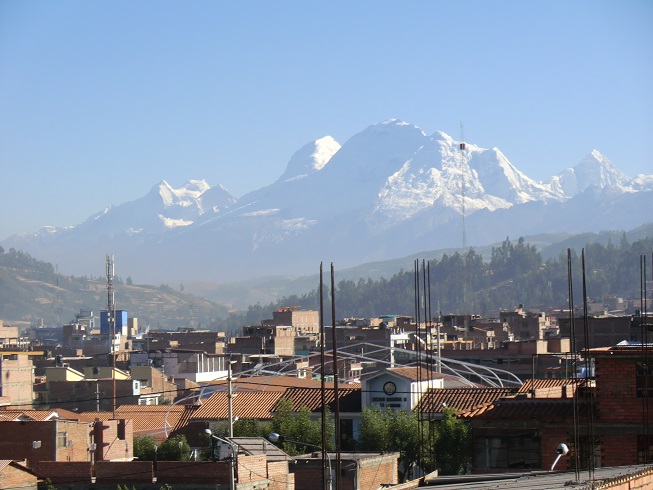 Huascarán, the highest peak in Peru.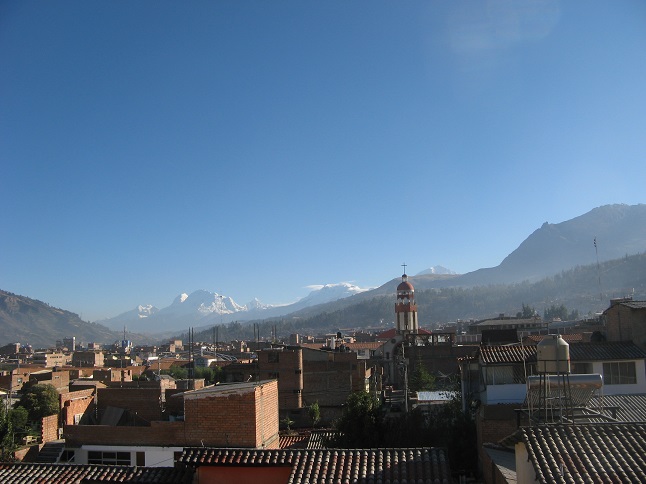 Huaraz with surrounding mountains.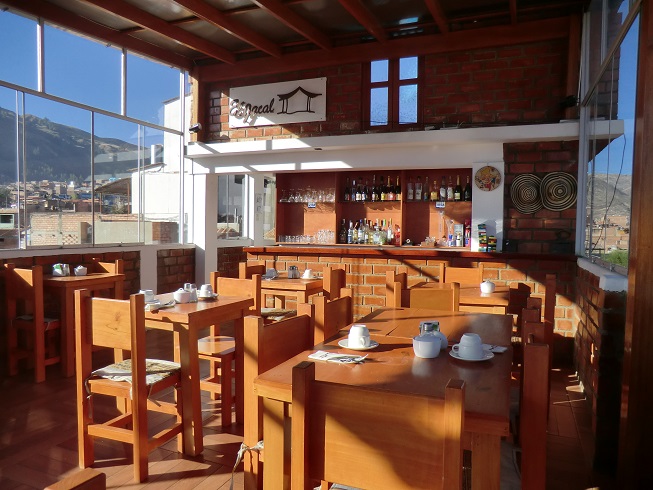 The roof terrace at El Jacal.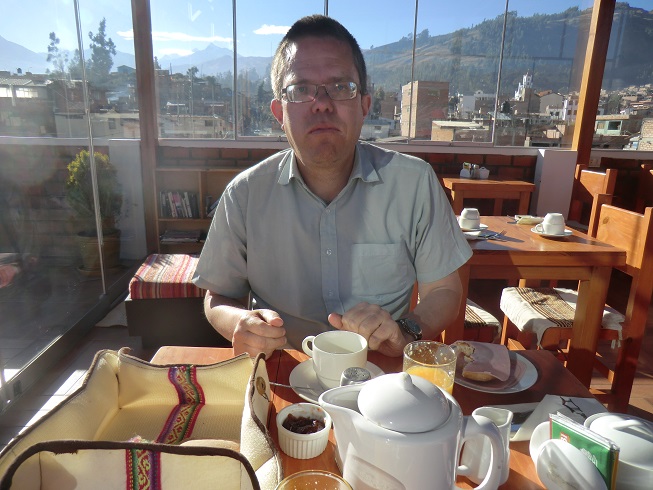 Peter is eating breakfast and welcomes the sun after a cold morning.
08.32 After receiving the views and the amazing breakfast, we will make sure to get some sleep in a horizontal position. We need to make up for lost sleep, a necessary evil when you fly or travel by bus at night.
11.15 It is now time for today's facts.

- Huaraz is located at 3091 meters above sea level, forget the previous information.
- We have slept well.
- The shower has well-tempered water.
- The city was hit and almost wiped out by an earthquake in 1970. Therefore, there are no historical buildings here.
11.53 In the near future some questions will be answered. When and what should we pay? What is the Wi-Fi code here at El Jacal?, Can we handle the altitude and the temperature here? Where will we have lunch and what will we eat?
12.36 The questions have largely been resolved. We pay for our room later but do not know the exact sum. However, we know the code for the Wi-Fi connection. The altitude and temperature brings no major problems yet. The lunch will soon be eaten at the by the guide books recommended Café Andino (http://www.cafeandino.com). We have brought us here after a short walk from El Jacal down to the city centre. Café Andino is located on the second floor of a centrally located house and here we are on the restaurant's outside part overlooking the street and with a lovely view of the snowy peaks around the city.
12.45 We are waiting for our food. The city we are in, Huaraz, is primarily a destination that attracts mountain trekkers because of the stunning scenery of the area here. We will most probably wander in this city.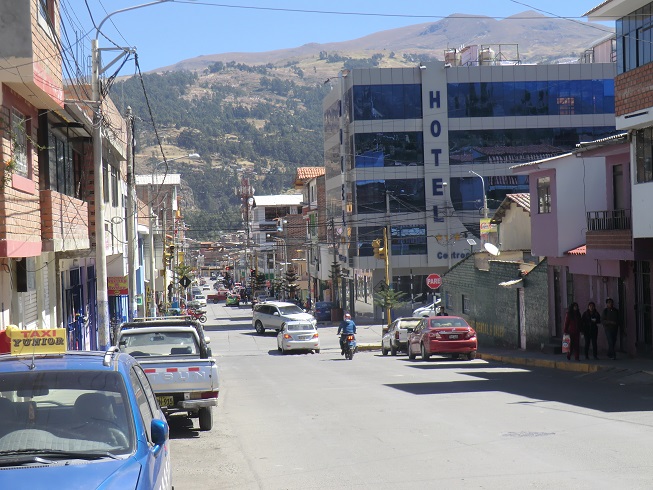 We are heading towards the city center.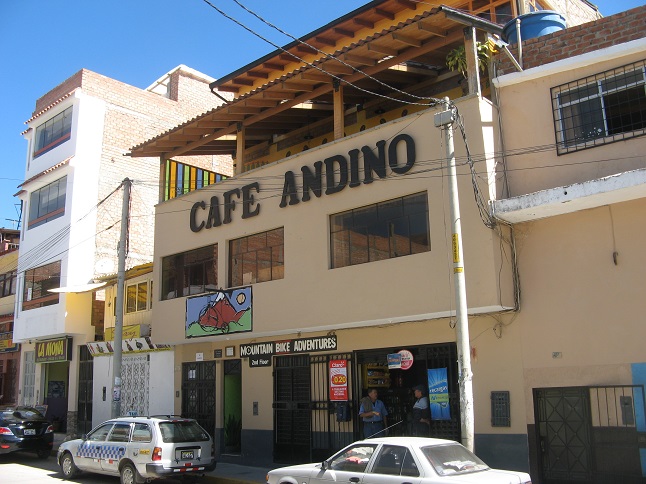 Café Andino, Huaraz.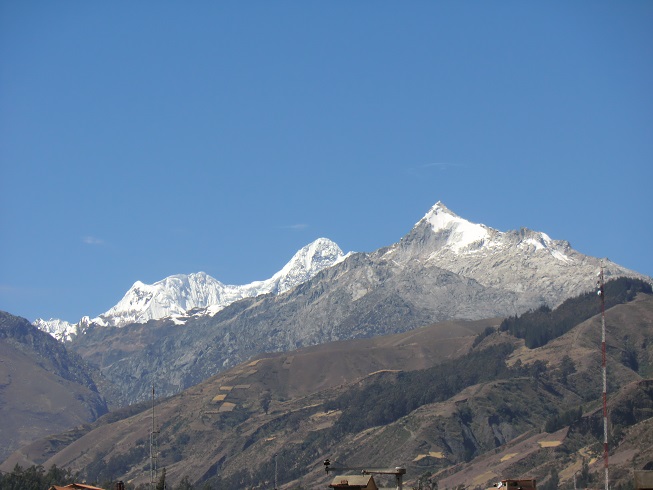 During lunch we could look at beautiful mountains.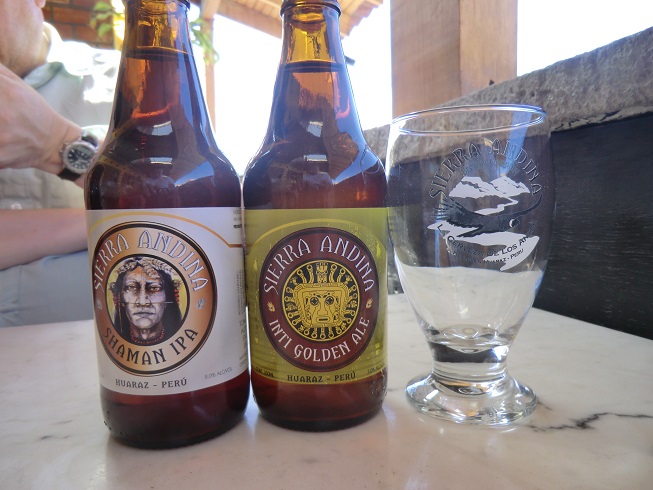 Interesting beers made in Huaraz.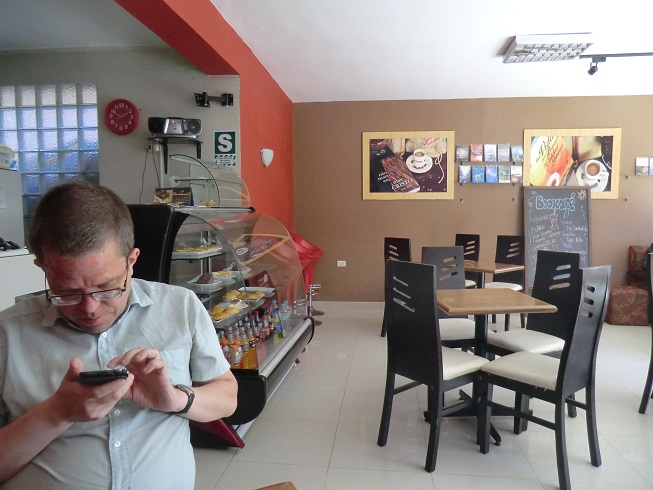 Peter is connecting to the internet at BooKafe.
13.17 The beer we ordered, a Shaman IPA and Inti Golden Ale, are from the local brewery Sierra Andina was very good. The food we got on our plates was also tasteful.
13.34 We are in the nearby small BooKafe for coffee. In addition to coffee and pastries, the café offers books, hence the name. I left a business card on the notice board before we took the stairs down from the restaurant. Café Andino is one of the meeting points in the city for foreign tourists.
15.10 We went to our temporary home after the coffee. A moment later we took our books and went up on the nice sunny terrace. We share the terrace with a man who is eating an ice cream cone.
15.52 It is as always oh so nice to do nothing. The books are great and the air temperature just OK this afternoon.
16.31 The window of the room has been open during the day and it is still open. We want some warm air in the freezing room. It feels strange to open the window to let in heat.
17.16 We have, as so many times before been updating us with news from the outside world via CNN on our television and via the internet on the mobile phones. The time when we hunted around in the cities in search of internet cafes feels a world away. On the table is about 1kg uneaten candy waiting for us. Christer bought it when he went shopping in Trujillo yesterday. There were no smaller packages.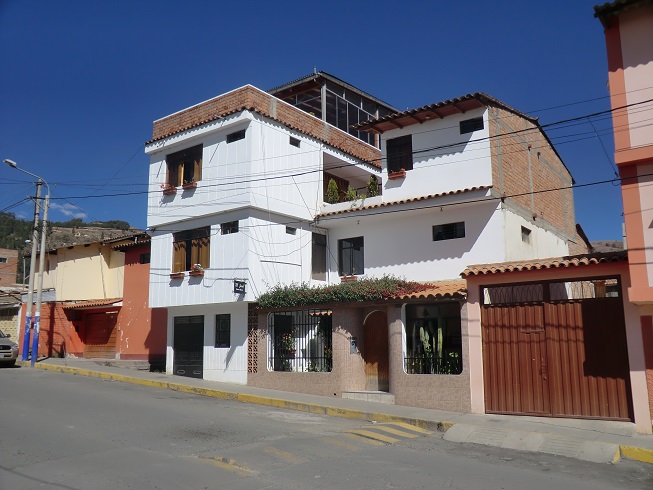 El Jacal, our home in Huaraz.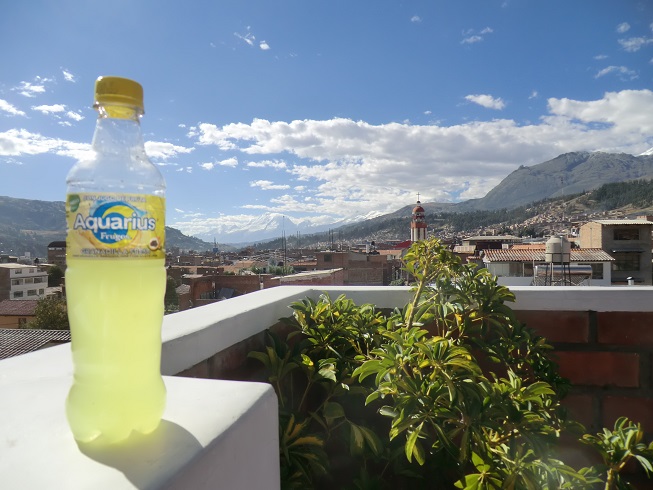 Aquarius is a refreshing drink.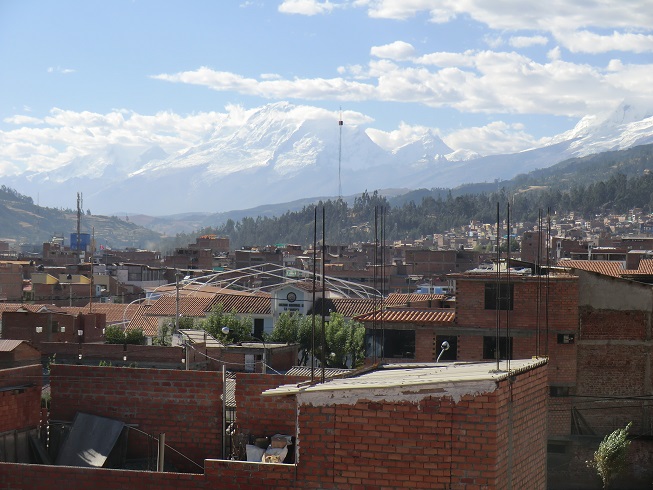 Huascarán has attracted some clouds.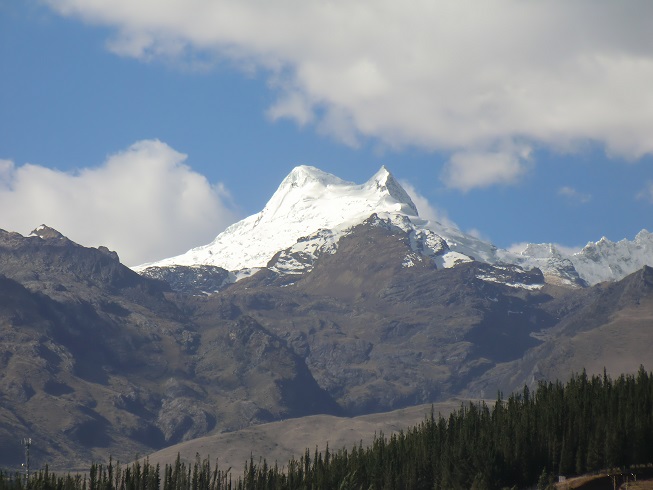 The highest peaks are covered by snow.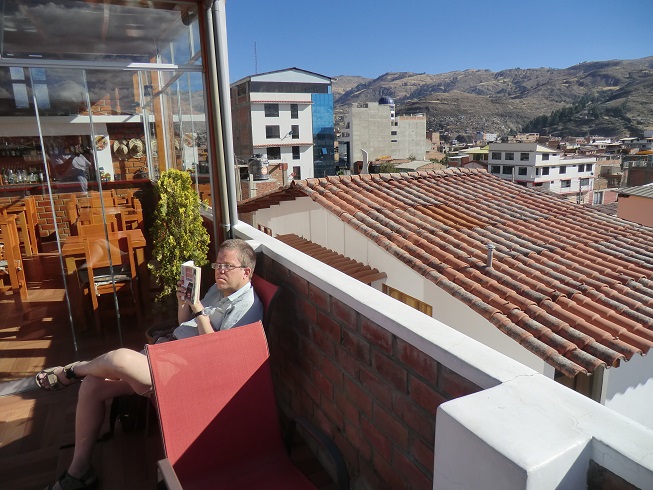 Peter is reading during the last hours of sunlight.
18.26 Once again I have photographed a setting sun. Now it has crept down behind the mountains. Christer has crawled under the blankets. Is it the height, the night's long journey or has something else influenced him? He feels frozen, not at all in shape. CNN, which is available on channel 38, has taught us that Greece has submitted its plan for reform of the EU and Brussels. In addition, they need to 13 billion Euros.
18.50 There has been enough room stay. It is time to relocate the bodies to another room. We need to eat dinner.
19.22 We have walked down to the centre to try to find a restaurant (El Horno) we read about in our guidebook. It was not found but a small cozy square completely surrounded by diverse restaurants aimed at tourists. Soon it will be pizza at La Rotonda, the one of the restaurants we finally decided. The pizzas we test new varieties of beer from the brewery Sierra Andina who were delighted at the lunch.
20.37 During dinner we were visited by a gray female dog. She looked interesting on us and our food before she went again. While we two went after first being paid. Now we are back in our room at El Jacal to end the day.
21.42 Two worn men, in a flat position, are now watching CNN.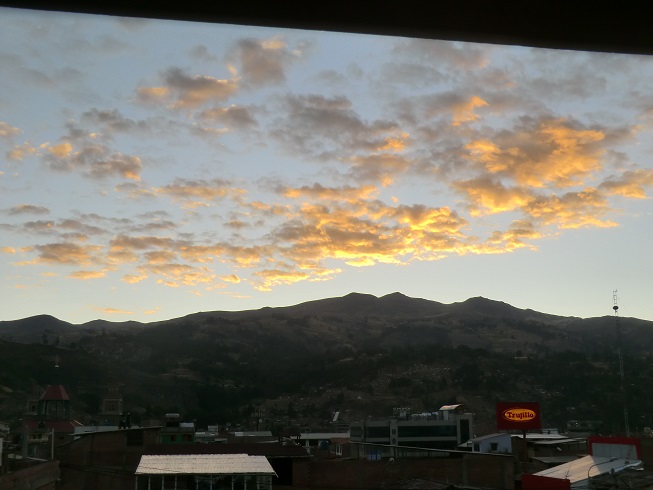 Sunset in Huaraz.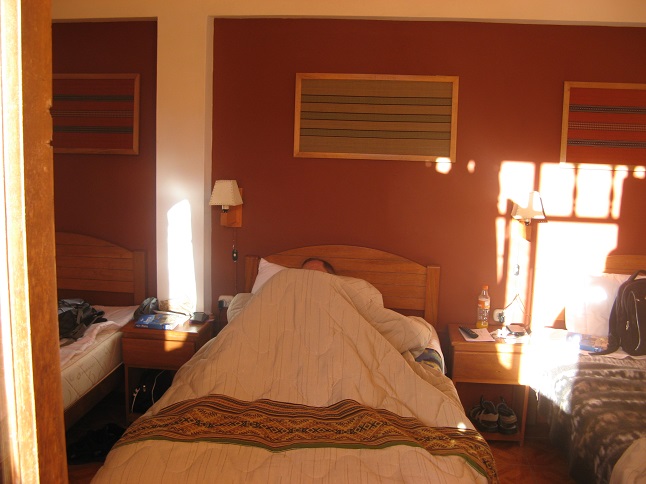 Christer is freezing in our cold room.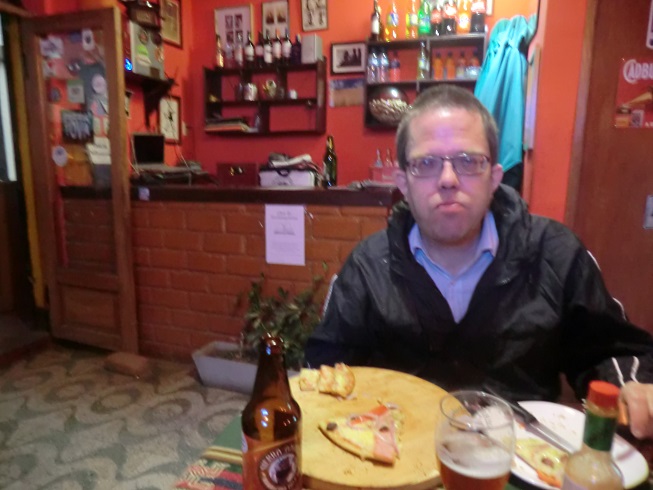 Peter is having a pizza dinner at La Rotonda.
---
Friday 10th of July
07.55 The day has started with the less pleasant news that Christer suffers from fever and body aches. His sleep has been less favourable with strange dreams and aching in the muscles. We will due to this, change the route and cut the next two places Huánuco and Cerro de Pasco from our travel plan. They were only intended as overnight stops during the trip south. Instead, we will travel through Lima and then connect to the supposed route later.
08.20 We're back on the roof terrace to repeat yesterday's success, the breakfast.
08.58 We are, now when breakfast is over, approaching the concerns over how the day and the days can be organized in the best way.
09.37 Not much happens here. But what could happen in a room? It is hardly likely that any of the mountains mammals or for that sake birds might pay us a visit. No, if we want something writable to happen, we must probably leave the room.
10.47 A slightly more alert Christer and I in more or less the same shape has taken us up on the roof terrace. Now we will be reading in the books and make some more plans. We will hopefully get the room cleaned while we're up here.
12.15 Our strategy worked. Books were read, plans were made and the room was cleaned. Unfortunately, is Christer still in a less good condition.
12.47 It is time for me to leave the room and give Christer some sleeping time.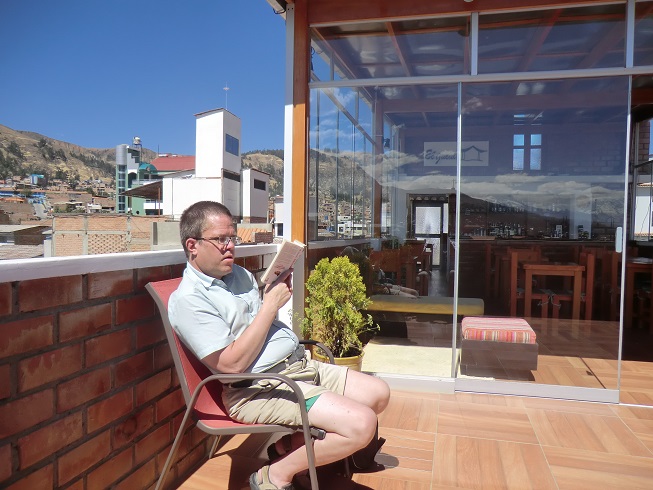 Peter has a relaxing day.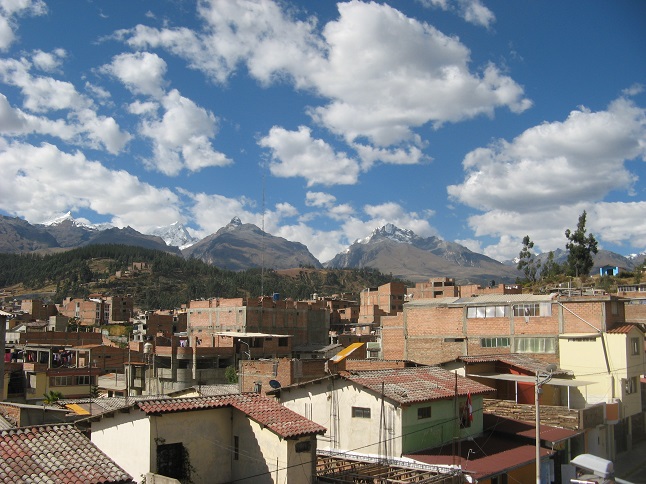 A new day in Huaraz.
13.21 I strolled around a bit in the city and enjoyed the generous sunshine. When hunger struck, I returned to BooKafe. They were cleaning so no coffee there. A new compass direction was taken out and now I just ordered a cheese sandwich and a cup of chocolate in a cafe, El Mana.
13.43 The chocolate made from full-fat milk has a peculiar taste. Now I am back in the room. Christer has slept for a while.
14.10 The time has come to change the future. It will not be as we had planned. We just need to make it as good as possible.
14.39 Now we booked a room at Hotel Galaxia in another part of Huaraz. We begin with a night there to see if Christer will feel better. Later we will also need to solve the problem of future transports, resorts and accommodations . Our booking number is 372 487 319. Now we "only" need to cancel the accommodation in the city we will never get to, Huánuco. However, it is no panic with that.
14.57 To give Christer some sleeping time and myself some reading time, I have sat down on the terrace. Not much happens today. That's life when illness strikes.
15.47 Enough is enough with sleeping and reading time. In any case when it comes to reading on the terrace.
16.47 We remain in the room and do almost nothing. What is it that made Christer feel like this? Is it contagious? Will it affect me? Right now I have no good answers to these questions. It cannot in any case be altitude sickness. It seldom lead to fever. It is probably some kind of infection/flu induced by a chilly night on the bus here.
18.15 CNN reports about a typhoon Chan-Hom, near Shanghai, and the actor Omar Sharif has died.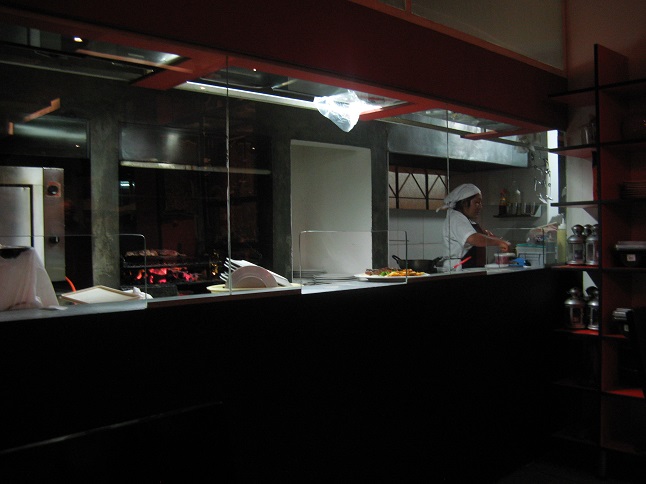 Dinner is being prepared at Encuentro.
19.07 Now it's about time. Soon Christer will leave the room and accommodation. He needs to get out to get fresh air, a walk and to eat. I guess this applies to me as well.
19.25 Today's dinner is right next to where we ate yesterday. We are by the same small square. Today there will be dining at the restaurant Encuentro. I have not ordered the guinea pig. We overlook the kitchen. Behind the glass, we see the grill and also the stove where there are frying pans.
20.20 We got tasty and nourishing food. I hope that this plus a full night of uninterrupted sleep gives Christer that strength he needs for the regrouping tomorrow.
22.10 We hear shouts and music from outside. Is there something going on in the town? Here in the room is neither cries or music. We will just prepare ourselves for the night.
---
Saturday 11th of July
08.31 Today we will do something we´ve just done in a few cities before, changing accommodations in the same city. First, we will get ready here at El Jacal. Other cities where such a change took place is Skopje in 2002, Izmir in 2005, Kuala Lumpur in 2006 and perhaps some place we have forgot.
09.33 We have just cancelled the booked hotel in Huánuco. Soon it's time to end it all here at this accommodation before we slowly move towards the next hotel here in Huaraz.
09.52 We have left El Jacal behind us and thanked for our stay here. Christer is free from fever but still have lack of energy and some body pain. It will hopefully be a simple and smooth regrouping. Our next home is just down the centre, not too far away.
10.21 Things are not going according to plan. We have a problem finding the Hotel Galaxia. We ban ourselves for not checking up better where the hotel is located. It is a lack of names of streets and numbers on houses where we walk. Another thing on the down side is the fact that I forgot to write down the street number as I booked the hotel yesterday. As if this were not enough, there is a market along the street where the hotel can be. The pavements are full of stalls and there are people everywhere. We have been at the beginning, middle and end of the damn street but no hotel in sight. The street we walk along is named Cruz Romero and it's also where the hotel should be located.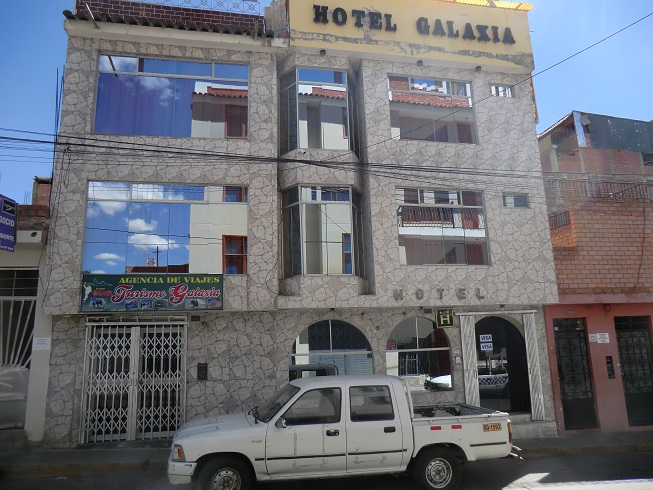 Hotel Galaxia, Huaraz.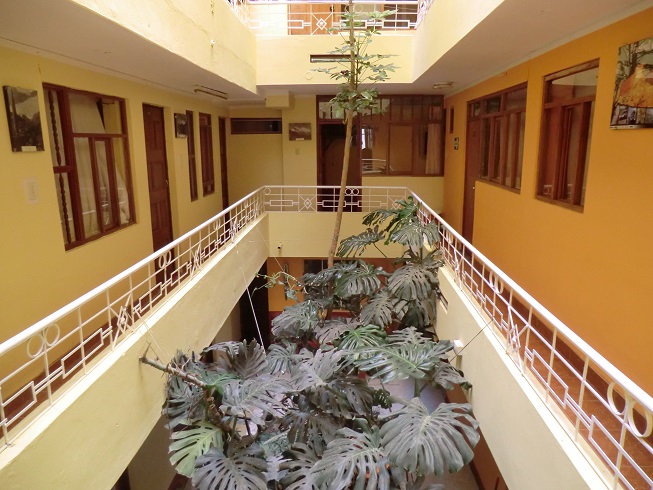 The inside of our new hotel.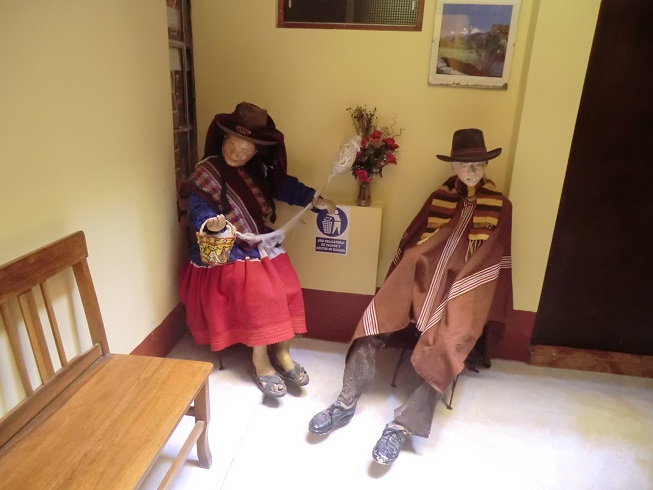 Are they previous guests?
11.00 The mobile phones had to be used, we got connected to the internet, despite the price, and found the number and later the hotel. The cute little street did not start/end where we thought. It made a bend around a square and continued for a while. It was along this part that the hotel is located. We were welcomed by a short little old woman, a maximum of 1,40 meters high/long. She did not reach the top keys behind the reception counter. Christer had to give her a helping hand. First we got room 202, but someone apparently already stayed there. On the way to the next room I struck down a dustpan. We are now in room 205.
12.05 We are relaxing at the moment. We must think of Christer's condition. It was much harder than we thought to change room and change hotels. Moreover, it is good to be lazy sometimes. Besides rooms the hotel also offers a few excursions in the surrounding area and beyond.
13.21 After some Facebook watching where some Swedes as usual, complains about everything foreign, it was time to wash our clothes. Now we're going out to see more of Huaraz and see things not yet seen before. Speaking of Facebook posts, today they were more stupid than usual. One woman was so tired of all these foreigners in Sweden so she thought about moving abroad. Are there no foreigners there?
13.41 California Dreaming is a song. California Café, however, the name of the lunch place. We have ordered Belgian waffles and American pancakes. California Café is another one of those meeting places for backpackers and other foreigners who for various reasons live in or visit Huaraz.
13.53 A small drama has occurred while waiting for lunch. One guy got inside and left after a short while. The staff tried to follow him. Apparently he had tried to pick up something from the table behind me. This was his second visit here. They come in pairs, one ask the staff something while the other strikes. Nothing seems to be missing this time.
14.07 Yet another delicious lunch is coming to an end. The easy is sometimes the best. We do not need to have meat each meal.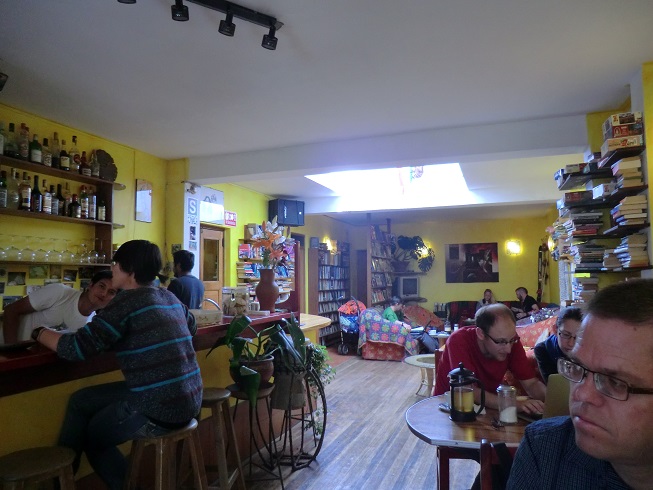 Today the lunch was at California Café.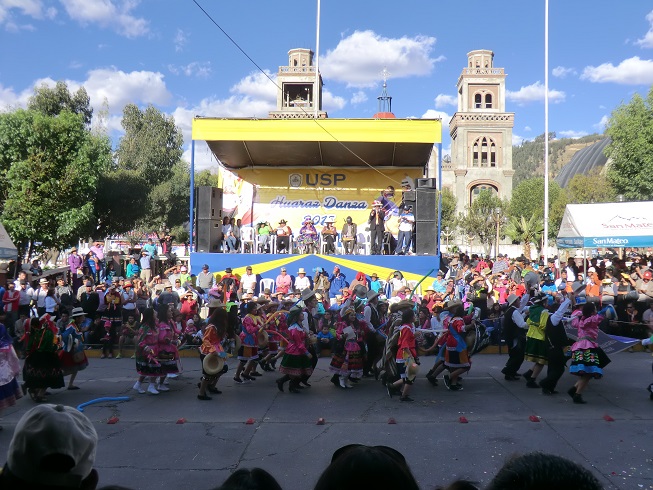 Huaraz Danza with music and people in traditional clothes.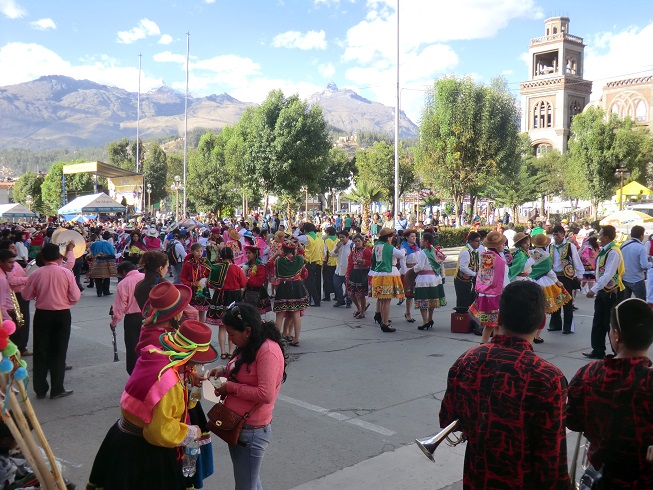 Enthusiastic participants in "Huaraz Danza".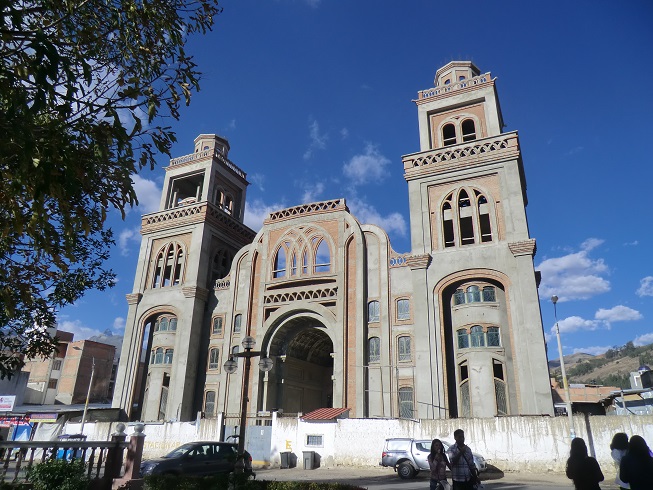 The cathedral in Huaraz.
14.28 We are now on a temporary visit back in 205, our room. Our own and our mobile phone batteries must be recharged.
15.38 Enough with the loading. There are a few important things to do in this city.
16.20 We set out on a small walk in the local area and are now at the square, the Plaza de Armas. Here we listen to music and watch performances. It is some sort of festival going on, a popular pastime called Huaraz Danza. People in beautiful costumes dance and music is played. The entire square is filled with people. We have also been joined by a .... dog. Yes, it has happened again!
16.41 We cruised our way through the unseen parts of Huaraz with the happy, black and white dog after us. It went where we went. We stopped and it stopped. We took pictures and it took its time to watch us. Now we are at the bus company Cruz del Sur's ticket office, and guess what, the dog is still with us. We just bought bus tickets to Lima. Well, not for the dog, however.
17.06 The dog got tired of waiting for us and was finally left the building. We did the same and are, after some small stops for photography and purchases in a small supermarket, now looking at a parade. I firmly believe that it is the same people that we saw in the Plaza de Armas. They are now passing on the main street Luzuriaga closed for car traffic.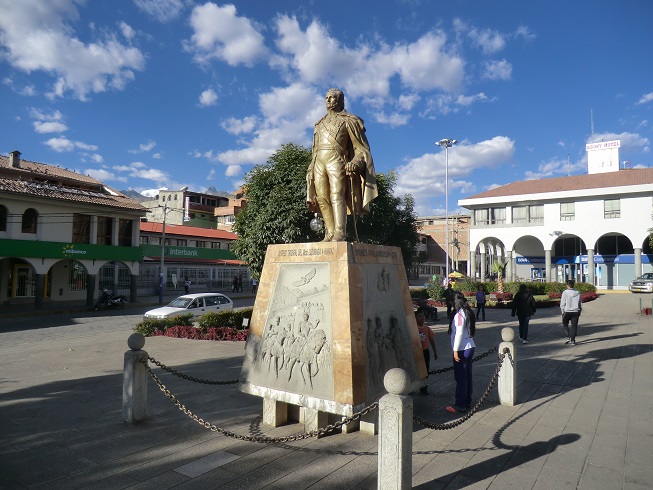 The freedom hero Luzuriaga was born in Huaraz.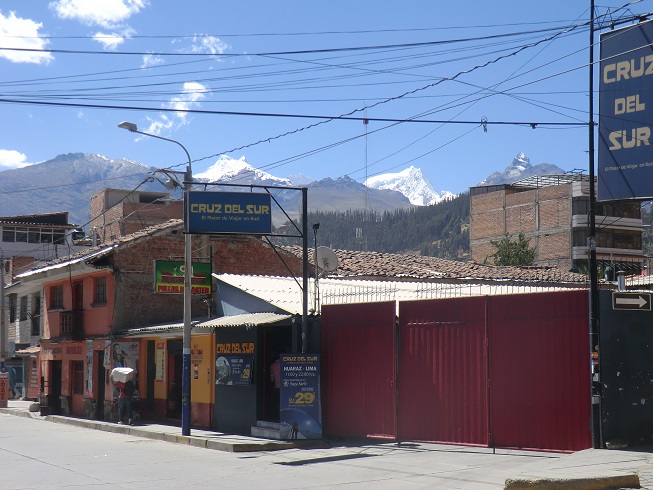 We will buy bus tickets at Cruz del Sur.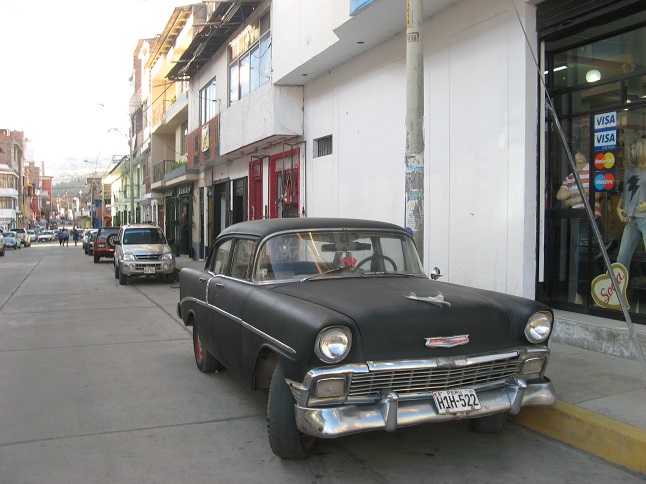 A classic car is parked along Calle Bolívar.
17.19 We have found our way back home to Hotel Galaxia again. It feels pretty good. We hear firecrackers, which kicks off car alarms. We admired all the people who passed our hotel before we went inside. There were dancers and musicians in all sorts of costumes. It's really a party today.
18.21 It is fortunate that there will not be another day in this city. Nothing bad about it, but what should we do another day here? Perhaps an excursion, or, no. Huaraz is used as a base for mountain excursions. Almost all the houses are built after the earthquake in 1970 which killed half the city's population and destroyed 90% of the buildings.
19.56 We have ordered chica each, it is the size of the pizzas we eat. We are the Pizzeria Luigi's located at a short distance from our hotel. On the walls, people have written greetings and drawings, a little of each.
20.12 Inside here is, besides the two of us, one woman from Scotland who are conversing with a Peruvian man. She talks about all the times she had been drunk and he looks mildly concerned.
20.47 It was as so often with pizza, delicious and filling. We shook hands with the nice pizza baker before we left. He asked where we were from and he said that they also serve breakfast. We were welcomed back.
21.47 The strength and the will to stay up longer runs short. Sure, it's silly to sleep away the time but what else is there to do?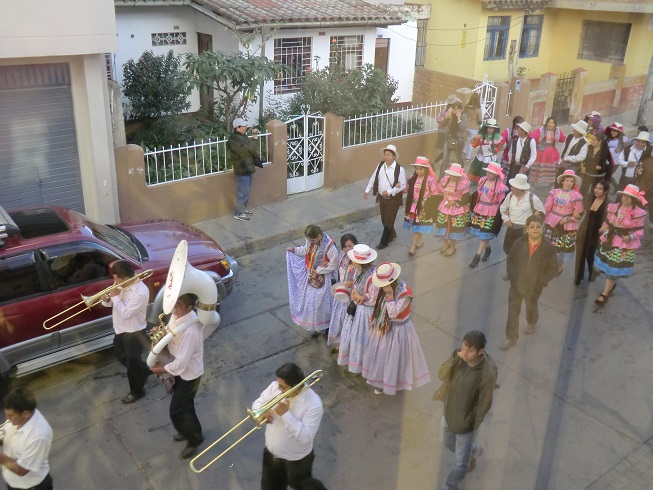 From our hotel we could see the festival people passing by.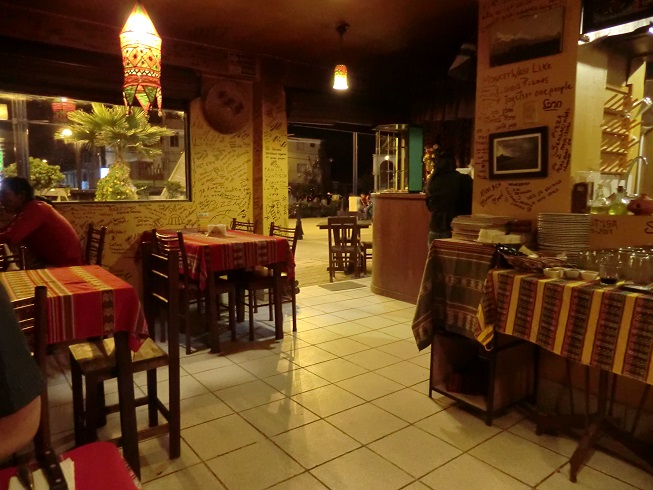 Luigi´s Pizzeria with greetings on the walls.
---
VIDEOS
---
You can see 54 photos from July 8 in this photoalbum.
You can see 51 photos from July 9 in this photoalbum.
You can see 6 photos from July 10 in this photoalbum.
You can see 33 photos from July 11 in this photoalbum.

---
---
---

---