---
Text: Peter Johansson
Editing: Christer Lundstedt
Photos: Christer Lundstedt, Peter Johansson
Videos: Christer Lundstedt
---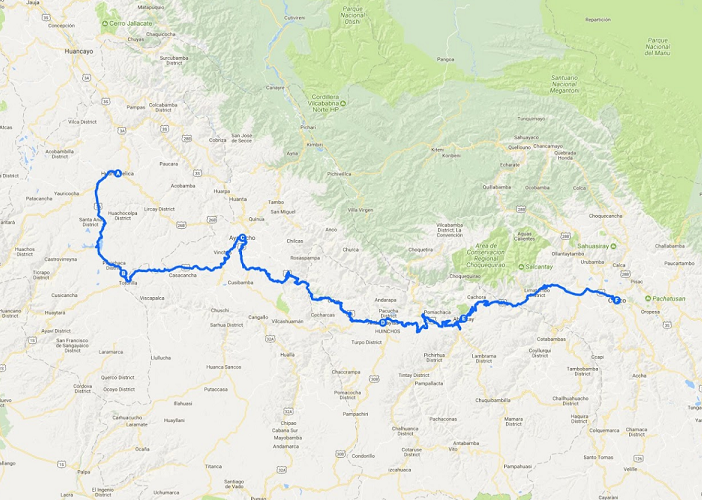 ---
Monday 20th of July
00.17 We have just boarded the bus from Expreso Molina. The bus was supposed to have departed at midnight but it stands completely still. We are thus still in Huancavelica, Peru. Outside it is chilly to say the least. Winter nights above 3600 meters altitude means a few or less degrees Celsius.
01.17 We have left Huancavelica on a narrow deserted road. There is not much space to meet other vehicles. On the other hand, it is almost only our bus which is out driving around on this road at this time of day. The inside of the windscreen is starting to be filled with condensation. It becomes like that when the humid inside air hits the cold glass.
03.11 Until now, the road has been narrow, bumpy and curvy. Partly there have been speed bumps. Now that we have reached Rumichaca the road seems to have straighten out. We've entered the main road coming from the coast. We remain seated at the front on the 2nd floor. It has been tough to sleep on the curvy roads.
03.30 We've just come to realize that our jackets have frozen to the front window.
05.59 We have finally arrived in Ayacucho. It's still dark outside. However, we are not at the terminal in the centre as we had expected when we planned this trip. Christer have, by coincidence, read another tourist's travel account some days ago. Because of that, we knew that a new bus terminal is built in the outskirts of the city and that is where we are now. Our backpacks have become dusty overnight. The next step is to get into the city's more central areas. We hope there is a taxi nearby.
06.11 We sat down on a bench and thought about our next move. We later bought a ticket for tomorrow's journey from here. It has started to be dawn outside the bus station.
06.34 We left the bus terminal and saw no taxis. Suddenly a guy turned up and shouted at us. We accepted his offer and travelled with his taxi to Hotel Santa Rosa (http://www.hotelsantarosa.com.pe), a historic hotel in the heart of the city. Here we were greeted welcome and have moved into room 21. Now we need to sleep a few hours to get our bodies in order.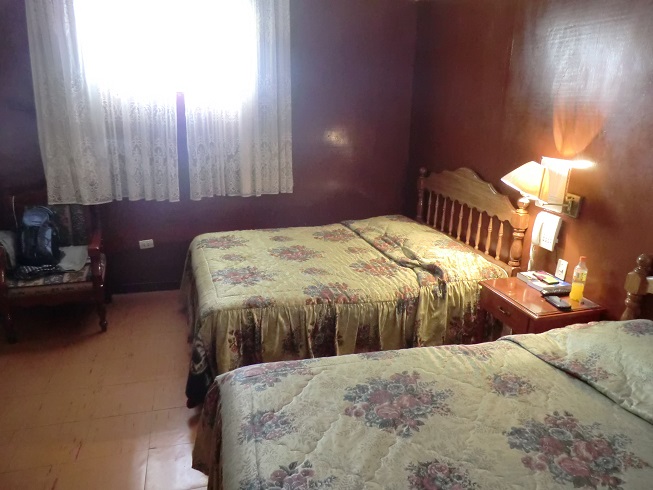 Inviting beds after a long bus trip during the night.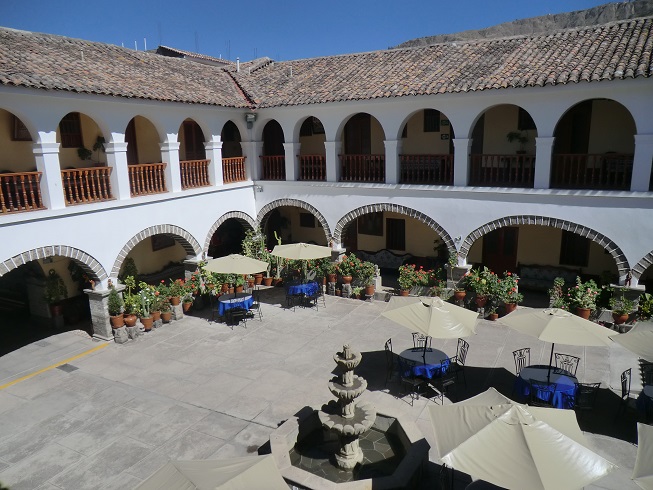 Hotel Santa Rosa in Ayacucho.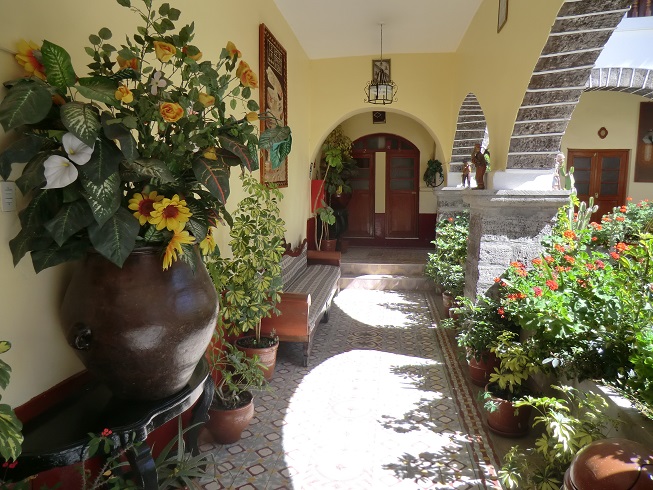 Inside the beautiful Hotel Santa Rosa.
09.44 Buenos Dias! We slept well for a few hours. I would have slept more but I wonder what it would bring. There's a new city with exciting content to see. We are only here for a day so the hours must be used well.
10.47 The sky is blue and the sun is doing its best to warm us. We are on the main city square, the Plaza de Armas. It is close to our hotel. We hear a policeman who is blowing his whistle. To the right of us, we have the cathedral and to the left is an equestrian statue. Ayacucho has about 150 000 inhabitants and is a beautiful city. However, it is also known from a less pleasant context. Here professor Abimael Guzmán founded the guerrilla movement Sendero Luminoso which created chaos and terror in Peru during many years. Today, however, the movement is languishing, it has more or less disappeared, although some bandits sometimes claim to belong to it.
11.31 We are now sitting in the courtyard of the hotel/restaurant Viavia (http://www.viaviacafe.com/en/ayacucho). As usual, more or less, things went wrong as I was about to order. Words and a mix of phrases from English, Spanish and Romanian confused the waitress. Language is definitely not my talent. The seats are great and we are looking forward to try some new exciting dishes.
12.14 After finishing the lunch, different dishes from the alpaca, I now enjoy the day's first coffee. Alpaca with rice and quinoa was good, though I might would have opted for the grilled pieces instead. Alpaca belongs to the camel animal family and whose fur or anyway wool is prized, particularly in the clothing industry. It is rather similar to the llama.
12.43 We are not bursting with energy, but what the heck, we cannot be on top all the time. We are at home in the room again to find some strength and motivation.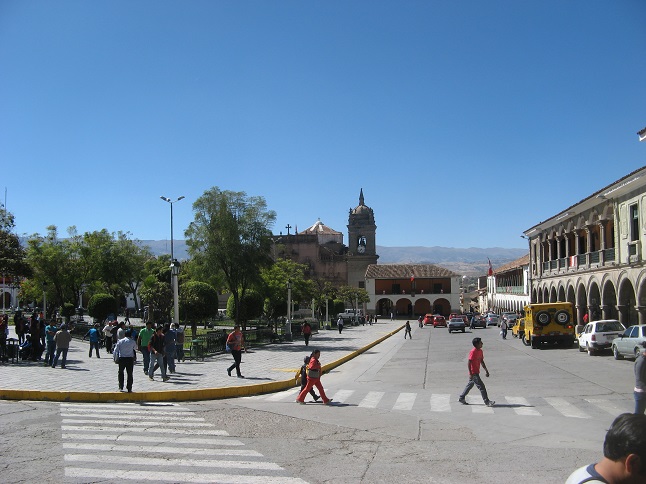 Plaza de Armas in Ayacucho.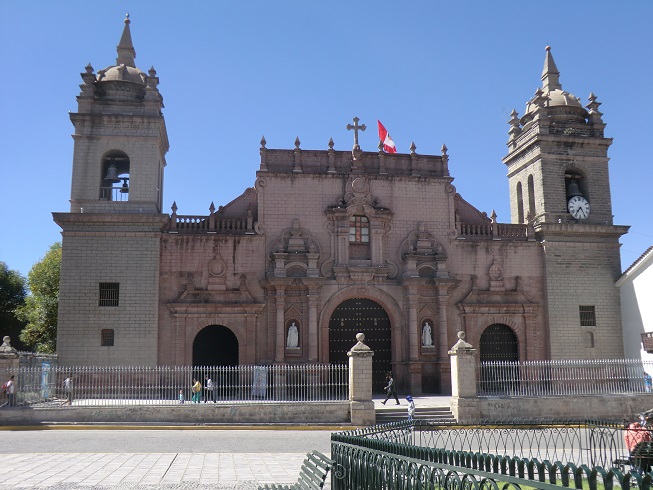 Catedral Basílica Santa María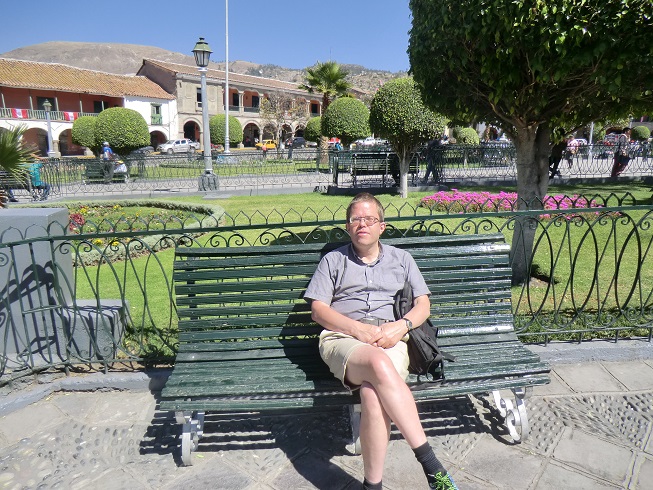 Peter is enjoying the warm sun after a cold night.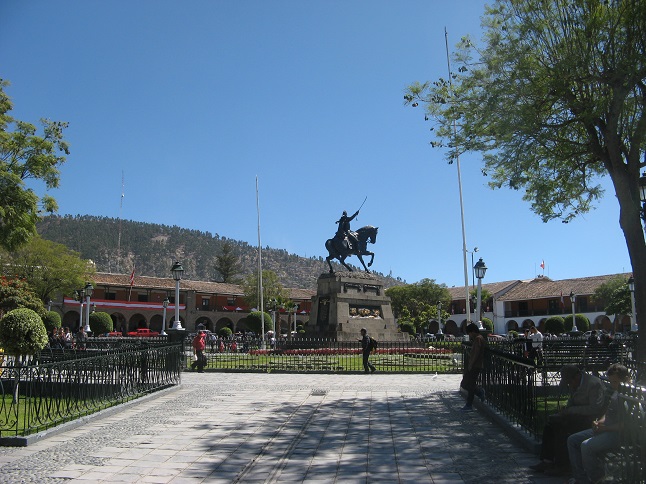 The national hero Sucre is on his horse.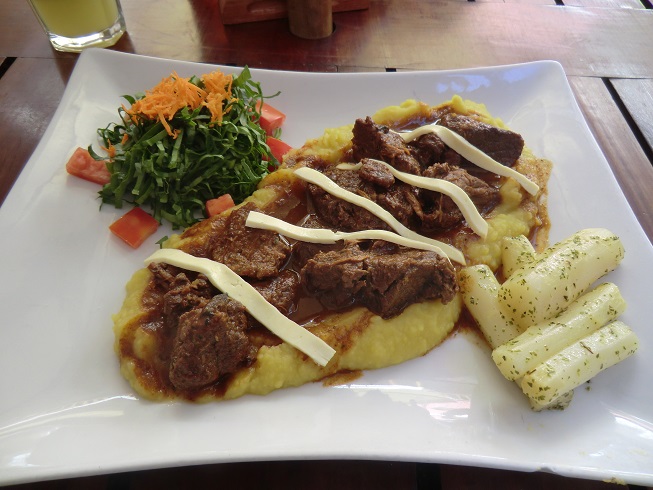 Alpaca for lunch!
13.43 After washing clothes, we will now have a reading session and enjoy the beautiful weather.
14.58 We have been sitting outside our room, reading in our books and enjoying life. This is a great hotel. It is sad that we are only here for a day and have to leave before breakfast is served tomorrow morning.
15.33 It is time to go out to see more of the current city, Ayacucho.
16.22 After a bit of walking and photographing of the square and the streets of the neighbourhood, we have now put ourselves inside the honey. We are at the Cafe de Miel (Café Honey). Here we have black coffee and slices from cakes such as Americana and Black Forest cake. Here it is called Selva Negra.
16.52 That was good, luxurious and satisfying. Now we are on the beautiful square again. We sit on a bench and look how the sun sets behind a mountain. A guy in a hood has also sat down on our bench. He and his friends listen to rap, hip-hop or whatever it is called.
17.09 It's nice and interesting to just sit down, watch the people who pass by and reflect about their lives.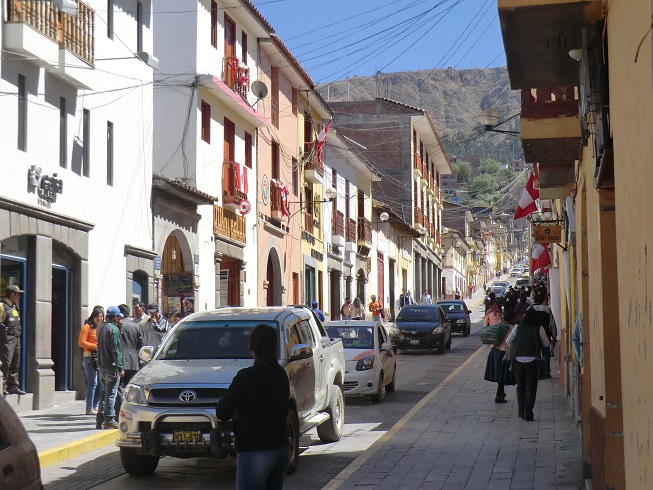 Jirón Lima, our "home street" in Ayacucho.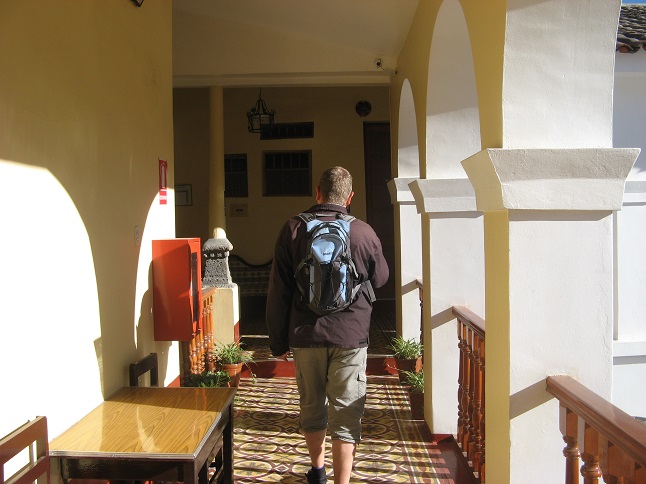 Christer is on his way to our room.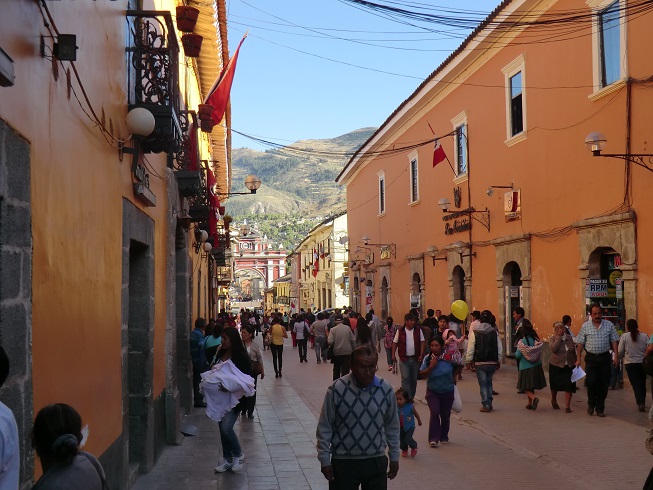 Jirón 28 de julio, Ayacucho.
Ayacucho has its own Arch of Triumph.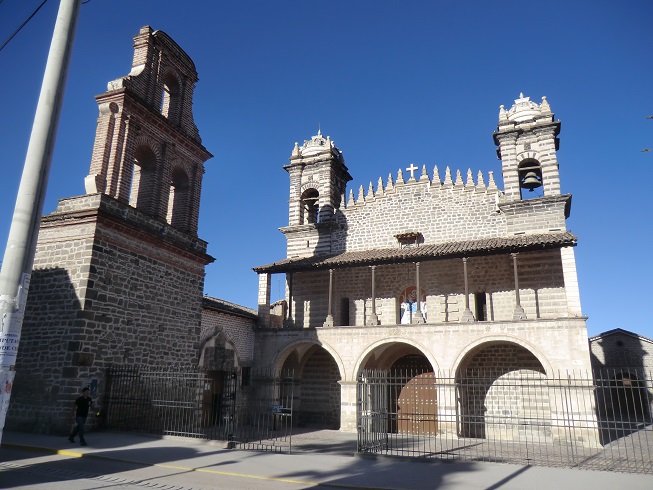 Iglesia de Santo Domingo, a church from 1548.
17.32 It's nice having our own room where we can just spend time, exist and just feel good. In recent trips, we have had Wi-Fi access in our rooms and do not have to run around like madmen in search of internet cafes, a tradition we are happy to avoid.
19.15 Now we will head out again. In Christer's home town of Sundsvall, it is only + 8˚ warm and the clock is 02.15. Moreover, it is Tuesday, July 21st there.
20.06 Opposite to me is Christer and behind him hangs some colourful masks. We are at the restaurant El Niño for today's dinner. Besides us are a few American women sitting here. They are talking loudly, as usual.
21.19 The reason we went to El Niño is that it is considered to be one of the best restaurants in town. Do I agree with this? The answer is no, not and never. You should not be served french fries on one plate and the meat, without vegetables on another plate. The cost was 45 soles, over US$13. We ordered two 33 cl beers for 6 soles. They had run out on those and we got one 62 cl beer to share for 9 soles instead. They billed us for the two small ones. Certainly one can point this out but I do not care to. We also got to wait until halfway through the meal was eaten before the drinks arrived. One thing is certain, I never go there again.
22.14 We have to get up too early tomorrow. We need to sleep soon. We have nevertheless had time to see the best of Ayacucho this day, too bad that we can't stay longer at this great hotel.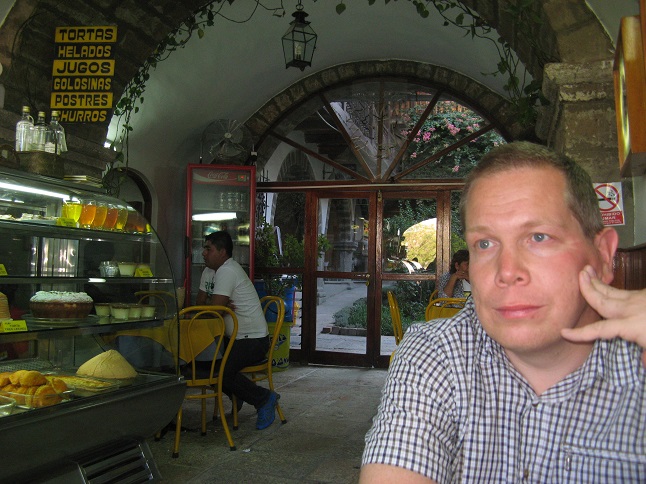 Christer is waiting for cake at Café de Miel.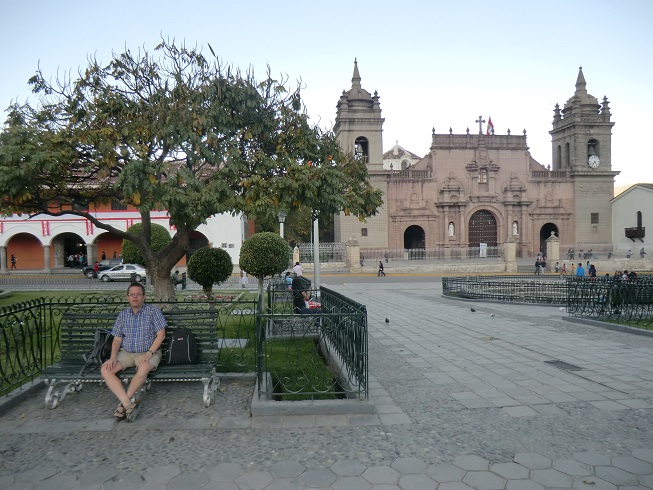 Peter is waiting for the sunset at Plaza de Armas.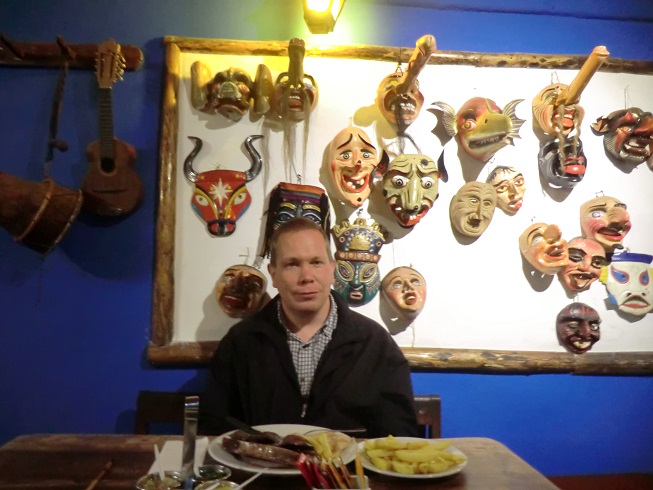 Christers´s face and some other faces at El Niño.
---
Tuesday 21st of July
05.30 Yet another simple bedside breakfast is over. What fun it is with a holiday like this! We can get up and seize the day long before it awakened. The appetite is unfortunately not on top when you're this tired but we have also bought with us something to eat on the journey.
06.05 The day could had started better! Quite unexpectedly Christer began to vomit just minutes before we were about to leave the room. He feels good in general, perhaps it has to do with the early breakfast being forced into a body that is barely awake.
06.37 So far it goes according to plan. We managed to arrange with a taxi from the hotel and here at the bus terminal we will now pay the fee for the platform and board the waiting bus. We will travel with the company Los Chankas. Chankas was, incidentally, some of the people who were enemies of the ancient Incas. Chankas were based around the town we are travelling today, Andahuaylas.
07.05 We didn't have to pay any fee. When we were checking in the luggage, we were asked to accompany a man with a trolley. He disappeared in the crowd and we returned to the bus company counter. The man reappeared and he, we and the backpacks went out to a minibus. With backpacks on the bus roof and passengers inside it, we will soon depart. It feels like a disappointment, unexpected bad news that today's journey will be carried out by a minivan instead of a larger more comfortable bus.
07.51 We are just driving around in this city. We are still in Ayacucho. Right now we stand still while our minibus is refuelling at the gas station Petro Peru.
08.38 One of the younger passengers on board, a little boy, is looking curiously at Christer and myself. The world outside is filled with hills, not a house in sight. It is beautiful, peaceful.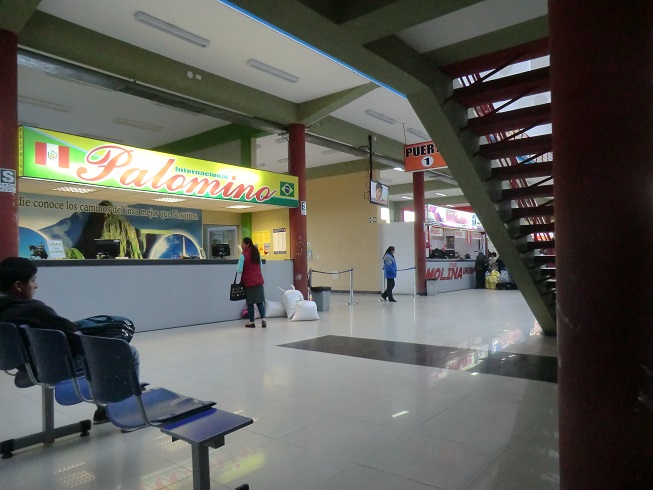 Early morning at the new bus terminal in Ayacucho.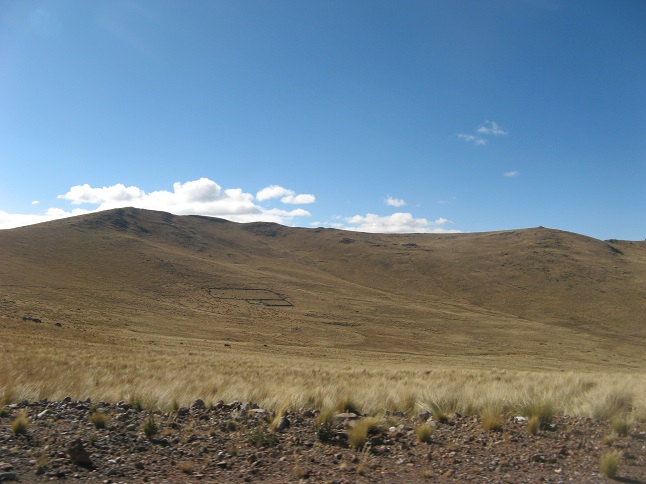 Yet another bus trip in the beautiful Andes.
09.03 There has been a short break somewhere on the plain. It felt good.
10.49 We have reached and also briefly stopped in the small town Chincheros. The driver has got off to fetch something. In addition to passengers, he seems to leave and retrieve packages at different places along the way. Christer feels worn out, hungry and powerless. The small breakfast disappeared rapidly from the body this morning.
12.07 A fellow passenger has done something we also want to do. He has reached his destination and got off.
13.06 Finally we are there! We are in Andahuaylas, a small town with about 63 000 inhabitants at 2926 meters altitude. The advantage of the more uncomfortable minibus is that it is significantly faster. We had been dreading this stage of the trip, a bus trip that we thought would take much longer. The road is relatively newly paved which shortened the travel time significantly. Our hotel, Hotel Conquistador (http://hotelconquistadorandahuaylas.com), which was a bit hard to find is uphill in a relatively central location and the room number we have is 203. The early morning plus the journey under simple conditions have worn on us, mainly Christer. He navigated to the hotel. This effort drained him of his last energy and he has now laid down to rest.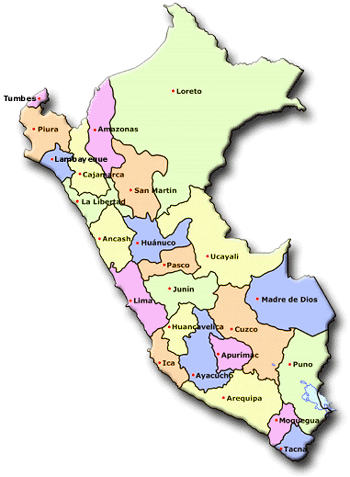 The provinces in Peru.
15.31 Christer need to rest more. He has a fever and seems to be experiencing something that most closely resembles the winter vomiting bug/virus, not quite unbelievable in that case. It's actually winter here. Me for my part have been and had coffee downstairs in the small restaurant, or the big cafe El Paladar Que Sabe is located close to the reception of our hotel.
16.45 It is all but hot in the room. Freezing cold is closer to the truth. Peru starts to compete with South Africa regarding cold rooms. There is not much strength in us either.
18.42 Christer stay in bed while I go out for dinner and to buy some necessary groceries.
20.13 My little excursion bore fruit in the end. I had my dinner at the restaurant Las Balcones de Venecia. After wandering and searching in all kinds of shops, I found at last one small shop that sold yogurt and nectar. Now I am back in our room. Christer is anything but well right now.
21.16 Perhaps it is best to go to bed. We have in any case been up since 5am this morning. I hope we wake up feeling refreshed and healthy tomorrow.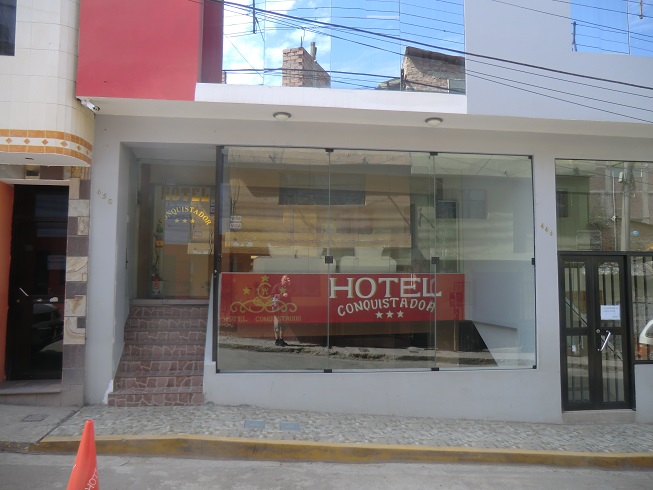 Hotel Conquistador, Andahuaylas.
---
Wednesday 22nd of July
08.35 After a good night's sleep, a gentle awakening and a hot shower, it is now time for me to go down and have breakfast. It is not included in the price we pay here but breakfast is pleasant. Christer is neither well or hungry and he remains in bed until further notice.
09.00 El Paladar Que Sabe offered papaya juice, coffee and two egg sandwiches. No big breakfast but a good start to the day. I hear a crowing rooster now.
10.39 There will once again on this trip be a change of the original plans. There will be no further traveling to Abancay today. Instead, we will negotiate for a night more here and head straight to Cusco tomorrow. It will be a long journey. We rather take a long journey when we are alert than two when we are worn out. Christer will hopefully have time to recover if he is allowed to rest today.
11.23 We can remain in the room. Christer has recovered a bit on shaky legs he has walked with me down to the central areas of this city. We have arranged with the night bus to Cusco. We depart with the Palomino company at 20.00 in the evening. We did our best to find a bus which departs during the day tomorrow. As usual in this country, it is a night bus that counts.
11.35 It is time for a bench break and planning of the remaining hours here in Andahuaylas before departing tonight. The city is filled with tuktuks, mototaxis spinning and buzzing around like angry bees wherever we go.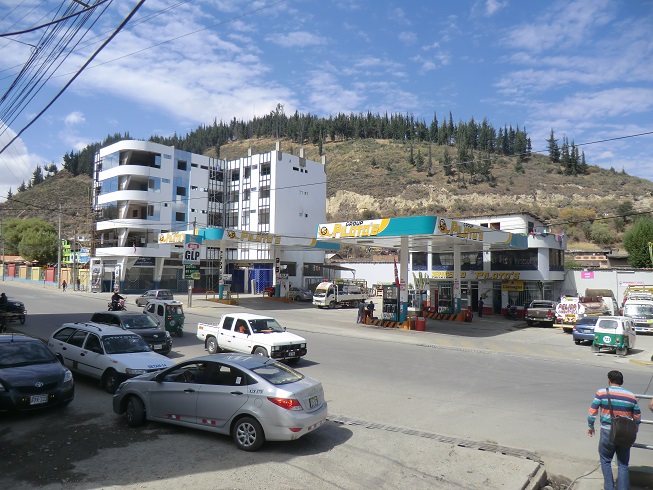 Andahuaylas, along the main road.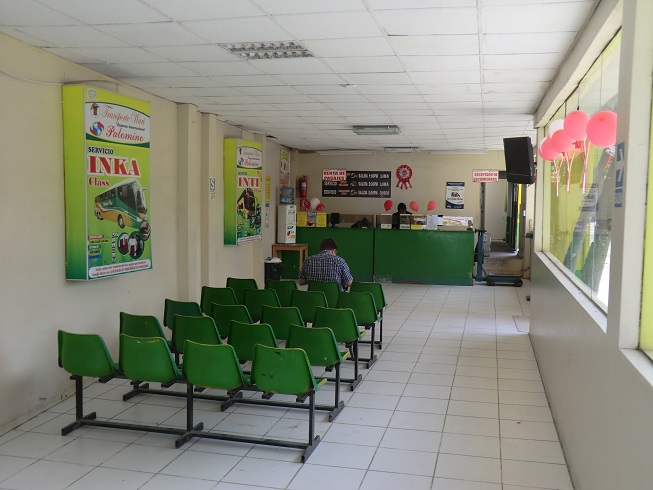 Peter is writing down that we have bought bus tickets.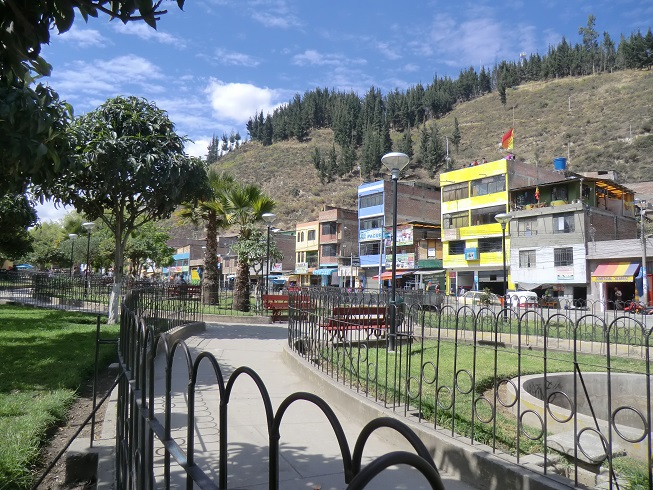 Time to visit a small park.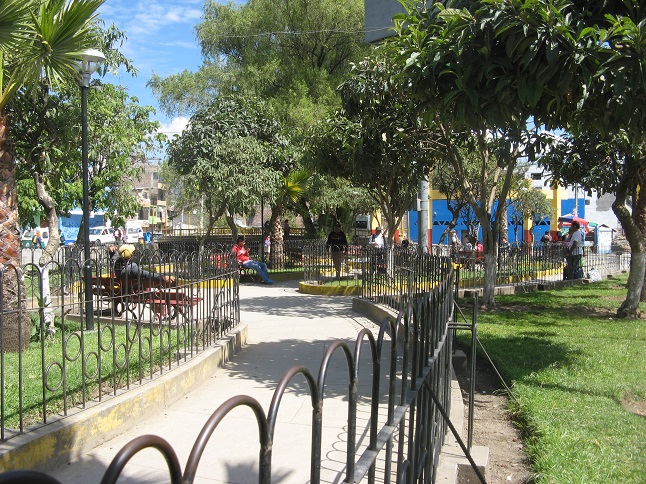 A bench break in a relaxing atmosphere is very important during a trip like this.
12.05 In our quest for a suitable cafe, we have found a new park bench. We are now in the Plaza de Armas. We have, well, I really do not know how many times, seen a statue of some cattle. Inside the park stands a bull with a condor on the back. Opposite to us is the San Pedro Church. The thing with the bull and the condor, what is it? Well it is actually a Peruvian form of bullfighting. They strap a condor on the bull's back before the actual fight begins.
12.26 Now when we sat down at the Cafe Aroma Inka we have just received the menus. Christer will try to get in some sort of nourishment. I'll might have coffee.
12.57 It's nice to come home to a clean room. A rooster crows stubbornly ahead and a fly is buzzing around in our room.
16.32 It's time to take the next step this day. We will leave the room and find a good and proper restaurant. We need food in the stomach before the evening and the night bus trip. Christer need to get his body going after the illness. Given how intense it was and how fast it is fading out, the diagnose is that it must be the winter vomiting virus that struck Christer. Some Americans have checked into the hotel. How do I know this? Well we've heard them talking outside our room door. They have a neighbouring room.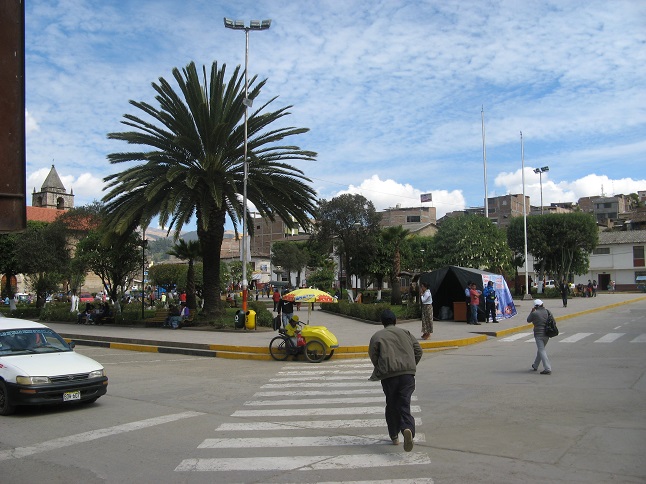 Heading towards Plaza de Armas.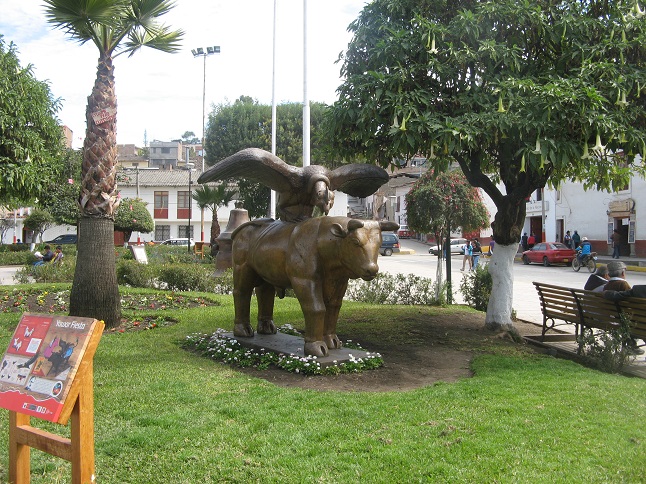 The condor and the bull, both a part of El Yawar Fiesta.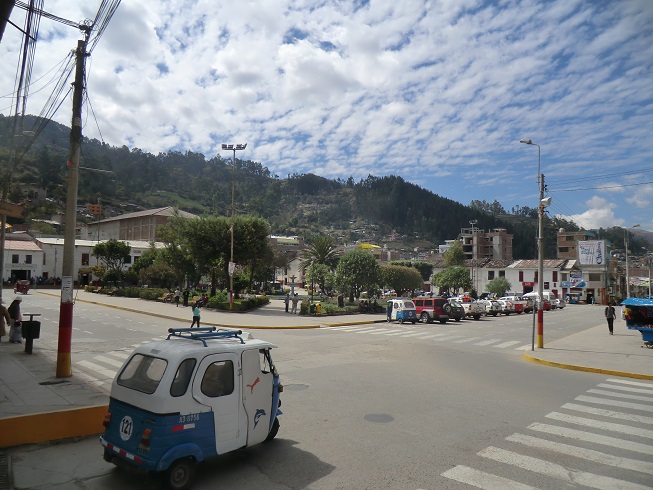 Andahuaylas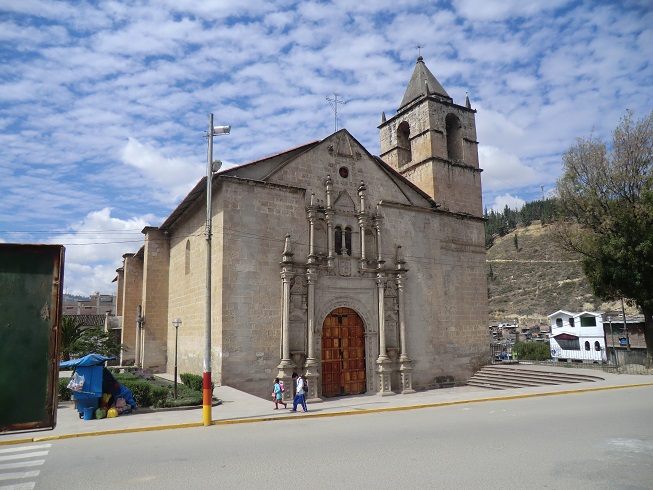 San Pedro church.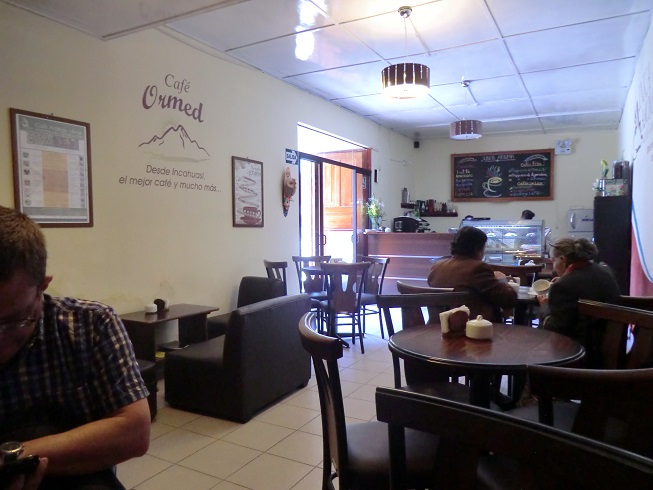 Café Inka Aroma, a nice café in Andahuaylas.
16.51 Now we will add some food in our bodies. We sit inside the Chinese restaurant El Dragón.
17.32 It was great food, large portions. It was completely unrealistic to try to eat everything that was served. Why does one receive so extremely much food when the body is unable to receive it, Christer asked. The same thing happened when we had stomach troubles in the Czech Republic in 2003. Now we are back for the final necessary activities.
19.26 Hip hurray! We only needed to pay for one night here at the hotel. They were kind enough to let us have the extra hours we had our room for free. We have, in other words, been staying here for free since 12.00. Now we are at Palominos bus terminal, waiting for our departure.
19.53 It is good to sit down. Once again, we sit at seats 1 and 2. Christer has brought with him bananas on this journey. They are nutritious and gentle with the stomach.
21.27 We have left Andahuaylas and headed out into the dark night. The bus it just rolls on. We cannot do anything but to follow.
23.25 After a seemingly endless winding down some mountains now we have reached a bus stop. Standing idle, we are still at a bus terminal. We have arrived in Abancay, the place we had planned to travel to earlier today. We are on the outskirts of the city, far from the centre.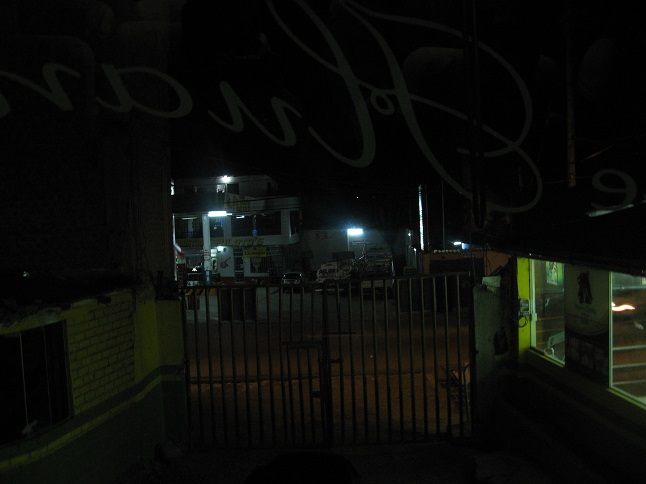 Our bus trip starts when the gates open.
---
Thursday 23rd of July
03.07 We travel on through the dark night. It is difficult to know exactly where we are.
04.00 We finally arrived to Cusco, a city which can also be spelled Cuzco. The city has about 400 000 inhabitants and is located at 3400 meters above sea level. It was the capital and religious center of the ancient Inca Empire and today is Peru's most popular tourist destination. We got off at the main bus station, declined the offers of accommodation but said yes to the offer of transport. It is time to go by taxi.
04.15 The taxi took us smoothly and fast along the empty streets. We have arrived at Hostal Qosqo. This is where we have booked the room, this is where we'll stay. We have, however, not warned about such an early arrival. The idea was that we would come later in the day. Now we´ll just ring the bell and step inside.
04.21 It was not "just" to step inside. We rang on the doorbell but no one has let us in. No one seems to hear the doorbell. Now we change strategy. The city center is empty and deserted, just a few partying American girls have been seen.
04.36 We were finally let inside. Only when we had rung the bell several times and almost given up, we came in. The newly awaked young man knew English, gracias! Now we stay in room 214 until 11.00. Then we will switch to the room which is intended for us..It will be available by then. Now we will try to get some sleep.
09.18 Loud music from a band, an orchestra playing in the street outside, woke up Christer at 09.00. Pretty soon he heard a light knock on the room door. He woke me up and we were told by a woman that we would regroup to the other room right now. We have now moved to and into the room 208.
10.41 After unpacking our things and showered, we are now ready to familiarize ourselves with the Inca Empire's old capital. This will be interesting. Christer feels completely healthy again. Thanks for that.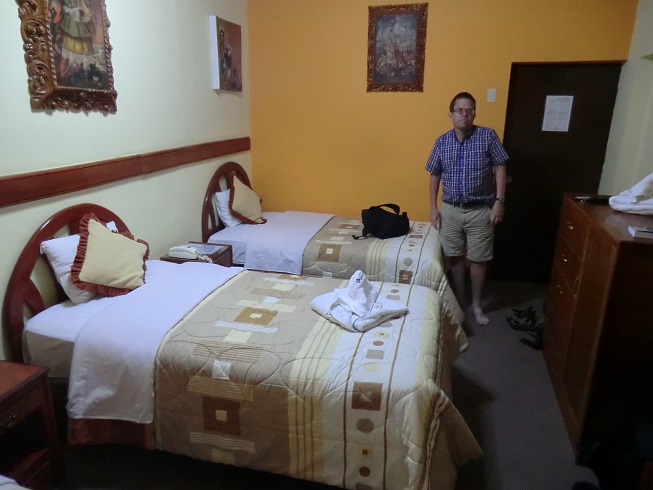 Peter in room 214.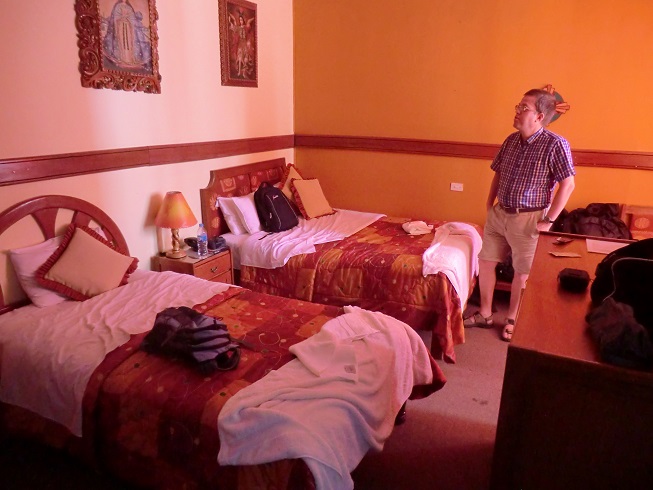 Peter in room 208.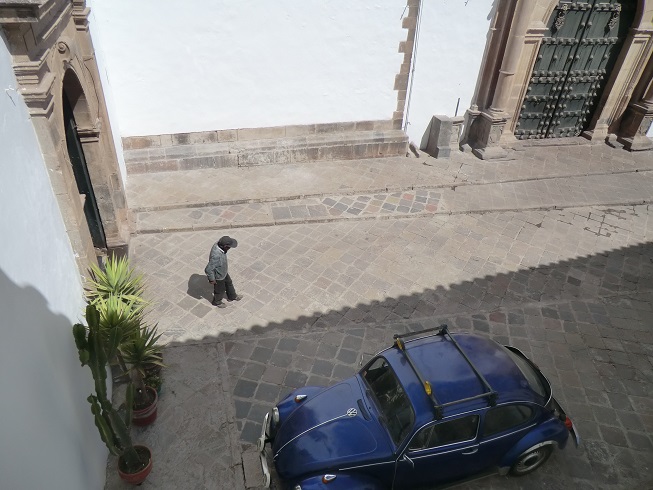 First look out through our window. An old man leaves Iglesia La Merced.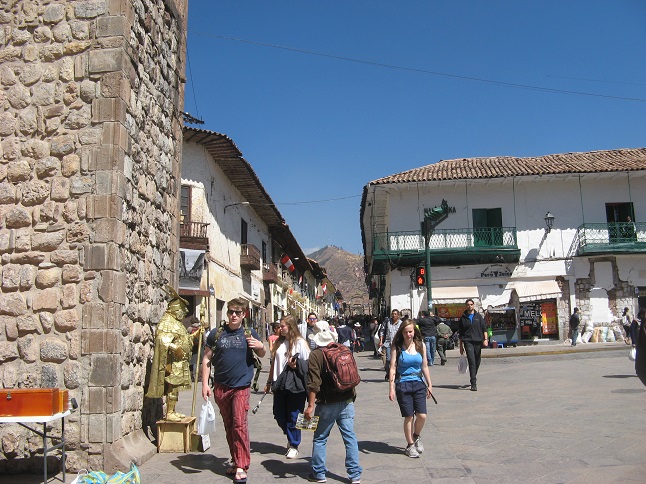 Cusco, a city filled with tourists.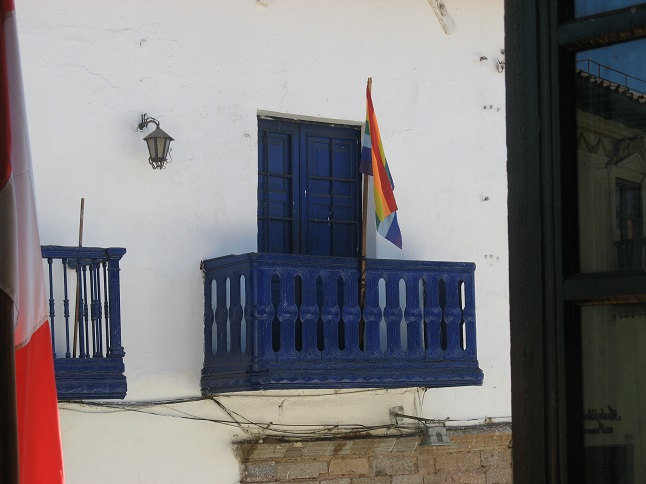 The inca flag is visible all over Cusco.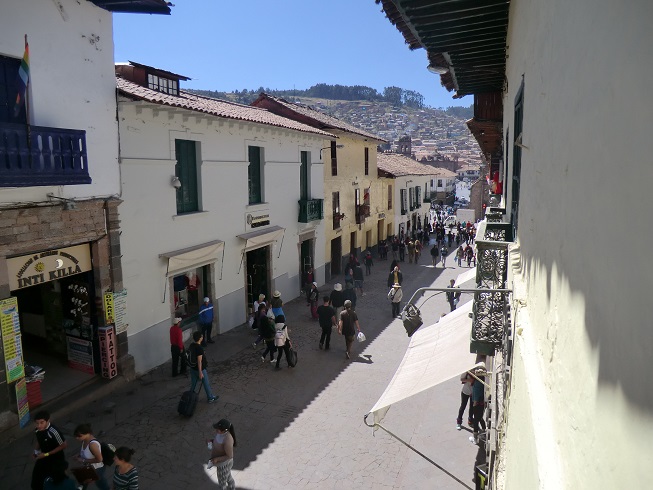 Balcony view from Café Ayllu.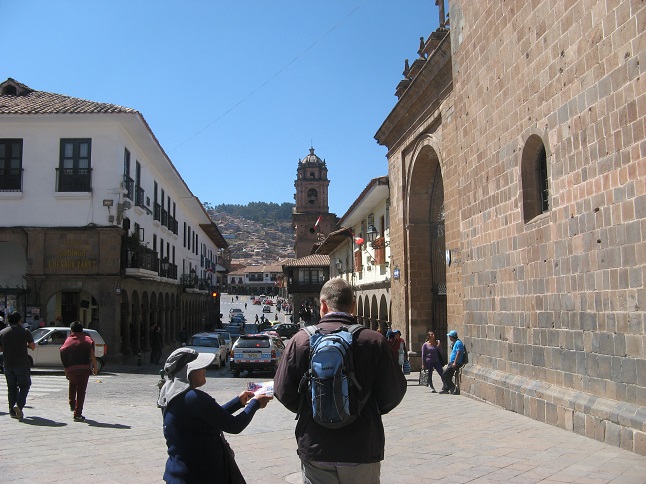 Christer receives an offer about a bus trip.
11.18 We were met by a lot of people when we came out of the hotel, a complete contrast to how it looked like seven hours ago. We turned left and was met by pale people who mostly strolled around and locals who had various offers to them. Most of the people we met were on their way to the main square, Plaza de Armas, a short distance away to the right from the hotel. During the Inca empire square it was the centre of the city. It was considered as the navel of the world, and the city got its name from the Inca language quechua's word for navel. Now we are at the Café Ayllu to get something to eat, a late breakfast.
11.57 Food is a good way to start the day. After having made up plans for the day, we are back in the room. We are preparing for the round trip bus we planned and received brochures about. We will also call our friend Roberth. It is his birthday today. It's better to call before today becomes tomorrow in Sweden.
13.08 The assignments are completed. Roberth sounded bored, tired of the bad weather at home. Now it's time to go to the bus.
13.31 After buying our tickets, we were waiting for the bus. At the ticket purchase we were given two different times when the bus comes. One said within two minutes and one said about half an hour. This was five minutes ago.
13.36 Now it's off to the bus. Our guide Carlos has presented himself through the speakers in English and Spanish. He also talked about Mister Andersson. Who is he?
13.47 We have been going along the main avenue El Sol and are now taking aim on a mountain, a viewpoint.
14.07 The bus has now made a stop on the mountain Pukamuqu and we look out over Cusco and up to a large white statue of Jesus Christ that stands here. This is the sixth country that we see Christ in the form of a statue. Here, high above the city, at 3600 meters altitude, people have spread out blankets and sell different things. A man sits here and plays on a flute. Enough with reflections, back to the bus. We do not want to be left up here.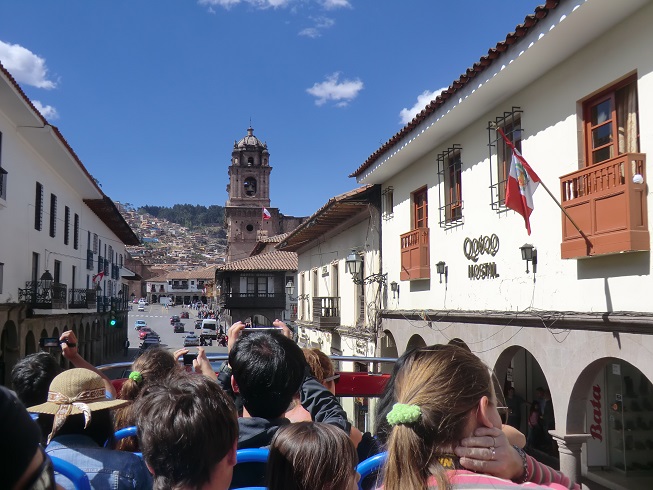 Our bus go past Hostal Qosqo.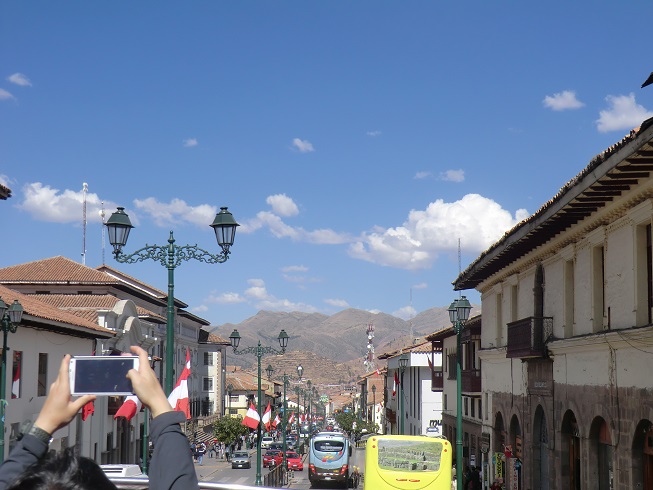 We drive along Avenida El Sol.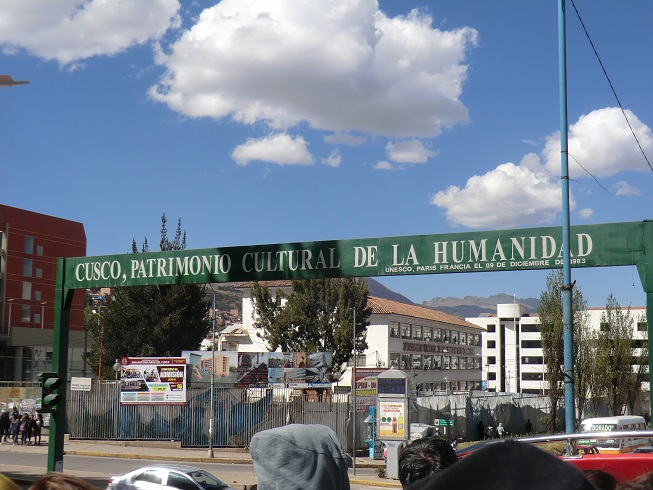 Cusco, on the UNESCO world heritage list.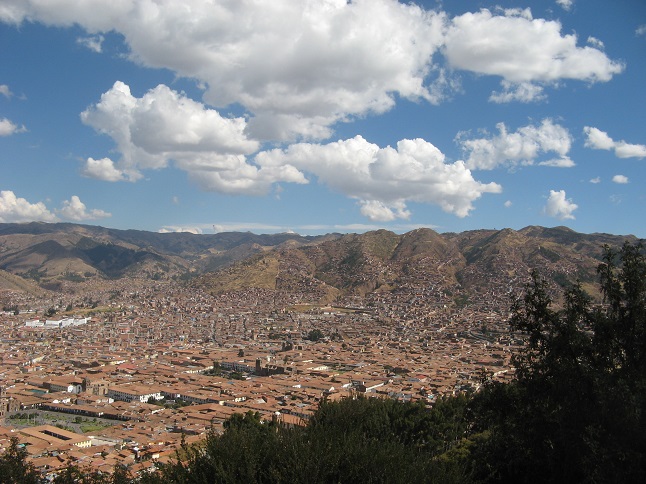 Splendid views of Cusco.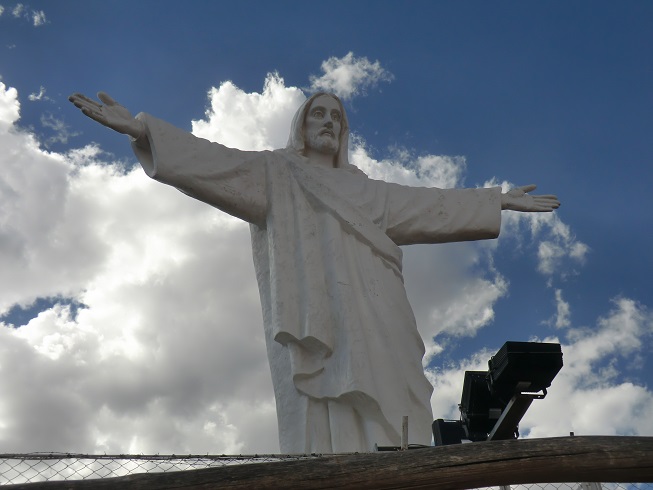 Cristo Blanco stands on the mountain Pukamuqu.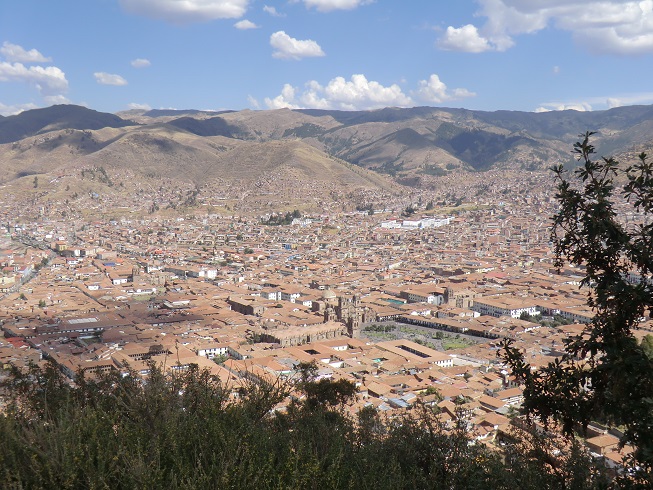 Plaza de Armas, the heart of the city, can be seen from here.
14.33 We've just made a stop where we were offered to look at and even buy assorted handicrafts. We were even treated to tea of different varieties such as coca and muña. We decided to wait with coca tea but tried muña, whatever that is. The taste reminded, according to me, chewing gum.
14.46 It's time for another stop. We look at the ruins of the Inca settlement Saqsaywaman. The name means satisfied falcon and is a fortified scaffolding-like structure from the Inca Empire. It is constructed of large blocks that are smoothly cut with great precision. On the horizon we see a mountain peak of over 6000 meters. The name is Ausangate and the height more precisely 6384 meters above sea level. The mountain peak is about 100 kilometers from Cusco.
15.31 The tour ended where it started. Once off the bus, we set out in search of a suitable lunch along Calle Plateros. Balconies with tables attracted us to Fuego, Burgers and BBQ. Here we ordered lunch specialty. We get a hamburger with beverages at an affordable price.
16.10 We were served tasty burgers for main course and chocolate mousse for dessert. Yum! The highlight, however, was to sit on a balcony in the sun and have great views of the street below.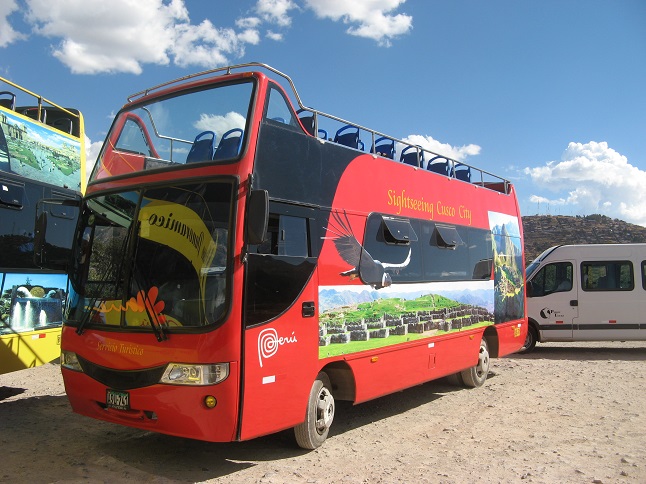 This red bus drove us around Cusco today.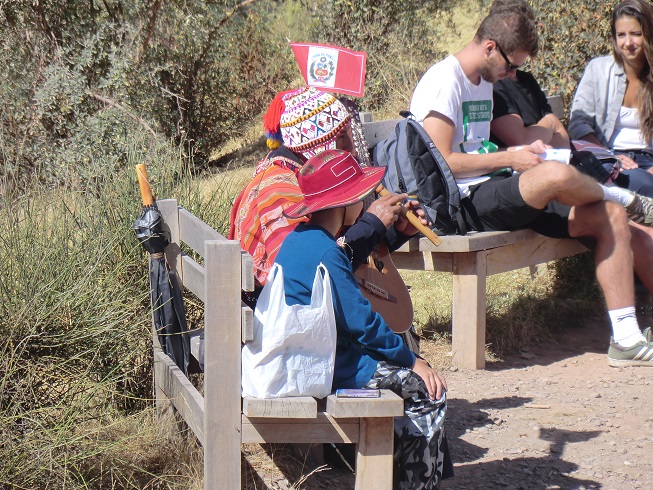 A flute player on the hill Pukamuqu.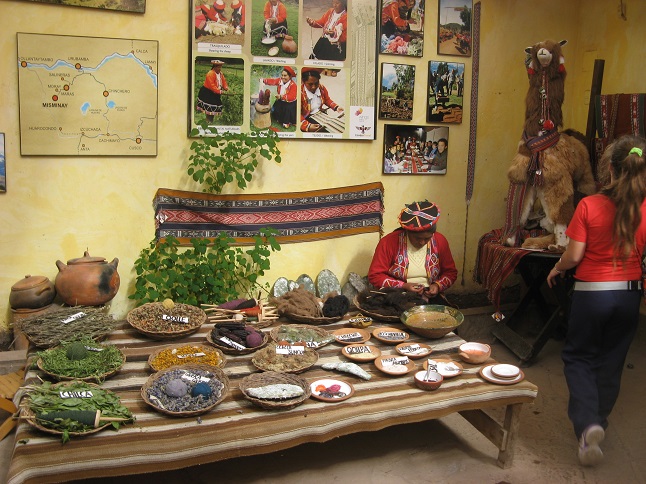 We could visit souvenir shops and handicraft shops during our bus trip.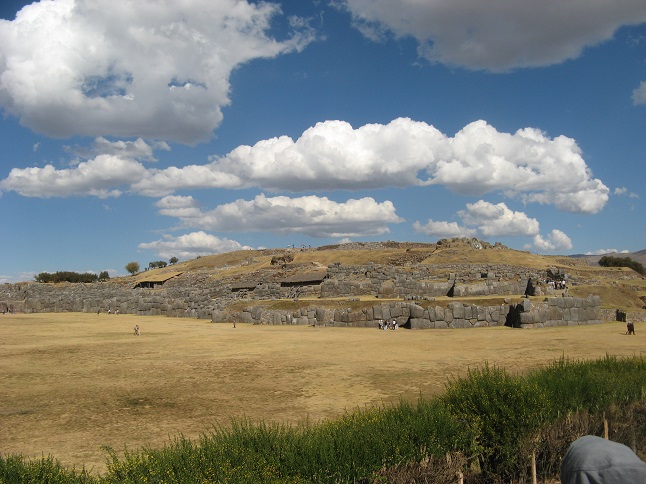 The old inca fort Saqsaywaman is situated high above the city itself.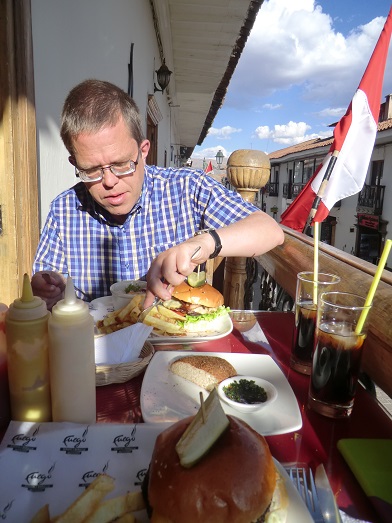 Balcony burgers at Fuego.
17.00 We have searched facts about the tea we tested. Muña is known as the Andes mint. It will apparently be good for stomach problems, for respiration, skin and God knows what. We are all the same back home, strengthened by this tea.
18.36 It's tough right now. Night journeys by bus has consumed the globetrotting powers. We do not have much desire for anything at the moment. When travelling at night one is never in top shape the day afterwards.
20.28 It is time for a light dinner at the restaurant Pacha Mamma. We were more or less thrown in here. Well, in all cases invited. When the waiter would pour my beer, he put the bottle to the glass and tilted it. I was startled and was afraid the glass would tilt and the good beer would flow out. The inviter is an English-speaking Italian who lives here in Peru. Maybe he is the owner too, who knows?
21.54 It took some time to get the food. Some youths by another table ordered the guinea pig. When it was served, the girls at that table were all but happy. They did not like that the heads were left on the guinea pigs. The waiter arrived and later the heads were removed before the dish once again got served.
22.47 Another day has come to an end. Now we will take the opportunity to rest.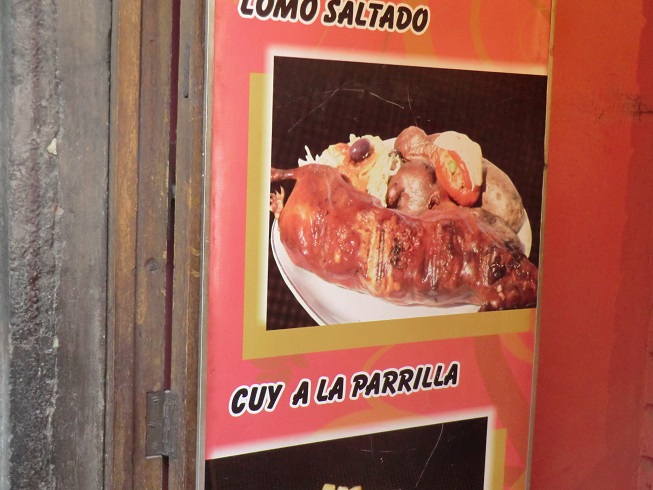 Cuy (guinea pigs) is common food in Peru.
Cusco has cute police officers.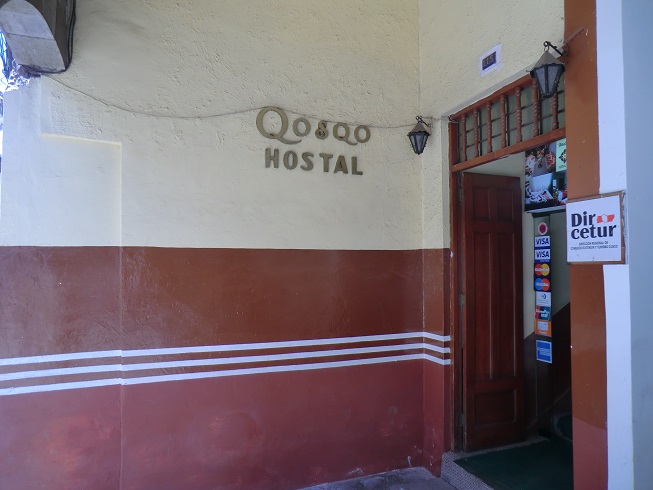 Hostal Qosqo. This is where we are staying.
---
VIDEOS
---
You can see 51 photos from July 20 in this photoalbum.
You can see 4 photos from July 21 in this photoalbum.
You can see 21 photos from July 22 in this photoalbum.
You can see 93 photos from July 23 in this photoalbum.

---
---
---

---