---
Text: Peter Johansson
Editing: Christer Lundstedt
Photos: Christer Lundstedt, Peter Johansson
Videos: Christer Lundstedt
---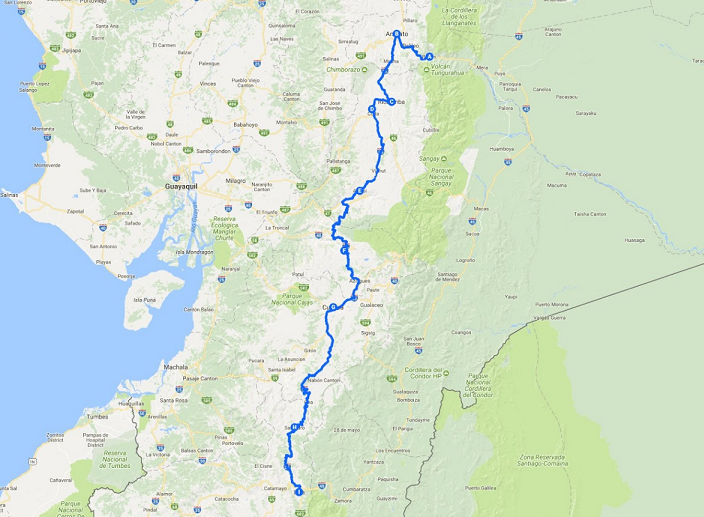 ---
Friday 26th of June
07.13 Exactly one week ago, we were about to board a plane in Frankfurt, Germany. The rain continues to fall here outside Hostel Chimenea in Baños, Ecuador. It feels sad that such a lovely town will be associated with rain when we think back on our stay here. The rain started just after we arrived here on Tuesday and there has not been many minutes of pause in the rain since.
08.41 The last Baños breakfast is over. We were joined this morning by a number of curious flies. Once again the breakfast consisted of the delicate double pancake with fruit. It is highly recommended! Now we will pack our things and travel further. We really hope that we will manage to get away from this never ending rain too.
09.24 We walked to the bus station and it was actually a pause in the rain all the way. After a lot of searching and questioning, we found a bus and a company that can take us to Ambato to begin with. We are going to Riobamba today and there were several companies that had information regarding buses going there. All we asked referred us to another company though and in the end we had almost been to all ticket offices. It does not seem to be any direct bus. We must therefore go back to Ambato where we will connect to another bus for the onward travel.
09.43 No sooner had we left the bus station with the bus from Transportes Baños as we stopped again. Now we stand and wait.
09.58 We move ever so slowly onwards and upwards. The vehicles in the oncoming road are standing still. Our bus just stopped again.
10.28 A small child just asked a good question to one of the passengers, do you live in the bus? It's almost an hour ago since we started and the question seems relevant.
10.51 One thing you learn on these trips is that it gets complicated when it should go smooth. Today we would only travel a short distance with the direct bus to Riobamba and here we are, instead, on a bus that does not move and that also only go to Ambato.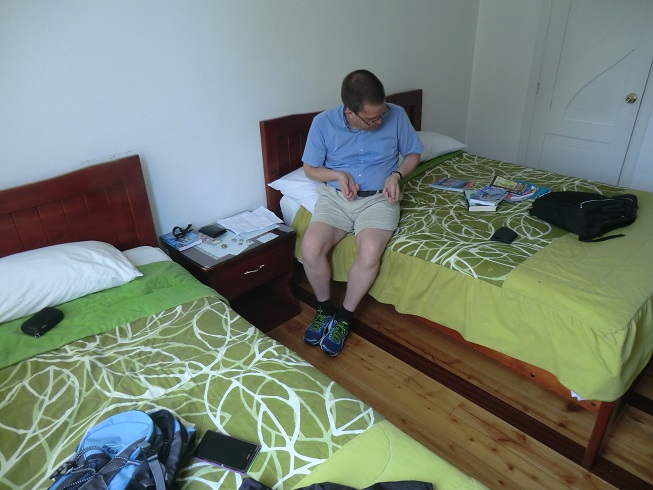 Our new home has green bedcovers, no breakfast but short distance to the bus terminal.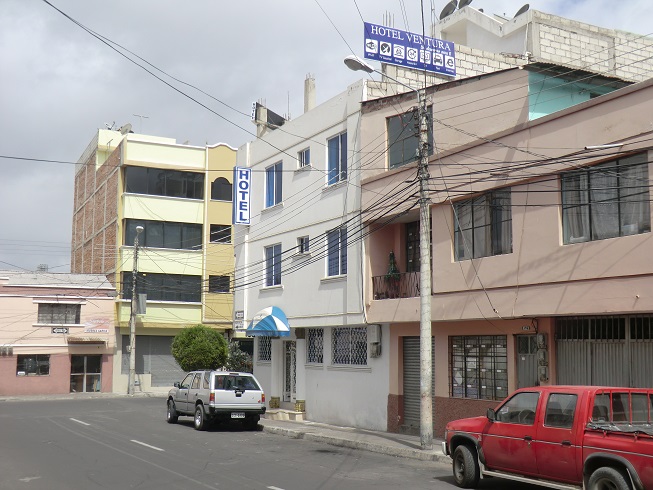 Hotel Ventura, Riobamba.
11.49 Finally we started to move, delayed to say the least. Once in Ambato the bus stopped in the outskirts of the city and everyone got off. This bus is apparently not going all the way to the main terminal. Christer took out his backpack from the cargo area. When I should bring out my backpack the bus suddenly left. We stopped the bus, my backpack was retrieved, we crossed the road and boarded a new bus. Now it's off to Riobamba. The bus was almost full. I sit squeezed in at the back and Christer sits on a seat a few rows farther up front.
12.11 Now I begin to be so tired of travelling by bus. It will be nice to arrive.
12.53 Towards the end of the bus trip, I got a hug and two cheek kisses from Sofia who sat on the seat next to me. Sofia is five years old and had just got to know my name and where I came from. Now she wanted to say goodbye.
13.15 We got off at Riobamba's orderly bus station (Terminal Terrestre). It was a short walk to our pre-booked hotel that we have chosen because it is so close to the bus station. We're supposed to travel on from here tomorrow. We are staying at Hotel Ventura and in room 20. There is no breakfast included but the room is good and the beds comfortable.
13.32 On the roof across the street a dog stood and gazed out over the neighbourhood. At the floor below are some elderly people and a small child. In the ground floor is a hairdresser working. Beyond the rooftops you can see the headlights of a sports arena. One can see a lot from our room window. Now it is time to go out and see more of Riobamba. We are now at 2750 meters above sea level.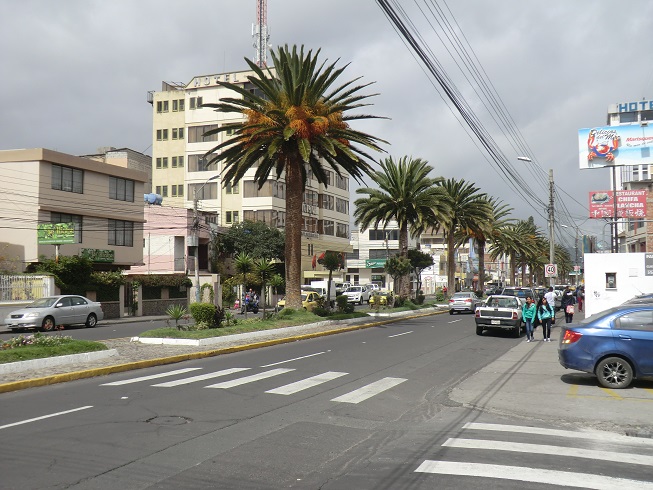 Avenida Borja, Riobamba.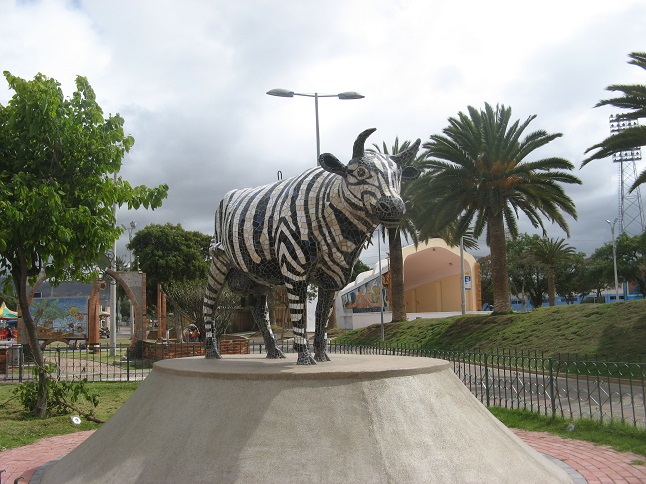 Once again we have found a cow monument/statue.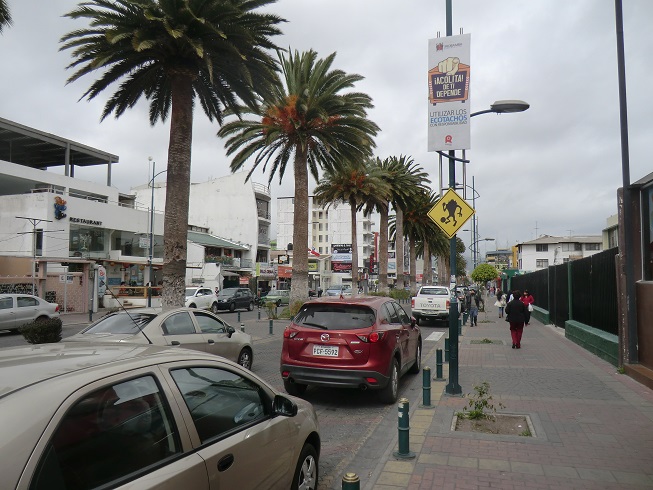 What is the meaning of this sign? What kind of being is playing football?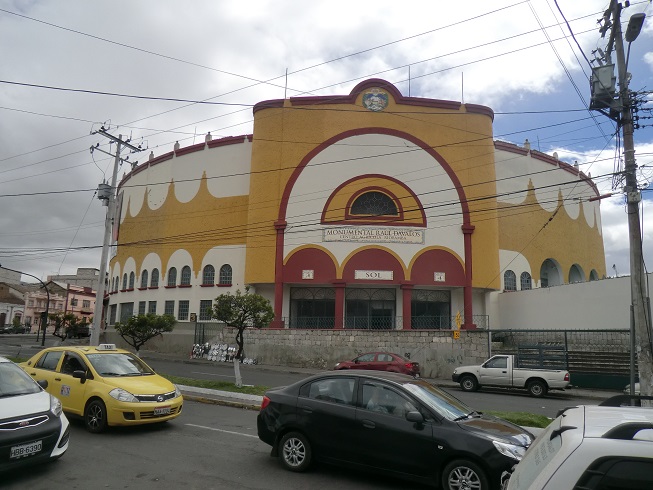 The bullring in Riobamba.
14.09 A lot has happened on our little walk in the city. I have been photographed with two different face painted young ladies, we have as so many times before seen a cow statue, this time a black and white striped cow monument. We have also photographed Plaza Raúl Dávalos, a bull fighting arena. Our walk was supposed to end at the pizzeria D'Baggios. It was unfortunately not open.
14.29 In our hunt for another restaurant, we found the beautiful church Iglesia San Antonio. It is located near a hill, a viewpoint. A mechanic has warned us to go up on the hill/vantage point behind here. He claimed that it was dangerous to go there. One should listen to local people's advice even if it looked completely deserted up there.
14.47 We returned to the main street Avenida Borja and has finally found an open appropriate restaurant. We have now ordered a lunch at Le Due Sorelle (The Two Sisters). We declined the lunch offer and are waiting for a pizza each.
15.34 After lunch we had coffee on the ice cream bar Mühler. It was the closest to an open cafe that we could find. I will also order some ice cream. The ice cream company in this country, Pingüino are in the same group as the majority of other European ice cream companies. They have the same sign.
16.36 Ice cream is tasty. It's also nice to come home to a nice hotel room. Now we will just take it easy. On the way home we bought some beverages and other things at a grocery store near the striped cow.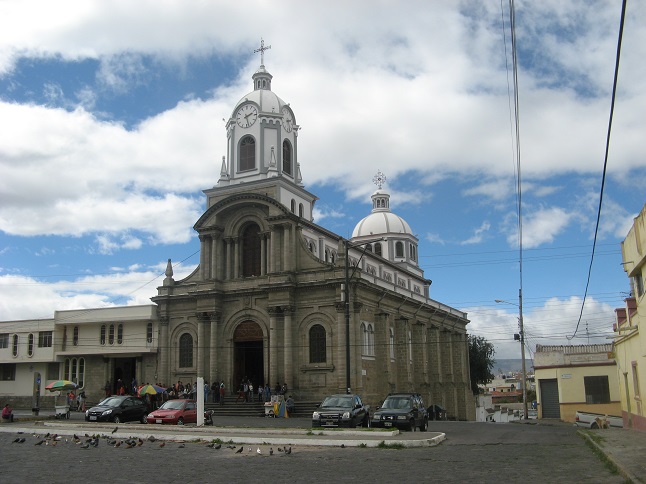 Iglesia San Antonio.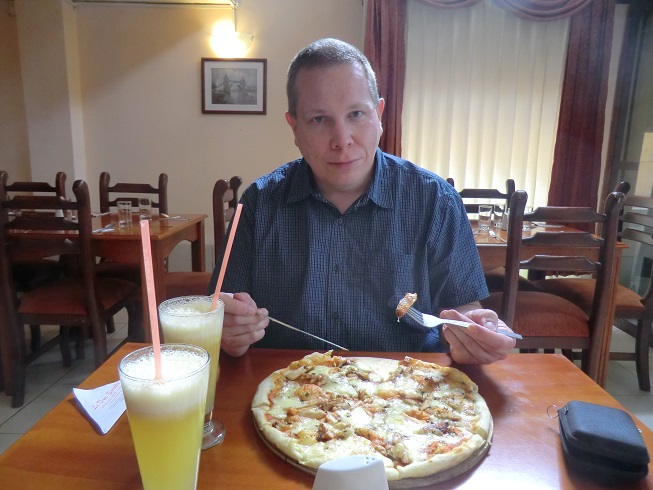 Christer is eating a pizza at the restaurant Le Due Sorelle.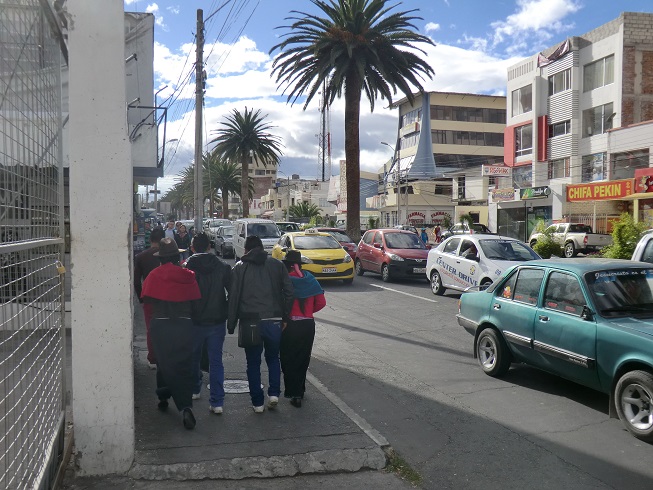 On our way back home after a short but interesting walk through Riobamba.
18.02 We have looked at an elderly couple who parked at the house across the street. Now they carry out large bunches of corn plants into a house. We don't know who is the recipient. We have seen a door opened and an unknown person has invited the corn couple.
19.03 We watch TV in our room. Outside, it´s already dark. In the soccer tournament Copa America Argentina plays quarter-final against Colombia. They have played in 34 minutes and it is 0-0.
19.15 Sometimes on our trips it happens that we go to Chinese restaurants. It is always safe, but a bit boring. Now it has happened here in Ecuador as well. In the game shown here at the restaurant, it is still 0-0. The restaurant we're sitting in is called Chifa China. Chifa is the name of the restaurants serving Chinese cuisine with elements from the local food culture. It is called Chifa even in countries like Peru and Bolivia.
20.21 We're back home, more than full. There were huge portions that were served, as is often the case in Chinese restaurants in different countries we visited. In the final minutes of the football match, Lionel Messi got a yellow card.
20.41 There was no extra time of the football match but well fourteen penalties. Argentina finally won after a penalty goal by Carlos Tevez.
22.13 Tomorrow is planned and time is calculated. Will the bus go when we want and where we want? We plan to first buy the bus ticket and then find a restaurant where we could eat breakfast before departure.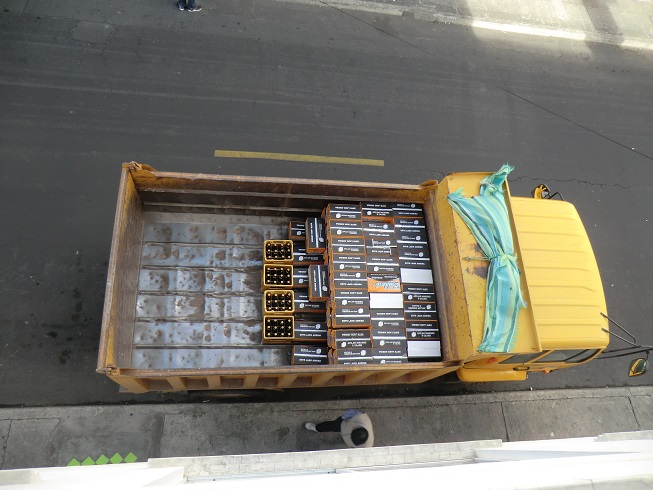 The beer car has parked outside our hotel.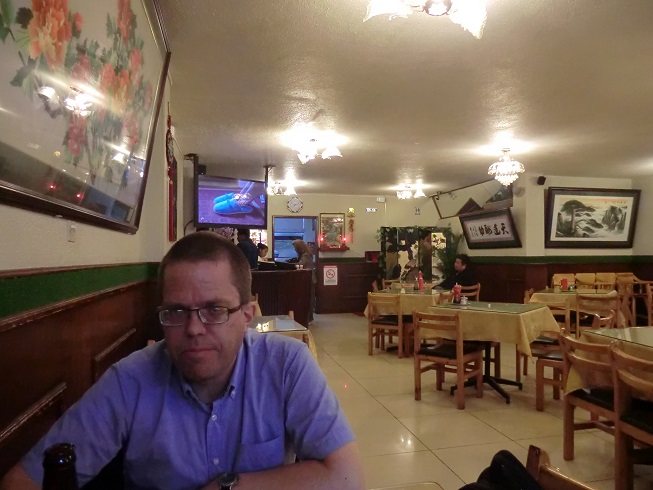 A dinner at Chifa China.
---
Saturday 27th of June
08.19 Today, we have to leave the hotel to get breakfast. It will probably be fine. We spotted some possible breakfast places near the bus station yesterday. Before we eat, we need documents for the journey from here.
08.28 We have temporarily left the hotel and walked towards the bus station. Outside the main entrance was an old man with crutches, moving at a speed that would get him passed by snails and turtles. As usual when you get into a bus station in this region they call out the destinations and everyone wants you to immediately get on their particular bus.
08.42 We have arranged with tickets for the onward journey. We already knew before that we would be travelling with Cooperativa Transportes Patria (http://www.cooperativapatria.com) to Cuenca so it was easy to find the right ticket office and get things done. Now we order breakfast at a small restaurant called El Mesón del Rey. Here we intend to get the breakfast offer.
09.26 The day moves on. After breakfast, where we were given small slices of lime to our boiled eggs, we went into a small bakery and bought bread for the bus trip.
10.32 We checked out of the Hotel Ventura and now we have entered yet another bus. It is, as I said, from the company Patria and it will hopefully take us to Cuenca.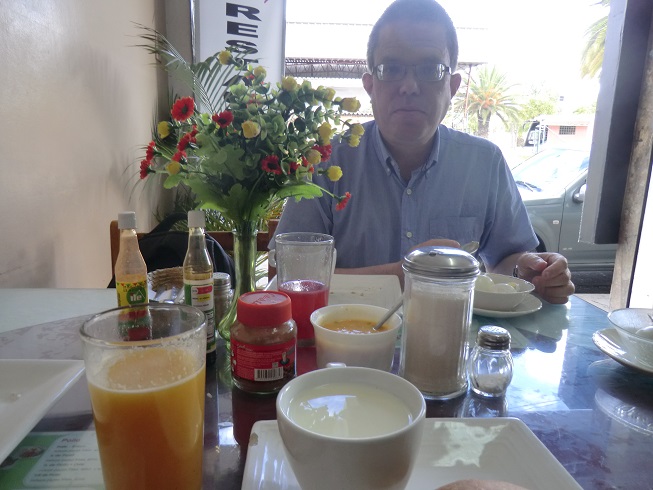 Peter is eating his breakfast at El Mesón del Rey this morning.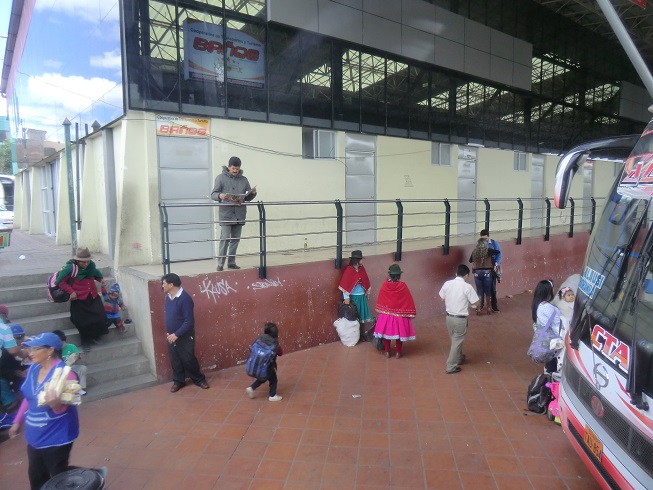 Soon departure time at Terminal Terrestre in Riobamba.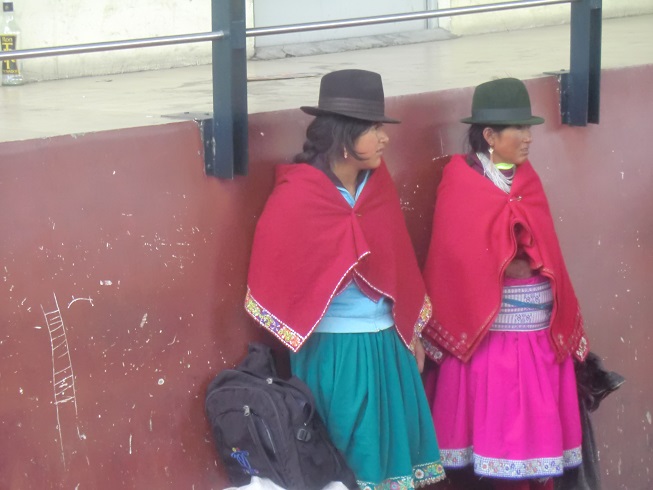 Two well dressed women are waiting for their bus.
10.53 Inside the bus there are stickers indicating what one must not do on board. These include littering, bring dogs, smoke, eat cooked food and carry firearms. Outside the bus, and sometimes inside the bus or at any of the stalls, is a man with a rough voice that cry out Cuenca. He is far from the only odd one here on the station. They usually gather at bus stations around the world and are often awarded with some kind of task.
11.26 During the last 26 minutes we have ever so slowly rolled through Riobamba things have happened and been seen. A guy with a puppet has entertained the ones on board the bus, people have stepped in and we have seen an accident of the less serious kind. A motorcyclist had been hit.
11.43 At last we begin to get out of town. It has taken time. It was a short but pleasant visit in Riobamba. We escaped the rain but there have been plenty of thick clouds that completely concealed the extinct volcano Chimborazo that normally can be seen here. Chimborazo is Ecuador's highest mountain and has a peak that reaches 6267 meters above sea level. The mountain top is the point on the earth's surface which is furthest from the Earth's core. That's because the mountain is so close to the equator.
12.04 The passengers have been entertained by a young man who boarded and played on an instrument with ten strings and a rounded resonance box. The instrument is called charango. Now we leave the first town after Riobamba. The name of it is Cajabamba.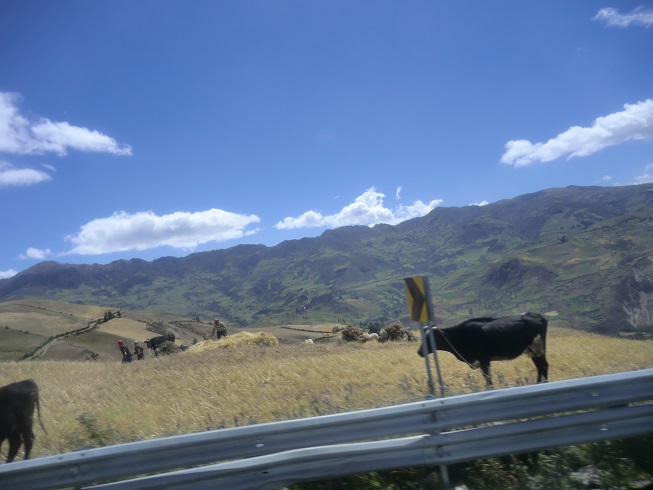 We can see the everyday life of rural Ecuador through the bus window.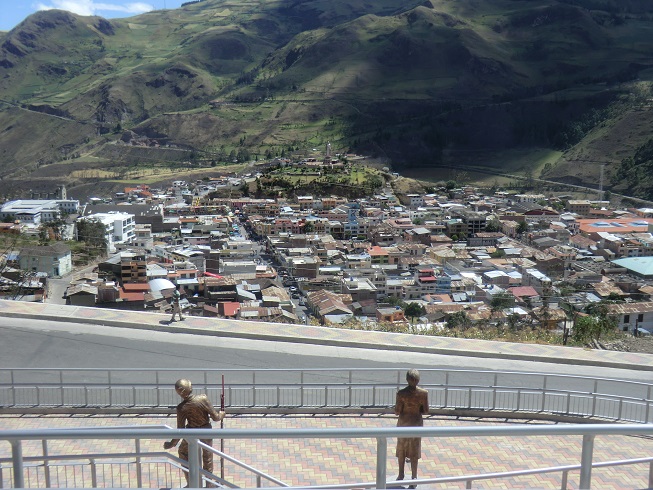 The town Alausí is situated in a beautiful location.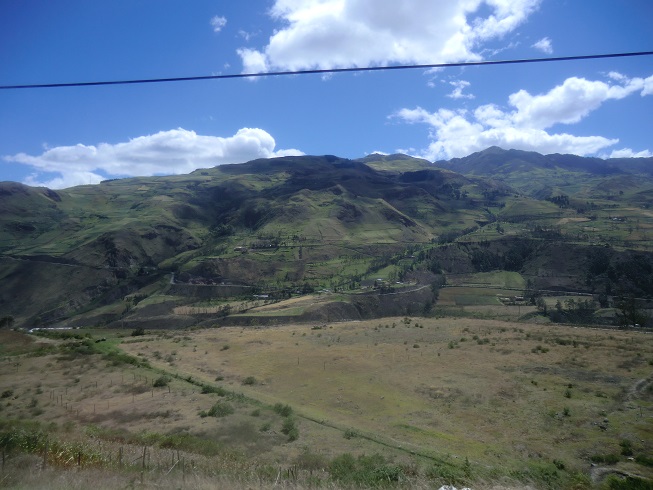 We enjoy the beautiful landscape south of Alausí
12.37 We travel further south through beautiful regions. For example, we passed the chapel La Balbanera which is the oldest church in Ecuador, built in the early 1500´s.
13.20 I have written it before and now I have to write it again. There are amazing views from the bus. The slopes are freshly green, hilly, steep and sometimes cultivated. We recently stopped in Alausí at an altitude of 3323 meters above sea level. The bus stop gave us a fantastic view over the city and the large statue of the apostle Peter.
13.27 Slightly unexpectedly, we got to see a European, or American man with a backpack. He came climbing up a slope toward the highway in the outskirts of Alausí. Some seem to have fallen a bit off course during their travels.
14.59 We are going down and are now at approximately 3000 meters. Small towns as El Tambo, Cañar and Biblián are passed. People have stepped in or been helped on board. It still remains 60-70 kilometres before we reach our goal. It will be nice to arrive. We had seats at the front today and there have been countless people who climbed past us when they go on and off the bus.
15.48 We have stopped at the bus terminal in the nice town Azogues. In the park near the terminal Saturday vacant people socialize with their loved ones. Now we go on.
16.50 Now we finally arrived in Cuenca and has been brought down to 2530 meters above sea level. A friendly taxi driver took us smoothly to the hotel, Hotel Cuenca (http://hotelcuenca.com.ec). The room number is 304. The hotel and the room is really classy. One wonders how it could be as cheap as it was in our booking. Our shower is additionally really hi-tech. It has, in addition to the usual shower jet, six massage jets. We are wondering how it all works really. At check-in, the man at reception was curious regarding Christer's small backpack which he thought was nice and he inquired about the price for one of those.
Peter in our Hotel Cuenca room.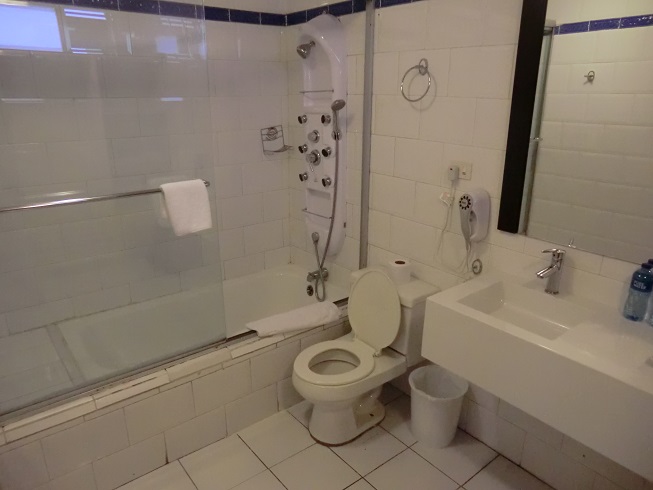 This is a really advanced shower.
We are staying in room 304.
18.16 Now we're covering yet another football match in the Copa America, the quarter-finals Brazil and Paraguay. The second half is played and it is 1-1. Previously, the Swedish U21 national football team reached the European Championship final after victory over Denmark 4-1. With mobile phones and good WiFi connection at the hotels we follow the news as well for the journey home. It has its ups and downs. Sometimes it was actually nicer to be focused on the journey and do not have full control of what is happening at home.
18.35 Paraguay was the best in the shootout. They are now in the semi-finals against Argentina. In the other semi-final will Chile meet Peru.
19.22 We're in a new city and now we shall soon have a new dinner at a new restaurant. We will soon know which.
19.35 When you come to a new city you do not want to run around all the streets already the first evening. The best part is supposed to be saved. We kept ourselves to home block but found no restaurant as a perfect fit for dinner. We had read about Balcon Quiteno online but in reality did not find. We had a fallback option if not otherwise found but suddenly that restaurant was gone, as if it had been swallowed by the earth. It must have closed rapidly and efficiently.
19.51 After a little more searching we finally found Las Campanas. When we had stepped into it, we looked opposite the street and saw, Balcony Quiteno, the restaurant we had so long been looking for. A little frustrating, but now it's Las Campanas after all.
20.38 None of us had any huge appetite tonight.
21.22 The meal ended and we bought something to drink before we entered the hotel and later the room.
22.15 We enjoy the evening in our comfortable room. We plan for tomorrow when Cuenca will be discovered and explored. Last Sunday, we missed the sightseeing bus in Quito. Tomorrow we will make an attempt to catch bus that goes in this city instead.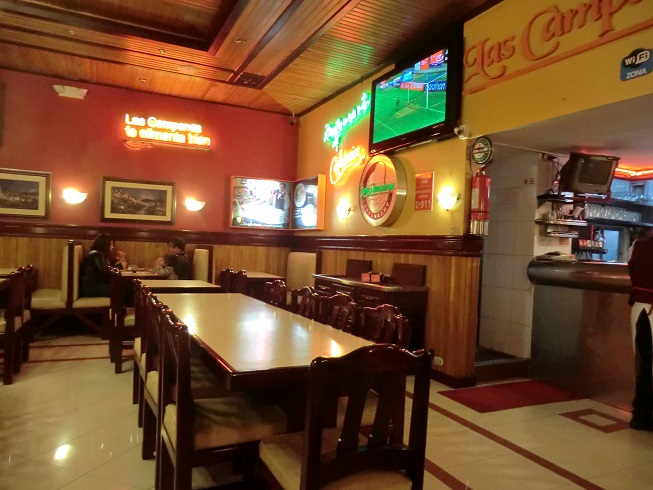 This evening´s dinner was consumed at the restaurant Las Campanas.
---
Sunday 28th of June
09.07 A good night's sleep and a tasty breakfast is a nice foundation for an exciting day. At breakfast in the hotel restaurant Carbón Restaurante an extra glass of juice suddenly appeared on our table. Christer had put one there before he went to get more breakfast. It was an extra glass there when he came back. Probably someone in the staff had placed it there to be courteous.
09.51 This Sunday we shall, like last Sunday, try to find and go with a tourist bus, a sightseeing bus that will take us around the city. We have only seen pictures on the Internet so far. Now it remains to find it and see it in real life too.
10.04 We have walked on Sunday quiet streets to the city's heart, Parque Calderón. Here amongst the greenery are people seated to socialize. You can also be photographed with different sized dogs that photographers have brought with them. For example, we have seen a large St.Bernard dog. At the park there is also the huge cathedral with the official name Catedral de la Inmaculada Concepcion. It has beautiful light blue domes.
10.23 During our walk around the square, we met elderly ladies who sold lottery tickets for a dollar a piece. When another woman came we thought it was more lottery tickets but she sold tickets to the tour bus Cuenca City Tour. We bought a ticket each and hurried towards the yellow two-storey bus.
10.29 We were more successful to find a bus this Sunday. It starts in the Parque Calderón by the old cathedral El Sagrario, now a religious museum.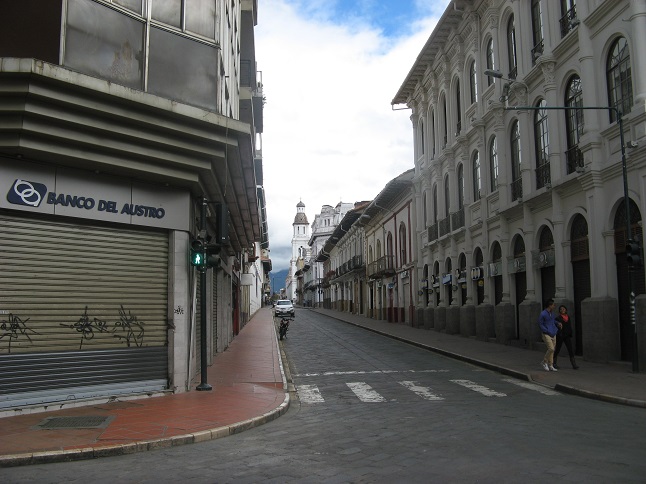 It is Sunday and the streets are quiet.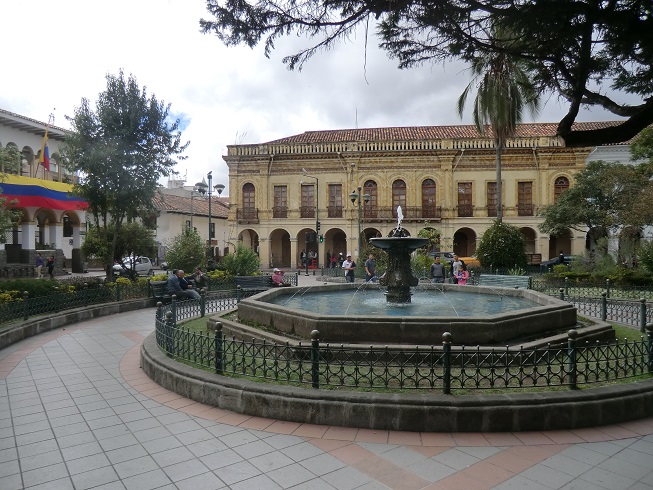 Parque Calderón, Cuenca.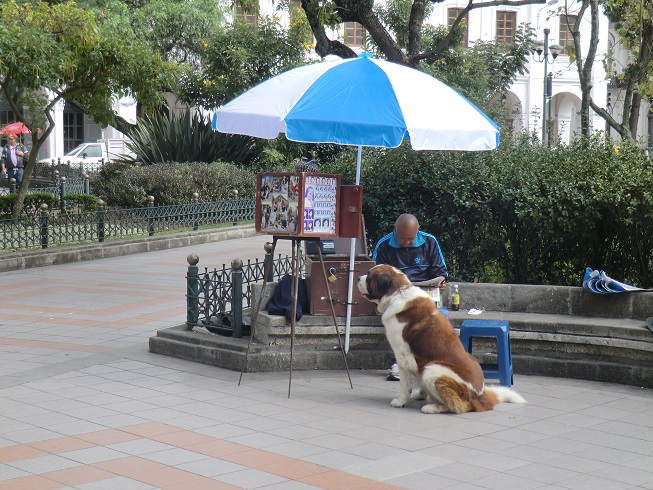 Who wants to take a photo with this dog?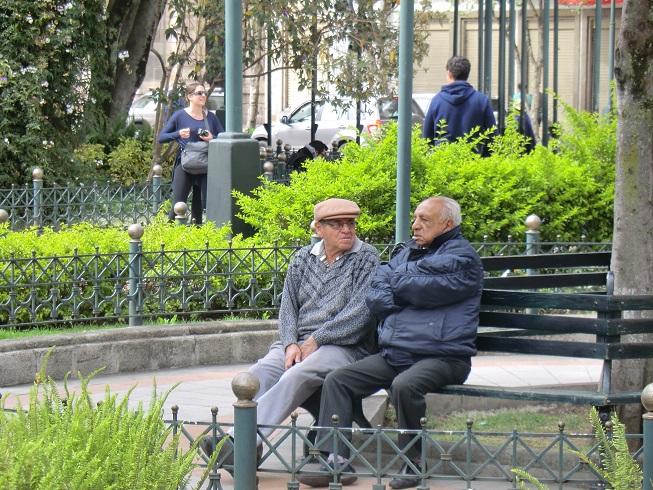 Some old friends are talking in Parque Calderón.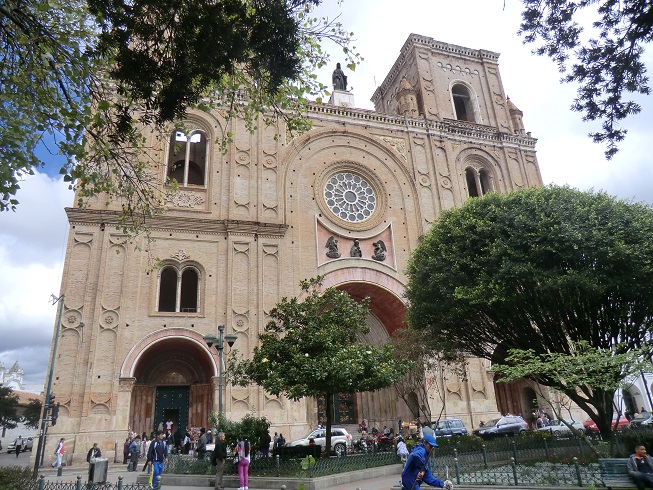 Catedral de la Inmaculada Concepción.
10.48 We are going through Cuenca. We have been going along Calle Bolívar, seen the church Iglesia de San Sebastian, Inca ruins after the city of Tomebamba and much more. Unfortunately it started to drizzle and the tourists who are afraid of water has stepped down one floor here on the bus.
11.21 The bus will make a short stop, twenty minutes, at the lookout point Mirador de Turi. Here the views over Cuenca are amazing. Unfortunately, it is still drizzling , but some photos must nevertheless be taken to capture the view at its best.
11.35 After about fifteen minutes break we went back where the bus stood. It was not there, had left. We had good track of time, but the bus is gone. Now we have ordered a hot canelazo each instead. It is a hot drink containing rum and cinnamon. We are at the café/bar El Embrajo de Jaen and drink this nice warm drink.
11.44 Suddenly our bus turned up. It had just been on a short trip to turn around. We decided to remain seated and enjoy our canelazos. The bus had to go without us. It will soon be another bus here. They pass through here regularly.
11.55 While waiting for the next bus, we sit at a amphitheatre carved into the hillside. From the church behind us we hear something that sounds like a Catholic call to prayer. Prayers are read inside the church and heard through loudspeakers outside. Some children are playing around us. One of them slide down a grassy slope. I wonder what will happen to the pants.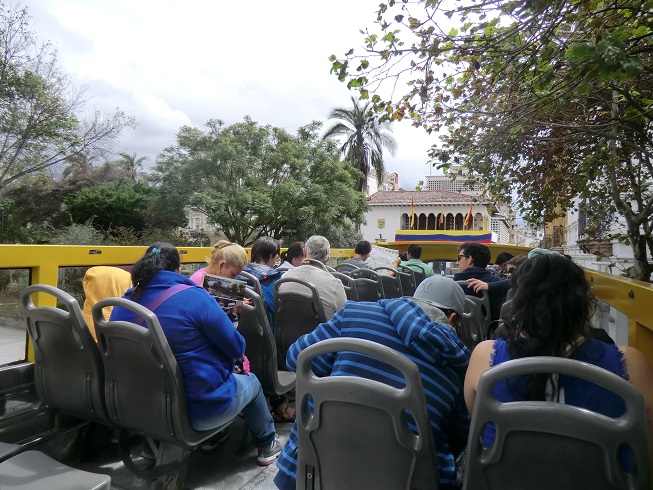 We are ready to depart with Cuenca City Tour.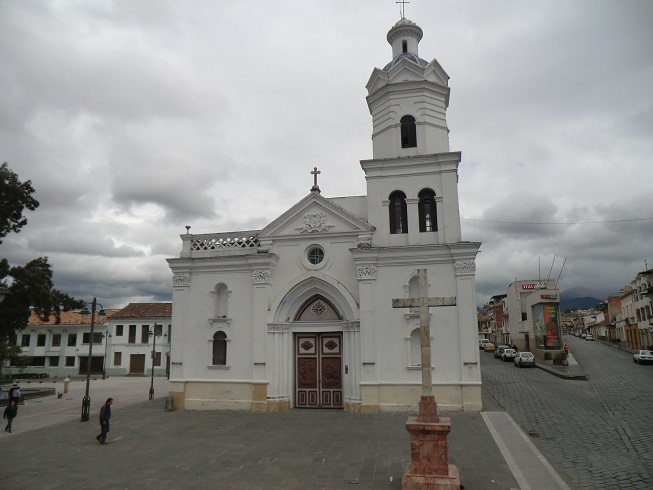 We are driving past Iglesia de San Sebastián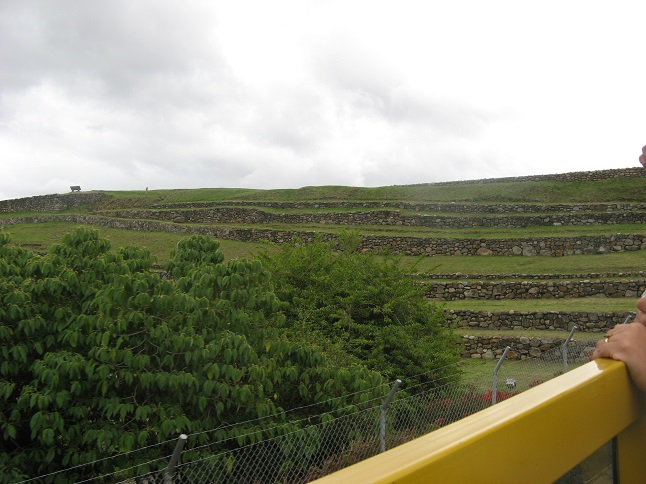 These walls are remains from an old Inca city, Tomebamba.
12.24 Up here at the Mirador de Turi food has been carried out and some form of outdoor buffet is offered. A bunch of dogs are gathered expectantly.
12.37 We have waited, had a bench break, said hello to a black dog, sought protection from the rain under the church's roof and done some thinking. Now a yellow bus finally appeared. Now we'll go on. The tour goes down the mountain and later towards the centre again.
13.25 The tour with the bus is completed. We have left the final stop at Parque Calderón and visited the Café Paneso for a light meal, coffee and sandwiches.
13.54 We finished drinking and chewing. After that we went back to the hotel and up to the room. The door refused to let us in. We went down to the reception to charge the room's key card. It was apparently only charged for one day even though we booked for two.
14.15 Christer do not feel completely well. He is freezing and may have a little fever. We have decided to rest and gather strength in our room.
15.39 Now it´s enough with rest. Christer has taken the appropriate medicine and feel a bit better. It's time to head back out into the city that saw the Panama hat make its breakthrough. The Panamá hat got its name because it was used extensively in Panamá during construction of the canal there. But it has its origins in the towns of Montecristi and Jipijapa at the coast of Ecuador and are produced here in Cuenca. We will now look around in the UNESCO-listed old town part. This room could do with a window facing the street so that you can get fresh air.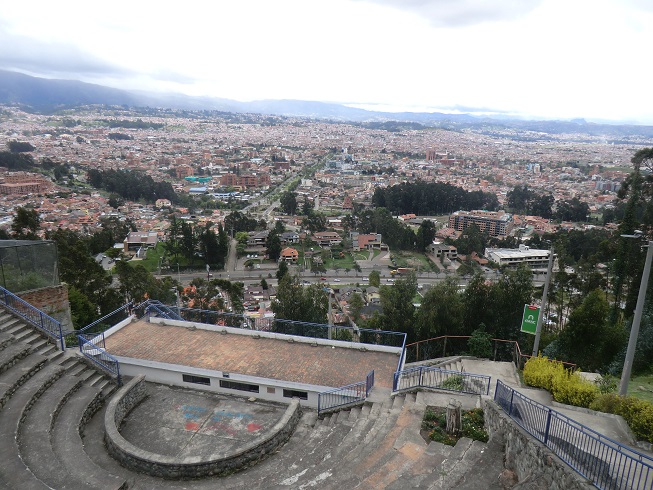 A beautiful view of the city Cuenca (Population: 417 000).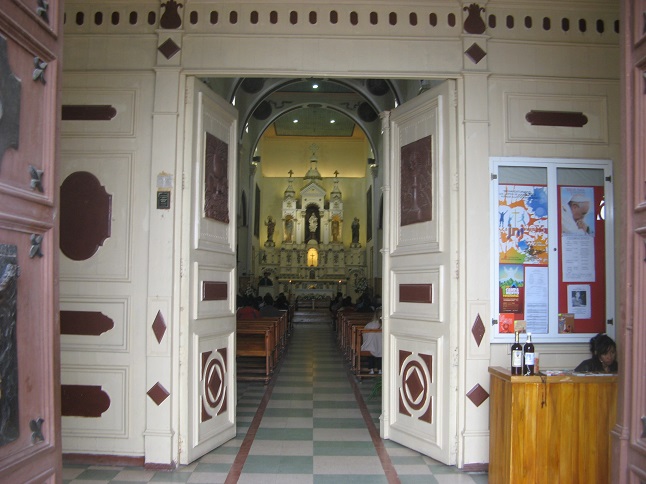 A mass is going on inside Iglesia de Turi.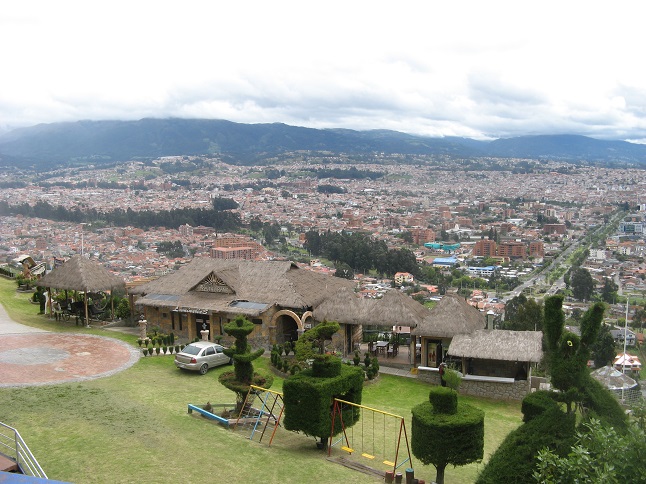 This restaurant has a wonderful location.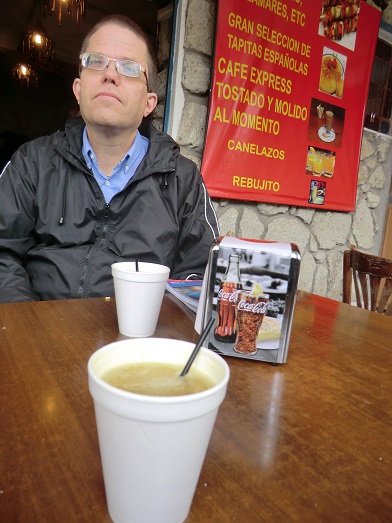 A hot canelazo was exactly what we needed in the rain.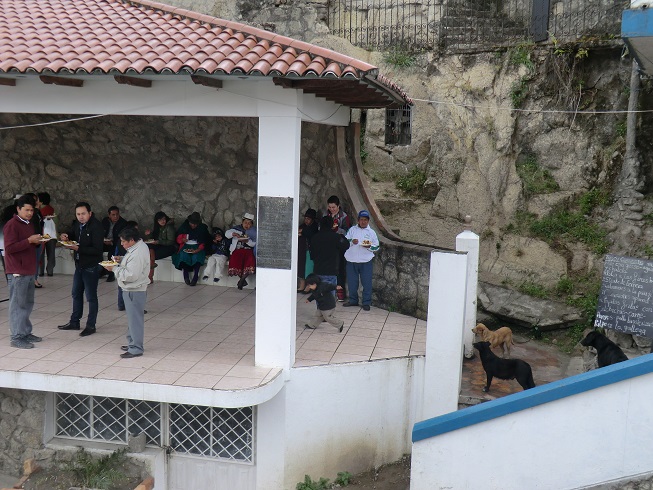 Rain, food and hungry dogs at Mirador de Turi.
16.02 We have come to realize that our little coffee break earlier today does not suffice as lunch. We need nutrition, new energy. We are now looking for a suitable place for a late lunch.
16.18 Our little walk has got a stop. We were just asked if we wanted to have our burgers grilled as medium. We sit at a table outside the restaurant Don Colón. On the door there are signs showing that they received various awards and appreciation by tourists. They also have a sign advising that the staff speak English.
17.33 After the burger meal, we have decided to cross the river Rio Tomebamba, a river which via other rivers finally reach the Amazon River. We followed it downstream and walked across the Bridge of Juana de Oro. In the parapet there were wires which had padlocks locked to them. Even in the bridge itself had padlocks. We have seen this tradition with padlocks before, including in Riga, Madrid and Montevideo.
17.49 We left the river behind us and went up to the Calle Larga through the stairs La Escalinata, a challenge at this altitude.
18.16 The evening's city tour has come to an end. Now we most to rest and reflect. We have done a lot today. The weather could be better and Christer are not quite hearty but we have had a great day in Cuenca. It is considered to be Ecuador's most scenic city after the capital, Quito.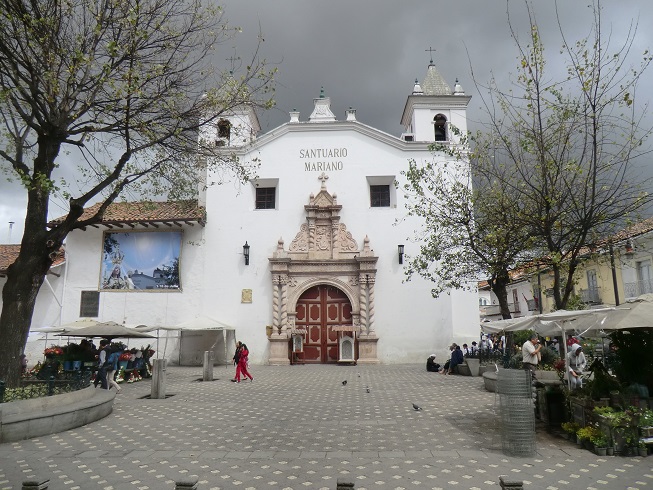 Iglesia El Carmen de la Asunción, Cuenca.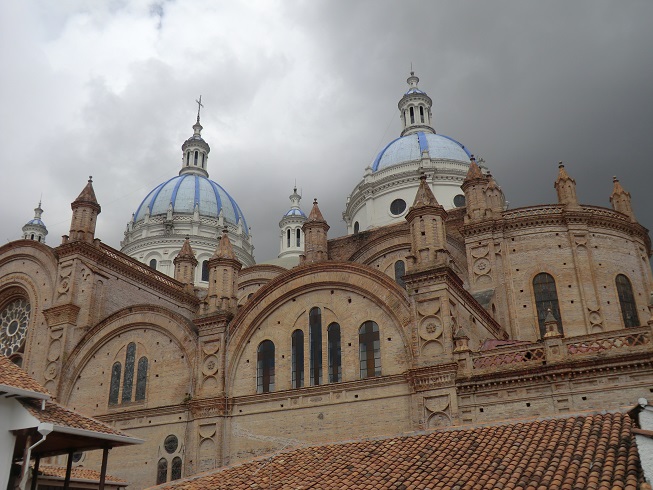 The blue domes on the cathedral in Cuenca.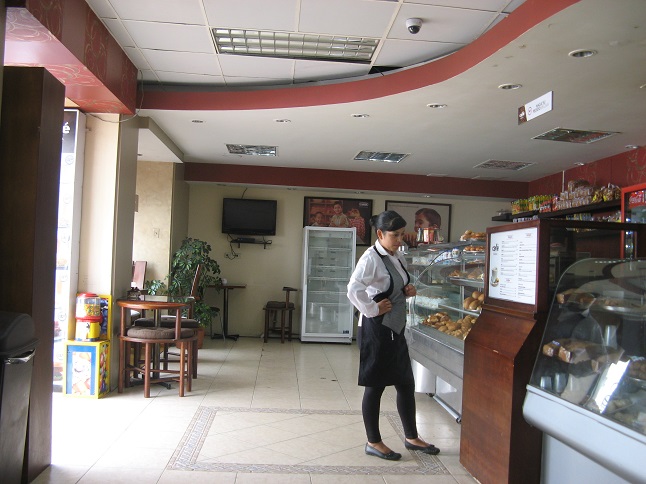 We made a short stop at the nice but slightly expensive Café Paneso.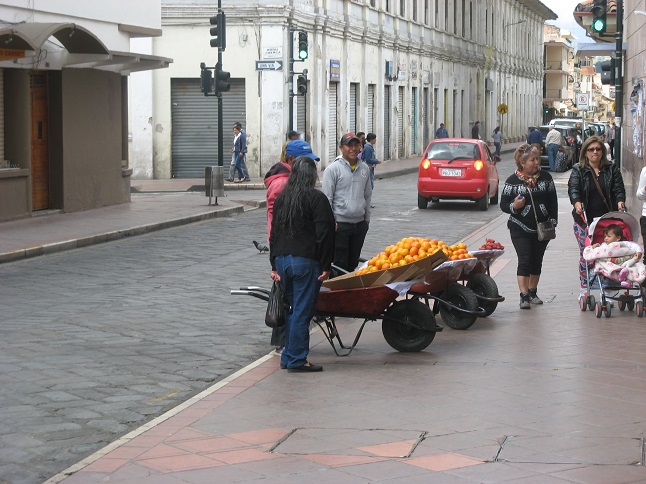 Fruits for sale.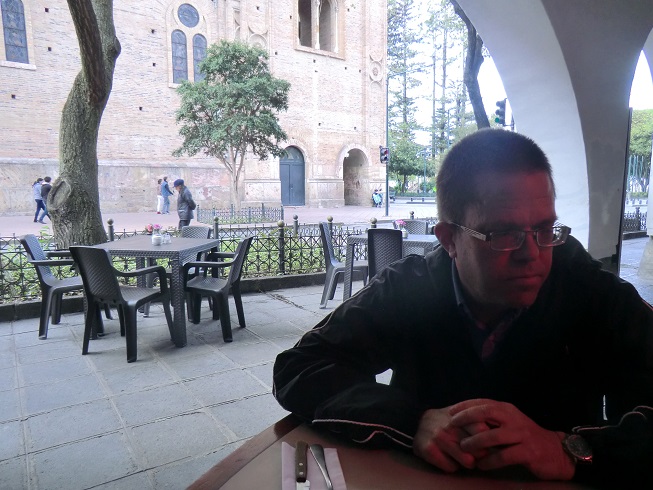 Peter is waiting for the food. We are at Don Colón Restaurant.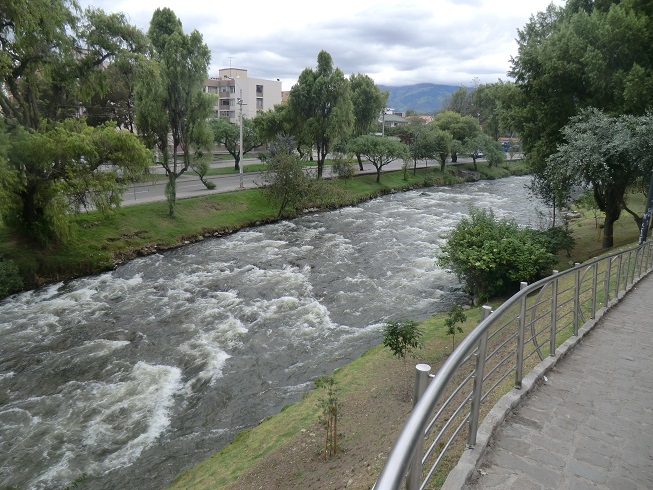 Rio Tomebamba makes its way through Cuenca.
19.23 After a moment of resting and reading in our books, it is time to once again become active and leave the Hotel Cuenca for a while.
19.41 Raymipampa is the name of the classic restaurant where some tourists and also we are sitting. It is close to the cathedral at Parque Calderon. Outside the window are a few vendors starting to pick up their things. They are heading home after a long day.
20.19 The dinner was ok but nothing uniquely was served. In the restaurant hung among others some black and white photos from the restaurant's childhood.
20.47 We are back in our hotel room. On the cable of the hair dryer in the bathroom is a little note. There, among other things, we read that you should unplug the power cord after use and not dry your hair when bathing. Good to know!
22.00 The days feel like they going faster and faster. Well, they cannot stand still either. When will go nowhere in time and space. Speaking about it. it is now approaching time to sleep. Tomorrow, the journey carries on towards new goals.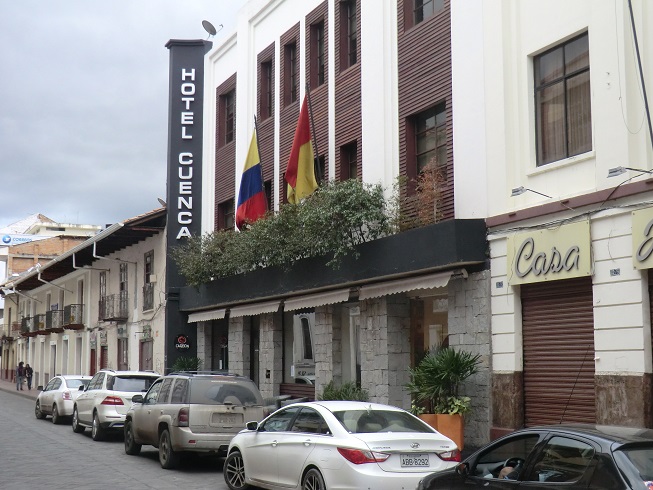 Hotel Cuenca, our home for two nights.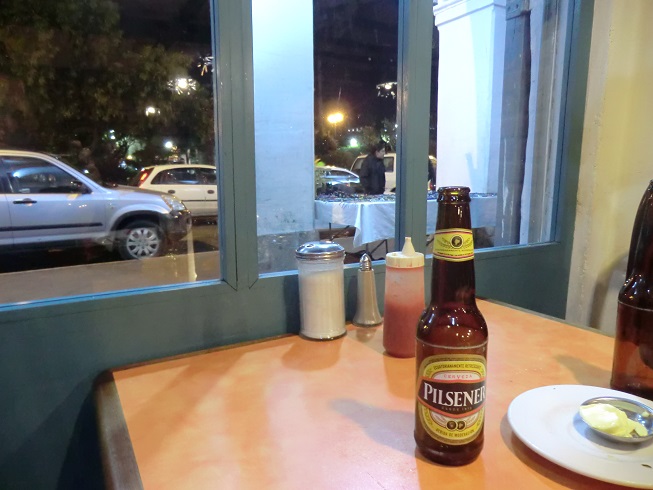 Window table and good beer at the restaurant Raymipampa.
---
Monday 29th of June
09.04 It's morning again and a new week has started. After having sneezed twice, I just wrote this. Within two hours we will leave our penultimate Ecuadorian city. The stay in Cuenca has been satisfactory. However, we would not say no to better weather. It has been very cloudy and rainy so far during our stay in Ecuador.
10.19 We got help from the hotel staff to stop a taxi on the street outside. Now we are at the bus terminal again. Here we have bought bus tickets to Loja. It was not so easy to find the ticket office. We knew the number of the office but that doesn't help much since the offices here are not located in number order. The tickets cost us 6,50 US$ and we have also paid a terminal fee of 10 cents. Now we just have to wait. We will travel with the bus company Ejecutivo San Luis de Transportes.
11.15 We are on the way. It will be yet another journey through valleys and mountains. Too bad it is still cloudy and unstable weather.
11.52 So far it has been a convenient bus trip. We read in our books and are taking it easy. Christer feel more alert today but has used useful things from our travel pharmacy for safety.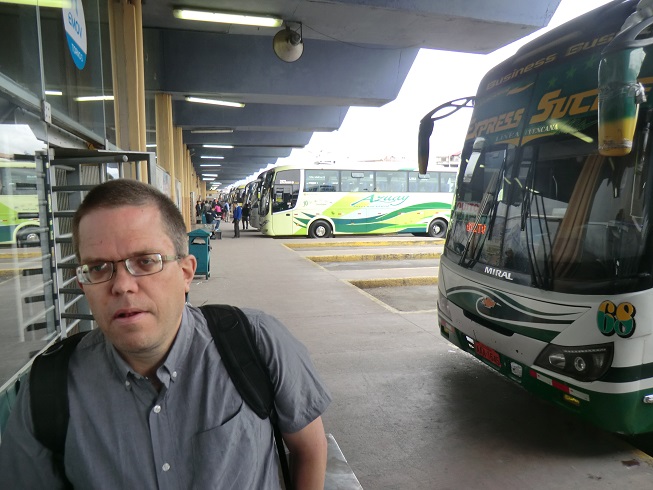 Peter is prepared for a new long bus journey.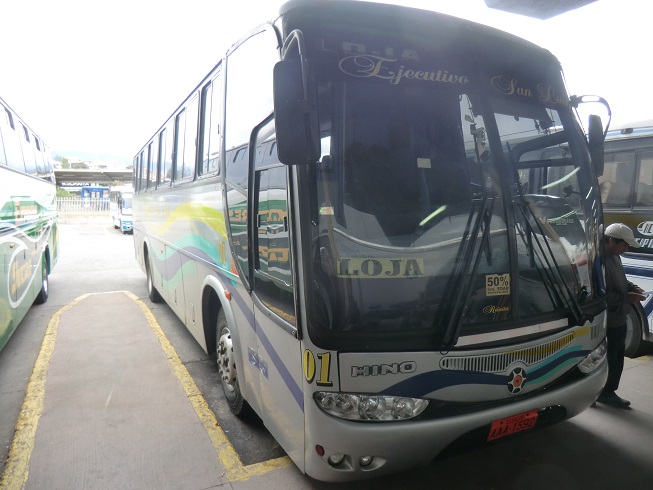 Our bus has arrived.
12.48 After a short stop in the village of La Paz at over 3000 meters altitude, the journey continues. The conifers swishes past on both sides of the bus.
14.03 The bus has stopped in Saraguro and ten passengers have stepped off. The bus is standing still with the motor running and I hope we will soon go on. Some of the other passengers jumped off to go to the toilet or to buy something in the market that is outside.
14.40 Now we have made a stop in San Lucas. To the right are steep, green slopes.
15.37 We are approaching our final destination, Loja. Our travelling companion, the rain, is still with us and has watered our bus and the surrounding area the last half hour.
16.20 We have now come to Loja, a university city in southern Ecuador. We are now "only" 2060 meters above sea level. The first thing we did was to go to a ticket office at the bus station to buy tickets for the upcoming trip to Peru. It will take place on Thursday. Then we took a cheap taxi the remaining kilometres down to the centre. We now stay in room 312 at Hotel Podocarpus (http://www.hotelpodocarpus.com.ec). We are about to make plans on how we spend our time here. There are some plans but if they are implemented as planned remains to be seen.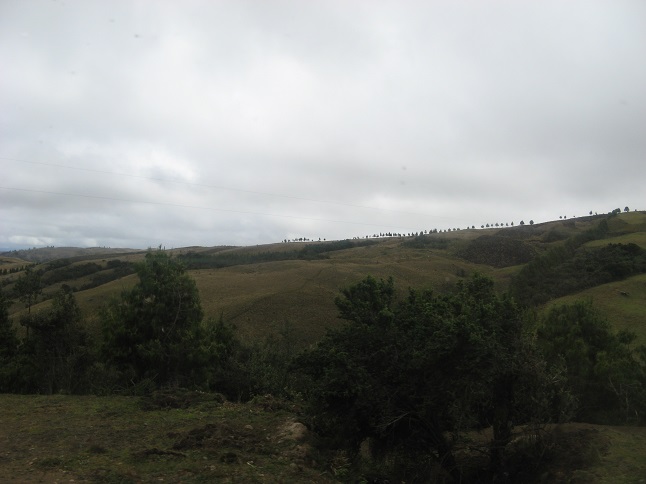 Landscapes south of Cuenca.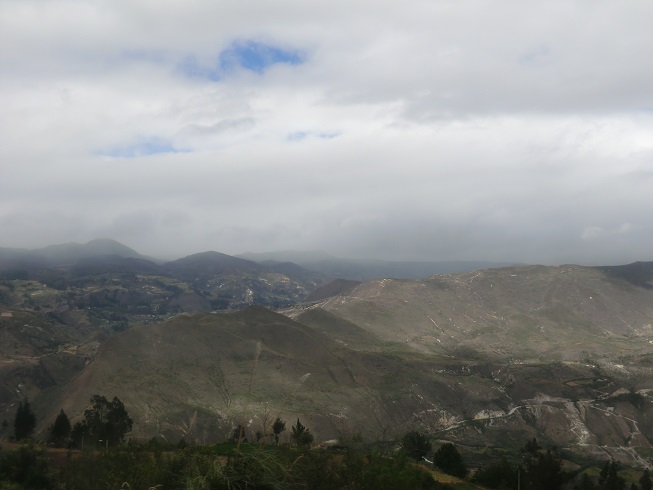 The Andes mountains give us wonderful views each day.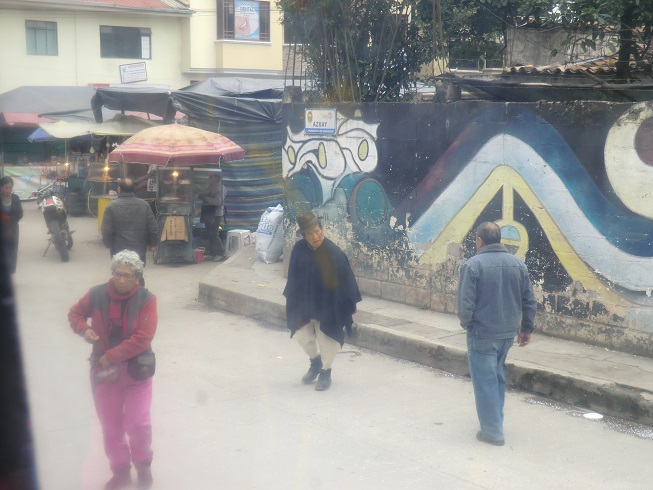 We made a short stop in Saraguro.
19.04 No, this is not good enough. Now enough is enough with lethargy and rest. We have to go out and have dinner. Speaking of cannot, we cannot close the small window above the main window in the room. In the last room, I wanted to have a window so we could get some fresh air. Now that we have an airing window all I want to do it to close it. Tonight's cool air sneaks into the open window.
19.24 We have walked a few laps around the hotel and the nearest streets but had not found other things than ice cream bars and dubious eateries full of men watching football on TV. We have finally settled down in a simpler restaurant. It may not be the smartest option but we hope that the food is all right.
20.02 It was not so good. The restaurant had no menu so we had to explain what we wanted to eat in Spanish. We said something about meat and pasta, and was served semi cold food scraped from the bottom of a canteen. The name of the place is, I think, anyway, Marisqueria El Sazon Costeño. I did not have much appetite. It felt hard to eat even though I should be hungry. On the way home Christer bought juice and buns in the supermarket Romar. In the Copa America football Chile is leading 2-1 against Peru in the semi-finals.
21.52 Chile won and faces either Argentina or Paraguay in the final. Right now the game is being analyzed in details on TV. We just heard a sneeze from outside.
23.07 We have continued to watch TV. Among other things, the economic situation in Greece is analyzed by a man with a patch over his right eye. How is it with ancient Greece? Well, the banks are closed the week out and the maximum withdraw from the ATM:s is 60 euros/day. The country has a debt of 1,5 billion euros to the International Monetary Fund. A debt that must be paid tomorrow on 30th of June. To meet this need a loan from the other euro countries. Now, however, the country's finance minister said no to such a solution on Saturday. In other words, it looks dark for Greece. Here it is also dark and it's time for sleep.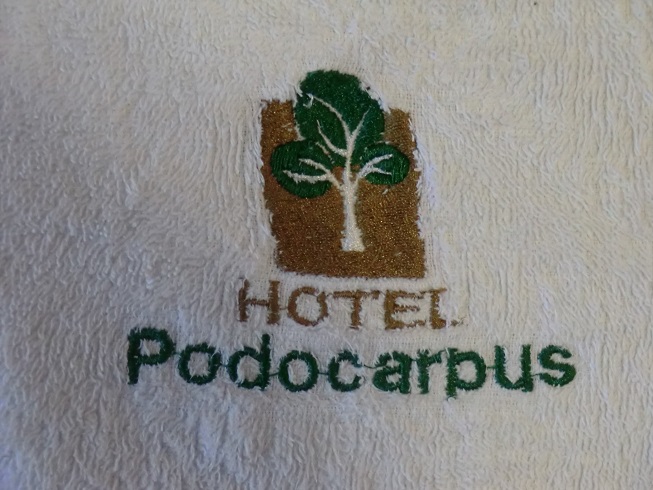 We received nice towels.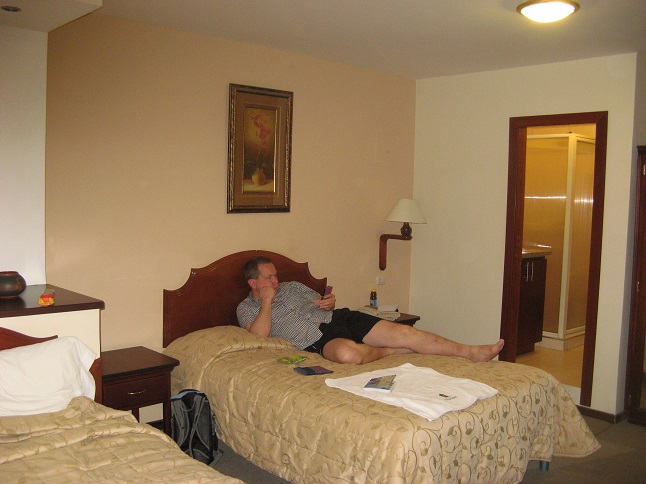 Christer in our room at Hotel Podocarpus.
---
VIDEOS
---
You can see 35 photos from June 26 in this photoalbum.
You can see 22 photos from June 27 in this photoalbum.
You can see 96 photos from June 28 in this photoalbum.
You can see 17 photos from June 29 in this photoalbum.

---
---
---

---