---
Text: Peter Johansson
Editing: Christer Lundstedt
Photos: Christer Lundstedt, Peter Johansson
Videos: Christer Lundstedt
---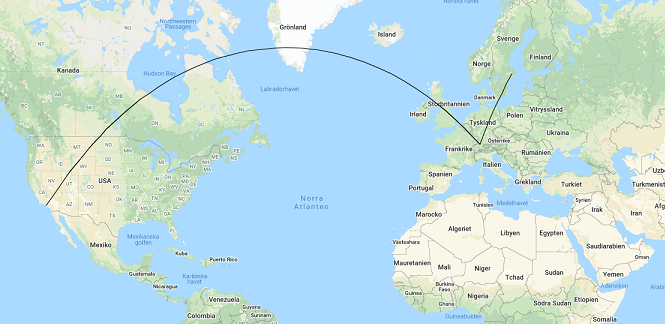 ---
Thursday 26th of December
14.39 After a cloudy, white and quiet Christmas weekend, completed with family dinner, it is now soon time for me to once again get in motion. I'm going south by train from Örnsköldsvik. This time, the travel journal is written in a book purchased earlier this year in Copiapó, Chile.
16.08 My connecting trip is just going well. The other part in this journey, Christer, begins his train journey in an hour. He starts his journey from Nyköping. Christmas weekend has for his part been spent in Oxelösund and Nyköping. He has also prepared himself for the trip with a newly purchased mobile phone, an important aid in our documentation.
18.02 Christer is also on his way. We in this train stand still in Hudiksvall. The train has problems with a brake. Service has been called for. Help, I don't want to be stranded here.
18.13 We have got OK to move on, it feels good.
18.27 Christer announces via Facebook. His first train trip is made. During his wait at Södertälje South Station, he has cashed in a scratch ticket. For the profit on it, he bought two bananas. There is not that much drama in this travel journal so far.
19.52 One of us travellers has now reached Arlanda Airport, it's not me. I'm mostly happy that we haven't been more delayed.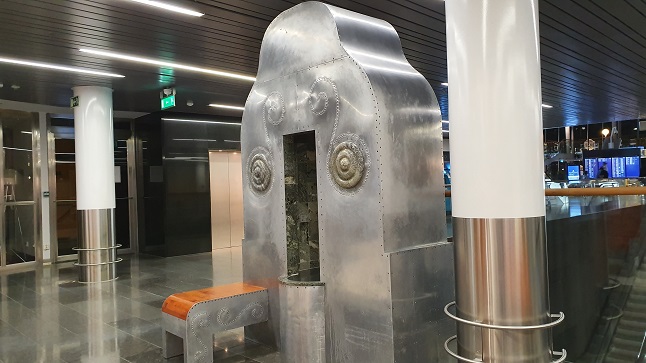 Another reunion at this place.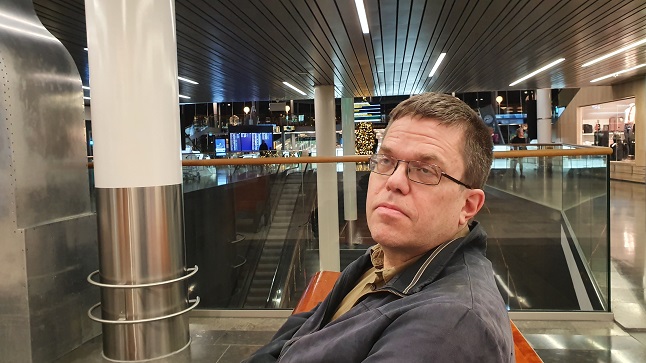 Peter has arrived to Arlanda airport.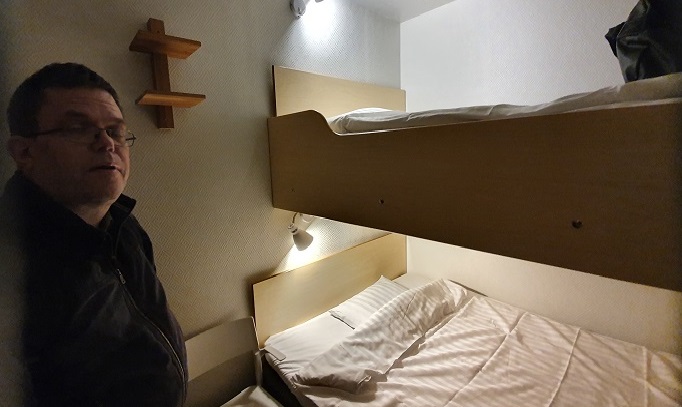 A small room at Rest and Fly.
20.38 We are united at the usual gathering spot at SkyBridge on Arlanda. Over the years we have seen Christmas trees here but since last year it is spruce free. Soon we will head to our classic accommodation when we need to spend a night here at the airport.

21.17 A Finnish lady had problems at her check-in here at Rest and Fly (https://www.restandfly.com). In addition, she wanted to know if she would be allowed to enter the airport again after a smoke break. We stay in room 26. This time we are offered a hotel breakfast at another hotel at a reduced price. It must not be missed. 21.58 The dinner this Boxing Day was hardly culinary but it eased the hunger. We had burgers at MAX. 22.49 After a cup of free, however not so tasty, coffee here at Rest and Fly we have now retreated into the room. Soon it will be lights out. Tomorrow there will be early ascent and a long journey.
---
Friday 27th of December

04.31 We have once again woken up/been awakened a moment earlier than early. That's what sometimes happens on trips. The cheapest tickets mean uncomfortable times and often long waiting times at airports. However, there were no problems to get out of the beds. Now it's time to finish the last things before we leave Rest and Fly for this time.

05.20 Both of us have washed away the dust of the night and left the bed linen. Now we will check out. Then there will be a, hopefully, hearty breakfast. 05.37 We went away to Hotel Clarion here at Arlanda Airport and took the elevator down to their breakfast restaurant. The elevator was at least as large as the room we had. The breakfast range here is wide. It was such a selection I missed last summer. Rest and Fly offers us breakfast here at Clarion for a discounted price. 06.11 By the neighbouring table here in the breakfast dining room, some young men talked about eating the right minerals and nutrients at the right time. Which supplements were the best? We mostly talked about what coffee we would have and take. Are there different coffees for different occasions? 06.52 It went well to check in the luggage. It did not go as special luggage this time. We were then referred up to the security check upstairs. We haven't been there before. Now we wait to board today's first flight.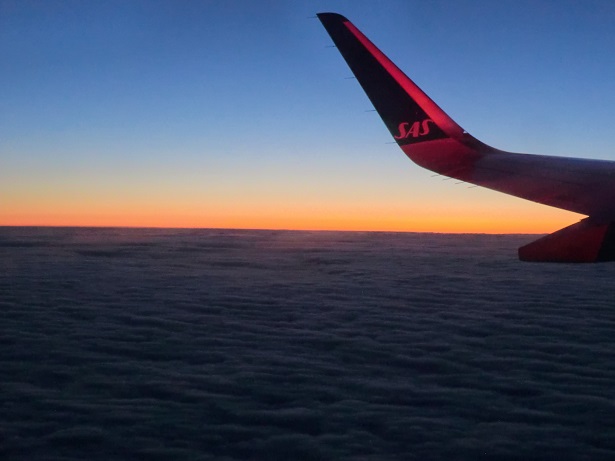 SAS takes us to the south this early winter morning.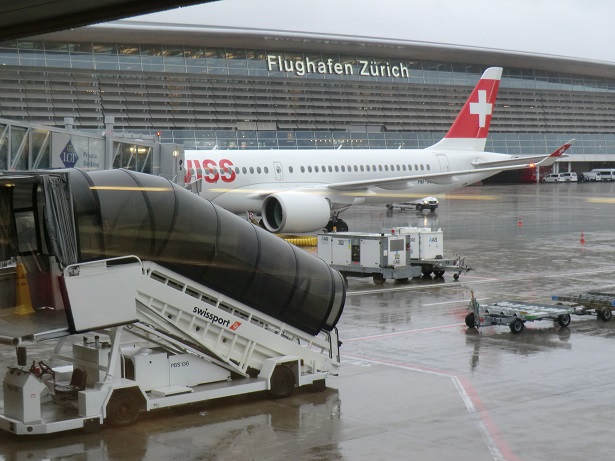 We have arrived at Flughafen Zürich.
07.10 We have boarded without any major problems. Sitting at seats 22 A and B, we will begin with flying to Zürich in Switzerland. We are going to an airport that we have visited on several occasions. I firmly believe that this will be at least the fourth visit there.

07.29 One last passenger has been allowed on board. Just as well, his luggage was already loaded. It would have taken too long to find the right luggage. 08.48 The sun shines in through our small cabin window. Everything is almost calm and still on board.

SWITZERLAND

10.08 Without problems we landed at the Airport Kloten, also known as the Flughafen Zürich. As I said, we've been here before. Lasting memories are the high prices and lack of seats. A passenger wanted to get up before the plane stood still. Now Christer and I sit at Starbucks Coffee, it is a premiere for us in Switzerland. In August, I wondered where the next Starbucks country would be. Now I know the answer.

10.21 The high prices were not just a memory, it is a reality. A cup of coffee at Starbucks cost more than US$7.50 and you can't get a sandwich under US$10 anywhere here at the airport. 11.13 We sit here and think about what we should do before we go to the next gate. It's a bit further away. Do we eat something before and if so what? 12.03 Eventually we bought a ham- and cheese sandwich and an apple beverage from Marché. The meal can hardly be defined as cheap, the cost a good bit over US$10, but it is always good to have a little in your stomach when going out and fly. We'll be heading to the gate soon. 12.55 I probably shouldn't write this but do it anyway. So far, it's just been good for us. We and a lot of others are on board. So why hesitate to write this? Well, experience tells me that the times we have expressed ourselves positively about a situation, things have soon gone the other way. We're going to fly with Swissair from Zürich directly to Los Angeles.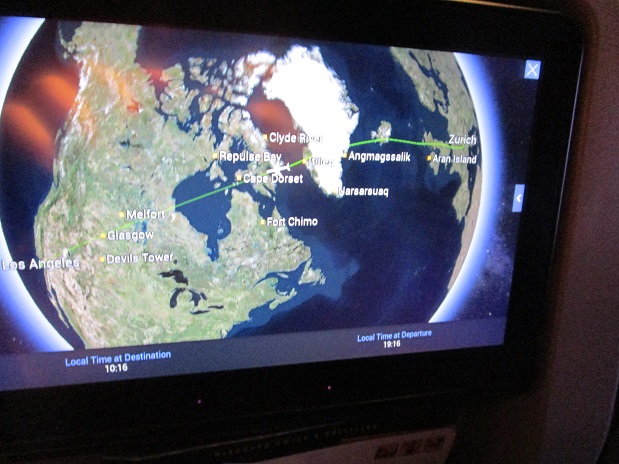 After flying across Greenland we have now reached Canada.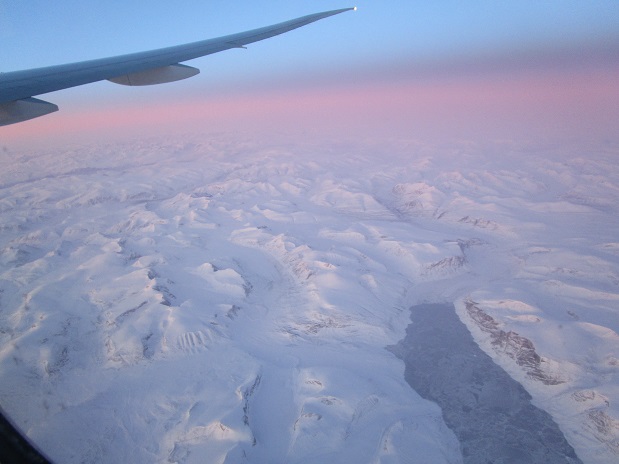 We are right above Baffin Island, Canada.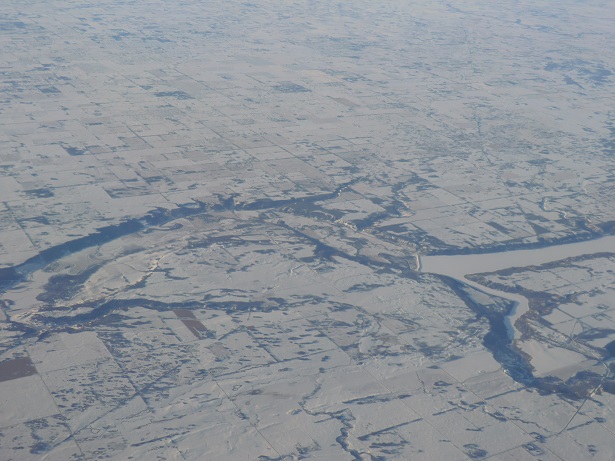 Snow on the Canadian prairies.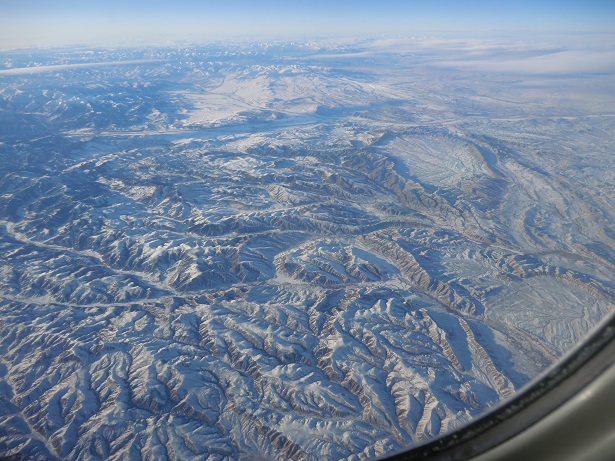 The Rocky Mountains underneath our plane.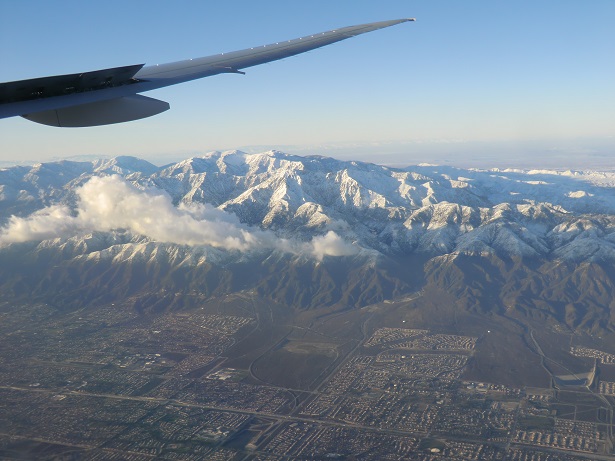 San Gabriel Mountains have snow on the peaks.
We will soon land in Los Angeles.
13.48 Now we have started the flight and been told to always keep the seat belt on. Ahead of us, we now have over 11 hours of flying. It's time to switch to the upcoming time zone in California, - 9 hours.

CHANGING TIME ZONE 06.58 A tasty and nourishing meal is completed. It's supposed to be dinner, but its early morning where we're going. We have just left Scotland behind us and flown out over the Atlantic. It is 7911 kilometres and over 9 hours left of this flight. 09.19 It's getting boring. Greenland passes under us and outside the plane it is -59 C. It still remains almost 7 hours. 12.09 Soon we have passed over a snow and ice covered Hudson Bay. We are for sure heading into Canada. We haven't seen any polar bears yet. Do they hibernate or how do polar bears spend their winters? 13.32 It's flat, even flatter than flat down there. We look out on the area between Winnipeg and Calgary. An area I've looked down at before. That time in the company of my mother. The year was 2015 and we had been visiting distant relatives in Winnipeg. 14.48 During the journey across the Rocky Mountains we have eaten, Chäschüechli, a small cheese pie from Switzerland. It is not easy to spell words in Swiss German. 15.19 There have been varying views during the flight. At the moment we are offered a desert landscape with elements of snow. We are probably somewhere over Utah. 16.03 There have been beautiful views during the approach to Los Angeles. The snow covered San Gabriel Mountains around the city are a real contrast to the flat area with house after house in Los Angeles covering huge areas.

UNITED STATES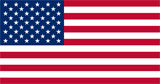 16.55 We have landed and are at LAX Airport (Los Angeles International Airport). It's time to get through the minor chaos here.

17.55 It took some time, but we got through everything. It was a long procedure to be allowed into the country, self-scanning, queuing and finally checking out meeting an officer. My toilet bag had fallen out of my backpack. I asked the staff and was referred to the run away. In my hunt, I missed telling Christer where I was going and lost him. We found each other and now we are looking for a bus that will take us into the city centre. 18.23 Christer found the bus stop. It's time to go with Fly Away (https://www.flylax.com/flyaway) to Union Station. The ticket is purchased online. We are in the United States and in El Pueblo de Nuestra Señora la Reina de los á Glyceles Del Río de Porciúncula – "The Town of Our Lady the Queen of the Angels on the river Porciúncula", or shorter, Los Angeles. Maybe even shorter, LA. This is a new country for Christer. He has visited three airports in the United States before but has never before entered the country.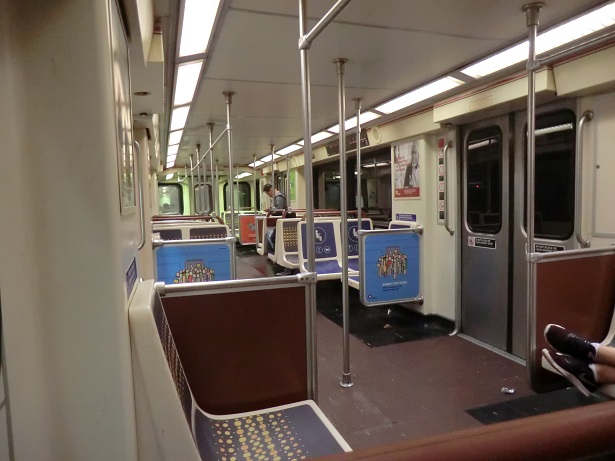 Few passengers on LA Metro Purple Line.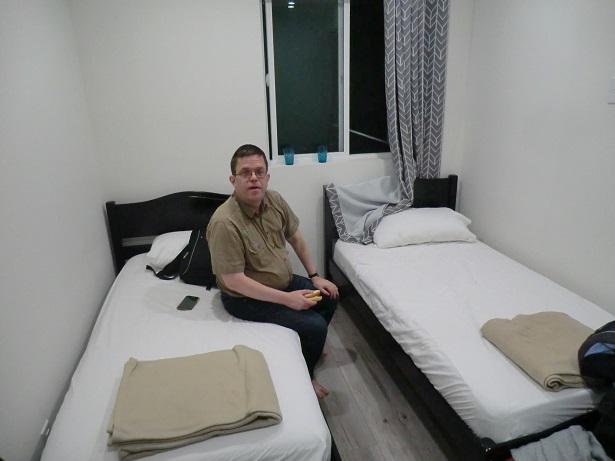 Peter in the room at 8th & Ardmore Hostel.
19.12 The bus trip to Union Station went smoothly. The station here is the central Station for rail traffic but also an important station in public transport, for example LA Metro.

19.32 Now we have bought a day's card to LA Metro (https://www.metro.net) here at Union Station. It's time to go further, this time by Metro. A new premiere for us. We will travel west with the Purple Line. 20.15 At Wilshire Normandie station, we got off the Metro. We wandered through Koreatown to the hostel 8th & Ardmore which is just a completely ordinary house on a completely ordinary street. We came in thanks to the codes that I received by e-mail. Here we now leave the possessions in room 4 and go to the supermarket. We live next door to the common toilet and shower for gentlemen. 21.13 In the supermarket Jons there were plenty of Mexicans. Now we've been shopping what we need for tonight and tomorrow morning. At home in Sweden it is already tomorrow and 06.13. It's over 24 hours since we woke up at Rest and Fly. We're in a new time zone. Now we need to sleep to adjust the bodies to the right rhythm of the day.
---
Saturday 28th of December

07.51 It's really nice to sleep. I think we'll be heading out soon. Truth to say, today we will mostly prepare ourselves and the bodies with the surroundings. We need to get into phase with the time zone and the climate and fight our jet lag. I think it was good that we got to start by sleeping right on arrival here.

09.38 Our breakfasts, which we bought last evening, were simple but good. Both bread and yogurt were really delicious. We ate the breakfasts out in the communal kitchen. My mobile doesn't want to get in touch with the house's WiFi network. To enter, three codes are needed. Of course, this does not apply to WiFi without the accommodation itself. For the gate you enter C2087, to the house 1004# and room door 1104#. However, hope that they have changed codes when we publish this. I can tell we're in the Koreatown district. There are plenty of Koreans here at the hostel too. 10.25 A helicopter just flew over the clear blue sky, a bell rings and I sneezed. Is this starting signals for the day? By the way, when and how do we pay? We haven't seen any personnel here so far. 10.37 We have left our base and walked out into a sunny Los Angeles. Besides that Christer was almost hit by a skateboarder, nothing special happened on our walk back to Wilshire Boulevard where we got out of the subway last evening. 10.56 So we sat down for eleven o´clock coffees. Once again, we chose Starbucks Coffee. We're at 3450 Wilshire Boulevard. It is also time to plan the next steps.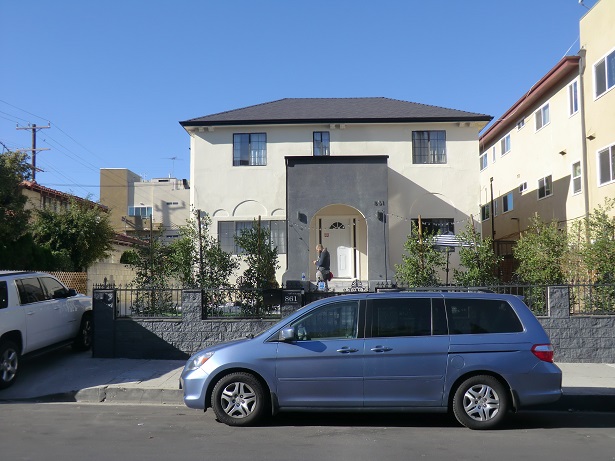 This is where we stay, 8th & Ardmore Hostel.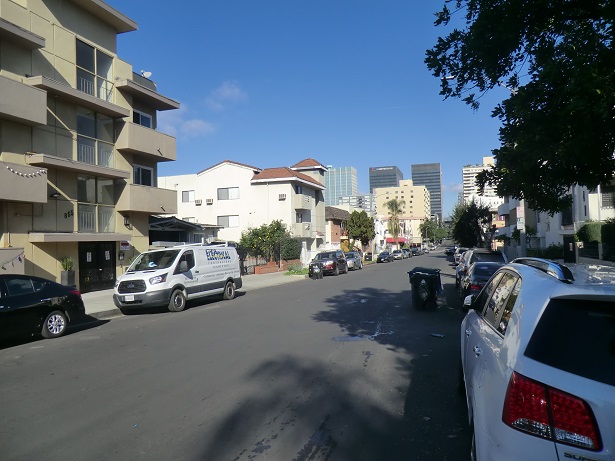 South Ardmore Avenue, our home street.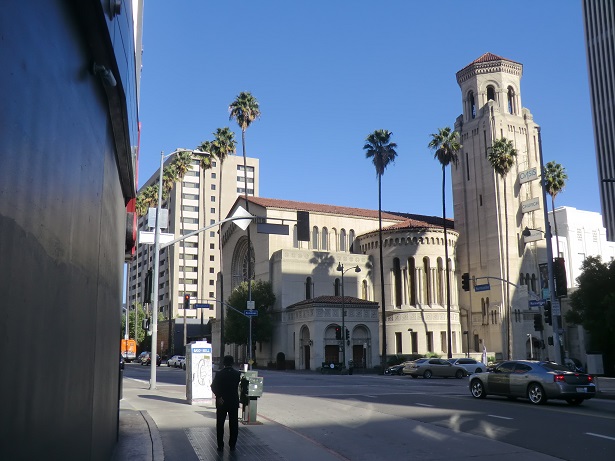 Oasis Church, Koreatown.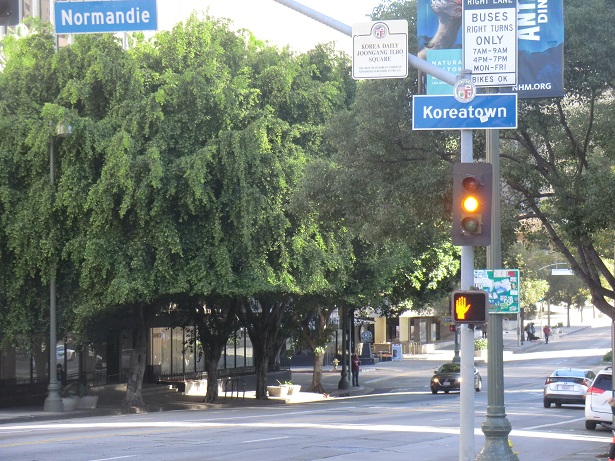 Here in Los Angeles we have our base in Koreatown.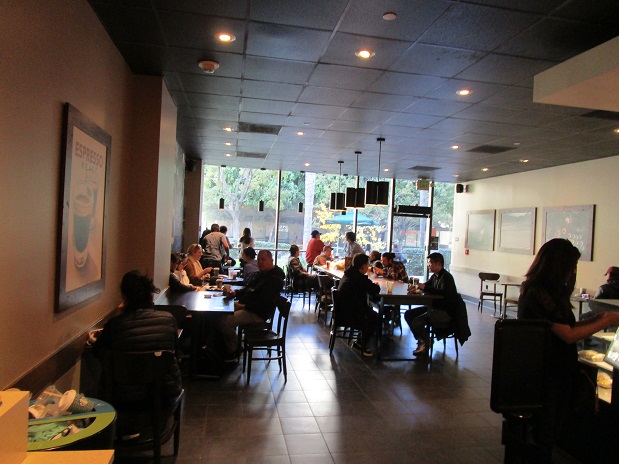 A stop at Starbucks Coffee.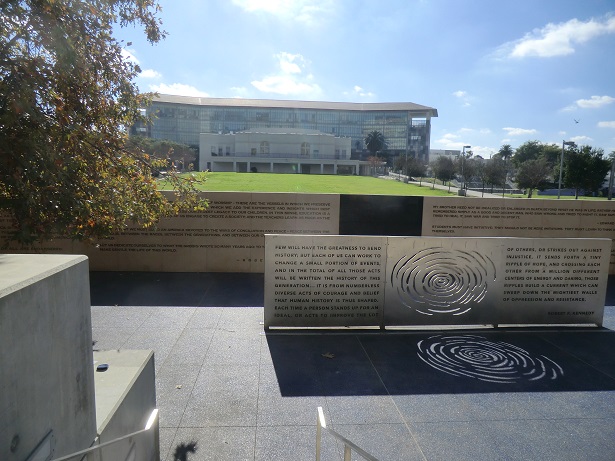 Robert F. Kennedy Inspiration Park.
12.09 We walked, not too fast, eastwards along Wilshire Boulevard until we reached MacArthur Park. Here there are plenty of people and mainly, birds, including mallard ducks. It's sparser with clean benches. We'll keep looking. Originally the name of the park, which has roots in the late 19th century, was Westlake Park. But in the early 1940s it got its current name after General Douglas MacArthur. On the trip in 2006 we went through a place in the Philippines that got its name by the same man.

12.33 In the park we found mostly Spanish speaking preachers, dirty benches and poor people. In the hope that the metro card we bought last night was valid, we went to the metro. It was not, we have to admit that it would have been better to buy a one-way journey instead yesterday. Apparently, the card is only valid the day it's bought. We had to charge the card, US$1.75, before further departure. 12.44 Our journey ended at the Civic Center Station. Here above ground is a tall building, Civic Hall (Los Angeles City Hall), which we both recognize. However, none of us knows from where. We have not been here before, so all possible candidates that remain are, from television, movies or from our dreams. 12.59 We followed the signs to the nearby cathedral, the Cathedral of Our Lady of the Angels. We found it but it was disappointing, not even worth photographing. However, we saw a glimpse of the famous Hollywood sign on a hillside far away to the north, always something. 13.12 We have sat down by a pink table in Grand Park, the long narrow park which stretches from Civic Hall to North Grand Avenue. The temperature of the day is good. We walk around the city without problems. Best are the temperatures when we neither freeze nor sweat. One such day that we have today.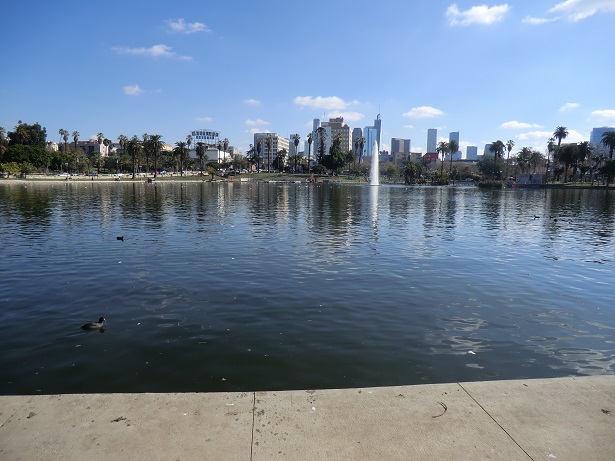 MacArthur Park Lake.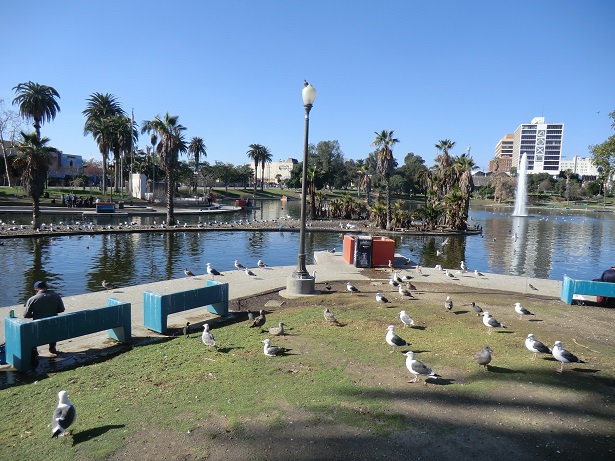 Lots of birds in MacArthur Park.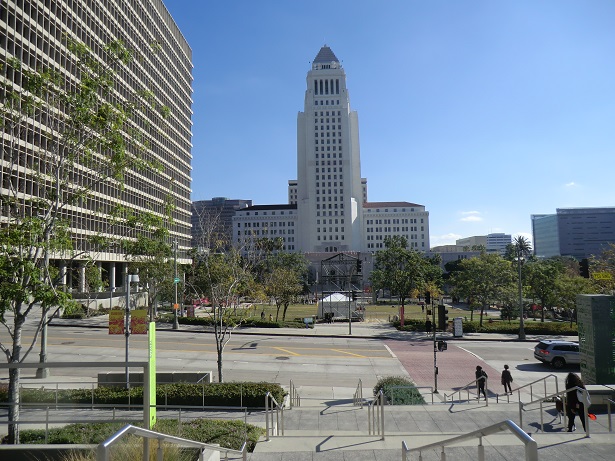 Los Angeles City Hall (Civic Hall).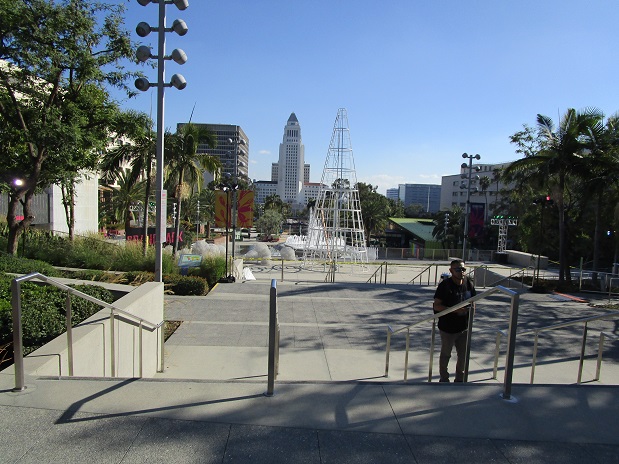 Grand Park, Los Angeles.
13.38 Our break in Grand Park remained for a while and we just philosophized. In addition, we discussed what to do with today's lunch. There are some possible restaurants here in the Downtown area but the question of whether it is worth spending that much money on a lunch. No real decision was made but we are back in motion. 14.34 At the square Pershing Square we found besides skyscrapers also an outdoor ice rink, such kind that we have seen before, and also a metro station. That's from where we're going. We have once more been sloppy with the intake of nutrition and need energy in the form of food. However, we will try to find a restaurant closer to where we stay. 14.56 The final station on the Purple Line (Wilshire Western) brought us the restaurant Denny's (https://www.dennys.com). Here we have ordered burgers with various accessories. There will be plenty of food. We're at 3750 Wilshire Boulevard. 16.40 Good food and sodas, followed by a slow walk home. We checked out some dinner restaurants but didn't like anyone. At the time of payment on Denny's, it was a matter of thinking about the tip. It should be at 20% if you consider yourself satisfied. We could choose from a few different amounts to add to the regular price. Now, it's quiet for a while. 17.55 It's dark out there, one of the guests in another room accommodation coughs and the two of us are thinking about the evening and tomorrow's morning activities. Among other things, we want to check in. Actually, we haven't done so yet. In addition, those who run this property certainly want us to pay as well.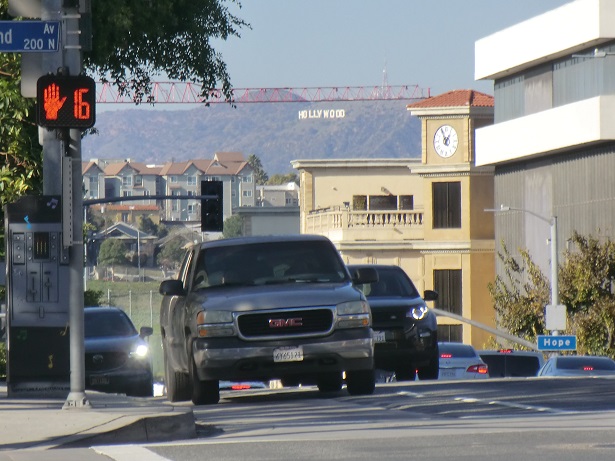 Cars on West Temple Street and a famous sign.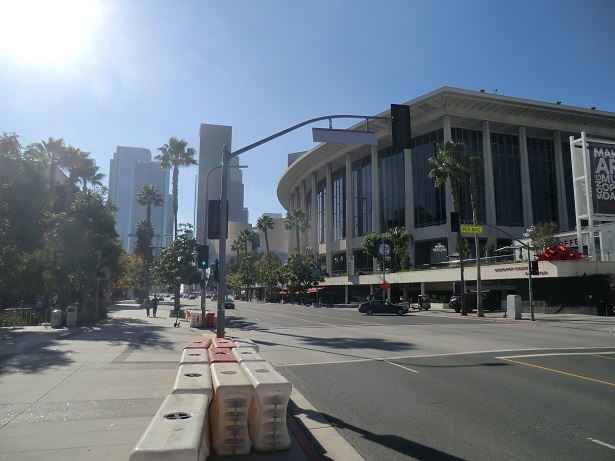 North Grand Avenue, Downtown Los Angeles.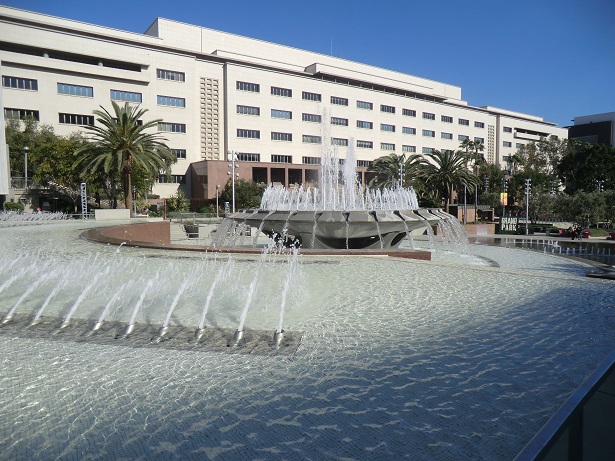 Arthur J. Will Memorial Fountain in Grand Park.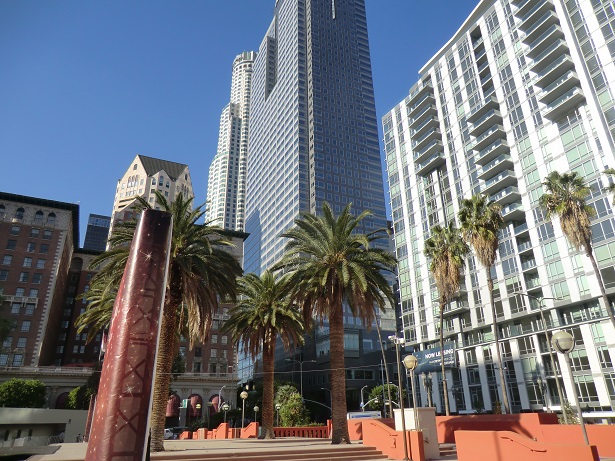 Pershing Square, Los Angeles.
19.17 There is now a certain structure on the future. Now, however, we have to take some different steps to make something happen.

19.28 We've left the building. Tonight, the hunt for food goes straight south. 19.57 Now, we are waiting for our Korean dumplings. Evening dinner is served at Myung In Dumplings restaurant. The address is 3109 West Olympic Boulevard. 21.00 There were four large and stuffed dumplings each. Clearly filling and significantly more food than it looked in the pictures in the menu. 22.31 Towards the end of the evening and the beginning of the night we have drunk coffee in the communal kitchen. A guest had problems with his check-in. He didn't seem to be in the papers, all according to one that seems to belong to the staff. So there are employees here, are we next to be checked in? 23.07 Our turn to be checked in never came, at least not tonight. At least the other guest seems to be allowed to stay here.
Peter and a mug with coffee truths.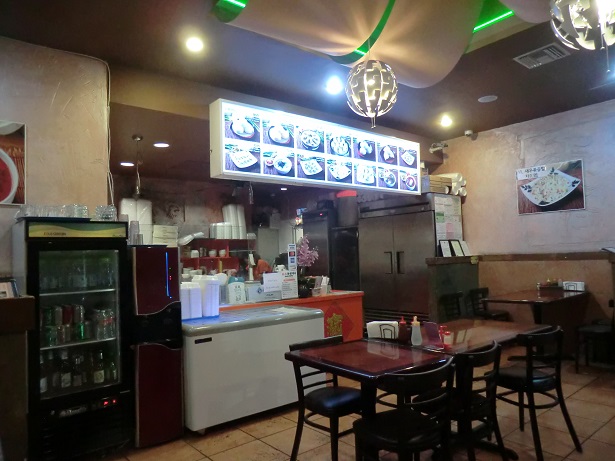 We are visiting Myung In Dumplings.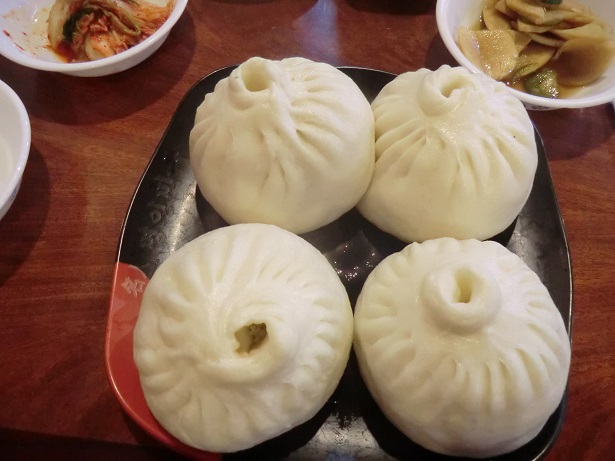 Tonight´s dinner contained Korean dumplings.
---
VIDEOS
---
You can see 5 photos from December 26 in this photoalbum.
You can see 30 photos from December 27 in this photoalbum.
You can see 59 photos from December 28 in this photoalbum.

---
---