---
Text: Peter Johansson
Editing: Christer Lundstedt
Photos: Christer Lundstedt, Peter Johansson
Videos: Christer Lundstedt
---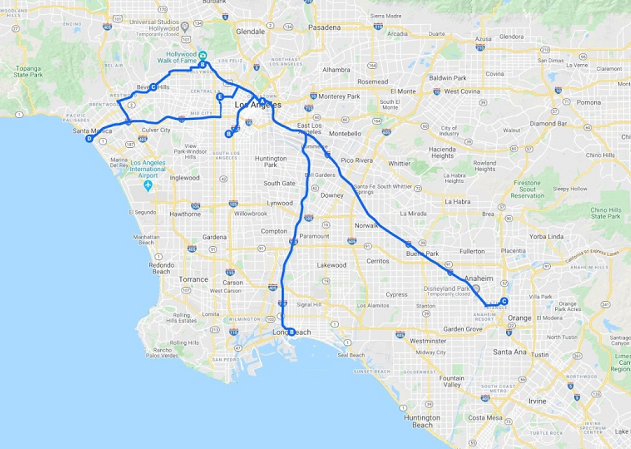 ---
Sunday 29th of December
08.27 During the night here in our hostel 8th & Ardmore in Los Angeles, I have taken the opportunity to call out the name of a place (Ullånger) in my home area in my sleep. I don't know why I did it. 10.01 One question remains. When and how will we pay for our stay here? I have mailed the owner but no answer has come. 10.23 I suddenly received an answer to the previous question. There were sounds, music, outside. It sounded like something heavenly was on the way. It was the owner James who sat by a desk out in the garage. He announced that we are already registered and that everything is already paid. It helps if I check my bank account now and then. Anyway, good that everything is ready. Now we will fill the morning with something before the afternoon and evening stay in Anaheim. 10.44 We have left our accommodation and walked out of the area. We are now seeing a company consisting of two dromedaries and some fine-dressed gentlemen. They stand and look to a newborn baby in a stable. It's a Christmas decoration in front of Saint Basil´s Roman Catholic Church. 11.17 Our walk went north through neat palm adorned streets with nice residences. We have no direct goal with our walk but we imagine a coffee break a little later. We have just reached a street with heavy traffic, West 3rd Street in the northernmost outskirts of Koreatown. 11.53 We have, since last, wandered through, among other things, the District of Little Bangladesh. We have seen that a gallon diesel costs US$4.20. In addition, we passed a few fire trucks in full action near a house. Now we make a stop for coffee and croissant at the Coffee Bean and Tea Leaf (https://www.coffeebean.com), yet another coffee chain we visited before. It will, however, be premiere here in the United States. The address is 3550 Wilshire Boulevard.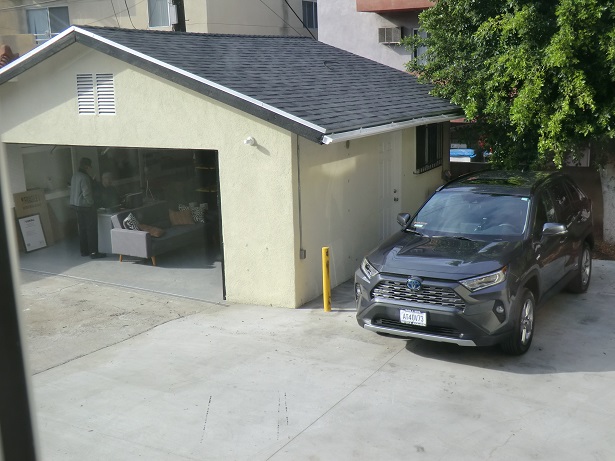 The owner James finally appeared.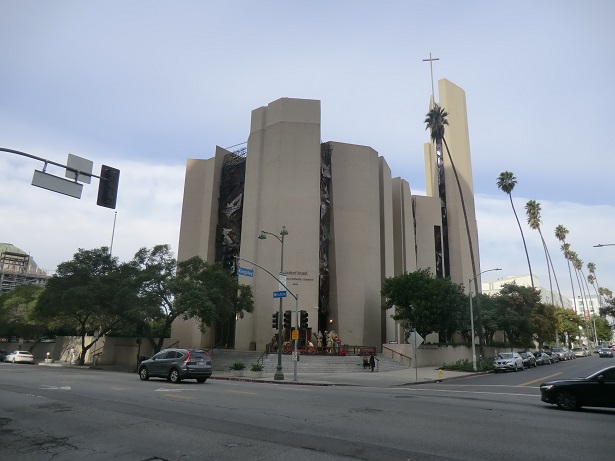 Saint Basil´s Roman Catholic Church.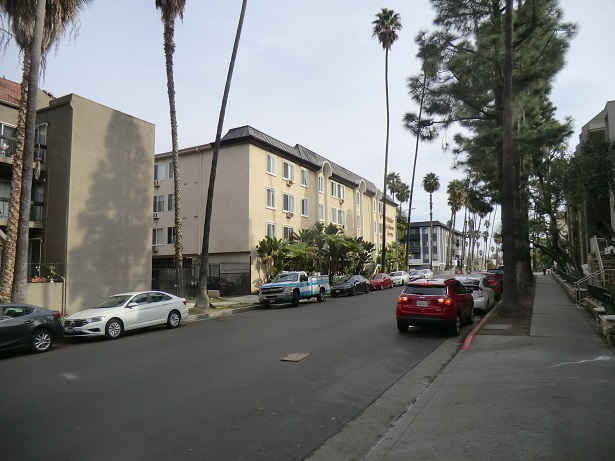 West 5th Street in the neighbourhood Wilshire Center.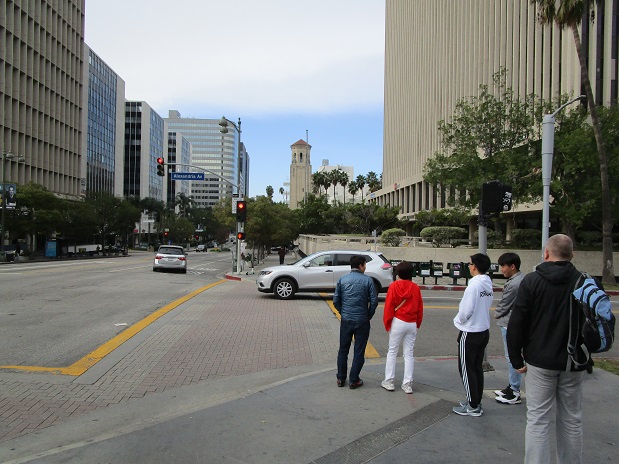 Christer and some Koreans wait for a green signal.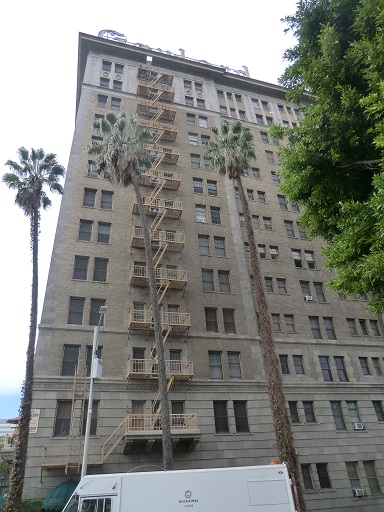 Gaylord Apartments.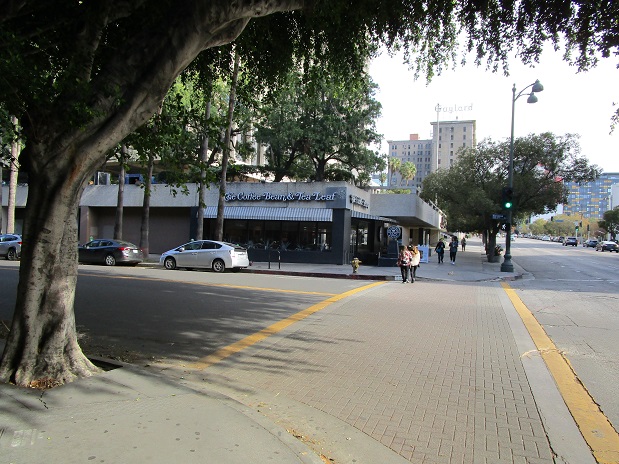 We´ve had coffee at The Coffee Bean and Tea Leaf.
12.45 After the coffee (which was a little watery) we went straight home to leave the small backpacks in our room and brought with us our plastic bags. Now we've been off shopping a few things at the Jons supermarket. We'll be home late tonight so it's about having the purchases done. Soon the day will continue.

13.16 It's time to be serious. The morning was mostly just infill. Today's main number will be a trip to Anaheim just south of Los Angeles and there see an ice hockey game in the NHL. First, we're going to take LA Metro to Union Station, but it doesn't stop there. 13.38 We are now at Union Station. Here we have bought two tickets in a vending machine and boarded the commuter train to Anaheim. We will travel with Metrolink (https://metrolinktrains.com) and, more specifically, with Orange County Line. 14.15 The journey to Anaheim has now commenced. Once we get there, we'll prepare for an ice hockey game. It starts at 17.30. We plan to eat something before that. 14.33 At a station stop, Norwalk/Santa Fe Springs, one of the other passengers seems to have pressed some kind of emergency stop. It was not appreciated by one of the staff on board who is currently lecturing the sinner. 14.59 The train has left us at Anaheim Regional Transportation Intermodal Center, in other words the combined railway station and bus station here in Anaheim. We are now in Orange County located about forty kilometres south of downtown Los Angeles. We now stand a little bit from the Honda Center. That's where tonight's game will be played. However, we have something else to do before we go in there. 15.10 Posters hang on the lamp posts outside the Honda Center, posters with various players of the ice hockey team Anaheim Ducks. On a lower lamp post is sign reading Stanley Cup way 2600 E. Anaheim Ducks, formerly known as The Mighty Ducks of Anaheim, won the NHL playoffs Stanley Cup of 2007.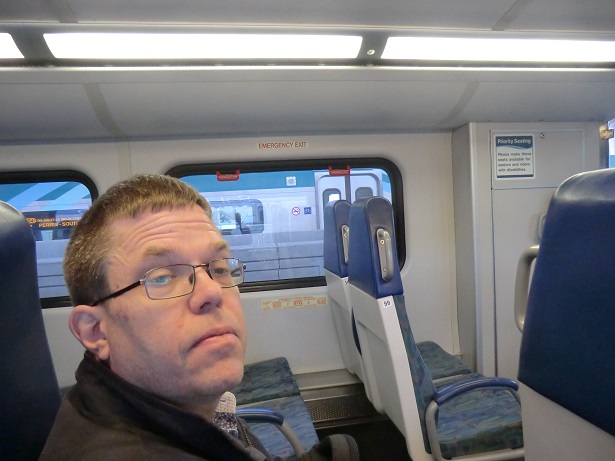 Peter on the Metrolink train to Anaheim.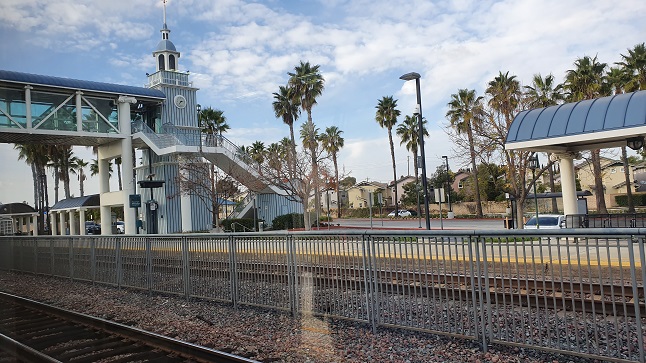 We have stopped at Buena Park Station.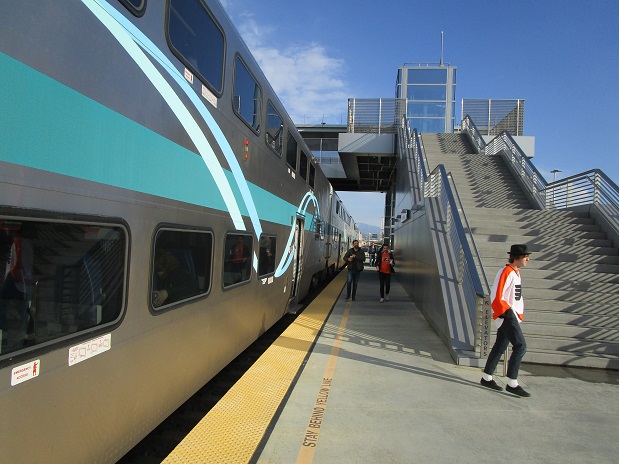 A Philadelphia Flyers supporter disembark in Anaheim.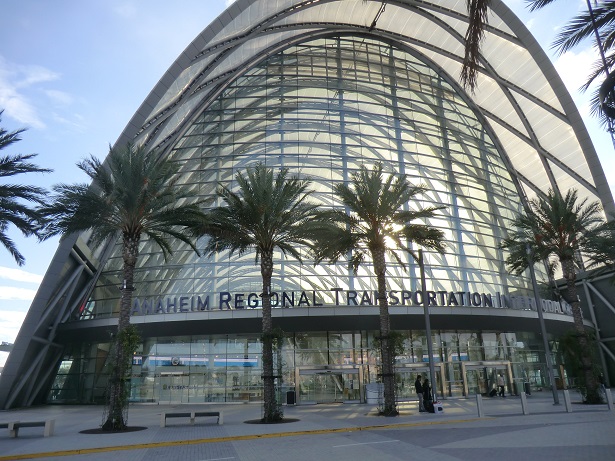 The railway station/bus station in Anaheim.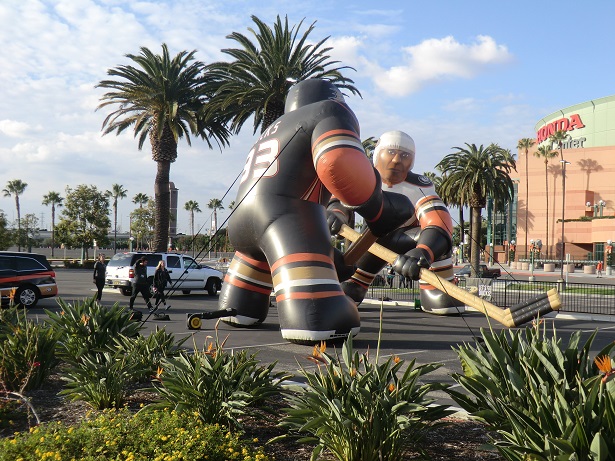 Two giant ice hockey players outside Honda Center.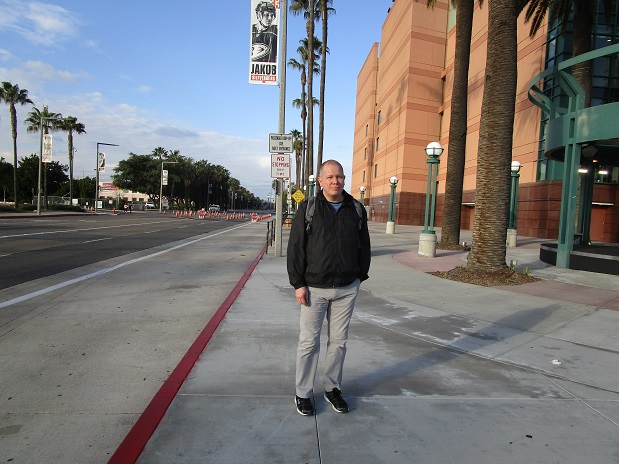 Two Swedish people in the same photo, Christer and the Anaheim Ducks player Jakob Silfverberg.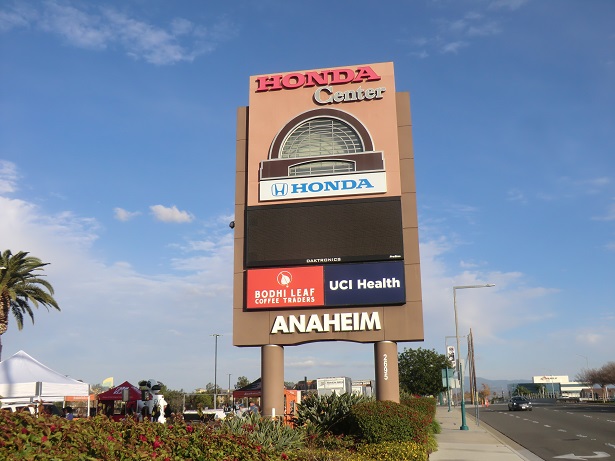 Honda Center used to be called Pond of Anaheim. It has been here since 1993.
16.07 We first tried to get to some restaurants behind the Honda Center but it was easy to get there on foot. We changed strategy and instead went across the river Santa Ana River to the neighbouring town of Orange. After a little searching and rationing of options, we have finally settled down at Prime Cut Café (https://primecutcafe.com) in the shopping area Stadium Promenade here in Orange. It is actually just a stone's throw from the arena but still in a completely different city.

16.50 There were a lot of people, high tempo and excellent service at the restaurant. However, we ate under time pressure and couldn't fully enjoy the burgers we ordered. Far from hungry and for sure satisfied, we are now ready to go back to Honda Center and the match, Anaheim Ducks vs. Philadelphia Flyers. We amuse ourselves with guessing the end result. Christer guess 1-3 and my guess is 3-5. The matches we have seen until now on the trips have never ended with a home victory. Almost on the day 11 years ago we were actually in Košice, Slovakia to see another ice hockey match. 17.33 Honda Center is a large arena (has a capacity of about 18,000 spectators) but now we are in place. We had to leave the backpacks in a storage room. They are careful about safety and that is actually good. Some others in the audience have solved it with having transparent backpacks and bags. 17.37 Anaheim Ducks have just made 1-0 through Ottawa born Erik Gudbranson. That was quick. The goal came on a long shot after only 35 seconds of play. 17.55 After great ice hockey from both teams, Philadelphia Flyers scored 1-1, Sean Coutier scored. Some facts regarding him, he is born in the United States but plays national team hockey for Canada. 18.18 It is now the first break and the score remain 1-1. Ordinary people have competed on the ice. They shot middle of the rink and the puck should stay in one of the four, illuminated circles of different size on the ice. 18.39 The second period is now underway. Philadelphia is pressing but Anaheim's goalkeeper is amazing. However, I miss a lovely atmosphere in the crowd. It's not spontaneous mass cheer; more do as the Jumbotron says. Many in the audience also seem to have more focus on eating food than watching ice hockey. They carry around pizza, large mugs of soda and much more. 19.05 A quick and goalless second period is over. Philadelphia Flyers shot 14 shots and Anaheim Ducks 5, in total it says 23-13 regarding shots. The audience is 16,238. I've never seen so many people in an ice hockey game. If the audience had been more involved, it would have been a rocking feeling in here. 19.26 It's time for the third period. We hope it will be decided now so that we can get the train home.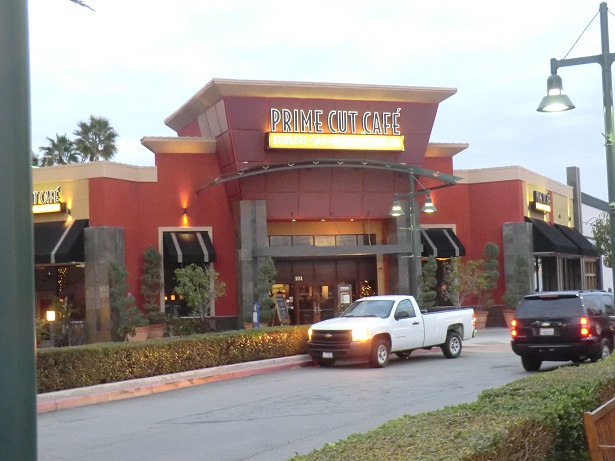 A quick dinner at Prime Cut Café before the game starts.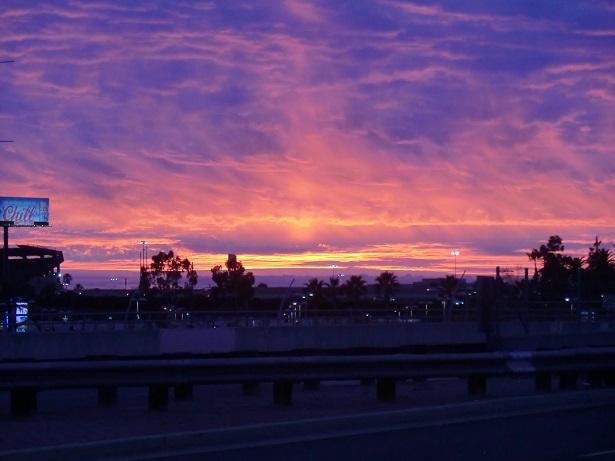 A beautiful sky above Anaheim.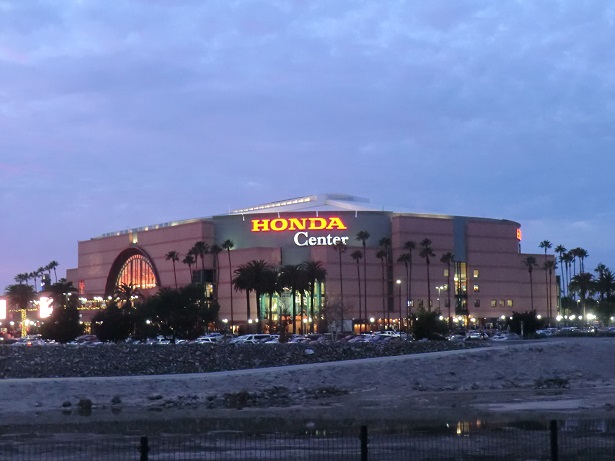 Honda Center is waiting for us.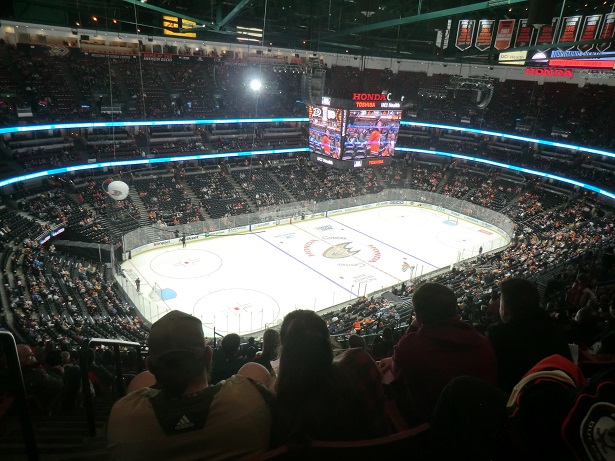 We have found our seats and are ready for NHL ice hockey.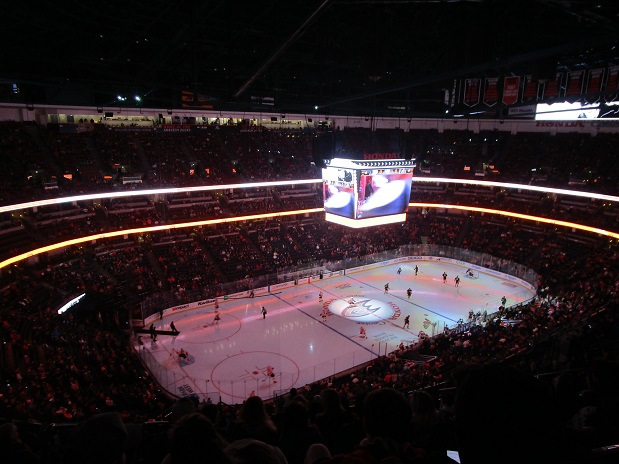 The players have entered the ice.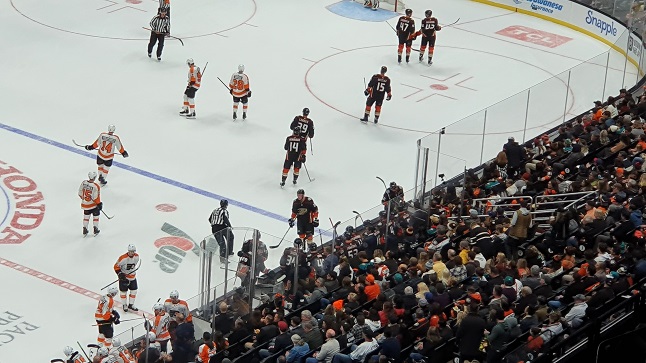 Play is stopped. New players on the ice.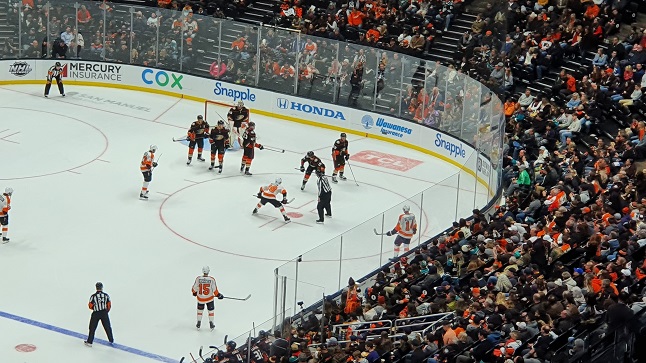 Philadelphia Flyers is attacking.
19.39 It is now power play, 5-3 players for Anaheim Ducks. Has the time come to settle this, will there be another goal? Will, finally, a home team we watch be able to win?

19.52 There were no goals scored in power play. In addition, soon the third period and regular match time will end. 19.59 The third period is over. Now it will be five minutes over time with three against three players on the ice. Will we make it to our transport home? We may have to go sooner if it takes time. 20.05 An opening two zone pass made Kevin Hayes able to score the victory goal for the Philadelphia Flyers. Once again, the curse continues. Once again, a home team we have looked at failed to win. We and 16 236 other spectators are now heading out of the Honda Center. 20.15 We have made our way out of the arena and got our backpacks back. It was absolutely incredible how quickly and smoothly the arena was emptied. If we didn't have to queue up to get the backpacks, we'd be out in no time. Outside the stadium, we also walked past a TV studio with various experts who commented on the newly finished game. 20.24 After being surrounded by big crowds of people outside the Honda Center, we are now back at the station, soon time to ride the train back to Los Angeles. 20.53 I just ignored a yawn. We are now taking a train from Amtrak back to Union Station. The tickets were bought in advance at home in Sweden. 22.55 We are back in room 4 again. The train journey to Union Station and the further journey with LA Metro went on without any obstacles. Now we will enjoy a light evening meal and plan for tomorrow. 23.30 The plans have crashed. None of us have managed to get us out on the internet. However, Christer has looked before and a rough plan for our activities exists.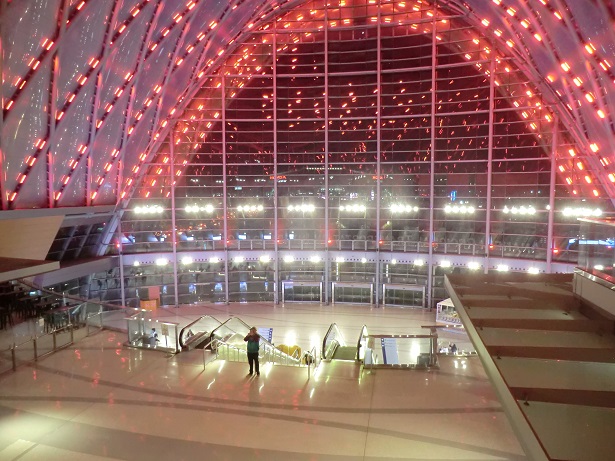 It is beautiful inside the combined bus/railway station in Anaheim.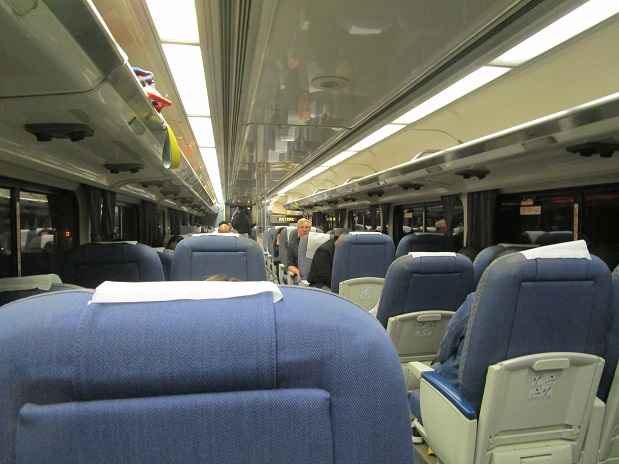 Amtrak takes us safely back to Los Angeles.
---
Monday 30th of December

07.43 The internet connection as well as the sun is missed this Monday morning. Various sounds can be heard from the common kitchen here at 8th & Ardmore Hostel. It's a new day for us here in Los Angeles.

08.21 The lack of a WiFi-network that works for us has meant that we are now planning what we will do on our final day's here in L.A. We will go with the planned tour buses tomorrow, New Year's Eve instead of today. We intend to get necessary facts at a Starbucks that can provide us with a working connection. 09.38 The time has come to take part of another day of happenings and adventure. The chances of these becoming even more advanced increase if we step out of here. 10.27 There are words of wisdom on a small sign, "Coffee because adulting is hard". We are walking towards a first break that will give us coffee and the internet. 10.56 It's time for an early 11 o'clock coffee at Starbucks. It's the same place as last. The aim is not to experience a new café environment but to quickly and easily get a working WiFi connection. We are about to get the necessary information. 11.30 It went quick for me to finish my double espresso. I should perhaps had ordered as Christer did and received more, but would it have been as tasty?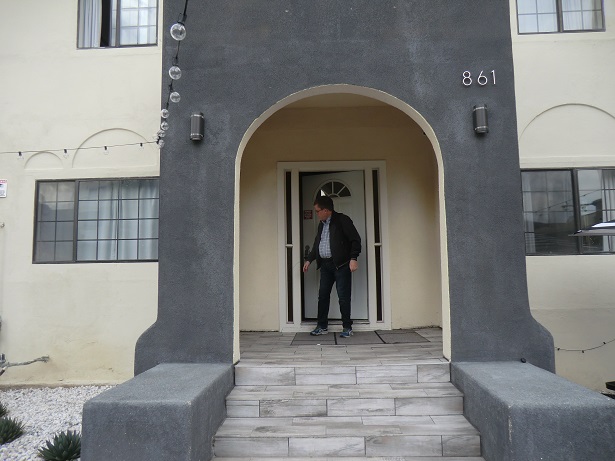 Peter is leaving the temporary home.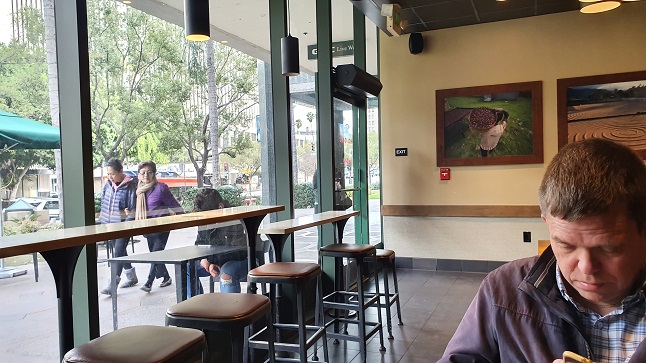 Revisiting Starbucks Coffee.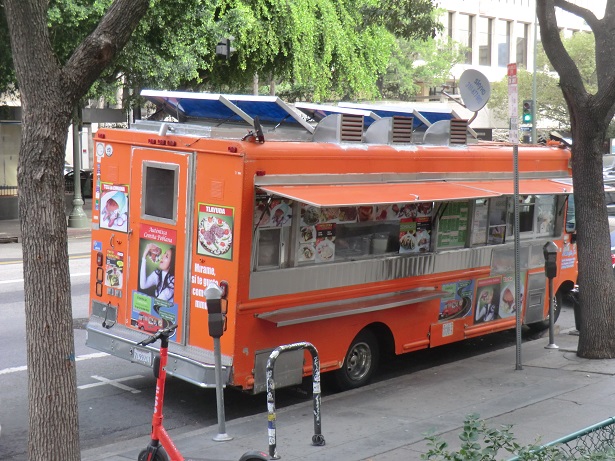 In Los Angeles you can see many taco restaurants on wheels.
Peter is looking at dinosaurs outside Natural History Museum.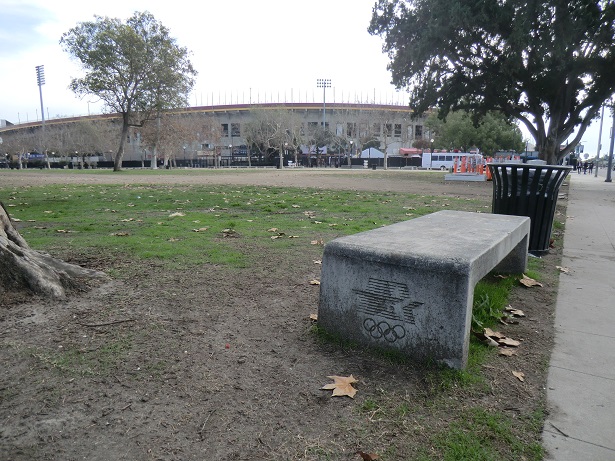 A bench and a stadium are both memories from the Olympic Games 1984.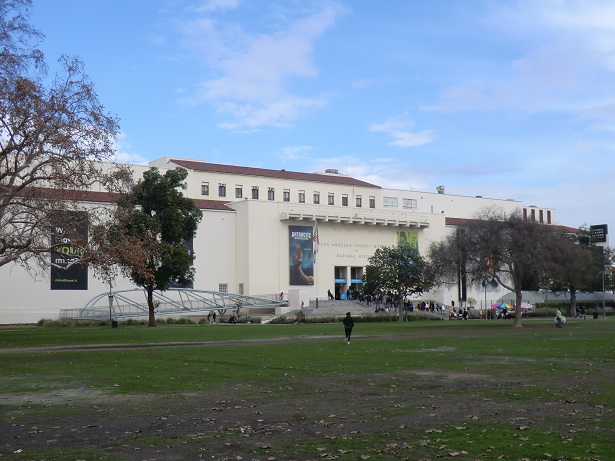 Natural History Museum of Los Angeles County.
12.06 With more facts and knowledge of the planned activities tomorrow we are now back on board a train from the LA Metro. New surprises await.

12.18 We are now at the 7th Street/Metro Center station in downtown Los Angeles and have just switched to the E line, the light blue line. The line is also called the Expo Line. Soon there will be a departure towards today's first excursion destination. 12.31 We said goodbye to the train at Expo Park/USC station. Around us are buildings belonging to the USC (University of Southern California). It's a little louder here. We are now heading towards something we have only seen on picture and television before. 12.40 I am now sitting on a concrete bench with the logo of the 1984 Los Angeles Olympics. Behind me is the main arena for these Olympic Games. It was there that Carl Lewis copied Jesse Owens' accomplish from 1936 with four gold medals. The arena is, I think, the fourth Olympic arena we have seen in the years we have travelled. We have also seen various Olympic facilities in, for example, Barcelona, Berlin and Beijing. At least if we think about Olympics held in recent times. The stadium is called Los Angeles Memorial Coliseum. 13.09 We continued our walk around the old arena and also walked past the California Science Center and Banc of California Stadium, the home ground for the football team Los Angeles FC. 13.22 With a newly charged TAP card, we will soon say goodbye to Expo Park station. New views await. 13.44 We are back at the 7th Street/Metro Center Station and have just switched to the dark blue line and the metro south towards Long Beach. It smelled everything but roses in the first trolley, rather that, that make roses to grow. We and others with us changed trolley. A man here in the new one cart sells snacks despite the fact that the speakers say that you are not allowed to sell anything or eat on board. But you can eat when you left the train.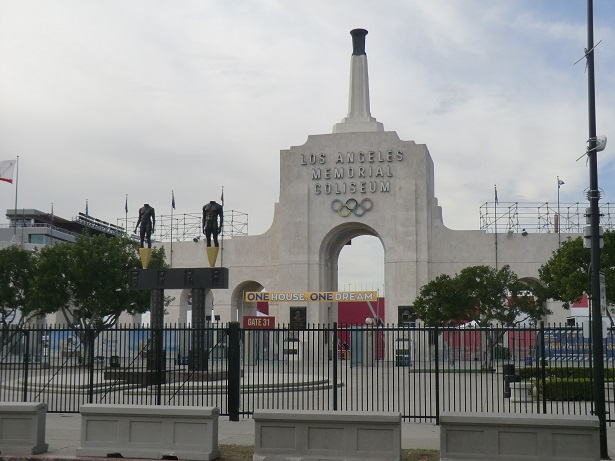 The fire was burning here during the Los Angeles olympics 1984.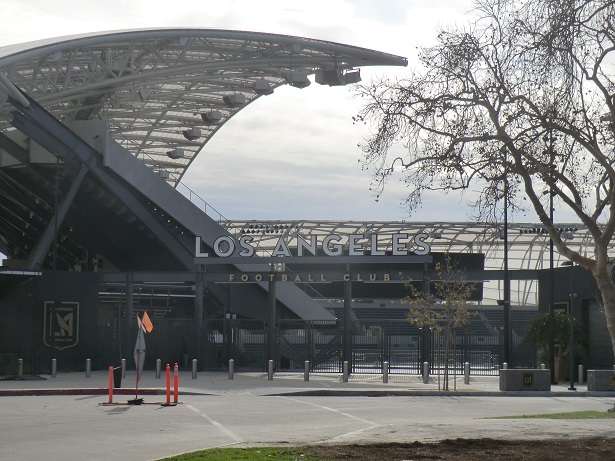 Banc of California Stadium.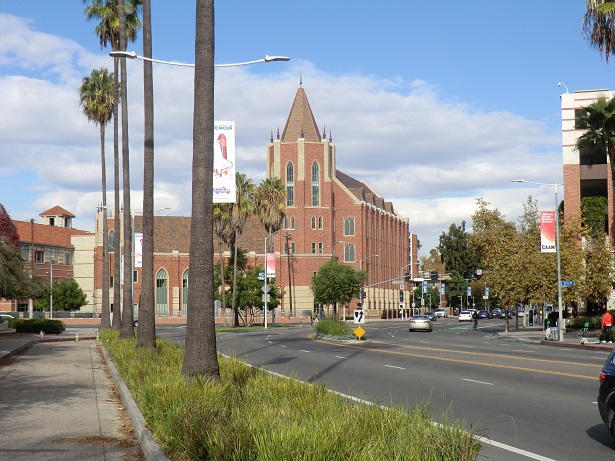 Figueroa Street and Fertitta Hall.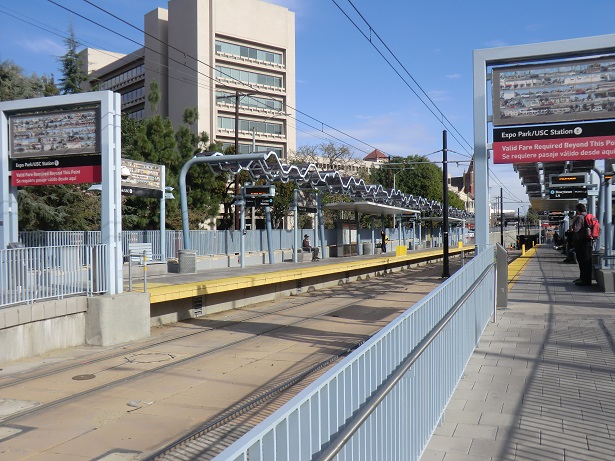 Expo Park/USC Station.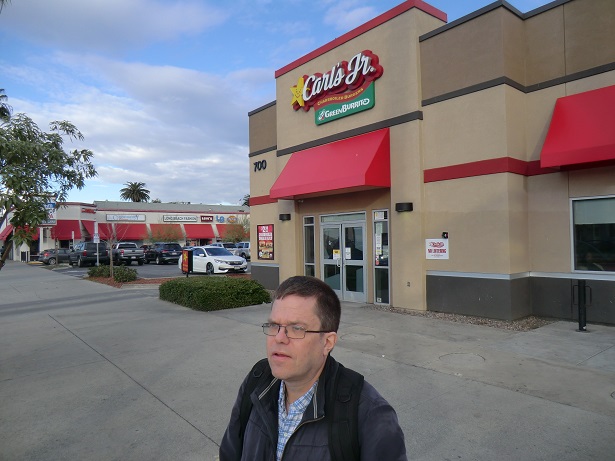 Peter outside the lunch restaurant Carl´s Jr i Long Beach.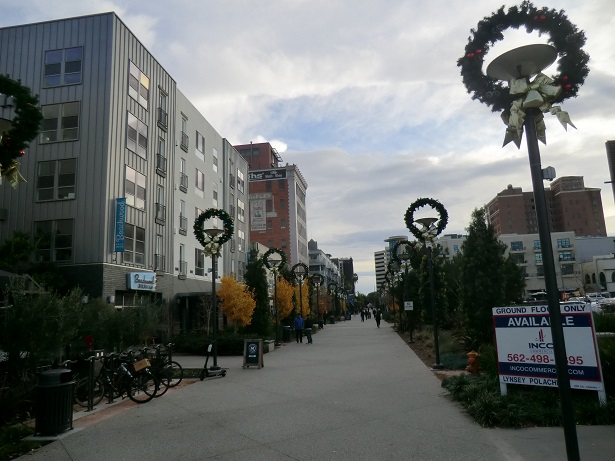 The Promenade, Long Beach.
14.30 It was a long trip down to Long Beach which is located thirty kilometres straight south of downtown Los Angeles. Our train passed districts like Watts and Compton, known for high crime and gang problems. We got off at 5th Street station here in Long Beach. Now let's just find somewhere to have lunch before it is too late.

15.01 We went to the fast food restaurant Carl's Jr (https://www.carlsjr.com) for a really good Big Carls Combo. It's been a long time since we had such good burgers. The best thing was that it was good quality of the meat and that you did not have much of the unnecessary that is so often put into burgers. Here it was just salad, bread, dressing and meat. Now we are ready to see Long Beach. There will be some burgers on this trip but who cares as long as they're this good. 15.34 There are parking meters here in the city. Payment is made with coins but also with cards. 15.56 Ever so slowly we have walked through this spacious city. Now we don't come much longer. We have reached the water, port area, Pacific and Rainbow Harbor. 16.10 Now we have walked out on the pier Pine Avenue Pier. Here we have seen the tour boat Kristina drive past. Further away is the ocean liner RMS Queen Mary. She has been a hotel since 1971. There's also a rumour that there are ghosts on board. Behind a church tower is sea and land heading up to the sun, or? Where Kristina was just now, there are now two pelicans. 16.36 We hope that the black bench that we are seated on is not a bus stop bench. Now it's time to plan the next few hours. Can we eat and drink something more today? When do we turn back against Los Angeles? 16.56 There is now an answer to one of the questions. After I went to a public toilet we are going back to Los Angeles. There were some issues with the toilet visit. He who I thought was a toilet guard turned out to be one who was waiting for his turn. He didn't like the fact that I walked past him. Here aboard the metro train we have possibly left a man who was on board and left two bags before he got off for a while. The bag holder remained at the stop and did not look happy. 17.00 At the next station a young man stepped on board, took the bags and got off. Was he asked to do that? Maybe someone called and arranged it.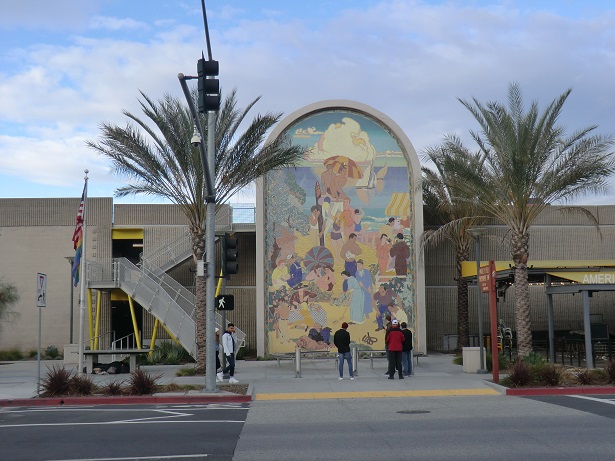 The artwork "Recreations of Long Beach".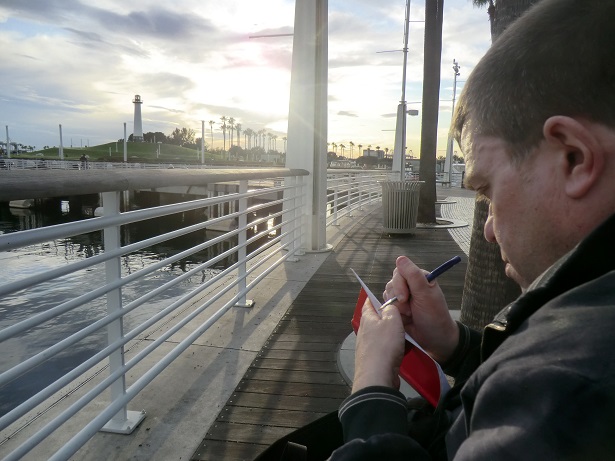 Peter is writing down his observations at the harbour in Long Beach.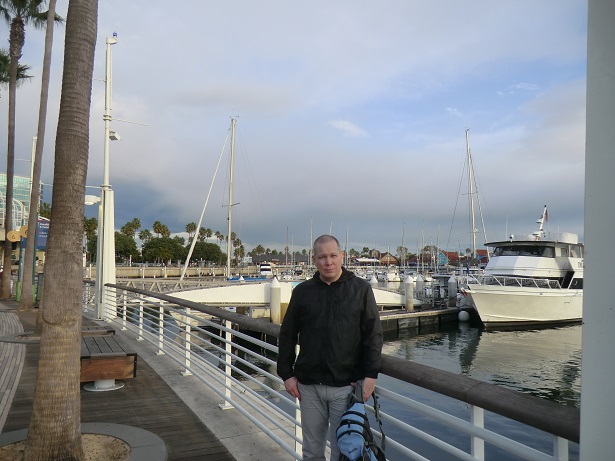 Christer at Long Beach Waterfront.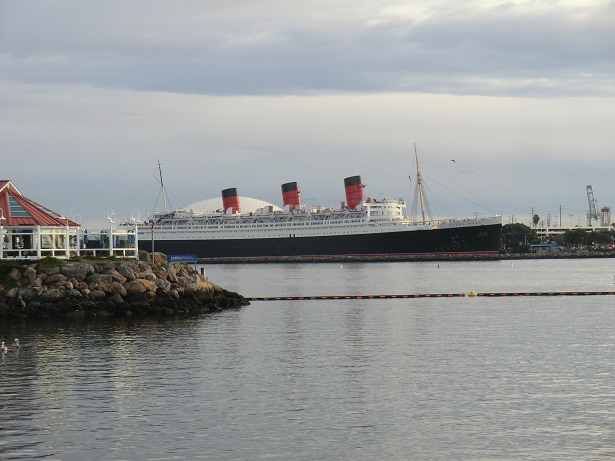 RMS Queen Mary, Long Beach.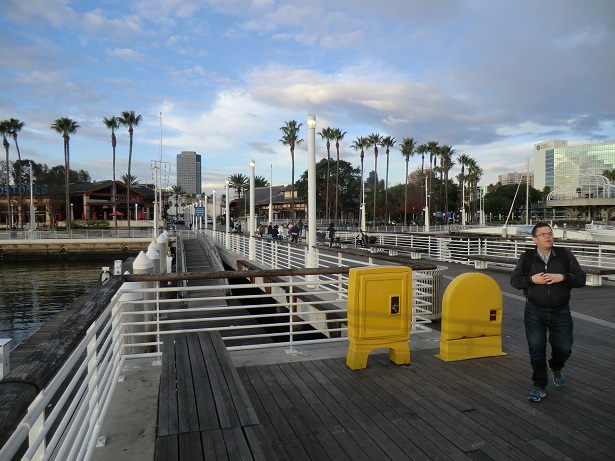 Peter on Pine Avenue Pier.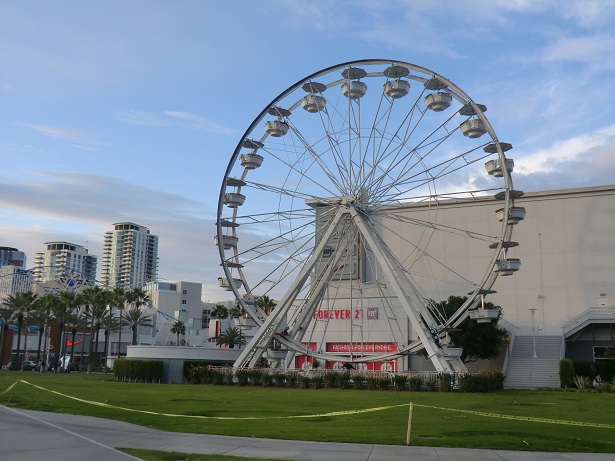 Long Beach Wheel.
17.32 The dramatic start of the journey has been followed by a calmer part. In short, not much happens. We're moving station by station to the north on our journey to downtown Los Angeles.

18.11 Just as one trip ends, another begins. Now we have changed trains and go home along the Purple Line. 18.37 Before returning home, we decided to visit a new cafe in the Coffee Bean and Tea Leaf chain. We're at 3550 Wilshire Boulevard. 19.31 We are temporarily back in room four. Here it will be a not too long break. More purchases are needed. We leave the backpacks, which probably cannot come with us and bring the plastic bags to our store, Jons. 21.04 Something as simple as going shopping a few hundred meters away can become an adventure. After purchasing, among other things, the twelve o´vlock beverage for New Year's Eve tomorrow, I was so focused on finding the right banknote that I missed hearing that the cashier asked if I needed a bag. Once at home, the gate code was not considered. It turned into pressing another button, the one for the intercom. We had to go in through the gate for cars. 22.17 After a little search on the internet, I suddenly found a detailed statistics from yesterday's NHL game. Now we know such things as audience numbers, goalkeepers and other interesting. 23.21 It's time to crawl into our beds and sleep for the last time this year. The next bed visit will be in 2020. 23.55 Today's last WC visit let me see an Asian woman out on a similar mission. She was wearing a black and white spotted pyjamas as well as mouth mask. What was the use of the mouth mask?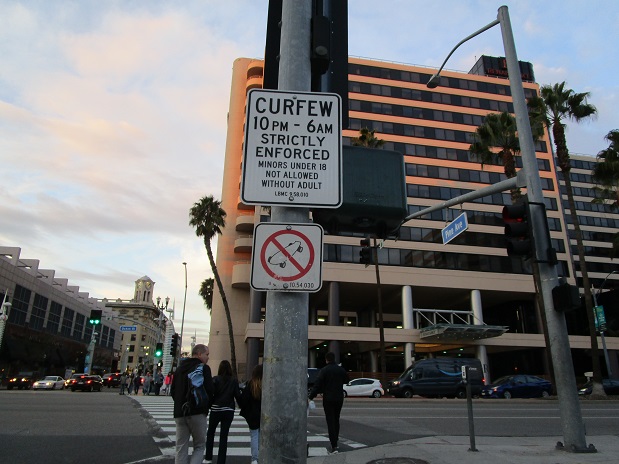 Christer is in a hurry, afraid of the curfew.
Christmas tree and stores along Aquarium Way in Long Beach.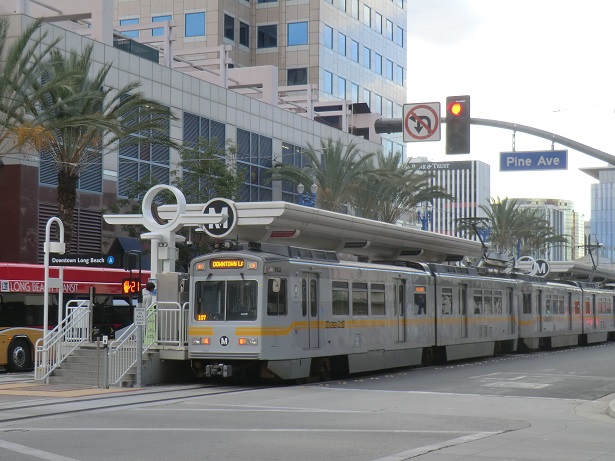 The train to Los Angeles is waiting for us.
---
Tuesday 31st of December

07.56 So we have come to the day that will end the year, a year that will be longer for us than for those at home. This is because we are in a time zone that is nine hours after the one in Sweden.

09.11 The moments when it is actually free in a bathroom here at the property are short. Times people spend in there are long. Not much is left of the year. 10.08 We have again stepped out into the streets of Koreatown. After a refreshing walk on 8th Street and Vermont Avenue, we will now use the metro (LA Metro) on the red line. We're leaving from Wilshire/Vermont station. I my old man am seated although it's not OK on one of the seats for elderly and/or disabled. 10.15 The pavement we stand on is star sprinkled and a bit away is Minnie Mouse. We've got off at Hollywood/Highland metro station and are now walking along the Hollywood Walk of Fame. We'll try to get tickets for a city tour bus. 10.22 We didn't have to look for the office that sells bus tickets. Out on the sidewalk there was a small kiosk where an enthusiastic guy sold the tickets we wanted. It's not cheap, but we're going to ride two different buses today and we're actually going to see a lot of Hollywood, Beverly Hills and Santa Monica for the price we paid. 10.30 As I said, we are in the heart of Hollywood and have just entered a tour bus from City Sightseeing. The travel agent we bought the ticket from is called Starline Tours (https://www.starlinetours.com). 10.46 Our bus has travelled along Sunset Boulevard and has just passed the legendary night club Whisky A Go Go. Here the Doors have been house band. Frank Zappa, Jimi Hendrix and Led Zeppelin have also played there. In the late 1970s, punk rock and local bands such as Mötley Crüe and Van Halen had the chance to make it as bands. In the 1990´s, the club was visited by bands such as Nirvana and Soundgarden. The nightclub has given name to the phenomenon of "Go-Go dancer" 11.00 We have slipped through parts of Beverly Hills. Here it is beautiful and classy.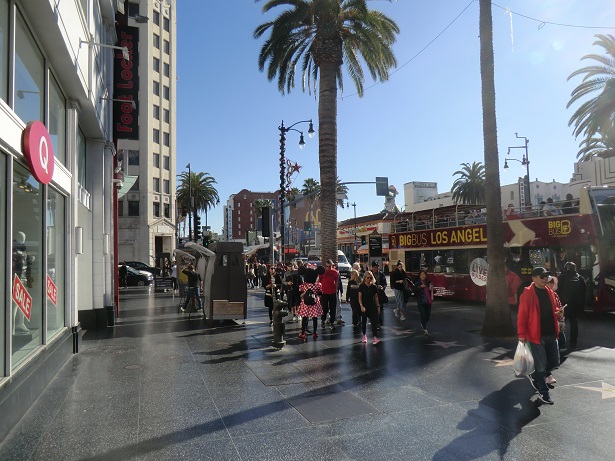 We have arrived to Hollywood.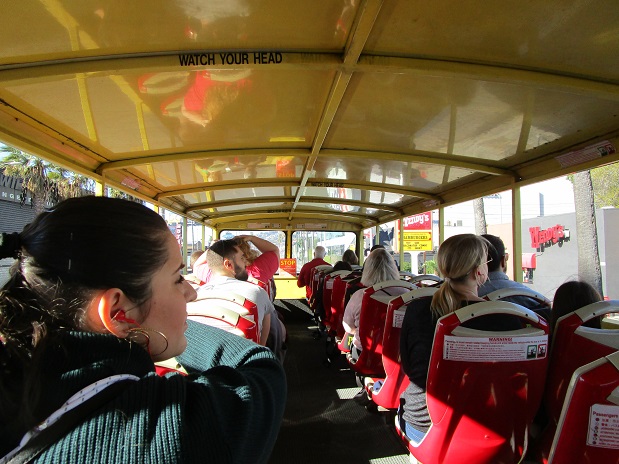 We have entered the first tour bus this day.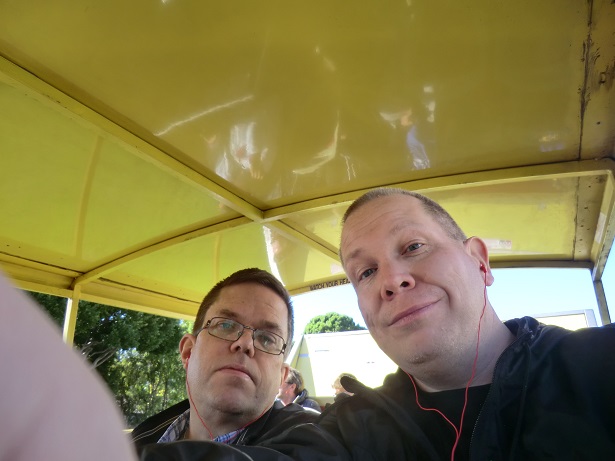 Two teachers learn about Hollywood.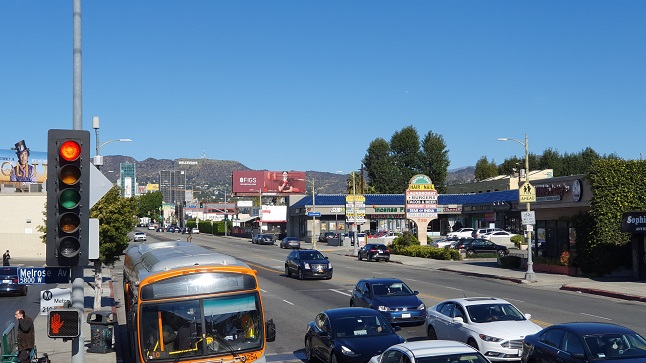 The Hollywood sign can be seen in the distance.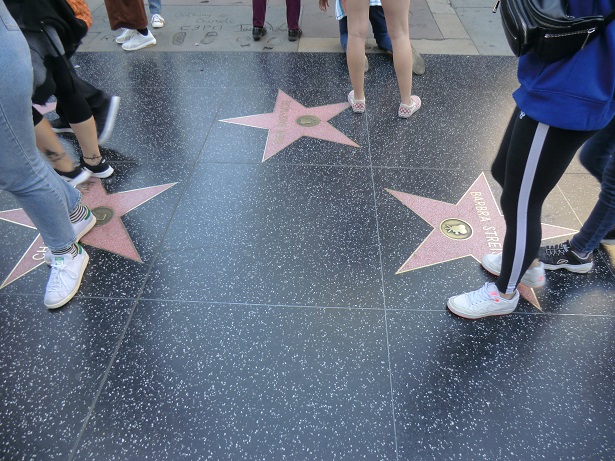 Stars along Hollywood Walk Of Fame.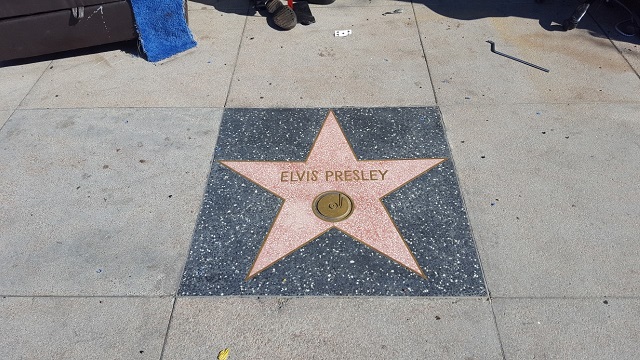 One of all the stars we found.
11.31 We have from the bus again seen and immortalized the classic Hollywood sign up on mountain Mount Lee. A little curio around the sign, the sign needed to be replaced! And it didn't get cheap. Unexpectedly, it was Hugh Hefner, the Playboy king, who came to the rescue. In 1978, he held an auction where each letter was "sold" for 28,000 dollars. Among the buyers were Alice Cooper (the first O), Hefner himself (Y) and the film studio Warner Bros (The Last O). In August 1978, Los Angeles was for the first time in over 50 years without its sign. It was brought down to be replaced. Three months later, on Hollywood's 75th birthday and in front of 60 million TV viewers, the new sign was inaugurated. It's the same sign we see today.

12.00 Now the bus tour is over. Everything we've seen can't be mentioned in the diary, but apart from seeing neighbourhoods like Hollywood, Beverly Hills, Melrose and Fairfax, we've got lots of interesting information through our headphones. Now let's wander along the star sprinkled Hollywood Boulevard. 12.30 After seeing the stars of several great artists, there is now an Asian lunch at Box Choy (https://boxchoy.com). Among the sidewalk stars we have seen on the way here are Elvis Presley, Bob Marley and The Beatles. 13.19 It is now time to leave Hollywood and the stars to go back with LA Metro along the red line. 13.41 A change of metro line is just made at 7th Street/Metro Center station down in Downtown Los Angeles. It's time to go west. We will again step on the light blue Expo Line. 14.40 After a long journey we have reached Santa Monica by the Pacific Ocean. Now we are further west than we have ever been on the trips before. Our coordinates are 34°1 '24"N 118°28'53" V. soon there will be even more tour bus. The ticket we bought earlier is valid for 24 hours and therefore also on the line that emanates from here.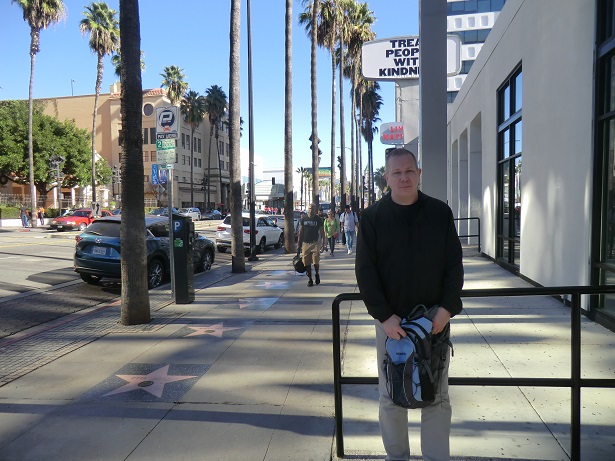 Christer on Hollywood Boulevard.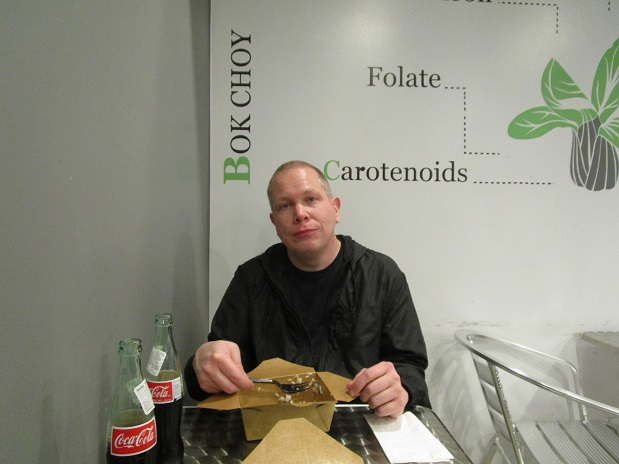 Christer is having a lunch at Box Choy.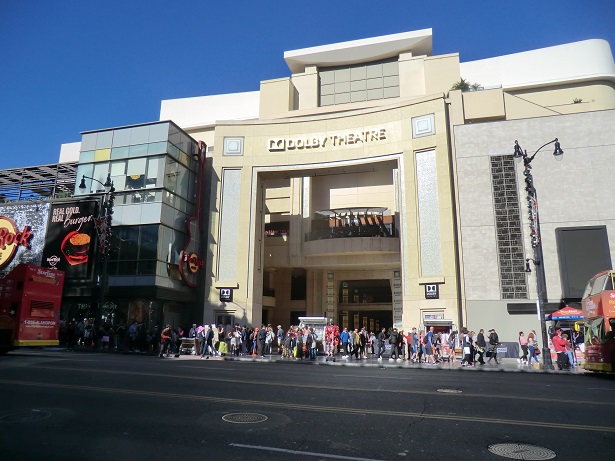 Dolby Theatre, Hollywood.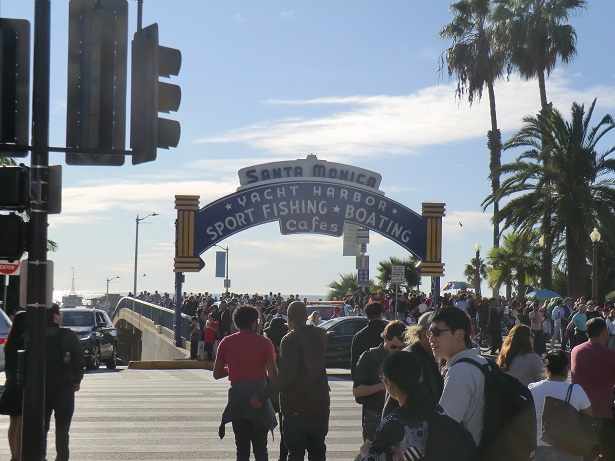 Santa Monica Pier.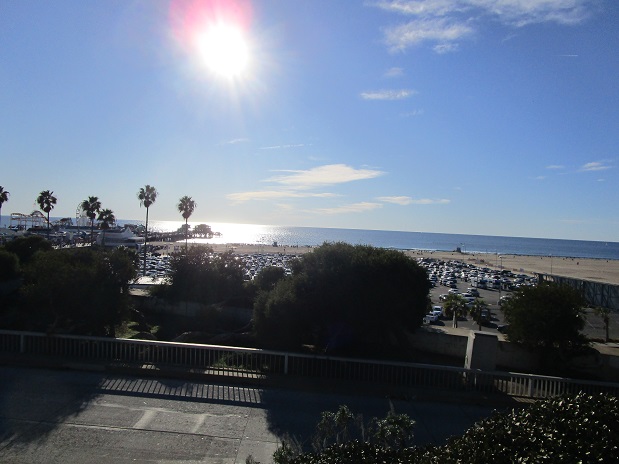 We are taking a look at the Pacific.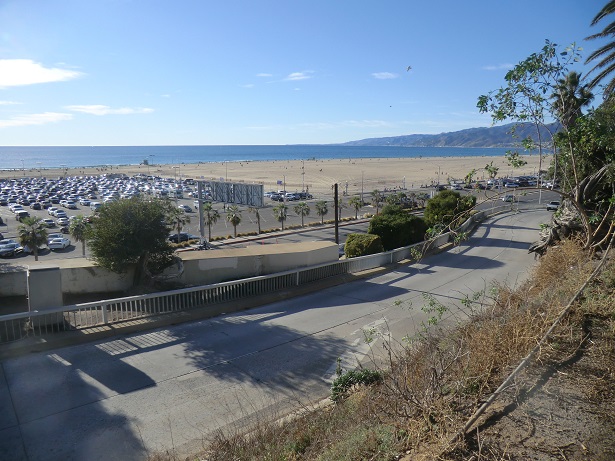 Santa Monica Beach.
14.50 It is time for another tour by bus. What will we see this time? We just got on the bus at the stop on Ocean Avenue.

15.18 We have just returned to Beverly Hills, but from the other direction. Right now we're at by Beverly Hilton Hotel. 15.35 Our City Sightseeing bus on the Yellow Line (Santa Monica Tour) came to its final station in Beverly Hills. Those who want to continue (and we belong to those) have been allowed to change the bus. 15.46 It is right now +21˚C and now our new bus is rolling. It's time to get ready. Now we were greeted somehow unexpected Good morning in the headphones. 15.57 The bus has passed the Catholic Church, Church of The Good Shepherd where Elizabeth Taylor on the 6th of May, 1950 married Conrad "Nick" Hilton Jr. It lasted about 8 months. The bus has again also passed the hotel Beverly Hilton, where Whitney Houston died on the 11th of February, 2012. 17.05 After a trip along the Pacific Ocean to Venice Beach, our journey ended. The end of the day is also here. The Pacific Ocean has just swallowed the sun. In addition, the year is soon over. What do we do before then? 18.04 After unsuccessfully searching for a sensible Starbucks Coffee here in Santa Monica, we went to metro station. There was a fire truck and an ambulance. Inside one of the wagons there was a CPR was being performed. We loaded the transport cards and chose the bus instead. According to the driver, it was not an official stop where the bus was standing, but we could go with him if we paid 10 dollars. After that, he smiled and let us aboard without an additional charge.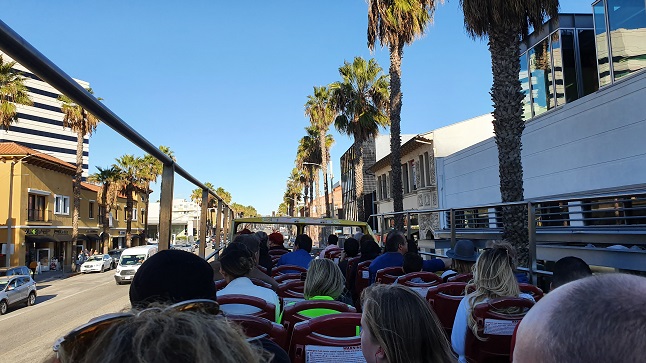 We have entered this day´s second bus. This time it´s the Santa Monica tour.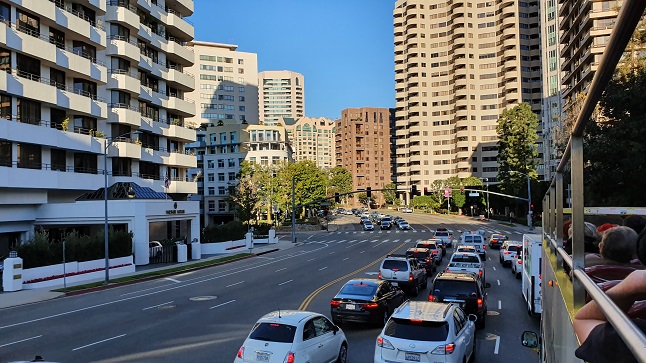 Going east along Wilshire Boulevard.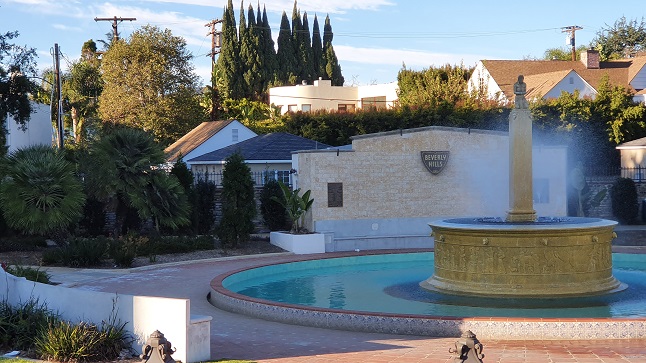 Electric Fountain and the famous Beverly Hills sign.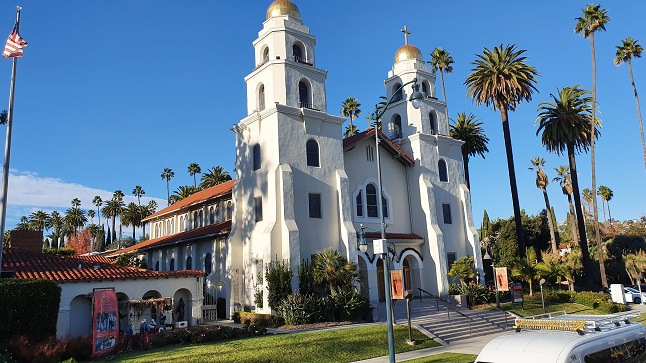 Church of the Good Shepherd, Beverly Hills.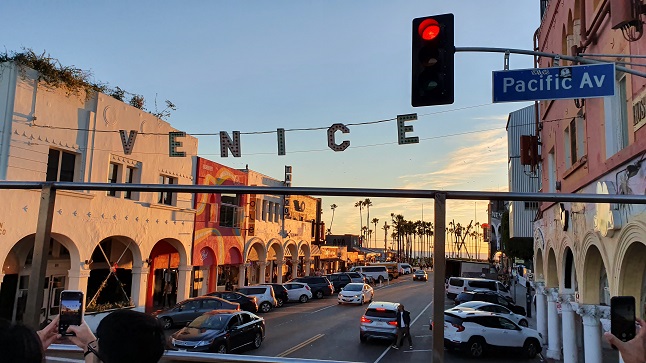 We are taking a look at Venice along the Pacific coast.
Beautiful sunset in Santa Monica.
18.29 We sit on bus 720 from Santa Monica to downtown Los Angeles. Our bus lacks stop buttons. Instead, anyone who wishes to finish their journey should pull a yellow string. We had that system in Sweden, although it was in the 1980´s.

19.52 The string was pulled and got off. It became a, to say the least long bus trip, significantly longer than an hour. After a fruitless search for an open coffee place, we loaded the TAP cards and went home instead. Now let's check the open hours for our upcoming New Year's dinner. 20.52 Information claims that the intended restaurant never closes but that might change due to the New Year. The homecoming has made us sluggish. From the outside, fireworks can be heard. 21.49 The lazy two went back to Denny's (https://www.dennys.com) on 3750 Wilshire Boulevard. Christer just had to order something else to eat. What he wanted was not available. The new one is more expensive. 22.15 Outside the window of our table stands to say the least dressed up young people and queues to some place next to the restaurant. We can't see from here if it's a restaurant or nightclub. 23.01 The dish Christer got didn't affect the prize. As compensation, the right he ordered got cheaper. Now we are home again this New Year's Eve. Rockets sizzle away and explode outside our home. Now there will be a minor rest so we can celebrate another new year. 23.57 The bottle is opened, the cork is out. Here we go. It will be the last effort this year, 2019.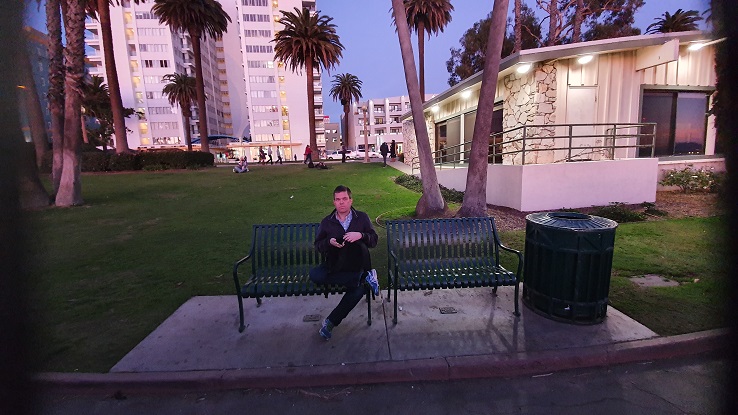 Peter is resting in the early evening. The location is Ocean Park in Santa Monica.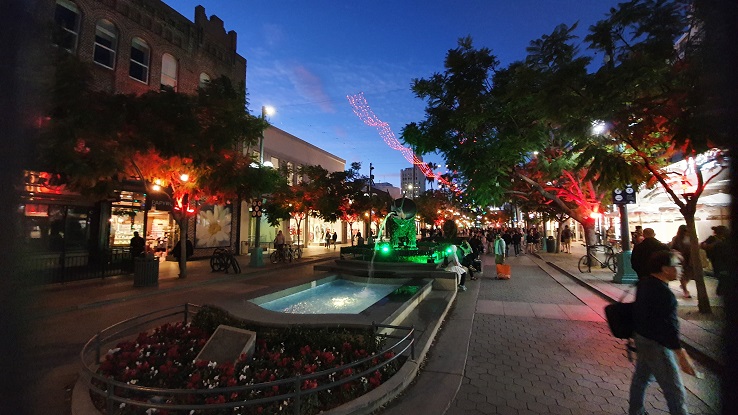 Evening on 3rd Street Promenade in Santa Monica.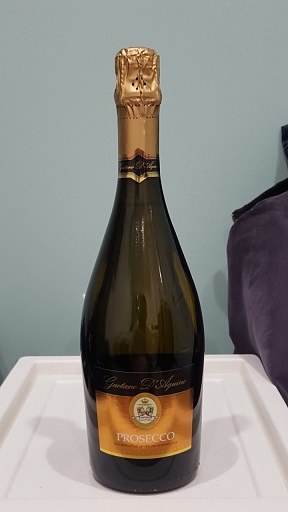 The New Year beverage is ready.
---
VIDEOS
---
You can see 72 photos from December 29 in this photoalbum.
You can see 82 photos from December 30 in this photoalbum.
You can see 122 photos from December 31 in this photoalbum.

---
---