---
Text: Peter Johansson
Editing: Christer Lundstedt
Photos: Christer Lundstedt, Peter Johansson
Videos: Christer Lundstedt
---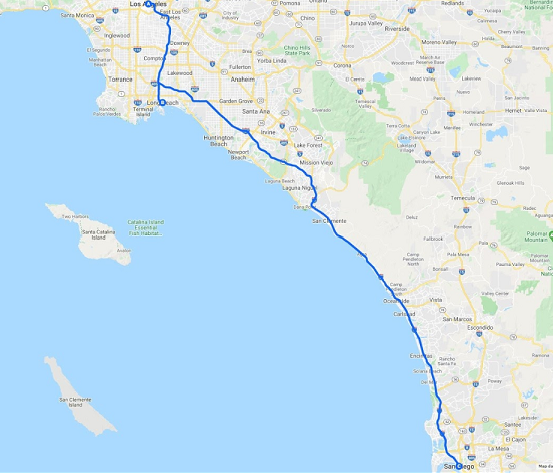 ---
Wednesday 1st of January
00.03 Happy New Year! We have celebrated the New Year in many continents, countries, cities and hotels in the past. Now we have also done so in North America, USA, Los Angeles and here at 8th & Ardmore Hostel. We have toasted New Year with different beverages over the years, red and white wine, beer with and without alcohol and cider. This time we are having a Prosecco from Gaetano d'Aquino. It's a lot of explosions out there and the cars are honking. Cheers and Happy New travel year and decade. The last decade was toasted in a rainy Rome. This is the twelfth year and eleventh country that we celebrate New Year's on foreign ground. 01.15 It is time to see if we will be able to sleep also this year. I'm not exactly worried. Over the years, a certain routine has emerged on this. 07.43 We have, without problems and disturbing moments, finished our sleeping in Koreatown, Los Angeles. Within two hours there is check-out from here as well as other things going on. After that, we'll get by bus south to San Diego. 08.53 It's a long, quiet morning. It feels good not to be completely up and about. There will be moments for that later. 09.11 Things have begun to happen on this New Years Day. We've been preparing a brunch, at least a steady meal. 10.11 Our hunger has been eased with purchased vegetable rice and Polish sausages. We will now wander further towards our upcoming transport. 10.29 We have, to kill some time, made a stop in front of US Metro Bank's office. Here we will mostly do nothing. Soon we will continue towards the bus stop we got off at yesterday when we arrived from Santa Monica.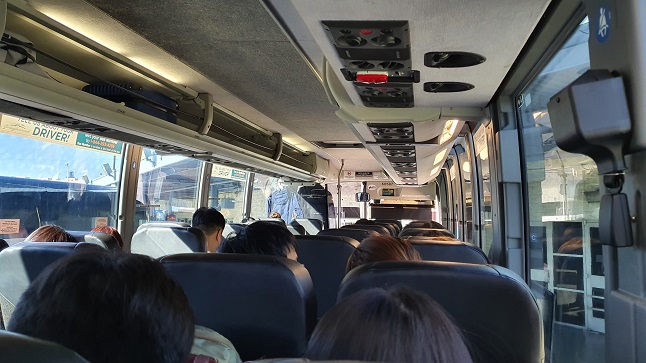 We have entered the Greyhound bus.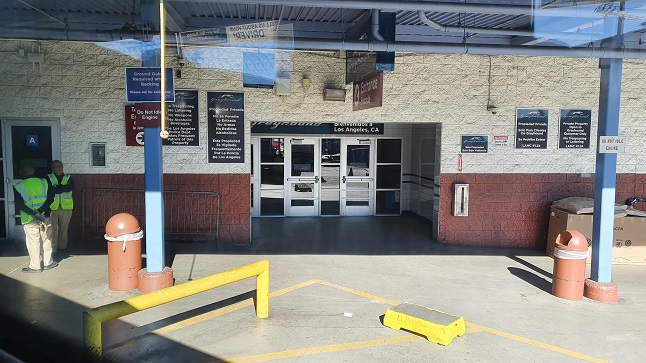 We are leaving Los Angeles for this time.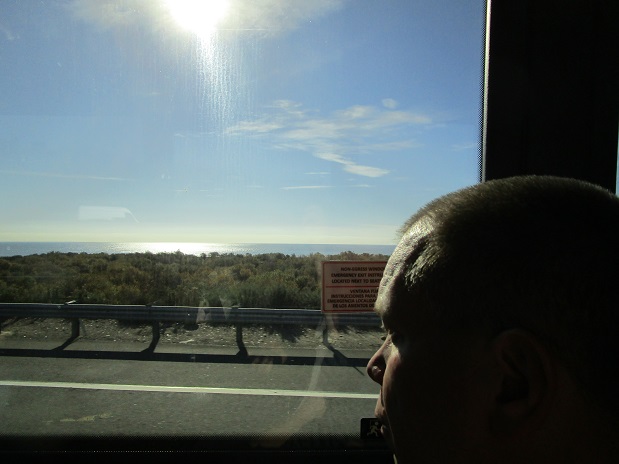 Christer is traveling south.
10.44 We have arrived at the bus stop. The details of when the next bus departs vary. On the internet it is said to be here in a few minutes. Internal information on a display here says it takes a full 26 minutes. However, the most important thing is that the destination is correct. 10.48 The data online through our phones was right. We have entered the bus and await further departure. 11.28 The internal, inner city bus journey ended at the station of Greyhound Bus on East 7th Street. Just before disembarkation, we saw a large number of tents raised along the sidewalks. We travelled through the neighbourhood called Skid Row, the part of Los Angeles where the homeless gather. Here inside the bus station, we're about to get on our bus. Once again, we have varying times. The ticket says departure time 12.01. On Christer's ticket, the man that checked us in wrote 12.45, but he said 12.01. 11.49 Regardless of departure time, we are on board the bus. We and a few more had missed arranging with a tag for the luggage to be loaded in. Now it seems to work out anyway. 12.01 The ticket was right. Now we are heading south towards the next place of residence, San Diego. 13.06 The first hour of travel this year has passed. The bus first took us back to Long Beach but then continued on the highway south. The sun shines hot and we travel on asphalt, asphalt that can be a piece of the old acquaintance, Pan American Highway. 14.11 The sun shines ever so nicely. I've started to feel a lot of craving, the urge to arrive, to check in and to have coffee. 14.35 We arrived at Greyhound Bus Terminal in San Diego before estimated arrival time. Without problems, we got our backpacks back. Now all we have to do is find the right way to our accommodation. 15.20 The hostel HI San Diego Downtown greeted us with a smile. We also smiled at the news that breakfast is included. It was more than we dared to hope for. Our base here is room 220. We have a bunk bed but we have no private toilet and shower. I think we'll find the common areas when we need it.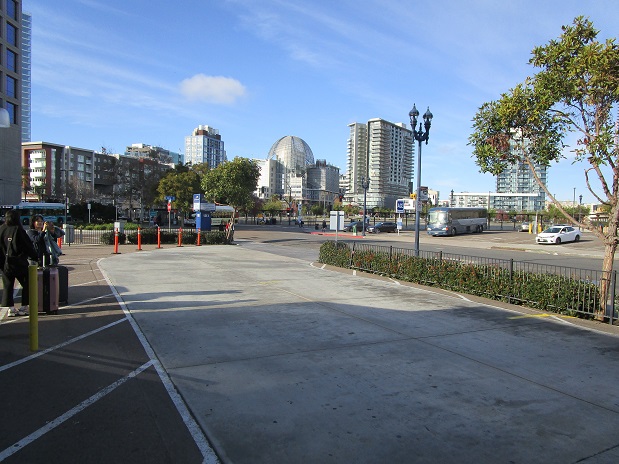 Outside Greyhound Bus Terminal in San Diego.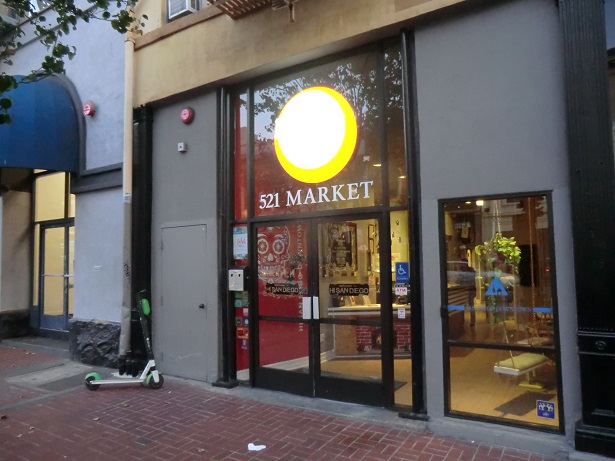 We have found the entrance to HI San Diego Downtown on Market Street.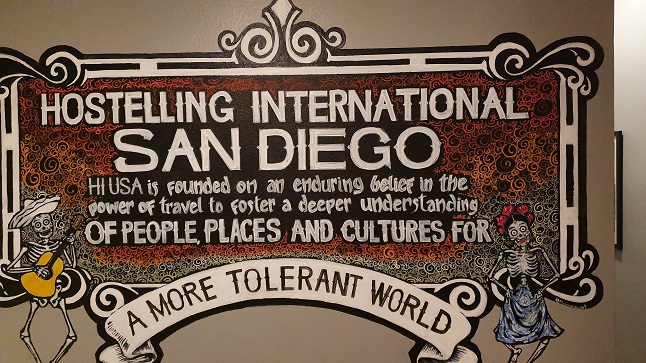 Nice values in this hostel.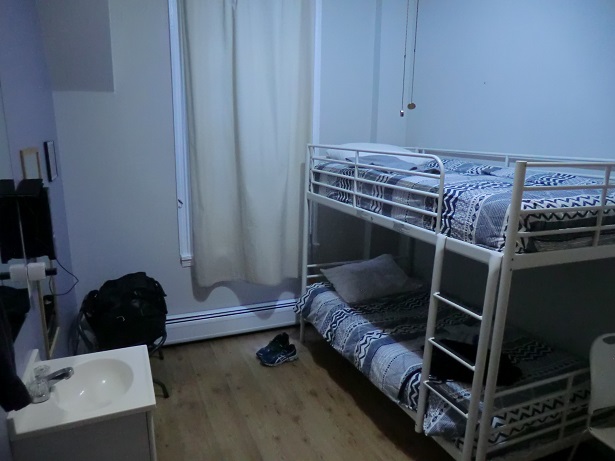 Our room the coming three nights.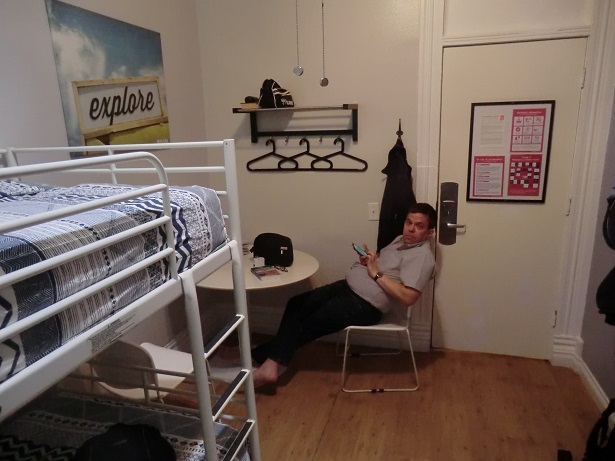 Peter in room 220.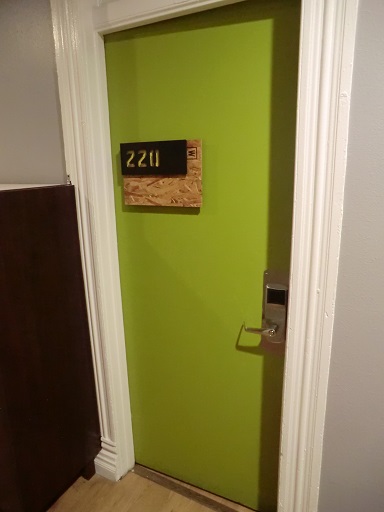 The door to our room.
16.34 We are again the closest neighbour of both the toilet and the shower. It is convenient because it is necessary to take the opportunity to shower the few moments it is free in the mornings. As soon as Christer's cell phone is fully charged, we're going out. There are fewer Koreans at this property.

17.37 The hunt for a good sized and not so much visited Starbucks Coffee ended with us giving up the coffee hunt and went for an early dinner at China Too restaurant (https://www.chinatoorestaurant.com). At the ordering of Fanta, the waiter looked confused. So he said, Soda, Pepsi, 7Up? We ordered 7Up, soon we also order food. 17.48 I veiled to and from before the order. The waiter said on a few occasions that he would assist us in a few seconds. Before the order, I made up my mind, or I did I so the right thing. 19.00 We were pleased but not so much more. It wasn't huge portions. A little walk then led us to a 7-ELEVEn for purchases. Why is only the last letter small in the business name? Now we just got back home. 20.10 It's a lack of fresh air in our room. Several attempts have been made to open a window. It certainly does not go out into the street but into a kind of living room but it is still a window, a chance for new air. However, the window does not want to cooperate. 20.37 For change of air, variety and coffee, we have walked to one of San Diego's many Starbucks Coffee locations. The address is 209 Fifth Avenue. I feel uncharged. Is it the travelling that is eating me out or is it a result of the Prosecco yesterday? 21.50 A walk in the cool evening air ended our short excursion. We're back home. We miss a window that can open and let in air but we do have an air conditioning, always something. Tomorrow we will discover more in this city.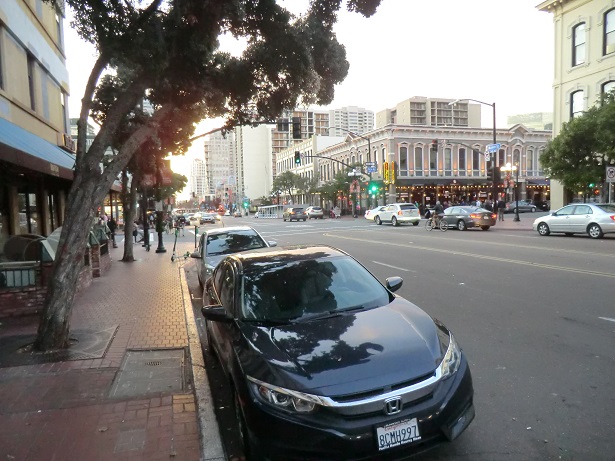 Market Street, San Diego.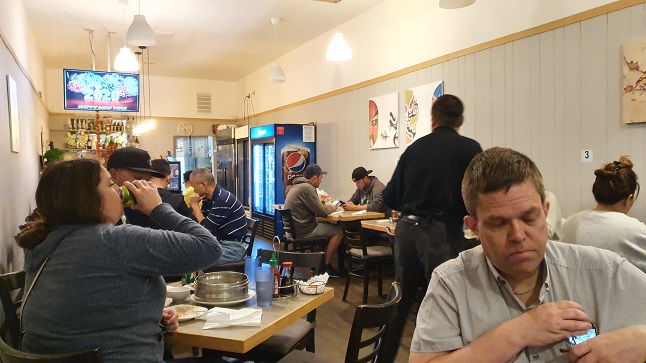 Peter is visiting China Too Restaurant.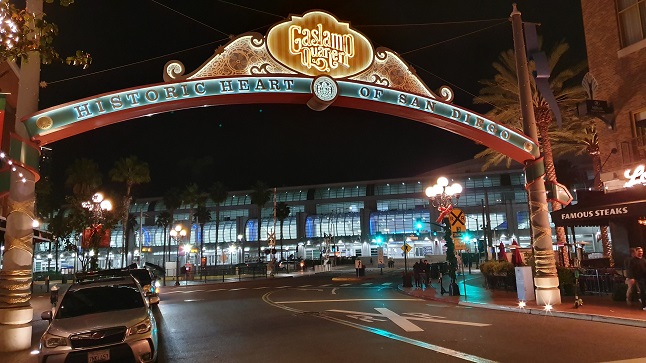 The historic city center in San Diego is called Gaslamp Quarter.
---
Thursday 2nd of January

08.20 This night has been spent in comfy beds. It feels a little rough for me to get started, but I think it's going to be okay. Breakfast is included here and it hopefully includes coffee.

09.39 Today's breakfast, which was served in the large kitchen and activity room, consisted of two bagels with jam and margarine. To these, watery coffee and same kind of juice, were served. Well, that went well. No room cost has been deducted from my account so far. 10.16 A new day and new views are waiting out there in sunny San Diego. However, the knowledge of the high prices we discovered last night lies like a wet blanket over our desire to discover. Very few of all the lovely restaurants here in the city centre will be visited. Tipping prices make it really expensive. The option to stay here in the room is hardly funnier so we will soon head out. 10.43 A close study of my bank account has shown that I have paid for the accommodation already at home in Sweden. Besides, Christer paid me. Why do I not remember transactions from September last year? Now I suddenly remember that it was difficult to find accommodation in San Diego and therefore we were forced to take this and pay in advance. Speaking of money, how much more do we really need before we go home? 11.10 The area here in the centre that we are in now is called Gaslamp Quarter. Here it is a nice mix of houses and people. In front of us on the bench we sat down on trams (trolleys) pass. It's pretty cozy and nice here. Peace and quiet, sunny and comfortable. 11.24 Some women from Jehovah's witnesses had positioned themselves here at the tram station Gaslamp Quarter Station. They got some Italians, but they didn't get us. Instead, we walked along the palm trees on the neat Martin Luther King Jr Promenade. 11.49 At Broadway and Front Street, we found a happy cashier. She works at the Coffee Bean and Tea Leaf at 160 West Broadway. We drink our coffee and enjoy life. The cashier's not with us, she's still working and smiling. It is nice to sit outdoors in the sun and drink coffee, especially given that it is January. 12.24 In the Ice hockey junior World championship in the Czech Republic are Canada and Russia unsurprisingly ready for the semi-final. There is also Finland after beating the United States. Sweden leads 3-0 in the second period in their quarter-finals against the Czech Republic.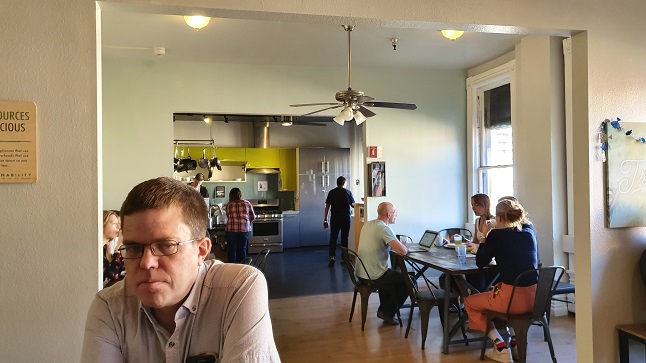 Peter looks skeptical. Does it apply to the breakfast or being photographed?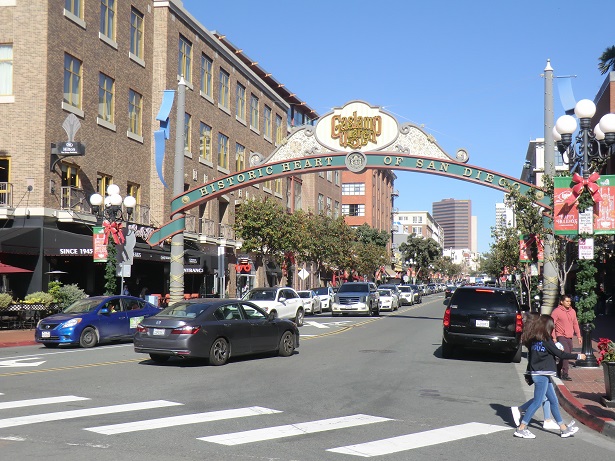 Gaslamp Quarter, San Diego.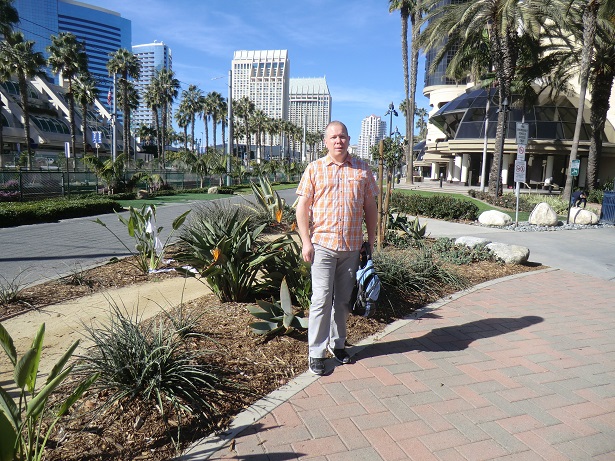 Christer on Martin Luther King Jr Promenade.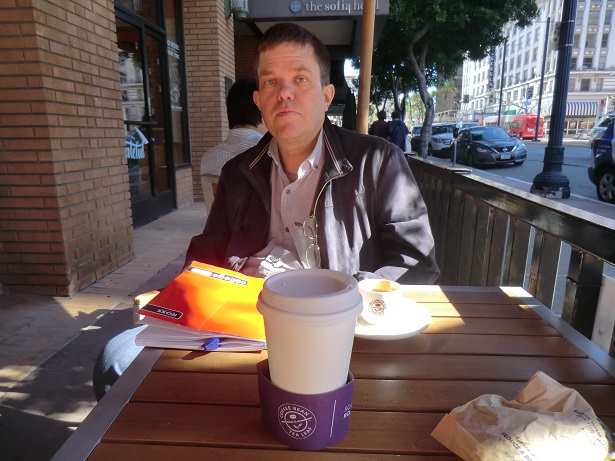 Peter enjoys coffee at The Coffee Bean and Tea Leaf.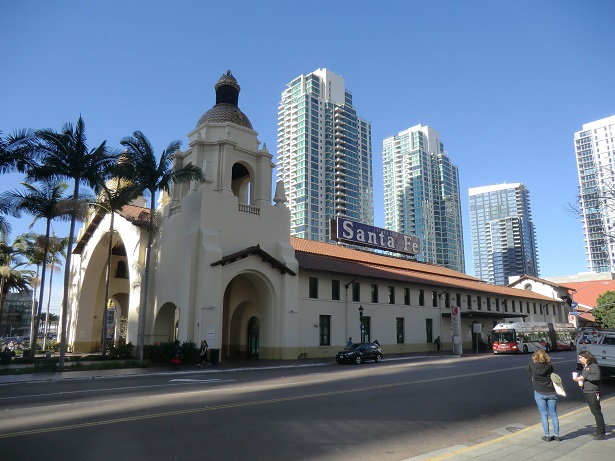 Santa Fe Railway Station.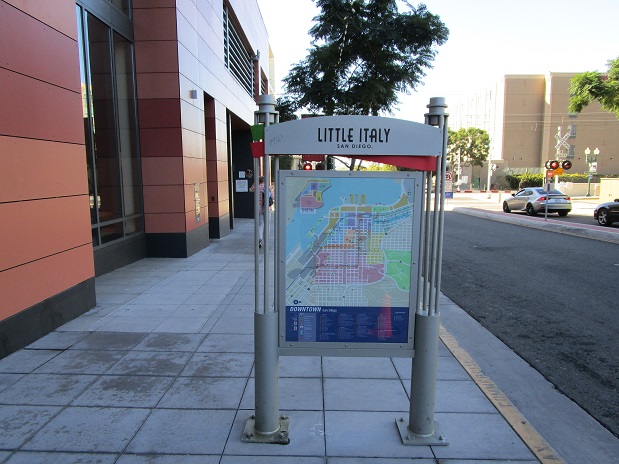 We walked through Little Italy.
12.37 After the coffee moment, we have set ourselves in motion again. According to a sign, we are now in the Little Italy District. On the way here we passed the Railway Station Santa Fe, also known as San Diego Central Station. The station building looked like taken from a different time, completely unlike the modern high-rise buildings around it.

12.59 Aircrafts are visible but mostly heard. We are now sitting on a bench in front of the San Diego City and County Administration Building. Here is also The Guardian of Water statue. We're in Waterfront Park down by the sea. Nearby is the city's airport, San Diego International Airport. 13.11 Out of the building next to us a newly married couple just walked out. They had civil marriage but still, as we have seen so many times before, they are a bride and groom. 13.45 We went across the Pacific Highway and into the fast food restaurant Jack in the Box (https://www.jackinthebox.com). We have been served burgers without any special taste or style but the craving in my stomach has settled. 14.07 The aircrafts are noisy again. We're back at the Waterfront Park. Now we'll follow the water all the way home. 14.27 An amphibian bus just passed on the road between the park and the sea. That kind of vehicle that goes on both land and in water. In the past, we have seen such in Dubai and Lisbon. However, those times they were in the water. 15.06 Behind us we now have the old aircraft carrier USS Midway (https://www.midway.org) who was in active service 1945-1991, among others in connection with the Vietnam War and the Gulf War. Today the ship is a museum.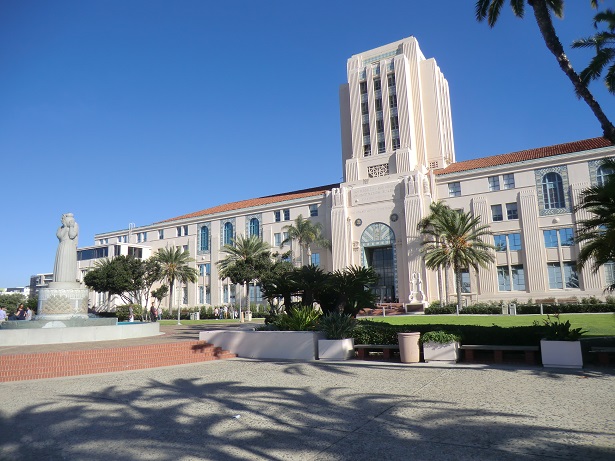 San Diego City and County Administration Building in Waterfront Park.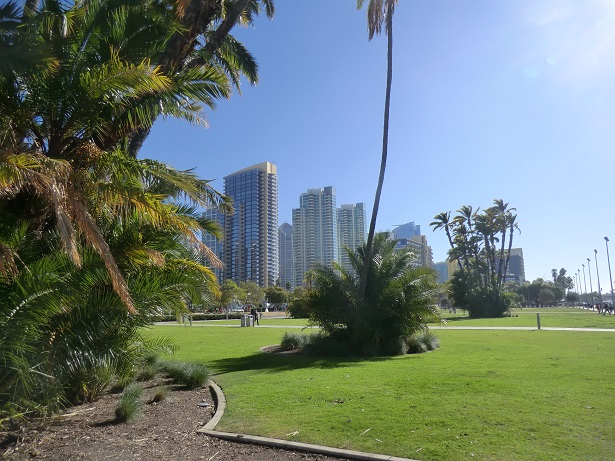 Waterfront Park, San Diego.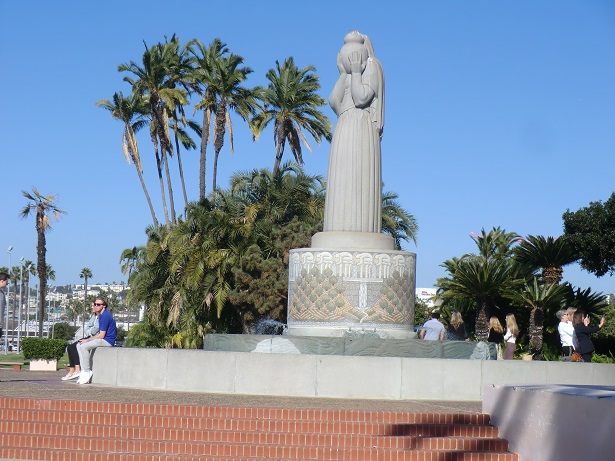 This piece of art is called Guardian of Water.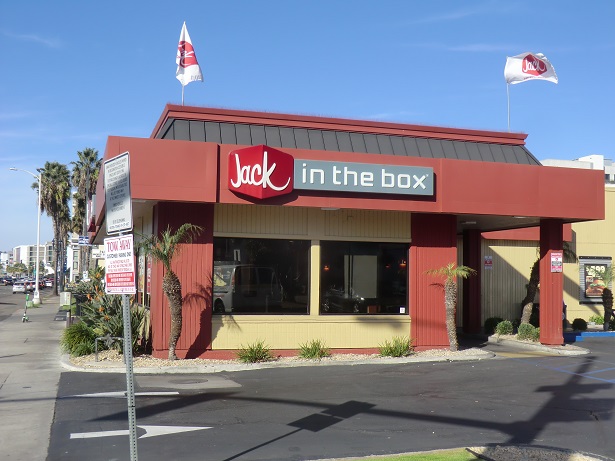 We had a simple lunch at Jack In The Box.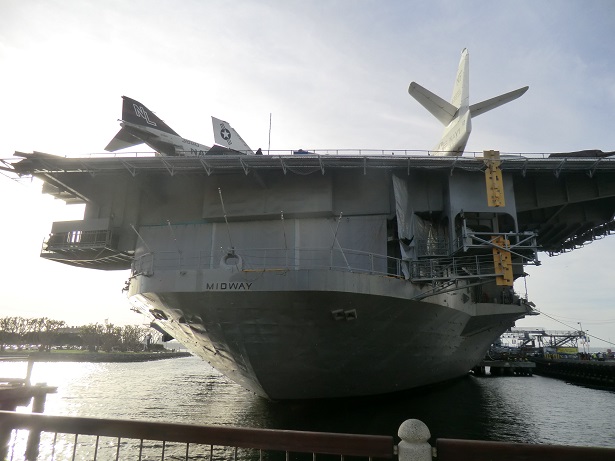 USS Midway, a retired ship.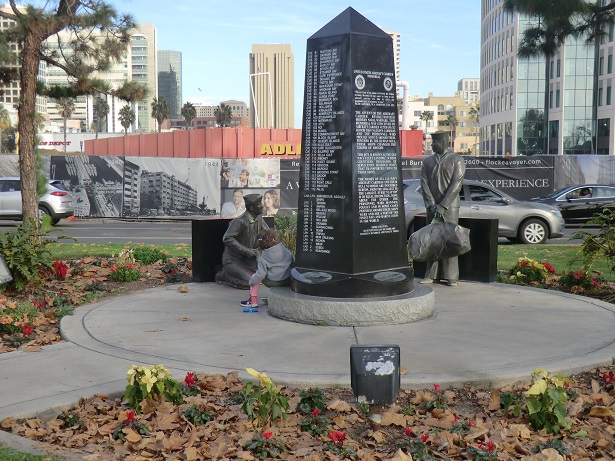 Aircraft Carrier Memorial, San Diego.
15.17 Near USS Midway stands "The unconditional surrender". It is a large statue that is a version of the classic photo from the 14th of August, 1945, V-J Day in Times Square (also V-Day or The Kiss) by photographer Alfred Eisenstaedt. It is an unknown sailor who kisses a similarly unknown woman. Everything is to celebrate the victory over Japan and the end of World War II.

15.56 The kissing ones were left alone by us and we instead went through the restaurant filled Seaport Village to Marina Park North. It's quiet and calm here. These little oases are nice to find when we are in larger cities. A distance away we can see the Coronado Bridge which goes over to the Coronado district which is located out on an island/peninsula. 16.34 We said good bye to the park and continue through Seaport Village. We'll see what the next stop will be. One thing's for sure, it won't be Tijuana, Mexico, even if it's only 30 kilometres from here. It would not be fair to Mexico to visit it in such a short and simple way. 16.48 We climbed up the stairs at the San Diego Convention Center to photograph the beautiful sunset over the Pacific Ocean. There were a number of steps up and down the other side. 17.32 The legs and feet were tired of walking around. My feet are happy to have got rid of the socks and shoes. It's nice to be home in room 220. Even the young Swedes are in the semi-finals now. The match against the Czech Republic ended 5-0. 19.02 Summer time and the living is easy, is suitable to sing in a few months but not today. However, we should go out for a walk to get a little more done. 19.36 After withdrawing dollars from an ATM inside a 7-Eleven, we are now going to eat pizza at Make (https://www.makesandiego.com). The pizzas here have received good ratings of previous visitors. You can design your own pizza. The address is 699 Park Boulevard. We are in The Block East Village just east of the city centre.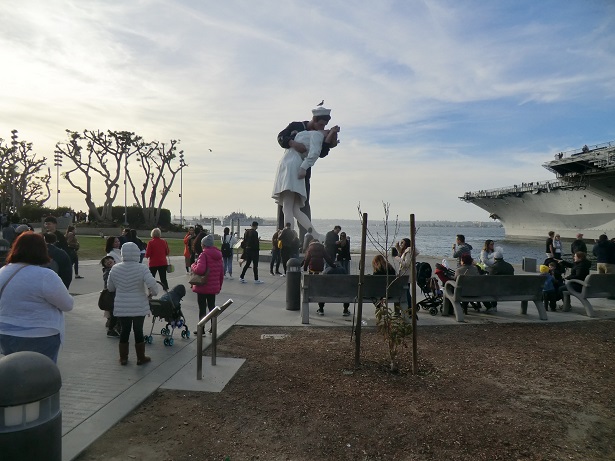 The victory monument "The unconditional surrender".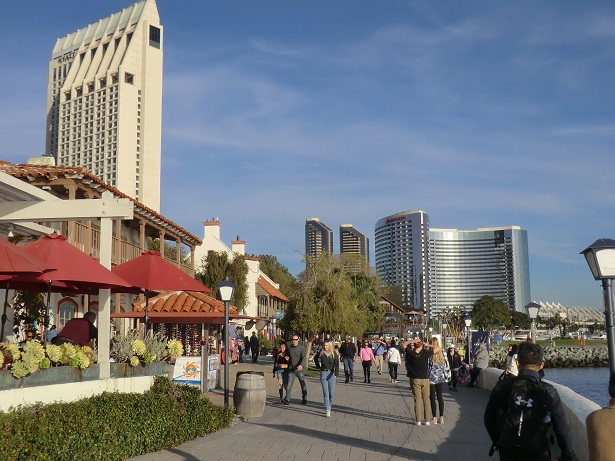 Seaport Village, San Diego.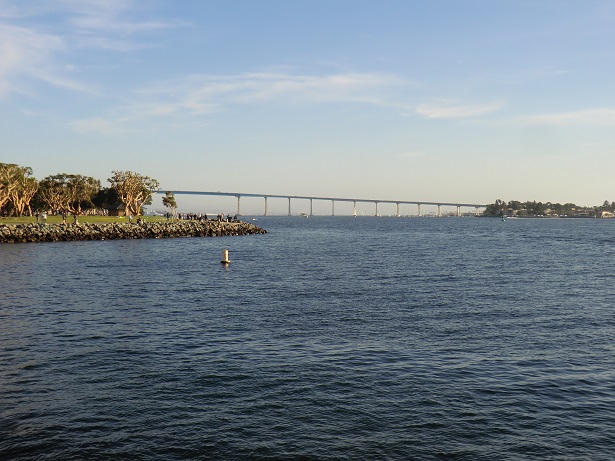 Coronado Bridge.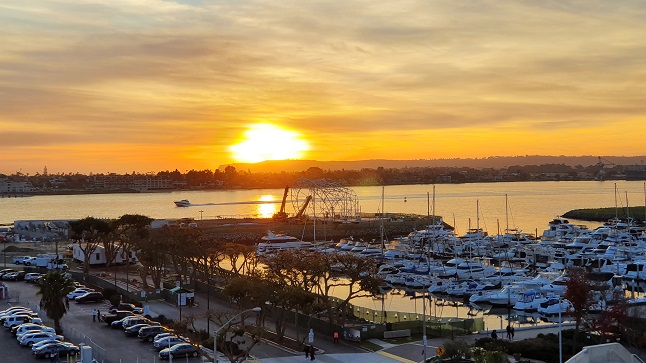 Beautiful sunset at San Diego Marina.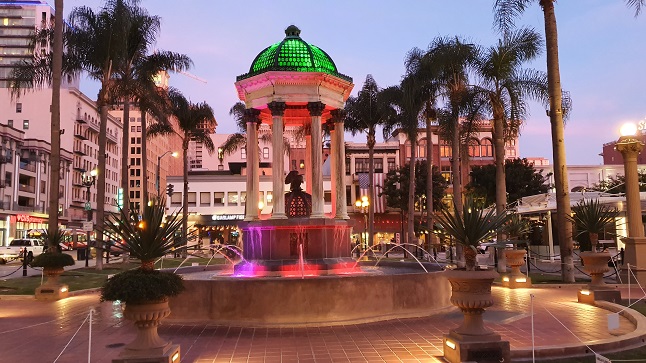 The fountain at Horton Plaza Park.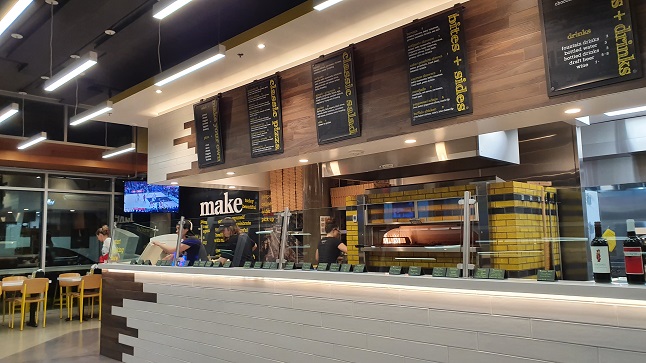 Tonight there will be pizza at Make.
20.31 Our evening out ends with a revisit at Starbucks Coffee on 5th Avenue. It is not much space here but strangely enough, this is where there are usually vacancies. The pizzas then you can wonder. Well, I've had better. However, it should be remembered that Americans and Europeans have different views on how pizzas should be.

21.23 Once returned to our room again, we will plan tomorrow's animal look. The city has a fantastic zoo but the question is whether it is worth the juicy entry price. On the other hand, we have not paid anything for our stay here at the hostel. Since it was paid in September, we got money to spend now. 22.23 No detailed plans for tomorrow were made tonight but thoughts exist. We'll turn them into plans the morning.
---
Friday 3rd of January

08.15 We're almost out of mornings here in San Diego, California and the United States. Within a few days we will be back on Swedish soil. In Baghdad, the Iranian Major General Qasem Suleiman has been killed in an American rocket attack. It's one of the news we've picked up this morning.

09.37 Another breakfast has been enjoyed on the floor above us. It is a battle for the seats that exist but so far we have not had breakfast standing. 09.56 It is now time for the final planning and preparation of the day. It is foolish to miss something of crucial importance this last day of the city. It is also foolish to aimlessly rush straight into what is to be done. 10.32 There are several who want to visit the rooms with porcelain chairs and shower spaces. This slows down our exodus. 10.55 We are now again at the trolley stop, Gaslamp Quarter Station and waiting for the Green Line. In our hands are newly purchased and loaded travel cards and we await a trolley, a tram. Now an "ordinary" locomotive honks at the railway station. 11.08 The trolley came and we got on board. So did a small child who would not join. An adult, the child's father?, lifted the little one off before the tram continued its journey. 11.27 Our journey ended at the stop Santa Fe. Now we have walked along Broadway to a bus stop. Here we are waiting for the number 7 bus which is coming now. Not much time to further writing thus.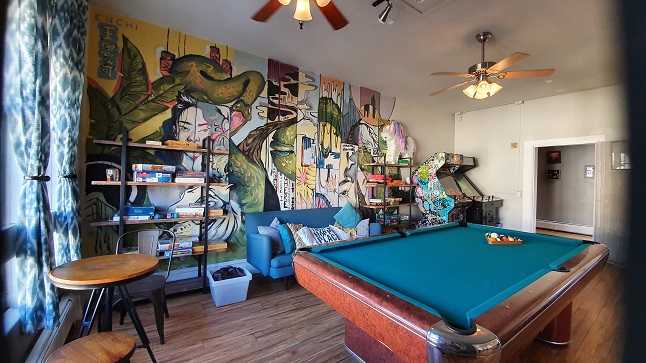 Plenty of activities at HI San Diego Downtown.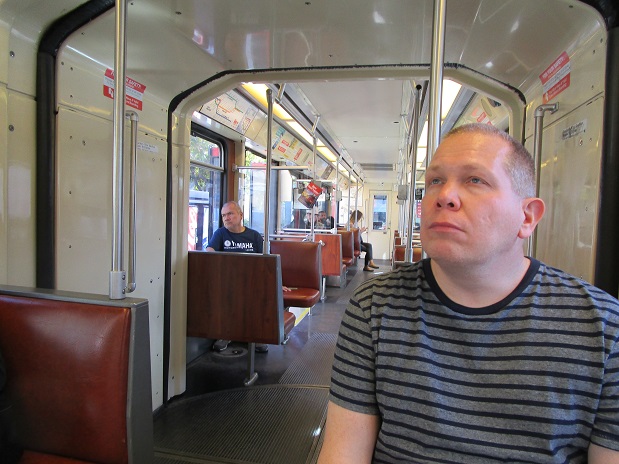 Christer is using the trolley.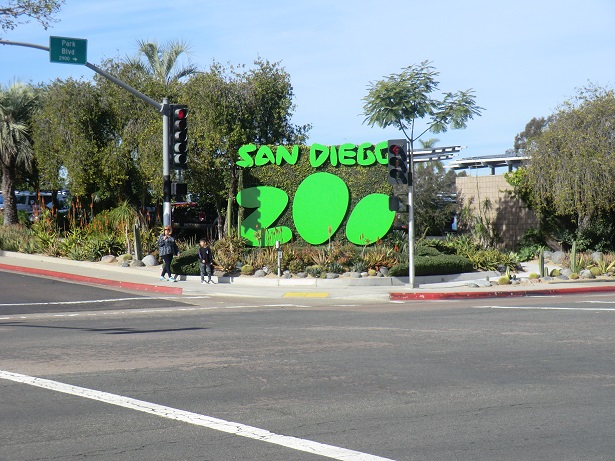 We have found San Diego Zoo.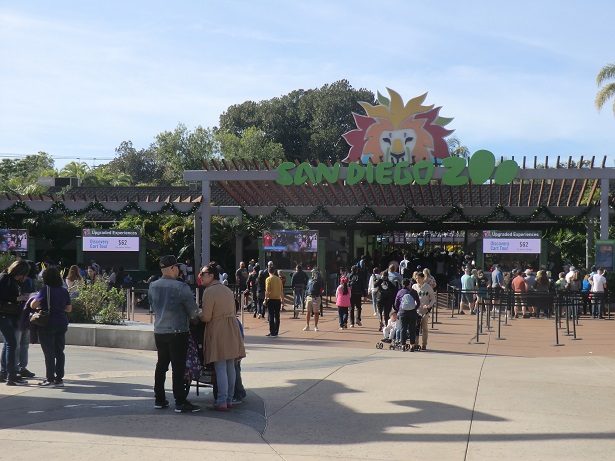 Find money and choose the right queue.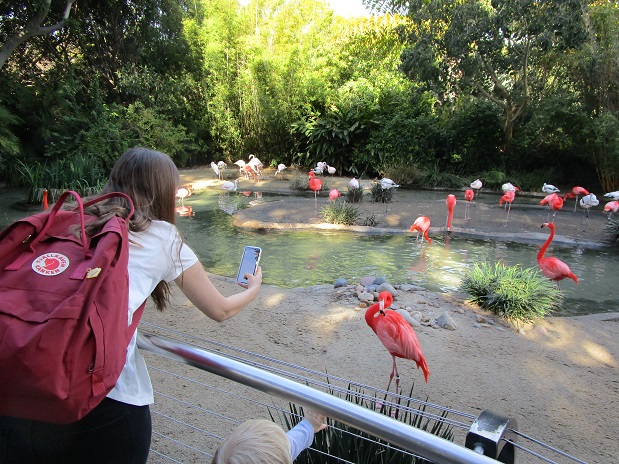 Some flamingos are being photographed.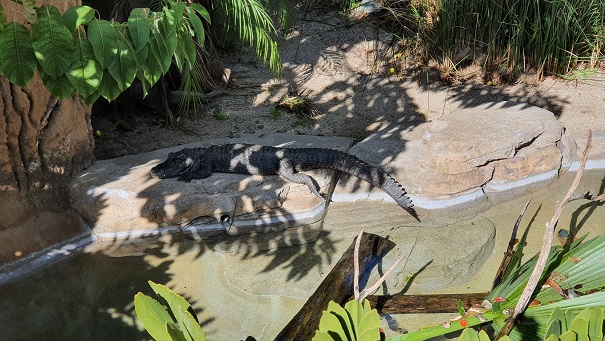 An alligator shows up.
11.47 After a smooth journey, we have reached a new stop, a new exit. We got off at Zoo Place in Balboa Park at an altitude north of downtown. Let's go to the City Zoo.

12.04 We have bought a day card each here at the San Diego Zoo (https://zoo.sandiegozoo.org). It costs US$58. The high price made us hesitate but it would be odd to refrain from visiting a zoo that counts as one of the best in the world now that we are in the city. Zoo visits also belong to our trips. This may be the tenth country in which we make such a visit. We have previously looked at animals in Trinidad & Tobago, Thailand, Russia, Tunisia, UK, India, Indonesia, Bahamas and Belize. We have also visited various places that with a little free interpretation can also be called zoo. 12.44 After standing near a flock of flamingos, a number of reptiles have just been seen. A girl was afraid that one of the alligators would eat a turtle in another cage. 13.25 We have just seen a Malaysian tiger or called it Sumatra tiger. Well, a tiger for sure. We'll not be able to see all the animals in this zoo. There should be between 3500 and 4000 animals here. We get to focus on the most unique and most memorable. 13.38 After seeing some animals I've never seen live before, okapis, we and others are watching old acquaintances to Christer and me, hippos. Their cage is amazing. You can see them both above the water but also under the water via a glass wall, a unique experience. 14.23 To look at animals has made us hungry. We took the lift up to Treehouse Café. Here it will be pasta with meatballs and beer. We needed show our id: s to buy the beer.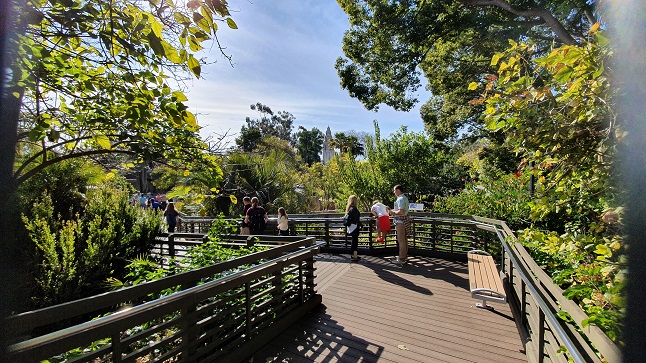 Lush and nice inside the San Diego Zoo.
Gavials is the name of these Indian crocodiles.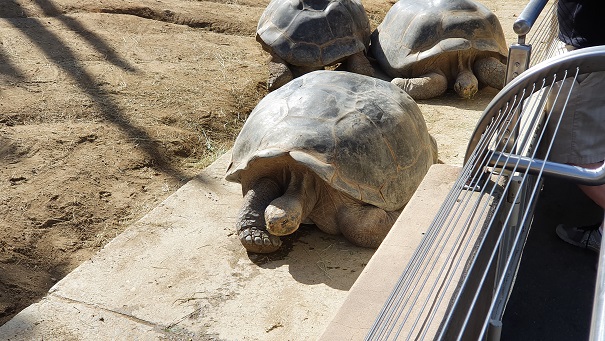 Galápagos tortoises some distance from home.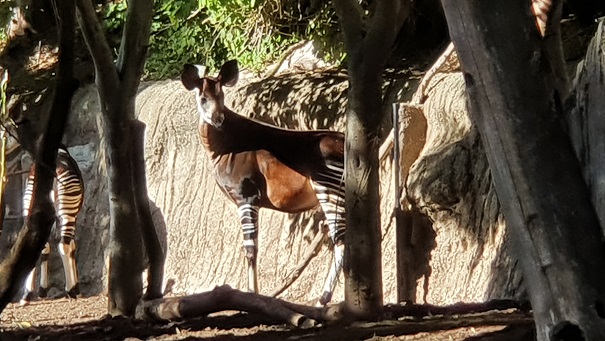 Finally we get to see an okapi.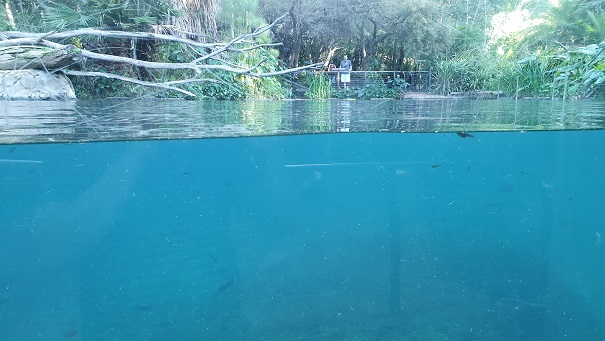 The hippos' cage offers two perspectives.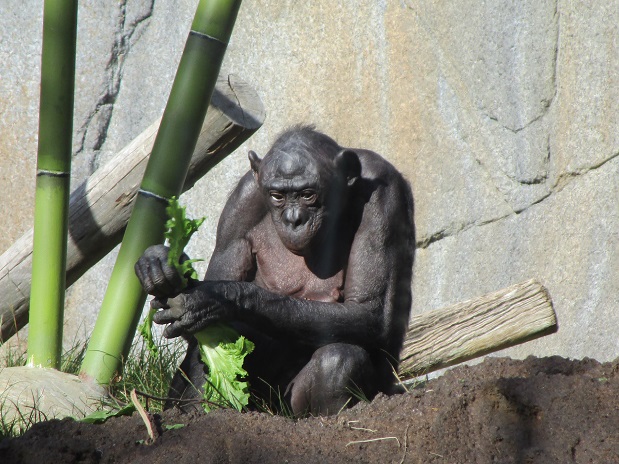 A bonobo (dwarf chimpanzee) eats some salad.
15.06 We're moving again. Red panda and some feline have been seen since last. Actually, you need more than one day to be able to see all this zoo has to offer. It was expensive to go here but actually worth every dollar.

15.44 Now we can also tick off a swimming polar bear and an elephant among the animals we have seen today. There are animals from everywhere in the world here, an amazing zoo to say the least. In addition, they seem to have it quite well in their cages. After all, we have seen various quality of it when we visited other zoos in the world. 16.18 Koalas, females and males separately and now a calm rhino. The sun is heading down, and maybe we should move on. At least we're going to watch penguins and giraffes before we finish. 17.24 There were a few more stops before we finally went out of the zoo. When and where do we visit a zoo again? Now, in several ways, the home journey itself has begun. Partly home to the accommodation but also actually the trip home to Sweden has begun. It feels like this was the last major activity/attraction. From now on, mostly transport remains. 18.09 We stepped off in the outskirts of the centre in hope of seeing some good restaurants during the walk home. It is doubtful whether we succeeded in doing so. Our habits of coffee drinking have allowed us to return to our Starbucks Oasis on 5th Avenue. Besides coffee, we're thinking about tonight's dinner plans. 19.12 It's nice to come home after a long rich day. The candy bar I bought for later tonight is called Skor. Not so funny in English but in Swedish it actually means shoes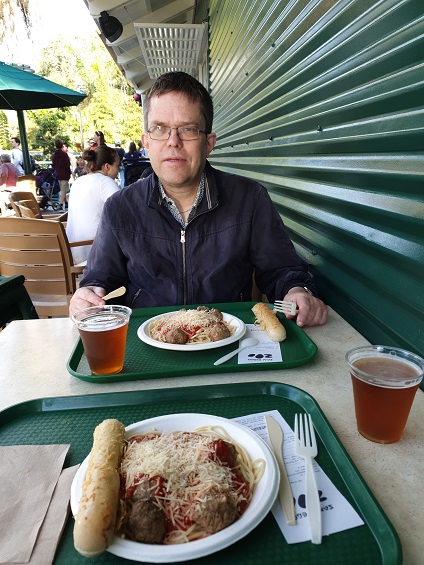 Peter has a lunch break at Treehouse Café.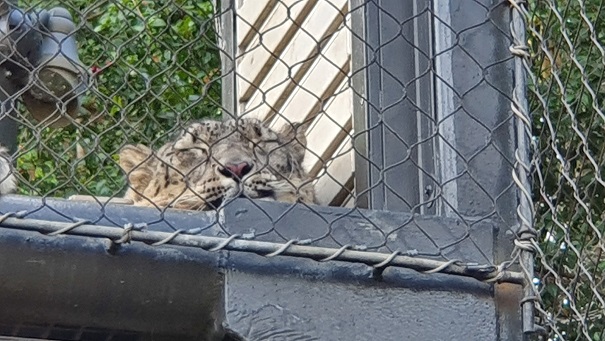 A tired snow leopard.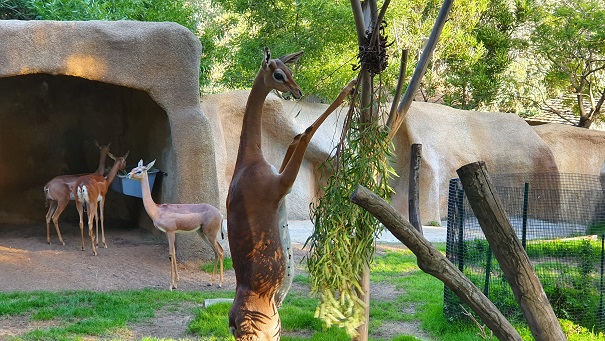 This animal is called gerenuk.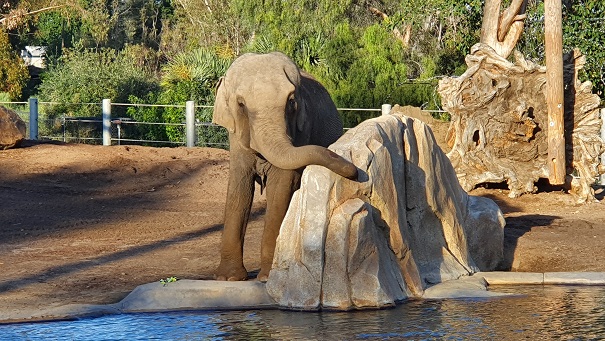 We greeted a happy elephant.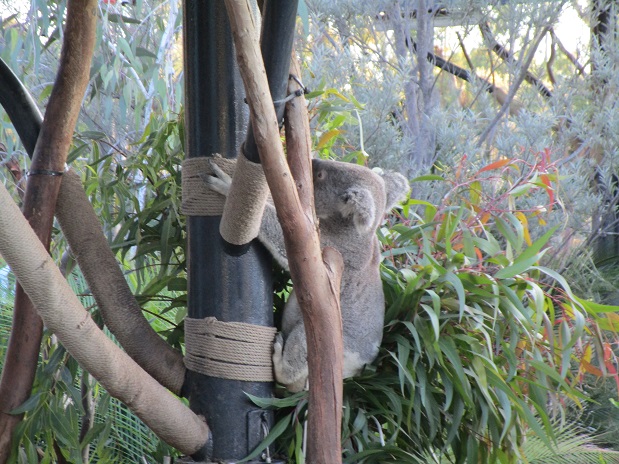 A nice surprise to also see a koala.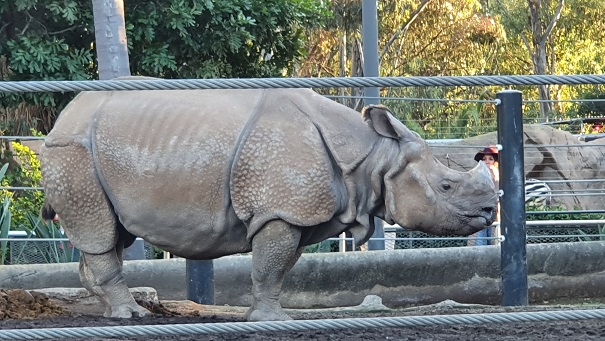 We could see another African friend.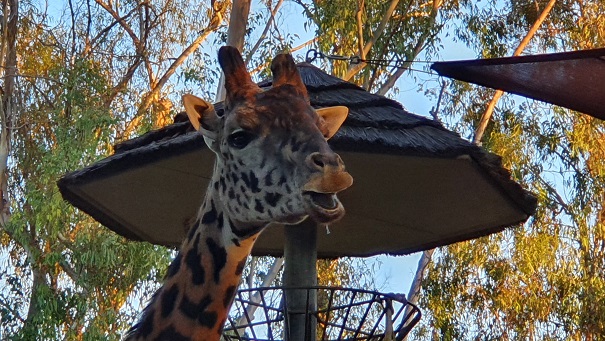 The giraffes became some of the last animals we could see today.
20.14 We have a not such a small problem. We need food. What will it be for dinner? High prices as well as the fact that pizza and hamburgers hardly attract as dinner this last night in San Diego mess it up more. How do we find something suitable in the nearby blocks? We think we've walked enough meters today.

20.55 Not far from our home we found the restaurant Urban India (http://www.urbanindiasd.com). We've to play it ordered dishes with mild flavours. Indian music is heard from the speakers. Unfortunately, the front door is open so it's not completely hot in here. 22.05 Tasty and delicious are some of the words that describe the dishes we consumed. We are about to make sure we got everything under control regarding tomorrow. There are some steps that need to be made if everything is to be as we intended. A longer bus ride to Los Angeles as well as two bus trips, a walk and a Metro trip within Los Angeles will take us to our last accommodation before our home trip. 22.59 Now it's almost over with sleep time and nights for us as far as the United States is concerned. Only one night remains in this country. An eventful day here in San Diego is about to end.
We enjoyed Indian food at Urban India tonight.
---
VIDEOS
---
You can see 23 photos from January 1 in this photoalbum.
You can see 87 photos from January 2 in this photoalbum.
You can see 74 photos from January 3 in this photoalbum.

---
---