07.14 In this early hour, we look out towards the mist. Today we are going to leave Bunyonyi View Gorilla Packers here at Lake Bunyonyi in southern Uganda.
08.26 We got news from the staff during our breakfast. France won the game against Germany 2-0 in yesterday evening´s semi-final. It will be Portugal and France playing each other in the upcoming final of the Euro 2016. Now we also got the news that our car is on the way here. We have arranged private transport to Bush Lodge which is located in the Queen Elizabeth National Park.
08.43 Robert, our driver, just started our journey. Now it's off to new horizons. First we shall make a stop in the nearby town of Kabale where we are going to withdraw some money. We will spend the next few days in a national park so we need to arrange with the money we will need before we get there.
08.57 At first we went along the extremely dusty dirt road that goes from Lake Bunyonyi to Kabale. We have stopped at a field and got the car washed. Robert said that he owns this car wash and therefore got the service for free. From now on we will travel on asphalt, feels nice!
09.15 First we stopped at an ATM for the necessary withdrawal and now we have stopped at a Total petrol station. Here the staff clean the windshield and refuel. A litre of diesel costs 2850 Ugandan shillings, around 85 cent. Now the long journey to the north will begin.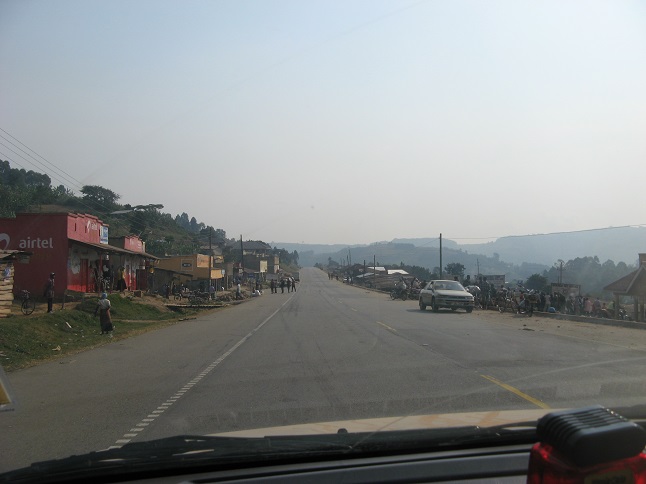 We are heading north from Kabale.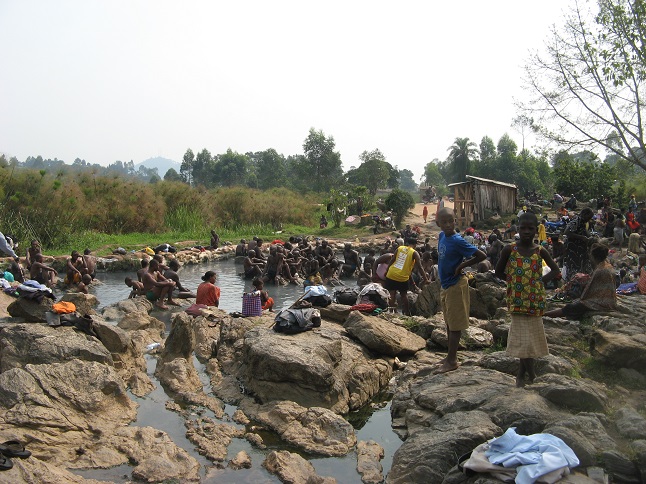 Kitagata Hot Springs.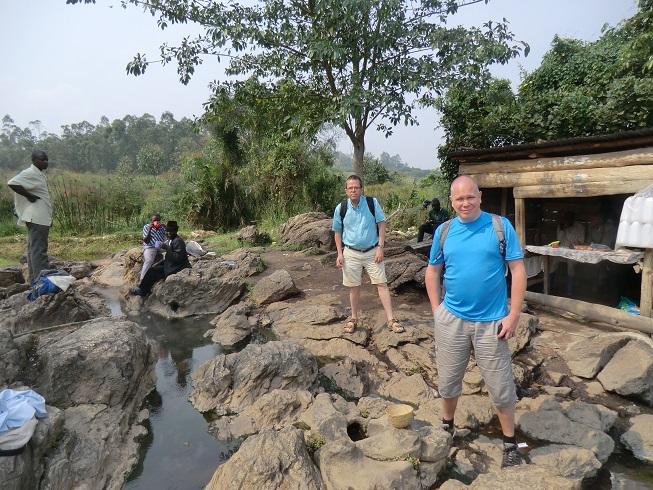 Two tourists visiting the hot springs.
09.32 The car just got an additional passenger. Just to the north of Kabale Robert recognised a neighbour who was hitchhiking. He was allowed to go with us and was very grateful for it. It was up to us to decide if he could join since we pay for the trip.
10.13 The road is of continued good quality. We just passed a small market where it was sold matooke, the base in the cooking. It is boiled and mashed. Then you get to a dish with a texture that reminiscent of mashed potatoes.
10.25 We have reached the town of Ntungamo. Our passenger got off here and we turned left, out on the road to Ishaka.
11.08 We travel on through more sparsely populated areas. After a short stop at Kitagata hot springs, we are on the road again. People bathed in the water and/or collected water. The water was of course warm and smelled of sulphur. Many people travel far to visit the place. The water is said to cure diseases and be generally health bringing. After the visit we made a small donation and wrote our names in a guest book.
11.27 We are now in Ishaka. Here you can connect to the road to Kampala to the east. We have made a small stop because Robert needed to make a few purchases. A bit north of here ís the Queen Elizabeth National Park, a nearly 2000 square kilometres large area along the border with the Congo.
12.37 The time of great road is over. Now, the road is a mixture of soil, asphalt and large holes. We as well as the other vehicles move forward slowly.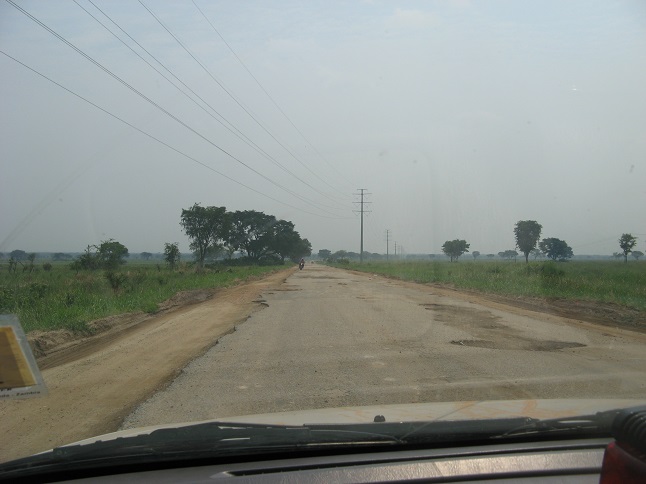 It was a slow trip the last hour. The road was in a very bad condition.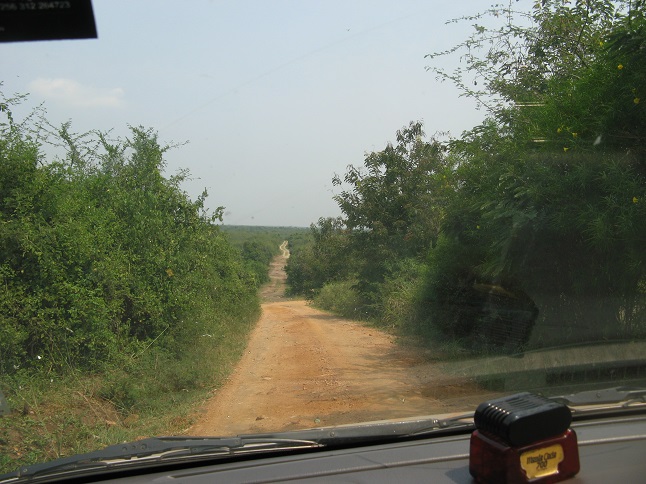 We have left the main road and are heading for Bush Lodge.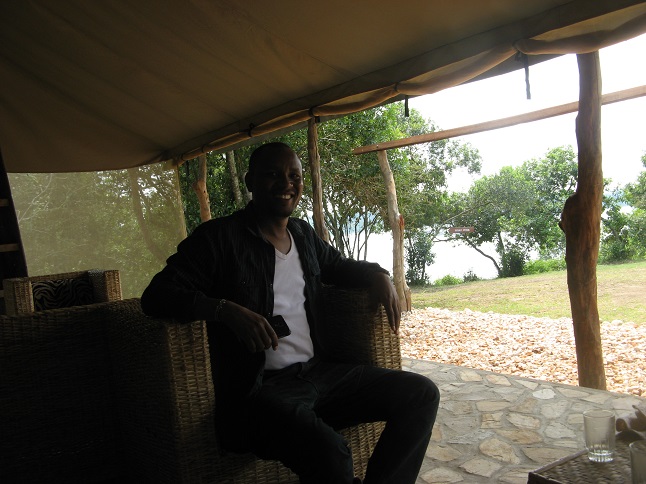 We are saying thank you to our driver Robert for excellent service this day.
13.04 After a number of kilometres with tacking between the large holes in the road, we saw at last the long awaited sign pointing towards Bush Lodge where we will stay the next three nights. We have turned and now it is a narrow dirt road that go along for a few kilometres. Around the car swarms large quantities of small white butterflies.
13.27 We have just checked into tent number 6 here at Bush Lodge (http://www.naturelodges.biz/the-bush-lodge/) in the Queen Elisabeth National Park. They offer both small houses and well-equipped tents. We stay in the vicinity of the Kazinga Channel connecting the two lakes Lake Edward and Lake George. Check-in took place in the reception located in a large tent with a few sofas. We were also offered a welcome drink (juice). We thanked Robert for the nice service today and wished him a pleasant journey home. This is a completely different climate than we are accustomed to from southern Uganda. It is really hot here.
13.42 After we moved in and made ourselves at home in our tent we shall now enjoy today's lunch. Here is no wide range to choose from. There is a predetermined dish, which is served at lunch and at dinner. Lunch and breakfast are served in a restaurant tent, but dinner is served at the tables around a campfire when the darkness has fallen.
14.43 After lunch we are sitting on a chair each outside our tent. It is a large tent, erected on concrete with a wood roof over it. Inside the tent, we have a bed each and there are also lights and power sockets.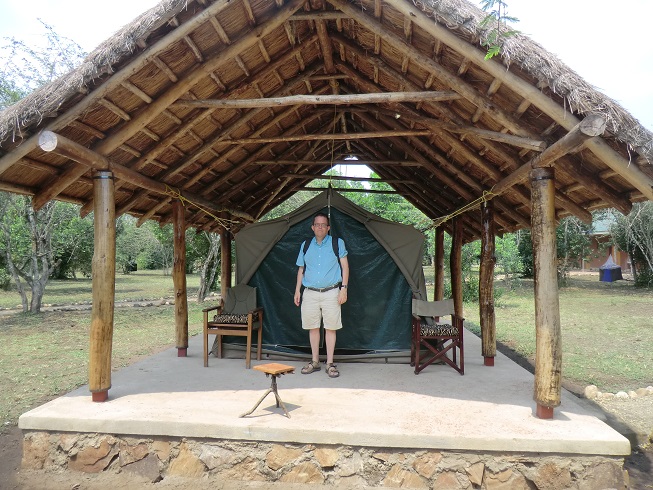 Peter in front of our tent.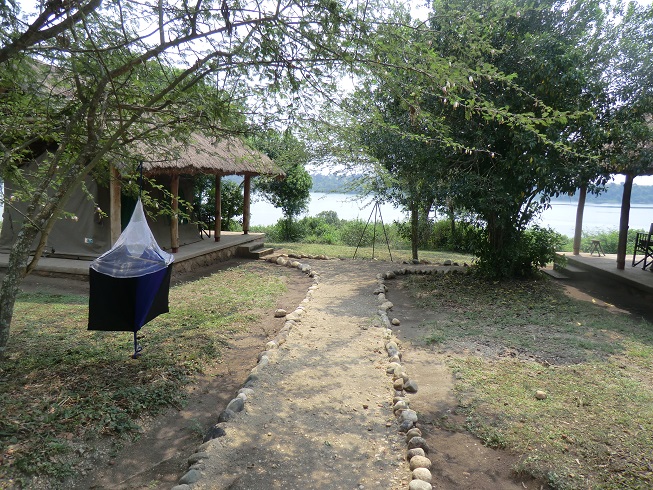 These blue things are traps for insects.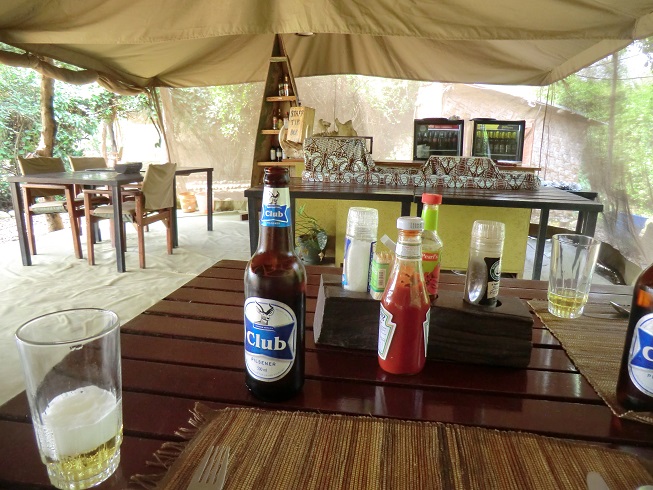 It´s time for the first lunch here at Bush Lodge.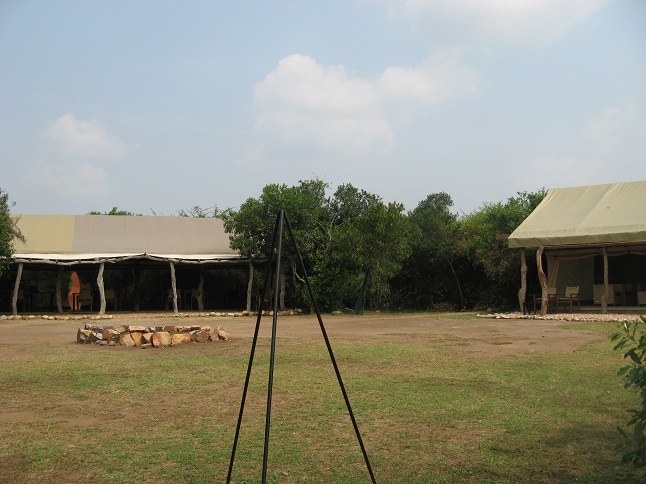 This is the area where the dinners will be served.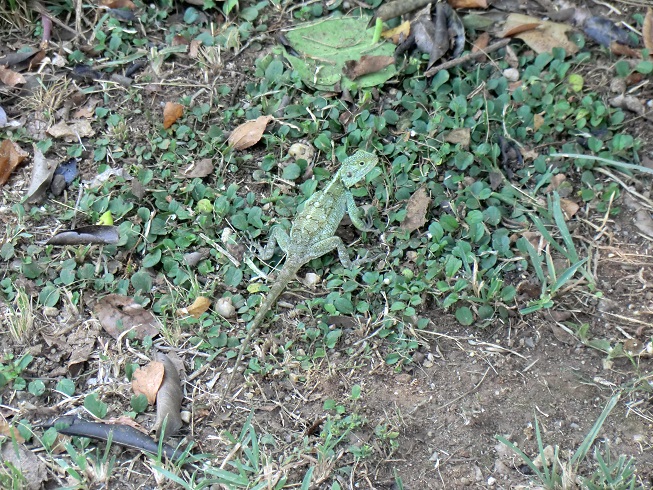 A green lizard is hard to discover.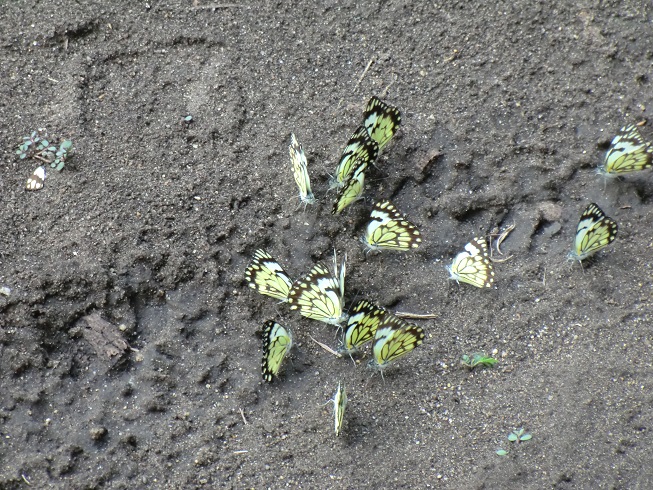 Beautiful butterflies gather outside our tent.
15.07 We're enjoying the calm life here at Bush Lodge. We discuss plans for our stay here, are reading in our books and are taking photos in and around our tent.
16.04 On a branch in the trees a short distance away is a yellow and black weaver bird at its nest. The species is probably a Southern masked weaver. The last room was called the Weaver, and now we have a weaver as neighbour.
17.09 The chair sitting was interrupted for a while by me and I took a little nap. When it was over, I just kept on reading. Around us the birds are singing. The hippos down in the channel, is heard regularly. They grunt, goes moo, or whatever it is hippos do. Anyway, this is a typical sound that we recognize from our visit to the Okavango delta in Botswana in 2012. Then we heard them, we hope to see them also this time.
18.10 While I went for a shower a big lizard arrived and paid a visit in the tent. It may possibly even be left anywhere inside the tent wall. In addition to this, we have also seen many other lizards in different colours running around among the tents here.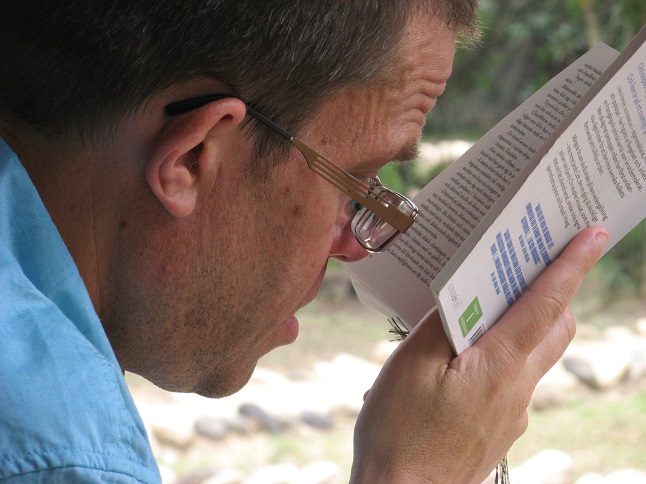 A good book.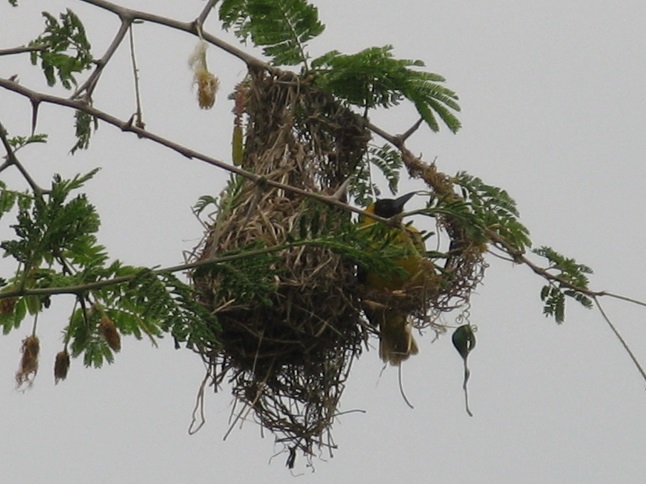 A weaver bird and its nest.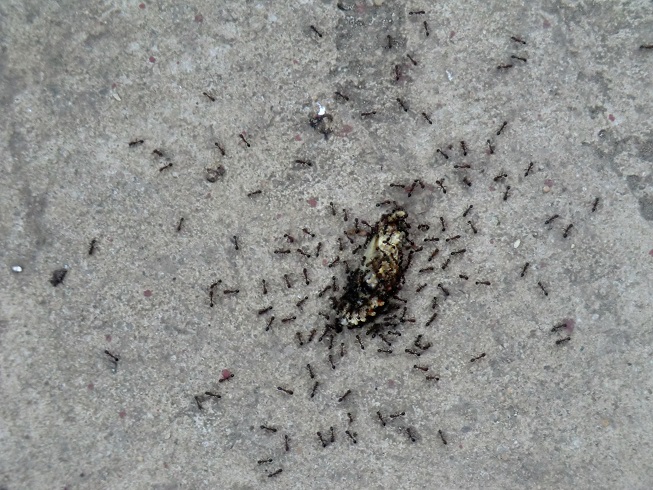 The ants found something interesting.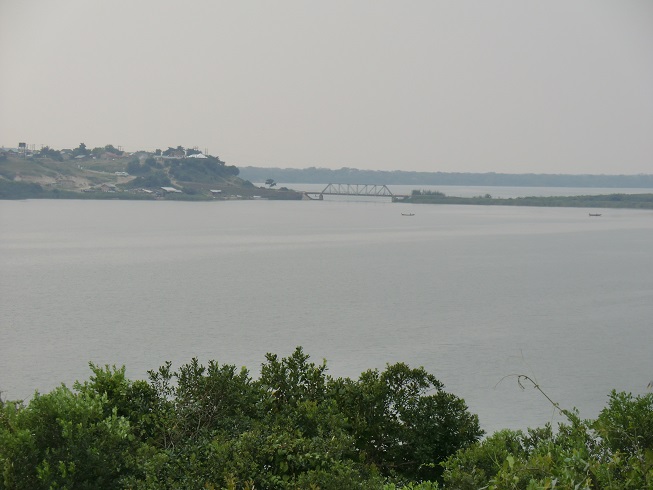 The bridge across Kazinga Channel.
18.26 We do not know where the lizard went. It has either escaped away unnoticed or is still hidden somewhere inside of the tent walls. We will soon wander off to eat dinner. It might take the opportunity to disappear when we are not left here.
19.05 Sunset has been immortalized on photos and we have seen a little more of the surrounding area. We walked along a path and saw the part of the area where the more expensive houses are. It costs significantly more to stay there than in the tents. Now we have placed ourselves by a table again. We have taken one of the tables set out in a circle around the campfire here at Bush Lodge.
20.26 A good dinner is just finished. It always consists of four dishes here. First, an appetizer and a soup, then a main dish and finally a dessert. Before the main course the lantern man came and hung a lantern in a metal construction by the table. When the meal was concluded, we left information about our breakfast plans. Are we going on trip and need food or we'll remain in the area? If so, at what time do we eat?
20.43 After having purchased two large bottles of water, and made a trip to the lavatory, we were escorted back to the tent. Here at Bush Lodge there are some rules to follow. When it is dark, we must not move freely inside the area, since some animals can be wandering around here, mainly the hippos. You need to get escort from one of the guards that are here if you need to go somewhere during darkness. Now we are sitting on our tent porch and listen to the night animals and sounds. It is a magnificent nature experience.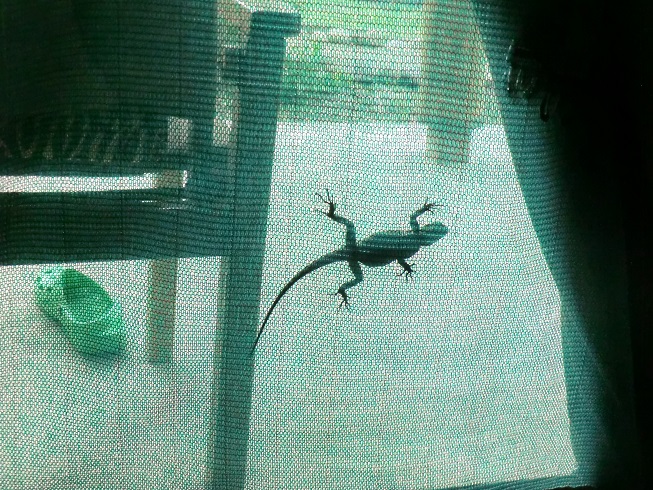 A lizard came to visit us.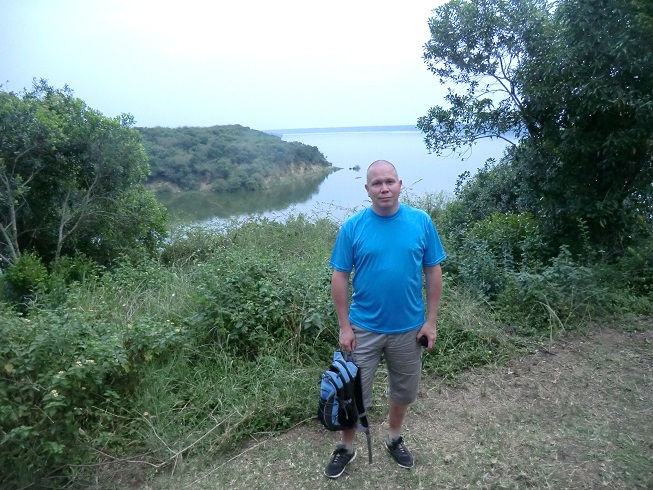 Christer by the Kazinga Channel.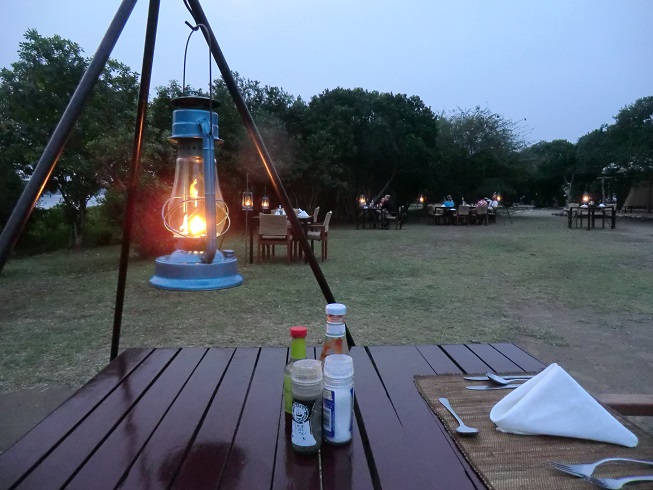 We are getting prepared for the first dinner at Bush Lodge.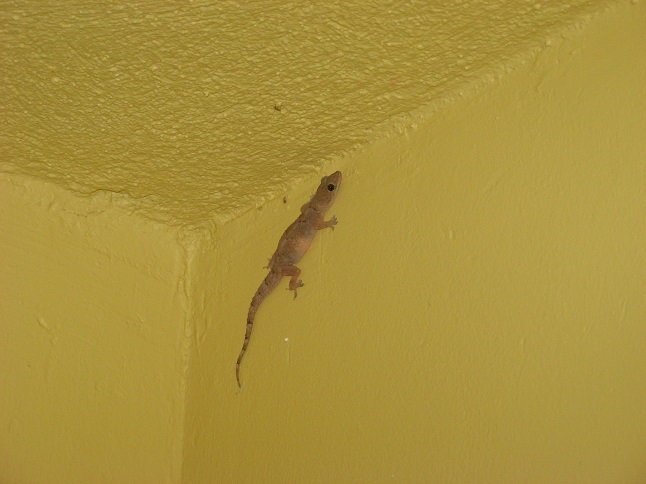 You are not alone in the bathroom here.
---
Saturday 9th of July
07.53 Different voices has made us awake during our first night in the tent. There were various sounds from the animals as well as humans. We have, however, slept well in the tent. We say tent, because it is just a tent, but the truth is that we have it better here than in many hotel rooms we have been in over the years.
08.21 We cannot sit here and just collect dust. The time has come to make a first visit to the breakfast table here at Bush Lodge.
09.07 The breakfast is completed. We were the only ones to eat at this hour. Most of the guests here come with their own vehicle and depart early in the morning to be able to see the animals at dawn. We are quite unique, we have managed to get here without our own car. The staff here asked anxiously where our driver had gone. They also wondered how we could cope when we told that he's gone home again.
09.19 Now it will be easy street for us until lunch. Then we'll get on a boat safari out on the Kazinga Channel. The bird (the dove), we heard on the previous Africa trips and that we, because of what it appears to say, has named the "pole vaulter", is also heard here.
09.47 I have been away in the shower and toilet space and made an attempt to wash the clothes. The idea was that I wanted to have my shorts less gritty.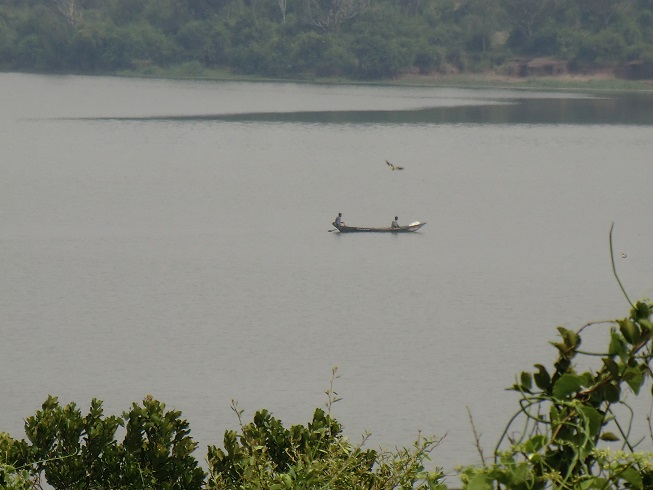 Some locals on the channel.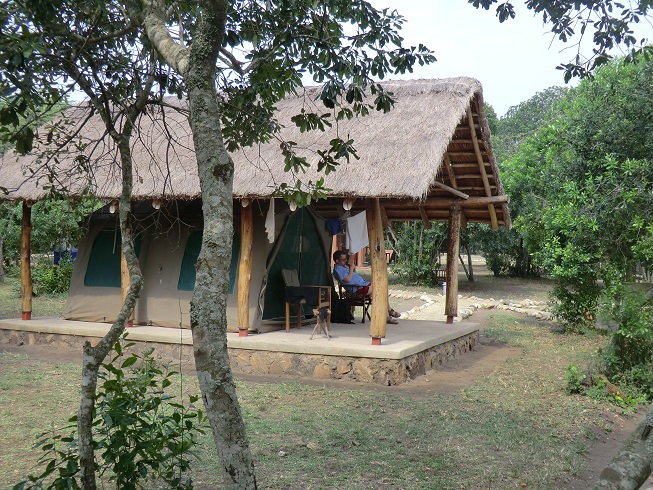 Peter enjoys his holiday this morning.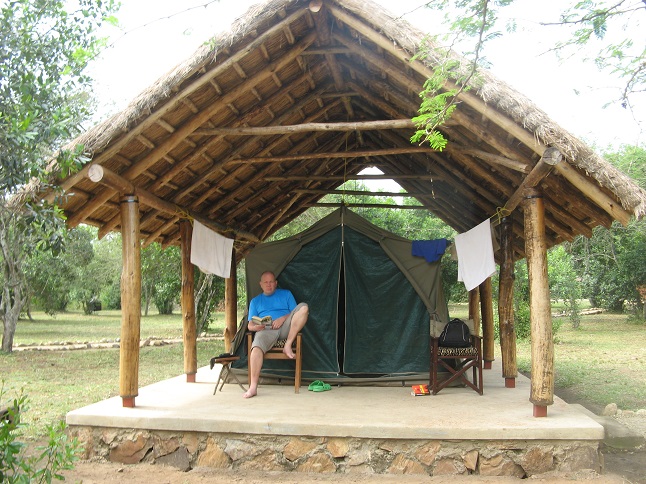 Christer in front of our temporary home.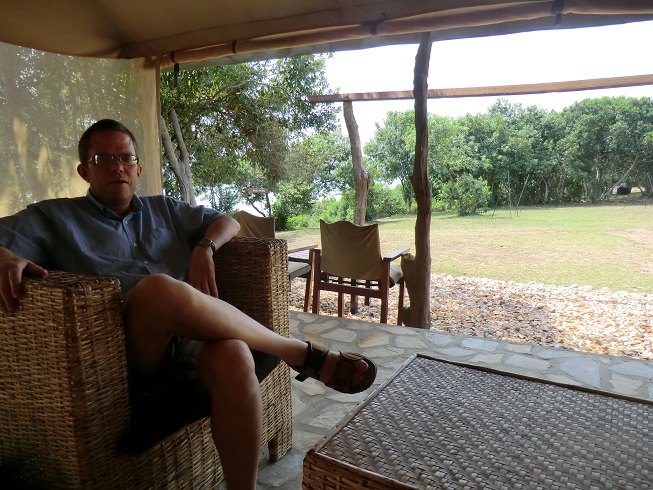 Peter is waiting for the arrival of our tour boat.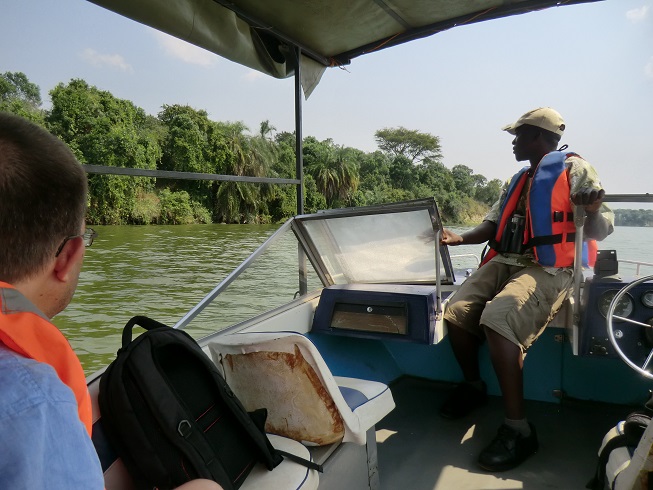 Looking for animals along the Kazinga Channel.
10.31 The morning move forward ever so slowly. We relax, read and enjoy our free time. It is peaceful to sit in front of the tent, listen to the bird song and then hear the grunting of hippos from the water. Slowly the day is also getting increasingly warmer and then the swarms of white butterflies will appear.
11.03 It is very quiet here at the lodge. There is not much hustle and bustle, feels like we are the only guests. Most of the others are probably on an excursion or have checked out.
12.27 White butterflies gather around us. Just now a lizard paid a visit inside our tent. It got bored and went out again.
13.34 After a light lunch, we are now ready for the boat safari. These are carried out in the afternoons because that is when it becomes hot, and the animals seek out water to drink and cool off. A morning trip is likely to be quite free from animals, even if there are always beautiful birds to see of course.
13.48 We are now sitting in the sofas in the reception tent. We are waiting on our boat. We pay 30 US dollars per person for this tour, but then we will have a private boat with our own knowledgeable guide. Because we paid for our stay at Bush Lodge in advance, in Sweden, we don´t need so much money now. Then we can allow ourselves luxury such as this tour.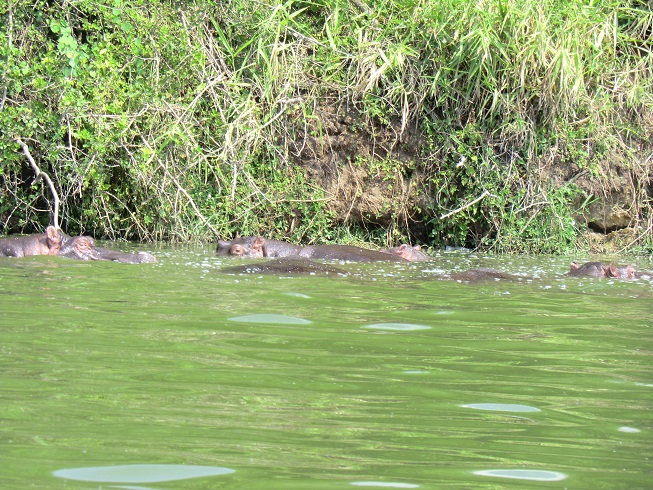 Hippos gather along the shore.
African fish eagle.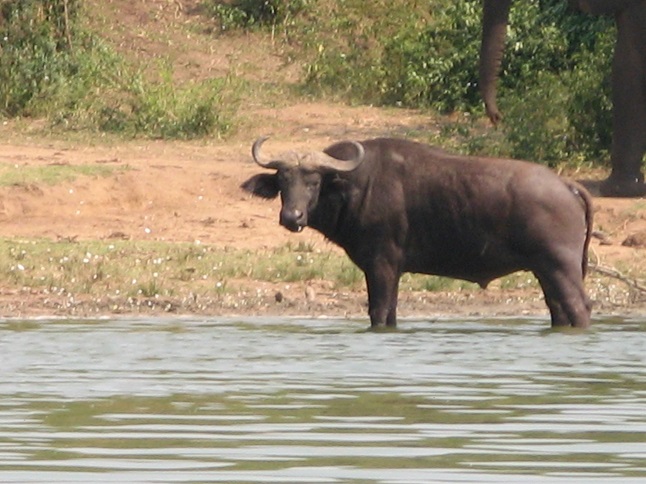 A retired lonely buffalo looks bored.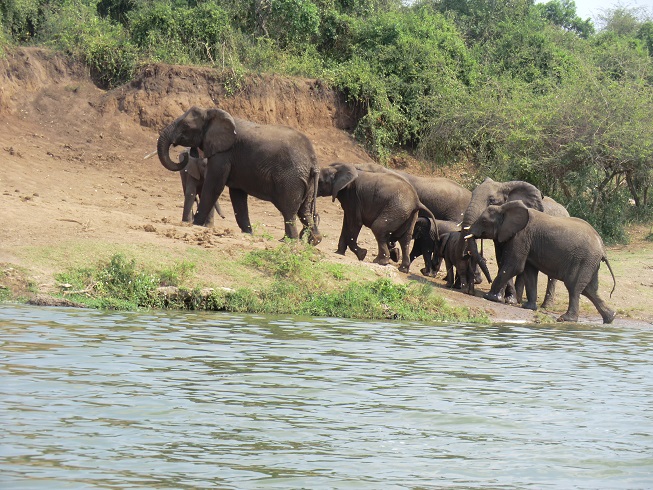 A group of elephants leave the shore when our boat arrives.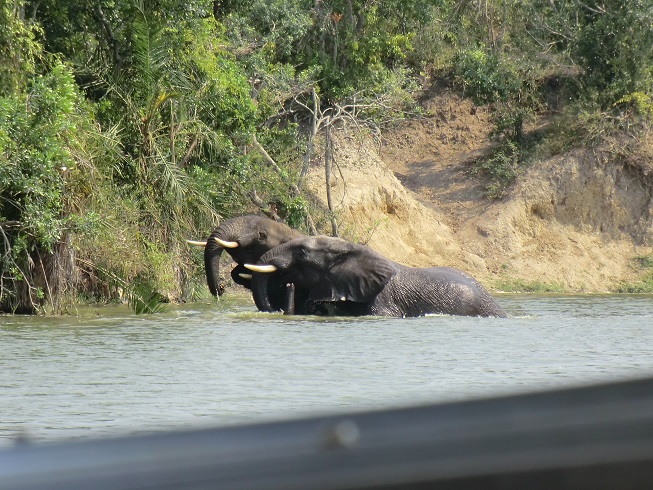 An elephant couple in the water.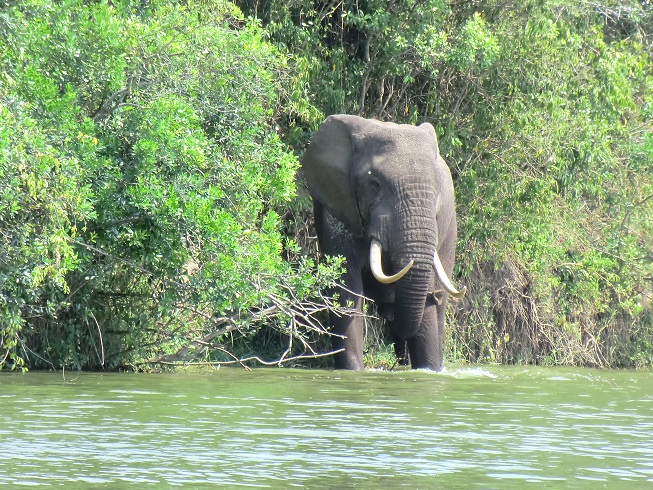 A big elephant is observing us.
14.16 A sign that says "Boat trip" is on a path away from the reception desk here at Bush Lodge. We thought we would go along it, but the sign pointed towards the slope next to the path. We have walked down the steep slope and reached the place where we shall embark in our boat.
14.30 We are now on board. It is time to get on the life vests. We shall make a tour on the Kazinga Channel. It runs between Lake George and Lake Edward. Two men take care of us. One of them is driving the boat. The second is a guide and conservationist, his knowledge about the national park is really great.
14.55 We have bit by bit been traveling along the shoreline and see more wildlife than we had dared to hope. We had hopes to get to see the grunting hippos but we've gotten to see so much more than that. So far we have seen lots of hippos in the water, elephants in water and on land, warthogs, and a lonely, aged and outcast buffalo. In addition, we´ve also seen several kinds of birds. The most impressive is the majestic eagles sitting in the trees and watching us.
15.30 We have crossed the channel and are now going along the opposite shore, the northern. Out on the channel we also got to see the fishing net and learned a lot about the fishermen's daily lives here. More hippo groups have been sighted and even birds of different shapes, colours and sizes. Today, we've learned a lot about the hippos life and behaviour. Moreover, we now know that a herd of hippos in the water is called a "school".
16.17 We have just arrived home after a fantastic wildlife experience, one of the best on any trip we have done. I have never seen so many hippos in one and the same time. They are seemingly harmless, but belongs to Africa's most dangerous animals. Earlier today one of the local fishermen was attacked in the boat. He has been hospitalized with a broken leg. What we did not see was the hippos hate object, crocodiles. There are many here, but today, they stayed away.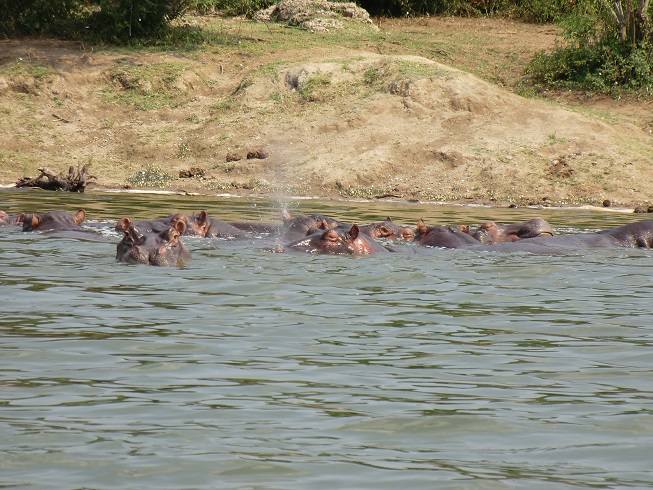 We are saying good bye to the southern shoreline´s hippos.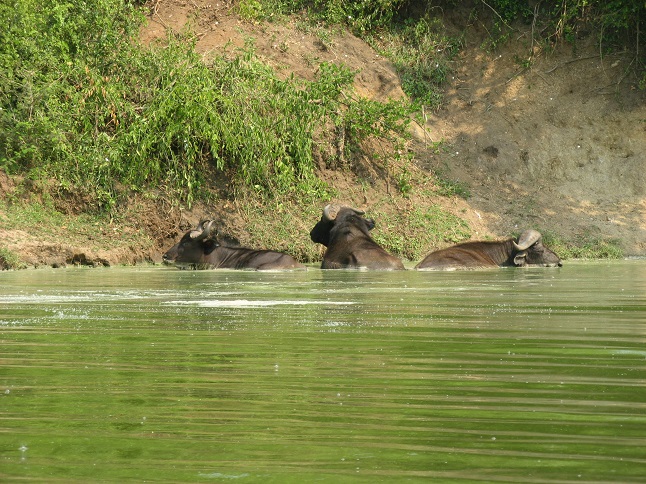 Buffalos cooling off in the water.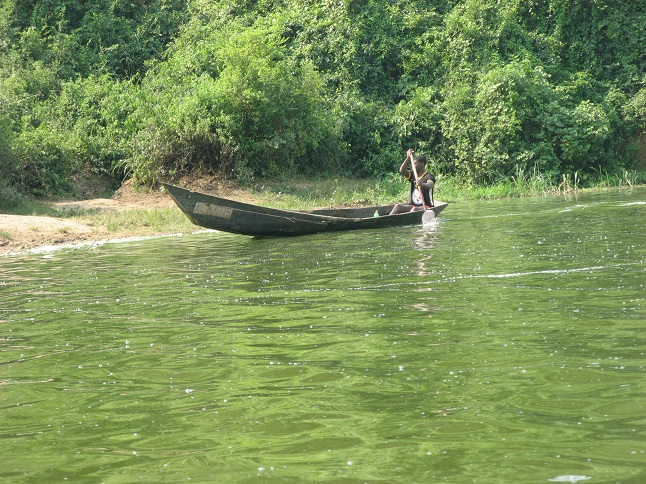 A young brave guy is navigating between the hippos.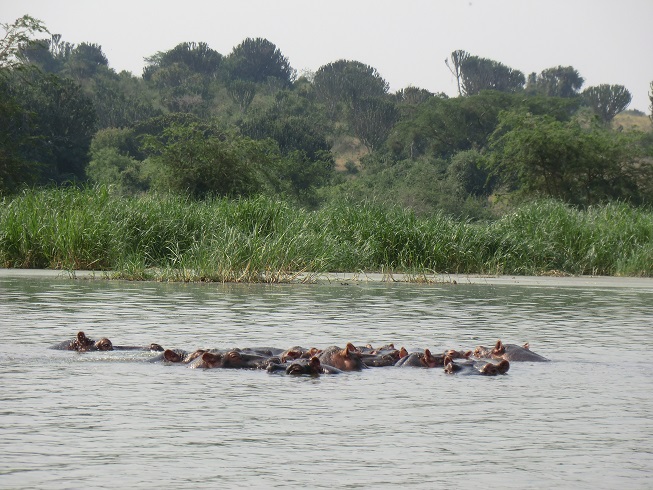 We are visiting one of the most densely hippo populated areas in the world.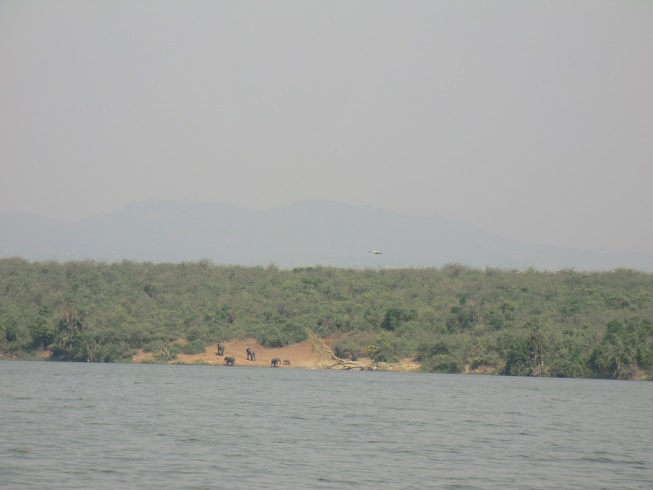 Big animals can be seen from far away.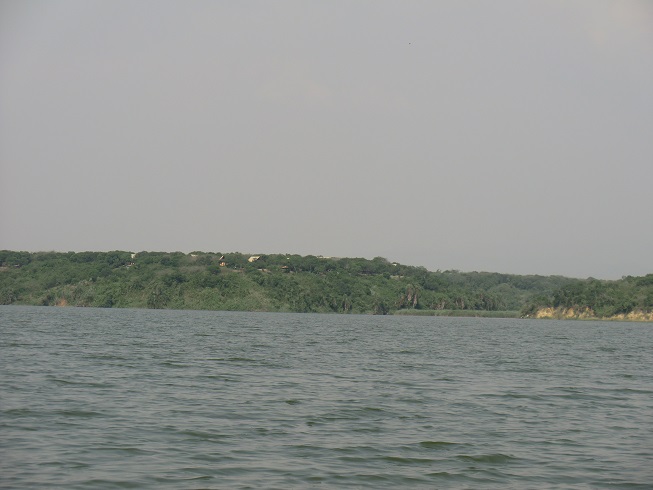 We are approaching Bush Lodge from the water.
18.21 It is warm inside the tent. I have been away and made an attempt to catch the descending sun in a picture. There is not much time spared to catch it. It quickly becomes dark here near the equator. Speaking of the equator, we are considering to visit it tomorrow. It is just a number of kilometres north to the place where the southern hemisphere will be the northern hemisphere.
19.16 Dusk falls upon us and the other guests. Yet another evening we sit at the tables around the newly lit fire in the fireplace. We have seen two guests who have biked here. We have just completed the introductory salad and are waiting for the evening's soup.
20.20 The routines from yesterday with a toilet visit after dinner and an escort to the tent has been repeated. Tonight's guard showed us a nest in a tree where a red and black bird lay down and looked at us.
20.41 A second day at Bush Lodge is completed, yet a day in Uganda, another day in Africa. We sit on our little patio and sums up the day. The hippos were really fascinating. Will we ever get closer to a wild hippo? We also thought about the plans for tomorrow. What do we want to do and do we really need to do something?
21.07 An option for tomorrow is to visit the Queen´s Pavilion a bit to the north. This will reportedly be a café with internet and it is also close to where the equator cuts through Uganda.
22.24 The second night in the tent is approaching. Voices and lights from the flashlights outside the tent has been replaced with darkness and the sounds of nature.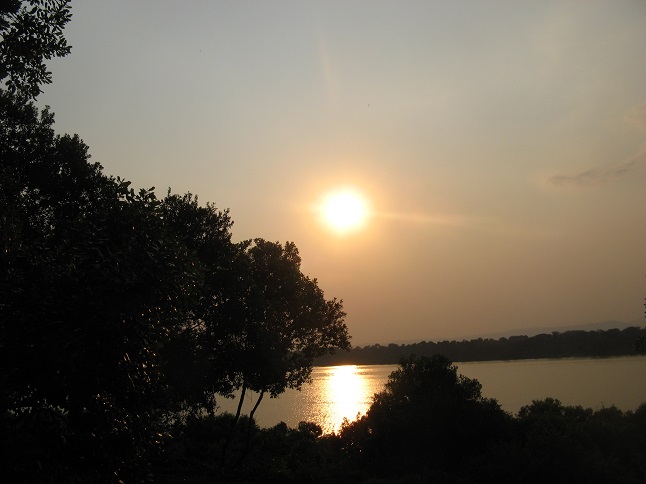 A beautiful sunset before dinner.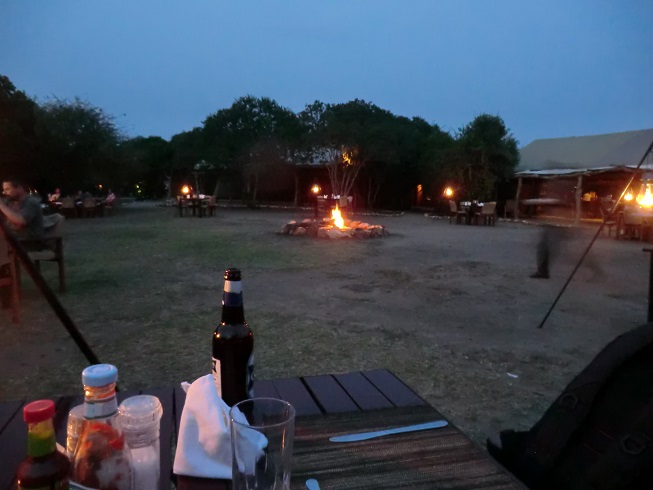 It´s dinnertime again.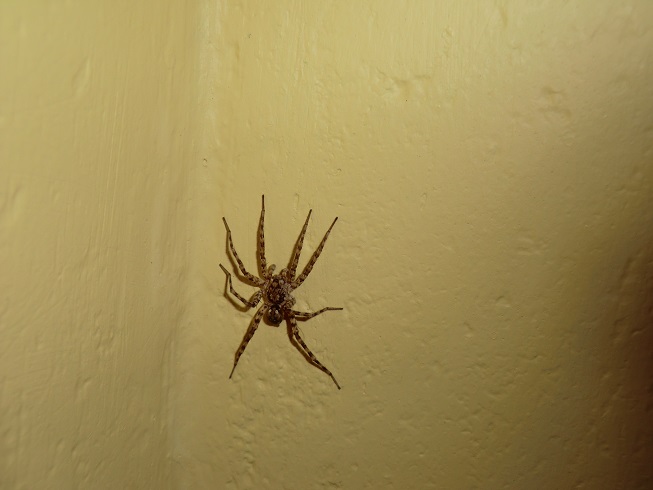 This evening´s bathroom friend.
---
Sunday 10th of July
04.10 We have been awaked by someone or something that slowly strolls around and make sounds just outside the tent. Christer thought at first that it was one of the guards that walked around near the tent but then heard a blowing sound and the familiar sound we heard down by the water yesterday. The hippos sounds really close. It is unfortunately too dark for us to be able to see something. One senses only that something is moving out there.
07.52 It's morning and daylight again. Now, we hear sweeping from outside, sounds from people this time. The light is back and the walking hippos have gone home. Their home during the day is to lie down in the water. Night time they do, however, make long walks to graze.
09.07 We arranged with transport during breakfast. It will be a shorter trip today, and a longer trip tomorrow, as we leave Bush Lodge and travel further north. Everything seems promising and we have also got clean sheets in our beds in the tent.
09.44 It is something moving under the sheet at the tent opening. The lizard we saw yesterday is looking out now and then. Is it so that it doesn't dare to come out? But, would I dare to go out if I looked out and saw something/someone that was so much larger than me. I wonder!
10.31 We are sitting outside the tent. We want to give the lizard is peace and quiet and to read in our books.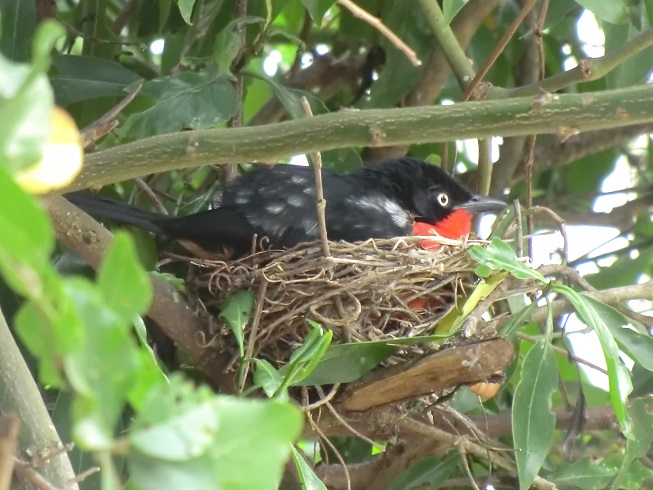 A beautiful bird in its nest.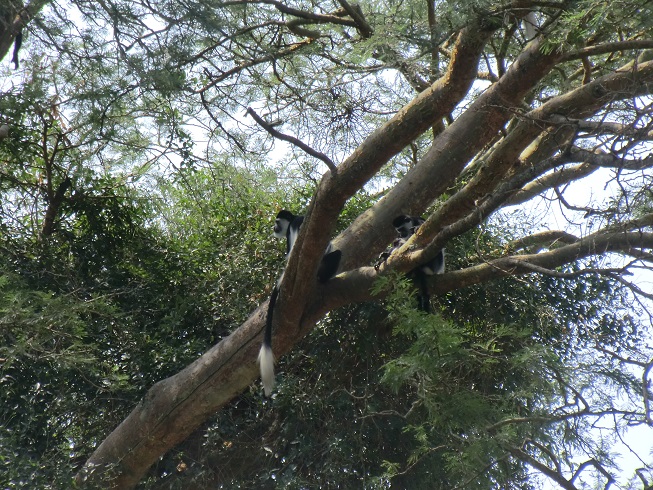 "Black-and-white colobus" is the name of these tree-living monkeys.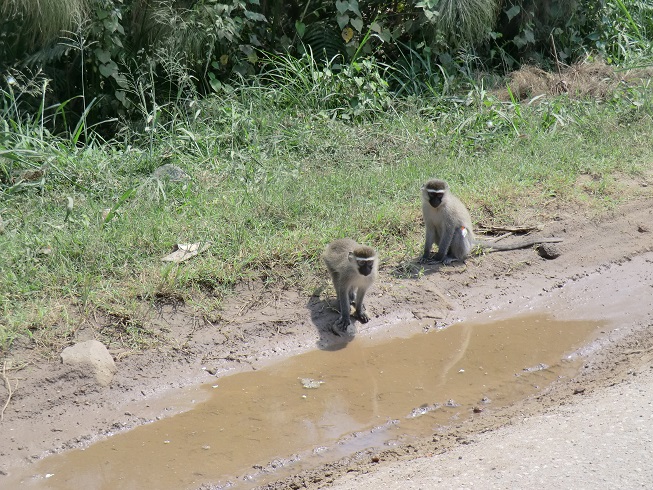 By the roadside there were vervet monkeys looking at us.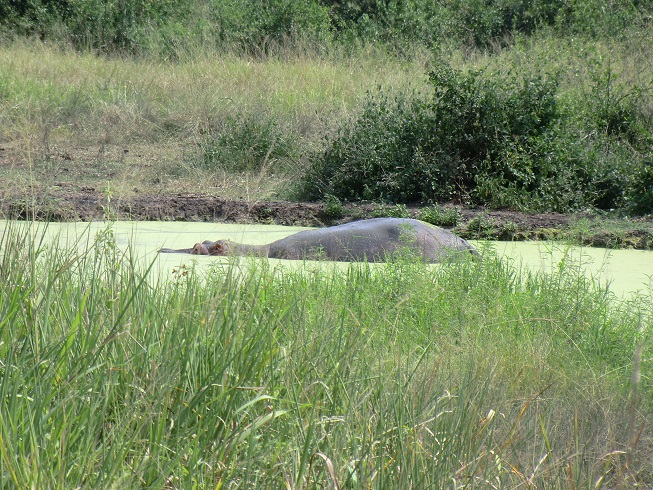 A lonely hippo found some water to cool down in.
11.17, I've been away and washed one of my shirts. The lizard stays still hidden in the sheet behind me. Now I'm going to continue what I did before the laundry, I will read in my book. It is a quiet Sunday so far.
12.28 Our reading is over and the lizard has left the tent.
12.47 A great mystery has emerged. One of Christer's socks is lost without a trace. It is, of course, no large values to speak of, it is still strange how an object may have ceased to exist altogether. The only possible explanation is that it maybe got taken with the dirty laundry at the morning's cleaning.
12.56 It has become time for us to eat the last lunch here at Bush Lodge. Afterwards we shall finally make some activities this day.
13.49 Now that lunch is over, we are waiting outside our tent. Today we are going to place ourselves in the middle of the earth. We have ordered a ride and will be picked up here at the tent when the driver has arrived.
14.07 We are on the way. First, we thought that our driver Eddie said that he wanted 250 000 shillings, and we had plans to cancel the whole excursion but he said "two, 50 000", i.e. 50 000 shillings for two people.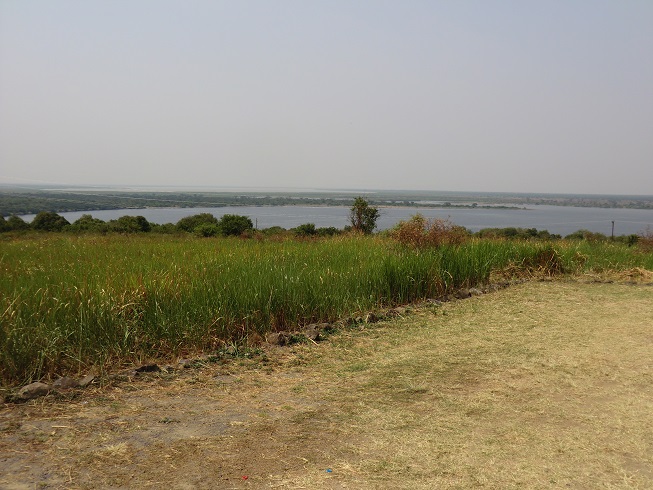 View towards Lake George.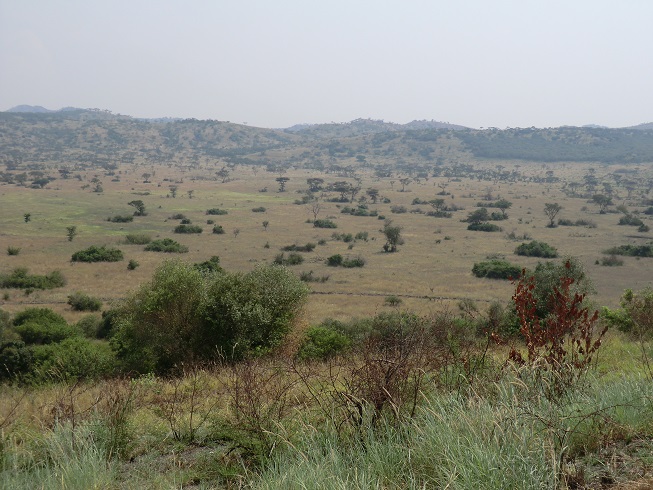 The views from Queen´s Pavilion are fantastic.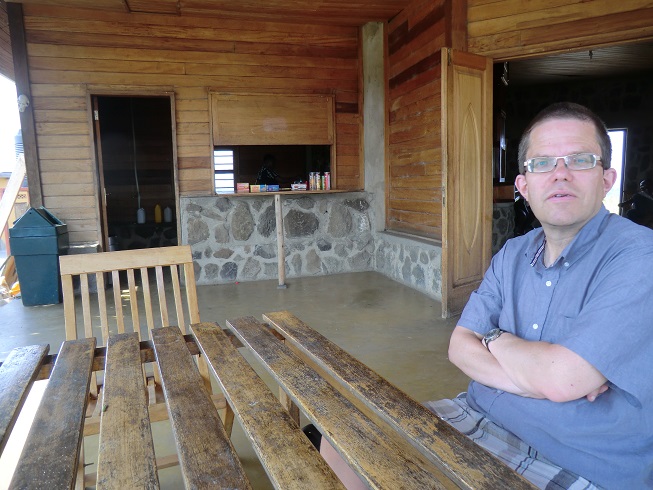 Peter is waiting for gorilla coffee.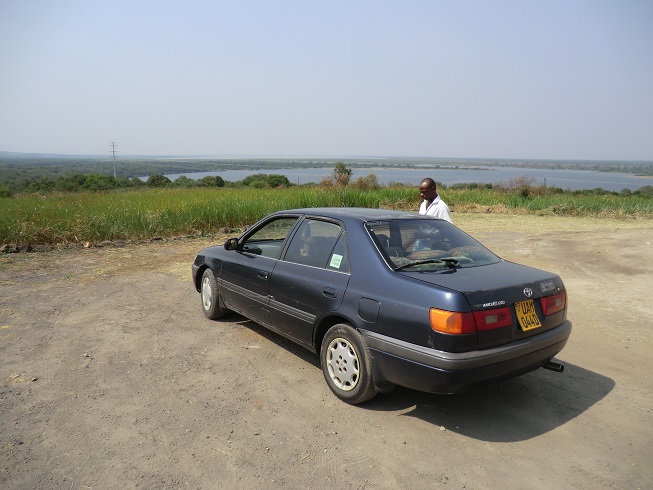 Our driver and his car.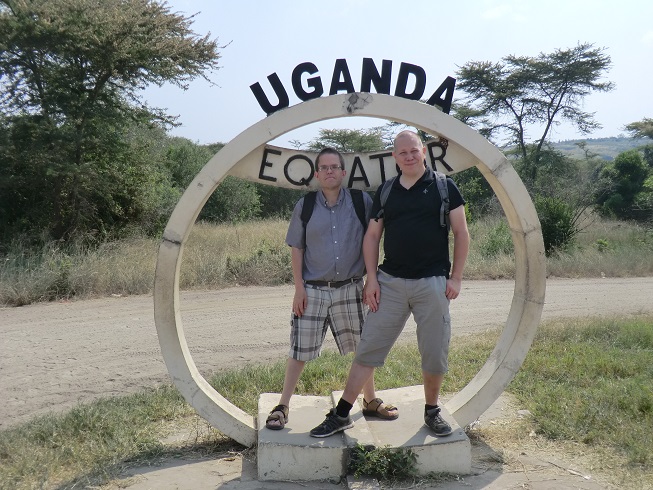 At the equator.
14.17 We quickly reached the main road. There Eddie showed us some black and white monkeys up in a tree beside the road. They were species of Black-and-white colobus. By the roadside stood a group of small gray monkeys, vervet monkeys, and begged food from us. One stood on two legs and looked in on us in the car. Our driver usually works as a guide here in the national park and can't resist to show us the different animals along the trip, a bonus for us. We had just ordered a taxi trip but this will be an extra little safari along the road.
14.43 After a few stops to see more wild animals, among others; antelopes and a solitary hippo in a puddle, we have now arrived at the Queen's Pavilion, a building that was opened in 2007 in conjunction with the English prince Philips visit here. Around us we have the wild and beautiful nature. We can see the expanse of the savannahs, and even Lake George.
14.55 We have ordered coffee here in the Queen´s Pavilion. It will be of the brand "Gorilla Coffee". We sit outside and enjoy the good drink. In addition to this little café is here opportunity to get information and buy souvenirs. An armed bored soldier sits and guards the building.
15.03 Christer has just bought a package of Gorilla Coffee as a gift to his dad. Now we go on.
15.13 We have now been at the Equator monument just north of the Queen´s Pavilion. There we stood with a foot on each hemisphere. Right now we have stopped on the northern hemisphere. Last time we crossed the Equator overland was 2013 on Sumatra in Indonesia. Then there was at predawn time and I missed quite possibly the monument. Now I can make another check mark on my "bucket list". "Stand with one foot in each hemisphere", check!
16.05 Now we are here again outside our tent at Bush Lodge. The return journey gave us yet more animals, including a greater troop of baboons. We have seen a lot of mammals since we came to Bush Lodge. We've decided on a reunion with our driver tomorrow morning. He shall take us to Fort Portal.
17.12 There is not much activity from our side today. Days like this is sometimes necessary if you want to manage six weeks of backpacking. It is not possible to burn all the gunpowder at once.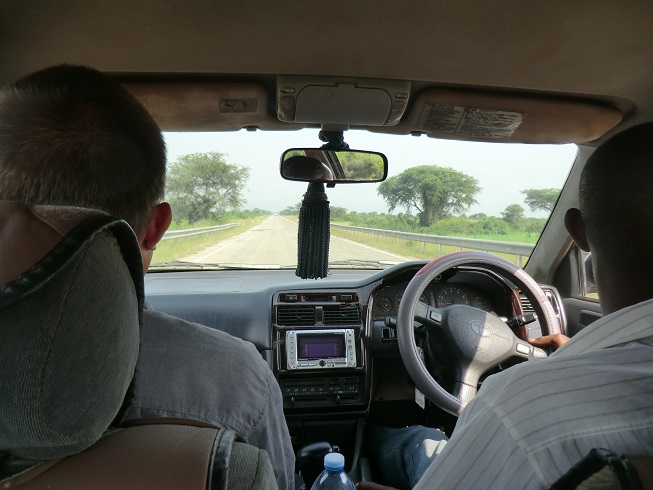 Returning back home again.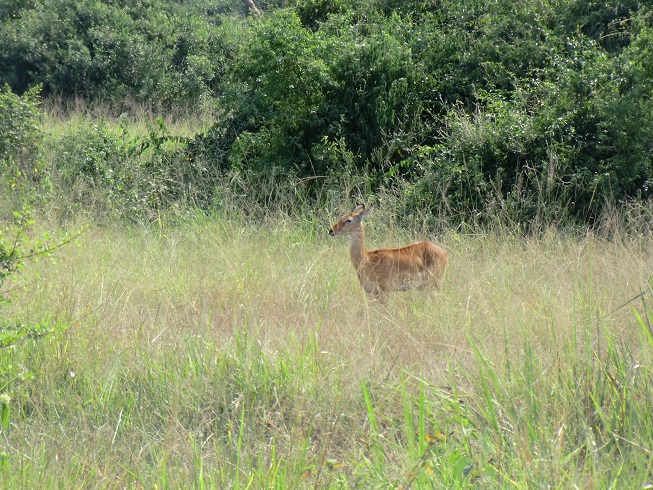 Ugandan kob is an animal which can be found on Uganda´s coat of arms.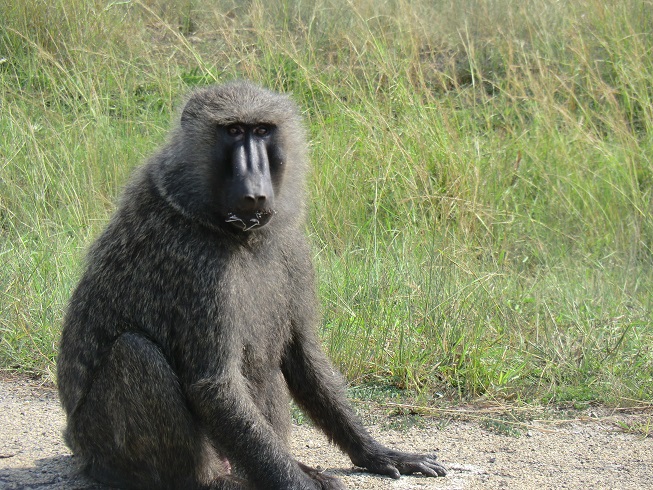 One of the baboons we met along the road.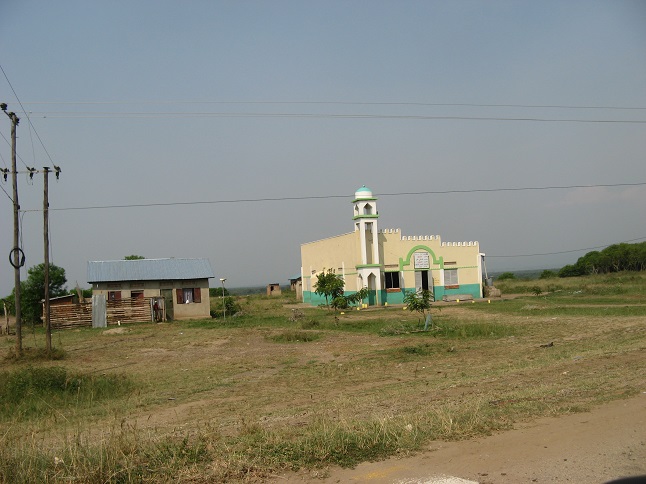 The mosque in Katunguru.
18.34 The evening's sound dominates the outside of our tent. The sun lowers itself, waving see you later.
19.12 We have once again been spoiled by the brilliant service and delicious food here at Bush Lodge. It would be great to have it like this all the time. Or would we become too spoiled and pampered then? Now is the time to adapt to a more normal reality from tomorrow.
20.30 After a final dinner we have for the last time been escorted to the tent. Now we are waiting for the clock to be 22:00 (10pm) and for the final of Euro 2016. Watching it on TV is not possible here, but some radio station should broadcast the match.
22.23 The biggest things that happened in the final between France and Portugal is that a limping Cristiano Ronaldo has left the field in tears. The Wimbledon tennis was won by Andy Murray. He defeated Milos Raonic. All this sport is reported on a shortwave transmission from the BBC World Service on our travel radio.
22.52 It is still a draw halfway into the match. A snoring is rolling in from a tent a short distance away where an older German couple are staying.
23.52 It might be Monday before we get a winner in the Euro 2016. The match has finished 0-0 and there will be some extra time..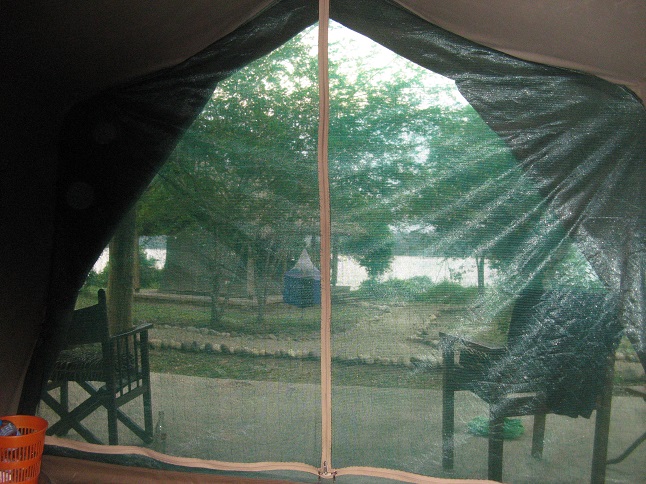 Inside our tent.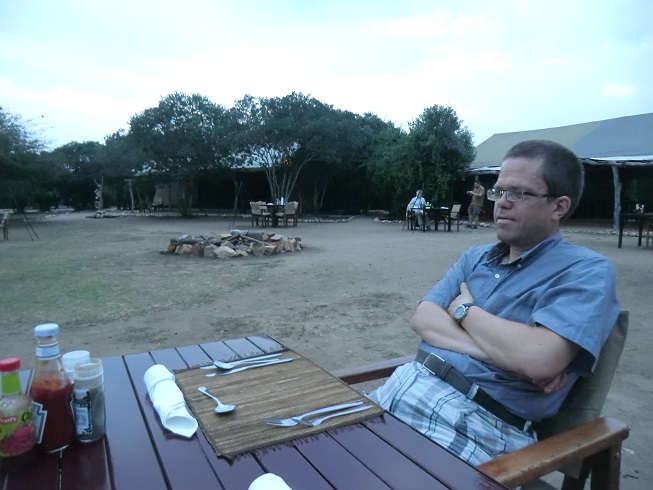 Peter is waiting for the last dinner at Bush Lodge.
---