07.55 We are still at the Musanto Hotel (http://www.hotelmusanto.com) in Gisenyi. Now as we are about to leave Rwanda behind us we remember that we left Sweden a week ago. This day could have started better. We have no hot water in the shower.
08.31 A new surprise has occurred. It is not possible to get pancakes for breakfast today. For my part, it will be cheese omelette instead. For Christer's part, he does not like the omelette, it will be a slim day. The coffee was served and we were asked if we wanted milk, sugar or honey in it.
09.05 Christer went for a cheese omelette as well. During the omelette eating we regret that we did not buy with us any travel snacks for the upcoming trip. It had been good to have had something to eat on our trip. Suddenly we got juice and a fruit plate. On it, there were oranges, bananas, passion fruits and a tamarillo or tree tomato. The breakfast suddenly became a solid one.
09.33 It is time to start today's transportation. Today awaits four different transports before we reach the final destination.
09.56 Now we have paid for our two nights here at the hotel. The card reader was not working and a charger was attached. Now we are sitting on a stone staircase and are waiting for our ordered taxi. In front of us, a man is cleaning a car.
10.16 The taxi drove into the yard and we stepped in. It went fine to go to the bus station and also to buy tickets. We are now on board the second vehicle. We are going back to Ruhengeri to start with. We are thus travelling along the same path but in the other direction.
10.57 The bus has once again made a stop in Kanama and vendors and beggars have flocked around the bus. We recognize the routines. They offer cheese and ask for money. A man to the left of me has bought a cheese. We have seen a blind man and a one-eyed man. The one-eyed man was not only blind in one eye, he lacked it completely.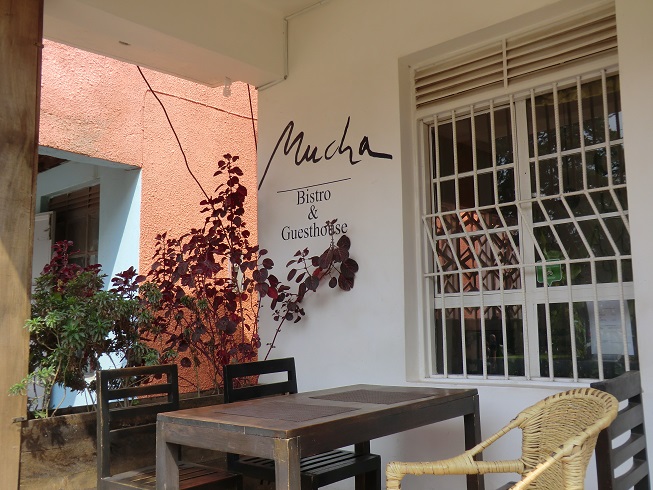 Mucha Bistro & Guesthouse. Here is our home in Kisoro.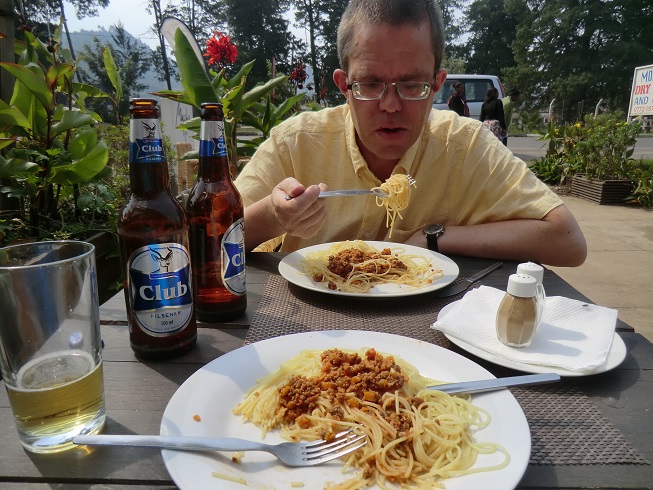 Peter is eating spaghetti and is drinking Club, a local Uganda beer.
The main street in Kisoro.
11.28 We have passed a prison which was situated on a hill a short distance from the road. Prisoners in orange clothes worked the slopes below. It probably was some form of construction work and the prisoners were used to carry heavy sacks and other things. A cramped minibus feels really good in comparison.
12.04 We are now back at the bus station in Ruhengeri. Christer had problems to get his backpack out from the luggage space at the rear. A man appeared and explained that Christer's backpack wasn't there, it was inside the bus. Finally, he was persuaded that it actually was in the luggage space. The backpack was liberated and the man who helped have asked us about where we are going.
12.12 The man´s name is Collins and he is from Uganda and works as a guide here in Rwanda. We have been told that it is not possible to go with the minibuses all the way to the border with Uganda. In addition, we should not go by taxi to the border because it is very expensive. Instead he has arranged a car for us, a car that will now be filled with petrol. We are going to be driven to the border for 20 000 francs, approximately US$12, if we counted correctly. Can we trust him? Well, what do I know? The main thing is that we are on the way.
12.31 The driver and the guide Collins are talking and tells us that they are discussing the differences in cooking between Uganda and Rwanda. It was among others on how to take care of and prepare banana flowers.
12.48 As usual, one should be sceptical and cautious when one shall pass a border. Around the borders are always people who in various ways want to earn money on the tourists that pass for the first time. When we came to the border town of Cyanika, it turned out that the minibuses do stop by the border post. In addition, it turned out that the negotiated price of 20 000 francs was not for the trip, but per person. We explained that we didn't have enough Rwanda money for the full price. We had to pay the difference with dollars. This was not a financial disaster for us, but it is always sad to meet dishonest people.
UGANDA

CHANGING TIME ZONE
14.02 Collins took us to a soldier who looked at our passports and waved us on to the passport control. Here we were quickly joined by a well dressed gentleman who offered us a ride to Kabale or Kisoro. We thought at first that his price was too high but once in Uganda, we have managed to lower the price from 20 US dollars to 10 US dollars for both of us. We are in a different time zone now, the watches have been set one hour forward.
14.17 It was not far from the border to the nearby town of Kisoro where we intended to spend a night. We are now in the southwesternmost corner of Uganda.
14.27 Mucha Bistro and Guesthouse (http://hotel-mucha.com/bistroandguesthouse/) is the name of our new home. There is a larger much more expensive Mucha Hotel further from the centre but this is a simple accommodation and a restaurant in the city centre. The owners, however, are the same. We have separate rooms here, number 2 and number 4. The rooms are accessed from a courtyard behind the restaurant.
15.35 We moved in and later ordered lunch. The waitress left after Christer had ordered. She returned and I was able to place my order. We sit by one of the tables outside the entrance here. We'll be eating spaghetti bolognaise and drinking beer to this. There will be a beer from Uganda, Club.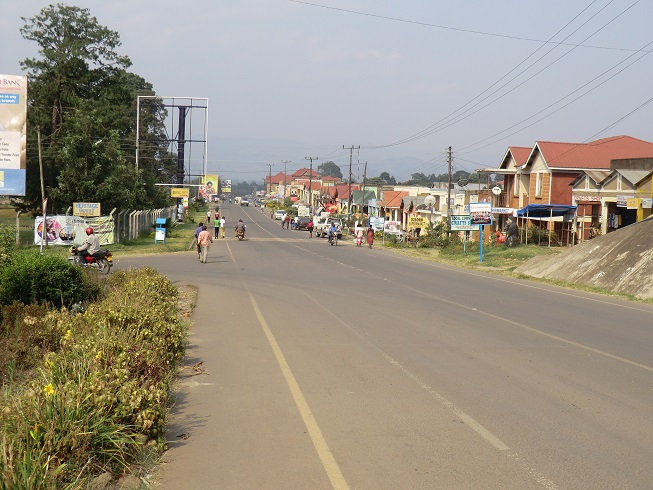 Kisoro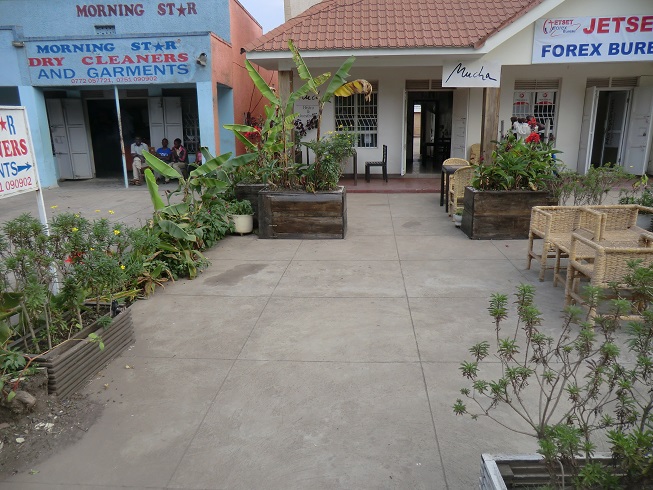 Our simple but comfortable home.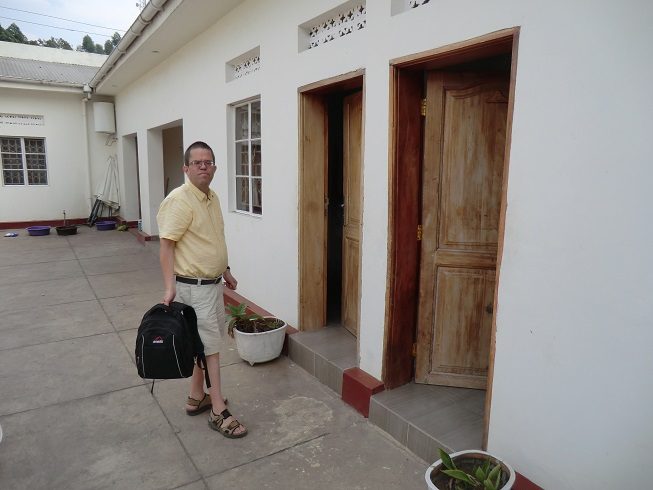 Peter is on his way to his room.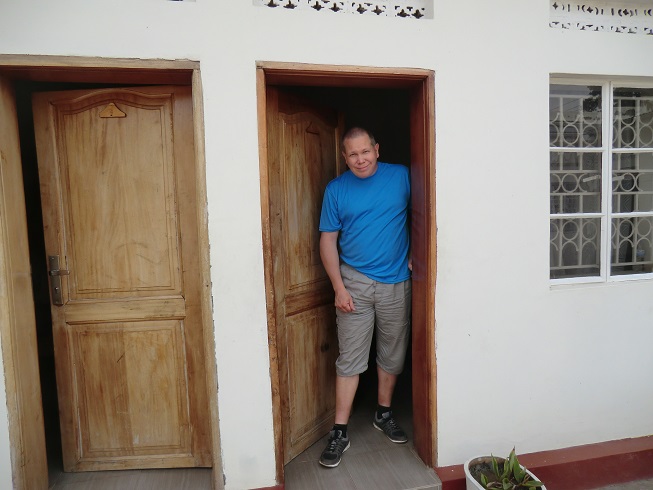 Christer is looking out.
16.56 Lunch ended and we went to an ATM at the bank next to it and arranged with Ugandan money, these are called shillings. Speaking of money, Christer´s unsuccessful ATM withdrawal in Ruhengeri the other day is registered as successful. Approximately US$150 has been withdrawn from his account. It feels really frustrating but how can you prove that no bills are left out when the withdrawal is registered? We also took a walk around the town's small centre. We have seen a few possible restaurants but it is unclear from where the buses leave tomorrow. Now we are in our rooms for our own time for a while.
18.00 The own time/rest has floated past. Now the evening is structured.
19.36 The Coffee Pot Café (http://www.coffee-pot-cafe.com) will arrange our first Ugandan dinner. This is a meeting point for tourists here in Kisoro, a small town that people pass through on their way to and from Rwanda, or to the grounds of the nearby national park with the gorillas.
20.31 It was a nice meal followed by a walk home in the pitch black darkness. The only light sources were the passing vehicle lights. Now we are back in our rooms. It will be gathering for breakfast in about 12 hours. I'll charge my phone with my portable charger.
20.55 There was a knock right on the door. It turned out to be my neighbour, Christer. It had been a knocking on his door as well. In the belief that it was me who wanted to ask about something, he had opened the door lightly dressed. It was not I who knocked but our hostess who wanted to take up the breakfast order. It is now ordered and we have also paid for the accommodation here. The portable charger works just fine. That however doesn't go with Christer's electrical outlet.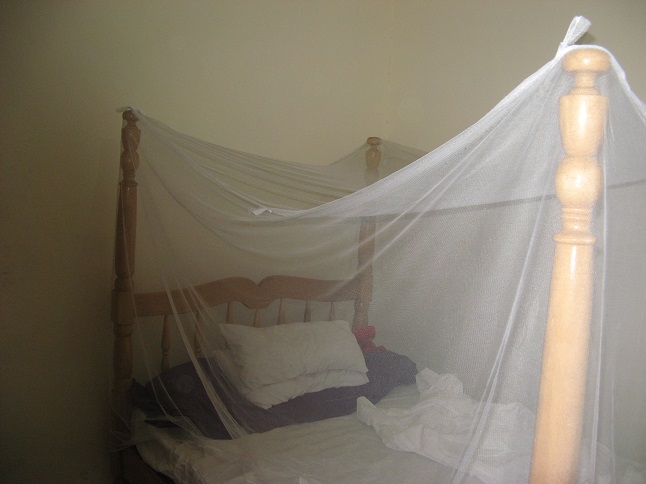 The bed is prepared for another African night.
---
Wednesday 6th of July
07.40 The first morning in Uganda is here. Ahead is a visit to the shower before the gathering of the neighbours. Christer and I live next door in separate rooms here at Mucha Guesthouse.
08.24 The first thing done since the reunification is that we have sat us down by a breakfast table inside the small restaurant here. During the late night or early morning, Christer has once again heard the sounds of marching soldiers and command shouts. He heard the same in Gisenyi, Rwanda. Is it a habit for soldiers in this part of the world to be out there and jog at dawn or what?
09.39 It was good to eat breakfast. It was, however, not possible to find an active ATM. We had intended to withdraw more money before our onward travel but yesterday's ATM is now turned off. Well, we have enough money so there is not any major problem. Now we shall check out and head towards the minibus stop. We have not seen any in the town, either yesterday or today, but we will find a solution. We shall today head east to Lake Bunyonyi just outside the town of Kabale.
10.16 We have in good spirits and with backpacks on our backs wandered along the main street to the place where the "buses depart". We got information about that place from the woman in charge here. Without success, we have been looking after those in Africa frequent mini buses, or any larger bus that would depart. Now we are back at the Mucha Bistro and Guesthouse. We turned back when we reached the town border without seeing any form of public transport. The hostess is now checking for another option, if someone can drive us directly to the next accommodation.
10.21 The first bid is 200 000 shillings, around US$60. It is not what we are willing to pay, our bid was 100 000. The journey should take approximately two hours. The landlady keeps on calling. OK, our bid is accepted. The driver and his vehicle is here in about ten minutes. The lack of mini buses might possibly depend on the fact that people go in shared cars. However, we were not eager to look for that option since there wasn't any offer of that kind on our trip of the town.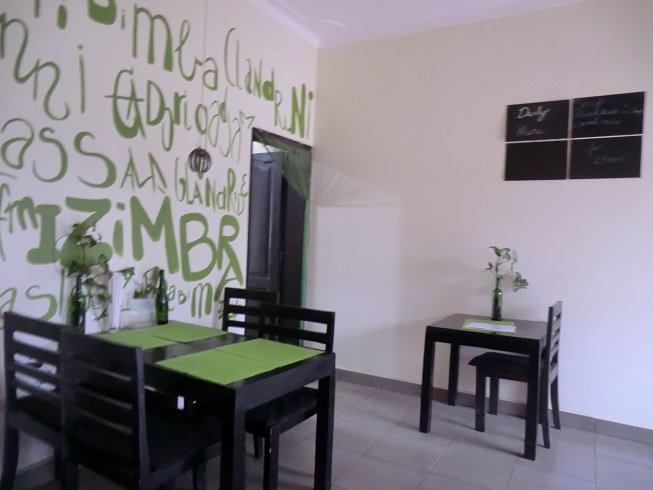 In the breakfast room.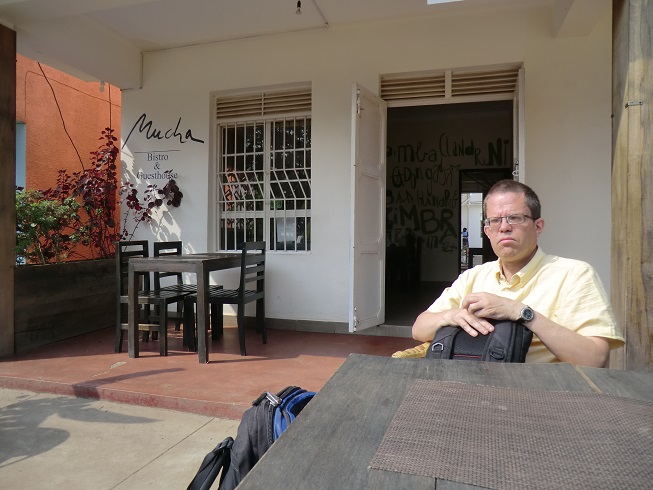 No buses were found. Peter has returned to Mucha Guesthouse.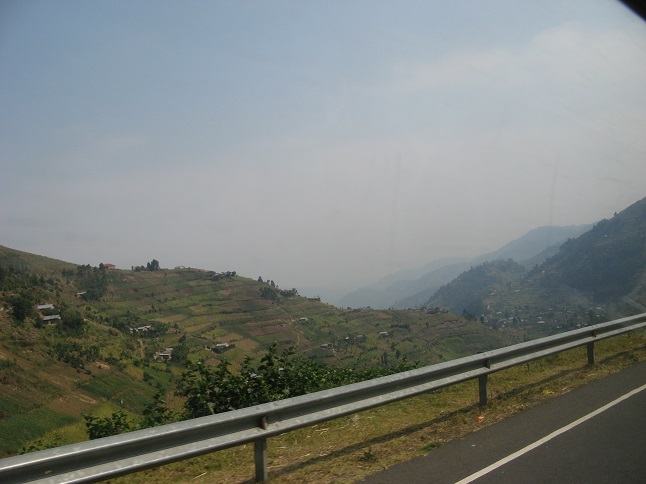 Beautiful views along the road east of Kisoro.
10.32 During the wait, we have reflected further on the hypothesis of car-sharing instead of minibuses. During our walk we saw some packed cars where people sat and waited. Perhaps it is the way it works? Not a single minibus has been sighted here in Kisoro.
10.43 Our transport is here. The man who will drive us is working in the tourist industry and has a large minibus. He explained that the minibuses leave the town early in the morning.
11.00 We left Kisoro behind and travel on the winding roads of good quality through the Ugandan countryside. This was an unnecessarily expensive trip, but on the other hand, we are sitting really comfortably.
11.48 Our driver pointed out a beautiful lake for us. It is Lake Bunyonyi, which we are on the way to and that we should stay at. The long and narrow deep lake is located here in the south of Uganda near the border to Rwanda.
12.17 This with a private chauffeur is the best! We have plenty of space and the focus is on us. Though it is not possible to reflect that much about other travelers and make notes about them. We have now reached Kabale, left the main road and drive on a dirt road that is extremely dusty. Everything here is covered in a layer of red dust. This goes for trees, houses and vehicles. Soon, we should reach the end of the trip.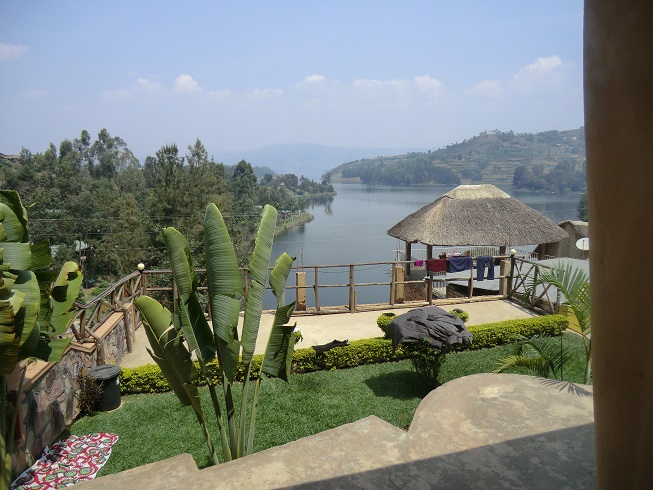 The view from our room.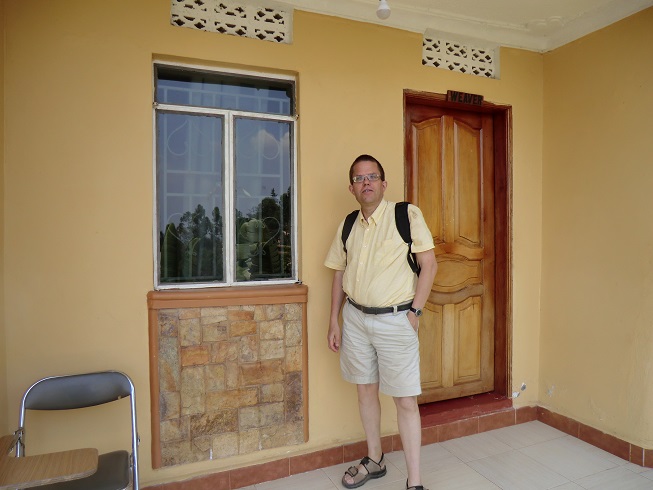 Peter is standing in front of Weaver, our room at Bunyonyi View Gorilla Packers.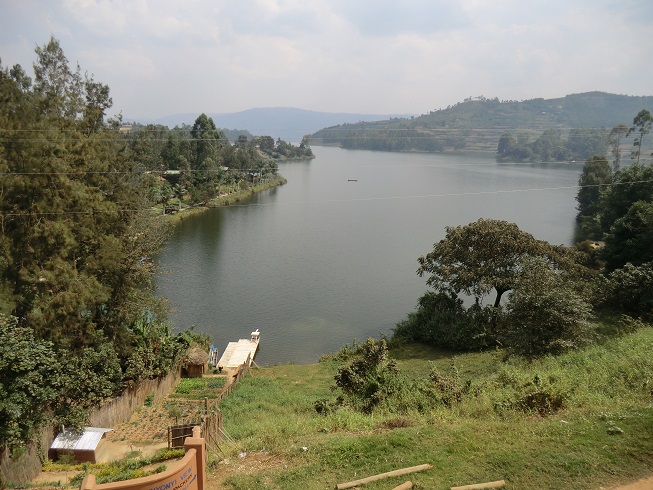 Lake Bunyonyi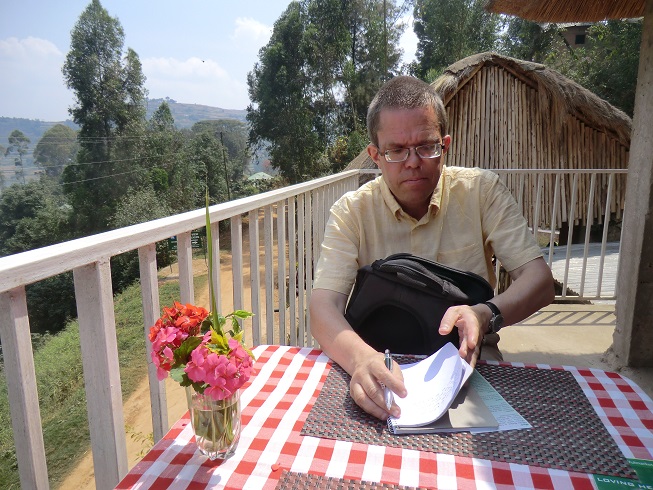 Peter has written down that we ordered lunch.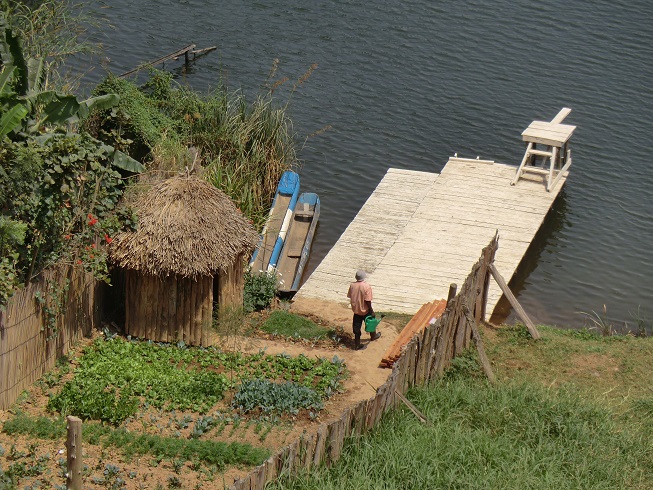 The jetty by the lake.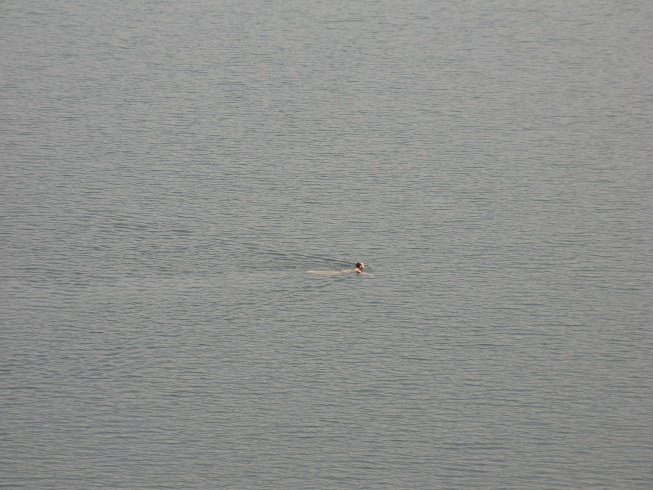 A tourist from the nearby Bunyonyi Overland Resort, takes a swim.
12.20 We have arrived at our pre-booked accommodation, the Bunyonyi View Gorilla Packers (http://www.lovingheartsuganda.com). Just before the arrival Christer started to think. How, was the deal, really? Had we agreed on 100 000 shillings, or had we just said "100"? Imagine if our driver wants 100 dollars?
12.38 There was no reason to worry. The driver accepted 100 000 shillings after driving up the steep driveway and parked inside the gate. Weaver is the name of the room we got. Bunyonyi View Gorilla Packers is the name of the property. Bunyonyi the name lake we stay by. The views towards the lake are magnificent. Here it is wonderfully calm. We will for sure enjoy our stay here. Just below our accommodation, below the reception and restaurant is Loving Hearts Uganda, an organization that helps poor and vulnerable children, mainly orphans.
13.20 At the check-in we met a few other guests. Some asked about how they should drive during an upcoming car trip. Now, we seem to be the only guests here. We have internet access at the reception, but it doesn't work right now. Attempts have been made to pay for our rooms with Christer's VISA card. It was also not possible because of the bad connection. We have also ordered lunch. We hope that it goes better. Right now we are waiting at a table on the terrace upstairs, an absolutely fantastic place to eat at. The sun shines and the views over the lake are absolutely stunning.
15.36 The tasty food (chicken) was followed by relaxation, we're back in the room. It is a new football game at 22.00 tonight. We do not yet know if we can watch it here. Portugal or Wales will get to the final by winning the semifinal tonight.
17.32 After having booked and paid for a boat trip on the lake tomorrow, we have been sitting in a sofa, an armchair and read in our books. Here is total peace of mind. Birds continues to entertain us with beautiful singing. Some goats on the hillside behind us contribute with less beautiful songs.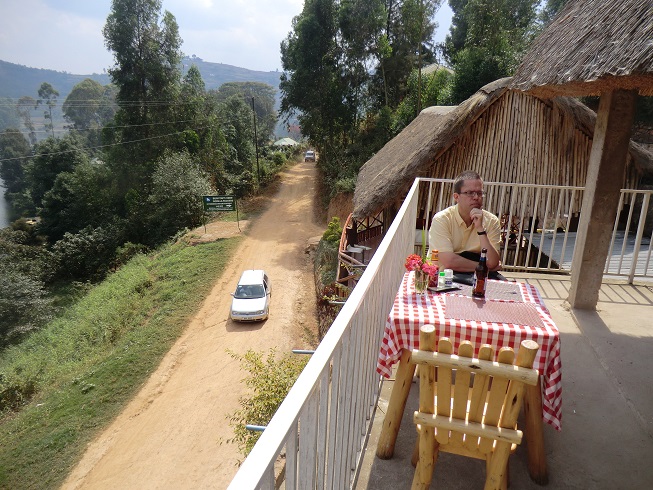 Peter is waiting for lunch.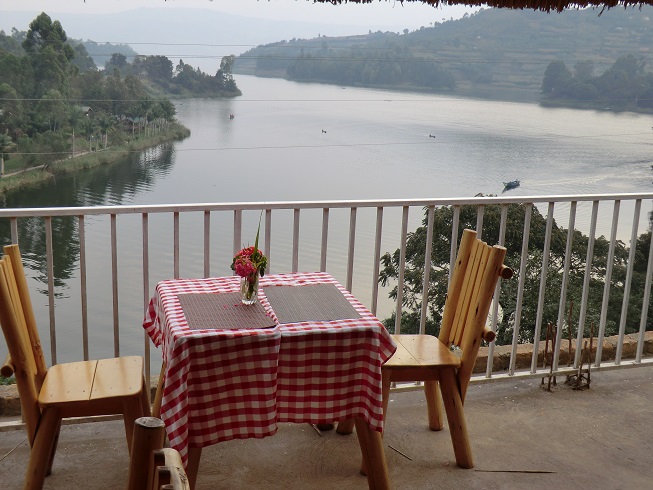 Our beautiful dining table.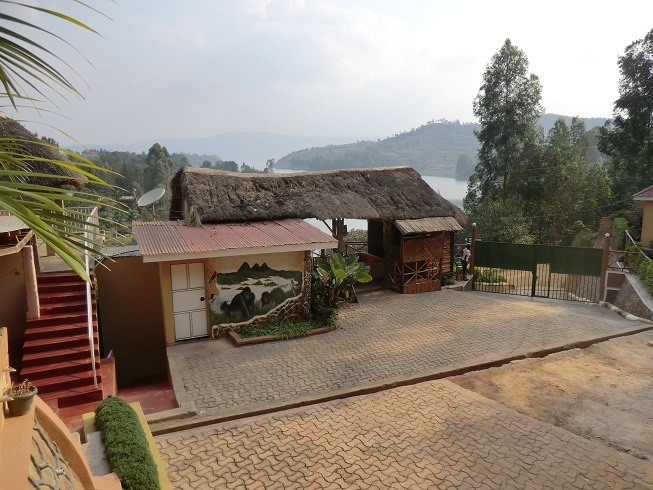 Bunyonyi View Gorilla Packers.
19.10 Reading time is over and we are back in the room. It is not so warm here. We are almost 2000 meters above sea level so the evenings and nights are chilly. Memories from last summer's ice-cold rooms at high altitudes in the Andes mountains comes over us. We are waiting for a suitable dinner time. Oh well, now the room went black, power outage!
19.30 The power comes and goes here. Right now we have light but it looks dark down at the main building. We hear, however, an aggregate work out there.
19.47 We now believe that the regular power is back on. Our food will probably be cooked on a gas stove. We don't have to starve.
21.21 We walked to the front desk, asked for the menu and two beers. Then we went up to the terrace despite the warnings that perhaps we would freeze there. The food was served and consumed. Now we are back in our Weaver room again. We'll see how it will be with the watching of the football. We are most likely skipping the match. It was an hour later than the previous ones we've seen because of the time conversion, and we have not seen any TV, nor asked for one.
22.15 We have made valiant attempts to tune in a radio station with a stable transmission from the football game. Noise and language distortion, however, makes it difficult to keep up with the game. It stands in all the cases the 0-0 right now. Probably we must update us tomorrow on how it ended.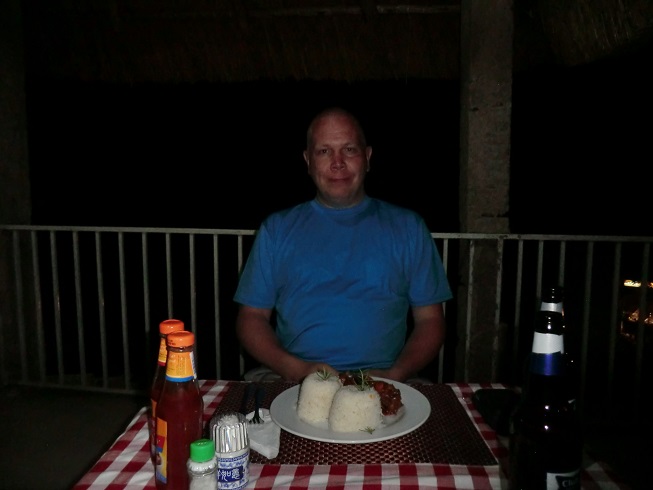 Another dinner in the African darkness.
---
Thursday 7th of July
08.24 It has actually rained a bit during the night. It is not common during the dry season. The sky is covered with haze and it is a bit chilly. We do not yet know how the match ended yesterday. I had a dream though that Wales won 3-1. We'll see if my dream was true or not.
09.10 During breakfast we made plans about how to get to the next destination here in Uganda. Either we check if it can be arranged with private car or we make a stop half way and spend the night there. It seems tough to cover all the distance on one day by using buses/minibuses. Well, this we´ll take care of later today. The Internet (Wi-Fi connection) is unfortunately still down, and we still can't pay our stay by credit card.
09.27 What the radio or the Wi-Fi connection could not help us with was solved via a text message from Sweden. Christer's dad announced that Portugal won yesterday's semi-final 2-0. My dream lied to me. It is, however, strong of Wales to get all the way to the Euro 2016 semi-final.
09.43 We have returned to the Weaver room for tooth brushing and preparations for the day's outing. The haze seem to be checking out. It might be a sunny nice day after all.
10.02 The boat's engine just started at the dock down by the lake. We are going out on yet another lake, Lake Bunyonyi this time. Our guide is a local guy named Junior. He has grown up without parents and got the help of the organization we mentioned before. Now, he works extra guiding tourists here at the lake.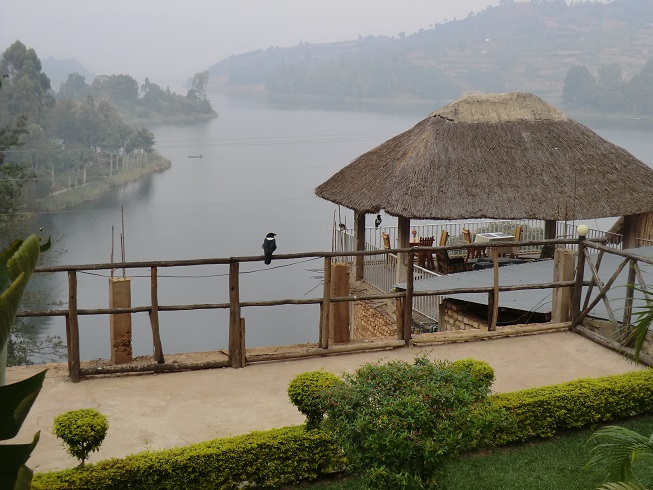 Morning by the lake. So far only the birds are prepared for breakfast.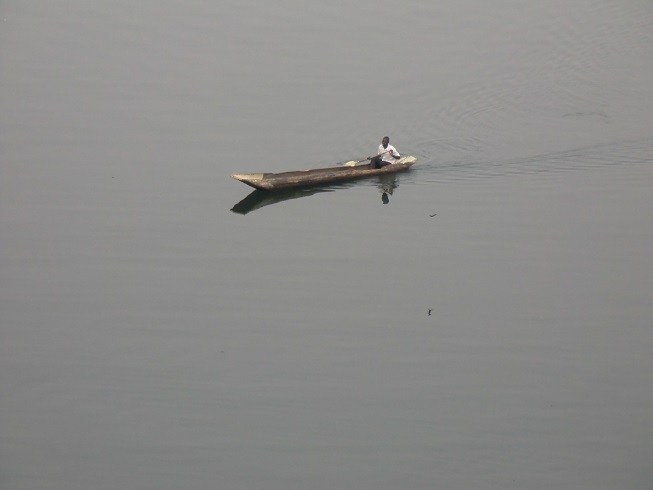 A man and his canoe.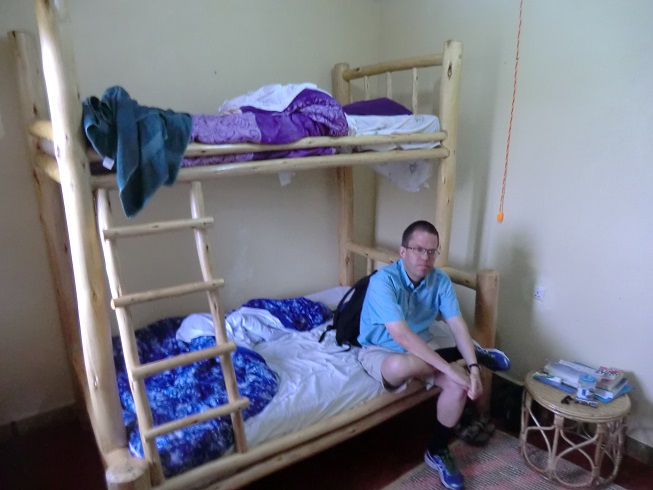 We are ready for today´s tour.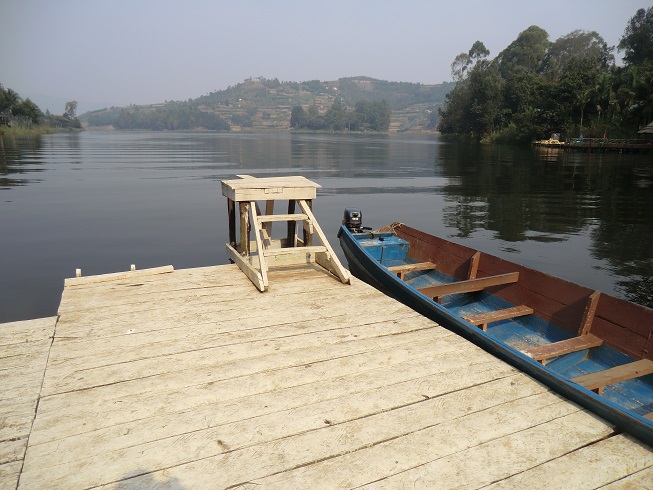 It is time for today´s lake tour.
10.21 During the boat trip, our guide gave us information about the lake. It is with its 900 metres depth claimed to be the third deepest lake in the world. This depth is, however, not fully confirmed scientifically. He also has informed on species of fish and facts about some of the islands in the lake.
10.31 We pretty soon reached the second largest island, Kyahugye Island. Here, the head of the Ugandan central bank, Emanuel Mutebile, has his summer retreat. He has also brought in some wild animals. We saw a few antelopes along the shoreline, but here it should also be zebras.
10.42 The largest island, Bwama was once a leprosy colony. The colony was founded in 1931 by the Scottish doctor and missionary Leonard Sharp. We are now on the way to reach the shore of Bwama.
11.04 We have walked to and had a guided tour around the old leprosy hospital. It is now a school and a teacher has greeted and guided us. On the school walls there are texts on the walls about courage to talk about HIV, the value of knowledge and that the period is something natural for women. Right now, we are in the school´s computer room and has made a small financial contribution. The island has no resident population, but here at the school students stay during the school week and the church further away are visited with the help of boats.
11.25 The students of the school are dressed in school uniform and looked curiously at us. As always, for students it is easy to lose focus and find something more interesting than teachers and lessons to think about. Now it has become time for us to visit the island's church. On Sunday it is worship here between 10.00 and 14.00. The teacher left us, and the guide returned to continue our tour..
11.36 It has been an interesting visit to the church. It is both grand and simple at the same time. Inside the church there are Christian texts on the walls. They are written in the local language Rukiga.
11.50 After having had a taste of a local grown plant, a grain called sorghum, we are now back on board our boat. It has been a fascinating visit on this island. Before we stepped into the boat again, we saw some otters who were splashing around at the beach.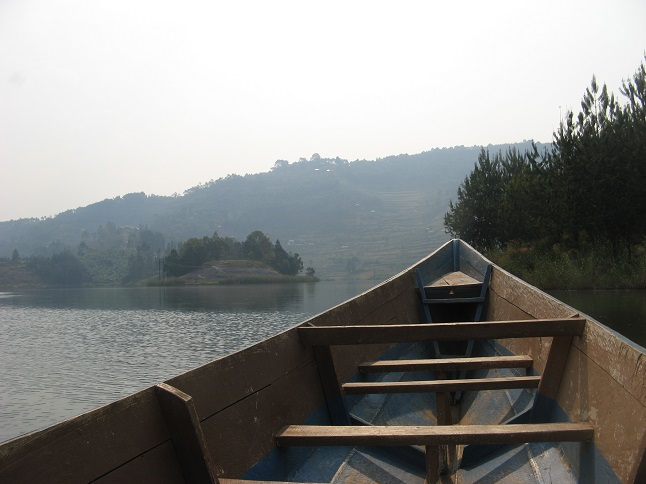 Boat trip on the deep Lake Bunyonyi.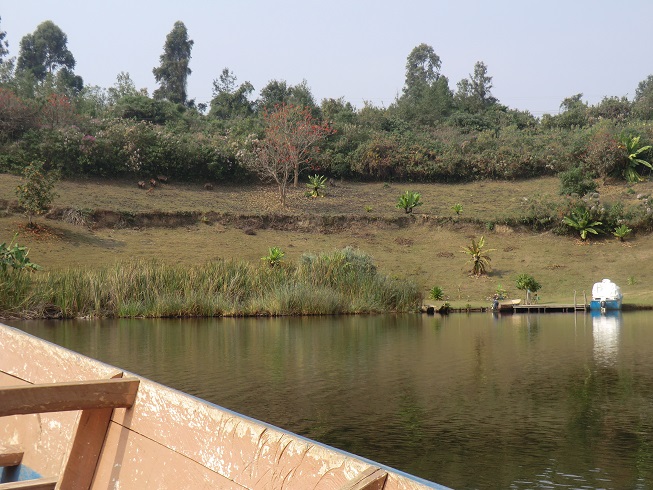 We could see some wildlife on Kyahugye Island.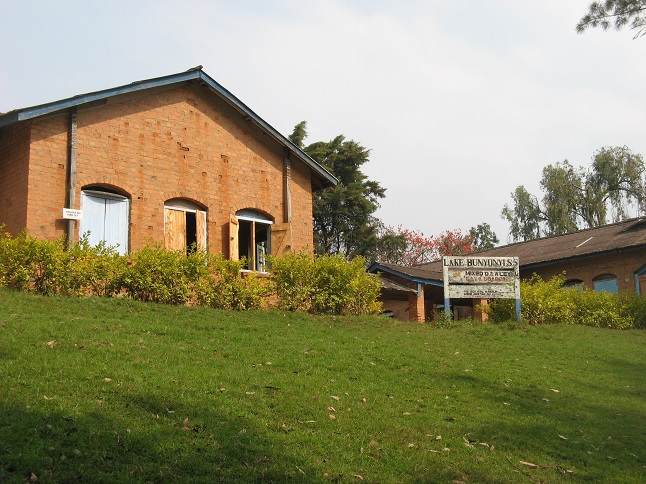 We had the opportunity to visit a school on Bwama Island.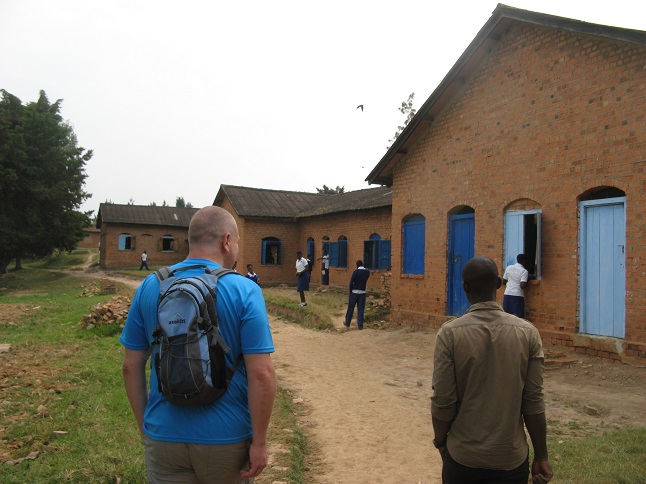 Christer and a local teacher walks around the school area.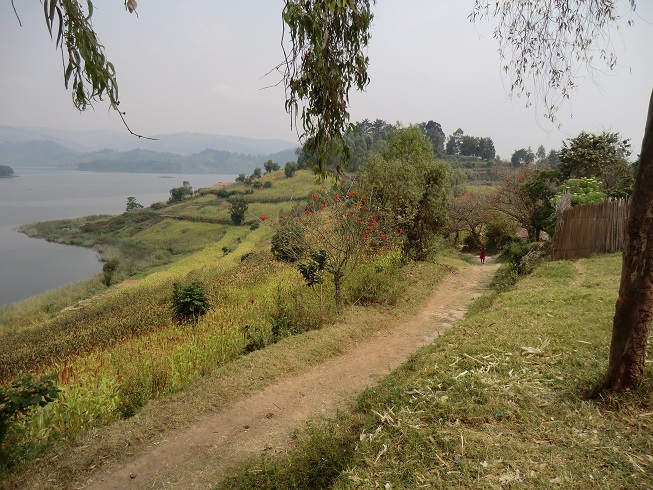 Views on the beautiful Bwama Island.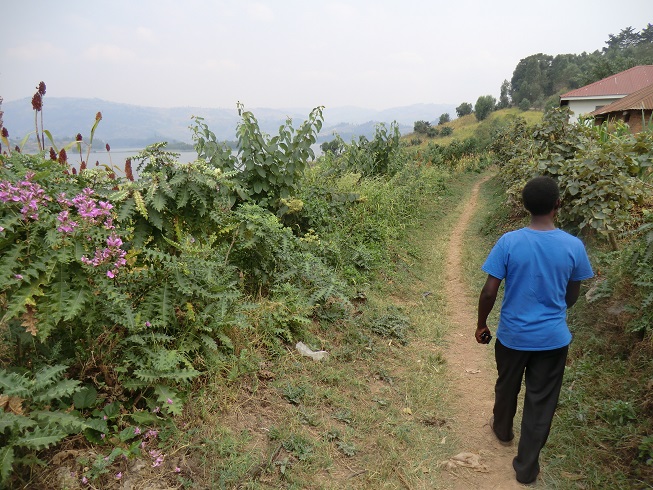 It´s time to continue our walk.
12.00 We pass with the boat so that we can see the hospital here at Bwama. The health care which is free is run by ten doctors from Malawi and ten medical students from Slovenia working there. The Slovenian doctors are replaced every third month. Our guide Junior have also taken a photo of the two of us here in the boat.
12.13 We have made a stop outside the tiny Punishment Island. Until about 50 years ago, it was custom to send a pregnant, unmarried women here. The sentence was that they would die on the island. It was a tremendous disgrace for a family if an unmarried woman became pregnant. If a woman tried to escape from here it was up to her family, usually a brother, to make sure she drowned. I guess this can be called "honour killings". It has had a wider dissemination in the world than what some seem to believe. However, there was an opportunity to rescue a woman. If you picked her in the cover of darkness and then left the neighbourhood forever with her was everything OK. This was sometimes done by poor fishermen, who otherwise had a hard time finding someone to live with. Adjacent to the island is Njuyeera Island or Sharp's Island. It was here that the missionary and the doctor lived.
12.27 Yet another mysterious island has been passed, Bucuranuka. Once upon a time held a score of people that brew beer on sorghum here. A woman wondered if she could get some beer. She were mistaken for a beggar and was asked to go away. Can't I even get a sip, she wondered? Or at least get a ride to the mainland? They agreed, they were tired of her. A young man drove the woman. When he just started to return to the island he got to see how the hit around. All that was on the island drowned, and it got its name, Bucuranuka which means "up and down". It is still uninhabited. No one wants to live there.
12.51 We returned to the mainland, gave the guide Junior a bit of a tip and said thank you and goodbye to him. Now we are waiting for the ordered lunch here on the site.
14.06 The food was good as usual and now we have even arranged private transport to the next destination tomorrow. Unfortunately, the credit card reader still malfunctions but we should have enough money for cash payment if it is not resolving.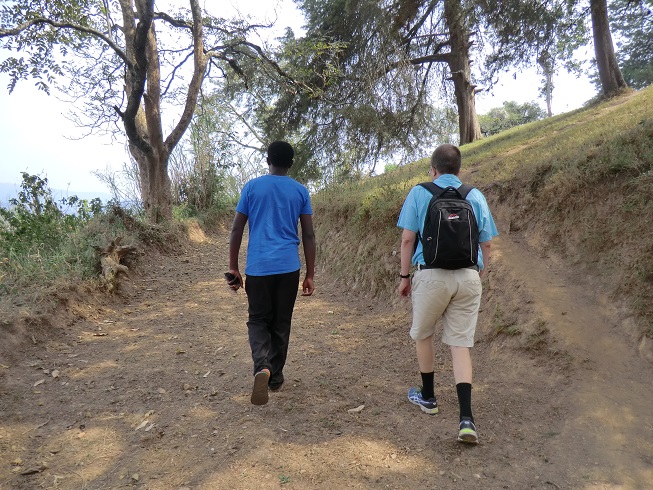 Junior and Peter on their way to the church.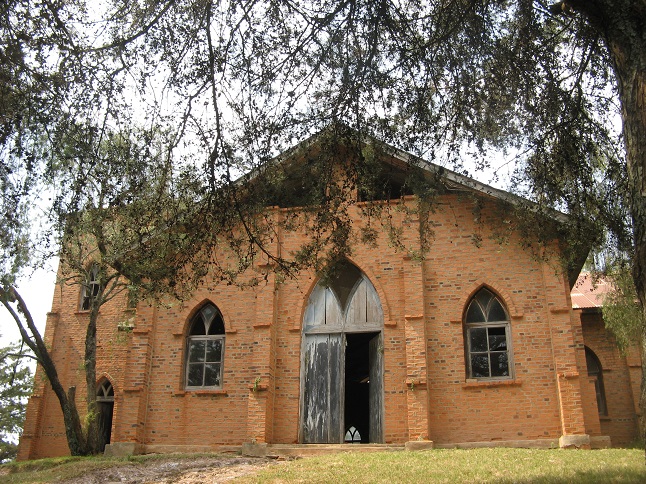 The church on Bwama Island.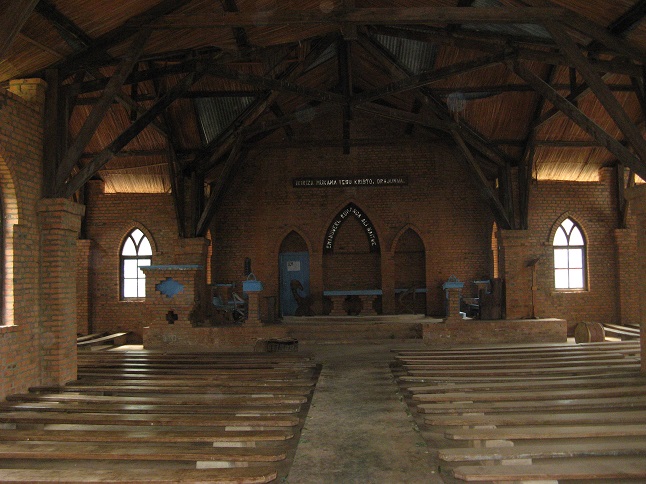 The church is empty and deserted today. On Sunday, the boats and visitors will come.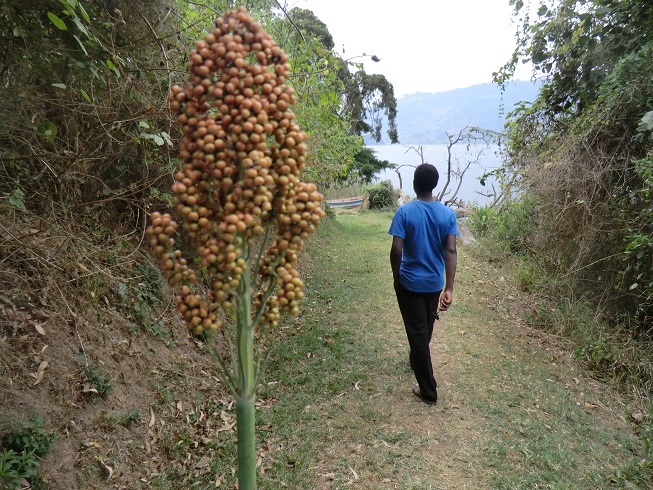 Sorghum and a path back to our boat.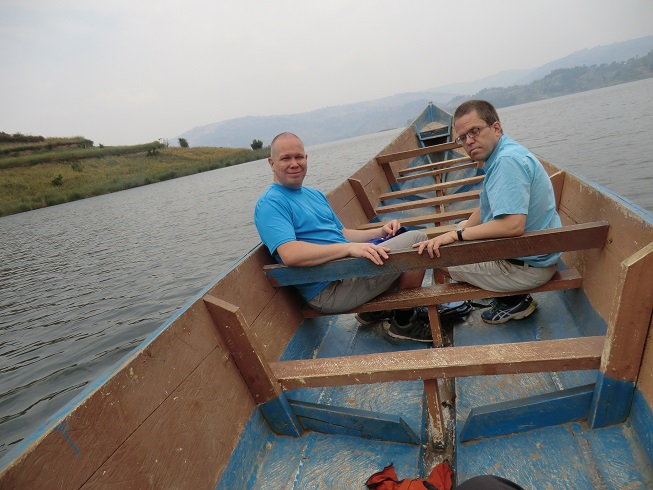 Christer and Peter in a boat on Lake Bunyonyi.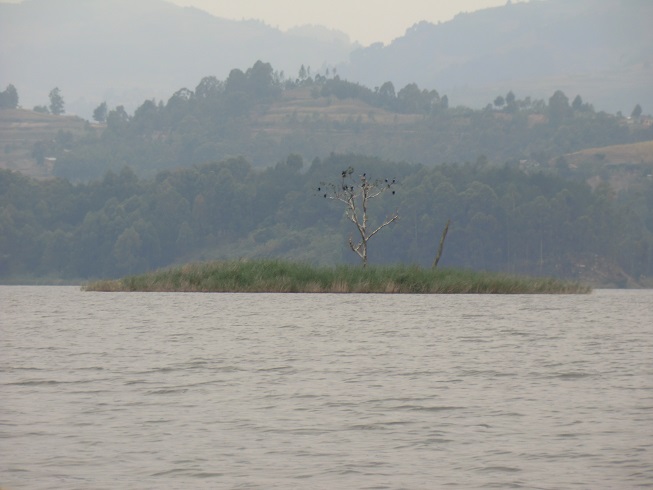 On this small island, many women were left to die.
15.34 Christer have read a little bit in his book and I have taken the opportunity to sleep, I felt a bit worn down and not completely OK in the stomach. After this quiet afternoon, we shall now go on a walk in the surrounding area. We have little to stand in the first but then we'll out.
16.51 On our little trek along the dusty road by the lake we met a bunch of excited schoolchildren on their way home. They wanted to greet us and do the "high five". We also met Christophe, who wanted to show us a lookout point and take us to a project for orphans. He knew a Swedish woman, Annelie. She usually comes here once a year to help the children. We said thanks but no thanks. We had enough adventure for today.
18.15 We have finally paid for our room. We had to use the Ugandan shillings, in other words, payment in cash. The staff is puzzled as to why none of our cards work. Other guests apparently have paid without problems recently.
18.56 In the glow of a small flashlight, we have shaved ourselves in our bathroom. The same flashlight is assisting me now, as I write in the journal. It's not that we want to save power. There is simply no power to save, there is another power outage.
19.22 I have brilliant news. The power is back! We shall shortly go down to eat dinner.
21.20 The last dinner here at Bunyonyi View Gorilla Packers is over. We ate while the crickets played for us. Now we are going to unwind before crawling down. It has been a lovely stay here but at the same time a little strange. We have been the only guests and most of it has been circulating around our routines. The kitchen staff take it easy when we are not hungry, but are working feverishly when we are hungry. The guy in the reception cries out happily "Peter!!" every time he can see me. He is also a big fan of Zlatan Ibrahimovic, the Swedish football star.
22.14 The second semi-final of the Euro 2016 has begun. Germany is playing against France. Probably the match can be watched down in the reception on the TV that sits tucked under the roof. However, it is chilly out there so we are in the room instead. Via a radio station in Rwanda, we are trying to update us on how the match goes. Unfortunately, it is difficult to get out something of the commentary. We recognize the players' names but don't understand much more. We have to do what we did yesterday, find out result tomorrow morning.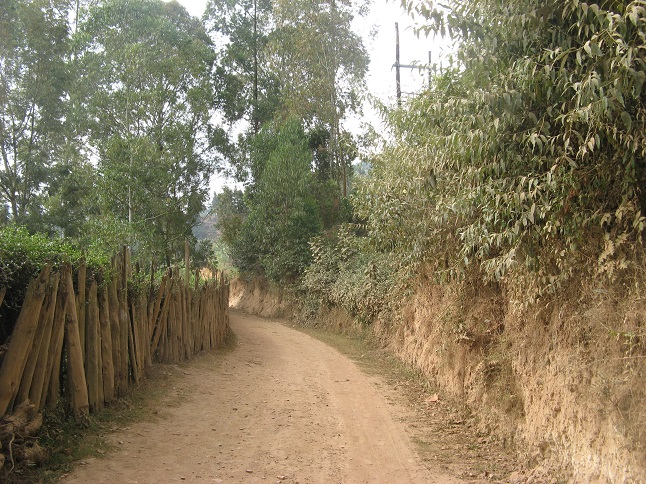 This afternoon we'll take a walk and see where this road leads.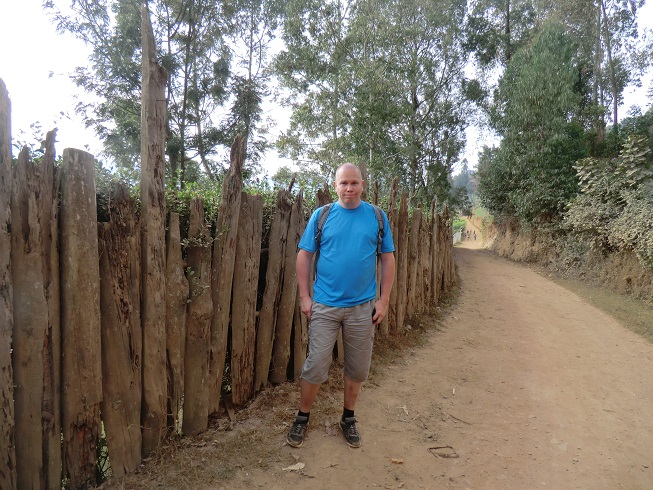 Christer has just met a group of happy schoolchildren.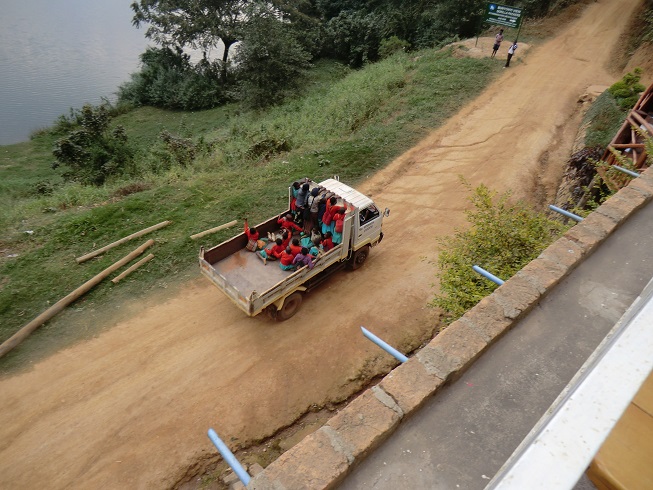 School transport along Lake Bunyonyi.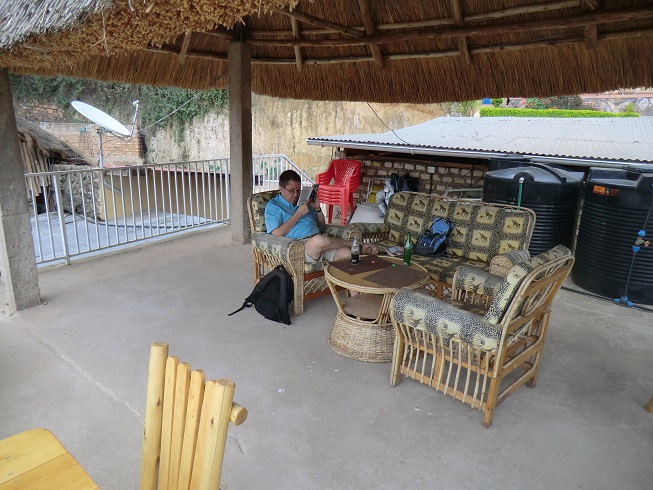 Reading and relaxing.
---