---
Text: Peter Johansson
Editing: Christer Lundstedt
Photos: Christer Lundstedt, Peter Johansson
Videos: Christer Lundstedt
---
---
Saturday 31st of December
07.56 We have come to the last day. It is not the last day of the trip. It is time for the final day in Athens and this year.
08.49 In the breakfast room we saw the people from the Romanian restaurant last evening. I am talking about the guests and not the staff. Now the last things are packed into the backpacks. Hooray they're back!
09.55 We took the elevator down and paid for us. It was 67,50 euro for three nights in a great room. We cannot complain. After that we went back to the train station Larissa. Now we are sitting on a bench on platform one. We made sure to stamp our ticket before we came out onto the platform.
10.11 A little girl in a gray hat is about to cross the aisle. We are in the carriage 4 and the seats 84 and 86. We will soon travel north. We are heading back to Thessaloniki. The last time we visited there were in 2002. The stay in Athens has been pleasant, but now we're ready for the next step. On the platform, the display says that we are leaving at 10.52 but is this really true?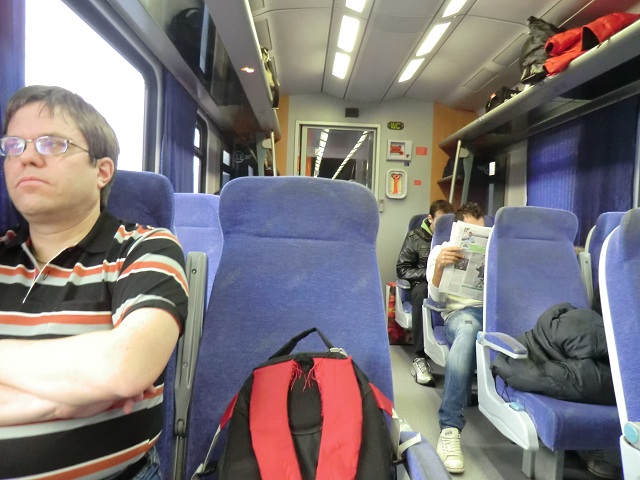 Train trip to northern Greece.
11.00 We left the station according to the time table and as the display said. It is cloudy today. I hope it will not rain. The nature we are traveling through is pine-covered and flat. A building just appeared on the right. Some of the other passengers are asleep. Oops, here comes the conductor. Where is the ticket? Now I remembered, it's in the bread bag.
11.59 The waiter put a small powder-filled filter to the cup and put in hot water. I have been drinking coffee. We have seen snow high in the mountains to the west. The landscape is more undulating now. Now I will read more in Ian Rankin's short story collection Beggars Banquet. Christer will read in 11 by Arne Dahl.
13.18 Our train climbs ever higher. Now we can see some snow on the ground outside the train. Moreover, it has begun to be feel in the ears that we have come up higher. There remains little more than two hours of our journey.
14.29 We have a couple of minutes late, arrived to the city of Larissa. The locomotive just honked and we roll on. It's a bit more winter here.
14.57 Outside the train is Mount Olympus where the ancient gods lived/live. Less than an hour remains of the trip and 9 hours remains of the year.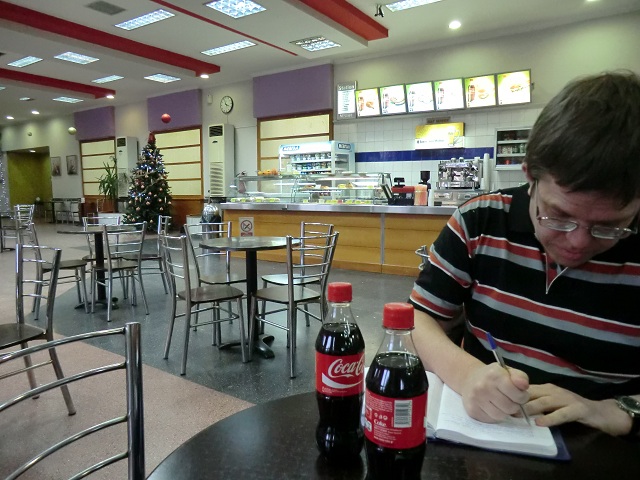 A late simple lunch at Thessaloniki railway station.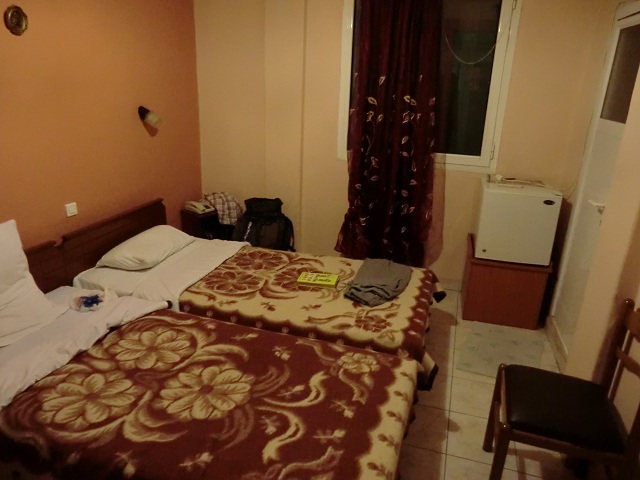 Our room at Hotel Alexandria.
15.58 The train stopped at the train station in Thessaloniki. We walked into the station building but it did not look as we remember it. They have probably rebuilt it, it was still 10 years ago. Now we are, just like then, at the restaurant Station Bar. The loudspeakers play Swedish music, "Happy New Year" with ABBA.
16.21 The lunch was a lukewarm burger with a cold slice of cheese and cold dressing. On the side were hot fries and cold drinks. A little girl in pink by a table next to us went through all the emotional stages. At first she was happy, then angry, sad and cranky. She threw napkins at her grandmother. When the little girl was comforted by her father, everything was fine again. Now it's off to the pre-booked accommodation closer to the center.
17.01 We're in room 27 on the fourth floor of the Hotel Alexandria (http://www.alexandriahotel.gr). We were told upon check-in that breakfast might be arranged. The elevator was just big enough for us and our luggage. We did not reach the keypad. Instead this was taken care of by of Christer's backpack. We only got to the third floor. Then Christer had access to keys and we got where we wanted. Now the last trembling hours will be taken care of. The street we went down the road here was partly excavated. Is that an archaeological site or are they building something?
17.51 We have our backpacks and we have reached the current location, but we are not filled with happiness. Maybe we'll get that out there. It's time to go out and get acquainted with the surroundings.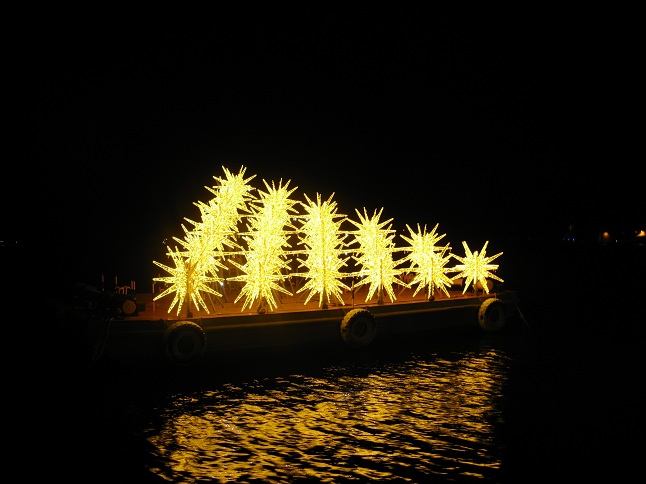 Beautiful lights in the dark.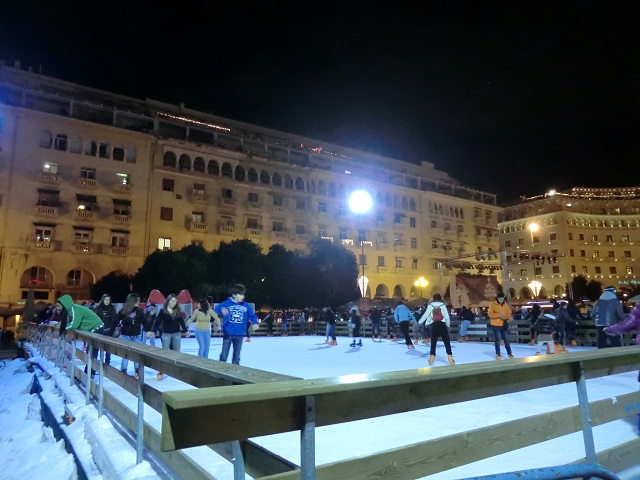 Ice rink on Aristoteles square.
18.36 We thought we should check about breakfast before we left our hotel. My poor English made the man at the front desk think that we thought it was included. Christer saved the situation. The time flies but we don't. We're sitting on one of the city's Starbucks. We are near the hotel. I ordered a cup of Greek coffee, just like I did in 2002. The clerk informed me that it was strong stuff, just as they did last time, so I know about it. He asked if I wanted milk and/or sugar, or at least water on the side. Thanks but no thanks I said. It's great coffee.
19.32 We have strolled through the city that feels much bigger than we remember it from the last visit. We realize that we probably only saw some quarters at the short visit. We have returned to Aristotle's Square. The last time we were here it was closer to +40° C in the shade. Now it's much cooler and the square has a small ice rink. Next to the rink is an ambulance. So far, the paramedics have not needed to intervene. Next to the rink is a tent where people change and borrow skates. It is full of activity here in the square, plenty of people this New Year's Eve.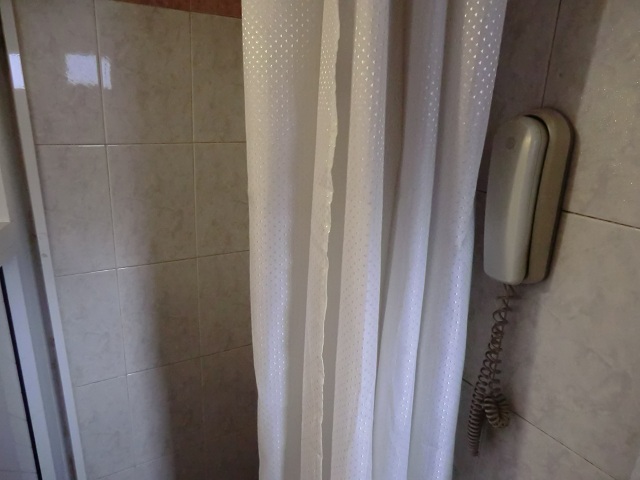 What a perfect room we have. You can make a phone call when you are having a shower.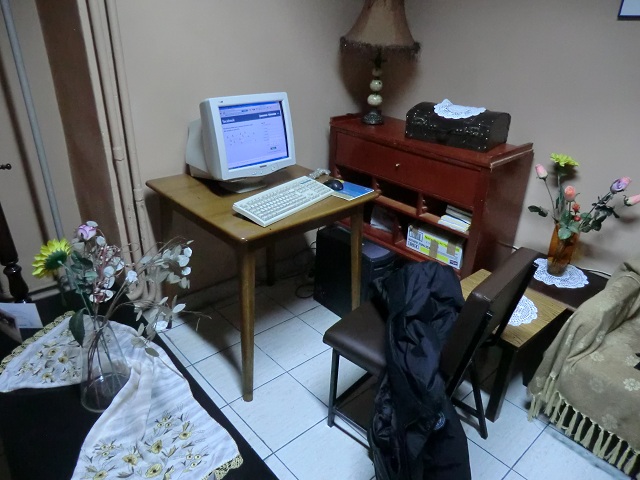 The nice hotel receptionist let us use his computer.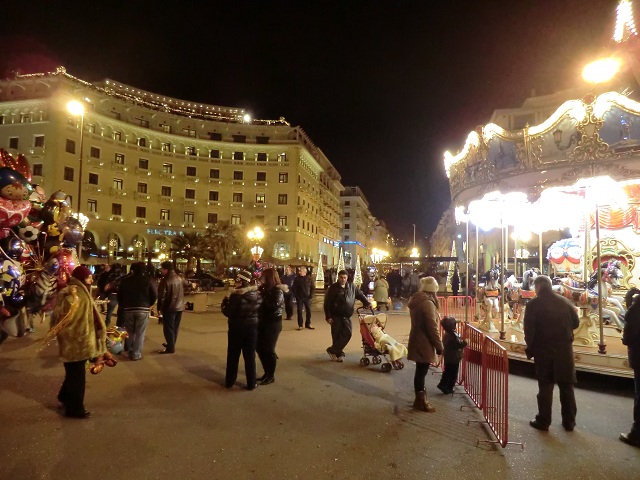 People are waiting for midnigfht and a new year.
20.52 We have explored the local area in the city and the internet via a borrowed computer at the hotel. We managed to buy breakfast before we went inside. On the internet, we have been looking for the address of the bus station, it´s where the bus to Istanbul leaves from. We have not been successful. It ´probably leaves from Irinis Street, but where is that?
21.25 It is time for New Year's dinner. We are sitting on Νεα Ηλύσια. I may have to come back with a translation. The place has various barbecues and apart from the meals offers the day´s games from the English Premier League.
22.13 Heads have been used and we may have figured out the restaurant name. We concluded that it may be Nea Ilysia, New Elysium. Elysium was, if I remember correctly, the paradise in Greek mythology. Now we're back in the room before we go out to toast the New Year. We have searched for Irinis Street on a city map in the telephone directory. Sure, the names of the streets are there but everything is in Greek.
23.53 We have returned to Aristotle's Square. People gathered and the minutes ticking down. This has been a short year for us seen with Swedish eyes. We drank it in one hour after Sweden, because then we were in Belfast. Now we will toast the new one hour before Sweden
---
Sunday 1st of January
00.00 Κενουριος Χρόνος, Kenourios Chronos, Happy New Year! The square is full of fireworks and cheering people. We were in catholic countries three and two years ago, last year we went to a protestant country and now we are on orthodox soil. Where will be next New Year?
00.55 We will begin 2012 with sleeping. The year that passed brought us many new countries and horizons. This year may not provide us with that many countries as the last one, but something exciting is enough. Whatever happens and wherever it occurs, I will write about it. Good night!
09.49 A new shower, a new day and a new city waiting to be seen in the light of a fairly newly risen sun.
10.19 We have finished our breakfast in the room. The simple breakfast consisted of chocolate filled croissant and Activa Yogurt. The yogurt was thick and we used "spoons" from the cardboard that had been around the yogurt jars. Now we are getting ready to see Thessaloniki in a new light. The question is, where is the bus station we will be at tomorrow? Finding it will be our first and most important mission.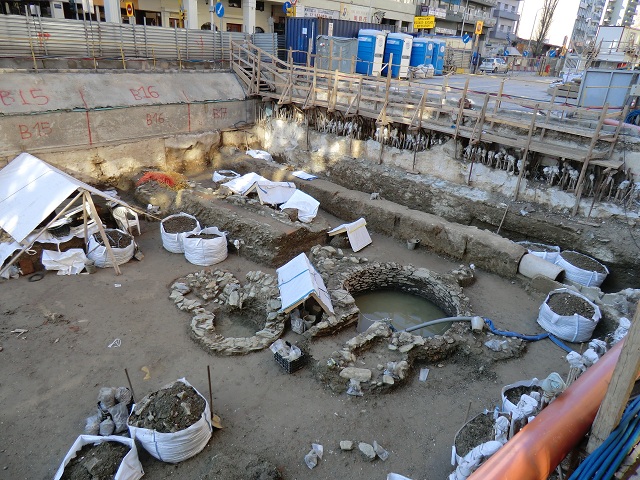 This was found when the new metro was being built in Thessaloniki.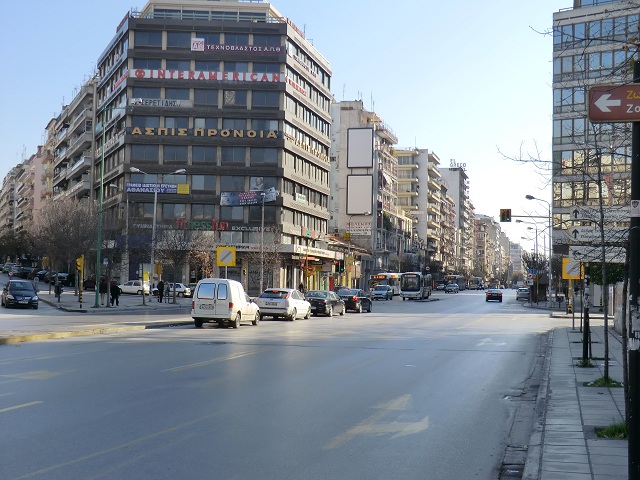 Egnatias, the main street through Thessaloniki.
11.06 We asked the man at the reception after Irinis street. He told us about how we should get there. We have not been able to find the street. We have walked along a number of streets but have not found anything but happy Bulgarians who spoke in Russian to us. Now we will ask a fruit salesman if he knows where Irinis street is. In 2002 we bought apples right next to here.
11.11 The fruit man knew where to find the street. It is the one that goes outside his shop. Shame, was it that easy? We found the ticket office in a back street but it was wrong anyway. The man has referred us on to a Turkish bus company office. We shall move towards the railway station along the street where they dig for underground or something, he said. He first tried to call them but got no answer.
11.27 There have been excavations in the main street through town to be built a metro. Everything has stopped because they found old foundations of the past where they dug.
11.52 We found the office and outside it was a bus from the Turkish bus company Metro. The last time we were in Turkey we left Istanbul with a bus from that company. The office was closed but they open later in the evening. Now we have walked on and take a break by the sea. A chilly morning has been replaced with a sunny and very warm day.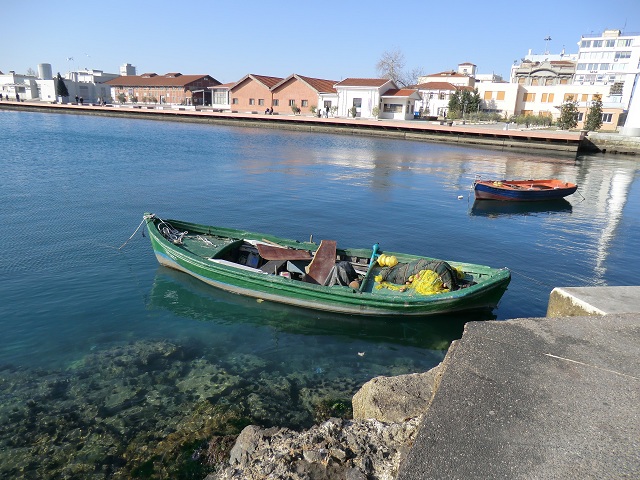 Some boats in the water this first day of 2012.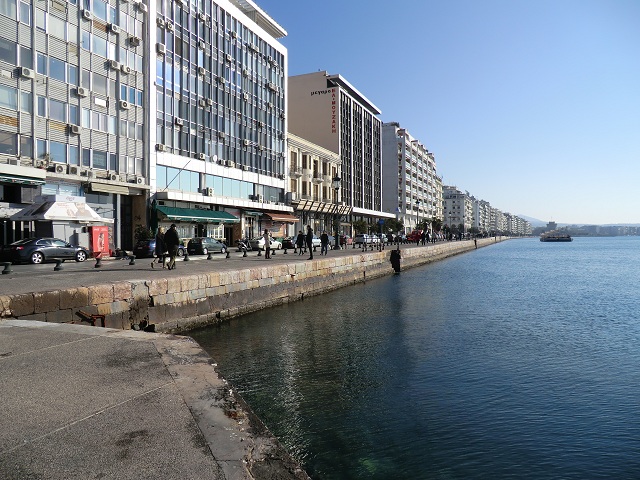 Leoforos Nikis Street along the seafront.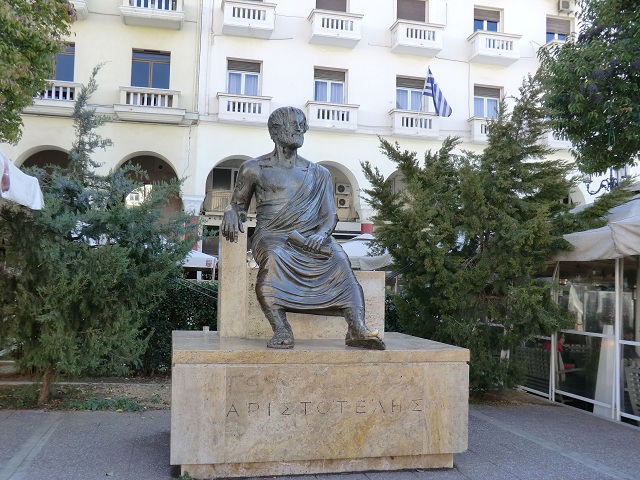 Aristoteles is sitting on the square using his name.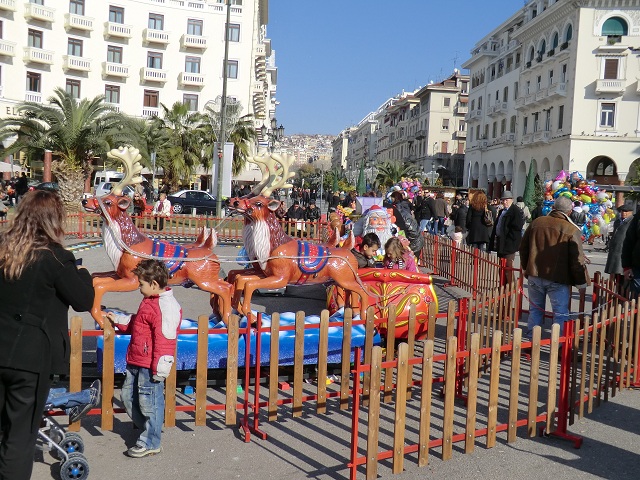 People enjoying themselves on New Years Day.
12.24 The year is new, but old habits die hard. We're sitting in Starbucks at the Aristotle Square. A short distance away is a stage there children are being entertained. Along the way we have learned that this country does a liter of 95 octane petrol around € 1,60 and diesel around 1,40 euros.
12.57 We have left the Square. Before we left it, we saw a big dog and a small dog that ran into a group of pigeons. Now we stand at New Thessalonians Metropolitan church of Agios Grigorios Palamas on Agia Sophia Street. It is a beige and beautiful church, which was erected in the late 1800's.
13.16 We now have Hagia Sophia in front of us. It is not the famous church/mosque in Istanbul, but a smaller version from the late 600's. Now we hear a sound. Is it an alarm? It stopped just as suddenly as it appeared.
13.38 I have now sat down on a wall in front of the White Tower. It is perhaps the most famous landmark in the city and was used as a prison during the time the Turks ruled here. I do not know if it's so white anymore but it is a tower. Not far from here is a marionette master acting. One of his puppets dances and beats a drum. The second doll, a Santa Claus, is sitting and watching. Along the promenade there are a number of sellers of branded bags and watches and other things. Most of the vendors have African origin.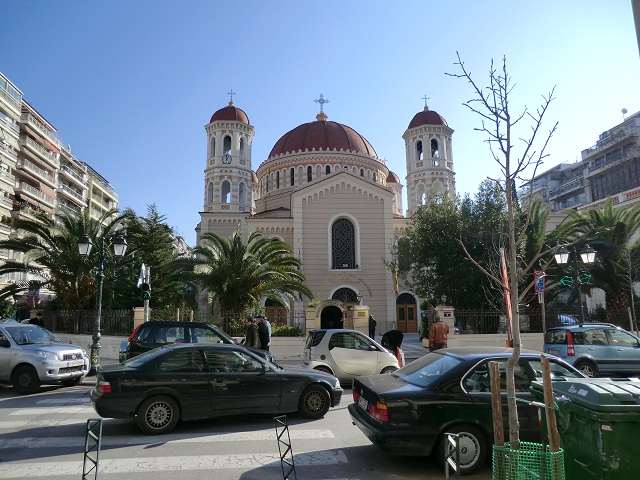 Agios Grigorios Palamas cathedral in Thessaloniki.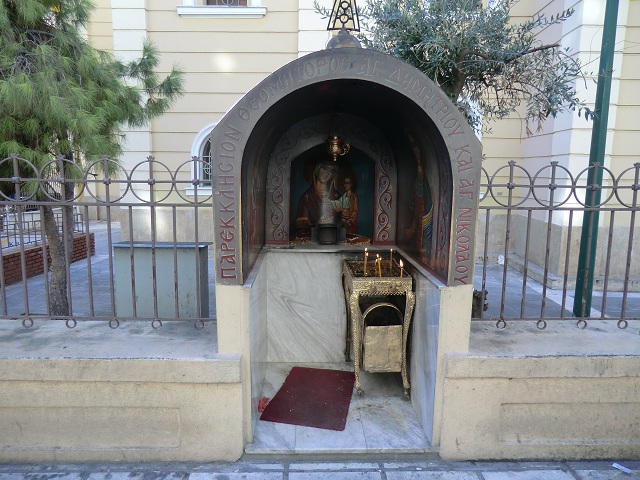 An icon and some candles, everything an orthodox christian needs.
The white tower, Thessaloniki´s most famous building.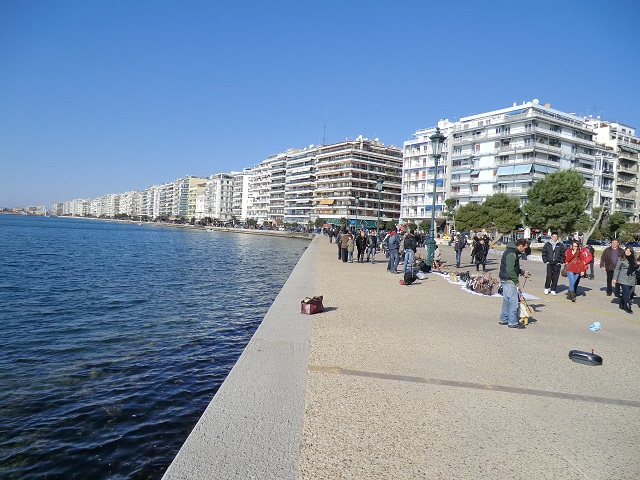 Thessaloniki
14.13 Our tour took us to the ruins of the Roman Emperor Galerius Maximus (250-311) palace. It is located among all the tall modern buildings that exist around the area. Galerius devoted his life to hunt and kill Christians. Between 293 and 305, he had responsibility for this part of the empire and between 305 and 311, he was one of four emperors that ruled Rome at the same time.
14.29 We have now reached the Rotunda, which was supposed to be Galerius' mausoleum but it wasn't. The Rotunda was empty until Constantine the Great a few years later decided that it would become a church. We have also even Galerius arch with reliefs to commemorate the victory over the Persians years 303 AD. After the Turkish Ottomans conquered Thessaloniki the Rotunda became a mosque. It is now along with a few other buildings in the city at the UNESCO World Heritage Site. We also had time to see the restaurant SweBurger with Swedish products from a Swedish company. There were, meatballs with mashed potatoes. Unfortunately (?), they had closed.
14.56 After seeing the house where Mustafa Kemal, later Atatürk, was born, we are now at the church where the prospective saint Dimitrios martyred. Yes the church is built on the site where it happened. It bears his name and contains his relics. He died in 303 during for the time that Galerius ruled in this part of the Roman Empire.
15.39 The day trip ended at the Roman Agora, the town square and a square Plateia Dikastirion. It includes a Ferris wheel, a happy dog which greeted me and the church of Panagia Chalkeon. We left the square and sat down at Goody's for lunch: Just now we saw the dog which greeted outside of here. Has he followed me here?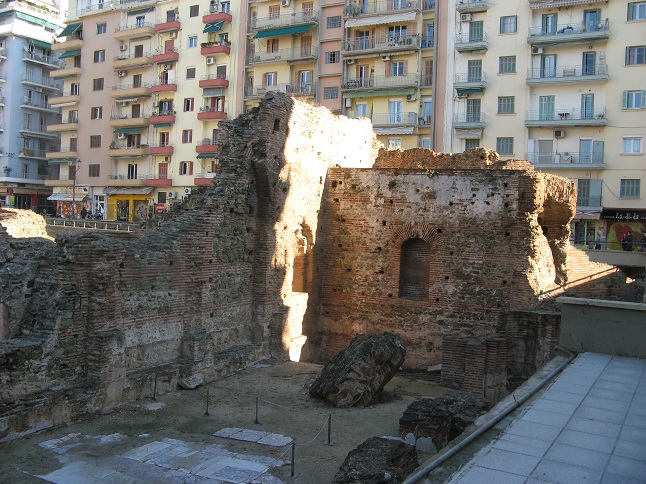 The remains of the emperor Galerius Maximianus palace.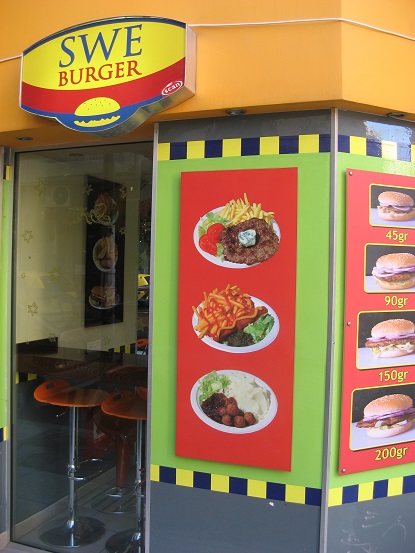 We found the restaurant Swe Burger with Swedish food and ingredients. It was closed though.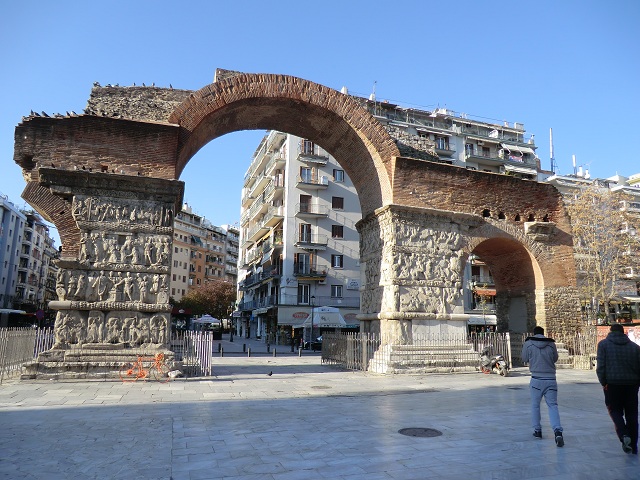 Arch of Galerius.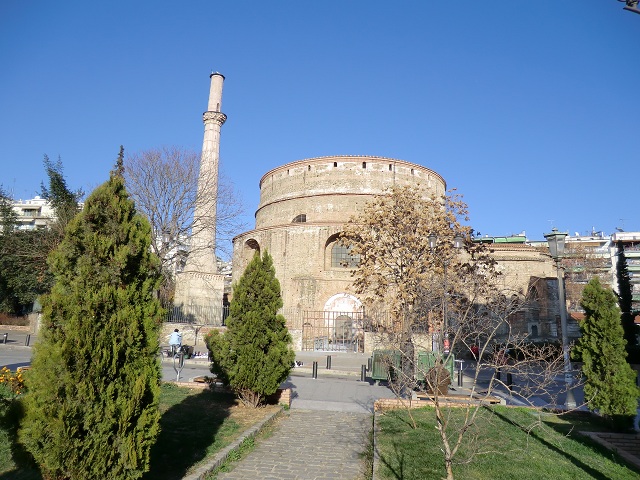 Galerius rotunda.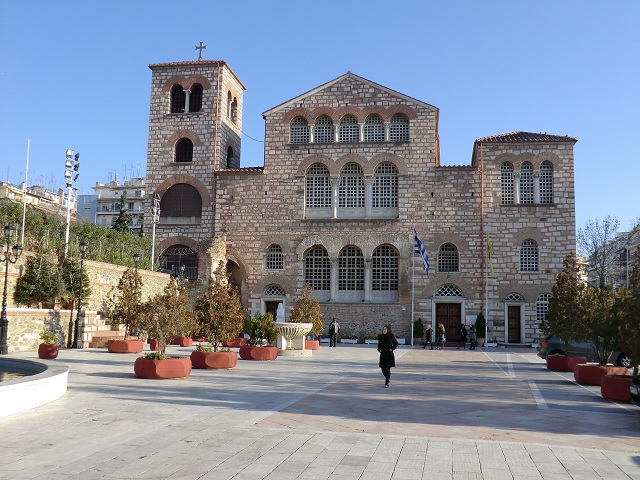 Saint Demetrius church, Thessaloniki.
17.59 We're back in our hotel room. Much has been seen today and Thessaloniki is a walk-friendly city full of historic buildings. We take it slow right now and are waiting for the evening's activities. Among other things we are reading about the third city on the trip, Istanbul.
19.20 We went to the railway station and checked the availability of breakfast and food for the journey. Now we will go and buy our bus tickets.
19.29 There are places on the bus tomorrow, but not in the one running 10.00. We must patiently wait until the 22.00 bus. Now we will force to change plans. We need to send an email to the accommodation in Istanbul about the change in plans. What should we do in the morning before the bus leaves? Problems with the printer in the office resulted hand-written tickets.
21.17 We returned to the railway station, this time to email the accommodation. The computers here at the station were started by adding a coin in a slot. In addition to computers, there were also different games, one of which played an annoying melody. Since then we wandered around the city in search of hunger and eating places. Now we have put us on the grill instead Kateriniotis on Polytehniou 51
22.00 Now we have to plan the next day and do a budget. How much more do we need in euro? Should we withdraw more than we will spend and exchange the remaining Turkish Lira?
23.30 Now things are planned. Our TV shows a greek-orthodox church service. Christer has just drunk out of his orange drink. In Greek orange is called portokal. Now I am mostly rambling. It is time to put away the diary and go to sleep. What happens tomorrow?
---
Monday 2nd of January
09.34 What we had planned to become an early morning has turned into a sleep in because of the changed bus schedule. It's not immediately panic since the bus departs at 22.00 instead of at 10.00.
10.56 We set out to find somewhere to have breakfast. There was no place that offered sandwiches of our tastes. The nearby grocery store was closed for inventory. Christer solved our problem. We bought a small tetra juice and a croissant at a kiosk. Now it's breakfast in the room again.
11.20 We have checked out from Hotel Alexandria and have left the backpacks at the front desk. We will pick them up in the evening.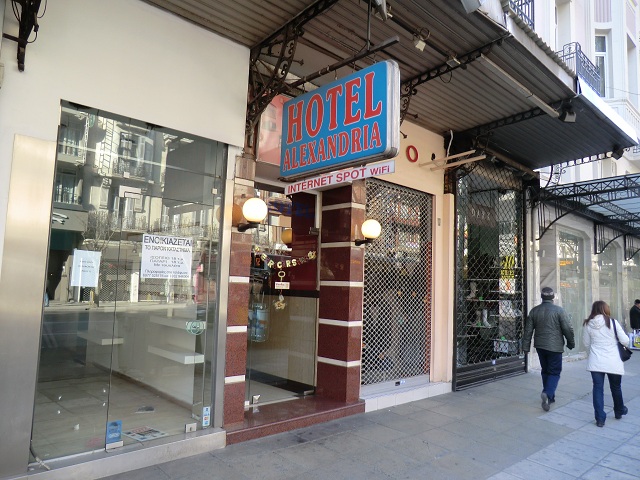 Hotel Alexandria
12.11 The sun is shining from a clear blue sky. The children have sat down in the carousel or in the train. We are back to Aristotle's Square. There are at least eight balloon salesmen here. In this now a man with a rosary sat down next to me.
13.16 We have had coffee and sandwich at our third Starbucks in the city. We are near the White Tower. I was confused after I got my coffee and my sandwich. I went outside with the tray in the steady hands. I totally missed that Christer was standing and shouting at me. He was calm and sat until I stopped wandering.
13.48 Afternoon sun sparkles in the Aegean Sea. The waves lap against the concrete blocks. I've been reading a bit. The sea smell like the sea does.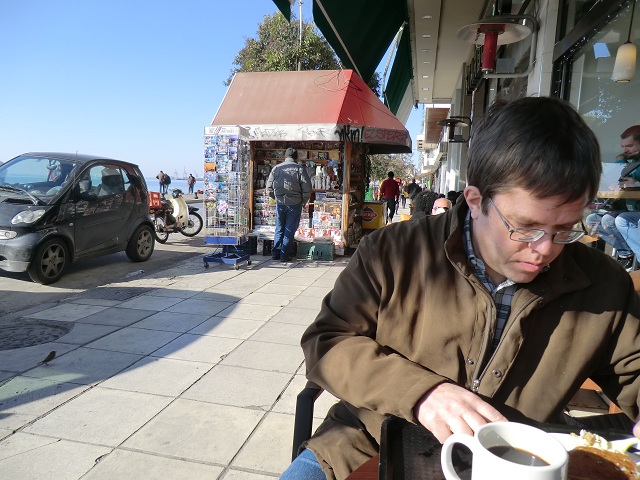 Yet another Starbucks visit here in Greece.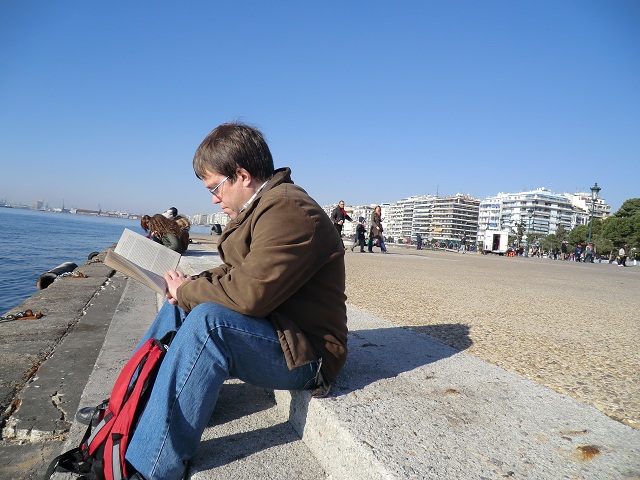 Peter is sitting in Greece, reading about Scotland.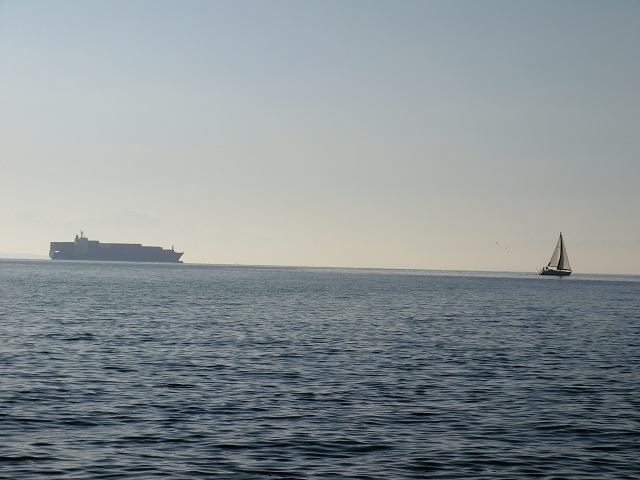 Two boats of different size and function.
14.08 We have left the sea and the White Tower behind us. We have gone through a nice park and eventually relocated us to a sun bench in a park. Not far from here is a tower, the OTE Tower, which among others is a television tower. It's time for more reading of Dahl's and Rankin's books.
15.10 After a little walk, we found a new bench. We are now near the Rotunda. A short distance away two guys are playing a guitar and sings. One of them has a Santa cap.
15.40 The current bench break is on a red bench. The bench is at a slight downward slope. Just now a child passed on a kick bike. The child had a gray Bobble cap and sunglasses and was screaming. We think most of what and where we eat. Now the child passed us for a second time. He seems to like it.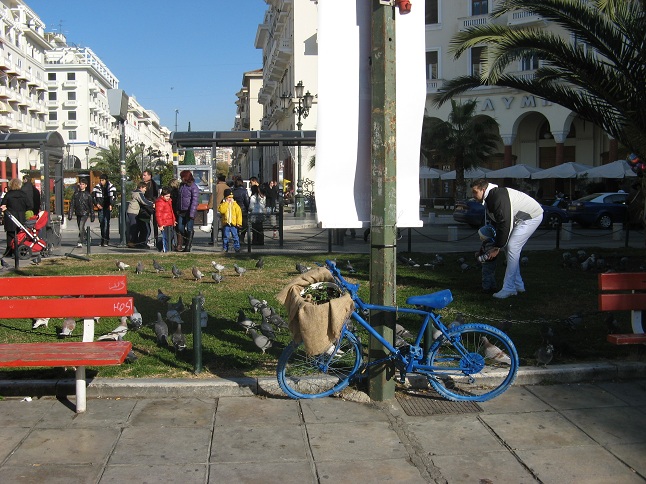 You can use a bicycle in many ways.
16.24 We walked up to Agiou Dimitriou Street and found our dinner place. We are about to eat Mixed Grill at Taverna Parelthon. We just received our drinks and earlier we had bread. We were not the only tourists. A large group of people from Japan were already eating when we arrived. We have seen a grocery store with people in. It was closed. Where the inventory here as well?
17.47 The food was good and the price was nothing to complain about. Now we are back on the same bench which we sat on two hours ago. It is now just over four hours until the night bus departs. It's been a tough day, a day of waiting. Christer has a cold with sore throat and headache.
18.58 The bench was left and we went to exchange money. The remaining euro will become the Turkish Lira. We were told when we finally found an office that they had no Turkish Lira left. We are now at Starbucks across from our former hotel. Here we have coffee and read in our books. The girl at the counter told me that we they close at 20.00. I guess it looked like I would be sitting there for a long time.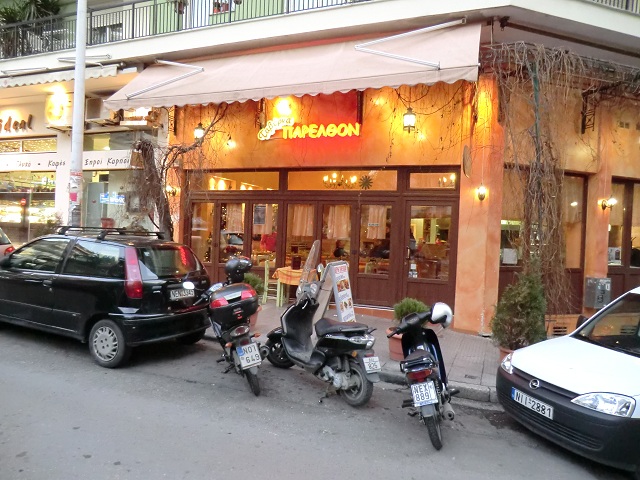 Taverna Parelthon, a nice restaurant with good prices.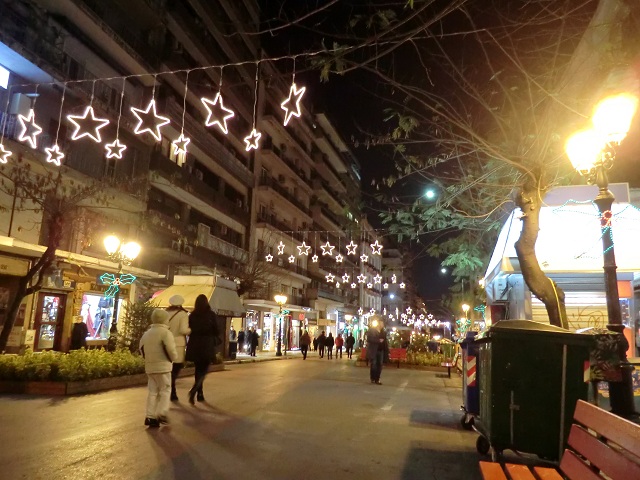 The evening has come and the warm sunshine is just a memory.
19.37 The backpacks are retrieved from the accommodation. We have thanked the staff. Now it's off to the last stop before the bus stop.
20.43 We are at the railway station. Here we bought food for the journey and checked the internet. The machine played the same annoying melody on this occasion as well. Now we will buy something to eat at Goody's. Christer just came back after he ordered. He's got one of those buzz plate that we had in Cape Town 2009
21.05 Either it was my order unclear or the man at the counter misunderstood me completely. The Cheese'n'Hamburger that I saw on the menu behind him came either with just cheese or just bacon. I don't care about it. I got something to eat. Not much remains of our stay in Thessaloniki, Greece. Soon we are heading towards the bus. We are leaving within an hour. It is time to return to Istanbul. The latest visit was in 2005. We when arrived by plane from the Ukraine.
21.23 We made a last toilet visit. We went one by one. Along with me was a gentleman who thoroughly washed every square inch of his hands. Half of the basin was filled with foam.
21.47 We went to the bus station to wait for the departure. Our handwritten tickets were replaced with typed ones. We have now sat down in seats 47 and 48 on the bus. They are just behind the rear end. Our backpacks were given a number and we are ready to go on. I can only agree with Christer, finally it feels good this long day.
22.17 The bus host has fetched the passports and tickets. The ticket was put in the passport, smart. Because the location number on the ticket there will be no problem to return the passports. Then it will not be a mess as it became in 2002.
23.04 OK. We just got the passports and tickets back. Why were they fetched in the first place? Was it some kind of registration? It does not go entirely smoothly handing out passports. The bus host cries out Maria, Maria!
23.24 A long journey to the east has started. It will soon be a new day.
---
VIDEOS
---
You can see 24 photos from December 31 in this photoalbum.
You can see 69 photos from January 1 in this photoalbum.
You can see 17 photos from January 2 in this photoalbum.

---
CONTINUE
---
---
---