---
Text: Peter Johansson
Editing: Christer Lundstedt
Photos: Christer Lundstedt, Peter Johansson
Videos: Christer Lundstedt
---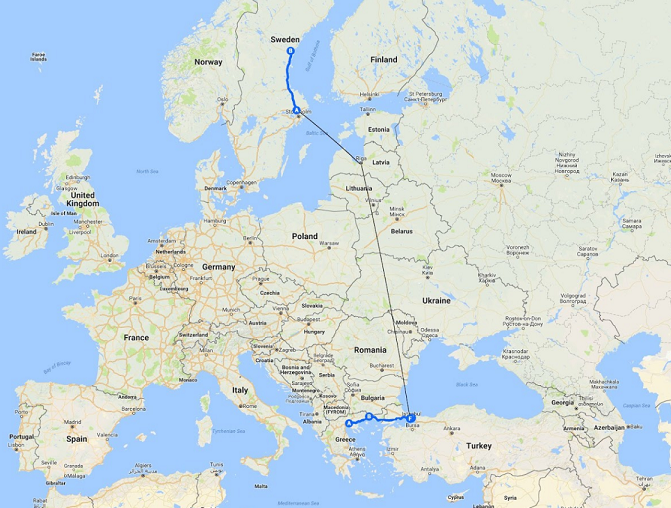 ---
Tuesday 3rd of January
00.46 We're sitting in the bus from the Turkish company Metro and are en route from Thessaloniki to Istanbul. The bus has just started rolling again. A dozen people boarded at a Metro office. We have passed over a rail road and are heading out on the road again. Our stop might have been in Xanthi. Hm, the bus stopped again, something was said and someone steps off.
03.10 It's half-time on our bus trip. We have just received water. Now we are at the border and it is time to get out of the bus.
03.25 We showed our passports to a not too enthusiastic Greek passport police officer. Some of our fellow passengers have had time to buy some tax-free products, smoke and talk on the phone. Who answers the phone at this hour?
TURKEY

03.57 We are finally in Turkey. Some of the passengers have taken the opportunity to take a smoke before they board. Now I must sleep.
06.55 The bus has made another stop. The fellow passengers have taken the opportunity to stretch heir legs. Some have probably made their way out to get something to eat. I have dozed on and off since the border. Most, however, I want the ride to end. Christer who is hit by a hefty headache and sore throat take it even slower.
08.30 Our long distance bus has reached its goal. We are now in the outskirts of Istanbul. It has brightened up. We have our backpacks. The bus fare also includes a short shuttle transport to the more central parts of Istanbul. It does not take us all the way but a long way. We will go to Aksaray where another transport will be needed.
09.53 The short trip with the shuttle bus took us through the morning rush. Unfortunately, we had to stand throughout the journey. Many wanted to go with the same bus. There were a lot of moving vehicles and the traffic in the Istanbul crept along. At Aksaray we got off and walked towards a tram stop. We bought a token each. We stepped off at Gülhane and are now in Room 24 at Yeni Hotel here in Istanbul. We stay on the third floor. The older gentleman who checked us in showed us on floor upstairs. After that his son carried on. The steps of the marble were well worn. Now it is going to be great with some sleep.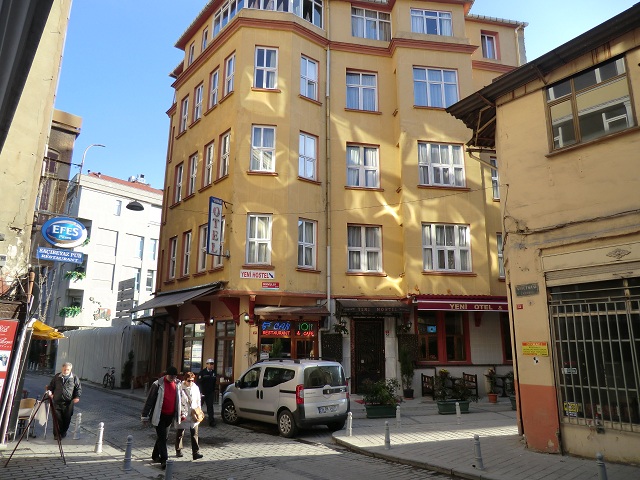 Yeni Hotel, our Istanbul home for a few days.
A traditional Turkish toilet was one of two choices.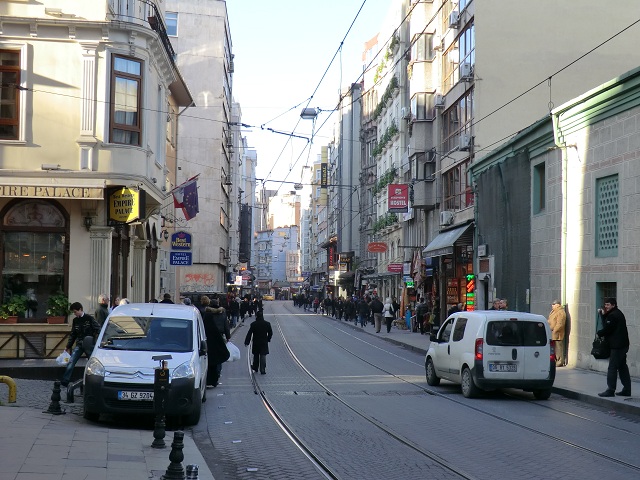 Istanbul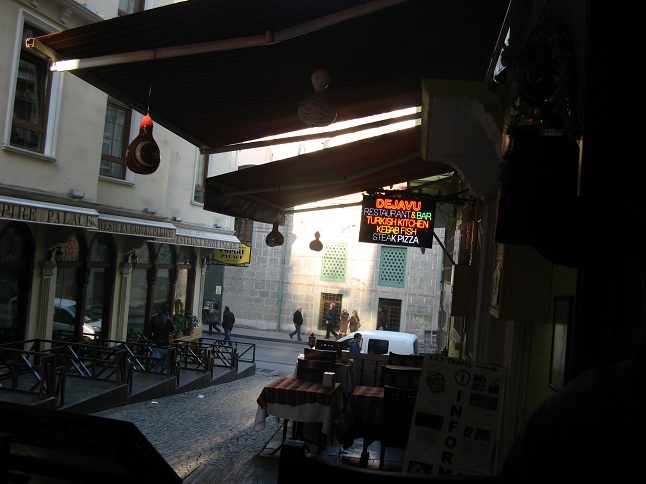 Lunch at the restaurant Deja Vu.
13.10 We were worn and in need of some sleep. Christer also hoped to sleep off some of his head ache. We're not completely filled with energy. However, we are ready to revisit Istanbul. It is 6 ½ years ago since we were here last time.
14.51 It is time for lunch. We are sitting at table 7 ín the restaurant Deja Vu, one of countless restaurants here in Sultanahmet, the tourist part of the city. Along the way, we were asked if we were Russian. As we got here we were greeted good day in Russian, and asked in English by a guy if we were satisfied with the menu. We're not entirely sure if he works here in the restaurant or not. A person who works here asked about our heritage. Then he said some words in Swedish. We got a booklet from another restaurant when we just had left our home.
15.40 It was a typical Turkish lunch with delicious kebab dishes. We got free tea after dinner, paid the bill, said goodbye and left. Now we are close to ex- church/mosque, Hagia Sophia. Here we have arranged with brochures from two different bus tour companies.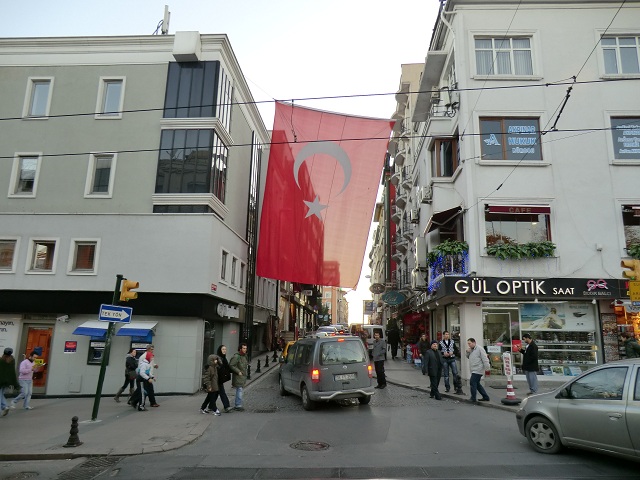 A big Turkish flag on this Sultanahmet street.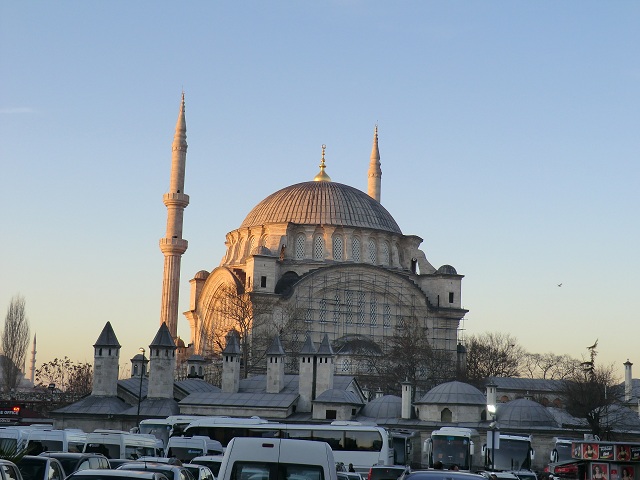 Nuruosmaniye mosque.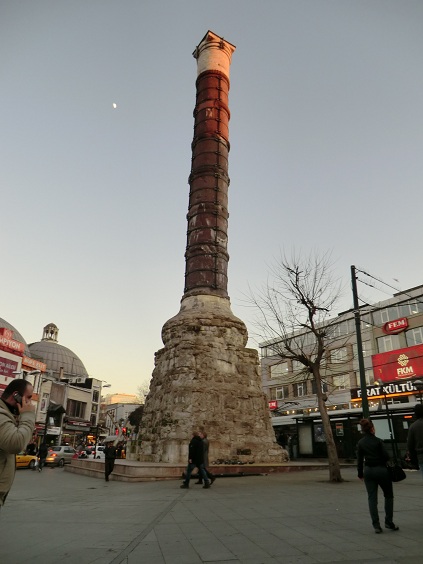 Çemberlitas, the ancient pillar that once had a statue of emperor Constantine at the top.
16.25 We have been walking around in old familiar neighbourhoods. We have seen the Hagia Sofia, the Blue Mosque and Cordial House Hotel, our home in 2005. It had however changed completely. Now we are sitting on the Çemberlitas Square. It is beginning to get dark.
16.55 Now is the time for prayer, God needs it, said Christer and as a response to it the call for prayer started in the minaret behind us. Very soon another call came from the one left of us a stereo effect. Now, it ended.
17.04 The prayer time has ended. Now it is time for beans. We are at Starbucks Coffee. It is yet another Starbucks country and there are many more left to visit.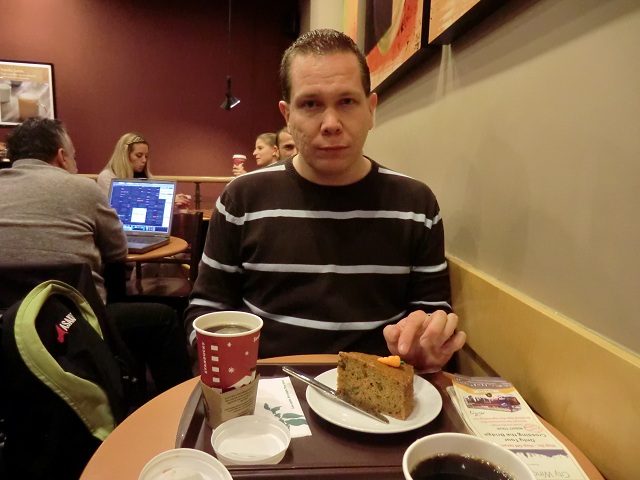 Christer is eating carrot cake at Starbucks.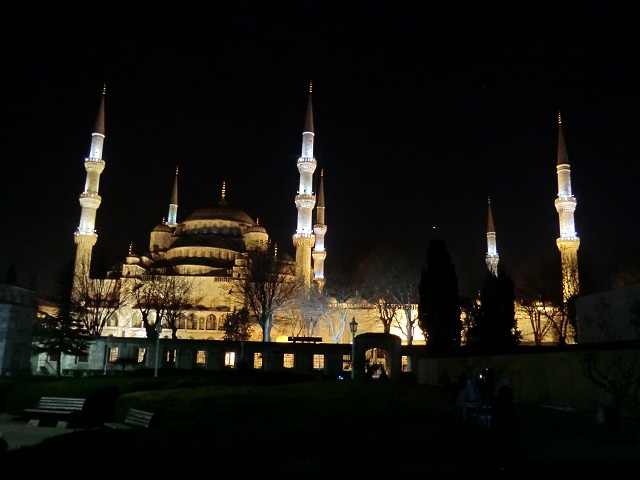 The Blue Mosque looks beautiful in the winter darkness.
18.26 We were strengthened by the coffee and pastries and preceded to action. We checked what it costs to visit the Hagia Sophia Museum, 20 lira. It has also been a short walk to the Blue Mosque. Now we are at one of the city's train stations Sirkeci, which sends trains from the European side of Istanbul. This station was once the end station of the legendary Orient Express.
18.55 We have found out where the boats to Asia depart from. In addition, we had time to do some shopping. The cashier had a voice that brought to mind Don Corleone. In 2005 it was an older man in a restaurant that had such a raspy voice. Could it be the constant smoking that gives people that kind of voices? We have promised the man that gave us the booklet earlier today that we will be visiting his restaurant. It is located right next to our hotel. Now we are back in the room to gather energy, strength.
20.25 Rest and Sudoku might be nice but sometimes I need some food.
20.44 We have sat down at the Galata Istanbul Restaurant. It is just a few steps away from our hotel and we had promised to come here.
21.34 It was very good food and the there was nothing wrong with the Turkish wine which I drank. Now I enjoy a coffee in the hotel room. They offer coffee for free.
21.48 It is wonderful to travel and discover new places. But right now is all I need a stationary bed in a quiet room. It is a good thing that it's just what we have.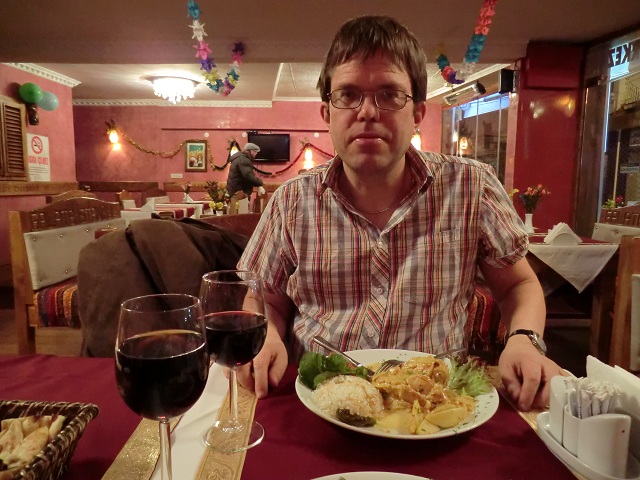 Turkisk dinner at the restaurant Galata Istanbul.
---
Wednesday 4th of January
09.09 In through the open window come the cries of seagulls and sounds of the working people. It is the first morning here in Istanbul. There are plans for today, plans which include breakfast and a visit to another continent.
10.25 We left the hotel and went in search for breakfast. We found a place that offered breakfast, but decided that we would postpone this luxury to another day. Now we have walked through the Gülhane Park beneath the Ottoman world's brain and heart, the Topkapi Palace. Now we have sat down in a cafe, Setüstü Cay Bahçesi. It is actually a return visit. We were here in 2005. The place is called a "tea garden". Here we have tea and coffee with toast. There are plenty of boats in the Bosporus straight below us. This is a wonderful place to enjoy life. However, it is a bit chilly now as compared to our visit in July 2005, but the view is amazing.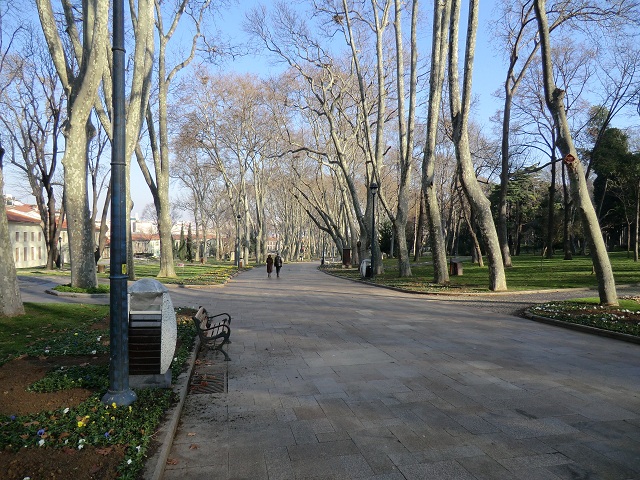 Gülhane Park.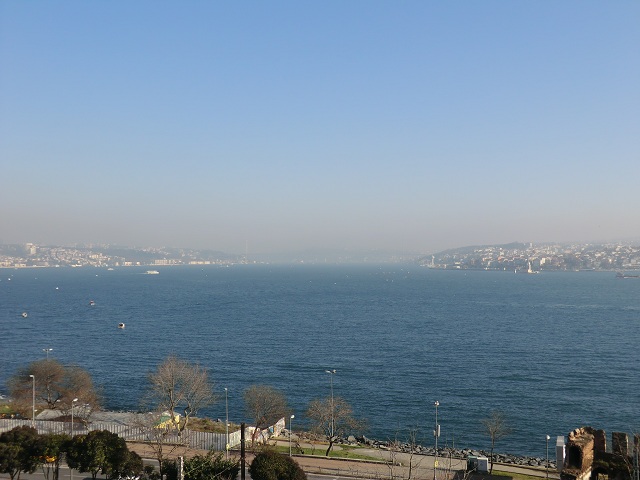 A view of the Bosphorus.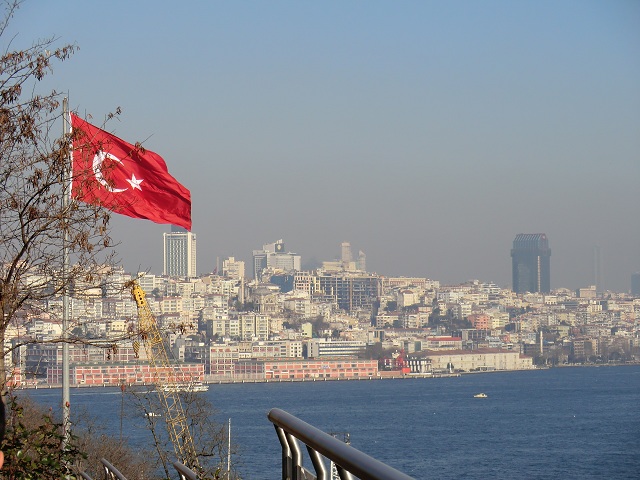 The Turkish flag and a view towards Beyoglu.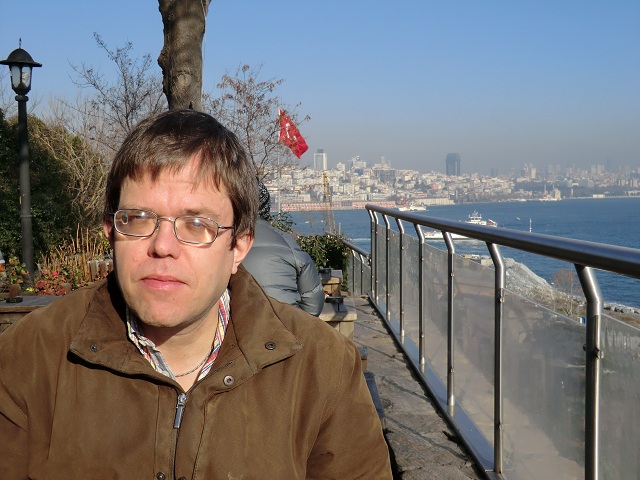 Peter is having a light breakfast at Setüstü Çay Bahçesi.
10.57 A cat started meowing behind Christer. Maybe it was a signal for us that we ought to pay and move on.
11.22 It was perhaps not the largest of breakfasts but the view was more majestic. Now we are sitting at the Hippodrome and close to a fountain that was donated to the Ottoman Empire by the German Emperor Wilhelm II in 1898.
11.59 We walked around the open place called the Hippodrome and were offered free postcards. They were really free of charge. We also saw two obelisks. There were Thutmose III's obelisk which was brought here from Karnak in Egypt in 390 and the so-called masonry obelisk which Constantine VII Porfyrogennetos erected in the 900's. The actual Hippodrome is from 200's. It was extended under the rule of emperor Constantine. After the rebuilding the Hippodrome was 150 meters long, 130 meters wide and had room for 100 000 spectators. The Nika Revolt in 532 AD ended with the Emperor Justinian had at least 30 000 people executed inside the Hippodrome. After this historical lesson, we placed ourselves in the queue to the museum of Hagia Sophia. Multilingual guides offered their services during the queuing. Now we are about to get familiar with this old building that has been both a church and mosque.
Hagia Sophia, the former church and mosque, now a museum.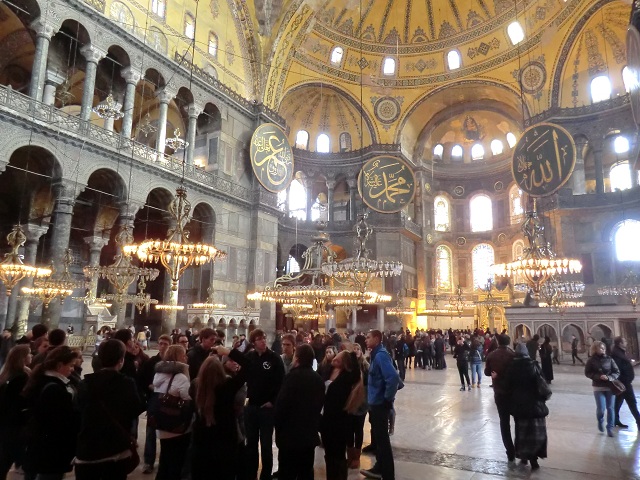 Inside Hagia Sophia.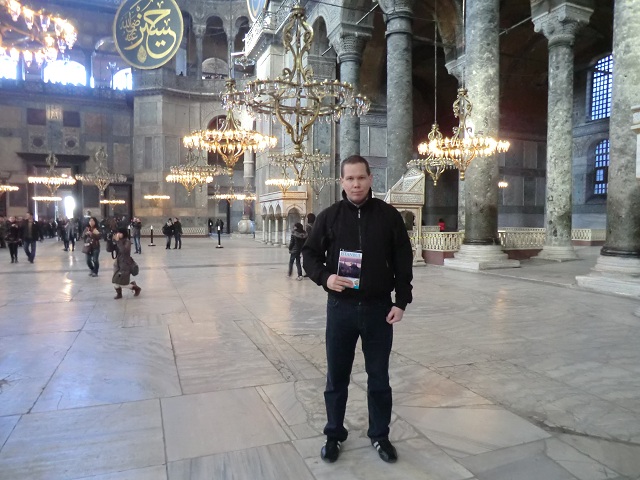 Christer has learned about the history of Hagia Sophia.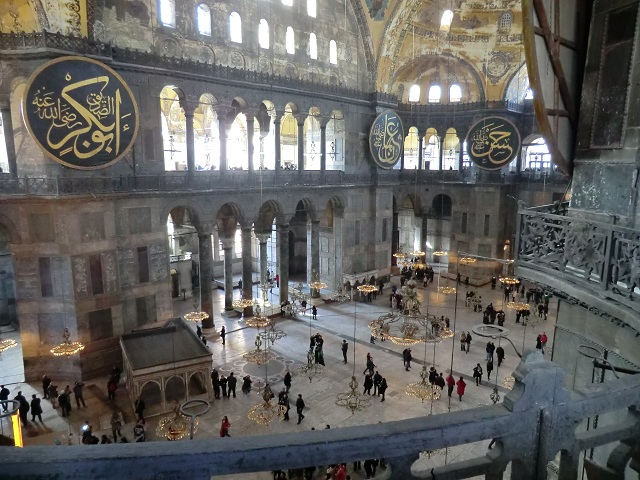 We look down from the second floor.
12.36 After having walked around on the ground floor we´ve moved up a floor through a spiral ramp. It's a fantastic building with so many beautiful things. Hagia Sophia, Holy Wisdom, was built between 532 and 537. It was first a Christian church, after the schism between the Eastern and Western Christianity it became a Greek Orthodox Church and after the fall of Constantinople in 1453 and until 1934 it was a mosque before it finally became a museum. We have seen the beautiful glass windows and more beautiful things from both the Christian and the Muslim period. We have also seen a guy in a wheelchair who rolled around here.
13.04 We finished with seeing some beautiful mosaics. Now it's time to head back out to today's Istanbul.
13.39 It is time for afternoon coffee. We are back at Starbucks. Ahead of us in the queue were the wheelchair guy and his family. Now we are preparing to go on a trip by boat. That is what the next thing on today's agenda is.
14.29 We have returned to the hotel. Christer is in the room to change to a warmer jacket, I bought a souvenir glass and somewhere in the distance Gary Moore is singing "Still Got the Blues".
14.55 We have walked down to the harbour where the boats to the Asian part of the city depart from. Right now we are looking towards the Galata Bridge which spans the Golden Hornets outlet to the Bosporus.
15.22 In Istanbul you can commute between districts with the help of various means of transport. There are metro and tram, but the most common way is probably to go by boat/ferry. They depart constantly between different parts of the city. Our boat is currently traveling on the Bosphorus with the destination Üsküdar on the Asian side. Behind us are lots of hovering gulls. The birds are screaming excitedly. Probably, they have learned that the boats' progress brings out food.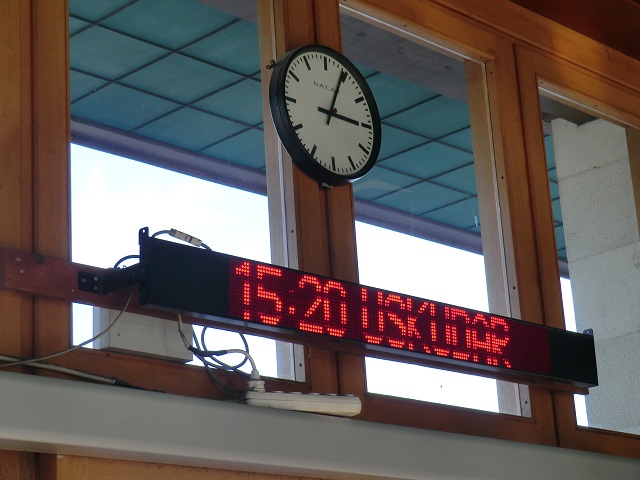 We are soon heading to Asia.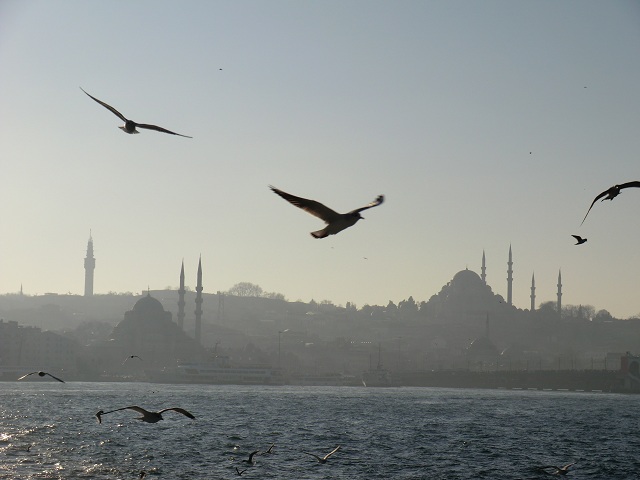 Birds follow our journey.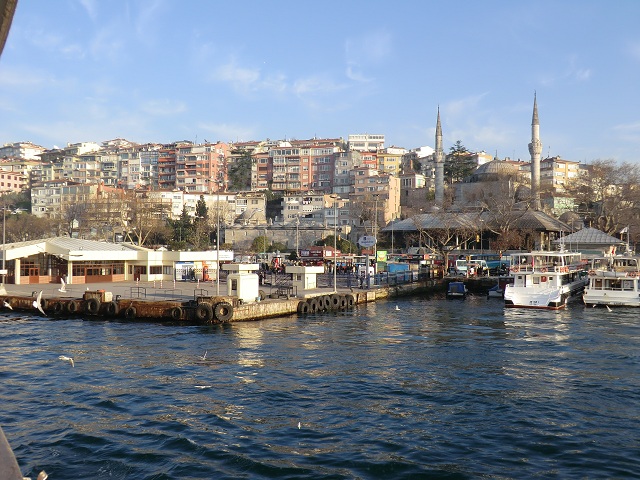 Üsküdar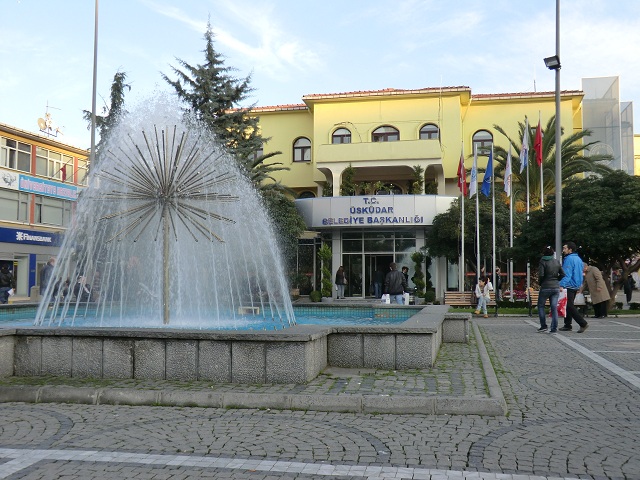 The small park in front of Üsküdar municipal building.
15.54 The boat reached is destination and we got off. We are in the district of Üsküdar. Right now, we take a small bench break in a small park in front of the town hall. We are in fact in Asia now. Istanbul is located in not less than two different continents.
16.15 We had planned to get something to eat here in Üsküdar. Christer suggested that we should wait with that. It is better to use the available light so we can take more photos. It is therefore time for the second boat. We're going back to Europe.
16.50 We went by boat to the district of Besiktas. The landing took place not far from the football team Besiktas JK's home stadium, Inönü Stadyumu. A match is being played this evening and souvenir vendors are already in place. Now we are sitting down on a tram that runs on the T1 line.
17.33 The tram stopped not far from the Grand Bazaar and we got out, or rather pushed ourselves out. People were packed like sardines and it's not easy to get out of the trams. We decided to eat and we went to, as in so many countries, Burger King. In the toilet there was a man who meticulously washed his hands, wrists and fingers.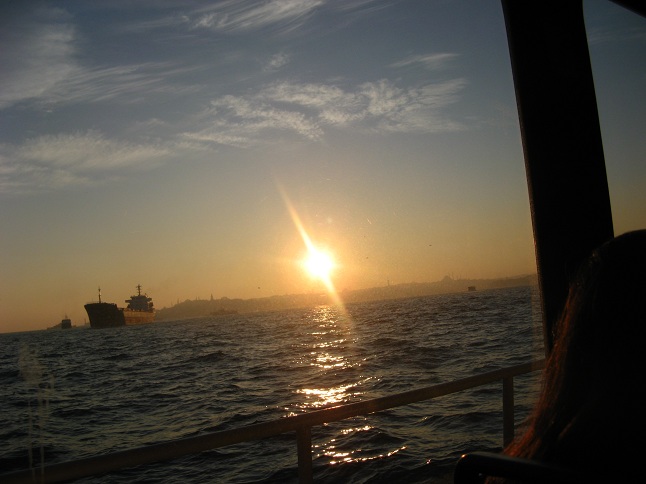 Sunset over the Bosphorus.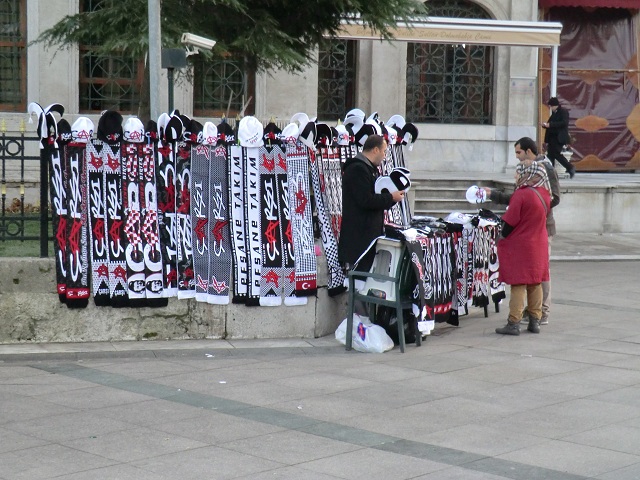 Tonight Besiktas has a home game.
18.15 It is time to visit one of those internet cafes that we have a habit of visiting. It is never wrong to have control over what happens. Christer just found out that Sweden´s junior ice hockey team has made it to the World Cup final. My computer is malfunctioning and the Enter key stuck. Now we must remember that the Turkish alphabet, which is a variant of the Latin alphabet, contains two versions of the letter I, with one with a dot and one without. It is easy to make mistakes when you log on to various sites.
18.59 We will now, after a while in the electronic internet world, head out into the real world.
19.14 The return to reality forced us to return home. Tapirus bairidii is written on my in Belize purchased t-shirt or Central American tapir to use a more common name.
20.45 We are making a financial estimate of future costs. We anticipate that the remaining payment is roughly, 300 lira. Out withdrawals will be based on this sum. The only thing to do if this estimation is wrong is to withdraw more money.
22.04 We bought evening beers and small pastries in a shop and fruit from a man on the street. Now we're going to plan so that tomorrow will be a great day.
22.37 Soon we will drink our evening beers. Christer just read about a man who in the 1700´s "flew" using the wings on his arms from the Galata Tower to a square in Üsküdar, where we were earlier today. The man's name was Hezarfen Ahmet Çelebi.
---
Thursday 5th of January
08.30 We are wondering why sometimes on the trips some tunes, songs and other jingles have a tendency to get stuck in the heads. It happens every now and then that a song from the past, a nursery rhyme just keeps repeating in the head. Is it because we do not listen to as much music on the trips as we do otherwise?
09.21 We have indulged us with a buffet breakfast at the hotel restaurant Faro. A hearty breakfast is good to have when you are going out to discover.
09.55 It is time for a bus tour with a company we travelled with in Cape Town in 2009 and seen in various cities such as Frankfurt, Rome, Dublin, Glasgow and Athens. The name of the company is City Sightseeing. The ticket is valid all day. You can jump on and off at different locations.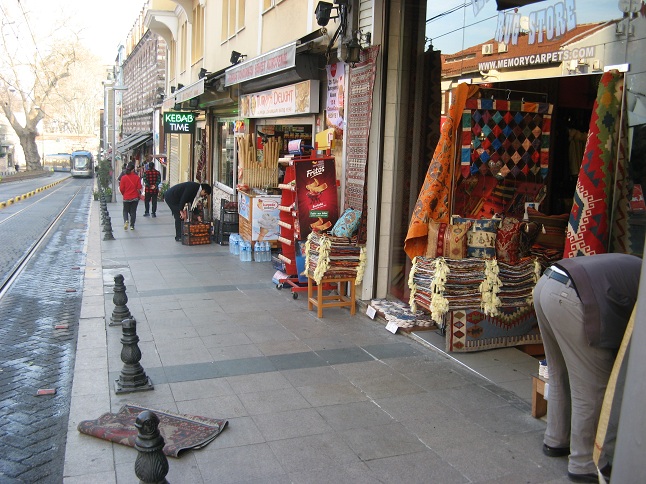 Kebab and carpets, typical for Turkey.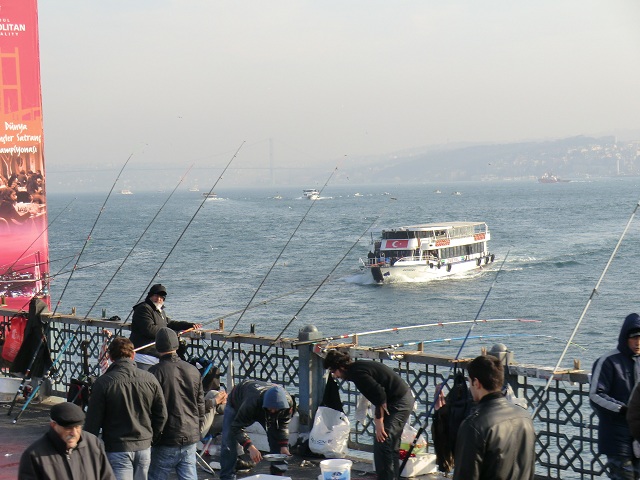 Fishing fans on Galata bridge.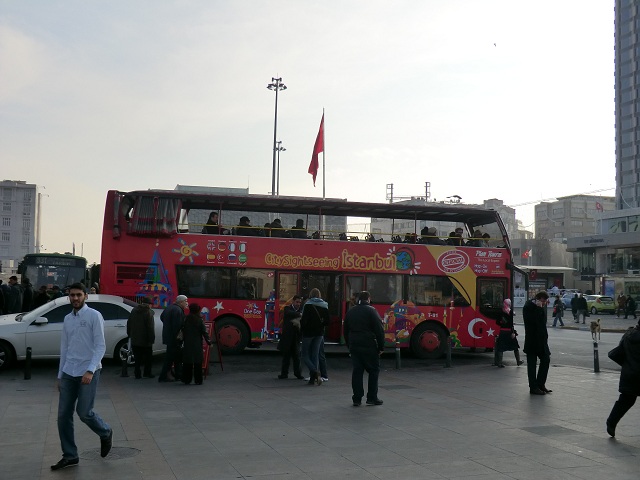 Our bus has dropped us off on Taksim Square.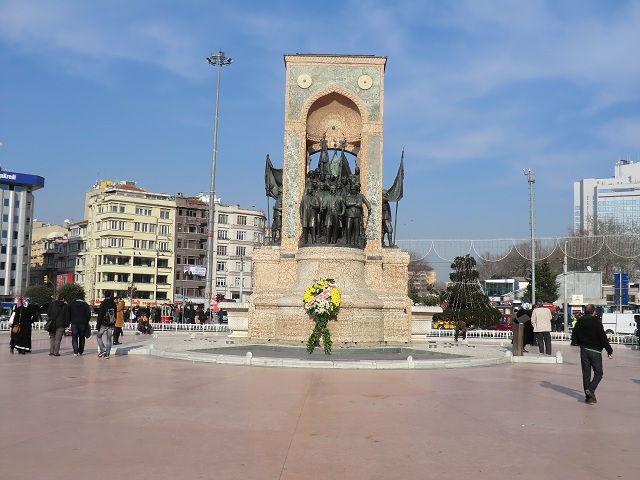 Tributes to the Turkish republic on Taksim Square.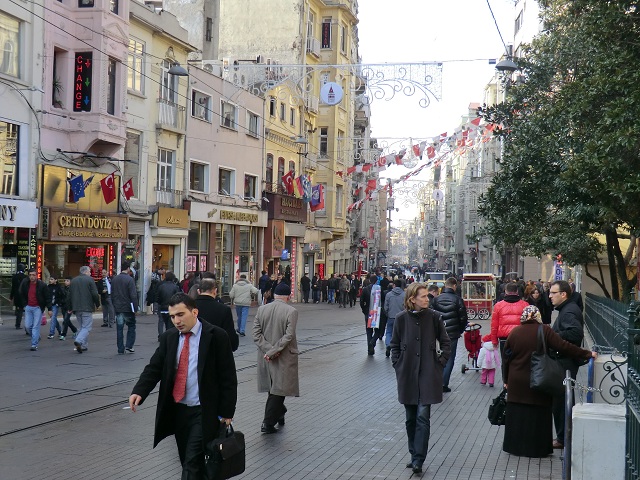 Istiklal Caddesi, the modern Istanbul's main shopping street.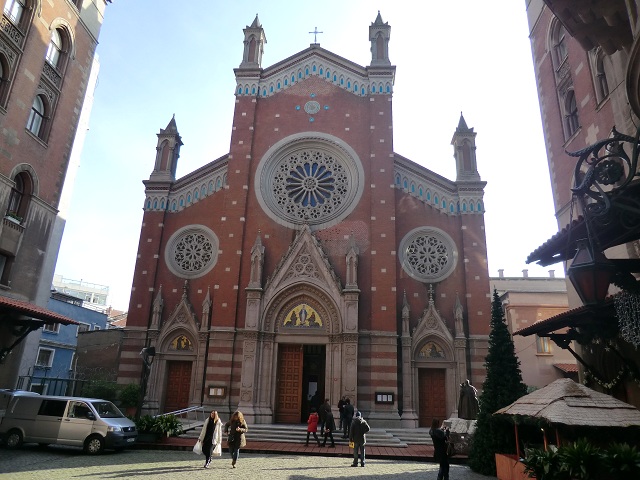 The catholic Saint Anthony's Church.
10.07 Our coach has departed from the Hagia Sophia and we have slowly made our way out of the Sultanahmet area and via a bridge reached the modern parts of Istanbul, Beyoglu.
10.34 We jumped off the bus at Taksim Square and are now to acquaint ourselves with yet another of Istanbul's neighbourhoods. We passed Besiktas football stadium on our way here.
10.58 There has been a stop for positioning on the map. We are in all cases at St. Anthony's Catholic Church. It has beautiful Christmas decorations in the form of a nativity scene.
11.09 There has been a new stop. We have moved along the main pedestrian street Istiklal Caddesi. Now we are in front of the Swedish consulate. It is actually on soil owned by Sweden, a piece of home over here. It's a really classy house with a large garden.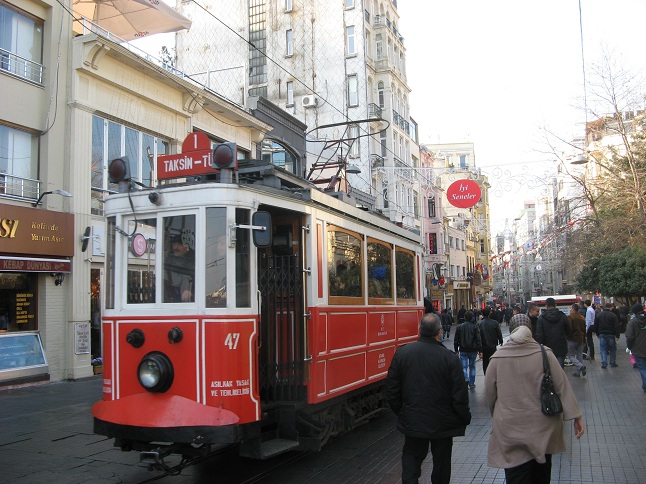 One of the trams that go between the funicular Tünel and Taksim Square.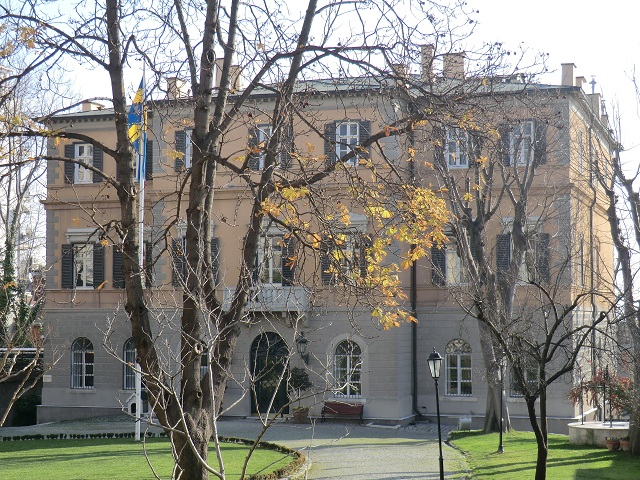 The Swedish consulate in Istanbul.
11.27 Our expedition took us to the foot of the Galata Tower. It was from up there that Hezarfen Ahmet Çelebi flew over to the Asian side. The sun is shining and a few tired dogs are sleeping next to us. It is quite hilly here, steep narrow streets leading down to the Bosphorus.
12.03 We have unwillingly wandered around and went into a neighborhood where they sold tools, automobile parts, tires and machinery. Now we are about to go with the underground funicular Tünel that we desperately searched for during the last half hour.
12.31 It was a short trip. A subway itself is not so strange, but this goes uphill and the line is the second oldest in the world. Now we are sitting in armchairs at Starbucks Coffee. Is this the last stop in the chain on this trip? Now a free-range dog passed in the pedestrian area next to us. Which dogs have the best lifes? Those who are locked up in an apartment or those who roam the streets?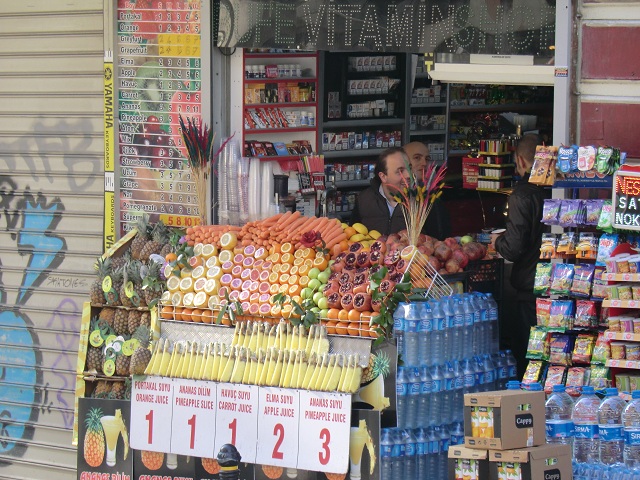 Here you can buy different types of juice.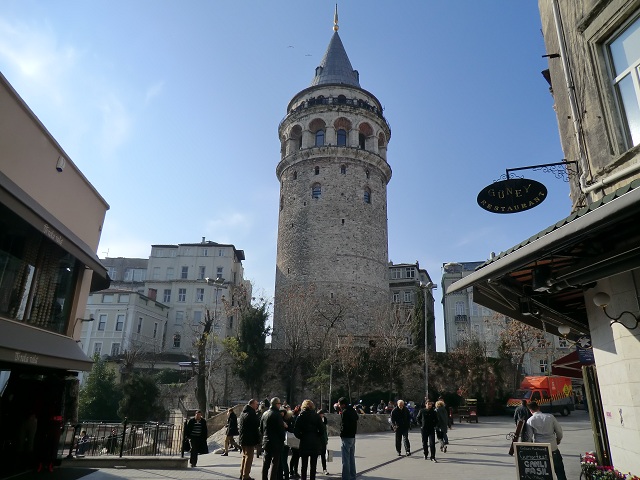 Galata tower.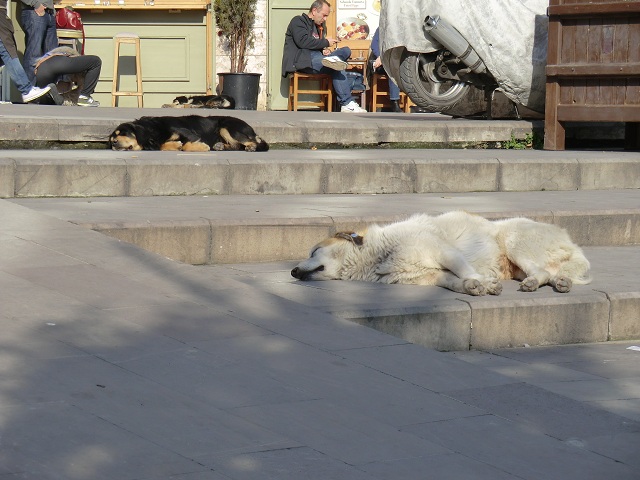 Dogs enjoying the winter sun's warming rays.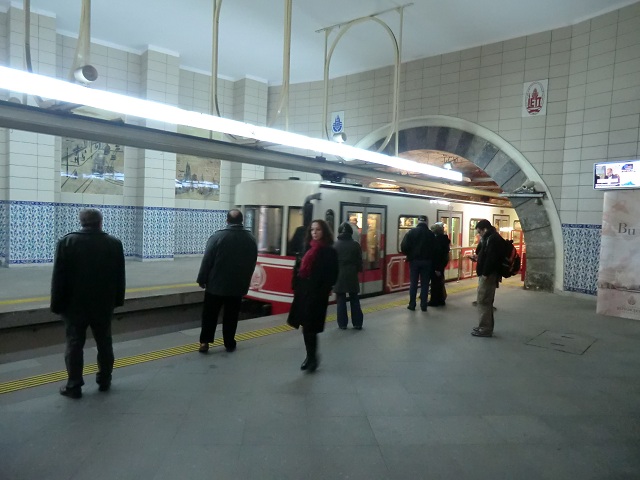 Tünel, a subway going uphill.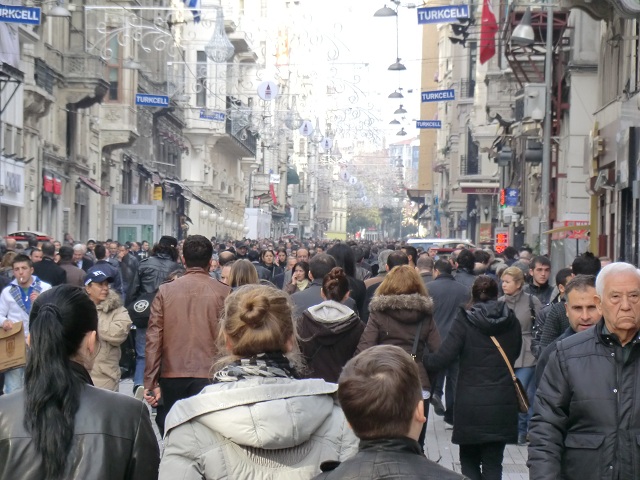 There are lots of people living in Istanbul. You notice it days like this one.
13.26 We have so slowly strolled back to the Taksim Square and proceeded to the Taksim Park. We took the pedestrian street back but now it was packed with people. The Taksim Park has everything a park should have, trees, grass, walkways and a fountain. However, it doesn't have what we're looking for, a bench to sit on. In the absence of bench we are sitting down on a concrete structure just outside the park.
13.36 We walked over a footbridge and into a new park, the Maçka Park. Here we have found some benches. Plus, it offers a small playground and gym equipment. Christer has just found a pocket in the bottom of his small backpack. There was a yellow sheet which can be pulled over the backpack. It had not been discovered until now.
14.13 We are back on the Taksim Square. We are waiting for the bus from City Sightseeing. It is time to continue the journey.
14.29 The bus is here and we are on board on the top floor. It's time to plug in your headphones and set the language and audio volume.
14.47 It is tough to drive over the crowded Atatürk Bridge which is spanning the Golden Horn.
15.08 After the turnaround at a cemetery we just passed the remains of city walls.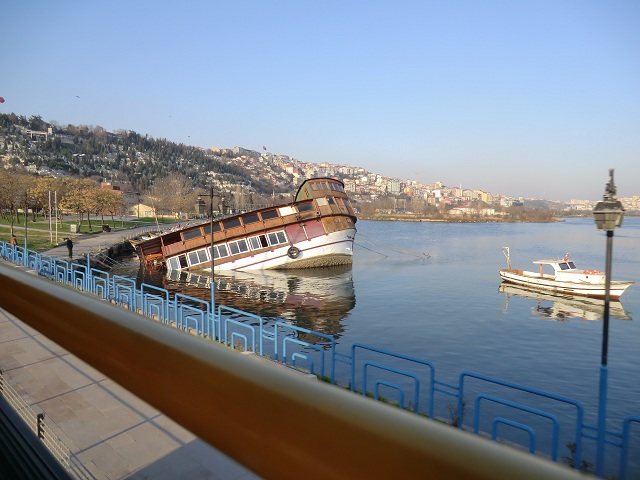 A boat is sinking.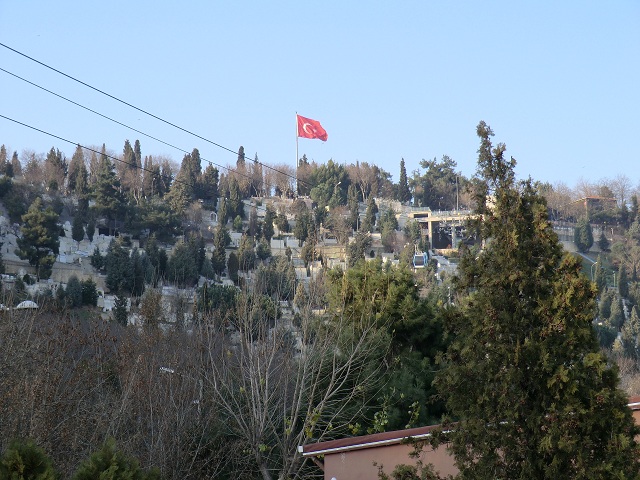 Eyüp-cemetery.
15.23 We passed through the Golden Gate and go with the Bosphorus and Asia to our right.
15.29 Now we have stopped at the city's fish market. You can see fish and it smells fish.
15.56 The tour is over. We were a little frozen from sitting on the half-open top of the bus and hungry so we sat down upstairs in the restaurant Ayazma.
16.46 The food and service was very good. We ended up at the restaurant by coincidence but it was an excellent choice. We are now walking through the Grand Bazaar (Grand Bazaar). It is an experience for most of the senses. It is simply a giant indoor market. It originated in the 15th century.
16.59 We left the bazaar and have now reached the Çemberlitas Square and its ancient stone pillars. The column is called Constantine's pillar and erected in 330 AD At its summit once stood a statue that was topped with pieces of the cross that Jesus was nailed to. The inside the pillar plinth is supposed to contain the remains of the crosses which were next to Jesus, the baskets from the bread and fish miracle and the jar that Mary Magdalene used when she anointed Jesus' feet. It is alleged that the ax which was used by Noah as he built the ark lies here. In short, there is a lot of waste below this colossus.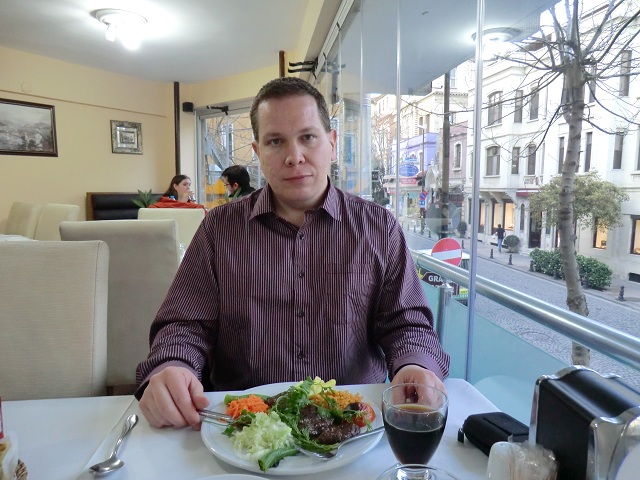 Christer is having a late lunch at the restaurant Ayazma.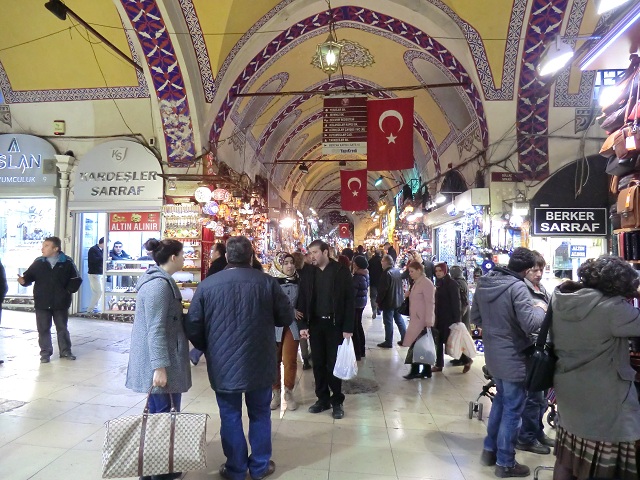 The Grand Bazaar in Istanbul.
17.41 Once more we are surrounded by our room. Now, the remaining time in Istanbul is being planned. What are we doing tonight? When we will we pay for the room? What are we doing tomorrow? How do we get to the airport? Will it be by the shuttle which is offered both in the reception and in some places around town?
20.20 We have buzzed about almost nothing, just plain nonsense. The only concrete thing is the fact that some question marks have been partially straightened. Tonight we will visit an internet cafe and a restaurant. Tomorrow we will pay for the room, see the Blue Mosque and the Cistern. We will use local transports or a shuttle to get to the airport.
21.10 Now we're in the restaurant Saci Beyaz. It is just meters from our hotel, across the street. Before we came here we were out on the internet. It seems to have been some snowing at home.
21.22 A lady in a fur coat, sat down behind Christer. Pretty soon one of the waiters walked over to her. He did not pick up an order. Instead, he gave her a stack of napkins to be folded.
21.40 The plates we dined from have been carried out. In came small plates and cutlery. Now what?
22.19 What happened was that we got orange and apple, and tea. Multiple languages were used here, the Russian word for bill, thanks in German and thank you and goodbye in Swedish. It is a good thing that Christer is an expert in languages so we that understood what was being said.
22.58 It is time to pack most of our belongings. Some will have to wait until tomorrow but the rest is down.
23.34 It is a hive of activity at the construction site here. Do they have piece work, are they behind schedule or what? Our hotel's emergency exit is a narrow spiral staircase. It is reached by pushing up a heavy door of the type at a dumbwaiter.
---
Friday 6th of January
07.55 It is time to make the last entry from the edge of a bed for this trip. Today we'll travel back to Sweden, at home await snow, freezing temperatures and our jobs. We hope that there are other more uplifting things as well.
08.59 Christer just announced that he will go down in the basement here at the breakfast place Faro, it is actually the breakfast room of a hotel. In the basement is the room you usually go into one at a time. There is no risk that that one will run out of paper there. On a shelf are over 50 rolls of toilet paper. When he returns, we´ll head out to more attractions.
09.30 We have searched and spent some time underground. It is not the subway, but the city's old water cistern. Here we are with other tourists and fish. It is a dream-like atmosphere down here, relaxed, subdued and murky. Large stone pillars stand in water and in the water are swimming fish. Water was stored here in the Byzantine era. The cistern was forgotten and during the Turkish period, it was discovered that people were able to fish through holes in the floor at various houses. This led to the rediscovering of this amazing landmark.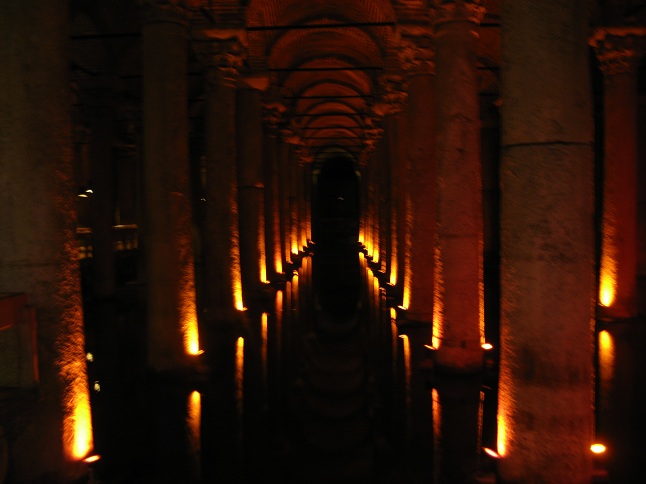 We finished off our Istanbul trip with a visit to the Basilica Cistern, a special place.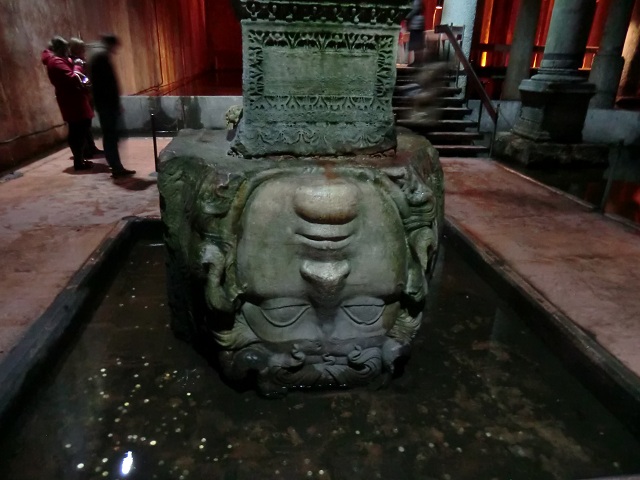 Medusa´s head, upside down in the cistern.
09.46 We have returned to the world above. We are back into the light and modern sounds. We are having a bench break at the Hippodrome. Now is not a lot of time or things to see here in Istanbul.
10.07 Now, enough with the bench break. We are now in the courtyard of the Blue Mosque. Soon we will enter it.
10.25 There are plenty of tourists inside the Blue Mosque. We first tried to go in there a few other just entered. It was not possible according to the guard there. Another entrance was used. Now we have taken off our shoes and put them in a bag each. We have walked around, admired and preserved the beauty here. The mosque has beautiful glass windows and an incredible ceiling.
10.40 We left the mosque and Christer gave 5 lira in contributions to the mosque. This was something I did not. I paid 10 lira. Now we will head back to the hotel for the last time.
10.57 We're back in our room. Now it will be a few last things to be done before we round off this travel adventure.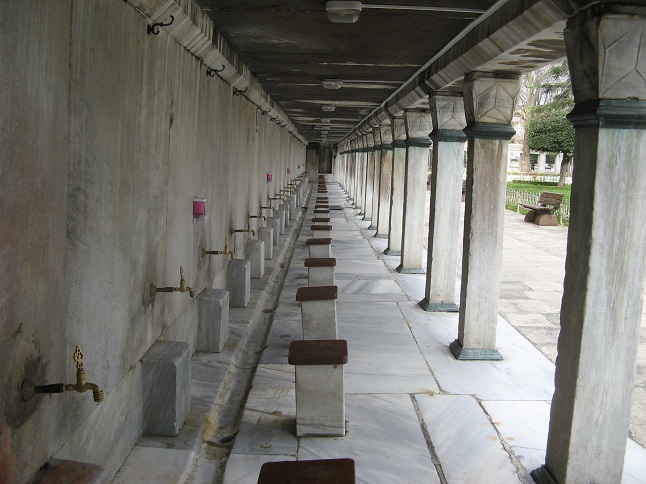 You have to be clean when you are meeting God.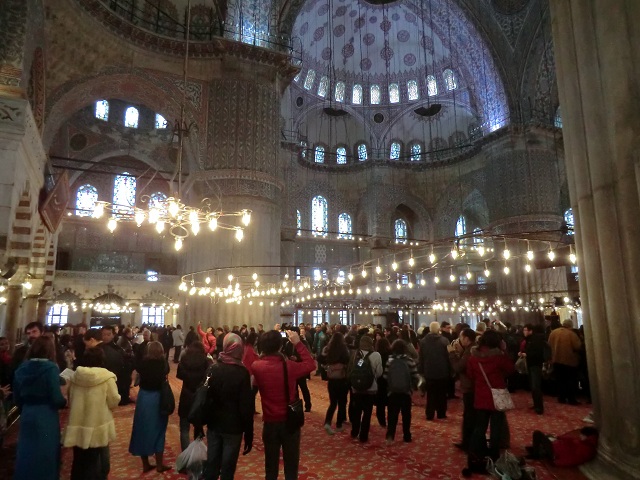 Inside the beautiful Blue Mosque.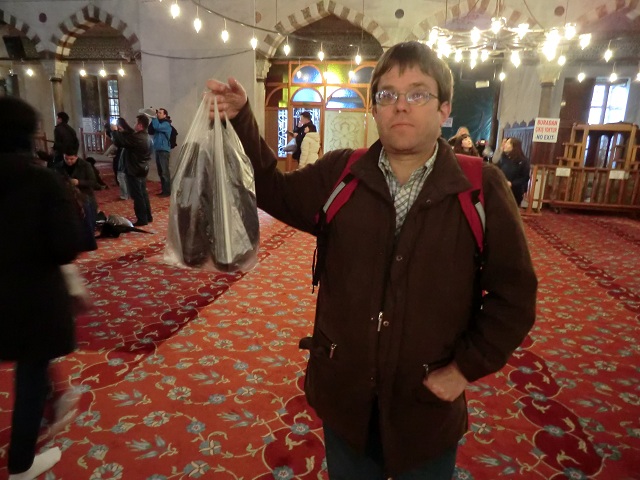 Never wear shoes in a mosque.
11.29 It was a smooth check out. We had booked four nights here, were delayed and only had to pay for three nights, thanks! Now we are waiting for a tram that will take us towards the airport.
12.30 The tram took us to Zeytinburnu and where we switched to the underground the last stretch towards the airport. At the airport awaited a safety control just inside the doors. Now we are sitting on a bench in the departure hall. Our flight is yet to be seen on the monitor.
12.53 I went to get a luggage cart. I made the mistake of going outside to retrieve it. Sure, there was a cart but since I left the airport, I must of course go through the security checks. I managed to top it all and go in through the wrong entrance. I used the entrance for the VIP passengers. There was a red carpet. I went out again and took the correct entrance. During my absence, Christer has during my absence guarded the backpacks and have just been and looked for info. We know nothing more.
13.21 Soon the information came and we went to the designated counter. There, we learned that we missed out on booking to pay for our luggage. The reservation was not directly with the company but through an internet site and we didn't get any information about baggage fees. We went to the Air Baltic desk and paid 30 euro each.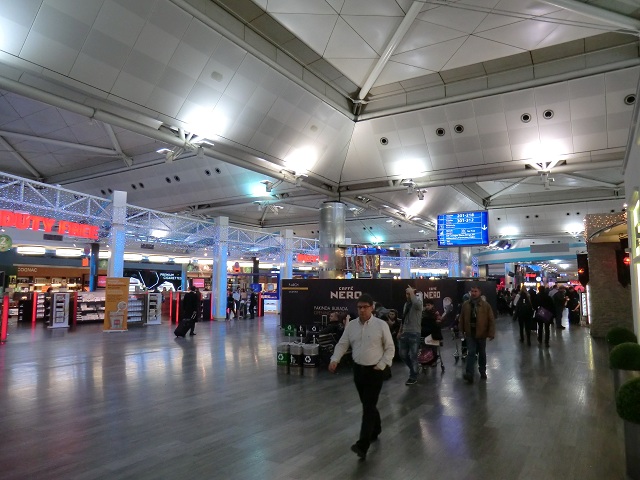 Atatürk International Airport
14.00 We went to show our passports after we had paid. Now we have eaten a quick lunch at Quick Asia and are ready to continue waiting.
14.54 The gate is passed and we have sat ourselves down in the plane. Soon it's time to take off from Atatürk Airport.
15.24 There is a queue for the runway and we'll get going late. This gives us less time to change planes in Riga. I hope they have time to move on backpacks.
17.50 The approach will commence shortly. We have received information regarding the gate for the next flight. It's great to get such information.
LATVIA

18.55 The plane landed around fifteen minutes late. We went through the security checks and to the passport control. There a man from Azerbaijan held everything. He had great problems to pass. A new counter was opened and we finally could pass through. We rushed ourselves wrong at first but found the right way. The hassle led to that we had no time to buy something to bring home. It was painful having to rush past the shops with the sale of Riga Black Balzam. Now, we boarded a small propeller plane, a DASH 8 Q-400. It´s time to fly to Sweden.
SWEDEN

19.14 We're back on Swedish time and soon back on Swedish soil. Out in the darkness there is visible light from the ground below. Soon we will arrive. Does that also include our backpacks?
19.57 Sure, we got the backpacks. Now we will buy us some breakfast before we eat a dinner.
20.47 The last meal of the trip was at the same location as the first. We have just finished eating at Alfredo's.
21.54 The final journey is about to begin. We have sat down on the Y-bus that will take us to the north of Sweden. We felt a bit sorry for some passengers who were waiting for the bus more or less barefoot here outside Arlanda airport. Presumably, they have been for warmer destinations than we have.
---
Saturday 7th of January
00.23 There have been a short stop in Tönnebro. We will soon be on the road again. It has been all but quiet on the way here. People have been speaking, children have played and so on. I hope that the last two hours getting quieter.
03.21 It didn't get much quieter. The bus took us however to Sundsvall and we have walked to Christer's apartment. Now we are about sleep. We need to charge for the weekend, semester and upcoming trips.
---
VIDEOS
---
You can see 36 photos from January 3 in this photoalbum.
You can see 91 photos from January 4 in this photoalbum.
You can see 92 photos from January 5 in this photoalbum.
You can see 40 photos from January 6 in this photoalbum.

---
---

---