---
Text: Peter Johansson
Editing: Christer Lundstedt
Photos: Christer Lundstedt, Peter Johansson
Videos: Christer Lundstedt
---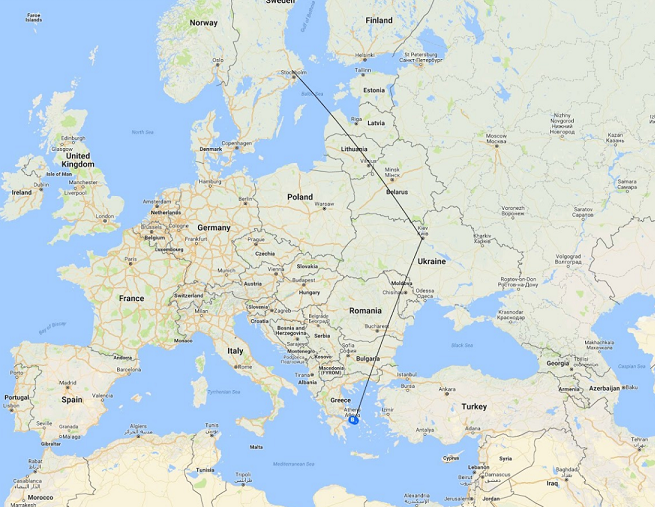 ---
Tuesday 27th of December
12.00 It's been 4,5 months since Christer's and my travel roads parted. Now they are about to reunite. We will during the day reach Arlanda airport. He will travel from Nyköping and I with at first a bus from Docksta. There is almost no snow here. It really stormed the night before yesterday. As a result, there was a power failure and cancelled trains. I hope that everything works as it should with the trains today.
14.19 There are trains departing from Sundsvall. My train is delayed by 40 minutes. What about the connecting train in Gävle? The one I have a ticket for might have departed as I get there. I am sitting in the information room and wait for an answer. I am all but alone.
14.43 Now I've the information I need. The train departs at 15.40. In the case of Gävle, I can jump on the next train south. They don't bother about the tickets today. You are welcome to ride any train no matter which company just as long as you got a ticket.
15.15 It was said that the train would depart 15.40 but it will leave now. The storm had caused a signal failure and that was why the train from Stockholm to here was delayed. That train is now ready to return south. It now remains to see which train I will catch from Gävle.
15.35 There is still a signal failure and we are standing still just before Gnarp. We are about to roll with reduced speed.
16.37 A derailed freight train is blocking the track near Iggesund. We have to leave the train and ride a bus between Hudiksvall and Söderhamn. It sure is taking some time today.
18.56 We went with Andersson's Bus to Söderhamn. We travelled with the same company to Hudiksvall at the beginning of the summer trip of 2010. From Söderhamn we rode the X-train to Gävle. Once in Gävle I helped two English-speaking women on the train south and then went and sat on the same train. We will leave the station in about ten minutes.
20.51 Christer and I have reunited here at Arlanda and have as many times before went to eat at Alfredo's. It isn't any culinary sensation, but it is satisfying and the only eatery here that is both open and fits our budget.
23.14 The dinner ended and we went to Jumbo Hostel (http://www.jumbostay.se), the youth hostel here at the airport that is inside an airplane. Here we stay in room 724. We have been watching TV and just set the cell phones for wake up signals. Tomorrow the journey begins for real.
---
Wednesday 28th of December
06.09 We just woke up at Jumbo Hostel and have watched BBC World News. They are showing the funeral of Kim Jong-Il from North Korea. Lots of people have turned up in the snow to say goodbye to The Dear Leader.
06.55 We checked out and came to the bus stop just as the bus got there. Now it's time for a light breakfast, drinks and baguettes at 7-Eleven.
07.41 Things sure move fast. We just sat down at the gate 19. Soon it's time to board the flight to Kiev. Once there, we need to get a new boarding card for the flight to Athens. The incoming plane, which we then will fly out with, is a little delayed.
08.36 The passengers are asked to sit down at locations corresponding to those on their boarding pass. We are up to 30-40 minutes late. How much can we catch up? It is time to set clocks forward one hour.
CHANGING TIME ZONE
10.10 The light in the cabin has been lit. We are flying with Aero-Svit to Kiev. There it will be a quick change of planes and we´ll continue to Athens. Our plan has a row 13, but we sit in row 29.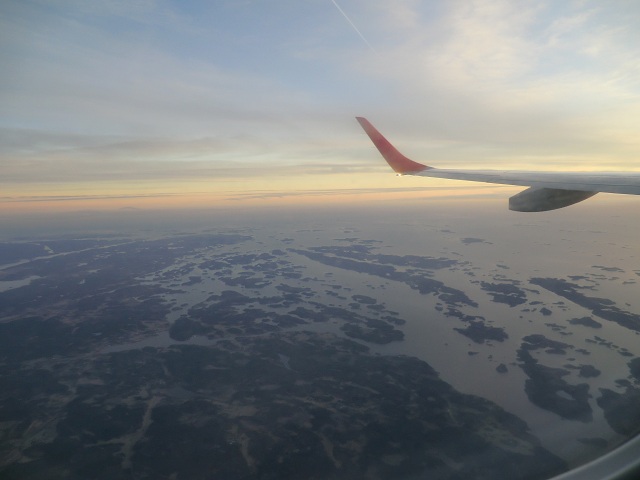 We look down at the Stockholm archipelago.
10.56 The last remnants of the lunches have been placed in garbage bags. We fly quietly on towards the southeast.
11.41 So we started descending towards the Boryspil International Airport. We have passed the huge Kiev-reservoir and have just flown over a large river, the Dnieper. We do not see any snow on the ground. It will be nice to land. A new flight is waiting in an hour.
UKRAINE

12.30 We landed and went to the transfer desk. In the chaos that prevailed there, we arranged with new boarding passes. Now we stand in line at the security checkpoint. Here are the many others and are slowly heading on.
12.41 It is possible to advance in a queue if you just push on ever so easy. I signalled to Christer that I would check the gate. Now I have walked to the gate mentioned on the boarding pass. There was only the lady at the counter. Had I arrived too late? No, it's all right. It had been a change of gates. Soon Christer will have made it through the crowd.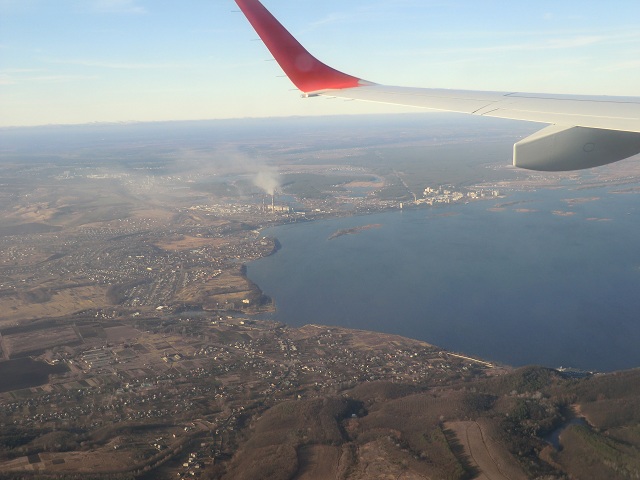 We´re flying over the Kiev reservoir.
12.57 We are, after a bit of queuing at the gate, about to board the bus that will take us out to the waiting aircraft.
14.30 We have taken off from Kiev and Ukraine. Now the next stop will be Athens and Greece. When I look out I see mostly clouds. The flight proceeds peacefully.
15.26 The curtain between us and the first class was opened and a flight attendant started to walk down the aisle of the plane. The plane is heading down towards the airport Elefthérios Venizélos. Last time I was in Athens was in 1980. Not much will look the same. By the way, how much do I remember from that visit?
GREECE

15.33 We landed, the plane taxied up and stopped. A staircase was rolled out to the plane and stopped. I know it is supposed to do so, but it did it before it reached the plane. Airport staff worked and struggled and finally managed to tow away the stairs. Now we wait for a new one.
16.17 A new staircase came and we went out. Passport control was passed. At the baggage belt, we got a plastic card and a booklet from a guy. The card gives us discounts on a variety of shops and restaurants in the city. We are suspicious Swedes expected a catch. Now we wait for our backpacks before we leave.
17.04 This is not funny. Our backpacks have not come with the plane. Now we have filed a complaint that the backpacks have disappeared. They should get in touch when they know more. It was probably 20-25 people from our plane who did not get their luggage. It seems that those who transferred in Kiev did not receive the package. Should we have done as we did in the U.S. last summer and picked them up ourselves?
17.33 We are thinking. We sit at Puro Gusto, a cafe. We wonder how long we must wait for the backpacks. May we see them again? How will we do without all that's there? How do we get to the accommodation is now closest to?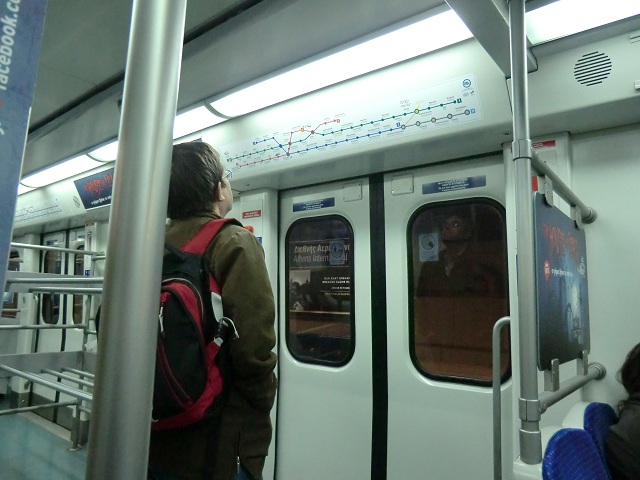 Peter checks the route on the metro.
18.06 Now it has bought a metro ticket in a vending machine. It's time to go on.
20.08 We got away. We rode the metro all 16 stations, went looking for a new line and found it. Now we are in room 501 at Hotel Pergamos (http://www.pergamoshotel.gr) in the district of Omonia here in Athens. The check-in went well but then it started to go wrong. First we had no working lights or power in the room. I went down and pointed it out and the man at the front desk came up, hit a residual-current circuit breaker inside another room and now we got lights and power.
20.28 They have called from the airport. The good news, they have found the backpacks, they are in Kiev. On the downside, it will take two days to get them to Athens. We should rejoice in the little.
21.07 We are at Joy's celebrating due to the fact that our backpacks have been found and also due to the fact that we are hungry. I ordered souvlaki and looked forward to grilled lamb. What I got was roast pork. Its bad times in Greece and lamb are more expensive than pork. Christer ordered the kebabs on the platter but his receipt says souvlaki. Earlier we bought Axe shower gel, a toothbrush and a tube of toothpaste from some excited Indians in a small shop. Omonia where we stay is known as a neighbourhood where illegal immigrants, drug addicts and other shady individuals move around. For us it is only an advantage. It gives us great hotel room rate in this part of Athens.
22.13 We bought stuff that may be helpful to have before falling asleep on our way home. Now I will probably have a shower.
23.03 Our evening beers, Fix Hellas, are drunk. Now it's bedtime.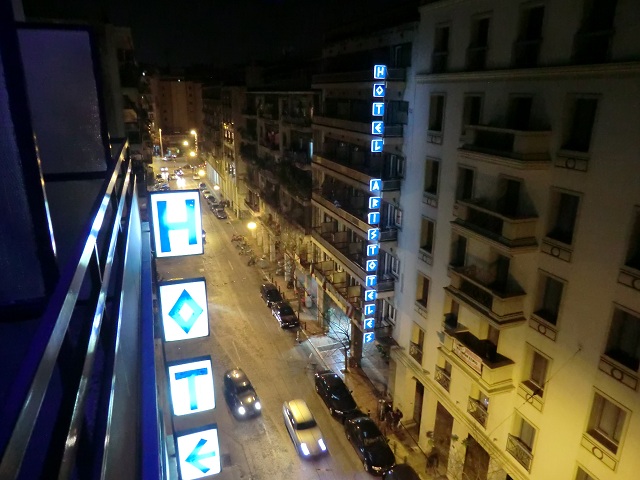 Night view from Hotel Pergamos.
---
Thursday 29th of December
08.10 It's over thirty-one years since I last slept in Greece. For Christer it has been a premiere. He has only been in country a few hours at a short stop in Thessaloniki in 2002. Today we'll walk around in Athens and also try to get some clothes. Our changes of clothes are nicely packed in your backpacks which spend their day in Ukraine.
09.36 We have a hotel breakfast each in our stomachs and are ready to plan our day. We are thinking about to follow a loop in the central parts which is recommended by the guidebook. We like to see the sights and the locals.
10.43 We have a little aimlessly wandered around a bit here in Omonia. At Omonia Square, there was a Christmas tree and a nativity scene located. We also found some nice small squares, a church and have noted that there are oranges in the trees and we are in the middle of winter. Now, we have even bought a short sleeve shirt each.
10.58 It is time for today's first bench rest. We are at the Holy Church of Constantinople here in Omonia. The church bell just began to toll and the marble bench we sit on is cold.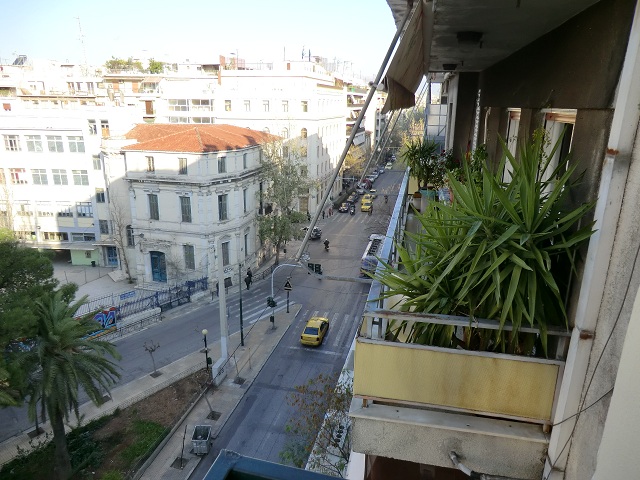 Morning view from our hotel balcony.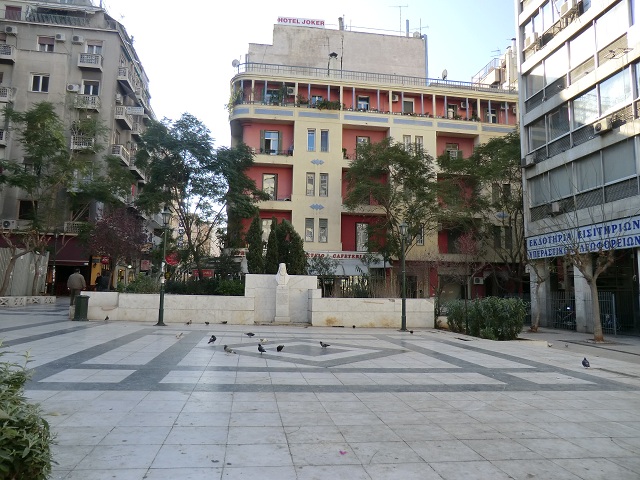 A nice square in Omonia.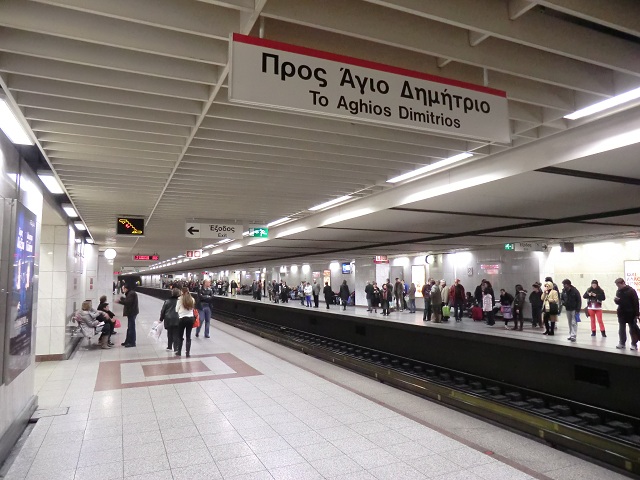 The metro in Athens was modernized and redecorated to the Olympics in 2004.
11.38 We bought a 24-hour pass on the subway. We stamped our tickets in a machine before leaving. We have just reached the Syntagma Square. We are in front of Parliament and the tomb of the Unknown Soldier. The two gentlemen in the evzones, royal guards, walks around with a style reminiscent of Monty Python's Silly Walks. We are waiting for the changing of the guard which should be around 12.00. The sun is shining and it's really nice here. A dog asleep on the tarmac, totally unaware by all the tourists standing around.
12.23 Three men came marching. One of them handed over the two others and took the two that stood guard and left. The two of us went for a coffee and muffin. It is not as usual for us at Starbucks but at Costa Coffee here at the Syntagma Square. We are about to set out on the tourist trek. There's plenty to see in this ancient city.
12.54 We have strolled from Syntagma and reached the picturesque area of Plaka which is the historic heart of Athens. There are plenty of quaint streets, small shops and numerous restaurants here. We had just sat down in front of the small yellow beige Church of Metamorphosis as a church janitor shut and locked the church door. We got out before he slammed the gate.
13.12 We have cruised through the Plaka. It's really cozy neighborhood. Store owners have shouted at us in Russian. We apparently look like Russians. Now we are at the Mitropoli cathedral that is hidden behind scaffolding. It seems that we on almost every trip are watching scaffolding. Just next to the cathedral is the former cathedral, the Church of Theotokos Gorgoepikoos & Ayios Eleytherios. This little building was once church for all of Athens in its time. Now a laughing man and a buzzing scooter just passed. A bit further away is an Orthodox priest talking in a mobile.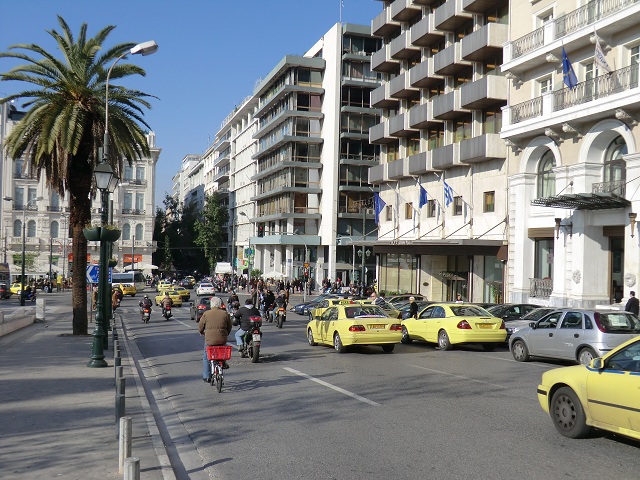 Traffic by the Syntagma square.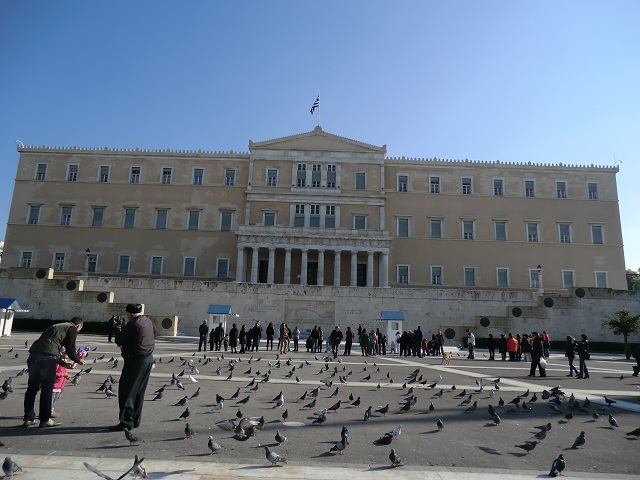 The Greek parliament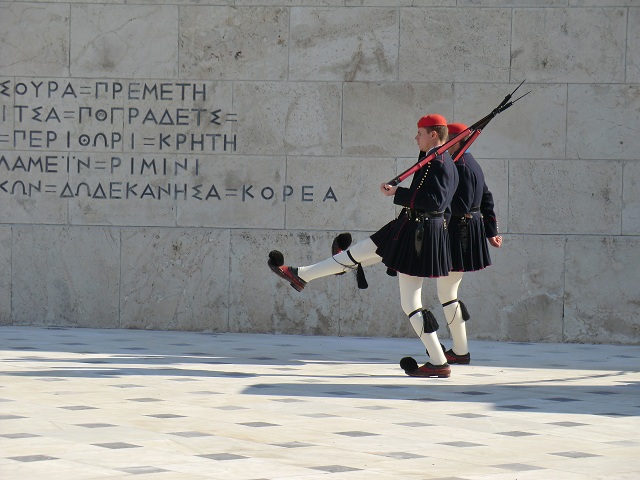 Evzone, the guards at the parliament.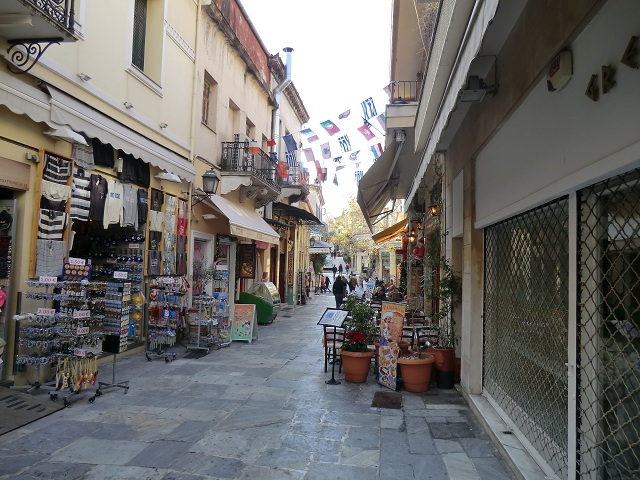 Plaka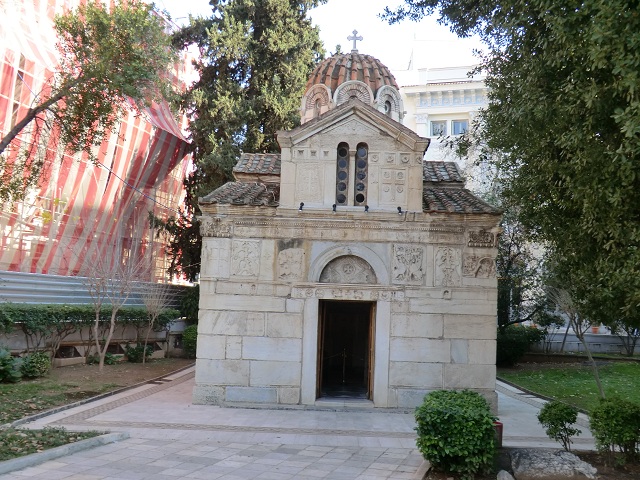 Theotokos Gorgoepikoos & Ayios Eleytherios-church, the city cathedral when Athens was much smaller than today.
13.42 We walked some distance along the shopping street of Ermou and sat down to rest a bit. Now a protest march passes. I do not understand what they are demonstrating for or against. It looks like Greek to me. We have moved to the church of Kaprikarea. It is believed that it was built in the year 1050. It is one of the smallest churches I have seen in my life. I think I saw it on my last visit to the city but I'm not sure. Something I am sure of is that we bought a mug σαλέπι (salep) each. It is a warm, viscous beverage based on grounded roots of orchids'. It is spiced with cinnamon and something else. The salesman also wished us a Happy New Year!
14.23 Behind us we have the remains of Hadrian's Library. He has since been all around this Hadrian. Earlier on the trips we have seen his gate in Antalya and we have also seen the Pantheon, which he had built. Along the way we got to see another classic, a climbing Santa. They have been with us on almost all our trips around the New Year since 2006. We also walked around the flea market district of Monastiraki. There were a lot of interesting shops with antiques.
14.38 I have just received a memory flash from my visit to the city in 1980. We are at the Tower of the Winds. It is supposed to have been built during the second century BC. It was a combined solar and water clock and was also used as wind indicators. I seem to remember that I was here in 1980 but again, I'm not entirely sure. A lady wanted to just sell me a canvas or whatever it was. I explained nicely that it was too nice to just be rolled up and put in my big backpack. Wait, I do not even have a large backpack. It's in Kiev or?
14.59 We are now up in the district Anafiotika just below the Acropolis. Here, we followed a street, Lysiou, which resembles a running track. It had three parallel tracks/files and the asphalt is red. Here we found a restaurant/tavern with an offer we liked.
15.32 We had a kebab dish for our late lunch and we drank Greek beer, Alfa.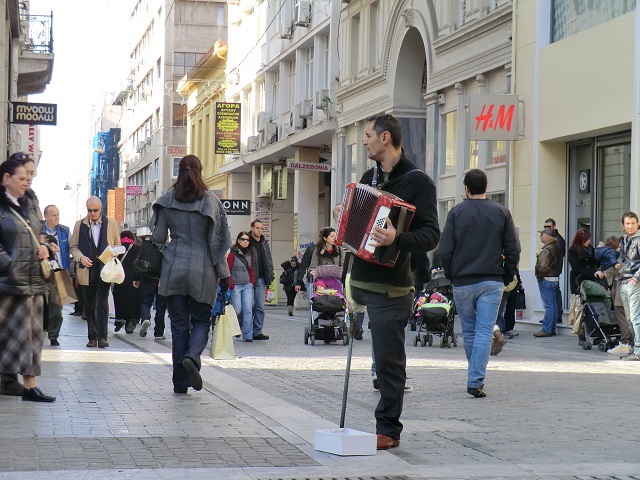 Accordion player with one leg on Ermou street.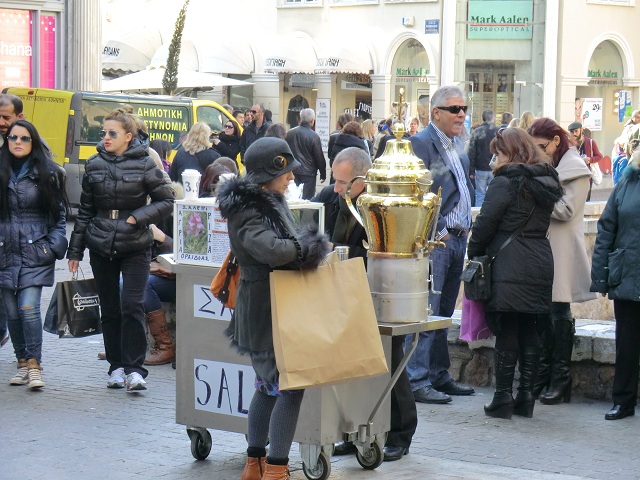 Here you can buy salep, a hot drink made ​​from orchids.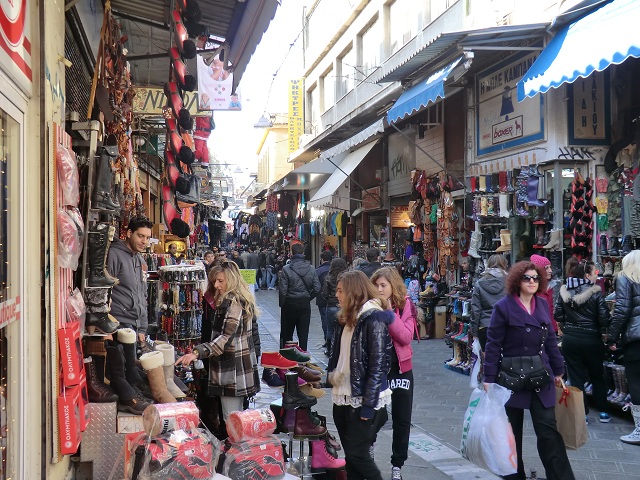 Monastiraki, an area filled with small shops.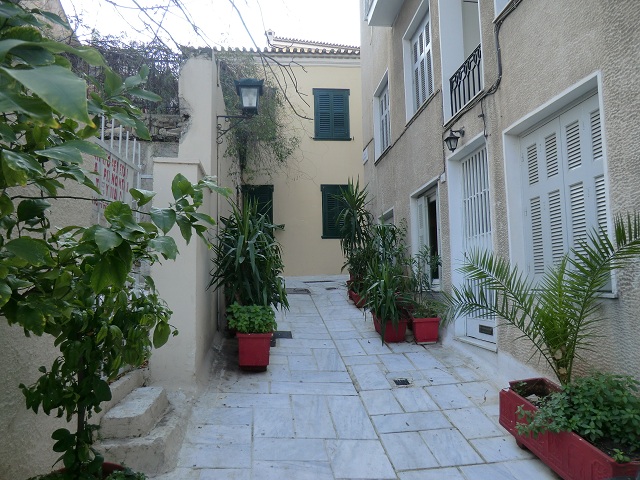 Very nice street in Plaka.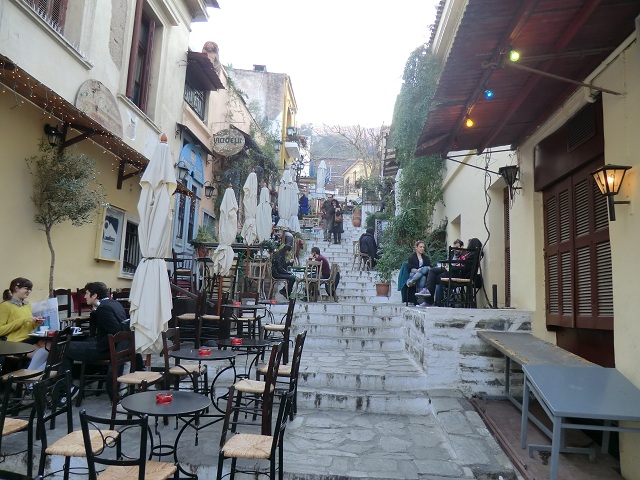 Picturesque taverns in Anafiotika.
16.16 We have walked through the Plaka, passed the Choragic Monument of Lysicrates and reached the more modern part of Athens. We now have a bench break under a pine. Behind us lie the ruins of the Temple of Zeus and in front of us is the Arch of Hadrian. It has stood here since 130 and marked the border between the old and the new city. An American family play baseball with a Pringles tube and some pine cones.
16.44 We continued our walk. Behind me is the Olympic Stadium of the first modern Olympic Games held in 1896. It is also called the "Pan-Athenian stadium". The sun has begun to set and we have seen and done to much today.
17.05 Now we're on a bench by a fountain in the park below the Zappeion, an exhibition and conference hall. Around the area, we have seen various Santas.
18.24 We have postponed further sightseeing. We decided to ride the tube back home. Between our tube station and the hotel, I bought a bottle of ouzo in a small liquor store and we bought some stuff in a Bulgarian store. There were plenty of Bulgarian goods and food in that store. Here in Omonia, there are plenty of Bulgarians. Many cars have Bulgarian registration plates.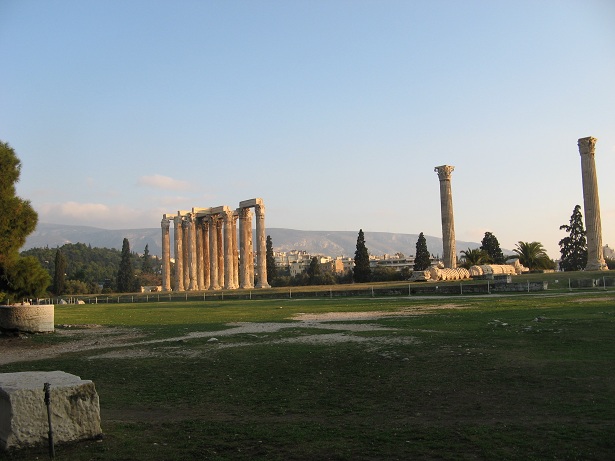 The Zeus temple in Athens, built in 400 BC
Panathinaiko Stadium, the main arena for the first modern Olympic Games in 1896.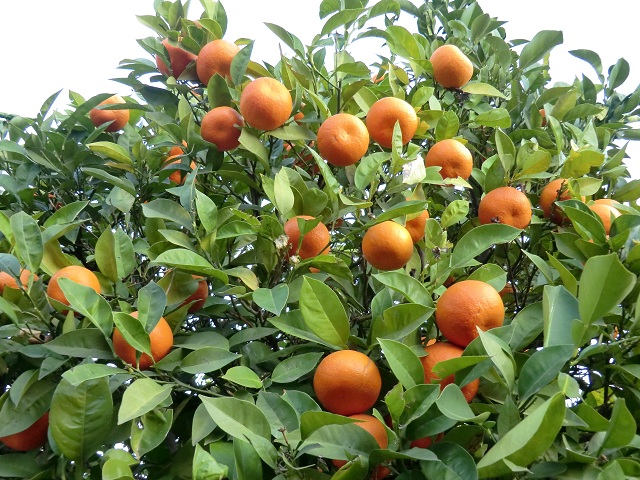 Oranges in the middle of winter!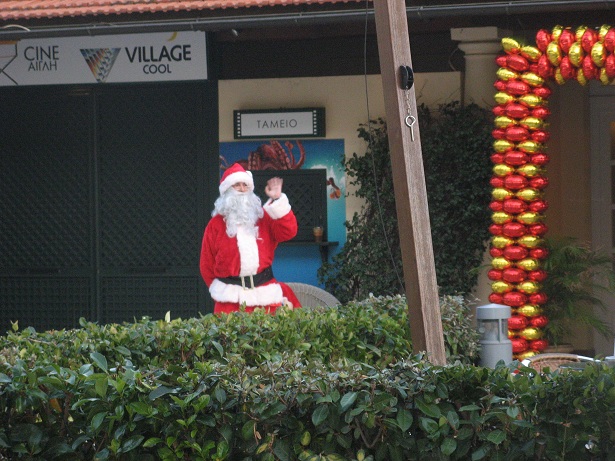 Suddenly Santa stood there and waved.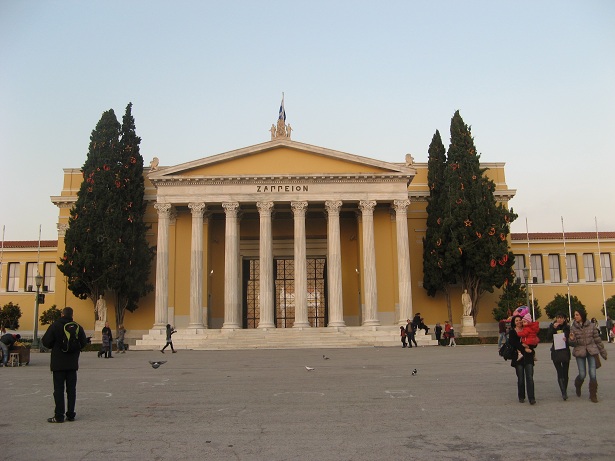 Zappeion, conference center and exhibition hall.
20.12 We have been resting for a while in the room. Right now the Czech national anthem is being played on the room TV. It seems to be a football match from Euro 2004. The Czechs face Denmark. We seem to remember that we saw that game when we were in Malta in 2004. Now it's time for dinner.
20.35 Glasses with ice and lemon have been placed on the table. Next to them stand two cola bottles. We are at the restaurant Apollion. There are many men at the tables here. Speaking of men, on our way here we saw two young men who argued, teased and almost fought.
21.21 It was great to have some food. We started to walk home straight after dinner. We passed a street at the green man but were stopped dead in the middle of the road so that two police motorcycles and a regular motorcycle could pass. Back at the hotel we pushed the button for the elevator. It came down and a young lady stepped out. She looked at us, shook her head, stepped back into the elevator and went up again, without us.
22.57 My evening beer, an Astika is finished. Now, we look at Teletext. We found an English part. Not sure that we have that service at home? We are about to fluff the pillows and most likely soon sleep.
---
Friday 30th of December
08.26 It's morning again. Our TV shows the match which we saw the start of yesterday, the Czech Republic-Denmark. Is this the day when we get our belongings? I hope so. We are not prepared for more clothing purchases.
09.46 Breakfast and the match are over. Czech Republic scored three goals and Denmark, no goal. Now we are making the final preparation before our second day in Athens.
10.42 We visited the internet before we left the hotel. We went to the site http://www.mylostbag.com and hit the code ATHVV10627. It told us that our Kiev-based backpacks are booked on a flight to Athens. Now we are sitting on the train / subway to the port city of Piraeus. Opposite me sits a man and fingers on a kombolói, a rosary that is not used for religious reasons but mostly for stress relief.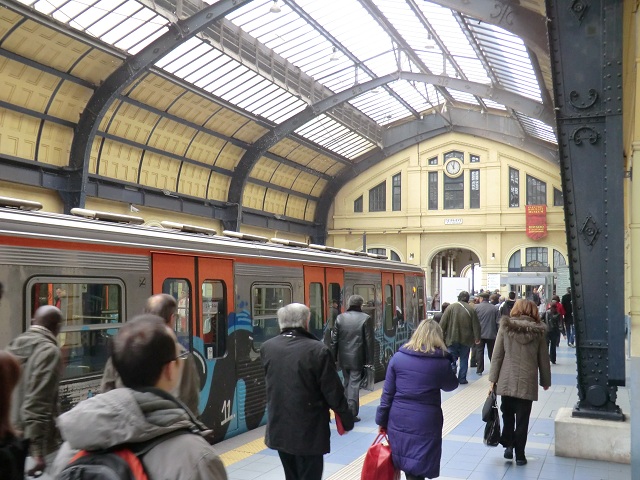 The train has reached its final destination, Piraeus.
The fish allergic looks skeptical.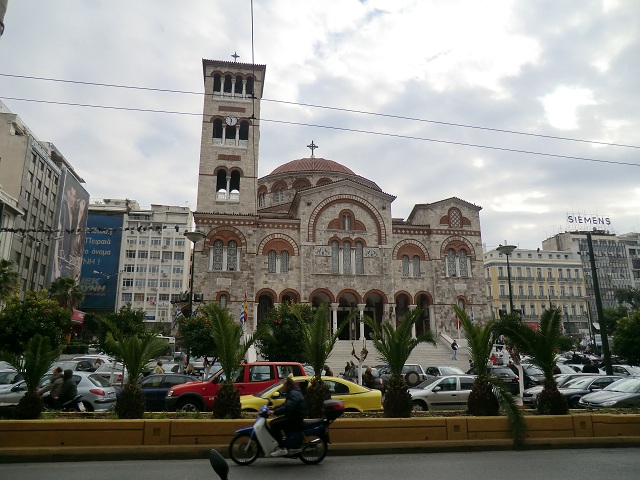 Agia Triada cathedral in Piraeus.
11.13 On the train we were offered live accordion music. One of the end stops were at Georgios Karaiskaki stadium. It is home to Olympiakos F.C. Now we are in the harbour area and will locate.
11.47 Music from Sound of music can be heard through the speakers. Previously it was Christmas songs that were played. We are after a bit of aimless wandering at last in one of the city's Starbucks. There have been many visits to Starbucks in different countries over the past six years. I think this is the fifteenth country. It's not just the coffee that is hot. Outside it is a really hot day, 15 degrees above zero. Christer is moderately satisfied because he walks around in a thick jacket. The summer jacket is with the backpack which will soon leave Kiev.
12.31 We are currently on a bridge looking out over the harbour area. Here is a hive of activity.
12.41 We are again back on a subway train. On the railway station, we saw some kind of theatrical performance. Now it's time to return to Athens. There's more to see there.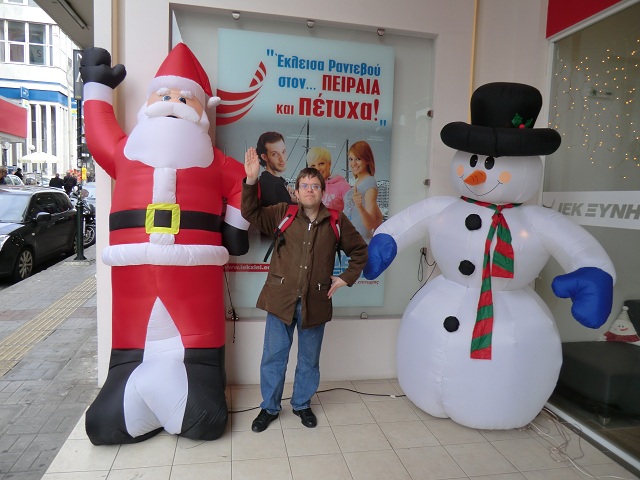 Three happy guys.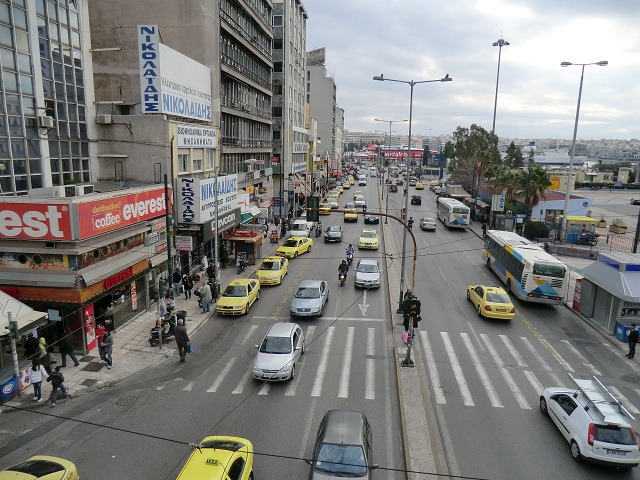 Piraeus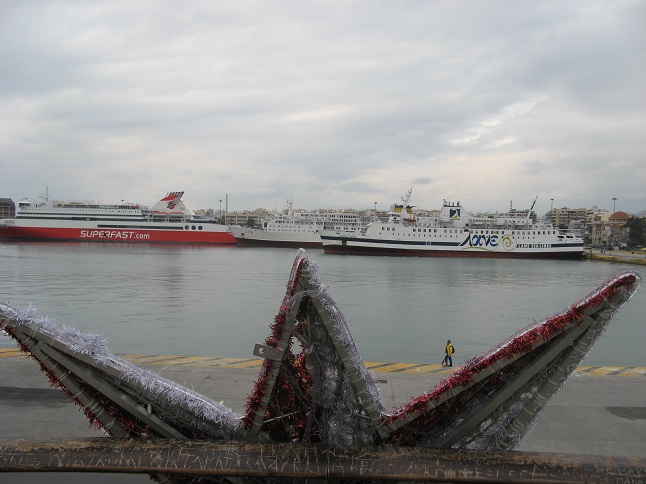 Ferries in Piraeus harbour.
13.23 We are seated beneath the Acropolis. We went to the metro station Acropolis and are now sitting on a stone bench. An albino sits on the bench next to us. We were just offered to ride a Segway but said no.
13.48 We walked and walked and finally got to the entrance to the Acropolis with its temples. Below us is Herod Odeum, an amphitheater built in 161 AD. In the distance we can hear a barking dog and accordion music. Athens looks so nice and quiet from here. Now we will head. But first Christer will do some filming.
14.08 We walked up through the Propylaea, took a look toward the hill Pnyx where the world's first democratic meetings were held. Furthermore, we saw the Temple of Hephaestus. There is scaffolding around the most famous temple Parthenon. We have before us the Erechtheion Caryatids. Parthenon was built between 447 and 433 BC. It was preserved in almost a thousand years before the 400's began to crumble. Loot and active destruction did great harm. The greatest damage occurred the 26th of September 1687. Athens was then under Ottoman control since 1456. What happened was that the Venetians lead by the Swedish-German Field Marshal Otto Wilhelm Königsmarck officer bombed the Parthenon. Unfortunately, the Ottomans used the Parthenon as a gunpowder depot and the building exploded. The internal structure was destroyed. In the 1800s it was picked / theft of some of the statues in the area by people from France and Britain.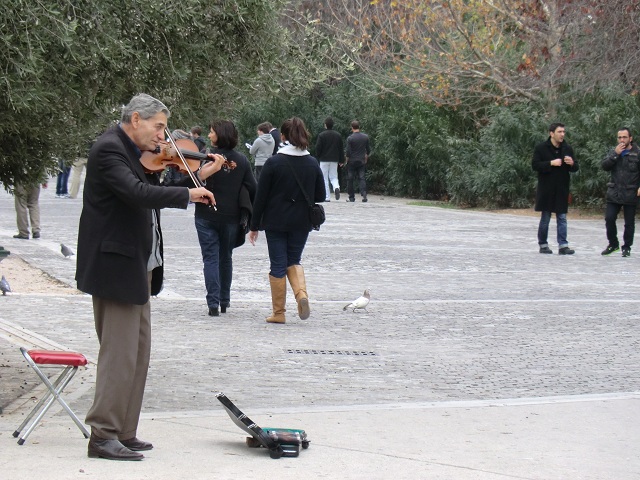 A street musician entertains visitors on their way to the Acropolis.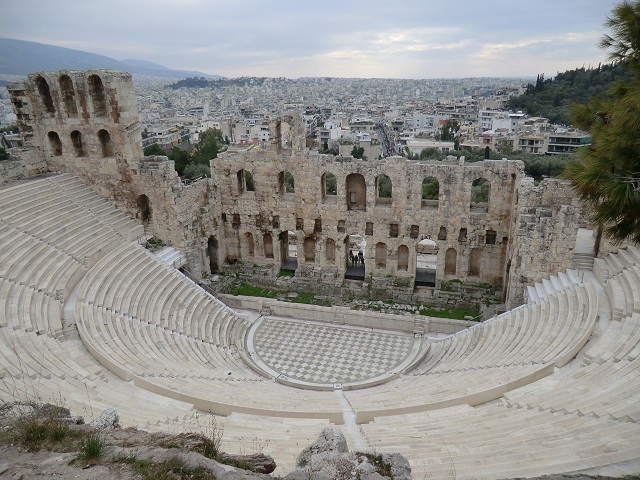 Herodes Atticus amphitheatre from the year 161 AD.
The birthplace of democracy. The hill Pnyx was used for the democratic meetings in ancient Athens.
14.25 We have walked on in this area which of course is on UNESCO World Heritage List. At the moment we look out towards Lycabettus or Lykavittos. It is Athens' highest mountain and on top of is a chapel dedicated to Saint George. Once again, this saint appears on one of our trips. We have seen a statue of him in Tbilisi and were at his castle in Lisbon.
14.51 Some men whistled in whistles and said that Acropolis closes now. We went down from the cliff and have a short break under an olive tree. Soon we'll find a lunch spot.
15.10 We had no problems finding a place which offered food. We have sat down on the outdoor unit of the restaurant Plakiotissa (http://www.plakiotissa.gr). Two Mythos were just placed on the table.
16.09 It was great with the food. Now we rest in the city's park National Gardens behind the Parliament. This kind of peacefulness is sometimes needed. Along the way we saw a man standing and beat against invisible enemies in mid-air. We followed him for a while but he got tired and sat on a bench.
16.47 It's time to travel in the metro again. We're going to Athens' central railway station, Larissa. We need to buy train tickets for tomorrow's trip. I wonder where our backpacks are now.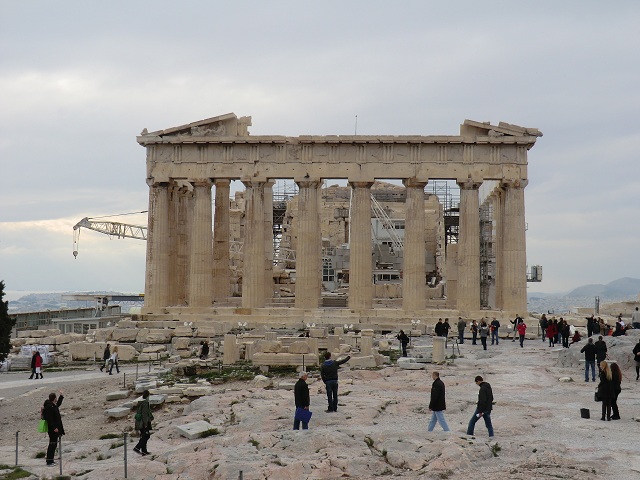 Parthenon temple under repair.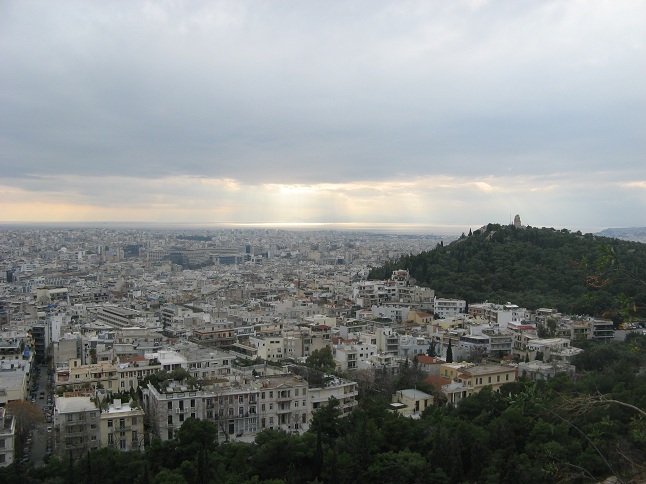 Athens is a big city, it´s the home of a third of the Greek population.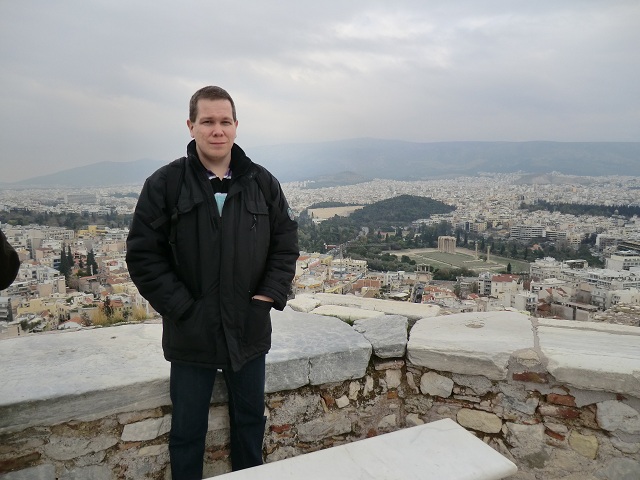 Christer on the Acropolis.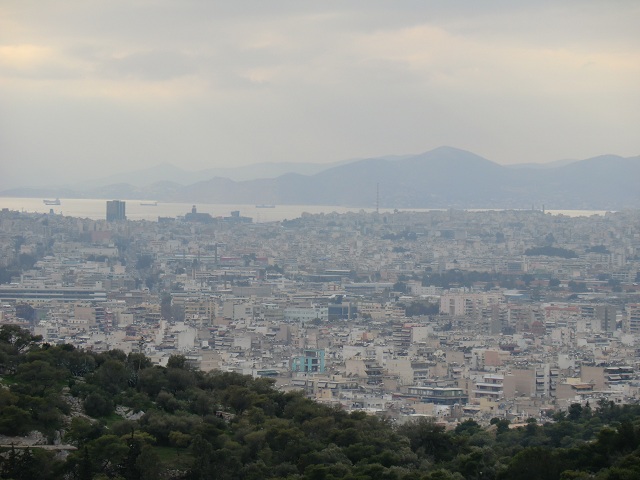 View towards Piraeus and the sea.
16.56 We are at the station with a note saying 232. Currently they are serving customer number 217.
17.20 Now we are the owners of a train ticket to Thessaloniki each. It's time to walk home and see how long it takes. It's good to know tomorrow when we will go in the opposite direction and catch our train.
17.57 It took a quarter of an hour to go home. We went to a store before we entered our home. We purchased some evening snacks and food for the journey. In addition, I bought a bottle of Greek white wine to have on the stroke of midnight tomorrow. Christer has already arranged with a bottle. He has some Austrian wine which he received as a birthday present from Roberth. Now the question is, when will our backpacks here?
19.07 After eating my Maltesers and drinking my Coke, I took a nap. After that, I have checked the backpacks status on the computer in the lobby. Now we know that the backpacks have arrived at the airport and have been taken care of there. Now it seems that we and the backpacks are in the same country and city. It's good! When will we be in the same room?
20.37 No backpacks have arrived at our hotel.
20.51 We got a new statement from the page before we went out. The transportation has started. Now we are on the Romanian restaurant Iasu just behind the hotel. Here the dishes, music and television shows are Romanian. The beer is Dutch. The restaurant takes its name from the Romanian city of Iasi, which we visited in 2003.
21.56 The good meal ended with meringue which we got for free. We paid, said thank you and went out into the rain. It was a good thing we were so close to home. Our backpacks were waiting for us at the reception desk. There is much joy.
23.11 I'm quite sure I will sleep happier this night. We are watching a music channel called MAD. It's not often that you see a music video nowadays.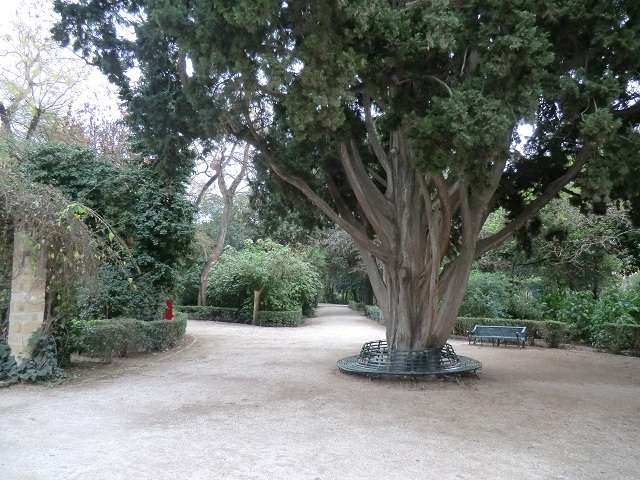 The National gardens is an oasis within the city.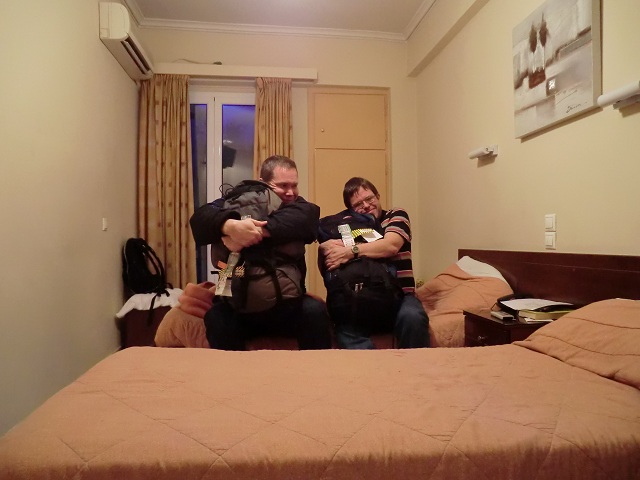 At last! The backpacks are returned.
---
VIDEOS
---
You can see 1 photo from December 27 in this photoalbum.
You can see 13 photos from December 28 in this photoalbum.
You can see 110 photos from December 29 in this photoalbum.
You can see 79 photos from December 30 in this photoalbum.

---
CONTINUE
---
---

---