---
Text: Peter Johansson
Editing: Christer Lundstedt
Photos: Christer Lundstedt, Peter Johansson
Videos: Christer Lundstedt
---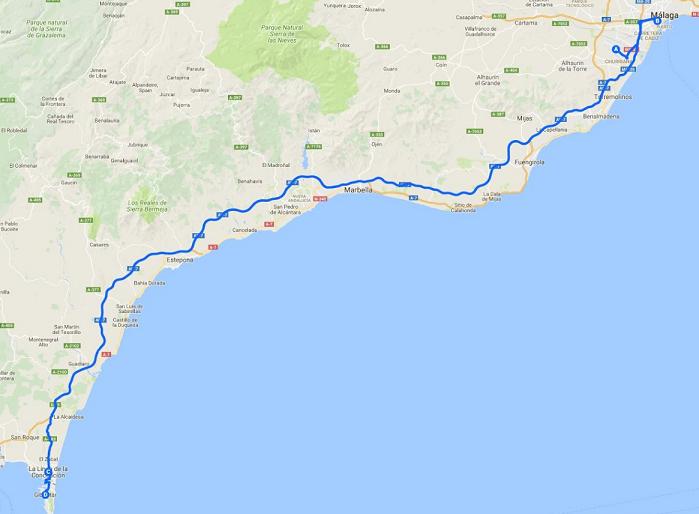 ---
Sunday 27th of December
07.45 After a nice and almost snow free Christmas with my parents in Skulnäs, it is now time to board the train south towards Arlanda airport. I start from the railway station in Örnskoldsvik. Christer has been with his father in Oxelösund during the Christmas weekend and will begin his journey in a few hours.
08.03 Outside the train window the predawn country pass by. On the horizon a red sky can be seen.
09.52 I've just arrived and changed trains in Sundsvall. It is time for the next part of the trip.
11.15 Christer is, if everything has gone according to plan, on his way now. There is a small tradition in travelling from different directions when we should begin our New Year holidays.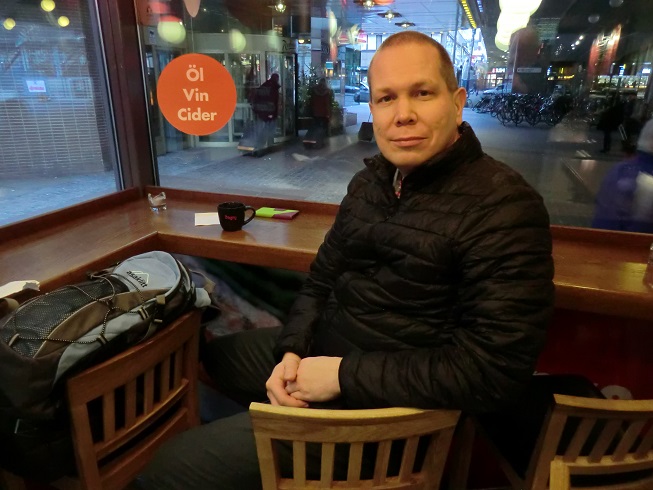 Christer is making a short coffee stop at Dagnys, Stockholm Central station.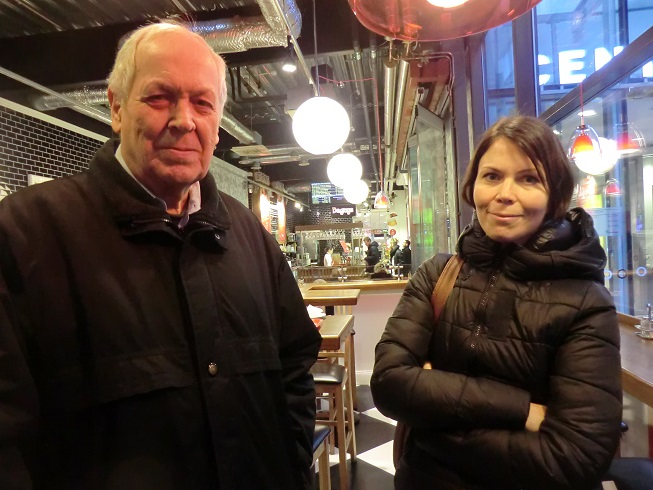 Christer´s dad and sister wish him a nice trip.
13.27 I have come to the airport. Now remains a short wait before Christer's arrival.
14.33 The travelling men have met again. We are for the fifth consecutive year on December 27, here at the airport. Christer has today first taken the train from Nyköping to Stockholm, where he met up with his father and sister who arrived about the same time by bus which had done the same route. They will later in the day go to a musical at Cirkus, Kristina from Duvemåla. Now, we have planned our next moves. Christer bought a new bag/backpack yesterday. The beauty is that it can be used as both. It can be carried in your hand or on your back. It also has a small strap. Its task is to hold the handles but also a facilitate for recognition.
15.07 The check-in for our flight with Norwegian was made through a machine. At baggage drop we got to scan the luggage tags ourself. We wonder if Norwegian has pilots or if that is automatic as well? We hope that everything were done right with the baggage. Last time we travelled the backpacks left without us and came to Sweden after us. It always feel safer and more secure to leave the luggage to a human instead of a machine. Are we conservative?
16.09 The security check was passed and it squeaked when I walked past. Nothing wrong was found and it's OK for me to travel. Now we sit and wait at gate 14. Today's travel with Norwegian will first go to Oslo in Norway and then we continue to Malaga in southern Spain.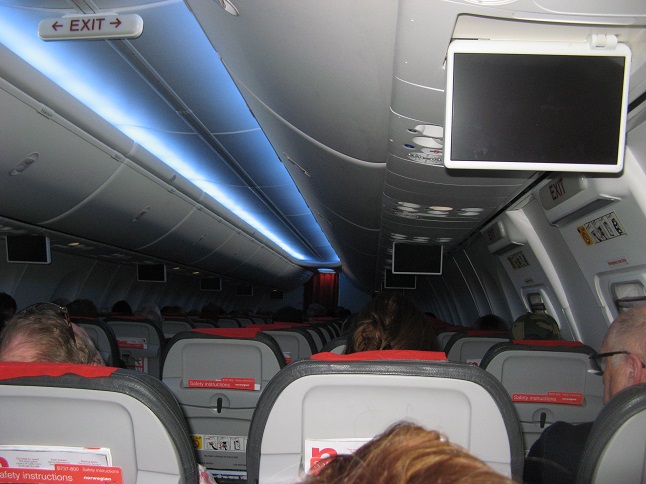 We are flying to Norway.
16.38 We are once again onboard a plane from Norwegian. The next destination is Gardermoen Airport, Oslo, Norway.
NORWAY

17.52 Snow falls across the Norwegian capital and snow can be seen on the ground. Here it is much more winter than in Sweden. We will not notice anything since we will be indoors throughout our stay here.
18.08 We have now landed here at Gardermoen and entered the departure hall. Here we were met with the less fun news that the next flight is delayed. Our plane takes off at 21.20 instead of 19.40. Last time we were here was almost to the day five years ago. Then we were on the way to Dublin, Ireland.
18.23 We first sat on a bench and then walked around here in the airport to get an idea of what is offered in the form of shops and food. Unfortunately, Norwegian prices are very high.
19.00 Hunger grabbed us and we went to eat to change that. The first restaurant was offering pizza, stir-fried dishes and burgers served straight over the counter. The pizza and wok proved to be out and hamburgers were significantly expensive. Now we are instead at the sports bar O'Leary's to eat at least as expensive burgers. Sure, they are at least as expensive here but we will in any case served at a table in a nice setting. The waitress was of foreign origin. She did not speak Norwegian, but her native language, namely Swedish. On TV, we watch a football game from England, Nottingham Forest vs Leeds United.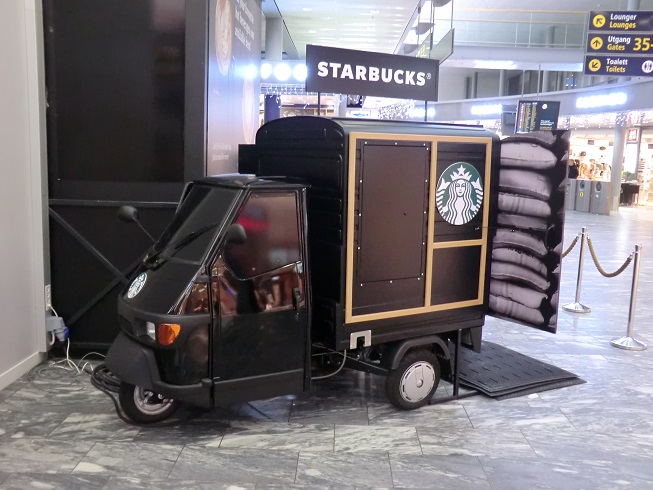 Gardermoen airport had a closed mini-Starbucks.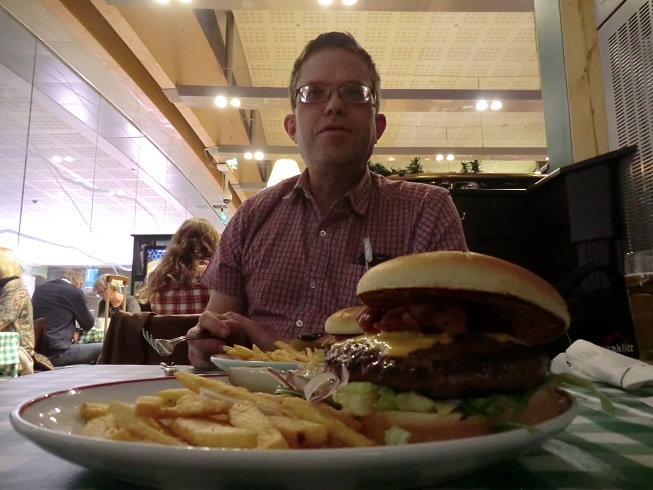 Peter is having a burger dinner at O´Learys.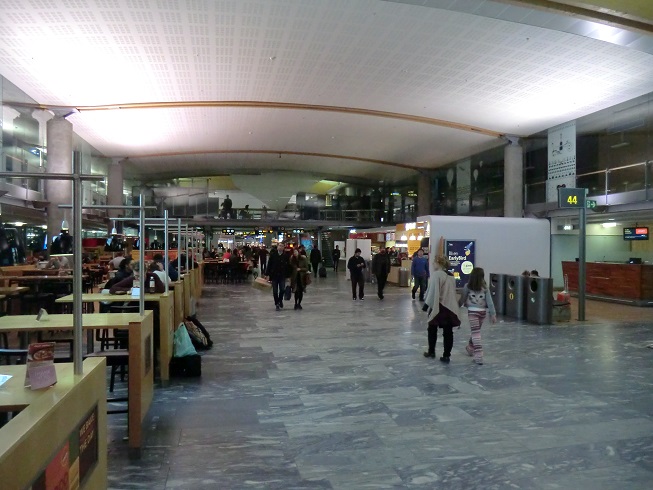 Gardermoen airport, Oslo.
19.49 It was good and filling burgers with accessories. Just what we expected with those prices! We are sitting down and wait for the coffee thirst to appear.
20.42 We have decided that we are waiting with for coffee until the upcoming flight. Now we are at the gate, waiting to finally get to board.
21.12 We are on board and sit on our seats by the emergency exit. Up with the small backpacks and jackets. The delay seems unnecessary. Our arrival was already late and now we will arrive in the middle of the night. It's not ideal start of a trip, but now things are as they are.
22.08 We have started flying to warmer areas. We are a bit different here on the plane. We do not have gray hair and we own no house or apartment on the Costa del Sol. It feels like the majority of the passengers are considerably older than us and are going to Spain to go to their winter homes.
---
Monday 28th of December
SPAIN

02.00 It has been an almost painless flight. We ordered coffee and croissants but was served only coffee. It was said that the croissants would come soon. We finally had to remind them about the croissants. However, we got more coffee as compensation. It went fine to land and get off the plane. Now we are waiting for luggage at a baggage belt. The airport is basically empty. It is after all in the middle of the night. OK, now something is happening!
02.35 What happened was that we had to change baggage belt. In the end my backpack arrived but not Christer's bag. Now it is reported missing. It will reportedly be at Gardermoen and might catch up with us later today. As soon as they know they will call Christer. Delayed flight and one bag on the loose is not a dream start on a journey but that is unfortunately not the first time this happens to us. We remember the days without our luggage in Athens a few years ago.
03.07 A taxi took us to the Hotel Goartín (http://www.hotelgoartin.com) in Málaga where we now stay in room 12. Now it will be nice to sleep. It will after all be some hours at least.
03.20 We are, now that Christer has put his contact lenses in a glass and in my plastic cup, heading for the beds. The cup and glass were used because the lens stuff is in the lost bag. It is a matter of keeping track on which lens is left and which is right. We just realized that breakfast is not included. We suspected it when we saw that the hotel except the rooms only had a desk and a fridge.
08.37 "She is having breakfast at a quarter past nine" and other similar phrases can be heard from an English language course on the room's TV. We woke up to this and wondered what on earth was going on. We have to turn it off and go back to sleep. By the way, who turned on the TV? It all feels like a mockery, given the fact that we do not have a hotel breakfast to look forward to.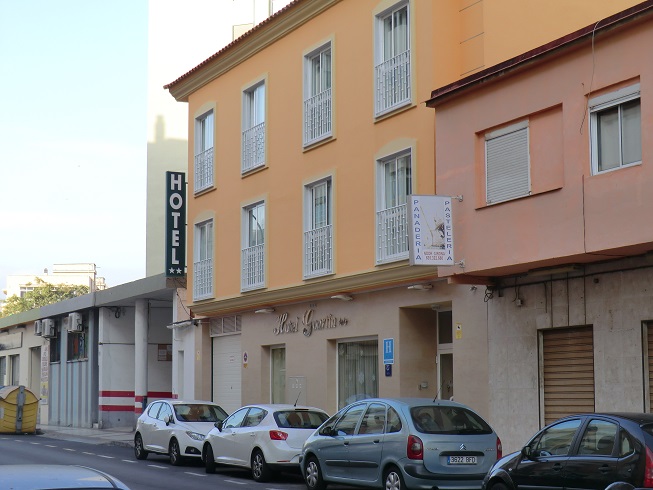 Hotel Goartín, Málaga.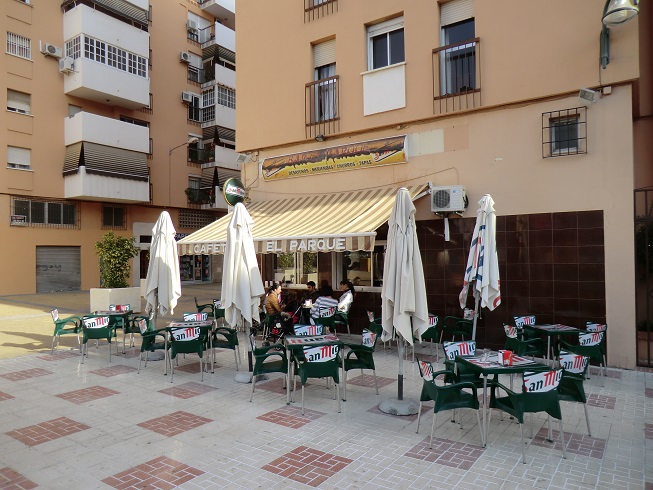 A late but good breakfast was consumed at Cafeteria El Parque.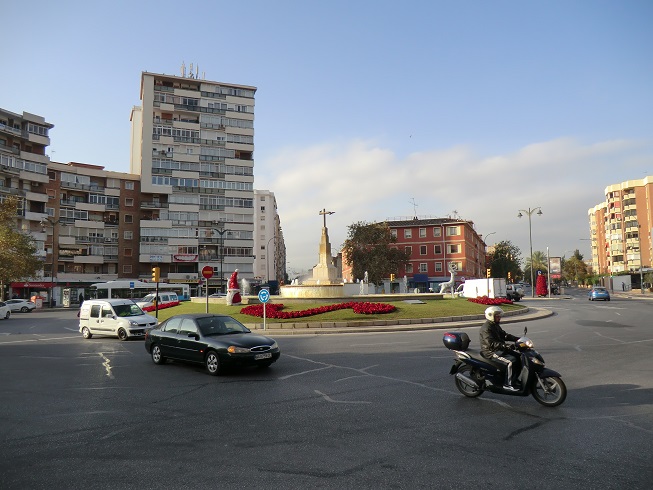 Plaza Cruz Humilladero, a roundabout with Christmas decorations.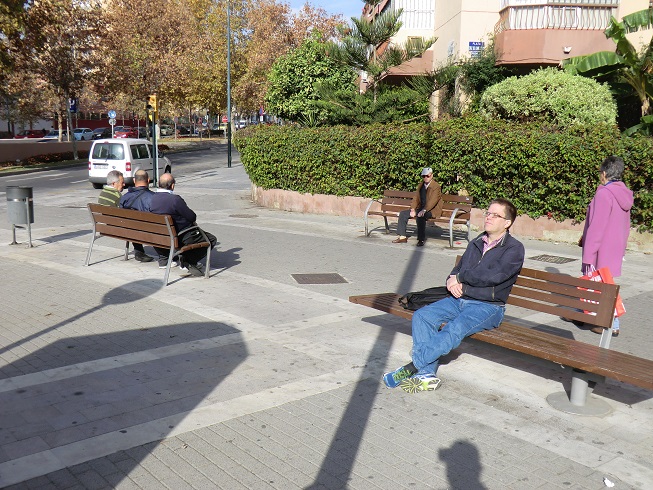 The warm sun is very welcome this time of year.
09.15 Now the woman at the language course is having breakfast and we have woken up. I have just had a shower. New events will soon knock on the door. We are in areas where vandals and the occasional moor has wandered.
09.59 Christer has left the room. He has headed out in the Spanish everyday life to look for lens fluid, a suitable breakfast place and other things. I'm still in the room and keep an eye on the glass and mug with the lenses. We are not afraid that they will run away. We are afraid that the cleaning staff will come and through away the lenses. That was exactly what happened to Christer in Manchester in 1997 when another backpack did not turn up as it would on arrival.
10.09 Christer is back with lens fluid and some suggestions on where we can have breakfast.
10.47 We have familiarized ourselves with our home neighbourhood. We walked along the home street Calle Gerona. Our sightseeing ended when we found the cozy Cafeteria El Parque. Here we drank black coffee and freshly squeezed orange juice and had toast with cheese and ham. The waitress tried to pour milk in my tasty black coffee but I was able to stop her in time. In addition to way too little sleep last night and the mess with the bag it still feels pretty good now.
11.19 The breakfast was paid for and we went on. After some strolling, we went into a small shop to buy something to drink. The lady owner thought we should keep the refrigerator door closed. Shouldn´t we take out the beverages first? Now, we have a bench break near a roundabout, Cruz de Humilladero. In the middle of the roundabout are traffic lights. We have also seen some people who travel in wheelchairs.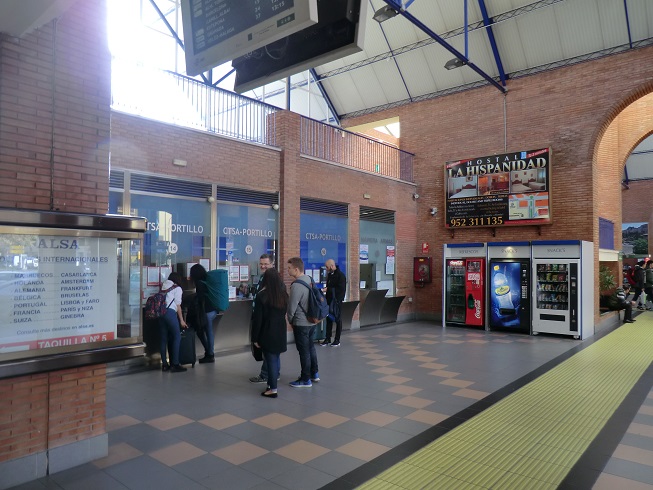 It´s time to buy bus tickets for tomorrow.
Parroquia de San Pedro Apóstol.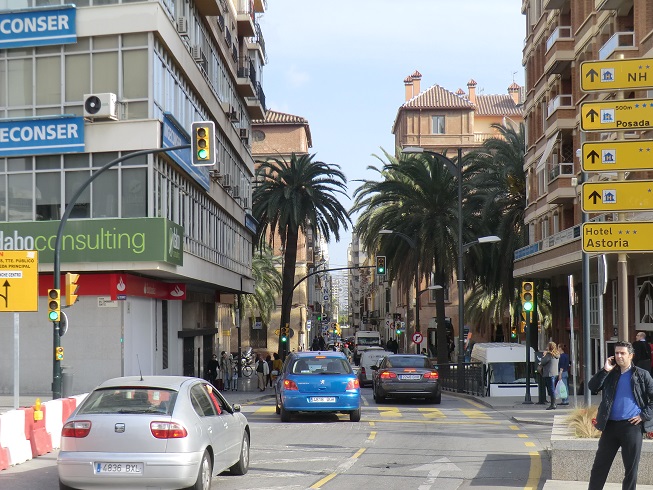 We are walking into central Málaga.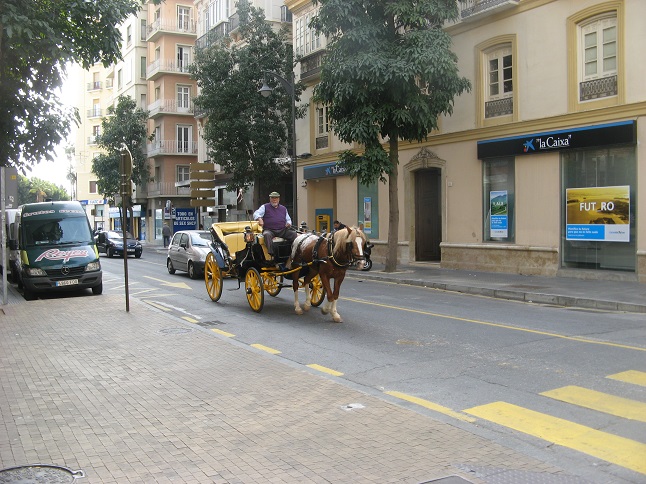 Some tourists are attracted to these expensive trips.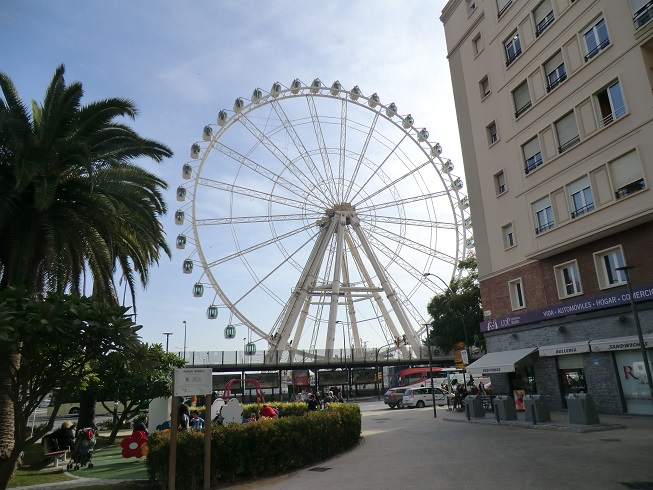 A ferris wheel in Málaga harbour.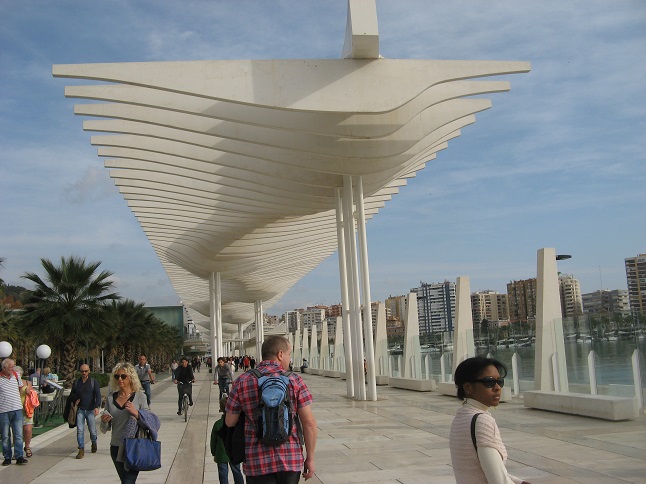 Christer is walking on Paseo El Palmeral.
11.50 We just returned home to a fresh clean room with beds that are set. Now our stay here is planned. In addition, we think about what we do if Christer's bag will not appear after all. You have to have strategies for all possible scenarios. That is how skilled travellers act.
12.04 Christer will make an attempt to check the internet to see where his runaway bag is. There is, just like when we were in Athens with a similar problem, a page where you must provide a code to see where the bag is at the moment.
12.22 We were not much wiser after the page visit. It is rather the opposite. It was just fact that the search is ongoing. Had they not found it already in Oslo? Had they found it and then lost it again?
12.31 Now enough is enough with luggage thinking. We have to find time to see a little of Malaga as well. Moreover, we will also tell the reception that a bag might come here later today.
13.25 A short walk took us to the city bus station at Paseo de los Tilos. Once there, we bought tickets for tomorrow's planned trip. We'll see if it gets as planned, a departure from here, or just a day trip. It all depends on whether the bag had time to come back. Now we just passed the water-scarce river, the Rio Guadalmedina. We will have a little bench break before we continue towards the city centre.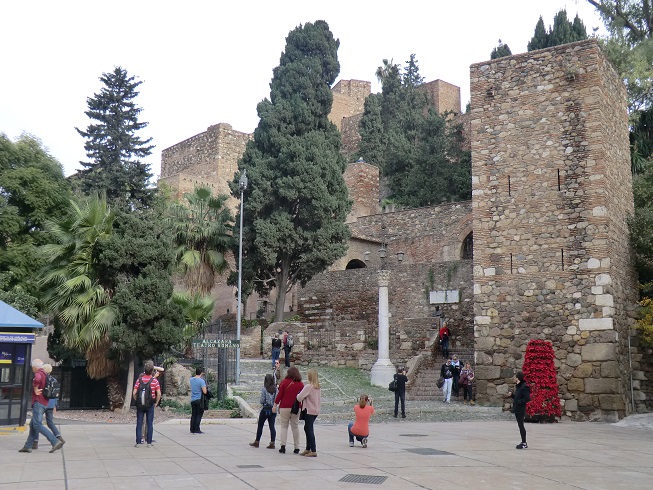 The old fort Alcazaba in the city centre.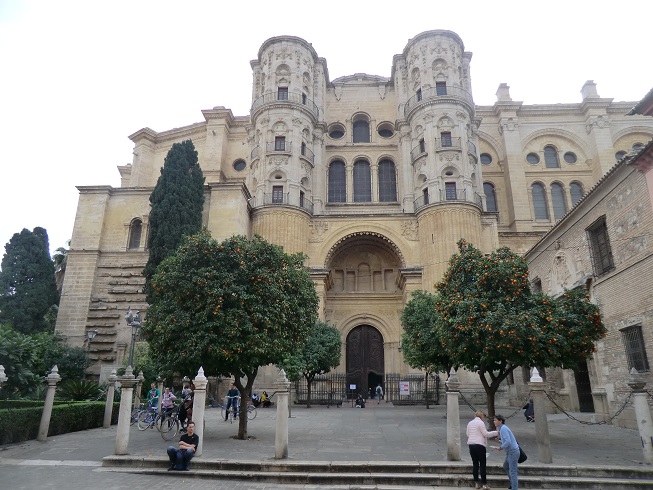 One of the entrances to the cathedral in Málaga.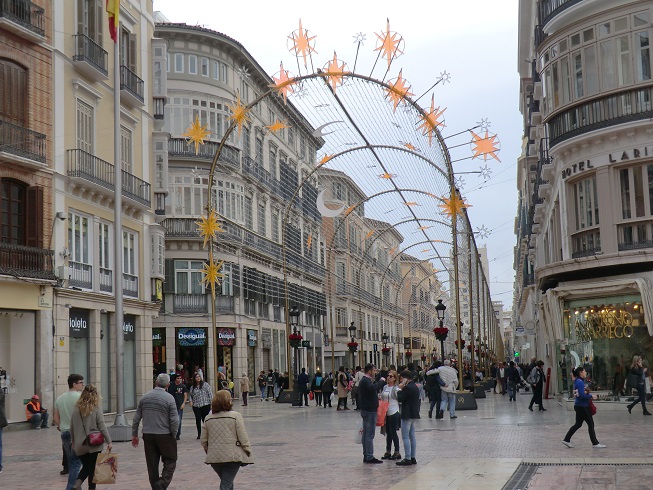 The beautiful street Calle Marqués de Larios.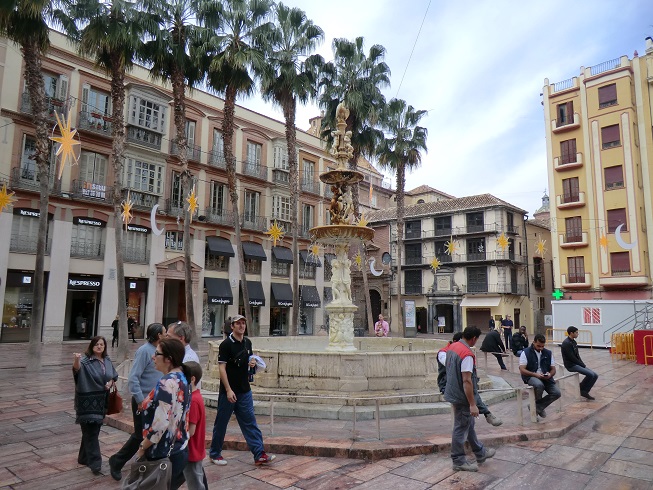 Plaza de la Constitución, Málaga.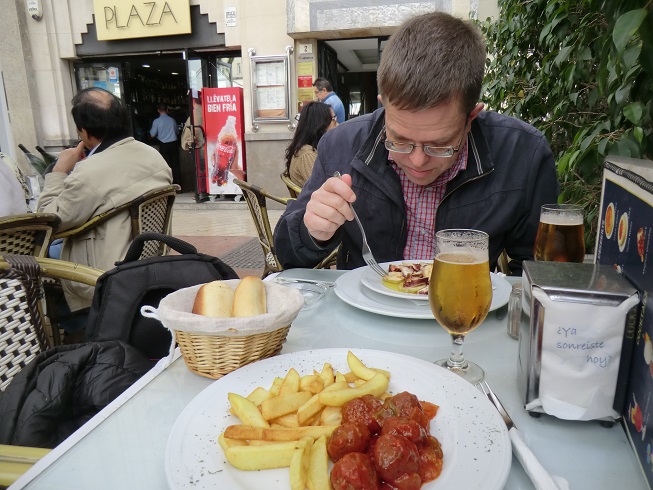 Peter is eating lunch at Cafeteria Plaza.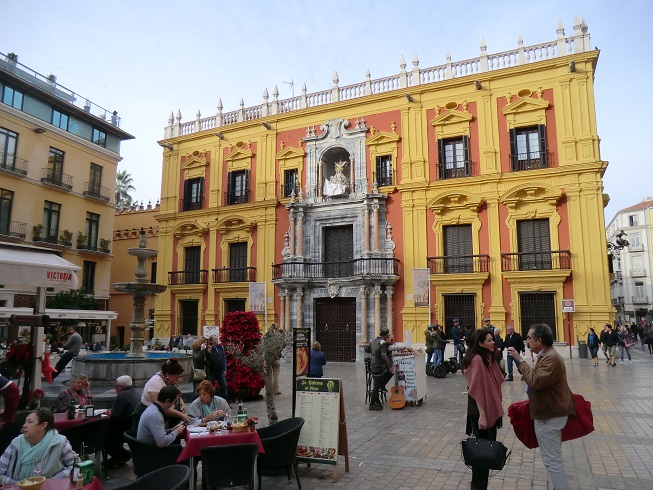 Plaza del Obispo, Málaga.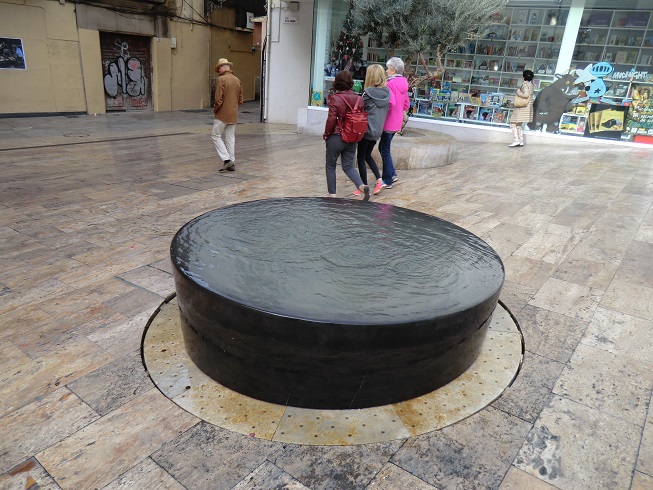 Surface tension.
13.46 In the small park Plaza Poeta Alfonso Canales, we photographed the city Ferris wheel and made a short video clip. It's nice and warm today, pure summer weather in the middle of winter.
14.00 Behind us we have the marina and the Mediterranean Sea. Above us is a white structure on thin pillars. We are at/in the Plaza de Marina. It has not yet been any call from the airport. We have seen a lot of people in wheelchairs in this city. Is it perhaps the Wheelchair's Day today?
14.19 We have been through a larger park area between the city centre and the sea took us into the heart of the city and walked around on the nice and tourist custom streets. The Roman theatre have been photographed but not investigated further.
15.00 After continued walking in Old Town, we reached the Cathedral Encarnación de Malaga and Plaza de la Constitucion. It is now time for lunch at Cafeteria Plaza. We tested a number of options, gave up at a packed Burger King and finally decided this option. We sit next door to McDonalds where noisy children are bouncing around. The advantage of being near is that we are surfing on their Wi-Fi network.
16.10 It was clearly good and very necessary food. The question is whether it was a very late lunch or an early dinner. Now we are having a bench break in the Plaza de la Merced. On the other side of the square is the house where the artist Pablo Picasso first saw the light of day. Here in the square are a few men dressed as soldiers from the bygone era, unclear why.
16.53 Beside me is a bronze statue of none other than Pablo Picasso himself. The statue is not made of Pablo, but is a portrait of him. Our time at the square will soon be over. It is time for us to move on. Pablo will remain. He is moulded to the bench.
17.20 Now Christer has visited a souvenir shop and invested in a black t-shirt. It is not primarily a souvenir, but a clean piece of clothing to put on tomorrow. He has not heard anything from the airport yet.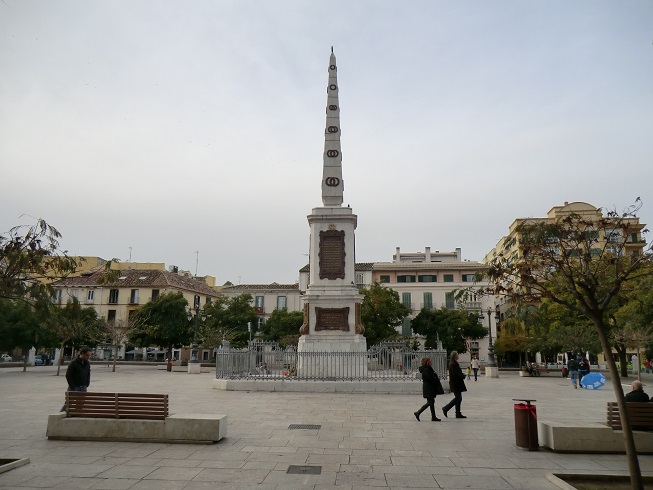 Plaza de La Merced, Málaga.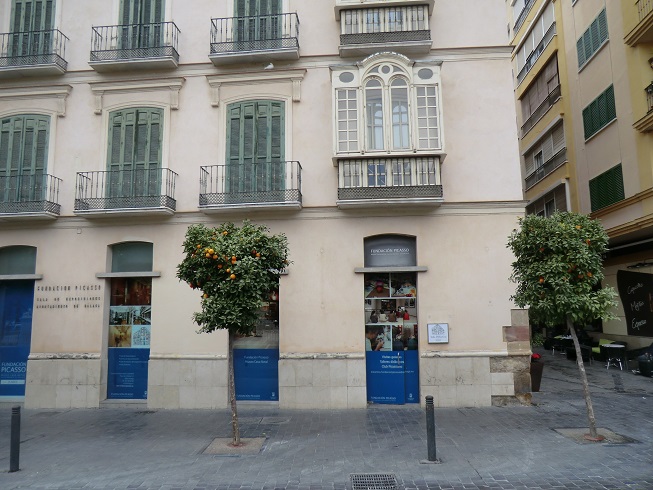 Pablo Picasso´s childhood home.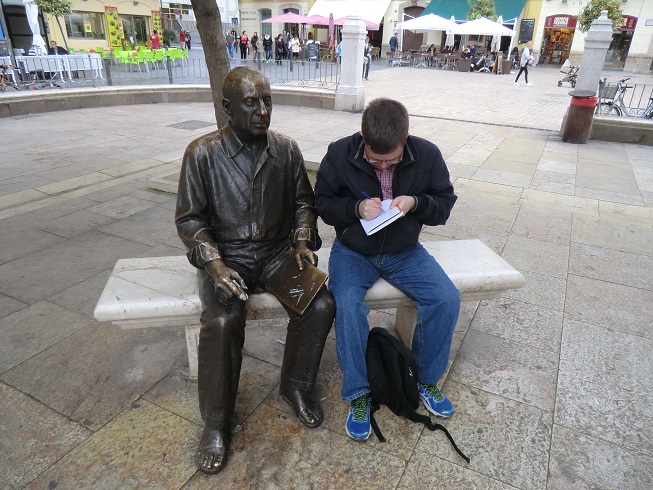 Pablo and Peter.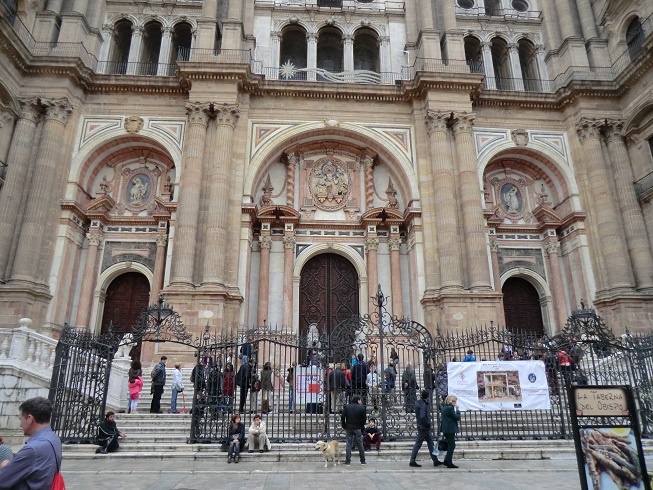 The majestic cathedral in Málaga.
18.08 Tradition and the force of habit is strong. We navigated our way to and also visited Starbucks for good coffee in twilight. We are at the department store El Corte Inglés.
19.34 After the breakfast purchases at the food store Supersol, we are now at home in our hotel room again. Christer's bag has not come here yet. Now he is going to call to the airport and check the latest news.
19.56 We know nothing more about the latest news. There is no answer at the number Christer received despite the allegedly open time until 20.00.
20.17 A visit to Google gave a cryptic answer. The number for lost luggage on Christer's note does not match the corresponding number on the net. Call the internet number and it remains as the last dialled number. It does not apply for the second number. Now he calls the Norwegian customer service in Sweden.
20.36 The customer service did not know more than us. They seemed to find their way using the same page for lost luggage that we use. Now we do not know what we do with the days here. We are only booked here until tomorrow morning and have an accommodation in Seville waiting for us. We will, however, go nowhere as long Christer's bag is still gone.
21.56 We have extended our Málaga stay by an extra day. The only small problem with this is that there will be a room change for us. That is however, tomorrow afternoon/evening. Now we eat late evening dinner at the restaurant VIPS. It is not a late dinner given that we are in Spain. It is rather a pretty normal dinner's time. We are in a large shopping mall next to the train station. The mall called Vialia and has 121 stores and a number of restaurants and a cinema.
23.17 The ordered hamburgers came at last, but they were somewhat cool. Had they forgotten to serve us? Once back home, Christer has washed his shirt and I have cancelled accommodation in Seville. Unfortunately, it can bring a certain cost given how late we cancelled. We can probably find a new place to stay in town when we know for sure when we will arrive.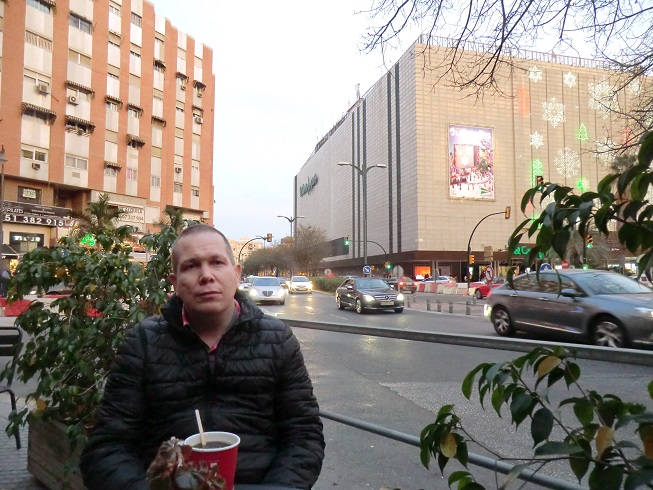 Christer is having coffee at Starbucks.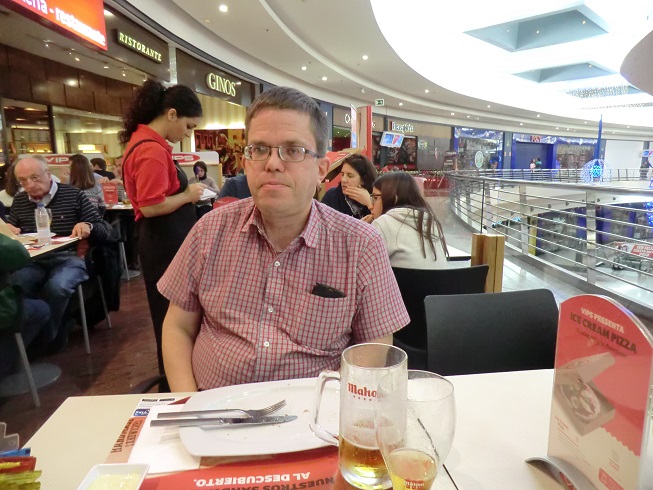 Vips is the name of this evening´s dinner restaurant.
---
Tuesday 29th of December
05.47 Today's simple breakfast has been eaten here in the room. Now the day wait for us. Today we will make a trip to an area where there are monkeys. It will be, as mentioned earlier, a change of plans for us. Instead of travelling on to Seville tonight, we will instead return to Málaga for an extra night.
06.15 We are getting ready to regroup. My backpack will be left at the reception and we will walk to the bus station.
06.41 My backpack is now left behind at Hotel Goartín. Christer's backpack is still missing. We are at the bus station in a standby mode. Soon we will begin our journey with the company Avanza (http://www.avanzabus.com).
07.00 Now the driver and some of the passengers has finished smoking. It is time for departure.
07.27 Just outside Málaga we met it, the rain! It seems to be the theme for the day. After a look at the weather forecast via our phones it looks like southern Spain is swept into rain clouds today, sad!
08.18 Torremolinos and Fuengirola are some of the places we passed on the morning trip along the sunshine coast, the Costa del Sol. Where is the sun anyway?
08.34 Now we're half way on our bus trip. It is time to leave Marbella after we made a stop for boarding. It continues to rain today.
09.20 We have since last seen traces of a lighter traffic accident. It had already happened but the cars were left. The rain is continuing. Other new singer Lemmy of Motörhead has died. What a brilliant day!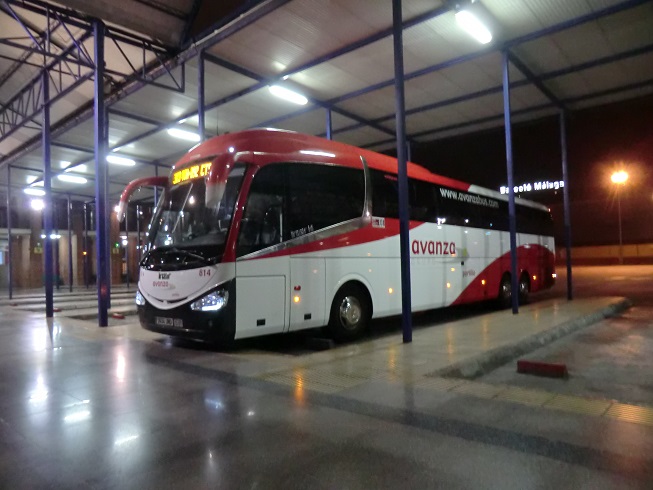 A bus from Avanza is waiting for us.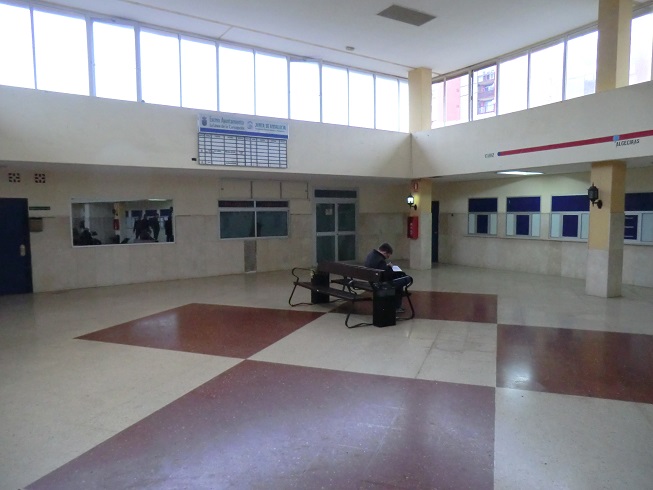 Peter is writing down some notes in an empty bus terminal in La Línea.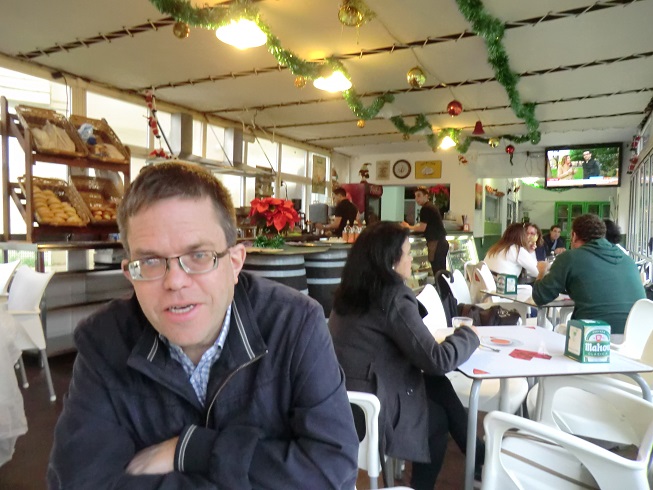 Peter is drinking coffee and wait for the rain to stop.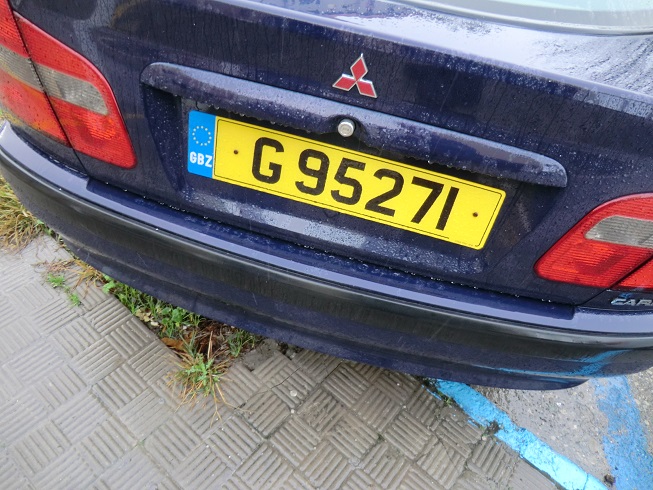 A car from Gibraltar on a visit to Spain.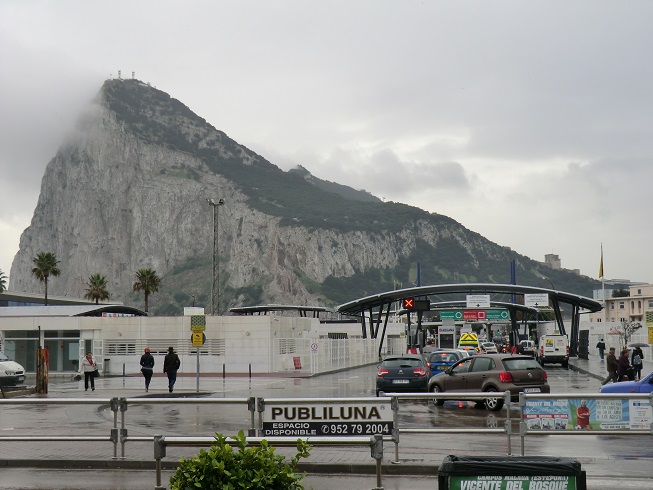 The border between Spain and Gibraltar.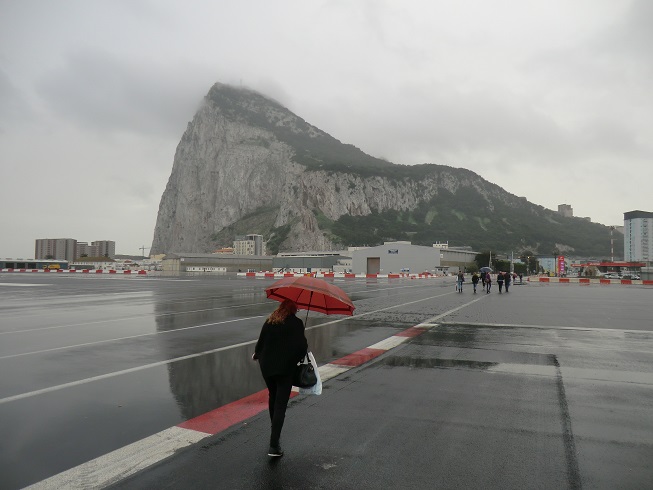 You have to walk across an airfield to get into Gibraltar town.
10.08 We have reached the end of the bus travel and have left the bus here in La Línea. The first thing I did was to empty the bladder. During my stay there a man sang a few lines from "Have you ever seen the rain?". Now, Christer and I have bought a ticket for the afternoon trip home. Next comes today's second breakfast, and a phone call.
10.43 Café Bar Eclen served us cheese and ham sandwich and strong coffee for 2,50 euros, a really good price. We went there for some nutrition but also to take shelter against the neverending rain. Now we are coincidentally back at the bus station. Here there will be a telephone conversation with the airport regarding Christer's bag and a hope for drizzle instead of what we have now.
10.53 Christer got no answer on the phone. Now it is less rain in the air. It is time for us to leave.
GIBRALTAR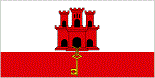 11.01 The purpose of today's trip is to visit Gibraltar, this small British territory here in southern Spain. We see the familiar rock in the haze.
11.22 After some cruising we found the right path to where we were going. We have passed two passport checks. The Spanish side was automatic and on the Gibraltar side was manual. Manuel seem more Spanish. We have crossed an airfield, seen a football practice at a minimal football stadium (Victoria Stadium) and now we are seeking shelter from the rain outside an apartment building.
12.21 We've walked around here in Gibraltar town. Everything feels like a mix of the Mediterranean and England. The classic red telephone boxes are here, as well as pubs and English police. But they actually don't drive on the left side, however. The rain has calmed down somewhat. The haze and the wetness makes us skip the trip up to macaques and the rock. We are not likely to see much monkeys or views in this foggy weather.
13.18 We have continued to walk along the long Main Street. We have seen churches, pubs and the town's defensive walls. Under the Treaty of Utrecht in 1713 it was decided that Gibraltar would be British in perpetuity. There are about 30,000 people on an area of 6.8 square kilometers, about five times the size of Monaco. Our attempts to withdraw local currency Gibraltar from an ATM failed. Now we have instead ordered lunch at the restaurant The Tunnel. We will drink Bushy's Gibraltar Barbary Beer. We sit on the outdoor serving at Grand Casemates Square.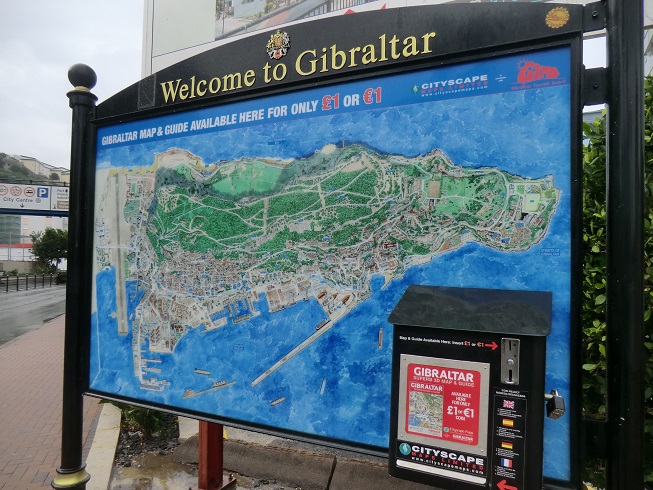 Welcome to Gibraltar!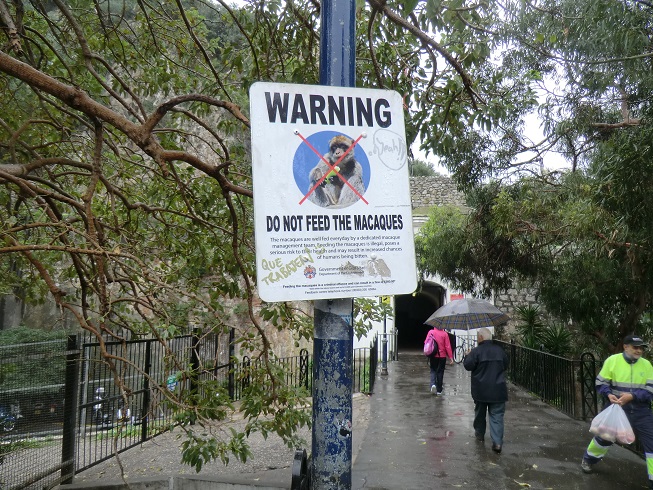 Information about possible monkey encounters.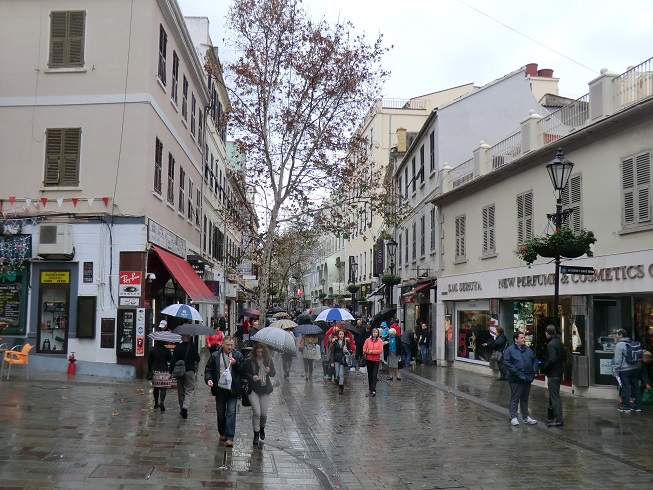 Rain is common on British territory after all.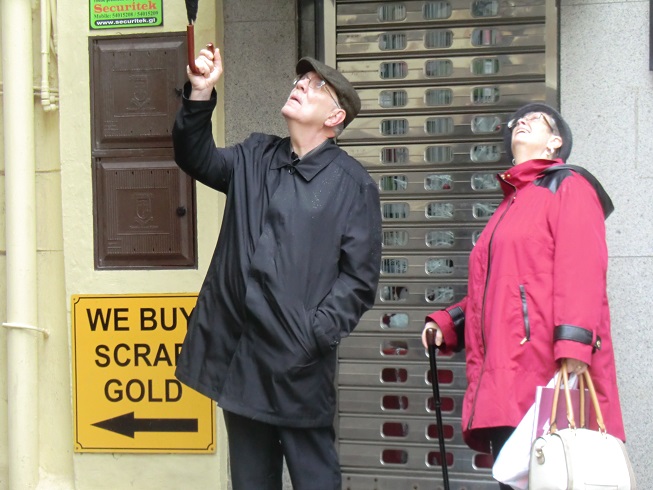 It´s raining today!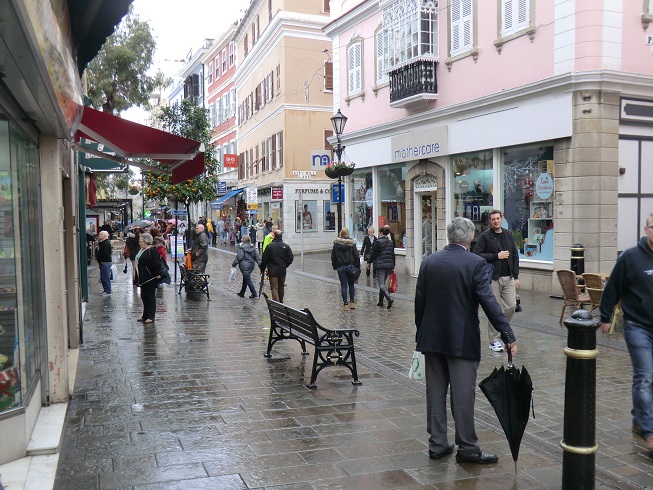 Main Street, Gibraltar.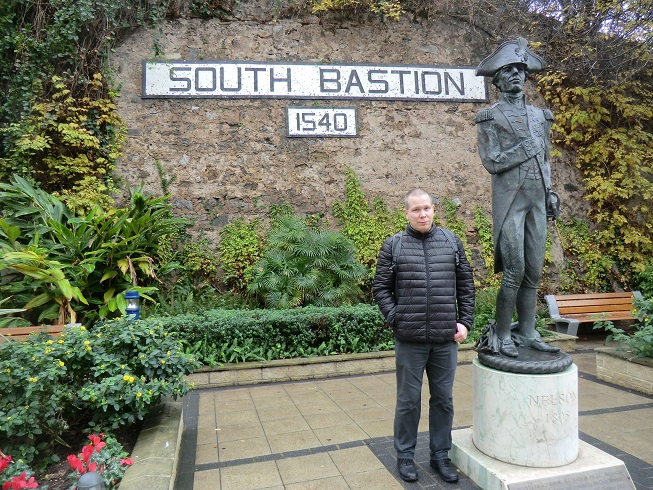 Christer and Lord Nelson at South Bastion.
13.33 News flash! The "Gibraltar-beer" that we drank is just made from local hops. It is actually brewed on the Isle of Man, though it's pretty cool anyway. According to the internet page of lost luggage is Christer's bag found, and delivery is initiated/started. Has it only reached the Málaga Airport or is it on the way to the hotel? Is it too early to rejoice?
14.31 Christer ordered the "roast" (steak) for lunch and got great many slices of meat. The body is pleased with a hearty meal. In addition, it likes coffee. It is now offered at Costa Coffee. We are still here at the Grand Casemates Square. Here at Costa Coffee, we have free internet access. When payment is received, we have at least seen the local Gibraltar pounds. They were used by a girl ahead of us in the queue. Too bad we did not get hold of any of the local banknotes.
15.20 We have walked a last stroll along the pedestrian street. We have visited the free toilets at John Mackintosh Square and moreover filmed during the walk back. Soon it's time to go back to Spain. In Gibraltar, cost a liter of diesel 0,848 euros.
SPAIN

16.01 We are now back on the Spanish side of the border. We are now having a bench break here in La Línea. Christer has finally received information from the airport about the bag.
16.10 Latest news regarding the bag is that it is alleged to have been delivered to our hotel. We hope that this is true.
17.05 We are on board a bus again and is heading back to Málaga and the hotel. There, awaits, hopefully, Christer's bag and a new hotel room.
17.46 I know that we stood still for about fifteen minutes but I do not know why. Well never mind, now we go on.
19.41 The loudspeakers play "White Christmas" in Spanish. We are back at the bus station in Málaga. Here we have just bought bus tickets for tomorrow's trip to Seville. We will depart at 09.00 tomorrow. Now it's off to an ATM and then to the hotel and the bags.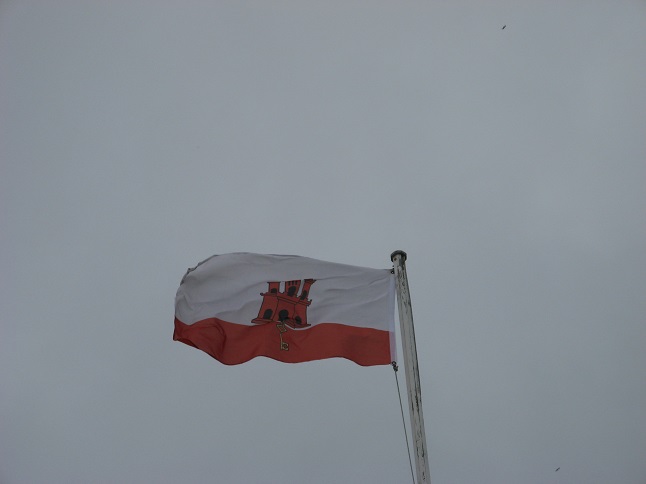 The Gibraltar flag moves in the wind.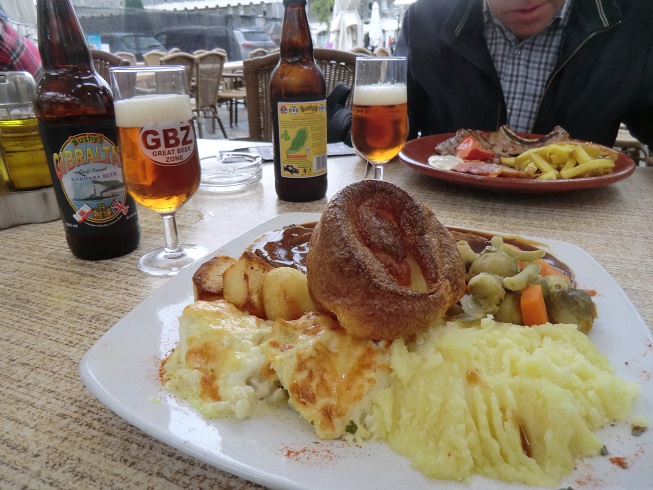 British lunch at the restaurant/bar The Tunnel.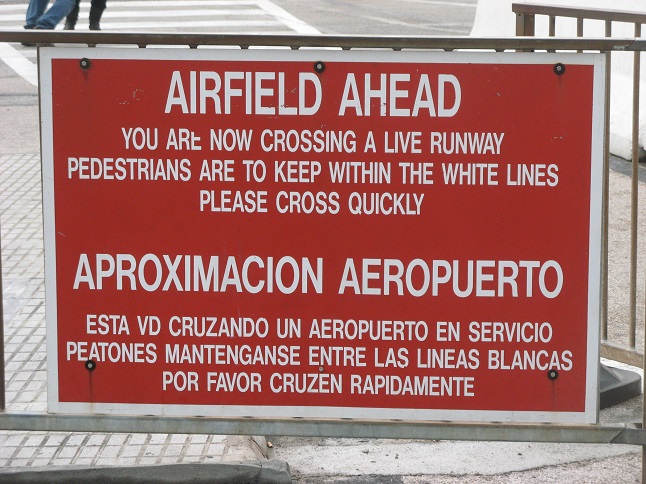 Information/warning before you take the walk across the airfield.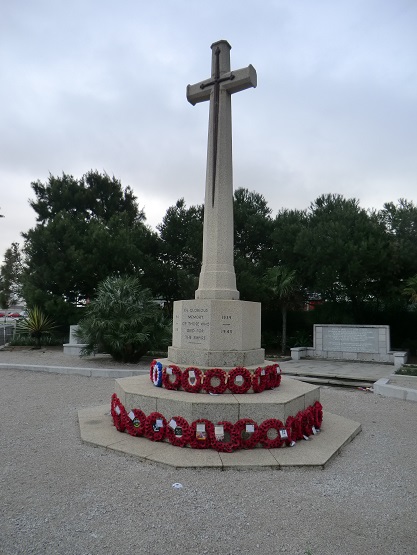 Gibraltar Memorial is honouring those who lost their lives at sea during the second world war.
19.50 On the way home from the bus station we met a black and white dog that came running. It stopped and happily greeted me.
20.05 We have returned to Hotel Goartín and was shown up to the old familiar room 12, yes there was no room change after all. There my backpack and Christer's bag waited for us. It took longer than promised to get hit the bag and they did not call Christer as they had promised that they should do as they had found it. Anyway, now we both have our luggage in place and the journey can continue.
20.46 We have by using the excellent website Booking.com arranged with a new home to us in Seville. Things are starting to correct itself.
21.20 Now we're going out to do the town, or at least have dinner somewhere.
21.54 They offer tasty green olives at Gino's. Tonight's Italian restaurant is next door to yesterday's VIPS. Enough with all the writing, the olives are waiting. It will be a Spanish dinner this evening as well, a dinner late in the evening.
23.05 On the way home from the mall Vialia we went in and did some purchase in a small Chinese-owned store with a large and varied selection. It is fascinating with this kind of shops where everything imaginable is available for purchase. Now we most enjoy a little rest before we go to sleep.
23.57 We are about to end our final day here in Málaga. At least for this year. We will however return soon.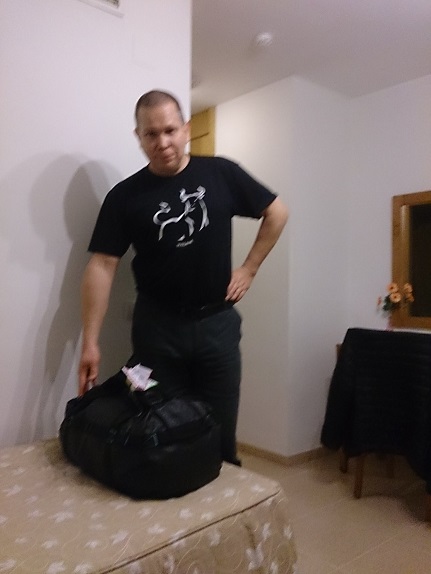 The photo is not clear but the moment is important. Christer´s lost bag is back.
---
VIDEOS
---
You can see 18 photos from December 27 in this photoalbum.
You can see 101 photos from December 28 in this photoalbum.
You can see 75 photos from December 29 in this photoalbum.

---
---
---

---