---
Text: Peter Johansson
Editing: Christer Lundstedt
Photos: Christer Lundstedt, Peter Johansson
Videos: Christer Lundstedt
---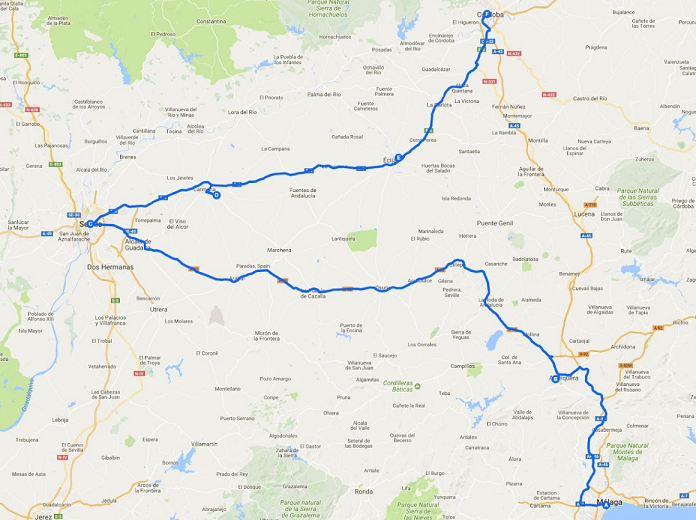 ---
Wednesday 30th of December
07.05 After waking up here at the Hotel Goartín (http://www.hotelgoartin.com) in Málaga we´ll have some juice. Next will our belongings be packed before we aim to move forward. We once again have a light breakfast in the room. The hotel has no restaurant.
08.02 We went to the station for buses. Here we have ordered a real breakfast at a café which is inside the bus station.
08.59 We ordered coffee and toast. The coffee was served with milk. Perhaps we should have ordered without milk. I was under the impression that black coffee was standard but not. They serve coffee with milk unless nothing else is said. Now we, everything and everyone are on board the bus from the company Alsa (https://www.alsa.es).
09.19 We have left Málaga and the coast behind us and are travelling to the north through a mountainous landscape.
09.56 The bus has just stopped along with some other buses. We are in Antequera. A man with a blue jacket, red shirt and green backpack is looking for his seat. We have along the way here seen a bull silhouette on a hill. Was it Ferdinand?
10.45 We will in about one hour arrive at the city with the singing barber. There are long lines of low trees on both sides of the road. Now there are no more trees. It has been a comfortable trip and it feels good to be back on track again after all the hassle with Christer's luggage.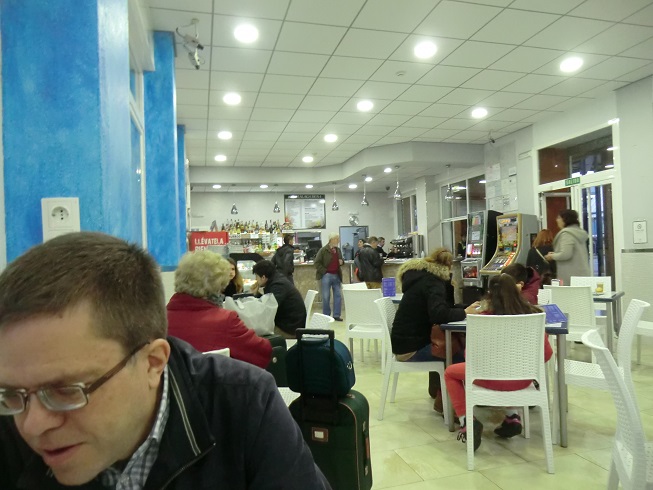 This morning we had our breakfast at the bus station.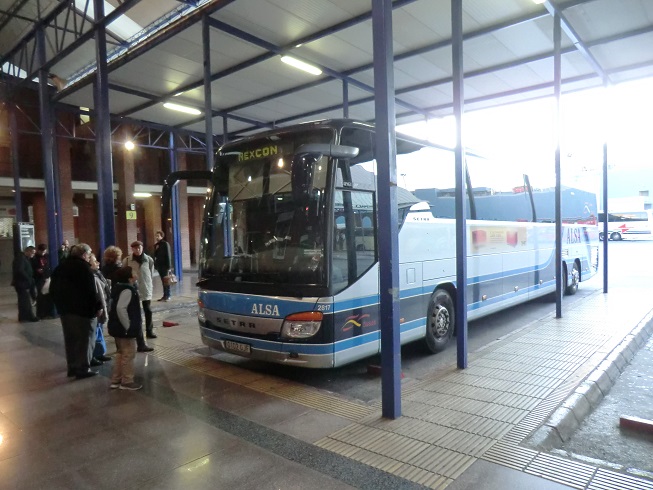 A bus from Alsa will take us to Seville.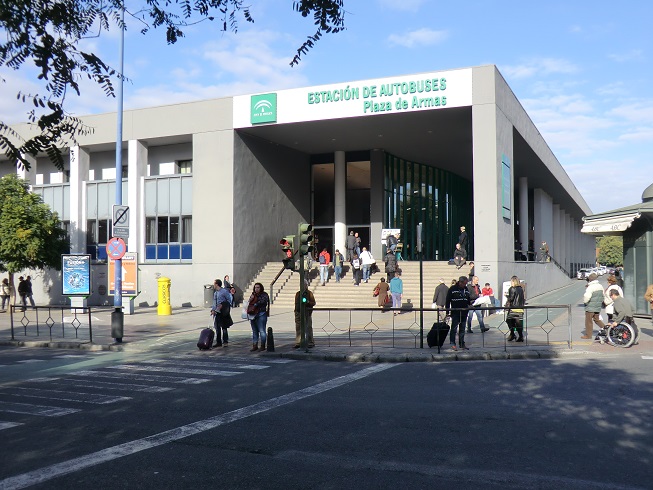 We have just left the bus terminal Plaza de Armas.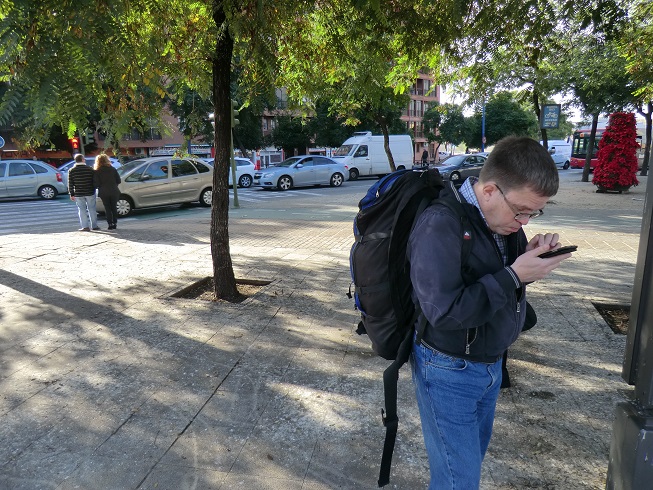 Where are we heading?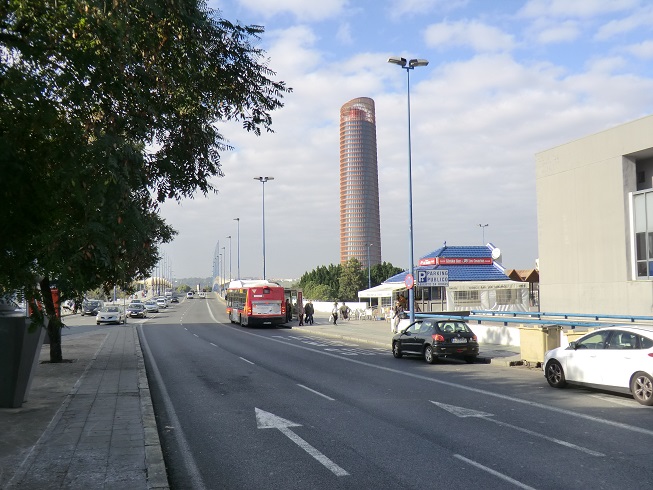 The office building/tower Torre Sevilla by the river Guadalquivir.
11.02 62 kilometres remain before we reach Seville. It was not Ferdinand we saw on the hill. It was apparently Osborne, one of many bull silhouettes here in Spain.
11.47 We are almost there. I guess that we will probably go directly to the accommodation to check in when we arrive. We chose a place to stay at that is as close to the bus station as possible. There is no time to waste time because we have limited time here. It is now 14˚ warm in Seville.
12.28 We have come to the largest city in Andalucía and Spain's fourth-largest city, Seville. The city has a population of 704 000 people. We left the bus station Plaza de Armas, it has the same name as the majority of the squares in Peru last summer. We made a short walk and went upstairs to the accommodation Hostal Jentoft (http://hostaljentoft.com). There we got the news that breakfast is not included here and that the room was not cleaned. When we asked another person in the staff we got the news that breakfast is included in our booking and that his colleague probably was confused. It is true that the room was not cleaned though. Now we will take a bench break down at the banks of the River Guadalquivir. Our backpacks are in rooms 5 and have patches that say 14 on them. Before leaving we got a city map from a lady on the ground floor. The room is ours at 13.30.
13.15 We have, while waiting for the room, been looking for a light lunch instead. We found mostly small tapas places and simpler food offerings. Food will have to wait until later. Now we are sitting on a new park bench and plan the little time we have here. We will have to go to the room. It should be done now.
13.36 Now the backpacks are retrieved from room 48 which is some kind of luggage room. They and we are now immigrants in rooms 14. We have a view of the busy street below, Calle Arjona. Now we are going to see the home town of Carmen and Don Juan.
14.15 I just said that it was good. What was the good one can ask? Well, a Big King burger with strips at Burger King. When we by chance found a Burger King with plenty of space we gave up and realized that a quick lunch is good when we have a whole city to see the rest of the day. The sun is shining and it is quite comfortable at the moment.
14.44 We have begun our sightseeing in Seville. Behind me are Jesus, Joseph, Mary and other ones involved. It is a Christmas decoration by the town hall. Just nearby are children skating and an adult who staggers on his skates. We are at the Ayuntamiento de Sevilla (Town Hall) vlose to Plaza Nueva Square. The man is the worst skater I have seen in my life.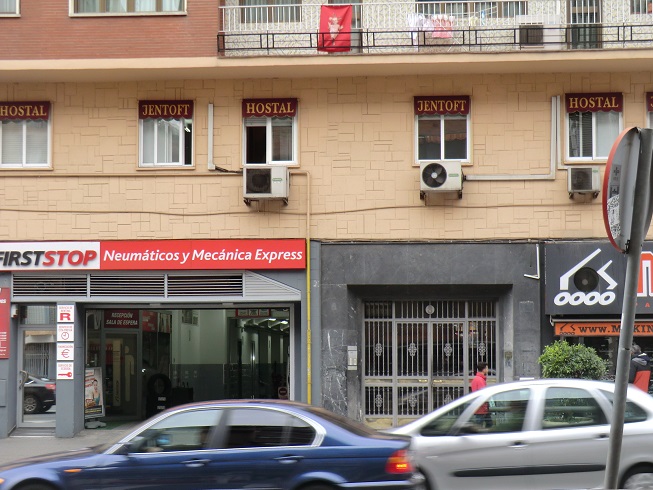 Hostal Jentoft, Seville.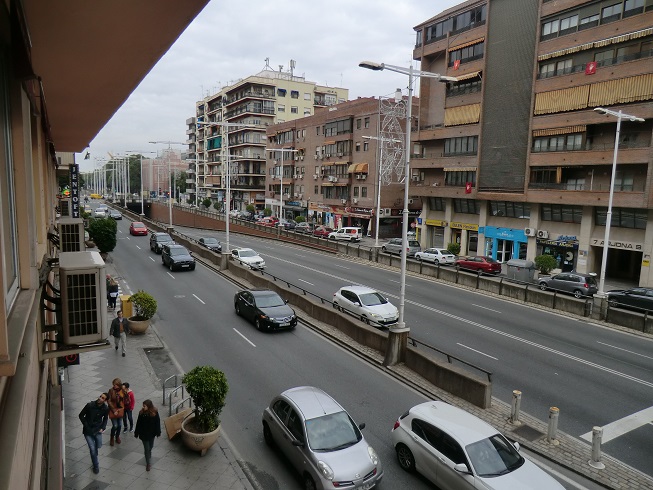 View from our room.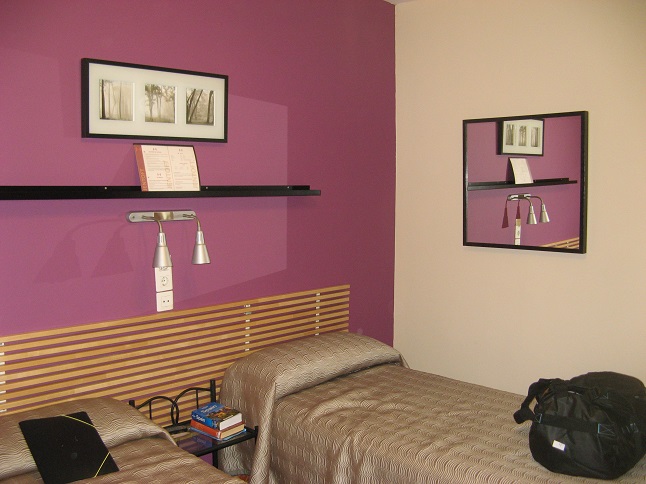 This will be our home for one night.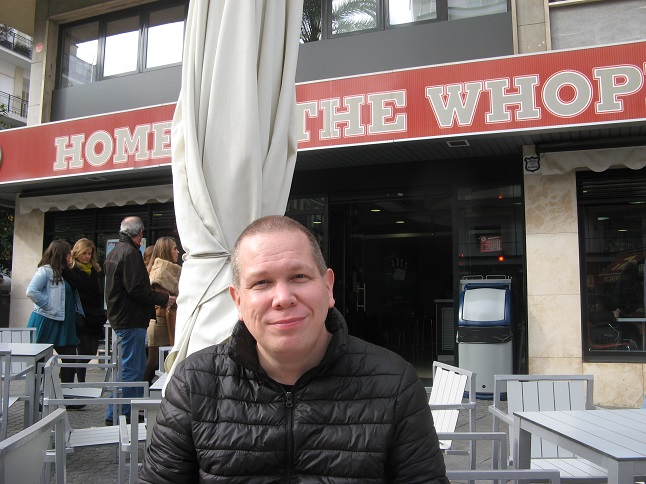 Christer is having lunch at Burger King.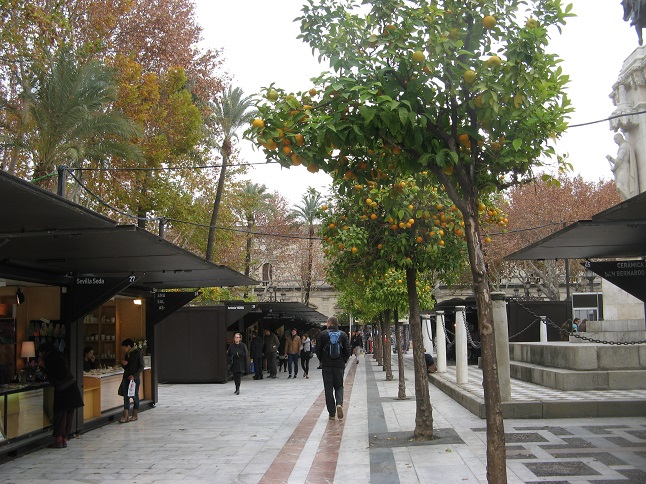 Christer is walking under the orange trees at Plaza Nueva.
14.58 We have walked along Avenida de la Constitución. Along it modern trams pass by. Christer has been into a souvenir shop and purchased a souvenir magnet to our friend Patricia from Indonesia. She collects them.
15.11 We have now sat down on a small marble staircase in front of the cathedral, Catedral de Sevilla. It is said to be the largest cathedral in the world. I have no doubt that it is correct. The cathedral area is 11 520 m². There are two bigger churches in the world but none of these are cathedrals. To be cathedral there needs to be a bishop in place. The queue to the entrance is long. Inside the cathedral Columbus is partially buried. Partially? Why is this? Because the body has been moved back and forth over the years. Some parts of the skeleton is here. Other parts are in Santo Domingo in the Dominican Republic.
15.29 We are now at a monument in white marble. Just next door is the old fort Real Alcázar. It can be found on the classic UNESCO list. A guitar playing man entertains here at the Plaza del Triunfo. In one of the rooms at the Alcázar the plans for the Columbus trip were made. It would have been interesting to visit but the queue to the Alcázar is also very very long.
16.05 We hear drums not far away. We placed our tired legs for a bench break. The bench is made of stone and has tiles in different colours. The park is called Jardines de Murillo. In addition to the two of us are two teenage girls who are busy taking selfies in different perspectives. What did the teenagers do before there were mobile phones? We have made it here after having walked through the old cozy Barrio Santa Cruz. We have also walked past the place where we had planned to stay in this city before we had to cancel and reschedule. It is called Hostal Plaza Santa Cruz.
16.41 We are now in the cozy Plaza de Doña Elvira. Now a happy child came running. Here we can see orange trees, a fountain and benches of the same type as that of the Jardines de Murillo. There are also some lovely restaurants here, certainly not tailored to our budget.
17.11 After more walking and the acquisition of soft drinks and coffee from various machines, we are now at the Puerta de Jerez. Here are among other things a station belonging to the city's modest Metro.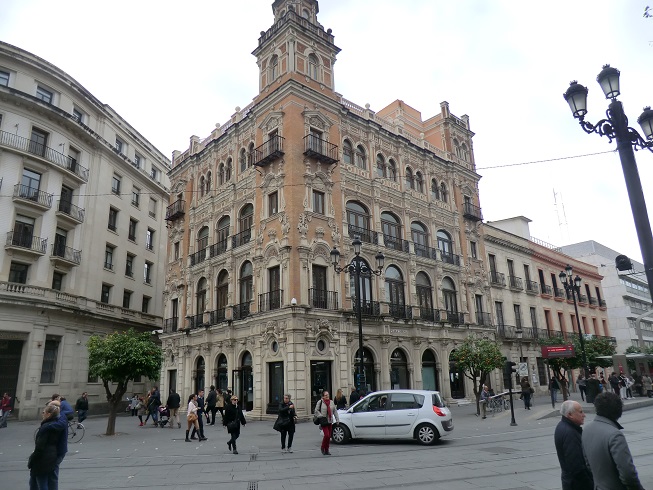 Beautiful buildings in central Seville.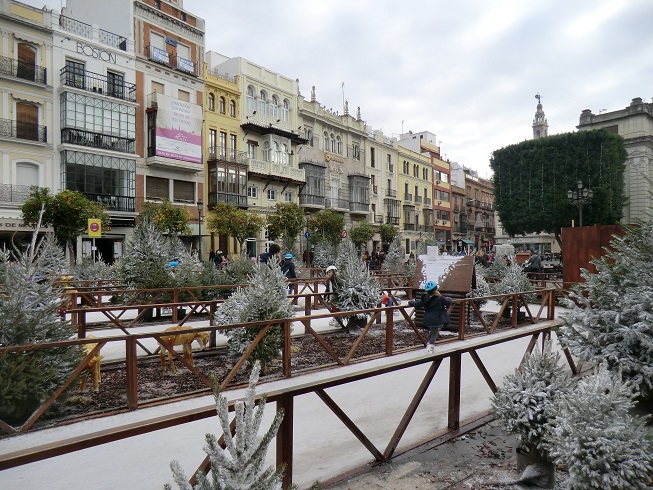 Here you can show your skating skills.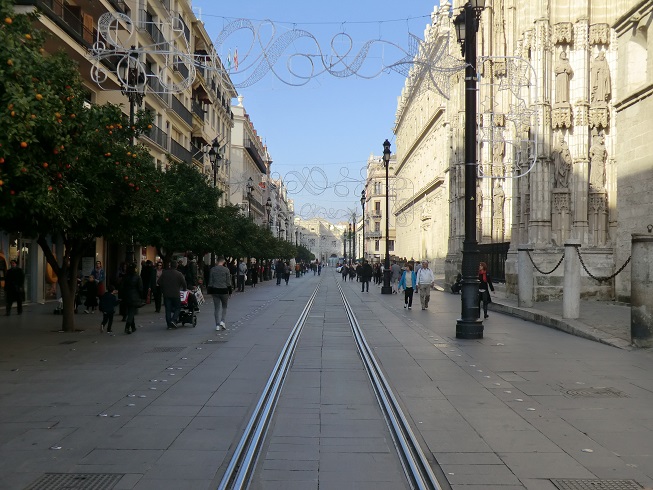 Avenida de la Constitución, Seville.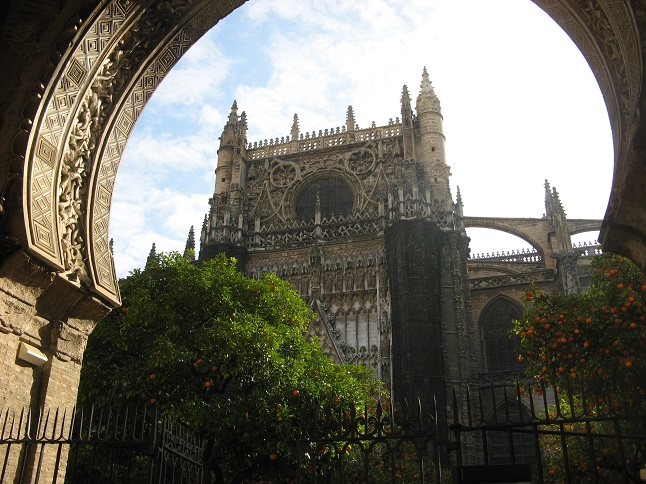 We could see parts of the magnificent cathedral through this entrance.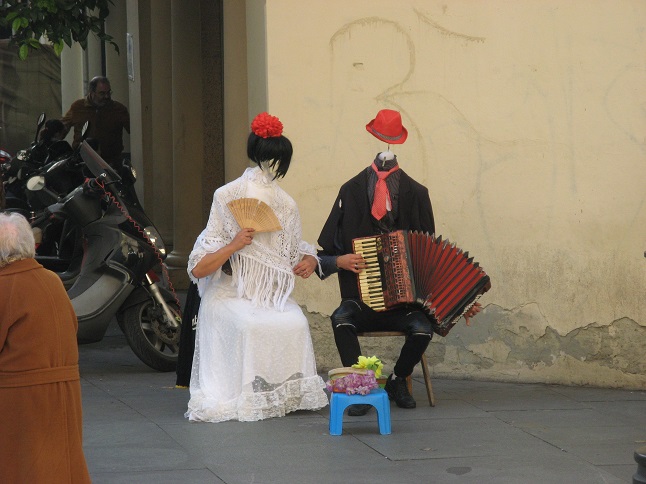 Entertainers without heads.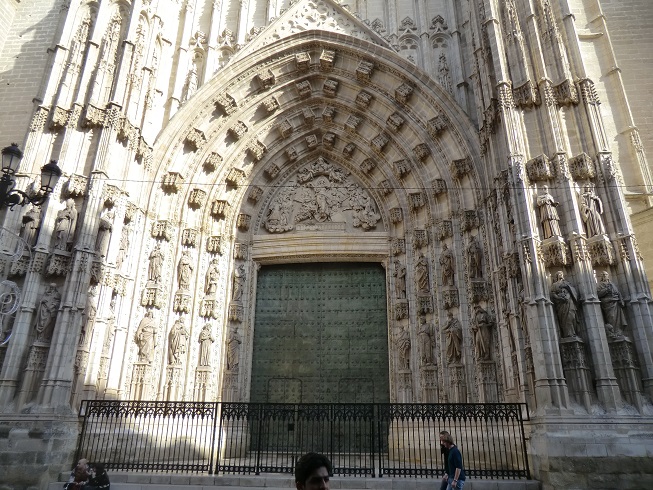 This cathedral has giant doors.
17.22 We had in the original schedules planned to see a football match in the Spanish La Liga. Sevilla plays Espanyol from Barcelona. We will not do so. The ticket prices were higher than we expected and we also got here a day later than expected. There is simply no time for football. The match will start in less than an hour but we have not seen any football fans so far.
17.38 We found new strength in the beverages and have steered our steps toward the large and beautiful Plaza de España. The whole area was built for an exhibition in 1929. It is quiet here. We see people who rows around in rented boats a small moat.
17.52 I have treated myself a cone with roasted chestnuts. We now have a bench break here in the area. It is dusk on this this year's penultimate day. Seville is a fantastic city which we unfortunately only have time to stay in for a day. At least we have seen the best attractions but unfortunately not yet covered something that we need to queue up to.
18.57 At the Puerta de Jerez there is a large display and a camera. On the screen we saw the people projected along with various New Year resolutions. If you stand in front of the camera you will be visible along with some resolutions. The time has now come to drink coffee on the Costa Coffee, the chain we often find ourselves at if Starbucks is missing or is, as tonight, full.
19.59 We now walk almost aimlessly around. To "stroll" is in many ways the height of our travels. This is with advantage done in major cities. You wander around and see what comes along. The fact is that we do not have any direct control of where we are now in addition to somewhere in Seville. We are waiting for that hunger. On a bench opposite of us is a sleeping old man. We just got new facts through Google Maps on the Christer's phone. We are in the vicinity of the Plaza de la Magdalena.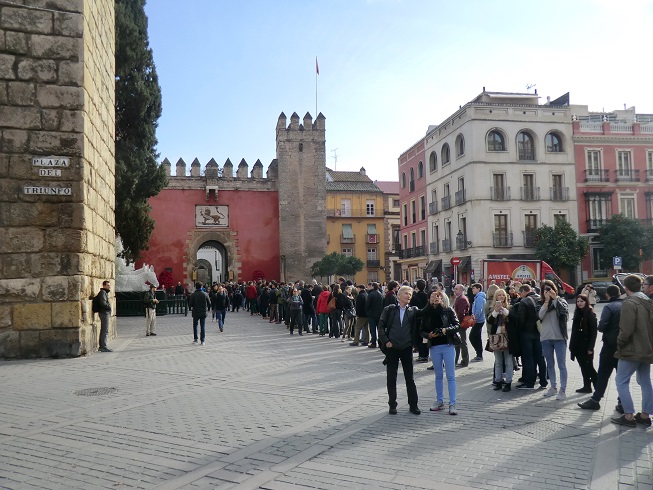 A long wait if you want to visit Real Alcázar.
Plaza del Triunfo, Seville.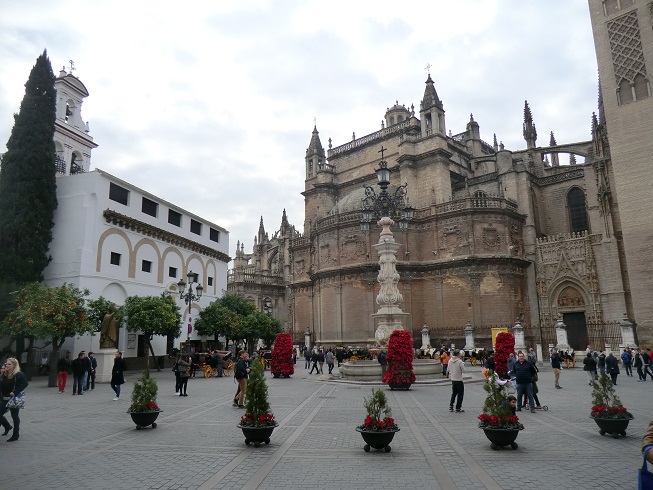 Behind the cathedral is the old town, Santa Cruz, once a Jewish part of the city.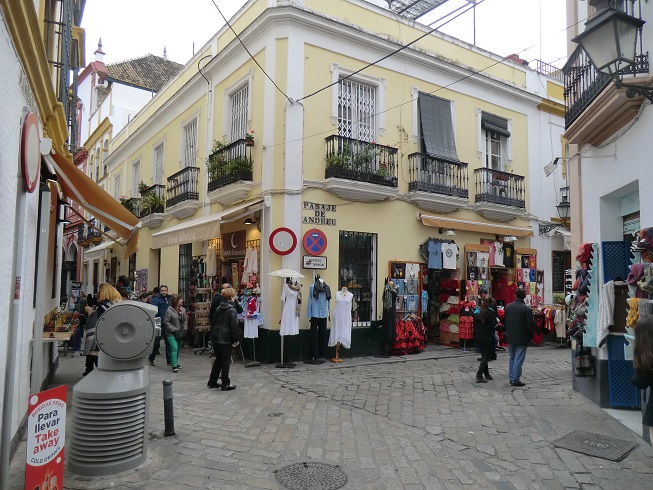 Walking through Santa Cruz.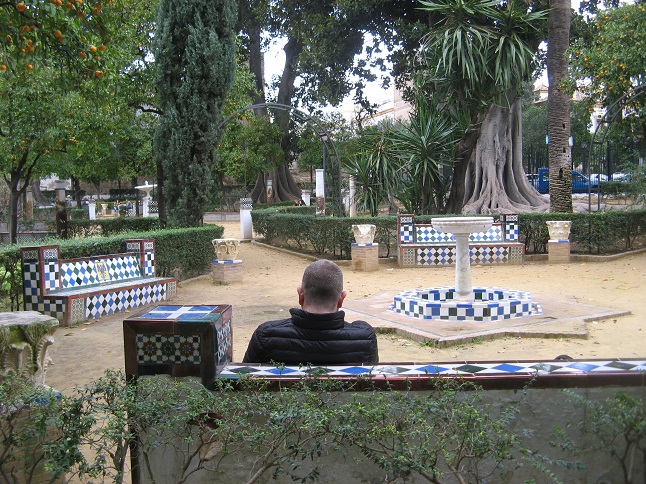 Christer has a short siesta in a nice park.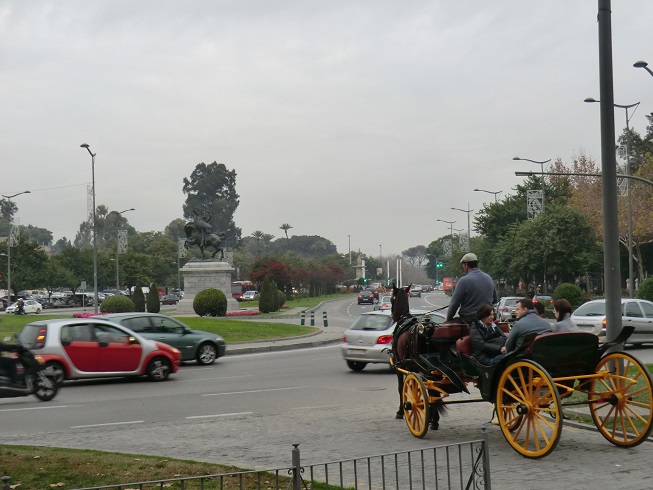 Different vehicles in the Seville traffic.
20.44 Today we will have a Chinese dinner at Ciudad de Pekin (http://www.ciudaddepekinrestaurante.es). At the same time that we got the beer some fruit were rolled in. We will have spring rolls, a main course and dessert. We have been eating simple here in Seville but sometimes food have to stand aside if you want to see everything a city has to offer.
21.16 During the meal vegetables been rolled in to the restaurant and also an elderly man in a wheelchair. I do not mean to point out any similarities between these two. The food was good and the price of 6.75 euro is not bad when we got three dishes. Pleased but not full, we are ready to go home.
21.51 After a purchase of evening beers and a little to chew on, we are now at home in room 14. It is time to relax.
22.52 The evening beers, Cruz Campo, cured ham and candy, Kinder Bueno is a good end to the day. Tomorrow we hope for a good end of the year.
23.37 Now it is time to round off a busy day. Goodnight!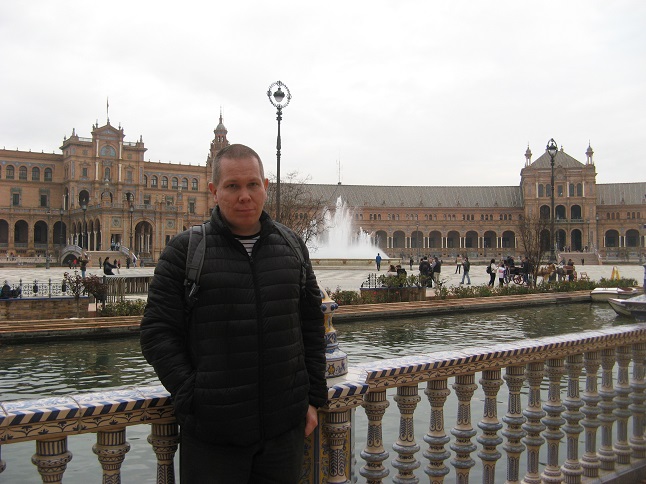 Christer at Plaza de España.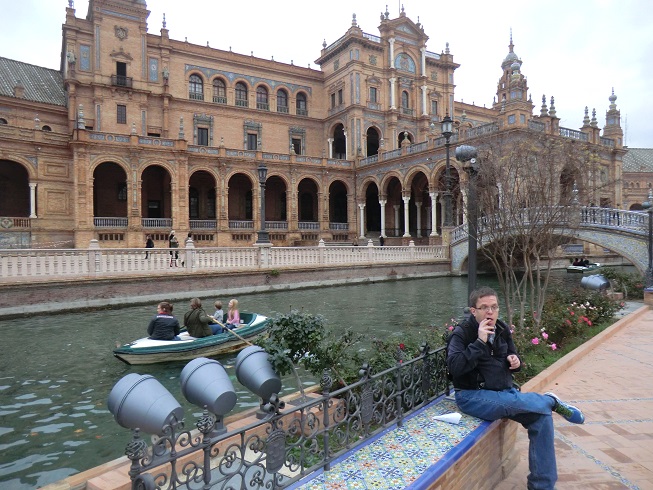 Peter is eating chestnuts.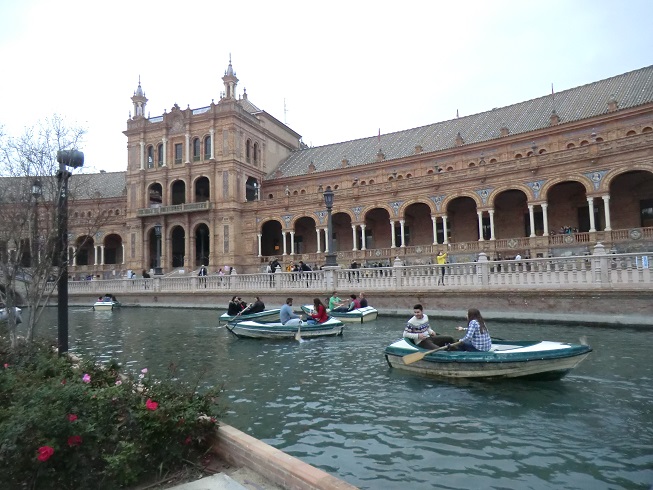 Here you can rent a boat if you pay 5 euro.
It´s popular to appear on a screen and get a New Year resolution.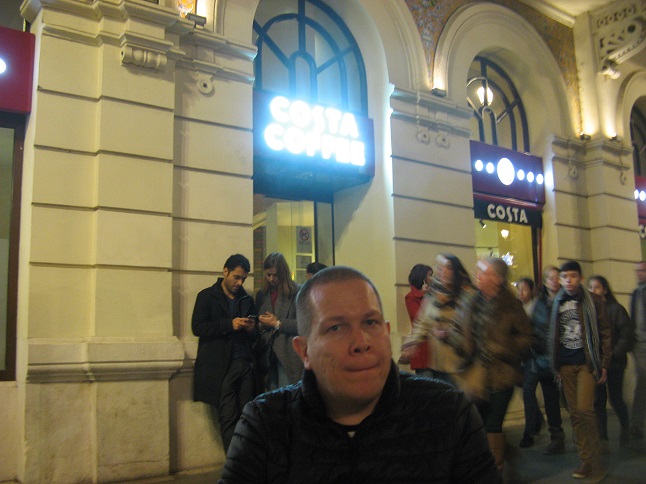 Christer is making a stop at Costa Coffee.
Many shoppers in Seville.
---
Thursday 31st of December
07.13 Within the next few hours we will have breakfast and go by bus. The year is also coming to an end. It's new year's Eve today.
08.23 Now we are back in room 14. There isn't any room 13 here at Hostal Jentoft. We have been away having breakfast. It was bread, juice, yogurt and coffee. It was perhaps not the best coffee yet but it was coffee!
08.52 We have checked out and we walked the short distance to the Plaza de Armas and the coach house. The scanty information on the monitors has hampered the ability to find the right bus. Everything solved, however, and soon, we will leave site 14. First, we left room 14 and now the bus will leave site 14. Where will this end?
09.10 Now as we roll through Seville towards Córdoba, we can seriously say that we are in phase with the original plan. I hope everything will be as we had expected on the rest of the trip.
09.41 We left the road E5 and have just made a stop in the town of Carmona. Haze and/or fog is spreading through the surroundings and views.
09.53 We just passed another version of the bull Osborne. This time he stood along the way.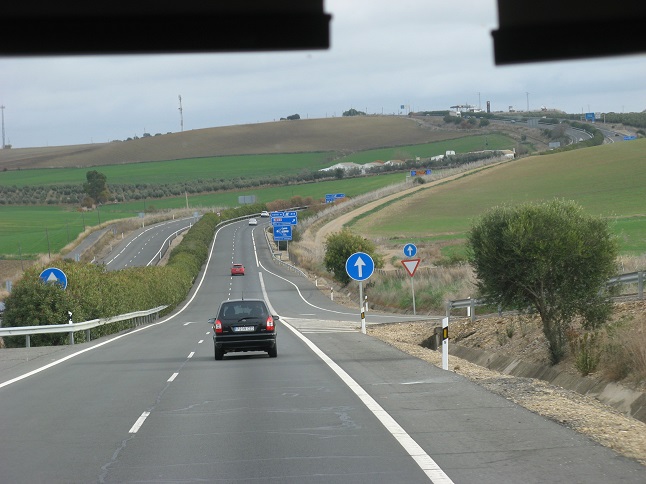 We are traveling east towards Córdoba.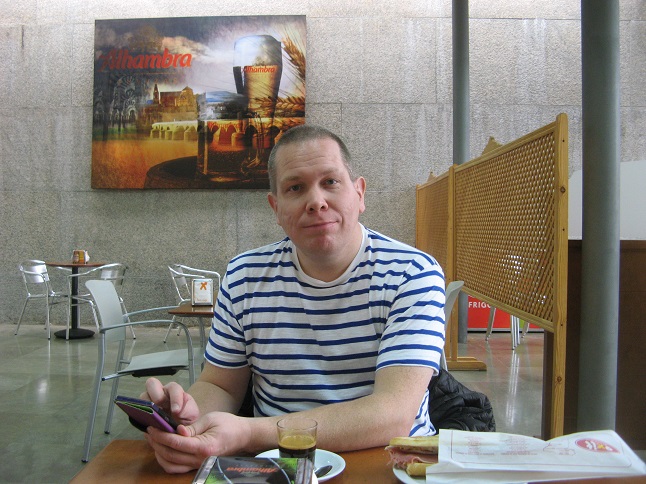 Christer is having coffee with sandwich at Córdoba bus station.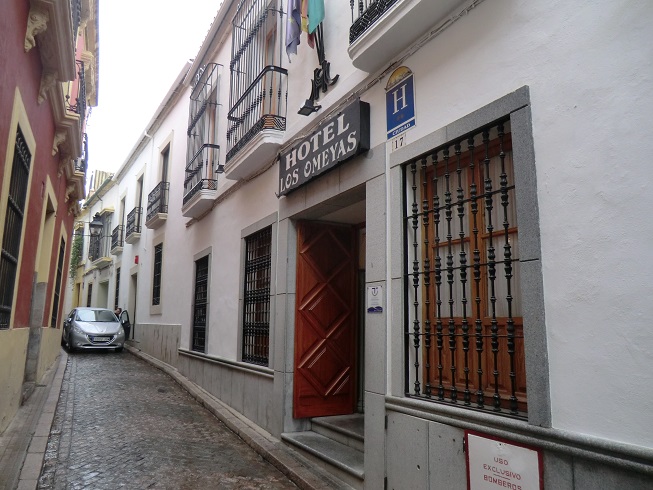 Hotel Los Omeyas, Córdoba.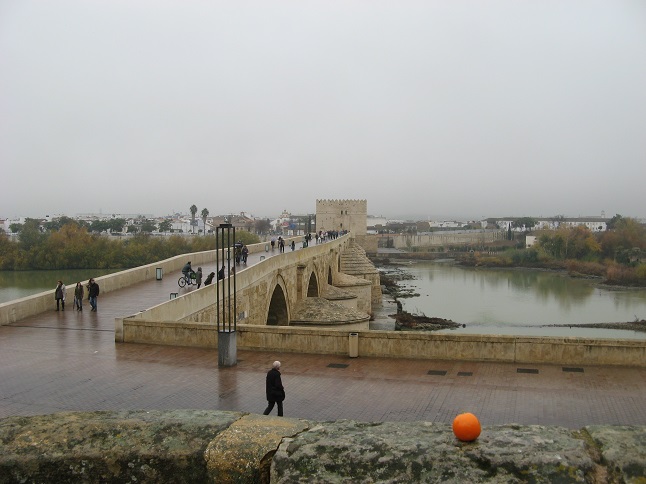 A sour orange and a rainy Córdoba.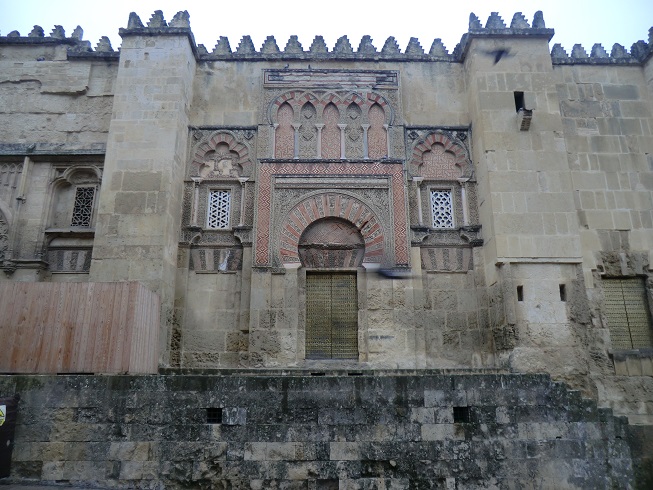 The ancient walls on the cathedral and ex-mosque La Mezquita.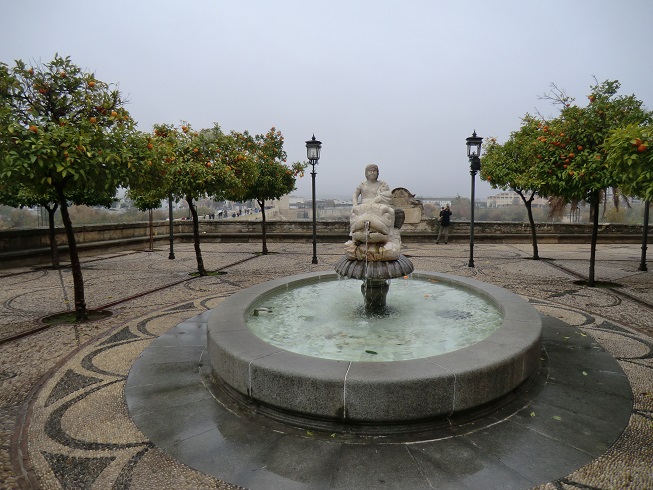 Triunfo de San Rafael de la Puerta del Puente.
10.17 The bus has stopped in the town which is called the frying pan of Spain, Écija. Except that it has a hot climate, it has also a name which is difficult to pronounce. Now a uniformed police officer is passing by in the bus aisle. Is he looking for someone? In the summer it can in extreme cases be closer to + 50° here in this town.
10.53 Now are we approaching new year's evening and this year's final destination. Once more, the bull Osborne have looked down at us. Something else that looks down at us are the grayer and thicker clouds. Will there be rain?
11.17 The rain came for sure. It began just as we reached the outskirts of Córdoba. Now we're in the bus station's Cafe. There will be coffee and ham baguette here. If we are lucky the rain has ceased until we should walk towards the city centre.
12.09 Now we will walk to this year's final and next year's first accomodation. Around us are trees and the drizzle remains.
12.34 We have 10% discount at the restaurant Numera and the year out we will stay in Córdoba and at the Hotel Los Omeyas (http://www.hotel-losomeyas.es). It feels pretty good to be here. Today's room number is 105. Córdoba is a nice city with narrow streets and a long history. There is an old Jewish town, headquarters of the Spanish Inquisition and many buildings from the time when the city belonged to the Moorish (Arabic) Empire. The city's main tourist attraction is the former mosque, now the cathedral La Mezquita. We live just a stone's throw from it.
13.58 Now we have gathered energy and set up time schedules. We're going to see a some of the surrounding area, prepare for the stroke of midnight and find somewhere to eat lunch.
14.36 We're on a small space, a minor square with a view of the Puente Romano, the Roman bridge. It has a small fountain and a dozen or so orange trees. We look out across the bridge, the river Guadalquivir and a blue tree. We didn't have any permission but picked an orange each. They were peeled, eaten and was oh so sour.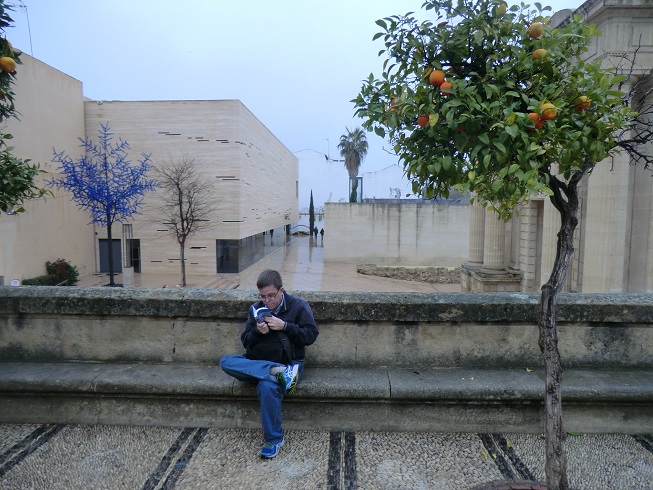 Peter is reading about our new home city.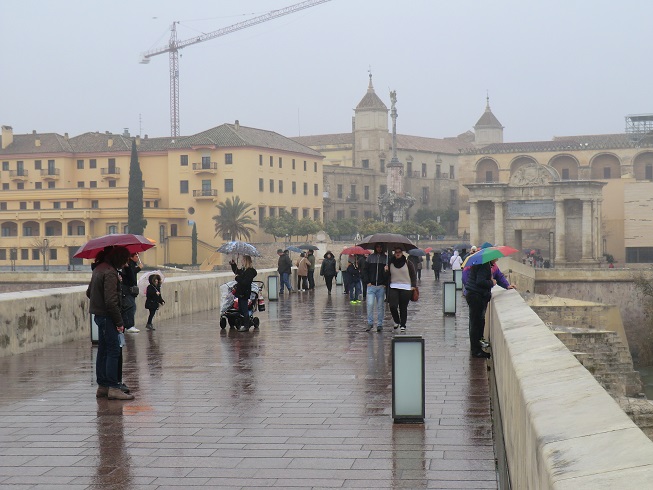 The rain falls over Puente Romano and the poor people walking on it in the rain.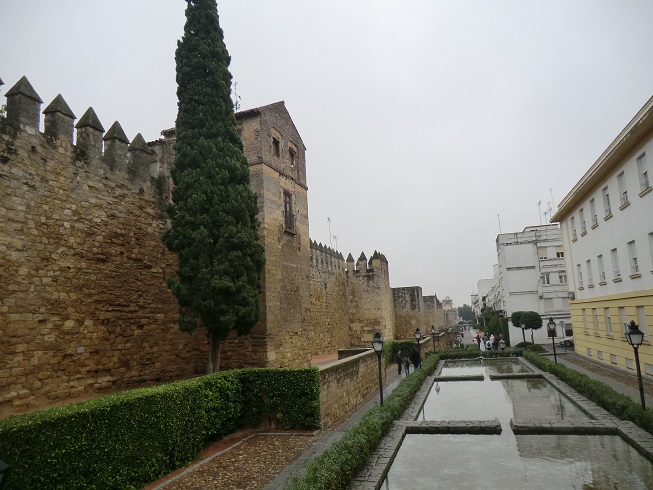 Outside the city walls.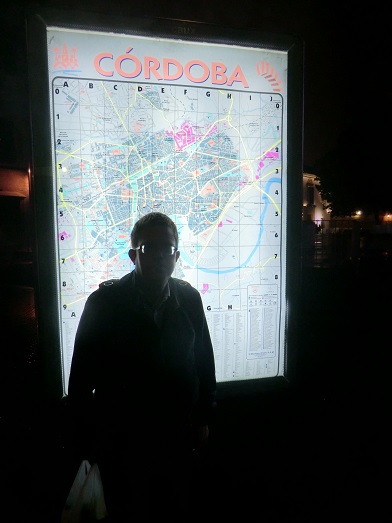 Peter and a city map.
15.29 During our little lunch search, we have seen a little girl who slipped, a French woman with a blue Kånken rucksack outside the city walls, a dog who waited outside a Supermercado (supermarket), a Supermercado where we probably will shop later today, as well as countless tapas restaurants and bars with padlocks. Now it will be a simple lunch at Burger King across from La Mezquita.
16.39 We finished the hamburgers and drifted around looking for a coffee shop. We found nothing but saw even more tapas restaurants. In addition, we got rain on us. Via the Puente Romano we crossed the river Guadalquivir. Now we ordered coffee and pastries at Café La Calahorra on the other side of the river.
17.22 There were plans to buy midnight drinks. The damned rain meant that these plans was cancelled. Instead, we went home to dry shoes, clothes, bodies and possibly the souls as well.
18.44 We went in to get dry. We became less wet but I also got really tired. There is something about the room which make us tired, is it too little oxygen here? Soon, we need to go out again. There are still things to do this year.
19.17 The store where we considered to do our shopping, The Supermercado we saw earlier is closed.
20.14 Our search has finally borne fruit. In a Chinese-run shop, we have bought a Tetra-Pack wine to toast in the new year with. We have also bought the ordinary soda bottles to be drunk out and refilled with Tetra wine.
20.27 The rain chased us into the portal, Puerta del Puente at the Roman bridge.
20.45 We cannot remain here. We have to get out in drizzling rain and find a restaurant for the last dinner this year.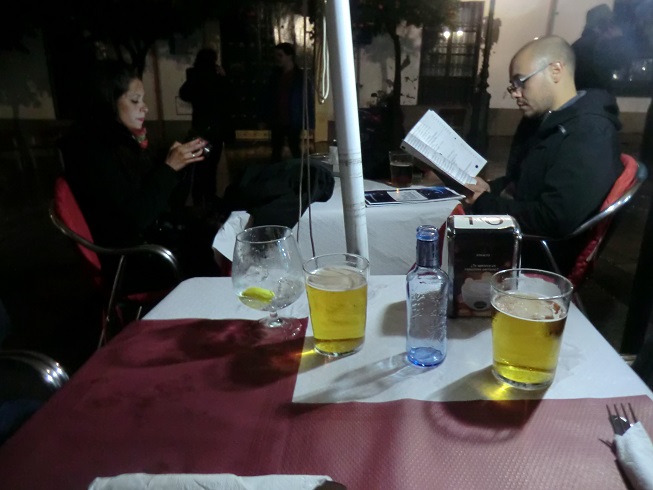 We had lots of time to chat with our table neighbours from Argentina.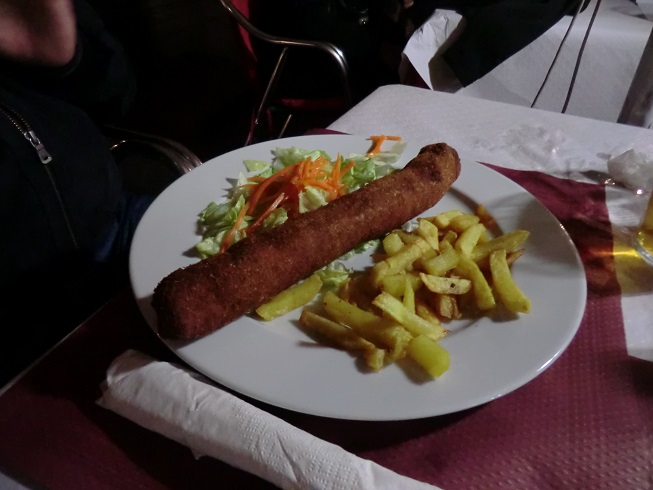 Peter ordered typical Córdoba food, flamenquín.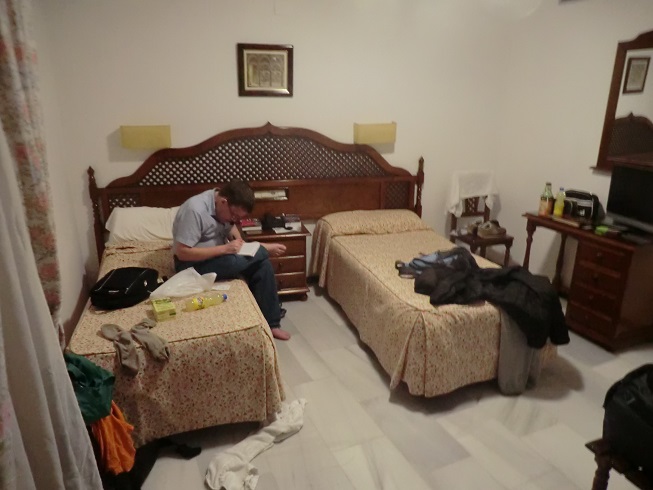 Back in room 105.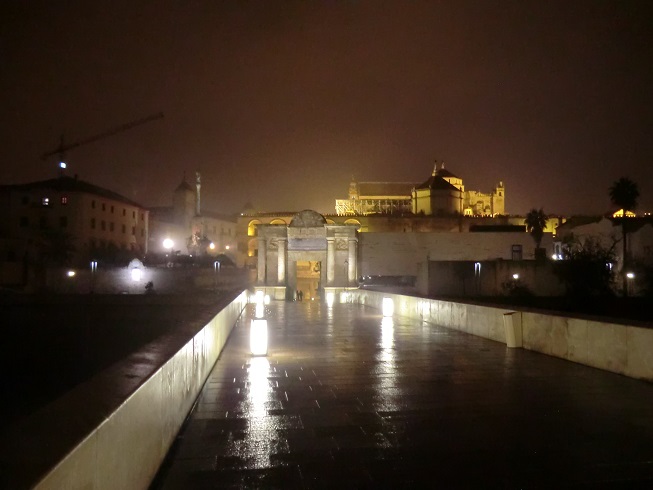 We are waiting for midnight and 2016.
21.08 We began to experience a repeat of last year's bad experience in Nicosia in Cyprus. Restaurants seem to shut down ahead of new year celebrations instead of opening for celebrating guests. Fortunately, there are plenty of tourists in the city as some places are open. El Rìnċón Andaluz will now serve us our new year's dinner. We sit outside on the sloping Plaza Agrupación de Cofradías.
23.01 I started with a heavenly good and gin rich gin and tonic. For dinner I tried flamenquín, a local breaded meat dish and Christer tried salmon. At the table next to us is a nice couple from Argentina. Because it took forever to get the food we had time to talk a long time with them. They had the summer off and were to travel on to Morocco. During the meal came the one armed, loud and intoxicated Miguel. He was helped to light a cigarette by the woman from Argentina. It also took time to pay due to too busy waiters. Now we are going to prepare for the New Year celebration at midnight.
23.35 Loaded and ready. We have poured white wine in our soda bottles, now we´ll go out on the Roman bridge to await the next travel year and hopefully get to see fireworks. Too bad it is so rainy and cloudy.
---
Friday 1st of January
00.02 Feliz nuevo año! We are standing on the Puente Romano, the old roman bridge. We are toasting with white wine. Our new year experiences have varied in recent years. Sometimes it has been lame as in Belfast, Muscat and Nicosia. Sometimes a great party as in Madrid and Rome. this year we have in all cases the fireworks in the sky even if the celebrating is quite shy here in Córdoba.
00.37 A quiet walk during a firework-lit sky took us home to the Hotel Los Omeyas. Ahead of us is the year's best sleep. The travel year that passed was as predicted a year ago not so filled with countries to visit. We have just had the time to be in eight different countries. This year might provide more.
01.00 Now it is enough with awake time. The sleep is calling.
09.05 Good morning or not, that is the question! It's raining persistently today. It is not so good. We have plans to go out and see more of the city.
09.40 We have set us by a table for breakfast. We sit in the inner yard and think about how it works with the breakfast here. The question is, should we fetch it ourselves, or will the breakfast be brought to us? Right now, all is quiet on the breakfast front.
09.52 Nothing happened out in the inner yard so we have moved indoors. Let's see if things get better.
10.00 Now things are clearer on the breakfast front. It is not enough to sit by an empty table in the breakfast dining room. We shall inform the staff that are responsible that we would like to eat. Unfortunately, the sky clears, it is not in the sky out there.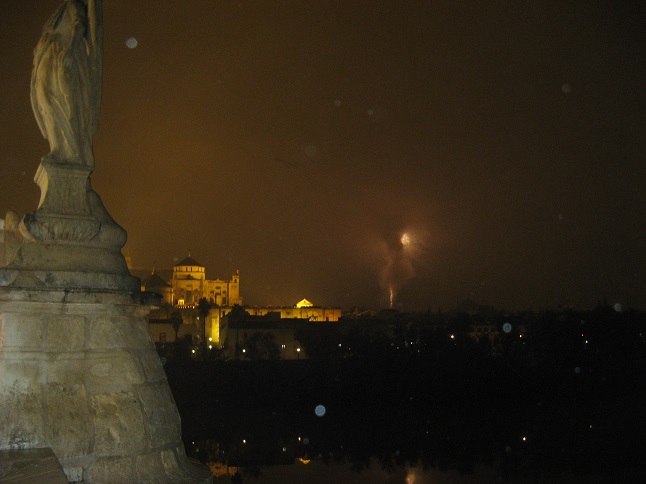 Fireworks over Córdoba.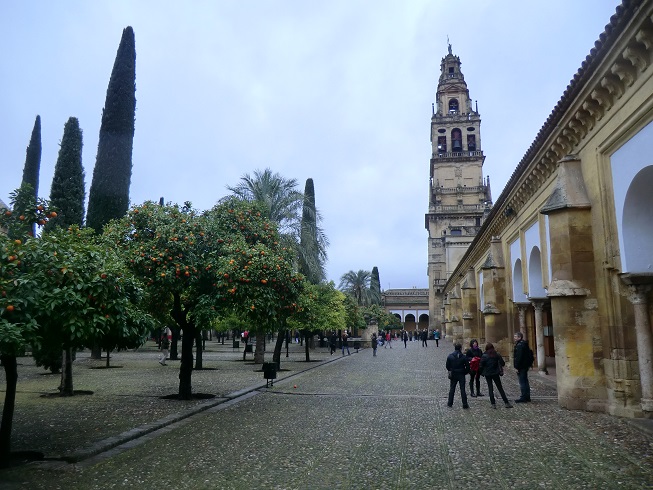 The beautiful garden inside the walls of La Mezquita.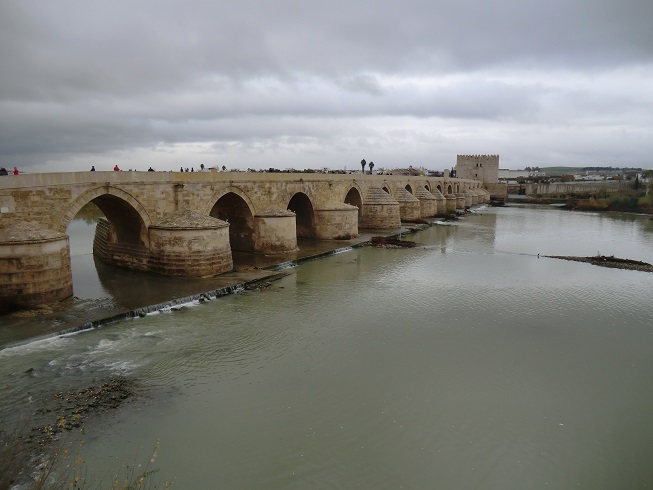 The roman bridge in Córdoba is older than Jesus.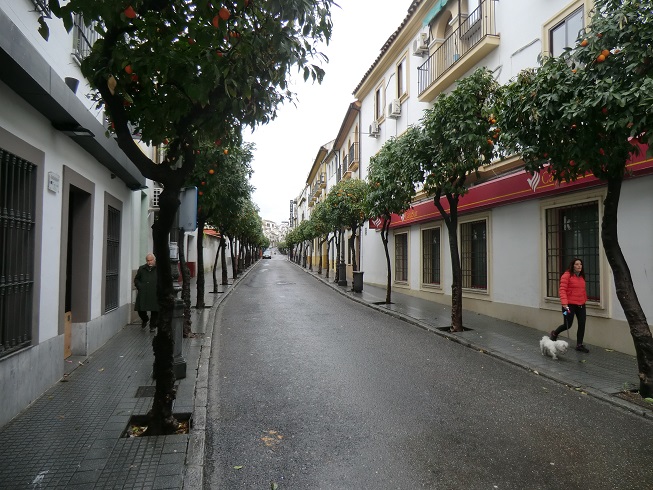 Calle San Fernando, Córdoba.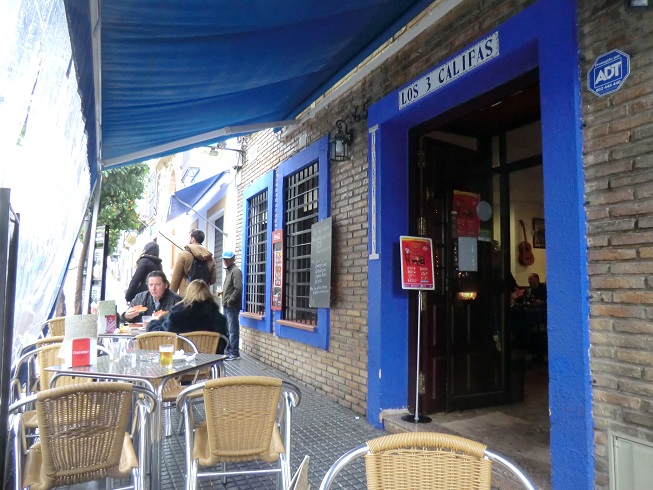 We stopped for a light meal at Taberna Los Tres Califas.
10.28 There was coffee, juice, bread and something to place on the bread for breakfast. Now, we are thinking about the things we plan to do this day.
10.55 Rain or not, we can't just sit here at home. Time to head out!
11.15 We are now in the courtyard of Córdoba's great attraction, La Mezquita. We will not get further than this today. It closes in about a quarter of an hour on the grounds because it is New year's day. We have to come back tomorrow morning before we travel on. I cannot say that everything goes smoothly on this trip. Well, we may as well find something else to do today.
11.55 We have walked a bit along the river. We have seen an old water-wheel, a tower and scattered confetti. Now we wonder what we do next, and the origin and meaning of the word confetti. Behind us is a big building ,the Alcázar de los Reyes Cristianos. It was the main centre for the Spanish inquisition 1490-1821. You never expect the Spanish inquisition as the Monty Python said (https://youtu.be/Nf_Y4MbUCLY).
12.12 Confetti is an Italian word. It was originally coloured almonds and other things which were spread on special occasions. We are not wiser as it come to what we do next.
12.46 As we sat down at the Taberna Los 3 Califas a bus from City Sightseeing turned up. The company has driven us around in a few cities and we have seen in it in several cities and countries. Now we will soon be ordering coffee with something.
13.03 It was black coffee and a local pastry, Pastel Cordobés, a pastry with filling with a touch of orange. What will we see and do now?
13.22 We have entered Córdoba's oldest neighbourhood. A little wandering along the narrow streets have taken us to the Plaza de Jerónimo Páez. Here are among other things a fountain and the archaeological museum. This was once a Jewish quarter. Interesting is that Córdoba was the world's largest city during its heydays in the 10th century. Then it was the Arabs who ruled here. Today, Córdoba is the second-largest historic district and the largest metropolitan area of that world heritage list of UNESCO.
13.45 Next to me is Christer. I, in turn, is of course next to him but also next to the ruins of a roman temple. It is almost 2000 years old and was discovered when the town hall was rebuilt in the 1950´s.
13.55 Time to write something again. The roman temple is strategically placed next to the Kebap Estambul (http://www.kebapestambul.com), a kebab place. Now we will have lunch.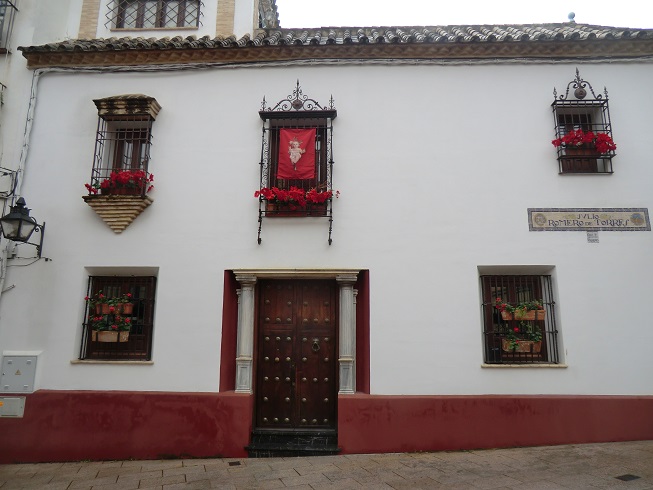 Beautiful buildings in the old town of Córdoba.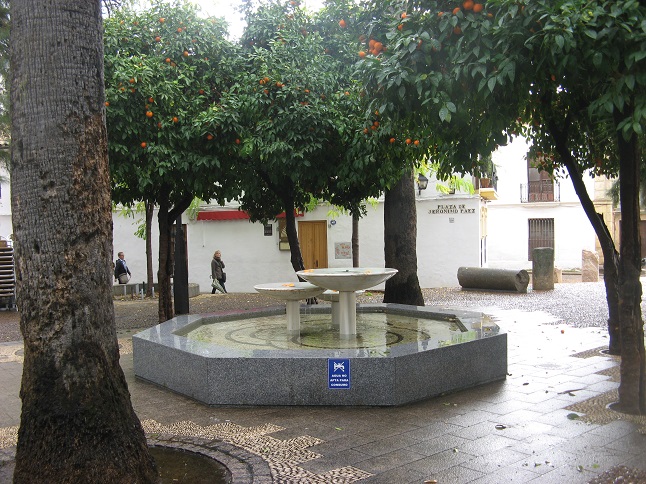 Plaza de Jerónimo Páez, a small square in the historical quarters.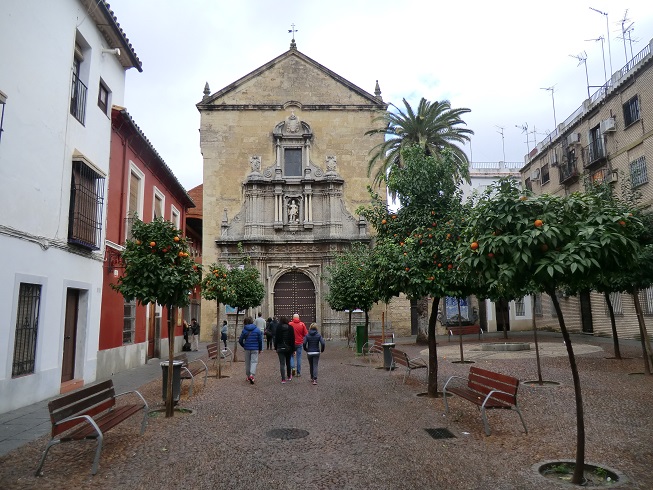 Iglesia San Francisco, Córdoba.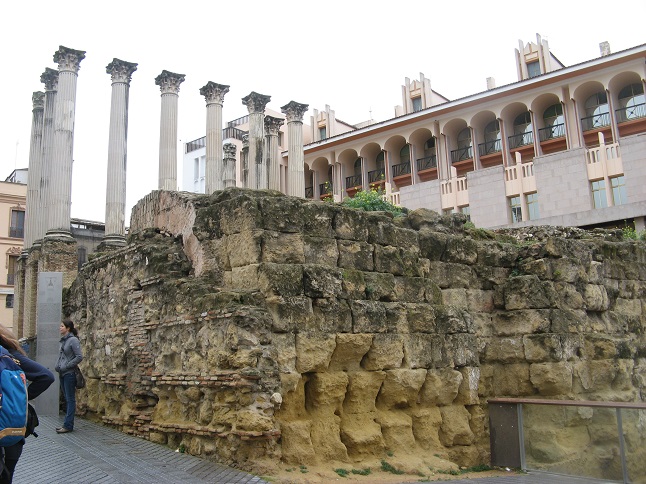 The old roman temple in the more modern part of Córdoba.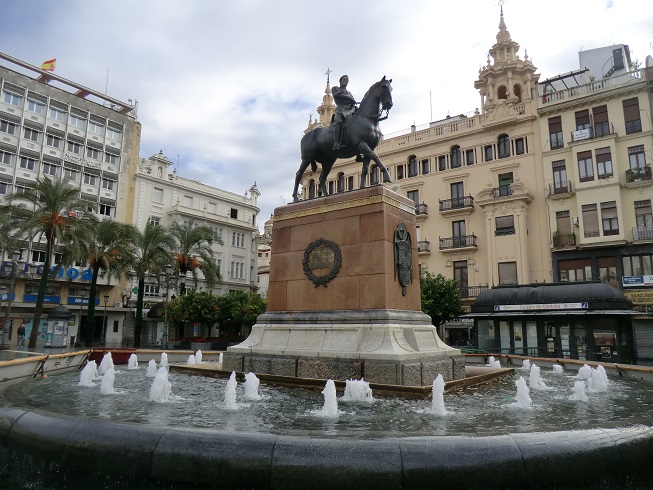 Plaza de las Tendillas, Córdoba.
14.38 It was great with lunch. Filled with new energy, we have wandered further and just come to a stop at the Plaza de las Tendillas, with the equestrian statue of the Gran Capitán. Who is he this special gentleman? Gonzalo Fernández de Córdoba, or simply Gonzalo de Córdoba (1 September 1453 – 2 December 1515), Duke of Terranova and Santangelo, Andria, Montalto and Sessa, was a Spanish general who fought in the Conquest of Granada and the Italian Wars. He reorganized the emerging Spanish army and its tactics, and was regarded as the "father of trench warfare". He was also called "The Great Captain" (Spanish: El gran capitán). Many influential men fought under him (including Francisco Pizarro's father), and he was admired by the generation of conquistadors which followed. Source: Wikipedia
14.44 We have on our way home walked along various shopping streets as well as made a church stop.
15.05 Before return to the hotel we made a final stop at the beautiful small street Calleja de las Flores.
17.04 We have relaxed with a rest, book reading for me, Ian Rankin's "Even dogs in the wild" and right now we are looking at the movie Jaws, dubbed into Spanish.
18.02 Jaws, Tiburón in Spanish, came to an end, and was immediately replaced by part 2. We shall not see it, we should go out. We want change of air. The air in the room is not on top.
18.27 The countless birds in the trees are singing for us on a bench outside the Alcázar de los Reyes Cristianos, I have just been immortalized on film. Speaking of trees, we have talked about how many orange trees there are in the city. In addition, are there enough oranges in all the trees so that everyone in the city can get an orange each? Many meaningless thoughts are appearing.
19.41 We have walked in the rain, on leaf filled walkways, through market tents and other things. We have been looking at people and skaters. We walked up to the combined railway station/bus station and back again. Now we rest on a concrete bench. We guess we might need a dinner place this evening as well, it is quiet around town and most of the restaurants are closed today.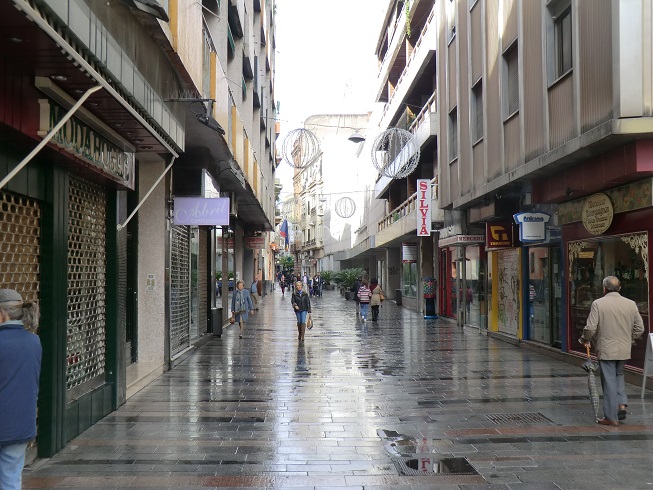 Closed stores along Calle Jesús María.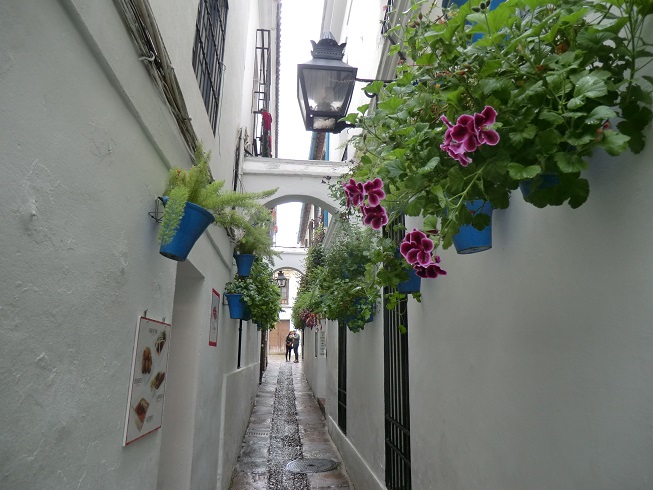 Calleja de las Flores, a beautiful little one way street.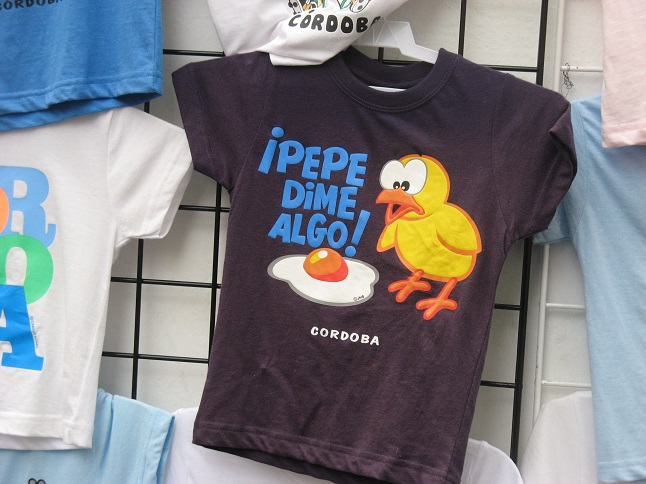 "Pepe, say something!"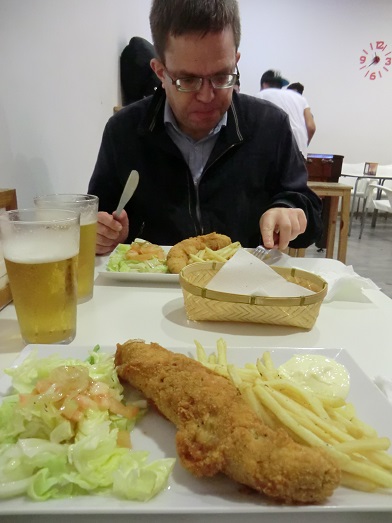 We are eating flamenquín at Boca Paca.
21.06 Boca Paca is a simple small fast food place at the Plaza de las Tendillas. Here we shall try the same sort of dish as I ate yesterday, flamenquin. The restaurant´s full name is Burguer bocapaca tendillas. A very service oriented girl took care of us and seated us down next to a table where a bunch of young guys are playing a football game.
22.22 We are home again. We have surfed around a bit on social media and various newspaper pages. We continue to be amazed by a few of our fellow Swedish citizens attitude regarding people with a foreign background. The news that the baby Omar was the first-born citizen in Gothenburg (Göteborg), Sweden in 2016 has made some people go bananas. They spew out their hatred that Omar whose parents are born abroad, indeed cannot be seen as neither a citizen of Gothenburg or a Swede. A baby will be hated directly at his birth. What does it say about our society?
23.57 The zapping on the TV led us to the to say the least strange cartoon series Adventure Time. At times it felt like the nightmares of a stoned narcotic. The dreams will soon come to us. Tomorrow we hope for better luck with the Mezquita-cathedral and a good tour to Granada. We'll be sleeping with the window open to get fresh air. This is one of the episodes of Adventure Time, not the one we saw, but... (https://youtu.be/697jrxCEa7k)
---
VIDEOS
---
You can see 145 photos from December 30 in this photoalbum.
You can see 81 photos from December 31 in this photoalbum.
You can see 90 photos from January 1 in this photoalbum.

---
---
---

---