---
Text: Peter Johansson
Editing: Christer Lundstedt
Photos: Christer Lundstedt, Peter Johansson
Videos: Christer Lundstedt
---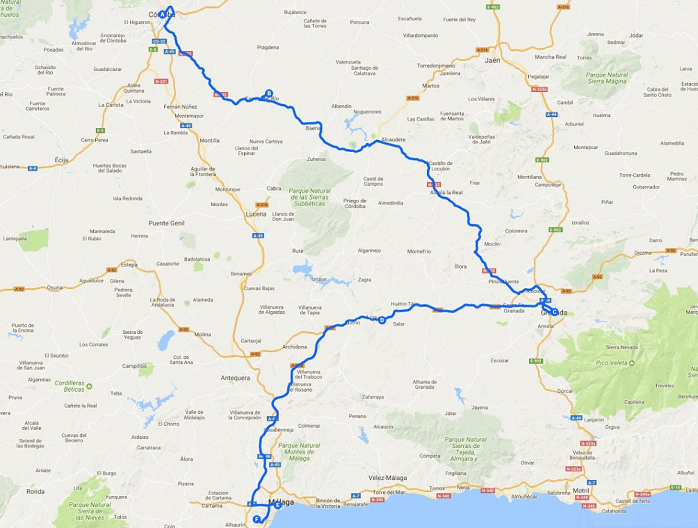 ---
Saturday 2nd of January
07.54 A new day has begun here in Córdoba. It is our last day here in the city and here at Hotel Los Omeyas (http://www.hotel-losomeyas.es). Today, we will make a new and final attempt to visit the city's main landmark, the Cathedral La Mezquita.
08.08 It is time for some breakfast. Jugos, tostados and café solo for two has been ordered. In other words, it will be juice, toast and black coffee.
08.32 A shorter, smaller, family drama took place during breakfast. Behind me was a minor sound of glass. Then all four members of the family jumped up from their seats. One in the company had turned over a glass of juice. The released juice quickly spread across the table. Enough with the drama reporting. It is now time for attempt two to get us into the nearby La Mezquita. Reportedly, it will apparently be free to enter during the morning before the tourist flow.
08.48 Success, victory and more! We and several others are walking around in here in La Mezquita. Here are the rows of pillars carrying the red-and-white arches. A scent of wet stone hangs in the air. It is a large-area here to say the least. It was, just as we thought, just to walk inside without payment, tickets or other bureaucracy. La Mezquita was originally a mosque built by the Moors (North African Muslims) in the 900's, but during the 1200's it was turned into a Catholic Cathedral. As mosque building it was unique, it was not directed towards Mecca but instead against Damascus.
09.28 After the mighty experience inside the La Mezquita, we have sat down near the Puerta del Puente, the great gate by the Roman bridge. Bells are ringing and we let the impressions blend into our minds and memories. Soon we're going back to the room to finish this part of the trip. The clouds have scattered and the sun is looking at us from behind them. It has been raining for nearly the entire stay here. We are about to leave and of course the sun decides to return.
09.54 It's time to pack our belongings and head on. The hotel and room was good. The air in the room could have been better. It's time to go to the bus station.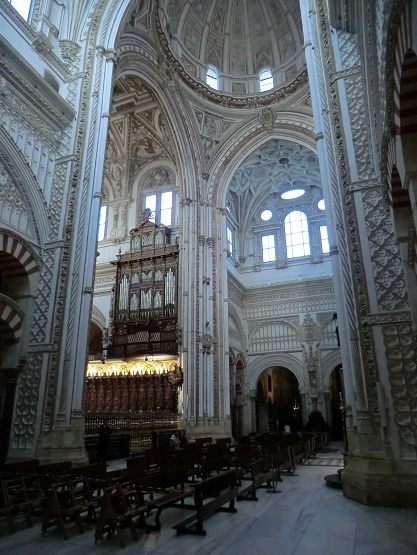 We are visiting the cathedral La Mezquita in Córdoba.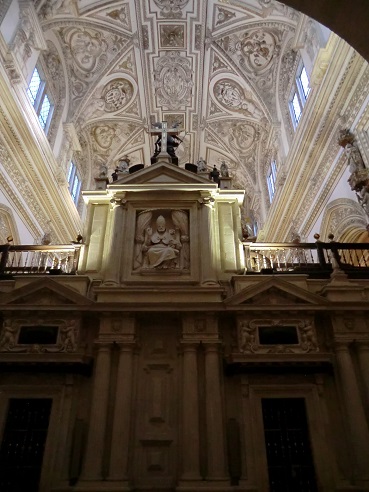 The beautiful interior.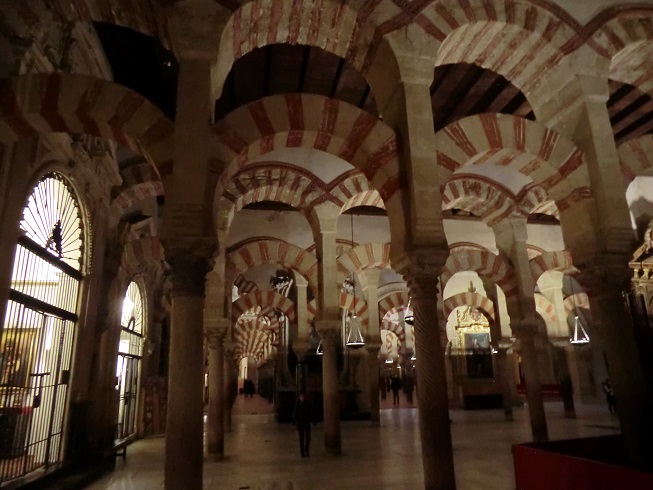 The typical red and white colours in La Mezquita.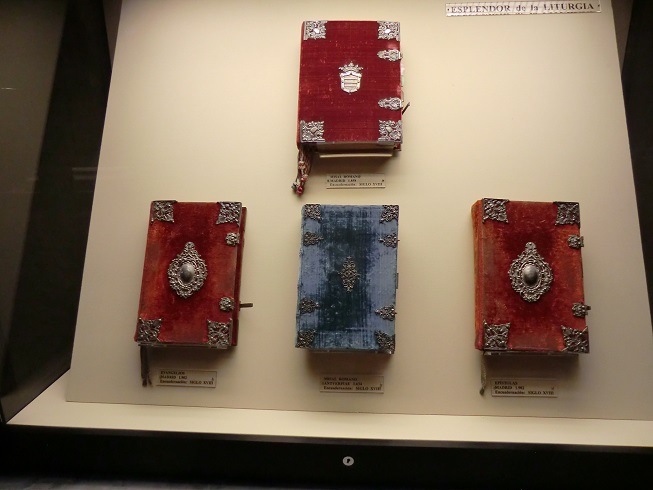 Old bibles on display in La Mezquita.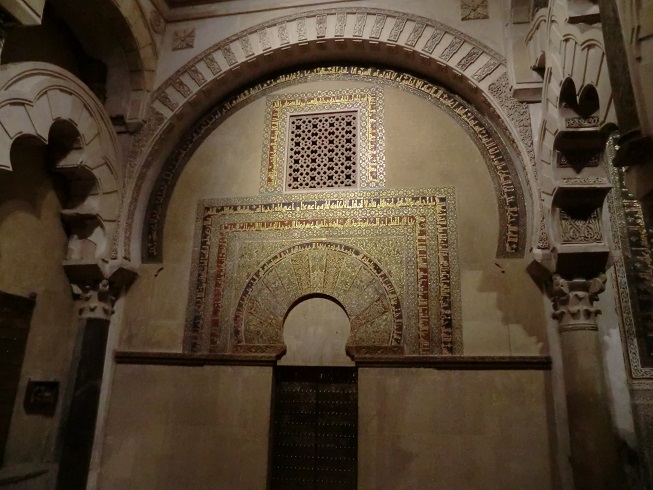 It´s easy to see that this church has an islamic history.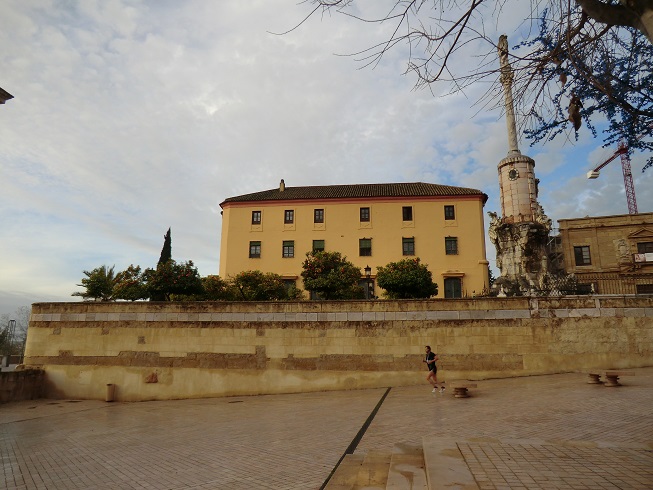 Morning exercise in Córdoba.
10.26 We have finished a quick walk to the bus station in Córdoba. Bus information can be heard in the speakers. People walk and jog around. We sit quietly down on a bench. It's always nice to sit down before you're going to go by bus and it's nice to have bought our tickets in advance.
11.03 We had to show our passports before we were allowed to board the bus. What will we see along the way on this journey? Will we see Osborne the bull today as well?
11.43 There are long lines of olive trees on both sides of the road. We are now in Castro del Río. There are also factories that make furniture of olive wood here. Most of the things in this town has some sort of connection with olives. Today we travel along La Ruta del Califato, the Caliphate road. It runs from Córdoba to Granada.
12.28 The journey continues along road 70. On both sides of the road the olive trees continue to spread. The road is narrow and winding.
12.38 We are, once again, surrounded by houses. The bus has stopped for exchange of baggage and passengers. On a height, we have just seen a castle. We are in Alcaudete.
13.11 The number of the road and the maximum speed are identical. Route 80 is a 80-road. Clouds are once again gathering in the sky.
14.34 On this date in 1492 the royal couple Ferdinand and Isabella arrived, just as we do, here in Granada. They did it to control the city, we've done it for lunch at Burger King. Well, there are certainly some other things planned here as well.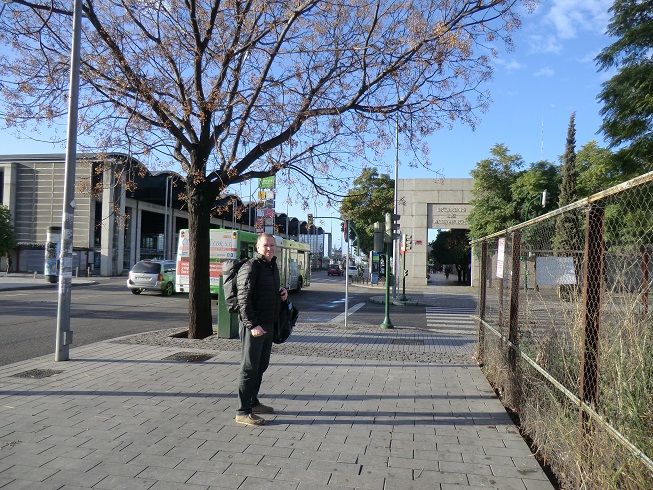 Christer has soon reached the destination of this morning walk.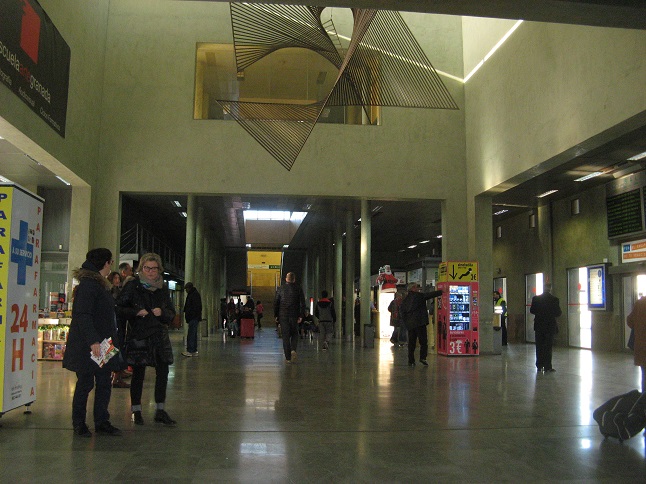 The bus station in Córdoba.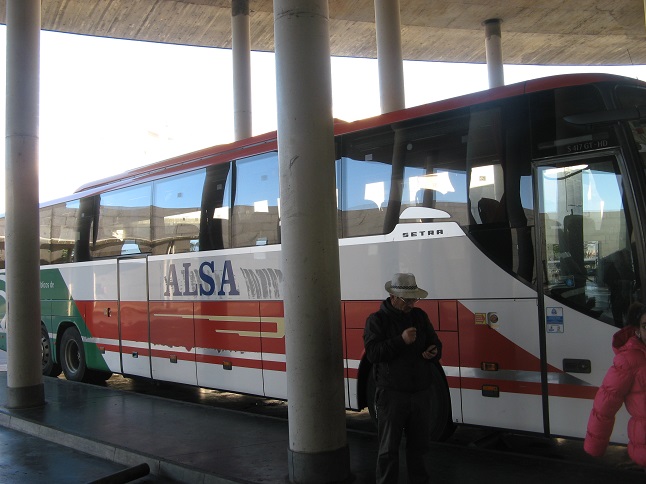 We are traveling with ALSA once again.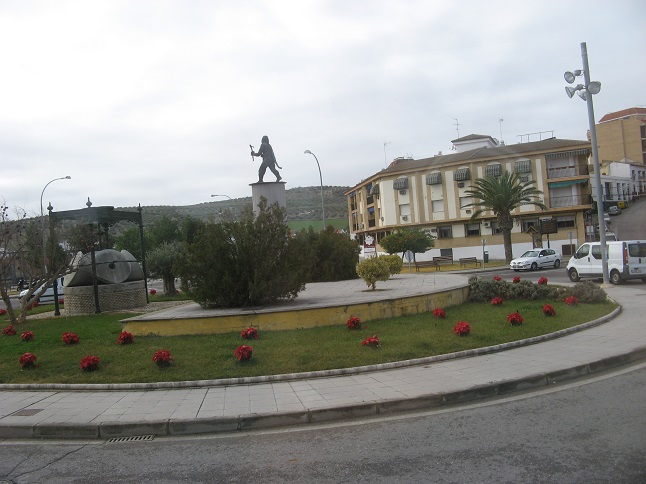 Our bus has made a short stop in Castro del Río.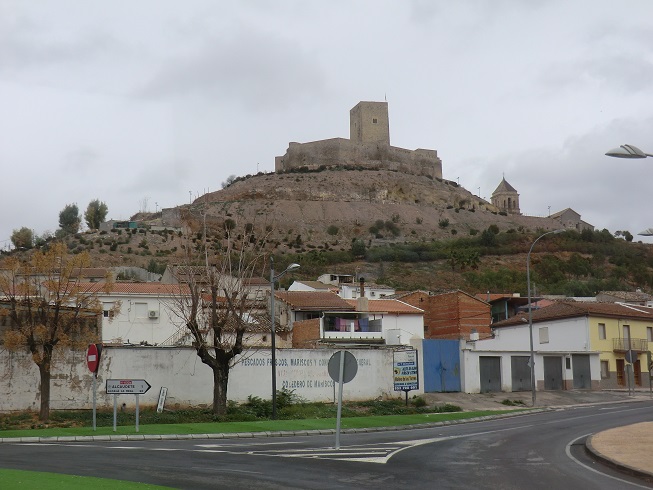 We are traveling through Alcaudete.
15.06 It was a hefty queue at Burger King and really difficult to get around at the counter with backpacks on our backs but we somehow managed it. Food is great, especially when you're hungry. We had originally intended to take a taxi but now we are ready for long walk down to the centre and our hotel.
15.25 A first bench break in Granada is being made at Plaza Ciudad de Los Cármenes. We are not tired. It's just good to know where you are and where you're going. That is what we are checking right now.
16.01 We are approaching today's accommodation. At the moment we make a brief stop outside the monastery of San Jerónimo. Our next home will reportedly be just next to here.
16.14 We have found the right street and the correct street number. However, we have not found the right accommodation. It is not where it should be according to our booking paper. Our hotel is called Terraza Monasterio and should be located on Calle Gran Capitán (by the way he's the one on the horse), 1.
16.36 We entered the Hotel Los Jerónimos (http://www.hotelosjeronimos.com) on Calle Gran Capitán 3. It turned out to be our hotel. The bar/roof terrace of the hotel is called Terraza Monasterio and it also was the name of the entire hotel when we booked it. In some peculiar way, we booked a room at the Hotel Los Jerónimos named Hotel Terraza Monasterio, strange! The main thing, however, is that they have a room for us. Earlier today road numbers and speed limit was a match. Now the room numbers and room rates, namely, 112 match. The costs, however, is not 112 euro per night, it is the full amount of the stay here.
17.41 Now, that we know that our things and we are in the right place, we shall get ourselves out in the surrounding area to see what's close by.
18.45 We have walked about and looked for cafes. We were so desperate we even went to the railway station and checked but it was mostly deserted and dead, not many trains run to or from here. Finally, we passed and soon went in to the Genil Gourmet. Not much of a cafe, however, and not much pastries. Rather, it is a trendy little restaurant. However, we got us a café solo each here.
19.17 It is tough to take photos in a city where darkness is falling.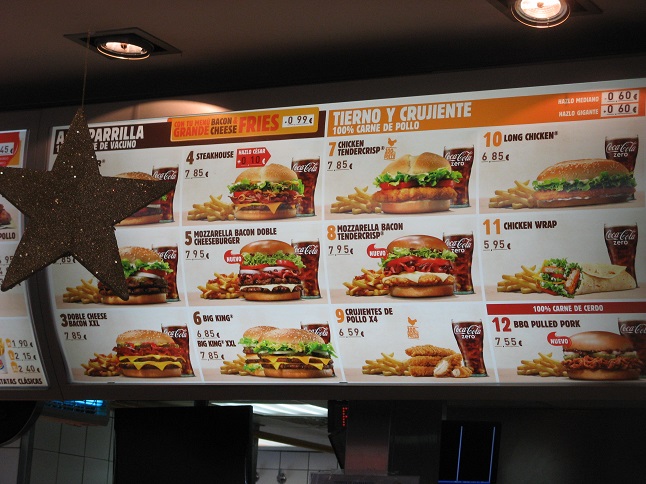 Our stay in Granada started with a Burger King lunch.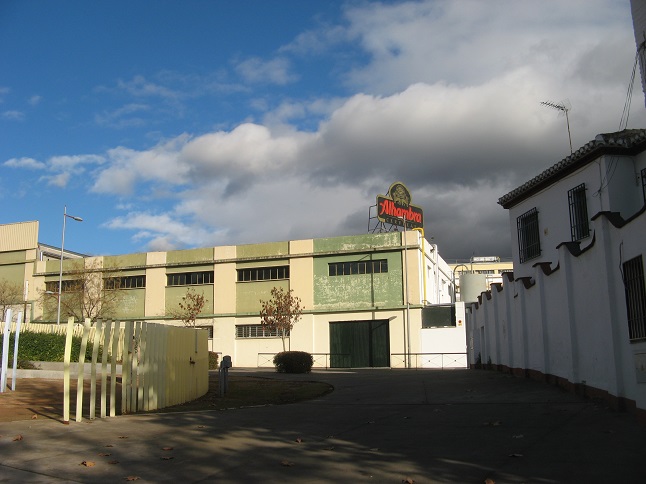 We walked past the brewery Alhambra.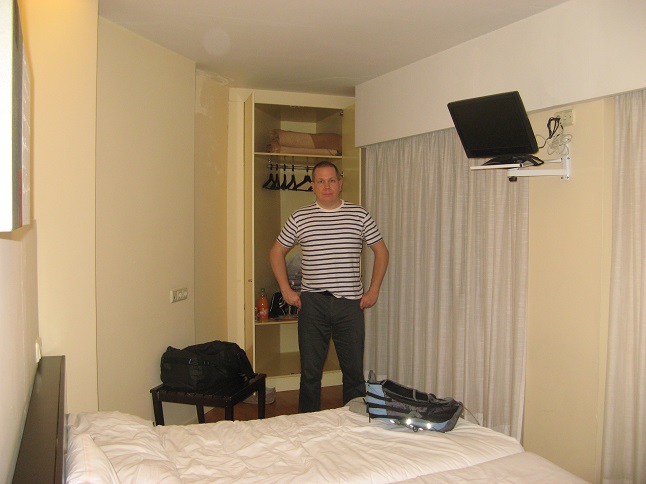 Christer in our hotel room.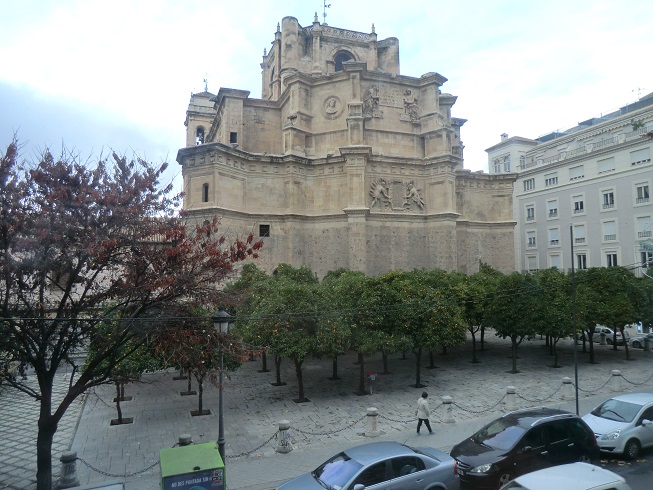 Our window view towards the San Jerónimo monastery.
20.18 We walked and photographed more, as good as possible when it's dark outside. Some supposable dinner restaurants have been found, including an Argentine meat restaurant and a restaurant with a "crisis menu", specially adapted rates for the economic crisis. Once back in our room, we take it easy. We surf on the internet and get surprised by our bitwise smug fellow citizens. If social media is showing Sweden's true face, we have no merry future up ahead. Lack of knowledge and lack of empathy is what dominates. We have also planned a bit for the evening.
21.04 We will have dinner in Wu's House, the Chinese restaurant Casa de Wu. First we ordered and got our beer. Subsequently, we ordered food. When it was done we were asked what we wanted to drink. Christer showed the beer, the waiter out a hand to his forehead and I commented all it all with the swenglish expression "It's OK!"
22.16 We went home after some home neighbourhood exploration. The key was retrieved and used.
23.16 We enjoy the locally brewed Alhambra beer, cured ham and Spanish football. It is the match Málaga-Celta Vigo. It is 2-0 and Sweden's John Guidetti in the away team may not play, not yet, anyway.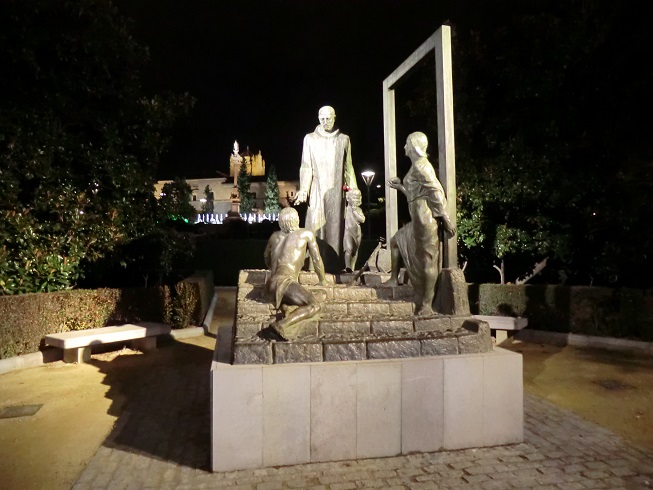 A monument at Plaza del Triunfo to the memory of the local saint San Juan de Dios.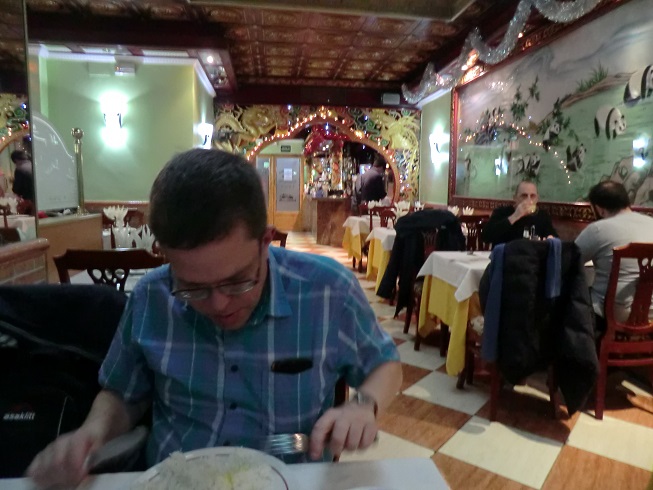 Dinner at Casa de Wu.
---
Sunday 3rd of January
09.27 We had hoped that the breakfast would be served on the roof terrace that the hotel are so proud of but it was instead served in a bar that can be reached both from the street and from within our hotel.
09.45 The only sound and movement in the world outside our hotel, are the ones from the church bells. In Spain, it seems to be more activity among people at night than during the day. In the morning the streets are often deserted. Today, there are nothing given scheduled in addition to see what we can see in Granada, a city with about 240 000 inhabitants. You should buy tickets in advance for the major attraction here, Alhambra Palace. They ran out on the internet before we had time to buy. Sure, some tickets can be purchased on spot but how many are left? We also have just one day here so we have to choose between to see the Alhambra or the city itself.
10.20 Watch out Granada, here we come!
10.50 I usually rarely complain or whine but now I am frankly pissed off. It is yet another cloudy day with rain on this trip. Why couldn't it be sun today at least? We waited until the rain ended before we left our hotel but we only got two crossings before the heavens opened again. Now we are standing along Calle Gran Vía de Colón and seek shelter from the rain. The question now is if we are going to see Granada wet or if we'll go back to the hotel and wait for drier weather?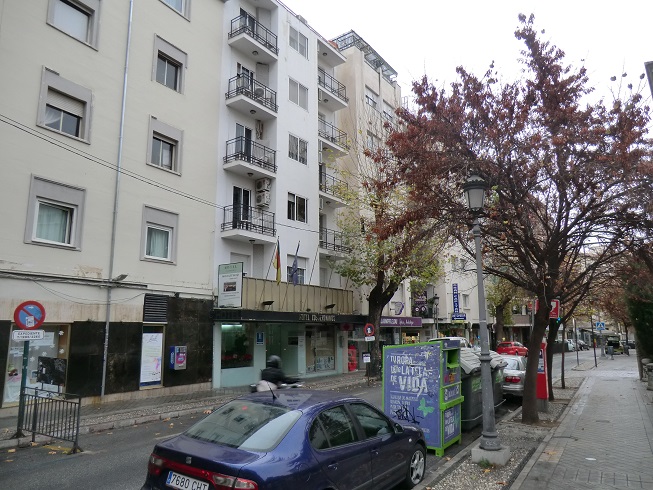 Our hotel is called Los Jerónimos or is it Terraza Monasterio?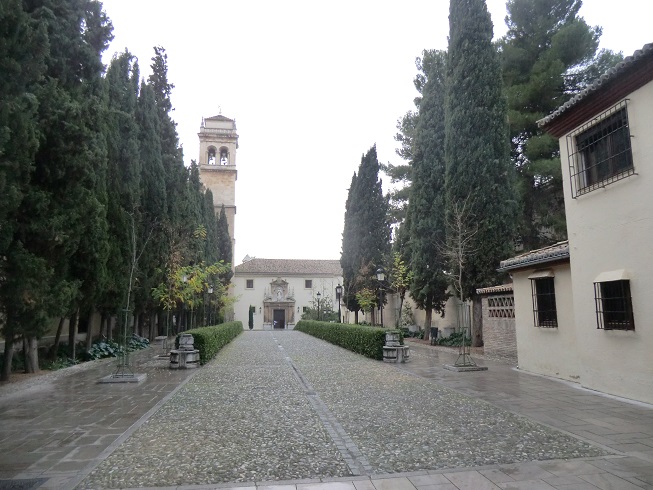 We are neighbours with the San Jerónimo monastery.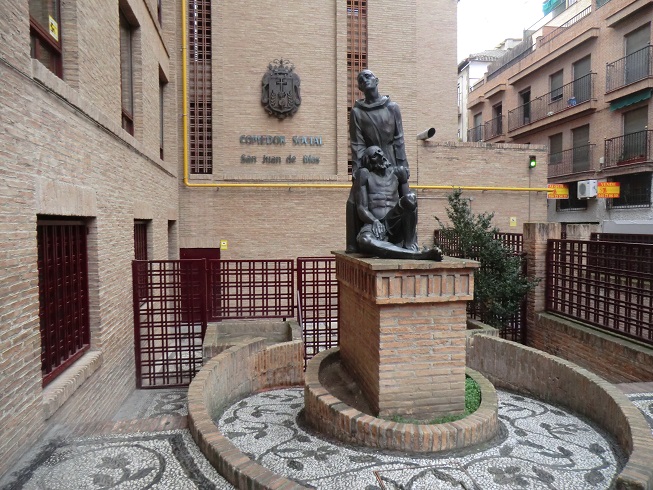 San Juan de Dios is Granada´s own saint. He helped the city´s poor and sick.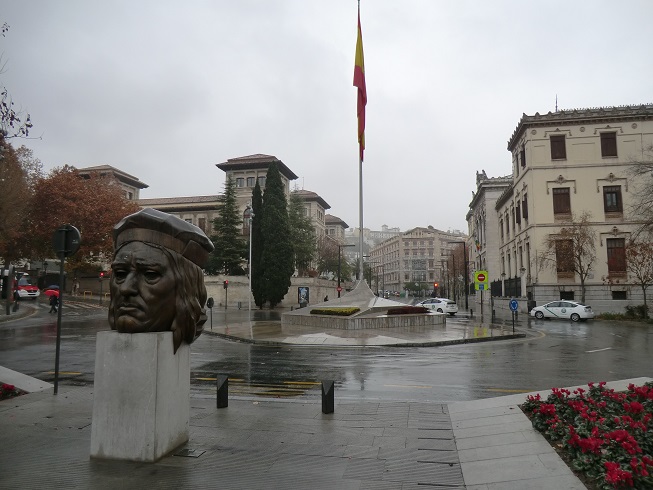 And the rain keeps falling.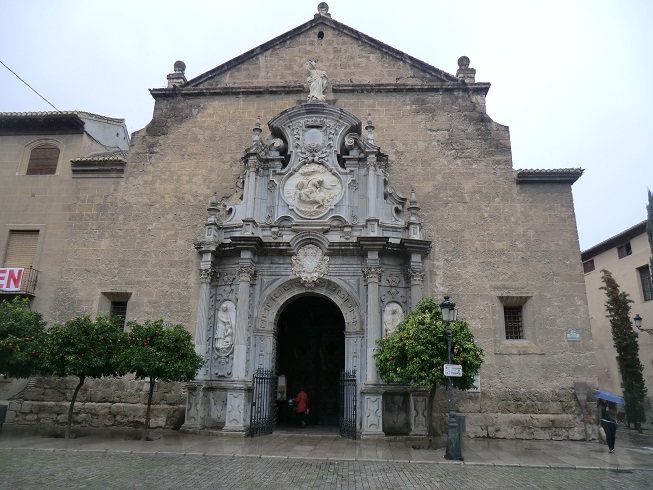 Parroquia de Santos Justo y Pastor, Granada.
11.28 We tip toe in drizzling rain. Right now we move around the square Plaza de la Trinidad. We are looking for a place to sit down at for a while. Maybe a cafe to dry and to drink some coffee. There are a couple of bars/cafes here around the square. All we have to do is to choose which we enter.
11.37 We have, to avoid the rain, entered the Cafeteria Goya. While we are here we'll have a coffee and a sandwich, a bocadillo.
11.48 Cafeteria Goya is a narrow café or more a bar to be honest. They have served us delicious sandwiches at a sensible price.
12.28 We finished the coffee and ham sandwiches before we wandered ahead here in Granada. First, we found the square Plaza de Bib-Rambla and the huge cathedral. In the vicinity we also found a market for crafts and souvenirs. We have now entered the Capilla Real, the Royal burial chapel by the Cathedral. Here lies Ferdinand, the king, not the bull, and his queen Isabella, their daughter Joanna the Mad and her husband Philip the Handsome. Ferdinand was King of Spain between 1479-1516. Joanna was Queen of Castile in 1504-1555.
12.58 We were unfortunately not allowed to take photographs or film inside the chapel but it was interesting to see the beautiful chapel, graves and the small museum with all the old items from days gone by. This was clearly worth a visit and we had missed if we favoured the Alhambra. Cities such as Seville, Cordoba and Granada are not see in a day but now is our time here is limited.
13.20 We left the beautiful and quiet Chapel and are now on its opposite, Plaza de Carmen. We will soon find a new direction.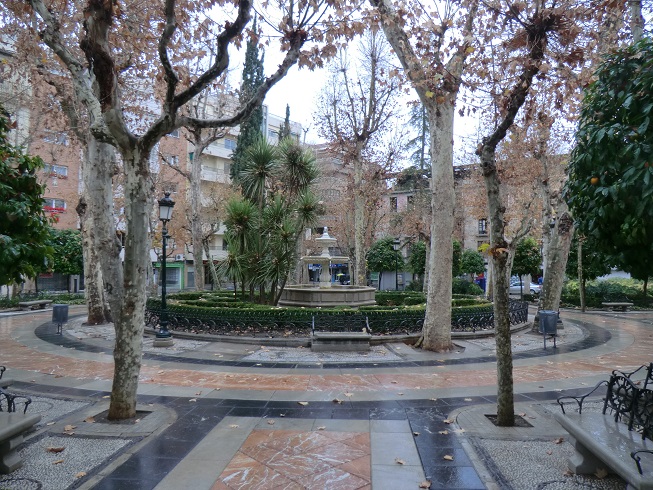 Plaza de Trinidad, Granada.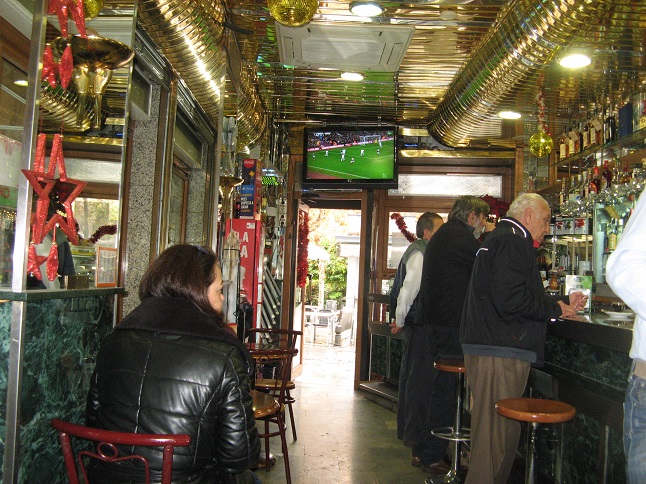 We escaped from the rain and made a stop at Cafeteria Goya.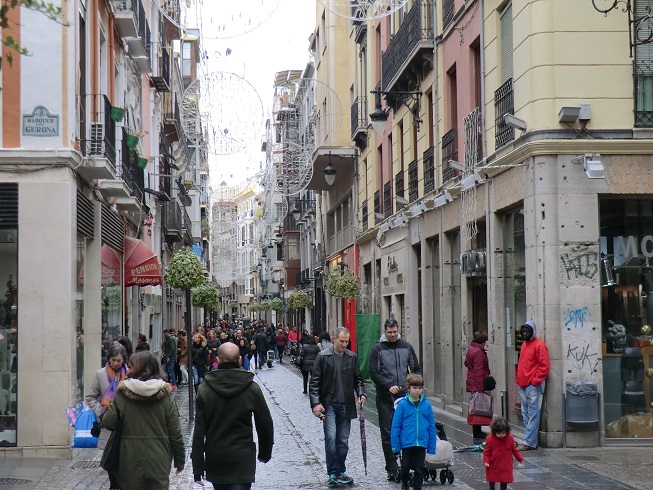 The shopping street Calle Mesones.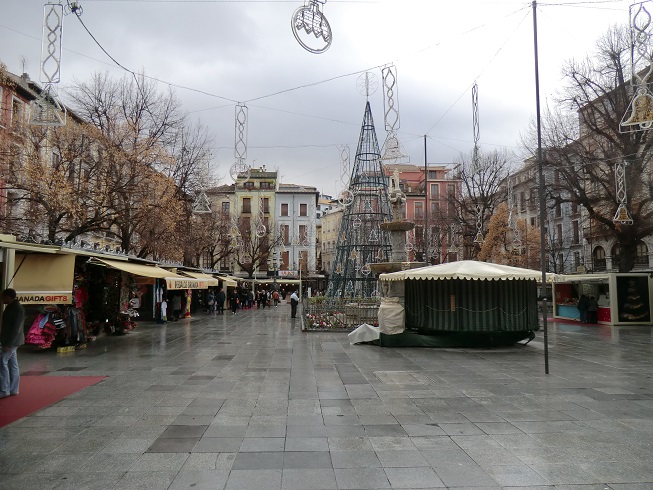 Plaza de Bib-Rambla.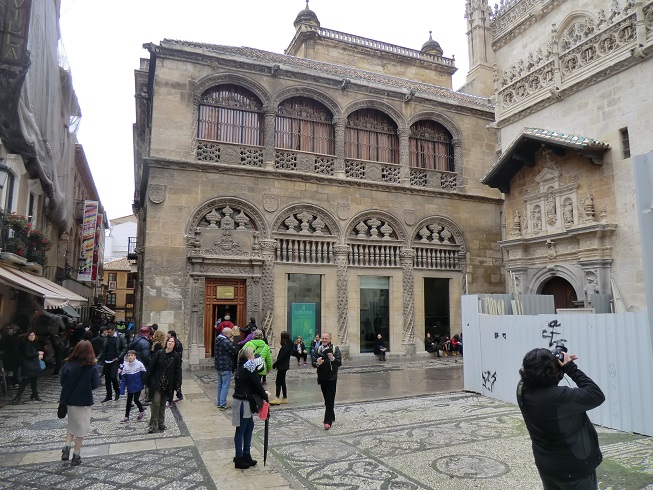 Here is where you enter the Capilla Real.
13.47 We left the Plaza del Carmen behind us and went on a journey without a direct target. We just stroll around and take a look at what seems most interesting. We made our way to the church Iglesia de Santo Domingo and then back to Plaza Isabel la Catolica.
14.18 Our walking, planned mingle has now brought us back to Plaza de la Trinidad. There are plans to bring with us an orange each from here. There are plenty of those in the trees here. Behind me are pigeons purring.
14.52 We picked an orange each before we left the square. We went shopping something for now and some for tonight before we headed home. Now we are back at the hotel. Now the oranges will be skinned and consumed. Wonder if they have the same healthy acidic taste like the ones in Córdoba?
16.30 The oranges flavour was sour here as well. Oranges should probably be picked and eaten during sunnier parts of the year. Now we have plans to see Granada's oldest part of town, Albayzín, which has Arabic roots.
16.58 There are some people here at Plaza de Santa Ana. Right near is the Plaza Nueva and it is also filled with people. Here is a large building which name and function is something I know nothing about. Behind it starts the narrow streets of the Albayzín.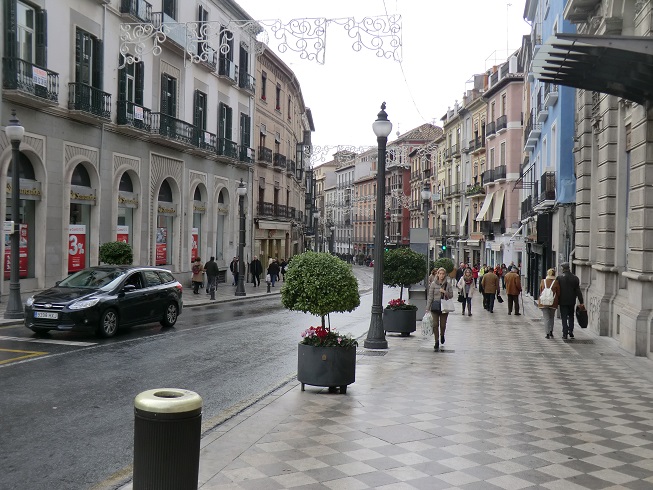 Calle Reyes Católicos, Granada.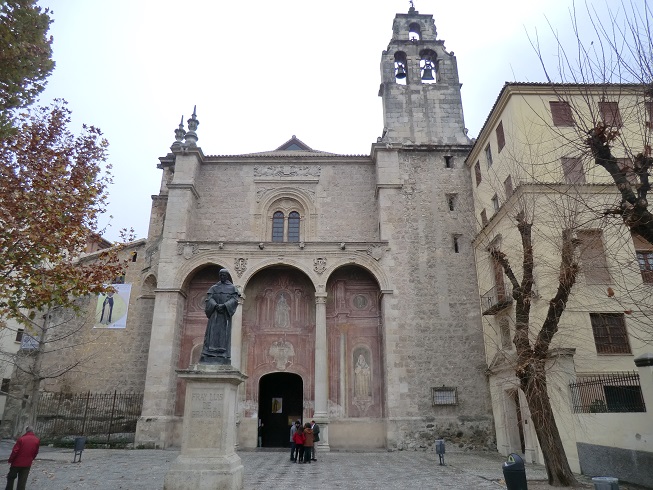 Iglesia de Santo Domingo was one of many sights during our walk.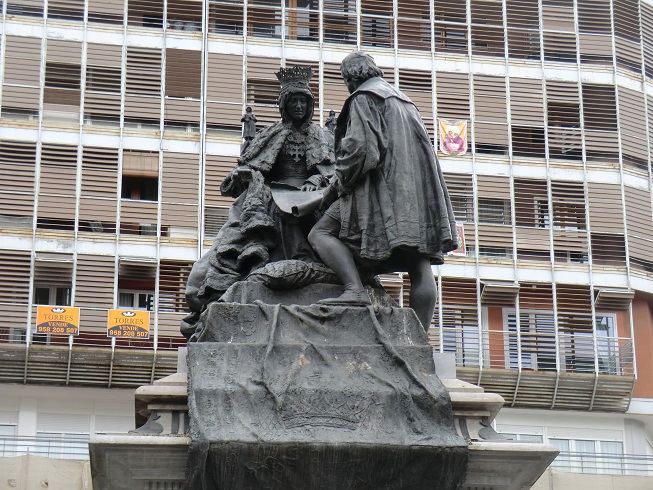 Queen Isabella on the square with her name.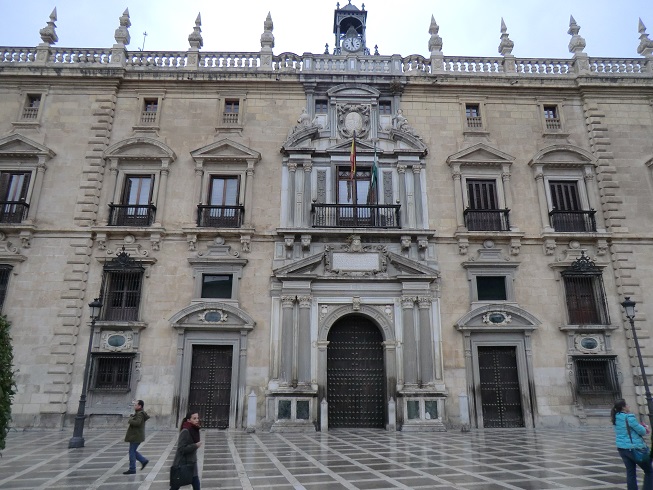 Real Chancillería, Granada.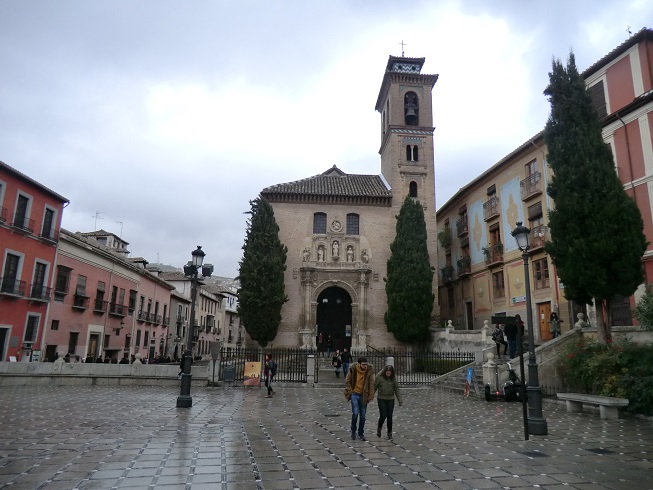 Iglesia de Santa Ana, Granada. The church tower was once a minaret.
17.27 We have left the Plaza Nueva/Plaza de Santa Ana and are walking upward, upward along the narrowing streets here in the District of Albayzín. There are small hotels and cozy small restaurants and shops. We are now at Placeta de San Miguel Bajo. The intended target of the walk is the lookout point Mirador San Nicolás.
17.44 Guitar is being played, hands are clapping and a man sings. We have reached the Mirador San Nicolás. From here we have views towards Spain's highest mountain range, the Sierra Nevada and the Alhambra Palace opposite of here. Unfortunately the weather is lousy so you can't see very far today.
18.06 The rain clouds and mist covered the views and made the visibility worse. It was our starting signal. We began to wander down again. We need nutrition and are now taking aim for any place that offers a lighter meal.
18.24 We wandered through the streets and alleys that brought our minds to Turkey rather than Spain and came out on the street Calle Gran Vía de Colón. We have now stopped at the Cafeteria Internacional for something to eat.
19.17 We once again had the perfect Spanish snack, coffee and tasty sandwiches with wonderful ham. On the way home we kept your eyes open for a restaurant for dinner. Should we eat fancy or simple? Next, we need to make up a budget here in our room.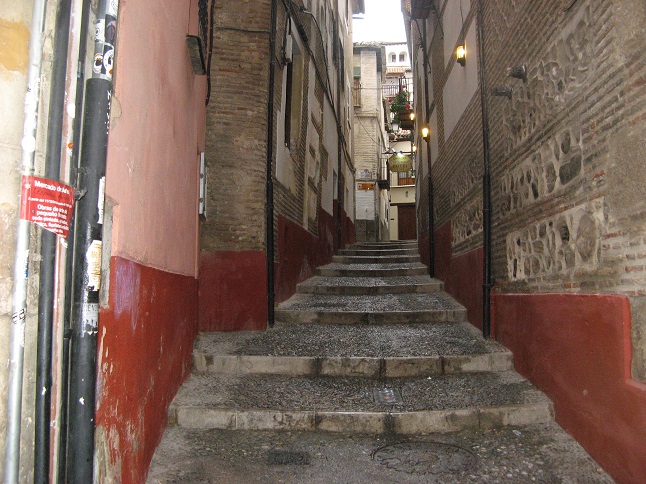 Walking through the narrow steep streets in Albayzín.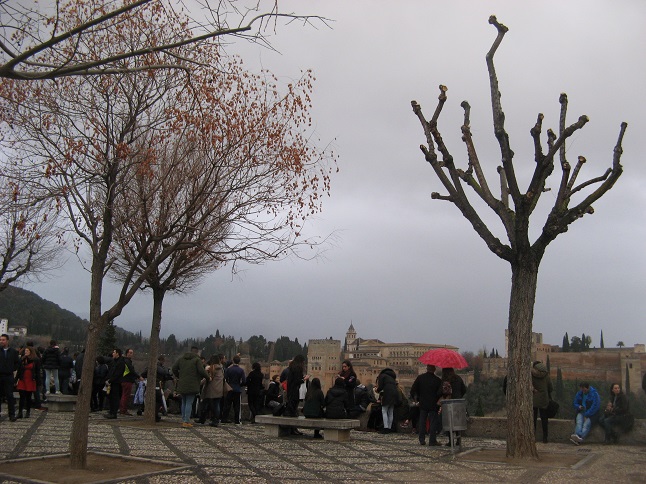 Mirador San Nicolás, Granada.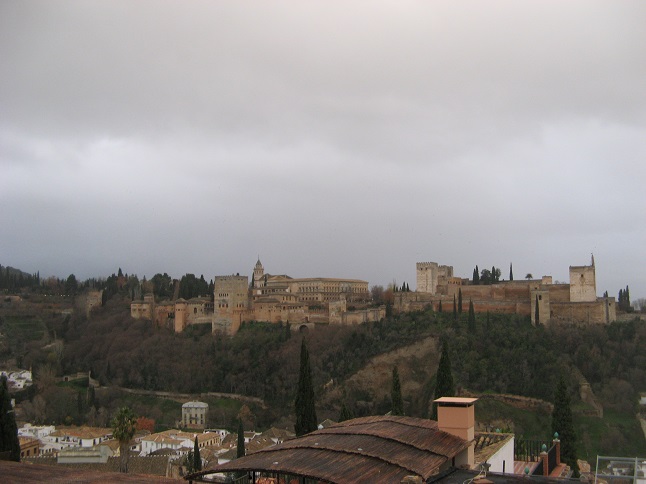 At least we saw Alhambra from the outside.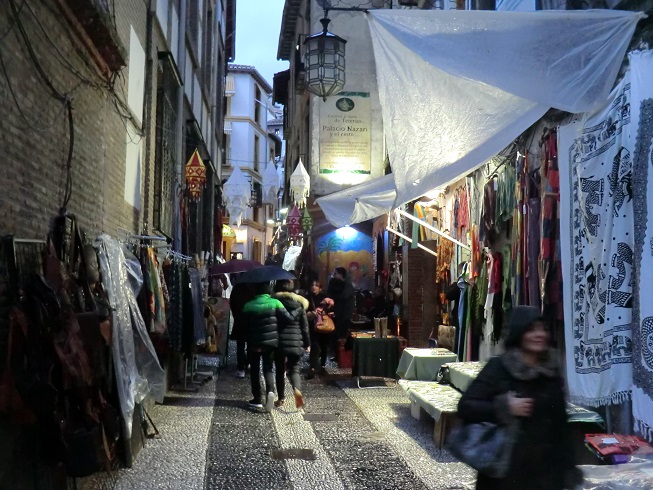 Old neighbourhoods with Arabic roots.
20.35 We watched Junior Masterchef on the room's TV for a while. We had to change the channel since the broadcast was not perfect. Some channel changes made us realize that other channels also had problems.
21.08 It is once again time to go out for dinner. The question is where we go? We will for sure not walk that far. It's raining again. Not that far away is the restaurant Urban, the one with the "crisis menu". We begin to go there.
21.56 It was urbanized at Urban, full to the last seat. A small avenue hike took us instead to Siloe Bar & Grill (http://siloebarygrill.com), the restaurant at the hotel Siloe Plaza. Here we ordered burgers and ribs.
22.22 Our visit was apparently appreciated. A member of staff at Siloe liked Christer's check-in on Facebook.
22.41 We went home to our hotel and came to realize that we were not allowed to enter. Some other guests in the same position rang on a door bell and they and we were let inside. Ahead of peace and quiet in the form of a good night's sleep.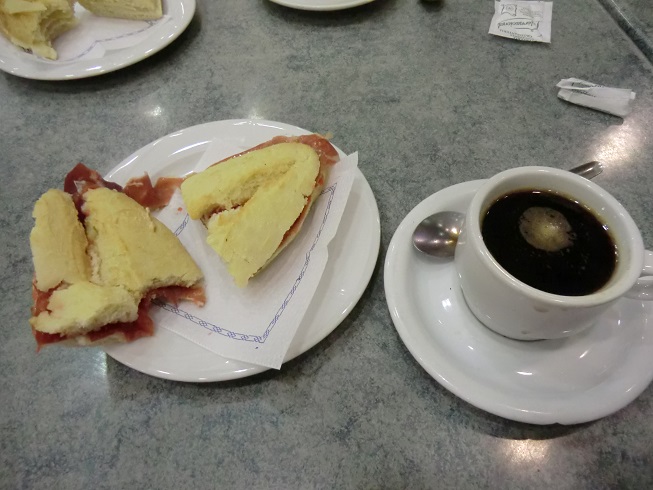 Coffee and delicious sandwiches at Cafeteria Internacional.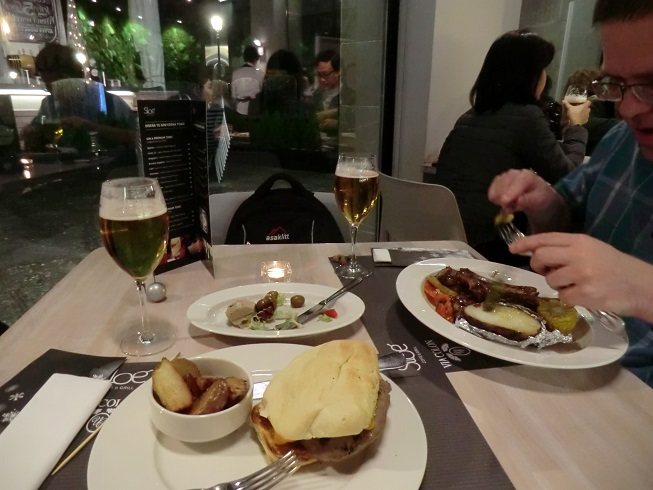 Dinner at Siloe Bar & Grill.
---
Monday 4th of January
07.47 It is the last sensible morning on this trip. Today, we will return to well known areas. We're going to take a bus back to Malaga where we started it all. It is, as of today, increased border controls between Denmark and Sweden because of the refugee situation.
09.11 We have just left the breakfast room. Now the next big issue is if we are to take a taxi or walk the long way back to the bus station. It's a light rain but a few drops for a long time still makes us wet.
09.32 A decision has been made. We take a quiet walk to the bus. It is useful with exercise and it rains very little.
09.57 We have, just as we did on the arrival day, made a short stop at Plaza Ciudad de Los Cármenes. Until now, there hasn't been any rain. This just ended. A drizzle is falling over us.
10.23 We have finished walking for a while. We have arrived at Granada's bus station. Now the tickets are picked up. We will hope if goes well sit on the bus within half an hour.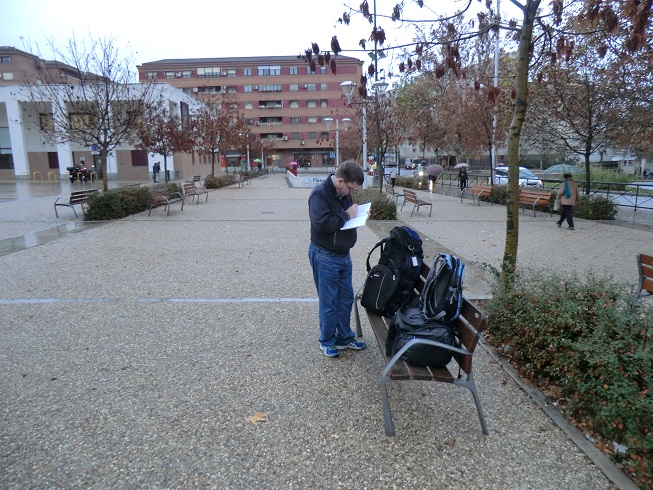 Peter is having a break during the long walk to the bus station.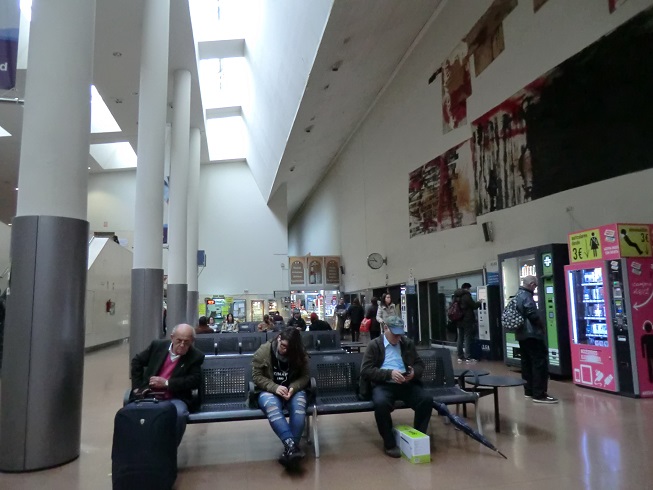 A long walk took us to the bus station in Granada.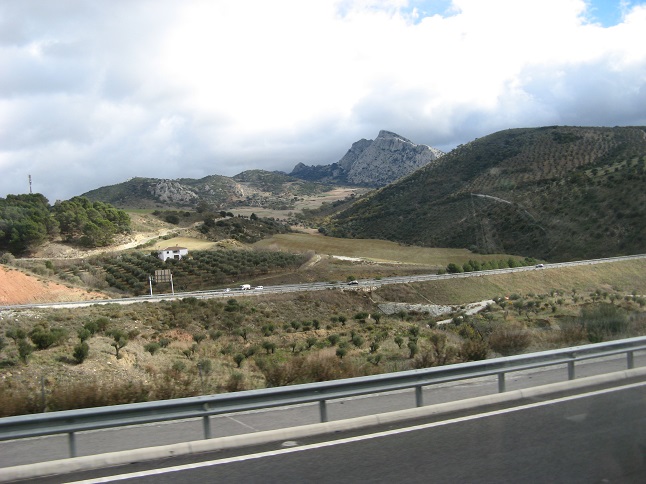 On the road between Granada and Málaga.
10.57 The last city to city bus on this trip is boarded. Ahead of us is a nearly two hours ride. The destination is the starting point of Málaga. Will both backpacks join us this time? During the trip, I intend to return for a moment to Edinburgh, literary that is.
11.05 The trip had hardly begun when a lady went forward and asked the driver about something. He stopped the bus, got up and passed us at seats 5 and 6. He had a clip, such which hold together tickets, on the upper lip. He quickly returned to his seat and drove on. Something was discussed further back in the bus. It seemed to relate to who should sit where.
11.50 The sun shines through the wall of clouds. Currently the bus is standing still in Loja. It is a namesake with the city in Ecuador which we visited last summer. This original Loja, however, is considerably smaller. A blonde lady with a red scarf is searching her place, if not in life, at least, in the bus. She found it behind us.
12.21 No Osborne the bull in sight, however, we have seen mountains, valleys, houses and farms. We travel forward in an appropriate, lawful rate and speed.
13.02 The bus with us onboard has returned to Málaga. It is far from the only vehicle here. We are moving slow in the dense traffic. We just reached the bus station and will prepare us for one last afternoon here in Spain.
13.31 We went to the train station a short distance away in order to hand in the backpacks. Both the large backpacks that we should leave and the small ones that we will have with us had to be x-rayed. Everything for safety! When cabinet 16:5 had been locked and paid for, we went to the restaurant Korma & Tagliatelle (http://kormatagliatelle.com) for lunch. Here they specialize in Italian and Indian food.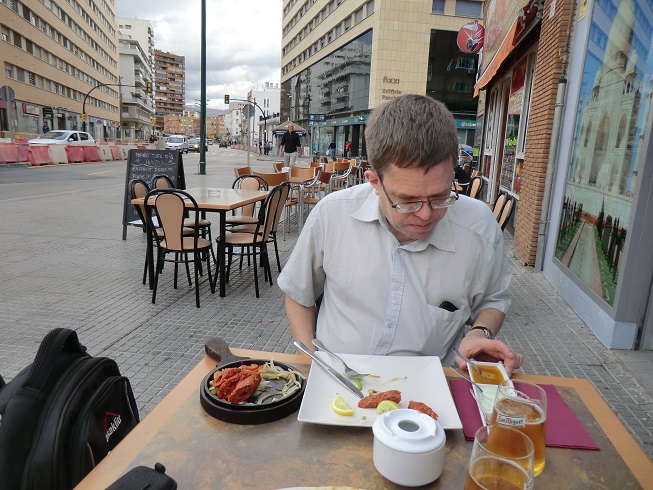 Peter is eating an Indian lunch in Málaga.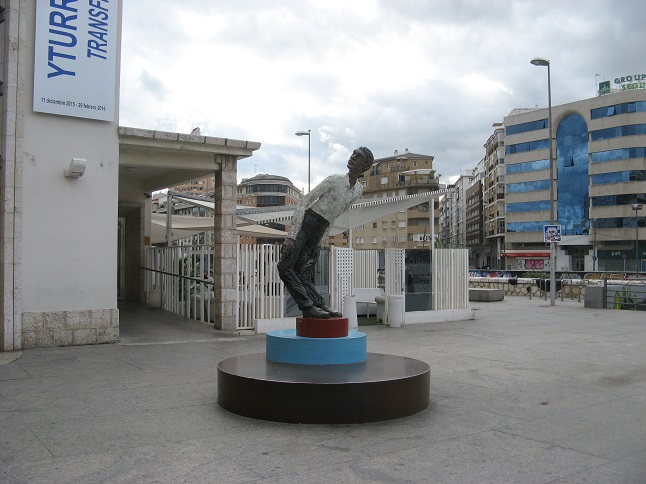 Interesting sculpture outside the art museum CAC.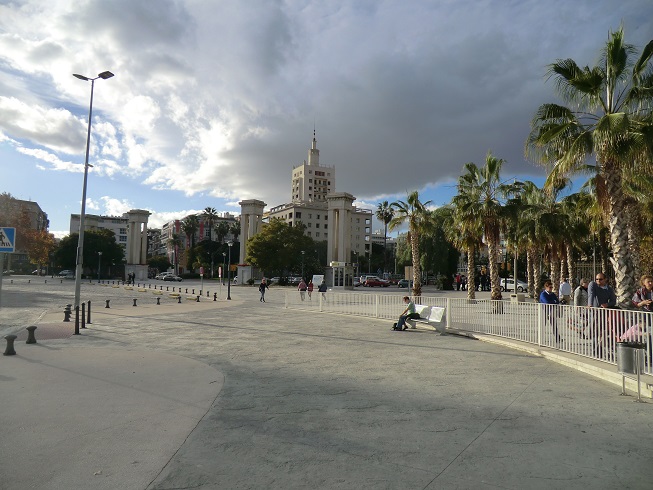 We decided to rest, read in our books and enjoy life in general this warm day in Málaga harbour.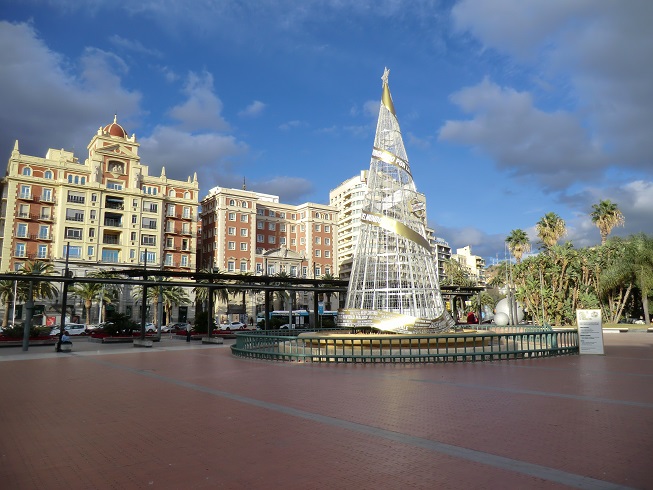 Plaza de la Marina, Málaga.
14.42 With lunch in the stomachs, we continued to discover the city of Málaga. It is overcast today and it is actually welcome. It is despite the clouds +22°C today. Now we're back at sea and immediately it's considerably warmer.
16.26 We strolled down to Malaga's port area, the place where the cruise ships usually stop. We are right beneath Plaza de la Marina. We have mostly gathered sunshine and read books here on the bench. In the semi-final of the Junior World Championship ice hockey between Sweden and Finland, the score is currently 1-2.
17.26 We have walked and strolled through Malaga. We have passed and met all kinds of people. On one occasion we met a smiling, happy man in a wheelchair. He ate on a ice cream cone. Just later, we met a crying child. We do not know if the two events are connected. In the semi-finals of the ice hockey Finland won.
18.45 We walked back to the area around the railway station. We looked for bread for tomorrow's breakfast but didn't find any. We will spend the night in a hotel near the airport where there are no shops and we have to check out before the hotel breakfast is served. A bread shop was closed. An open shop were without bread. The only thing we got while inside the railway station where the backpacks. We stepped into a taxi and out of it just as fast. We simply for some reason had to change taxi. Now we will go to the last hotel for this time.
19.01 The last accommodation on this Spanish New Year's travel is called Malaga Nostrum Aeropuerto (http://www.hotelmalaganostrum.com). The room number is 109. It is here and in the surrounding area that we'll round off our stay. This is a luxurious hotel but due to low season, prices were reduced.
20.25 We zap between channels on the TV here in the room. It has been reports on the growing conflict between Iran and Saudi Arabia. The origin is the Saudi execution of a Shia leader. Iran is, of course, as we all know, Shia. Furthermore, we have looked into the Swedish and Danish decision to register incoming people and to stop those with inadequate id documents. Also, a group of people are doing some form of occupation in a bird sanctuary in Oregon, United States. Finally we were told about the Grammy nominated South African musicians.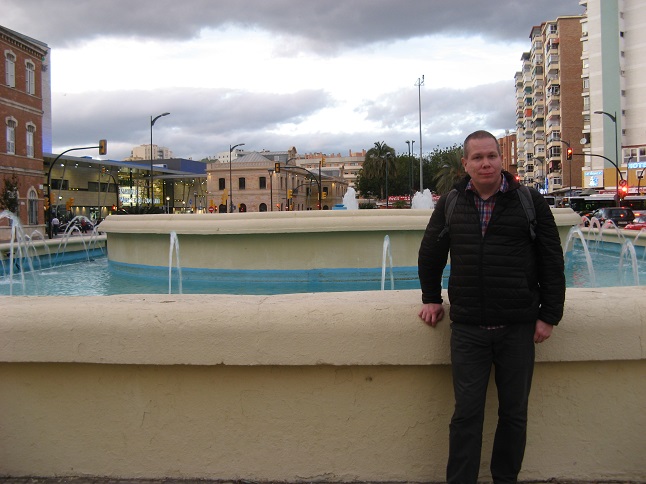 Christer by a fountain outside Málaga railway station.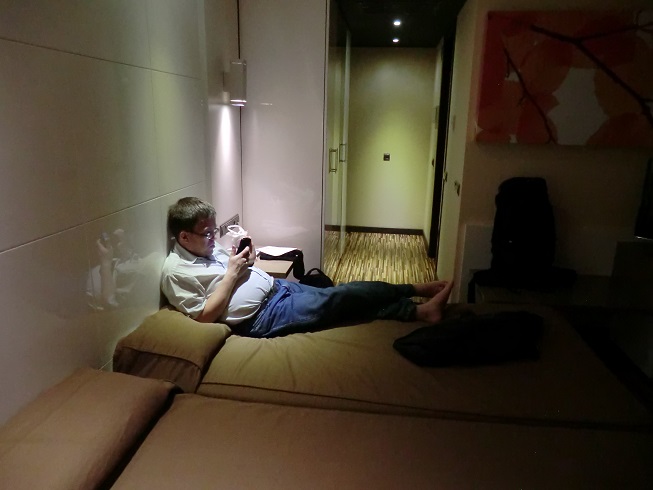 Peter is resting in our room at Hotel Málaga Nostrum Aeropuerto.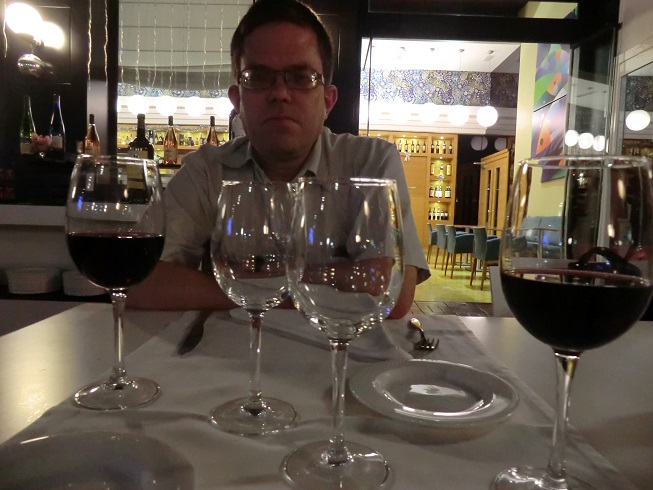 It´s time for dinner. This last night of the trip we are drinking wine.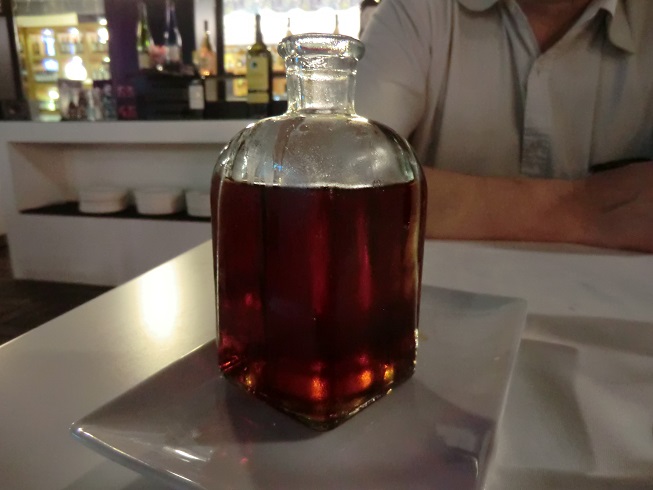 When we can drink a liquor for free it´s always appreciated.
20.56 It was easy to choose a restaurant this evening. Outside the hotel are roads, storage facilities and other things that do not offer good food. We dine in the hotel's own restaurant. We just ordered dinner. We will also have a glass of red wine each.
22.05 It was delicious with meat and wine. A glass of wine was not even half a glass. The fancier restaurant the less food and drink you get. The rule still applies. Afterwards we got a small glass of liqueur for free. Now we just sit and wait to get tired. Oh, our waiter spoke Swedish. We are for sure not the first Swedes here. For example, two of them sat and ate at the same time as us. In addition there were an Italian couple in the restaurant.
22.34 It's time to curl up and sleep. Darkness had already fallen when we checked in and we will check out before it gets light. A ride to the airport has been ordered to early tomorrow morning.
---
Tuesday 5th of January
04.28 It´s an early morning, yet a last morning on yet another trip. To find airline tickets with good prices, you sometimes have to leave extremely early or arrive in the middle of the night. That is the life of a traveller.
04.59 We paid for the room and went with Mr Sanchez down to the basement. There we have stepped into a minibus. It's time to go to the airport.
05.13 The thoughts started as we got to the check-in counters. What will happen next? Do Christer dare to send his bag/backpack? A couple of morning tired persons can be seen in the departure hall.
05.57 After a visit to the duty free shop, the time has come for a proper breakfast in the Upper Crust. We have also kept an eye out for the exquisite sloe berries/blackthorn berries liqueur we bought in Andorra in 2006 but despite the fact that it is made in Spain, it has not been seen anywhere on our two Spanish travels in recent years. It is produced in the Basque country. You may need to go to Northern Spain to find it.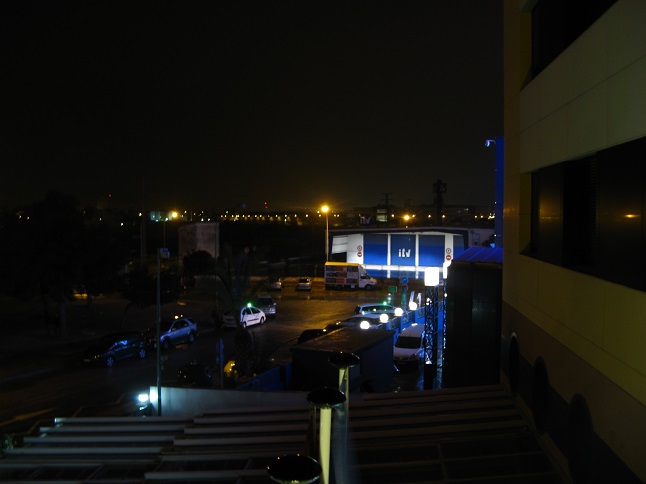 Sometimes it´s necessary to get up very early.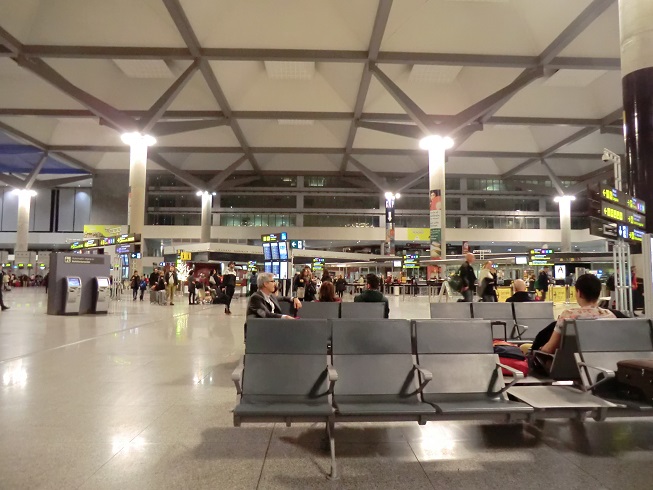 We are preparing for the flight back home.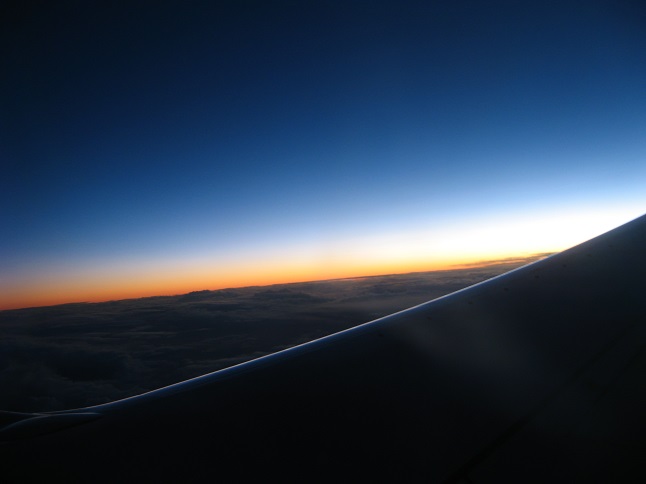 This morning we were awake before the sun.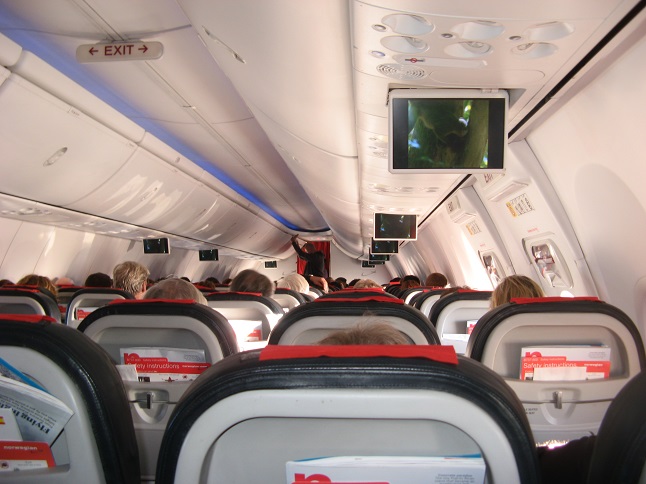 Norwegian transports us to the north.
06.25 Now is all set to leave our fourth Spanish airport on our travels. In the past we have been in Girona, Madrid and Barcelona.
10.16 The sun shines in through the cabin window on the right side of the planet. We come ever closer to Sweden. It's nice to come home but honestly the cold weather and work does not attract that much.
SWEDEN

10.54 The plane just landed at Arlanda airport. The ground is covered by a thin layer of snow. The question is what is best, some heat with the rain that we experienced a lot of on this trip or cold days and no rain or snow?
11.35 We and the other from our plane are waiting at the baggage belt. Some have had their luggage. The belt has stopped moving.
11.38 A statement was just announced through the speakers. More luggage from Málaga will appear in about five minutes. Does the staff have a coffee break?
11.46 The luggage finally turned up. Now we will go through the customs. Then we will kill some time before lunch and finally travel by train to the north.
12.24 An old tradition is broken. There will be no meal at Alfredo's. We have instead sat down at New Orleans Bistro & Bar for lunch. It is a weekday and they have other rates on their lunch than they had when we were here on evenings and weekends. We will soon have a pasta dish each.
12.41 The food was excellent at a nice price but the beverages were ridiculously expensive.
13.22 After a really great lunch, we are just like last year sitting at the beginning of the Sky Bridge. Then we looked at two Christmas trees. This year, it is just one tree here.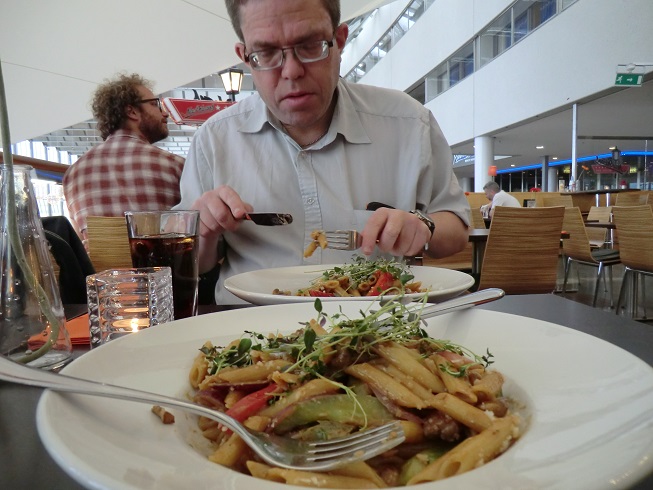 Lunch at New Orleans Bistro & Bar.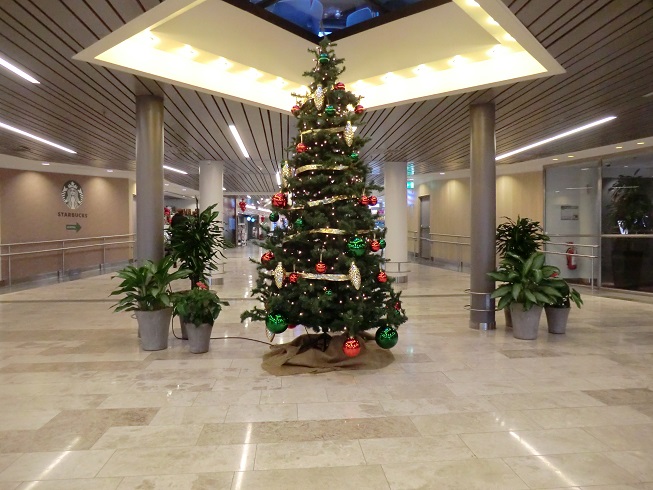 Last year they had two Christmas trees here. Are they saving money?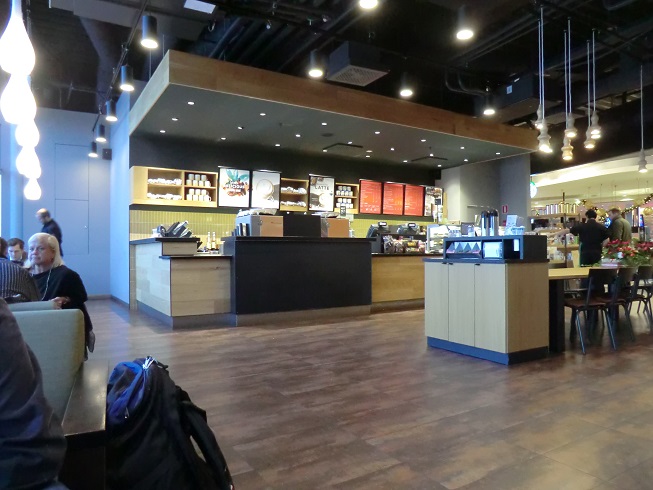 Finally Starbucks is open.
14.26 We have been given a possibility to visit Starbucks. That in itself is not so special but the one we are here at the Sky Bridge, has almost never been open for us. Today, however, we were able to pay it a visit although the short time it is open. Our train leaves in about an hour.
15.58 We are on the way and just passed Uppsala. My mobile ticket has just been checked and photographed.
16.52 We have switched to the X-train in a snowy and cold Gävle.
18.32 Less than an hour remains of the train journey. We are looking forward to reach Sundsvall.
20.02 It is all over for this time. Now let's summarize and dine. If one month it's off again. New cities and new travel companions awaits.
---
VIDEOS
---
You can see 78 photos from January 2 in this photoalbum.
You can see 99 photos from January 3 in this photoalbum.
You can see 31 photos from January 4 in this photoalbum.
You can see 10 photos from January 5 in this photoalbum.

---
---
---