---
Text: Peter Johansson
Editing: Christer Lundstedt
Photos: Christer Lundstedt, Peter Johansson
Videos: Christer Lundstedt
---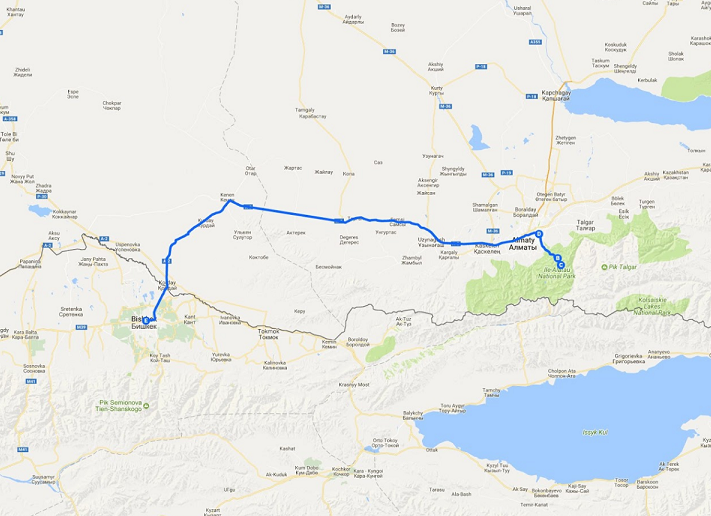 ---
Monday 6th of April
09.07 It is nice to sleep with the window open. Cool, fresh air is ideal when it is time to sleep. Moreover, it is nice to take a shower. What other nice things might happen today?
10.29 Things are going nice and easy today. We remain in the room at Nomad's Guesthouse. This certainly is relaxing but can not continue. We made up plans for today yesterday evening. These should of course also be implemented. Today, we must also begin to reduce the amount of small coins. Our wallets are heavy because of all coins.
10.44 We have walked on familiar streets but then stepped into new areas, as we entered the large Panfilov Park. It is named after an event in World War II when 28 infantrymen from Almaty sacrificed their lives outside Moscow in the fight against the Nazis. Here in the park, it is spring in the air, singing birds, quiet and nice.
11.01 A small fury creature with big ears is sitting on a branch and it is looking at us. We sit on a bench here in the Panfilov Park. In front of us is the beautiful orthodox Zenkov Cathedral. It was built in 1904 and is built entirely out of wood; this also applies to the nails. Speaking of wood, the long eared squirrel has climbed down from his tree now.
11.23 We have walked around the stunning cathedral and photographed it from different angles. Now we'll see some more sights here in the park.
11.55 Now we have reached yet another typical Soviet monument and also an eternal flame. This flame is in memory of those who were killed in the civil war after the First World War and those who fell in World War II. We will soon leave the Panfilov Park. It was time to go when an angry looking police began walking in our direction.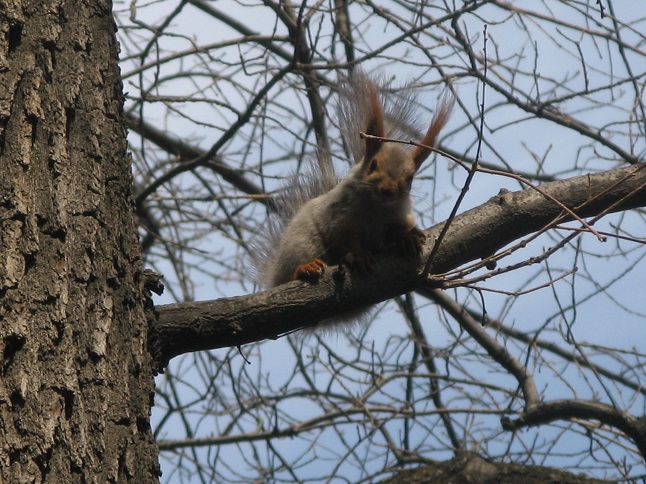 A squirrel is watching us.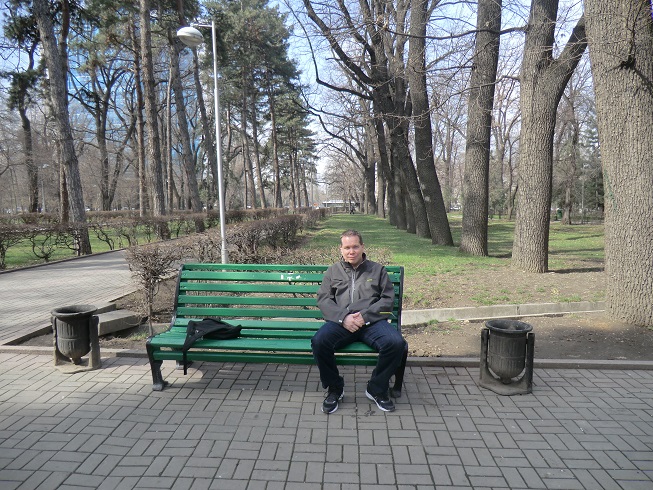 Christer is enjoying the nice morning in Panfilov Park.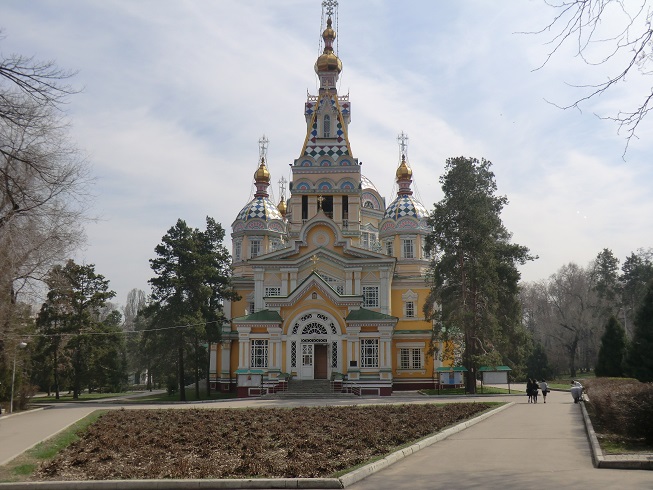 Zenkov Cathedral, built in 1904.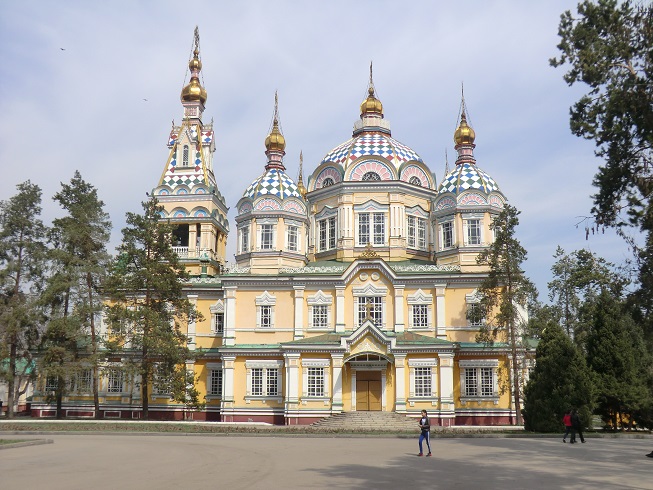 This fantastic cathedral is entirely built in wood.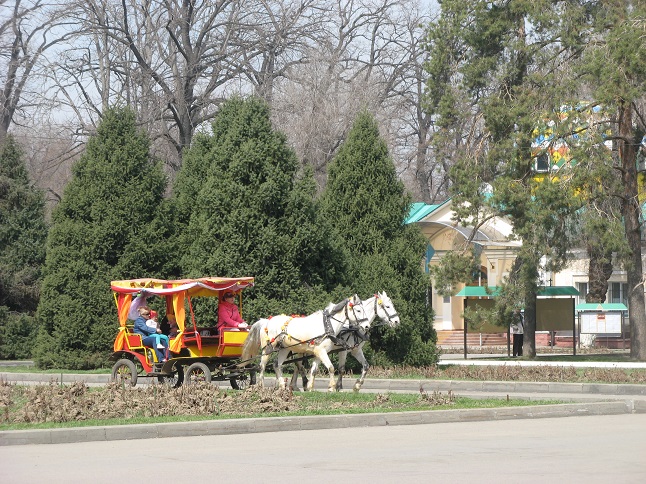 Horse transport in Panfilov Park.
12.17 We have walked some intersections along Dostyk Avenue. It is now time for a coffee stop. We are at Gloria Jean's Coffees. It's the same chain that we were at when we visited Cyprus. They seem to cooperate with Lounge Bar 29.
12.46 There was plenty of coffee and nice to sit down for a while. Now we walk further along Dostyk. We move southward and thus upwards.
13.04 We have now arrived at the square Ploschad Respubliki which is spreading out in front of the Republic's palace, Respublika Saray. Behind us stands the grand Hotel Kazakhstan. It is good to know where it is. Tomorrow we will travel with a bus that leaves from outside the hotel. We are now on the road to the transport for today's outing. However, we are skeptical about the transport. It looks deserted here.
13.24 The cable car to the mountain Kök Töbe, Green Hill, is out of operation, under repair, so we will not get up there today. Sure, there are buses but it was the cable car journey that was the main event. New plans must be made.
13.35 We have decided to walk towards a recommended restaurant for lunch. It is far from here so it's time to get going.
14.26 After having walked wrong a few times and taken various shortcuts through residential areas, we have now walked into the restaurant Venetsia (Venezia) located by the small Malaya Almatinka River. Here at the sprawling restaurant Christer has encrypted the Cyrillic menu and it is now time to order.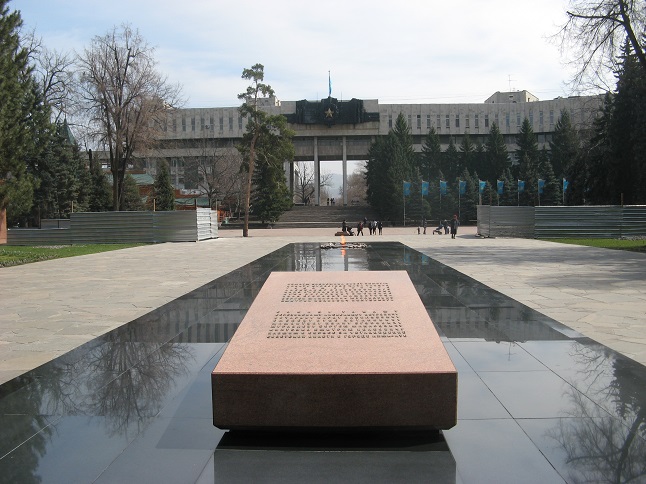 The eternal flame in Panfilov Park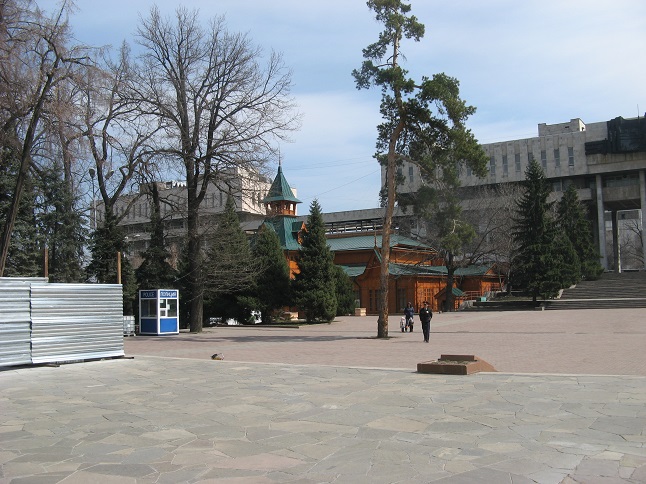 A police officer is coming.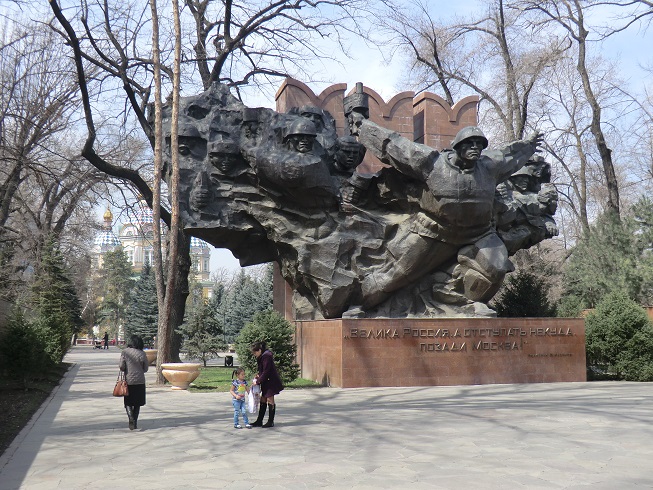 Soldiers climb out of the Soviet Union map.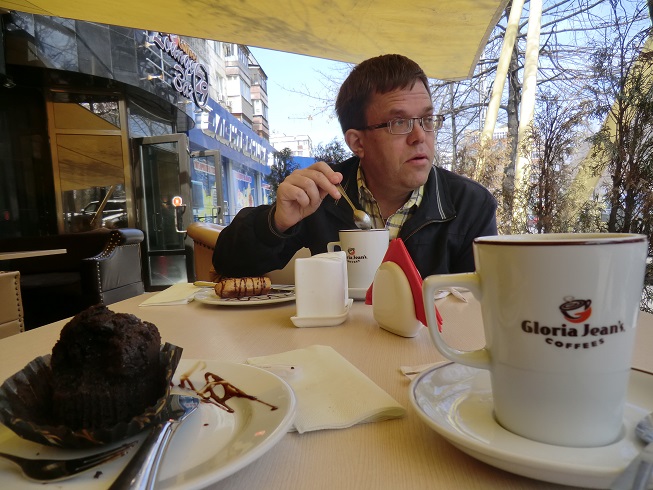 Morning coffee at Gloria Jean´s Coffees/Lounge Bar 29.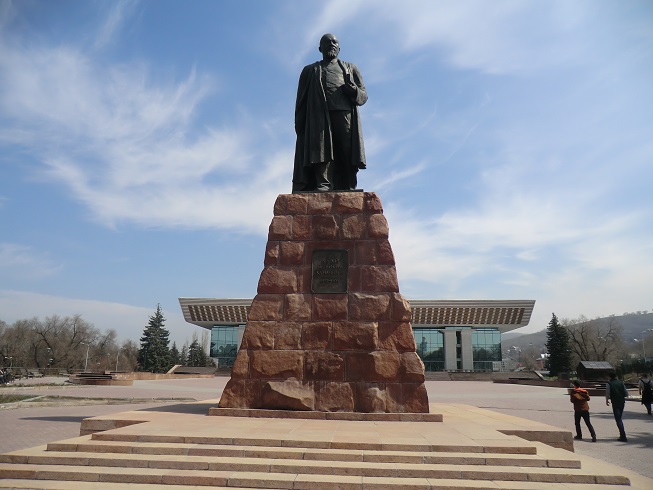 It´s not Lenin, it´s the kazakh poet Abay.
14.35 We have again had some difficulties with the language, but we have nevertheless both ordered grilled meat (shashlik). To this we will be drinking good cold beer.
14.48 This is a large restaurant, many tables both inside and out. That is perhaps why our food lingers.
15.06 Christer has finally received his food, a plate filled with delicious grilled meat and he enjoys it in this moment. I am waiting for my food to be served so that I can enjoy as well. We just realized that we should have ordered something together with the meat, rice or potatoes, for example,
15.15 A waitress appeared and we asked about my food. It appears that some misunderstanding has occurred. She just looks skeptical.
15.28 Now everything has been solved. Apparently, Christer's dish, the meat on the plate, actually was our two dishes together. Christer's food was expensive and my dish did not appear, or at least was eaten by Christer. That our two dishes were mixed on a plate and could barely be separated was not exactly a stroke of genius by the restaurant. It would take another 30 minutes to get a new dish. We declined. Now, one of us has eaten. It would be better if it applied to both of us.
16.09 We've walked towards the home area and hopefully I can find something to eat along the way. Once again, we have walked through the beautiful Panfilov Park. We visited a toilet and we have observed children chasing pigeons with different methods, including hiring small cars. This happened behind Zenkov Cathedral. Now, the next move is being figured out.
17.20 We wondered if I would buy my lunch in a fast food kiosk or purchase something to bring with me to the room. I bought me a little something to eat in our shop on the ground floor. Now we are back on Nomad's Guesthouse. Here the evening and tomorrow are planned.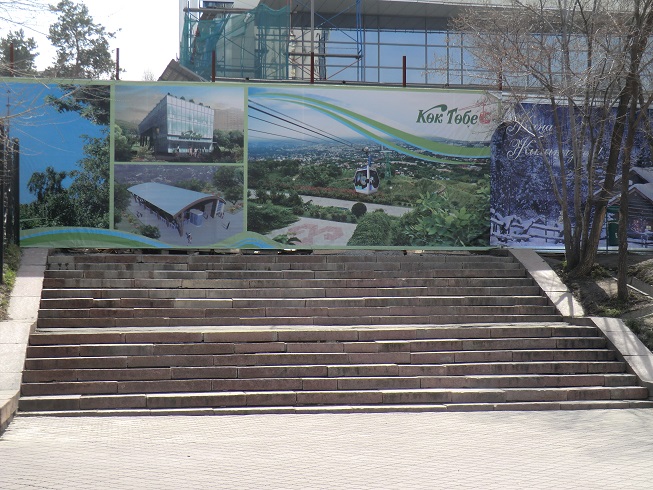 The cable car to the Kök Töbe hill is closed. Today´s plans changed quickly.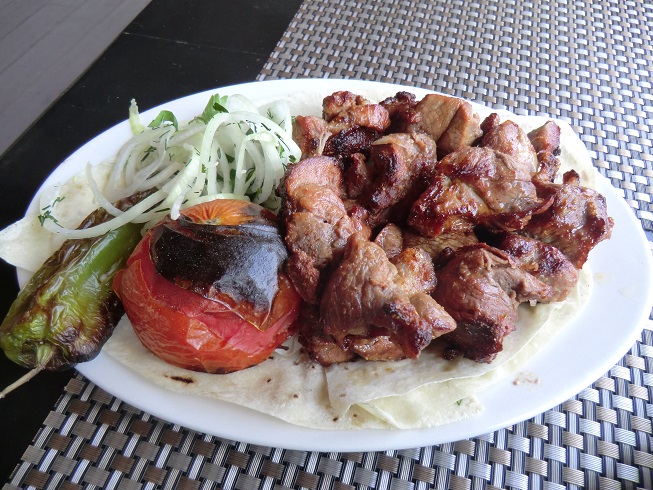 Apparently this was two dishes, food for two.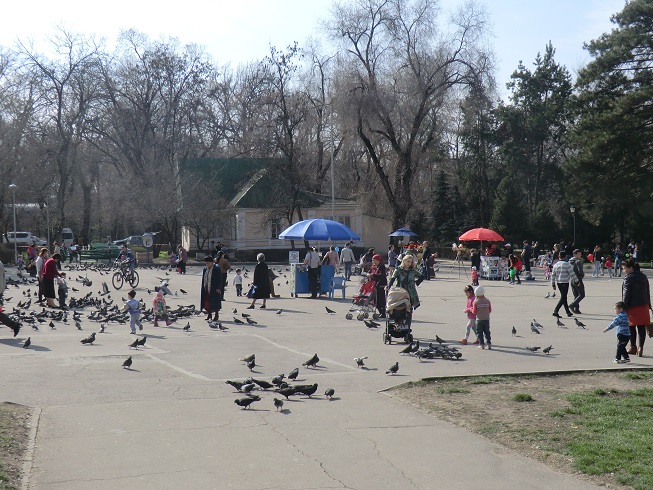 Pigeon hunters behind Zenkov Cathedral.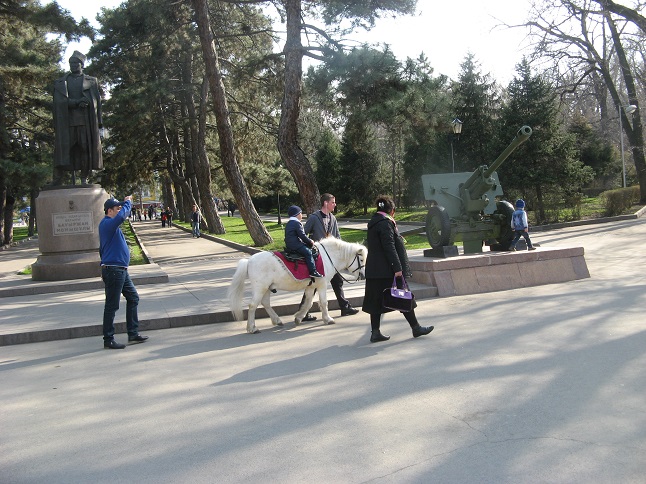 Small children and small horses in the park this day.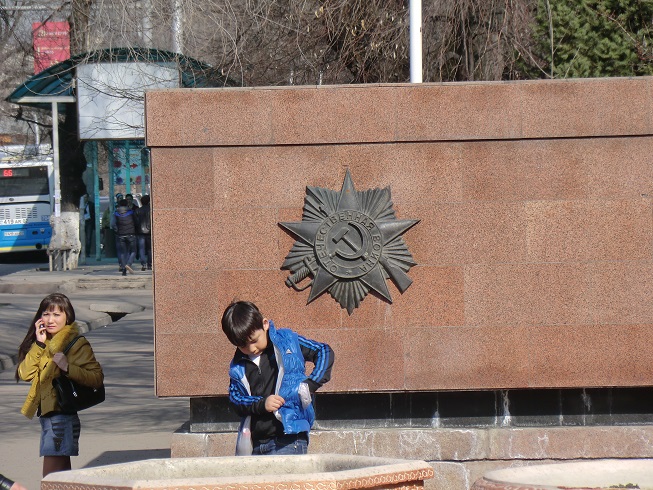 You can still see Soviet symbols around the city.
19.18 We have planned and done some thinking. I do not know how successful it was. We went outside after the thinking was over. We made it easy for us and returned to a safe bet. Now it's dinner at City Kafé. There were some exciting dishes in the menu left to try.
19.33 When will we get the food? Will we get the food? We have ordered Uzbek plov. In English it is called pilaf.
19.52 First came the waitress with food and pretty soon even with the bill. Why did she bring the bill now? Are they going to close or are they afraid that we would run away without paying?
21.01 The restaurant was closing so they wanted to do away with the payment. We ate quickly and went back home. We did some purchases in our supermarket before we went up to the room again.
22.01 It is time for a traditional evening beer each. In addition, we watch TV.
23.12 We have looked around among the channels offered. This year marks 70 years since the Soviet Union's victory over Nazi Germany in World War II. It is noted diligently. A television team made a visit to an old medal adorned Soviet war hero from Kazakhstan. He talks excitedly, and his history is mixed with black and white film clips from the war. It would have been interesting to hear what he says. We have difficulty understanding him.
23.45 Enough is enough with waking hours. It is tomorrow in fifteen minutes, a quarter of an hour.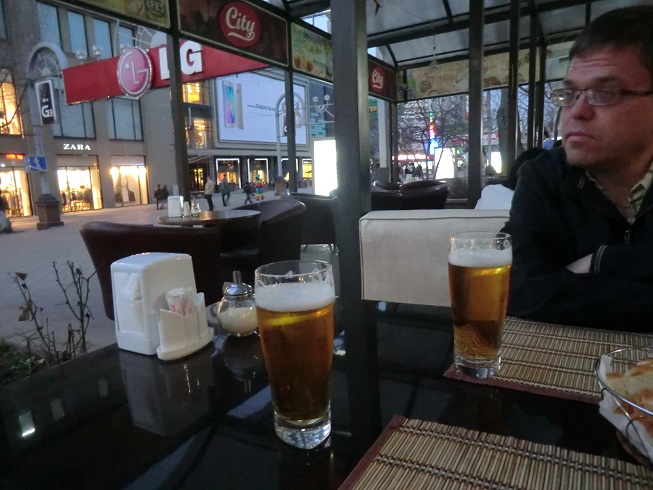 A late dinner at City Kafé.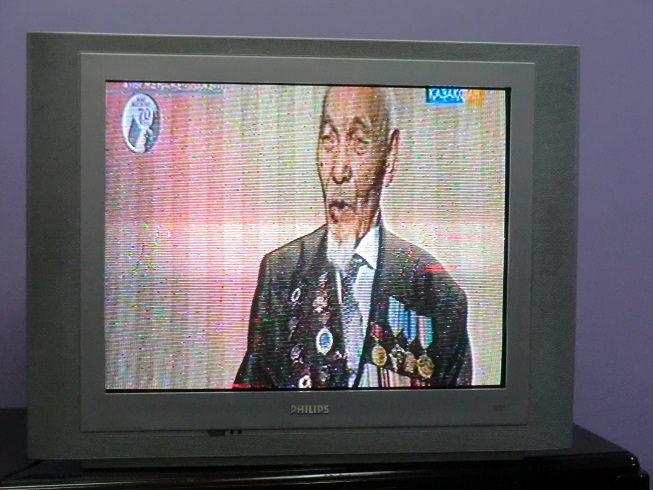 A kazakh war hero talks about old memories.
---
Tuesday 7th of April
10.02 We gave ourselves a sleep in morning today. It is vacation after all. Most of the morning's chores are completed. Today, we have planned to leave the city for a while to see something else.
10.21 We have left our guesthouse to slowly walk slightly uphill towards Hotel Kazakhstan where we'll find the right bus for further travel. We move slowly to avoid becoming sweaty. It's really hot today and our clothes are not exactly summer attire.
10.51 We have been given an opportunity for a bench break. The benches we have passed on the way here were freshly painted. We are now beginning to approach the place where the buses leave from. We are sitting outside the Science Academy. We left our key when we left home. It's cleaning day today, the day before we´ll check out.
11.30 We've found the bus stop opposite the Hotel Kazakhstan. It was easy to see where the bus towards the mountains would depart from because there were people with skiing equipment waiting there. We talked with a local gentleman while waiting for the bus to Medeu. He offered us a taxi, wondered if we spoke Russian, we said no. OK, he said what about Kazakh then? He also wanted to know where we were from. I don't know if he finally made it that we were from Sweden and not Switzerland. It was hard to get him to understand that they were two different countries. He also told us that he had been a soldier, stationed in East Germany. The ticket machine on the bus was broken so we bought our tickets from the driver. The ticket was a white shredded paper. For some reason the driver threw away my first paper/ticket.
11.34 We are heading towards a mountain excursion. The first stage is a bus trip by bus number 12 which will take us to Medeu with its famous ice skating rink.
11.41 More skiers have stepped aboard. At the shopping center Dostyk Plaza an older man with almost as old ski equipment entered the bus.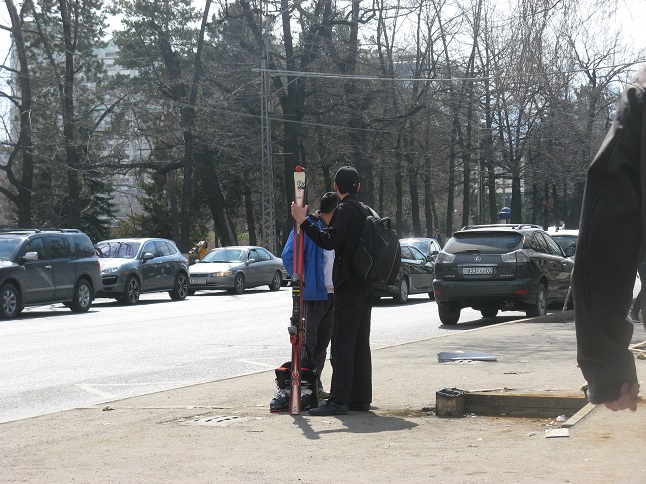 Alpine skiers waiting for the bus.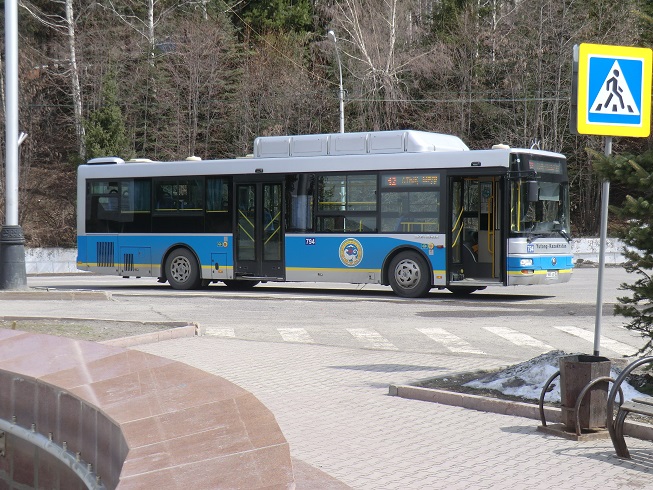 Bus 12 has reached its destination.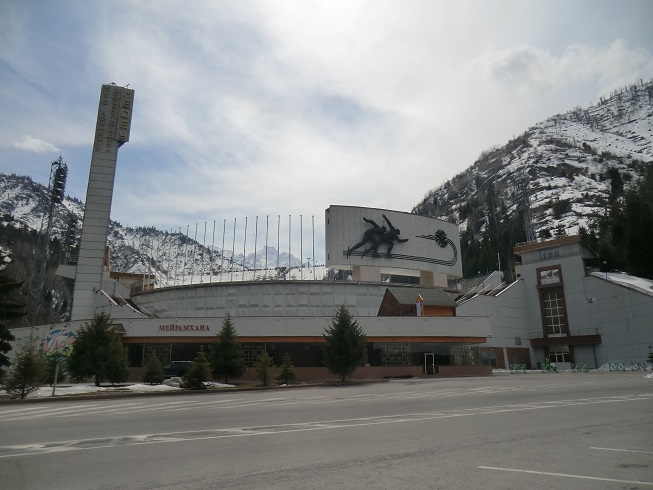 Medeu, a famous skating rink which produced many world records.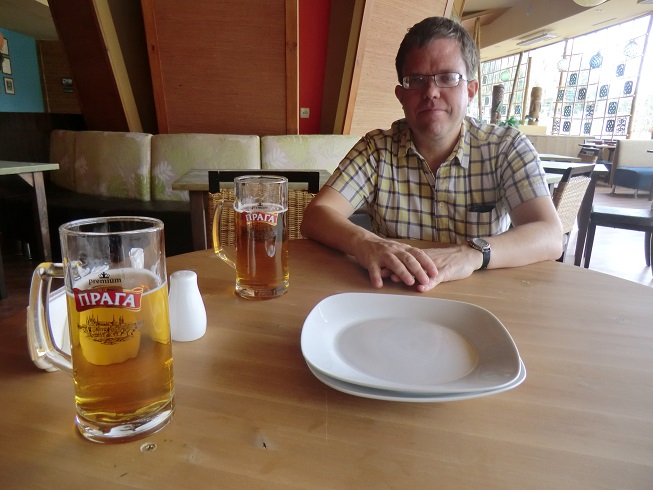 We are waiting for the lunch at Trader Vic´s, a restaurant inside the Medeu arena.
11.56 After we left the big city we passed various embassy buildings. The trip goes on to greater heights.
12.14 The bus stopped at the terminus in Medeu and we got off. The stop before this was at the cable car station for the ski resorts but we are waiting with that for a while. On the way here we have received information that it is +21° C hot and a litre of diesel costs 94 tenge, around 0,50 dollars. Now it's off to a classical world record location.
12.31 Right above us is the classic ice rink which is the highest ice skating rink in the world with its 1691 meters above sea level. World records were broken here on all skating distances between 1951 and until the 1980´s. It is peaceful and quiet here, no skater in sight. The only thing that happened since we stepped off the bus is that we received offers from taxi drivers for transport higher up in the mountains and I borrowed the toilet inside the restaurant Trader Vic's which is within the skating arena.
12.36 We decided to have a lunch here at Trader Vic's although the prices are high. We do not know how the range looks later in the day.
12.58 Christer has been served and I've been told that I should wait for five minutes. Nothing is like expecting. We have both ordered Island Burger
13.30 The food came and we ate it. We left the restaurant and walked down to the valley station of the cable car to the ski resort Shymbulak. The time has come to buy the tickets for an adventure that will take us up to a new altitude record for both of us.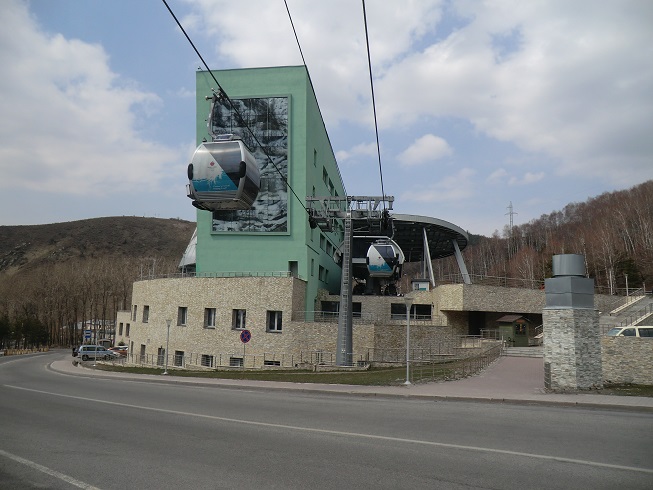 The cable car from Medeu to Shymbulak starts here.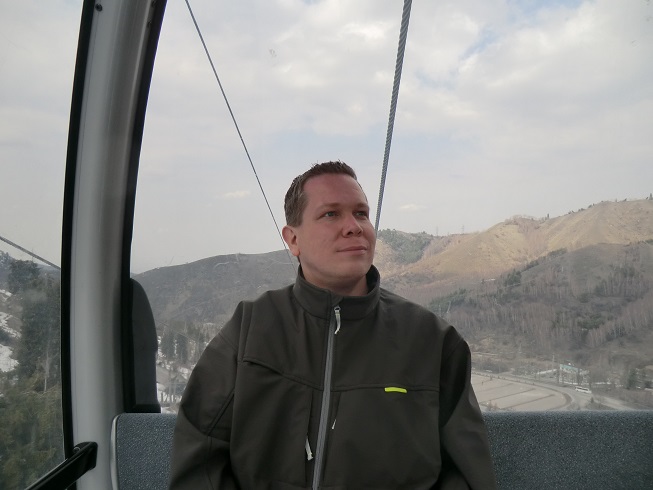 Christer is on his way to Shymbulak.
Now we can look at the skating rink from above.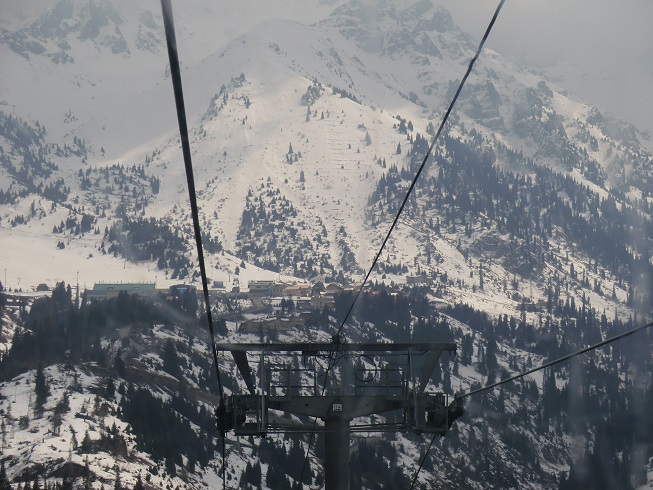 This cable car trip offered fantastic views.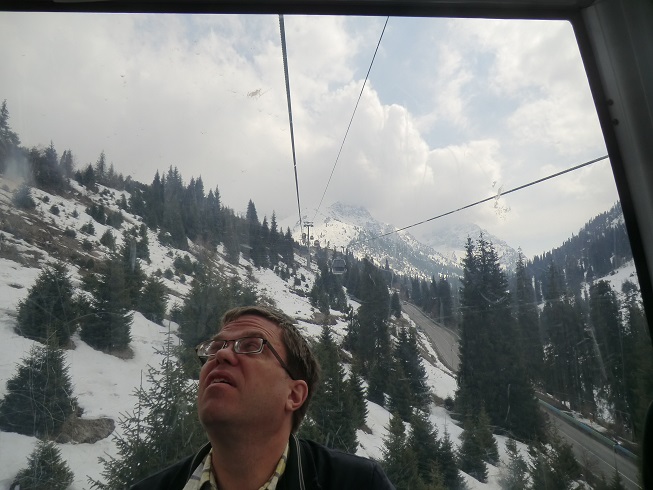 Peter looks skeptical.
13.51 There was no queue and we quickly set off upwards. We have passed over the treetops and are now above the ice rink. Below us is the Medeu dam built to protect the rink and Almaty from mudslides. The area was hit by a storm in 2011 and the tracks are still visible, in the form of broken trees, for example. We go by cable car towards Shymbulak. This one is the world's third longest, 4,5 kilometres long. When we arrive, we are as said higher above sea level than we've ever been before.
14.13 We have arrived in the ski resort of Shymbulak. We've just left the cable car and are out in the sun and fresh air at 2260 meters above sea level. Music is played, people are skiing and the snow is melting. The cable car station is just in front of the bottom of the ski slope.
14.21 Shymbulak is not so large. It is a steep main street, a ski slope and miscellaneous restaurants below it. We took some photos and visited a small shop but rather quickly realised that we had seen all things we could see. Here you go for skiing. There isn't much to do without any skis.
14.28 We have sat down in comfortable armchairs at the Chalet´s outdoor seating. It's time for high altitude coffee. It's good to get some altitude practise before the summer trip, when we shall travel to the Andes.
14.37 In the underworld below the ski slope are changing rooms, ski rental and excellent toilets. We used one of these establishments before it was time to leave Shymbulak.
14.52 The return trip has started. It is more fog and mist in the valley now. Nevertheless, this doesn't stop the quiet lady who travels with us from taking photos.
15.24 Our travel companion took a lot of pictures on the way down. It was almost automatic fire from her camera. Now we're back on board the bus 12. It is time to return to the city centre in Almaty. There is something wrong with the ticket vending machine. The driver has asked us to sit down and wait until further notice.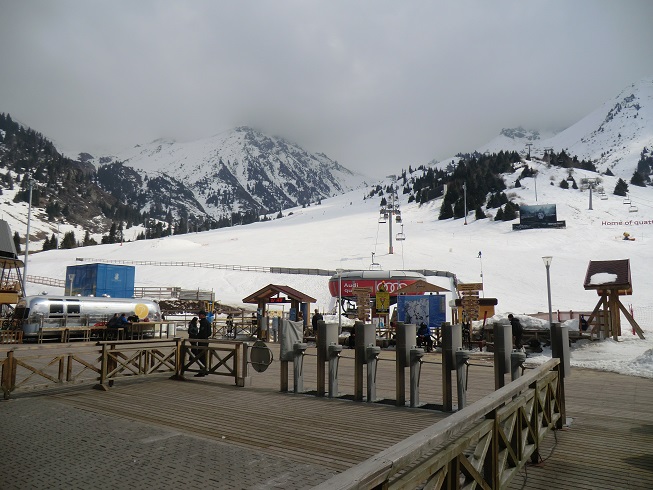 The ski slope in Shymbulak.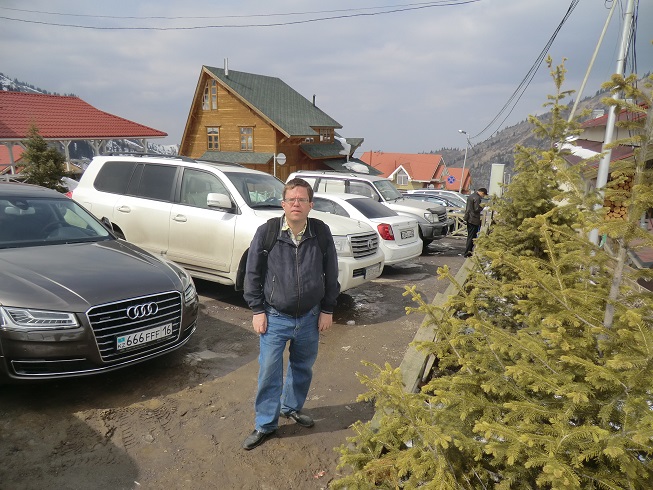 Peter stands in front of expensive cars in Shymbulak.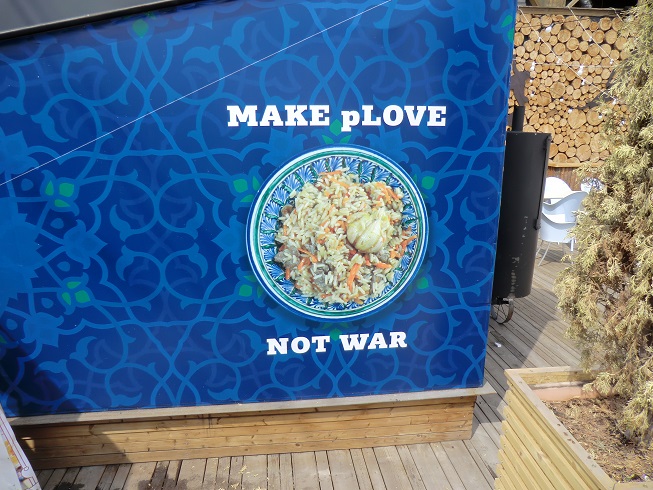 Some propaganda for the Central Asian dish plov.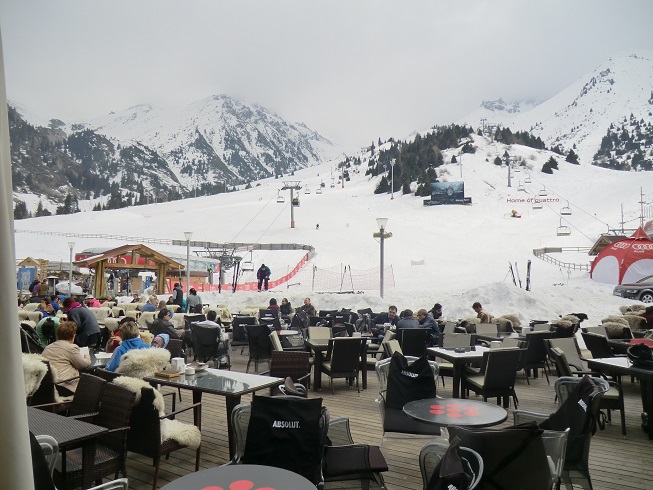 Restaurants and skiing. That is what Shymbulak can offer today.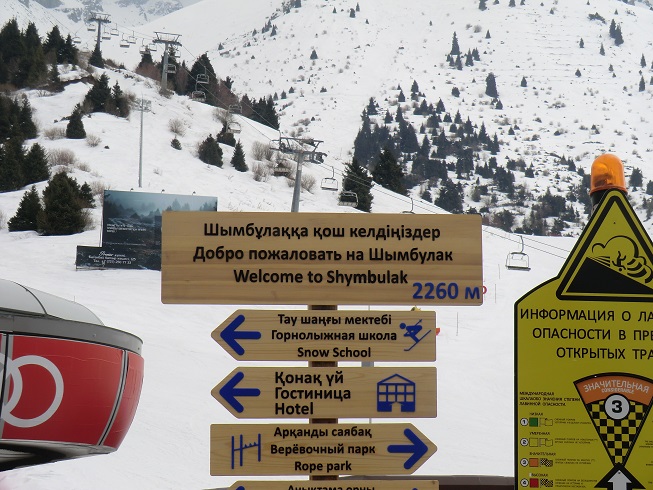 Information about our destination.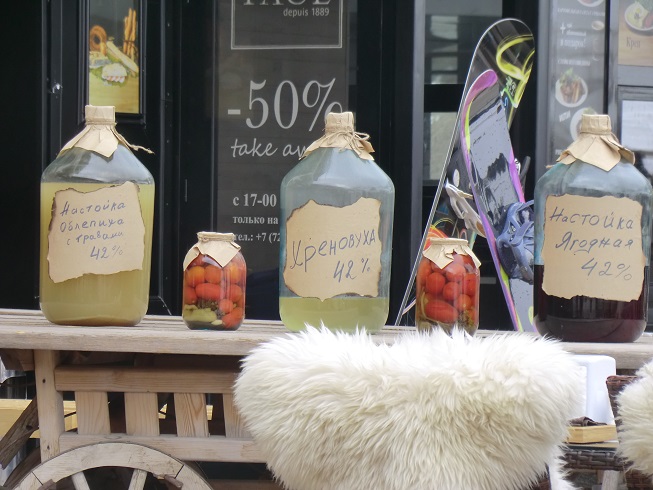 Interesting bottles which we never had time to try.
16.18 We are again in Almaty and have stepped off the bus about where we got on. Payment was made to the driver when we stepped off. Now we are sitting on a bench and makes economic plans for our last hours here in Kazakhstan.
16.34 We have walked to the metro station Abay. It's time to go underground, tube, go metro. This means of transport is cheap. We go in it at a cost of just above 0,50 dollar. You just to buy a token, place it in a slide, pass the turnstile and go to the platform.
16.48 The metro is modern and fresh, built in 2011. The only downside is that it reportedly have grumpy policemen who want to look at foreigners' documents. We have read about it in several sources but the one police officer we saw was fully occupied with a coffee machine.
17.22 After arriving to the metro station Zhibek Zholy we went and exchanged money to some Kyrgyz currency, som, before we went home. Christer also exchanged Euros to Kazakh tenge so that we would have money for tonight and the trip tomorrow. Now we're at Nomad's Guesthouse again and here we got the key and noticed that our room has not yet been cleaned. It is done now while we're sitting and watching.
18.45 Now the question is what we will do before we check out in so-so 12 hours. Something should surely be eaten, drunk and bought to be eaten and drunk. We do not know what will be eaten and what to drink or where it takes place. We hope to soon know more about this.
19.14 It's time to go out for some food. Unfortunately it rains. Due to this we will probably eat at a nearby restaurant.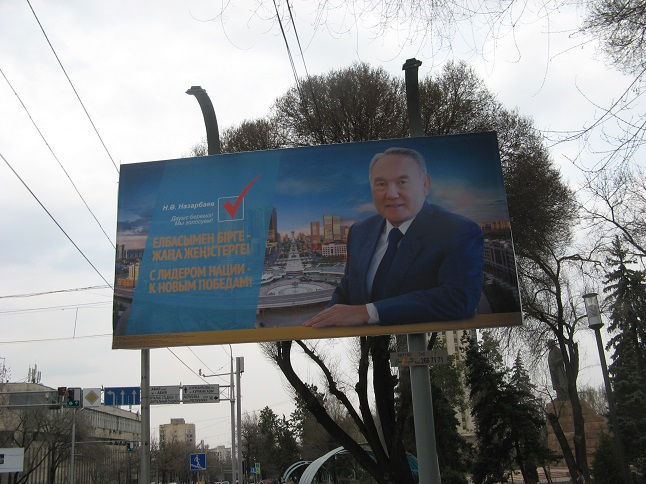 The president´s portrait is both here and there in Almaty.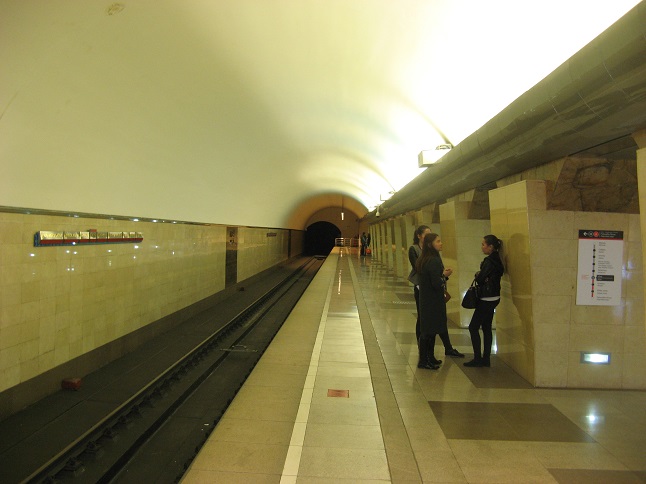 A big city should have a metro. That is the case in Almaty too.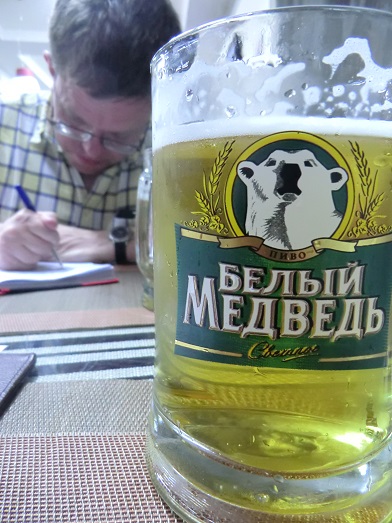 Peter can be seen behind the big beer glass.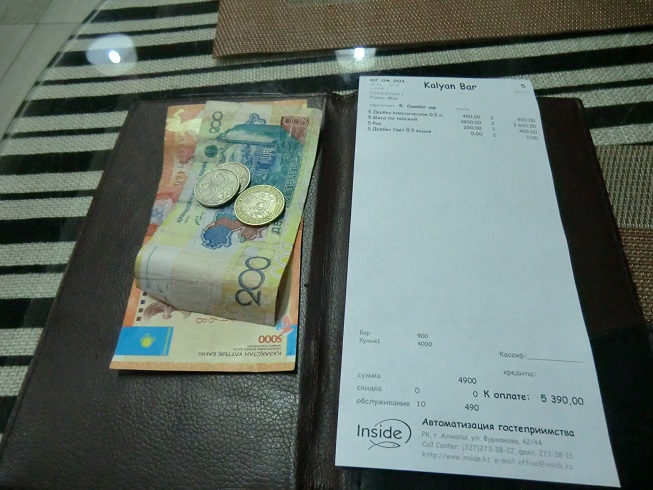 The bill from tonight´s dinner. Notice the beer price 0,00.
19.32 We hesitated a bit about the restaurant options. There were two restaurants next to each other to choose from. We thought better safe than sorry and went to Pizza Mia because we've already been there and know that the menu is in English. Now the beer was brought in.
19.37 It might not have been that wise to come here after all. They no longer have the dishes we ordered from the English menu. The menu is too old. We had to order again from a different menu. The most important thing is that we´ll have food.
20.14 We got our food, ate it and asked for the bill. We were offered their special. The second beer apparently is free. We politely said thanks but no thanks. Soon our waitress arrived with the bill and two large beers anyway. Language problems sometimes lead to the chance to drink more beer.
21.11 We have been to the supermarket and bought breakfast and something for tomorrow's trip. Drinking a lot of beer quickly affects the body and we were probably not entirely sober inside the store. Tomorrow morning I'll try Kymyz (milk from mare). We will not try the Mentos Tutti-frutti we considered buying, they were kept by the cashier. Were they too old, couldn't the barcode reader read the bar codes or what? Well who knows? No candy for us.
22.56 I couldn't keep away from opening the horse milk. I poured some and took a sip. What should I say about the taste? It was like non flavoured drinkable yoghurt.
---
Wednesday 8th of April
06.06 We are offered a mixture of old and new. The old, breakfast on the edge of the bed and birdsong. What is new is that I'm drinking horse milk (kymyz) for breakfast. In addition, the breakfast includes the more classical elements coffee and bread. We're up at this time because we have to check-out at 07.00 because we checked in at 07.00. It is strange yet somehow logical rules.
06.53 We are in the small lobby, ready to check out. The stay is as mentioned on a daily basis. Now, unfortunately, there are none/no one to check us out. In addition, the door to the stairwell is locked. We remain here until someone pops up. The good thing we don't need to get out now.
07.09 We have left the lobby and returned to the room where we rest right now. We wonder when we're going to check out. We have left the door to the room open so that we will hear if any one moves out there.
07.21 A woman appeared and now we are checked out. We have asked her to call us a taxi. It will be certainly cheaper if we catch one ourselves out on the street. Cheaper but harder especially at this time of the day when it's pretty dead in the streets.
07.47 We were asked to go out and wait for a white Volkswagen with number 625. Here we are in the shelter from the rain and wait. We keep our eyes open for white cars.
07.54 Our car is here. It's nice having heat around us and to sit down. Now let's go to the bus station, Sayran, in the city's western outskirts.
08.28 The taxi took us smoothly to Sayran. We got out of the taxi at a sidewalk without directly knowing where the entrance to the bus station was. We were caught by an army with a taxi guys. One in the army wanted 10 000 tenge to take us to Bishkek. We did not want to pay that amount. We fled from drivers, found a terminal building where we went in because Christer needed a toilet. Now we're in a mini bus. It will take us where we want to for 1300 tenge. Someone called out during the toilet hunt and wondered if we were to Bishkek and suddenly we had found the right vehicle.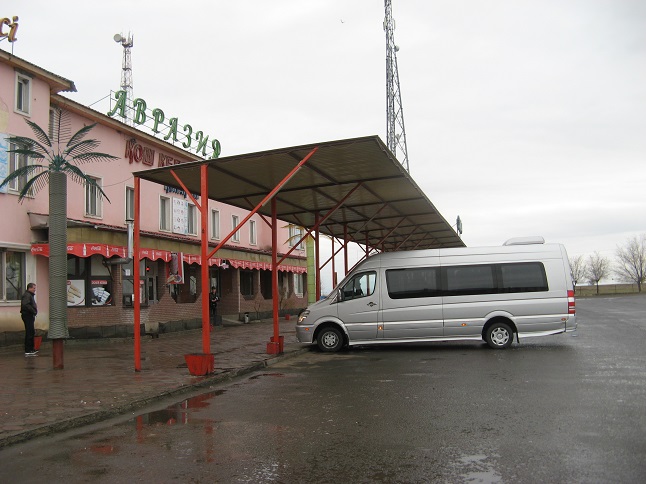 A welcome break when we could move the legs for a while.
10.03 The sky is cloudy, the landscape is hilly, the film is difficult to understand and the space for the legs could have been better. We are in all cases in a minibus of the larger kind. The final destination is Bishkek, the capital of neighbouring Kyrgyzstan. From there we will also fly back home on Saturday morning. Now we are waiting for the border crossing that will occur in a few hours time.
10.26 Our minibus made a stop at a restaurant. It is time to stretch our legs, empty our bladders and more of importance and interest.
10.57 Our vehicle is on the road again. Around us is the steppe. In the distance are snow-capped peaks. We have passed a turn-off to Derbes, most likely the home town for the beer with the same name that we drank a few days ago.
11.26 We have been checked and approved by a few police officers who wanted to control who were heading towards the border.
11.37 The flat plain with some wind turbines have been changed to rugged, lonely areas where we´ve seen sheep. The nature here reminds a bit about Iceland, no trees, green and hilly.
KYRGYZSTAN

12.31 It wasn't that easy to pass the Kordai border crossing. The Kazakh looked sceptically at our passports, questioned if there was no need for us to have Kyrgyzstan visa and checked everything in a thick book before he stamped us out of the country. The Kirgiz colleague brought our passports into a separate office and we were let in without any problems. Now we carry on in the minibus to Bishkek. On the radio Retro FM´s old hits are played and the rain is falling out there.
12.48 Some mini bus reflections from the journey after the border. We've seen a truck with a trailer that was labelled with some Swedish company, we have seen a BP petrol station, Bishkek Petroleum and the price of diesel is here 36,60 som per litre, it is around US$0,75.
12.57 Bishkek is located very close to the border with Kazakhstan, and pretty quickly, we came into the city where we´ve spun around for a while now.
13.15 We brought some confusion among the taxi drivers at the bus station in Bishkek. It took five men before anyone knew anything about where our hotel was. Now we go in a right-hand-driven car. Our driver has a funny hat/baseball cap.
13.29 We went around among various new buildings but couldn't find our hotel, just a billboard that mentioned our hotel. Our driver is looking at our booking confirmation. He just smiled, returned the confirmation and made a u-turn. We'll see if it will be right this time.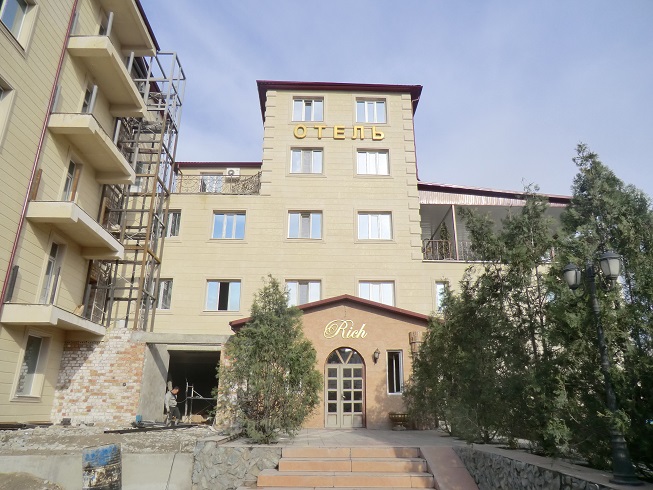 Rich Hotel, Bishkek.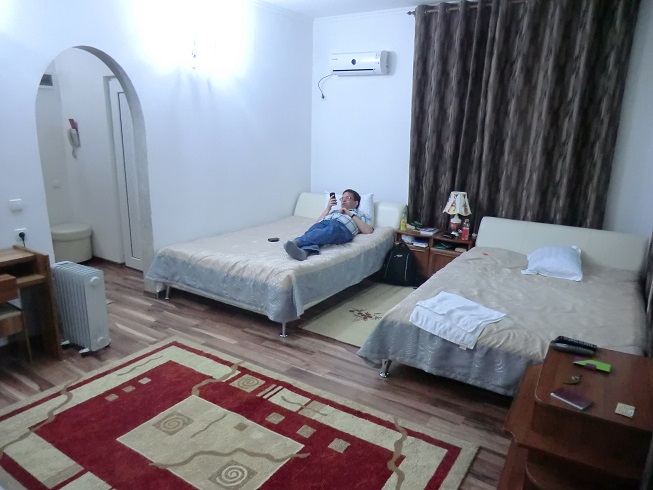 Peter is resting in our room after a long trip.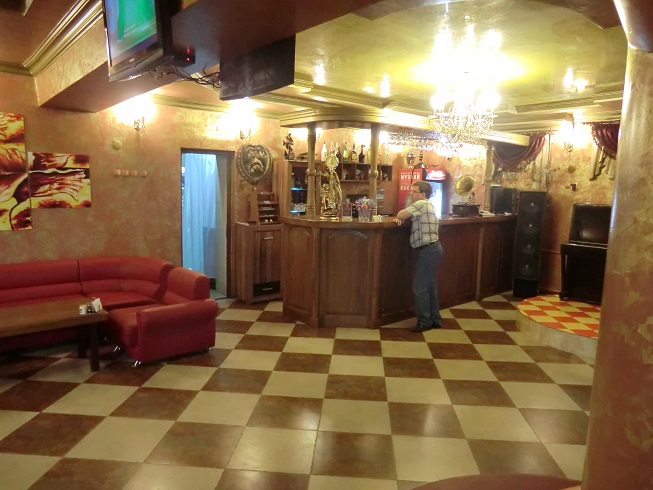 Peter is paying for our lunch, or was it a dinner?
13.47 Things are solved; the taxi driver has found our hotel which was well hidden because of redevelopment. The side of the hotel which was facing the street looked most like a house under construction. The hotel is growing, gaining new rooms. We were welcomed to Rich Hotel by a man and a woman who stood and waited on us. The reception lady/concierge and luggage carrier was basically standing in attention. Now we've checked in and arrived to room 11.
14.56 We have relaxed, unpacked, rested and made ourselves at home in our new room, in our new hotel and in this new city and country. It is a dreadful weather outside. It will apparently be better tomorrow. Today it is just rain and cold.
16.02 We can´t lay here like two pickled herrings. We must surely get us something to eat and drink. We must celebrate that we reached our 108th and 104th country. Now it's off to the hotel´s dining room.
16.12 The phone rang just as we planned to leave the room. We were offered to switch rooms because of the noise from the construction work. Christer said we were happy with what we had and got the answer, OK, see you in the other room then. He had to quickly explain again that we intend to stay where we are.
16.20 The concierge has promised that it will get dark tonight. She laughed and quickly rephrased that it will be silent tonight. Now we have ordered food, the dishes Azu and Lazyro and to drink, Arpa, Kyrgyz beer.
17.37 We finished the meal and left the hotel. Now we are in a new country, a new capital and have a new bench break. We sit down by a public square. Now let's think about what we do next.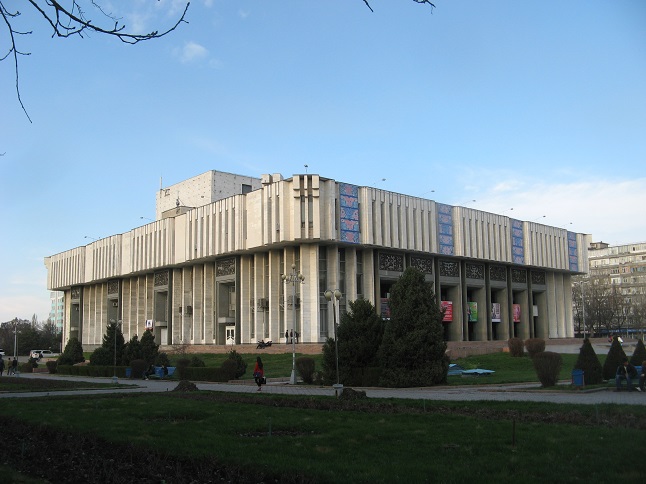 The Kyrgyz state philmarmonic is based in this Soviet style building.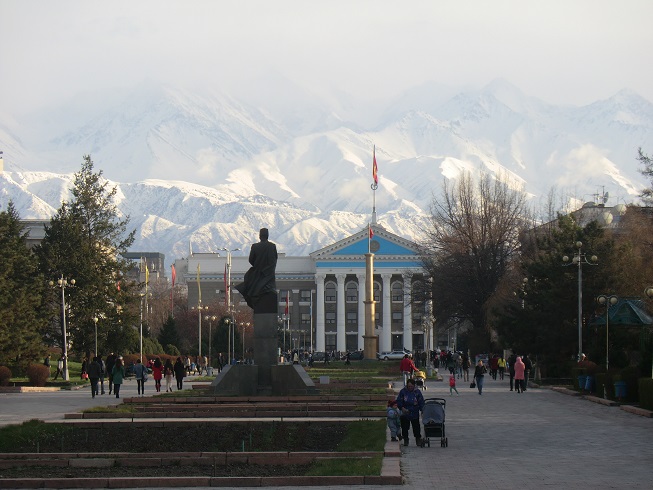 The city hall in Bishkek is in front of the more than 4000 meter high peaks south of the city.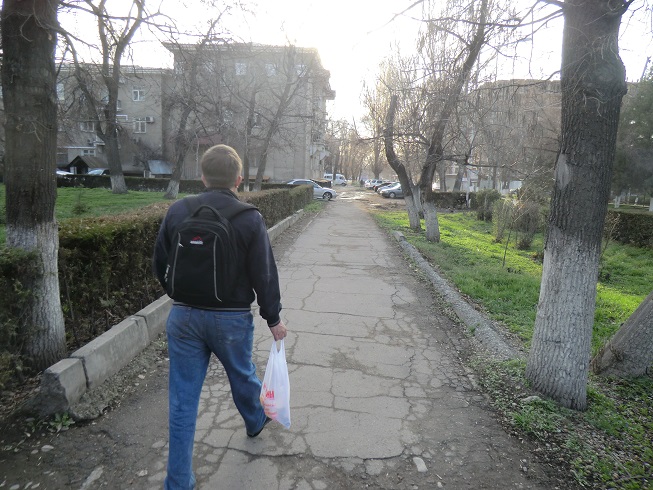 Peter is heading home after a first walk in Bishkek.
17.47 We went under the street and through the small market world there. Now I sit on a bench while Christer is in a grocery store, Narodni. When he is finished, it will be my turn to shop. We must once again have someone guarding the backpacks which are not welcome in.
19.11 Now everything is purchased, we walked home and right now just relax. It actually feels pretty good. On the way home, we had great views of the high mountains that surround the city. What differ Kyrgyzstan from Kazakhstan so far is the standard of roads/streets. It's lumpy and holes here and there. In Kazakhstan, it was far easier to walk.
21.57 Our lazy time continues. We watch TV. There are plenty of channels on our satellite TV, among others, from Morocco, Azerbaijan, Iran, Iraq, Lebanon and a number of more such as Somaliland.
23.04 Enough of all the world's TV channels. Now it's time to sleep in another bed, another city in another country. How many there are of each I straight did not know now. What awakes us tomorrow morning, the mobile phone's alarm or the construction workers? We'll see.
---
VIDEOS
---
You can see 72 photos from April 6 in this photoalbum.
You can see 84 photos from April 7 in this photoalbum.
You can see 30 photos from April 8 in this photoalbum.

---
---
---
---