---
Text: Peter Johansson
Editing: Christer Lundstedt
Photos: Christer Lundstedt, Peter Johansson
Videos: Christer Lundstedt
---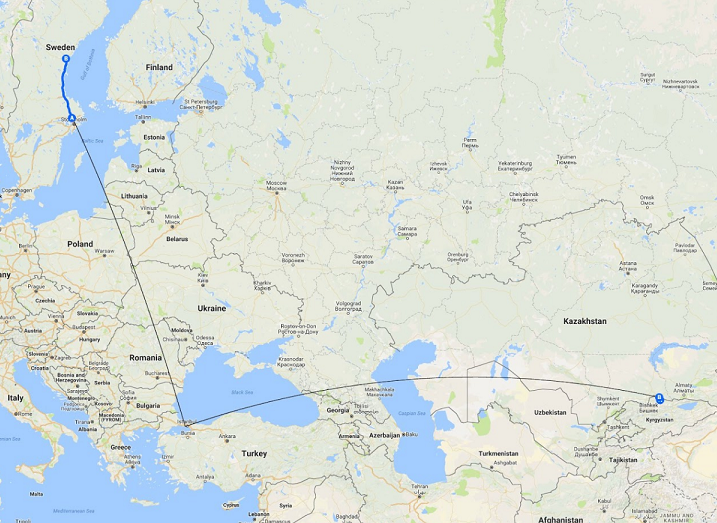 ---
Thursday 9th of April
08.16 Good morning! We are in our room at Rich Hotel in Bishkek, Kyrgyzstan. Now it is time for some statistics. We now have slept in a hundred different countries on our travels. Will this be celebrated in a special way? No, there are other things to do. We'll start with a breakfast and then a walk in the city to cover more of it.
09.30 After some language problems, we have finally managed to order our breakfast. With the help of the concierge woman, we and the breakfast lady understood each other regarding the rules. What we wondered about was what was free and included and what things on the menu that may cost extra to order.
10.04 Now we are back in our room to plan. It is needed so that we will be able to saunter. A temperature of about 20°C is expected today. It sounds nice, but can also be sweaty because of the overly warm clothing we move around in.
10.21 The planning is done and we will now see more of the city called Frunze during the years that Kyrgyzstan was a part of the USSR. Since 1991, the name has been Bishkek and the city has about one million inhabitants.
10.41 Now the thoughts are completed. It's time to go out.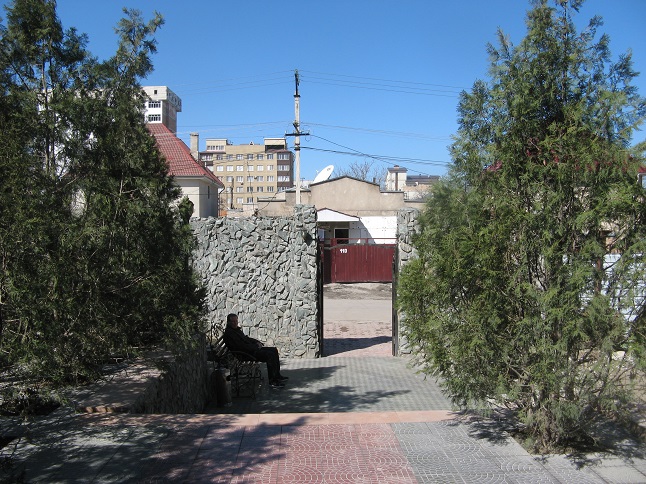 Christer is waiting outside the Rich Hotel entrance.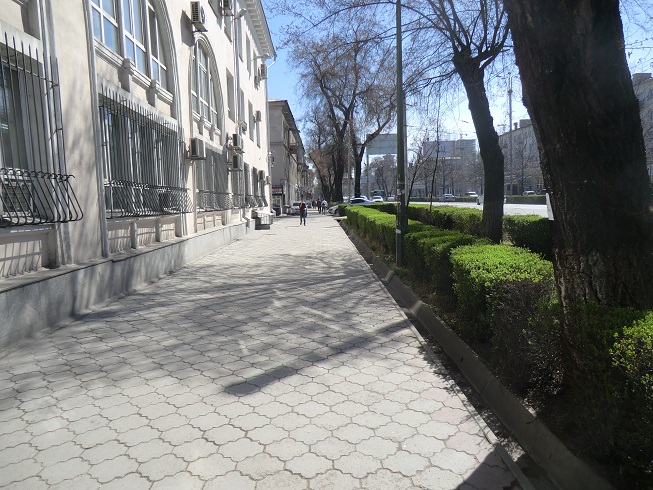 We are heading towards the city center along Chuy Avenue.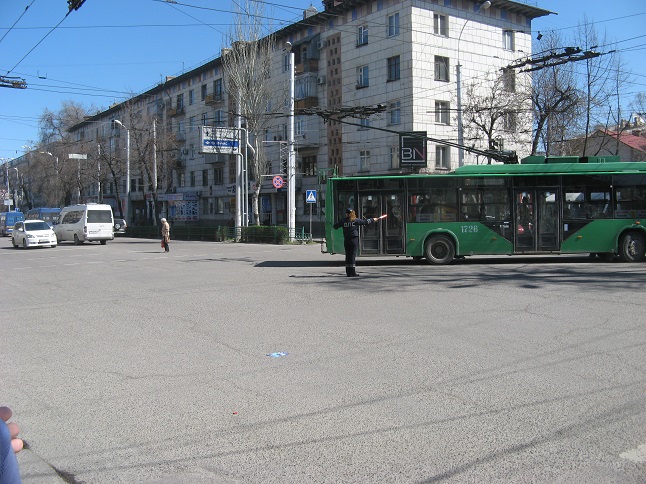 A female traffic police officer is doing a good job.
Peter is trying the coffee at Sierra Coffee.
10.54 Now I am back in the room. I haven't gone tired on Bishkek already. I had forgotten my mobile and have just fetched it. Christer is waiting outside the hotel.
11.13 We repeated the procedure, left the hotel, turned onto Umetaliev Street, passed the same school as last time but now await new experiences. We have come out on the Chuy Avenue that runs through the center of Bishkek. We will follow it towards the center. There will be a walk in an easterly direction.
11.37 We have exchanged money to some more Kyrgyz currency (som). I also got a 3 som coin. We reached Manas Prospekti (Manas Avenue) where there was a female police officer directing the traffic at an intersection. Now we will have some coffee in the New Zealand Coffee chain Sierra Coffee.
11.51 It is lovely to sit in the sun and enjoying the coffee, even if it was watery. Christer has made two attempts to make a video clip here. We hope that at least one of them will be successful. It messes with the technology. Sierra Coffee is a haven for the city's western tourists and it is a little comical to see all of them here but hardly anywhere else in the city.
12.21 We have looked into some souvenir and craft shops along Chuy Avenue. Now we cross the avenue to see more of the city.
12.40 We have walked further on our walk. It is time for a bench break on a disabled bench, it lacks two sitting boards. We are in a park whose name is unknown to us. It is time to rest and find out where we go next. We do know that we are close to the White House; yes it is the name of the building. The sun is warm, it's a lovely day. People enjoy the spring, the start of summer.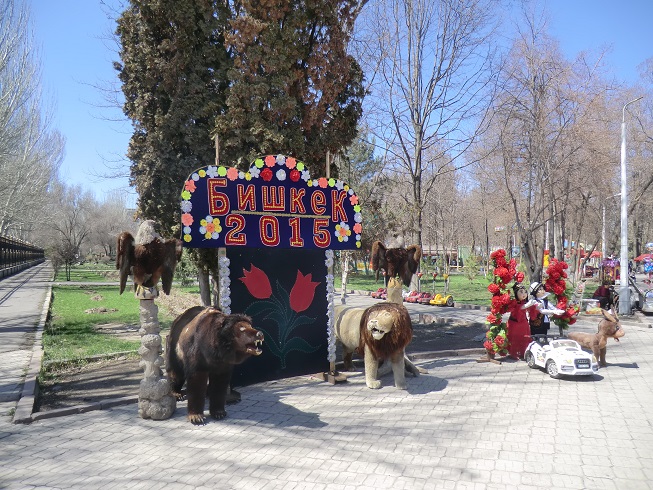 Some animals on display at the entrance to Panfilov Park.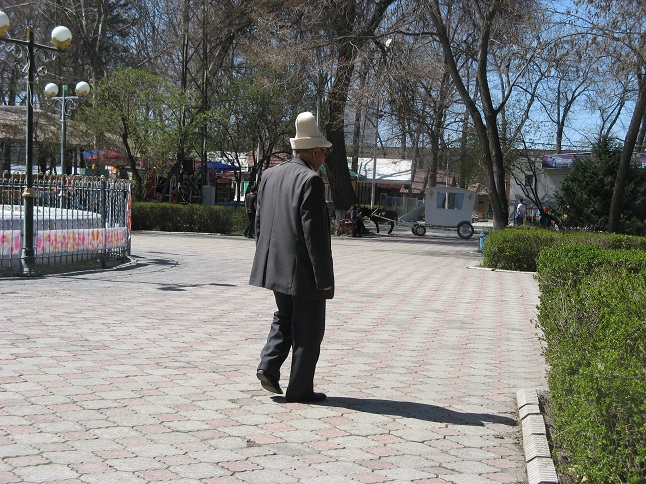 A man in a traditional ak-kalpak hat walked by.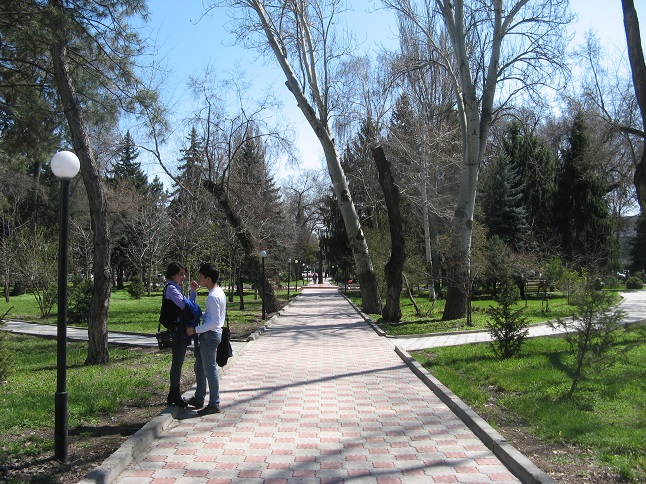 Love comes when spring comes.
13.14 We left the nameless park and walked on. Screams and laughter can be heard from various carousels and similar amusement things. We are now in the nearby Panfilov Park. A small donkey is ridden by a child and the donkey also draws a small covered wagon which goes a round in the park. We sit on a bench, observe people and enjoy the warm spring day.
13.39 Luckily we found a toilet in something that looked like the stairs down to a metro station. Now we have left the Panfilov Park with laughter, screams and the donkey behind us. Instead, we sit on a several meter long green bench and hear the birds singing around us.
13.58 It's time for a new bench, a red one this time. We are also in a new park, Dubovy park (The Oak Park) this time. We may possibly have seen the eternal flame here in the city, it did not burn. Here nearby there is also a statue of an old woman, Kurmanjan Datka. She was a Kyrgyz state woman who worked to bring the region to become part of Russia in the 1800´s. She was over 90 years old and had lots of grandchildren and great-grandchildren.
14.24 After looking at the Lenin statue opposite the Parliament, we are now at the nightclub Café Soho Club. Here we ordered lunch. We were asked if we wanted to drink tea. We had no such wishes. We want to drink beer.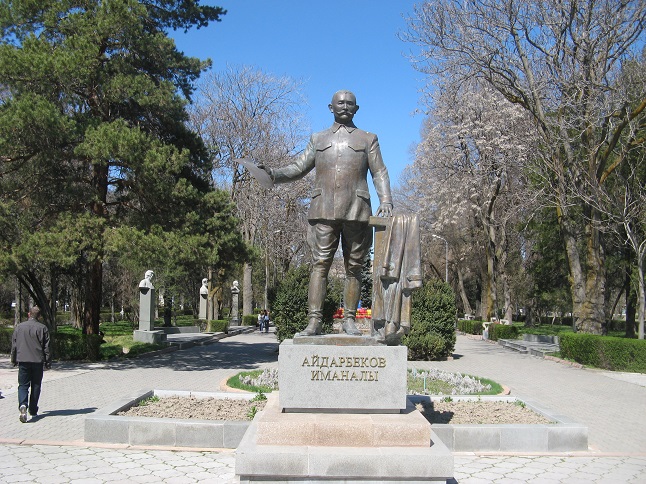 Christer is ignoring the statue of the politician Aidarbekov.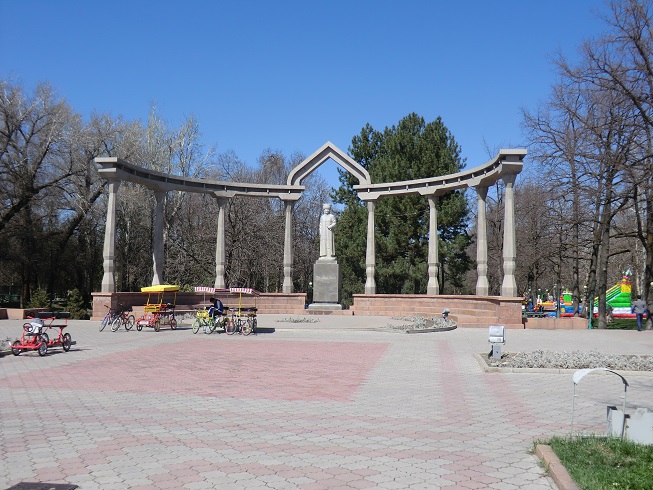 Kurmanjan Datka.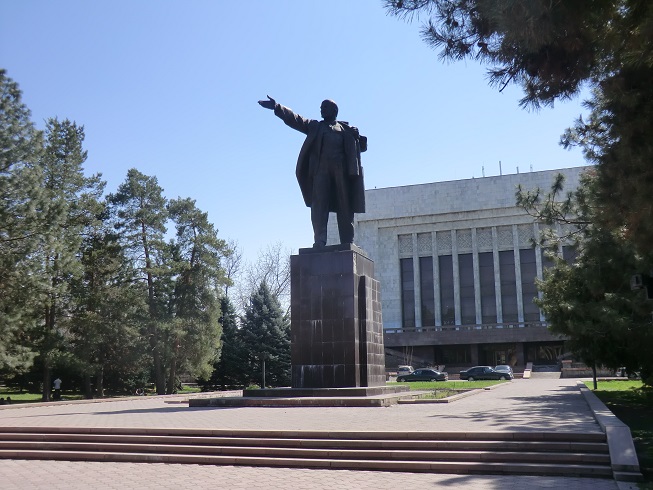 Lenin has moved but is still allowed to remain in central Bishkek.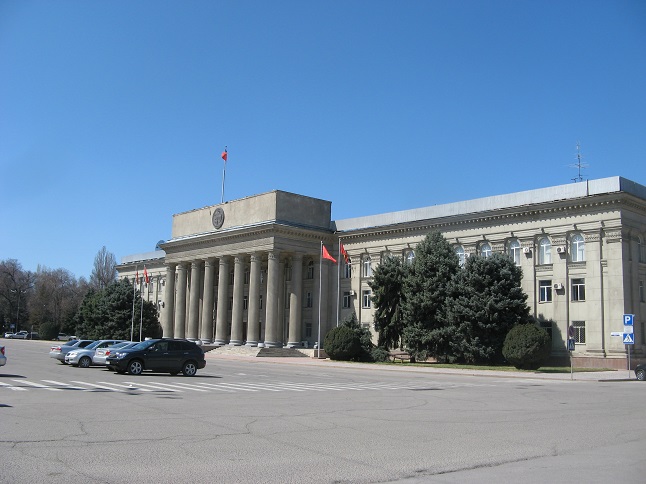 Parliament building in Bishkek.
14.35 We have had two beers with ice on the inside and outside of the glass and a fork each. This is the beginning of what will be our lunch. We have, as usual on this trip ordered something that we do not really know what it is.
14.57 In came two wooden trays of black cows in metal or something similar. On these metal animals were sizzling chunks of meat, tomatoes, cucumbers and peppers. We have received similar meals before in Asian restaurants.
15.34 After paying for the lunch, I owe Christer 385 som, we are now on our way home after a long day in the heat. We are sitting on a bench at the Ala-Too Square. A short distance away is a statue of national hero Manas on horseback. It is hot today. Especially here in the square fry sun mercilessly. Regarding the national hero Manas, there is an oral epic about him that is the longest in the world with a total of 500 000 verses.
16.48 After a stop for shopping at the Narodni we are home again, it's cooler and less sunny in the room. Now the debt between us is cleared.
17.50 The time has come to see some more. It is not in Bishkek but well here at the hotel.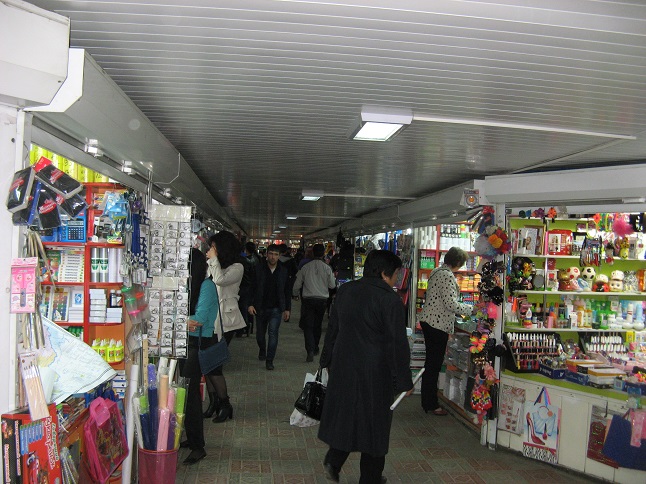 Business below street level.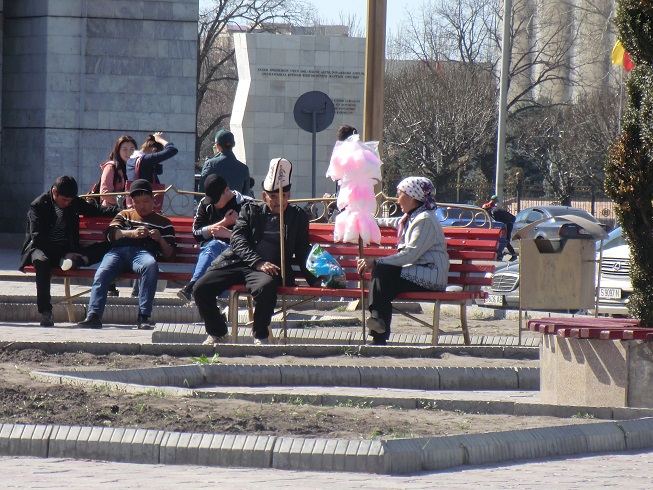 No business at the moment, time for rest at Ala-Too square.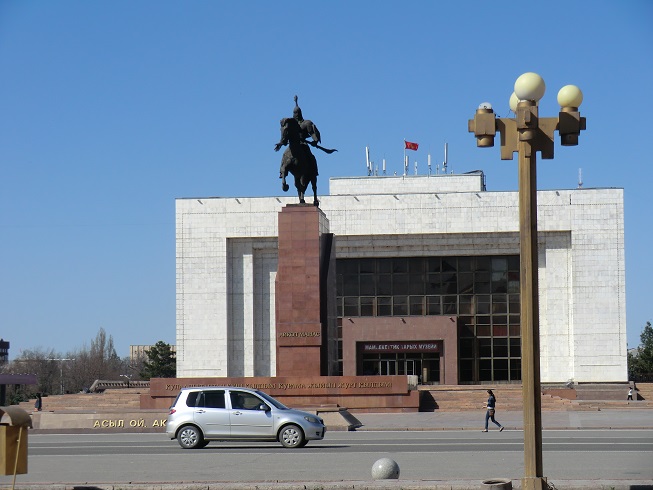 Manas, the mythical national hero of the Kyrgyz people.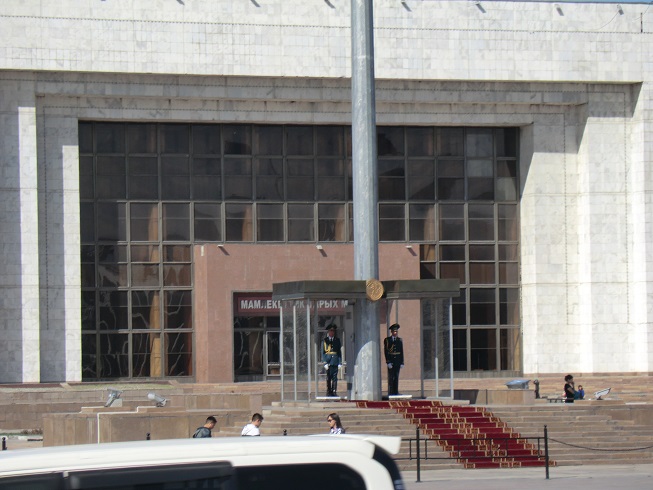 Guards at the Kyrgyz national flag.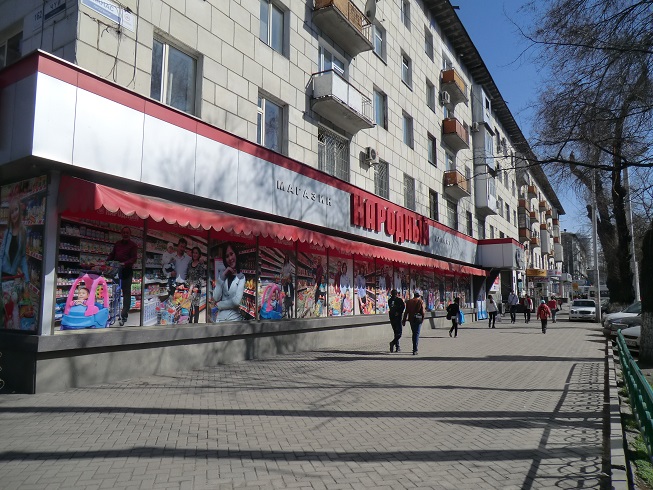 The supermarket Narodni.
18.01 We went up a flight of stairs and out onto the hotel's sun-drenched terrace. The sun shines from above the houses around us. The sounds and even the smells from the hotel redevelopment reach us. Someone cuts in metal right now. Here on the terrace is also a gym which guests can use.
18.27 Christer has filmed the less glamorous surroundings of the hotel. One of the neighbors is currently polishing his car.
19.30 It is time to replace the terrace with the dining room on the ground floor. We'll have dinner.
20.33 So we have finished eating for today. The range here at the hotel is not very exciting but it's handy to have dinner where we live, especially when the neighborhood lacks sensible restaurants. Now we must most unwind and reflect on the day that will come tomorrow.
23.17 Ahead of the trip last evening beer. We are watching BBC News and tomorrow is planned.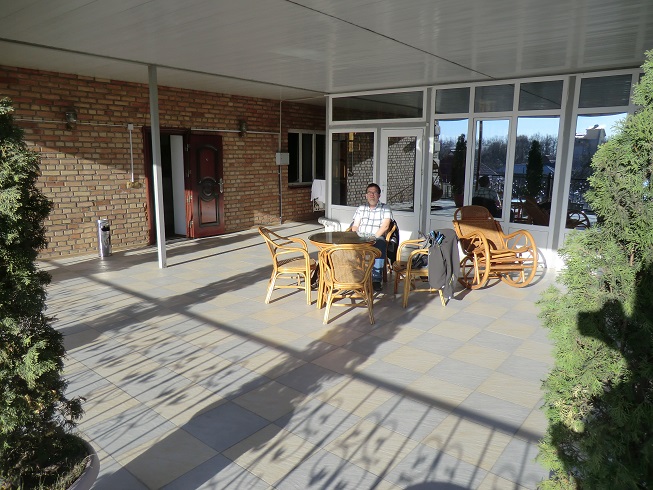 Peter is enjoying life on the roof terrace.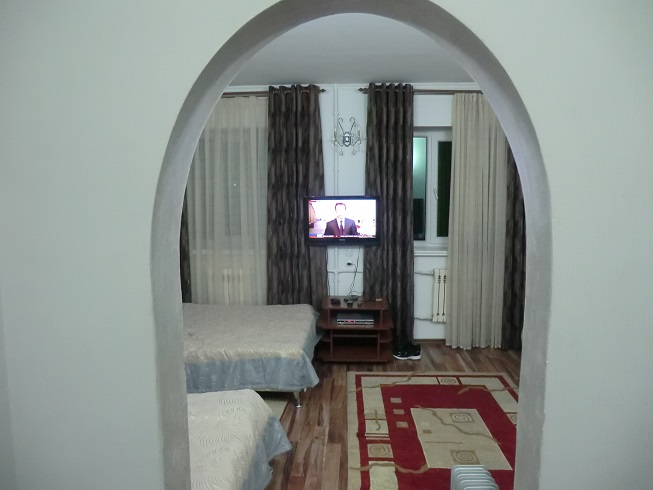 One of many TV channels is trying to entertain us.
---
Friday 10th of April
09.00 The TV channel Al-Jazeera report about the golf from Augusta, Zlatan Ibrahimovic's suspension and a dead cricket commentator. Now they are going to take a look at the situation in Iran and Cuba. We ourselves will bring ourselves to the breakfast table to begin with.
10.02 Today Christer had rice porridge for breakfast. I think its premiere on our travels with porridge eating. For three nights here at the Rich Hotel and for a subsequent transportation to the airport in the morning, we two together owe 14 119 som, which is around US$ 240. It is important to know how much money we need this last day in Kyrgyzstan.
10.34 Now as the drilling sound from the construction workers echo through our room, we will go out and see more of Bishkek. We have saved some highlights from yesterday.
11.18 It is going well to walk along the Silk Road. It is not the classic trade route, which certainly passed around here, but simply a street called so (Zhibek Zholy). We will follow it for several kilometers and hopefully arrive about where we went back yesterday. According to the map, and our guesses, we have about 500 meters left to the first sightseeing stop. A black and orange insect has briefly landed and walked around in the diary. It as well as we makes a brief pit stop on a bench. Nearby we see the Mongolian consulate. There is sun and hot today too. Now we must continue.
11.44 Our long walk took us past a beautiful church, an old and new mosque and much more. Now, we have left Zhibek Zholy and will walk toward new goals.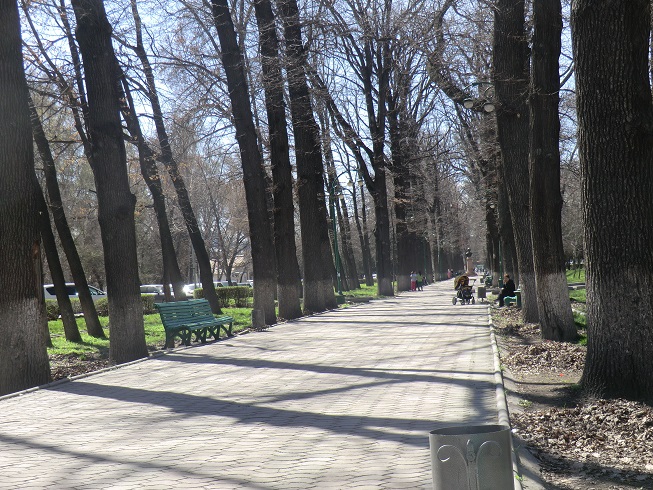 A beautiful sunny day, it´s nice to relax.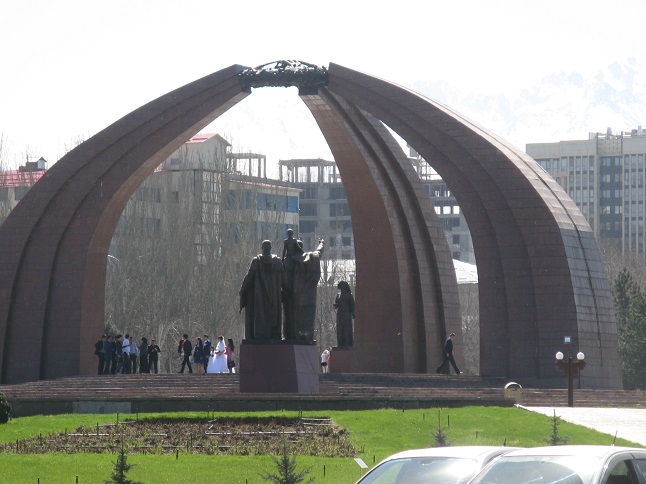 A wedding couple visit the eternal flame.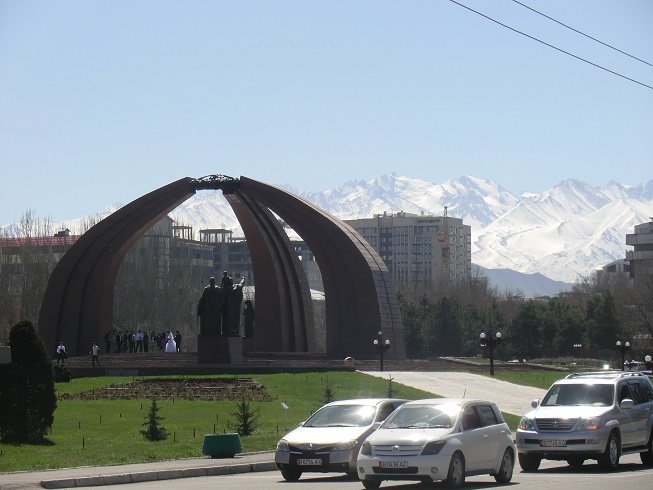 High snowfilled mountains is a beautiful background in Bishkek.
12.03 Now we have passed the Victory Square. There is a monument to the 40-year commemoration of the victory over Germany in World War II. Below the monument are now a bridal couple and the eternal flame burn. The extinguished flame that I saw and wrote about yesterday was probably something completely different.
12.42 Now we will have the last lunch here in Kyrgyzstan. We are at the recommended Manty Bar. It offers traditional Central Asian food. It is a restaurant whose colour combinations bring me back to childhood in the 1970´s. The colours that dominate are orange and brown. I'll eat horse meat. The dish is traditional for Central Asia and called beshbarmak.
12.49 Things sure happen here. First we got a small bread basket with beautiful and interesting arranged bread. When I was about to bring the camera out of the pocket of my jacket which I hung over the back of the chair, the camera as well as the jacket was gone. I trotted around and the staff obviously thought that I was looking toilet. I explained my quandary and they informed me that my jacket had been hung on a hanger. It had probably fallen down on the floor and some kind soul hung it up.
13.23 This was really good. Now we will ask for the bill. When ask for the bill here you say something that is pronounced "schot". Then I will go to the place which you get to quickly and come quietly back from.
14.05 We have left Manty Bar behind us and passed Victory Square again. There, we took pictures of memory the monument and eternal flame. Now it's time for a bench break at the statue rich park where we sat for one day ago, Dubovy Park.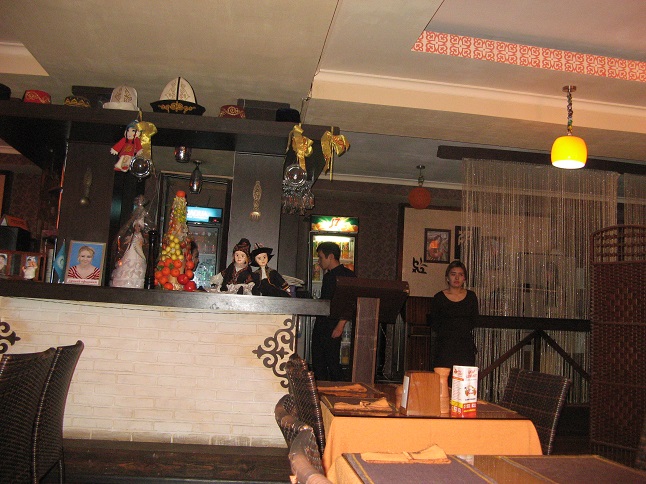 Manty Bar, Bishkek.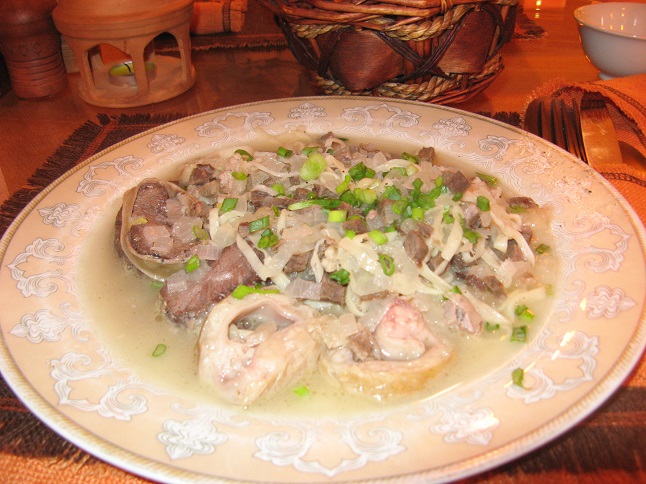 Peter is eating beshbarmak.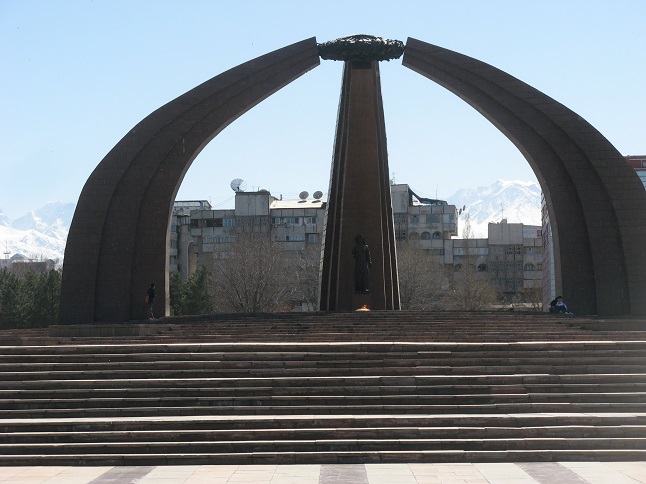 The eternal flame is burning on Victory Square.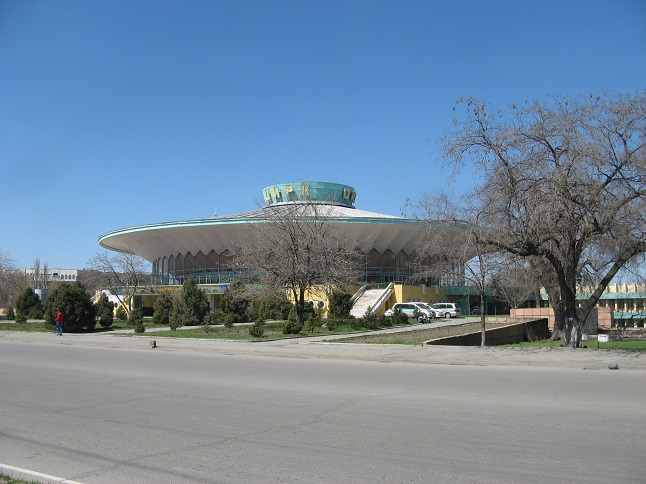 Bishkek has of course a circus.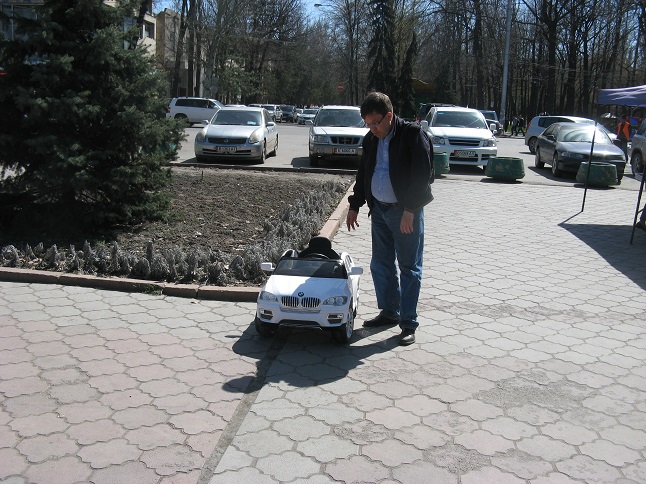 Peter´s car has shrunk.
15.14 So slowly we started to hike back to our temporary home. We were a bit tired of going the same way as before, and turned instead into Kiev street which we followed for a couple of blocks. Along it was, inter alia, a Soviet fighter aircraft set-up. Now we make a stop, a return visit to Sierra Coffee. This time we sit indoors due to lack of space outside.
15.46 After the coffee break at Sierra Coffee, I tried to put a needle in their world map showing where visitors come from. It was not possible to do so because some guests were sitting next to it. Afterwards we exchanged some more money. I am sitting and waiting outside Magazin Narodni, our food store, while Christer has gone inside for shopping.
16.06 Now we will take a final bench break before we go home and pay for the hotel stay and transportation to the airport in the morning. We are sitting on a blue green bench in the park in front of the town hall. The mountains in the background are magnificently beautiful.
16.35 Now we are free. We have paid our debts. We seem to have calculated ever so wrong. Our money will not cover the dinner tonight.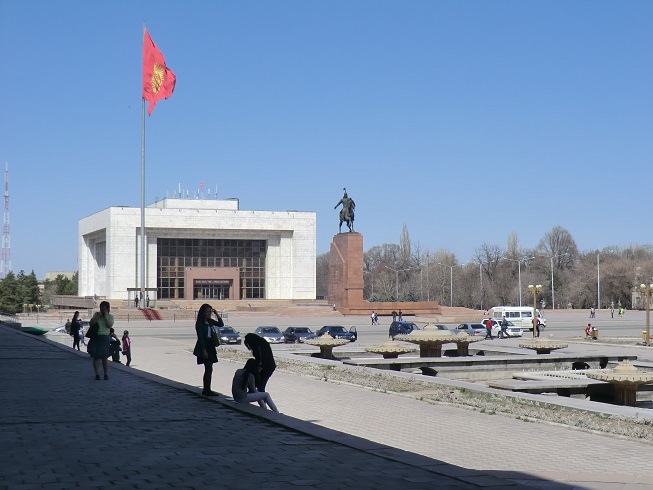 Ala-Too square with a huge flag and the Manas statue.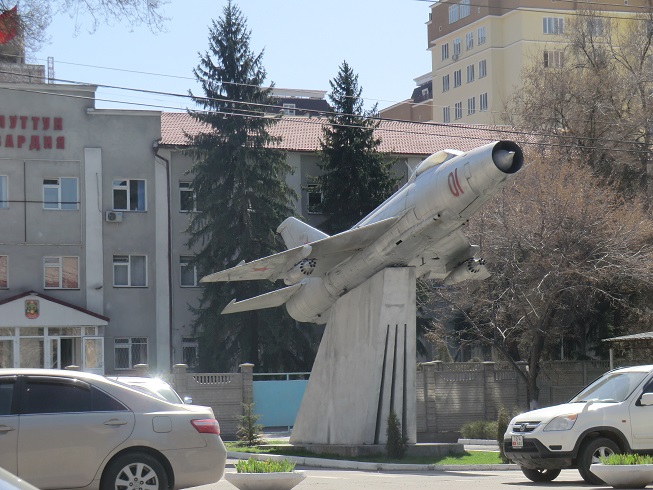 It was surprising to suddenly find a soviet plane along this street.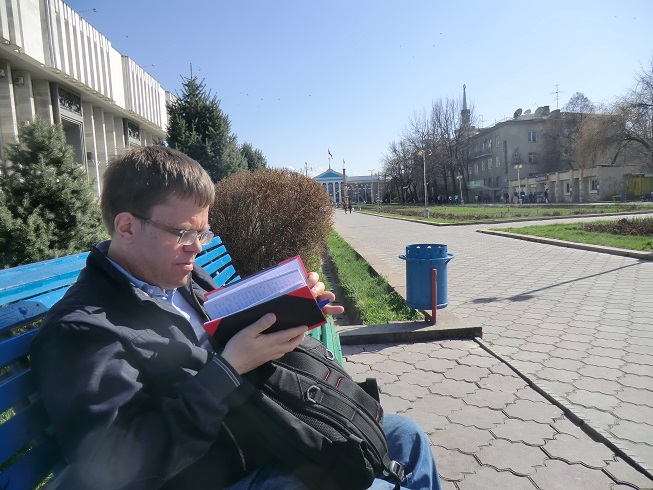 We are sitting down talking about our memories from Bishkek.
17.59 Now we will, after a short rest in the room, have some quiet time on the roof terrace. Later awaits a relaxing dinner, a lazy evening and sleep before the journey home.
19.41 It is time to end a lovely stay in Central Asia with good food and drink in the restaurant here at the Rich Hotel. Tomorrow we will get up early to fly home. The airport is several kilometers outside the city so you have to start early.
20.57 It was good food, 0,5 liters of beer, coffee, and 5 cl Kyrgyz brandy for under US$12. It is not entirely wrong. Kyrgyzstan is a much cheaper country than Kazakhstan. Here you can indulge in things in a completely different way than in the northern neighboring country.
21.47 Soon it's time to crawl down under the covers. There will be a few hours sleep before waking up and homeward journey early tomorrow morning.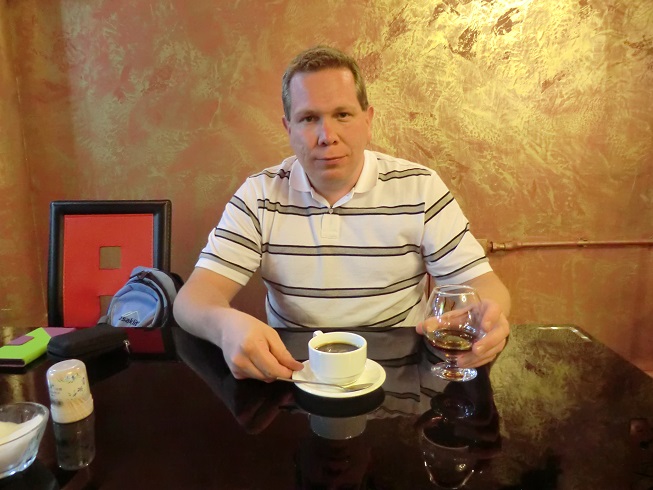 Coffee and brandy, some luxury after the last dinner in Bishkek.
---
Saturday 11th of April
03.15 An all but pleasant wake up call brought us back into the world of the awake. We are not much awake, not yet anyway.
03.41 Now the belongings are where they should be. I hope that we and the transportation we booked and paid for will be where they should be soon.
04.20 Our driver, one of the staff, was waiting outside our room. It was a smooth ride at high speed to the airport Manas.
04.51 We checked in at the business class counter. It was the only one open. Now we´re having a cup of coffee each before we walk on towards passport control and security control.
05.34 One thing is certain when it comes to this airport. They have hidden the passport police very well. I do not know if it is due to poor signage or perhaps poor eyesight from us. It is immediate to the left of the check in. It took a while to find and there are to complicate things further different passport police desks, depending on where you're flying. Completely impossible to know if one shall go to the left or the right police.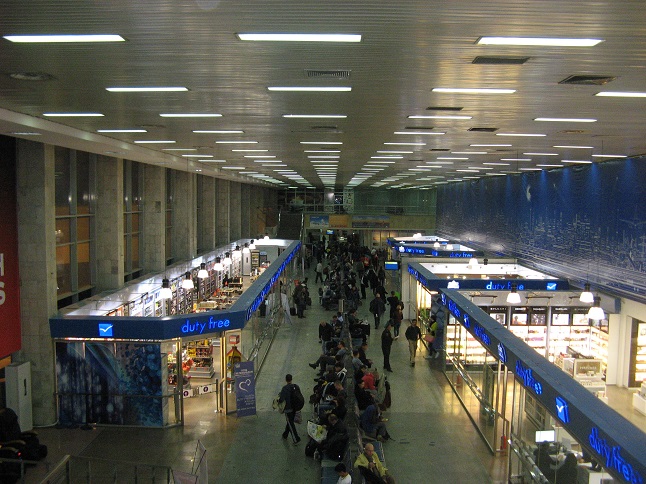 Manas International Airport.
05.51 We have linked us up on the WiFi network here at the airport and looked around in the shops. Some teachers are here with their pupils. They are on a school trip to Turkey and all children have nice t-shirts that says Kyrgyzstan. Here we also noticed a Swedish couple with dialect from Stockholm.
06.34 Welcome aboard was said through the speakers. The flight time to Istanbul is scheduled for 5 hours and 20 minutes.
CHANGING TIME ZONE
08.57 The watches are reset to Istanbul time, Turkish time. A mix of Sudoku and sleep has filled the flight on my part. It did not go so well with Sudoku.
09.18 The plane landed on time at Atatürk airport. However, it is queue to the gates so the plane is stationary and we sit nicely waiting.
TURKEY

09.48 Now we are stamped into Turkey. Christer's passport got two stamps. The police officer began with the wrong stamp. Now we'll soon be out of the terminal and towards Istanbul. It is almost 11 hours until the next flight, and something we should do during all that time.
10.19 We made a stop at Starbucks Coffee here at the airport. After that there will be transported by an airport bus to the central parts of Istanbul. Again, we want to kill some time before the trip home. This will be our third visit to this exciting city.
11.01 The shuttle bus from the company Havatas has begun its journey. We were among the last passengers to board and our stop is near Taksim Square.
11.47 We have reached a park bench in Gezi Park, a short distance from Taksim Square in Istanbul. The wind is chilling, a completely different climate than in Bishkek. Now we have 5-6 hours to use before we return to the airport. It was in this park as there were large protests about two years ago.
12.14 It is time for cooked food. We sit outside of Çelebi Kebap Grill. There is a Swedish couple at the table next to us. Now a piece of giant bread was brought in or is it out?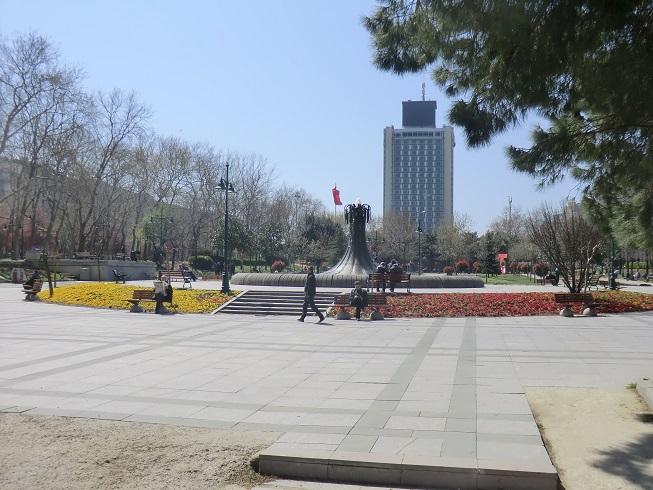 Peaceful park life in Gezi Park.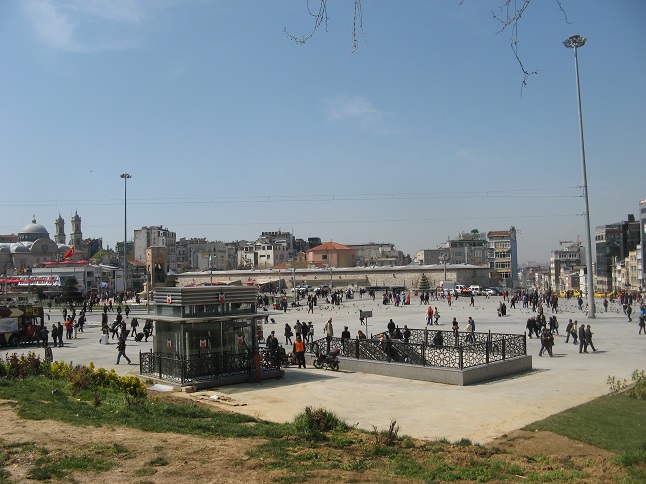 Taksim square, Istanbul.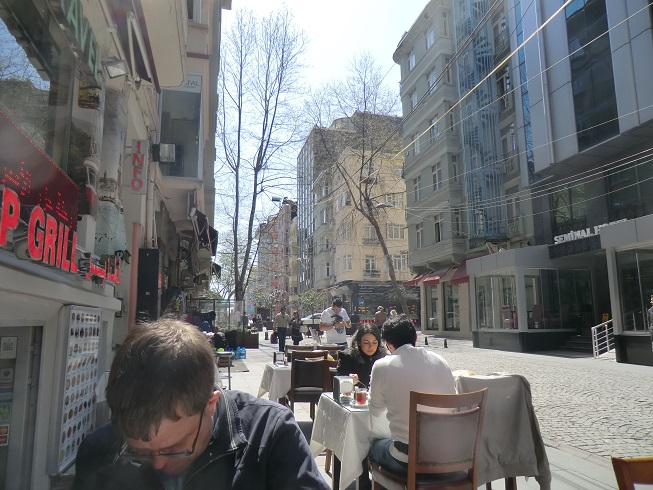 Peter is having lunch at Çelebi Kebap Grill.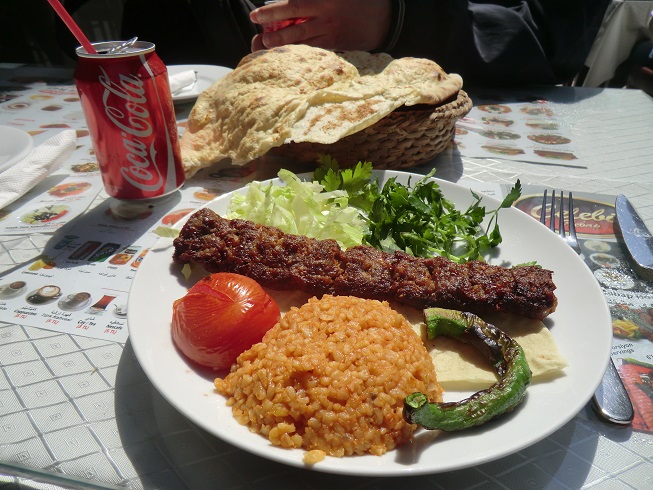 A tasty kebab lunch in the sun.
13.37 It was a tasty lunch. After that we walked around and eventually went down to the water, the Bosporus. Down there, in the area Kabatas with views of Asia, we heard the call to prayer from the nearby mosque. I assisted a shoe polisher who had lost his shoe brush. As a thank you, I got my shoes polished at half price. Sure, it was nice but do I have enough money for all the remaining expenses. Anyway, the shoes are nicely polished.
13.57 We're back in the Gezi Park, where the day's first stop was made. We look at flower beds with yellow flowers and a fountain.
14.26 We have changed bench but are still in the same park. A short distance away, at the Hotel Divan, stands a group of chanting people. They are surrounded by flashing police cars. Last year we saw protests for marijuana in Reykjavik, I wonder what this is true.
14.58 If you just sit down quietly and watch the surroundings, you get to see a lot. We have seen a man unwrap his new shirt, a shirt that he later put on here in the park. A short distance away lays another man asleep in the grass. Just now a man in a pinstriped suit passed. He carried a rosary. The chanting at the hotel has been temporarily silenced.
15.08 A new shoe polisher passed and asked with a powerful voice if he could polish my shoes. I said it is already done. Yes, now I see the man said and offered Christer shoeshine. He declined. He left and Christer said that maybe he should have taken off his feet and asked for a massage. We once again hear occasional cry from Hotel Divan. Enough of consideration let´s go and find a place for dinner.
15.52 Now we have walked along the crowded walking street Istiklal Caddesi ranging from Taksim Square and further on. It was a bit too crowded for our taste and we have again returned to the park.
16.06 An elephant just frightened two guys on a scooter. All this was seen by Christer on the TV at the restaurant Blue Istanbul. We have just ordered our dinner here. We are immersed at street level and see the feet of people passing by.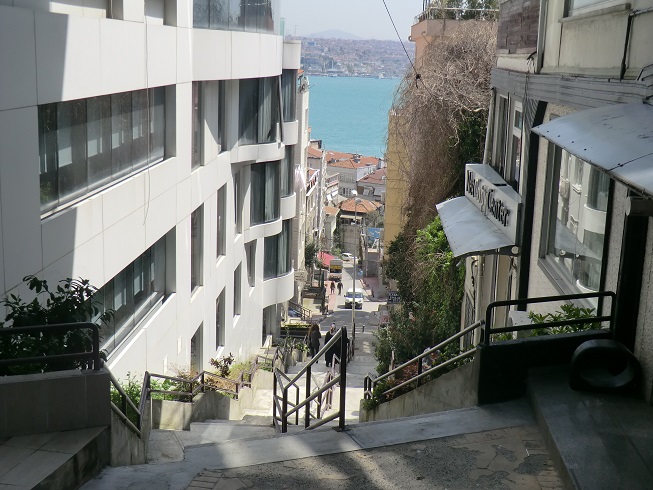 We found a steep shortcut down to the Bosporus.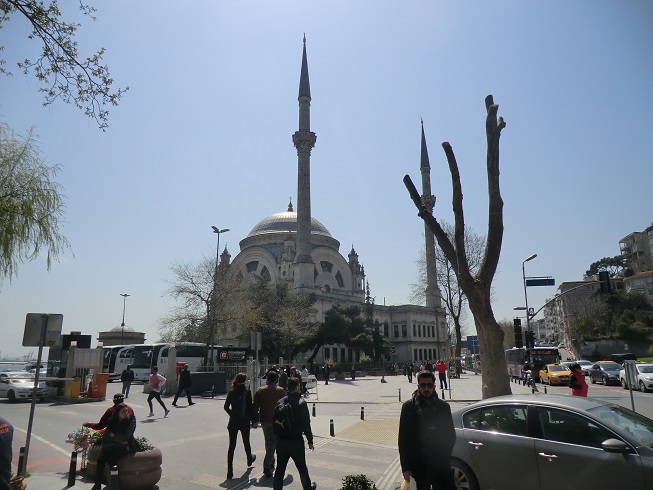 Dolmabahce mosque.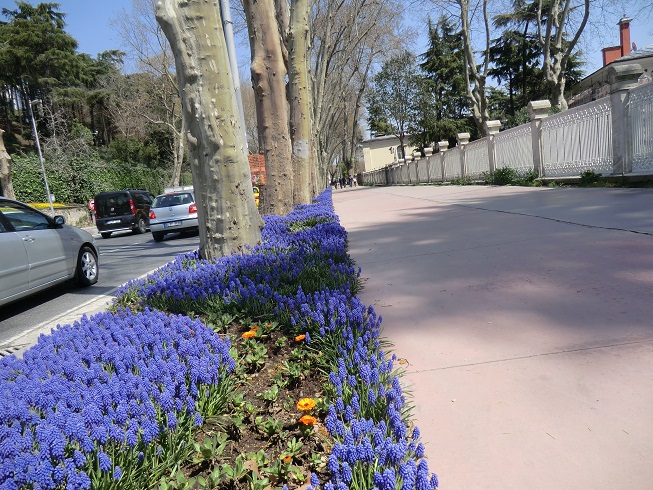 Spring flowers along Dolmabahce Caddesi.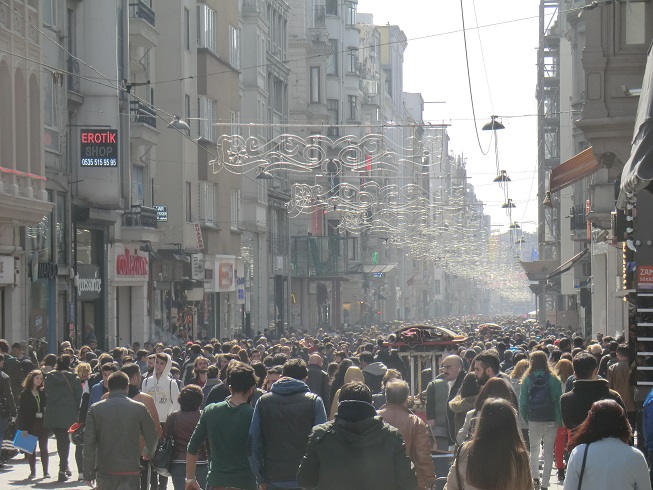 We are not alone on the pedestrian street Istiklal Caddesi.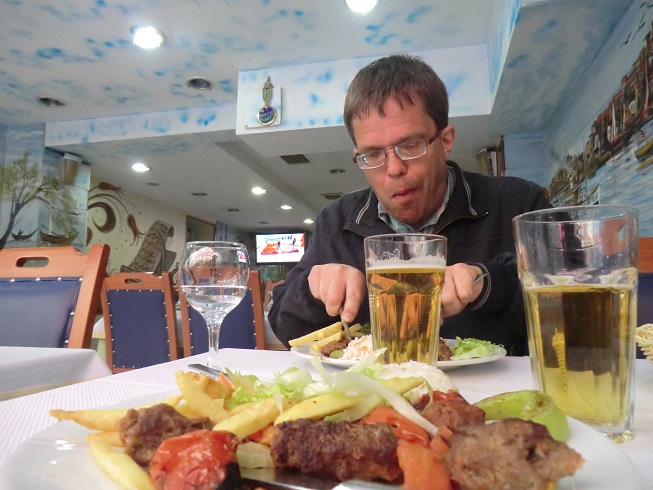 Peter is having dinner at Blue Istanbul.
17.21 When we got to the restaurant we were offered tea and baklava with the food. We got tea and Nescafe and no baklava. Now we have sat down on the shuttle bus from Havatas back to the Atatürk airport. You have to keep an eye on the situation here. Istanbul also has an airport for low fare flights, Sabiha Gökcen. It is important to take the right bus.
18.51 We are once again at the huge Atatürk airport. All controls are now passed. We'll just wait.
19.24 We got tired of waiting and went to Caffe Nero for some coffee.
20.07 It is time to sit down at a gate again. Also this time we sit at different places on the flight, this according boarding passes anyway, though such things can of course be changed.
20.44 I sit in place 4B. It is just behind business class. I'll never again get this close to that part of an aircraft. The leg space is brilliant. Christer is seated further back in the plane.
SWEDEN

23.30 We're back on Swedish soil again. The plane landed at Arlanda Airport. Now we just wait for our bags and walk to Rest and Fly to get the sleep that your body so desperately need after this long day of travel.
---
Sunday 12th of April
00.23 We have bought something to drink along the way and brought it with us to Rest and Fly (http://www.restandfly.com) and room 24. Now it is time for the lavatory and much needed sleep.
09.12 This morning was unnecessarily stressful. I had somehow missed to set the alarm on the mobile phone. We woke up about ten minutes before our checkout time. Well, now we speed showered, speed packed, checked out and will soon have breakfast. The plan was a nice sleep until 08.00 and a calm morning until 09.00 but we got a comfortable sleep to 08.50 followed by chaos and stress.
09.55 What is stress and mess? Now we calmly eat breakfast at 7 Eleven.
10.44 The lights are flashing by outside the train. Now we came out into the daylight. Our train is travelling north to Sundsvall.
12.38 We leave Söderhamn behind us. Most of the snow in the landscape has melted away. Right now we are going into a tunnel.
14.00 The train has finally arrived to Sundsvall. Now it will be a refreshing walk to Christer's apartment.
14.40 We have reached the end of the journey. It has been an interesting journey to Central Asia. We have met spring and the lovely sunshine but also been among the snowy mountains. Now, only a few details remain before I go by car home. You have to go home to be able to travel away it again.
---
VIDEOS
---
You can see 74 photos from April 9 in this fotoalbum.
You can see 55 photos from April 10 in this fotoalbum.
You can see 58 photos from April 11 in this fotoalbum.
You can see 2 photos from April 12 in this fotoalbum.

---
...and a few other things from this trip...
---
---

---