---
Text: Peter Johansson
Editing: Christer Lundstedt
Photos: Christer Lundstedt, Peter Johansson
Videos: Christer Lundstedt
---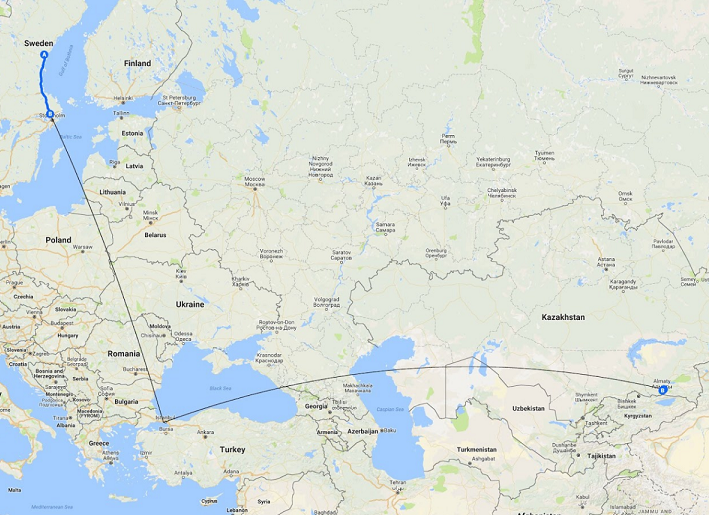 ---
Thursday 2nd of April
18.26 I left Bredbyn where I work and went by car down to Sundsvall. Here Christer and I had some Asian food from the reliable Hagawoken. East seems suitable. It is in that direction that we are going on this Easter trip.
19.14 It was an easy walk down to the railway station here in Sundsvall. We are standing on the platform waiting for our train.
19.24 The waiting is over. Soon the first part of the trip begins.
21.56 We have stopped in Gävle. Here we have taken the opportunity to buy something to drink at a kiosk. We have also heard a conversation between two tipsy young men.
- Where's my sport bag?
- You had no sport bag, you had a plastic bag.
- Yeah, but where the hell is it then?

Now we'll continue with the Upptåget train to Uppsala.
23.13 Our train is delayed. It is not for certain that we will get to Uppsala before the train we are going with from there departs. If we miss it, it will be an hour of waiting.
23.37 A young man of African descent just said "tired, run, run". We have hastened off to the train to Arlanda. They had called this train from the delayed one and asked them to wait. The train departed as we stepped on board.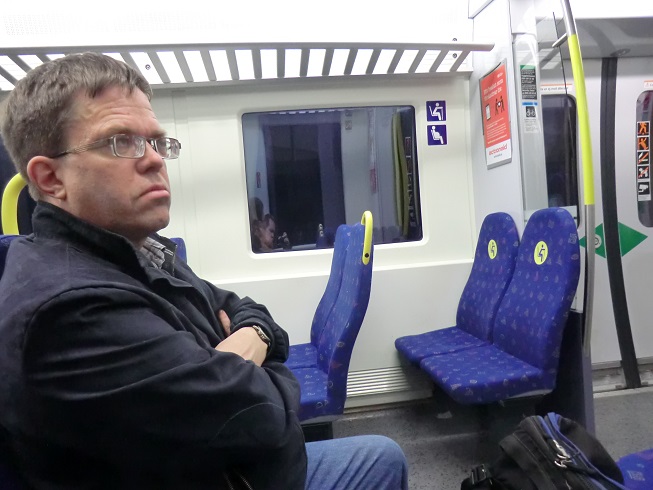 Just in time to catch the train to Arlanda airport.
---
Friday 3rd of April
00.30 We arrived at Arlanda airport. Here we have taken it easy and indulged us some coffee and sandwiches at 7 Eleven. Today it´s Good Friday. It starts with a sleep at Rest and Fly (http://www.restandfly.com). We are soon going there for check-in.
01.02 Now we have entered room 4 at Rest and Fly. Some slight panic and cursing has just been heard. Christer discovered that he forgot the plug part of his mobile phone charger, the part that goes into the wall socket. He would not be able to charge the phone. Would we be without the videos on this trip? Luckily, it is possible to use the plug on my charger. Now it is time to sleep.
07.43 We have slept well. We hope that today will offer adventures without major problems.
09.01 We have checked out from and left the Rest and Fly. Now we are sitting outdoors on a bench for some fresh air and thinking.
10.36 We had a late breakfast at 7 Eleven, coffee and sandwiches. The check in, currency exchange (euro) and security check went well. I also bought some new pens in a souvenir shop.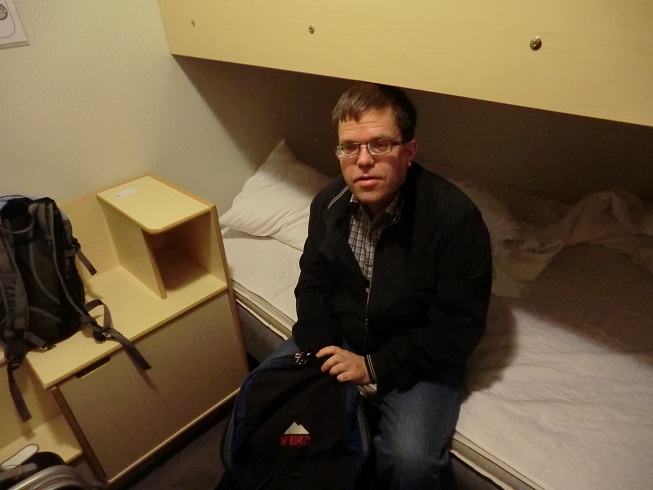 Peter inside our small room at Rest and Fly.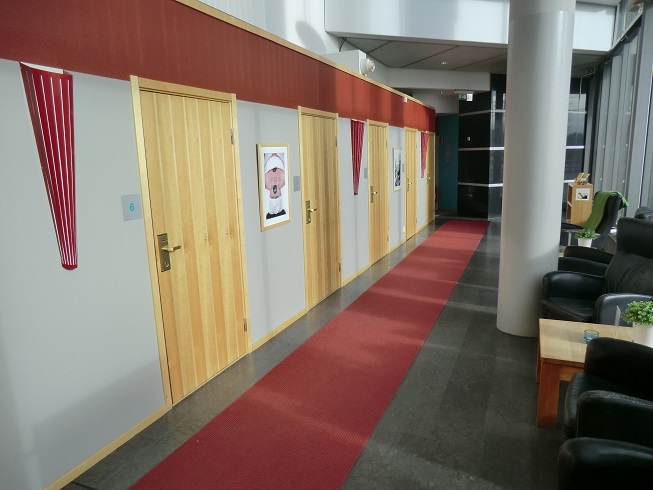 Rest and Fly, Arlanda.
10.47 We have indulged ourselves some coffee before the upcoming trip. We do not really recognize the surroundings among the cafés here.
11.00 Before we passed the passport control and walked to the gate I took a photo of a bunch of young people. Some of them practiced various dance steps before the photo. They may have been a dance group. The group photo was taken with their camera. The group were going to Tanzania.
11.22 A man was dissatisfied. He didn't like the way the plane was boarded. One in the staff suggested that the man would contact Turkish Airlines. We and the other passengers were greeted welcome onboard by a man in a chef hat. We have seats 20 B and C. There is no seat 20A, only an empty space. Behind us we have the emergency exit.
CHANGING TIME ZONE
13.02 We have set our watches to Istanbul time. The cabin crew have distributed menus and the man with chef's hat has walked through the aisle with a tray. Oturuken Emniyet kemirinizi baglayiniz. Canyelegi kultugunuzun altindadir. Taksi, kalkis ve tra esnasunda kumandanizi toplayinizve kilitleyiniz is written on my little table. This is the classic information about the belt and the life vest. It was Turkish confectionery, Turkish delight, which was offered by the man in the hat.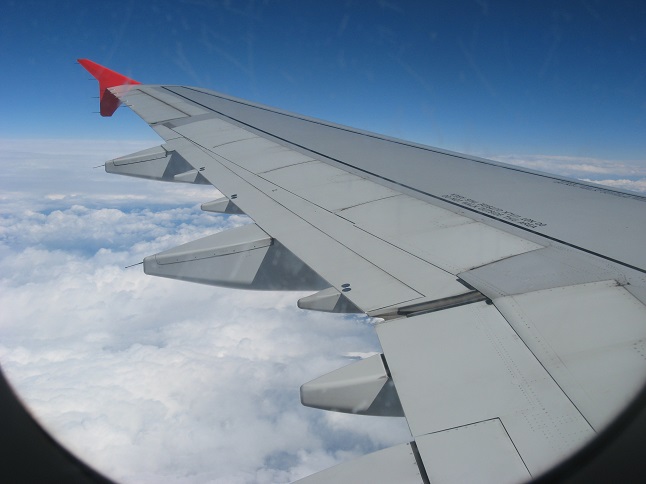 Today we are flying with Turkish Airlines.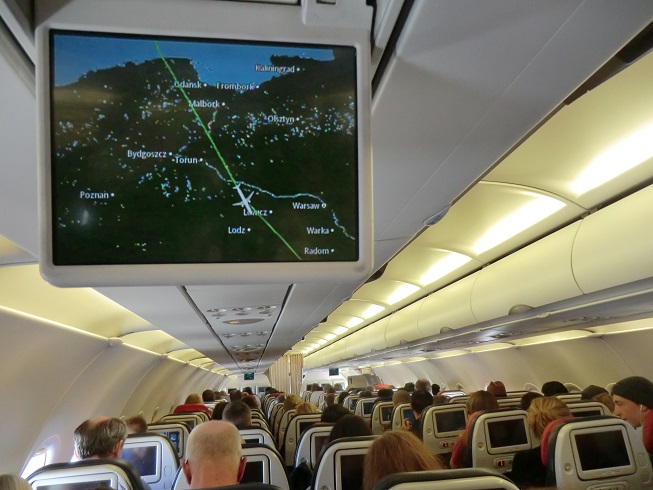 We are flying over Poland.
14.49 We have eaten and drunk well, gin and 7 Up is just fine. We now have Romania below us. We just have to return there some day. We have not been there since 2003. An hour remains of the trip. We read on the wing that we can not go outside a certain area. Maybe we should go out to the allowed area?
15.31 Our fellow passengers and also we were asked to put our seat under the seat, and then place them under our carry on luggage, a somewhat confused instruction. We are preparing for a landing at Atatürk Airport in Istanbul. Once down, we can not retrieve our luggage. We do not want that either. It is supposed to fly on.
TURKEY
16.15 Now we have landed and entered the terminal. We are now sitting down on a bench. The wait is likely to be about 3½ hours. We have seen two ladies from and going to Nepal. We will also go there, at some point in the distant future.
16.56 We sat and waited at the same place for some time, whined a little over the poor food supply. Remembering that this airport seemed bigger the last time we were here. After initial confusion, we realized that we were downstairs in a basement, in a wing of the large airport which is huge. There are lots of restaurants, shops and a throng of people that we passed around amongst a while.
18.07 While waiting for news about the gate number for the next flight, we sat down to eat at Burger King. It was all but culinary, now our trays vanished, but satisfying for the moment. We do not know more about the gate and the airport's WiFi does not work that well. You have to enter it through Facebook and how do you do that if you do not get out on the internet?
19.09 Now that we know the gate number, it will be coffee. It will not be Starbucks but Caffè Nero. We have seen the Arab world's answer to Al Bundy. A man in ankle-length robe walked around scratching his crotch.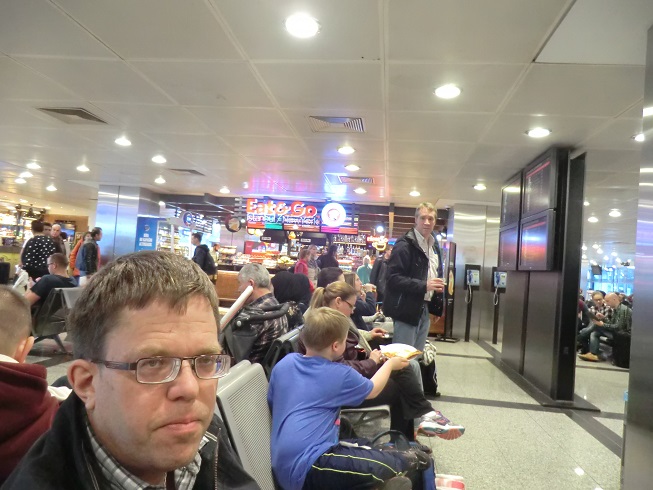 Peter is waiting at Atatürk airport.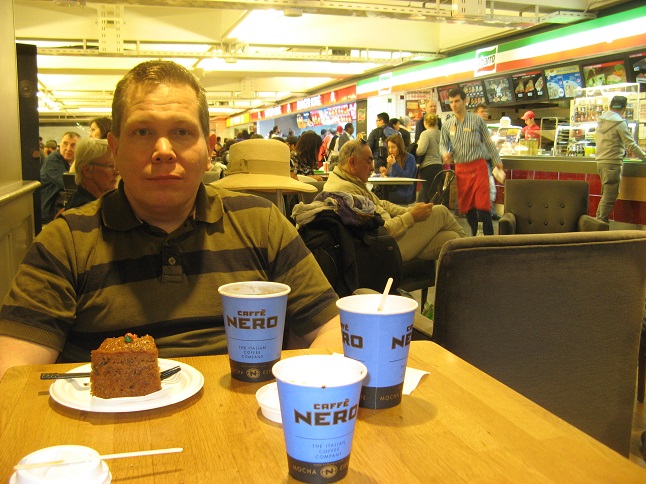 Christer found the same type of carrot cake he tried on the last Istanbul visit.
19.44 The gate and seats at it is found. Christer has also found some unpublished films from the Caribbean and Cyprus trips in his phone, strange!
20.29 How things can turn out. We had boarding cards to row 26 on our next flight to Almaty. They were changed to 13A for Christer and 6E for me. On 6D a Russian-speaking lady sat down. With an interpreter, I learned that she wanted me to switch places with her friend at 9A. Here I am at 9A and I will soon change the time to three hours forward. Christer is all alone on his row since a full grown Kazakh man negotiated for himself a different location elsewhere in the plane.
---
Saturday 4th of April
CHANGING TIME ZONE
01.40 Our watches are set for Kazakh time. It is for me a completely new time zone. The food and beverage was good. Now I wait for a coffee with avec. Soon we pass over the beautiful city of Tbilisi in Georgia. It is the city where the Easter trip of 2008 went.
02.29 We have flown over the Caspian Sea and I had coffee and whisky. My seat phone has rung but I don't know how to answer it. What is it about our trips and ringing phones at the most odd times? 2½ hours remain of our flight. I will just lean back and close your eyes for a moment.
04.50 Whoops, I fell asleep. We have started to descend. Out there, it's just darkness.
KAZAKHSTAN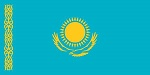 05.17 We have landed at the airport in Almaty, the largest city in Kazakhstan. It was the capital from 1991 to 1997 when the capital was moved to Astana.
05.40 We quite smoothly passed everything here at the airport. We rushed past all taxi vultures to find somewhere to eat. We have placed ourselves on a bench while we arrange practical things like exchanging money and using the toilet. Now we have been talking to a taxi guy who came by. His English wasn't the best and he didn't understand that we want to eat before we´ll go by taxi. He called an English-speaking colleague who Christer got to talk with. We have now arranged with transport from here about 06.30.
06.04 It is time for breakfast at the HUB Cafe. We have ordered khachapuri (Georgian pancakes) and coffee for Christer and coffee and crepes for me.
06.32 The time has come. We have walked back to the bench where we sat before to see what happens next.
06.42 A short man who spoke perfect English appeared. He politely asked if we wanted to go into the city. We confirmed and have given the paper with accommodation information to the taxi driver. We are on our way towards the center and our accommodation in Almaty. < p> 07.01 During taxi the journey we got information about the country and its president Nursultan Nazarbayev, who has served for nearly 25 years. He is seen as the father of the whole country. The short man told us about the local politics. There are different parties but most are somehow linked to the president anyway. He compared with neighbouring Kyrgyzstan who has democracy and a "revolution every year". Then it´s better that someone owns the country so that things will become stable. Oh well, we said, but did not agree.
07.17 A nice trip got a less pleasant end. The price got carried away, six times the usual. We don't know if we were fooled, we got the receipt with a stamp and an address for any complaints. They might just have been very expensive. Who knows? A man sat at a counter just inside the entrance to the building. He looked almost scared when we entered, grim and slightly annoyed over the taxi fare. He said, that we should go up the stairs to get to where we wanted to. We have made a part payment on arrival. Now we are in room 1 at Nomad's Guesthouse (http://nomads-gh.com). We stay on the third floor and the beds look inviting. We are in need of sleep.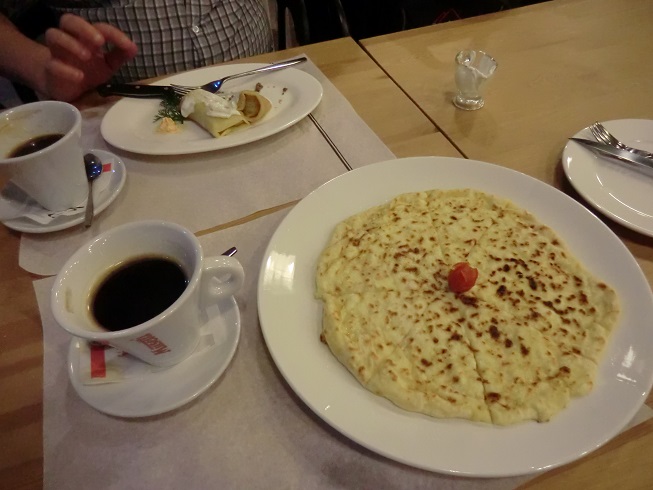 Very early breakfast at Almaty airport.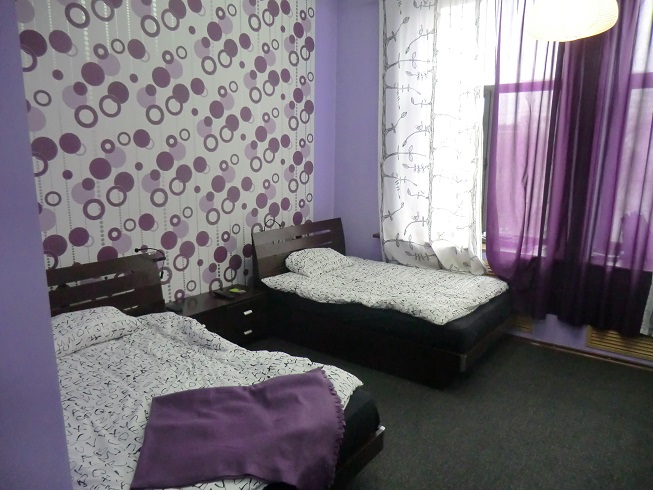 We´ve just moved into a new purple room at Nomad´s Guesthouse.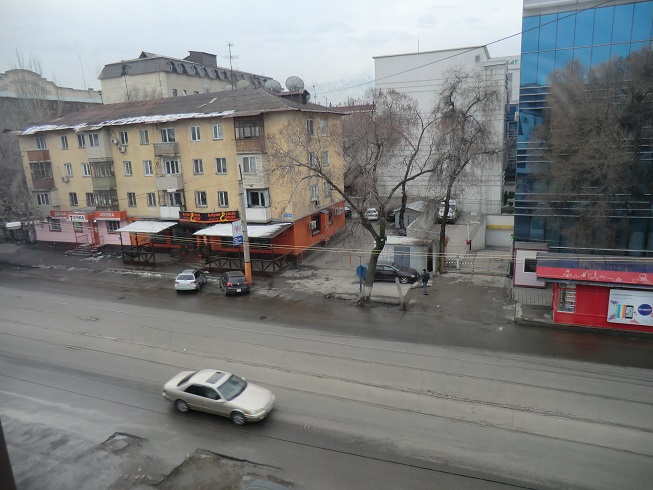 Boring weather this first Almaty morning.
12.14 We said sleep well to each other this morning and slept well we have. We now hear honking from the other side of our window and talking from the other side of the door. A morning has become a day and we have a city and a country to discover.
13.45 Now our bodies begin to feel ready for food and drink.
14.04 We took a short walk outdoors before we went in to My Bar, a bar/restaurant just around the corner from our accommodation. Here we ordered lunch. We were attracted by the pictures of meat and great prices on a menu outside but in here other things are offered on the menu. It did not go entirely well to order. There was some linguistic confusion. We believe in any case that we ordered meat skewers and beer to it.
14.26 We had delicious skewers (shashlik) made from lamb meat. To this the Russian beer Zhiguli was consumed.
15.50 Now we have familiarized ourselves with the area along the street Makataev. We have withdrawn more money. The currency of Kazakhstan is called tenge. We tried to enter a grocery store in the same building as our accommodation. We were welcome but as usual not our small backpacks. They and we went out again. Now we are in the room after we watched the lounge/living room and the kitchen and paid for our stay. We have been told that the check out is at the same time as the check in. This means that we must check out 07.00 in the morning on Wednesday.
17.27 Now we have made some shopping at GM-Green Market. We have bought something for breakfast and for the evening. The store sold some small fish in plastic jars with various Soviet leaders on them. We saw Stalin, Khrushchev and Brezhnev. It was hard to know what it costs when it was time to pay for the groceries. I saw no display and did not understand what the lady behind the counter said.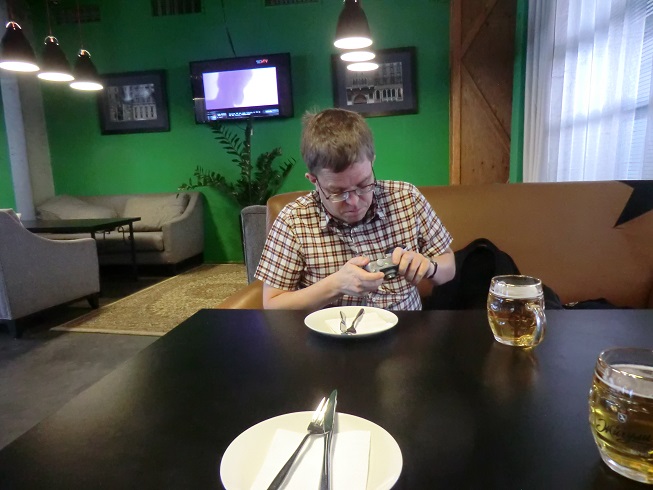 We are waiting for our lunch.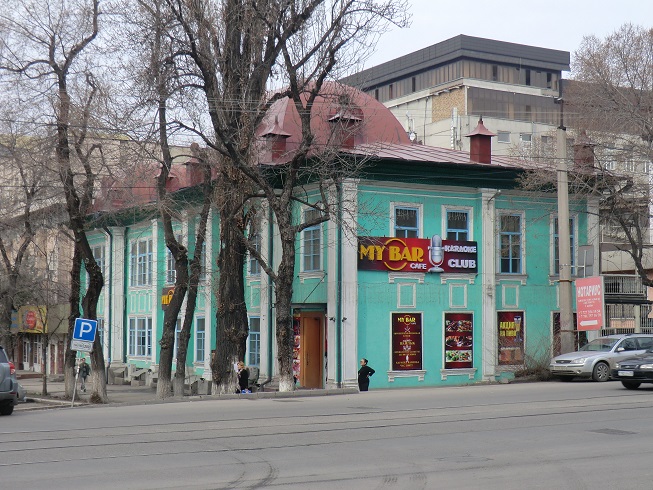 My Bar, a restaurant very close to our guesthouse.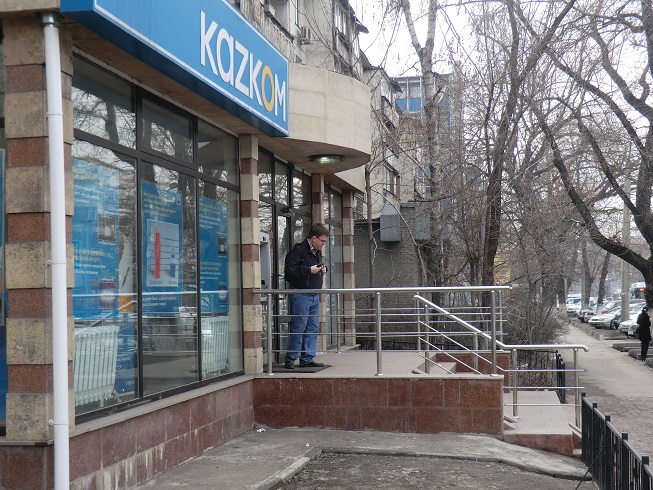 Peter has withdrawn more tenge from a local ATM.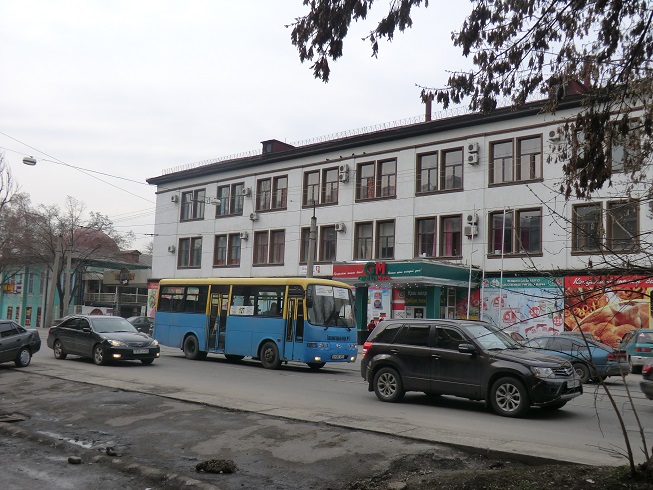 In this building you can find both Nomad´s Guesthouse and the grocery store Green Market.
18.56 With Nescafé purchased last summer in the Bahamas and mineral water purchased here in the city, there have been coffee in our kitchen here at Nomad's Guesthouse. It took a local water boiler some time before the coffee could be served.
19.34 We have just heard call for prayer from a mosque. Will we hear similar announcements tomorrow morning too? In here we are thinking where we shall go and have dinner. The steakhouse across the street that we first wanted to try seems to be a bit pricey, at least according to the reviews we had read on the internet.
20.10 We don't know so much more about where we go. However, we know that we have to leave the room, there is no restaurant here.
20.34 Thank you so much for the menus in English. We have walked to Kunaev Street and the restaurant Pizza-Mia and just ordered pizza. Now it will taste good with food.
21.34 Full and satisfied we are waiting to pay. Some of the other guests are drinking their beer with a straw.
23.07 It's time to plan the next day. What we do know is that we don't go to Arasan Baths as we planned to do. It is not the water that discourages but the price. We´ll find other things to do. A big city always has something to offer. Almaty has a population of 1,5 million people.
23.58 Good night world. Now I am going to bed. Tomorrow is a new day.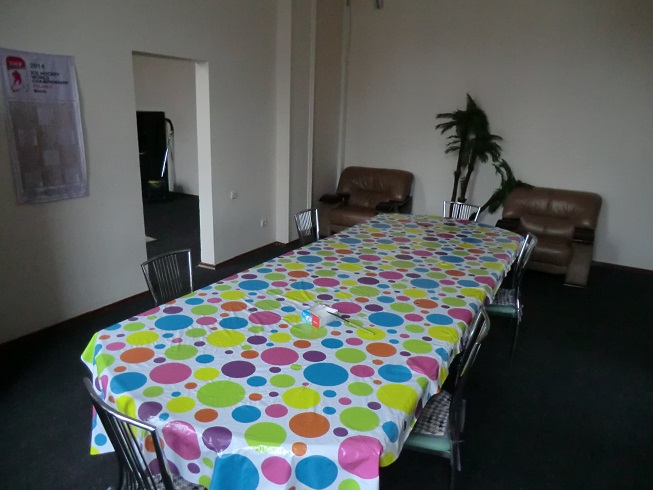 The common room at Nomad´s Guesthouse.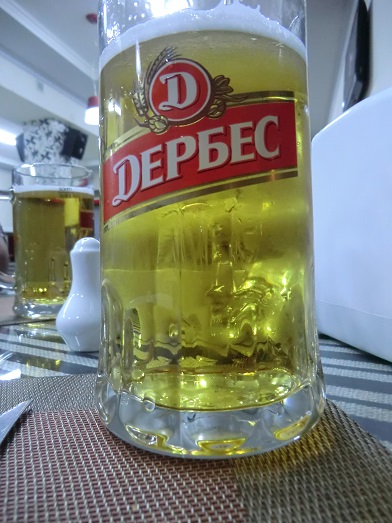 Derbes is the name of this evening´s golden brew.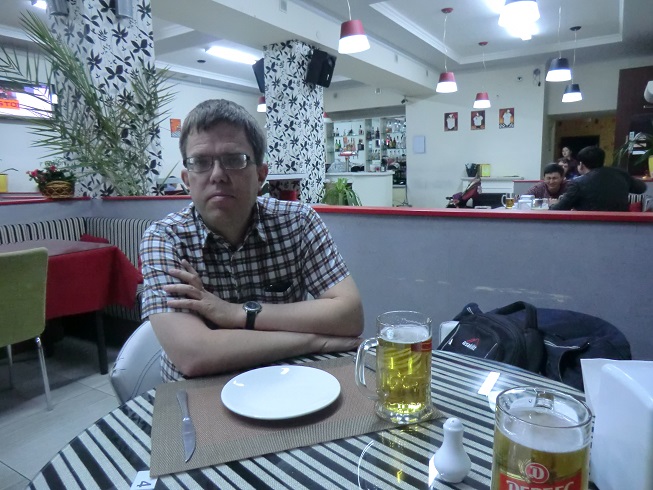 The dinner will take place at Pizza-Mia.
---
Sunday 5th of April
09.05 We have woken up in our purple room at Nomad's Guesthouse. A whole night of unbroken sleep is good for the body. Now a day of discovery is ahead of us. This Sunday we'll walk around in Almaty.
10.12 We have soon finished our таңғы ас, breakfast. We sit at the table in the living room between the kitchen and TV room. On the wall hangs a calendar from the ice hockey World Cup in Minsk last year. Kazakhstan was there but unfortunately failed to stay in the top division. We hear some familiar bird song. We have heard the song before, but our bird knowledge is poor. Is it the same sort of birds as at home or just some similar, closely related?
10.55 Clothes and shoes are on. It's time to go out in the city. It is, as usual at this time of year, difficult to know how to dress. Weather forecasts tell us about the temperature in the air, but a strong spring sun can make it an entirely different experience.
10.59 We have strolled down Makataev Street and will eventually move south through the city which also means that it is uphill (toward the mountains).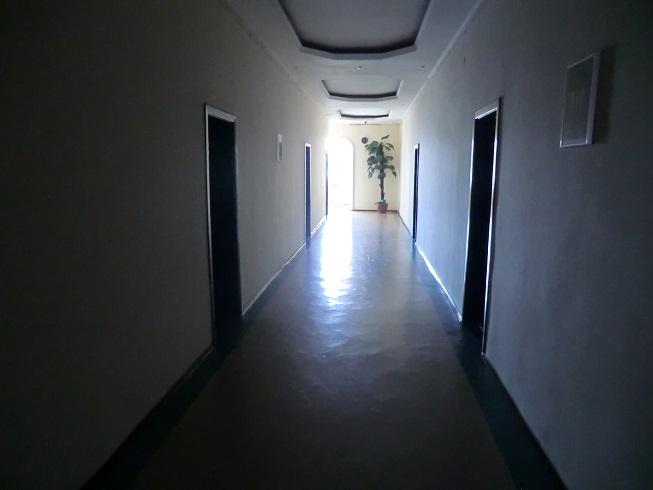 The corridor at Nomad´s Guesthouse.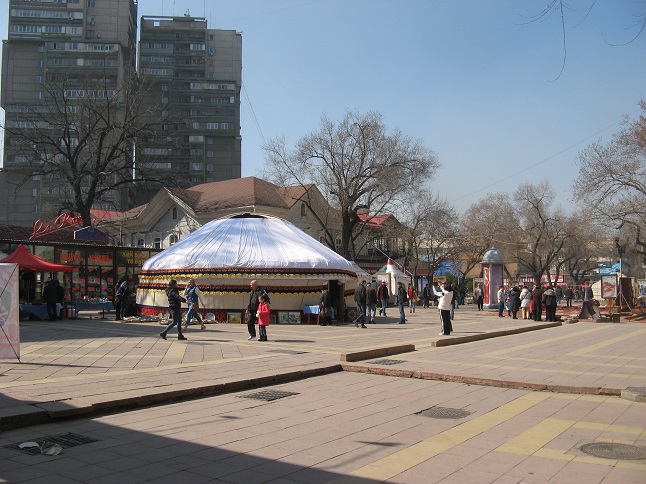 The pedestrian street Zhibek Zholy with traditional yurts on display.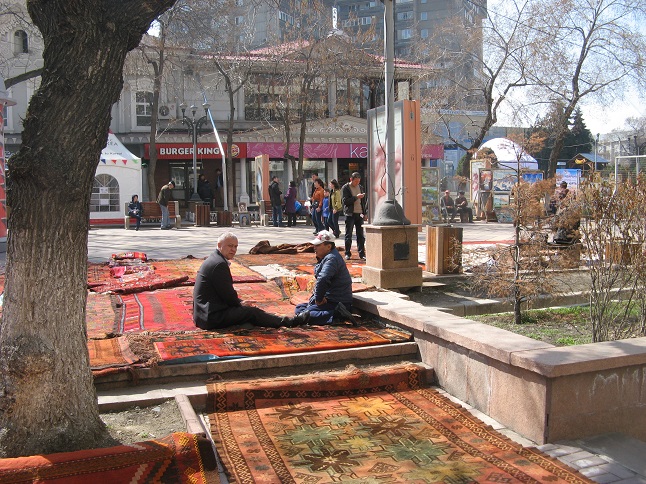 Carpet salesmen in the sun on Zhibek Zholy.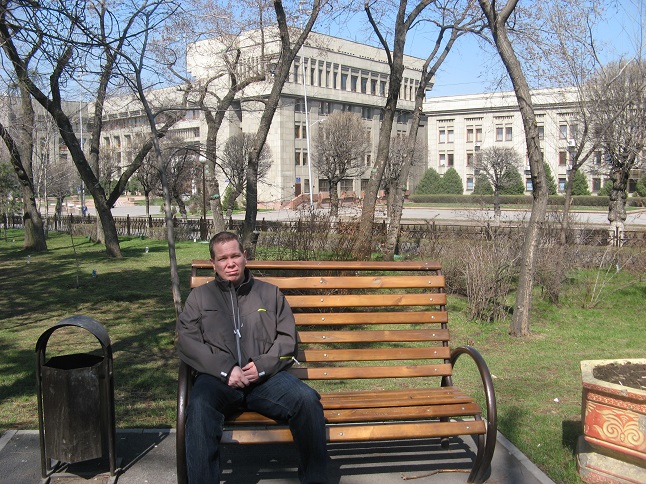 Christer is resting on a high quality bench.
We are welcoming spring in a park with happy birds singing and trees slowly turning green.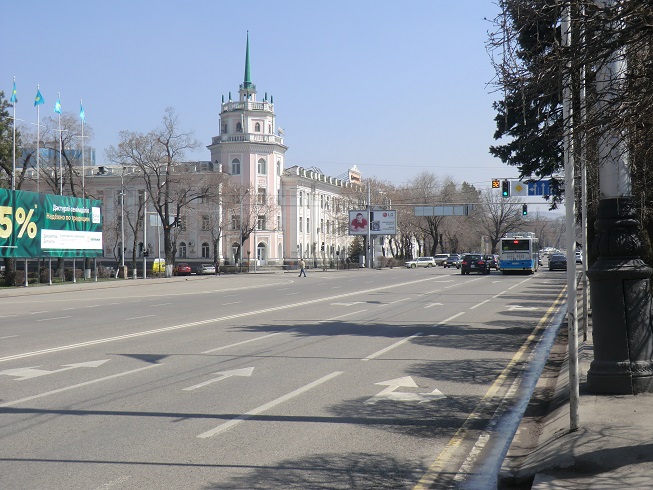 Tole-Bi Avenue, Almaty.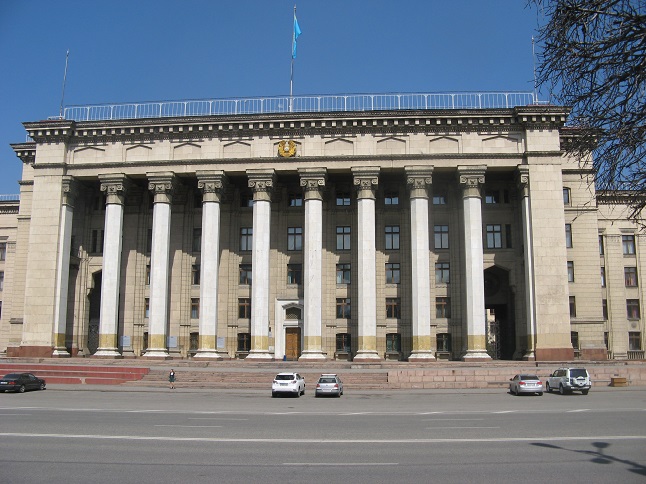 The Kazakh-British Technical University is inside this impressive building.
11.10 It is nice and warm today, sometimes almost too hot given the clothes we have. We have walked a bit and now we're at the Zhibek Zholy, a pedestrian street filled with a little bit of everything, especially vendors of various types. Zhibek Zholy is supposed to mean "Silk Road". Here, it looks like in a concrete suburb, though do they have yurts? At several places along the street are traditional yurts (tents/houses).
11.16 We have left crowded Zhibek Zholy and wandered a few intersections to the south. Almaty is easy to walk around in. It has wide streets, good sidewalks and easy access over the streets with traffic lights everywhere.
11.26 The time has come for a first bench break in a park. The grass is green and the bench of a steadier model, looks like it were built for someone twice as large as we are. It can be enough to tie an elephant at. On the other side of the Panfilov Street is some sort of government building. We recognize the major monster of official buildings which they loved to build in the Soviet Union.
11.48 We have passed a huge building that you would think was Parliament or Presidential Palace. It turned out to be a university. Outside it are some children playing hockey on the asphalt. Goals are set and roller skates are on.
12.12 We are at a new bench, light blue this time and in a new park, Park Staroy Ploshadi (Old Square Garden). A small girl was hiding behind a wall near a dry fountain. When she looked up, she realized that mom was gone. She cried after mom with a rising concern in her voice.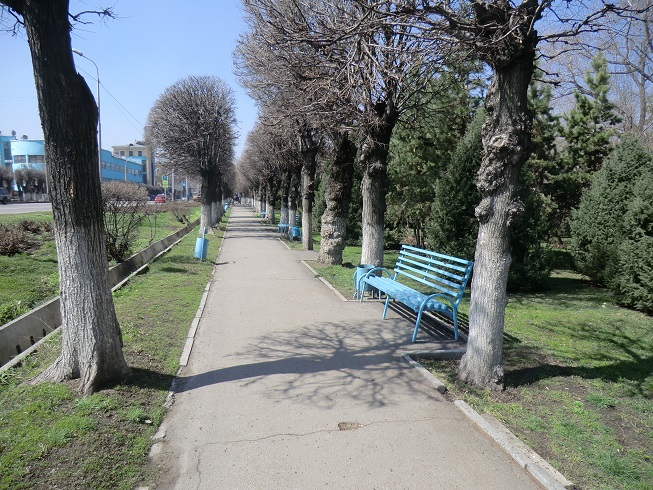 The sun makes us warm and some lightblue benches tells us to sit down for a while.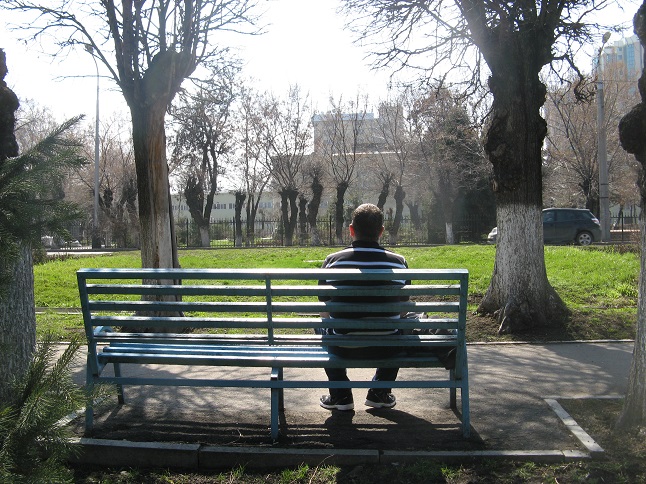 Christer is enjoying the spring sun.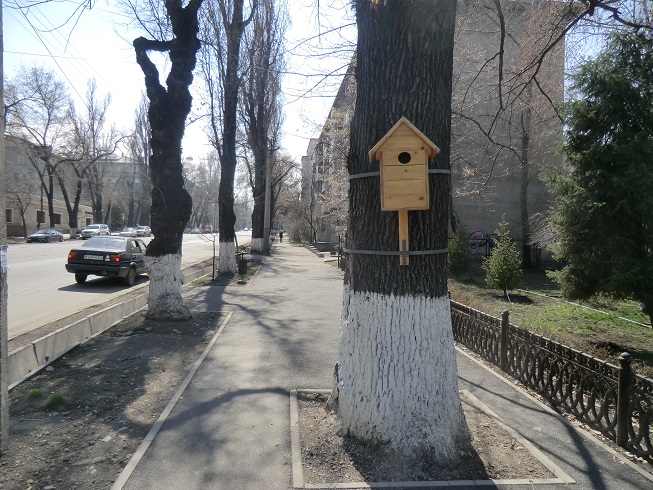 A birdhouse in the middle of the city.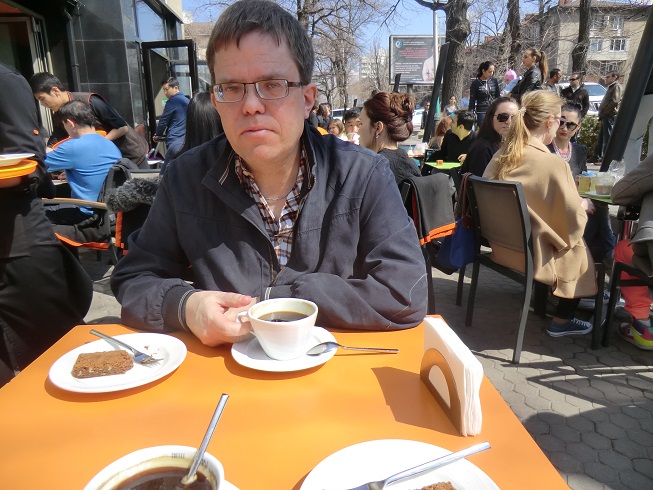 Peter is drinking coffee at Coffeedelia.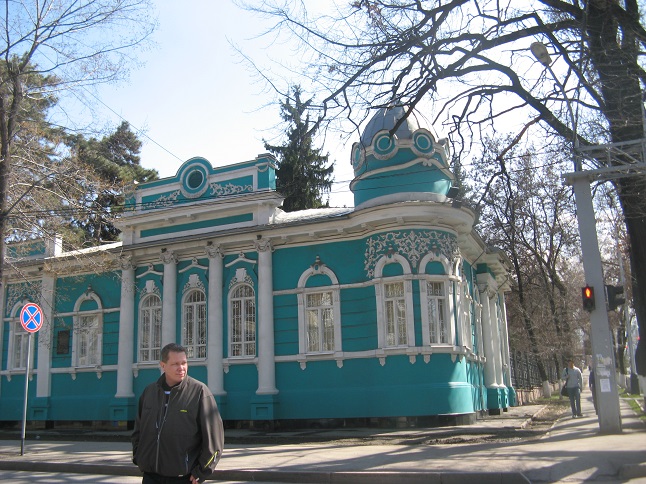 Christer is trying to find the right direction in Almaty.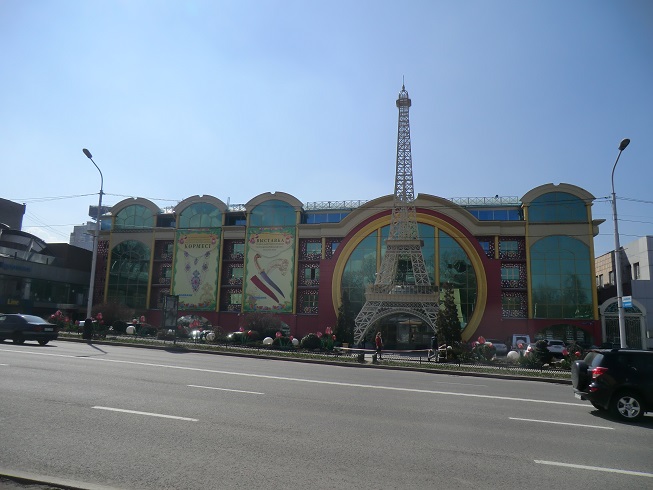 Almaty has its own Eiffel Tower at Furmanova street.
13.39 The sun made us thirsty and Christer visited a small shop to buy something to drink. After drinking a Pepsi each on a broken bench, we´ve now reached and sat down at the popular coffee place Coffeedelia. Now let's figure out how to order. Will anyone come to the table or? It was not easy to find a free table to begin with.
13.54 We've figured out how it all works. Christer found a table and I have queued and ordered two coffees and two brownies. I got receipts and a wooden cube with 16 written on it. Now we are sitting in the sun and wait. Around us, it's a wonderful mix of people, both from Kazakhstan of course, but also foreigners from different countries. At the table next to us is a man from India is dealing with something important on his mobile phone.
14.48 The coffee and pastries were served and consumed. Now we take a bench break near some kind of City Hall, Maslikhat. It is like a regionally elected assembly. It's hot today and now a car alarm started. We have before us the independence monument. It is a tall column surmounted by an Archer and a winged snow leopard. We have arrived at the area called the Republic Square.
14.53 On the bench to the right of us is an interesting figure, possibly some kind of homeless. He has a lot of clothes on, seems harmonious and fuss a bit for himself.
15.26 When travelling in Central Asia you should not run around and photograph near places where police officers are guarding. We have therefore a bit smoothly moved around the whole area here to find good police free angles to take pictures from. We have looked at a monument, Rassvet Svobody (Freedom Dawn), which was erected in memory of those who lost their lives in 1986 in a protest against the Soviet regime.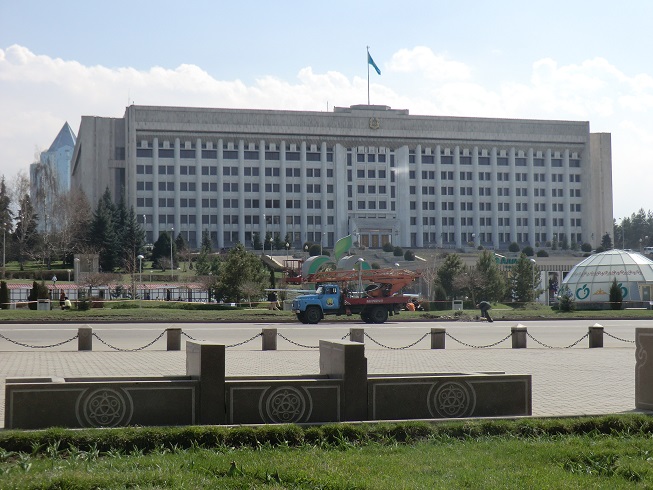 Republic Square, Almaty.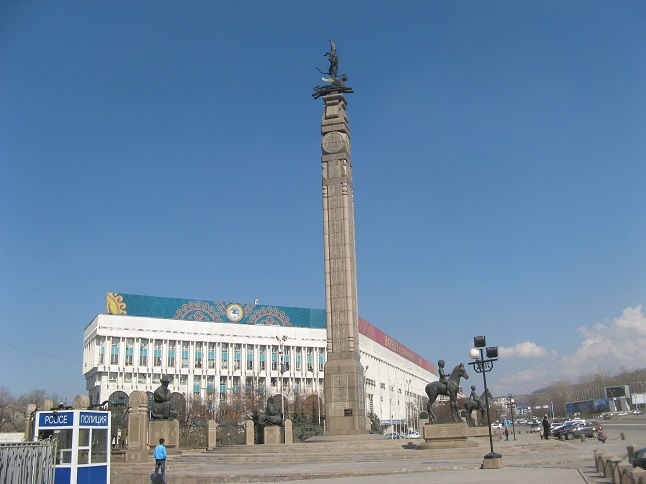 This column symbolizes the indepedence of Kazakhstan.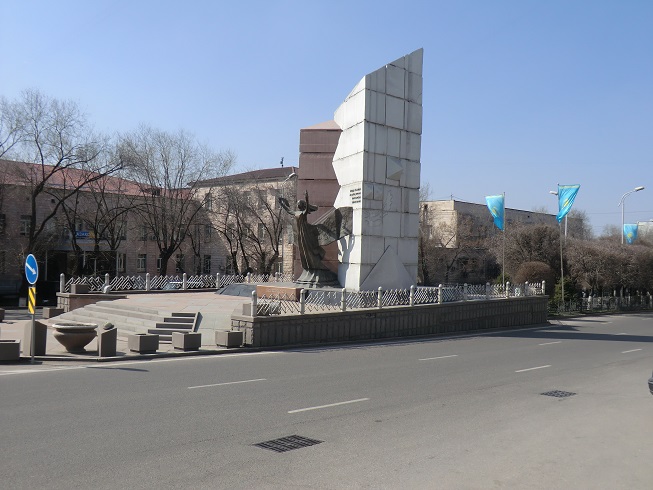 The Rassvet Svobody Monument.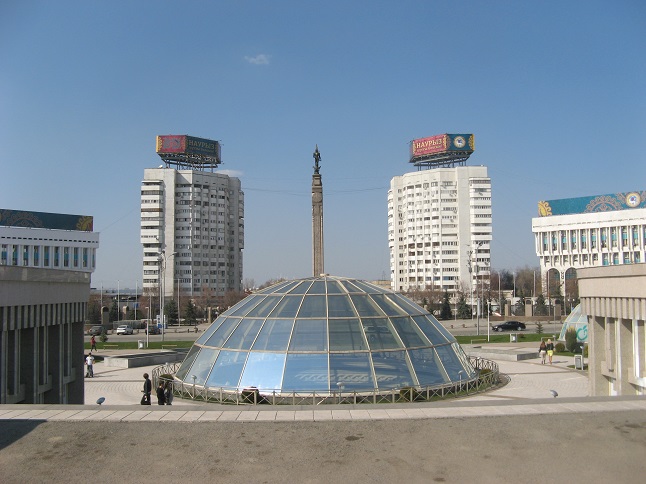 Underneath this dome you´ll find Almaly, a subterranean shopping center.
16.30 We looked around some more in the area; got a hint of the Presidential Palace and we even saw a wedded couple. Subsequently, we walked quietly and methodically towards the home quarter. It took a while. Here we have sat down at City Café at the Zhibek Zholy Street for a meal. The beer they serve have, according to the menu, the sizes 0,3 litres and 0,05 litres. The latter is a bit more expensive. It'll probably be 0,5 litres. Otherwise, it would be a very small but very expensive beer.
17.28 It was good food, good prices and was also exciting range. This might be a place which we can return to. Now we are taking a short break in the room before we continue. We will in addition to rest for a while to check what the kitchen is equipped with and not.
18.34 The kitchen offers two pots and two frying pans. In room 1 are two men. Soon we are going out to see the today's final attraction.
20.01 The two have returned to the room. We have walked a few streets to the east from our accommodation and where seen Central Mosque. At a square near the vegetable market (Green Market) we also had a fantastic view of the snow-covered massif south of the city. The highest peak there is 4979 m above sea level. The mosque was completed in 1999, pretty but not very historically interesting, in other words. We have also visited our grocery store again. There we have purchased wine and Uzbek manti (stuffed dumplings).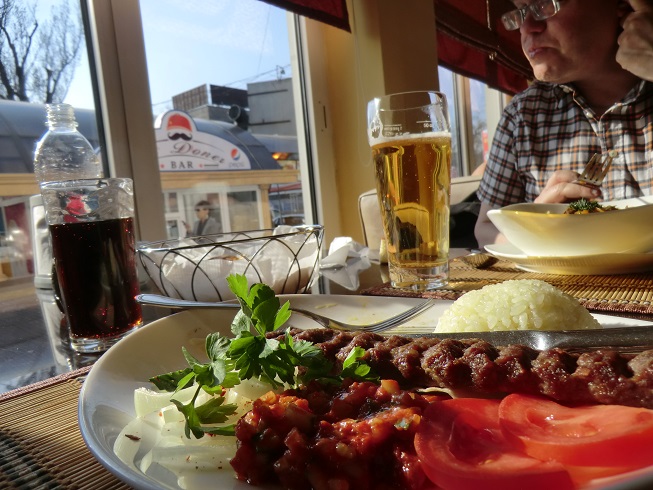 Lunch at City Kafé.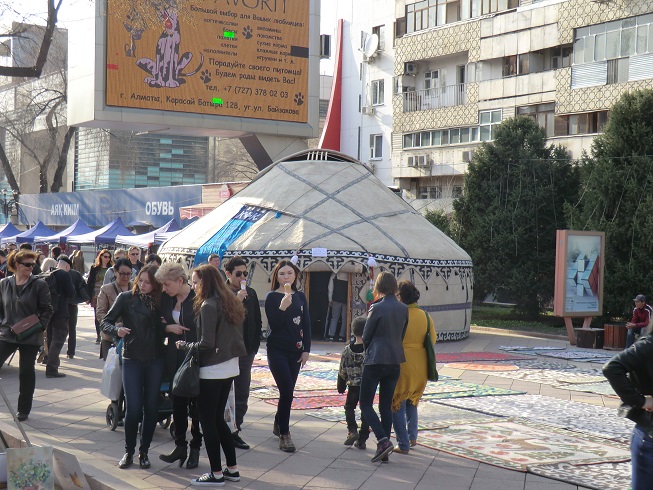 Ice cream eaters and others in the afternoon sun on Zhibek Zholy.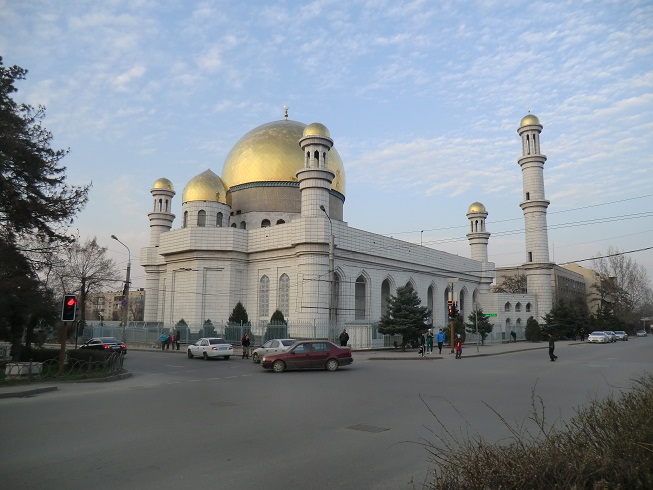 Central Mosque, Almaty.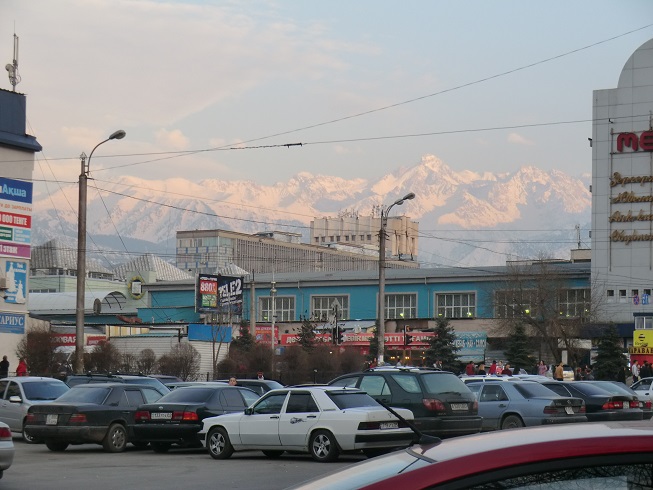 The mighty mountains south of Almaty.
20.36 We are in the room. We have updated us on the latest news via the internet and wait for hunger to come. We have, since WiFi built out and our phones have been replaced with more modern versions, saved tremendous time compared to the past when it could go lots of time to look for internet cafés.
21.06 Now it the time to prepare the evening's dinner. To the kitchen!
21.55 It took some time but now our manti are cooked and wine opened.
22.22 Considering how easy it was to cook dinner so it was really good. The wine, however, was not the best we tasted. We felt quite happy after all the walking today. We had this home dinner because that we wanted to avoid having to chase a suitable restaurant in the neighbourhood late at night. Late lunch often leads to a late dinner too.
23.04 We are mostly lying down and digest the food and wine. In addition, we are planning for tomorrow. We have considered whether any of us have ever been so far from the sea as we are right now, probably not!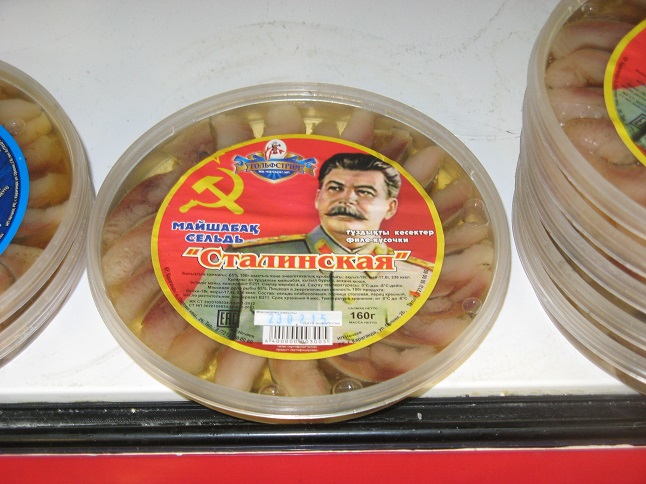 Stalin fishes for sale in the supermarket.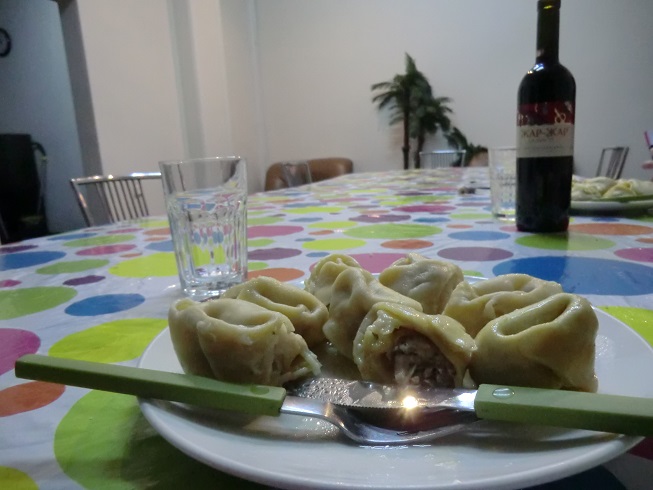 The home cooked dinner, manti and kazakh wine.
---
VIDEOS
---
You can see 6 photos from April 2 in this photoalbum.
You can see 21 photos from April 3 in this photoalbum.
You can see 37 photos from April 4 in this photoalbum.
You can see 101 photos from April 5 in this photoalbum.

---
---
---
---