---
Text: Peter Johansson
Editing: Christer Lundstedt
Photos: Christer Lundstedt, Peter Johansson
---
18th of July - 24th of July: Veszprém - Košice
---
Sunday 18th of July
07.11 We are after a really good night´s sleep slowly waking up. Next packing before we go and have breakfast. This is by all means a perfect place to stay at. Highly recommended!
08.44 We went to have breakfast around 08.00. No one was to find in the breakfast place next to the hotel. We spoke with one in the hotel staff and he promised to take care of it all. After some ringing, running and biking from his side all was set. Breakfast, coffee, bread, ham, salami and cheese were just what we needed. Time to do the last things before we slowly walk against the station.
10.13 At the station after a slow walk here. No need to rush things. On the way here we started to think about how deaf people do to wake up in the morning. Sure, they can have some kind of arrangement in their bed. But what if they are staying at a hotel or Youth Hostel? We won't get any answers, at least today. We will soon buy the tickets to Györ.
10.40 On another train. Ready for another trip to another place
13.36 We have made a short stop in Györ after riding on a slow train through a hilly landscape. Not as hot as at our last stop here. Christer has been fooled by a Coca Cola-machine that took his money without returning anything. A clever one that machine. A Hungarian family were also fooled. The trip from Veszprém to Györ first went through the strange moor landscape that is north of Veszprém and then further through some small villages among the mountains (hills?) that work as tourist places. We also passed Pannonhalma that had a magnificent building. We don't know what it is for, because we have thrown away all our material about this part of Hungary.
SLOVAKIA

17.05 We are now in room 609 at Youth Hostel Orange in Bratislava. We had to walk for some kilometres to get here. We arrived at the station in Petrzalka on the other side of Donau (Danube) and once again had to find out a way to walk across the river (over a bridge). This walk first took place in 2000. It is a warm day and none of us were in a walking mood. We did it for the second time in this town and third all together walked over Donau.
The room that according to Internet would cost around 1000 koruna/night is now 1600 koruna/night. Ahead of us in the queue were some deaf girls. Would they have the answer to the morning's question? Perhaps they had, we never asked. They wouldn't hear our question! The guy in the reception was stressed to say the least. At first he asked if we had booked a room ahead. No! we said. Aha said the guy; you have got the brochure at the station? No we said, we found your hostel on the Internet. Aha Internet? he replied, so you have booked ahead? First we looked at each other, then at him and said no, we want to book now! Next a shower before we walk out on the town.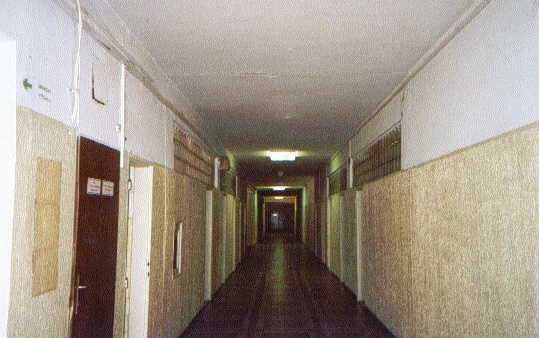 Inside Hostel Orange in Bratislava.
19.44 Back after being at Tesco to do some shopping, twice. First we bought breakfast and left. When we realised we forgot to buy toilet paper and went back. After all this done was the only thing to do to go back home. Next dinner. Some small details before I close the journal for now. Turning a knob opens the doors to the lift. We seem to be living in some student Hostel. Some students are still in their rooms.
21.02 Traditions are heavy stuff. We have returned to restaurant Minerva (4/8 2000, 5/7 2001). I have once again ordered rumproast with Roquefort cheese.
21.45 Lots of trays with food have been carried in through a door behind me. Either is someone in there really hungry or the room has a dumb waiter.
22.30 As always, excellent food, which I also mentioned to the lady we paid to. We asked for the key as we got back home to the hostel. The new guy in the reception looked puzzled according the number of our room. It was like it didn't exist. He didn´t know they had guests so high up in the building. I had to get the key myself.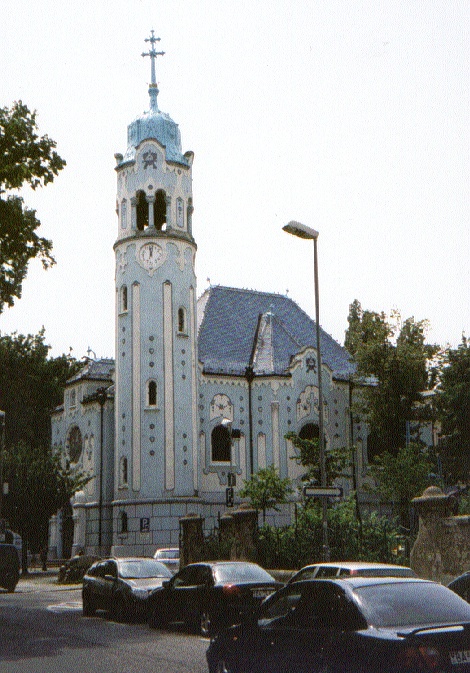 Saint Elisabeth-church (Blue church) in Bratislava.
---
Monday 19th of July
00.45 Now the ceiling is swept from bugs and we can get ready to sleep. It wasn't yesterday we swept a ceiling. I think the last time was in Budapest (7/7 2002)
09.13 It was easy to go to sleep as the bugs and the moist air left the room. This, although the fact that instead of a mattress there are three big pillows/cushions that seem to belong to a couch.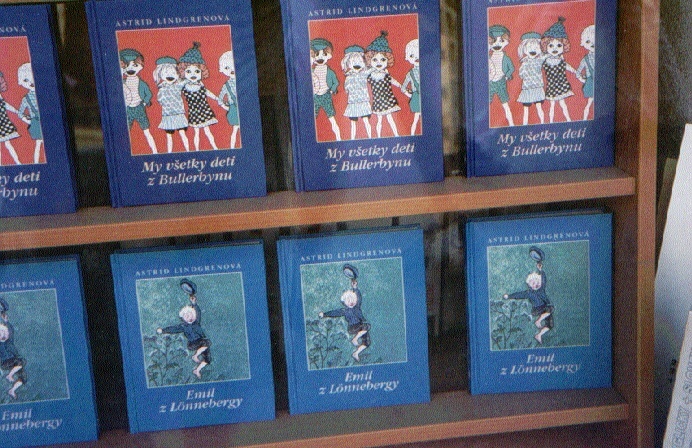 Children-books from Swedish author Astrid Lindgren translated into Slovak language.
12.42 Have had different needs. We needed to machine-wash our clothes and buy more washing powder. We also needed to use internet and Christer had to buy new shorts. Three of our four needs were taken care of at Tesco. The washing took place in this building. It took four 10-koruna coins to wash. I tried to change two coins, first at the reception, then in a restaurant. No luck in any of the places. I got my coins in a clothes store. Now the machine is running and we head for lunch.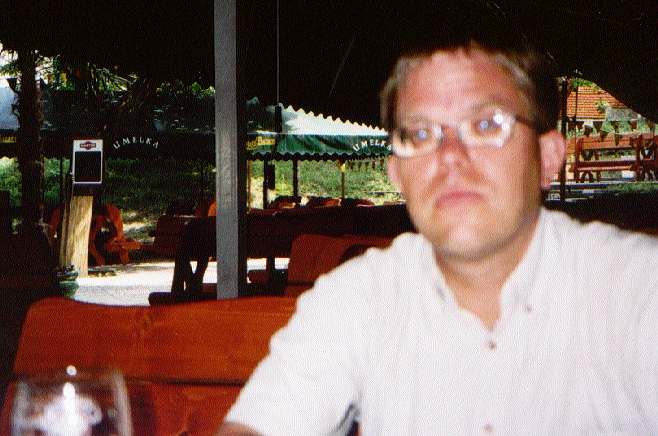 Lunch at the pub/restautant "Umelka" near the river in Bratislava.
14.12 Back at restaurant "Umelka". Our last visit here was for beer. I seem to remember I had four for 50 cent each (6/7 2001). This time it will be goulash and beer.
14.15 The waiter entered and with him the beer and also the message that we couldn't have goulash. It will be something Moravian instead, "Moravsky Vrabec".
14.48 What was served was shredded pork meat, sauerkraut and knedely. It cost us with the beer, 140 koruna or under $ 5.
16.51 Sitting and gathering strength both physically and mentally. We walked a lot today.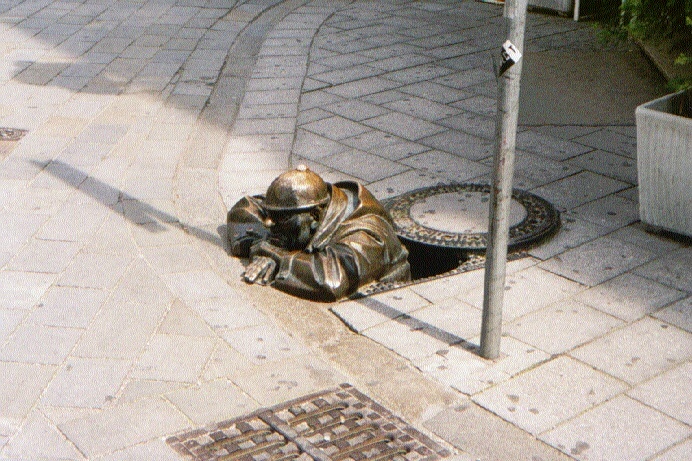 Strange metal men in Bratislava...
20.00 After some rest at the room it is time to go out for dinner. I wonder where we end up tonight and what will happen there.
21.20 The beer is here. Dinner is ordered. We are sitting in an open area inside the restaurant. A really cosy one and just enjoys it. My meat is supposed to be covered with bread and Christer choose a pork chop. One can hear several languages around us; English, French, American and Dutch have been heard. On top of all, a cat walks around the place that's called Prašná bašta at Zámočnícka 11.
22.02 Delicious. The cat and his friend joined us during the meal. Now its pay back time, well not pay back. Just time to pay.
22.41 My food cost, with coffee and tip 225 or under $8.
---
Tuesday 20th of July
09.00 Up and around since about an hour. Breakfast, cleaning and packing done. Next there will be coffee.
10.17 We checked out and began to slowly walk to the station. There were slight hopes for some benchrests along the road. A bench has been found now but not that far from the station. That thing with many rests to avoid the sweat was just an illusion.
10.33 This was a welcome rest. In park walks a man in his eighties. He has sandals, white shorts, white cap and a cane. He strolls around, stops, looks around and so on.
11.07 It remained ten to fifteen minutes walk. We are at the platform.
12.20 On the train. It is hot! The train has been standing in the sun and there is something wrong with the window is second class wagon. We can't open it. Phew!
12.31 Just left Galanta. We are seven minutes behind schedules/plans. In our plans we had fourteen minutes in Surany to change to the train to Nitra. Of this fourteen minutes remains seven. It is hot both inside the compartment and outside. The window just won't stay open despite all our attempts.
12.58 To change train went smooth; unfortunately we changed to wrong train and are now heading for an unknown destination. I guess we have to get off at the next station and go back. Now the questions are. How far away is that station and can we go back from there?
13.03 We went one station to Banov, jumped out, walked to another train and asked a man in a blue shirt if this was the train to Nitra. It was. Onboard we got and we are now for the second time in fifteen minutes heading for Surany. We have, during this time, been on three different trains. The shirt man might have been some stationmaster or similar.
13.16 In the area at the back of the train there are some personal belongings. There you can find a bike but also a scythe. I wonder who it belongs to? Who is the man with the scythe?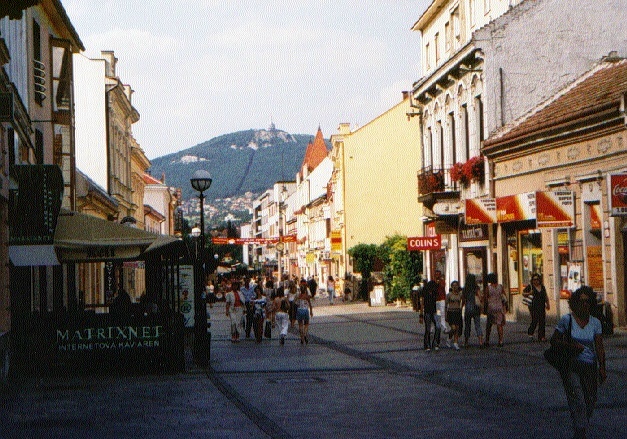 Nitra
14.50 The train found its way to Nitra, I guess that it was tracking all the way. As we got there began the march towards centre to find an ATM and the tourist information. Pretty soon we ran into three young men. One of them carried an ice hockey stick. The ATM was found in the centre but the tourist information has moved to one for us unknown place. Our journey then took us over the Nitra River and to the Hotel Agroinštitút where we now rest in room 309. The hotel is a part of a building there an agriculture fair sometimes is held. The research department at the local university has also managed to grow a tree that can stand acid rain.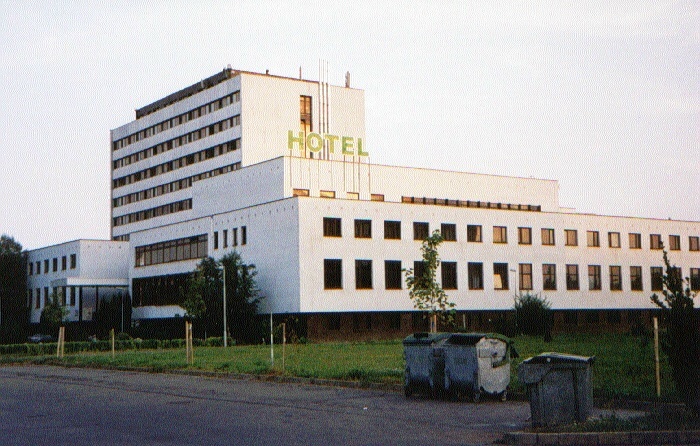 Hotel Agroinštitút in Nitra.
16.57 Back out in the town. We took some pictures and are resting at a square with a fountain. It is hot today for sure. A cold drink would be great.
17.43 Sitting in the shadow, looking at people passing by on the broad pavement. We have also seen a German car drive around on the pavement. Well not the car itself but the female driver.
18.23 Ended up at restaurant Boccaccio. We have ordered food and right now landed two foam crowned Corgoň on the table.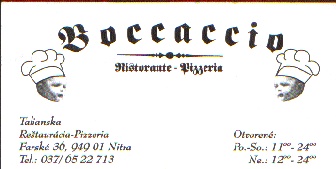 18.31 We got first course, garlic bread with chopped tomato and basil. Really delicious, this looks great.
20.15 Christer had Cordon Bleu. I got Shish kebab. Both got salad and some grass straw liked things. What ever it was, it sure tasted great. Now we returned to the room and has tuned in a descent channel on the old radio labelled TESLA progression 447A.
21.00 It's getting dark. Outside is it around 26°. One can't help wondering how warm it was earlier today.
---
Wednesday 21st of July
07.00 Yet another morning, it's been time for a shower and awakening.
08.05 All, hopefully, is packed. Soon time to leave. A little cloudy today, that's good. Shouldn't be sunny as you walk to the station.
08.56 At the station with a ticket in my pocket and coffee in my stomach. This day begins great. They play ABBA-music inside the station restaurant.
09.46 During a stop in Risnovce we passed a biking man with a scythe over his shoulder. Can it the same man as yesterday or is it just a colleague/local man. I vote for the last one.
10.08 Stop in Leopoldov to change train. Will head on for Trenčin from here.
12.13 As we got to Trenčín we walked to the tourist information. It had moved, surprise! but they couldn't hide from us this time, we found them. They gave us tips about places, places we already knew about. Had hopes to get information if those places had any vacant rooms. We took aim at "Non-smoker Guest House Svorad" (Yes, it is called so!) and now stays at room 108 for 450 koruna per man and bed. A special rule for the places is that if you smoke you are out of here. Lucky that none of us do.
13.36 Sitting at Pizzeria Markus. Christer has ordered Spaghetti Bolognese and I have ordered ham filled potato pancake. The beer, Krusovice, is very very good!
14.00 Not just the beer was great. The food was so as well. Plenty of meat in both dishes. Next time to found out what kind of coffee they got here.
14.39 The coffee that finally/at last arrived at 14.30 was splendid. I wonder where the bill went?
15.03 The bill got here. We paid around $ 3-4 each. Next time to take and send cards, postcards that is.
18.20 A break by the square with a cool fountain. The water sort of jumps after it has first been squirted from the mouth of a man. The man is made out of stone.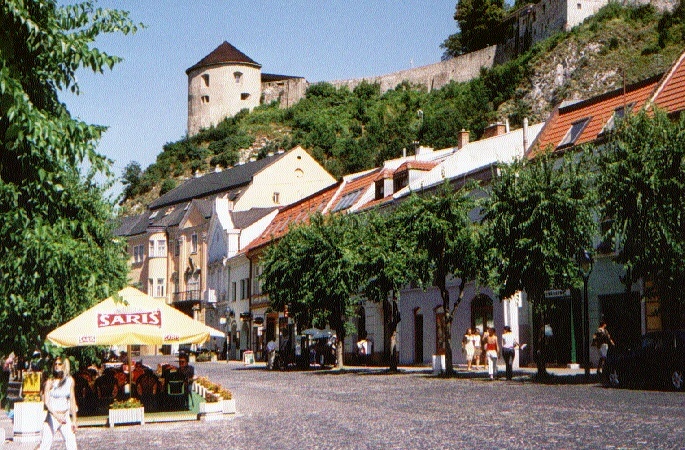 Trencín.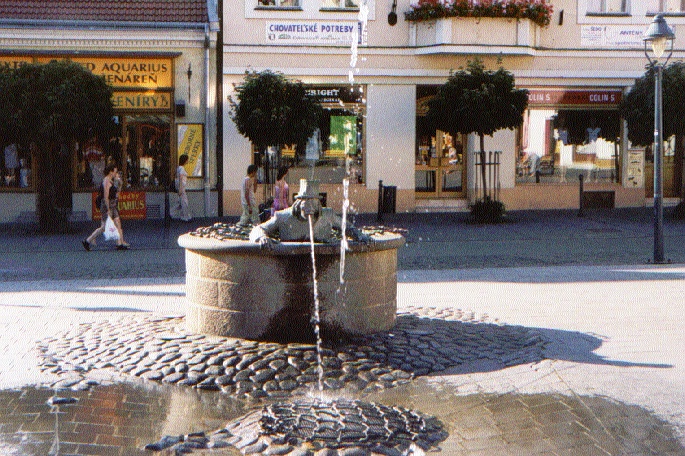 The strange fountain in central Trencín. Water is flowing from his mouth.
18.49 Back in our room in our pension. We been shopping and will with in the next hour have dinner. I wonder what it might be? I sure feel peckish for some garlic soup.
20.21 Just sat down at Reštaurácia Trenčan. Sitting having a Topvar each during our wait for the food. The walls in the restaurant are decorated with boards taken from the outside of a trunk/log. The side we can see is slightly rounded.
21.18 Home again. Total cost for two beers, two meals and one coffee, 268 koruna or about $9.
21.47 We listen to our radio. Well radio and radio. It is more a loudspeaker with a knob to control the sound. One channel with catholic mass. It also plays music I must admit. We have also seen the pension's rules. The rule that unmarried couples aren't welcome just been scratched.
23.00 The volume on the catholic radio been turned down. The big castle here in town is magnificent. It is lit up by searchlight and it "glows" on its rock above the town.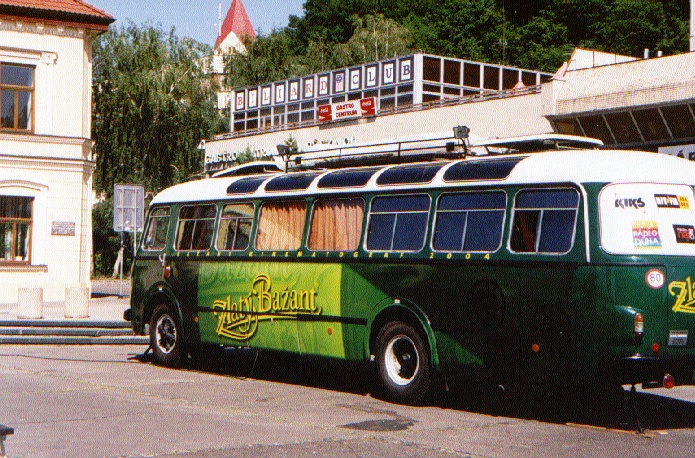 A "Zlaty Bazant-bus" in Trencin. Zlaty Bazant (Golden Pheasant) is Slovakia´s national beer.
---
Thursday 22nd of July
07.24 It is time for breakfast it will be eaten by a table in our room. Today I am offered strawberry yoghurt, crackers and orange soda.
09.01 Sitting on yet another bench in yet another station. We bought tickets to Košice, a journey on 321 km to a price of 420 koruna, around $13. We also reserved two seats for 30 koruna ($ 1). Today's big question is from which platform does the train leave. The ticket selling lady and the departure placard said platform 2. The revolving billboard says 3.
14.23 The correct answer was number 3. We showed the way to an American lady on that platform. She had some bad luck on her trip or was she just naive? She took a taxi from the station in Bratislava, had to pay way too much for the trip and she also claimed to been badly treated at the hotel she was driven to. Our journey to Košice has taken its time. Soon we are there. The landscape is green and very hilly, really beautiful. We have seen the high peaks of Tatra Mountains. In lakes, creaks, streams people are swimming. Who of these have ever swimmed in the ocean?
15.20 We are back in the same place we were three years ago, at K2 (18/7 2001) but then it was called Metropol. Cost for one person to sleep one night is 350 koruna. The room has a leaning ceiling and a ceiling window. This will be sultry!
17.08 We are having a break in the Station Park. We walked over the Town Square and bough some stuff at Tesco. Among them a soda called Kofola. It has a familiar scent and taste that we can't figure out. Yet.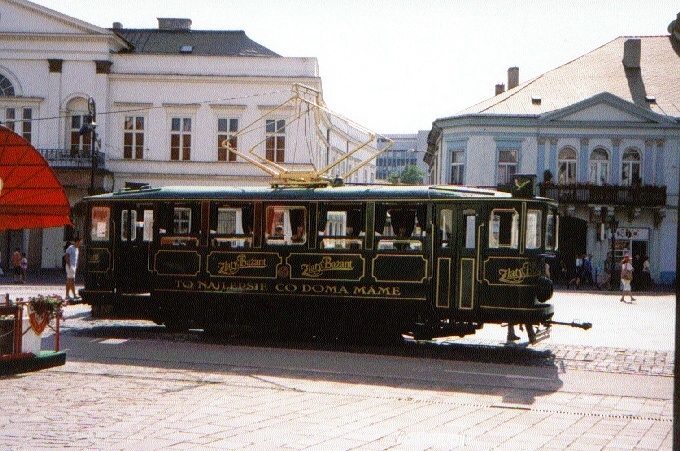 In Košice you can have a beer in a tram, but it is not moving..
20.15 No given answer about the flavour of the soda. But we figured out where to eat. Here as in Bratislava is the power of tradition too strong.
22.08 We had dinner at the "farm". Good old Sedliacky Dvor (18/7 2001, 5/7 and 31/7 2002). Great food at a reasonable price. At the end of the meal a police car stopped outside. In came a police with a T-shirt saying Policia in the back. The front looked like an ordinary souvenir T-shirt. He didn't want to talk to us. He came to talk to one of the waitresses.
23.16 It is raining outside. In here with us in the room it is holding up and is nearly 30ş warm. I hope that both the rain and the heat will stop.
---
Friday 23rd of July
09.10 No alarm clock today. I slept well. Today we plan to do a lot but put up time when to do it we have not. It has rained cats and dogs tonight.
10.00 To have a shower here is easy. To dry up with their towels is a challenge. They are in some strange fabric that just pushes the water from the body. It just refuses to catch any drop of water.
11.53 We´ve been and bought tickets to Budapest for 932 koruna. A little more then expected but hey, it is with a fast train. We are now making up a financial plan over how much we need to withdraw from the ATM.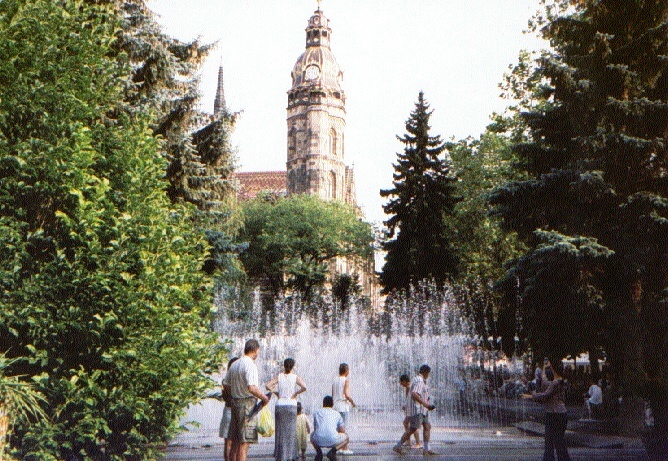 The music-playing fountain in Košice
13.33 Sitting at "Ala Adin" a pizzeria by the Town Square. We got us our Zlaty Bazant. From the music fountain by the Square one can hear "Memory" from Cats. The waitress that brought the beer removed the ashtray as she left.
13.37 Another waitress just replaced/returned the ashtray.
15.15 I decided to order some coffee from the lady that removed the ashtray. She wondered if I wanted it big and black. I confirmed it. Time passed but no coffee. Waitress number two asked something and I said coffee and soon the first one came with a cup. She returned some of the tip as we paid. After this was it time to go and look at the ice-hockey arena in town.
20.16 We made up some plans for tomorrow. We will stick to the old plans. Tomorrow will be spent in and around Tatranska Lomnica. How it goes there well we see. Next it is dinnertime.
20.56 We ordered Gordon Bleu for Christer and 3-mix for me. To this a beer each. Our attempt to pronounce the beer amused the waitress. Dinner will be eaten at Kohut. It is nothing new to us, we at here four years ago. I don't remember what it was called then.
23.03 Returned home. We just rested today. It sure was needed. I now brought forward what ever I might need up in the mountains. Wind jacket, Wind pants, sweater, tennis shoes. I will in just a while my teeth brush before I set the alarm clock and let the darkness conquer our room.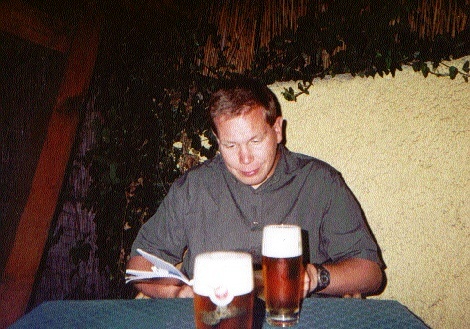 Christer sitting in the restaurant "Kohut" in Košice.
---
Saturday 24th of July
07.40 Another morning has broken. We are ready to see something new. I slept well all through the night and am ready to reach for the mountain heights.
09.08 On the train to Poprad. We got a ticket. The question is, is it the right kind of ticket? However it is with that will be shown, as our ticket will be checked.
09.51 The ticket controller came and clipped our ticket. No problems here. We are now sitting and talking with a Košice-born Canadian woman. She told us how she seen the town she grew up in. How here old gymnastic hall been turned into a Chinese Restaurant. How her old school decayed and won't be renovated because the fear it will just be trashed. She also told us how she invited her old conservative relatives to a Chinese Restaurant in Canada. A bit cloudy today but we hope for a great view from the High Tatra.
10.44 We are sitting and waiting for the train to Tatranska Lomnica after having bought refreshments and tickets. Last time we were there, it was all too cloudy to see anything from the high areas.
11.20 Our train should have left at 11.07. The questions are is it late?, are we on the wrong platform or what? There is an empty train behind us. Is it our train? And if it is so, why won't they let us and the other passengers go onboard? One of the other travellers brings with him a bag with cement.
11.39 I guess the train left on time. It just didn't leave from the platform we sat by. Now we bought a new ticket and embarked a train. It is the train we just had behind us. We won't be going to Tatranska Lomnica instead it will be Stary Smokovec. We might go to Tatranska Lomnica from there.
12.21 Back in Stary Smokovec. Our last visit here was in 2000. Now like then there are clouds above us. Sure we can go for higher grounds, but why? No chance for a great view. Sure there will be a feeling of being high up, what to do?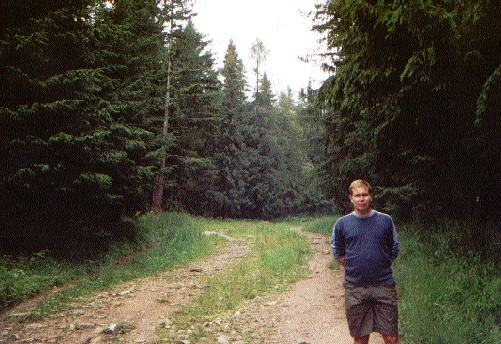 Christer on a forest trail near Stary Smokovec.
12.52 Some walking brought us to 1025 metres height. From here a small train leaves to Hrebienok and 1285 metres height. What's next? I am however hungry. Whatever we choose it is great to be out in the nature.
14.13 Excellent and tasty meal. Christer choose filled pancake and I had meat with lemon, cranberry jam and cream with dill sauce. Next coffee and then a trip up to Hrebienok. Wonder then I last time had a beer this high up from sea level?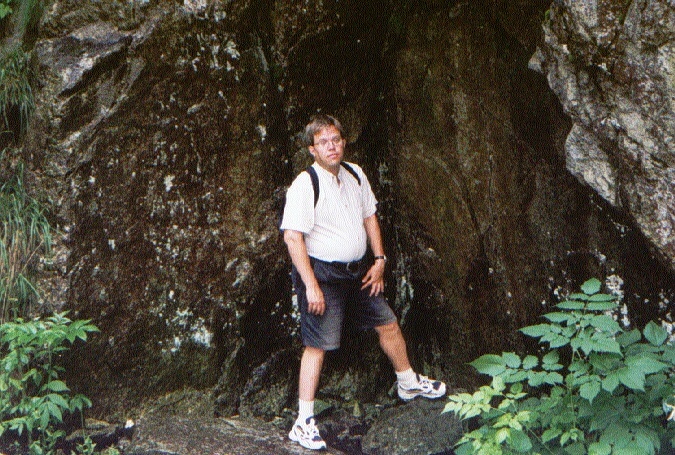 Peter close to a small cave in the forest near Hrebeniok.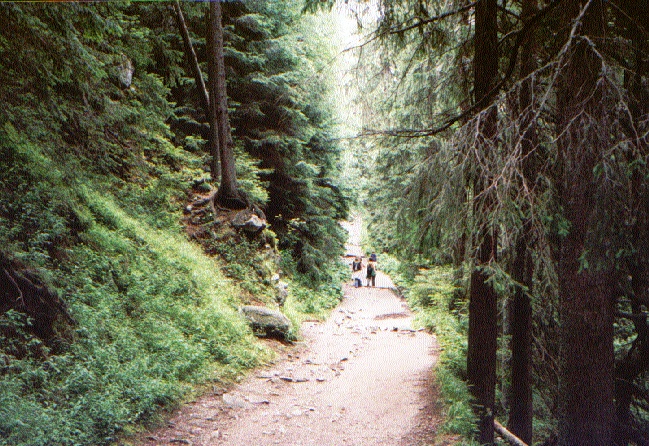 The trail from Hrebeniok to a waterfall nearby.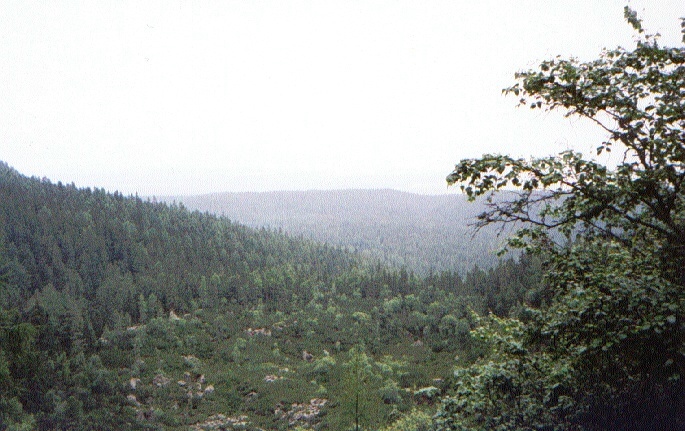 Forest View, Tatra mountains.
15.01 Current height 1300 metres. Amazing view. Quiet, harmonic. You have to try this. Fresh air and wonderful nature. I am stunned.
16.23 Back in Stary Smokovec again. Went down in the same way we went up. Next it´s time to add fluids before we go home.
17.07 We are waiting for the train having a Tatran. This as most Slovak beer is great, really tasty. It is brewed and can be found around Poprad and High Tatras.
17.21 We sat calm and quiet in front of the station building looking at the trains that was both old and modern. Speaking of trains it struck us, won't our train leave soon? We just made it in time onboard the old train.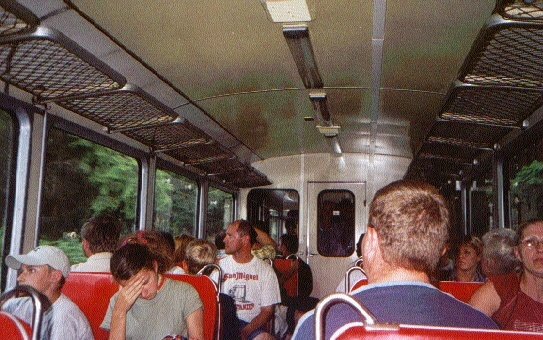 On the train from Stary Smokovec to Poprad.
18.06 Sitting at the platform in Poprad watching people walking by us. Have among them seen a nun with a small backpack.
18.47 As I am back on the train to Košice can't I help thinking what special day this was. Mountains and forest trails instead of houses and streets. Fresh air and birds singing not city air and car sounds. Socks and tennis shoes instead of bare feet and sandals.
20.35 At Pizzeria Kleopatra for the last dinner in Slovakia this year.
21.35 Back in our room. It has been time to pack all things. Since I bought things to add to the package I do have to pack properly.
22.15 As all the packing was done, I saw them, the shoes. They weren't packed. They should be at the bottom of the backpack. Just had to start all over.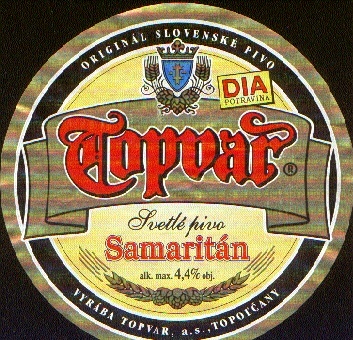 Topvar, slovak beer from Topolcany.
---
You can find 5 photos from July 18 in this photoalbum.
You can find 6 photos from July 19 in this photoalbum.
You can find 7 photos from July 20 in this photoalbum.
You can find 10 photos from July 21 in this photoalbum.
You can find 4 photos from July 22 in this photoalbum.
You can find 7 photos from July 23 in this photoalbum.
You can find 16 photos from July 24 in this photoalbum.

---
---

---