---
Text: Peter Johansson
Editing: Christer Lundstedt
Photos: Christer Lundstedt, Peter Johansson
---
11th of July - 17th of July: San Marino - Veszprém
---
Sunday 11th of July
07.20 I´ve just been alarm-clock-awaken, woke up and had a shower. Next on the program, dry up, dress up and eat up, the breakfast that is.
08.42 The breakfast on "La Rocca" was far from full, a cup of a coffee and a croissant. I sure had hoped for more.
ITALY

11.21 We left San Marino town and country behind us after some attempts. The bus drove around one block several times before it finally began to descend towards the coast and to Rimini railway station. There began a hunt for an ATM. We didn't find anyone and decided to buy a ticket to Bologna to begin with. Hopefully can we get some money there and travel on.
11.39 We have, after rolling through a agriculture landscape with fruit trees and harvested fields reached Cesena. Far away in the distance is San Marino like a rock rising up in the landscape.
11.55 A man just passed with his little trolley/wagon. On it was a little bell that he rang in. He also sold coffee and I bought some.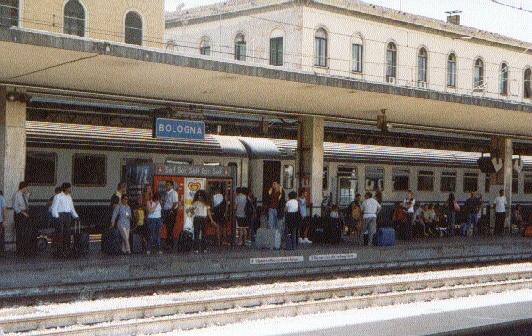 Bologna railway station
13.28 Just had lunch at the station in Bologna, pizza slice, 0,4 litre Cola and a small and tasty fruit salad. For some reason the fruit salad was called Macedonia. It was a long waiting for the food but it was worth waiting for. Soon we will climb on the train to Ferrara there a booked room is waiting for us. We have, as you probably already figured out, withdrawn some money from an ATM.
13.41 We are standing, looking at the little local train that will take us from platform 7 to Ferrara.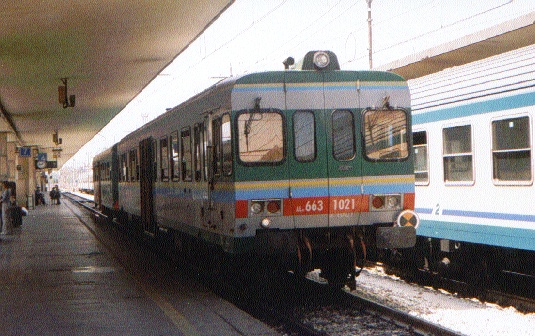 The small train on the track, Bologna - Ferrara.
16.00 Checked in at Youth Hostel Estense in Ferrara. We are, according to the information that we got, supposed to use "Italian phone cars" at the Internet computer in the bottom floor. Our room looks like an isolation cell, but beside from this calm and spacey. We saw some other tourists on the way here. Moldavian, car born tourists to be exact. There is always a surprise behind every corner. It is cloudy and rain hangs in the air.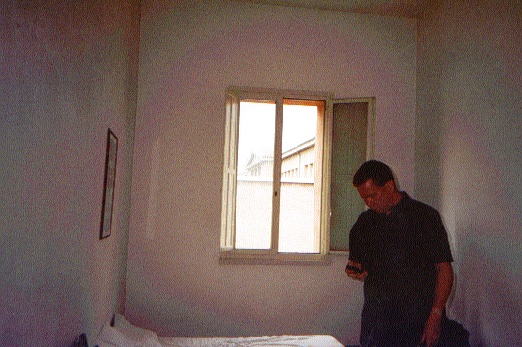 Christer in our room at Youth hostel "Estense".
17.47 The rain came and left. Now we might walk the city and get a proper dinner.
19.35 Fase one completed. We have seen parts of the old town, beautiful buildings and so on. Currently looking at pizza brochures. Great offers in the brochure and few scooters in the town. Are the scooters a phenomena of southern Italy perhaps? The town is preparing for a festival (Ferrara - sotto le stelle), large scenes are built up and musicians are preparing. In the middle of Ferrara is "Castello Estense", an old castle with parts renovated with bricks. There is a moat around as there must be around a real castle.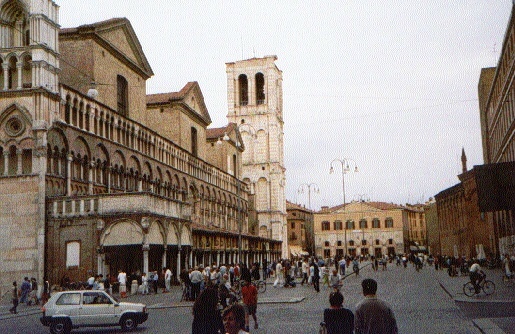 Piazza Trento Trieste in Ferrara.
22.00 We decided (after some walking and searching) to go to Pizzeria il Ciclone. In front of me a beer, In front of Christer a Fanta. Soon pizzas will be here. The main reason for the long walk was to find the pizzeria we read about in the brochure. We didn't find it but got to see a lot of the town.
23.00 Good food. Nice place. Pizzas paid for at the counter before we walked home. Now sleep.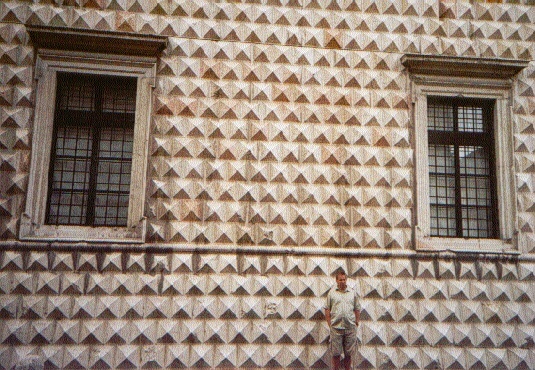 Christer in front of the "Diamond Palace" in Ferrara.
---
Monday 12th of July
07.44 More rain during the night and it is still raining. I just want to return to bed. No, that only makes me sleepy, I´ll have a shower instead
09.15 Breakfast with bread, different kinds of marmalade, juice and coffee. A perfect end to a perfect place. All the way great although it looked like and isolation cell. One shall not let first impression, last. Christer has found American blueberry shampoo in the shower. He left it behind.
10.30 We left Ferrara behind us ten minutes ago. During this time our trip has took us over the river Po. All is flat and there are miles of fields.
10.44 The ticket controller just came and left. There were no problems for us. But things went far from smooth for the dark skinned men on the other side of the wagon. One of them, similar to a young Samuel L Jackson, showed an old ticket. His friend showed his and a discussion between him and the ticket controller began
11.14 A short stop in Monselice. There is a new landscape outside. Rounded hills towers up around us. Still cloudy.
11.54 Pause in Padova. Just short stops here before we switch train and travel on. Cloudy and light rain. I am beginning to miss the days above 30°. There are few scooters here as well.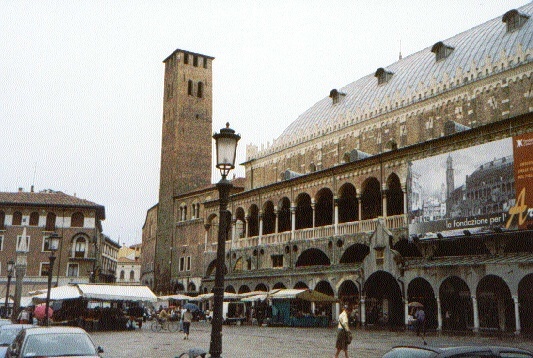 Palazzo della Ragione in Padova.
13.41 Seen the central parts of Padova. We sure see a lot of cities. In the centre were a car from Morocco and lots of students. Their friends had some missions for them, I guess they graduated. We returned to the station after this and had a sandwich and something to drink.
14.18 Back on a train. Back on a double decked train. The first this year but just one of many seen over the years.
16.04 Inside another room, this time at Youth Hostel Olimpico in Vicenza. A small room with one bed, one twin bed, four lockers and a mosquito net. To find this place was a challenge. It was easy to find the house, a sign pointing at a door beyond the big stairs said "Reception". On the door was a sign that said, "Reception can be reached if you walk up the big stairs".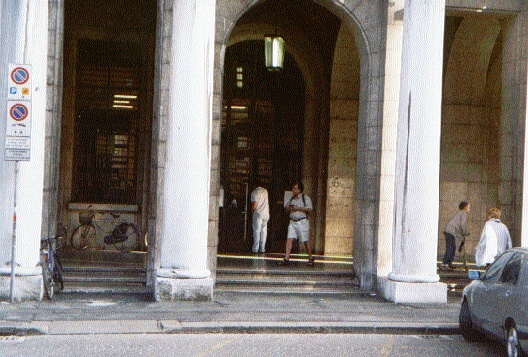 Peter, just got out from the post office in Vicenza.
19.58 Home again after several happenings downtown. We began with a long wait at the post office. I left as I was done, only to find the gate locked, but they let me out. Later Christer almost got run over by a biking girl that tried to send a SMS while biking. We were as we finally found a shop, forced to stand in line for a long time. A funny place, the counter closed before the line was over. Before we got home we did meet a true master. A man on a bike. A bike loaded with bags. The man had beard, long hair and was dressed in a loincloth.
The clocktower on "Basilica Palladiana" in central Vicenza.
23.18 Dinner had at the Spanish restaurant Paquirri. I ordered Tagliatelli with meat sauce. Christer had gnocchi with salmon. Took some time to pay. Speaking of pay, here you have to PAY ! It takes planing and researches to be able to have a dinner below 10 euro. Just before we sat down a garbage truck hooked up to the restaurant, far from pleasing the lady that owns it.
23.30 We got home to the Hostel just before closing time.
---
Tuesday 13th of July
08.35 Today started with yoghurt, four slices of bread and a little to drink for breakfast. We shall in the next hour fix our room and ourselves. It is today that we will go to Venice. I am hoping for a trip without problems.
10.02 Venice ticket bought. In the park outside our hostel he was... the biking old man. Who is he? What does he want? Where did he sleep? The ATM outside the hostel is friendly. Christer talked to it and asked for 10 euro-bills instead of 20-bills. It listened and obeyed.
10.36 The train just rolled out from the station. Destination Venice. We are back on a double decked train. In the seats next to us, a Swedish family.
11.05 The Swedish family comment everything. This can cure any form of homesickness. This is just some of the questions; Why is that ashtray so big and made out of plastic? Is it a wastebasket? Why did that man do like that?
11.18 We have for the last fifteen minutes been standing still at the station in Padova. The family carries on. Do they play soccer in this town? There isn't any team called Padova....or? Do we have to stay on the train all the way? Dad you went this way in the early 1980:s does it look the same? Why must those people be so loud!
11.31 The trained moved for five minutes then halted again, just got us out of the station area. Our trips keep haunting us. Hurrah we are moving!
12.05 Land has become water. Soon the trip will be over.
12.49 Sitting on the stairs outside Santa Lucia-station in Venice. Small problems have occurred. First Christers sunglasses hooked on to a seam in his wallet. He managed to free the glasses only to break the seam. So now coins fall out of his wallet Venice here we come!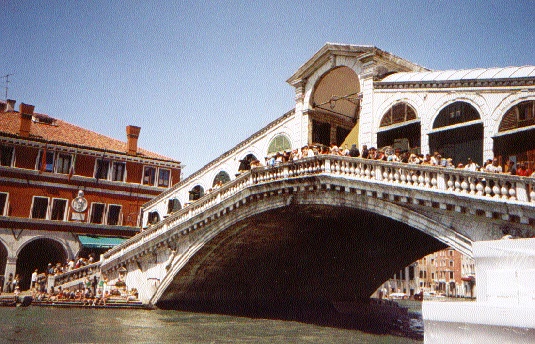 The Rialto bridge in Venice.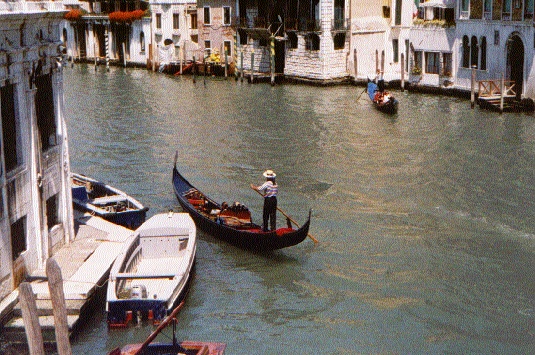 Venice
14.09 We walked via Rialto Bridge and reached the Marcus Square. In each and every corner is a sign showing the way. You need this or you get lost in the alleys here. It is important to take the right way or you might end up in a canal! It is the bridges one need to find. I don't know if there are more pigeons than tourists here. What ever the answer is, it is beautiful here. We met a man on the way here. A man with a monotone, singing voice that begged for money. His "song" was about giving him a coin so that he might eat...."Una moneta signora, per mangiare"... or something like that.
15.47 Just left an Internet café there we booked our trips home. That is the trips in August that will take us from Stockholm to our homes. We just ordered food, lunch or dinner, who knows. I choose macaroni, meat sauce and wine. Christer choose pizza and mineral water. We had mixed fruit before we got here, all served in a plastic cup. It contained watermelon, muskmelon and kiwi. We also passed the singing beggar again. There are lots of people here and very narrow. It takes time to take you through the streets of Venice.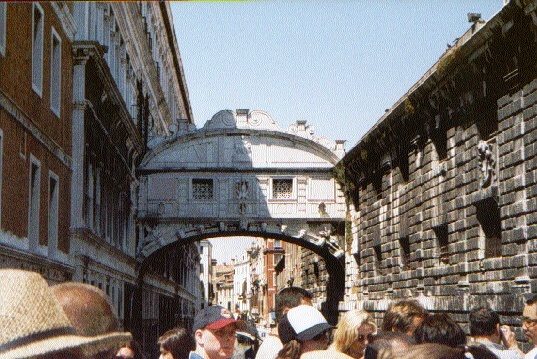 16.12 Fresh crisp salad was another part of my dinner, which also included bread. The wine was really delicious. Next time to ask for the bill and walk to the station. Our singing friend has just had a new attempt to please us. His tune is sticking to us. There are moments in life there you loose control of time and space. You wonder where you are? This is such moment.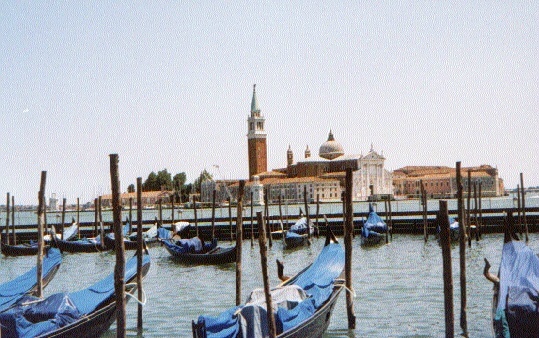 View from central Venice.
17.03 In half an hour we will be on the way home. The journey home begins in fifteen minutes. I bought a souvenir glass at the station. A man, not the singing one, saw my glass and ordered three of the same kind. The selling lady told him she only had two left. The man pointed at my glass and said this will make it three. This was the moment then I took my glass and paid for it. Another in the store working lady explained the situation to the man.
17.37 We are now at the station Venezia Mestre. Outside, thanks for that, is it raining cats and dogs. I ain't so found of inside rain.
19.55 Home in Vicenza again. I washed my clothes and met a Canadian. We began with some small talk about origin, the best way of washing clothes and ice hockey. I then mentioned the travel diary and asked if he wanted to have the address. He liked that and he just got it from Christer. The Canadian and his friend, like us are teachers and fond of travels in Europe during the summers. After this followed a study of a dog playing near a stream outside our window. Christer has bought a Fanta, it is called "Amara" and is just terrible. It is impossible to drink it. It has brought the word bitter to new levels.
---
Wednesday 14th of July
07.30 Awaken again. The rain has left town and soon we will do so as well. First we have to wake up, get less sleepy and have something in our stomachs.
09.12 The first ticket of today is bought. First we will head back to Venice. In Venice it will be another ticket purchase and further travel. The birds are singing accompanied by an excavator.
09.42 On the rail again. We have been rolling on for about twenty minutes. Our staying in Vicenza was, well OK. A little bigger room and included breakfast would have been nice. Why weren't there any coffee machine? I wonder how next staying will be? What will we find there?
10.25 At the station Venezia Mestre, at 12.07 the train will leave for Udine. It is a sunny day with lots of people around. I wonder if they got a coffee machine here?
10.47 Christer just went to buy tickets for Udine. I am sitting on platform 2 or to be precise on a bench on the mentioned platform. I am waiting and guarding paining for coffee. A wagon just appeared on platform 1. It seems to have fruit, ice cream and candy. No coffee there.
11.11 I went to the bar, straight to the counter with two ladies and one espresso machine. I said espresso. Go to the cashier said one of the ladies. I went there and said what I wanted. I paid and got a receipt. I returned, proud, to the counter and showed my receipt. I got the coffee I longed for for so long. Hopefully I will be able to speak more like a normal person.
11.52 On platform 1 a strange man stands dressed in gray. He has a cloth around his head and something long, white attached to the right side of his head. He fills up a bottle and drinks from it.
13.52 It is after a smooth journey passed Treviso and Pordenone tome for lunch at the station in Udine. Warm toast with cheese and ham for Christer. Cold toast with salami for me.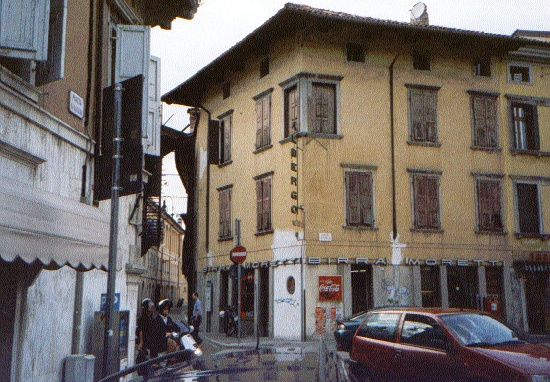 The hotel/bar "Al vecchio tram" in Udine.
14.39 Our new home has two beds that are close to antique and windows with shutters that seems even older. The room has number 7 and the staying is called "Al vecchio tram" (the old tram). In the ground floor is a bar/café and a stair up is the hotel. We got parquet floor and our own washbasin. Outside is it just some traffic and hardly any scooters. We can hear a man yell at his employees. It is some kind of construction building.
17.34 Short stop at a square in Udine. Before leaving we did have espresso and a cookie in the café downstairs from our room. We also tried to read an Italian sports magazine.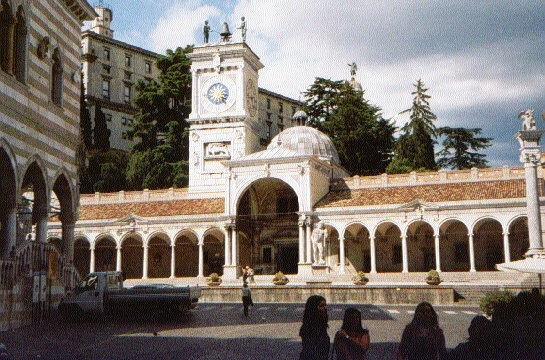 Piazza della Libertá, Udine centre.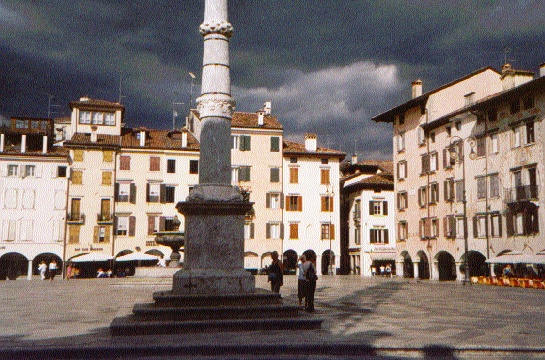 Dark sky over Piazza Matteotti in Udine.
19.37 Back in our beds. We walked, took pictures, bought postcards, stood in queue at the post office, went to the station, bought tickets for Ljubljana, went shopping, looked for a place to eat and came back here.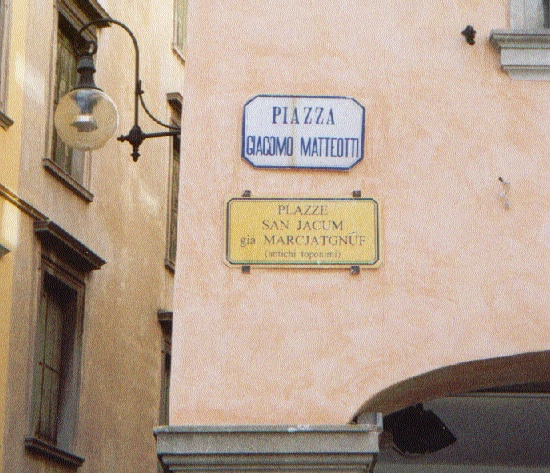 Signs in both Italian and Friulian in Udine.
22.27 Just had the last dinner in Italy for now. We had pizza. Mine was called Explosiva and it sure was. Spicy sausages, mozzarella, paprika and Gorgonzola. The place we ate at and still are at is called "Al Gelso". It has finally ceased to burn in my mouth. I had also, according to Christer, red eyes.
23.30 The girl in the cashier wanted 21 euro for the food. Christer gave her 50 euro and said that was all he had. She returned 30 euro. WE had a tip of 1 euro. We are currently at home preparing for bed.
---
Thursday 15th of July
07.40 The morning started with two familiar sounds. First the sound of a ringing mobile phone set to wake us. When followed the most classic sound of them all, the sound of a yoghurt being shaken. Next we shall get in our travel suits and downpack our belongings.
08.30 Our stay was simple. It was simple but all you need. A bed each to sleep in, a place to put the backpack, open area between these places and a bathroom with shower. Next a journey to Trieste and then Ljubljana.
10.25 Inside the station in Trieste. Here we will catch our breaths before we head on. The journey here went towards the Slovenian border and the town Gorizia when we headed southwards here. We had a wonderful view over Trieste.
10.31 We are on the Hungarian train that will take us from Italy to Slovenia. Time to say arrividerci to scooters, siesta, late dinners and Italy. The railway police are talking to a man some seats in front of us. Spaniards, Japanese and some others join us in the wagon.
11.34 Got to the border at 11.20. After that we have been standing still. The man that the police spoke with in Trieste has caught the passport polices attention. I think the female police has taken his passport. She has at least reported his name and passport number. Off we are and the man remains. He is allowed to leave the country.
11.42 A Japanese has during the last half hour went to the toilet a couple of times. The first time was just before the passport police came. By the way when will the Slovenians come and check the passports? Will they be waiting in the next station?
SLOVENIA

11.49 We reached the fifth country on the trip. We are let inside Slovenia without any stamp in the passport. The man is having new problems. But they seem to be solved.
12.20 Next to the railway runs a 2-3 metres high wall. It has partly fallen down. Why was it built, by who and when? It must be several kilometres long!
12.48 Back in Postojna. We came here by bus last time (2000), to look at the cave.
13.00 In an hour we will be back in Ljubljana. Will we recognise it? The hostel, the one we had when, is it still there? There are many questions. I hope to get answers. The scenery is amazing! Mountains and valleys are passing by, small picturesque here and there and in the background an offshoot of the Alps.
15.05 We sure recognised ourselves in Ljubljana and the hostel remained so we decided to check in. Right now in room 149 at Dijaski Dom Tabor. We will now unpack the most necessary, rinse off the travel dust and go for a walk out on the town. Total cost 14,800 tolar. I paid 7000 and Christer 8000. We both got change on 8000 so I am staying cheaper. We are sharing room with a man we haven't seen yet, but his name is Powell. We don't know whether it is Mike or Colin.
15.38 Since the last note a Frenchman has moved in. We are now four in the room. There won't be romm for anyone else. Time for town and food.
16.33 We walked in and have seen parts of the city we´ve never seen before. It is time to find a place to eat.
17.00 Just sat down at a place with chairs, tables and a parasol. Lets see what they got to offer. It is called Abecedarium Café.
17.13 The café has food and is situated in the town's oldest house. The address is Ribji trg 2. Now a bird landed on our menu's that is on the table.
19.30 The food, spaghetti with meat sauce and a beer was delicious and we left the restaurant satisfied in many ways. The cost was 1700 tolar. Now we are sitting on a bench and study a map of the town and write postcards.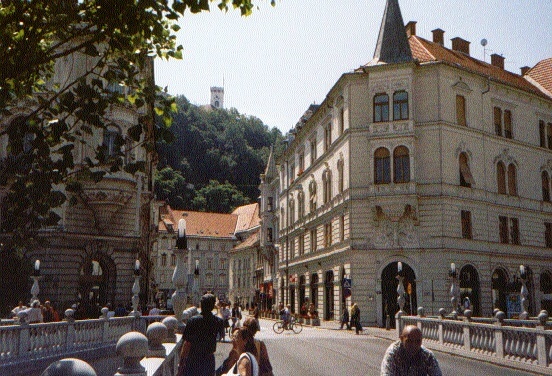 Ljubljana
20.00 Two guys came by, collecting money for a trip home. We don't know where their home is but we gave them two coins and they left ever so happy.
21.22 Vi strolled, window-shopped, saw books by the Swedish author Henning Mankell, found a café, Slaščičarna Pixi at Mestni trg 17 and are currently having coffee. The waitress asked if we wanted a tall or short cup. I guess she meant small or big. It is a lovely set of people along the river, old and young walking up and down, taking part of some music festival. Lots of bands and solo artists.
22.45 After a long day´s road to night it has become time to sleep. Mr Powell, neither Mike nor Colin, has already slipped under his blanket. Soon I will slip under my sheet, if that's needed. It is warm in the room, at least over +20°.
---
Friday 16th of July
08.20 I feel I slept well, ready to meet the new day, a day with plenty to do. Check ticket prices, take pictures, buy ticket, breakfast and travel snack for tomorrow. Christer will buy film and shower gel. I will buy a new toothbrush. We will also go to the post office and around town. But most important now, breakfast. Will it be like I remember it? I have memories of murmuring school cafeteria liked room. Mr Powell left without a word.
09.32 The breakfast was just like I remembered it. There was lots of food just what we needed.
12.02 Some of the missions accomplished. It will cost us 12,000 tolar to travel from here. But it is a seven-hour ride cross a border.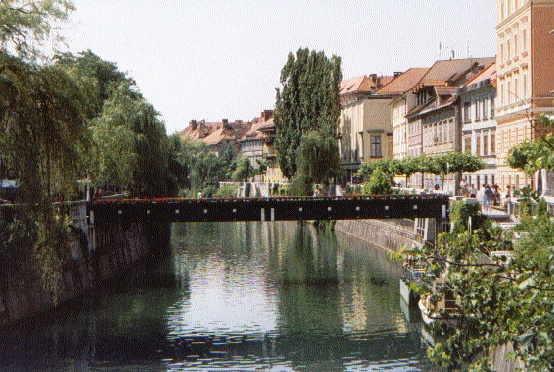 Ljubljanica River in Ljubljana.
14.00 Back in the room after walking and shopping. I bought a new toothbrush. Time to bury the one I bought in Poland last year (10/7 2003).
16.30 Perfect! The ticket "only" cost 11,300 tolar. More money to breakfast and travel snack.
17.45 Pause on a bench. We are walking uphill towards the castle. We are slowly walking up the way we came down four years ago.
18.17 We reached the top. Now we will walk around and take some pictures. Great view.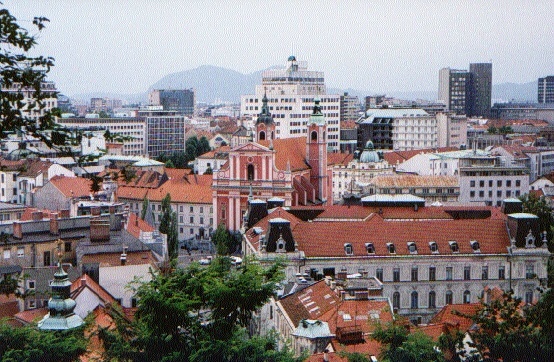 View over Ljubljana.
21.12 Back on the same bench as last evening. We got out later than planned. Our new room-neighbour/friend is an elderly French gentleman. He is more then pleased in talking. He has spoken in French, with gestures and drawings told us about his trips around in Europe. He has told us about that he wasn't allowed into Serbia, they wanted him to show them his passport, how he wasn't allowed to sleep on bench in park a warm summer night in Finland and also warned us about the dangers at North Cape. I never caught what was so dangerous. He seems to be leaving with the same train as we are. But he hasn't bought any ticket or booked any seat. This man seems to be travelling around like a feather in wind. He sure makes up with the lack of talk we got from Mr Powell. We just saw the other Frenchman together with a young lady.
22.51 Back after a splendid dinner at the Chinese Restaurant Šanghai. A LARGE portion beef, Chinese style, with beer. Afterwards they came with a warm towel and some rice vodka. The last two was on the house. Christer had a noodle dish with the same generous offers. I paid 1720 tolar and Christer 1360 tolar. I also signed in the guest book of Tabor and also found my old signing from 2000 there.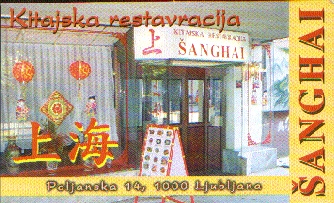 The excellent Chinese restaurant "Sanghai" in Ljubljana.
---
Saturday 17th of July
06.10 Christer our travel- and chat-loving roommate and I are packing our final belongings before we will head for the station. Our "friend" fights to close his big bag. I think/hope I packed it all.
06.20 Our friend packed the last, nodded good bye and was gone.
07.05 In our compartment. As I got the journal from the backpack our French friend walked outside the train. We are sharing compartment with a young lady.
07.20 The compartment company has grown. In came a woman with daughter and dog.
07.25 Fully booked in the compartment, a son? joined in. The merry dog wants to say hello to every one of us. It also, if it gets the chance, sneaks out to greet more.
08.19 Around us are forested mountains. Below us a rapid river. We have a nasty habit of leaving Ljubljana early in the morning. Now as in 2000 we are half sleeping through this beautiful area.
09.26 A stop in Pragersko. Two guys tried to enter the compartment next to us. It seems to be reserved for some form of police. Outside the wagon a "knocker" is working. That is a man that with a half metre long object knocks under the train.
09.43 We left Ptuj in time. The young lady that been with us from Ljubljana got off here. The little daughter just offered me a chocolate bar. She also had a piece for the dog. Through the town there was a big river.
09.56 The family and the dog have left us. Our new company is an old lady that got on in Ptuj. As we try to pronounce the name it sounds like we are spitting something out of our mouths. Is this really the right way to pronounce it?
10.47 I just saw a man with a small mowing-machine. It was 1,5-2m x 1-1,5 m and he pushed it in front of him.
HUNGARY

11.34 We are in Hungary. The country we learned to know without wind or cool days.
15.20 Got to Veszprém and began our walk to the central parts. The railway station here lies 4 kilometres from centre. Unpractical! We saw one of the hotels we thought of staying at but it was situated in a high house area so we walked on. Our trip finally took us to the centre and we saw a suitable hotel. Christer rested and I decided to find an ATM. The one I found asked me to choose language and amount of money when it popped out the card. The machine didn't accept VISA. The hunt carried on, I found another, got my money, went back, guided Christer back to the ATM, he withdraw money and we went to the hotel we saw just as we got to the centre. There we got a 3-bed room to the price of a 2-bed room. A big airy room, a bed each, candies on the pillows, shower, TV and a refrigerator. For this room, number 4, at Hotel Garni do we have to pay 7900 forint.
18.47 Resting in front of the Heroes Gate. We are feeling exhausted. How can that be? Might it be that we got up at 06.00, went by train for seven hours and walked three- four kilometres? The castle area is worth seeing. Calm and peaceful but now all we want is food.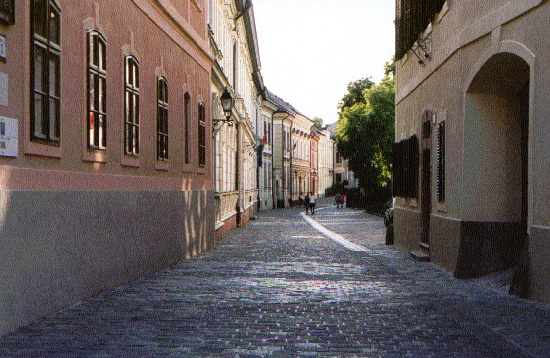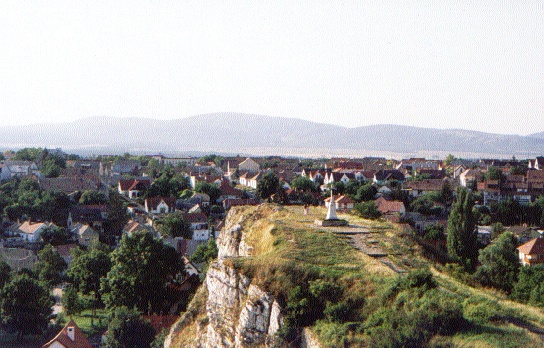 A walk through and view from the older parts of Veszprém.
19.32 Sitting at "Bisztro Elefant" and waiting for food. We got one beer each on the table and behind us are two Swedes talking. Shall I say hello to them or? What is it with Hungary and elephants? We had dinner at "Arany Elefant" in Esztergom last year. Another fact is that we seen elephants this year as well, a green one in Catania and another one on a sign. Where will this end?
20.32 Christer had spaghetti carbonara. He liked it. I had chicken fillet filled with fetta cheese, red onion and goose liver to this sliced potato and rice. What I ended it all with is easy to guess, correct espresso. The merry waitress asked us where we came from before we headed back home to the room.
23.28 Relaxing in front of the TV and drinks beer. All is just great. This is the best room so far this year.
---
You can find 14 photos from July 11 in this photoalbum.
You can find 12 photos from July 12 in this photoalbum.
You can find 14 photos from July 13 in this photoalbum.
You can find 11 photos from July 14 in this photoalbum.
You can find 6 photos from July 15 in this photoalbum.
You can find 12 photos from July 16 in this photoalbum.
You can find 8 photos from July 17 in this photoalbum.

---
---

---