---
Text: Peter Johansson
Editing: Christer Lundstedt
Photos: Christer Lundstedt
---
4/7 - 8/7 Chisinau - Lviv
---
Friday 4th of July "Time to wait"
08.04 About to pack my stuffs after having a bath. We are out of here in four hours. In 10 hours begins the trip out of Moldova and into Ukraine.
10.00 Tea, bread, cheese and large pasta packages with meat. That was today's breakfast. After that a final chase for postcards. It was a success. The first one I found had something printed on the back, about where one place the stamp. An old kind of print, Poyta CCCP(Posta SSSR) in other words old Soviet. I also found a package of ten postcards with churches. I decided to have it, well buy it for 10 lei.
11.25 Soon time to walk out again in this heat into the town. Walking with red-dyed soles on our feet. The carpet in the bathroom has dyed our soles. Plans are as follows, have lunch, walk to the station park, go to the post office with the postcards and find our train at the station.
13.35 Had lunch at Gambrinus. I had veal and Christer had schnitzel. We wrote postcards during the meal. Soon a walk out of here but first we have to pay.
14.10 Sitting in the Station Park and I just posted my postcards.
14.59 There is still time before setting off to foreign shores.
15.20 I walked around the park and have a Victoria bere. A beer that cost 4 lei or US$0.25 cent for half a litre. I placed my order to the lady behind the counter. That wasn't right, I was supposed to order from the smoking lady by a table.
16.35 Time crawls forward but in the right direction. The train departs in one hour and thirteen minutes. I hope we are on it then and in a compartment being able to get some sleep.
17.32 We´re in our compartment, having the lower beds, all is well and I am satisfied. The only catch is the fact that it´s impossible to open the window.
18.27 We have since the start been offered bed sheets, beverages and crisps. We bought nothing of it. It is cooler in the compartment, thank goodness for that
19.11 The landscape is cultivated and hilly.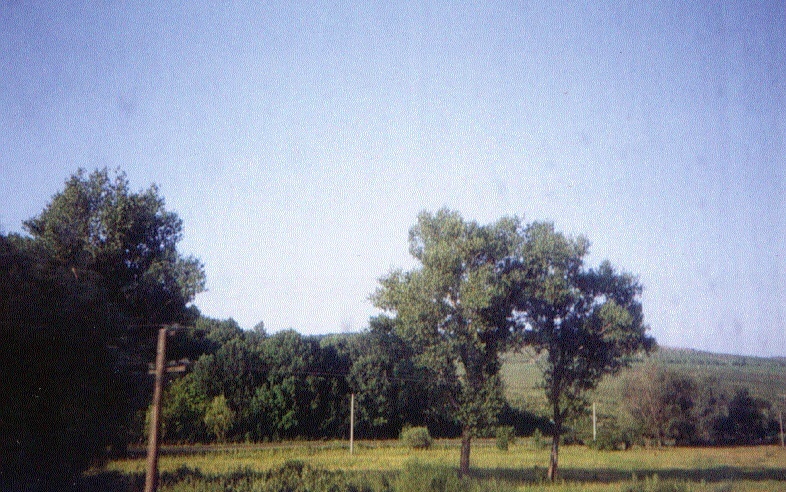 Through a train window in Moldova.
20.19 Stopped in Ungheni once more. Last time for paper work and change of wheels. This time, I believe that the locomotive in front will be moved to the back. A trip forward is a trip back into Romania.
20.36 We have changed direction, let's hope for the right way.
22.51 Outside it is dark, inside is it quiet. I will rest/sleep a while. Never wrong to be alert at the border. The alarm clocks are set.
---
Saturday 5th of July "Chaos, mess and surprises"
00.01 The alarm clocks just rang. Still sleepy and sure am not much alert at all. Next, time to wait for the custom officers and passport police. We sure hope they don't wanna see the declaration that we filled in as we got into this country. The one they took back.
00.20 The cool times are over and we keep rolling on.
00.30 Stopping at the station Ocnita. Moldavian custom officers outside. It is time to know if they will let us out.
00.36 Pass port police came with a smile, took our passports with style, and has been gone for a while.
00.44 In came a man and said something kind in Moldavian. We looked, as if we didn't understand, and frankly, we didn't. He said "Passport". His colleague returned and let the new guy check Christer's passport before they both left.
00.48 On the move again, no problems with the custom officers.
01.11 We stopped and the guy who offered us bed sheets has opened the door. He also opened for the custom officers. He is probably a wagon host.
01.32 The passports came back and the police officer said good day, he then changed it to good night. The passports got stamped, we filled in the immigration cards and we must keep them all the time. The custom officers, no papers there, also have checked us. I will sleep now unless someone else wishes to enter. But who should that be, both sides have checked us.
03.27 Here we sleep like a log. Suddenly a knock on the door, lights on the ceiling and a man appeared, chattering about something. Finally a lady by his side says "Passport". They got the passports and seemed pleased with that. They returned the passports and are gone. Gone is also Christer's immigration card. We haven't got a clue where it is or who on earth they were that looked in here.
04.25 The card is back, it got into a pocket of his pants. During the search the lights were out, so it wasn't easy. Christer was desperate and I couldn't stop giggling. We seem to be back in Moldavia, as we believe it was customs officers or passport police that popped in earlier. Finally time to sleep.
05.05 Stop again and lights are back on. Thunder and rain outside in the dark night.
05.41 New passport staff, this time guys from Ukraine. They wanted a $10 fee from me. The options were, pay or follow them outside. The fact that they are wearing uniforms and all I have on are some underwear only, made me decide to pay. The reason of the fee seems to be that my visa only covers one entry into Ukraine and this was my second entry. The crossover of the tracks has made us go in and out of the countries again and again.
UKRAINE

07.47 After thirteen hours on the train followed a one-hour walk. During this hour the following things took place. Out from the station up a steep hill. Found our hotel after some walking. They couldn't change or speak the same language as we can. Christer paid with a $ 20 bill, but we were $2 short. Christer stayed to guard our stuffs while I went out to hunt for money. All exchange offices were closed but I found an ATM. Returned to the hotel, no Christer and no stuffs. Christer returned soon, showed me to the elevator, pushed button number five and the elevator took us to the third floor. We stepped into room 331 and there were our backpacks. To stay here at hotel Kyiv costs 115 hr.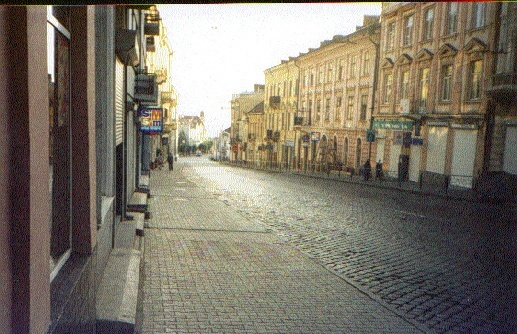 08.20 Had a shower but is still ever so tired. Our tub has two steps. Think it is meant to sit on one of them. Our toilet seat is covered with something soft.
11.57 Rested but still not enough sleep. It will take time to reach that. I have to see what I will do next. Fact is as follows. We need a ticket for tomorrow and we need to eat. But how and when remains to be solved. The phone in the room rang about an hour ago. I answered, a bit sleepy, no one there. Soon it rang again and this time a lady said something, I wonder what.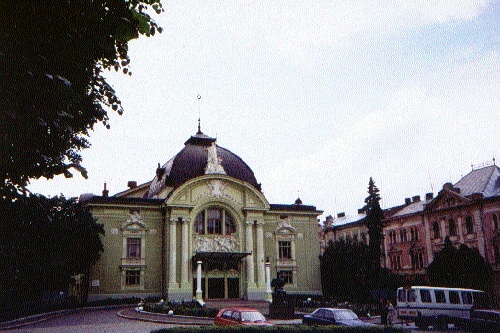 Thatre building in Chernovcy.
15.15 At the restaurant Stare Misto (Old Town). We have from a menu with Cyrillic letters ordered something called Diana meat with French fries and beer.
16.55 The food was excellent. Pork meat roll with ham, peppers and tomato. Price for this around 18 hr, or US$3 75 cents, and the price included the beer. Tomorrow's ticket is bought, It costs 23.28 hr. On the ticket we can read that we go in wagon number 7, seats 91 and 95 and also our names. We also have seen a man selling kvas, a Ukrainian kind of beer.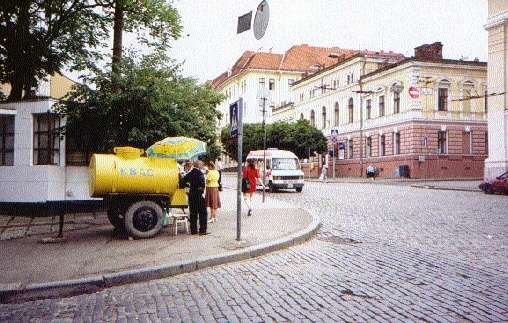 Kvas, a ukrainian drink is sold in the street.
19.35 We have been shopping. For me, 2 bottles of beer, 1 can of beer (no kvas), a chocolate bar, crackers, soda, bread and yoghurt. All for 18 hr. We carried home our groceries in a plastic bag from Sweden?! Is Sweden exporting plastic bags with Swedish text on them?
---
Sunday 6th of July "A Lviv-ely day"
06.10 The good news, we have, according to the water heater, hot water. The bad news, we don't have any water. Not a drop in sight, no matter how much I turned the taps.
06.50 The water just got here. Just had a shower, no just splashed the body seems more like it. No speed on that water. But it is still water and warm as well.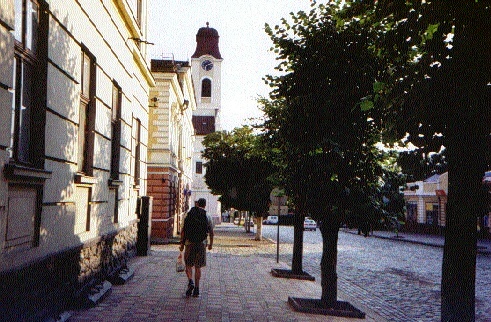 Christer walking towards the railway station in Chernovcy.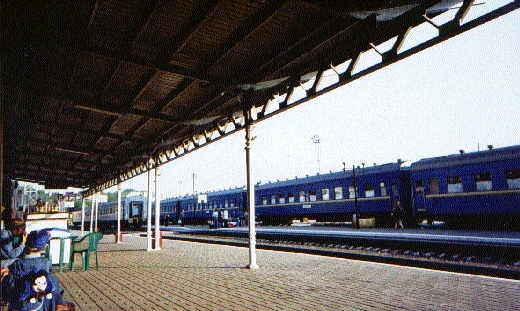 Railway station, Chernovcy, Ukraine
07.30 Just got to the station. Sun is shining and more and more people passing by.
07.54 It was easy to find wagon number 7. A lady, probably the wagon hostess, looked at the tickets and let us on board. A bit trickier to find seats 91 and 95. We are currently on seats 25 and 27. My question regarding seats 91 and 95, to a lady in the staff, wasn't that welcoming.
08.30 Tickets checked and we can remain here.
15.04 Checked in and packed up at hotel George in Lviv. We stay in room 50 for 255 hr for three nights. The trip to Lviv went rather smooth. From the station to here it is 3 kilometres, a distance we choose to walk.
17.43 Sitting at restaurant Europa and testing some of the local mineral water. No just kidding, we try beer, a Lvivski. Food ordered, for me Steak flambe and for Christer, a Gordon Bleu.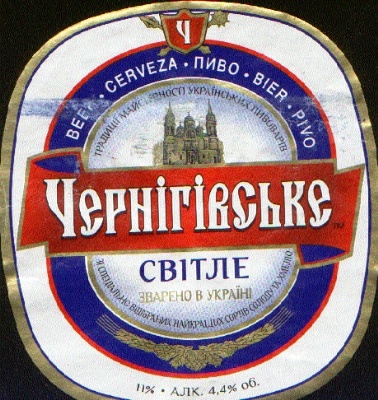 Chernihivske, Ukrainian beer.
19.26 Food of extra good taste and quality at Europa. We also have time for a quick walk in the centre and some buying of night snacks. Now back at the base camp. Rain from time to time and a cooler wind in the air.
---
Monday 7th of July "Rain, cold weather and a late bird"
08.37 Ten hours of sleep was just what I needed. Now I am ready to explore my new territory. First of all a shower and then breakfast.
09.35 On the way to breakfast. We heard nothing but the good of it in the guidebooks. What awaits us? A buffet breakfast, excellent servings of mixed varieties or what? Well, we will soon find out.
10.15 A mixed and well-balanced breakfast was the answer. Juice, bread, marmalade, porridge, boiled egg, coffee, ham and cheese slices, parsley, a small cracker with (Russian) caviar and a red currant. Outside, where else, it is raining.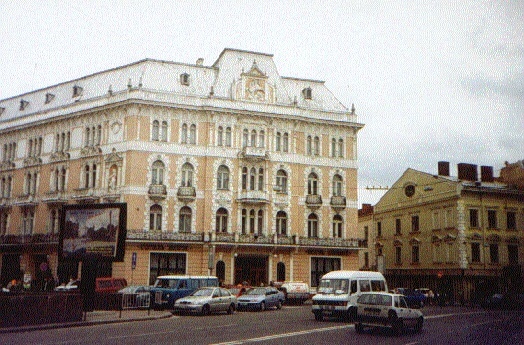 Hotel George in Lviv.
12.00 The weather could have been better, 16°C but it is time to go out. Some guys in orange- red helmets are working on the roof opposite to us.
13.45 Back inside, just wrote postcards. Now time to get back outside.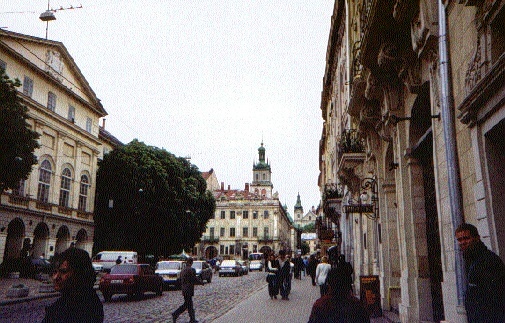 Central parts of Lviv.
16.28 Here we return to the room for some rest. Only to find the door is opened and out from the room comes a lady from the cleaning department and a man with a little bag. We just have some snacks and after this will we go out to find an Internetcafé and later a place to have dinner.
18.22 Sitting in a restaurant, well outside of it. A place with a small roof over it with trees growing just next to us. We got the beer and wait for the food.
19.14 Delicious food, some fillets of bird with tomato and covered with melted cheese. To this some form of baked potatoes. Peeled potato served in foil. Finally coffee and next payment.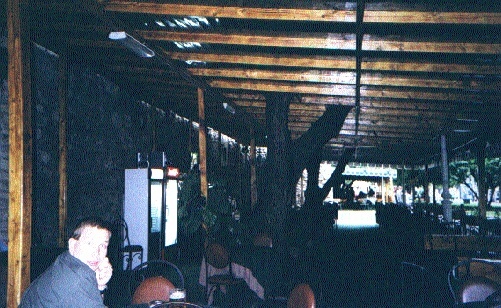 At the restaurant "Veshta Kramariv" in central Lviv.
19.18 I just helped an old lady to pick up a coin she dropped. In the restaurant a band is beginning to play, bas, violin and some kind of a big xylophone.
20.33 Back in our room. The late bird of today was chicken. It didn't taste like chicken but we trust the translation in one of the guidebooks.
---
Tuesday 8th of July "In search for something..."
08.55 Hair wet but slept well. Soon a new day will begin.
10.57 No bigger breakfast variation. Eggs fried instead of boiled. Honey instead of marmalade. Next to go out to find a grocery store. The ones we found so far are small stores/kiosks. There you more or less shop over a counter. Small seems to be the idea of the town. Minibuses drive the local people around the town. We will also look for the ticket office.
12.50 We found the ticket office. They couldn't sell us any tickets. We have to, as we understood, buy it at the station, 3 kilometres away. We also went on a hunt for the tourist information. All we found was a bitter man that didn't wanna see us at all. But at least we know what yesterday's restaurant is called, Veshta Kramariv and have also found an Internetcafé. We are in it now to find necessary facts.
14.14 Found a later departure time for tomorrow's trip into Poland. We are currently in the room but will soon return outside.
15.26 Having a beer at the art and culture centre Dzyga. We planned for lunch but it stops with the beer. Next a walk to the castle and other parts of the town.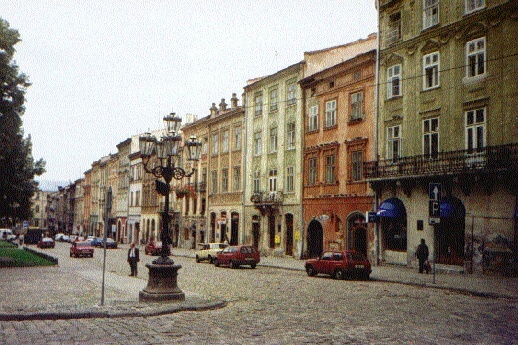 Square (Rynok) in central Lviv.
17.45 Back in the room for beverages and sweet stuffs. Time to relax before we head out for dinner.
20.37 Back after dinner at Europa. We also bought a beer each at our favourite store with the suiting name, when translated, articles.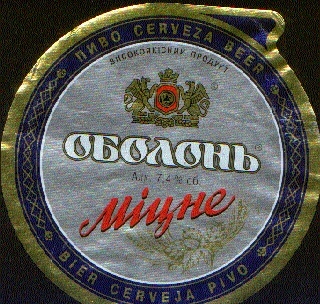 Obolon, the most common beer brand in Ukraine.
---
You can see 1 photo from July 4 in this photoalbum.
You can see 6 photos from July 5 in this photoalbum.
You can see 6 photos from July 6 in this photoalbum.
You can see 4 photos from July 7 in this photoalbum.
You can see 7 photos from July 8 in this photoalbum.

---
---

---