---
Text: Peter Johansson
Editing: Christer Lundstedt
Photos: Christer Lundstedt, Peter Johansson

---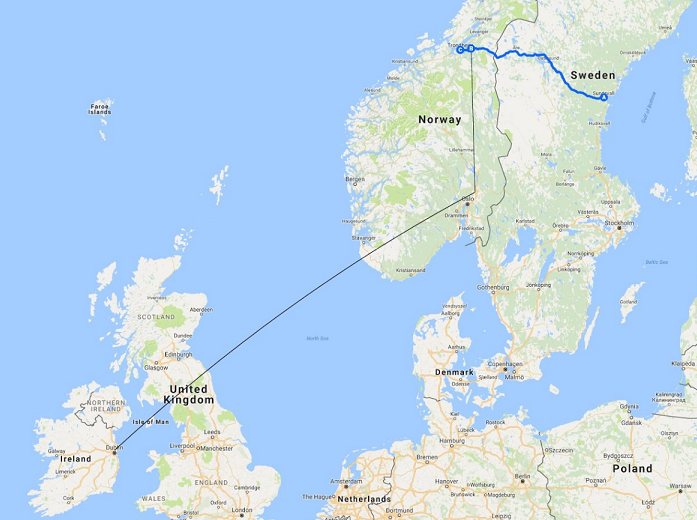 ---
Tuesday 28th of December
03.29 I'm not entirely sure if I'm sleeping slept or if I'm awake. However, I am sure that we will travel today. First we will leave Christer´s apartment and then Sundsvall.
04.57 Once again we are on a train at Sundsvall Railway Station. This time we will not, however, head south to Stockholm. We're going west towards Östersund and then towards Trondheim. Our travelling does not stop there.
06.37 Darkness remains around us when we ever so slowly and somewhat delayed rolls into the station in Bräcke. We have three minutes to change to the Trondheim train as we get to Östersund. This is as long as we arrive in time.
07.29 We arrived in Östersund one minute late. A brisk walk took us to the Trondheim train about one hundred metres away. We had just put up our belongings on the luggage rack when the train rolled out of the station. Well planned!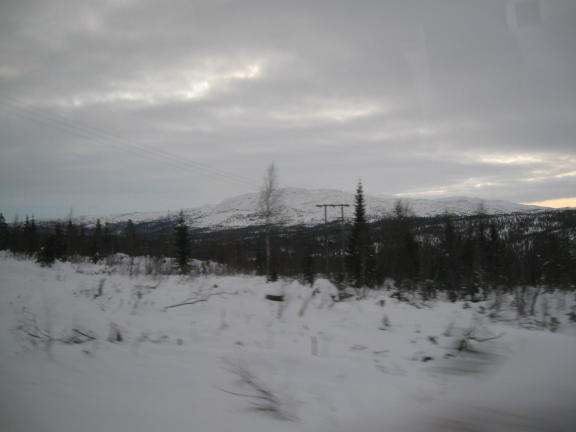 Winter landscape at the Swedish-Norwegian border.
08.53 We are about to leave the village Duved behind us. Duved was also the name of a dish that our friend Roger tried during our summer trip 2001. The place was Krk and the dish a Croatian vegetable mixture. It is barely two hours left of this trip now.
NORWAY

09.55 The border is crossed. The moon hangs over the Norwegian mountains. Snow-covered fir trees are surrounding the train. We have just left Kopperå.
10.44 We have passed Meråker and Hegra. Our train should, according to our timetable, stop at the airport in Trondheim, but this was not the case. We should probably have got off at Hell, and walked to the airport. Now we will carry on to Trondheim instead.
11.14 We arrived at Trondheim Sentralstasjon. Now we must find a means of transport that can take us to the city's airport, Vaernes. There might be even a lunch here. We have in a relatively short time has taken us from the Gulf of Bothnia to the Trondheim Fjord.
11.58 The first thing we did was to take out some of the local currency. However, we skipped the expensive lunch and bought fruit instead. Now we have bought the ticket on the airport bus. Soon the driver will put in first gear.
Inside Trondheim Sentralstasjon (Trondheim central station).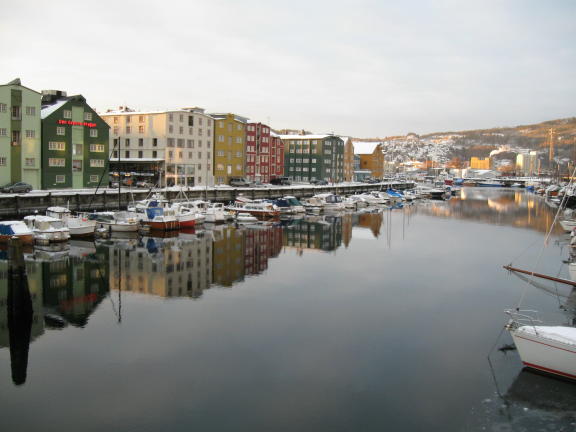 The harbour area in Trondheim.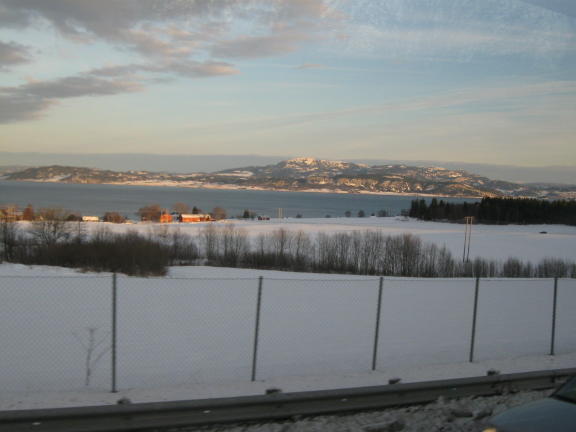 View of the Trondheim fjord.
12.34 So, here we are at another airport in another country. It's almost time for check-in here at the airport Vaernes.
13.15 We have checked in at a monitor. It gave us our boarding passes and also a name tag that we had to place on our backpacks. We will fly with the budget airline, Norwegian. Now we have passed the security check. There it beeped from my belt and from Christer´s shoes.
13.43 We have treated ourselves with some coffee and a cheese-, salad- and ham sandwich. The cost was 81 Norwegian Kroner, 13,66 US-dollars. This is an expensive country indeeed. All this was purchased at the café/restaurant Picnic.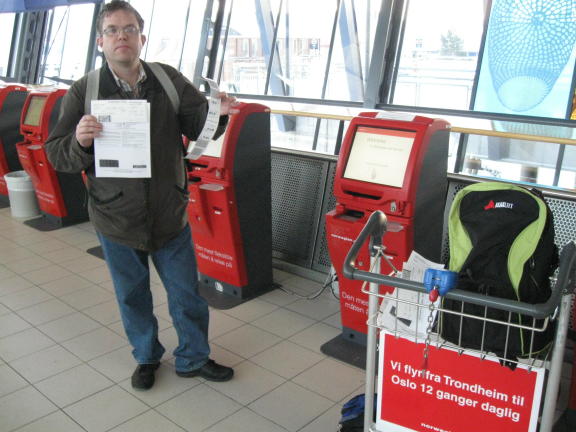 We´ve received our boarding passes and are ready to fly.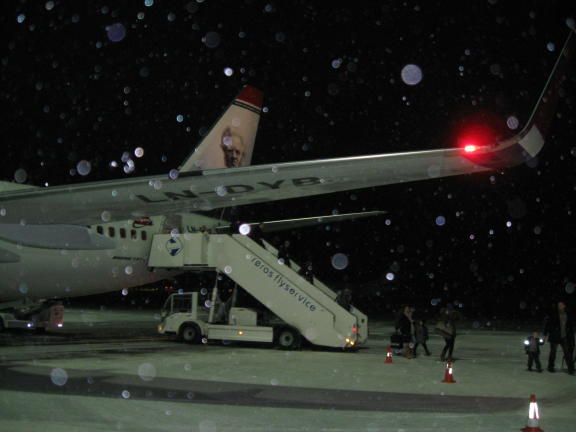 Time to switch planes at Gardemoen Airport in Oslo.
15.07 After a short wait in the queue out to the aircraft, a short walk outdoors in order to get to the plane's rear part, we are now in place. It's time to fly on a regional flight with Norwegian. In the queue to the plane there was a young couple from Guinea in Africa, how did they end up here?
16.40 We have landed and entered the airport, Gardermoen, near Oslo. I have been here earlier, more accurate it was 30 years ago. Nothing, absolutely nothing, looks the same.
17.24 So, our stomachs got something more to work with. It was a sandwich and a Pepsi each. Our set-aside money and time here is nearing an end. We are not at our final destination, yet anyway.
17.45 The watches are set on Irish time. Hence, they are backed an hour. The long day is now even longer.
19.26 The fellow passengers on the plane are doing a little bit of everything. They talk, watch movies on their laptops, and probably more than that. What we have in common is that we are all flying with Norwegian.
IRELAND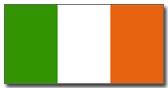 20.50 We have landed at Dublin Airport and walked to the right side of the customs office. Now it is time to withdraw money and get some food. At the luggage conveyor belt there were a lot of bags from Frankfurt. How did they come here without the passengers?
21.24 The amount of eating possibilities at the airport was poor. Most places had closed for the day. Every restaurant we looked at had only cleaners cleaning the floor. McDonald's was open but we were of course looking for food. Now we are sitting on the top floor of the airport bus which will take us to central Dublin. On a TV monitor we can see our backpacks on a shelf downstairs.
22.00 The bus-TV advertised the various tours and tour buses here in Dublin. Eventually we left the bus at the city bus station, Busáras. We are now at the hostel Jacobs Inn (http://www.isaacs.ie/jacobs-inn-dublin), room 111 and in beds 1 and 2. Now we need food. Dublin here we come! Well it is comeback for me. I was here in 1995. We have received a plastic card that opens our door. It also opens up other doors here and make sure the elevator is activated.
22.20 We wandered around and around but could not find any decent restaurants nearby. We went one extra lap and have just found Kebab 786 at 46 Talbot Street (http://www.just-eat.ie/restaurants-kebab786). We have ordered a Prime Irish Beef Burger each. Food is good.
23.16 Now we have settled in. All things have a place and soon we will sleep. Nice.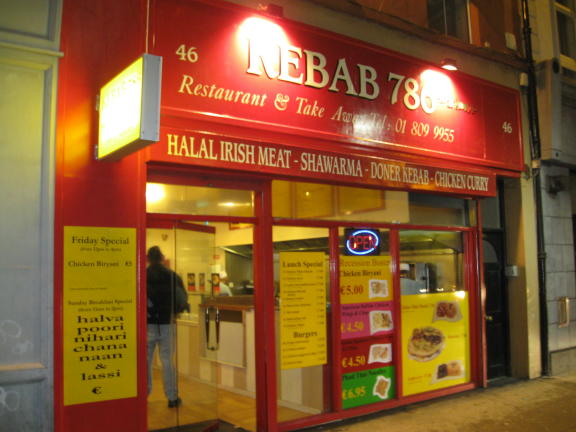 Kebab 786, this evening´s simple dining place.
---
Wednesday 29th of December
08.35 It's nice to have a refreshing shower after a refreshing sleep. Everyone else in the dorm is asleep, everyone except us.
10.06 It's cold down here, Christer said. Down here is the hostel's common room. Here is a TV, pool table and comfy leather sofas. We have just enjoyed a good breakfast down in the dining area and now we are planning day one here in Dublin before we hit the streets.
10.48 It is all planned and ready. Some of the roommates are still asleep. The dorm has an aroma of... whiskey, Guinness, hangovers, and maybe something more as well.
11.11 We are now at the hostel where I stayed on my last visit here in 1995 It seems the same. It's called the Globetrotters Tourist Hostel and it´s located only one street away from where we live now. What about the rest of what I saw then? Is it the same or has it changed?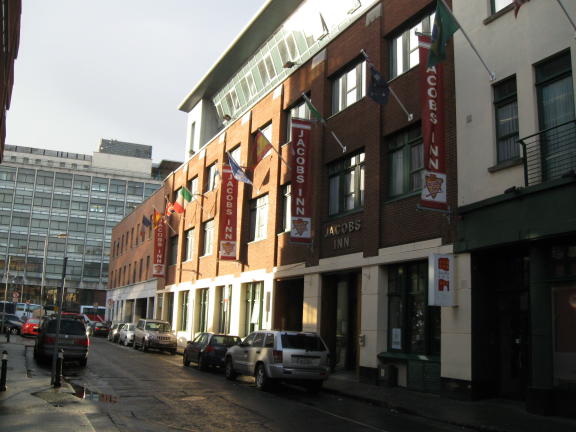 Jacobs Inn, huge hostel in Dublin.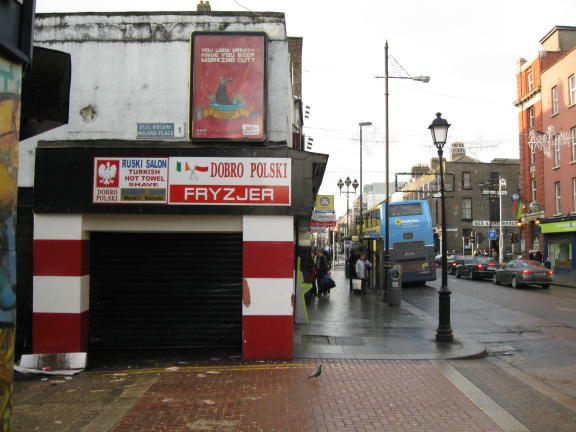 A polish hairdresser in Dublin. Lots of people from Poland have moved to Ireland because of work.
11.18 We have stopped to buy some postcards and some sweets in a store. We have also found some Russian and Polish hairdressers. Does the language matter or do Poles and Russians have particularly worrisome hair that requires barbers with special education?
11.37 We have moved around a bit at random and eventually walked along O'Connell Street to the north. A first stop has been made. We are in a park. There will however be no bench break. The benches are wet. We are at Parnell Square, in the Garden of Remembrance. Here are some monuments to those who gave their lives in the struggle for Irish independence. Here you can also see the statue Children of Lir (http://en.wikipedia.org/wiki/Children_of_Lir). Along the way here we got to see another one of those wallclimbing Santas that we have seen during previous New Year's trips, in Spain 2006, Malta 2008, Slovakia 2009 and in Italy 2010.
12.22 We made our way down O'Connell Street where we saw the beautiful city post office, the statue of the poet James Joyce and a bus from City Sightseeing. The post office plays an important part in Irish history because it was the headquarters of the rebels during the Easter Rising in 1916 We crossed the river Liffey and we are having a classic bench break before we continue.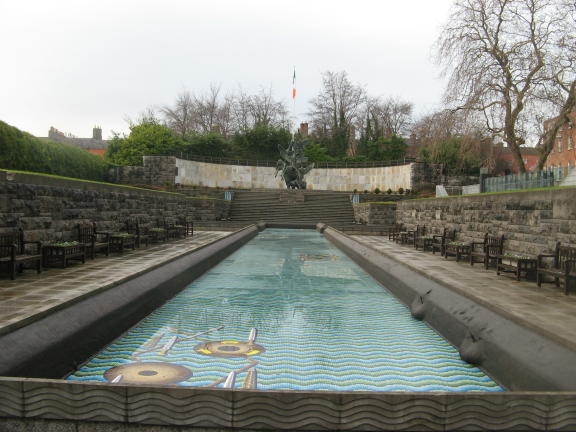 Garden of Remembrance.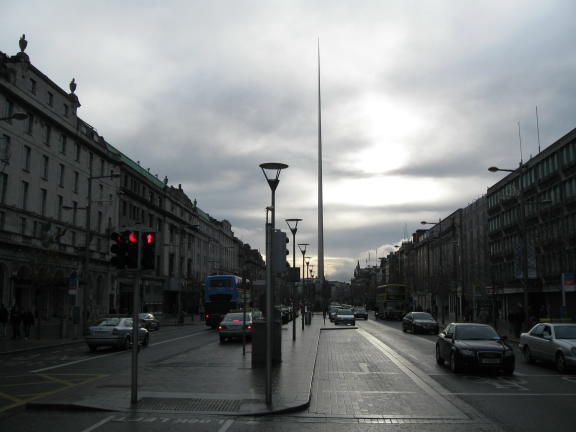 O´Connell Street, a main street in the northern part of central Dublin.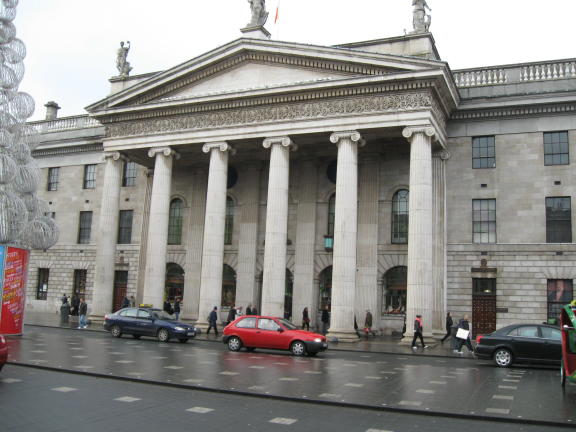 The main post office building in Dublin, a historic place.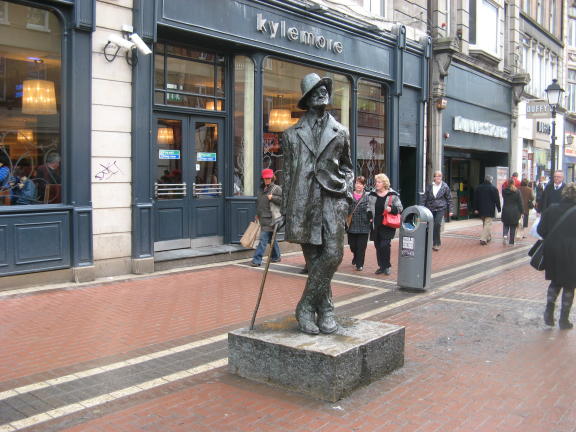 James Joyce is standing on Earl Street North.
12.11 On the other side of the frozen pond we can see a man with a leaf blower. We are in the main park Saint Stephen's Green (in Irish: Faiche Stiabhna) It is peaceful here. Along the way here we walked some distance along the River Liffey and then continued past the Irish parliament, the Natural History Museum and some other interesting spots before we came here. The children here seem to be fascinated that there is thick ice on the water here. Now it is time to set up new walking plans.
14.15 Before we left the friendly park, we saw a bridal couple being photographed. Outside the park we also saw the church, St Stephen's Church, and the luxury cars they came with. We continued our journey by walking along the famous Grafton Street. There were a few things to watch. The street is among other things known for its street performers. We saw a man dressed as a statue, a headless drummer and much more. At the end of the street, we saw the statue of Molly Malone. Who is she? There is a famous folk song which is about her. The song is about a young fish monger, who walked around the streets of Dublin selling fish (http://www.youtube.com/watch?v=vdxLxnhGnvo). Now we have strolled into the courtyard of Trinity College, the university where celebrities such as Oscar Wilde, Bram Stoker, Samuel Beckett, Edmund Burke and Jonathan Swift has studied.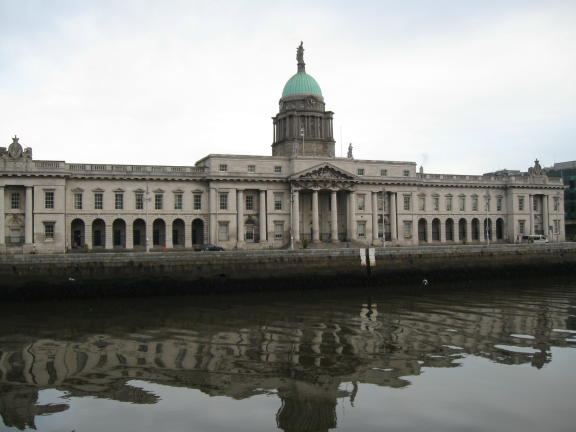 Dublin's grand customs House is located on the River Liffey.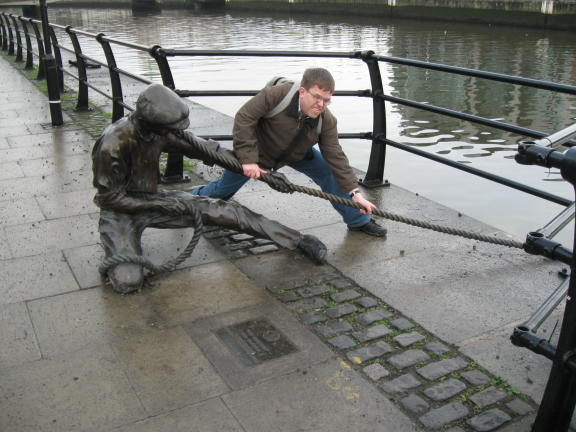 Peter is helping out.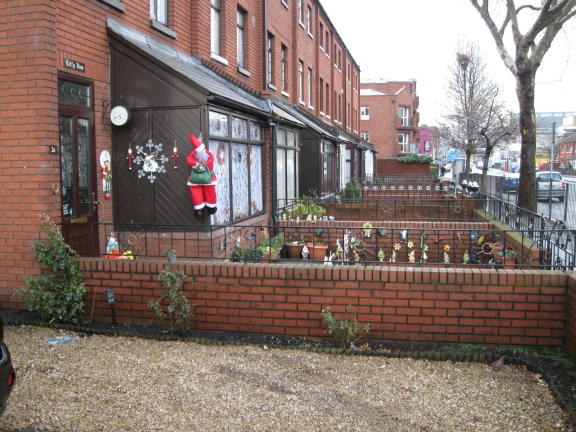 Christmas decorations along Lombard Street.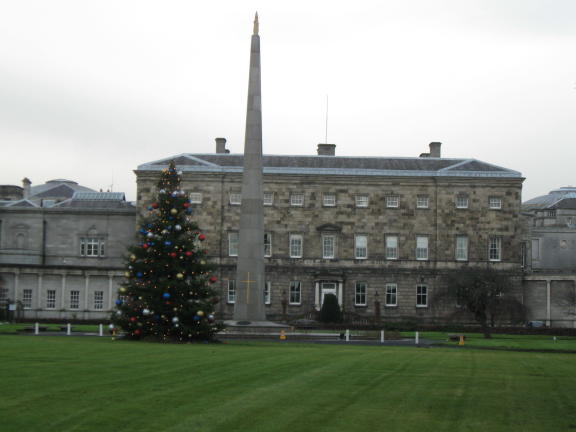 Christmas tree in front of the Irish Parliament.
14.24 We have walked in and around the Trinity College campus and we´ve seen the great golden globe there. It is a work of art called "sphere inside a sphere". It is starting to become more and more important to find a restaurant for lunch now.
14.58 Today it will be a lunch consisting of a pizza-/pasta buffet at Pizza Hut. We were in dire need of food and did not want to postpone lunch procedures any longer. Much have we seen and more will be seen in this city. For 10 Euros, we now eat all we want here at Pizza Hut. We are not far from Grafton Street. The address is Suffolk Street.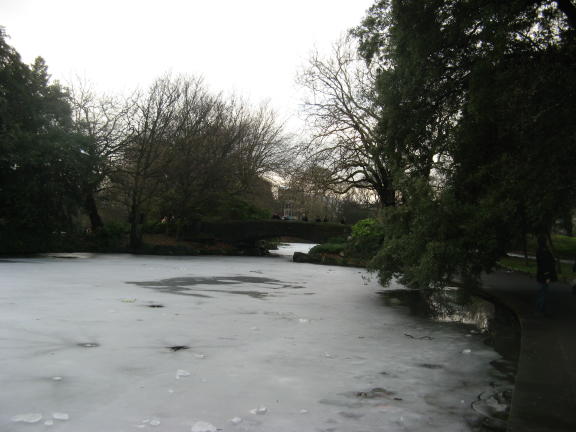 The thick ice is an abiding memory of last week's cold spell.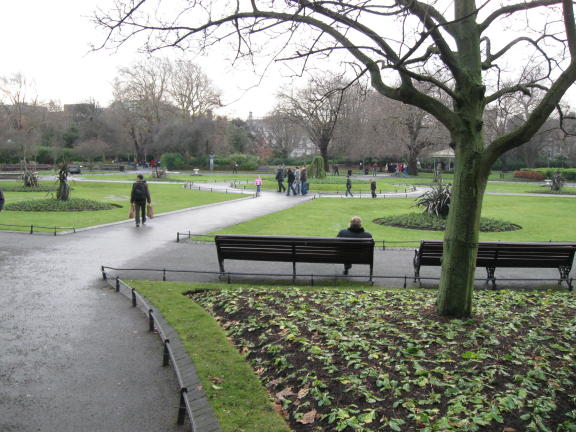 Saint Stephen´s Green.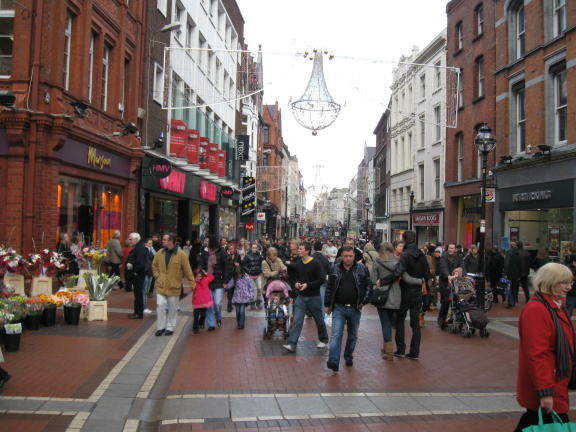 Grafton Street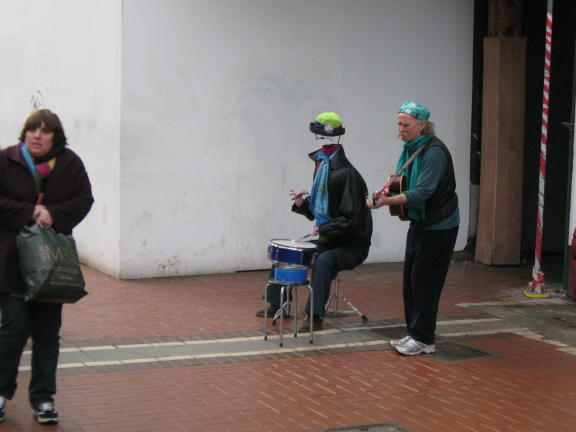 Entertainment on Grafton Street, a headless drummer and his singing friend.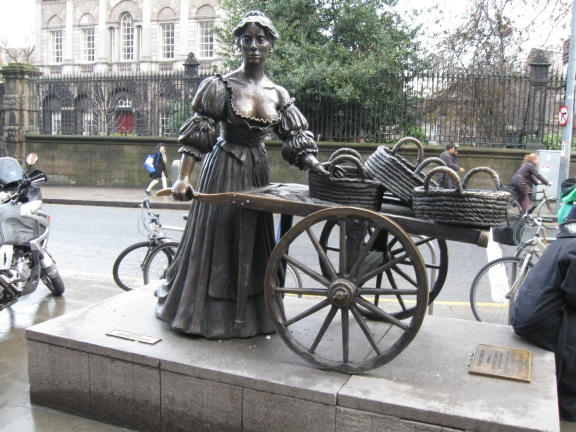 Molly Malone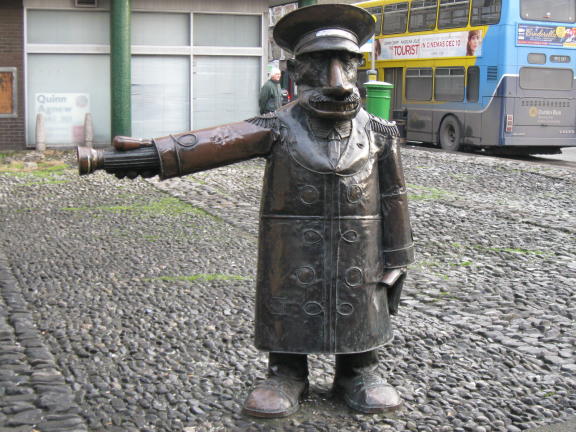 Cinema man in front of Hawkins House.
15.40 We briefly walked through the pub area Temple Bar and crossed over the Liffey to the north side again. We are now looking at Halfpenny Bridge, a bridge that takes its name from the old price to go over the bridge.
16.09 The Church restaurant on Henry Street greets guests welcome in different languages such as German, French and Spanish. At the Swedish flag, it said "Velkomen". The correct spelling should be Välkommen. Behind the restaurant and the church there is a large Ferris wheel.
17.09 We strolled a bit along some shopping streets and eventually continued along Liffey to find a Starbucks café. Here it will be a coffee and muffin. This Starbucks is located in the mall CHQ Building (http://www.chq.ie). The building was previously a warehouse there they used to store tobacco and wine. Now there are plenty of newly opened stores, but very few customers.
18.38 On the way home we stopped at the railway station, Connolly Station and checked the train times and fares. It is likely that we might take a short train trip tomorrow. Now we are back at the hostel for, we'll we´ll see about that. There are at least no one sleeping in here. They seem to have moved to the living room to play pool.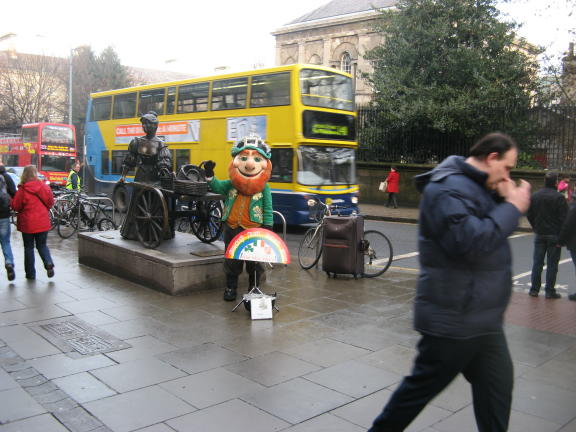 A happy leprechaun on Grafton Street.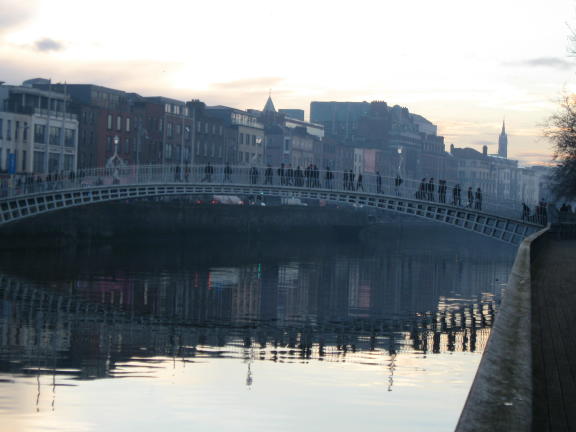 Halfpenny (Ha´penny) Bridge, Dublin.
19.59 We didn´t stay in the room. We set out on the streets again. Here we walked quickly through Temple Bar. There we saw an old man with his pants down at knee height. He argued with some guards and wondered why he was not allowed to enter a pub. Now we are sitting on a bench near the Halfpenny Bridge. We are wondering about the rest of the evening.
21.42 After some internet surfing at an internet café and some snacks shopping at Spar, we´re now in the breakfast room for reading books and eating evening snacks.
22.27 Christer continues reading in his book "Exit music," by Ian Rankin. I paused in my reading of "The Complaints" by the same author. I bought it last summer when we were at Heathrow. Now I am thinking about how Dublin has changed since I was here 1995. The city has become richer economically, people, cars and in various shops. However, it is poorer in pubs. Some of the roommates may be heading for one or more pubs. They are Scots and seem to have the attitude that it is a party every night.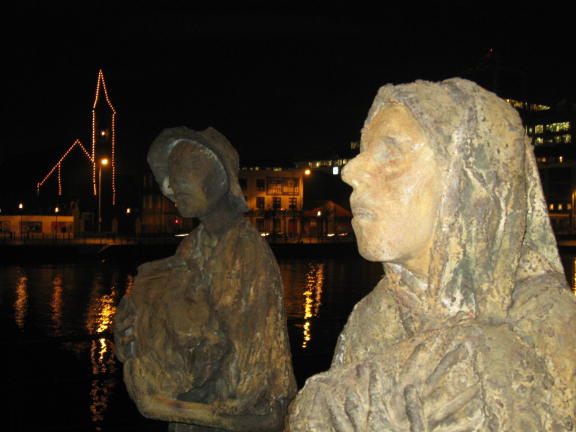 These statues will remind us about the terrible famine in Ireland during the 19th century.
---
Thursday 30th of December
09.10 We were far from alone at the breakfast here at Jacobs Inn. The hostel is home to people from Spain, Italy and the Netherlands to name a few. Now we will leave the room once again. Other guests in the dorm sleep well this morning as well.
09.50 First we went to the main bus station nearby and bought a bus ticket in a machine for the journey from here tomorrow. Now we're at Connolly Station with newly purchased train tickets for today's trip to Howth, a seaside town just outside Dublin. Metal benches are cold to sit on. Now I will get going.
10.12 It's time to catch a train. I have never traveled with a train in Ireland before.
10.20 I just made a stop on my train trip. I got off at the station Clontarr Road/Botha Chluain Tarbh. I was in a desperate need to pee. Christer went on and soon I will catch the next train to Howth. It is drizzling today.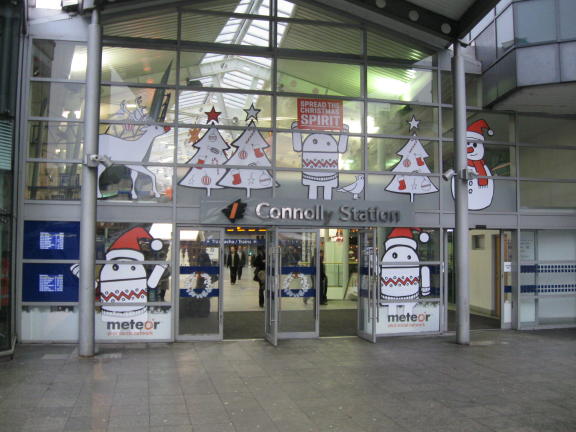 Connolly Station in Dublin.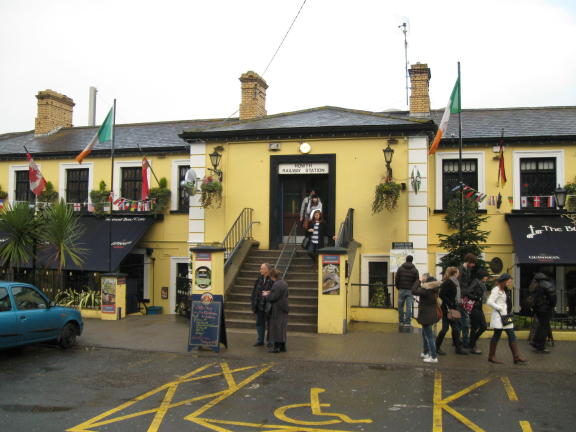 The railway station in Howth.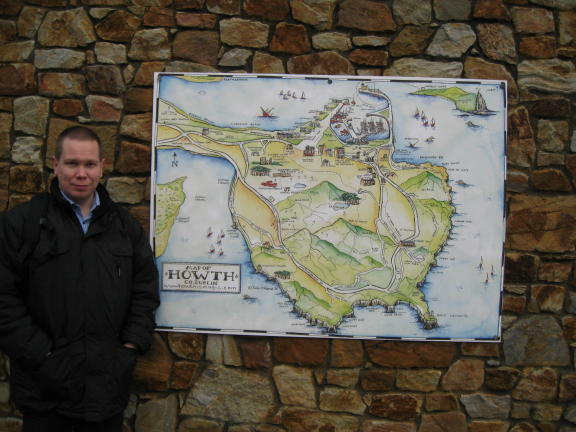 Christer is looking at a map of Howth.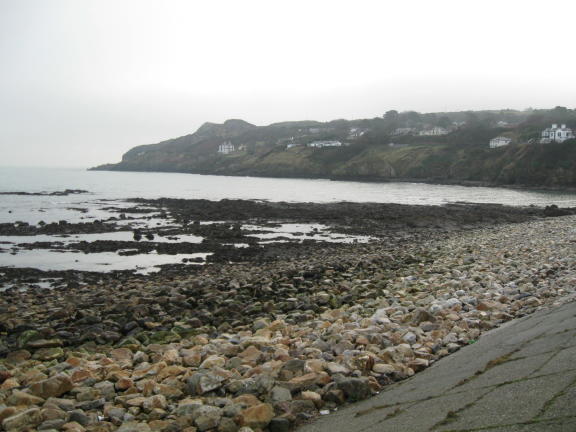 Bad weather at the Irish Sea.
10.30 I'm back on board again on a new train to Howth. How long will I go on this time?
11.31 We are reunited and have walked to the pier here in Howth. Now we are standing by a small lighthouse. In this small town lives or have lived a lot of famous people like Phil Lynott, Johnny Logan, Larry Mullen (drummer in U2), the actress Lynn Redgrave and the poet William Butler Yeats to name a few. Out in the water we can see the small island Ireland's Eye.
11.42 We walked along a steep street, Balscadden Road and had plans to seek out a hiking trail. The plans have been cancelled due to the rain being a little too intense.
12.03 We are now on a rocky beach down by the Irish Sea. We went down a stone staircase from the street. An old man man is walking on the beach and he cleans away debris. Here and there on the rocks there are seashells. The shells that are stuck are probably inhabited. It is low tide and that is why we can stand where we stand right now.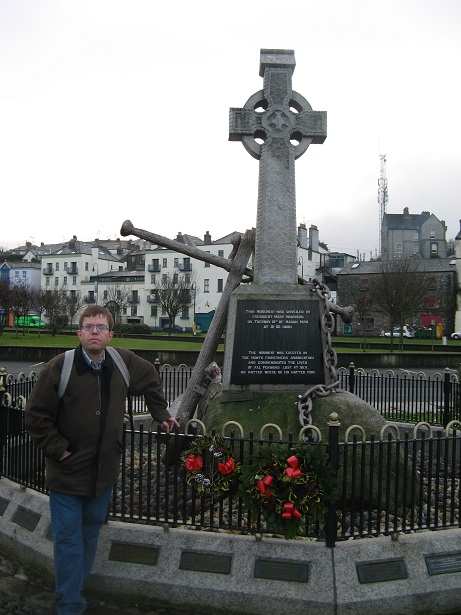 Peter stands at a memorial which honors those who perished at sea.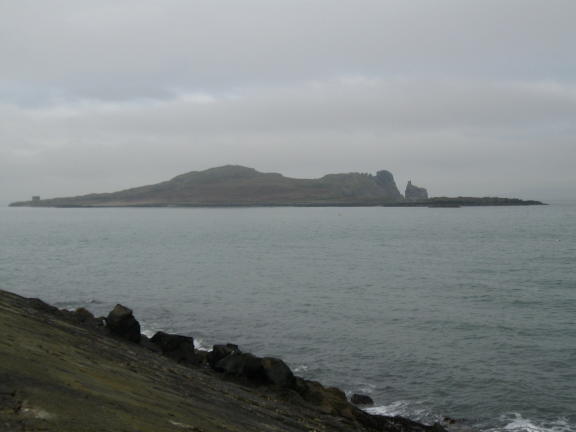 Ireland´s Eye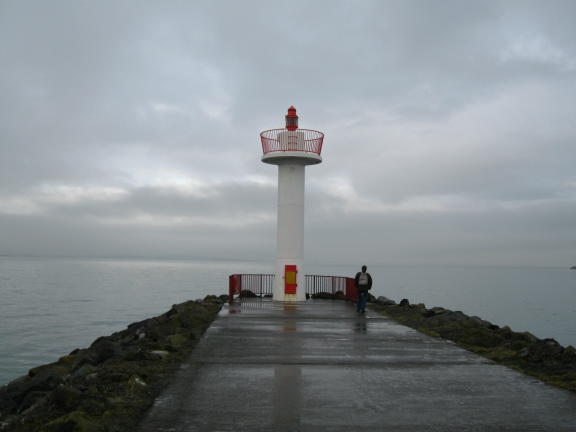 Peter is walking out to the lighthouse at the tip of the pier in Howth.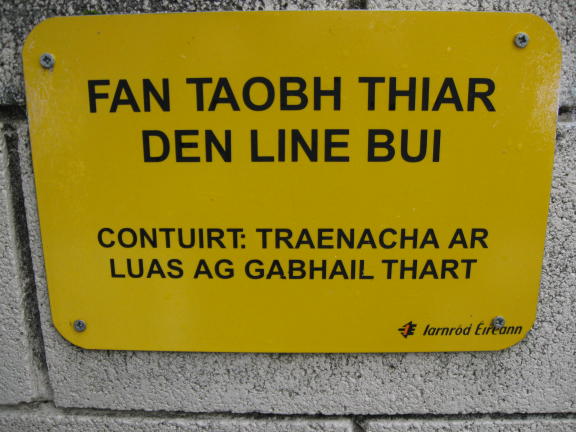 Irish is a celtic language.
12.31 We have returned to the streets and sidewalks and made a little walk around Howth. We have decided to turn back to Dublin because we have more planned for today. It is time to leave Howth/Binn Éaldir. All signs in Ireland indicate both the Irish and English name. There is a quite new law about it. Are we really at the correct platform?
12.41 We were sitting at the wrong platform. However, it was easy to change and now we are sitting on the train and are waiting for it to leave.
13.22 We're back in Dublin and are sitting at the restaurant Kebab 786 again. Here we will be having lunch before we see more of Dublin. Outside of here there is a monument commemorating the victims of the bombings in Dublin and Monaghan on the 17th of May 1974.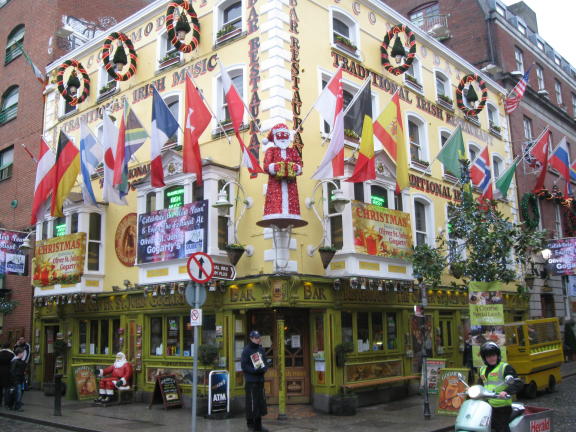 Oliver St John Gogarty Pub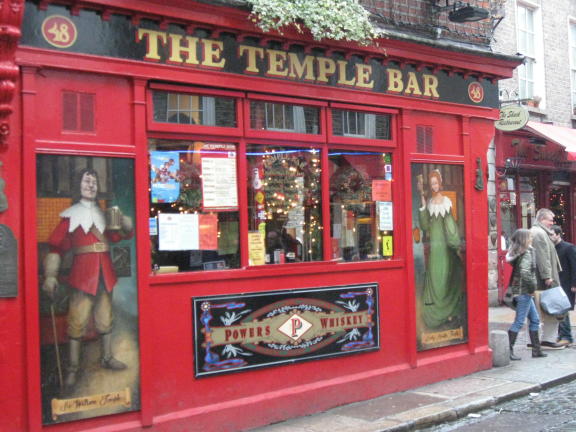 The Temple Bar Pub
14.31 After having strolled through the entertainment district of Temple Bar, we are now at Christ Church Cathedral. Christer has gone to check the price of admission to the church. Now he came with the announcement, it costs 6 euros. Does that include those who just want to pray as well? Along the way here we passed the town castle, which logically is called the Dublin Castle.
14.46 We have made a new stop, at a new cathedral. Well not so new by the way. It was built between 1191 and 1270. It is Saint Patrick's Cathedral. We're sitting in the park in front of the Cathedral. A short distance away there is a memorial sign at the spot where Saint Patrick is said to have christianized the pagans and scared away the snakes from the island.
16.24 It starts to darken. A quiet walk took us through new parts of Dublin including past Whitefriars Chapel where the relics of Saint Valentine can be seen. After that we searched for a new Starbucks café. However, it was full there. Now we are sitting at Costa Coffee instead. This coffee costs just as much as it does at Starbucks.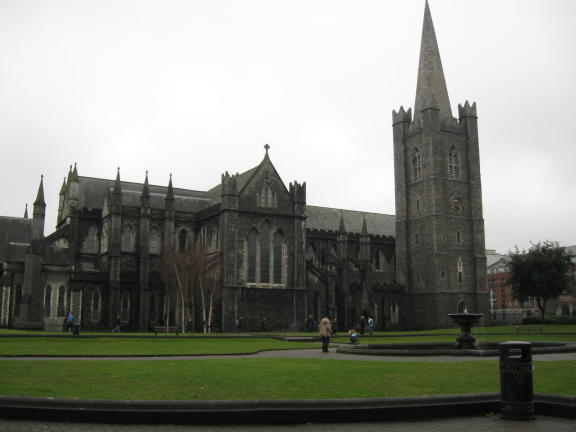 Saint Patrick´s Cathedral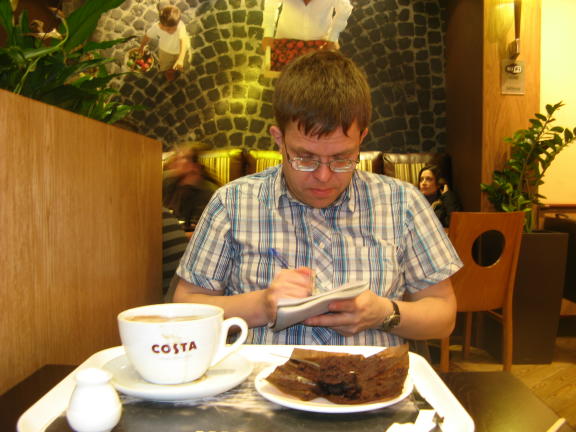 Peter is writing in his journal at Costa Coffee.
18.15 We slowly returned back home. We did some internet surfing and looked for a suitable place for tonight's dinner. Everything seems to be set. Now as we are at home time for some reading.
19.31 Now we are reading more in our books. The room where we sat got filled with people who apparently have ordered a homemade dinner. Now we are in our room and our roommates are preparing for one more night in the pub scene. One of them has a hairdryer. Why do you bring a hairdryer on a backpacking trip? We are going to have dinner. Maybe it will be something Irish.
20.06 We are having a short bench break near Trinity College and Bank of Ireland. Behind us we have a statue of someone. We have to find out who it is later. We have become hungry and Christer had to take a break. He was shaky in the legs and had to buy chocolate at a candy shop to get new energy. It wears on your body to keep going from morning to night. I am pleased that we don't join our Scottish room mates.
20.41 The statue man we sat in front of was the poet Thomas Moore. We are feeling well again and we´re sitting down at O'Shea's Irish Restaurant in the Temple Bar area. Now we're going to order our food.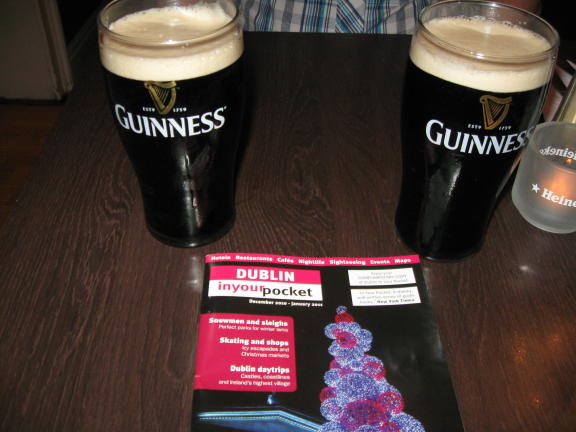 Everything you need, Dublin in your pocket and Guinness.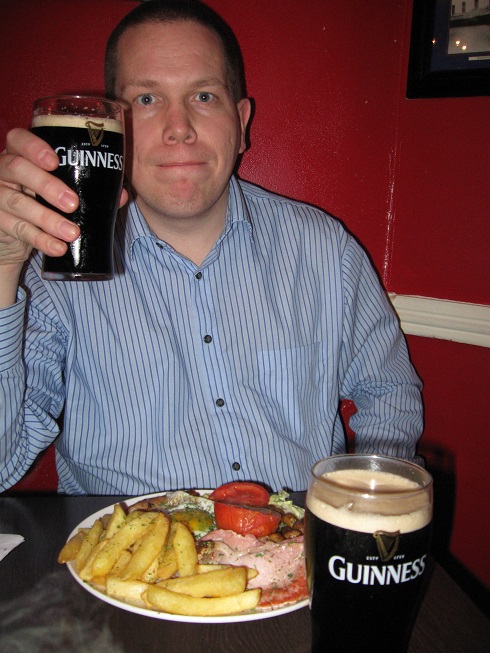 Christer is drinking Guinness and eating Irish food, Mixed Grill.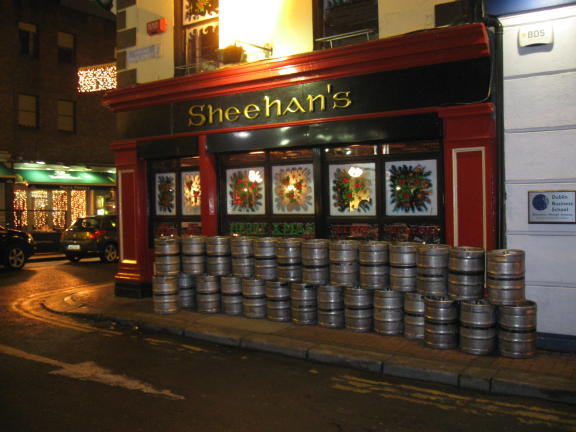 Lots of beer has been consumed or will be consumed.
21.34 The restaurant starts to empty. Soon it's only the two of us left in here. At the window table there are some American tourists who found each other and they seem to exchange travel experiences.
23.01 The dinner was hearty, good and above all Irish. With the food we had, of course, Guinness to drink. Afterwards we walked around and said goodbye to Dublin in different ways. We said goodbye to the statue of Molly Malone and Phil Lynott. We walked back across the Liffey and now we are at home at Jacobs Inn one last time. Dublin is a nice city which unfortunately sees the extinction of the traditional pubs. The Temple Bar has mostly foreign tourists in the pubs and other pubs have been turning into some kind of mix between a pub, café and restaurant. Seeing Irish pubs serving Italian coffee feel sad somehow. Now our things are packed and we are ready to sleep.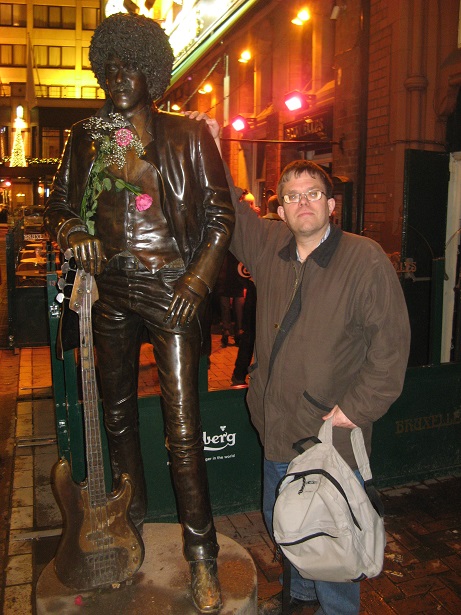 Peter together with Phil Lynott (1949-1986), singer in the Irish band Thin Lizzy.
---
You can see 20 photos from December 28 in this photoalbum.
You can see 106 photos from December 29 in this photoalbum.
You can see 73 photos from December 30 in this photoalbum.

---
CONTINUE
---
---

---